"The Portuguese call it saudade: a longing for something so indefinite as to be indefinable. Love affairs, miseries of life, the way things were, people already dead, those who left and the ocean that tossed them on the shores of a different land — all things born of the soul that can only be felt." ― Anthony De Sa
The Oxford dictionary also defines saudade as a feeling of longing, melancholy, or nostalgia that is supposedly characteristic of the Portuguese temperament. And, rightly so.
As your car from Dabolim curves up to this sleepy little Goan village, it will take you a mere seconds to fall under Aldona's evocative spell. Planted in the old Portuguese hinterland of Goa's Bardez region, Aldona is a beautiful orchestration of routine happenings–tropical sunshine dousing paddy fields, the Mapusa river murmuring its way through coconut groves, congregations of men in crisp cotton shirts and women wearing billowy dresses flooding out of the St. Thomas Church and the sundown sketching silhouettes of the fishermen's boats parked at the riverbank.
Could this be paradise? This question will flit through your mind as you start approaching the village's lonely river-island, called Corjeum. Away from the cacophony of the sights and sounds of the shore, draped by a curtain of bamboo thickets, herein lies Avanilaya's hideaway.
The boutique resort draws its name from two Sanskrit words, Avani interpreted as earth and Laya as abode. Perched atop a hillock fanning over the Chapora River, Avanilaya stretches across a lush 24 acres and is decked with three palatial villas and mammoth verandahs. You can while away evening after evening in these backyards, watch the rain batter down on the swaying palms or curl up with a fat novel and a glass of the sweet port wine.
The resort's gardens are also an experience in themselves. A kaleidoscopic oasis of wilderness, you'll be surrounded by dancing peacocks (a total of 80, flock the grounds), fluttering butterflies and a conglomerate of birds, at all times.
The Space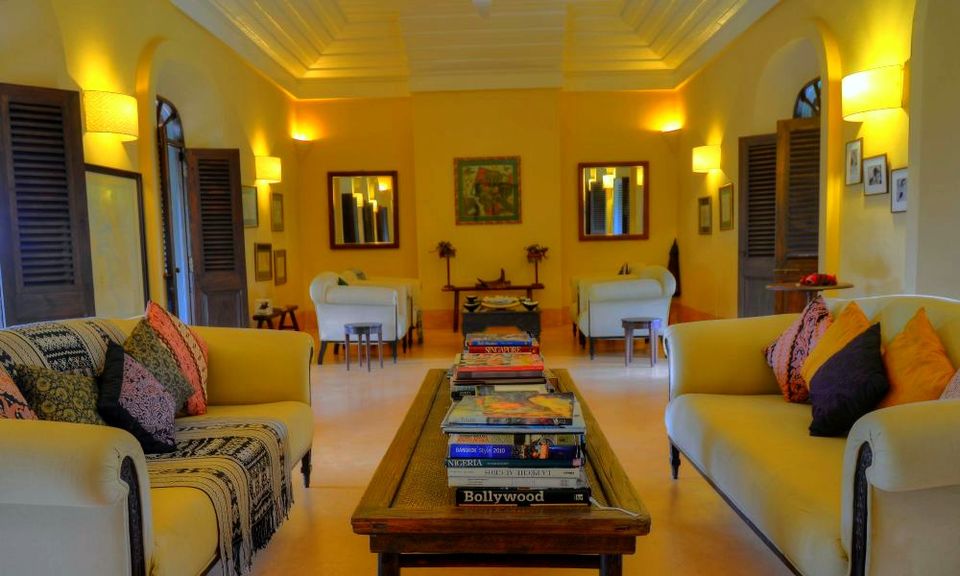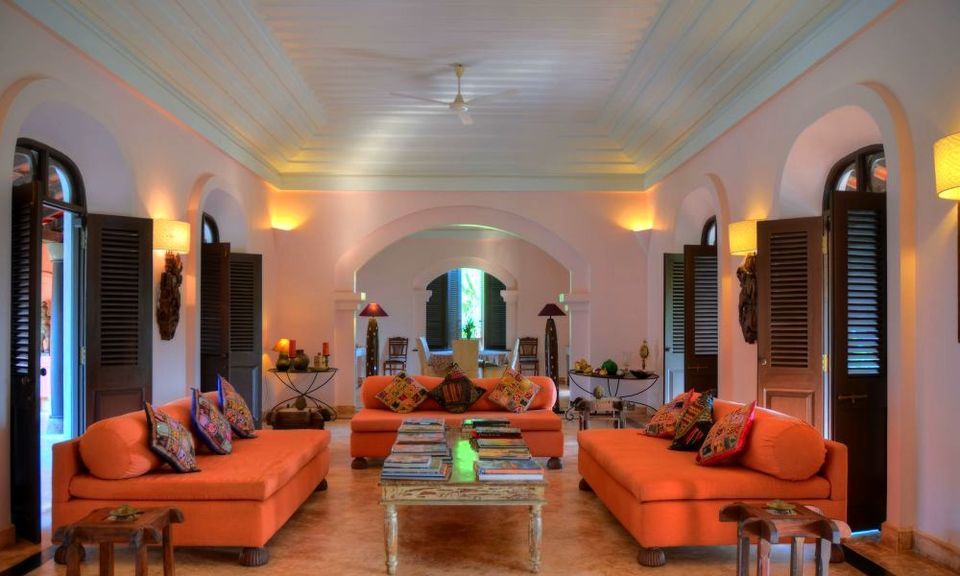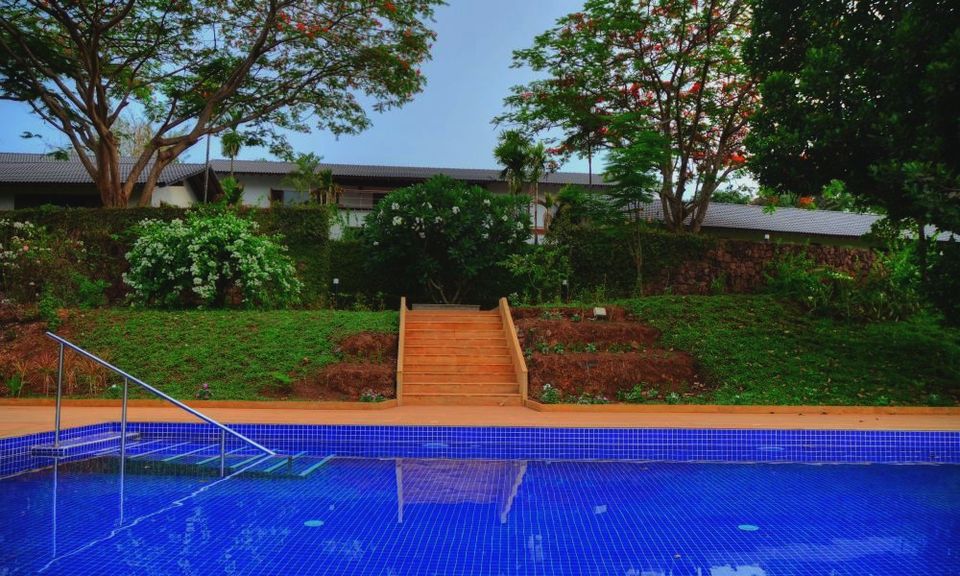 If somehow, all of the above has still not whet your appetite, and your wanderlust, I'll now, launch into a lengthy discussion of the three stunning villas flanking Avanilaya – Panchavatti (five bedrooms, housing 12 people), the Third Place (four bedrooms, housing nine people) and Padimunu (three bedrooms, housing seven people).
These eclectically-designed villas that are a juxtaposition of the old and new, were originally built by Loulou Van Damme, a celebrated hotelier and interior designer hailing from Belgium, before being sold in 2011 to its current Goan owner, Charmaine. Each villa's architecture and decor epitomises a theme, a story and every room, a chapter so alluring, that the property is often frequented by writers, artists and other prolific dignitaries.
Panchvati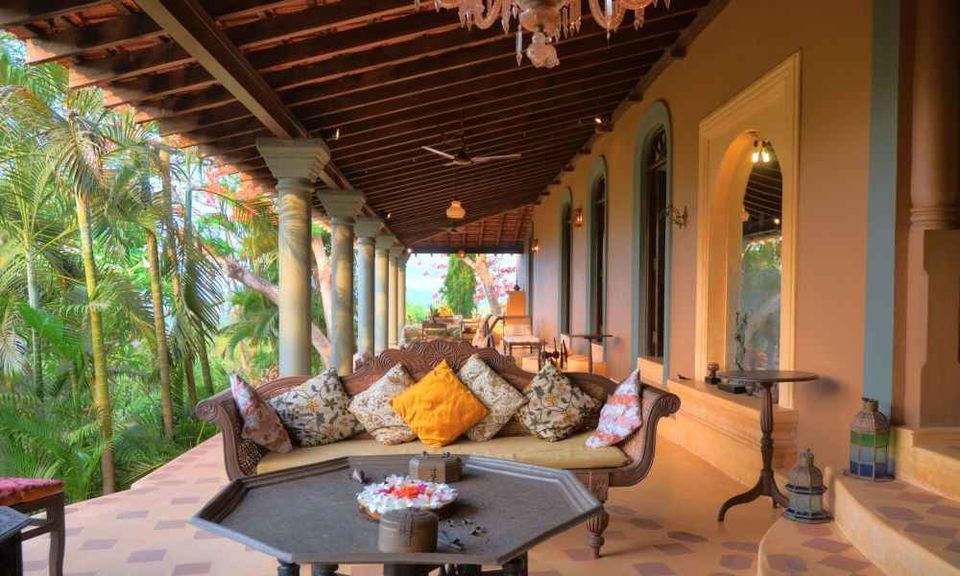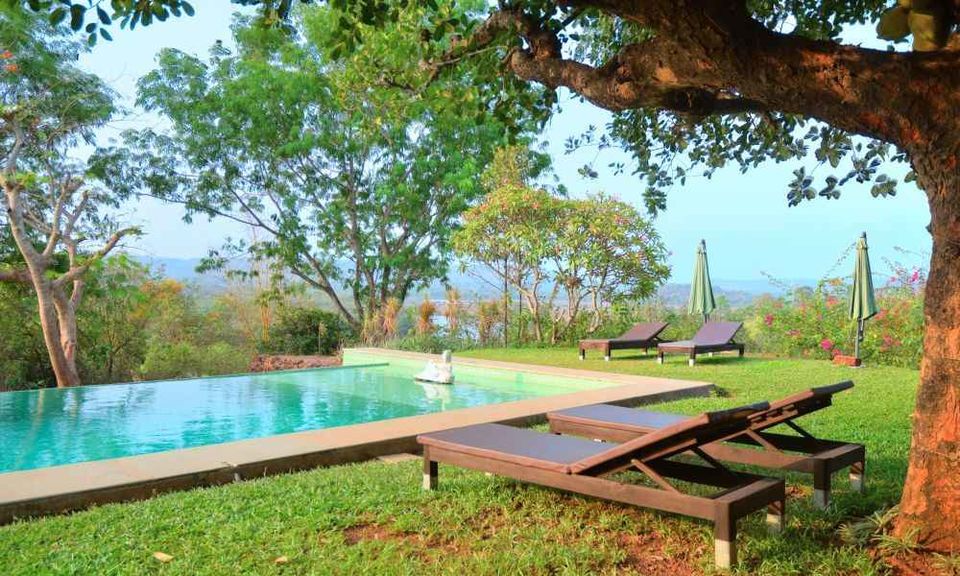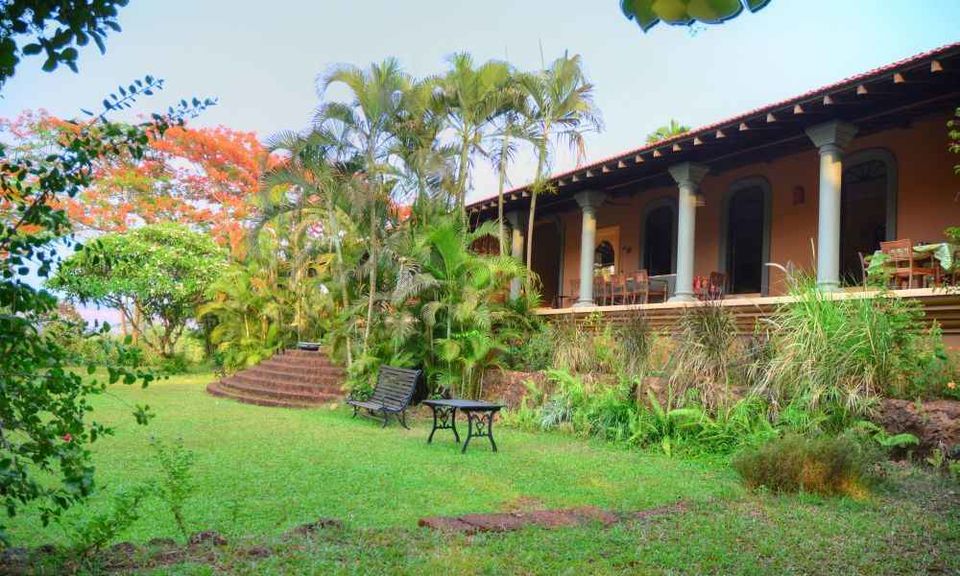 This five-bedroom Indo-Portuguese villa offers marvellous views and a quiet space like no other. Panchavatti, translating to five trees in Sanskrit is decked with rooms that are teeming with antiques and objects from the designer's nomadic life, embodying the villa's rich past. This haute-bohemian aesthetic, evident throughout the villa, makes it Avanilaya's most sought-after stay. Boasting of mahogany furniture, one of the bedrooms of the villa has a 19th century four-poster bed, draped in muslins and kalamkari spreads. The big traditional colonnaded verandah on the north of the villa overlooks the mangrove-fringed waters of Mandovi and is equipped with plenty of planter's chairs to spend away a lazy afternoon or two. Also, at the back of the villa, lies a heavenly infinity pool, nestled by the gardens.
The Third Place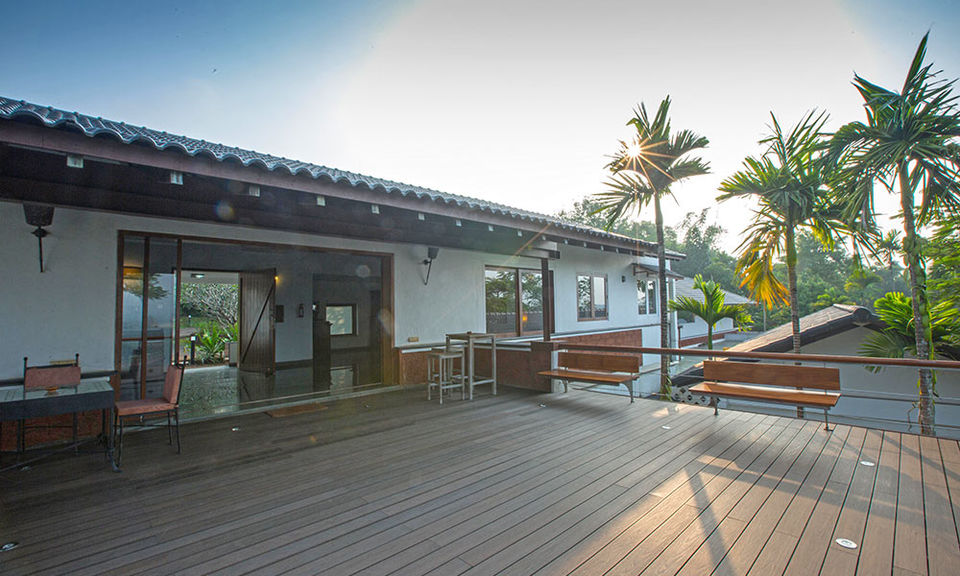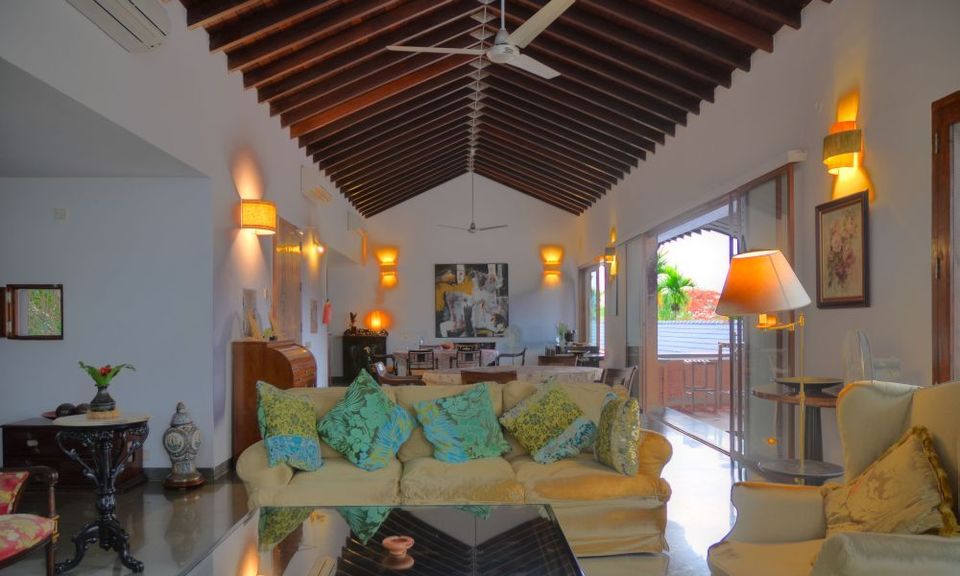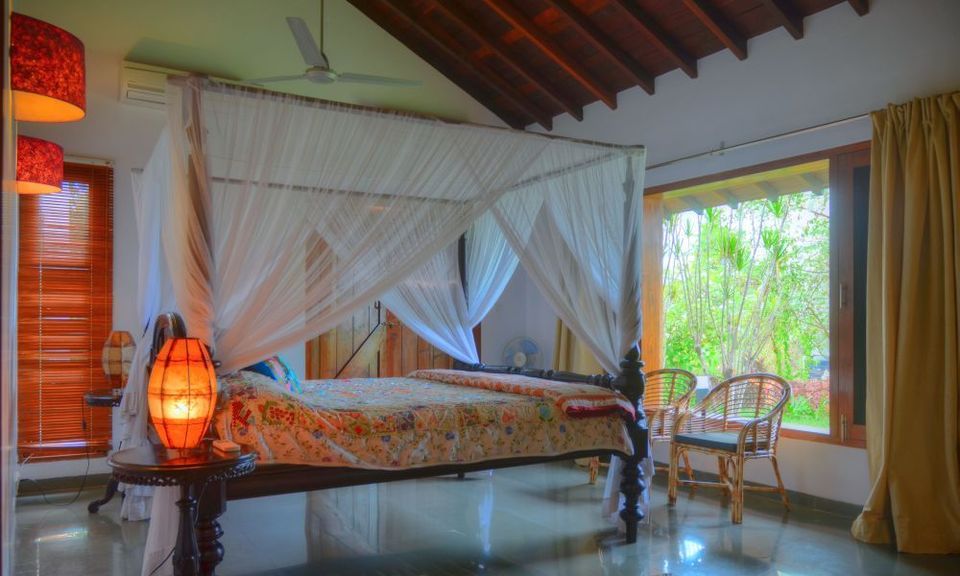 With four bedrooms, the Third Place, bathed in the fragrance of frangipani trees, is a stark contrast to Panchavatti. The villa's name was derived from a term introduced by American sociologist, Ray Oldenburg, who refers to the Third Place, as a place to relax at, away from work and home. The four spacious bedrooms, bathed in cool, summer pastels, are built across two floors. There is also an infinity pool, a jacuzzi and a state-of-the-art terrace, that towers over the river. Radiating a modern, minimalistic vibe, this villa is contemporary urban at its best.
Padimunu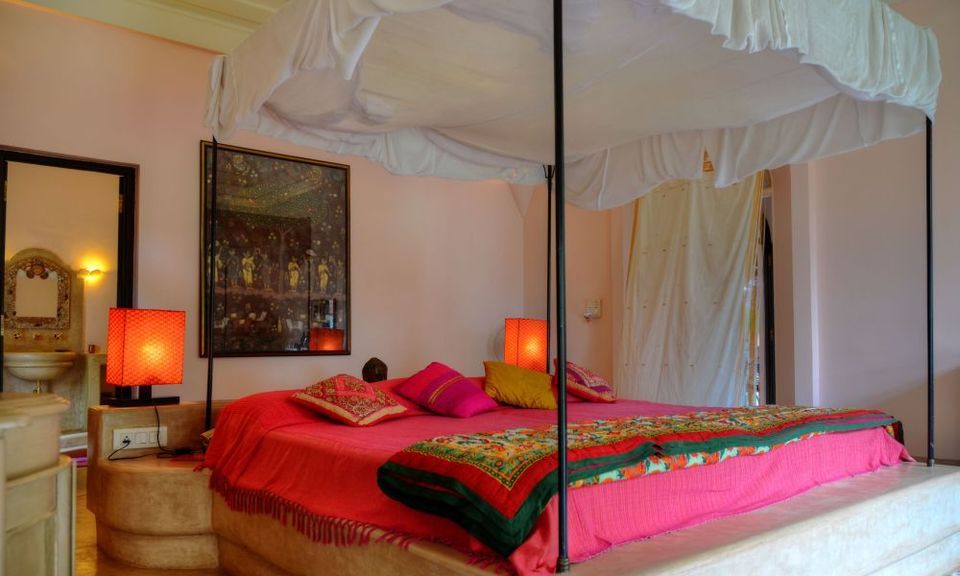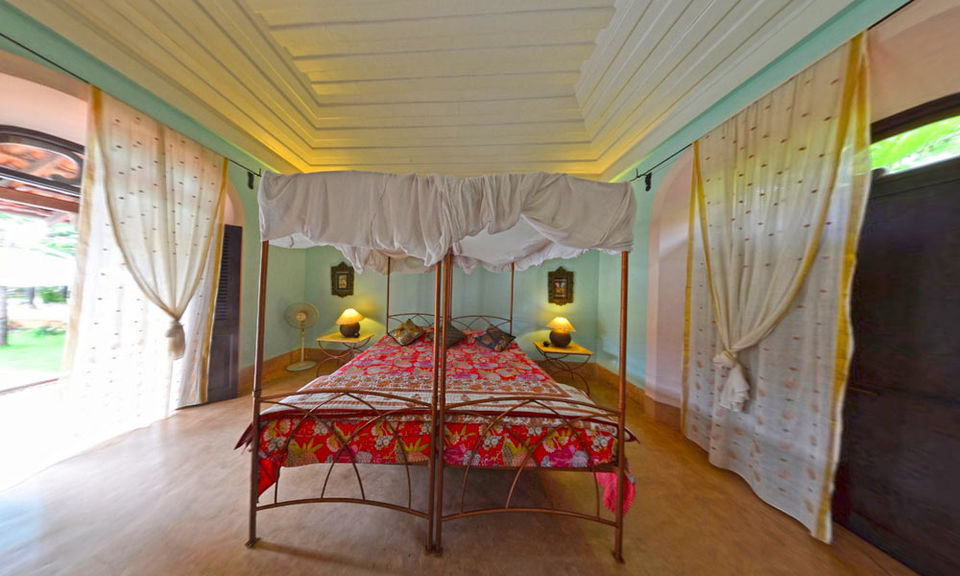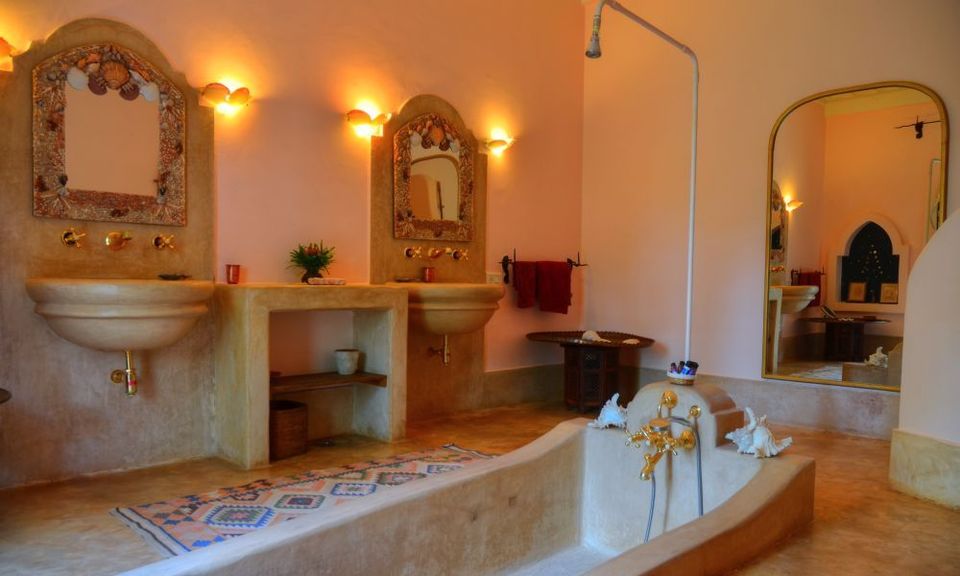 The most intimate of the three villas, Padimunu houses three bedrooms. Its name was extracted from the Tamil word for thirteen. The villa comprises of three bedrooms and an elongated living room that encircles the courtyard swimming pool. Furnished with an amalgamation of Victorian, Portuguese and Keralan styles, the interiors are adorned with vibrant colours and ivory whites.
The highlight of this villa has to be the abundance of airy dining spaces that are more or less on the outskirts of the villa, right in the lap of nature, under the shade of jackfruit trees.
For more details, head over to their website.
Food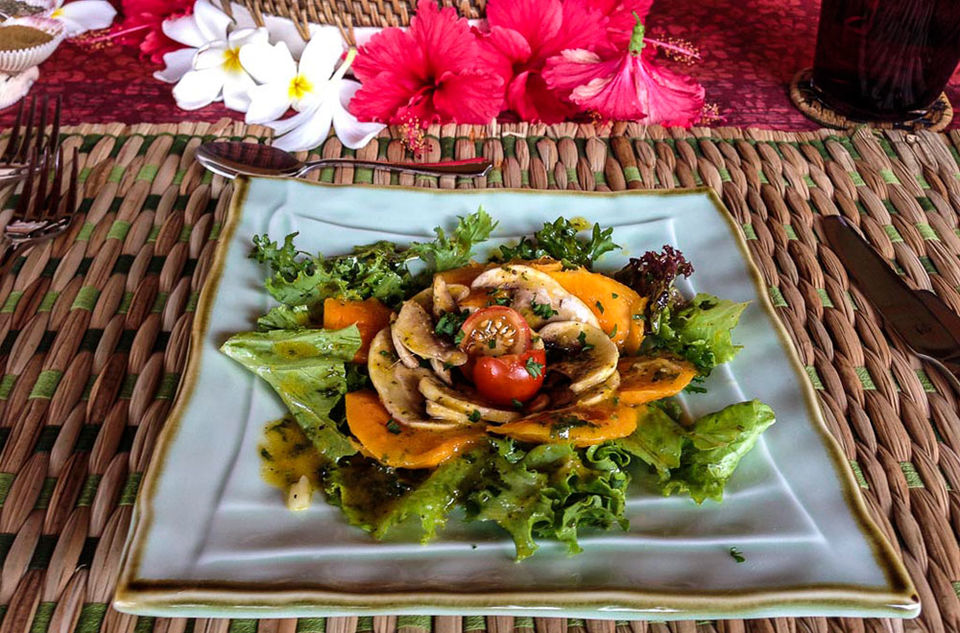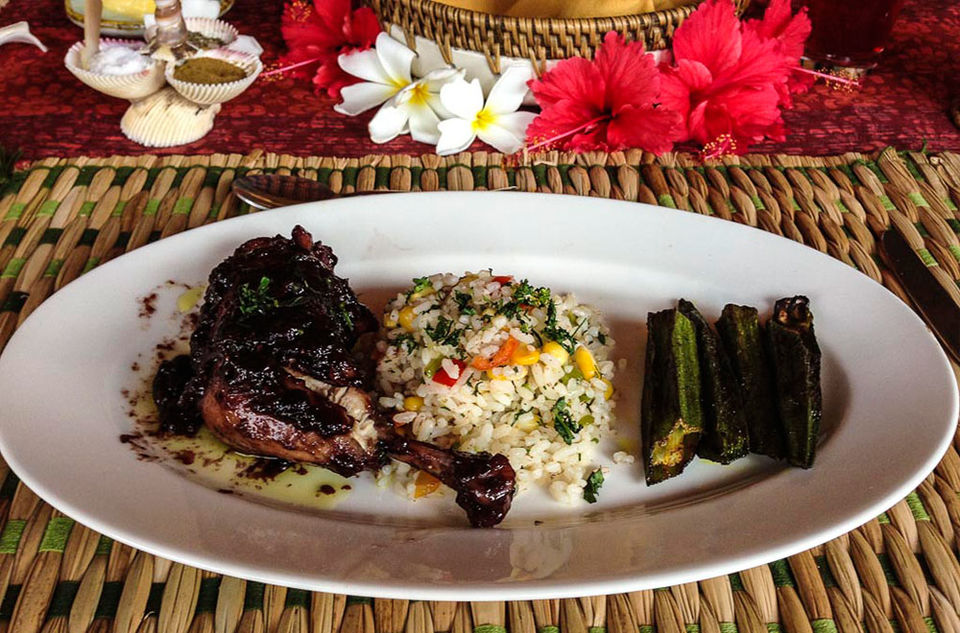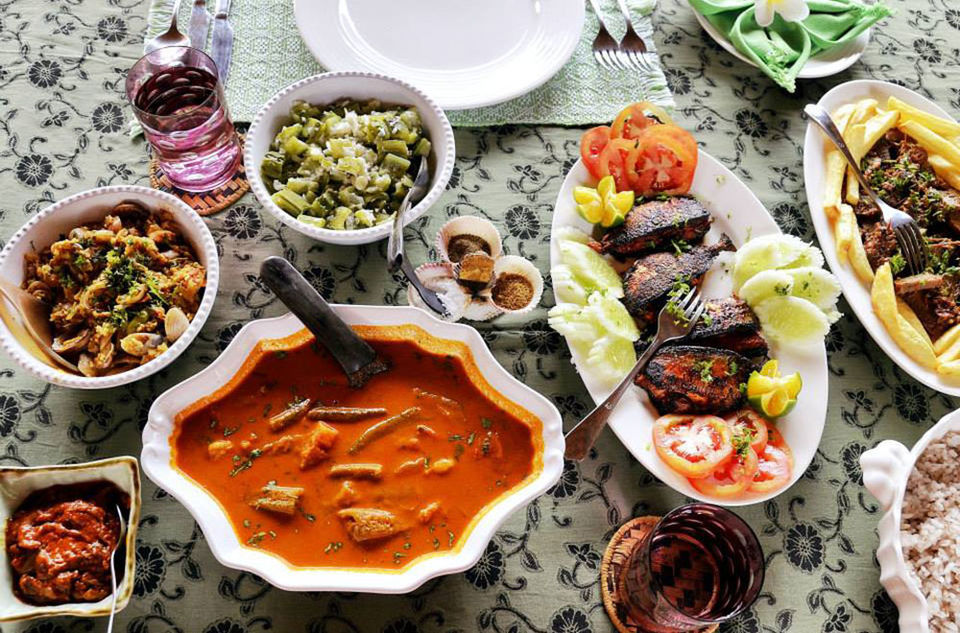 Made by skilled local cooks, Avanilaya whips up some of the most flavoursome Goan and continental dishes, all prepared using local produce and ingredients sourced from the gardens. Each villa has its own kitchen and chef, and while there's no set menu, almost any desired meal of choice can be cooked upon prior discussion with the host. Breakfast (a sumptuous one at that), is included in the tariff.
Pasta and bread are both freshly baked from scratch at the resort's kitchens. A few must-haves are the prawn curry with mango sauce, the Goan red rice, the chilled creamy carrot and apple soup, recheado masala-laced mackerel fry and chocolate soufflé.
Where
377B, Collemuddi, Corjuem, Aldona, Goa
Getting There
Avanilaya is 30 minutes away from the capital city of Panjim. The nearest airport is in Dabolim, an hour away from the resort. The nearest railhead is in Thivim, 20 minutes away from the property and also accessible by taxis. Buses also leave for Aldona from Mapusa every hour from 6.00 am till 7.00 pm.
Cost
From Rs 12,000 per room, per night, on double occupancy basis.
Sights
This 16th century fortress is one of the two inland forts existing in Goa. According to the late Father Moreno de Souza, the isolated, albeit beautiful structure of Corjeum or Khorjuem Fort derives its name from two words – khorik, translating to deep and zunvem translating to island. In the past, the fort protected the Portuguese from the Marathas, Bhonsles and the Rane Rajputs in the 19th century. Also, the chapel of St. Anthony was earlier known to have been located inside the premises of the fort.
Giving Aldona a smattering of grandeur is the stately 16th century parish church of St. Thomas. Perched on the banks of the Mapusa River, the church is bedecked with gigantic effigies, biblical murals and paintings.
Temples
Aldona has its share of temples that are visited by tourists and locals all year round. The Sai Bhakti Mandir and the Ravalnath Temple in Naicavaddo, the Ganesh Temple in Nachinola and Shri Satari Temple in Corjuem are worth a visit.
Chapels
Numerous beautiful chapels dot Aldona's village. St Rita of Cassia in Carona, Mother of God in Corjuem, Our Lady of Piety in Quitla and Holy Cross in Panarim should be visited for an understanding of the Goan catholic way of life.
Activities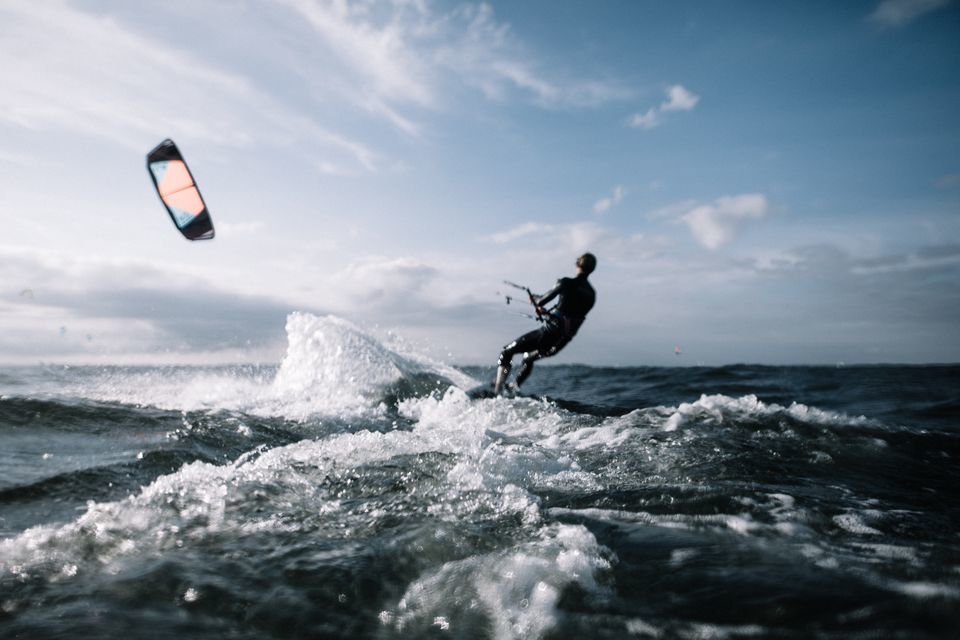 Water Sports: The beaches of Mandrem, Morjim, Baga, Candolim and Calangute are all a short picturesque drive away from Avanilaya. Hence, there's no dearth of options for the adventure-seeking traveller. Go windsurfing in Panjim, scuba diving in Baga or parasail across the Goan coastline.
Shopping
Visit Panjim's municipal market for its cartoon-adorned walls, sketched by Mario Miranda. Go to the Mapusa's Friday market that is a vibrant local affair with Goans coming together to sell their farm produce. Head to the Saturday Night Market on the Arpora Hill, that is one big colourful party, and Anjuna's flea market on Wednesday for its potpourri of Kashmiri, Gujarati and Tibetan shops.
Know of some other Goan resorts or hotels that are far away from the bustling beaches? Share your own story or travelogue on Tripoto and inspire millions to travel!
Think we missed out on something? Tell us about it in the comments below. Or write about it here on Tripoto and earn Tripoto Credits!
Frequent Searches Leading To This Page:-
Best Tour Packages for Goa, Goa Tour Package for Couple, Best Travel Packages for Goa, Best Goa Trip Packages, Goa Holiday Tour Packages, Top Goa Packages for Family, Goa Honeymoon Packages from Delhi, best avanilaya goa wedding, top avanilaya villa resort goa