North Goa is home to a sleepy little village called Moira. And it will take you a mere minutes to fall under its evocative spell. Sitting in the timeworn Portuguese hinterland of the state's Bardez region, Moira Goa is a beautiful orchestration of routine occurrences – tropical sunshine glinting through paddy fields, the Mapusa River murmuring its way through coconut groves, a distant ring of church bells, and the sundown sketching silhouettes of the fishermen's boats parked at the riverbank. And herein lies BirdSong, away from the cacophony of the sights and sounds synonymous with Goa. Planted in the midst of jackfruit, chikoo and sangwan trees, the 200-year-old Portuguese bungalow is flanked by pillared verandahs and high roofs. A stone's throw away from Moira's florid fishermen's huts, kitsch feni bars, fish-curry rice cafés and time-worn chapels, BirdSong was brought to life in 1804 and beckons travellers with its unassuming charm.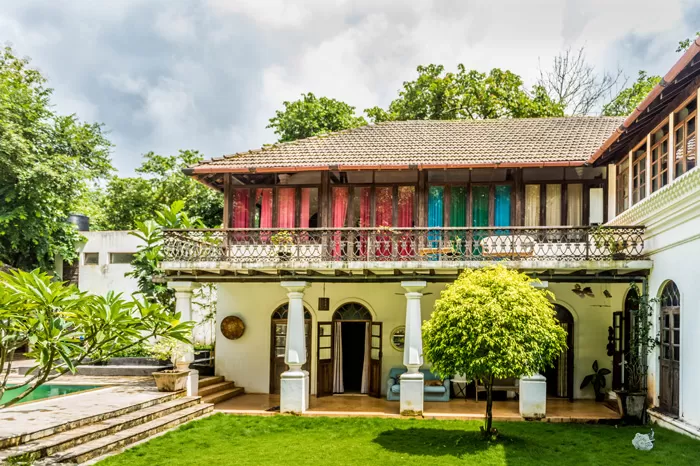 Ideal for
BirdSong is the perfect hideaway for families, a large group of friends and couples, who can either have a complete staycation here, or use the bungalow as a base to explore North Goa and its cornucopia of secret trails and beaches. The entire villa can also be rented out for parties, reunions and big celebrations, in general.
About Moira Goa
BirdSong is a sanctuary of absolute peace. The bungalow is home to a dog and a cat, sweeping gardens, walls that are embellished with art and bookshelves teeming with paperbacks and magazines of an assortment of genres. Butterflies will flit in and out of your conversations and your mornings will start with the chatter of resident birds. And true to Portuguese hospitality, the home emanates an unmistakable warmth with its minimalistic decor and off-the-wall alcoves.
A little spice and everything nice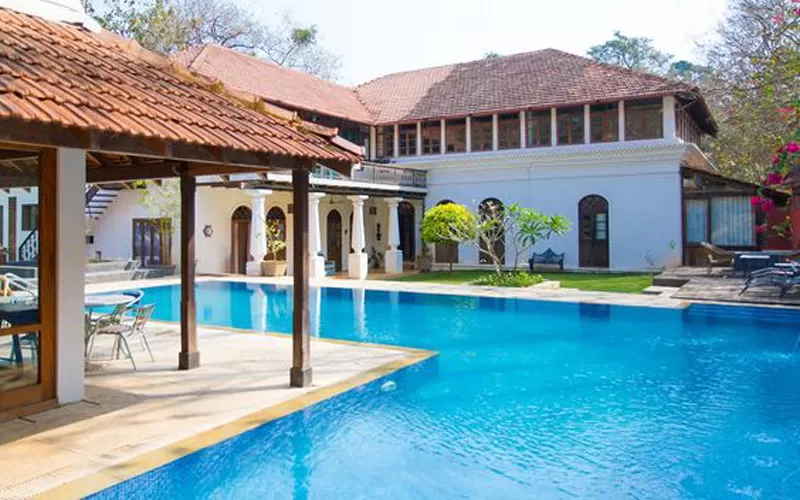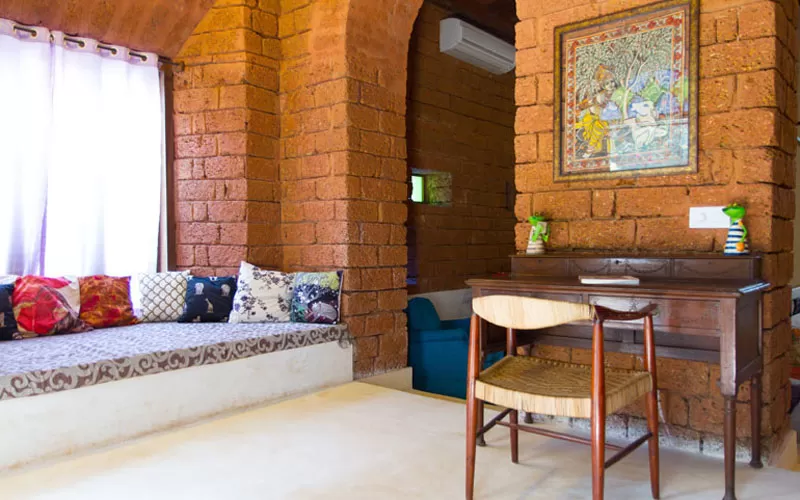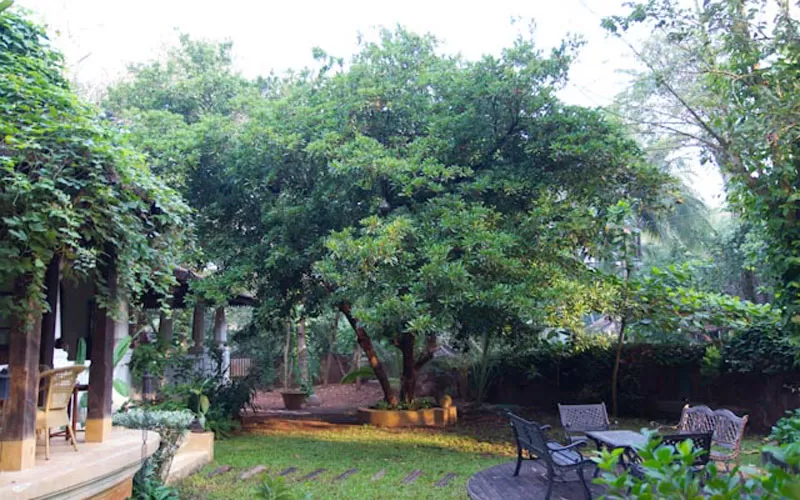 BirdSong boasts of six suites, each christened after a plantation and the furnishings embody its characteristics. Caraway, Cardamom, Cinnamon, Clove, Nutmeg and Pepper, are all unequivocally styled and are bound to render you nostalgic.
Caraway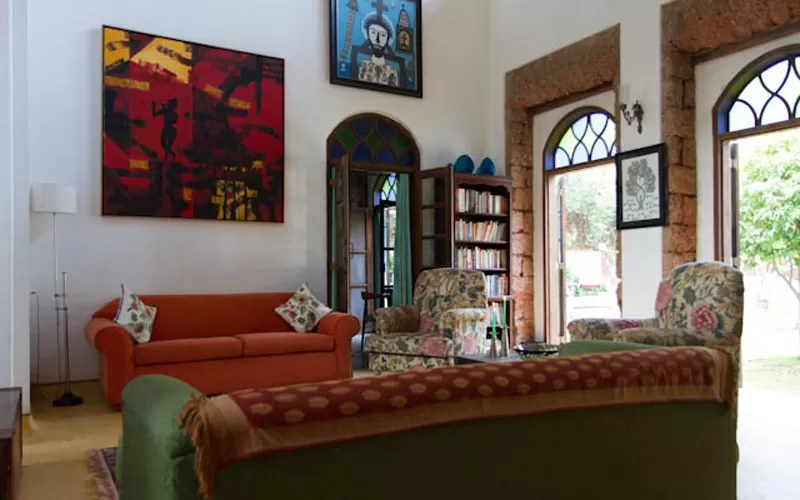 Predominantly made of stone, the Caraway suite is an architectural marvel. Lying at the very centre of BirdSong, this suite's main attraction is the cinematic spiral staircase that leads up to a loft fanning down over the lawn and a L-shaped swimming pool. It is also equipped with a plush double bed. Caraway is also decked with a private ante-room and a beautiful outdoor shower.
Cardamom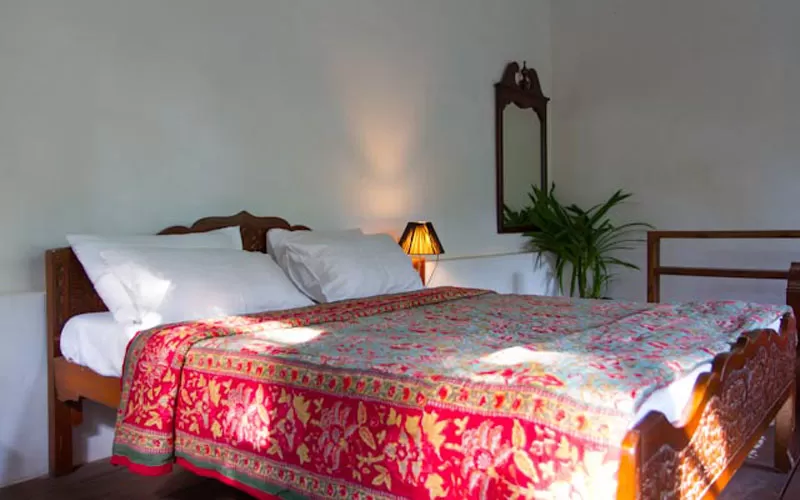 Neighboured by tall sal trees, Cardamom's charm lies in the sheer calm radiated by every nook and cranny of the suite. Lying just off the front verandah, this one is perfect for families visiting with children. Furbished with writing tables, armchairs and a delightful wooden mezzanine, Cardamom too, has a outdoor shower.
Cinnamon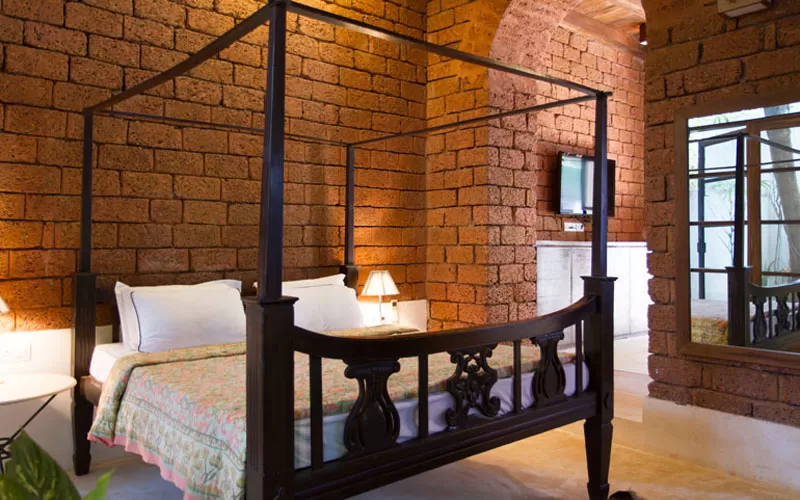 This suite is an experience in itself. Akin to a small, albeit divine apartment, Cinnamon is festooned with bunk beds for the children, a study table, old American winged chairs and a magnificent collection of religious Indian iconography. And epitomising all things eccentric, Cinnamon's bathroom has multiple levels with a tree growing away in abandon, right through it.
Pepper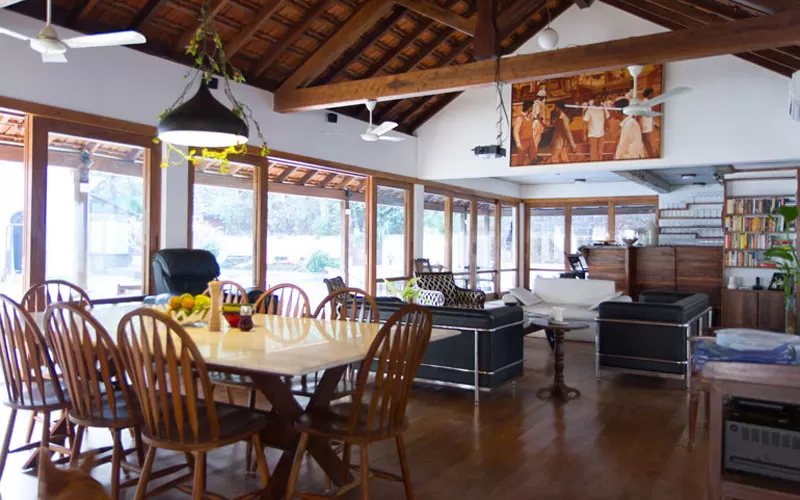 If you're aiming at complete privacy, Pepper is the suite for you. Accessed through the verandah, this quarter of BirdSong has a mysterious aura about it. With dominant dark tones, one-of-a-kind artwork and the most comfortable of sofas to crash on, Pepper is quite possibly BirdSong's most exceptional offering.
Nutmeg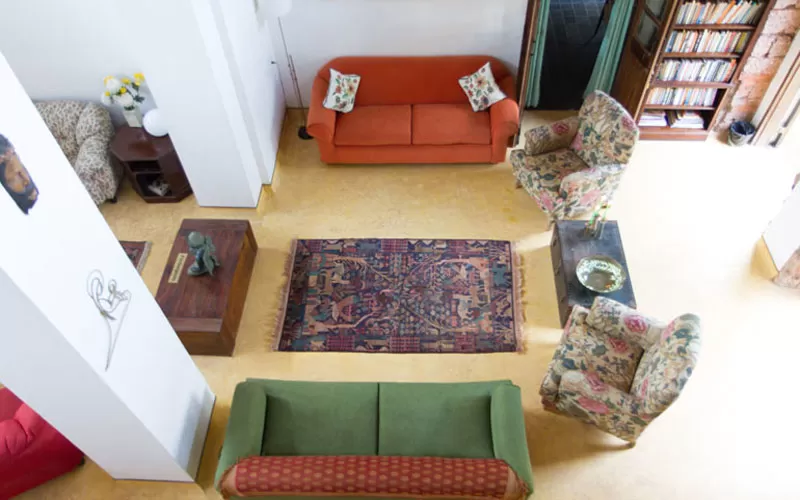 Nutmeg is all about unadulterated warmth. A typical Goan energy is manifested through its red laterite walls, pastel-hued furnishings and extravagant beds. Further uplifting your senses, are the surrounding lawn and pool on one end of Nutmeg, and a lavish courtyard on the other.
Clove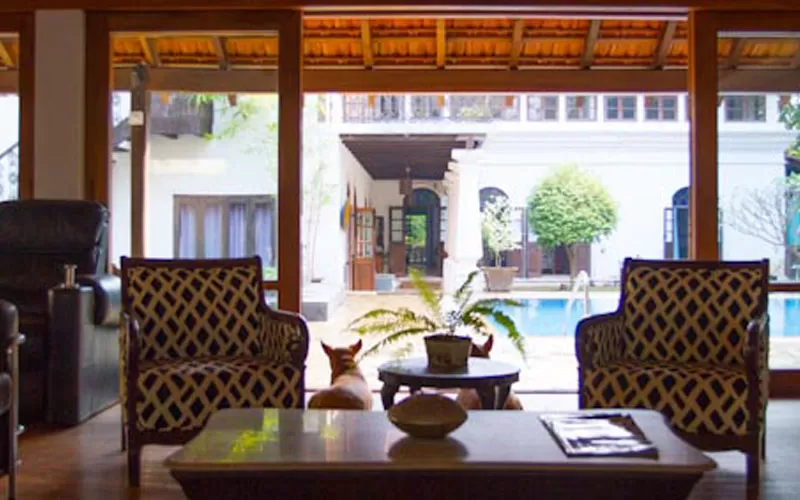 A glorious blend of the old and the new, Clove screams ultimate comfort. Adjacent to the bar lounge and the pool, this one is ideal for the convivial crowd. Clove's highlights have to be its cubby-hole windows that usher in sunlight throughout the day and the bay window bed in the sitting room, which is most children's favourite.
Food
The villa's cook, whips up the most flavoursome Goan and continental dishes, all prepared using local produce and ingredients sourced from the markets. While there's no set menu, almost any desired meal of choice can be cooked upon prior discussion with the chef. Breakfast (a sumptuous one at that), is included in the tariff.
Cost
During peak season, BirdSong has the following tariff:
Suites (for double occupancy) – ₹12,500
Villa (accommodating 16 people) – ₹72,000
Daily breakfast in the dining hall is included in the tariff. Accommodation in the same room for two children below six years, without provision of an extra bed, is complementary.
For further details, visit their website.
Best time to go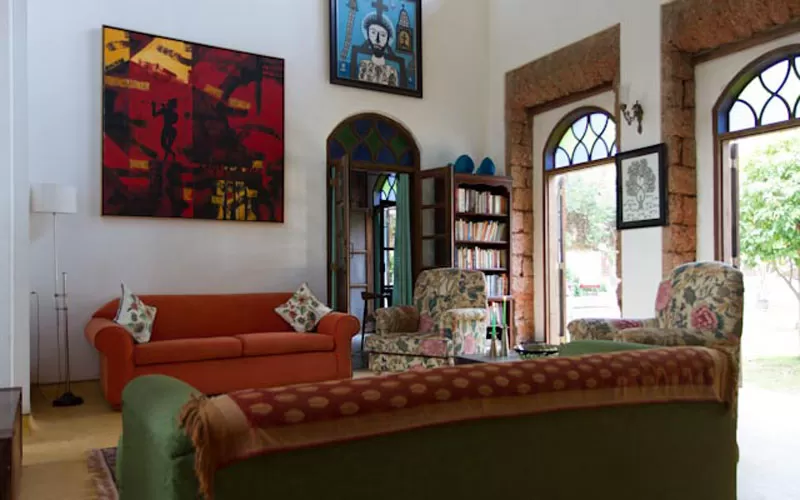 The best time to visit Goa is from November to February, when the days are pleasant and the nights, cool. Another equally good season is June to October, when the state is at its most beautiful. The rains are ushered in during these months and while the countryside becomes a lush green, the clubs start brimming with tourists and legendary parties.
What to do in and around the property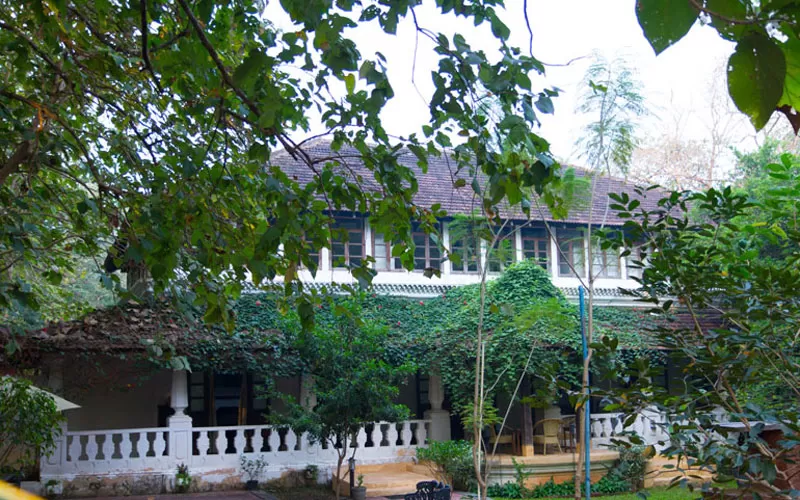 The art of doing nothing
BirdSong has a luxurious steam and massage room tucked away right above the bar, where you can unwind and sweat away the toxins. A masseur/masseuse can be booked by appointment on advance notice, especially during high season.
One can also while away hours on end watching kingfishers gobble up the fish sustained by BirdSong's lily pool. Bird-watchers can keep an eye out for the nimble golden oriole and the gorgeous magpie robin. Upon nightfall, you can also venture out for a leisurely stroll through Moria's bafflingly silent streets.
Around Moira Goa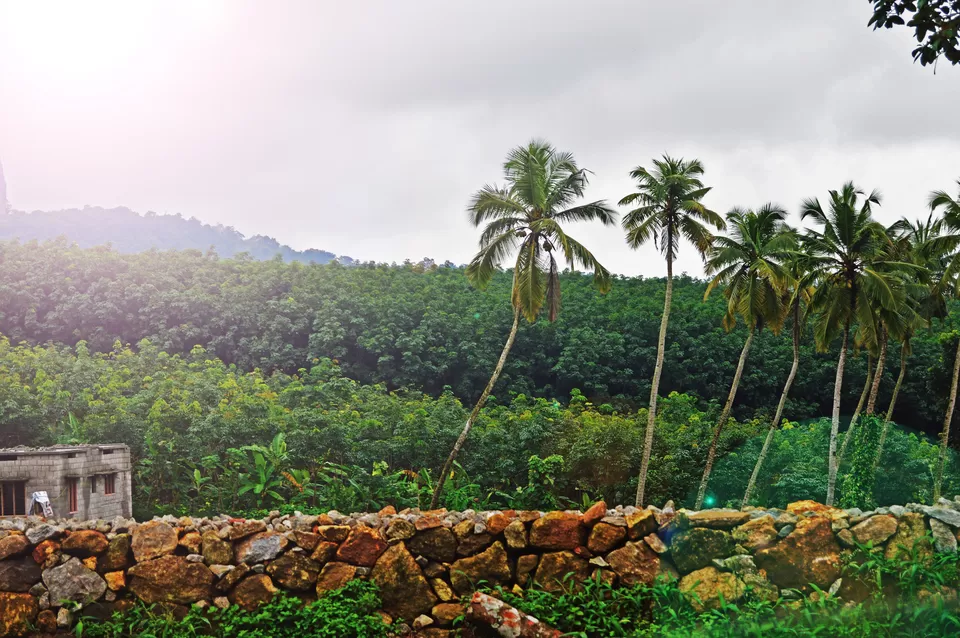 This 16th century fortress is one of the two inland forts existing in Goa and is 15 minutes away from Moira Goa. According to the late Father Moreno de Souza, the isolated, albeit beautiful structure of Corjeum or Khorjuem Fort derives its name from two words – khorik translating to deep and zunvem translating to island. In the past, the fort protected the Portuguese from the Marathas, Bhonsles and the Rane Rajputs in the 19th century. Also, the chapel of St. Anthony was earlier known to have been located inside the premises of the fort.
In the village of Aldona, a smattering of grandeur is provided to the Bardez district by the stately 16th century parish church of St. Thomas. Perched on the banks of the Mapusa River, the church is bedecked with gigantic effigies, biblical murals and paintings.
Temples
Aldona also has its share of temples that are visited by tourists and locals all year round. The Sai Bhakti Mandir and the Ravalnath Temple in Naicavaddo, the Ganesh Temple in Nachinola and Shri Satari Temple in Corjuem are worth a visit.
Chapels
Numerous beautiful chapels dot Moira's outskirts. St Rita of Cassia in Carona, Mother of God in Corjuem, Our Lady of Piety in Quitla and Holy Cross in Panarim should be visited for an understanding of the Goan catholic way of life.
Water Sports
The beaches of Mandrem, Morjim, Baga, Candolim and Calangute are all a short picturesque drive away from BirdSong. Hence, there's no dearth of options for the adventure-seeking traveller. Go windsurfing in Panjim, scuba diving in Baga or parasail across the Goan coastline.
Shopping
Visit Panjim's municipal market for its cartoon-adorned walls, sketched by Mario Miranda. Go to the Mapusa's Friday market that is a vibrant local affair with Goans coming together to sell their farm produce. Head to the Saturday Night Market on the Arpora Hill, that is one big colourful party, and Anjuna's flea market on Wednesday for its potpourri of Kashmiri, Gujarati and Tibetan shops.
Getting there
By Air: BirdSong is 40 kilometres away from Goa's Dabolim International Airport, and it takes a little over an hour to reach the beautiful home.
By Rail: The nearest railway station is 18 kilometres away and located in Thivim. It takes around 30 minutes to reach the property from the station.
By Road: Two kilometres east of the Goan town of Mapusa, BirdSong can be reached through NH66 via local taxis.
Have you been to Moira Goa? Share a trip on Tripoto and become a Tripoto star!
Frequent Searches Leading To This Page:-
Best Tour Packages for Goa, Places to Visit in Goa, Best Travel Packages for Goa, Best Goa Trip Packages, Goa Holiday Tour Packages, Top Goa Packages for Family, Goa Honeymoon Packages from Delhi