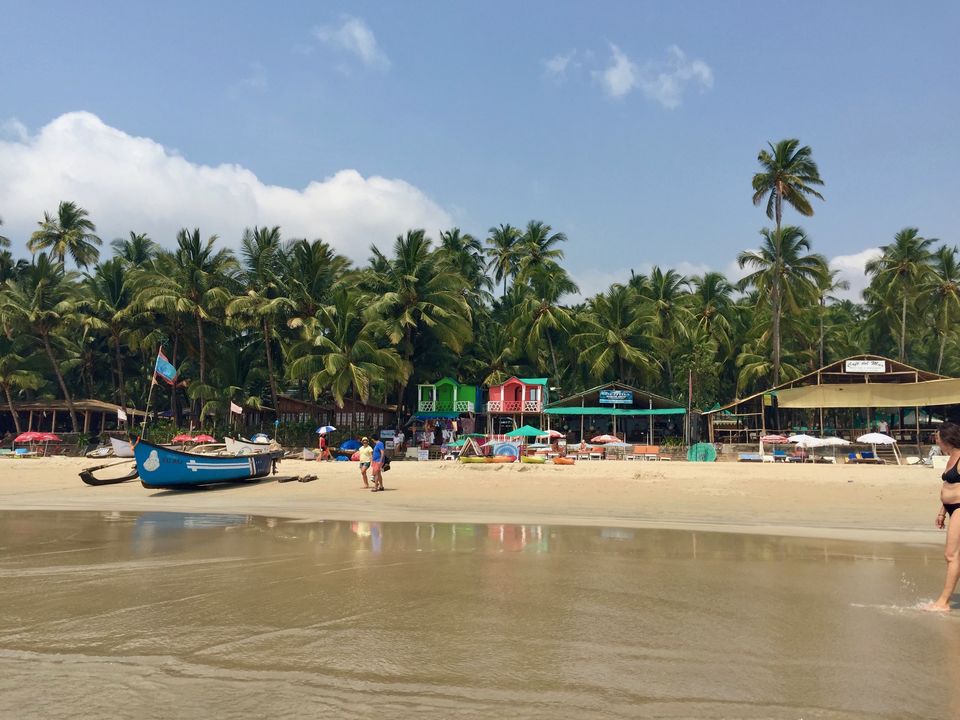 GOA: The official party capital of India enchants tourists from all over the globe due to it's picturesque beaches, lush greenery, tropical forests, popular nightlife, majestic sunsets, water-sports, laid-back beach shacks & delicious sea food. It might be India's smallest state but it is also the country's most beloved vacation escape as it packs a wallop in terms of sightseeing, adventure, nightlife, food, accommodation and fun activities.
Now, the people who have not been to goa before must be wondering whats up with this north goa and south goa!? I mean aren't there enough complicated things already! If you look at the map of India, Goa is a very tiny coastal state on western coast of Indian peninsula with hardly 3.6k Km Sq. of land area & a population of around 2 million. So let me help you here that goa is further divided into North Goa, South Goa & Old Goa or Velha Goa. To make things simpler everything north of Vasco da Gama City is know as north goa while everything south of it is called as south goa and old goa or Velha goa is a historical city in northern region approximately 11 km east of state capital Panjim.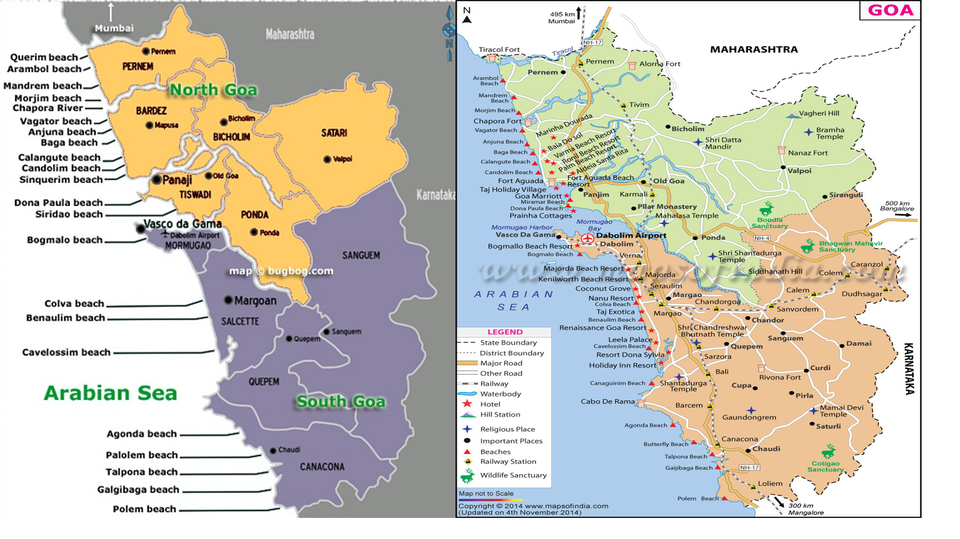 Now let me tell you the basic difference between them to clear up this naming clutter & to help you plan your trip accordingly.
North Goa vs South Goa is an never ending debate just like conundrum of lifetime. Which is better and Why?? They are not geographically or politically different regions but the style of tourist attraction makes a difference. Both are unique and beautiful in their own way. North Goa is all about nightlife, shopping, flamboyancy, lavish clubs, eateries and liveliness, whereas South Goa has unblemished beaches, scenic drives, unruffled environment and tranquility. The north part may attract more tourists, but the south is sans chaos and crowd.
Thou north has more tourist attractions & happening places, being a total beach bum I personally prefer south goa due to it's soul soothing secluded beaches. The choice totally depends on your personality & perception. I can explain it here but it will be better if one experiences both parts & then foster their own likings. Both are full of surprises from head to toe, So no matter what part of Goa you are touring, there is something special waiting for you. From beaches and parties to temples and churches, Goa amazes you in its contrasting yet welcoming aspects.
I visited goa last November and got a week to explore this coastal paradise. I wanted to escape from my routine razzle-dazzle so I decided to skip the usual tourist traps and took an detour to explore the unplugged south goa which was criminally under-loved.
Itinerary Overview:
Day 1: Arriving in Goa, heading to Majorda. Go-Karting at Nuvem.
Day 2: Going to Palolem, Colomb Beach.
Day 3: Dolphin ride, Tilmati Beach, Galgibaga Beach, Patnem beach.
Day 4: Kayaking, Sunset at Agonda Beach, Market visit at night.
Day 5: Betul Fort, Canaguinim Beach, Cabo De Rama Fort & Beach, Sunset at Cola Beach.
Day 6: North goa visit.
Day 7: Salaulim Dam, Badambudo & Bhupar Waterfalls.
Day 8: Exploring Palolem Backwater. Naval Aviation Museum visit.
Trip Overview:
Time: November 2nd Week. 8D/7N
Est. Expenditure(Ex. Goa Airport): 16k
Best Time to visit: October end - Mid April
Place of Stay: Presley De Resort,Palolem Beach, Canacona, South Goa
Day 1: Arriving in Goa
I was planning to go solo for this one because I avoid large crowd and the less people you travel with more better will be your experience. But at the 11th hour my colleague decided to join me in this trip. So we booked our flights from ahmedabad & reached goa airport at 5 pm. We had booked a OYO room near Majorda so we directly went there before the night sets in. The stay was pretty cheap for the facilities provided to us as it was a newly opened hotel.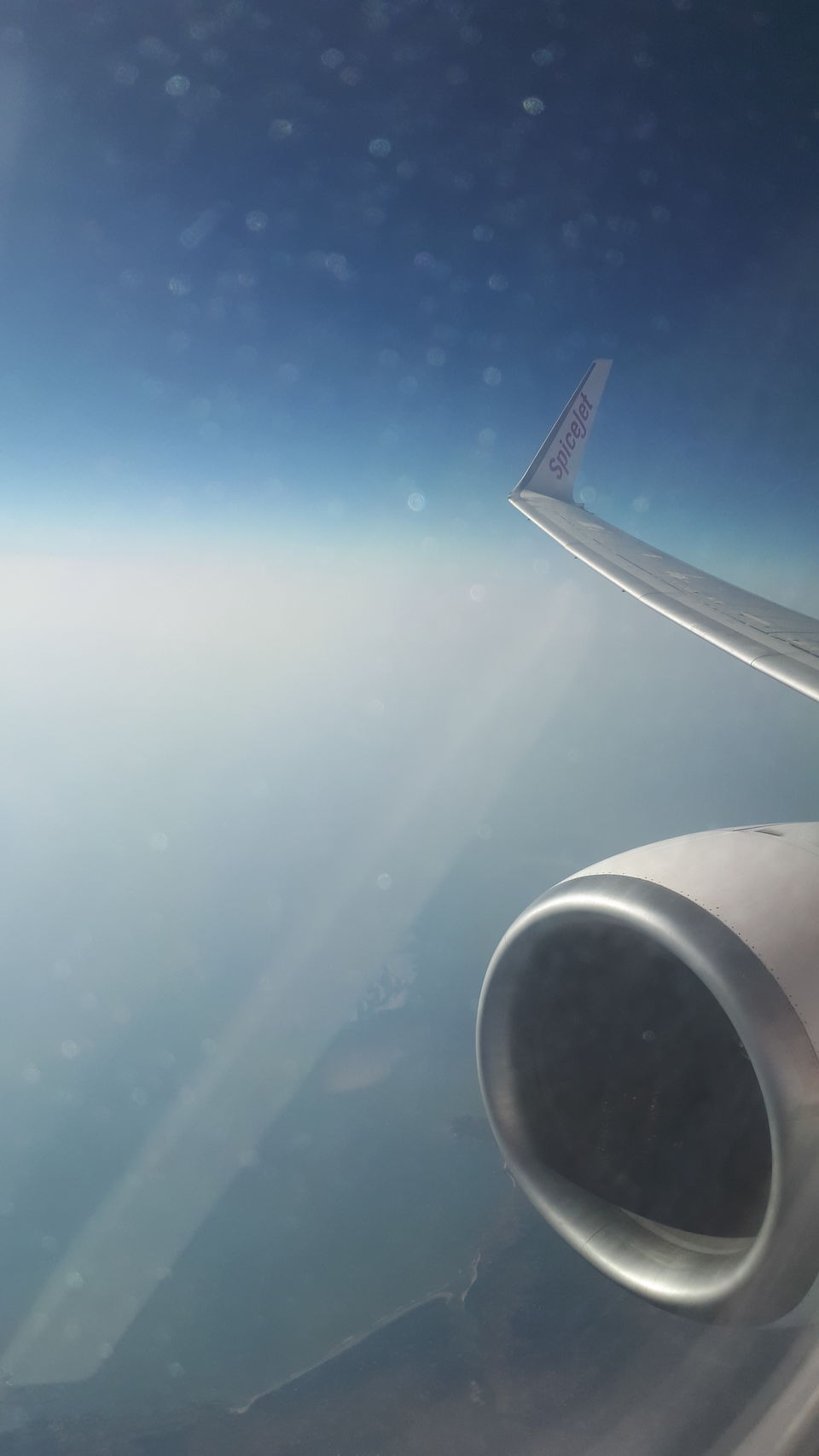 After freshening up, we went in search for a rental vehicle to visit the Go-Karting at Nuvem. Vehicles can be rented across goa ranging from 200-400 per day for moped.
Now there are two Go-Karting tracks in Goa, one in Arpora & the other in Nuvem. If you are an adventure junkie & love the thrill of fast lane driving then you must add this into your itinerary. You get the works, squealing tyres, burnt rubber and the adrenaline rush of the true racing enthusiast.
Go-Karting requires no special training beforehand, contrary to the fears of most people, it is quite safe and enjoyable. Anyone can do it. The track has enough curves to provide the thrills and the adrenaline rush for the racing enthusiasts. This track regularly holds the Goan leg for the JK Tyre National Go Karting Championship. The Go Kart track is located on top of a hill and provides a splendid view from top. The 482 m long twisting track is billed as a very technical circuit and is described as one of the best in the country. The average speed is over 70 kmph. A screen display of lap times lets you know your best and slowest lap time. You can compete with yourself not just others.
We loved this sport so much that we went for another round immediately. The charges are around 300 bucks for one round consisting 10 laps. The venue is located in Nuvem and is close to Panjim-Margao highway.
The presley's resort serves some nice set breakfast. There are specific combinations based on respective country's ideal breakfast. Such as American breakfast with cereal & milk. English breakfast with bread & eggs. Etc.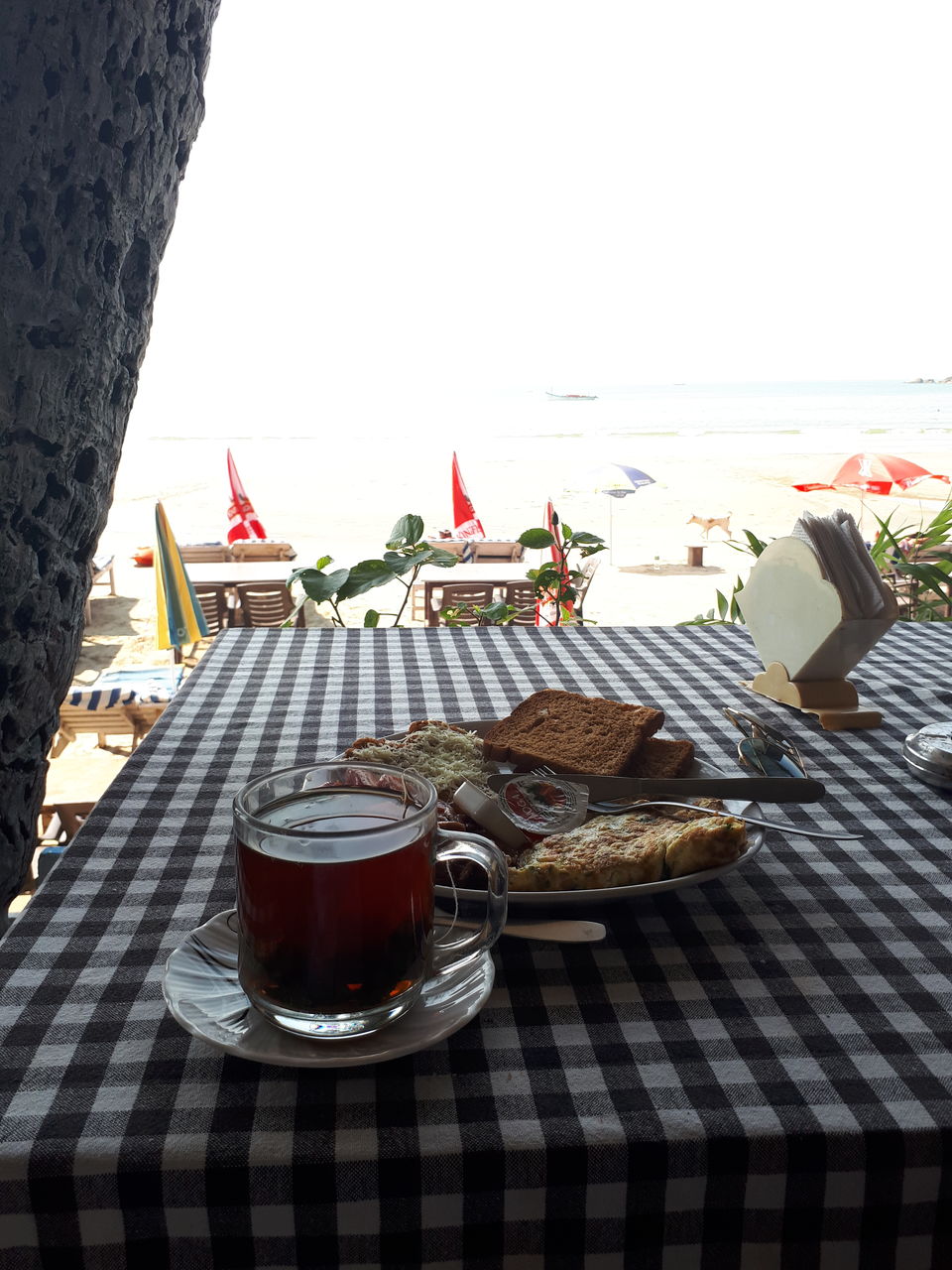 After this we went for dinner at Majorda beach where the shacks had these nicely arranged beach side tables to experience the natural ambiance & dine while hearing receding waves crashing softly.
Day 2: Going to the South Goa, Palolem Beach
We were scheduled to leave for palolem beach in the afternoon. So we still had some time to chill in Majorda. So We went to Colva beach early morning to witness the sunrise serenity. Then we went back to the hotel for breakfast & decided to chill in the swimming pool as we still had some time until our bus to palolem departs.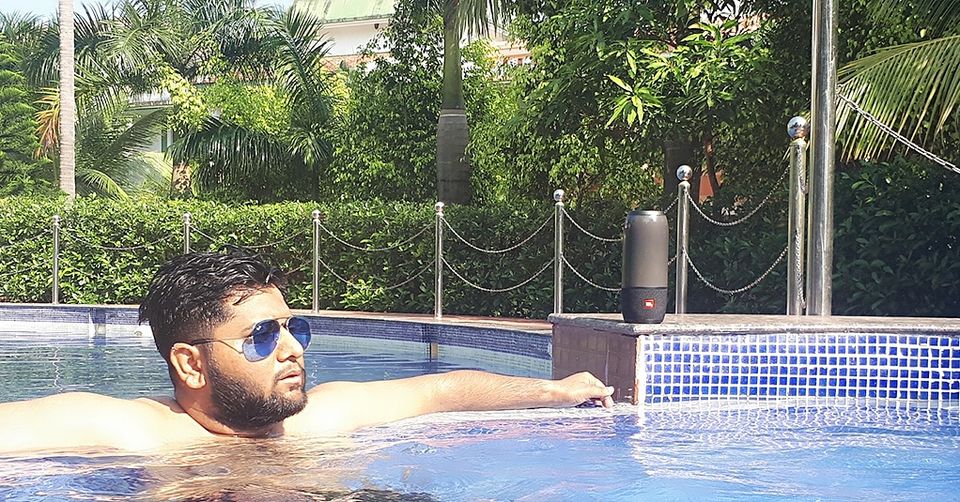 After soaking in the pool & filling our tummies full, we went to Madgao KTC bus stand to catch our bus to palolem, where we had booked our stay. I would suggest using public transport when in goa due to the lack of Uber & Ola cab services, the local taxi's would charge as they wish. Palolem beach is approximately 35 kms from madgao. Bus would hardly take a hour & half to reach. Try catching a bus which directly takes you to the beach itself in order to avoid spending extra on auto-rickshaw.
Arriving at Palolem Beach:
Palolem Beach is one of the few best beaches of Goa or probably of the Indian peninsula coastline. When I visited here for the first time a year ago I irrevocably fell in love with this place & imprinted on it at that very moment & developed an impeccable relationship with this place.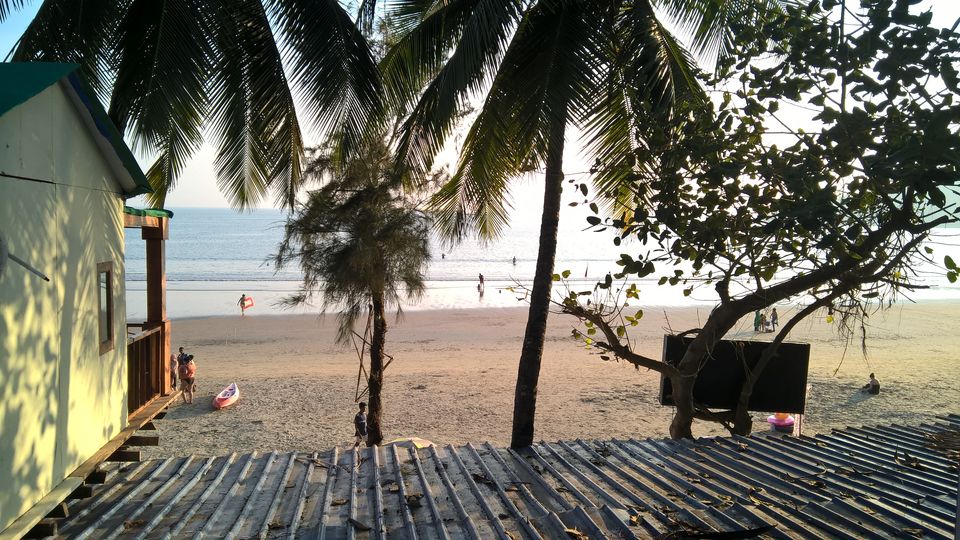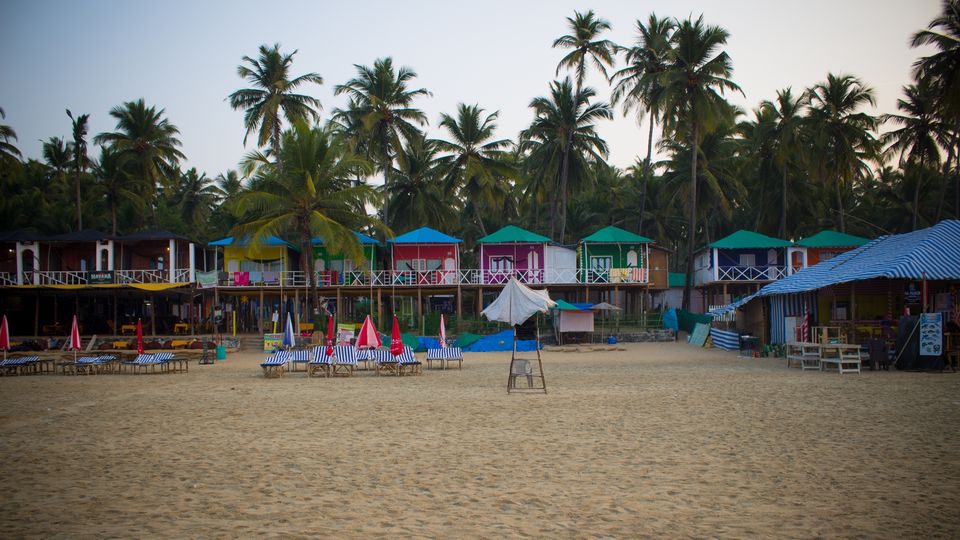 Palolem beach was just a fisherman's village a decade ago. But being attracted by it's pristine beauty the place gradually witnessed more tourist inflow & has been slowly becoming more commercial.
We had booked our stay at presley's beach resort on the north side of the beach. The resort has good accommodations with a nice restaurant offering sea view. The tariffs here are affordable depending on the season, the rooms offered here are clean and with enough facilities. The restaurant also offers good cuisines.
After settling down our luggage we quickly hit the bar to chill ourself while guzzling down some beers. We decided to visit the nearby colomb beach in the evening & went to the market later at night.
Colomb beach is a very small beach located on the south end of the palolem beach. The beach is mostly covered with rocks, though there are few cafe's & hotels where one can chill by the sea.
Day 3: Dolphin Ride, South-Side Beach Explorations
The next day early morning we went for the dolphin boat ride & to butterfly beach. Ask the shacks for arranging this boat ride. The price are ranging from 1000-1500 bucks which includes dolphin sightseeing & a visit to butterfly beach.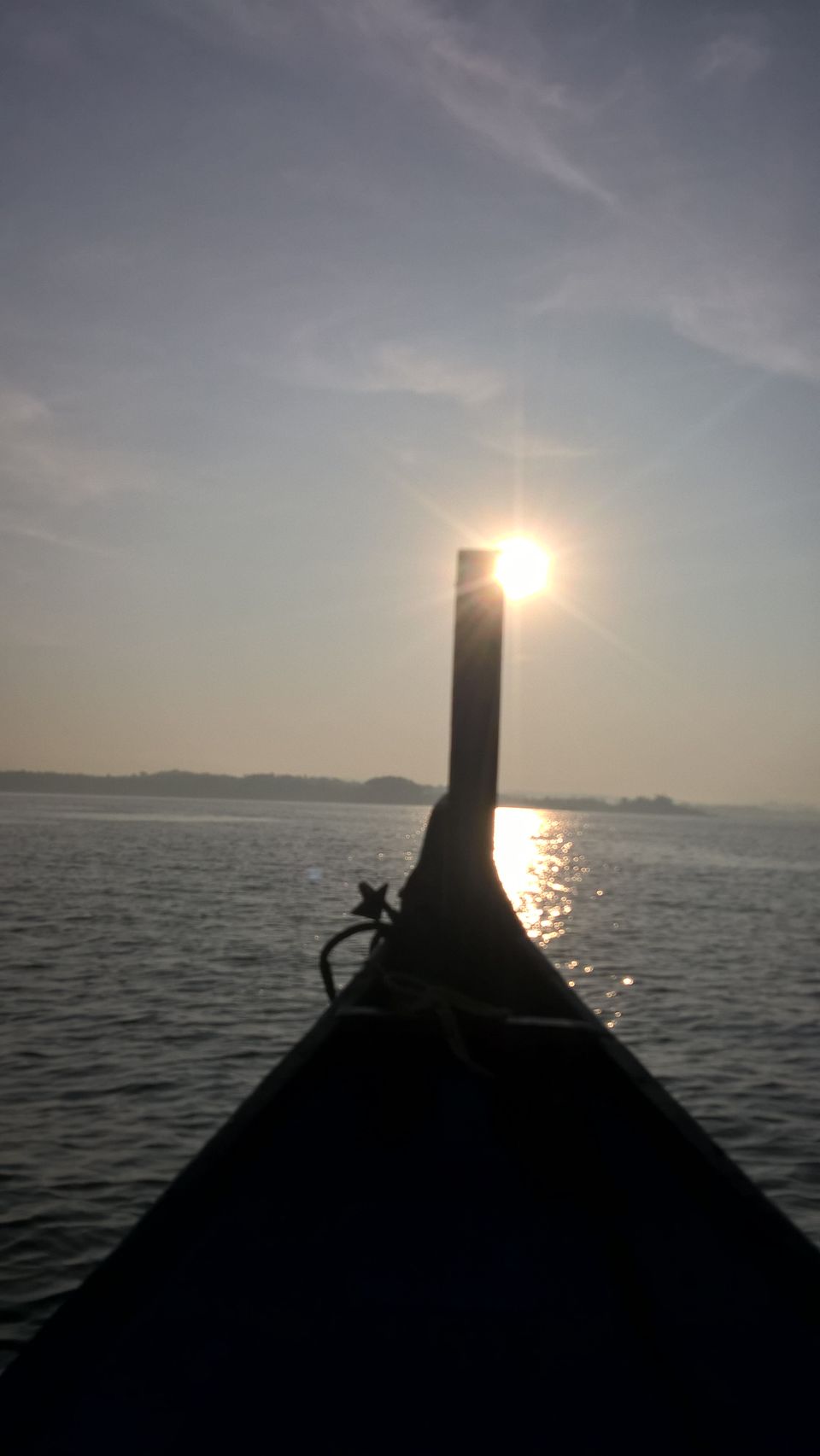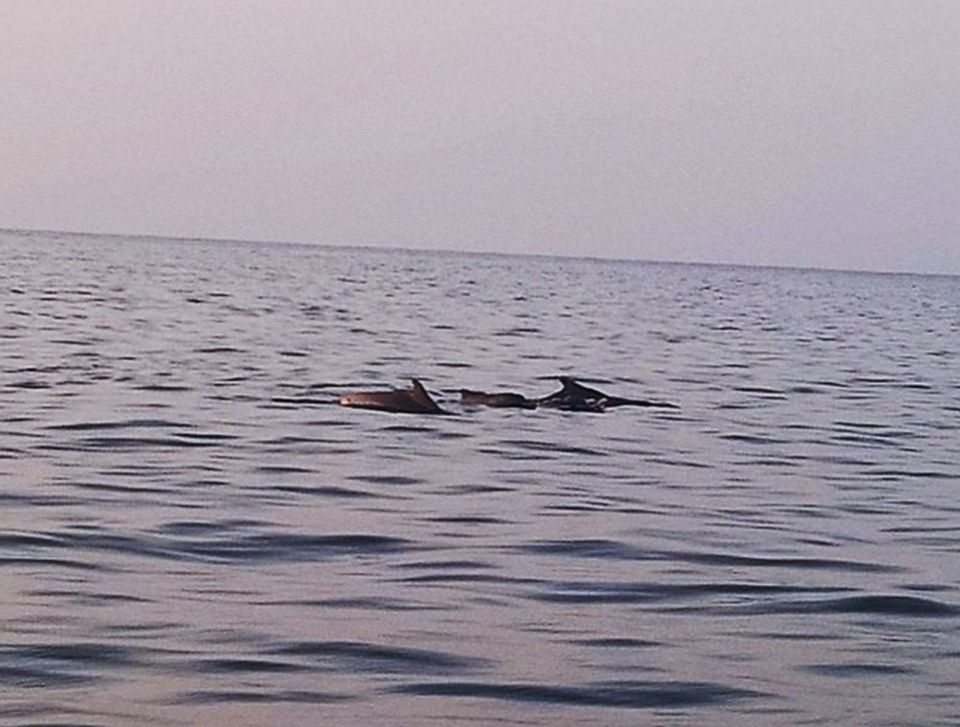 Butterfly beach is a virgin secluded beach surrounded by rock cliffs on each ends and covered with dense forest which makes it a isolated paradise. The beach is very small with steep shore. It takes just 5 min to reach here from palolem beach by boat, but there is no proper road to this beach. However one can reach here through the forest but it is suggested to bring along a local guide.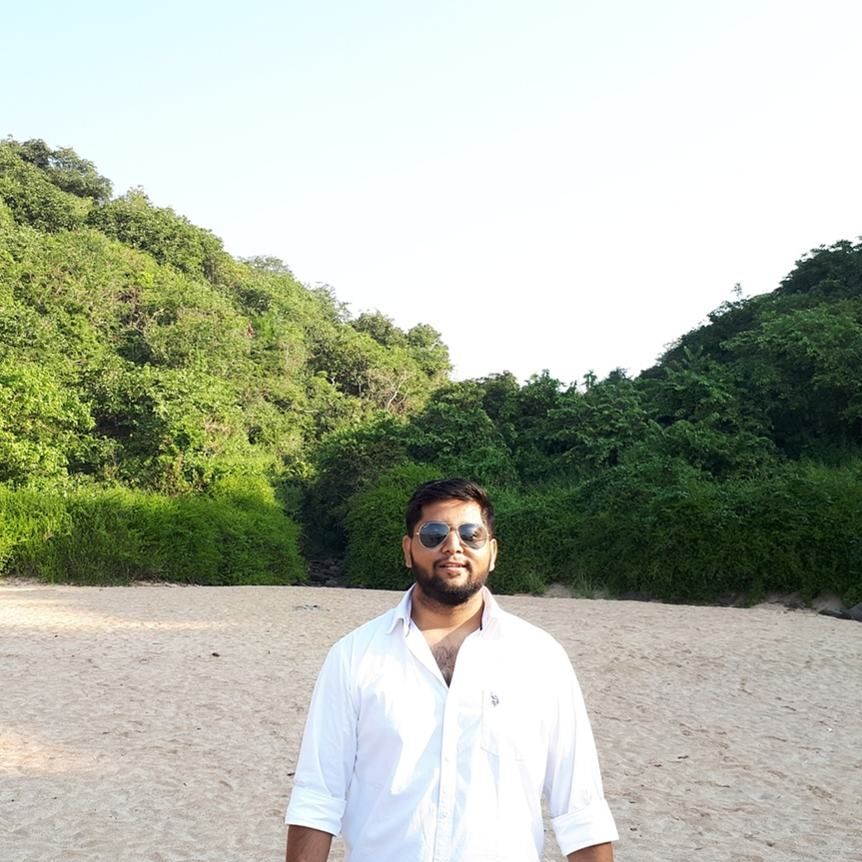 After having a heavy breakfast we took a rental vehicle which can be arranged from beach road for 250-400 per day for moped. Vehicles in south goa are rented around 250-400 rupees per day for activa or deo. Bike & bullets go for around 600-1000 rupees. I would not suggest a car due to narrow roads. You can find rental bikes at palolem beach road, near parking.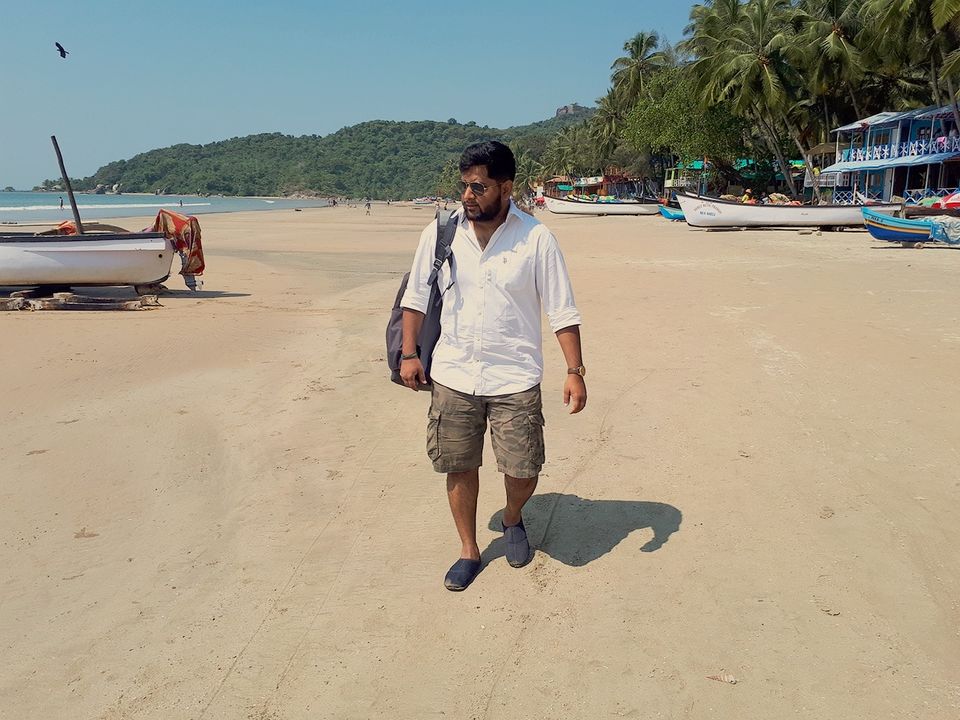 Without wasting much time we directly headed for Tilmati beach across karnataka border which happened to be our big disappointment. Tilmati beach is a black sand beach located near Majuli beach in karnataka. However the disappointment was there is no proper road leading to the beach. One has to trek from nearby beach when the tides are low. Hence it was a lesson for us to come unprepared without proper scouting. We even tried to reach there from the rocks covered at southern side but being risky with high tides we decided to recede.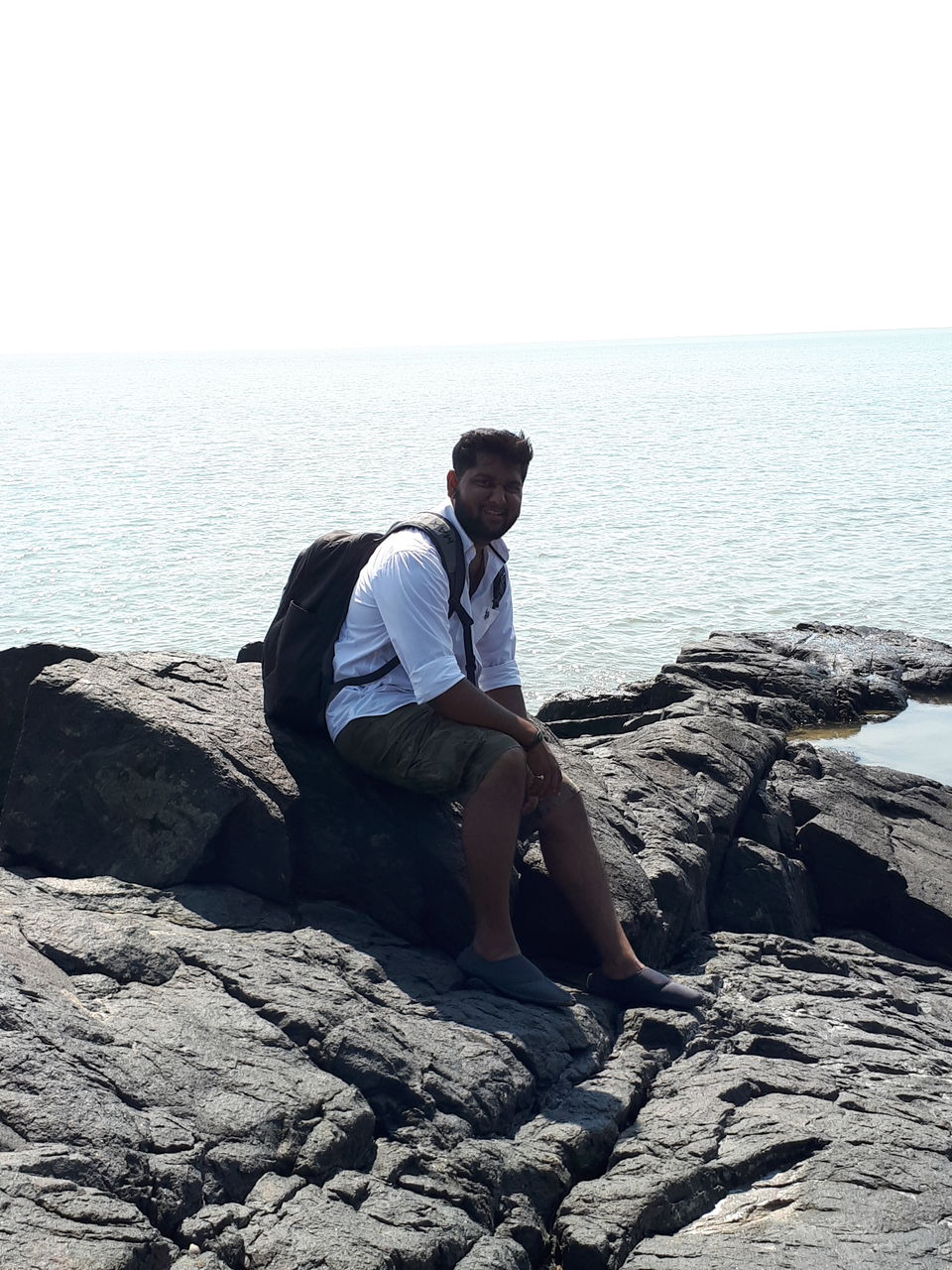 Galgibaga Beach:
After having a failed attempt at Tilmati beach, our next stop was Galgibaga Beach also known as Turtle Beach. Galgibaga Beach is blessed with long stretch of sand and is famous for Turtle nesting which happens in season. Galgibaga beach has long stretch, few shacks & a cool backwater lagoon on the southern end of the beach. The waves here are big compared to others & sometimes even pulls you in. So my advice is to chill in the backwaters at the south end instead of going in the sea. The lagoon is pure bliss with soft cold swallow water.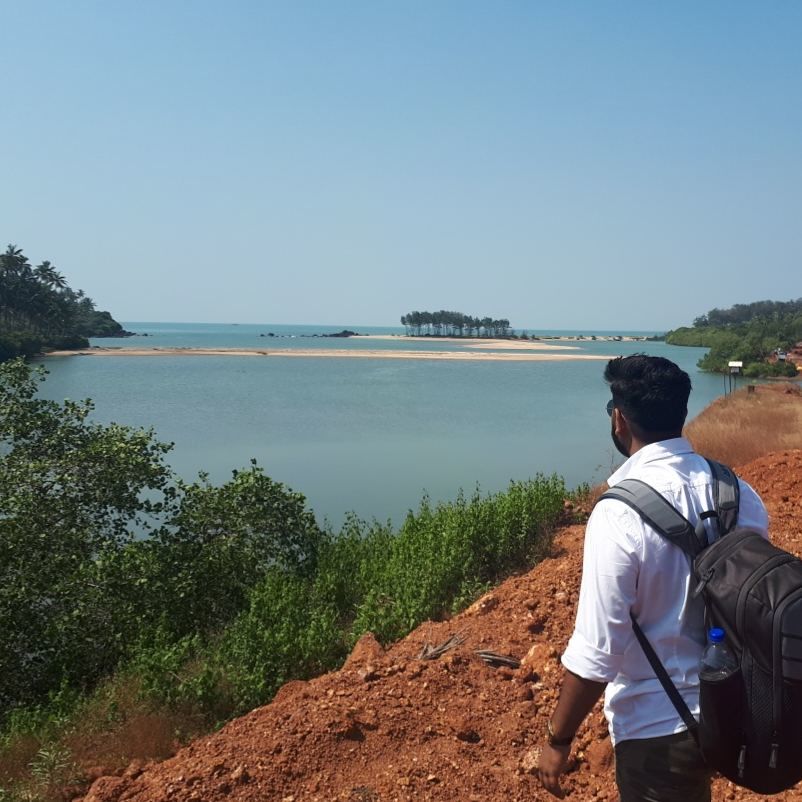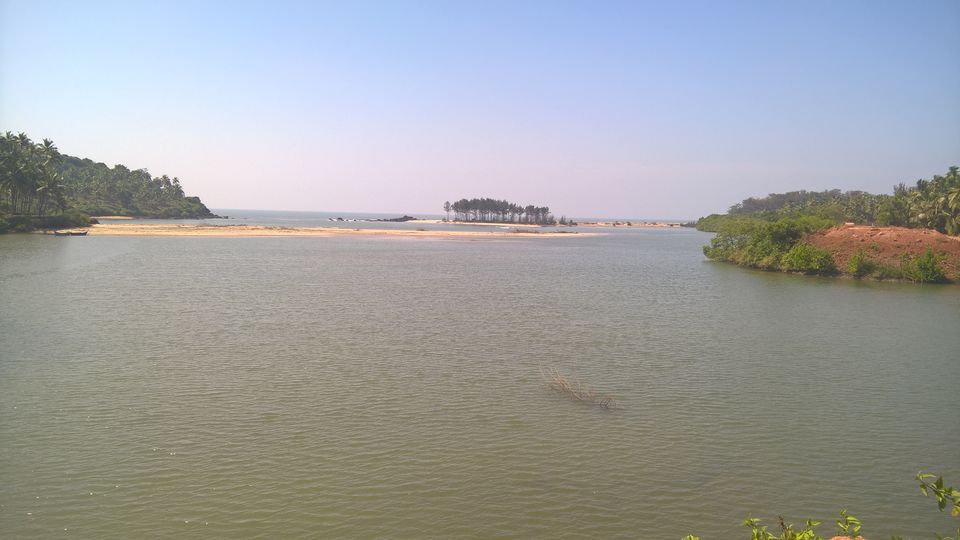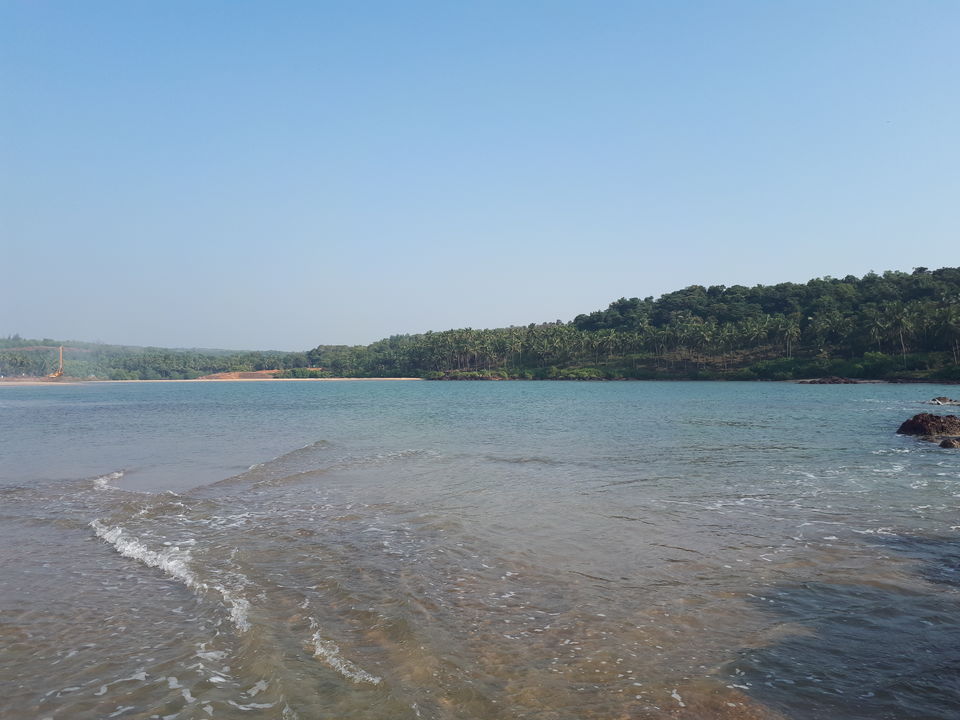 Patnem Beach:
After having a good time at Galgibaga lagoon, we moved on to visit the Patnem beach for spending the rest of the evening & for sunset. But on the way to it we decided to stop by & click some pictures at Sadolxem bridge, which was featured recently in the movie "Dear Zindagi".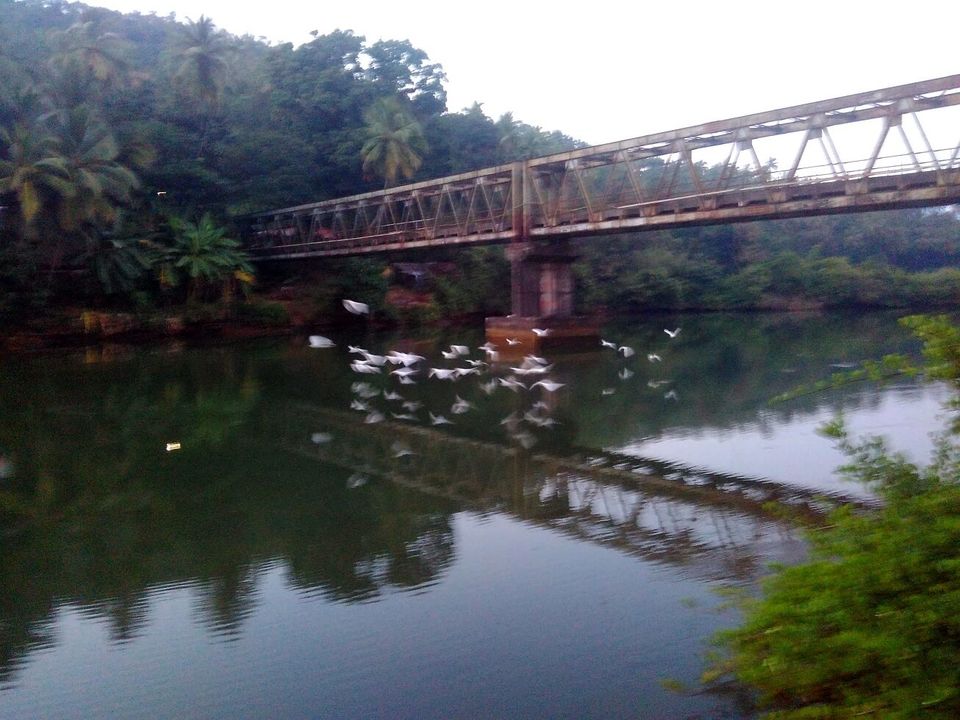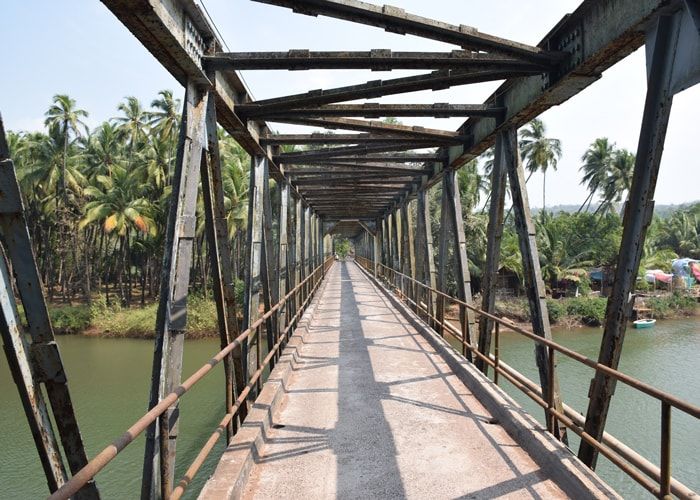 The last beach to end our first day was Patnem beach. Patnem beach is very similar & also close to palolem beach. With similar beautiful shacks, amazing food, patnem beach is more happening than palolem with a chilled out vibe. One can lounge around the beach, laze in sand, take some drink, flex your muscles or even go paddle-boarding. One can also experience live music performances here by travelers if lucky. Lotus Oasis beach resort usually is the venue for such live music & movie screening on specific days of week.
The sunset experience was majestic here. This is that kind of time where your ambiance provokes you to stare the endless horizon, feeling how majestic nature can be, thinking about how frivolous life is & realizing that eternity is just a word in a man-made dictionary because nothing is forever. You take one deep breath, closes your eyes feeling the vast & mighty sea from your lower body & at the same time the setting sun blesses you with its diminishing rays soaking your upper body meanwhile perceiving the fact that we humans are merely slaves against this magisterial nature.
Then after spending a quality time here we went to palolem beach for diner & then called it a day.
Day 4: Kayaking, Agonda Beach, Market Visit.
Day 4 we decided to go for kayaking in the morning. Kayaking is a water sports where one can take kayak(watercraft) to move across water with the help of double bladed paddles. Technically I call this more of a workout than a sport because it uses a lot of strength & stamina when moving across water. I literally felt so exhausted after doing this & my arms also became numb. Kayaking does not involve any training, its more of a natural sport because the person has to balance himself against sea currents, waves & row the paddle properly to cut the water. Though the beach at palolem is very much suitable for this sport I would suggest that first timer's should practice it first in backwaters at the north end before hitting the sea.
Kayaks are easily available as you will find many people renting them for 150-200 bucks an hour on the beach itself. If you wish to take any phone or camera with you on kayak just ask for a waterproof carry case.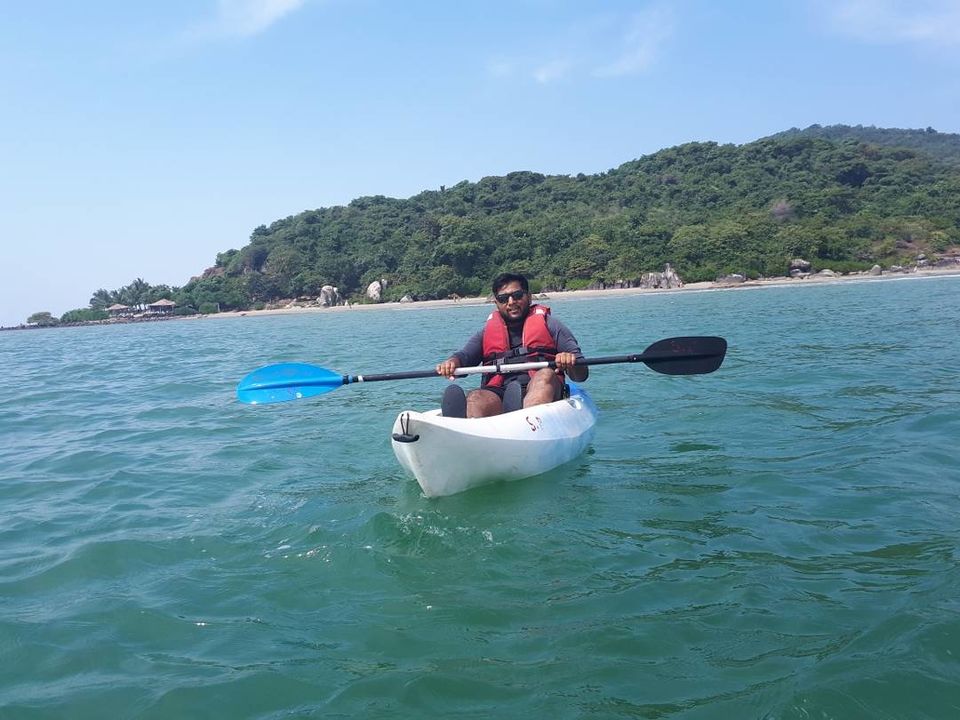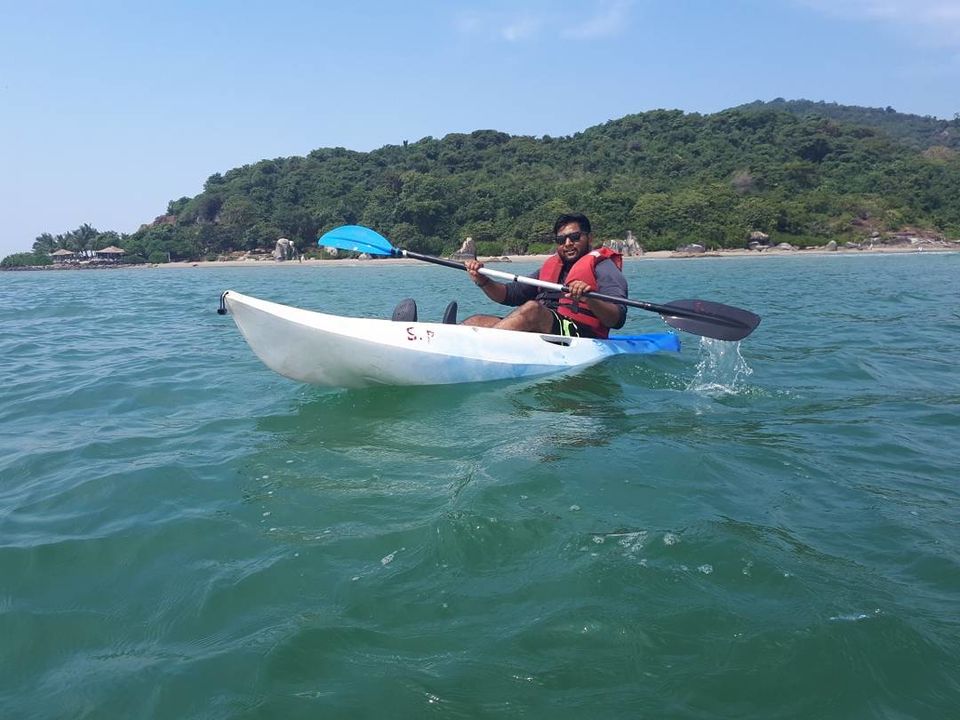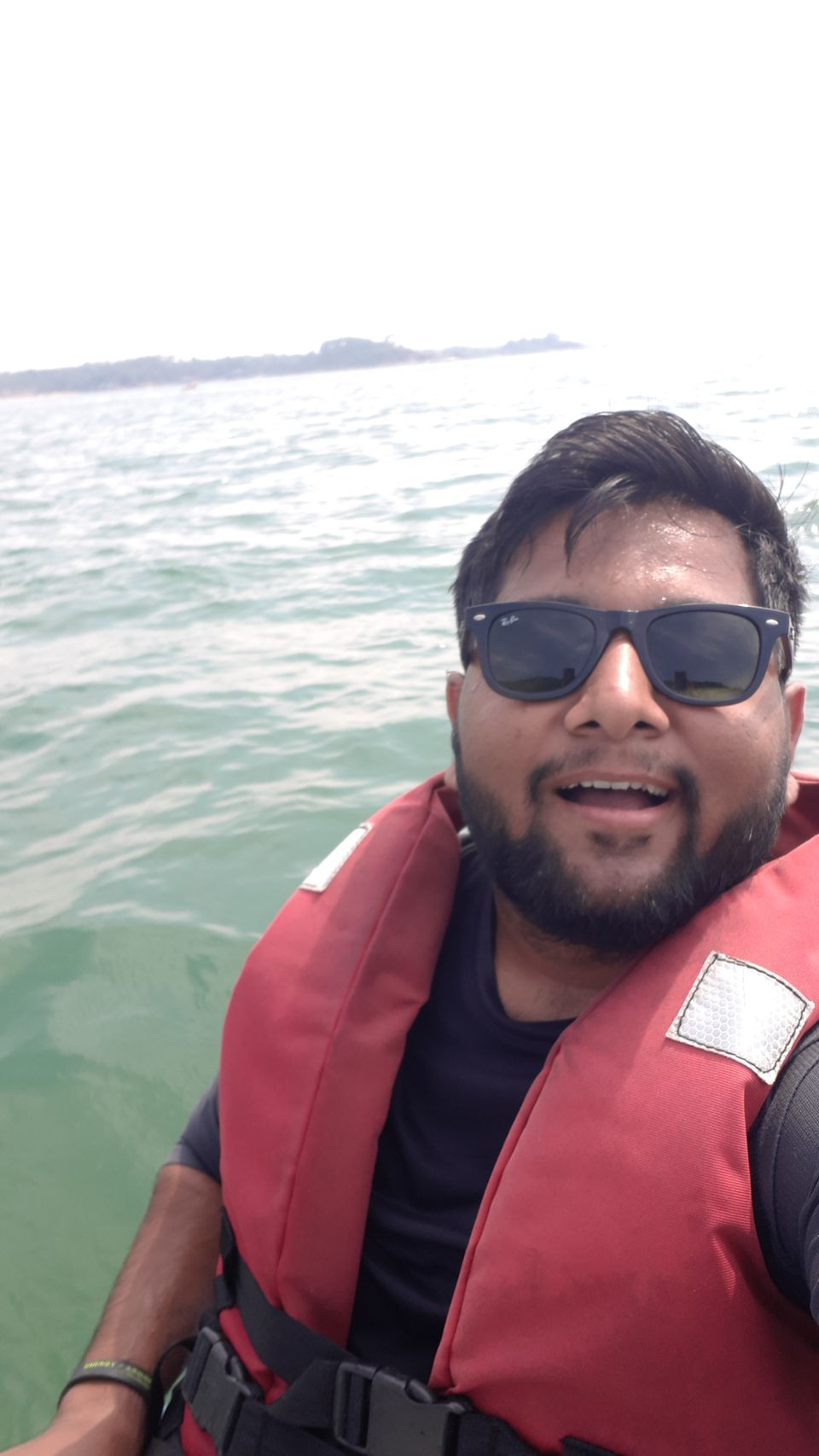 I spent the whole afternoon just relaxing at beach after doing kayaking in the morning. I was reduced to very low mortal strength hence decided to just relax on beach sipping some bira's laying idle on lounge bed.

Agonda Beach:
After rejuvenating or rather bloating my tummy from bira's. We went to Agonda beach for sunset. Agonda Beach has long stretch of white sand, blue waters & picturesque build shacks on its coastline. Agonda beach is more premium & expensive counterpart of palolem, it has also been voted in the list of top best cleanest beaches of world. The choppy waves makes the sea a tad uncomfortable for a swim, but covers with beautiful landscape & tranquility. There have also been cases of jellyfish bitting people here, I even saw a signboard of precaution. If you're here from October to May, you might even see Olive-Ridley turtles nesting in the sand.
If you are planning to stay here go for beach facing hut for better experience. There are many good cottages to enjoy every hour from sunrise to sunset, you can enjoy horse rides and shutterbugs will just love this place. Various shacks here serve quality cuisine food and booze. The street taking you to the beach is full of pubs, open bars and shopping suitable for a good nightlife.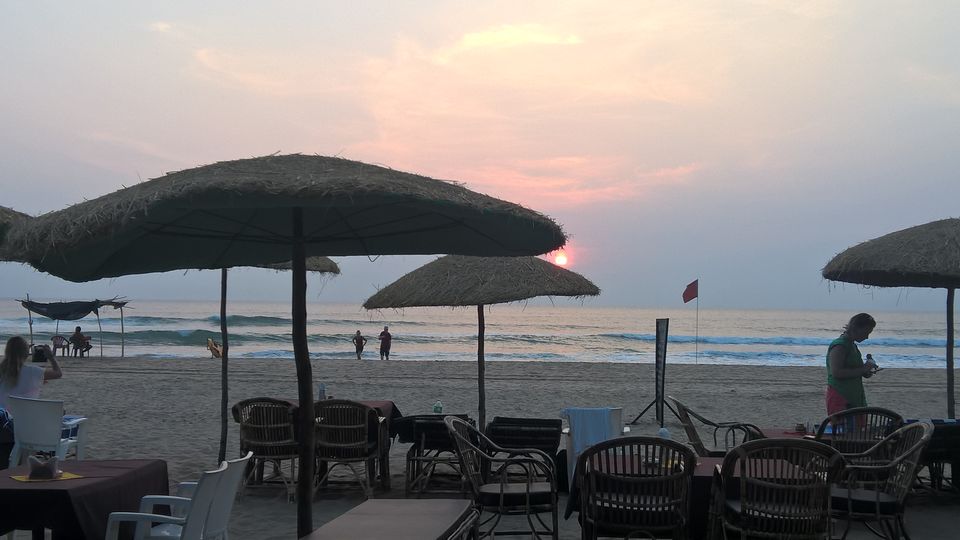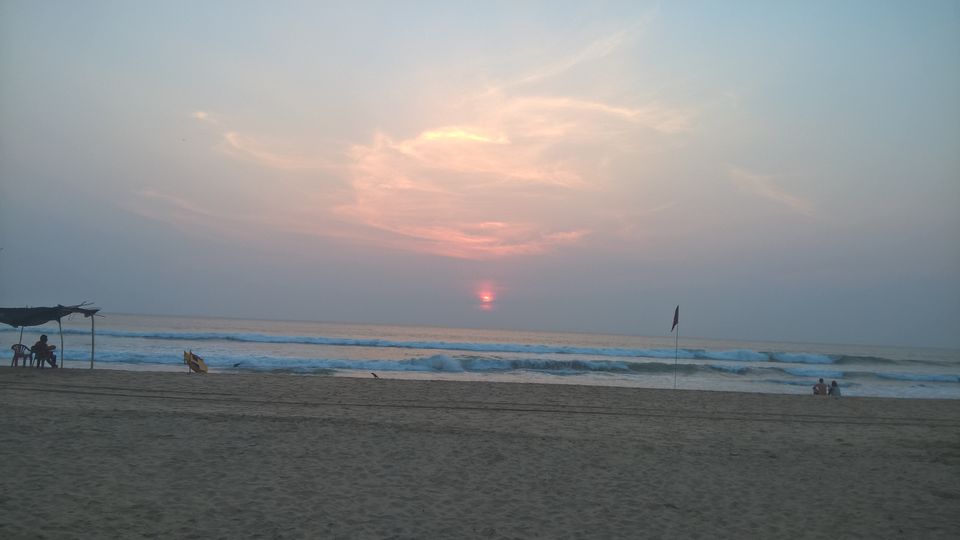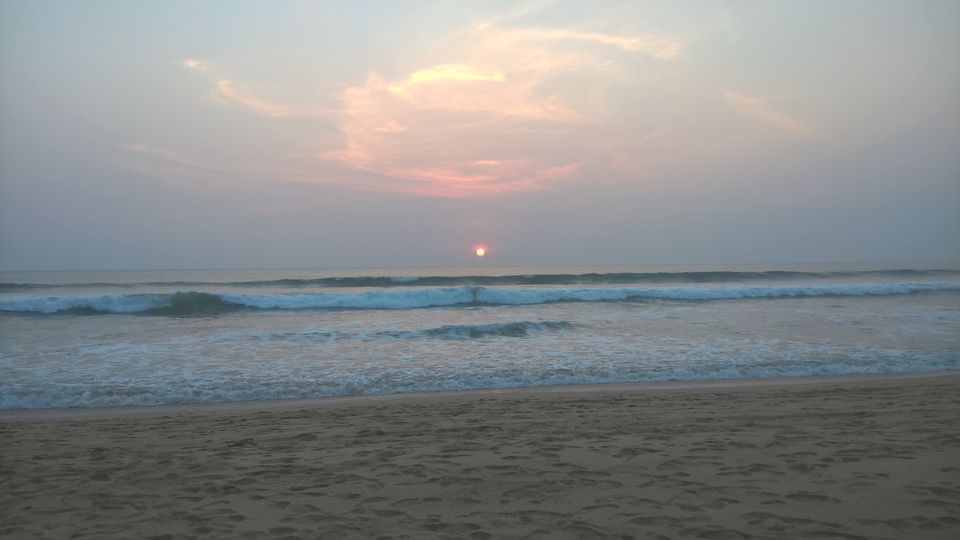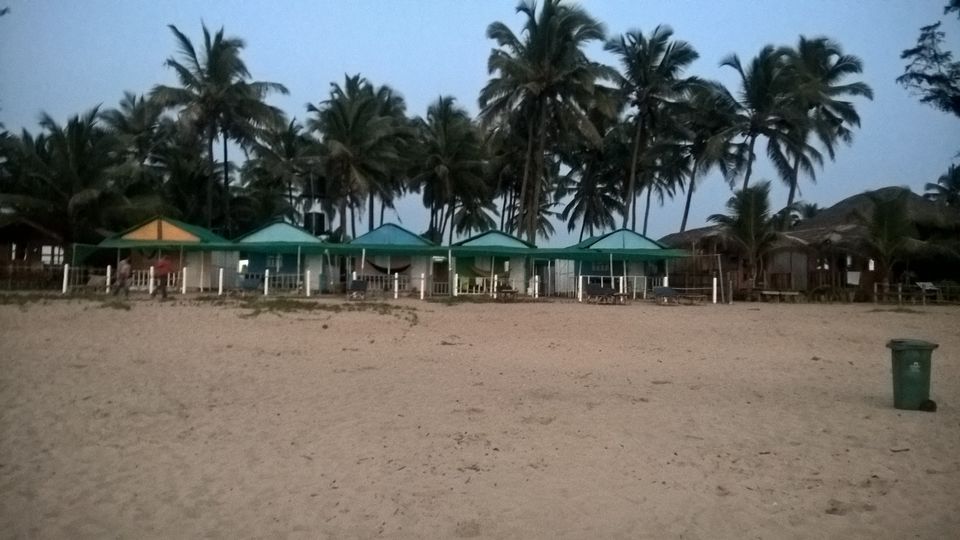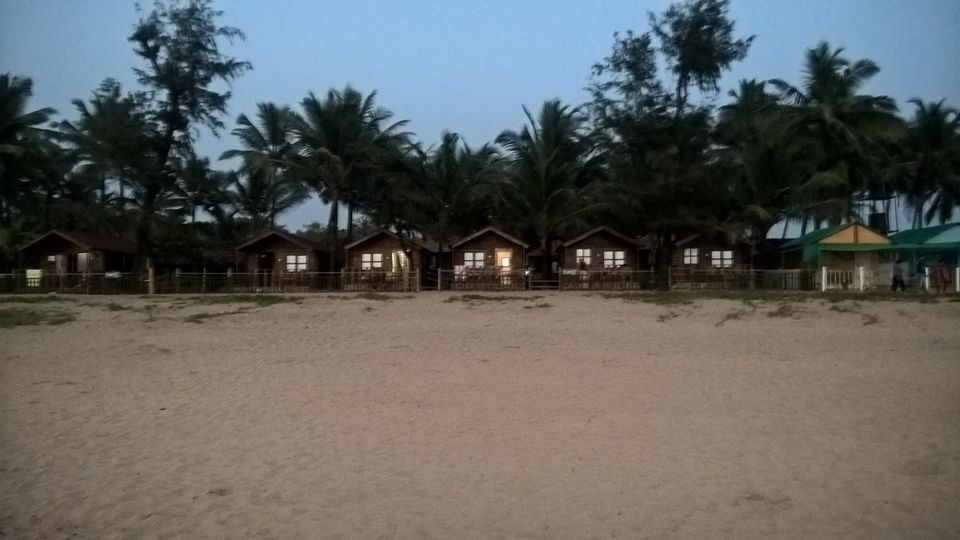 After returning back to presley's we freshened up & then went to take a stroll in the market of palolem. Palolem market consist of various shops that are located on the main beach road. You will find wide array of stalls & shacks selling everything from clothes, beachwear, musical instruments, sea shells, local handicrafts, trinkets. From departmental stores to Cafe Coffee Day to Baskin Robbins. This place has everything & more to call itself a market.
There are also special tea shops which sells many unique flavors of tea, both in leaves & powder type.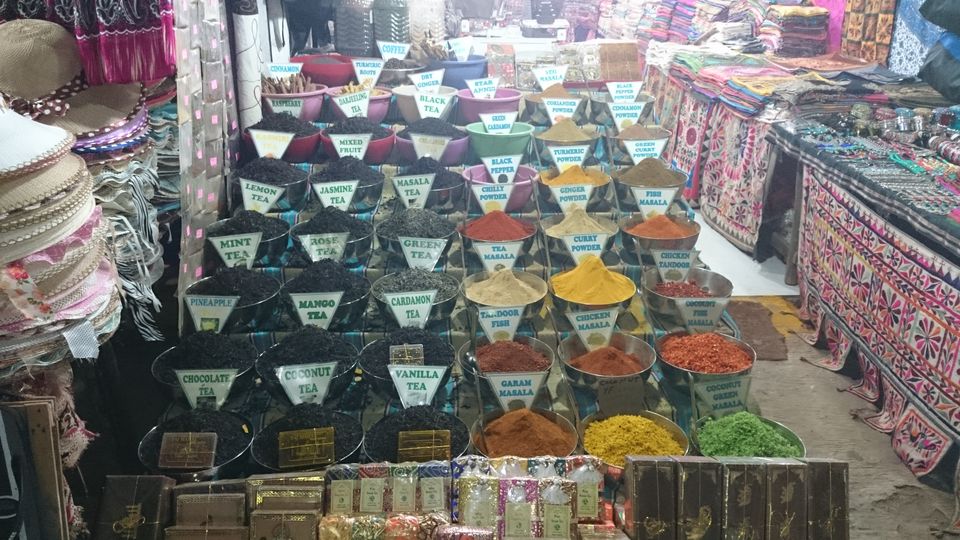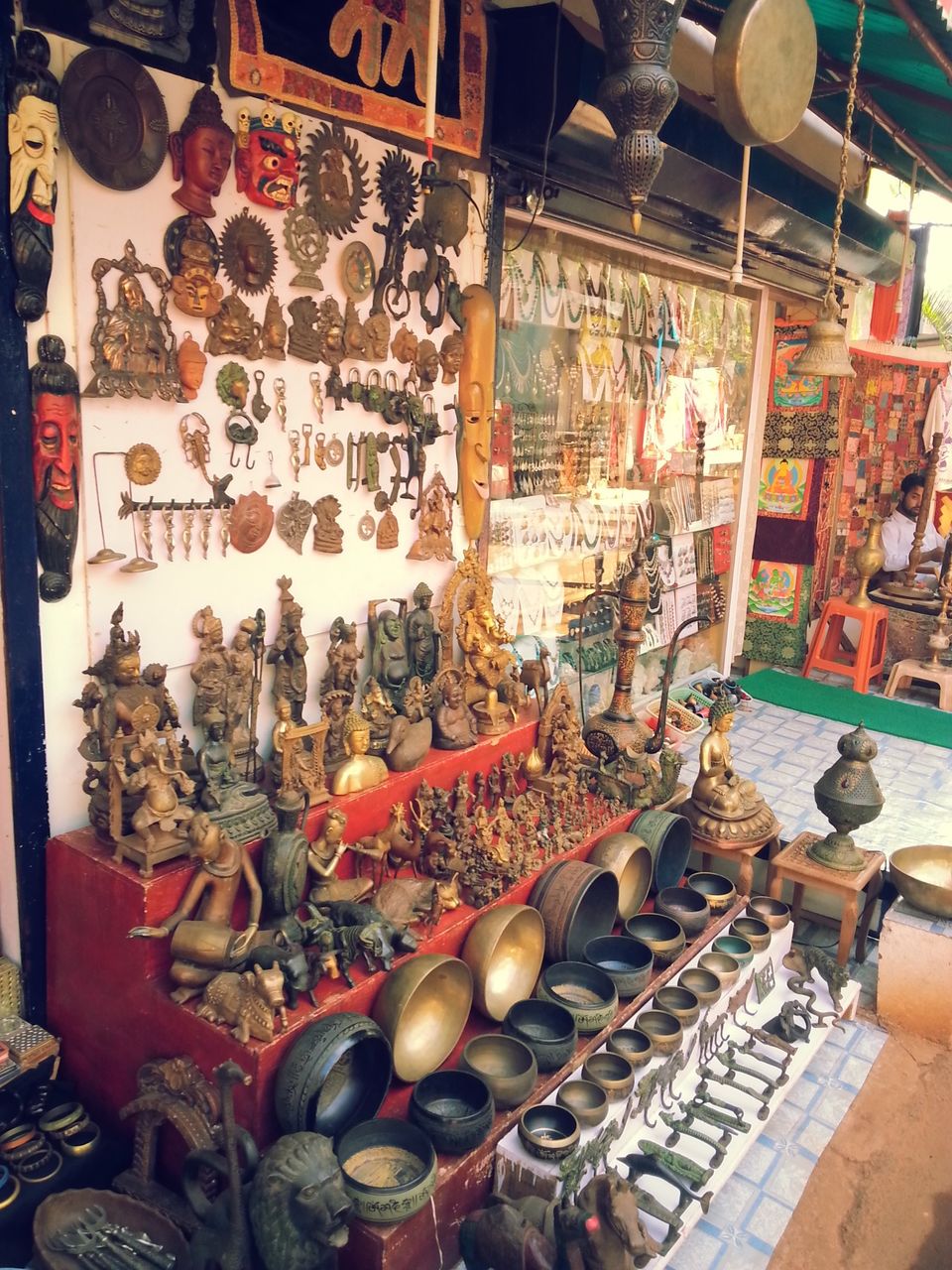 Now we roamed for around an hour or so in the market primary because to make ourself more hungry as tonight we were going to hit magic Italy for having diner.
Magic Italy is that one restaurant that I want you to go even if you are only coming to palolem for an evening. If you love pizza then this place is heaven for you & it will not fail to amaze you with its mouth watering delicacies. The shop is owned & run by an Italian family who moved here decades ago. They only serve in 13" pizza's with a wide variety of topping such as blue & orange cheese. If you eat pizza here then I can bet that you will find that your whole life was a lie till now because what you have been eating in domino's or others pizza shops is totally out of the league & not even comparable to what this Italians provide here. The lady owner & their staff treats customers with smile & good hospitality.
Now after our stomach had enough of those pizza's we decided to take a walk down the beach to cure our bloated bellies. Palolem market also offers lanterns & firecracker for some night time amusement.
Day 5: To the north from Palolem.
The next day we were scheduled to cover the north end beaches from palolem. So we changed our vehicle today & took a bullet due to hilly roads.
Betul Fort:
Betul fort is not a typical fort what you generally imagine of. Quite honestly it was a disappointment going there. Because their is actually no fort like thing there, just a lower bastion with a canon. The picture you see here is just what of it is.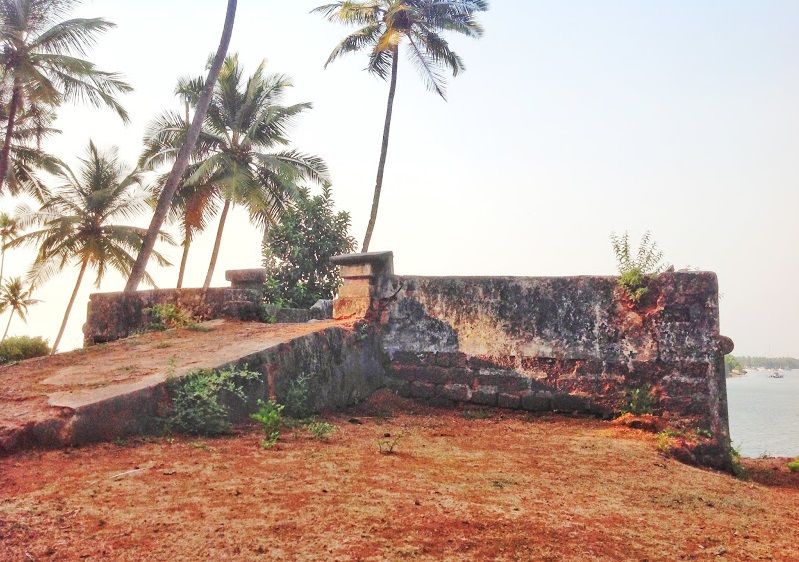 The next stop is Canaguinim Beach, which is a small beach with scattered rocks. Canaguinim beach is not that touristy place, you will hardly find any outsider tourist here. The Locals from nearby village usually come here on weekends & honestly they only litter the beach, which I saw myself. The beach is more of a picnic spot for locals who come here for partying leaving behind waste.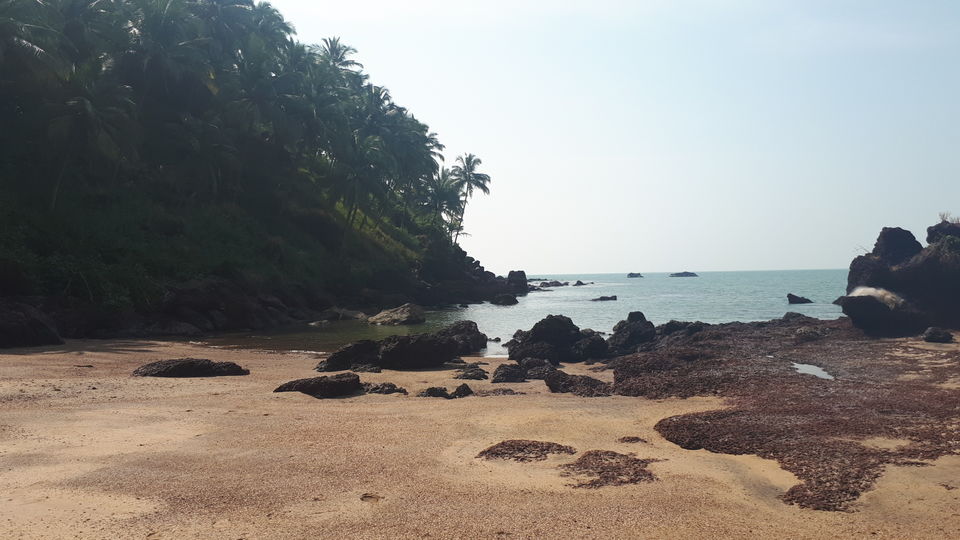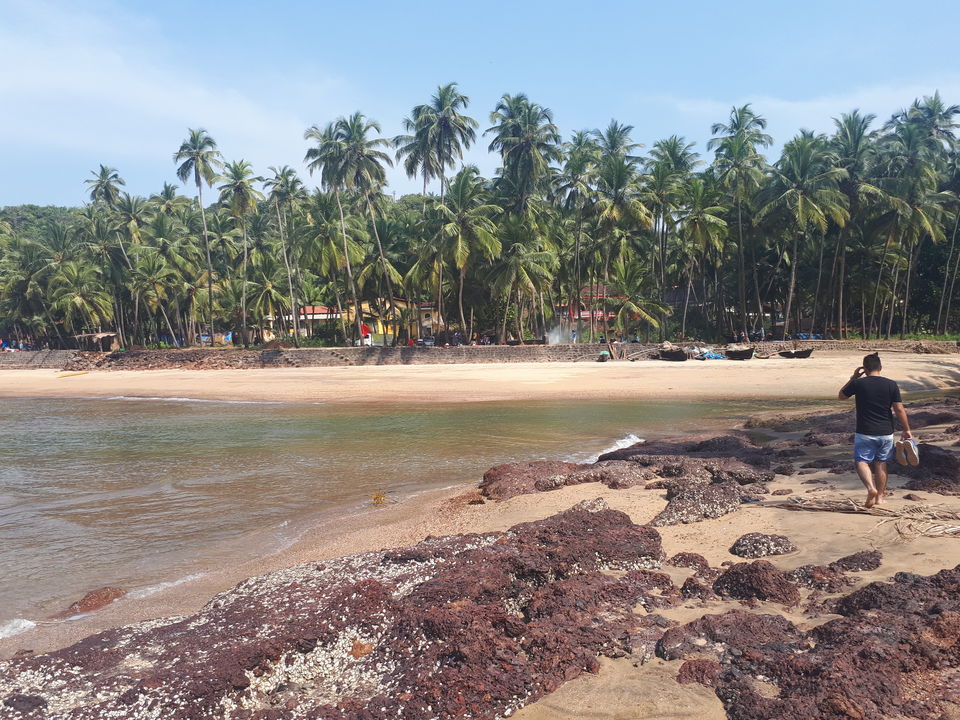 Cabo De Rama:
Next up on route is Cabo De Rama fort & beach. Now again this fort too is not what you think of. Its not like those other big forts from north goa. There are only some few fort ruins here & a church nearby.
What makes this fort interesting is the location & view offered. There is also a small way to other side of fort which can be accessed on foot only. Its down the south side of mountain mostly covered with rocks. Its more of a picnic or chill spot where again I found locals drinking & littering.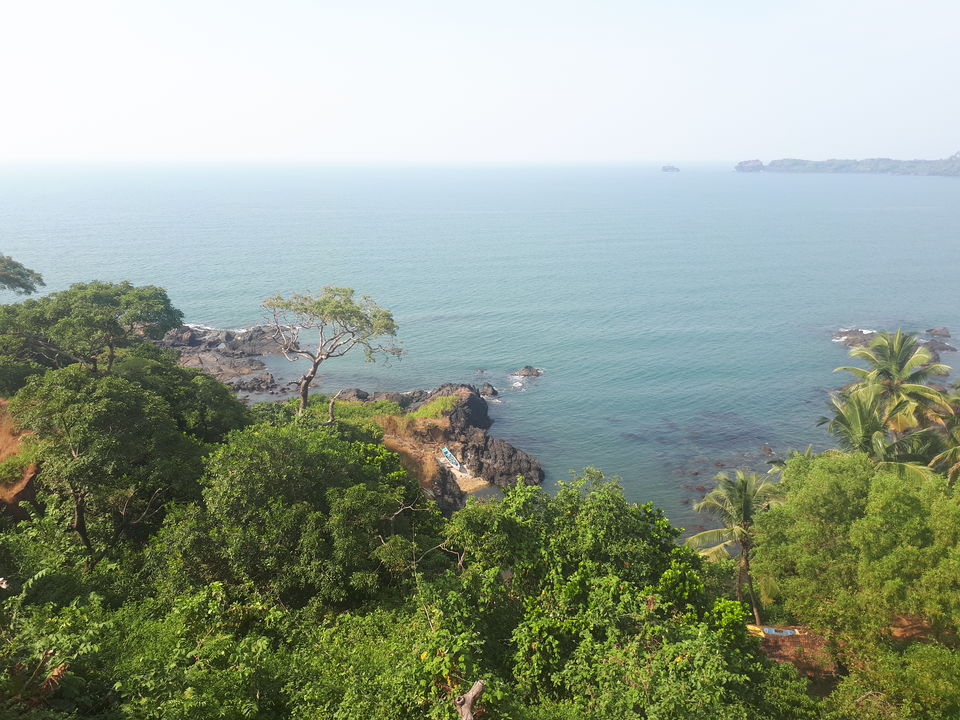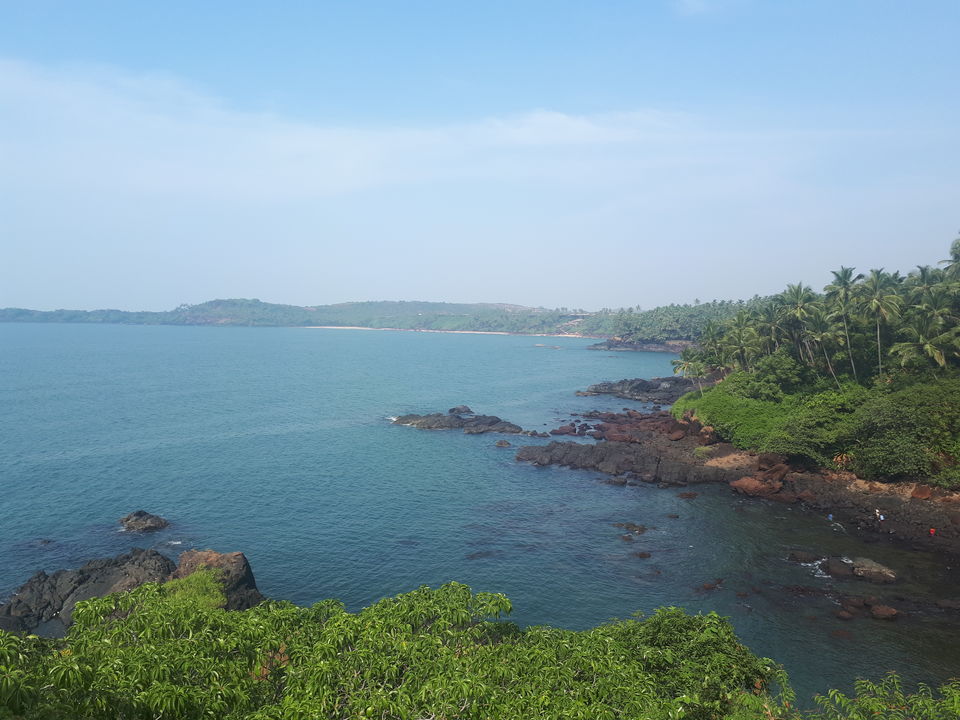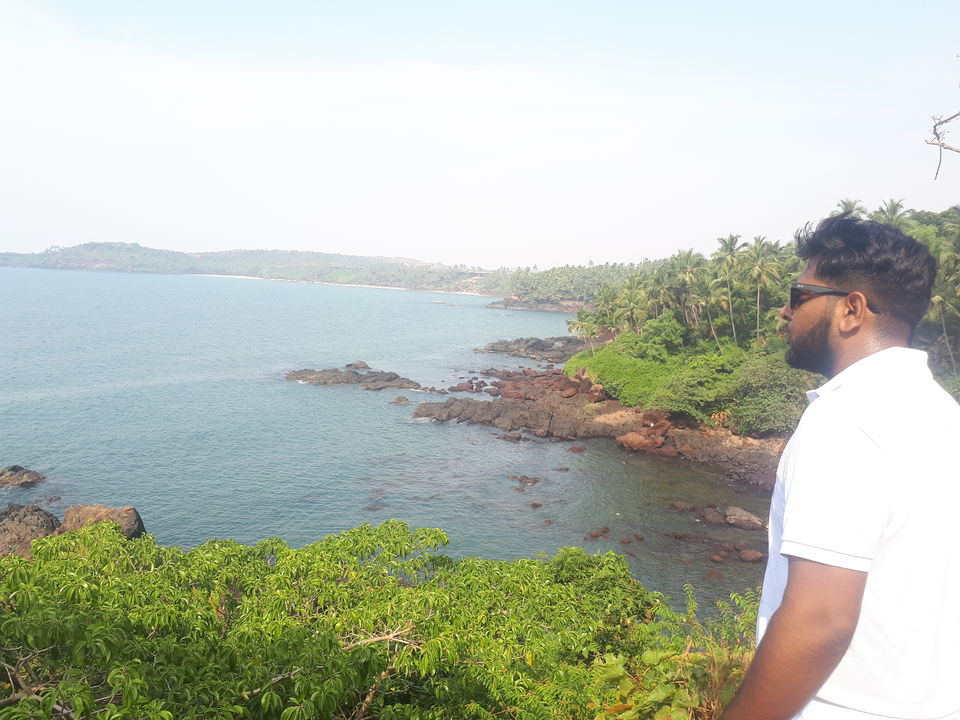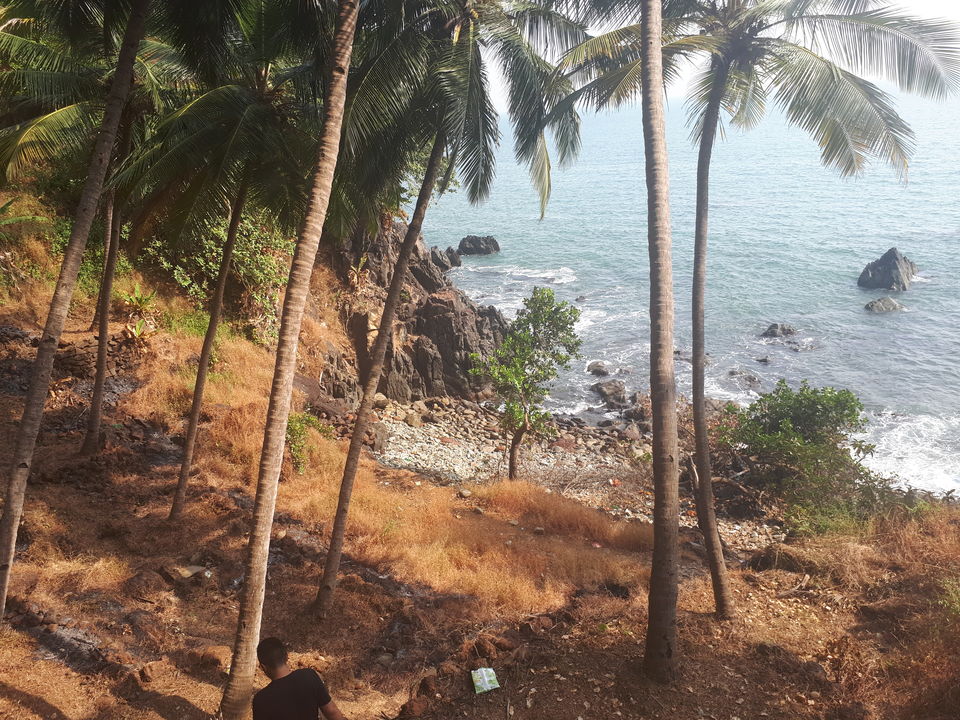 The Cabo De Rama beach is situated close to fort, nearly half a click north. The road is bumpy & you will have to park your vehicle atop the cliff because the beach is accessible by foot only, by walking down the cliff in a narrow lane. The cliff view is splendid. It is the place where the ending scene of Ajay Devgn starring Dhrishyam was shot.
The View offered from cliff soothes you from the inside and calms your brain. One can sit here and relax indefinitely. The sound of the waves crashing the shore along with the setting sun makes one hell of a landscape and you will never want to leave it.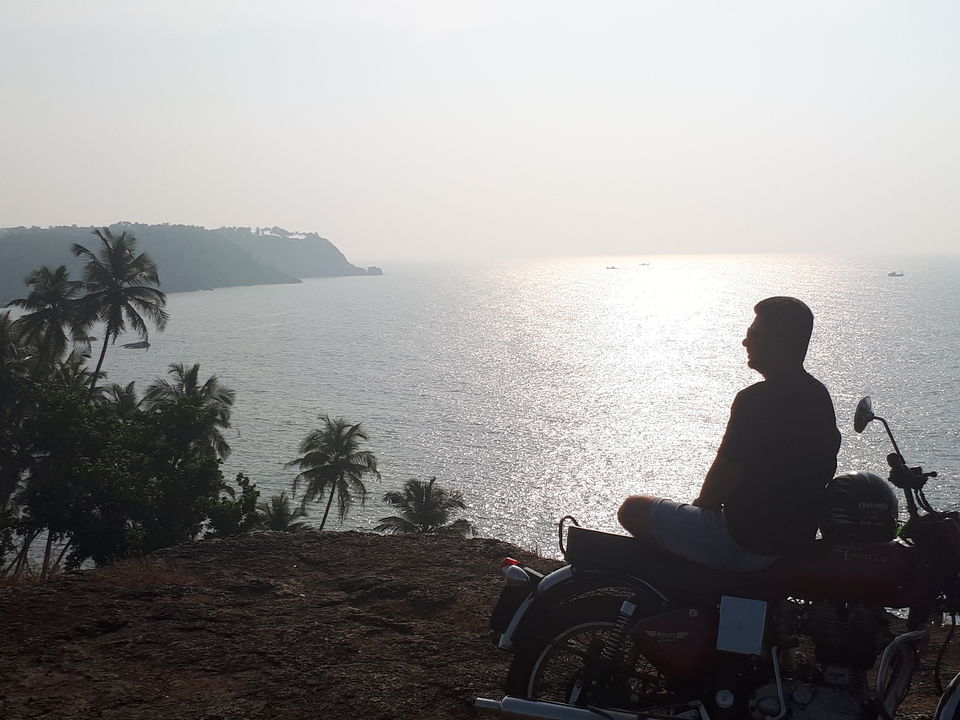 The beach is pure serene as not many people visit here. There is no commercialization on the beach. So carry some water & snacks with you if you are going to spend some time here, which you will I bet once you get here. The beach is fairly secluded owning to its distance from major towns and cities and is not particularly crowded. But, during weekends you can again expect locals coming here for picnic.
Cola Beach:
The next & last for the day was Cola beach & lagoon. Lagoon & backwaters is something which you will find in many of the south goan beaches. It adds cherry to top. Now again Cola beach is a hard place to reach. There are two narrow curly roads from main road which will lead you to the cliff above cola beach. From there to have to take a small trek downwards to reach the beach. But, once you reach down the scene is pure ecstatic. The Cola beach is not as long & big as others but it has got its own charisma.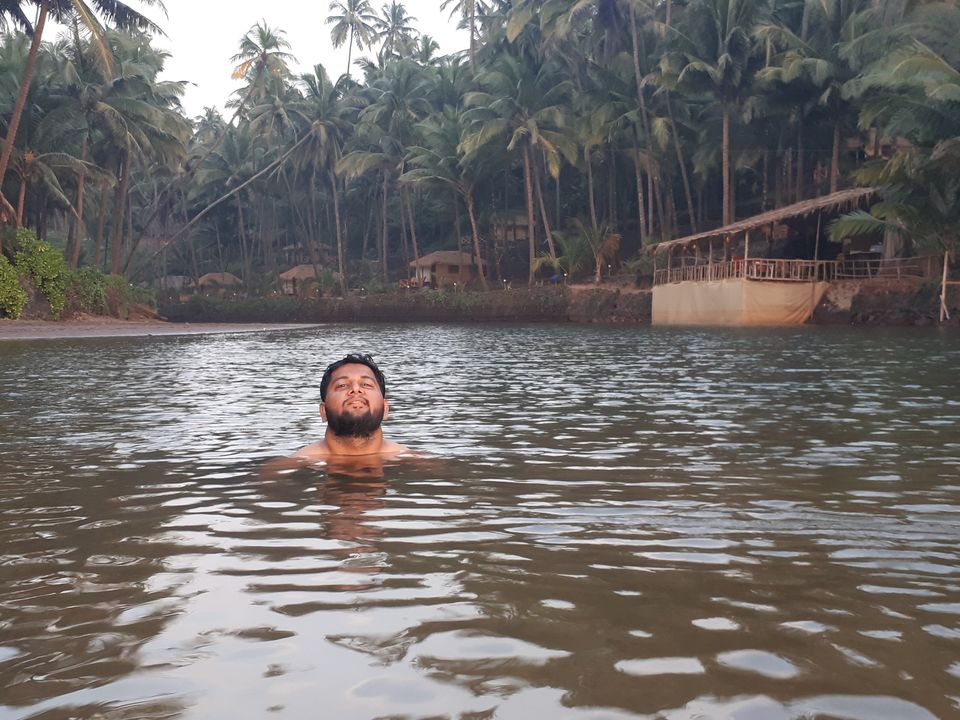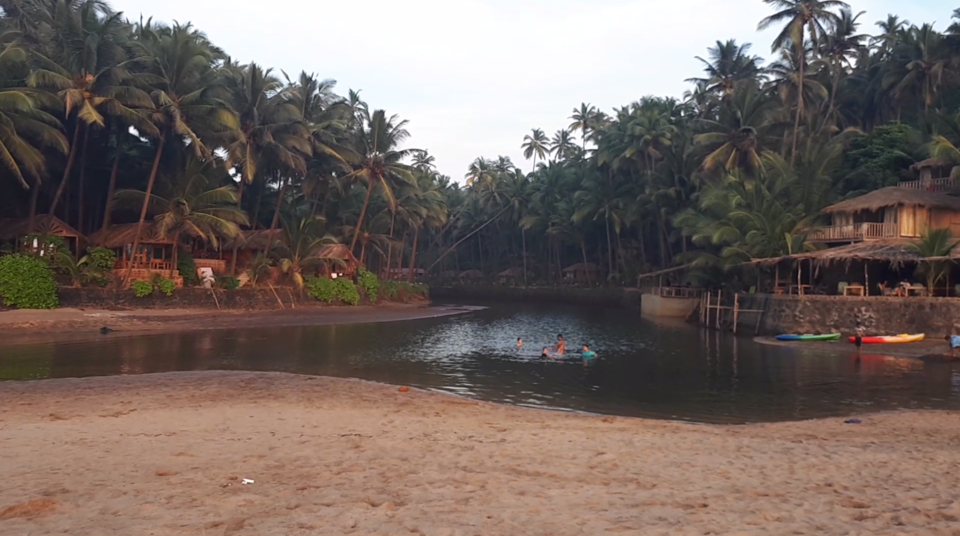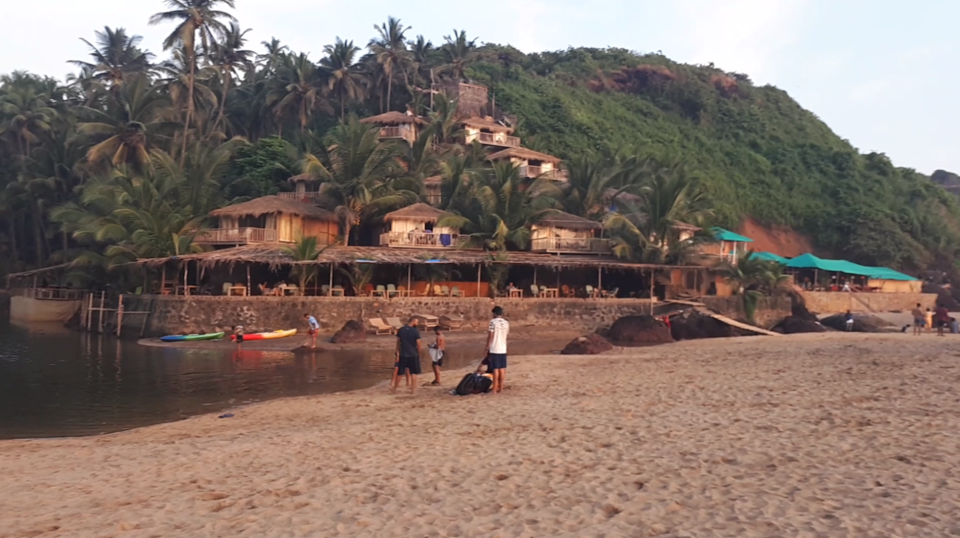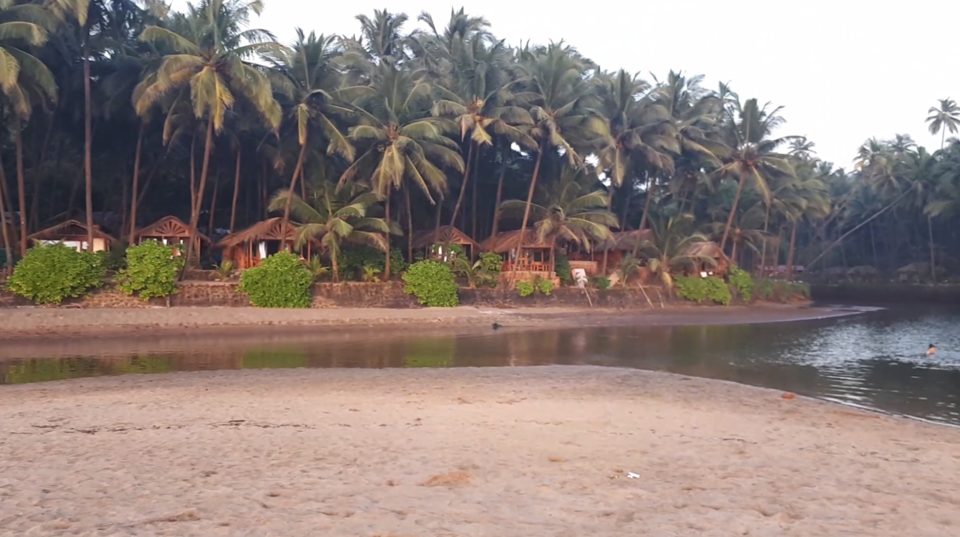 Cola beach is hidden among towering tall coconut trees & is one of the most scenic beaches of goa. Hidden from forested cliffs & next to a beautiful emerald lagoon, this place is a must visit. The rocky shore & the depth of sea increases rapidly so I would suggest to chill in the backwaters instead of going in the sea. The lagoon is separated from sea by sand, but sometimes high tides flow over it & mix with lagoon. The water in fresh backwater is cold, close your eyes & let your body float on it is the best thing to do here. Another thing is the resorts & Eco-chalets build around the beach & lagoon. Made from wood & other Eco-materials they simply look so stunning. But, they do comes with a high price, mainly due to beach front area.
We watched sunset from a bar located on cliff sipping some beers & listening to Pink Floyd music, laid-back & relaxing to a total surreal escapade.
Going back to palolem for dinner, we tried this new restaurant in the block, called Baba's Italy. We were wondering about it since the day we came to palolem due to plenty of crowd going to the restaurant, and finally today we got the time to visit it.
Now the specialty of this restaurant is it's non-veg food & the taste of their spices. Goa is also known for good quality spices which are cultivated here in plenty. Post dinner we regretted that why didn't we came here on first day, because the taste of food was so amazing. If you are into spicy food, this place is a must visit for you. The staff here too was much welcoming & friendly. Draupadi Bar & Restro is another such place at the end of road, but we didn't got the chance to visit as it was always overcrowded, must be because of good food only. Well, next time for sure.
Day 6: Day trip to North Goa!
Now we still had 2 days remaining in this paradise, so we decided to take a day trip to North side i.e, Panjim. for visiting mainstream tourist destinations. So early morning we set course straight to Aguada Fort. Aguada meaning "Water" was build on the mount of Mandovi river in the 17th century. It was considered as one of the most prized & crucial fort of Portuguese empire. Its freshwater storage capacity was one of the biggest at that time in whole of Asia.
The fort also has a lower bastion which is located next to Sinquerium beach & Taj Fort Aguada Resort. The bastion points straight into arabian sea offering a good view of coastline.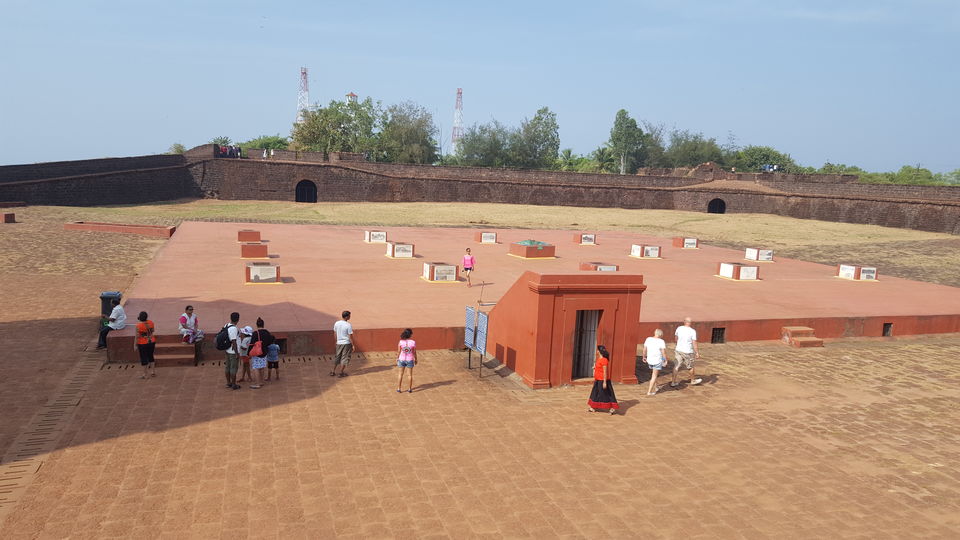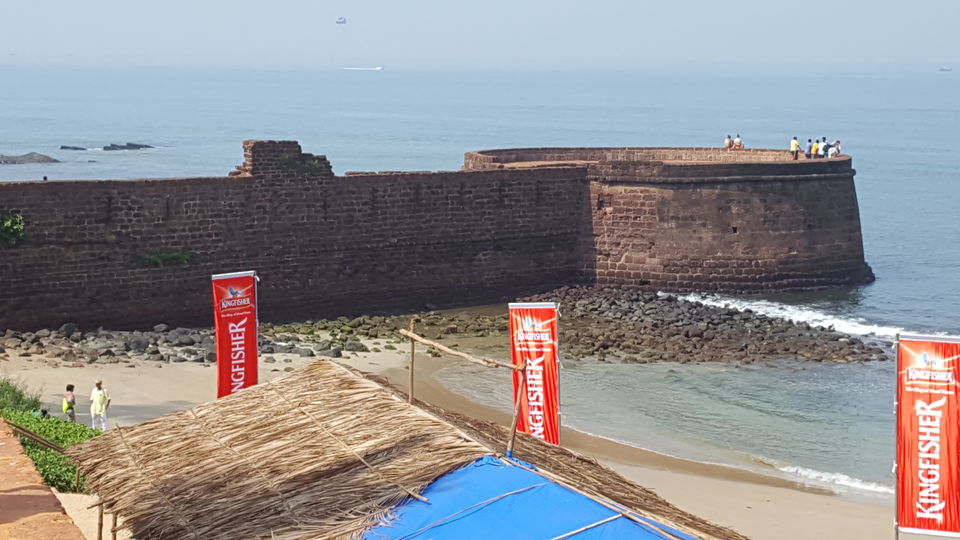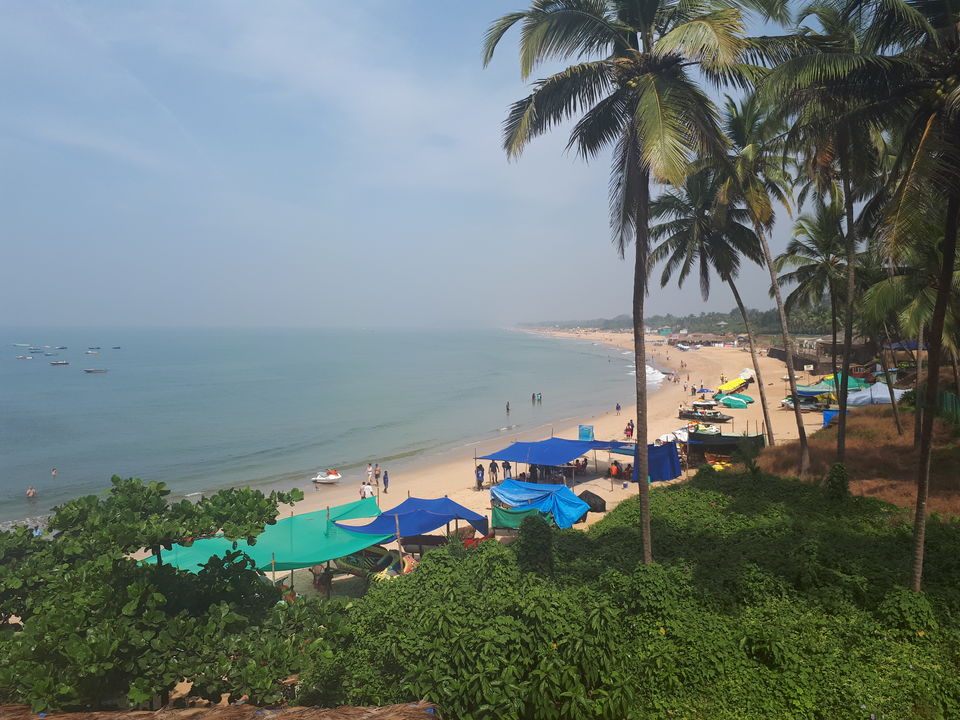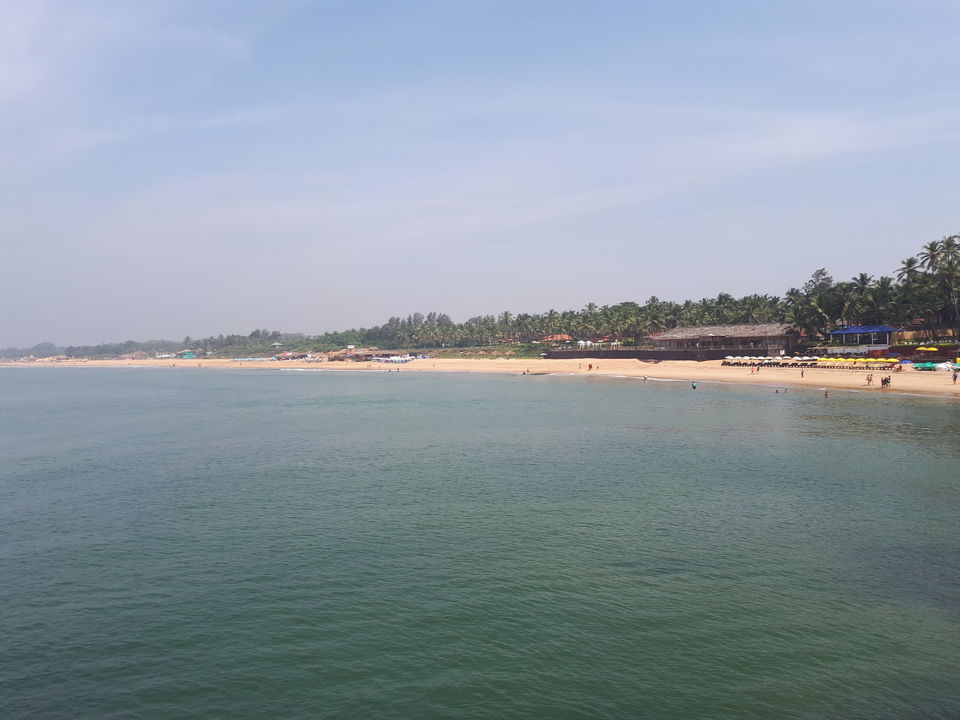 Then we went to the nearby sinquerium beach for Para-sailing. There are numerous water sports activities on that beach. Rates of which are fixed though. In para-sailing they take you a bit deep across sea in a small boat where the other big boat is waiting for you, which is a special boat for this sport. The enthralling experience will leave you spellbind as they lift you approx 30-40 mtrs high above sea & even dips you by lowering the parachute. Definitely a must try thrill sport activity when in goa.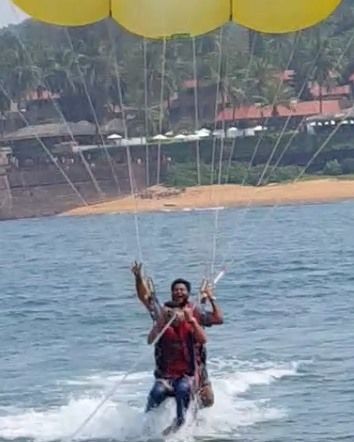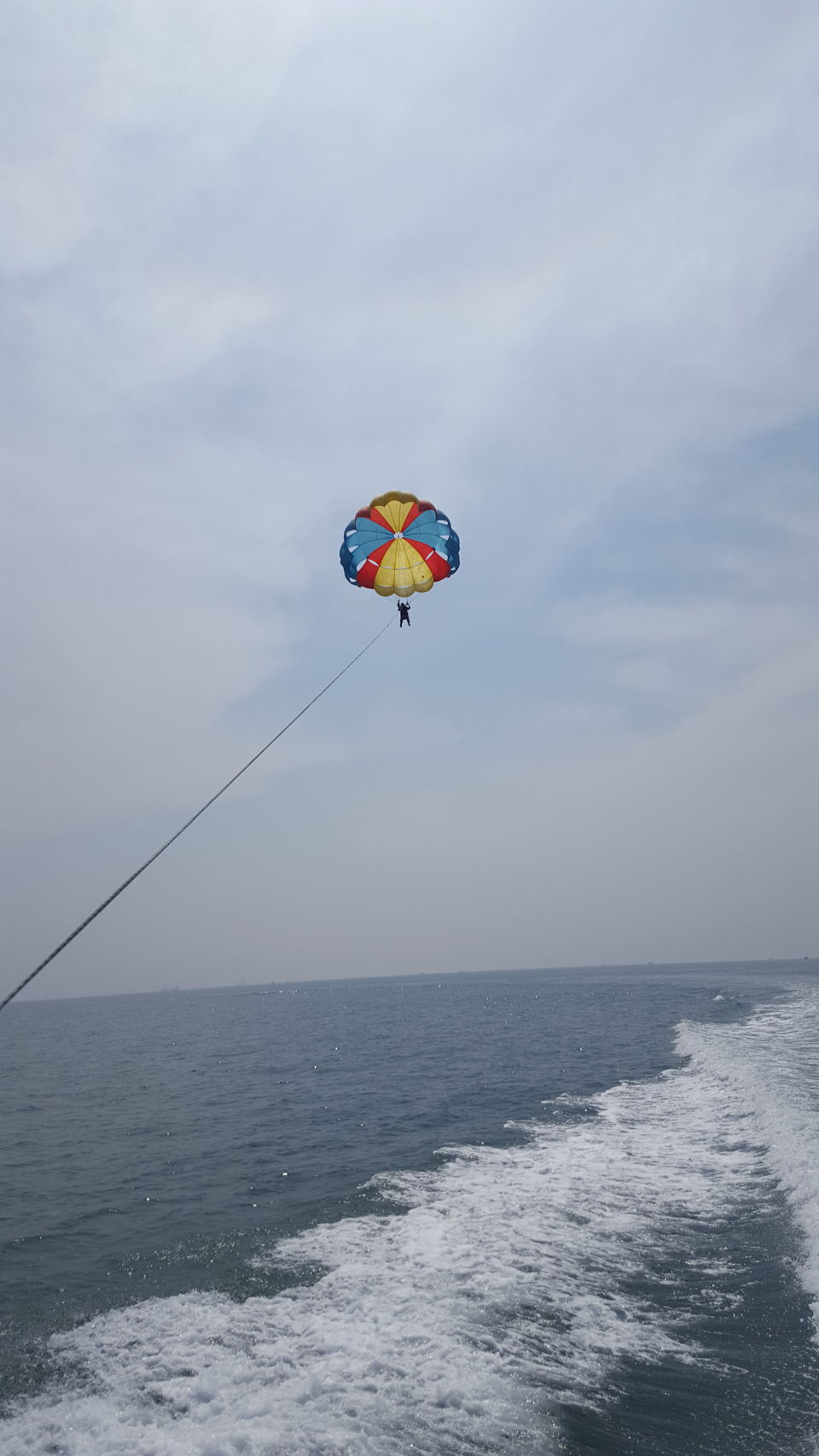 Then after we went to Museum of Goa, which was located at an unlikely place—in the middle of the dusty, steely grey industrial area of Pilerne in North Goa. But walk inside it, and you are transported into a different world, one of landscaped gardens and eclectic artwork, funded and founded by artist Dr. Subodh Kerkar, the well known sea-artist of India.
Dr. Kerkar's privately owned contemporary art gallery has no permanent collection & is the largest private art space. The gallery is open from 10 to 6 everyday with a entry ticket of 100 bucks. Totally worth the money & more if one is into contemporary art.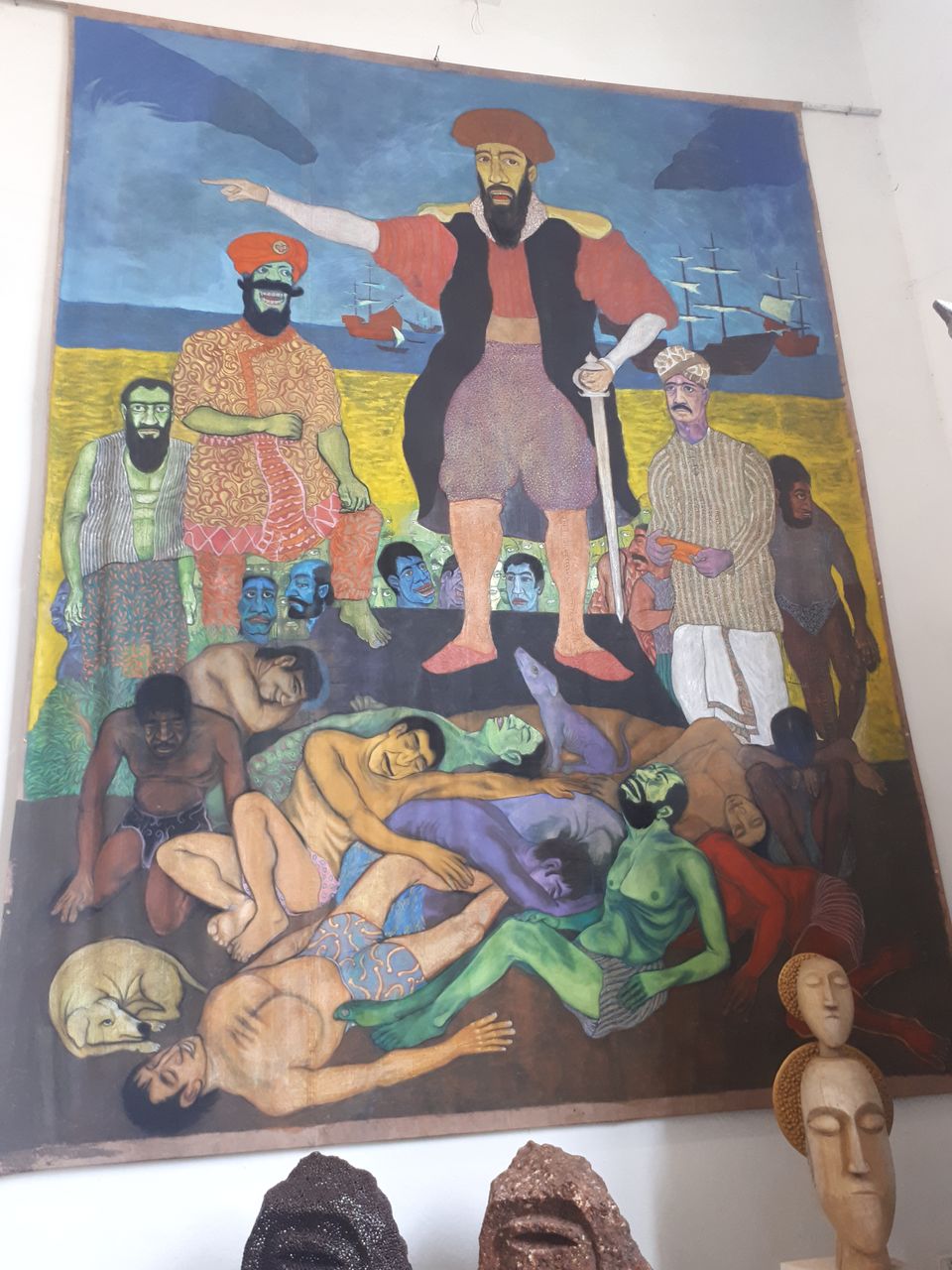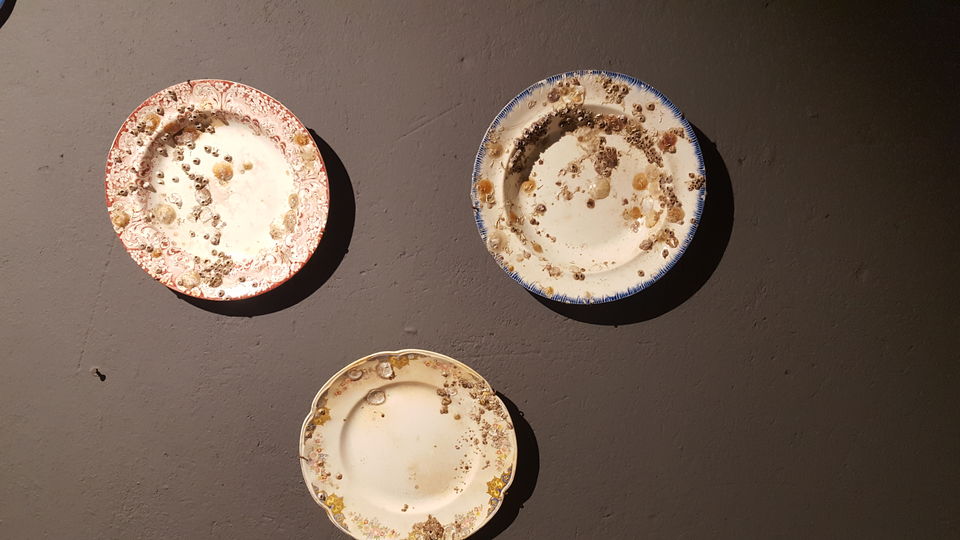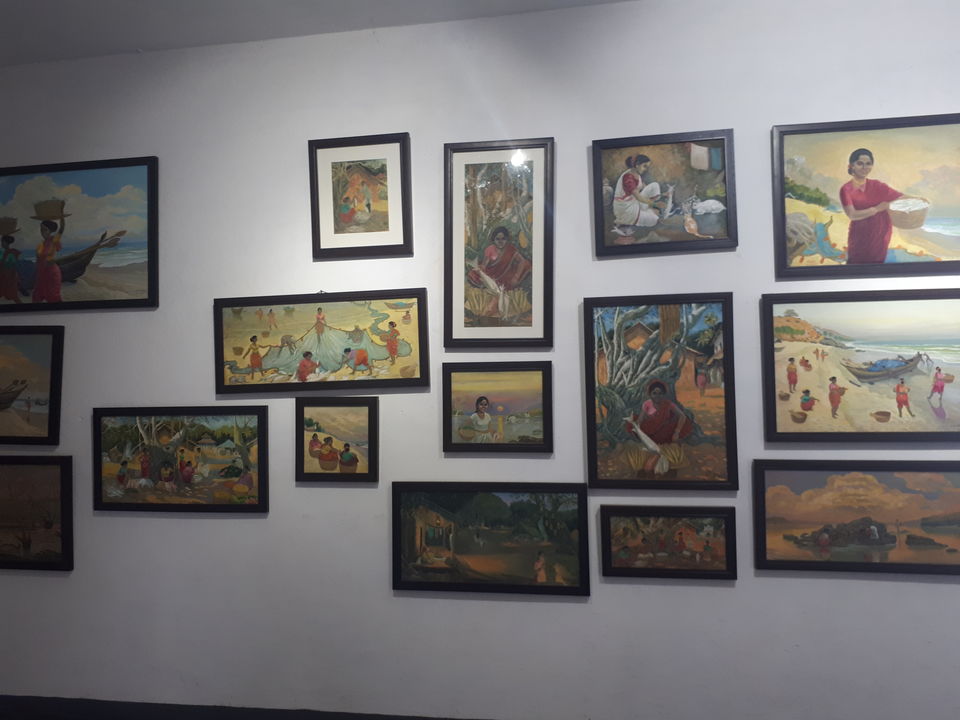 Then after here we went for lunch at a nearby restaurant before kicking for a church visiting spree in old goa.
The old goa or velha goa is a historical census town in Ilhas, Goa. Though founded in 11th century by Kadamba dynasty the city served as a capital of 16th century Portuguese empire until its abandonment in the 18th century due to a plague. Old goa has many churches adjacent to each other at close distance so we went on a spree to visit as many as possible in due time.
Then after a long & busy day at north goa we went back to palolem in the evening as it was a two hour drive from here also considering the narrow curly roads with almost no street lights. We reached Palolem safely after an exhausted yet enthralling day & called it a day.
Day 7: Goa beyond beaches!
Now for our last day at this tropical paradise we took a different road away from beaches. We decided to go to Salaulim Dam & then to Netravali Wildlife sanctuary while returning.
The Salaulim Dam is a dam which was built on the Salaulim River, which is a tributary of the Zauri, one of the main rivers of Goa. The dam, which is located in South Goa is primarily built for irrigational and fish farming purposes, however it is also a popular picnic spot.
The Botanical Gardens which are located close to the dam are beautifully maintained and constructed along the lines of the Mysore Brindavan Gardens. From here, tourists get a wonderful view of the duckbill spillway, which is one of the most unique and beautiful features of the Salaulim Dam.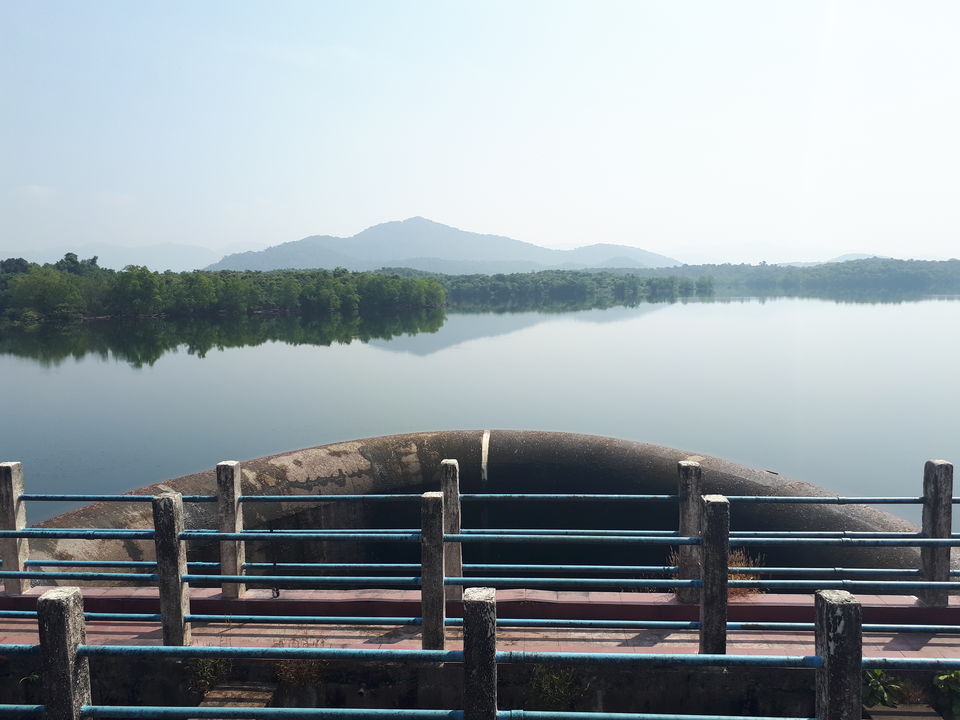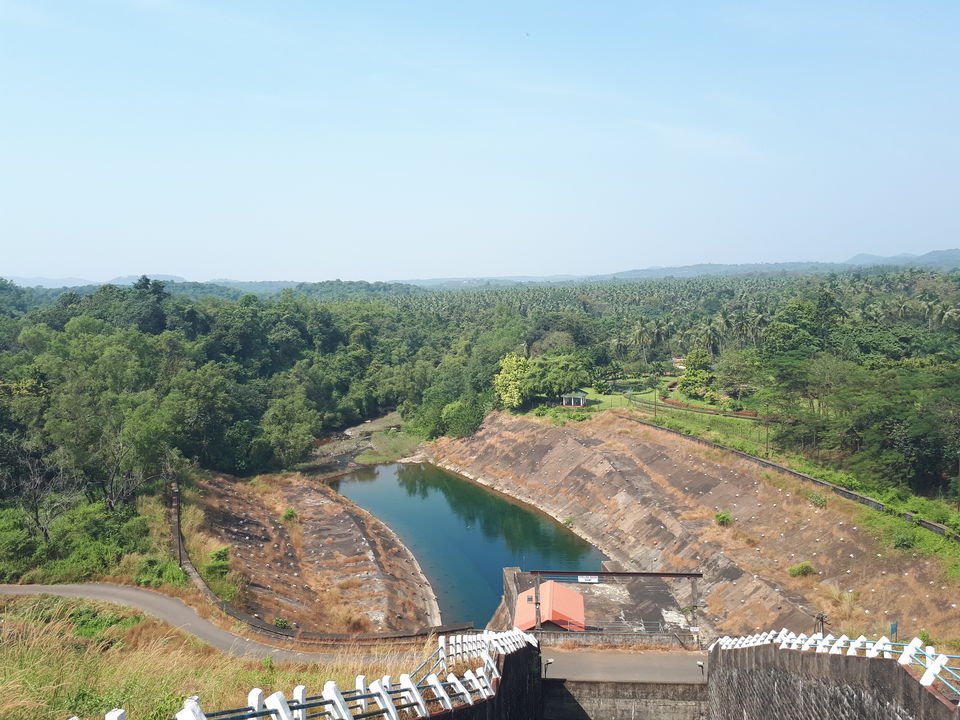 After spending almost half a day here we started driving back to Palolem through the dense forest of Netravali wildlife sanctuary, which was a road-trip in itself. The roads were a bit risky with narrow curly turns. One should drive carefully as there was a steep slop down the valley in most of the road.
There were many waterfalls which happens to fall in-route. Such as Bhupar & Badambudo waterfall. Since it was November they weren't at full water flow but still they were beautiful enough to make us stop & visit them. The water was ice cold even in the afternoon & there were many small fish moving in groups touching your skin softly, making you tickle.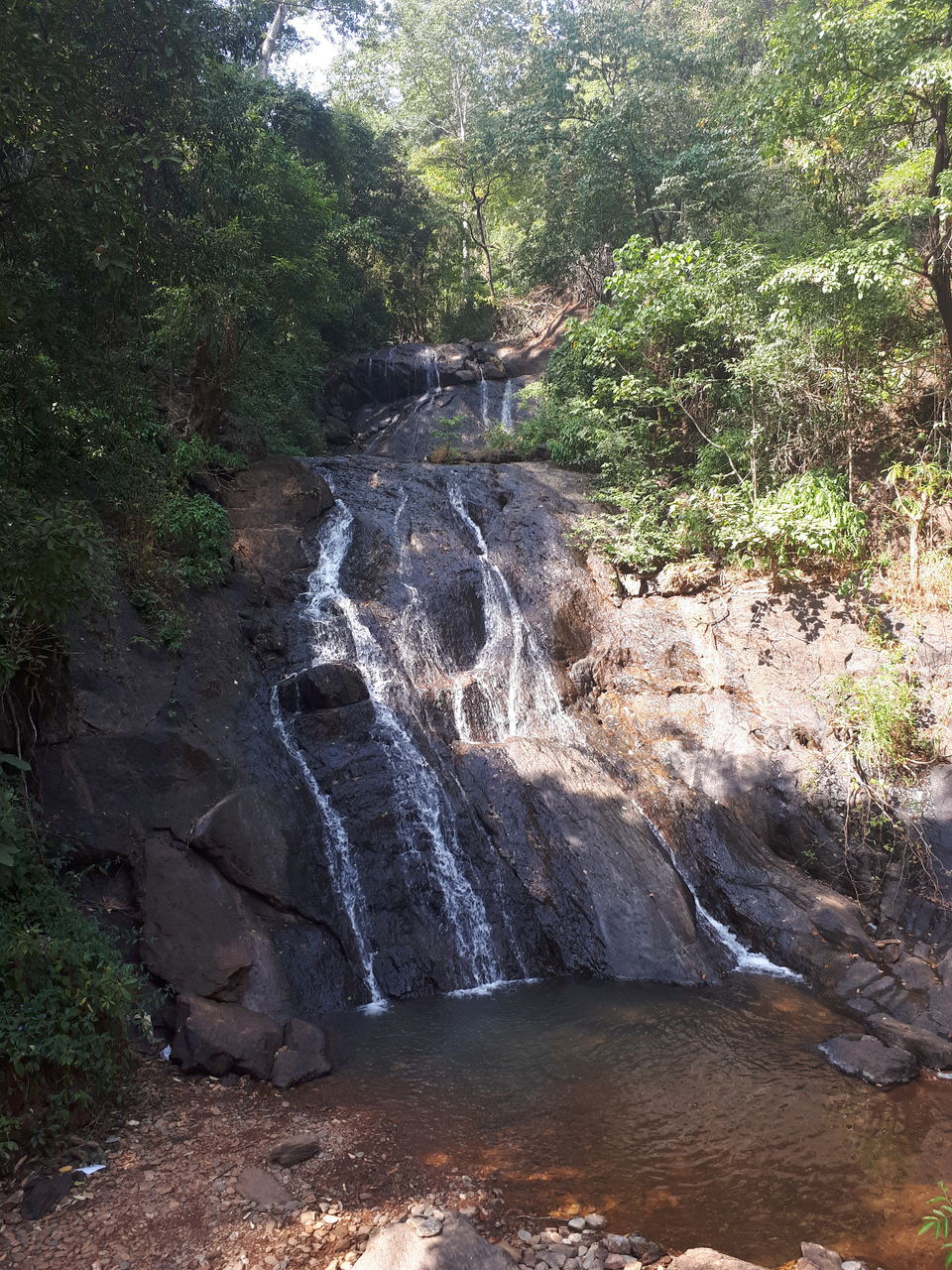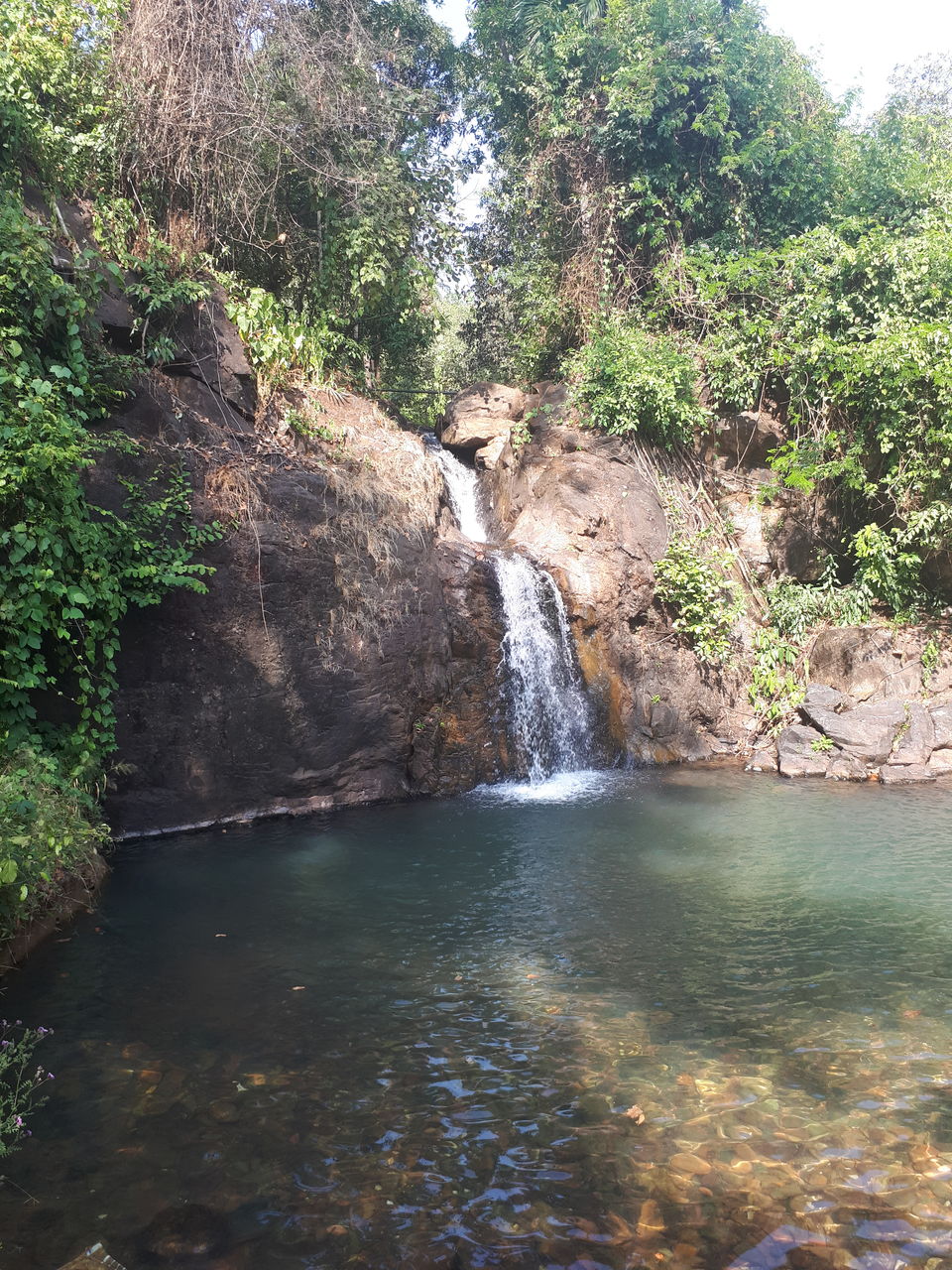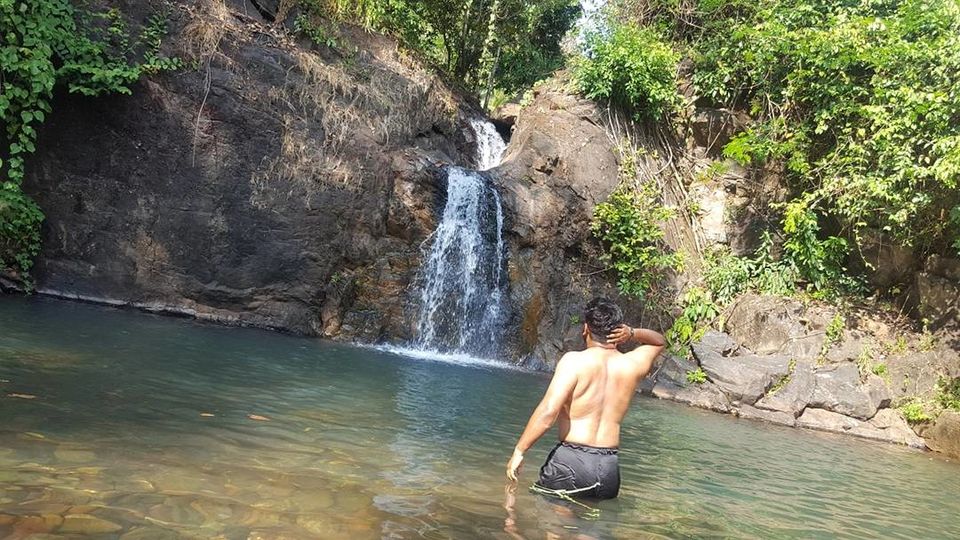 Then after returning in due time we had planned to spend sunset at Jojo's Sundowner, which is located on the north end of Palolem beach, near money Island.
Now I cannot express it more wordily but the sunset experience here was the most amazing one I had ever witnessed. Jojo's Sundowner is a nice place with a bar offering good sunset view or probably it is the only place in Palolem beach from where one can see the sunset.
The bar offers handful of drinks enough to make you laze while watching the sunset. The ambiance & location of this place was so phantasmal that for a moment I found imagining myself in the movie "Beach" of DiCaprio. The place has many viewing points to witness sunset. Lounge chairs are also available to relax. There's also a large speaker in the middle which plays sunset themed music in loop. The place turns happening after the sun sets down because they places candles at different corners which lits up the ambiance & a live music performance is done by foreigners with camp fire.
This place was just a walk away from our stay yet we came here on our last day of trip, and were going to distance places since last 6 days to enjoy good sunset. Remorse Level was over 9000!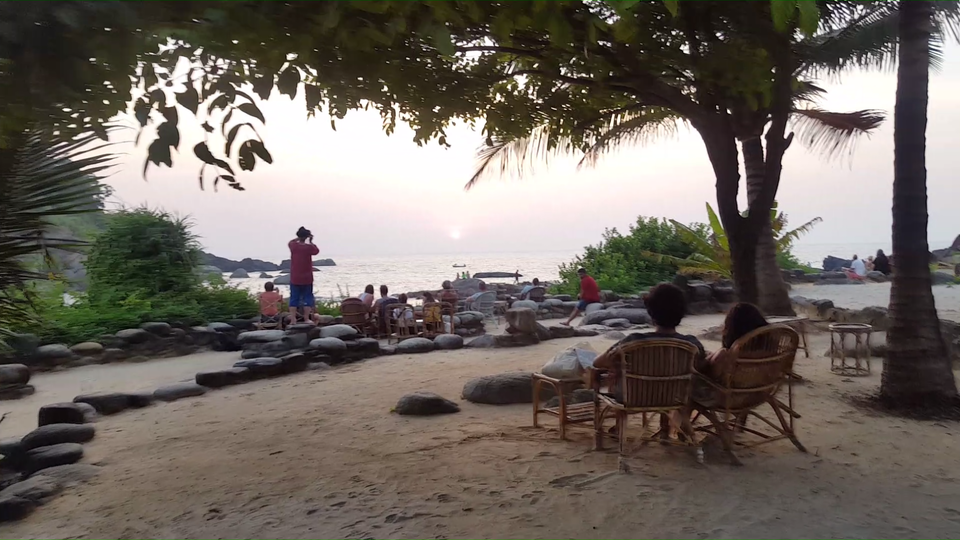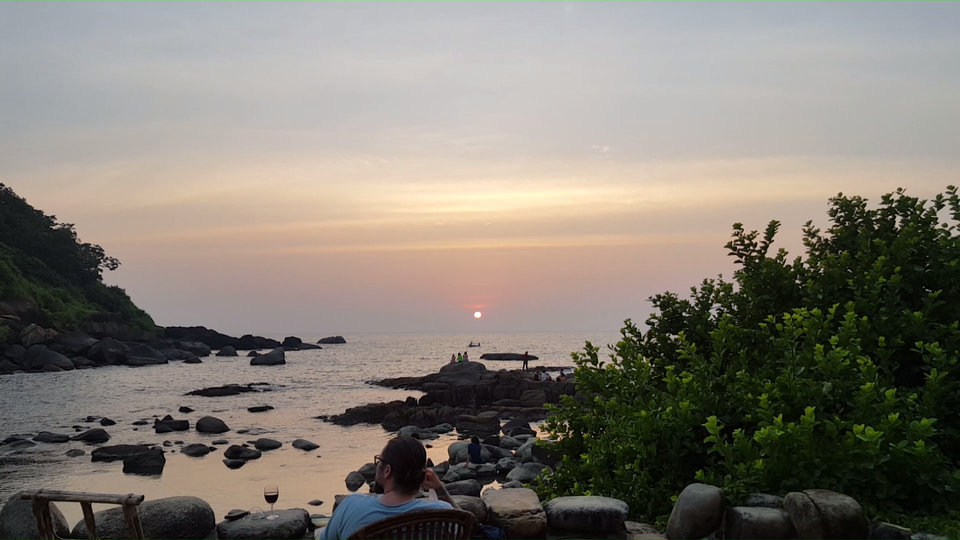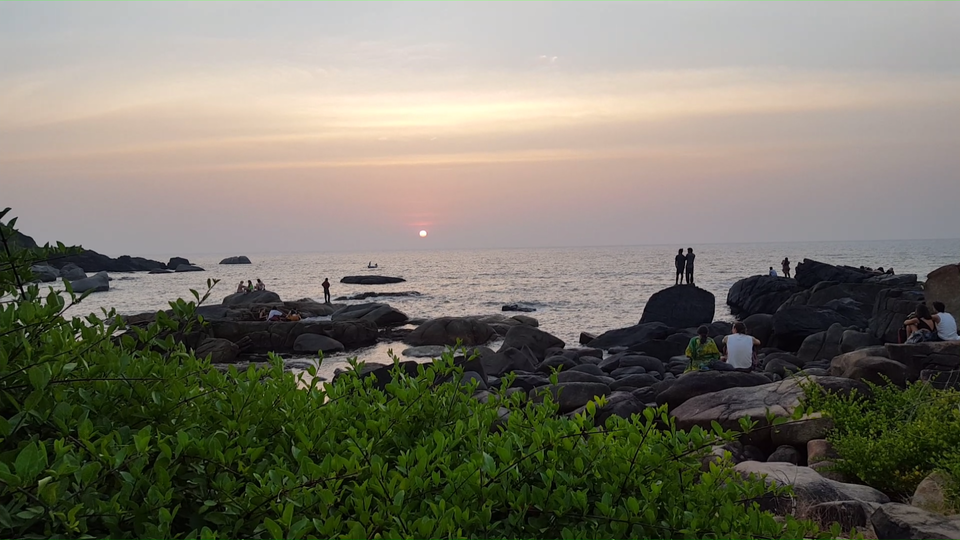 The night after was our last in goa. We guzzled down couple of beers after dinner & went into deep thinking about the last few days spent here, reaching as far as the horizon of our wisdom to garner our knowledge & widen our perception towards this world.
Day 7: That Goodbye Moment.
Now our return flights were scheduled at around 6 in the evening. So we though we can still do some kicking. Hence we explored the backwaters of palolem in boat which rents for around 800-1000 buck for an hour.
Palolem backwaters is situated on the north side of beach, connecting with the sea during high tides. To explore the backwaters one can have two options i.e., rent a boat with person which we did or one can also take kayak to explore it personally. We choose the former due to lack of proper time.
The Palolem backwaters has many things to offer such as various types of crab, which one can also hunt to make it prepared by their hotel chef. Many types of marine birds such as kingfisher, eagles & one unique yet cool black bird which dips in water to catch fish & then soaks up his feathers with sunlight. A natural rock structure which seems like it shouldn't stay that way but does so, people around call it "Magic Rock". The boat person also feeds eagles with small chicken pieces to entertain the tourists.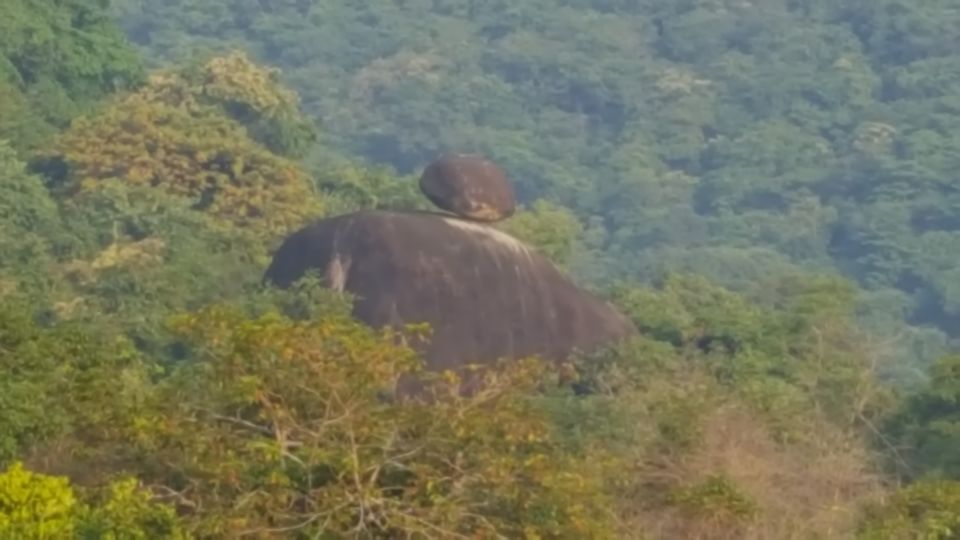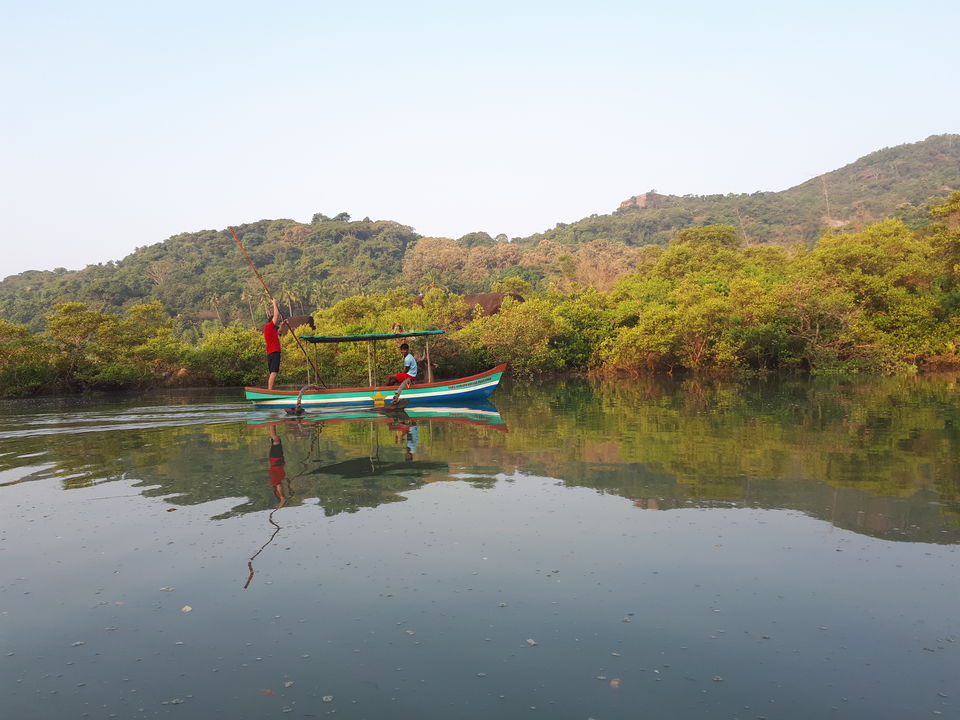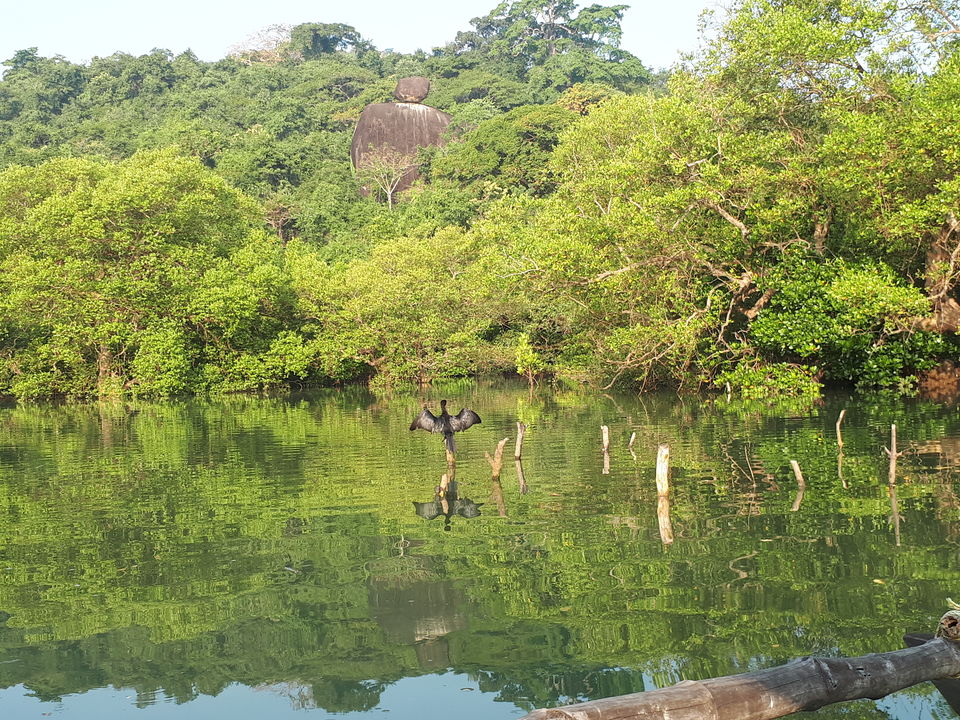 After this we went for one last swim at Palolem beach. Followed by a good set breakfast & then biding adieu to this beautiful place. It takes close to 90 minutes to reach airport from Palolem, we reached before time & hence decided to visit the nearby Indian Naval Aviation Museum as we still got some time left.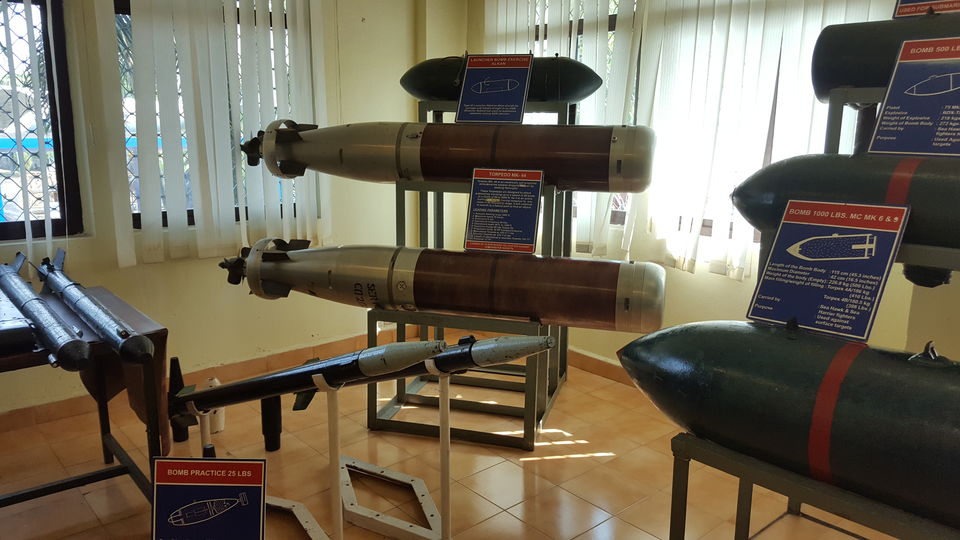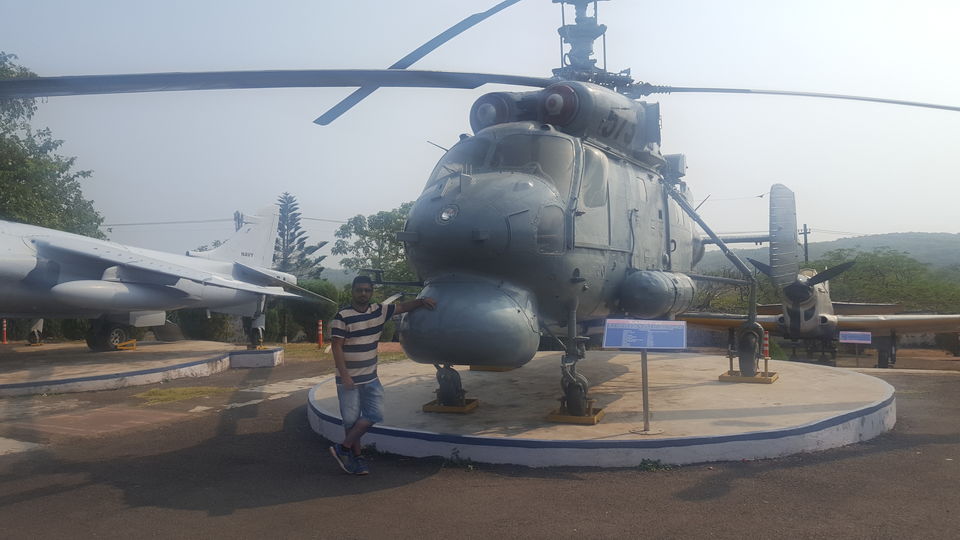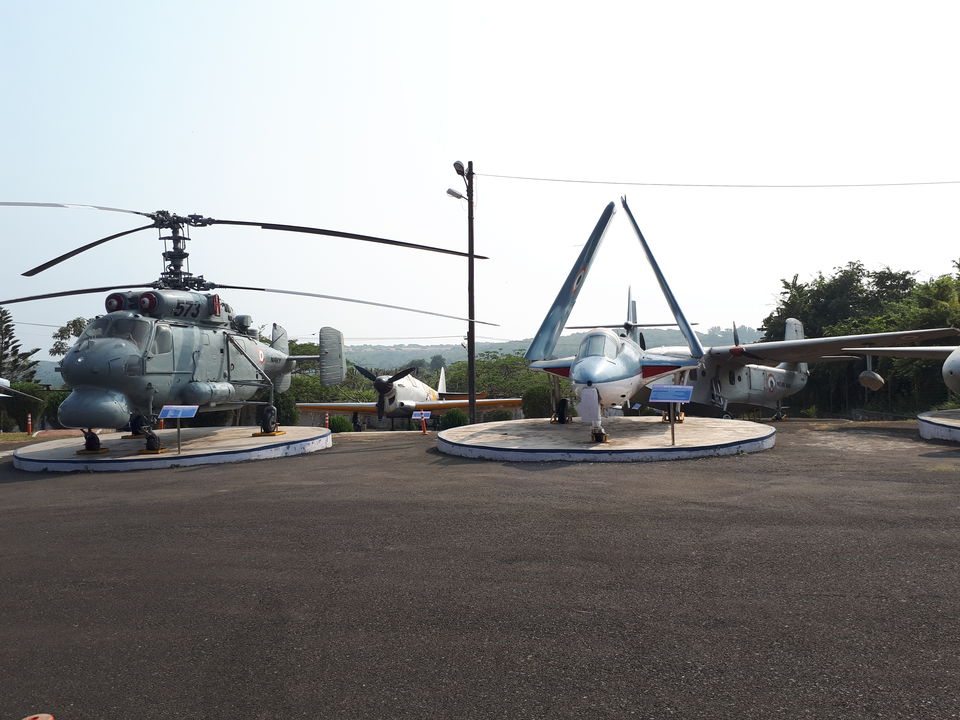 The museum contains exhibits that showcase the evolution of the Indian Naval Air Arm over decades. The museum is divided into two main parts, an outdoor exhibit and a two-storey indoor gallery. The museum was inaugurated in October 1998 and is one of the two military aviation museums in India, the other being the Indian Air Force Museum, Palam in Delhi. The Naval Aviation Museum is the only of its kind in Asia. The museum is open from 10 to 5 except Monday & public holidays. The entry fee is 30/- bucks.
Lastly our week long journey of tropical escape came to an end. I didn't even had step foot inside airport & before it only I started thinking about when I will visit here again to explore more & the places which I missed this time. The sand from the beaches that I visited was no more on my feet, but I guess it will never leave my soul.
Tips & Guidelines:
1. Power-bank: Carry a power-bank charged with you all the time. Because you will be relying on maps when traveling in south goa. Also make sure your phones are sufficiently charged too.
2. Personal Hygiene: Purchase a good mosquito repellent & sunscreen lotion the first day you come here. And also keep hydrated by keeping a water bottle with you all the time.
3. Bargain: Almost everything in south goa can be bargained but just don't forget that those people too have children to feed. Try to settle for a reasonable price which benefits both entities.
4. Night time: If possible avoid traveling or going out of your area after sunset. Not because its not safe but due to the roads which are narrow, curly, & without light. Hence be near to your place of stay or hotel.
5. Use public transport: Due to the union of cabs the Ola & Uber are not present in the state, hence creating a monopoly for local cabs to charge whatever they feel like. So try to travel using public transport, will cut the cost also.
6. Stay: South goa has many places of stay to offer such as Agonda, Cola, Patnem beach. But I would suggest Palolem due to its distinctive features such as good beach, cheap staying options, market etc.
7. Rental Vehicles: When renting a vehicle in goa make sure to routinely check the petrol level because there aren't many petrol pumps in south goa. Though local kirana stores sell petrol in bottles but try to take prevention rather than cure.
8. Time: The best time to visit south goa is from November to April. During monsoon time majority of shacks will be closed. December to January is the peak season period & hence costly too.
9. Environment: If you are taking snacks with you then please try not to throw waste & litter the beach surroundings. There will be lack of dustbins so try to take waste with you till you find suitable place to dispose the same.
10. Money: South goa is less commercialized hence try to keep as much as physical money with you as possible because most businesses there will not accept cards.
Happy Vacay! :)