Goa! The party capital of India. Or at-least this is what we have heard from those who have been there & from other people talking about it. A friend of mine suggested me to accompany him to a totally different version of Goa, SOUTH GOA! Which as he was talking was totally opposite of what I had heard from other people who had been to Goa. Thou my interest in alcoholic fueled partying, raving & bass pumped DJ nights was almost getting diminished after I completed my graduation. I was becoming more of a mellow person & I was beginning to enjoy my own company. I had never been to Goa before or any other tourist place outside my state, but hearing things from him made me go there despite unfavorable schedules and I am totally grateful that I took the decision.
South Goa is a secluded paradise filled with lush greenery, golden sands, tall palm trees, serene sunbathed beaches, narrow curly roads with very little human construction. Beaches in south goa were less inhabited than their northern counterparts, which is why it attracts less tourists than north goa beaches. One will also find more foreign tourists in south goa due to less commercialization & more natural state. Palolem Beach is ideally a good option if you are planning to stay in south goa. There are other options such as Cola, Agonda, Patnem Etc. But I found Palolem a better option than others due to its good beach, affordable food & stay. We stayed at Presley's Beach resort which is to the right side from the main road entering the beach. The staff & stay were both good along with fantastic beach view restaurant.
Itinerary Overview:
Day 1: (Arrived at palolem in afternoon from margao)
Exploring Palolem Beach, Sunset, Evening bath at sea, Market Visit followed by dinner.
Day 2:
Dolphin ride in morning, Polem Beach, Galgibaga Beach, Sunset at Patnem Beach followed by dinner at Magic Italy,palolem.
Day 3:
Cabo De Rama Fort & beach, Cola Beach & lagoon, Sunset at Agonda beach.
Day 4:
Kayaking in morning, exploring palolem backwaters, lunch & then return to home.
Trip Overview:
Time: November 1st Week. 3N/4D
Est. Expenditure(Ex. Mumbai): 11k
Best Time to visit: October end - Mid April
Place of Stay: Presley De Resort,Palolem Beach, Canacona, South Goa
So, we began our journey from ahmedabad via Mumbai to Margao & then finally to Palolem Beach in Canacona. Our journey to goa was started by a overnight bus journey from mumbai to margao. So we had a day in mumbai to freshen up & chill. Which turned out to be more expensive than I thought because my Galaxy S7 which I had just brought 3 months ago was stolen in mumbai local while going to the place from where our bus was departing. It was a total disaster for me considering it was my first trip outside my monotonous life cycle & I lost that one damn thing that this generation's youth cannot live without. A SMARTPHONE! Can you imagine the suffering. Anyways after grieving about my loss & even a thought of canceling the trip & heading back we departed the overnight bus. My friend was trying to make up my mood before we reach goa. He told me that whatever happened was bad but, in mumbai locals stealing of mobile phones is a common thing, In-fact people also die sometimes in the kind of stampede that we had experienced. But trust me the next days in south goa almost made me forget this incident, Yes it was that wonderful except when I wanted to take a picture & I put my hand in the pocket!
Day 1: (Reaching Palolem)
We started our journey by taking an overnight bus from Nerul, Mumbai & reached the city of Madgao, Goa by 11 AM in the morning. Being exhausted by traveling overnight we made a stop at The Chocolate Room to freshen up ourself. Madgao KTC Bus Stand was just opposite to it, from where we took the bus to palolem beach. I would suggest to use public transport buses as they are cheap than taxi's. besides taxi's in goa are union operated, there is no Uber or Ola cab services in the state, hence the local taxi owners has the monopoly & will charge to their will. A public bus from margao KTC to palolem beach will cost you just 40 bucks while a private taxi will set you back by 800-1500 Rupees that do depending upon your bargaining. So do the Math.
We reached palolem beach in the afternoon & were lucky enough to get a sea facing beach room at Presley's resort, which cost us just 1400 bucks per night. There are cheaper options thou ranging between 500-1000 rupees but who doesn't want a good sea view cottage on their very first visit to goa. KTC is kadamba Transport Company in case if you are wondering. It is a state run bus services.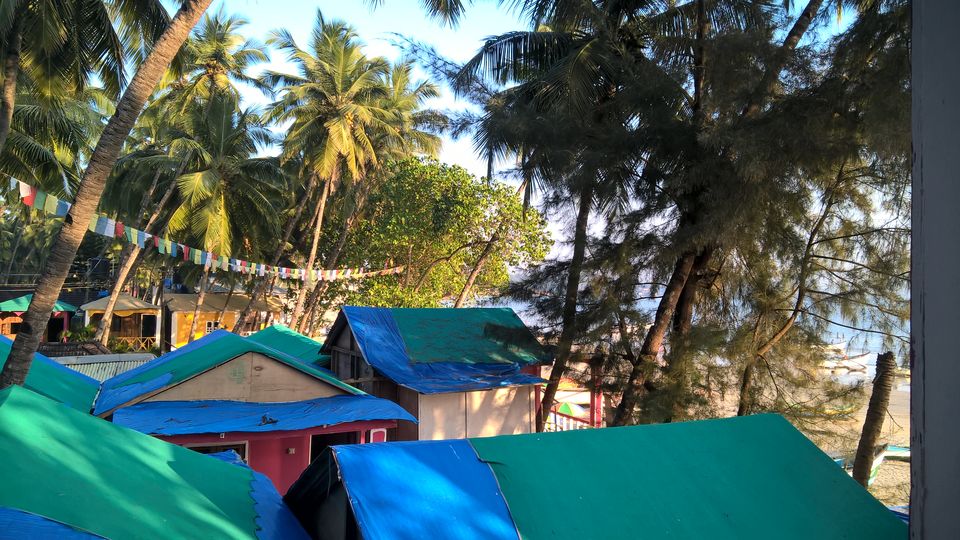 Then after throwing our luggage on the bed. We directly hit the restaurant to have some food with a nice chilled budweiser. We didn't thought of renting a bike today & going out because it was already 5.30 in evening when we finished. so we just spend the evening by grabbing some more buds while starring at the panoramic view of palolem beach. Most shacks will have general variety of beers, so don't expect to get corona's & Stella's, some good options are Bira, Witlinger, Hoegaarden. Bira & Hoegaarden are a must tryouts. Then we headed for the market which looks so lively at the night. The market has all type of shops such as departmental store, grocery shop, even a Cafe Coffee Day, street vendors offering chats, vadapav, panipuri etc. Along with a music shop, tea shop, Tibetian shop, various cuisine restaurants & much more.
After dinner at presley's we took a beach walk covering the beach stretch to have a look at various shacks. The Draupadi Bar & Restaurant was the most Crowded one, we couldn't get a chance to visit it due to long waiting time over the weekend.
Day 2: ( Covering South Side Beaches of South Goa)
So finally after two days of pre-adventures we started the actual tour of south goa. Early morning we took a dolphin ride from palolem beach itself for 1300 ducks which covers dolphin seeing, Butterfly beach & honeymoon beach.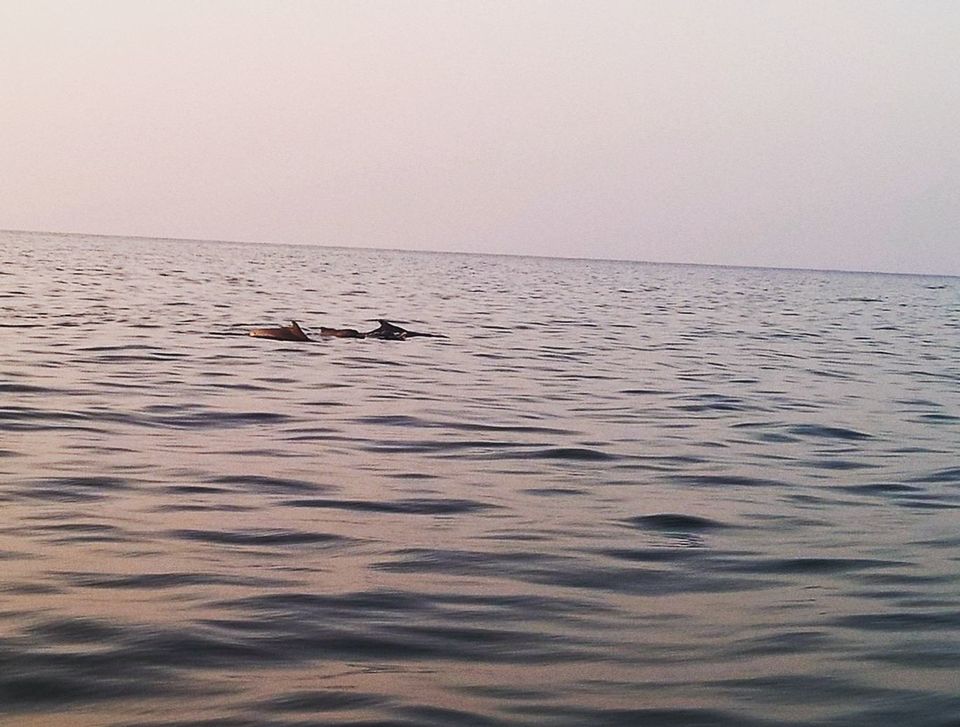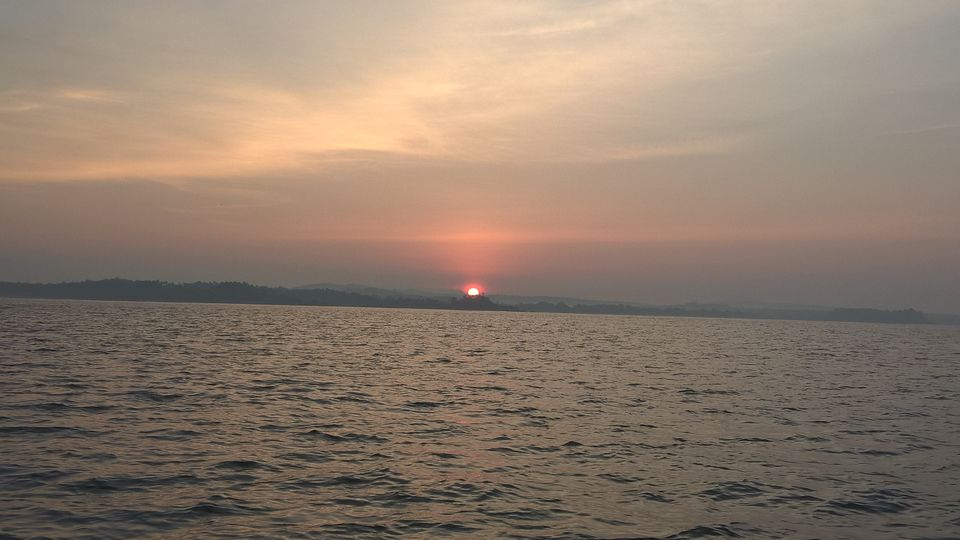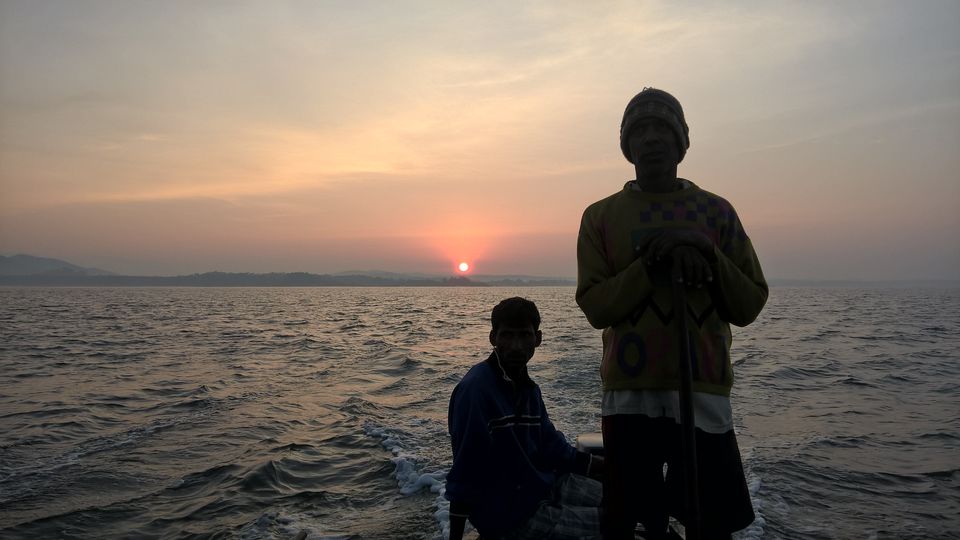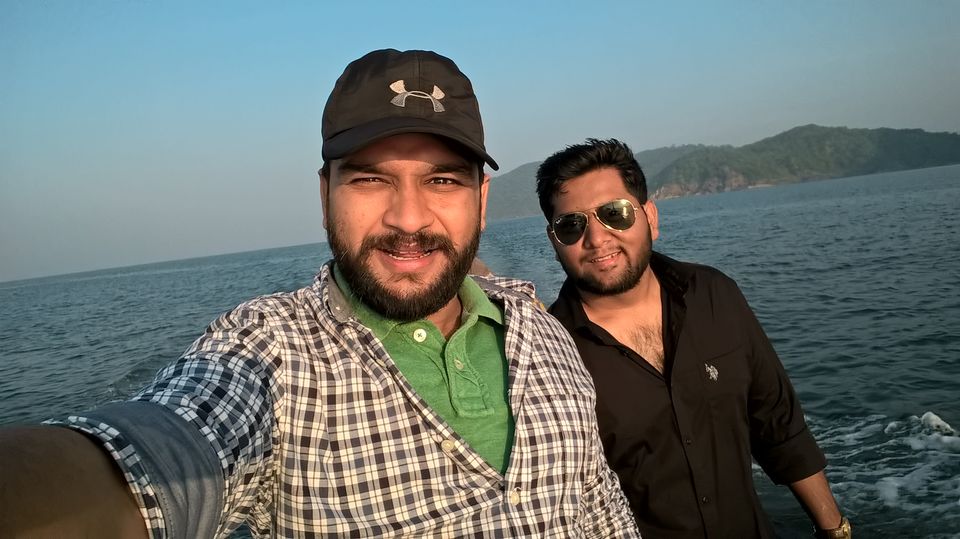 The butterfly beach was the most virgin beach of south goa. It is a small beach stretching hardly 100 ft. It is easily accessible by boat but very difficult to reach by land due to dense forest behind it while having rock mountains on each end. When we visited there a group of people had camped at beach. Upon asking they told us that they had trekked to the beach yesterday evening along with the help of a local. They had almost all required equipments to stay on that beach such as stable tents, Thermo-crate for water, & other necessary things.
Then after coming back from the dolphin ride we had a good set breakfast at presley's to begin our day. The restaurant serves many set breakfast's such as english, continental, american, Israeli etc. ranging between 170-220 buck.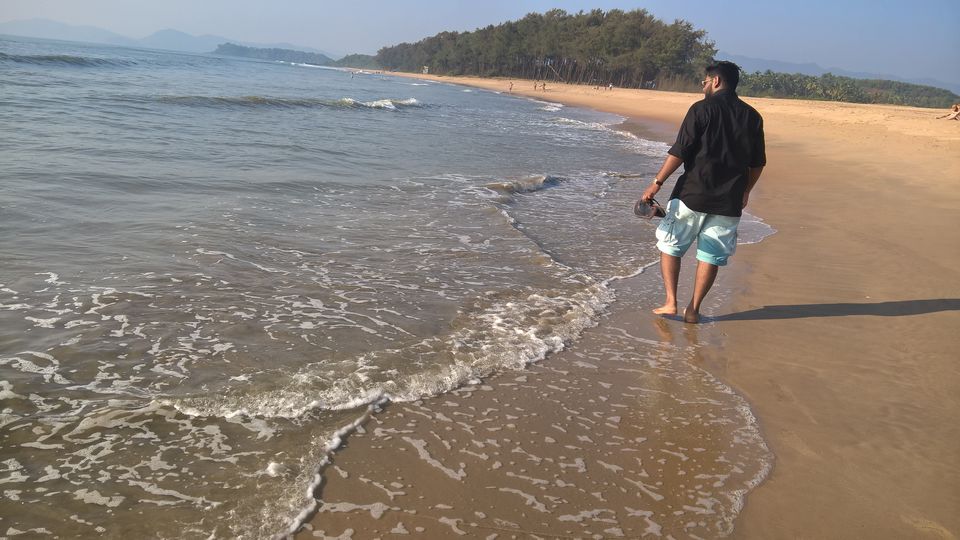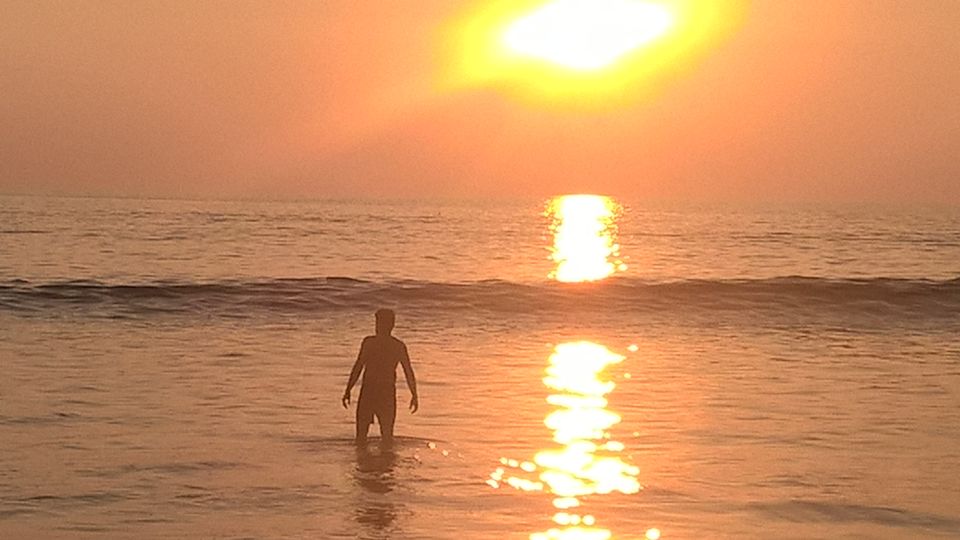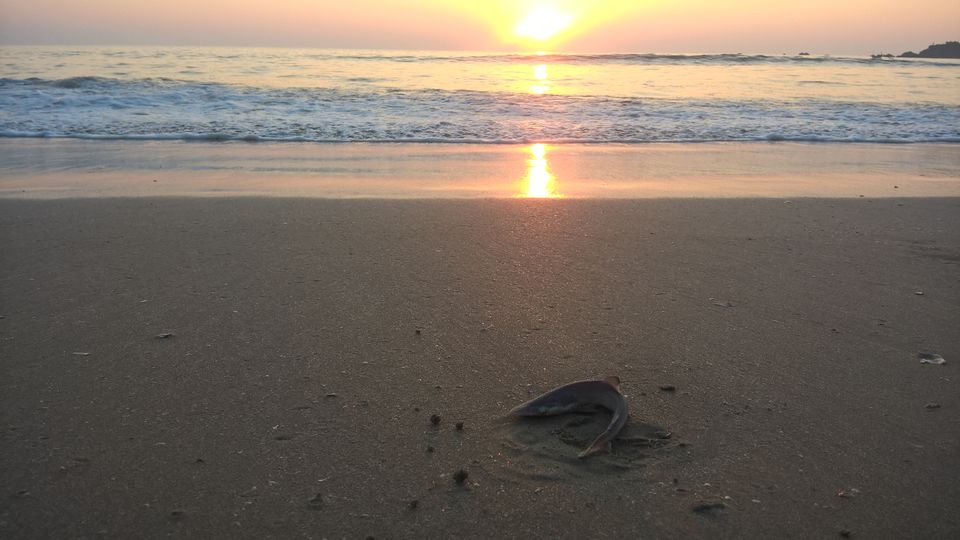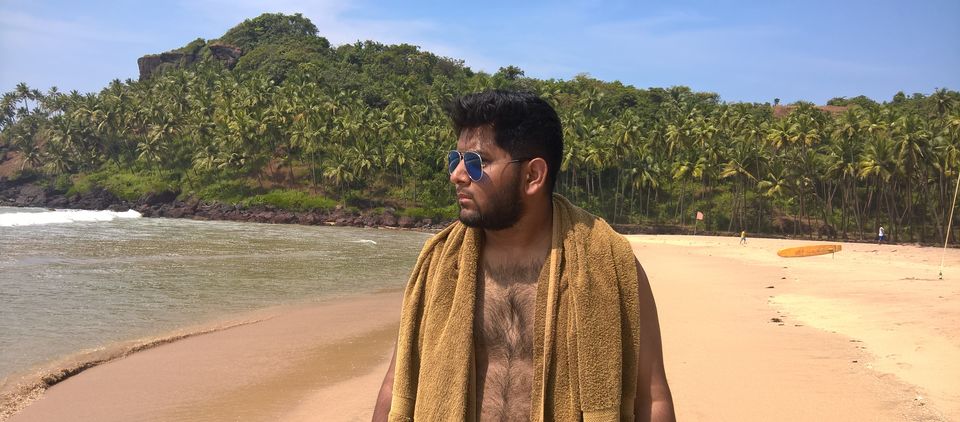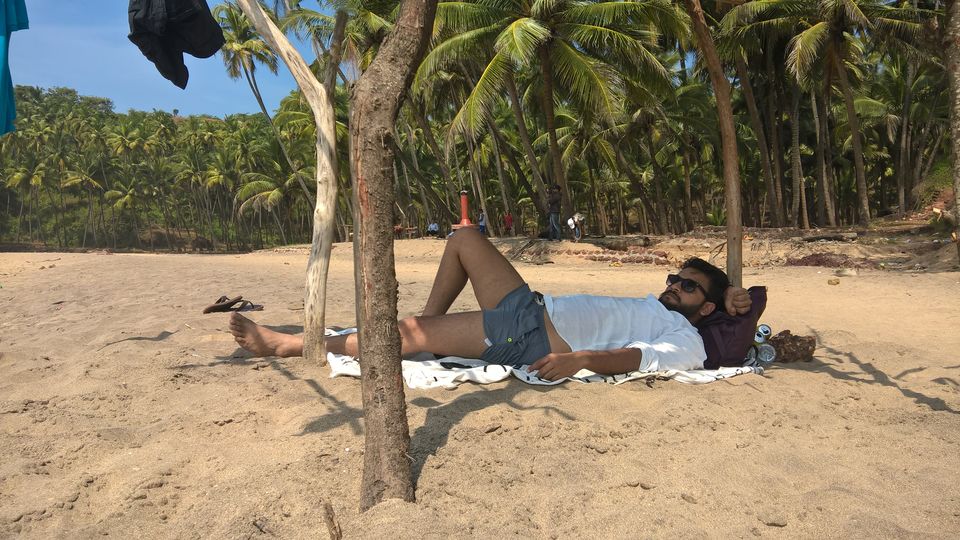 After having an heavy breakfast we took a moped(Honda deo) for rent and hit the road to reach polem beach, the southern most beach of goa. Vehicles in south goa are rented around 250-400 rupees per day for activa or deo. Bike & bullets go for around 600-1000 rupees. I would not suggest a car due to narrow roads. You can find rental bikes at palolem beach road, near parking.
Polem Beach:
Polem beach had very less crowd mostly of local and tourists from karnataka. There are few shacks on the beach offering food & beer in less options. The beach is not very suitable for swimming because not so clean water & it had rocks on one end.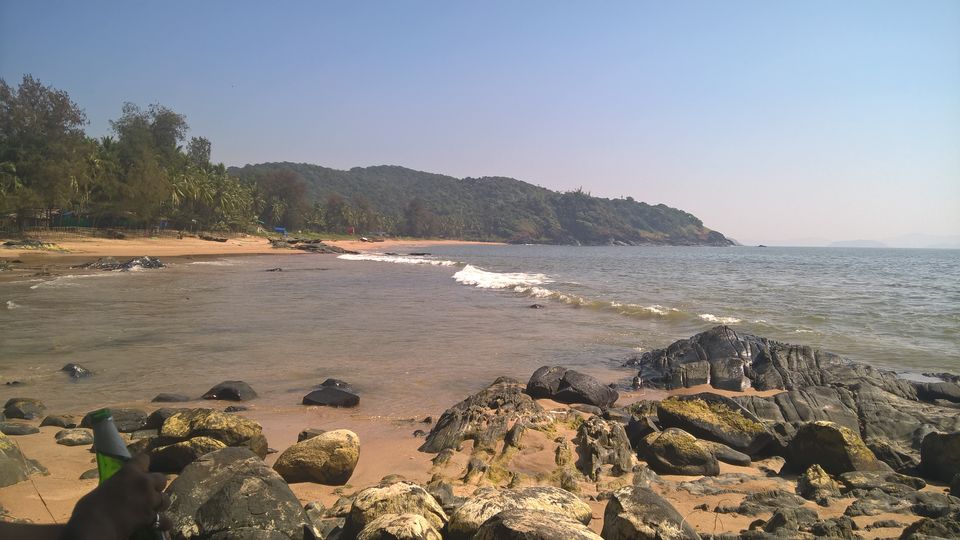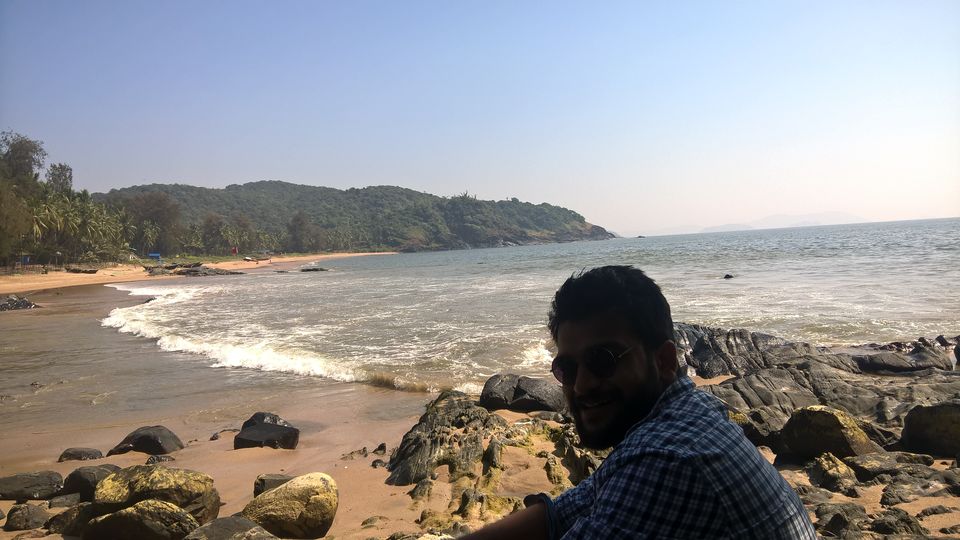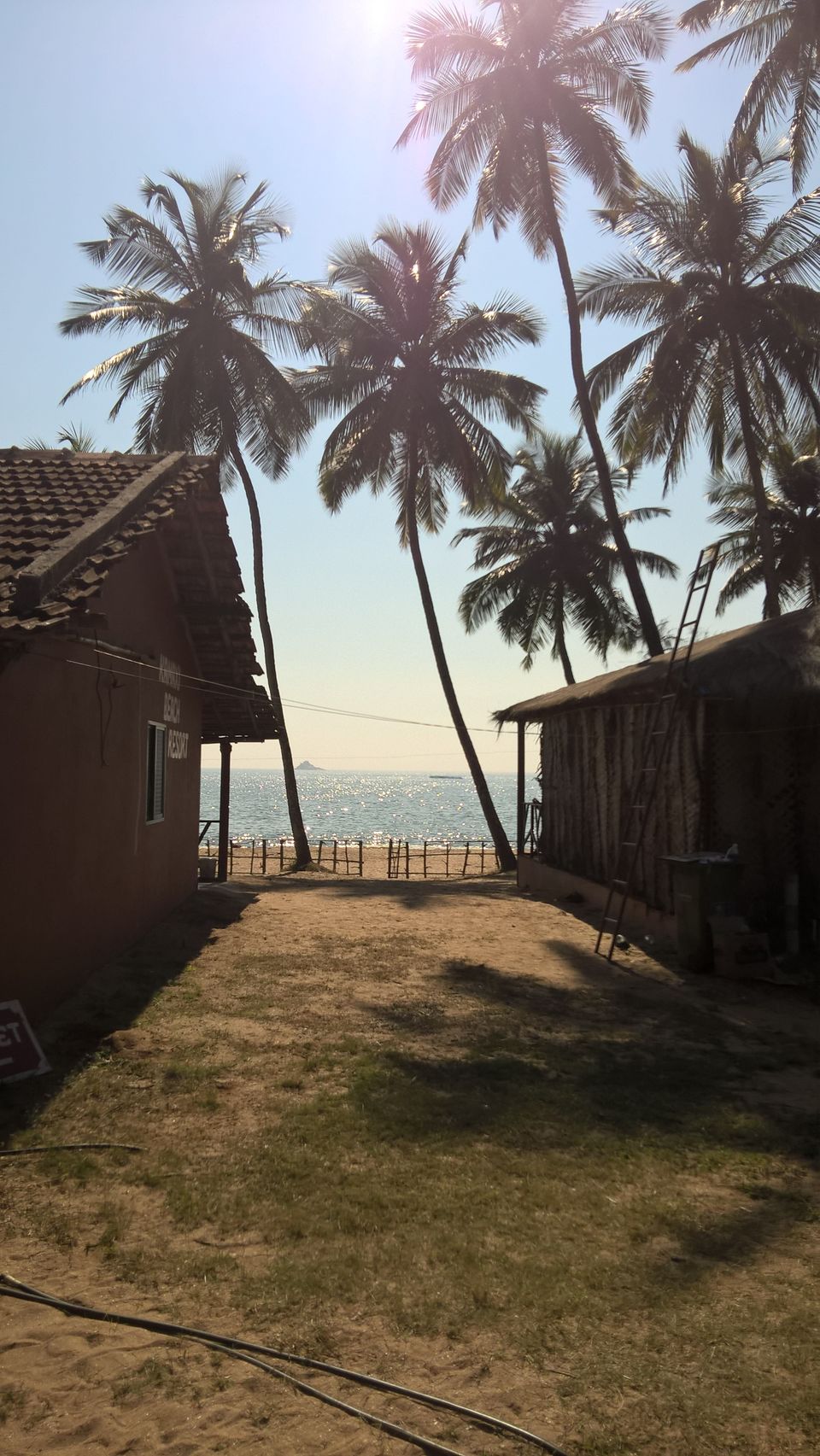 Galgibaga Beach:
Our next stop was Galgibaga Beach & Lagoon. Galgibaga beach had long stretch, few shacks & a cool backwater lagoon on the southern end of the beach. Galgibaga beach is also a nesting site for turtles. The waves at this beach were pretty strong. One can swim here but at his/her own risk or you can also swim in the cool lagoon like we did. The backwater lagoon was so beautiful that I immediately took out phone from my pocket to shoot a panoramic picture covering the whole lagoon. Ah, not my phone guys, mine was stolen in the beginning of the trip remember? This was shot from my friend's Lumia, which I was caring around mostly for taking pictures.
Patnem Beach:
The next one & last for the day was Patnem Beach, which was near to our palolem beach where we were staying. patnem beach is very similar to palolem, averagely crowd, same shacks & food. we got their before sunset & went for a swim. We even found a small shark baby on the shore, who we did put back to the sea before dying. It's common here so chill no need to worry because it wasn't a great white shark, it was just a casual sea shark who would hardly grow to 3-4 ft. over lifetime. And yeah did I mention a beautiful single lane bridge that comes in between when you go from Galgibaga to Patnem.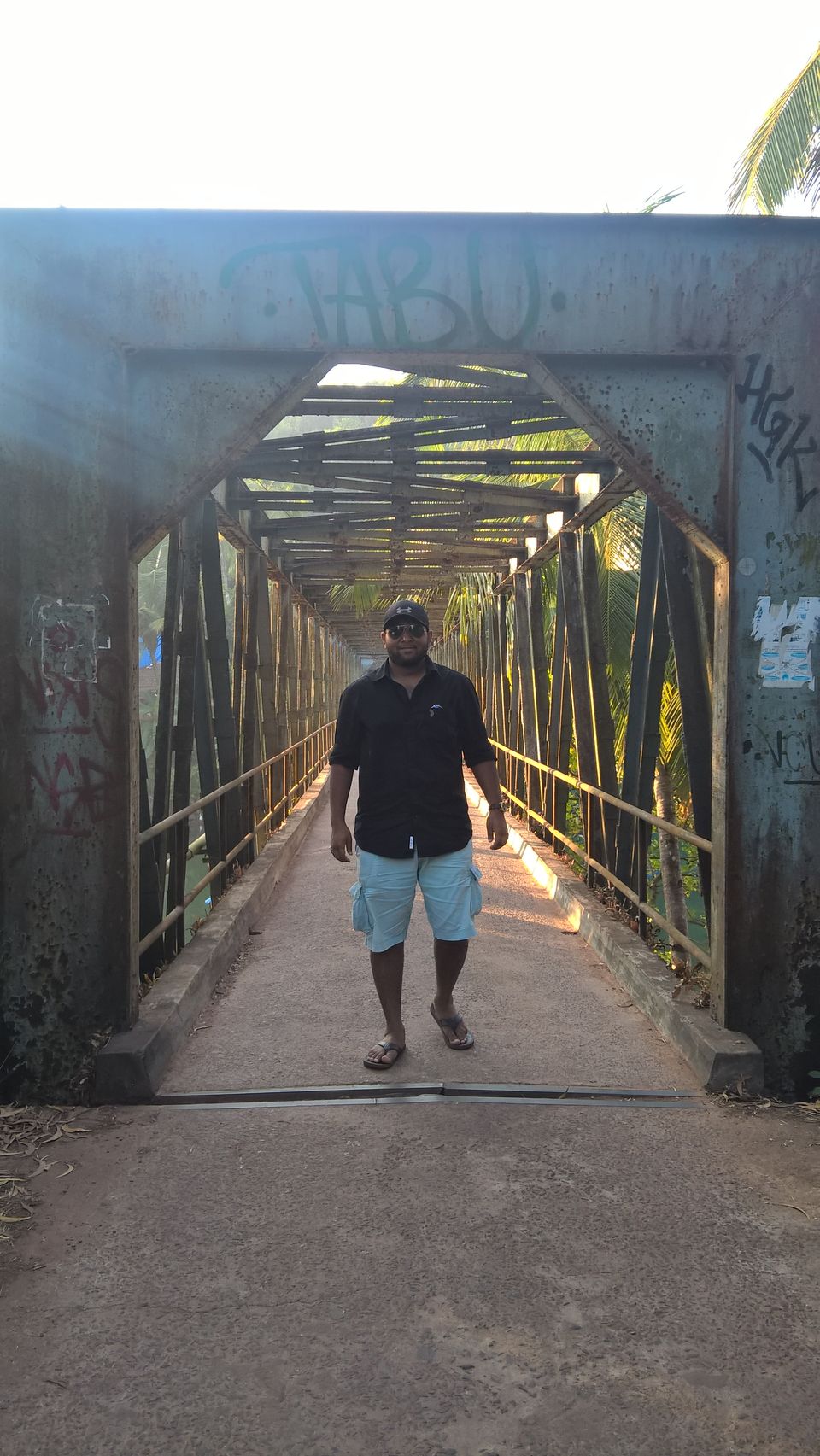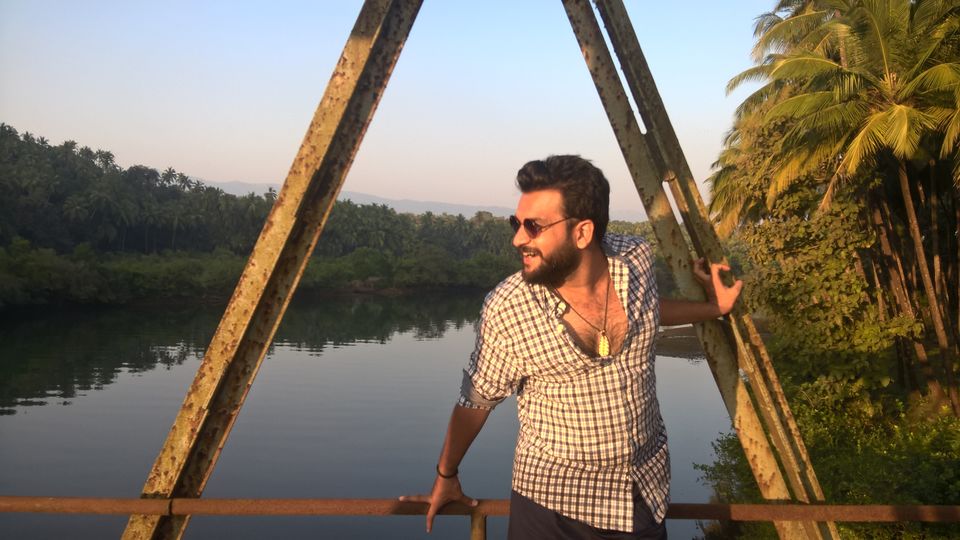 So after seeing the sunset at patnem beach we came back to palolem to charge our only phone & to take a bath before going to the dinner. Now, today we were going to this place called Magic Italy, which is just on the palolem beach road. Now I cannot emphasis it more that on THAT day I had best pizza I have ever eaten over my life. It completely changed my definition of the food called PIZZA! I mean I don't know what sorcery was involved while preparing it but that pizza was something that I have never had in my life & at that moment there I realized that my whole life was a lie regarding pizza!. The restaurant Magic Italy was owned & operated by an Italian family who has settled here 18 years ago. This place is highly recommended even if you're going to visit palolem for half a day.
So after gobbling these delicious pizza's we took a walk along the beach to witness the colorful night life of palolem beach. Night at palolem beach are as good as sunny days. You will find various shacks lighting up their space with colorful LED lights, with some mild Jazz music & a beach side barbecue. At nights one can also enjoy some firecrackers & lanterns on the beach, which are easily available on the market.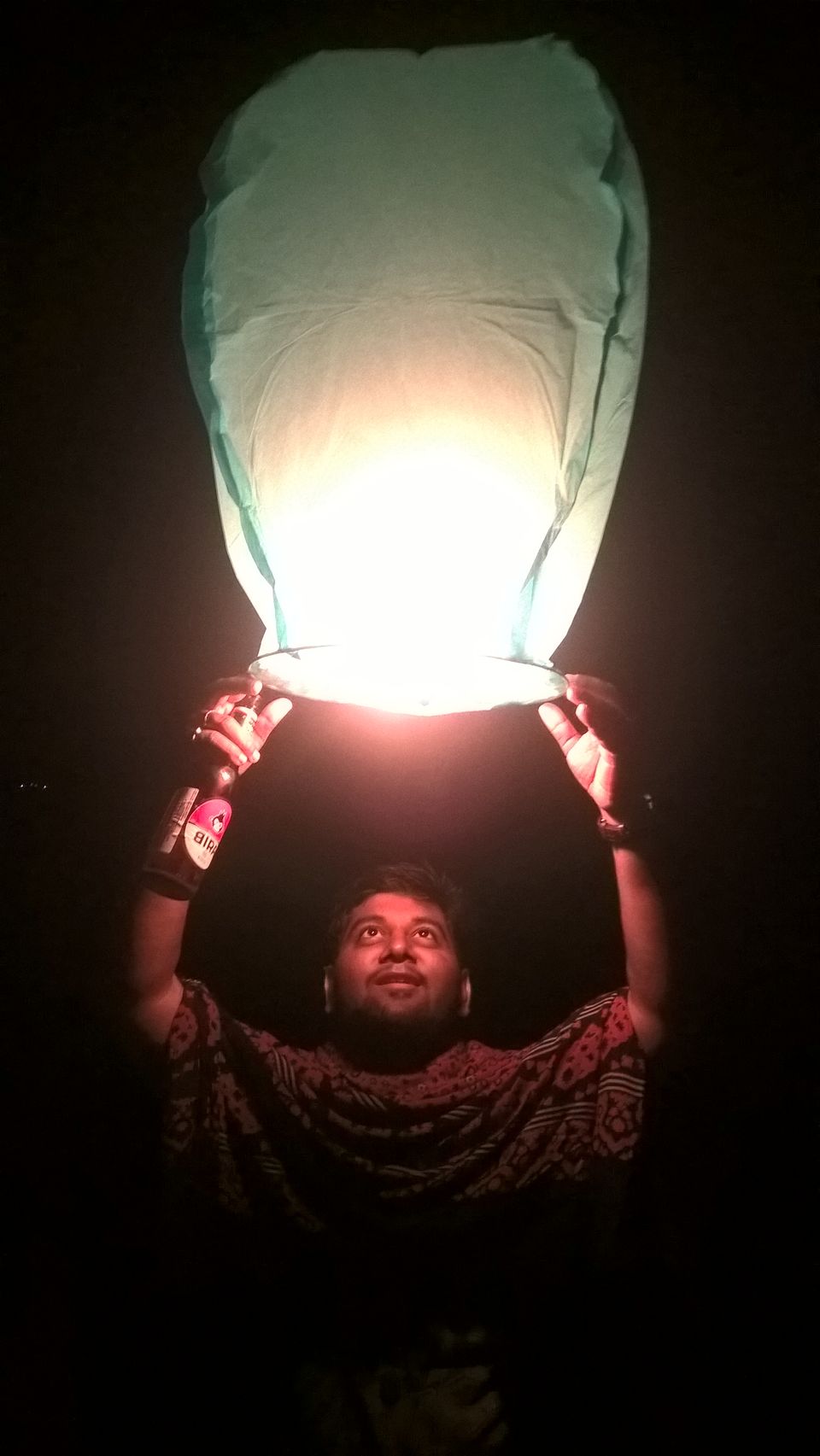 Day 3: Covering North Side Beaches of South Goa
Cabo De Rama Fort & Beach:
Cabo De Rama fort is not that usual fort that one expects, it is a small fort with a church on a hill. So don't carry any expectations of a huge fort. The fort has one tower bastion from where you can have a good view of the arabian sea & the beach which is located on the other side.
Cabo De Rama beach is rather exciting than the fort. You have to park your vehicle atop the mountain & then take a small trek downwards to reach the beach. Oh, and yeah it is the same place where Ajay Devgn confronts Tabu about what happened to his in the movie Drishyam. The beach is pure tranquil with a backwater river on the northern end. Swimming is advised as the tides are good but don't go too deep as it has uncertain shore depth. Avoid visiting here on weekends because it is an ideal picnic spot for locals & trust me you don't want any school children's disturbing you on your vacations.
Cola Beach:
Our next stop was cola beach, which is very difficult to reach even on two wheelers and even after that you have to park your vehicle atop a small cliff & walk down the stairs to reach the beach. But, once you reach down the beach I bet it will be pure ecstatic. This place has both an backwater river lagoon & a sloppy beach. It is a small beach compared to palolem & patnem but it has got it's own charisma. You will find nicely build Eco-Chalet's along the beach & lagoon that are very eye-appealing to stay & hence expensive. Here also I would recommend swimming in laid-back backwaters because the beach had inclined slope and there have also been cases of jellyfish bitting people.
Agonda Beach:
Our last stop for the day was Agonda beach where we witnessed our last sunset in goa & went on deep thinking that this all is going to be over and we will be back to our boring regime from next day. Agonda beach was the longest beach of the one's that we have visited. It is a more premium version of palolem because it has more luxurious beach cottages. The beach here is again sloppy and there was also a warning board written "Beware of Jellyfish", thou I saw people swimming here, we decided to skip the swim & enjoy the majestic sunset.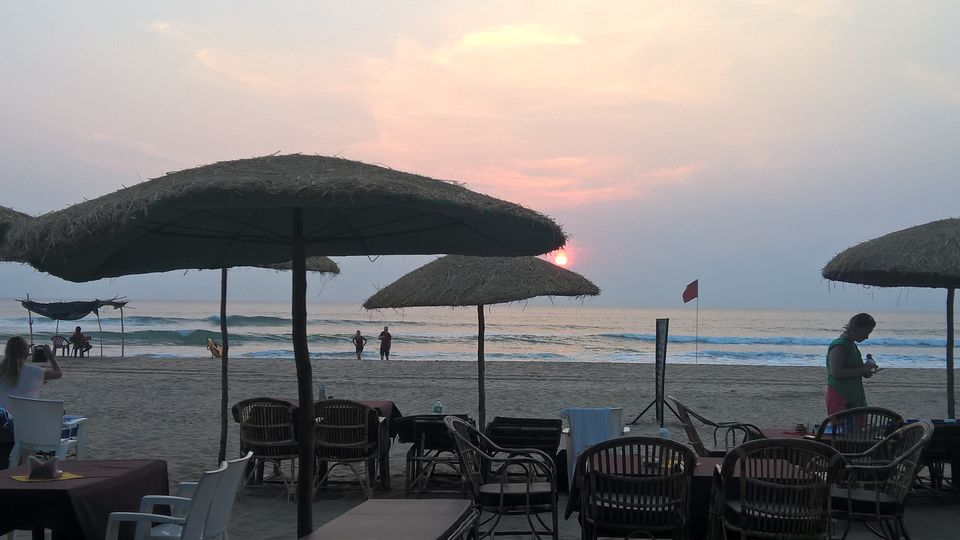 Day 4: Kayaking in the morning & returning back in afternoon
On the day of leaving this wonderful paradise we decided to do kayaking because our bus was departing in the afternoon and we still had time to get the most of our trip. Kayaking was great fun but it also involves ample physical exercise & stamina. Palolem beach is ideally the most suitable beach for kayaking because it's shore is not that sloppy & the tides here are not a big deal to swim. Still kayaking requires a lot of hand muscle movement so if your doing it for the first time I would suggest that you first practice it in backwaters & then go for the sea. You can get kayaks from beach itself by taking it for rent costing around 150-200 bucks per hour.
After doing kayaking we took a nice lunch & bid our final adieu to the Palolem, South Goa to catch our return bus back to mumbai & then to ahmedabad. Palolem beach is a one and half hour journey from madgao so plan accordingly because you won't get any interstate bus from palolem, buses to mumbai will leave from madgao which is nearest.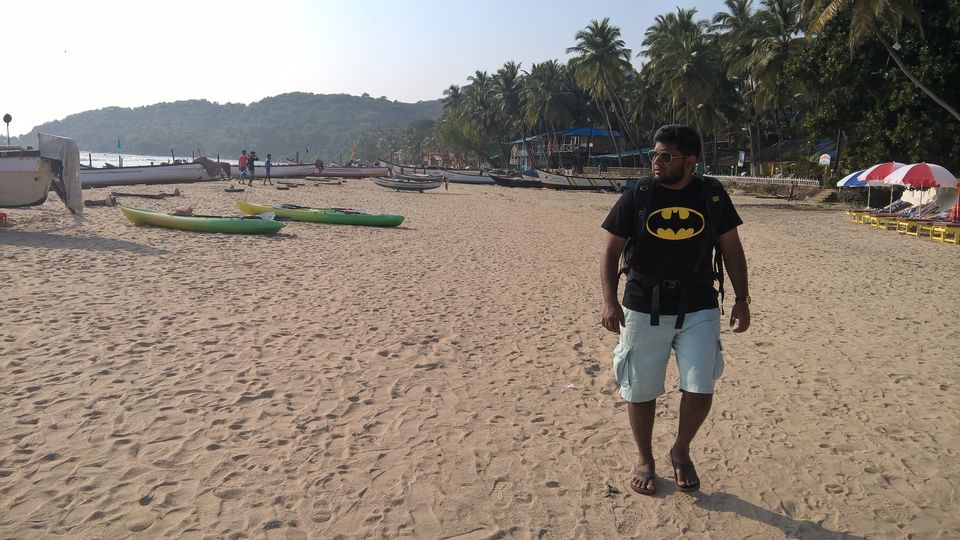 My trip to south goa was the moment when the travel bug bit me & made me realize that investing in experience is a much better decision than investing in things. I am deeply indebted to my friend for opening my eyes & allowing my wisdom to grow beyond itself. Majority of people will always follow the light & the crowd while living in their same tedious lifestyle, running behind circles of money, power & people. I want to take the road less taken & see the things never seen before because I don't want to fretted seeing the sand in the hourglass empty some years later and regret about the things that I could have done or seen.
Frequent Searches Leading To This Page:-
Best Tour Packages for Goa, Goa Things To Do in South Goa,, Best Travel Packages for Goa, Best Goa Trip Packages, Goa Holiday Tour Packages, Top Goa Packages for Family, Goa Honeymoon Packages from Delhi, Top South Goa Beaches