Remember that gorgeous waterfall from the film Chennai Express!? Of course you do! It's name is Dudh sagar Waterfall and it is located in the goa state of India.
Dudh Sagar Waterfall is one of the highest water falls in India, and among the hundred highest waterfalls in the world. It lies in the southern part of Goa at Mollem, towards the border with Karnataka state. Dudh Sagar, literally means a Sea of Milk in the local Konkanni language, and gets its name as it appears like an overflowing sea of milk. It has a total height of 306 meters and a width of 30 meters.
The water fall is at its peak flow during the monsoon months from June to September and wanes out towards the summers from March to june.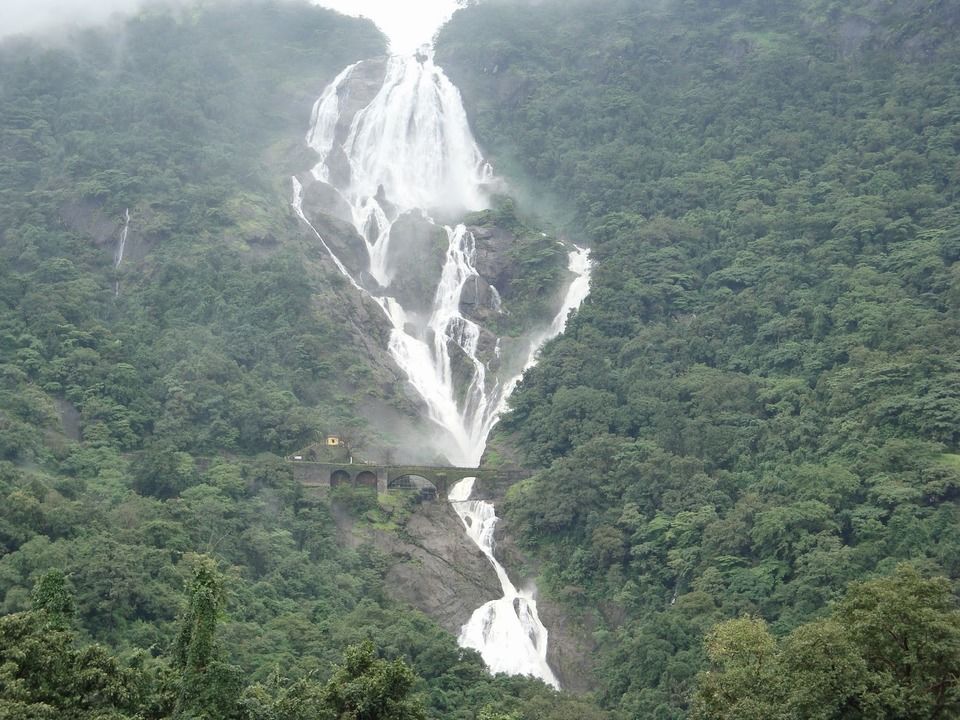 History
Legend has it that a beautiful princess lived in the forest on the edge of the King's palace grounds. She enjoyed bathing in a lake nearby and ritually drank sweetened milk from a Golden Jug upon finishing with her bath. One day while enjoying her jug of milk she found herself being watched by a handsome prince standing amongst the trees. Red with embarrassment at her inadequate bathing attire, the Princess poured the jug of milk in front of her to form an improvised curtain to hide her body, while one of the maids rushed to cover her with a dress.
The sweetened milk cascades down the mountain slope to this day as tribute to the virtue and modesty of the Princess.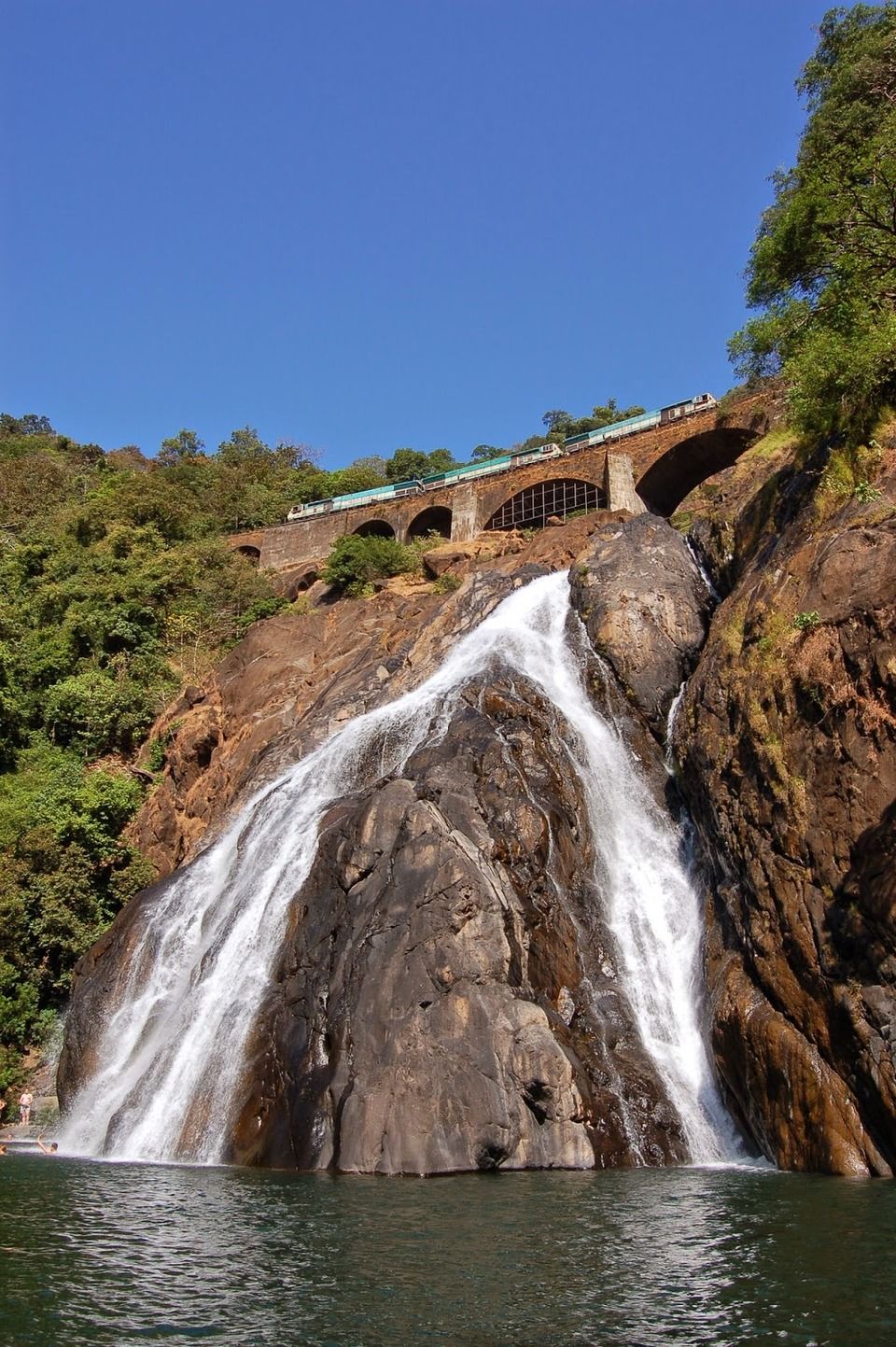 Trekking
Trekking in Dudhsagar is a famous tourist attraction. There are two abandoned shelters for the refuge of trekkers (left to the falls and right side beside the railway track). They are available on first-come-first-served basis. Medical and pure drinking water facilities are not available around Dudhsagar but one can approach the station master at Dudhsagar Falls railway station in emergency. There are 4 possible trek routes to reach Dudhsagar Falls, of which only two are accessible in monsoon.
Route 1 (Castle Rock Route)
This is the most famous route during the monsoon. Reach Castle Rock station and start a Scenic 14 km hike to Dudhsagar Water falls along the railway track. It normally takes 5–6 hours to reach. The route passes through a number of railway tunnels, a board reading "Welcome to Goa" and offers a great view of the Valley. One has to be careful of trains while walking along the railway track.
Route 2 (Kulem Route)
This is equally scenic but less popular as compared to Route 1. One has to get down at Kulem (Collem) railway station(Station Code: QLM) and walk towards the falls which is about 11 km away. It normally takes 4–5 hours to reach. The famous photograph of Trains passing through before the waterfalls can be seen in this route and also the complete stretch of the falls is visible while hiking towards the waterfalls.
Route 3 (Transport + Hike)
In Kulhem one can hire a 4X4 SUV to reach the foot of Dudhsagar waterfalls. There is a taxi stand called 'Dudhsagar Taxi stand' where one can hire a vehicle and get down near the falls which is just 1 km hike away. This is suitable for large groups with kids, but it cannot be used during monsoon season.
Route 4 (Kuveshi-Dudhsagar)
This is the most adventurous route and cannot be attempted in monsoon since one has to cross Mondovi river during the hike. The hike starts from a village called Kuveshi around 10 km from Castle Rock railway station. The hike is through thick jungle and is difficult to complete without experience. By this route, one can reach Dudhsagar Railway station which is 1 km from the falls.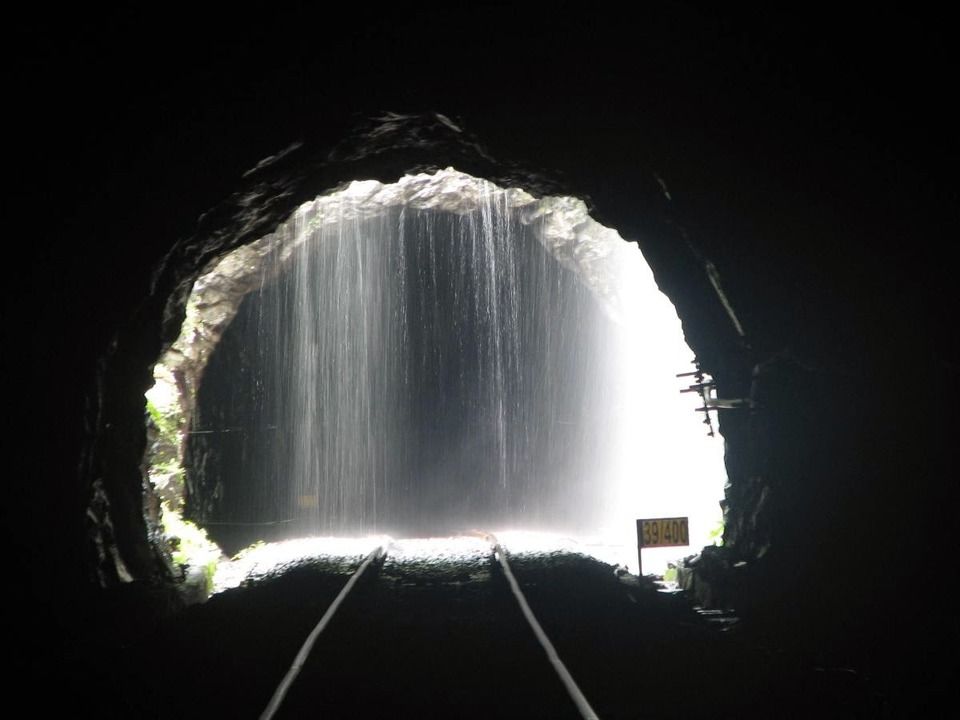 View of falls from the railway tunnel!
How to Reach
By Road: The Water Fall can be reached by road , from Collem which is off National Highway (NH-4A). All Interstate Busses halt at Mollem where the Park office is located. You can take a local bus to Collem from the highway or from Ponda, which is the nearest city. Route: Panaji-Old Goa-Ponda-Tiska-Mollem. (57 kms) Margao-Ponda-Tiska-Mollem (42 kms)
By Rail: Nearest Station: Collem (South Central Railway); Route: Collem-Mollem - 6 km
Carambolim (Karmali Railway Station - Konkan Railways), Route: Carambolim-Old Goa-Ponda-Tiska-Mollem-50 km, by Road.
Take the turn off at Collem near the Hindustan Petroleum Petrol pump. Drive 9 kms down the road. Entering the park is not advisable in a normal car, and may only be accessible to SUV's and 4WD jeeps, as the road comprises of a boulder strewn jungle track that has rivers criss crossing it at several points.
The trip to the falls is well organized by the local Taxi Union. Jeeps which are allowed to carry only 6 passengers cost Rs 2100/-. The driver will drop you off near the falls and wait for one and a half hour before taking you back to Collem. You can economise by forming a group of 6 and pay Rs: 350 each. However the union does not help you form the group. Life jackets which can be hired for Rs: 30 per person are made compulsury by the DM before taking the Jeep to the fall.