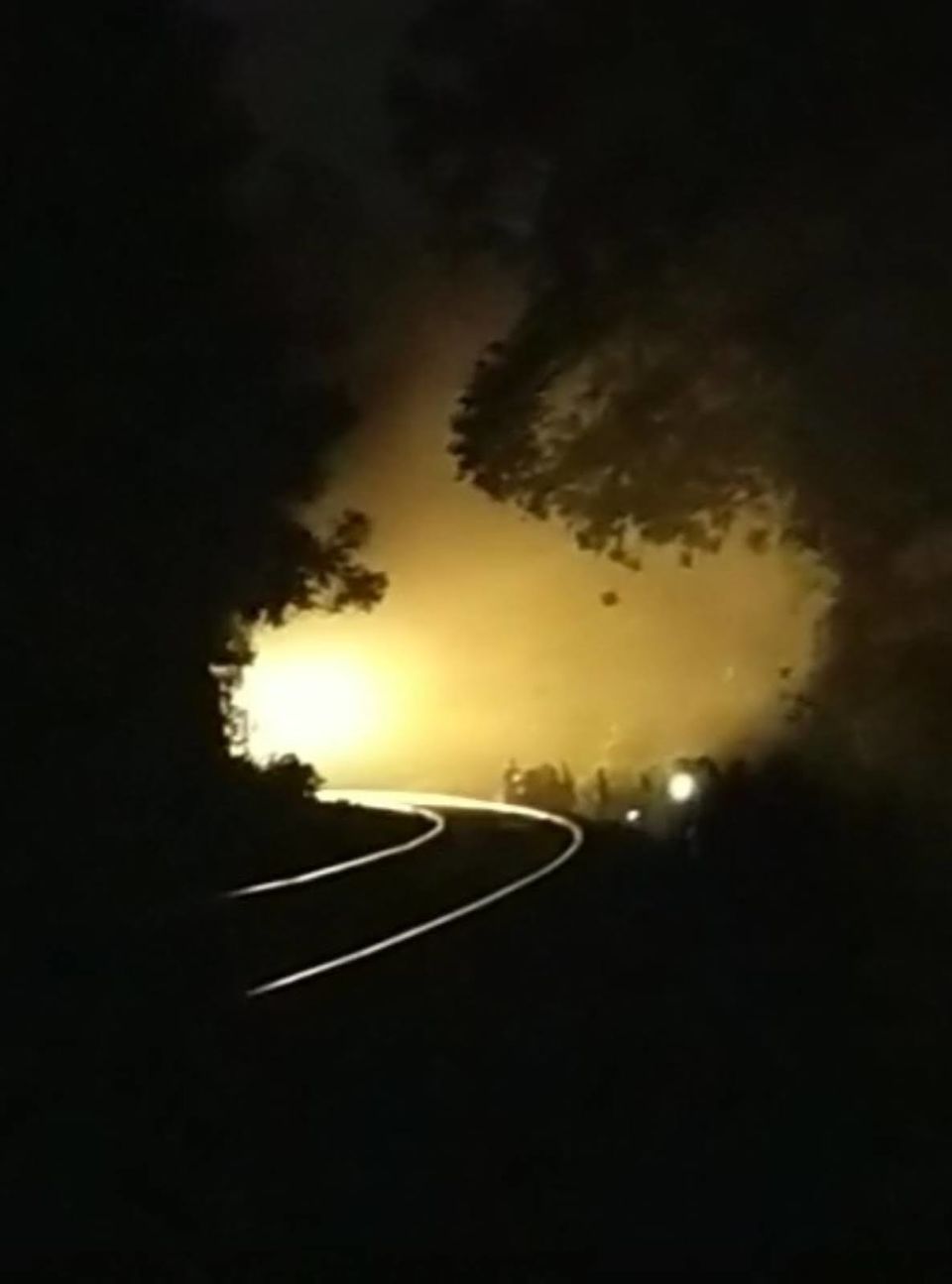 Have you ever been to Tirumala by climbing the steps and long hours of waiting in queues? How do you feel when you see God after all that wait ?
Its the same feeling we get when we reach the Dudhsagar falls after 12 km trek from Kulem station !
First impression after seeing that majestic waterfall - 'Heaven on Earth' !
I believe this will be in every traveler's wish list, only lucky ones will get to witness this heaven on earth (especially in Mansoon)
I usually plan and visit places on my own (if not along with my friends i go and they would plan it), most of the places mentioned in my articles are the same
For a change, i opted to go Solo this time along with all unknown people through organizers Tales of Tribes. It was a tricky decision from my end for this most awaited trek and trip !
Fortunately, this was one of the best trips in my life.. Kudos to organizers and the entire group, who made it comfortable throughout the journey
Initially I was bit hesitant, how will it be with all new people around? will it be joyful? boring? but my heart said, it will be exciting for sure !
Itinerary:
Day 1: Yeshwantpur to Kulem
Day 2: Kulem to Dudhsagar falls through trek
Day 2: Trek back to Kulem from Dudhsagar falls
Day 2: Kulem to Londa junction
Day 3: Reach Yeshwantpur from Londa junction
Details:
As the journey was through train, there is an advantage and disadvantage too. Advantage is - we will not have much body strain though we are travelling around 650 km and Disadvantage is - we will not be able to travel all together
Organizers created a group 2 days in advance, sent us the checklist (very helpful for first timers) as it is really required to be well equipped for such a long trek. They shared details of what we can expect for 2 days during the trip, which was like a beautiful teaser before the film release !
They reached station before all, shared train platform detail and ensured every one reached and boarded train on time i.e. 3 pm from Yeshwantpur. Organizer was kind enough to visit everyone in group at their respective seats, spend time to know each other and made us comfortable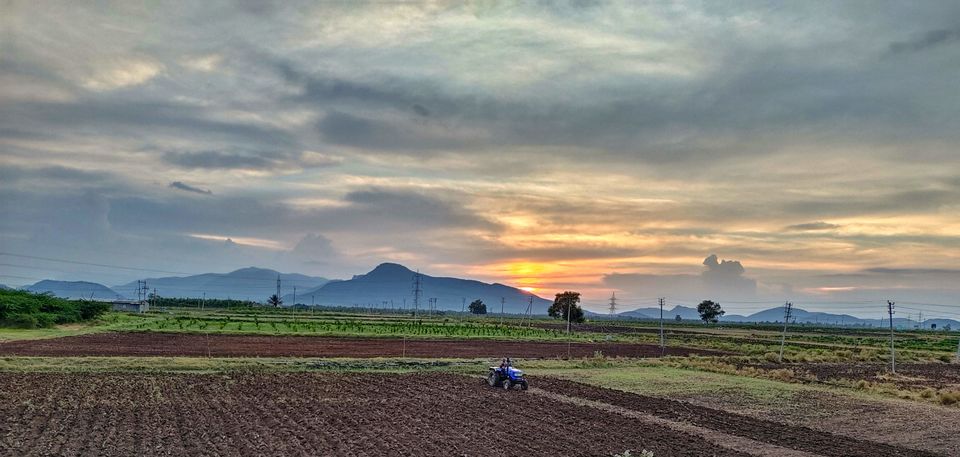 They distributed the dinner to everyone around 7 pm, so that we can eat our convenience and have rest at the earliest so that we can wake up around 2 am easily and be ready to get down at Kulem station between 2:30 am to 3:00 am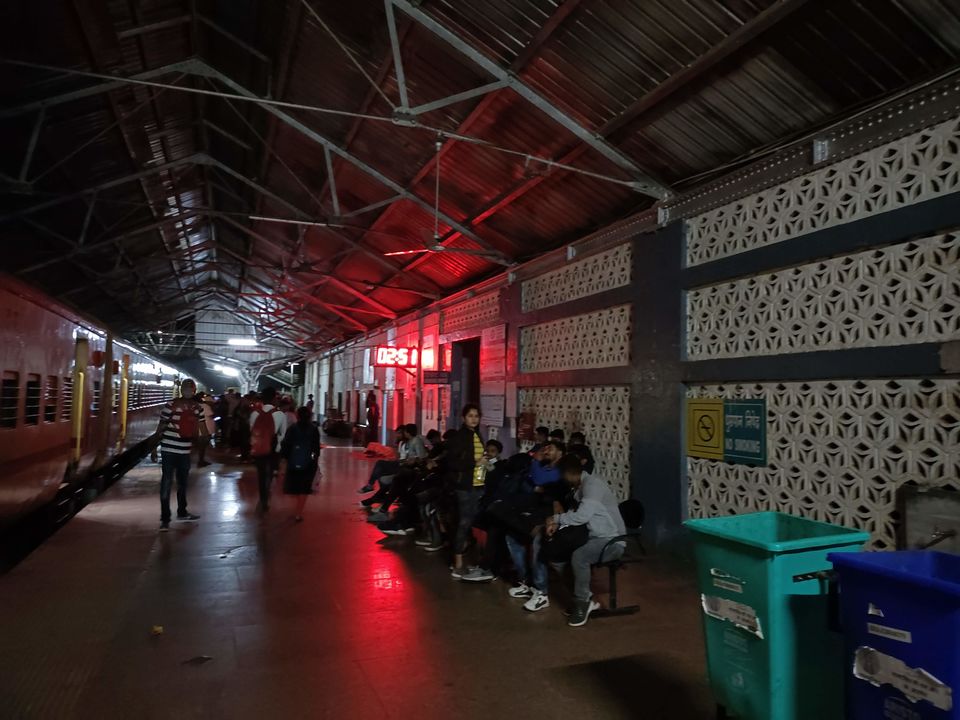 As soon as we reached station, we were all moved to Jungle Book resort for fresh up and leave our luggage there before we begin our trek journey towards the falls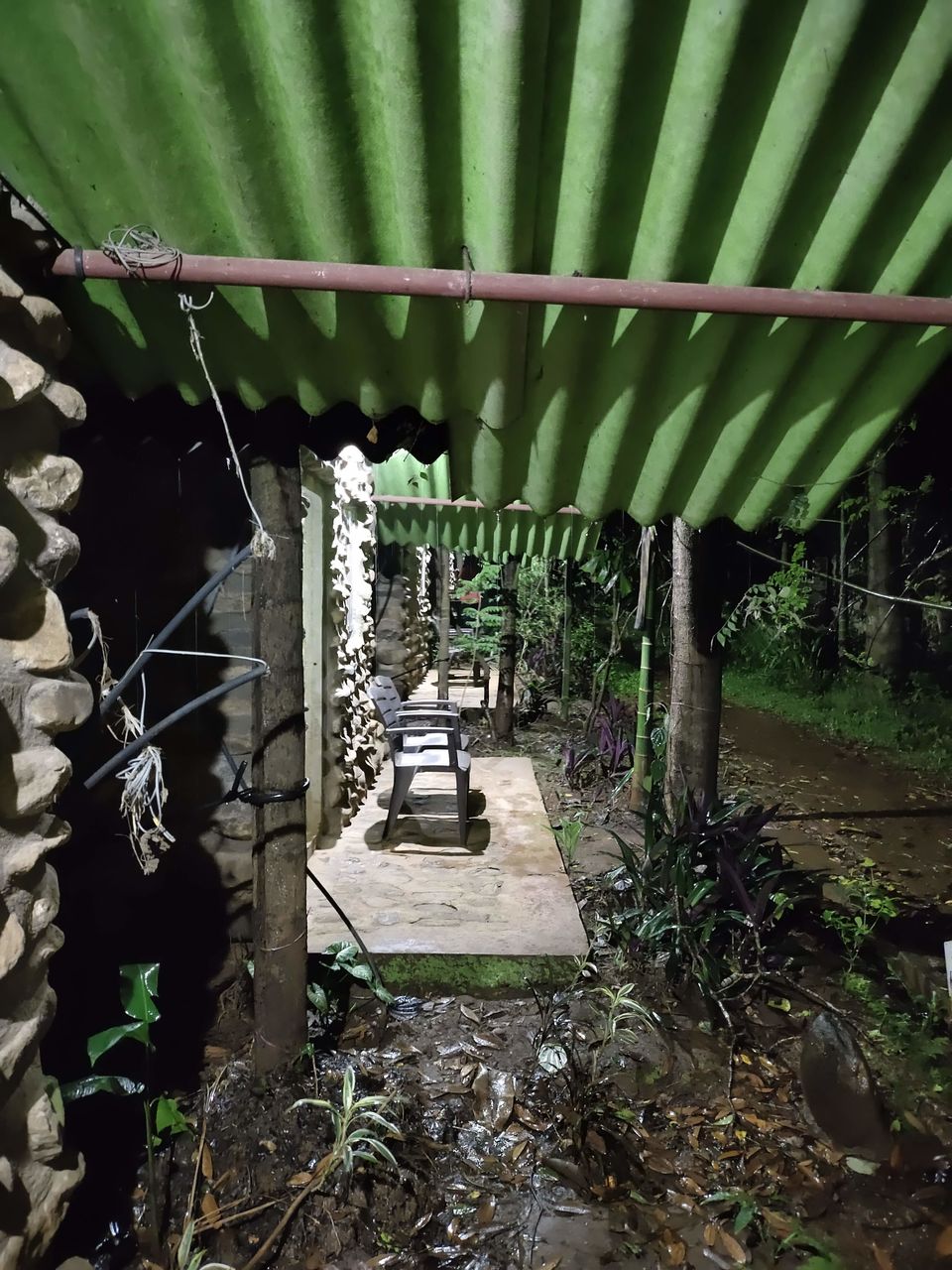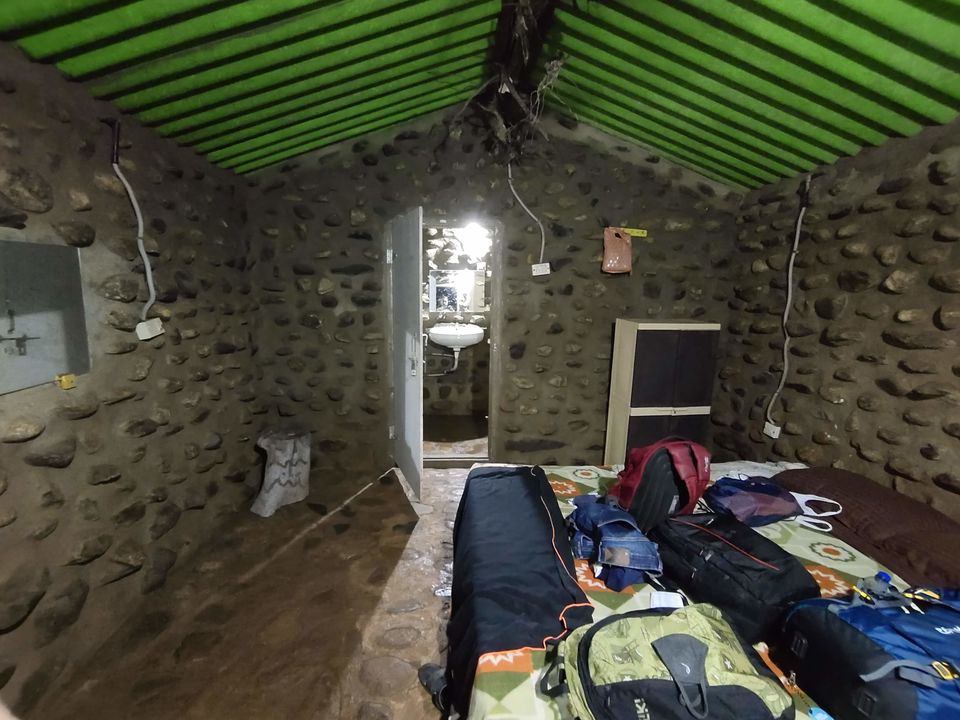 By 5 am, everyone were ready to start the trek. Organizers instructed us to collect water bottles before we start and ensured the local guide were in place to take us through this adventure
Tip: Please ensure we carry enough water, though its heavy at the start its very handy on return as we will not get water anywhere to buy. If possible carry glucose water or energy bar, so that we will be able to come back from falls with some energy
Plan:
We will walk on railway track for 4 km
Take left to enter forest and continue for 5 km to reach a point where breakfast was arranged
Then walk through remaining 3 km to reach the heaven
Tip: By walking inside forest and avoiding full railway track we will avoid 2-3 km additional walk. Yes, of course we will miss going through tunnels. Its up to us to chose or decide what suits best to us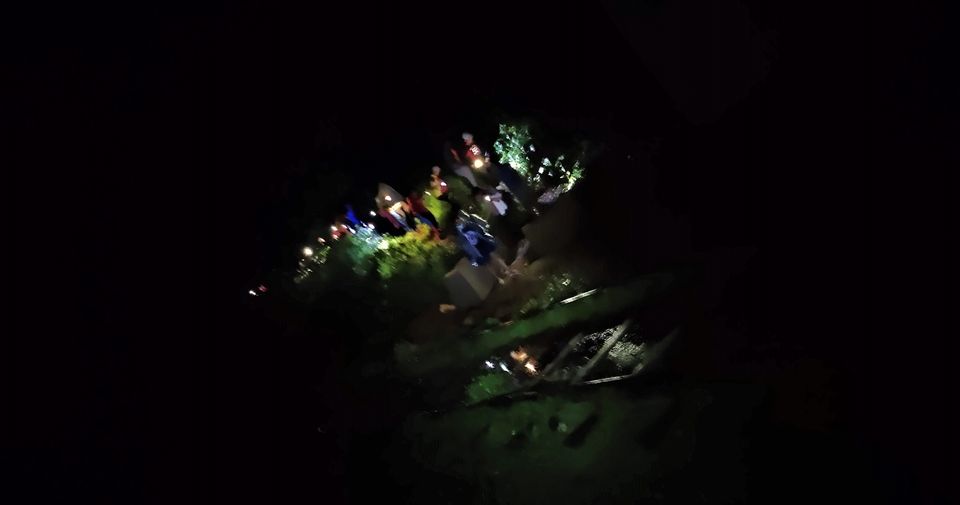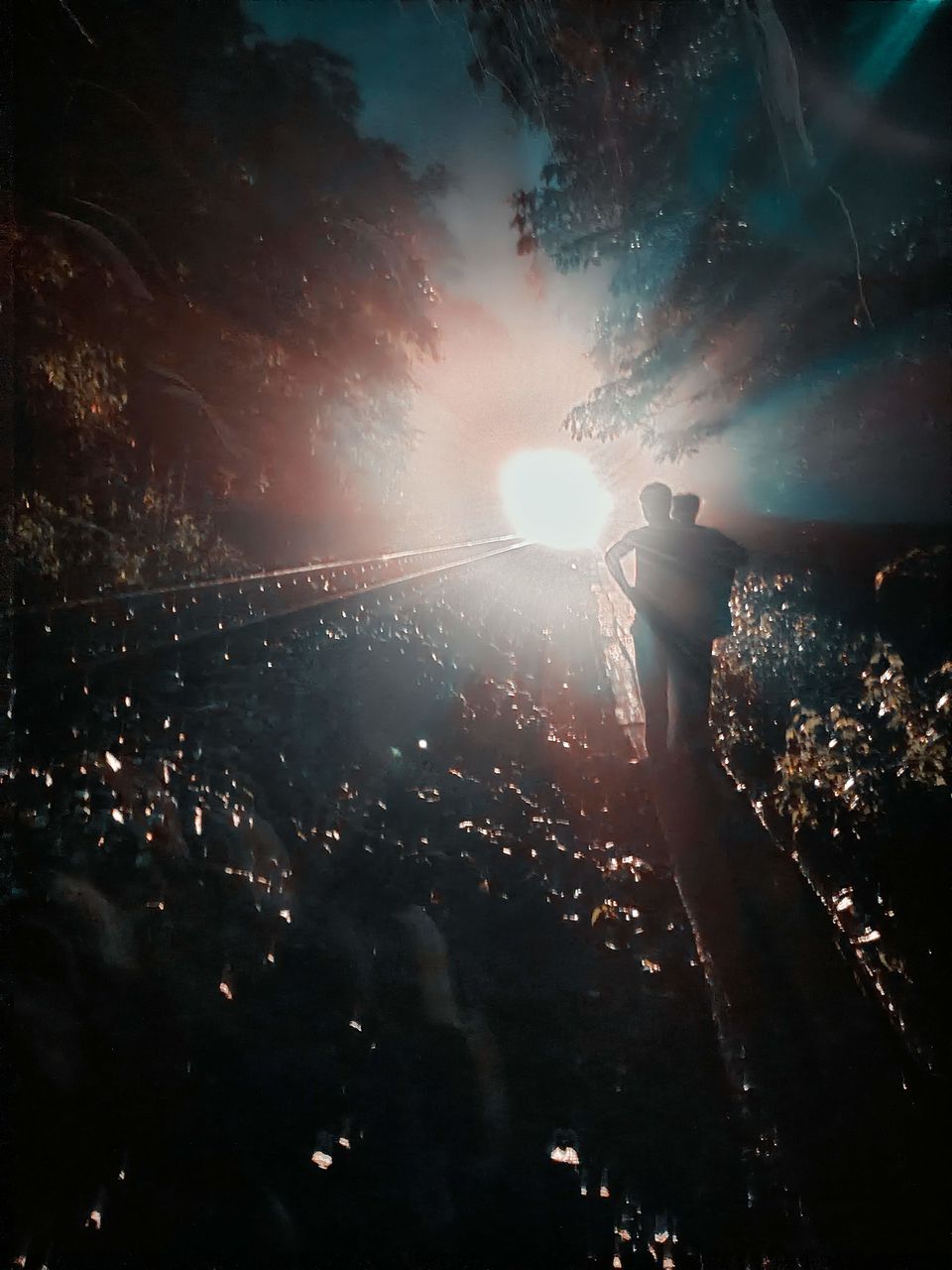 I will post another blog where will add all videos captured during this trip that consists of train passing through us, small river crossing we encounter during our trek inside forest, dudhsagar falls as captured in my mobile camera
After around 30 - 45 mins of walk on railway track, light started to blossom increasing the beauty of our trek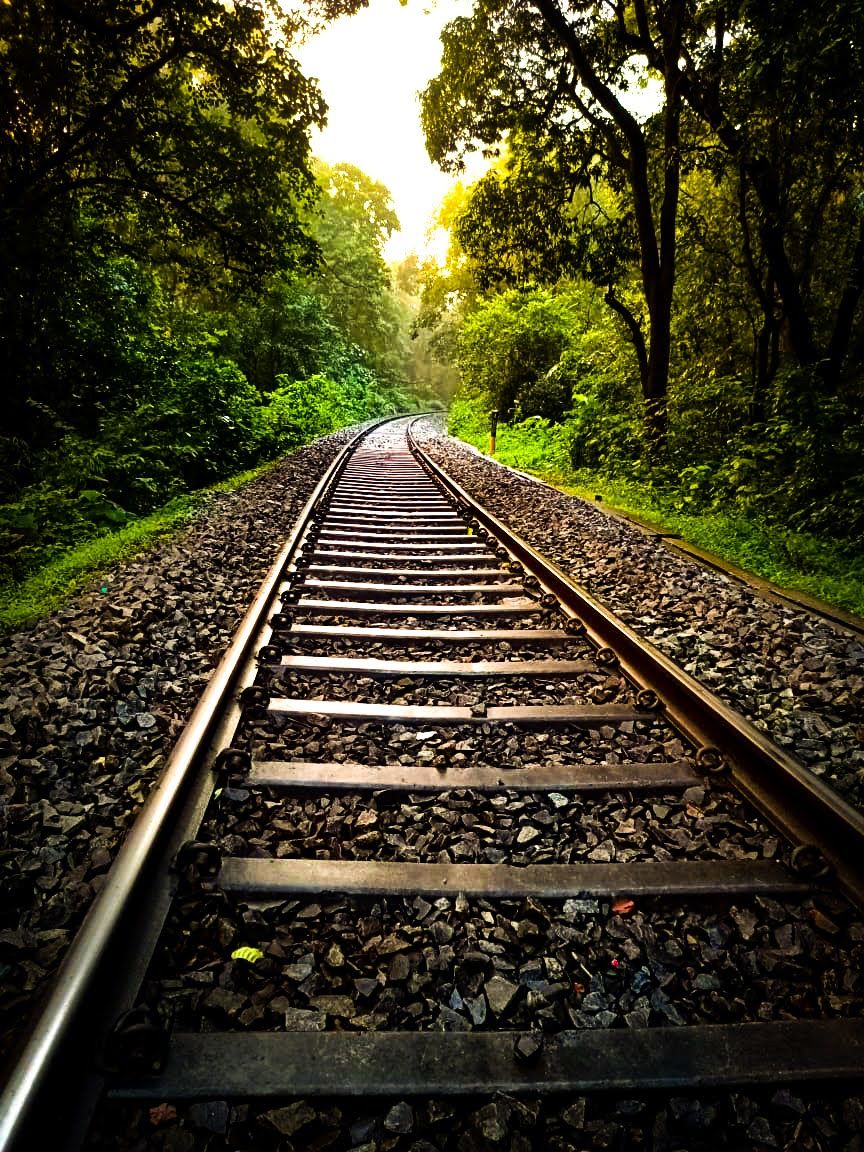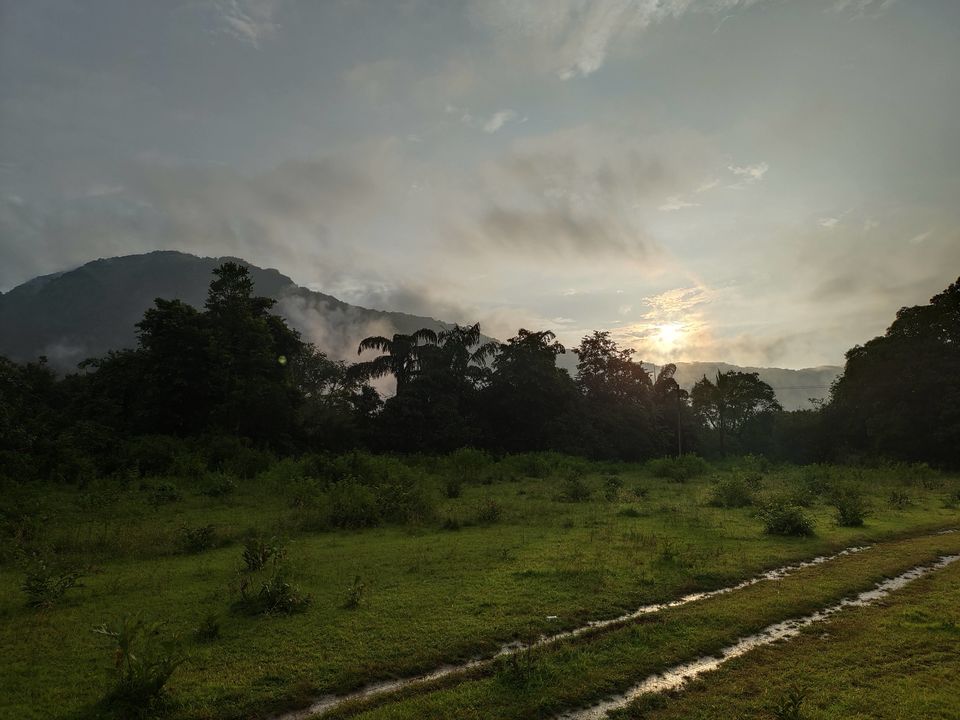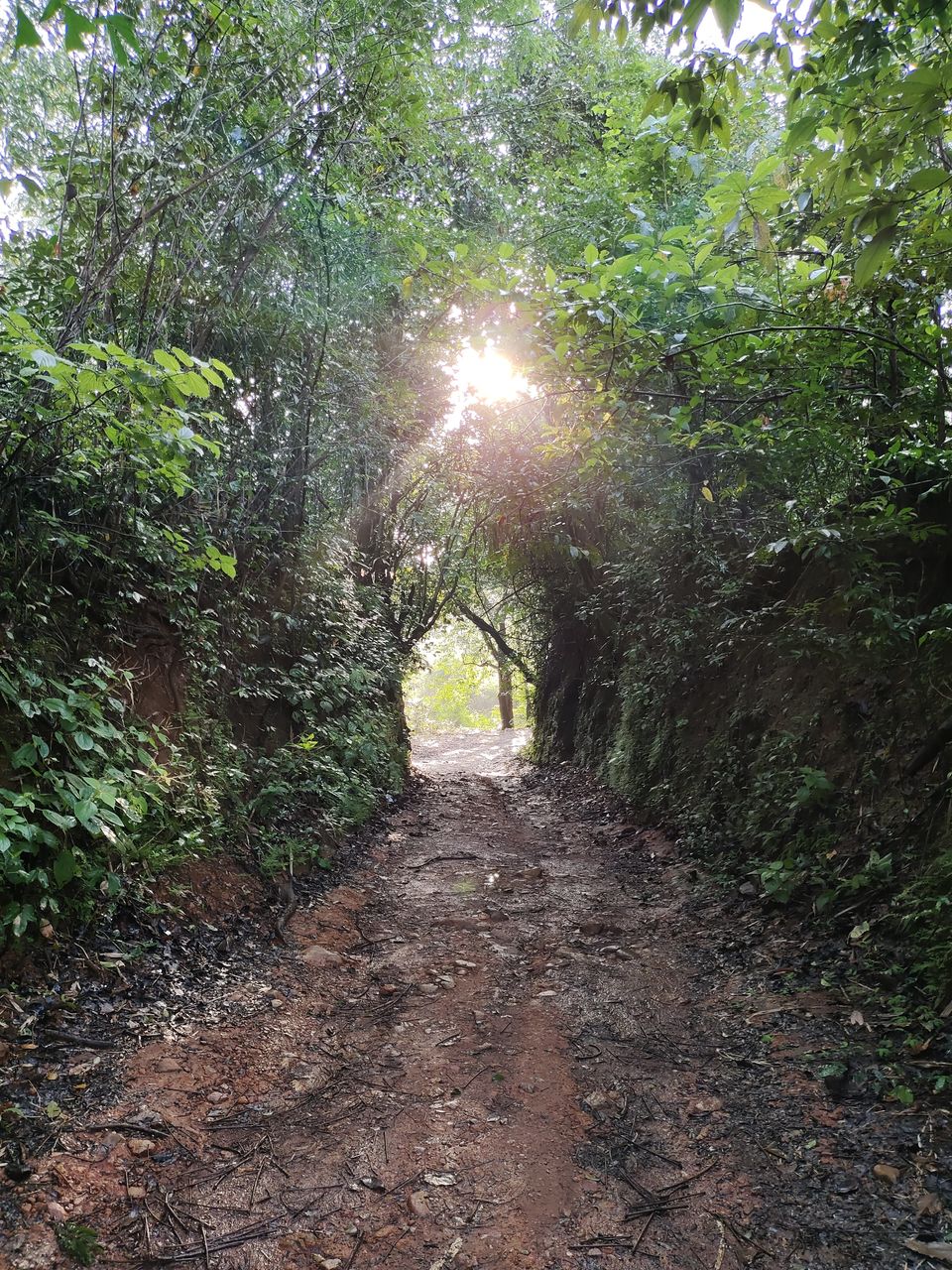 Just before we reach a point where we will have breakfast, we crossed though the below sceneries
Its just green, green and green everywhere ! Words cannot describe our moments we cherished during our trek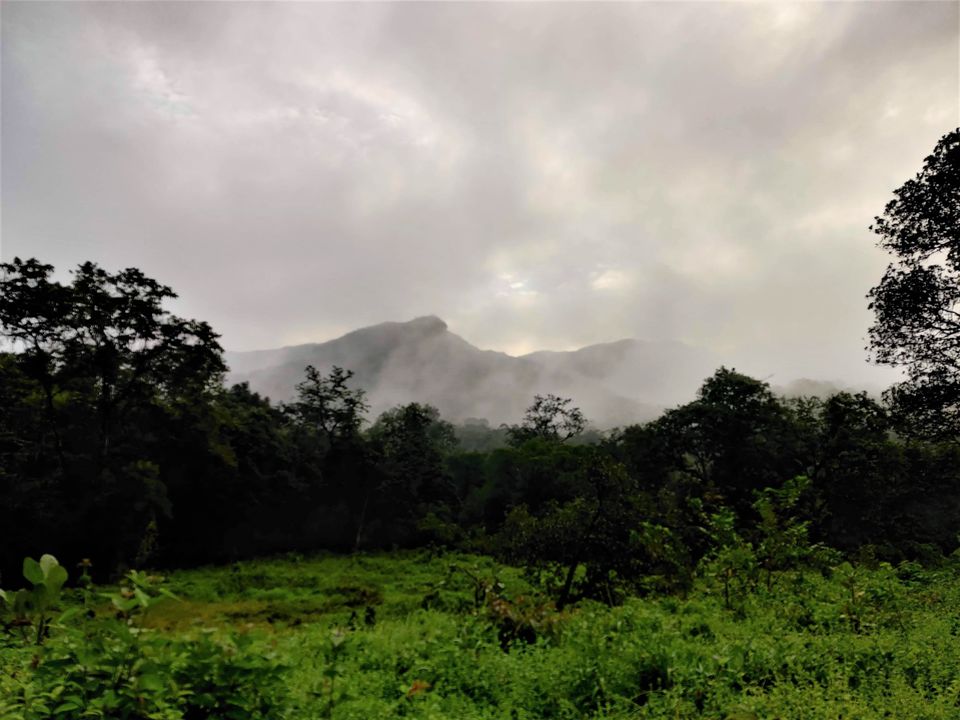 After travelling around 9 km including rail track and forest walk, we reached a place to have breakfast. It was amazing to arrange it amidst jungle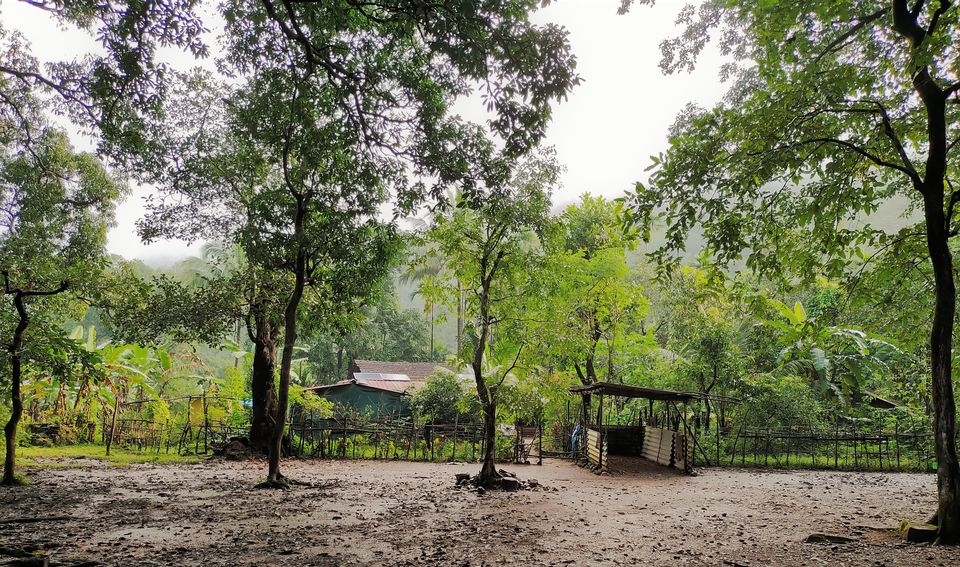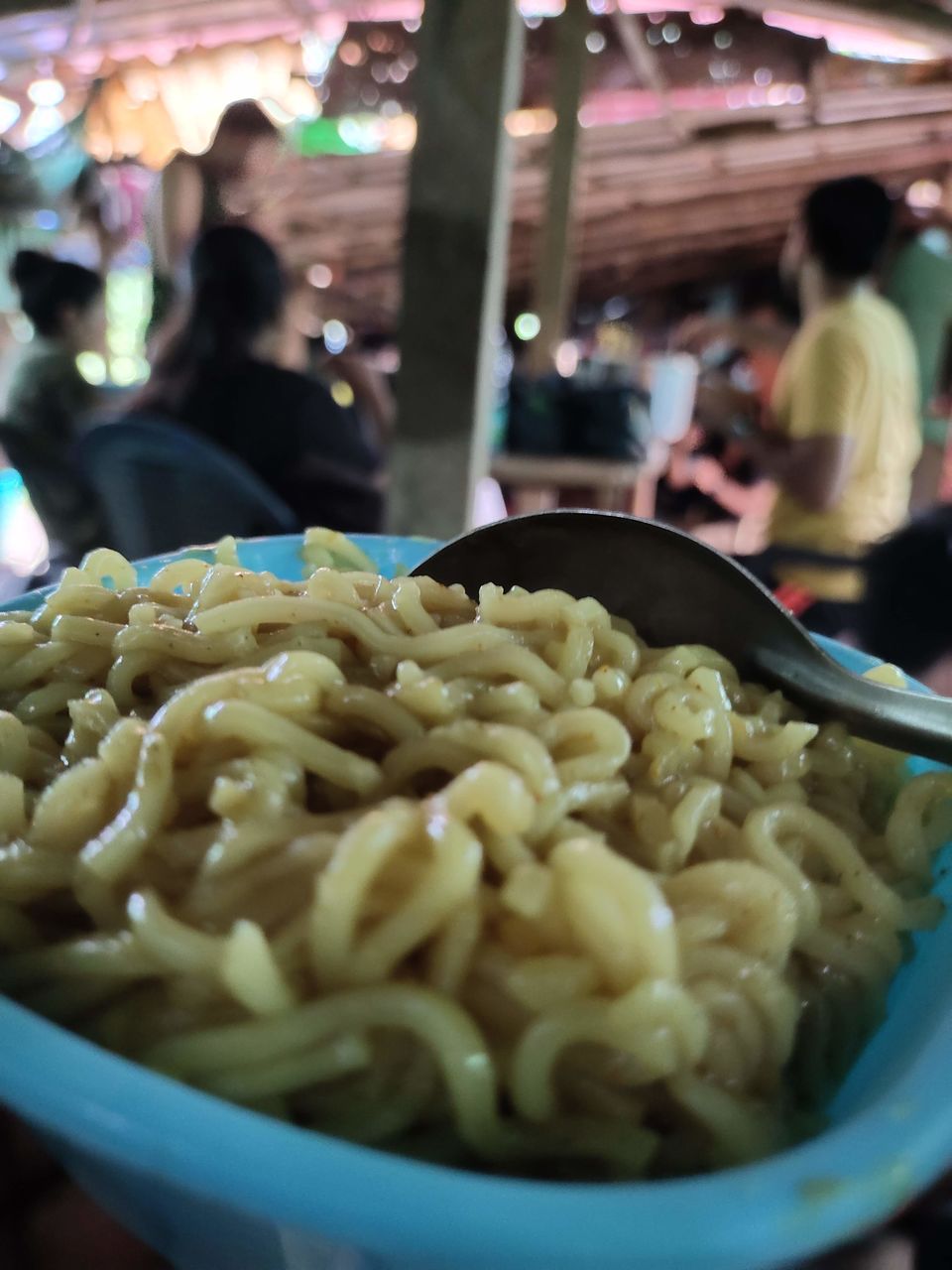 We had a bit time to relax here before we start of remaining trek of 3 km to reach parking area and waterfall base. We need to cross rivers and bridges before we reach our destination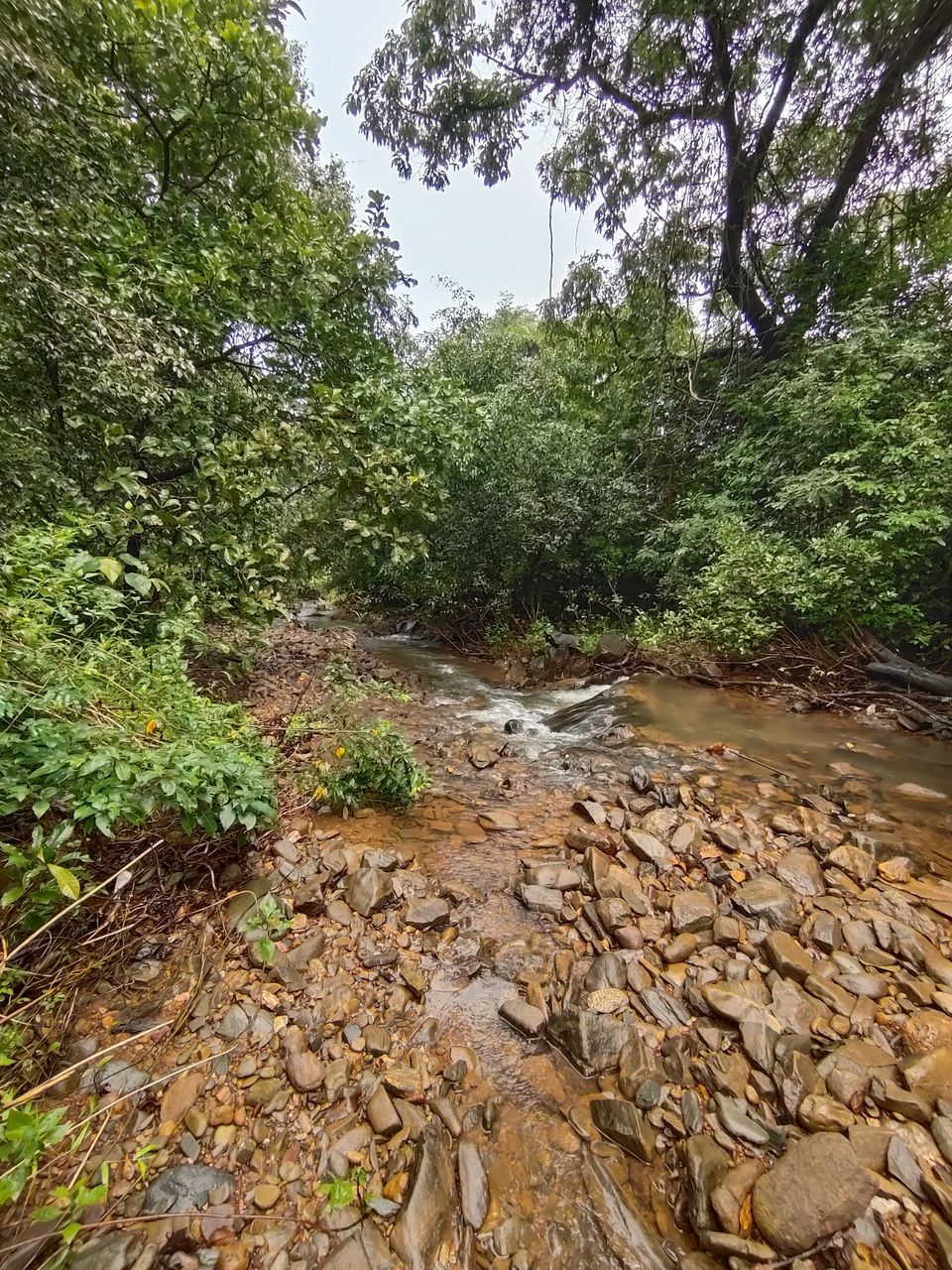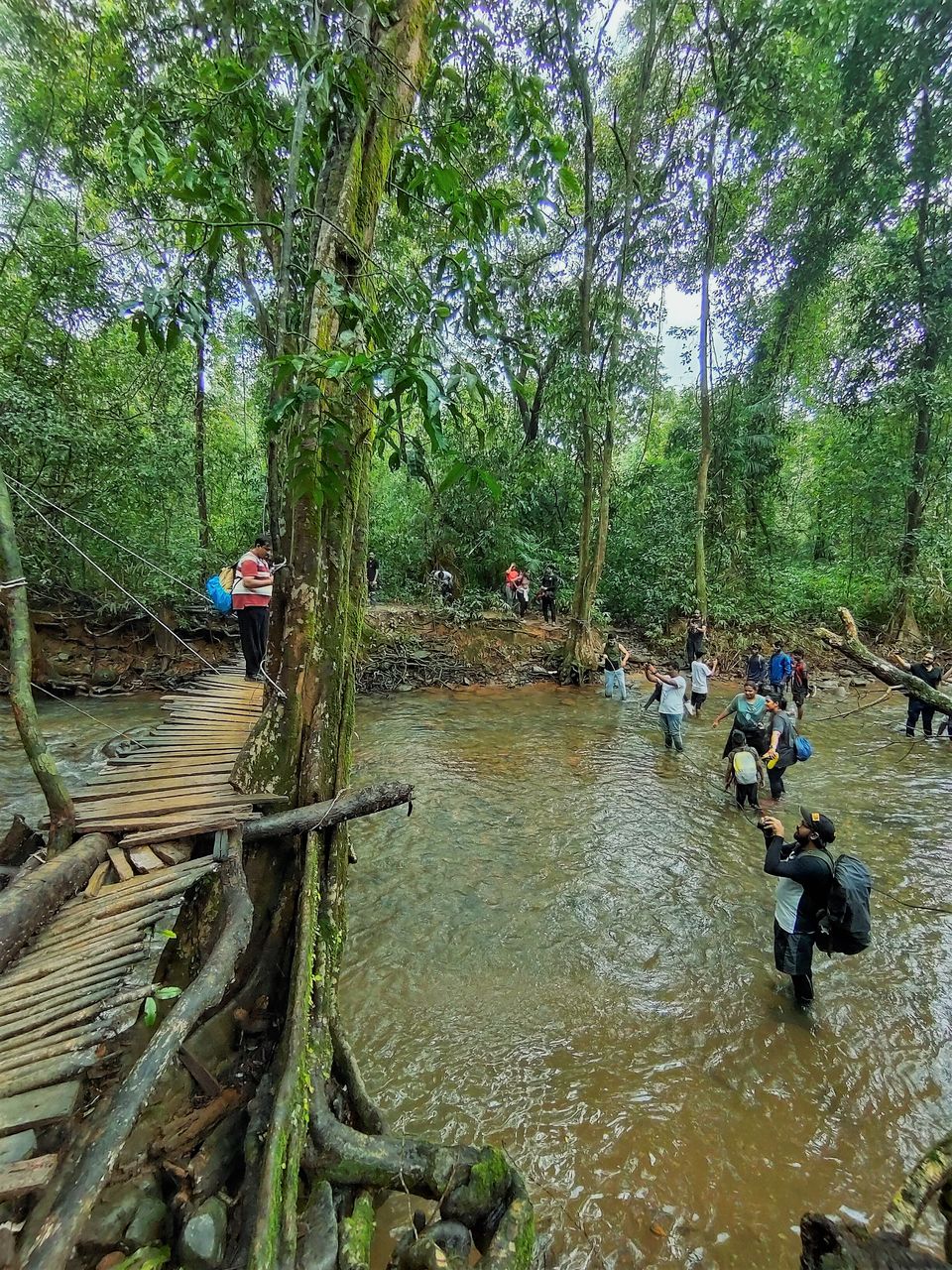 As I reached bit early, stopped here to take some pics of falls from this view point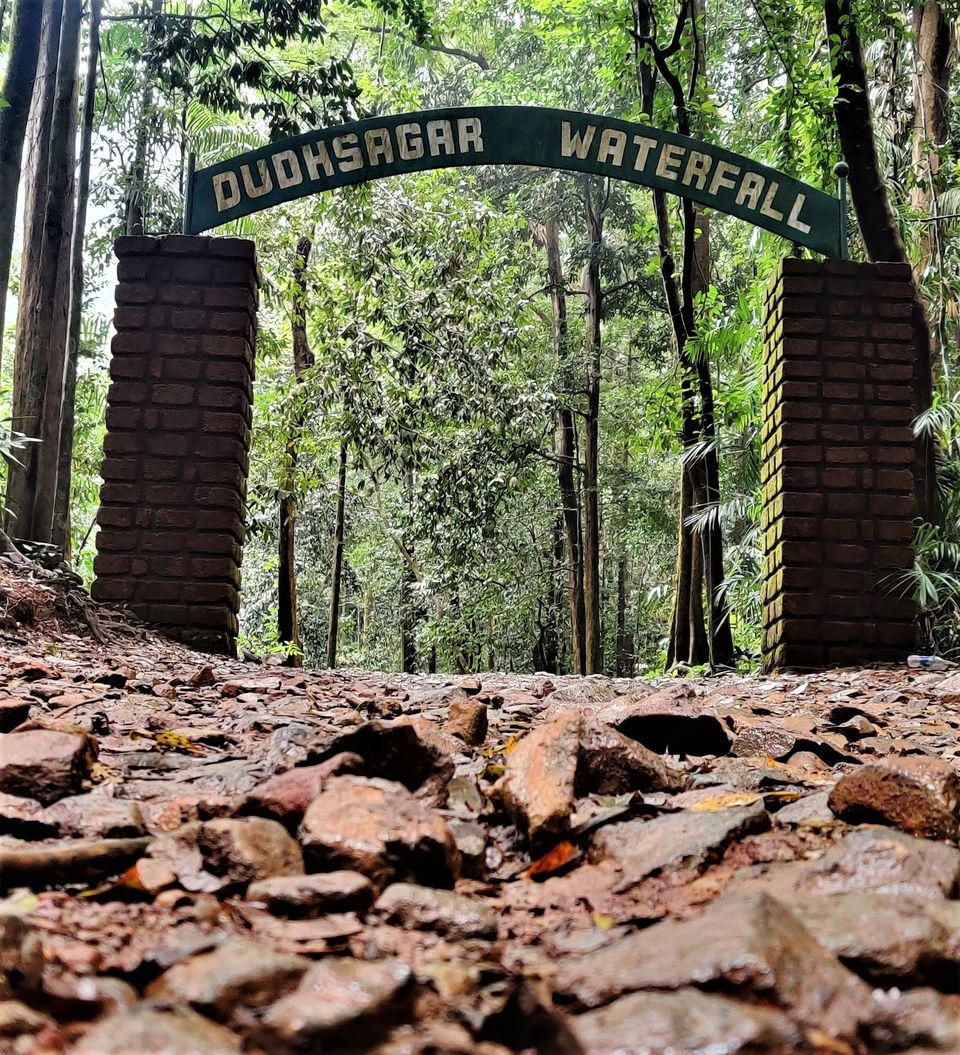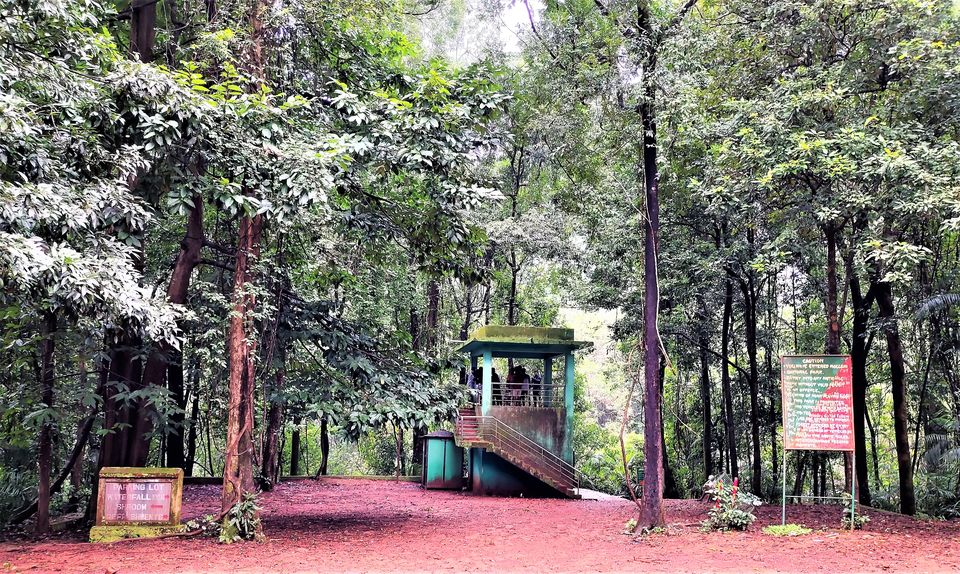 Its time for few pics that gives glimpses of falls and then as we move ahead we will have to cross 2 more intense river crossings to reach waterfalls base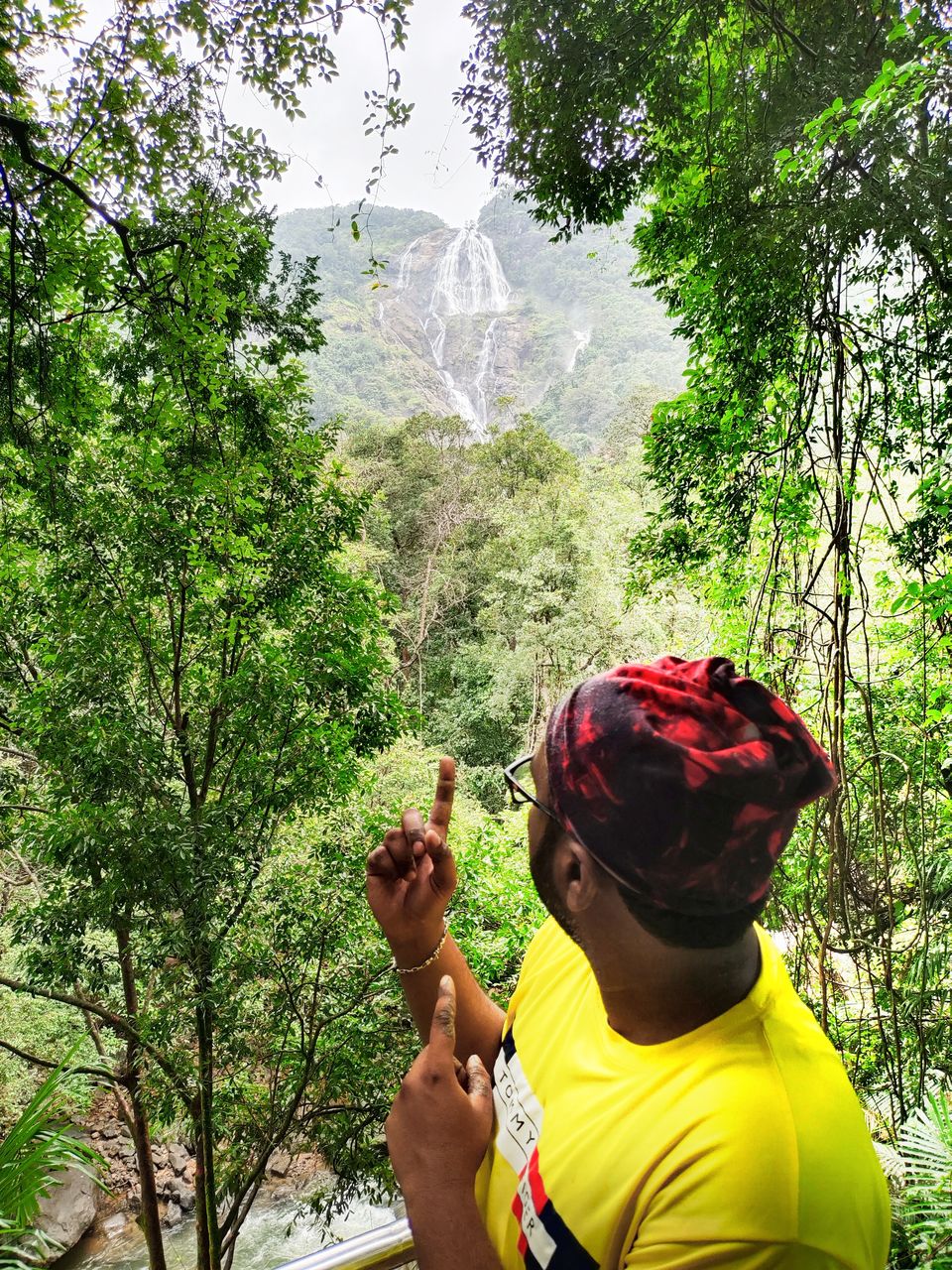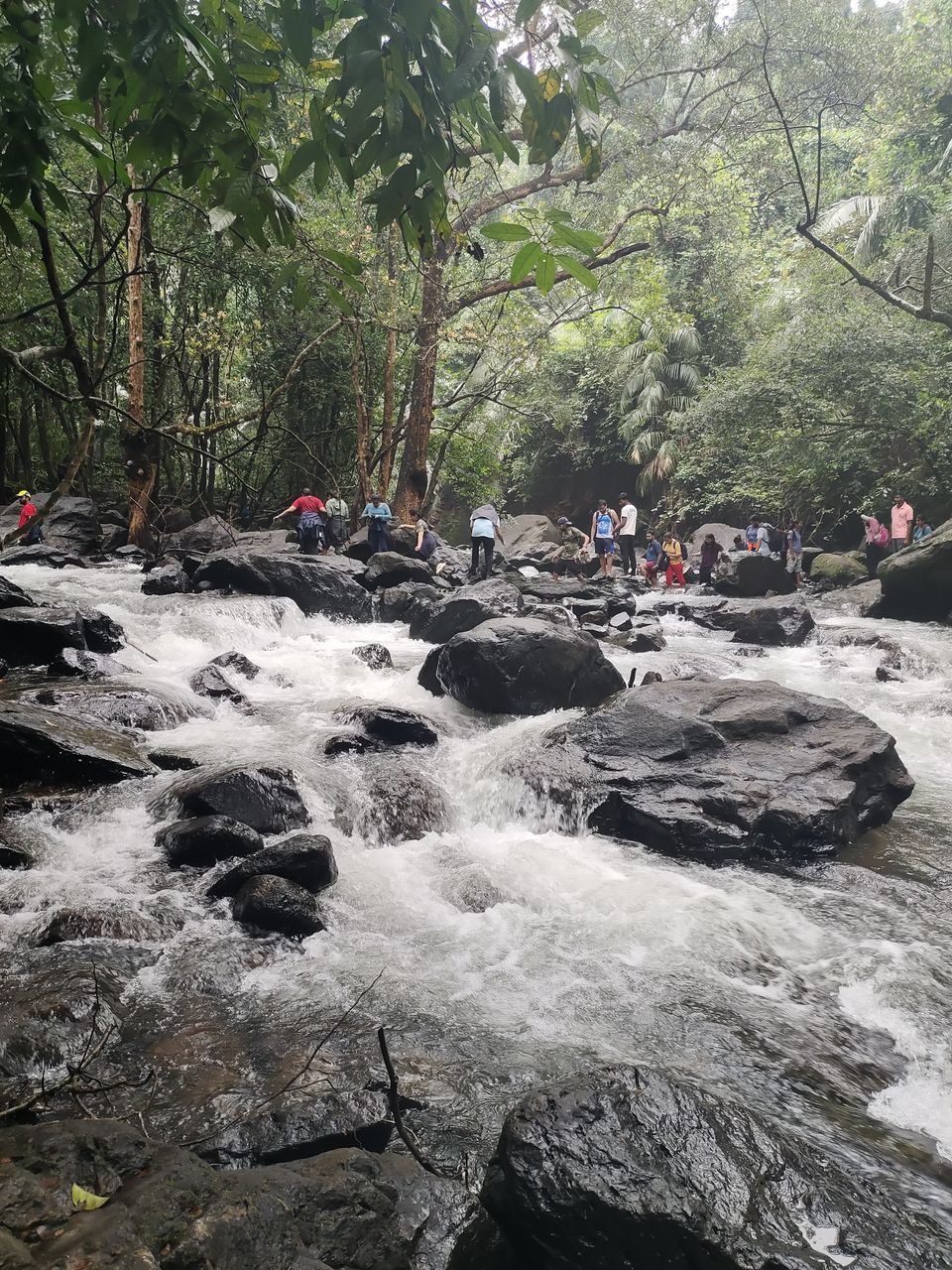 Finally it comes, a mighty 4 tier 'Dudhsagar waterfalls' i.e. 'Heaven on Earth'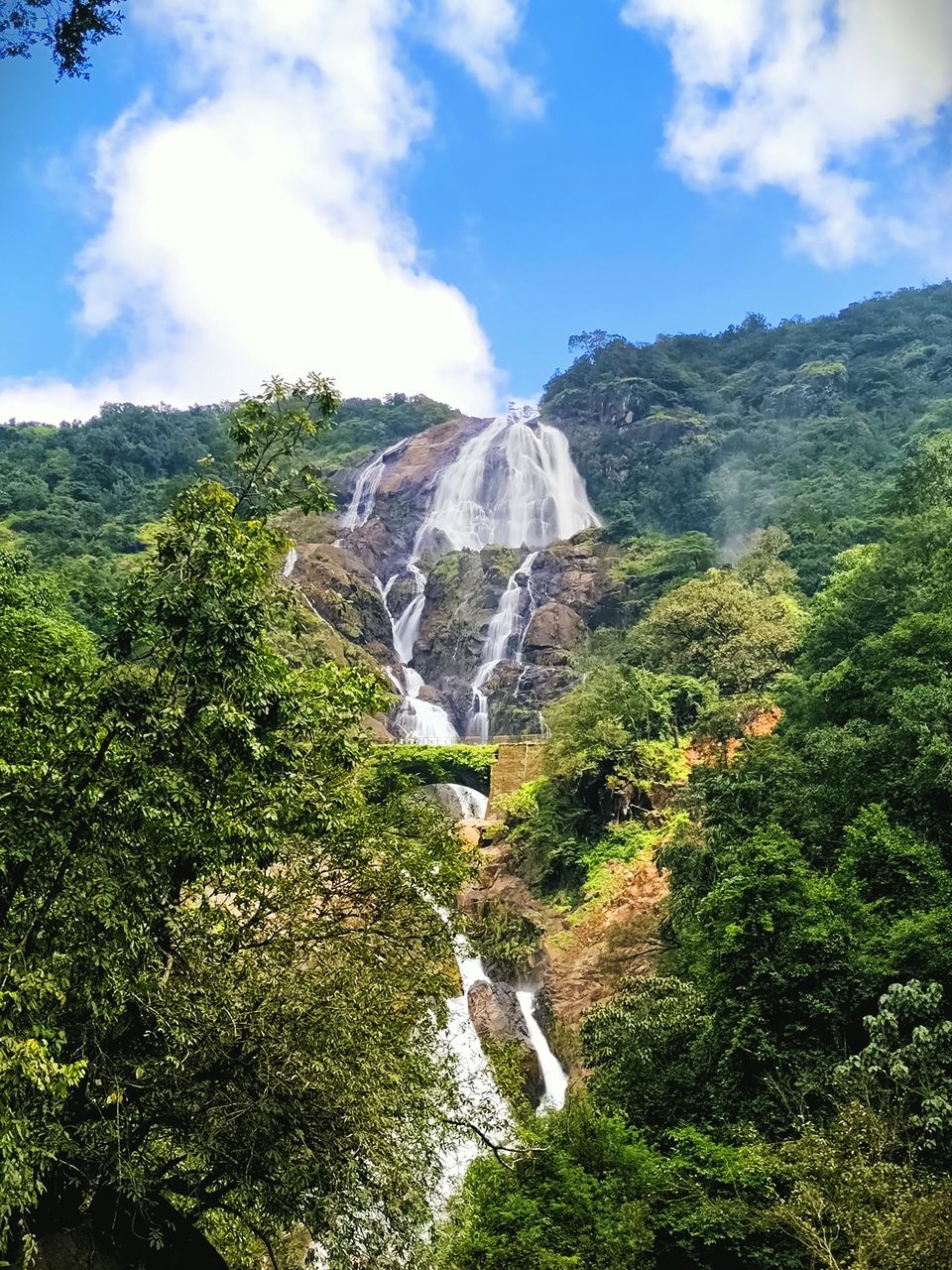 We spent more than 1 hour at heaven. Few clicking pics, some playing in water, few trekking ahead to get better view of falls for their vlogs/blogs. But, everyone were busy in their own dreamland called 'Dudhsagar waterfalls'
With heavy heart we need to start to go back leaving this heaven behind, when our trek leader shouted 'Pack up guys'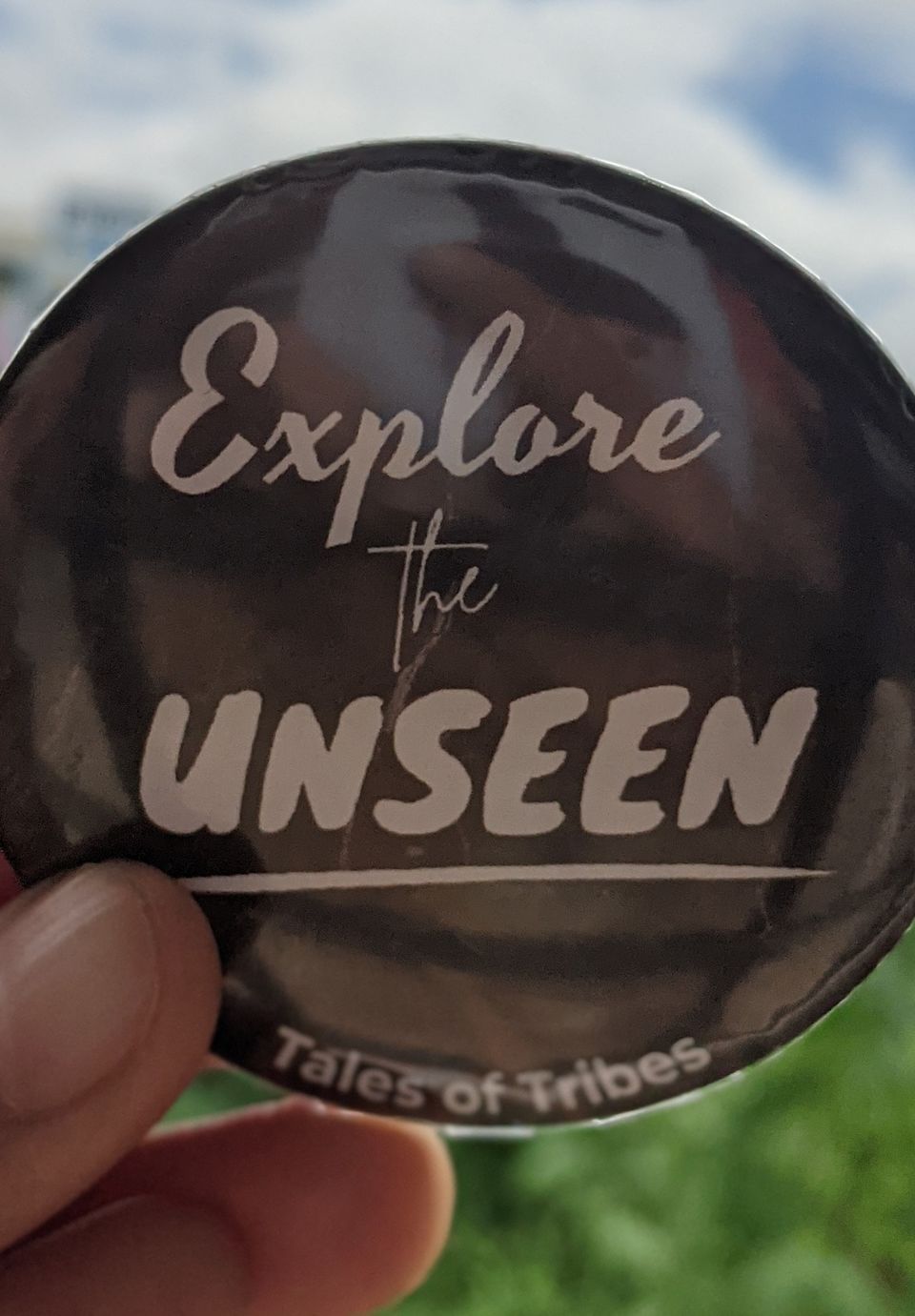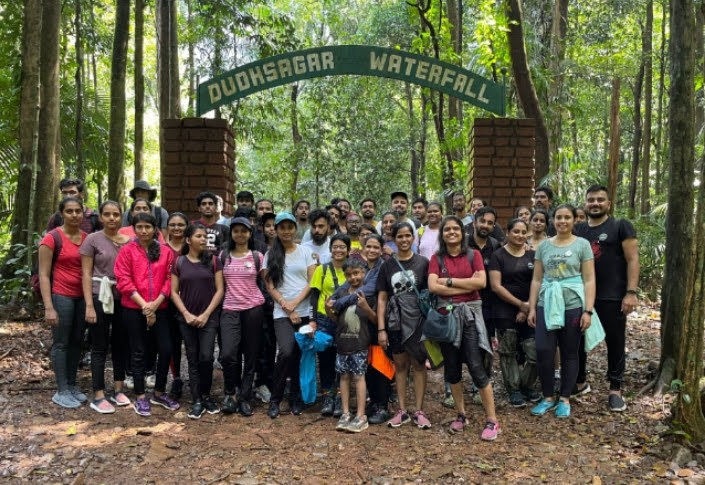 Just before we left the parking entrance, we all posed for a group pic
So, at around 11 am, we started to go back along the same 12 km stretch. But this time it appeared too long, exhausted and tiresome
As mentioned already, save some water and snacks for return as we will have lunch only after reaching back resort. Also remember there is nothing available to buy and eat/drink (literally zero food/drinks)
We reached resort at around 2 pm, just washed our hands and had a yummy lunch even before we took shower after such a long trek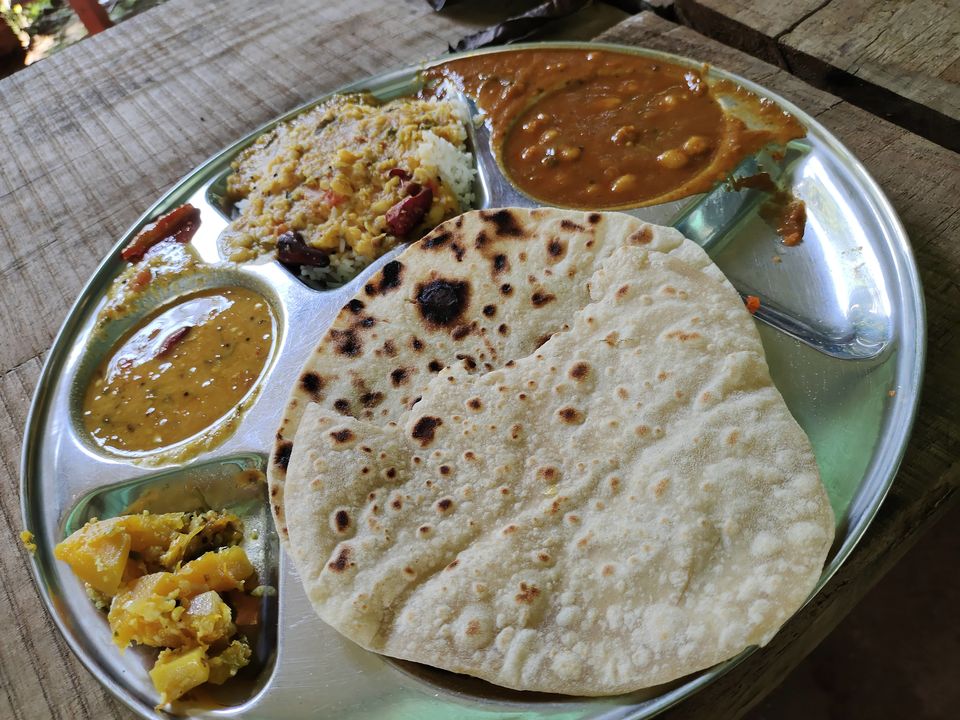 So, we had time till 04: 00 pm to check out rooms and start towards Kulem station to catch train to 'Londa Junction', where we will board 'Rani Chennamma Express' to reach Yeshwantpur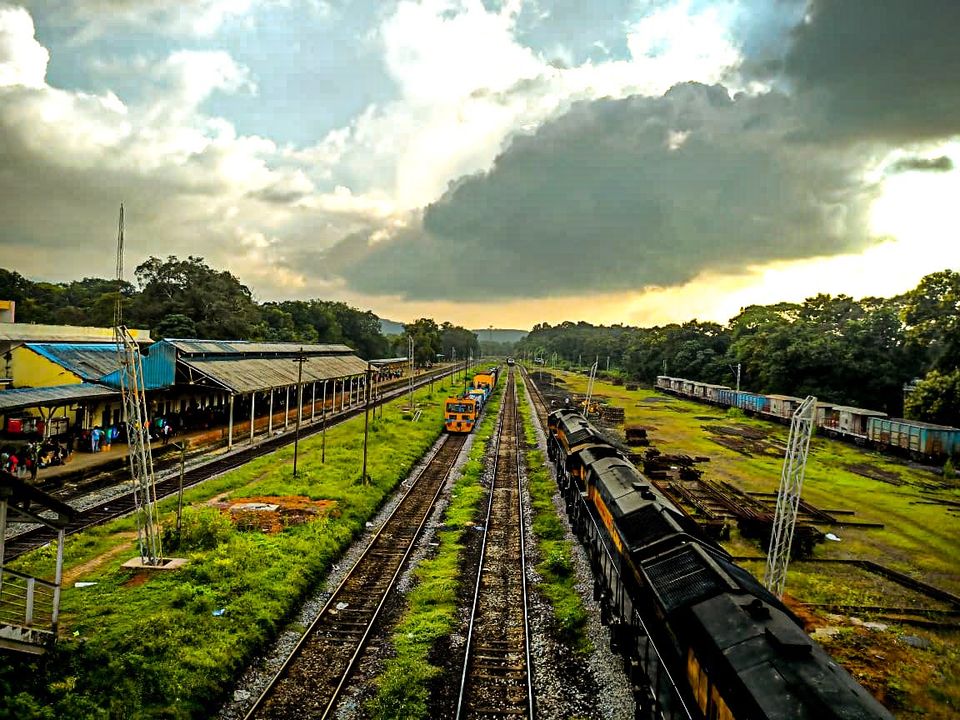 Its around 2 hours journey from Kulem to Londa, so we are expected to reach around 06:30 pm to Londa Junction, followed by boarding train to Yeshwantpur at 07:30 pm. So, we will have time in case we need to have some snacks or early dinner also (this is self sponsored, not provided by organizers)
On the way back home our co traveler captured this beautiful pic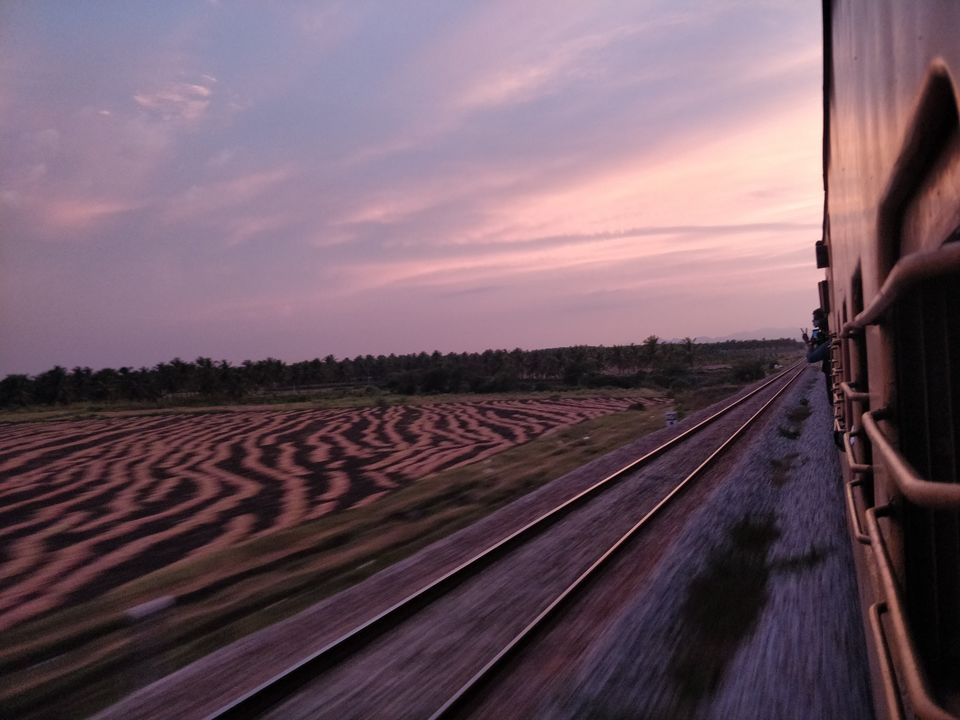 So, we are excepted reach Bengaluru by 06 am in the morning, the next day

This was not just a trip for me instead a whole bunch of adventure, memories, tales to relish and once in a life time chance to experience
Points to remember:
1. Only try if you are capable of walking around 24 km to and fro, trek level is moderate only
2. Carry enough snacks and water, that helps during return journey
3. Still I am confused if the trek on railway track is legal or illegal, keeping that aside its better to go in group like this for more joyful and risk free experience
4. Humidity level was too high even in October, so wear light clothing
5. Torch with good back up is recommended if starting early in the morning and its not recommended to start after breakfast as there will be high temperatures and humidity
5. If possible experience going through tunnels and full rail track if you are fine to walk additional 2-3 km. Its a different experience overall as we reach to center of the falls and get to enjoy falls more
6. There is a path to get down from the center to bottom of the falls and we can even play in water if we take full rail track
7. There is a option of going to falls by Jeep (I mean its all Mahindra Bolero' now) for those who cannot walk such a long distance. We can book it from a place near Kulem station
Note: Not all pics in this article were captured by me, credits to co-travelers for sharing these awesome clicks within the group. Price of this trip includes my expenses to reach Bengaluru from my native and return fare as well
Watch our travel vlog in Youtube, thanks to Maddy for such a nice vlog and follow Instagram link for more such travel tales from the same organizers

Please feel free to comment below if you have any more question to plan this trip and let me know if there are any correction needed in the above article