The new normal as we call it is about travelling, but with a mask while maintaining social distance, and regularly sanitizing. When we decided to take our first trip in what seemed like an eternity, we were certain that we had to pick a destination resort in Goa (The one that has it all), park ourselves at the resort and soak in the Goan vibe.
Our quest for an authentic Goan experience led us to Taj Fort Aguada Resort & Spa, Goa, a luxury destination resort built on the Ramparts of the iconic Fort Aguada, sharing a boundary with the pristine Sinquerim beach.
Since the moment we walked in the property, our worries walked out! Read on to know why Taj Aguada Resort & Spa, Goa is a safe haven in times of new normal.
- Safety Precautions
We had always heard of Tajness which refers to Taj's commitment (now restrengthened), and a mark of IHCL's authentic Indian hospitality to make it a seamless experience for guests. The way they've been functioning travel in times of the normal is the perfect testament of the same.
Our temperature was screened upon arrival and at every point when one entered the resort. The check-in process was hassle-free and extremely safe with a new sanitized pen for every guest to fill in the check-in details. Each room is equipped with a safety kit which includes a mask, sanitizer, and sanitized wet wipes for a comfortable vacation.
The team is dressed in gloves, masks and face shields at all times. Our dining experience across the multicuisine restaurants was pleasant and safe courtesy of the sanitized wet wipes at every table and implemented social distancing norms while seating.
- The Best of Both Worlds
Goa is a paradise for forts and beaches, often due to the time crunch, we have to pick one but here we were in for a treat as the best of both worlds merged. The private access from the property to the Fort Aguada overlooking the beach is a Goa dream come true.
- Authentic Cuisine Experience
As vegetarians, we've often struggled to find good authentic Goan cuisine but Morisco restaurant at Taj Fort Aguada Resort & Spa was the just what we needed.
We tried the vegetarian Goan Thali here and would absolutely revisit for the lip-smacking experience. The diversity of flavours and textures in one single platter was extremely fascinating. If you're a seafood fan, Morisco is your gateway to heaven.
Speaking of heaven, the beautiful Blue & White colour theme of the restaurant and Azulejos (Blue & White tiles) of Goa is an art form brought by the Portuguese and handcrafted by Goan artists is the perfect ode to the history, culture of Goa and deserves a big moment of admiration.
Goan food isn't the only authentic cuisine served here. We immensely enjoyed Thai food at Banyan Tree, Taj Holiday Village Resort & Spa, Goa which is a quick buggy ride / walk away.
If you're looking to let your hair down, then SFX lounge which offers multicuisine food is the perfect place to be for a hearty meal with the sound of the ocean for company.
- Make Room for Phenomenal
If there's one way to describe our room, phenomenal would be it. We stayed in the Suite room which has a private balcony and loungers overlooking the ocean and fort, so if you're in the mood for a beachy vibe with comfort, slip into your bathrobe and hotel slippers and enjoy the splendid sunset from the balcony.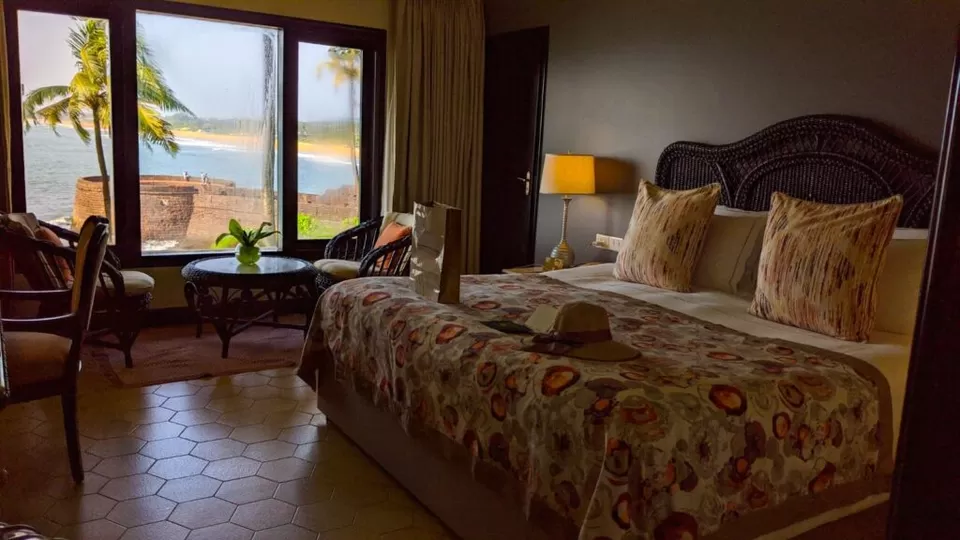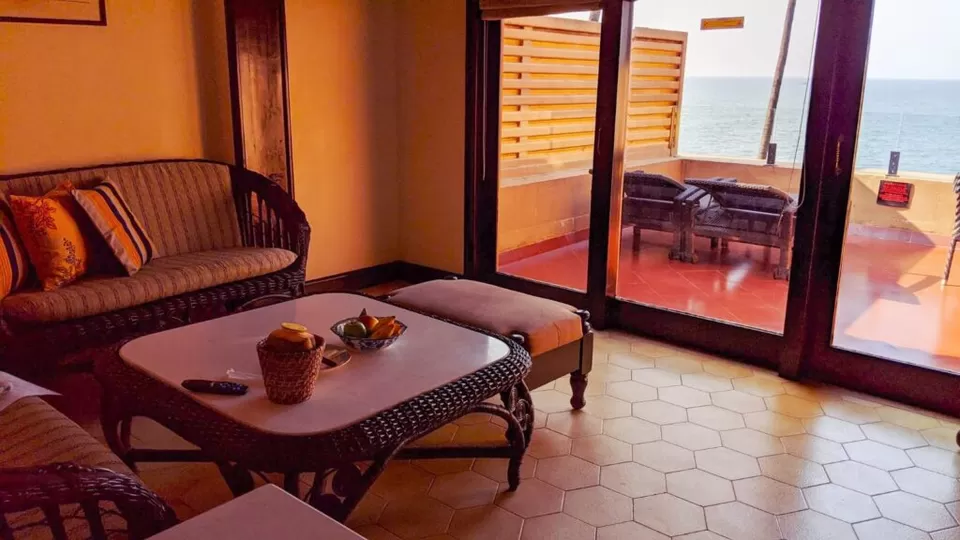 If you're looking for something quieter and exclusive, the Hermitage villas are bound to win your heart. The beautiful interiors of the villa are mesmerising and have a private lawn to each villa. The private Hermitage lounge for check-in and meals is perfect for those quality time getaways with your significant other.
P.S: In times of the new normal, feeling safe on your travel is of utmost importance, and trust Taj Fort Aguada Resort & Spa to make you feel a part of paradise as they take care of all your worries. Until next time, #StayCurious