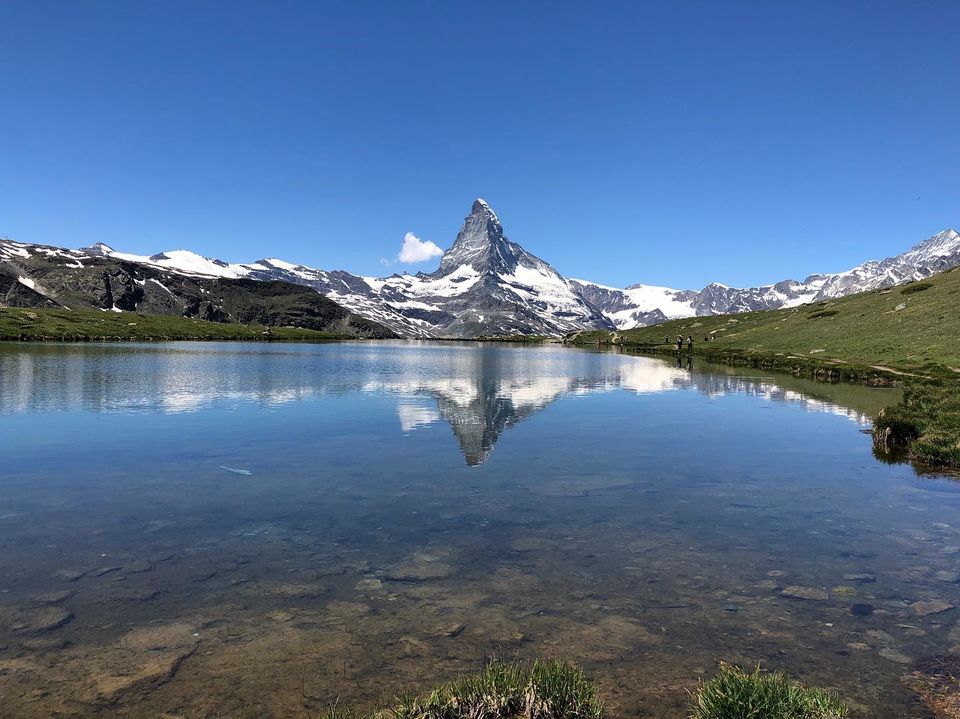 "Does the grass looks like a lush, immaculate carpet rolling all over all by itself in Switzerland?" Well, no. The grasses were always meant to grow wild. A lot of toil by the locals is put into taming and trimming them into perfection.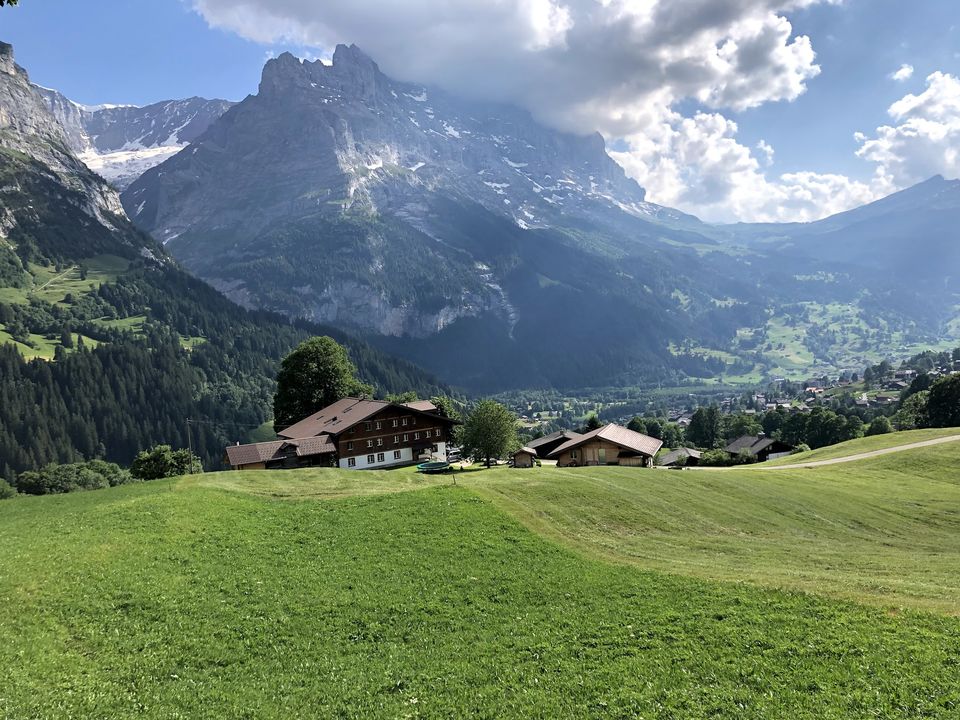 The best place about staying here is how close it is to the river. Thet view during the sunset is drop-dead gorgeous. The golden tinged rocky mountains, the voluminous river banked by pretty little wildflowers, the entire scene is paradise.
First - the top of Adventure
To reach Grindelwald first you need to take a cable car to the top.
Now here's the important part if you want to save some bucks - buy the one-way ticket to the top with return via the mountain cart and trot bike.
The entire route for mountain carting and bike trotting is stunningly beautiful. I had to struggle to keep my eyes on the road. I was initially reluctant to indulge in such juvenile activities. But it was honestly marvelous. Given the chance, I'd do it again and again. It's worth every penny.
But beware, Trot Bikes can be incredibly fun and dangerous at the same time. A trot bike is a cross between a scooter and a bicycle. So you've to stand and ride. It has a baseline acceleration and you go downhill so constant application of brakes is advisable. And a word of caution is: Do NOT apply only one brake as you'll topple over (almost happened with me. Saved by an inch). Other than that this particular place in Jungfrau didn't have any particular track so there were villagers with their cars driving by in the same road.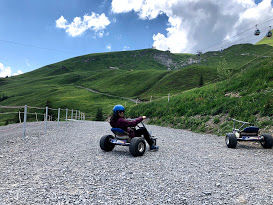 Another novel technology at work - how the robots seamlessly lifted the mountain carts and trot bikes and placed them on the cable cars to be carried back to the top. Hallelujah!
Lauterbrunnen
So you know almost every Instagram/postcard famous picture of Switzerland is Lauterbrunnen. Cause it indeed is picture-perfect. The vast green meadows with its yellow wildflowers, scattered huts, an illustrious river, and numerous waterfalls everything just adds up to one beholding sight.
Staubbach fall
This waterfall was a new kind of experience for me cause we trekked up under the scorching European sun to reach literally behind the waterfall. The view of the valley in the front was epic and the breeze splattered water on us from the waterfall. It was kind of magical.
Trummelbach fall
Another funicular ride that takes you right inside the mountain. It is VERY cold and noisy inside because of the waterfall which cuts through the rocky mountain and cascades down turbulently. So take your jacket and some noise cancellation device if you want to avoid a headache.
Gimmelwald
I felt like I stepped into a fairytale. This place seemed straight out a Disney princess movie. It is a vehicle-free village that can be accessed by the tourists only through a cable car.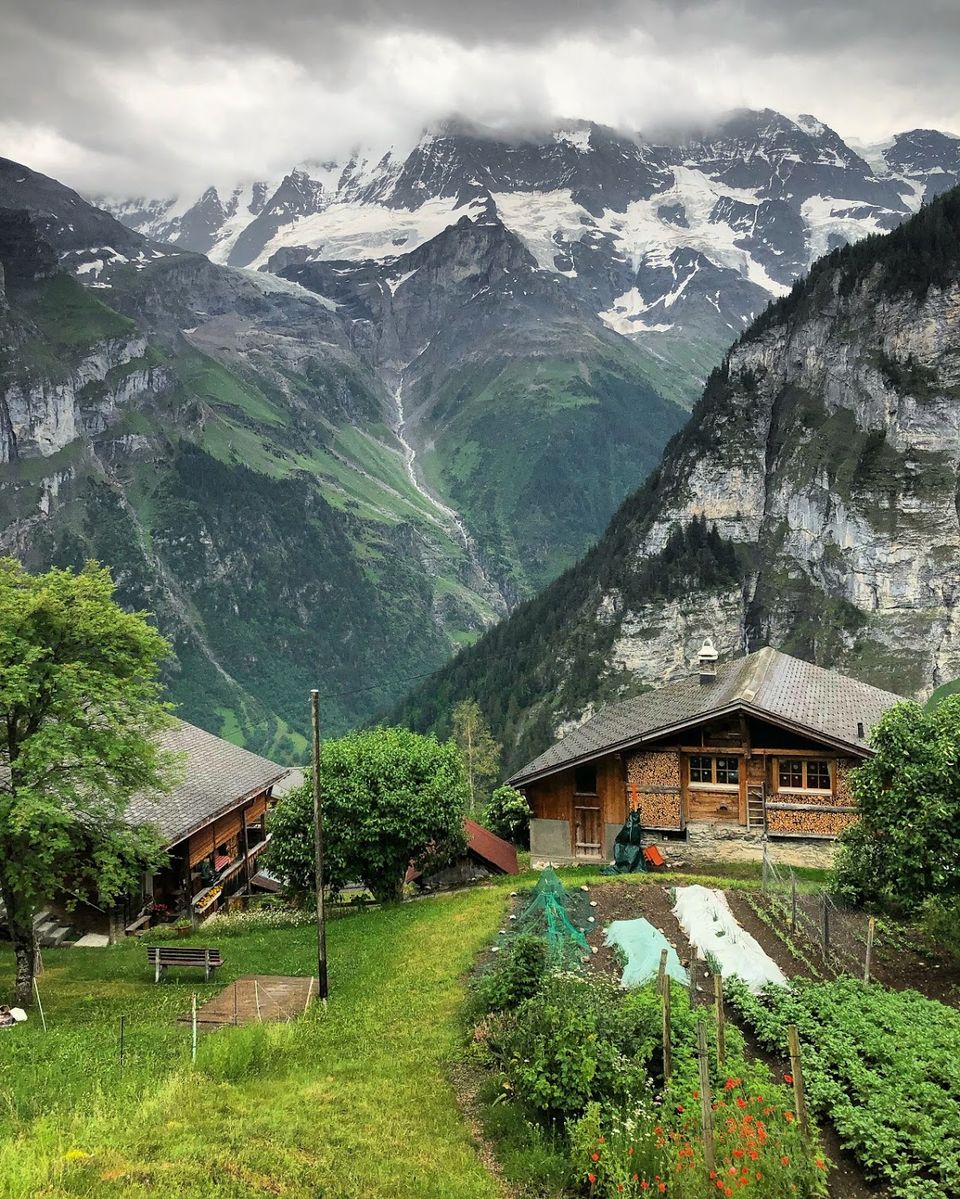 The tourism department has set up a self-guided (with the help of these books with information and stuff placed at marked intervals) walking tour all the way to another (more famous) village called Murren. If you download an app on your phone you then this self-guided tour can be audio-guided.
You will notice some beautifully decorated wood storage cabinets, spot some handsome horses grazing, massive cow sheds, backyards skillfully farmed with kitchen vegetable (so organic!), and taste some free cheese placed by the villagers.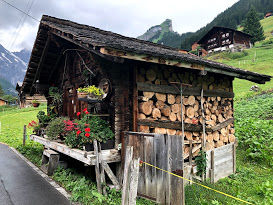 There's an honesty shop in the village. The concept is simple - you honestly pay for what you want to buy. There's no surveillance ( That is no shopkeeper ).
There is only two restaurants/cafe here. We went to the one right next to the honest shop. It's was nice sipping coffee, staring at the snowy peaks which appeared misty thanks to the ample clouds that particular day.
Glacier 3000
Glacier 3000 is so named cause it's a glacier that's at a height of 3000 meters. There's a bunch of activity you can do at the top like take a walk on the Peak Walk which offers a breathtaking panoramic view of the Swiss Alps - on cloudless days (But just as luck would have it was cloudy the day we went to the top.), take a ride on the ice coaster ( If you watch the song Ahista Ahista from the movie Bachna Ae Haseeno you can see what the entire ride looks like), walk on the glacier (maybe try skating too?!) and ride a dog sledge (though this is only in winter).
Well, the first tip I'd give you is - WEAR WARM CLOTHES (and not skinny tights) even though it's peak summer in Switzerland (And the rest of Europe has heatwave alert (with several dead in Italy!) and you are roasting in the car park.
It was super windy and cold at the top. Whilst we were in the middle of the Peak walk, which basically connects the peak of 2 mountains, there was a hailstorm.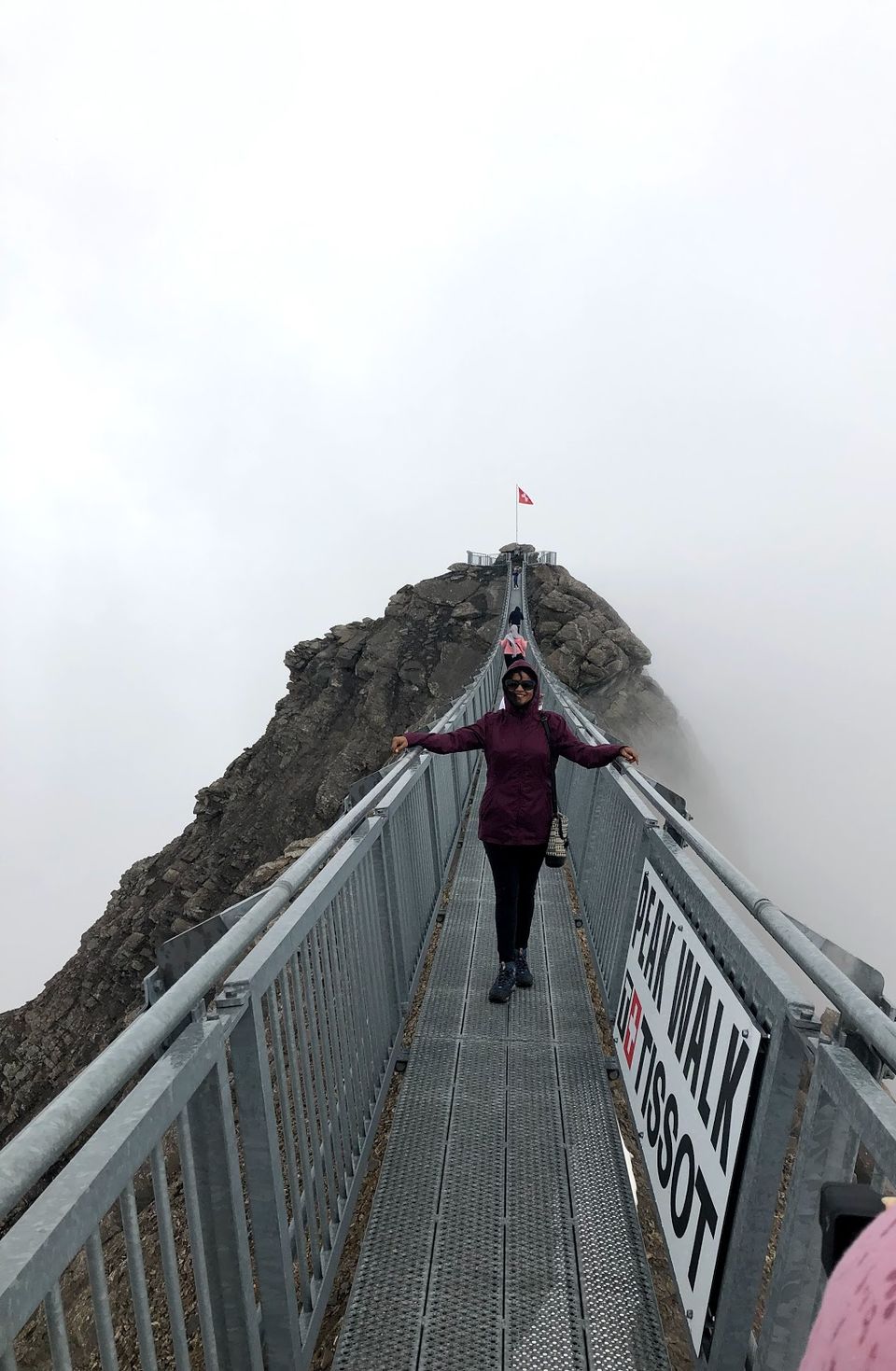 Imagine this, you are standing on what looks like a lot of metal wires cross looped and hanging at a height of roughly 10000 feet between 2 mountain tops, both of which you cannot see because of the dense clouds and you're dressed inappropriately for the surrounding weather conditions because of which you're almost freezing to death and on top of that you're randomly being hit by these chunks of water crystals. Could it be any better? *Rolls eyes*
But then it was also one the most peaceful moment to be in, with dewdrops condensing on my eyelids as I'd closed them to feel the solitude. It was as if I was really afloat on those vanilla clouds.
Gstaad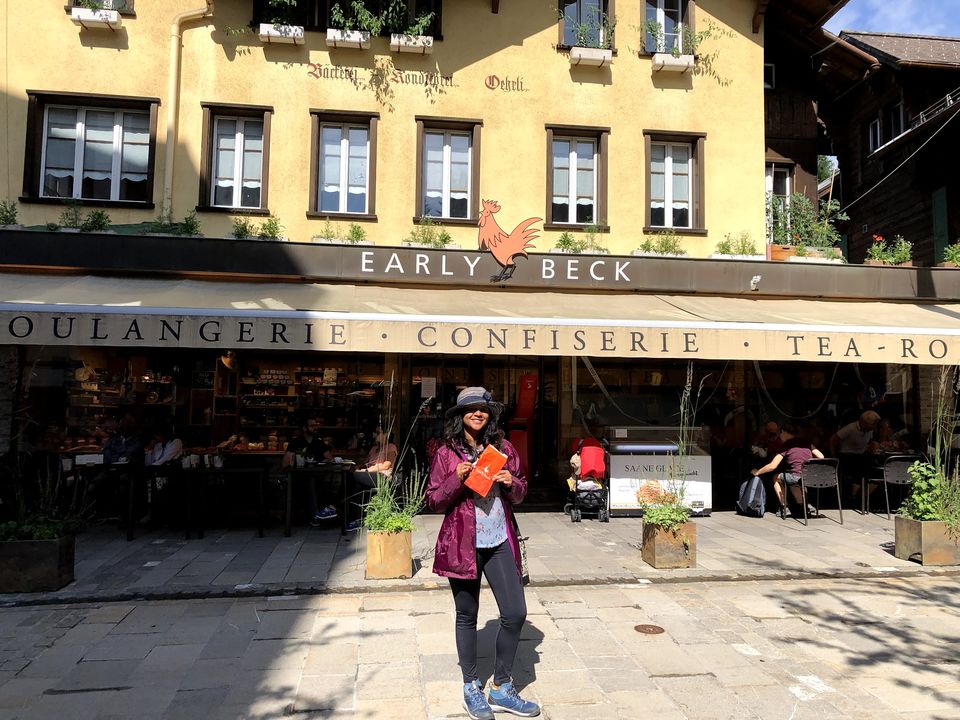 Dilwale Dulhania Le Jaayenge has made this place so famous that tons of Indians visit here. It is apparently a MAJOR tourist attraction of which they've installed these posters (like in the picture), the locals would also guide to where the movie was shot (like the restaurant Early Beck where Shah Rukh and Kajol can be seen in front of) and even google maps will show you places like DDLJ bridge, DDLJ station, etc.
The main alley is filled with restaurants and high-end brand stores with many live musical bands playing all through the street. You will also find many Indian restaurants selling hot samosas and other desi food (because nothing beats Indian food!).
A visit to the cheese farm on the top of a mountain in a village-town called Leysin
On the last day of our trip, we ended up in this cozy little village town called Leysin. After a long activity-filled day, we were kind of famished. So for dinner, we went to this quaint restaurant and decided to try Cheese Fondue. It is the go-to local dish of Switzerland. A nice waitress with broken English enlightened us what was written in the foreign language menu card which appeared alien to us.
She told us that each person eats 200g of cheese dip. Thankfully, we decided to go for 300g for the three of us (instead of 800g). Let me just say it outright blunt and honest, IT WAS TOO BLAND FOR MY INDIAN TASTE BUDS.
But I did enjoy my dessert, the crème brûlée. Amidst all this, a wonderful gentleman Mr. PA who happened to be the owner of the restaurant informed us about a wonderful museum situated on the upper floors. The museum had a massive collection of weapons, tools, musical instruments from giant pianos to harmonium, typewriters and so on!!
On learning about my enthusiasm to watch how cheese is made, Mr. PA offered to take us to an authentic cheese farm the next morning in his car.
It was a unique experience to see the cheese being made live. Turns out the process is kind of similar to how paneer is made in India. But they make different cheese by changing the bacteria type and concentration. Then they store these cheese for 6 months. But every day they polish it with saltwater. Each of these cake weighs around 75kgs and they sell it for 80 Swiss francs per kg (that's like 6000 CHF or 4,20,000 INR per cake)! That's a whopping amount.
Mr. PA also treated us to lavish breakfast of freshly made cheese garnished with olive oil and some herbs, and some strong coffee.
This is what makes traveling so special to me. Sometimes you meet the best kind of people and have the best experiences. And what is life if not a summation of all our memories?

Tell me in comments below what traveling means to you.