Time for the winter escapade post ! ????
2017 was a very eventful year for us (We were blessed with a baby girl in May'17). We wanted to end the year in a similar fashion too. I was all for a big vacation as it had been months since I had stepped out of my home. When my cousin proposed a group trip to Gujarat, we instantly agreed ! Gear up for a long post ahead as it was a long trip !????
Gujarat had been on my bucket list for a long time now. The reason is probably Amitabh Bachchan ???? If you are wondering why, you have probably not seen the Gujarat tourism campaign ads by Amitabh ! The image of Amitabh walking on the white desert saying " Kutch nahi dekha toh kuch nahi dekha " still lingers in my mind.. The adage became quite popular.
After close to a month of planning, we finally booked a package with Frontier Holidays. 11 days, 11 ppl .. Recipe for fun indeed ????
We started from Bengaluru to Ahmedabad on 22nd Dec'17. Reached our destination at around 8.30 pm. Our stay was at Le Grande Hotel in Ahmedabad. We had a scrumptious dinner and hit our beds to gear up for the next day.
23rd Dec : Local sightseeing was the plan for the day. We started by visiting Hutheesing Jain Temple. The temple complex consists of a tower (below) and the main temple. Unfortunately, some renovation was going on and could not get decent pics of the temple.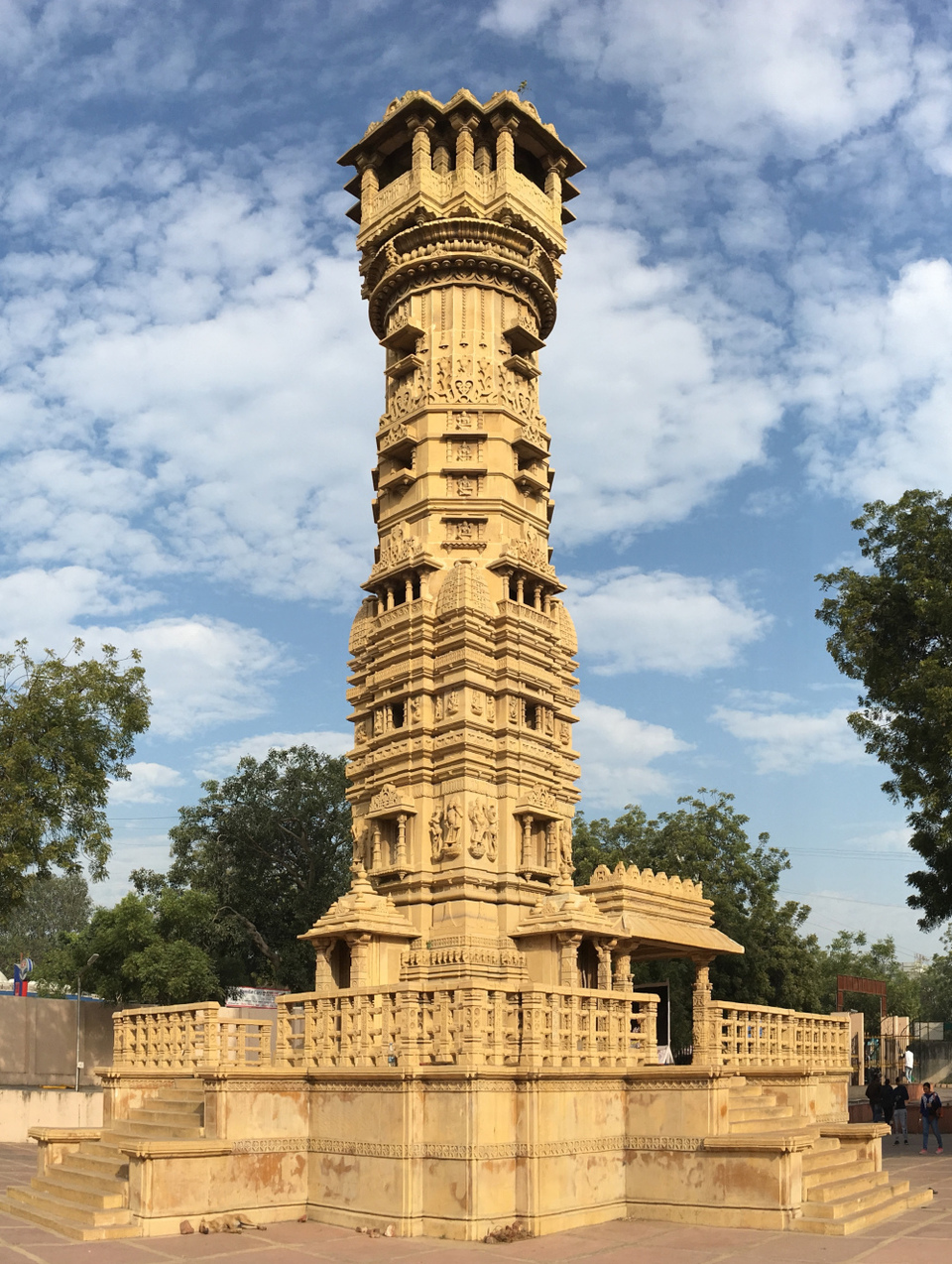 <<<
We then visited the Adalaj Stepwell ('Vav' in Gujarati). The stepwell is beautifully carved with intricate work. Btw, for some reason, till recently I believed that stepwells were built for queens to bathe ???? ???? Now, I know ????
I wish I had known the tragic tale of Rani Rudabai when I visited the place. Would have given it a different dimension. Thats the thing, right ? When you know the history of a place, you see it in a whole new light.
After lunch at the famous "Gordhan" restaurant, we headed to the Auto Vintage Car Museum. Nothing much to see here. Car enthusiasts can have a look at the collection of vintage cars. But, you can give this place a miss. Evening was dedicated to Kankaria Lake. I was waiting for this place as I had read about the tethered hot air balloon ride here. What none of the articles told though was that it is only available on Mondays ????????(evening 7pm onwards). There were many other rides here but it was too crowded. So, we returned to the hotel, freshened up and headed to the famous Law Garden Night market. This is a one-of-kind place where you can binge on local food and shop ! What a combo ☺️ You can find everything from pani puris to pizza here ( Surprisingly less of native Gujarati cuisine ????). We tried the 9 flavoured pani puri ( I personally did not find it all that appetising), kulfi etc. Most of the shops in the market shut down by 8pm, so not many shops were open at the time. Also, my daughter was sleepy, so we headed back to the hotel.24th Dec : Started our journey from Ahmedabad to Rajkot. The journey took around 6 hrs. On arriving, we checked in to Hotel Regenta. Not a very good experience at this hotel. Though the rooms were very spacious, the service was sub standard and food pathetic.25th Dec : Paid a visit to the Watson museum in Rajkot. There were lots of stone inscriptions here. A good place to visit if you are interested in history. We then proceeded from Rajkot to Somnath. Reached Somnath at around 4pm or so and checked into Lord's Inn. After freshening up, headed straight to the Somnath temple. The evening aarti ( at 7 pm ) is very famous here, so we planned to visit the beach and watch sunset before entering the temple. The beach was very crowded and dirty. In order to avoid the crowd, I moved to a corner and began posing with my daughter. It was then that my husband told me that sewage water was let into the beach there ! I look down and yes, he was right !! Ewww !!!???????? No wonder I was the only person there ????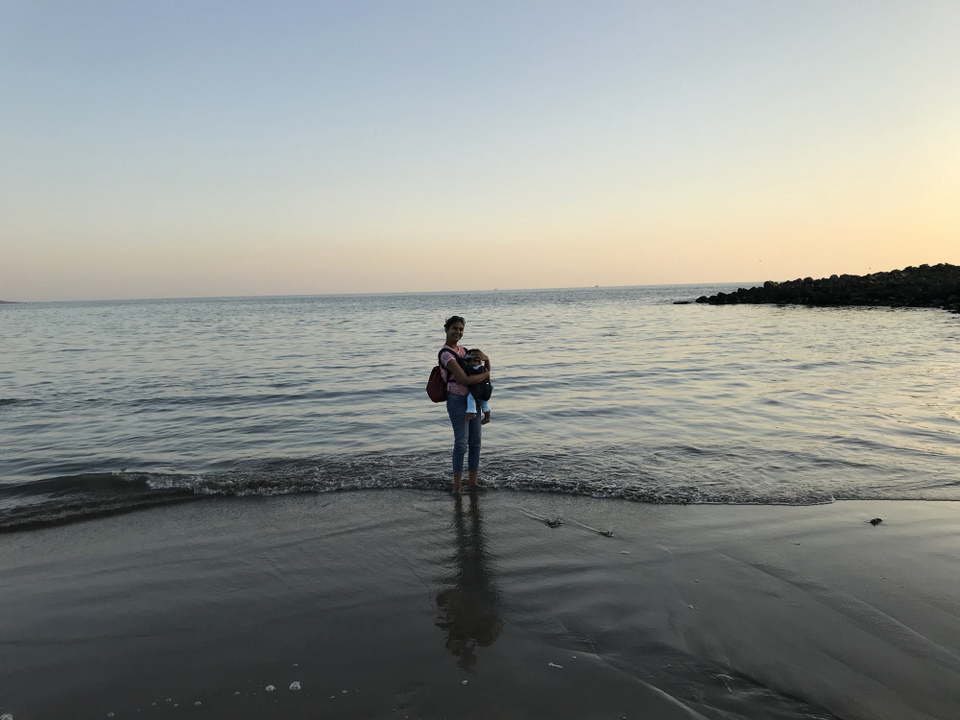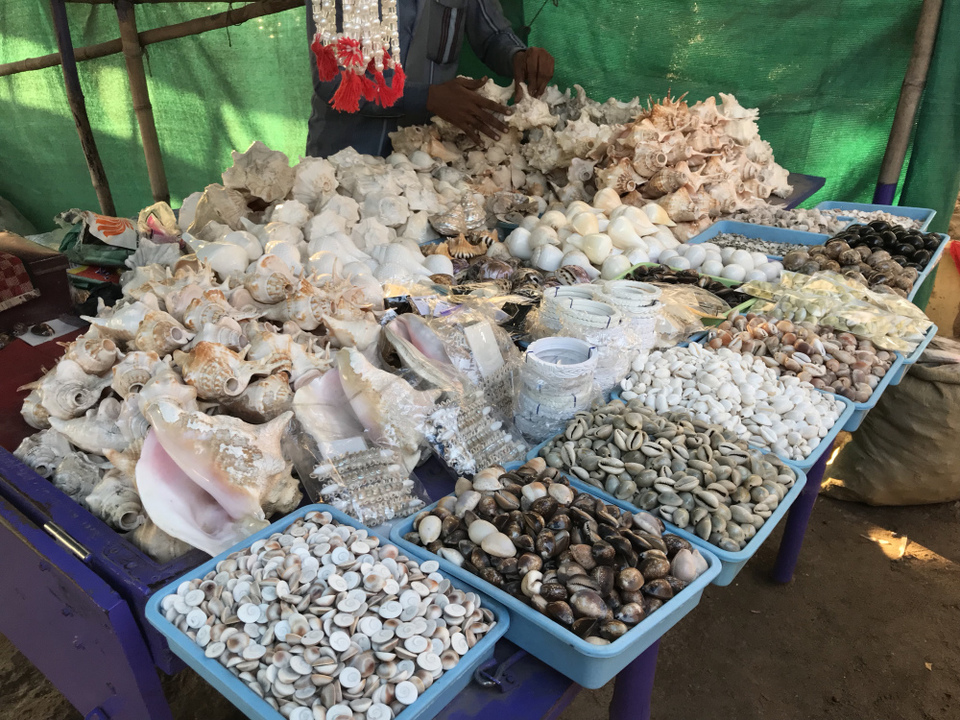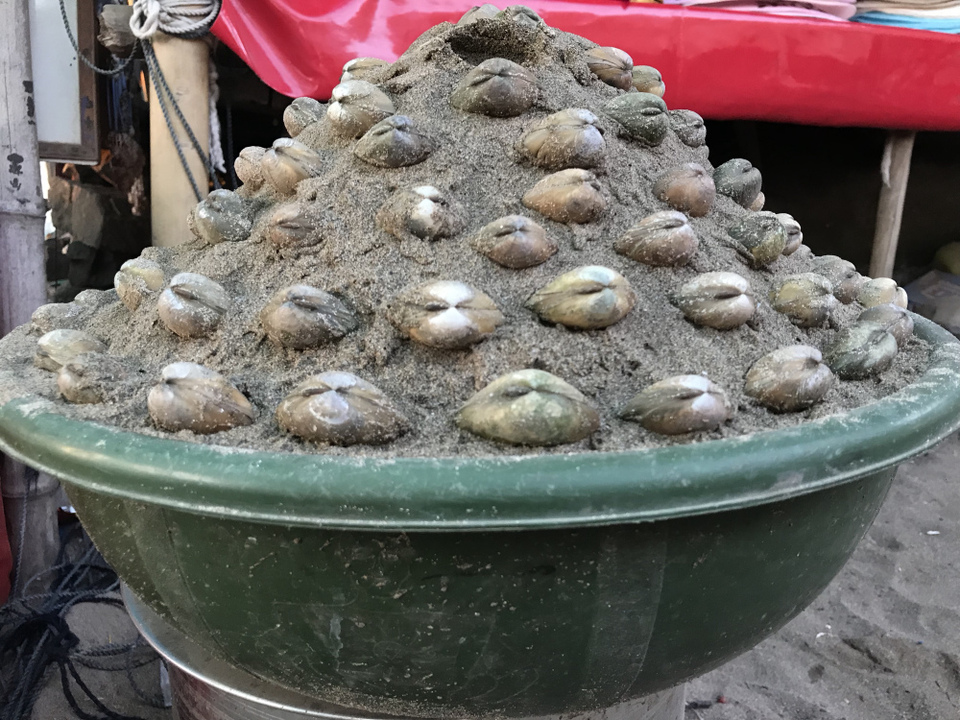 The market on the sea shore though, was very colourful. All kinds of shells, shell artefacts were on sale. You could even select an oyster and get a pearl out of it for 40 Rs !! ????Was reminded of the stories we had heard about Krishnadevaraya's rule. Legend has it that precious metals were sold on the streets then ! Are " acche din" here ????????? Not sure about the quality or authenticity of the pearl though.
The architecture of Somnath temple is actually magnificent but you cannot get a full view of the temple from the front and hence cannot appreciate it. This is true for the temple at Dwarka as well. The temple is either surrounded by high walls/buildings.
When we made way to the temple, we saw that there was a loooonngg queue. My husband who was carrying our daughter was really worried about taking her in such a crowd. So, he chose to stay outside and asked me to go for the darshan. Sweet, right ? ????????
A majestic hall, a sea of people with overwhelming devotion, priests performing aarthi to the beautifully adorned idol, drums playing, devotees raising their hands and clapping to the chants of " Jai Bholenath " !! This was the scene when we entered the Somnath temple. The atmosphere is such that one cannot help but join in. After the darshan, I ran back to my husband and daughter while my cousins stayed behind for the sound and light show. They opined that it was the one thing so far that made the Gujarat trip worth it. The video is projected on the temple(Gopura). Watching the history of Somnath temple with the night sky as backdrop must be a one-of-a-kind experience !! So, if you visit Somnath, do not miss out on the show.
When we got back to the hotel, I was in for a huge surprise !! My husband had asked for the room to be decorated. The room was filled with flowers !! We celebrated by cutting a cake at midnight. A big thanks to my cousins for making it all the more special ????????
26th December : We started from Somnath to Dwarka. On the way, we visited Bhalka Theerth (The place where Krishna is said to have left earth after being hit by an arrow by a hunter named Jara) and a beautiful beach just by the road near Porbandar.
Though it was not an apt time for visiting a beach, we had a lot of fun here. Once in Dwarka, we headed straight to the Dwarkadeesh temple. Here too, we decided to watch the sunset before entering the temple for evening aarthi.
If the crowd at Somnath scared us, it was nothing compared to the crowd at Dwarka ???? We were literally pushed into the temple and had to climb a pillar to have a glance at the deity???? I would not even have attempted it if not for my cousin. Thanks Vaishnu ???? Since my daughter was with me this time, all my attention was towards bringing her safely outside. Thanks to my girl gang for providing us z+ security :D????????27th Dec : Beyt Dwarka (Beyt - island) was on cards for the day. It is supposed to have been Lord Krishna's office. From Dwarka, we reached Okha by our TT. From Okha, one has to take an auto to reach the port. Ferries ply regularly from Okha to Beyt Dwarka.
From the port, you will have to walk for more than a kilometre to reach the temple complex. Lots of options to shop on the way ???? ????
We then visited the Rukshmani Devi temple in Dwarka. An interesting legend is narrated to justify separate dwelling temples, far away from each other, for Rukmini and her husband Krishna. Krishna and Rukmini invited the sage Durvasa to visit Dwarka and he agreed on the condition that the chariot must be pulled by the couple themselves. Of course, they relented. Who would want to anger Durvasa (a great sage known for his temper) right ? On the way, a tired Rukmini asked for water to quench her thirst and the loving husband that Krishna was, prodded the ground with his toe and out flowed Ganga ! Rukmini's thirst was appeased but Durvasa felt insulted as she did not offer him water first. He therefore cursed Rukmini that she would have to live away from her husband for 12 yrs !! And this temple is 1.2mi from Dwarka ???? ????
We then left to Jamnagar and halted there for the day.
28th Dec : Did some local sightseeing in Jamnagar. First stop : Lakhota Palace and Museum. More like dakota ???? (Kannada slang meaning poor/bad) Cannot comment on the palace as it was closed for renovation ???? (Why Gujarat ? Why ? Everywhere we went, there was either renovation, holiday or too much crowd ???? ???? Wrong timing you say ? Maybe !) But the museum is really a must visit !! You get to see all models of faucets like Jaguar, Cera. Also, there are wonderful paintings of kings holding flowers. Oh wait ?? Were they all of the same person but labelled differently ??
Incase my sarcasm is lost on you, I'm saying it loud and clear. Please please, spare yourselves the trouble of going here.
After this complete waste of time and money, we headed to Gandhidham. The journey takes around 6hrs.
29th Dec : Visited the Vijay Vilas Palace in Mandvi. Many movies have been shot here (HDDCS for instance). It still serves as summer palace for the royal family.
After the palace sightseeing, left Gandhidham for Bhuj. Took a stroll in the market at night(which was again partially closed. Man! Gujaratis end the day really early !), shopped bandhinis and devoured some rabdi ????
30th Dec : The city I have come to associate with earthquakes - Bhuj ! I heard a very interesting(funny?) story about the local's theory behind earthquakes. It was believed that Bhuj rests on a snake !! When a king wanted to build a kingdom in Bhuj, he was asked to thrust his sword into the ground and kill the snake. The king did as told but failed to kill the snake. The snake still writhes beneath the ground which is the cause of the earthquakes ! I think that is why, Naga Panchami is celebrated with much fervour here.
In Bhuj, we paid a visit to Prag Mahal and Aina Mahal. Looking at these palaces(?) and comparing them to the ones in Rajasthan, I wonder if the kings here intentionally built smaller(read less grandeur) palaces because of the earthquakes or were they not as rich ? Anyway, nothing much to please your eyes here.
31st Dec : On the way to Kutch from Bhuj, we visited two villages where tourists are taken for shopping. In one village, there was a family practising The paint for this art is obtained by heating castor oil and stored as an elastic paste. This paste is then applied on the palm and mixed with a stick. The heat produced softens the paste. This is then drawn into threads and formed into designs directly on the cloth !!! Its amazing to watch it !!
For this particular design called " The Tree of Life ", the artist paints one half within a certain duration and folds the cloth to form a mirror image. The more intricate work is done using other techniques. Amazing, right !!
Finally !! One place I was dying to go to - Rann of Kutch !
We reached GRK at around 4pm. We rode a camel cart from the entrance to the white desert.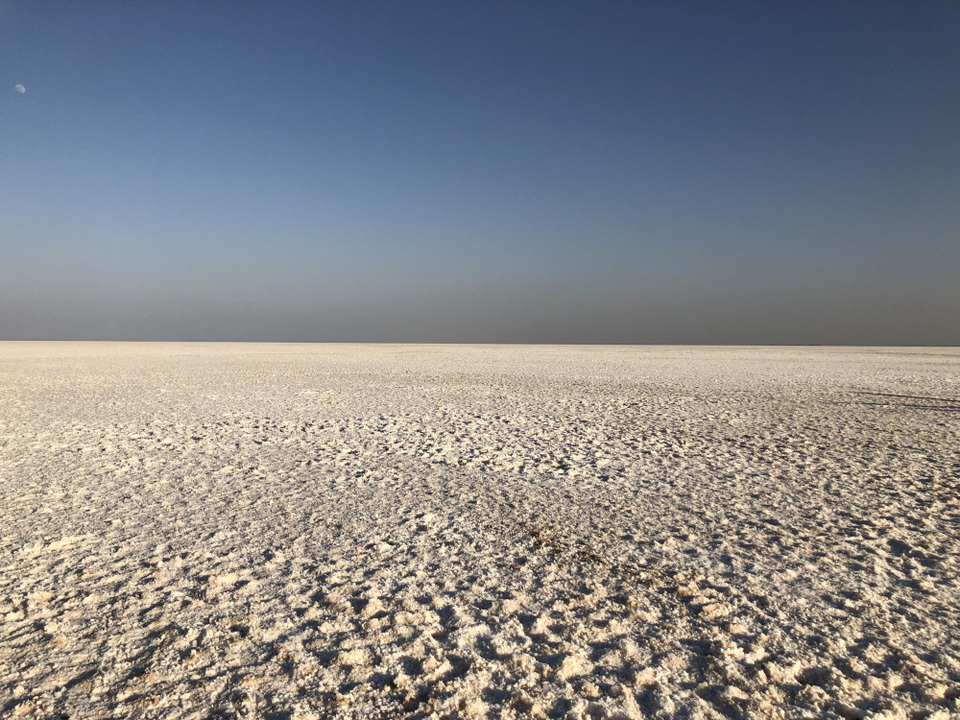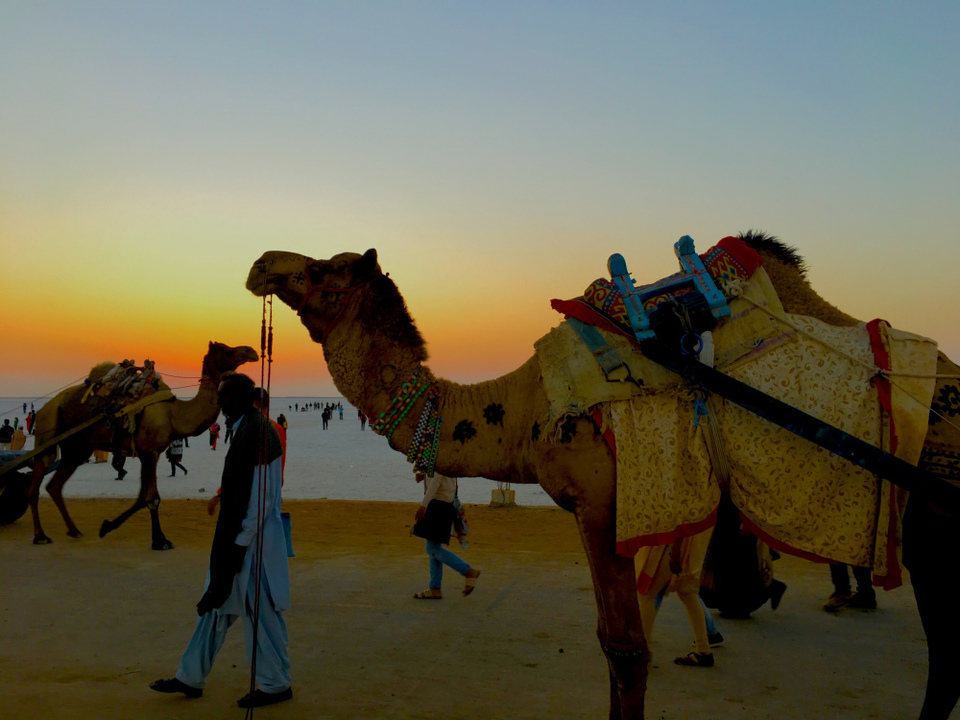 Barren land as far as your eyes can see.. the feel of salt crystals beneath your feet.. the blue sky.. the scene so beautiful that the moon is also trying to get a peek ???? GRK was really a very different experience. We spent a lot of time taking pictures here. Thats what everybody does right ? ???? Though there was a lot of crowd due to the Rann festival, you can always find an empty patch for pictures ???? ???? We got a feel of the "Vibrant Gujarat" at the festival. Lots of shops selling everything from footwear to accessories to clothes.. lot of options to eat too ????
We started back to the entrance after sunset. As our camel cart almost reached the entrance, I turned back to get one last look. It was around full moon day. The white desert shone in the dark and the moon complimented it beautifully. I closed my eyes for a second to absorb all of it. Truly a surreal experience ! Kutch is a sight to see in the dark !!
31st December : Back to Ahmedabad from Kutch.
1st January : Trip to Gujarat and Sabarmati Ashram not on the list? Not likely. Sabarmati Ashram stands on the banks of the Sabarmati river. I must say it is very well maintained. The museum has tons of pictures and lot of information. Gandhiji's house in the ashram has been renovated and it looks like a brand new house though the structure is the same. Perhaps, retaining it in it's original form would have been good.
After a long trip, we finally headed home with lots and lots of memories.
My musings about Gujarat :
This is strictly my personal opinion, but I feel Gujarat is an over hyped place w.r.t tourism. Most of the places are not all that great. I would even go to the extent of saying "Kutch ke sivaay kuch nahi..". There have been a thousand times when I have compared some place to Rajasthan ( probably might have even irritated others ???? ) and felt how dull this was in comparison. Maybe that was a mistake, but still, I felt most of the places had nothing going for it. "Sweet" probably only applies to Gujarati cuisine, not its people ???? ???? I'm sorry to say this and of course, I cannot generalise, but this was my experience. In the past, I have always found shopkeepers to be polite and friendly. More so in tourist places. There was no smile from any shopkeeper here. At Ahmedabad night market, the panipuri wala was miffed when I tried to make a conversation by asking which flavours he had. He asked me to read the board ???? which was in Gujarati !!! ???? ???? Or may be they are so business minded, they care little for such small talks ! Either Gujarat has less to boast about in terms of history or there is a lack of guides at historic sites. As I said earlier, you come to respect/admire a place when you know it's history. This was probably one of the other plus points for Rajasthan.(Oops!) No doubt Amer Fort, Chittorgarh Fort are mesmerising by themselves. Add to it the rich history and the stories of Rajputi valour, you are in awe of the place.
All said and done, that is another Indian state checked off my list. Yes, we missed quite a few "famous" places - Gir, Diu, Dholavira etc. Lets see if we will be back for more ! ????