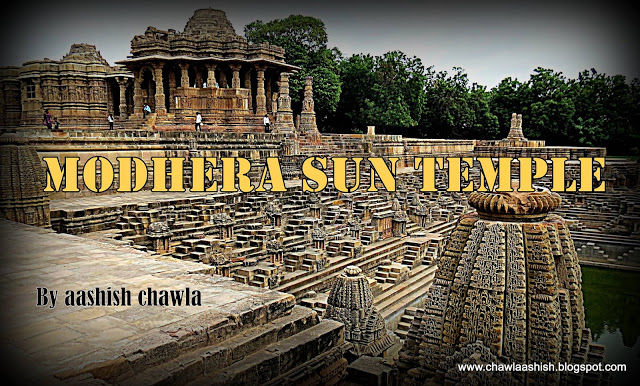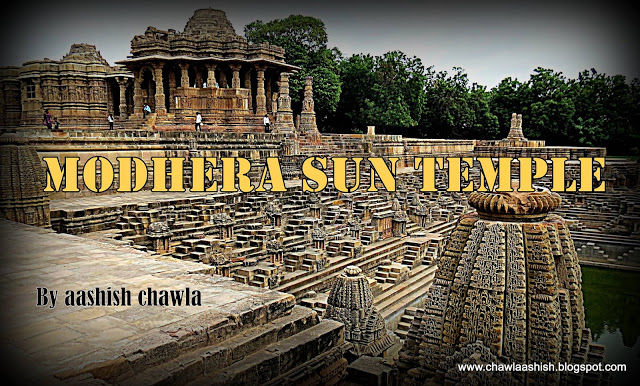 Weekend was around the corner so naturally I have to be ready with another mandatory weekend gateway of mine Ab aise hi toh nahi dosto ne naam Weekend Wanderer rakh diya na. Last Year during my trip to Champaner a UNESCO world heritage site I was zapped by the beauty of the different Mosques at champaner. that I started to research about other UNESCO world heritage site . It was during my research I came across this name of Rani ki Wav in Patan, hence I started to plan my visit to Patan, To know the local details I called my friend Amit who is from Ahmedabad, He said Aashish if you are coming so far why don't you club your visit of Modhera Sun Temple with that of Rani ki Vav.Sucker that I am for new places I said why not. So this is how the trip to this place materialized.
August is generally good month to travel with some rains , some overcast condition and lesser wrath of heat. So on 3rd August,2018 I along with my wife and daughter boarded Amrapur Aravali Express to Mahesana Station(19907) at 9.17 pm from Andheri station. Mahesana is the nearest railway station if you are visiting Modhera Sun Temple.
I prefer overnight train journey because it helps me in saving my travel time.Talking of the train journey, It was horrendous for me because a group of 12-15 people had boarded from Dahanu Road station at around 11pm and they were making so many noises, calling out to friends in loud voices and till 12.30 am this drama was going around. Atlast I lost my patience and told them clearly Boss Ek Ghate se aap ko seat mila nahi kya. Do you realise that you are disturbing everyone and So please better get your act together. Luckily for me no ugly scene happened and they took their seats. At 6.48 am our train chugged into the Mahesana Railway station.
We came out of the railway station and took an auto to Mahesana Bus station which is near the Modhera Circle. From here you get lots of transport options to go to Modhera Sun temple. Auto guys charge 250 Rs, Sharing van charge Rs 20-30 per passenger, but mind you they cram the passengers like cattle. We paid extra for one seat so that 3 of us can sit without any discomfort. There are regular buses also from the Bus station but we were not in a mood to waste any time hence opted to travel by van which was ready to go.
A drive of 25 kms odd in 45 minutes and we were standing at the gates of Modhera Sun Temple. It was 8.35 am when we reached the temple. The entry fee to the temple for Indians is 15 Rs and for others Rs 200.
As you enter the complex you are welcomed by the lush greenery an well maintained garden.
and walking down the pavement you come across a beautiful temple and a huge Kund (Watertank) which almost took my breath away. Honestly speaking I haven't seen anything so grand and impactful. Pehli Jhalak ne hi kar diya deewaana
Before taking you with me on the exploration tour of this temple let us brush some history.
My heart aches as I stood listening to the guide at Modhera Sun Temple, as to how this beautiful and majestic temple built around 1023-26 CE , during the reign of Bhima 1 of the Chaulukyas Dynasty, was embellished with gold and precious stones but was plundered by Alaudin Khilji , who not only looted away all the gold but also destroyed the temple and the presiding deity. As the Hindus don't offer prayers to Khandit place. Hence today no prayers are offered at this temple.
Architecture of the temple:
As you can see how geometrically the rocks are cut and designed hence its necessary to understand the architectural aspects of the Sun Temple. The temple is divided into three parts 1.Gudhamandapa 2.Sabhamandapa 3.Kunda or Sacred Reservoir
As I said earlier also, this Kund took away my breath ,as I stood astounded by the beauty of the Surya Kunda or Ramkund. This huge rectangular stepped water tank measures around 176 feet X 120 feet . It is believed that in ancient times devotees were required to perform ceremonial ablutions here before going to the sun temple to worship the Sun God.
There are 108 shrines,carved in between various niches and corners of this Kund. The prominent ones that I noticed was that of Ganesha, Shitala Mata, Shiva and of Lord Vishu in a reclining pose.
I spent good time running up and down the stairs clicking pictures from different angles.
My daughter and myself we were were so engrossed in photography that my wife has to literally shout at my daughter and me to get going. We could have easily spent all day admiring the beauty of this place.
we entered the temple from the Kund passing through two giant pillars standing tall in front of the Sabha mandap. We were told that earlier there was a toran on that pillars which was destroyed by Alaudin Khilji, In those days it was a tradition to break the toran as proclamation of the victory. Today only this pillars are standing.
Sabhamandapa or Rangmandapa is nothing but a assembly hall or a dancing floor. This place is another treasure house of intricate carvings which adorns the 52 pillars of this Sabha Mandap. The guide at the temple told us that these 52 pillars represents 52 weeks of the year . The carvings on these pillars depicts Scenes from Ramayan and Mahabharat, Krishna Leela. Then there were some erotic carvings on some pillars
The Sabha mandap opens in four directions. Coming inside the sabha mandap from the side you come across a Toran at the entrance.There are also carvings on the outer side of the Sabha mandap however they are not as intricate as the one inside.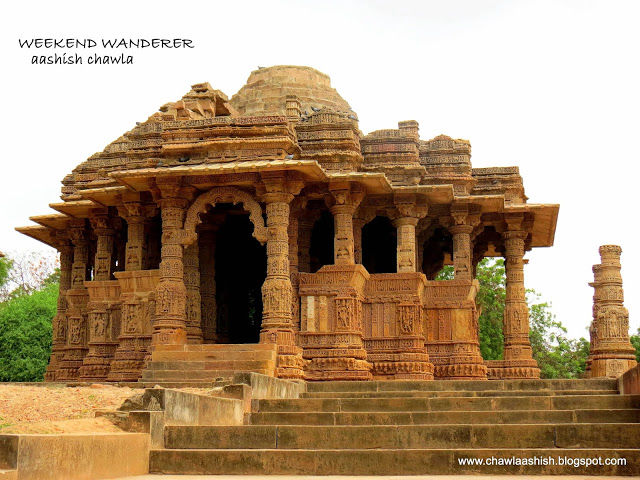 It was now time to move on the the main temple the Gudhamandapa. This temple is not a practicing temple because there is no idol in it. However there is a unique feature of this temple. On Equinox days i.e. 21st March and 21 September the first rays of sunlight falls on the Surya God idol placed in the Gudha mandap. The folklore is that in the olden days as the light fell on the jewel of the sun god , the light was deflected from it to light up the other idols surrounding the Surya idol. This temple is built on inverted Lotus form and the just above that series of elephants are carved. The carvings on the outside of the temple tells the tale of life cycle starting from the birth to the death in forms of carvings around the temple.
Then there are twelve forms of Surya God carved around the temple. One very prominent one was Sun God riding on seven horses.
There is also carvings of 8 Deities representing eight directions in the eight directions of the temple.
I am sharing few more pictures of the carvings on the temple.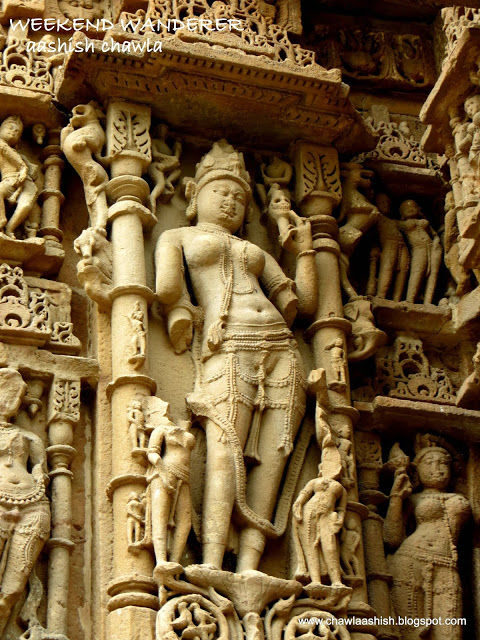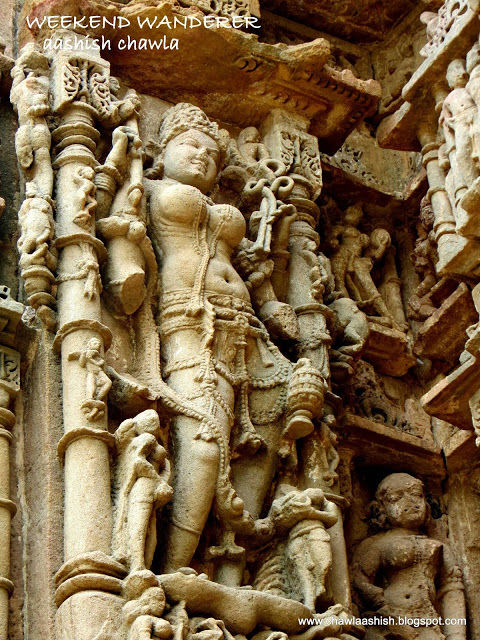 I can go on and on because each idol carved on the wall has a tale to narrate, but the curtains have to come down and Traveler cannot afford to fall in love with one place. Jeevan chalne ka naam hai and we knew that this four hours spent in this Temple complex shall always be cherished and if god willing I am definitely going to revisit this place again.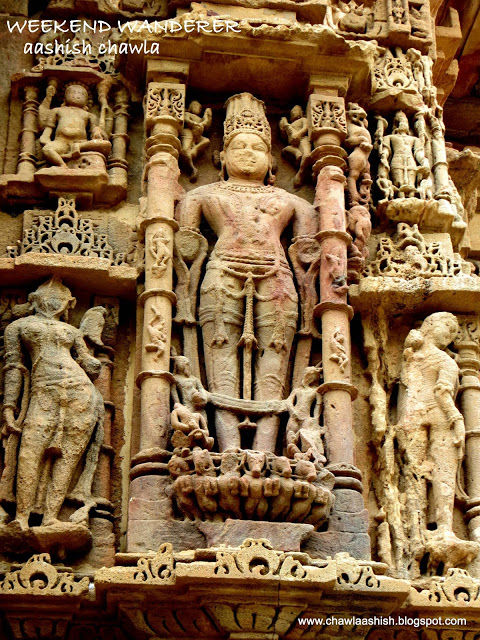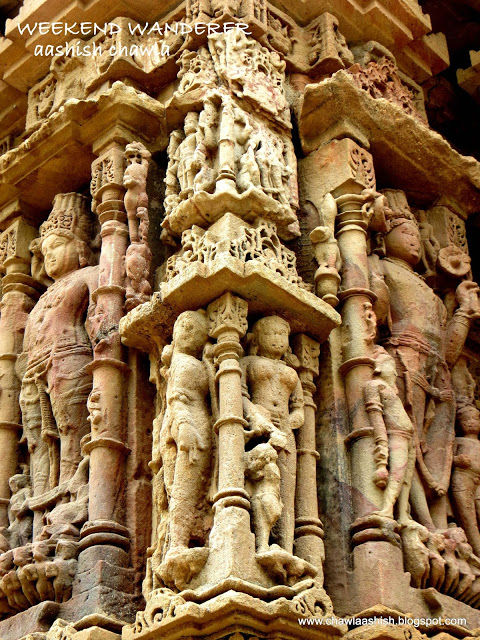 It was 12.45 pm when we left the Modhera Sun Temple complex. Our next stop was Rani ki Vav at Patan.
If you like my blog you can check out my series on www.chawlaaashish.blogspot.com