...And just like that, the curtains drop on 2020 as well! To see off the year and welcome the new one, we decided to head out once again on a drive through Gujarat and Rajasthan. With some amazing memories of the last two road-trips in this region (First being Udaipur, Jodhpur, Jaisalmer, Ahmedabad and second one to fascinating Diu via Junagarh and Champaner), we were only too glad to come back again! This time it was a mixed bag of popular as well as less known places over a 8 day drive from Mumbai including Modhera, Patan, Siddhpur, Chittorgarh, Bijolia, Bundi, Kota and Vadodara.
Day 1: Drive from Mumbai to Mehsana ( 12.5 hours)
Waking up to the joyous spirit of Christmas, we set out for our first stop at Mehsana, Gujarat at 6 am. While a huge jam initially held us up near Virar for about an hour, our first stop was at Hotel Dream Dahisar to grab a quick breakfast. Unassuming place, but do stop by if you are driving through this area- the standard fare of largely South-Indian and Maharashtrian dishes, but quite well done. Post that, while I had a blissfull time re-read the classic 'A Christmas Carol' and taking naps, Abhineet enjoyed the super smooth drive up until the lunch stop at Surat- Khodiyar Kathiywadi Dhaba. Absolutely loved the Gujarati food here- A healthy start with salads and butter-milk, followed by peas and gathiya curries along with Jowar roti ( generously doused in Ghee!) and Roomali Paratha, a mouth-watering spread of chutneys and rounded off well with delicious Aamrakhand. Sheer treat!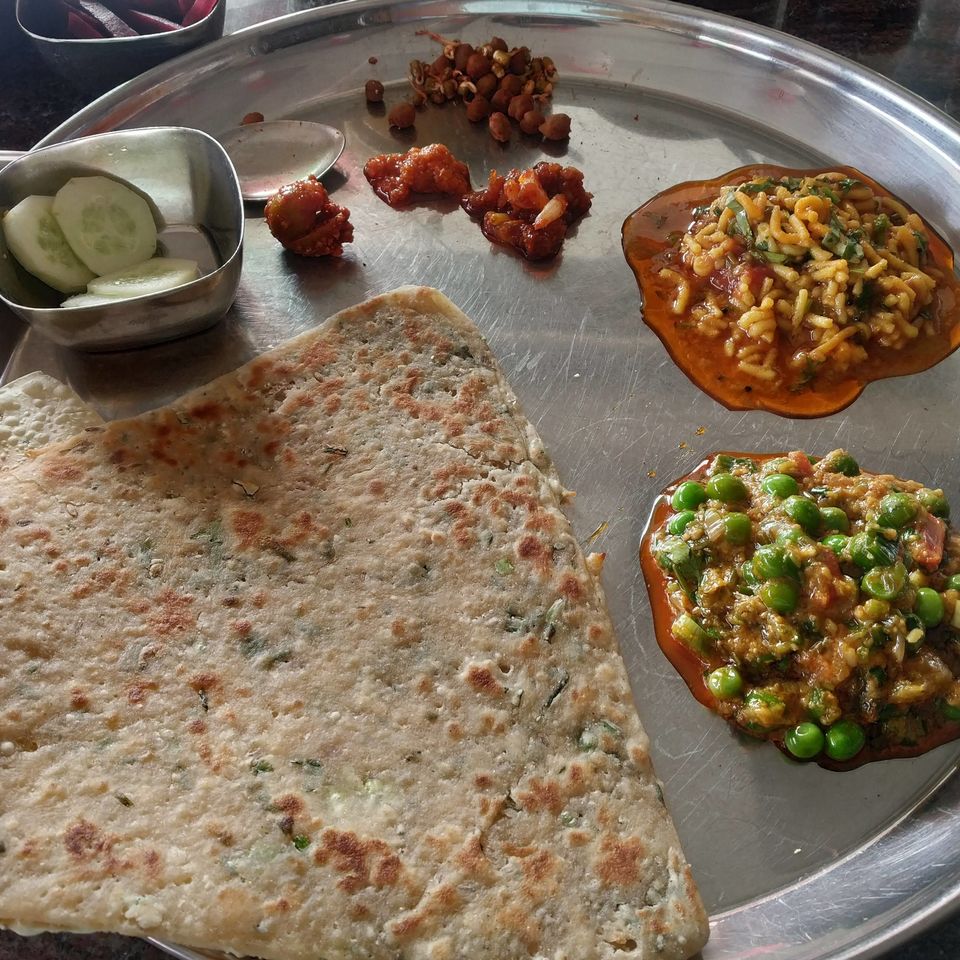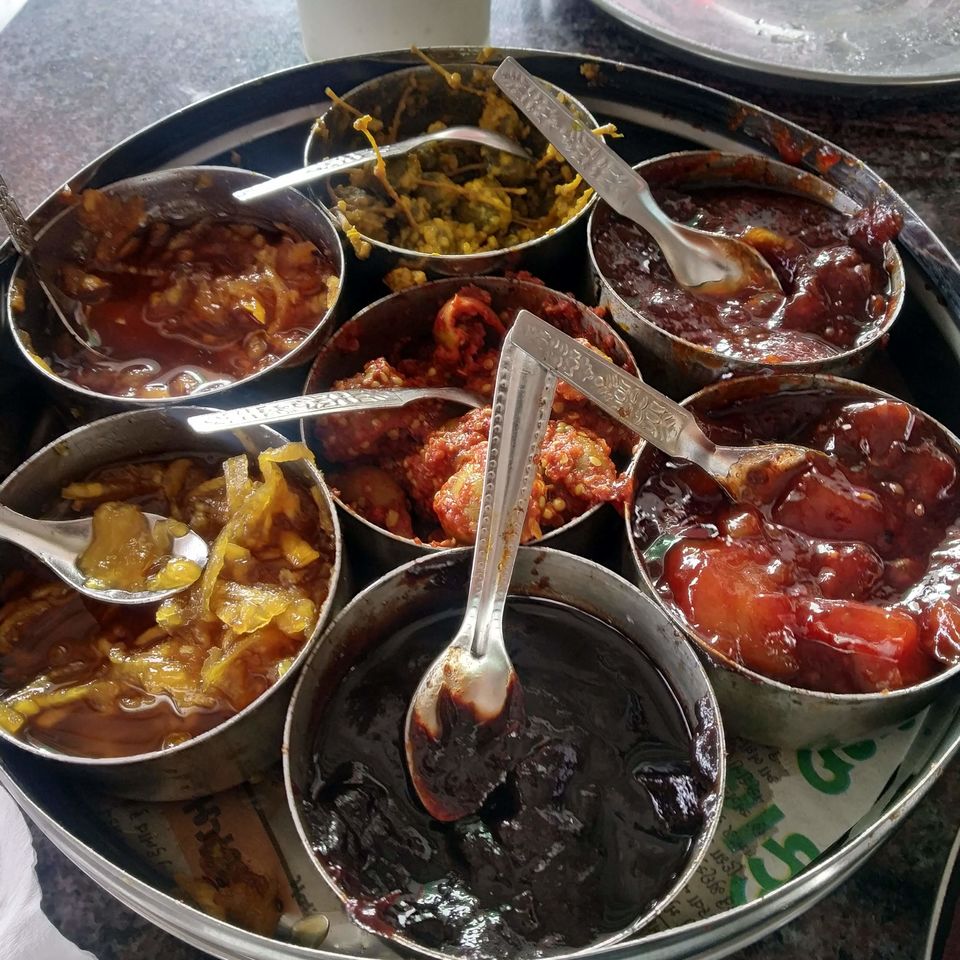 After a few chai stops, numerous toll-booths and Gujarat's well known super-smooth highways, we reached at our night-halt for the day- Hotel Highness, Mehsana.
Day 2: Modhera and Patan
A quick Google search about historical places in Gujarat, throws up some interesting information about these two relatively less known gems.
Modhera, a 25 kms drive from Mehsana, boasts of one of the few Sun temples across the country. In fact it pre-dates the more famous Konark Sun Temple in Odisha, by 200 years! It was built in 1026, by King Bhimsen of the Solanki dynasty and is finds mention in mythology as well. Despite having been plundered by invaders and ravaged by earth-quakes, what remains of the Modhera sun-temple today is still a stunning visual treat. With intricate carvings adorning the external and internal walls throughout, the temple provides a glimpse into ancient India's admirable architectural capabilities as well.
The temple complex is divided into three main parts in the following order as you enter- The Surya Kund ( a majestic step-well), The Sabha Mandap ( the assembly hall) and the Garbha Griha ( the shrine). The carvings depict a dizzying variety of gods and mythological stories- do take the services of a guide to walk you through them in detail. It takes about 45 minutes and the guide's charges vary with the group size, starting at Rs. 400. Pictures can only begin to describe it's breathtaking beauty and the lost-world ambiance! Best time to visit Modhera would be in mid-January when the place hosts an annual classical dance festival.
It was time to move on to our next stop-Patan. Beautiful stretch of mustard fields i.e. those lovely golden yellow Sarson Ke Khet made us stop in tracks! Another quick halt for the not-to-be missed Gujarati snacks- Dhokla, Gota, Fafda and Bhajiye at one of the road-side dhabas. Stuffed!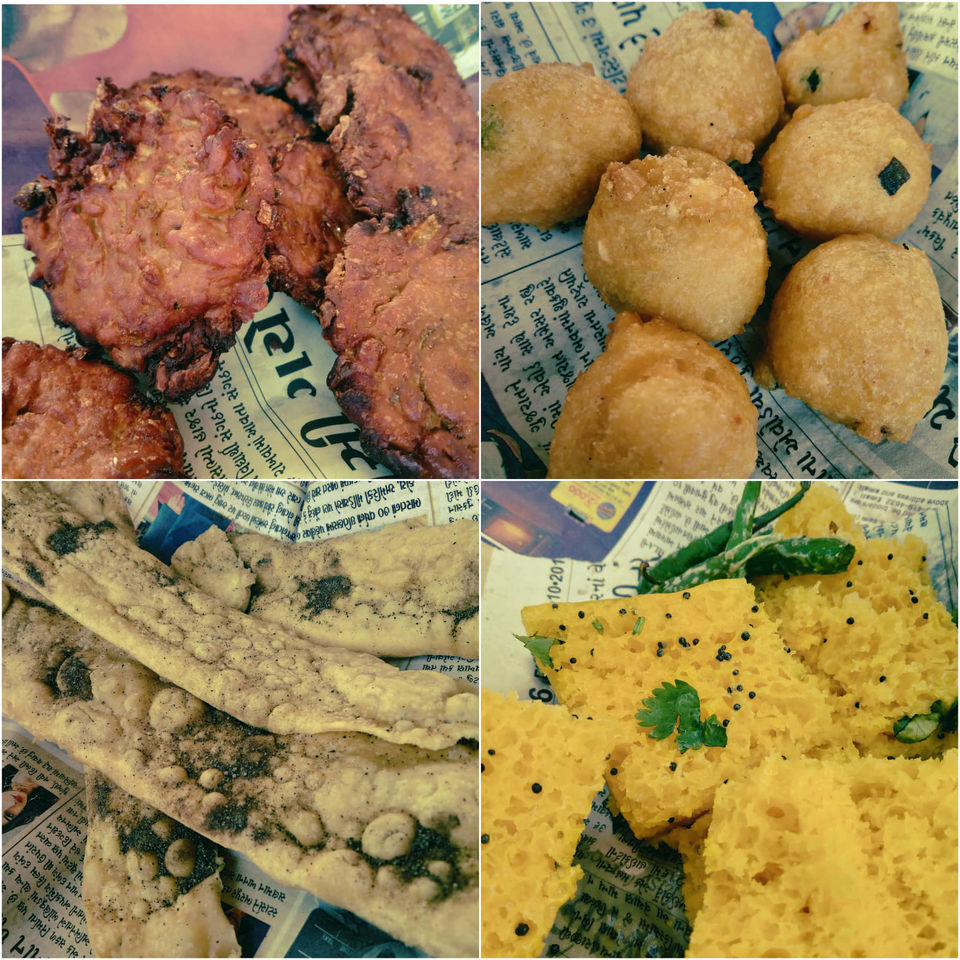 The ancient town of Patan is located around 60 kms from Mehsana and about 36 kms from Modhera. It was established by the Chavda ruler Vanaraja in 8th century and during 10th-13th century, the city served as the capital of the Chaulukyas. Most prominent attractions include the grand step-well Rani ki Vav and the ancient weaving art of Patan Patola.
Rani Ki Vav, a UNESCO site is a beautifully sculptured monument built by Udaymati in memory of her husband, Bhima I. This is the oldest and the deepest among over a hundred step-wells in Gujarat, with awe inspiring carvings depicting Lord Vishnu's avatars, Hindu goddesses, Jain idols and their ancestors. Read more about step-wells and what makes Rani Ki Vav stand out, here- https://whc.unesco.org/en/list/922/
We also stopped by the Patan Mueseum across the road from Rani Ki Vav. There isn't that much really to look around, a few average looking installations about stories from Patan city's history and culture. Came across an interesting folk-lore about Tana and Riri, two sisters from Vadnagar in Gujarat who are said to have mastered the Megh Malhar raag.
We'd read about the Patan Patola Heritage Museum, located at a few minutes from Rani ki Vav, and decided to pay it a visit as well. Such an amazing tour it turned out to be! Since the 11th century Patan is home to the Patola ancient art of Double Ikat fabric. The key feature is that the complicated entirely hand-weaving process has remained the same over centuries and the fabric is exactly the same on both sides due to the double weaving process. Typically made using silk yarn, it takes 4-5 weavers around 6 months to create a Patola saree! It is accordingly priced starting at INR 1.5 lakhs and is claimed to last for almost 100 years- the fabric eventually might tear but the colour and design remain as fresh as new. Generations of the Salvi family who run this museum have mastered, nurtured and continue to keep the art alive. An absolute must- visit for those of you interested in art, history and culture. Curious? Read more at https://www.vervemagazine.in/fashion-and-beauty/heritage-survival-of-patan-patola-weave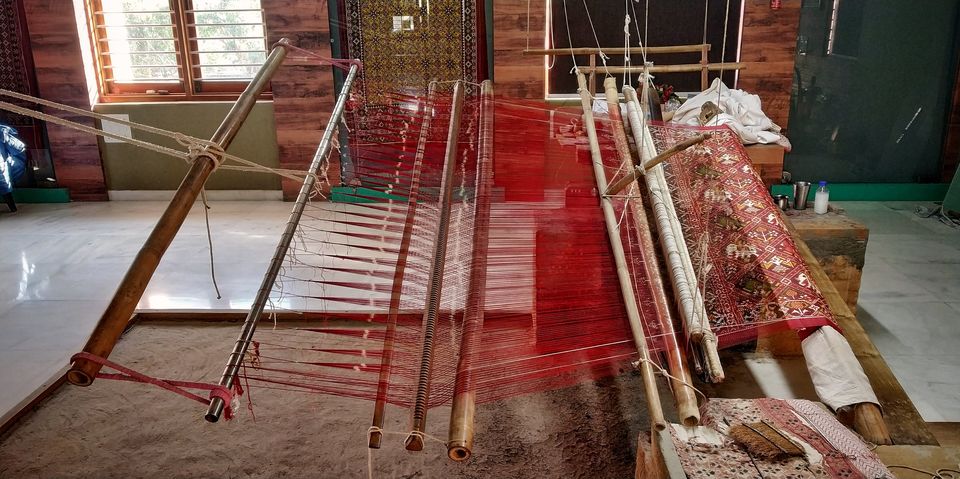 Day 3: Drive to Rajashthan through Vadnagar and Siddhpur
This day was just meant to be a 6-8 hour drive from Mehsana to Chittorgarh- with these two towns mostly being a quick glance through. First stop was at Vadnagar (47 kms from Mehsana and 111 kms from Ahmedabad)- a town which seems to have been mentioned in various ancient Puranas and the travelogue of the great Chinese traveler, Hieu-en-Tsang back in the 7th century! While there are a couple of places your could drop by including the Sharmishta Lake and a muesuem. The most interesting feature is the pair of 'Kirti toran'- 12th century columns supporting an arch, about 40 feet tall built in red and yellow sandstone. Being right in the middle of the village settlement, the contrast offers this monument a stark sense of throw-back to the bygone era. These entrance gates were a regular feature of the architecture of Gujarat in Solanki period.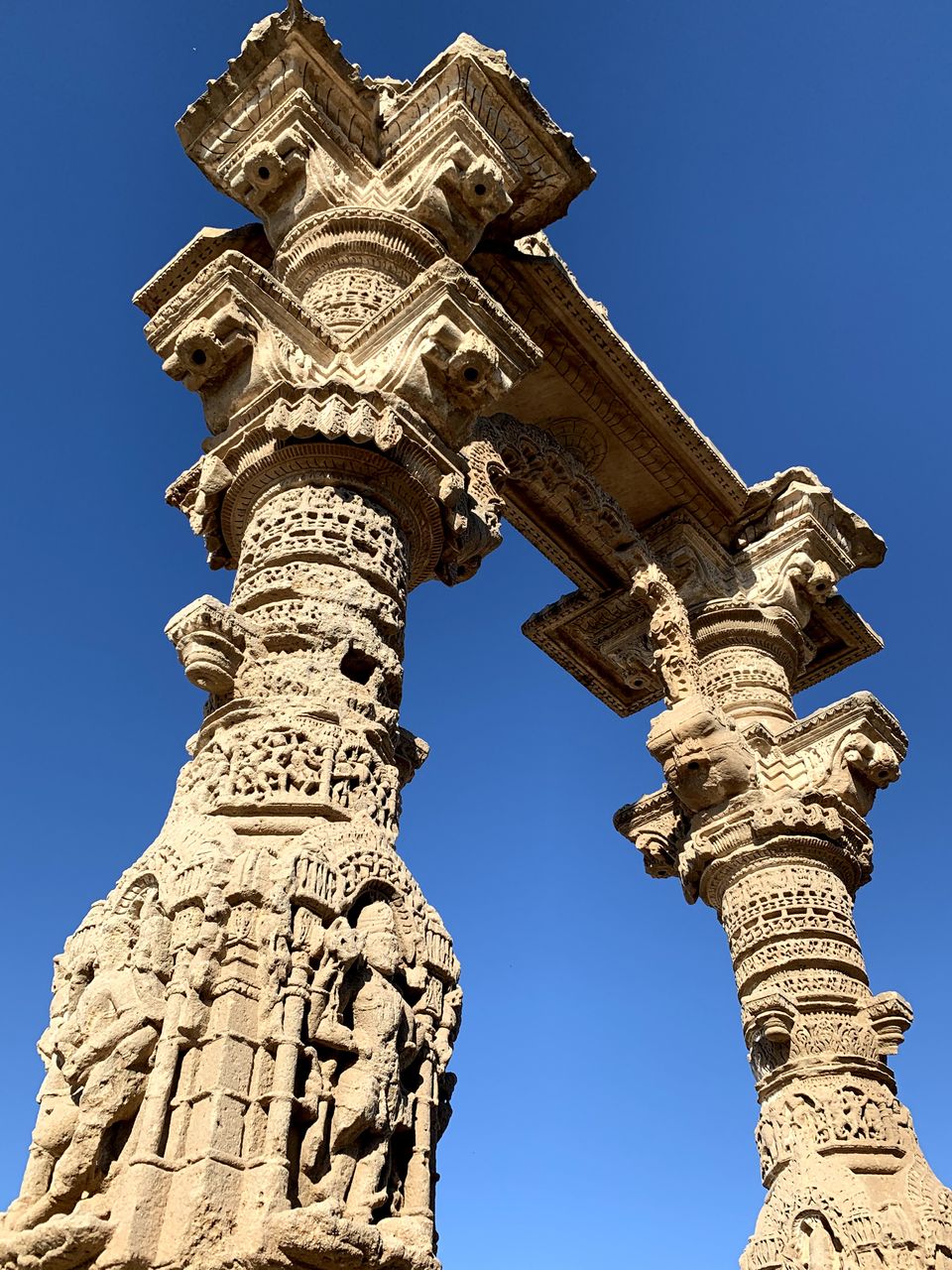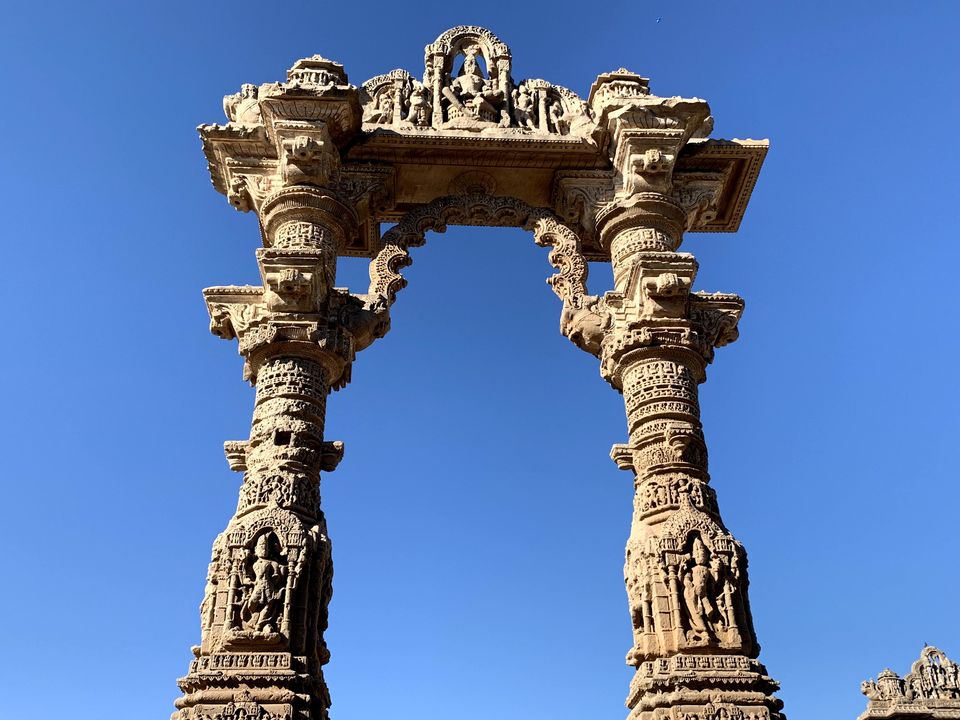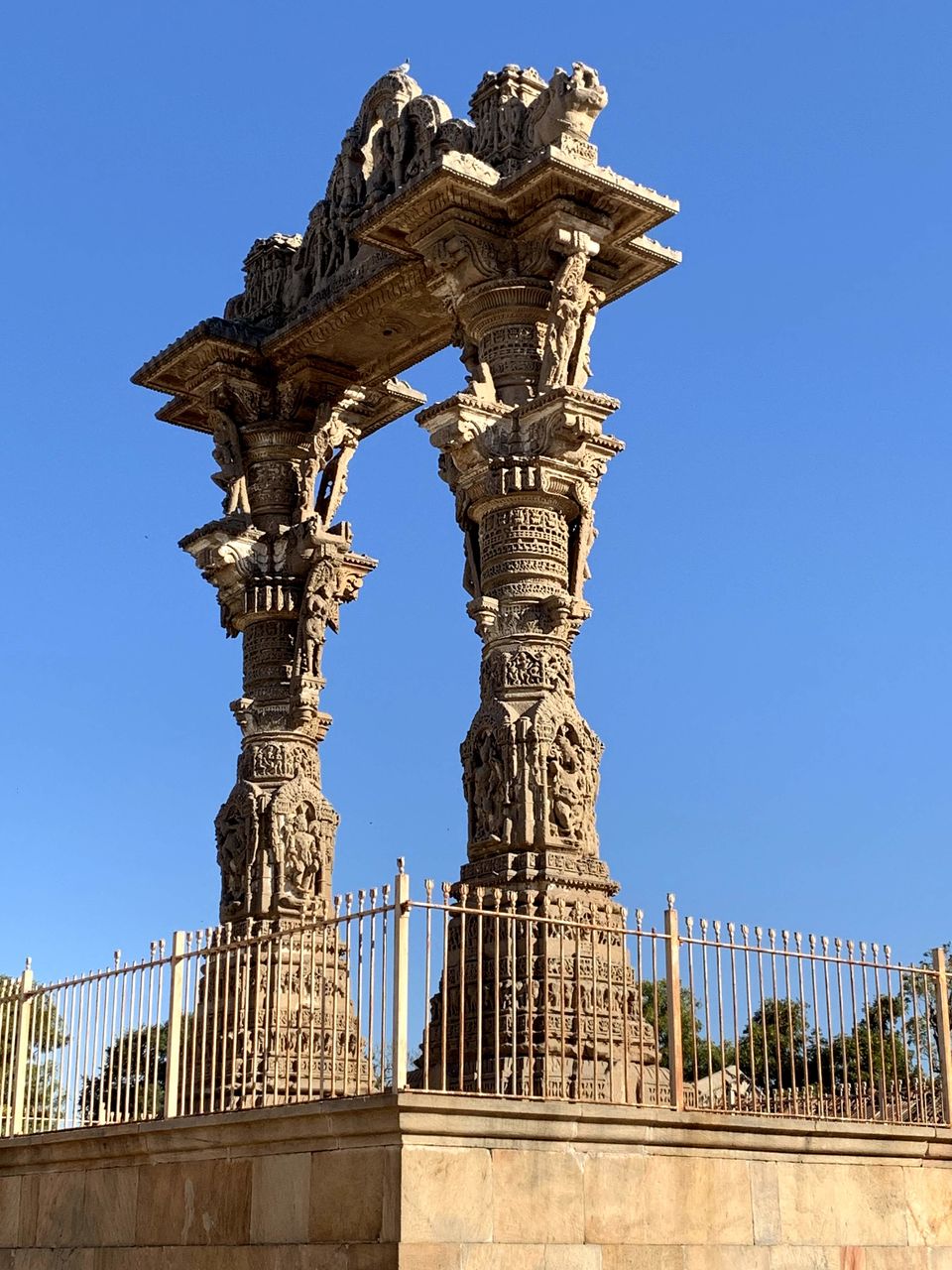 Next, was a little known but quite a surprising location in the otherwise usual Indian town of Siddhpur. Called Vohrawadas, these European style mansions were built the Bohra Muslim community during the colonial rule in India. The sights of lanes upon lanes of these beautiful houses in pastel shades and distinct elements of Victorian architecture, needs to be experienced more than seen. One needs to ask around a bit for the '360 Bari ka Ghar' ( the house with 360 windows) which everyone seems to know. Take time to walk through the lanes, observe the intricate details and soak in the culture of this amazing place. Needless to say, while most of these mansions are locked do check with the residents of the houses that are still occupied before clicking pictures.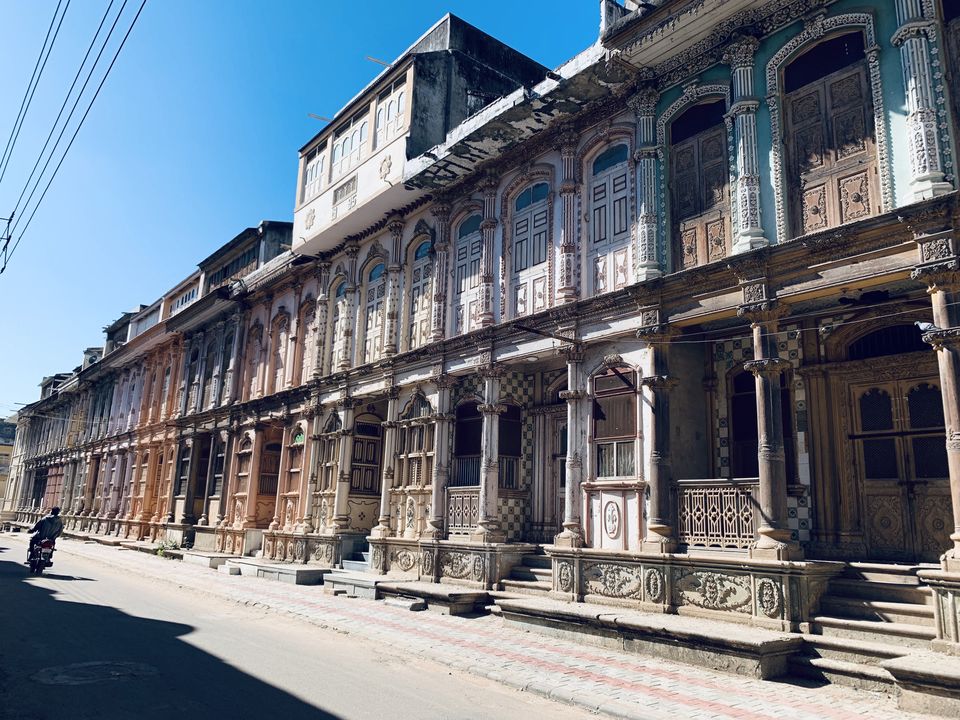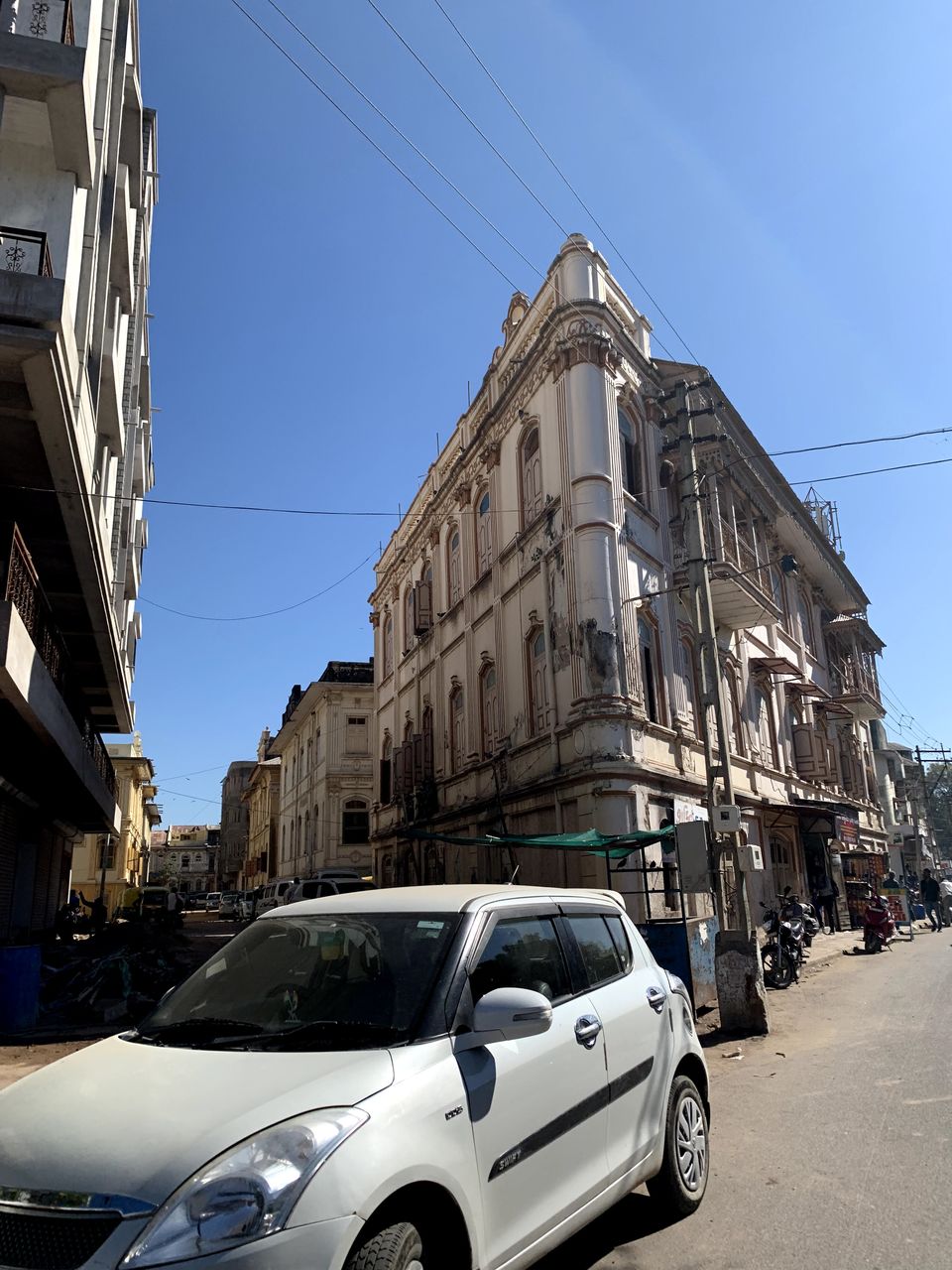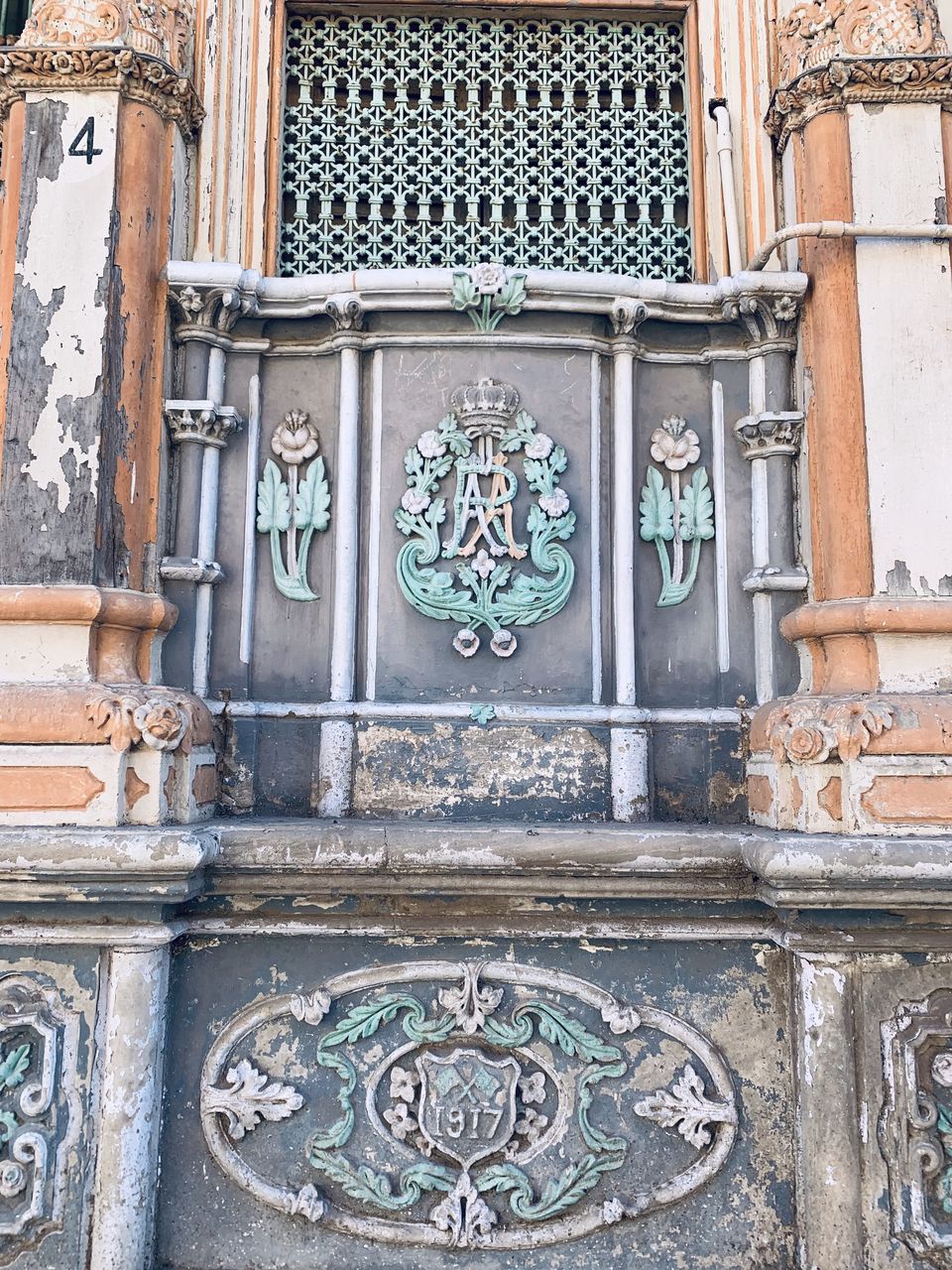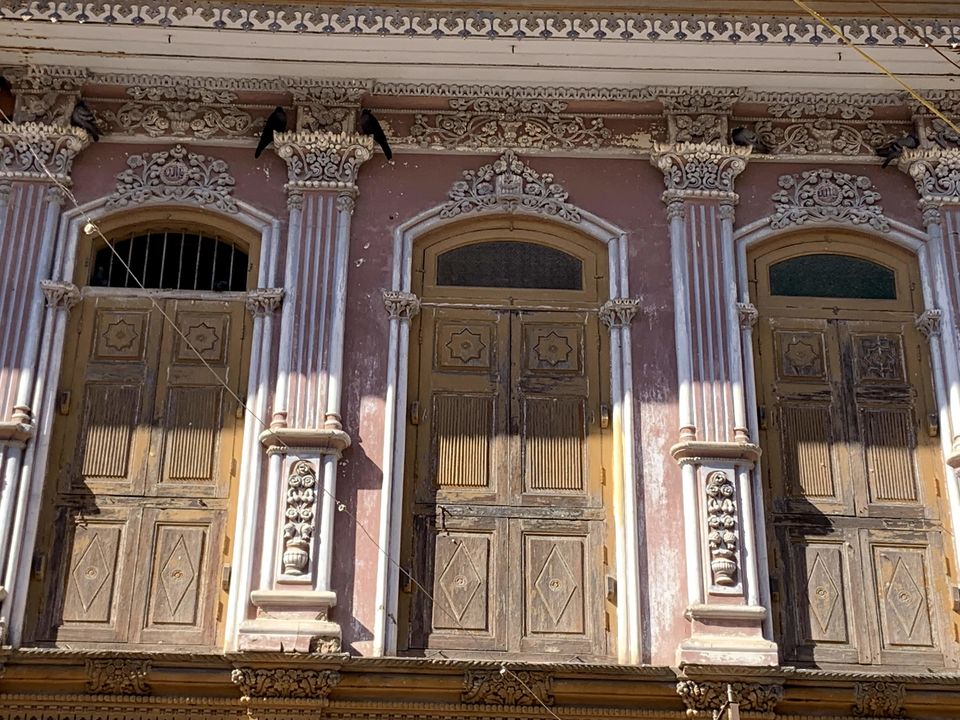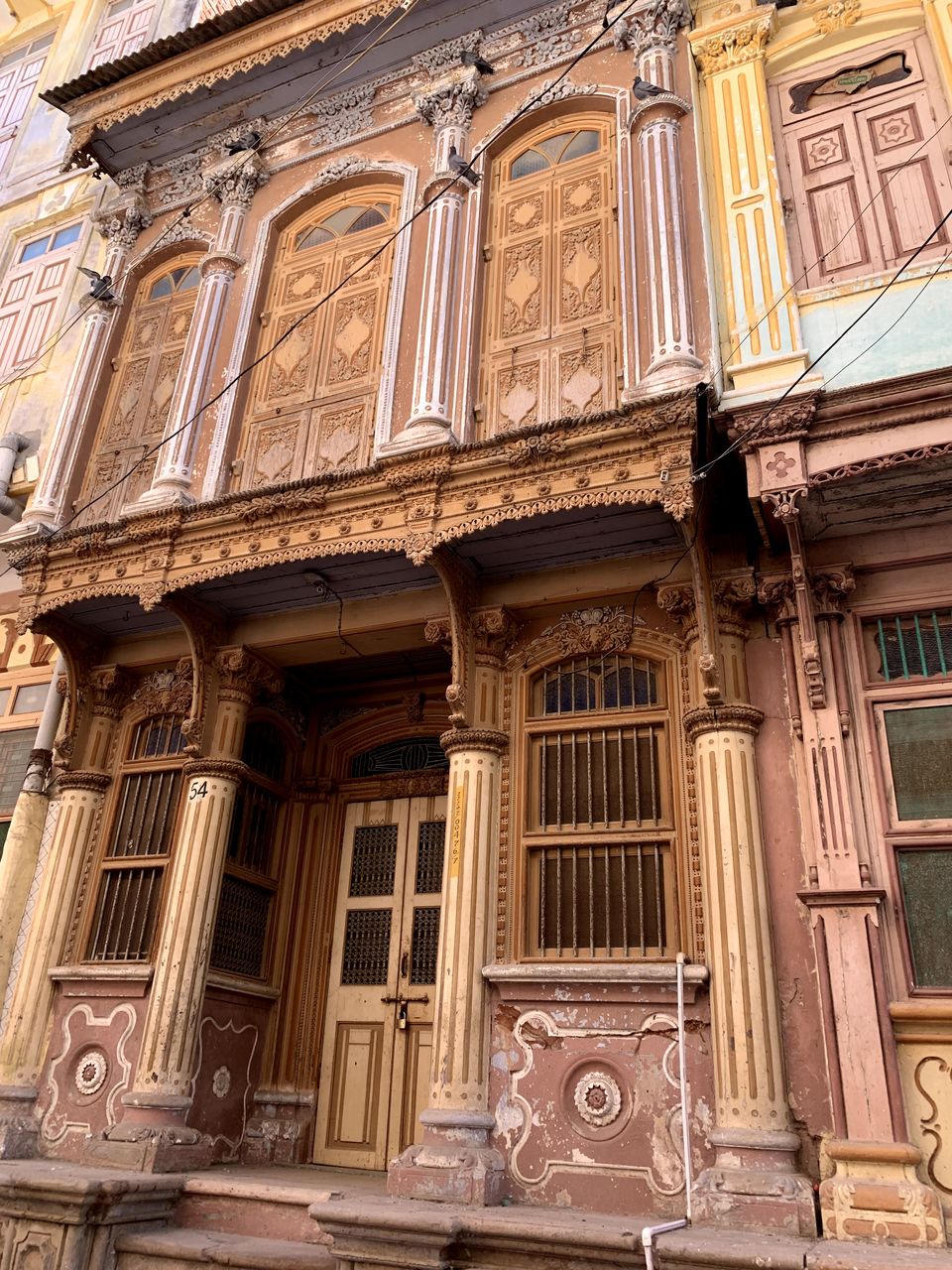 The onward drive to Chittorgarh is amazingly scenic with mustard fields, hills, greenery and great roads! You could opt to add a day or two and stop by Mount Abu as well, which is a short detour off the Mehsana- Chittorgarh highway.
If you are still reading thus far, thanks a tonne! Adding the experiences in Chittorgarh and Bundi as separate blogs and will add links here. There's so much to share, each will probably run into pages :-)