I am going to share another super super exciting trip, which very well qualifies as once-a-lifetime-experience. Surprisingly, we discovered this #offbeatdestination during our pilgrimage to Dwarka and Somnath in Saurashtra (Gujarat).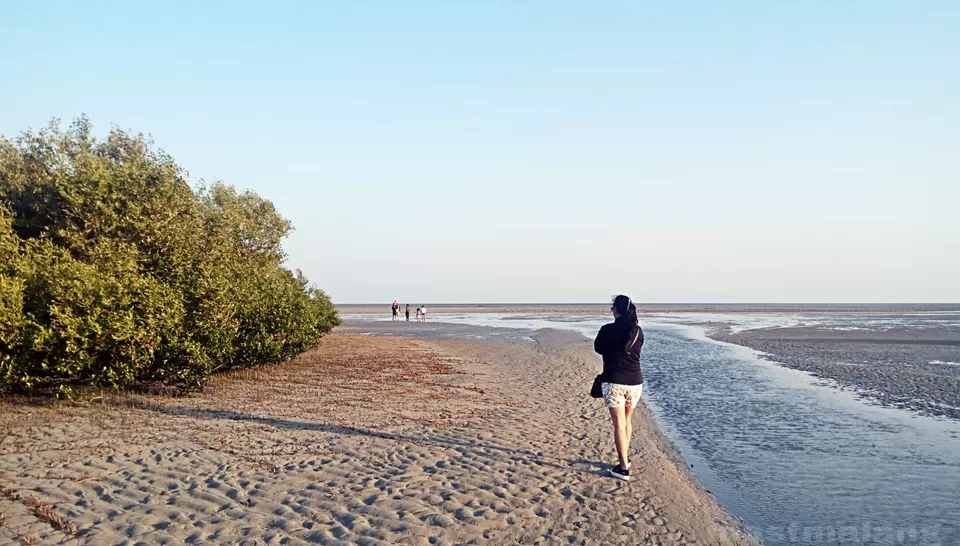 On the road trip from Bhuj to Dwarka, we decided to halt in Jamnagar when someone gave us this golden tip of India's first-ever Marine National Park about 1.5 hours drive from the city. Excitement further pepped up when we were told that the place is accessible only during low tide.
The marine National Park lies in the Gulf of Kutch and covers a vast area. Most of the travelers identify Andamans and Lakshdweep as the destinations to explore coral reef and marine ecosystem, but the coral islands in Gulf of Kutch have so much to offer for the people who are more of wanderers.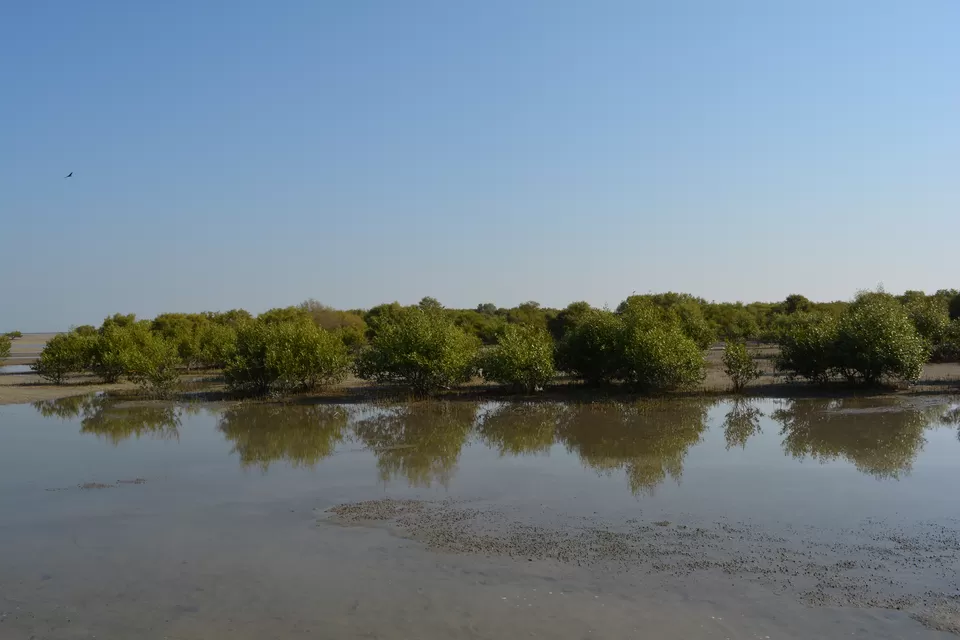 We got in touch with a local guide who gave us the right time to visit as per the low tide timing.
I would recommend hiring a guide if you truly want to enjoy the park as they have good knowledge of the marine life and will help you identify them. Some of the creatures are poisonous too, so don't try any amateur tricks. I have shared more tips at the end of the post.
After an hour and half drive we reached the Narara Reef of the Marine Park. There is an entry fee and guide fee of about 300 INR each. Our guide, Praveen Bhai, directed us to carry a water bottle and some snacks to munch as there is no food and water facility available along the route. He must have sensed the temperament of our naughty kids.
'Fold those pants too and wear a light jacket if you have,' he said.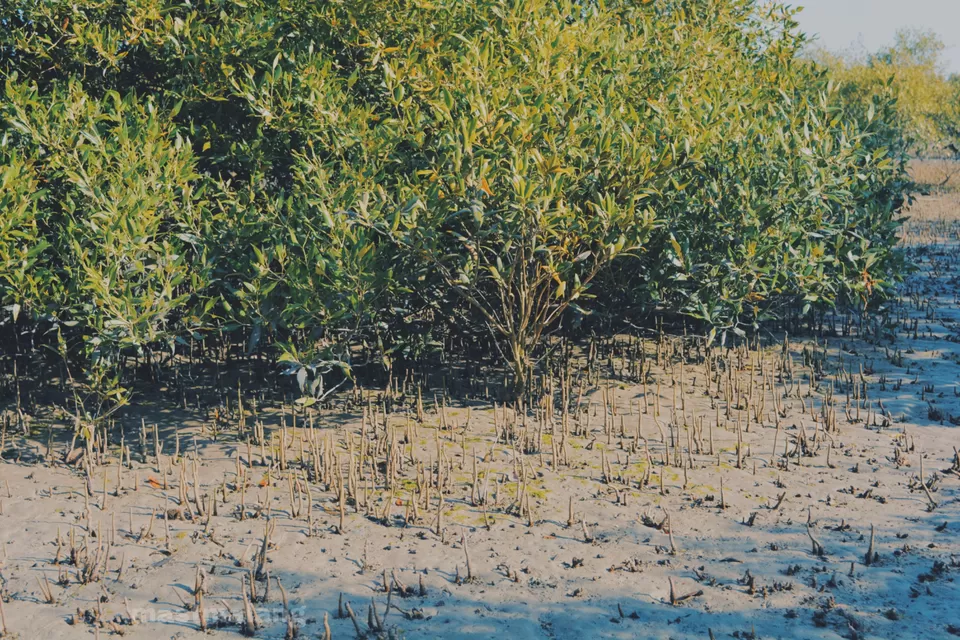 I wrapped around a scarf around my hair going wild in the strong sea breeze. I wish I had carried a jungle hat as tropic Sun was surely going to leave me with a bad sun-burn. About one kilometer of walk through the sandy bed takes you through the mangrove trees to the knee-deep marshes. For children, it was a live geography class as they excitedly pointed out the roots of the mangroves growing towards the sky, an adaptation which helps them survive in marshes.
The best part is that this gem is hidden by the foliage of mangroves, and only accessible during certain hours and through tricky trails. Thus, saving it from the menace of human exploitation. The sight itself is a different experience altogether, as if you have walked through a time tunnel into a different world.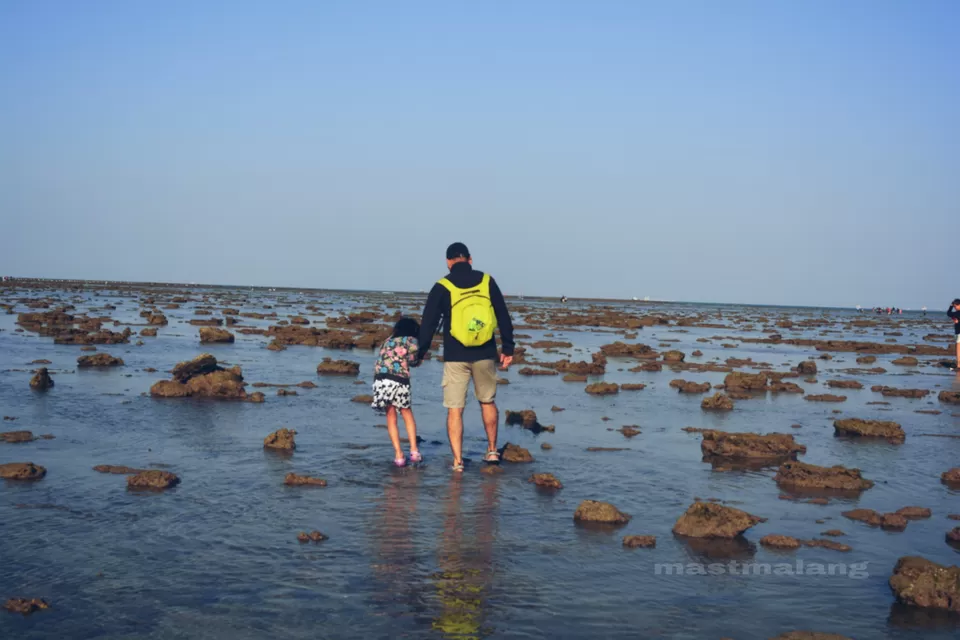 The actual fun began when we entered the reef part under water. For December month, water was cold but not chilly and after some time everyone got used to it, except our daughter who was not ready to walk in water after she learnt that it is full of marine life. Her Goa experience, when she got Jelly fish sting, had left her paranoid. After much cajoling finally she agreed to walk, time to time shrieking and jumping onto the nearest stone, whenever some see weed or fish happen to brush her legs.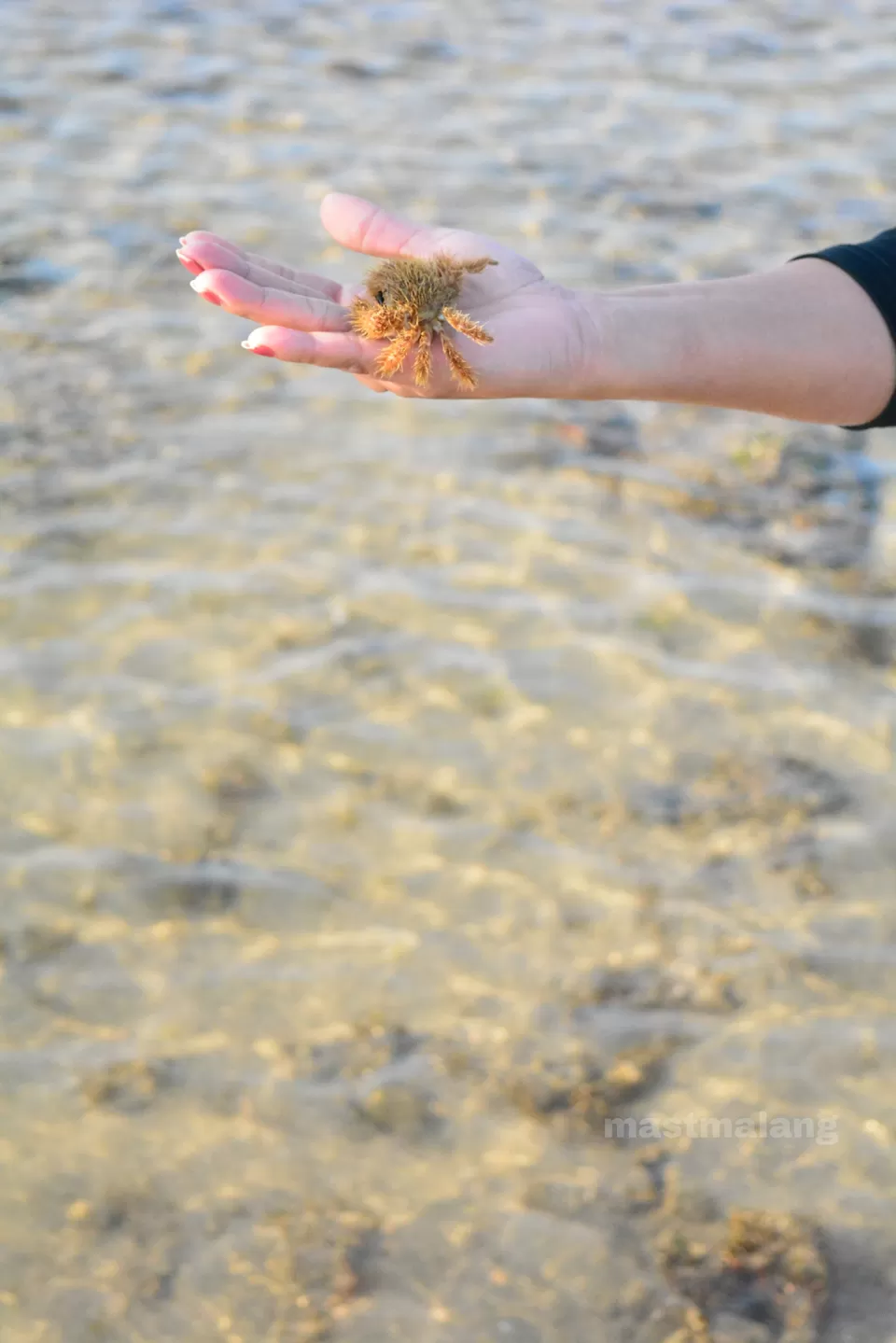 It is advisable to wear thick soled floaters or quick dry shoes as you need to walk on reef and slippery stones for another three kilometers . Don't attempt walking barefoot, as I saw some people doing, as there are sharp stones and even litter of shards of glasses. Slippers are also a bad idea because they will break and may twist your ankle. My tried and tested favourite are Quechua floaters, which are well-fitted, light and waterproof, making them ideal for any dry or wet trail.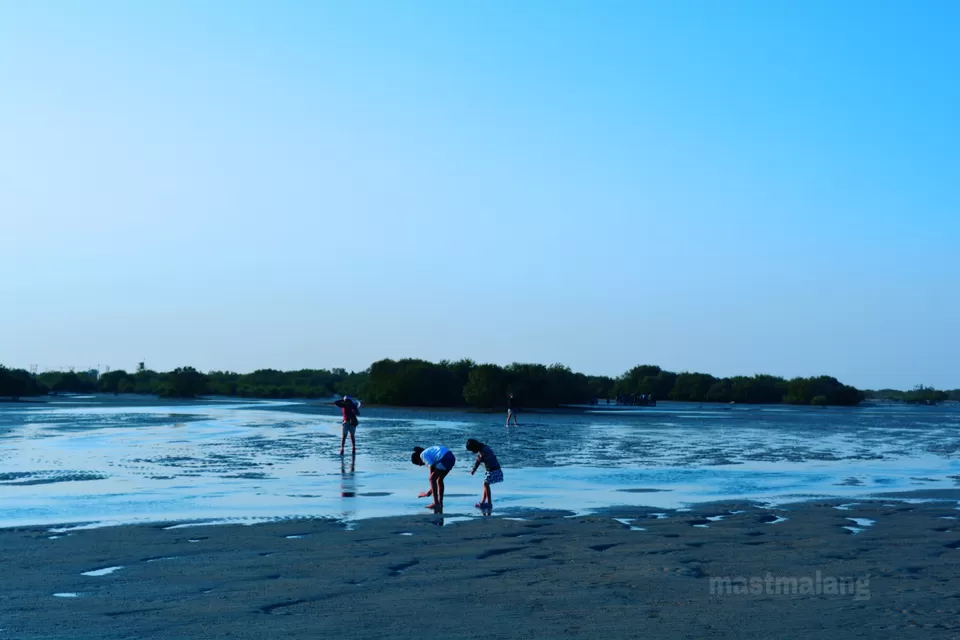 Praveen Bhai exactly knew when and where to look for the marine creatures. Like a magician he would tap a coral or turnover a rock, declaring with confidence, 'There is a boxer crab hiding under it.'
To the delight of children, he pulled out sea cucumber. No, it's not a vegetable. Next was a variety of corals -- moon shaped, sponge coral, pineapple, star and so on. But the star of the show was the OCTOPUS. A slimy, slippery and super shy octopus. At first, I was repelled by its greenish texture, and the spongy suckers on its tentacles. But Praveen Bhai convinced me to hold it. It felt like a big blob of snort.
Yuckkkkk!!!!!
'How can you touch it??' The kids shrieked in unison.
Like a slime, the octopus slipped down from the gaps in my fist. I tried my best to hold onto it, but it was very crafty and a master in its escape plan and took just a minute to slip out of my fingers and jump in the water.
We were glad that we hired him, especially when my daughter thought of tickling the head of puffer fish, he warned in time to keep away as the fish had sharp teeth.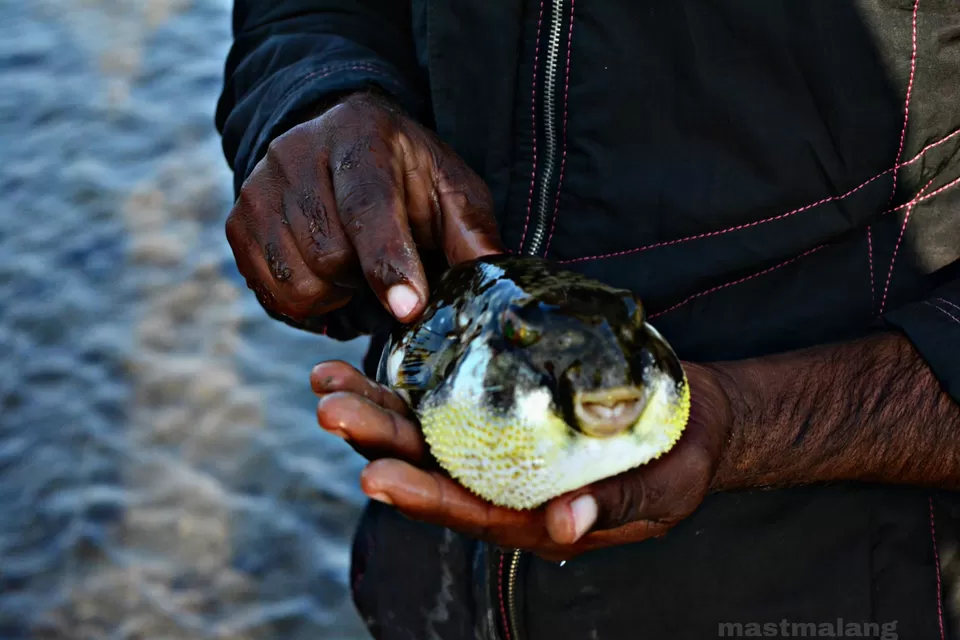 *
WE had a tight itinerary, otherwise you need at least two days to explore the different flavors of Jamnagar. Gulf of Kutch has 42 islands, out of which 33 have coral reefs. Entry of visitors is restricted in most of the islands. They are a treat for birdwatchers and those having a keen eye for marine life. Most popular island is Pirotan, which is accessible through a ferry during high tide. It is the resting place of Saint Khwaja Khijer.
Some tips:
1. Plan your trip keeping in mind timings of the tide. Information is available on the website of the Marine Park.
2. Hire a guide, they have good knowledge and will help you identify the creatures.
3. Don't touch any creature if you don't have good knowledge, some of them may be poisonous.
4. Knee length bottoms are preferable as one has to walk-through knee-deep water.
5. Carry a light jacket and hat since the breeze is strong and it is little chilly.
6. Wear thick soled floaters or quick dry shoes.No water and refreshments available during the walk, so carry your arrangement. But DON'T litter.
7. Most importantly, be a sensible tourist, don't harm the ecosystem, don't carry back the corals or play prank with the creatures.
*
You can check my other post in #offbeatdestinations in Gujarat series in my previous posts. Inbox me for any query, I will be happy to help.
Check my website for more travel posts in Gujarat: Offbeat destination in Kutch