Prologue
I was never fond of motorcycles until my early adult life, but one fine day changed everything. Next thing I know I spent my savings on a beautiful machine and promised myself I would visit every state in India riding it. Rajasthan is the largest one amongst all and was in the top 3 in my bucket list. However, I had also wanted to visit Rann of Kutch for a couple of years now. Although I am from Mumbai, I do share a relationship with Gujarat as it's my mother's native. Having spent a couple of summers there while growing up, Kutch was always on my wishlist. So I decided to combine both into a single long trip and the beginning of a new year was the best time to make it happen.
Considering just how expansive both Rajasthan and Kutch are, there are a couple of posts dedicated to the different aspects of the trip. This primarily revolves around my general experience, aka the 'travel diaries'.
Ahmedabad, here I come or so I thought…
I absolutely hate riding on highways on my long trips. Even when I had been to Ladakh, I had transported my motorcycle to Delhi via train rather than starting from Bangalore and I did the same again. The difference being this time, I used the parcel service rather loading the motorcycle as luggage.

My motorcycle was already in Ahmedabad two days in advance and I was supposed to fly from Bangalore later. But SpiceJet had other plans. En-route to the airport, I received a call informing me the flight was cancelled and I would need to book an alternative or cancel the booking altogether. I chose the latter as the alternative was sooner than I could reach the airport. However, I would have had to sell my kidney to book a direct flight to Ahmedabad at the last moment, so I decided to fly to Mumbai instead and take a bus from there at midnight. Absolutely perfect, what could go wrong? This time, Vistara decided to play spoilsport as they missed to load one of my bags. I was carrying my motorcycle saddle bag and top-box but I only received the former at Mumbai. This meant I would have to stay in Mumbai until I received the latter, effectively ruining my start to the trip and cut shorting one of the days from the Itinerary. All's well when it ends well and I managed to reach Ahmedabad, even if behind schedule.
Kutch nahi dekha, toh kuch nahi dekha
Documents. Check
Luggage. Check
Fuel. Check
Geared up. Check
After receiving my motorcycle from the Ahmedabad railways parcel office, I finally set my sights on the first destination, Bhuj. With a whooping 340km to cover, I expected to only arrive by dusk. But thanks to the silky smooth highways and the 43 horses underneath, I arrived with a couple of hours until sunset. Instead of heading straight for the guest house, I first paid a visit to the 'Royal Cenotaphs' or 'Royal Chhatris' as they are locally known.
The place is almost hidden from the main road and you need to know where to find them. These umbrella shaped dome structures are built in the memory of the royals. The structures although elaborately carved seemed to have seen better days pre 2001 Earthquake. With the sun slowly nearing the horizon, the structures started glittering which only further enhanced their beauty. Post sunset, I finally checked into my guest house and retired for the day.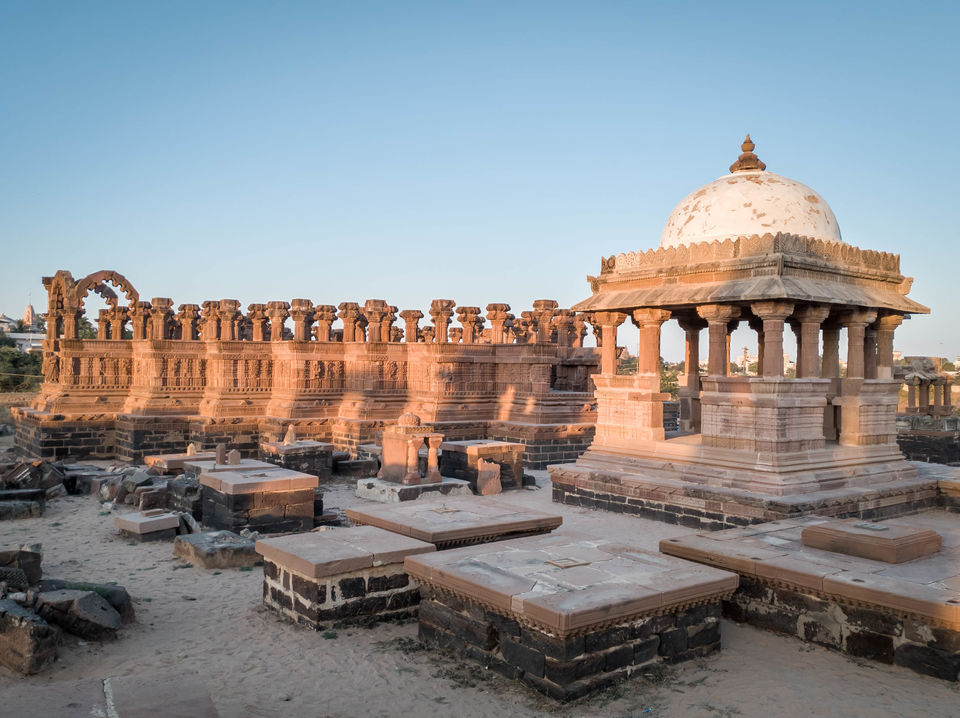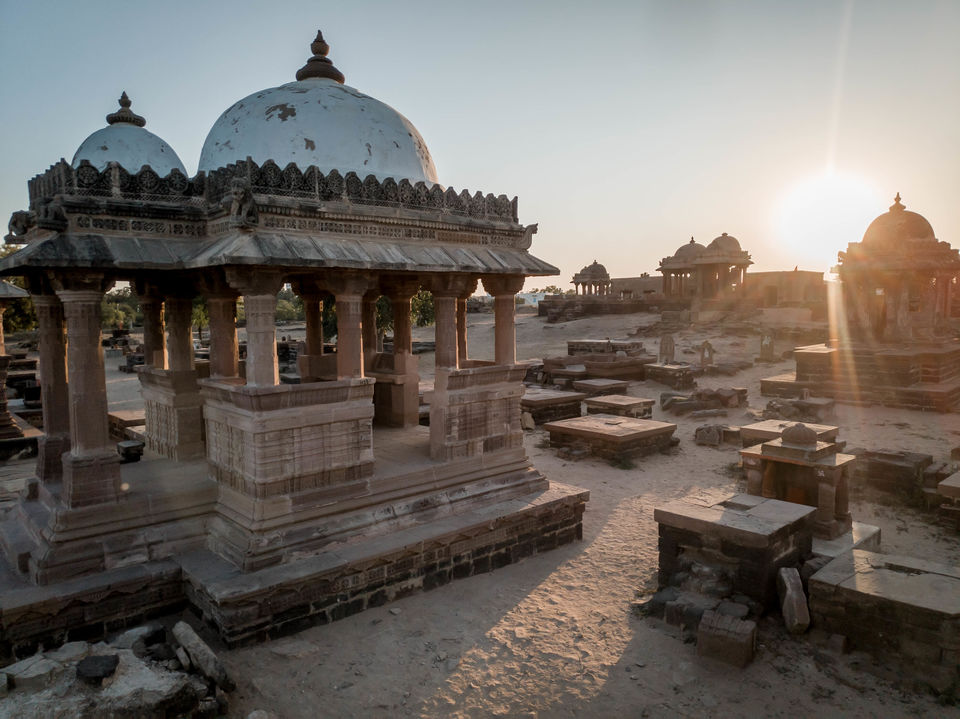 Next morning, I woke up at dawn with an intention to reach the top of Bhujia Hill for sunrise. The city itself is named after the hill. There is a 10min climb involved which although otherwise straightforward is made tricky by how steep the steps are. I will let the photographs do the talking.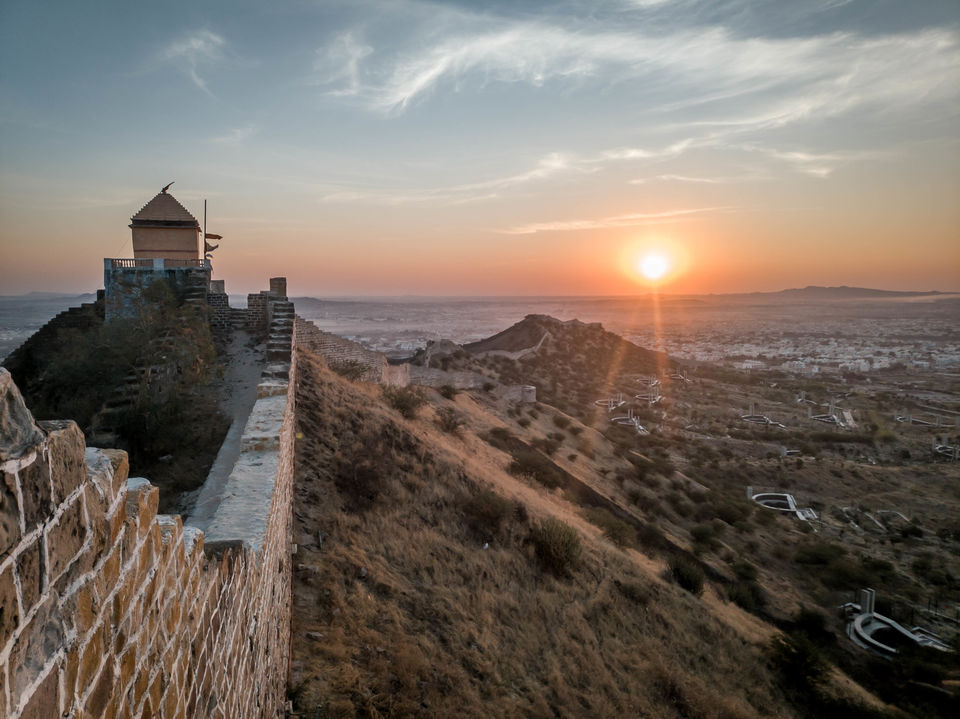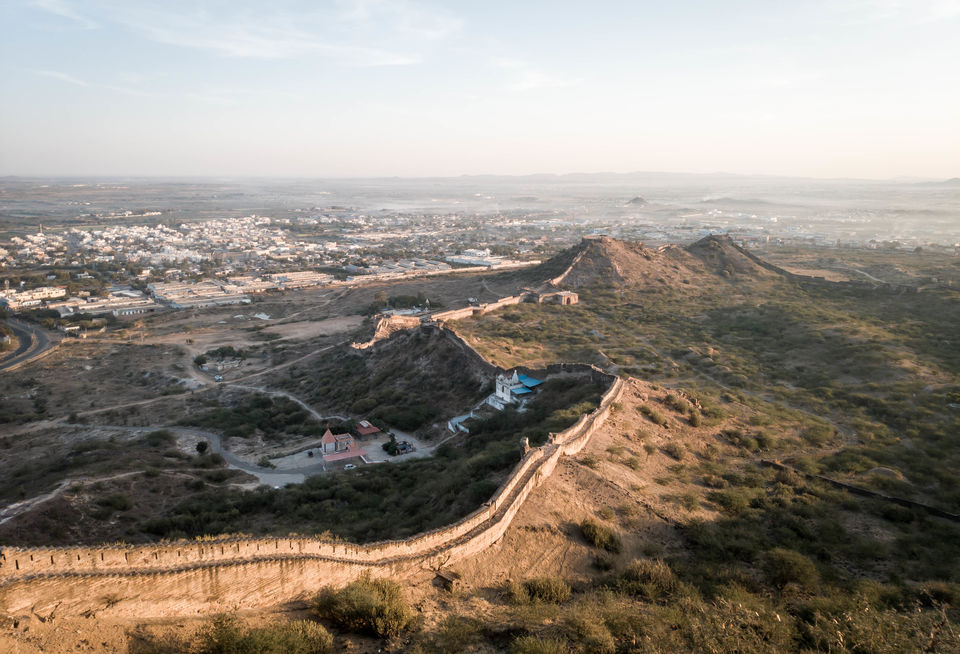 Later in the morning, I headed towards the 250 year old Palace of Mirrors or Aaina Mahal located in one corner of Hamirsar Lake. It is nearly in shambles after the devastating earthquake of 2001. A small part of it has been restored and opened to public but most of it looked like a Bhoot Bangla (Ghost Bungalow). The palace built in 18th century by chief architect and craftsman Ramsinh under the patronage of Jadeja ruler Lakhpatji is an amalgamation of Indo-European styles and is definitely worth a visit, even in its current condition.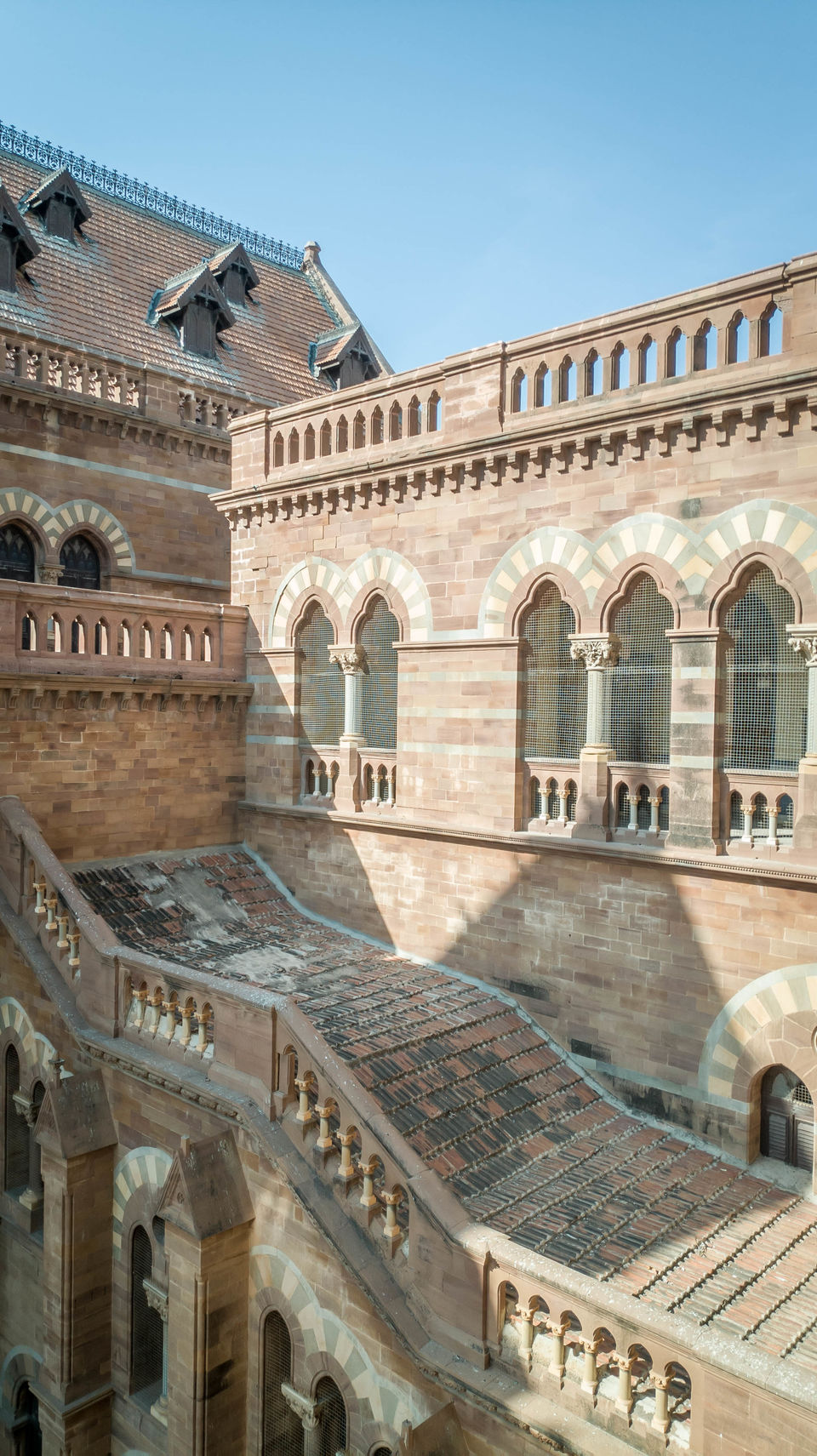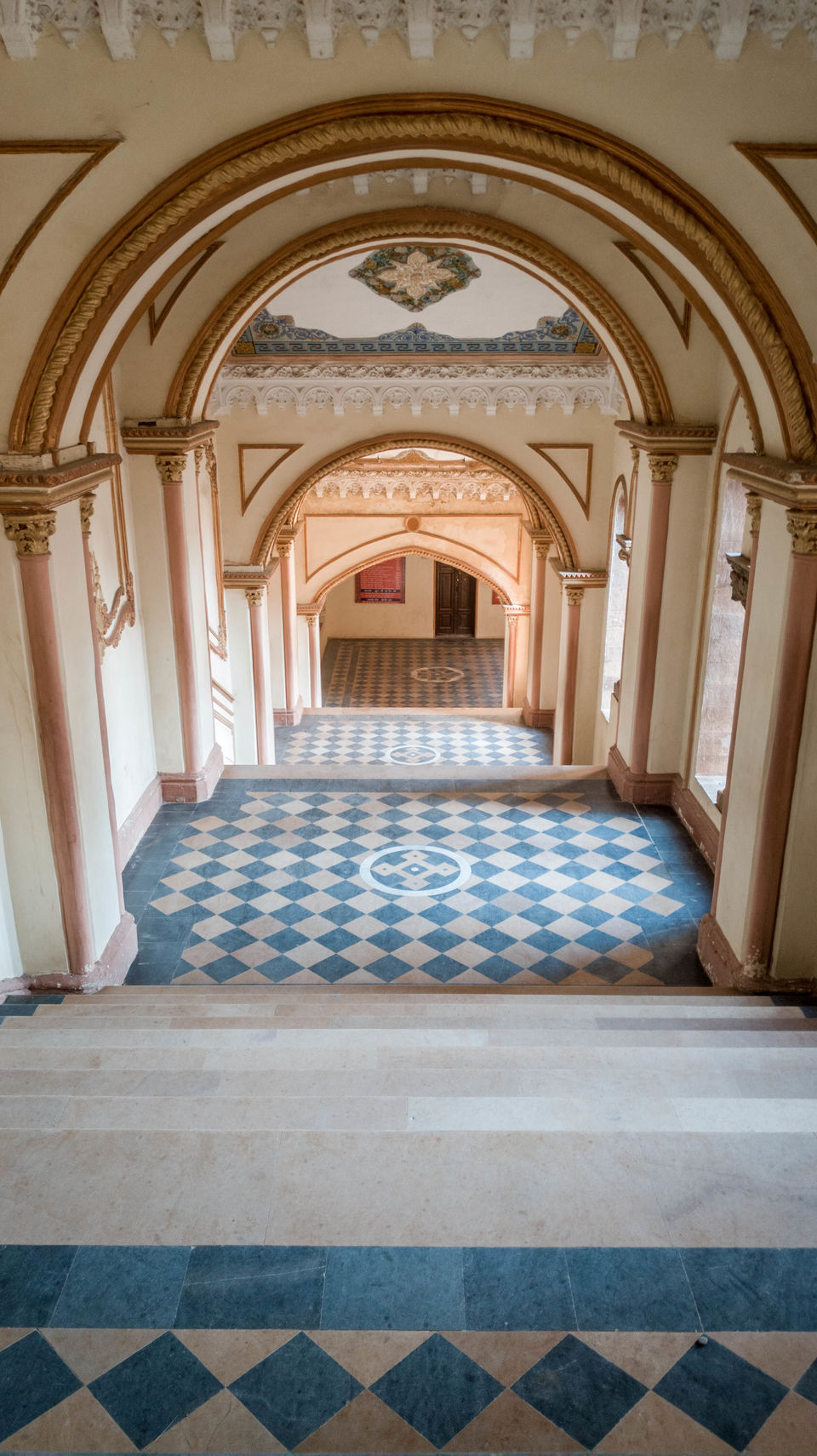 With Rann of Kutch awaiting and time running out, I decided to leave Bhuj only half explored. I had a plan to explore the hamlet of Nirona which is known for its 'Rogan painting' and is exclusive only to this place in the entire world. Even more amazing is that this rare craft is practised by a lone Muslim family in India, the Khatris. This family of traditional artists has steadfastly kept this intriguing craft alive for over three centuries, protecting it from vanishing into history. Modiji even gifted a couple of handcrafted paintings to the then President of USA, Barack Obama in 2014. I guess I have sold you enough on the idea of visiting this village and satisfy my guilt on missing out on it myself!
Accommodation: Royal Guest House (INR 1000)
Rann Utsav: Is it really worth it?
If there is one thing that impressed me about Kutch is its roads. Be it the highways or some unnamed streets carrying you to deepest parts of the region, all were in a great condition. The road from Bhuj to Dhordo was one of the best I have ever ridden on as I effortlessly cruised at 120kmph even on a two lane highway...
Watching the sun set over the vast bed of white salt is a magical experience and on everyone's travel list. And as much the White desert is accessible from many places in Kutch, I wanted to experience the Rann Utsav once which is held between November and February every year in Dhordo.
But before reaching Dhordo, I ended up on an unplanned adventure. Everyone has heard of mirage and some might have even experienced it, but it was a first time for me. As I was heading towards Dhordo minding my own business, nature decided to play a game. My eyes saw a water body, like a lake, visible distance off the highway and my mind believed it. Google maps provided further evidence by actually showing that a lake did exist and off I went. Half an hour and 10km into it, I was riding in the middle of the lake as per Google and no signs of water did exist. Nature had pranked me and I fell for it, with a long way back.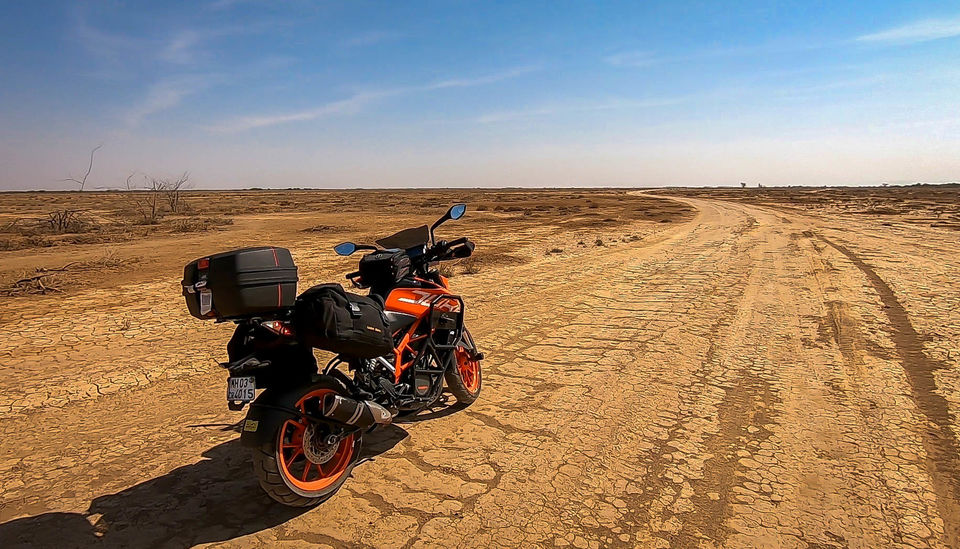 En-route Dhordo is the village of Bhirandiara, about 50km from Bhuj. Before heading forward, you need to obtain a permit to visit the Great Rann of Kutch. It's pretty much a 5min formality and the permit can be obtained online as well.
Accommodation in and around Dhordo is extremely expensive, especially for a solo traveller during the Rann Utsav. A tent could easily cost more than INR 5000/night. However, there is a catch, something I wasn't aware of. In order to visit the Rann Utsav, you need to stay specifically inside the 'Tent city' where accommodation can go beyond INR 10000/night. I could afford neither and stayed in a dorm outside the tent city, for a measly INR 350. This however meant I wouldn't be able to experience the Rann Utsav, not legally/officially atleast but I did somehow sneak in. It truly was a mini town in itself and had a 'Mela' feel to it with all the chaos and couple of staged cultural experiences. There were bicycles available so that you could roam around within the 'city', in addition to the electric golf kart type vehicles. There's also a bus that takes you to the desert but you can choose to walk or take the camel ride, but note the bus ride is included in the 'package'.
In my honest opinion, it's nowhere near worth the money people pay for it. I felt that due to lack of information available online, about the entire Kutch region in general, the organizers of Rann Utsav see it as an opportunity to make money by ripping off tourists. Truth has been spoken!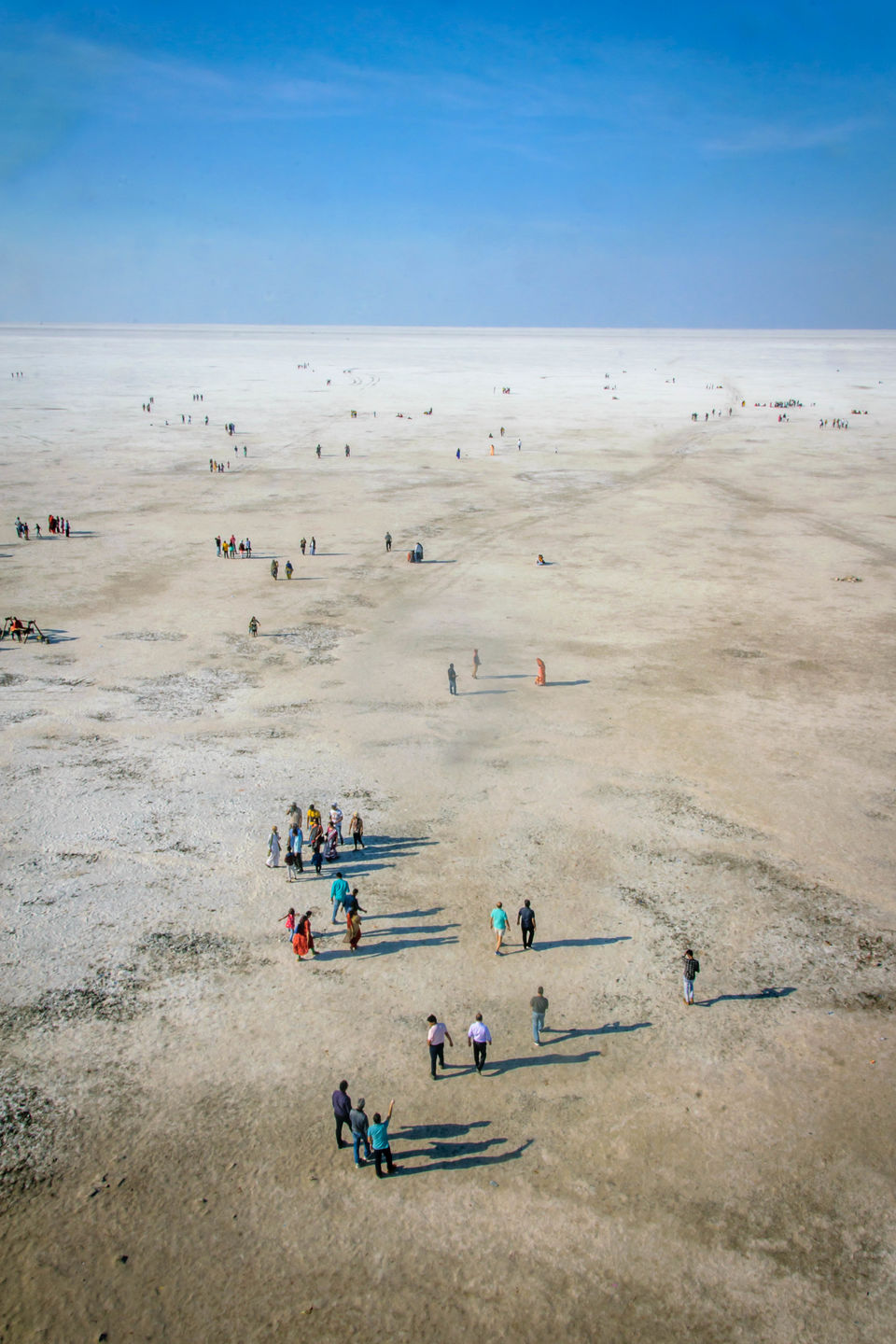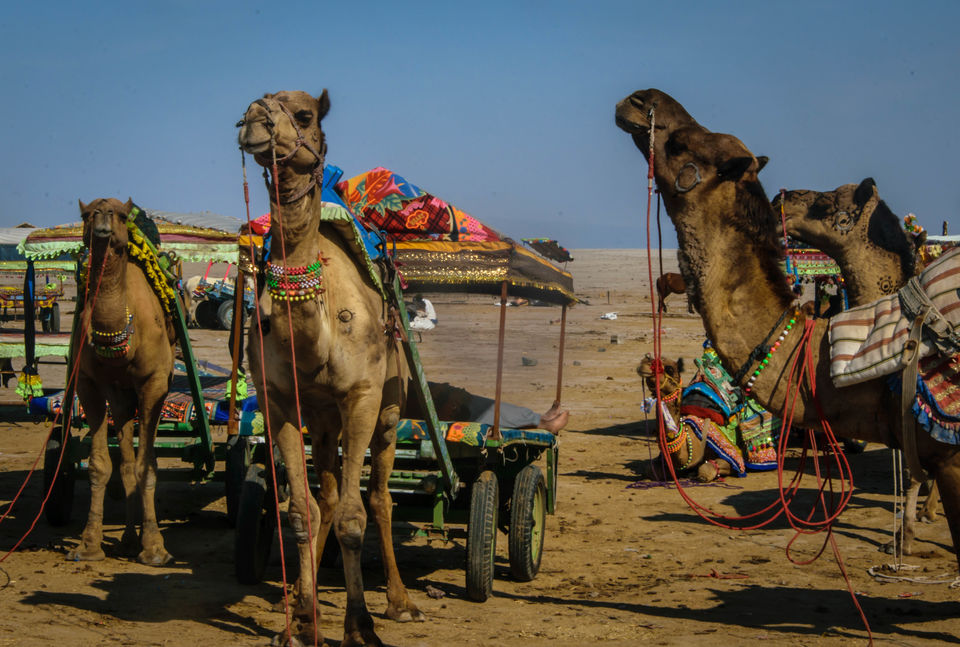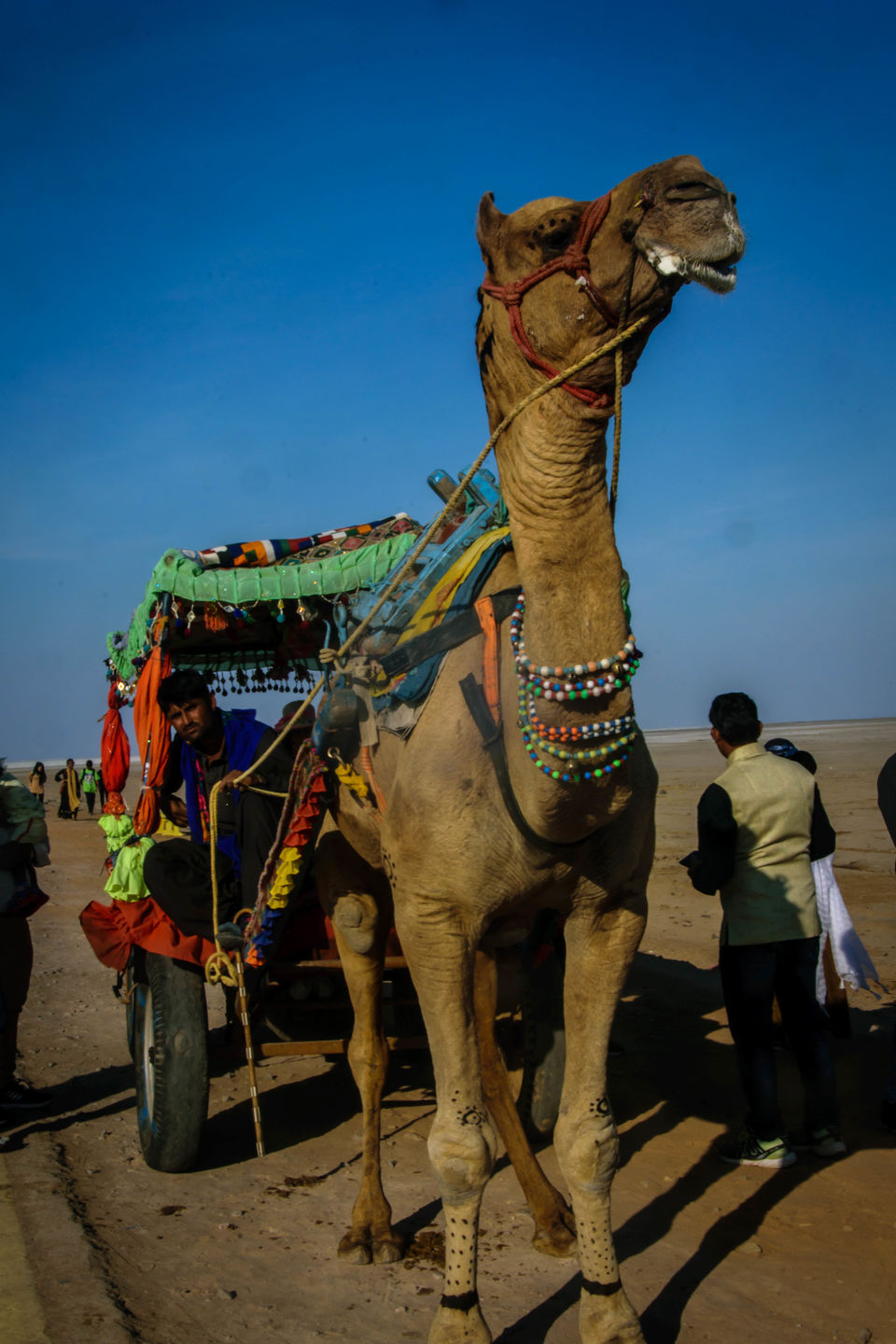 Accommodation: Oasis in Desert, Nova (INR 350)
Post lunch, I headed straight to the White desert and as expected, it was crowded courtesy the Rann Utsav. I started walking away from the crowd towards nothingness. After couple of steps that felt like a mile, I realized the blanket of white salt is just never-ending. There was nothing to see aside admiring the sheer beauty of infinity. The history and science behind the formation of this desert of salt is equally fascinating. Until two centuries ago, the Indus river had been flowing into Rann of Kutch area and the Rann used to be its catchment area forming part of its delta. However after an earthquake in 1819, Indus river shifted its course thus isolating Rann of Kutch from its delta, as we know it today. As monsoon arrives, the waters from the Gulf of Kutch flood into the desert, transforming it into an ocean. However post monsoon around October, the ocean recedes and the water starts evaporating leaving behind an infinite bed of salt…
It sometimes feels like I complain about the tourists crowd too much, but at times they are the reason a place comes to life. Without the tourists, the Rann of Kutch would appear as a vast lifeless land of salt, which it pretty much is. Hence, evening is the best time to visit when the desert is loaded with colours and not just of the sun. There's a watch tower at the far end of the path that leads to the Rann of Kutch. The top of this tower is from where you truly come to terms with the vastness of the White desert. Over a small radius, you see the people, the camels and the chaos. There's movement here. As you look further ahead, the groups of people start thinning out until finally there's nobody and nothing.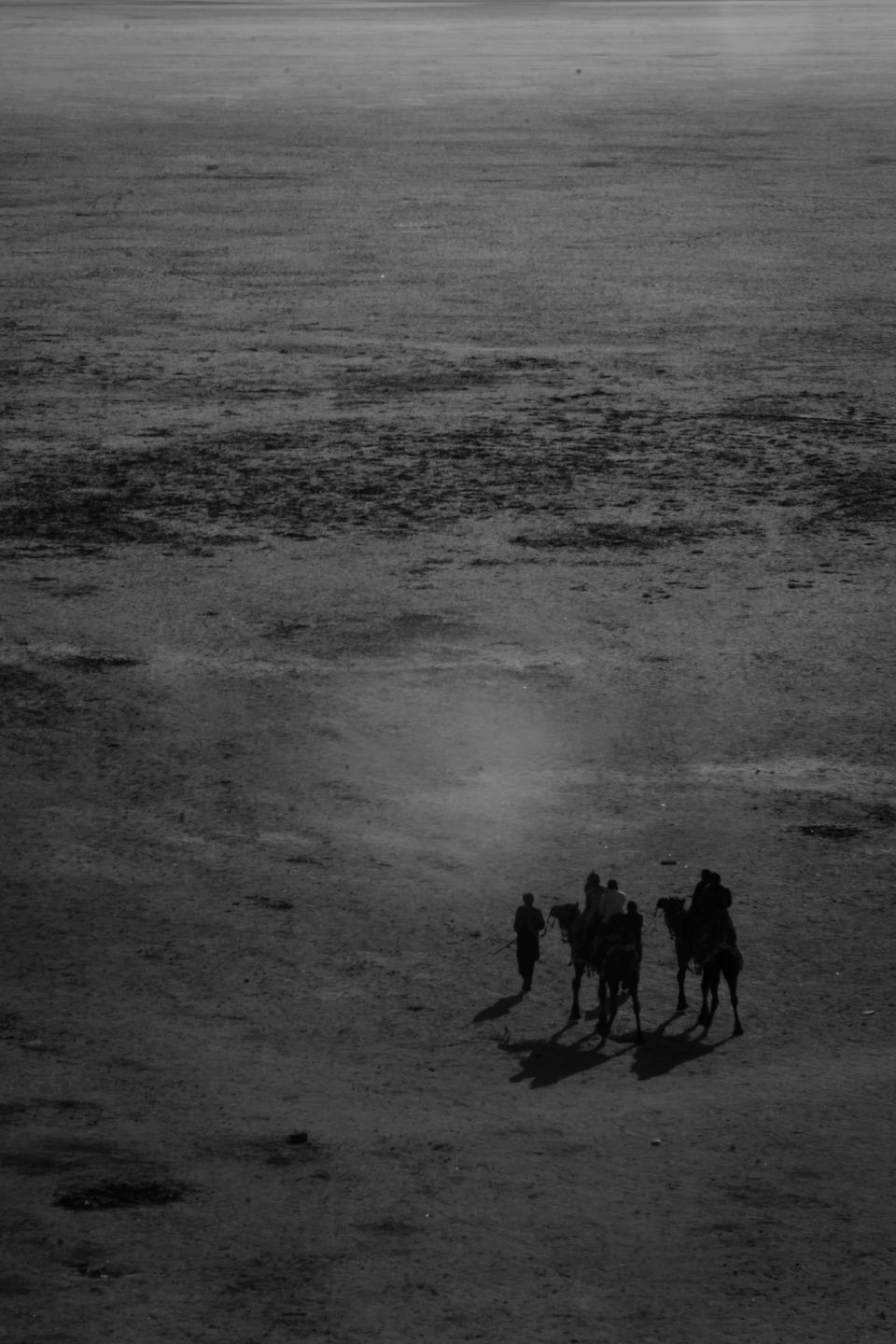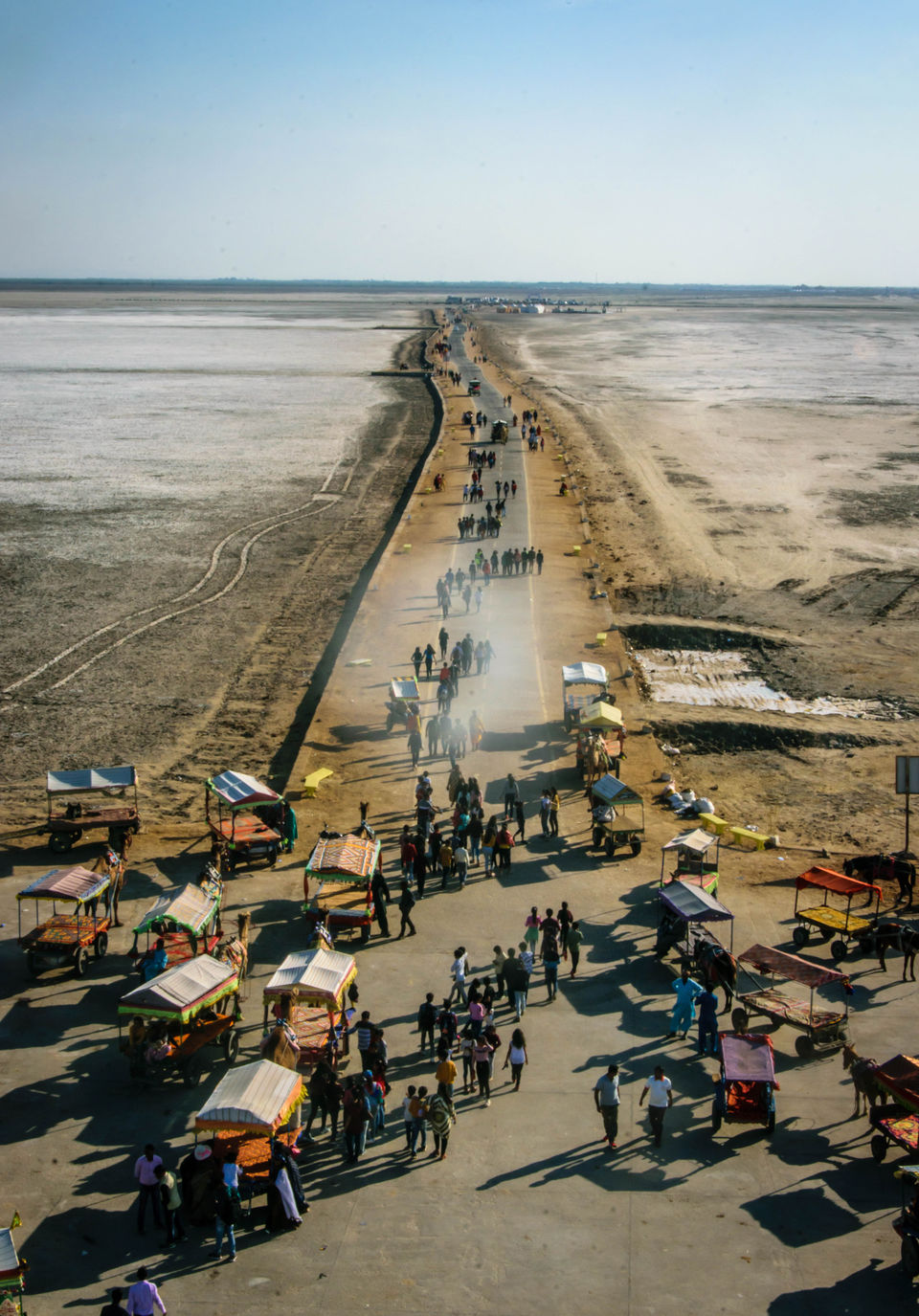 As the sun disappeared so did the only source of heat that kept the cold away. The temperature started dropping fast and the wind only added to the experience. I decided to call it a day after an early dinner as I dived onto my dorm bed, where I was completely alone.
My next day began at 5am. I had to head to Kalo Dungar for the sunrise, which was 60km away from Dhordo with the sunrise expected at 7am. The road between Dhordo and Kalo Dungar was smooth, like most others in Kutch with the only difference being it was surrounded by nothingness, as nature set its RGB to zero. It was only an hour later that dawn started to set in and I could actually see that nothingness.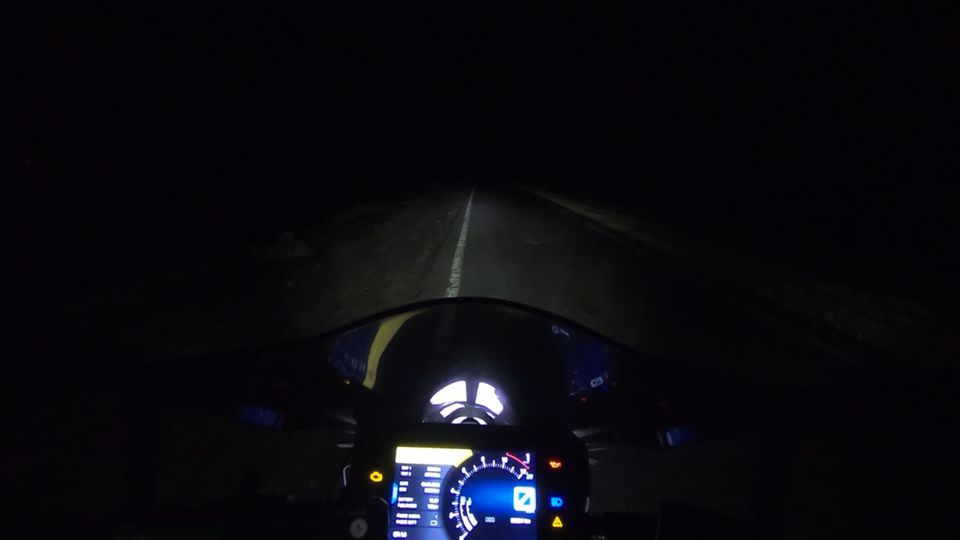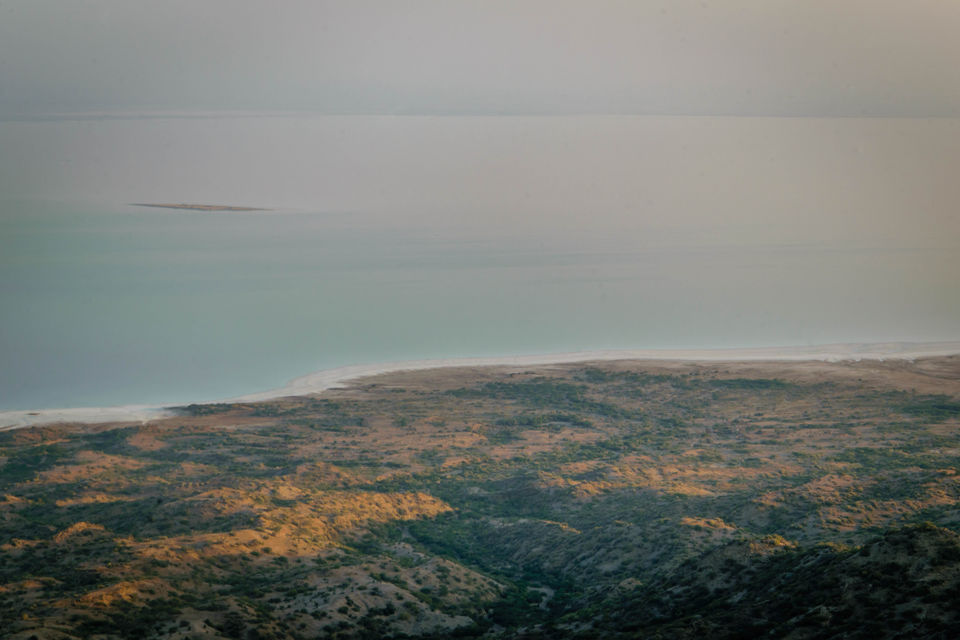 Kalo Dungar is the highest point in the region and is evident when you reach the top. It provides a beautiful panoramic view of the Rann of Kutch Lake. The horizon seems to completely vanish and merges with the water, making the sky indistinguishable on a clear day. Later, I headed towards the India bridge, which is the last point where civilians are allowed without a permit. Photography is prohibited here and I chose to respect it as well. There is a BSF checkpost at the end of the bridge and one of the soldiers informed me that permit can be applied at DSP – Bhuj office. However some mention is can be applied at the BSF headquarters in Bhuj. I can't comment on which of the two is accurate. The border is about 80km further at a village named Vighakot.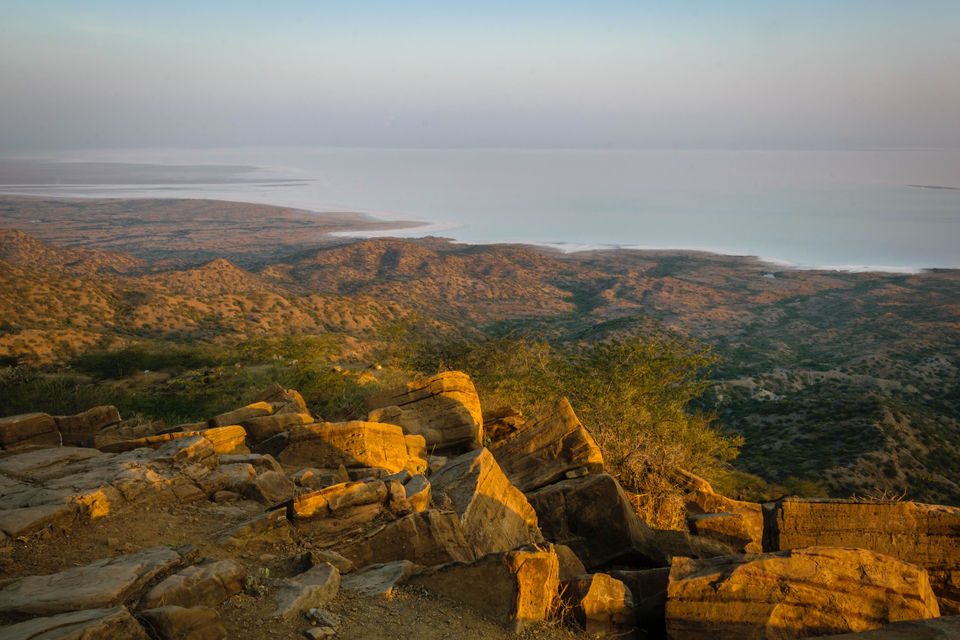 Stepping into the Indus Valley Civilization, Dholavira
Next on the list was Dholavira. I honestly didn't have any expectations before visiting this place and my primary motive was to observe the Rann of Kutch from another entry point, aside Dhordo. But boy oh boy, I was surprised.
On the way to Dholavira, there is a place called Ekal ka Rann, around 100km east of Bhuj which is another alternative to explore the desert. I wasn't able to locate it and it's not visible on Google maps either. The locals are the only support you have and I was misguided by one, as he accidently directed me towards the 'Ekal Mata ka Mandir'. One major landmark however is the village Chobari and as far as accommodation is concerned, there is a place Vibe Camps. If you are looking to witness to beauty of the White desert minus the crowd, this is the place to visit.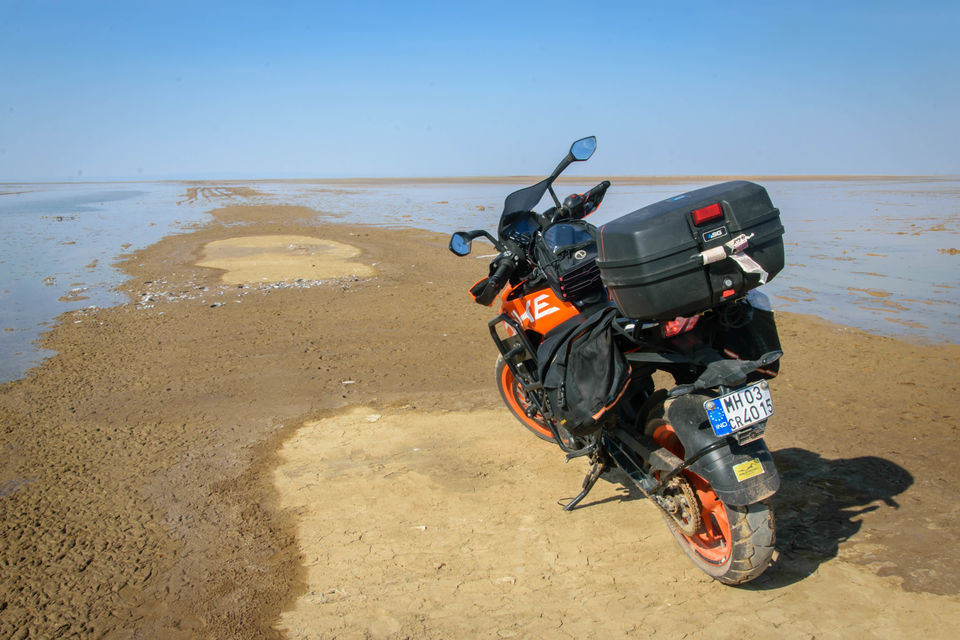 Upon reaching the mandir, I kept following a trail hoping to find the desert. However I soon realized I was in the wrong place, what looked like the Rann of Kutch Lake and not the actual desert. However, there was barely any water as most of it had dried out leaving vast stretches of mud behind. Being the idiot that I am under the pretext of an adventure junkie, I entered the 'lake' straightaway expecting to eventually reach the lake shore. However, the effort bore no fruit before I had to stop as the mud became impossible to ride in. Moreover, there was no human in sight to help me out in case any mishap happened. I clicked a couple of photos and returned to my actual journey.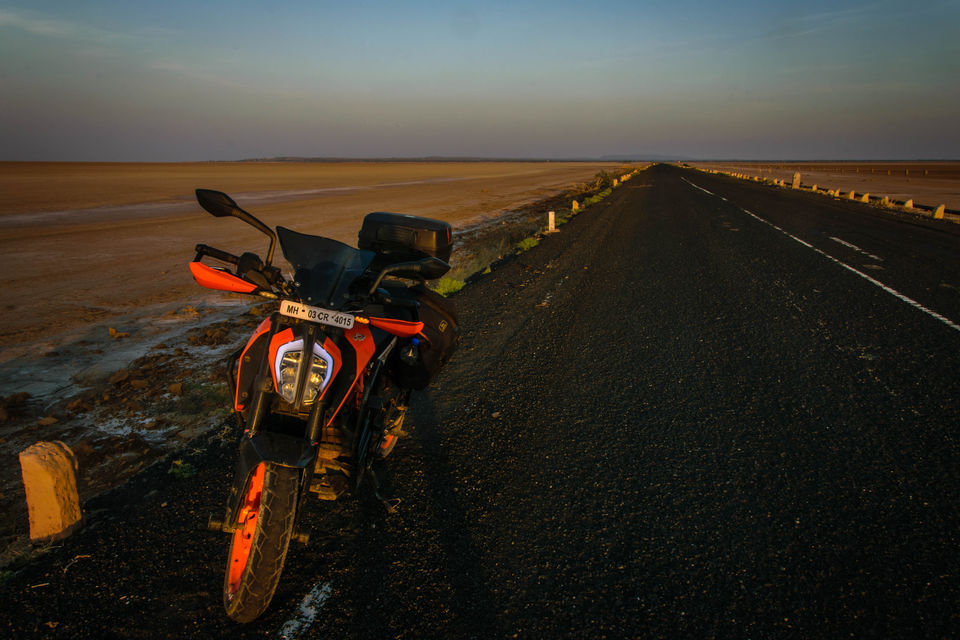 Dholavira is situated on the Khadir Bet (Island) and en-route there is a stretch of around 8km where the road is surrounded by the White desert on both sides. This desert is usually submerged under water during monsoon. Courtesy my afternoon exploits, I managed to barely reach Dholavira by sunset. I had booked my accommodation at a homestay rather than a resort, for the same reason as in Dhordo. The resorts were too expensive for a solo traveller as one of the only two resorts on the island quoted me INR 7200/night.
Accommodation: Rajal Homestay (INR 1500 including all meals)
The homestay was extremely comfortable and the couple who were staying there made me feel at home, with their hospitality and food. After having had a really long day, I retired early after easily the best dinner on the trip.
Almost everyone had a chapter on the Indus Civilization in their school history books. I still remember myself trying to conjure an imagination of how people lived in that era, based on the descriptions provided in the textbooks. As much as I hated history in school as I never understood why I was supposed to remember all the text and then be judged based on how much I could reproduce in 3hrs, I have always been fascinated by it otherwise. Dholavira is the last of the Indus Valley sites to be excavated and discovered (Harappa, Mohenjodaro, Kalibangan, Lothal, Rupnagar, Ganeriwala, Rakhigarhi). As I walked towards the excavated structures, couple of things were very prominent. The existence of numerous reservoirs, wells, the interconnected water flow channels demonstrated the sophisticated water management system that existed back then. It's 2020 and we in India still haven't figured out the Rain Water Harvesting. I stood there and wondered at the intelligence of the people of that era, how scientific all their techniques were and how they might have managed to figure everything out without Google's help. The most interesting thing was the signboard comprising 10 letters which are yet to be deciphered.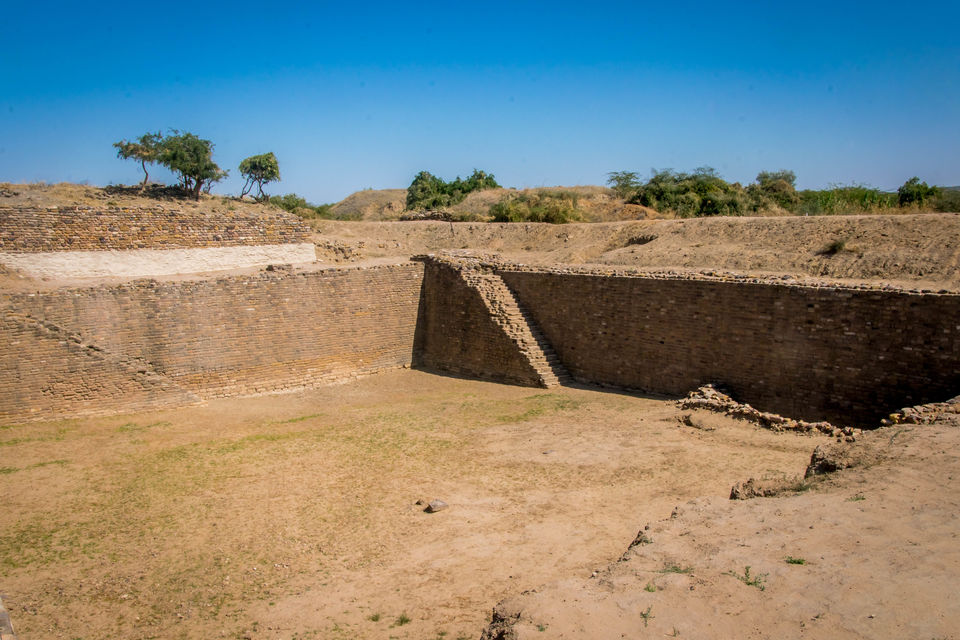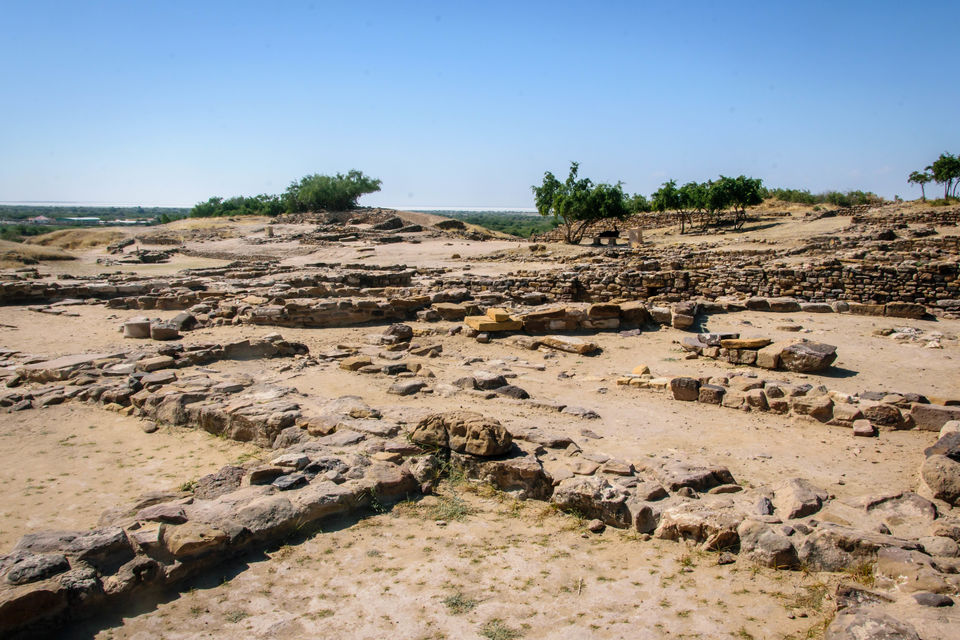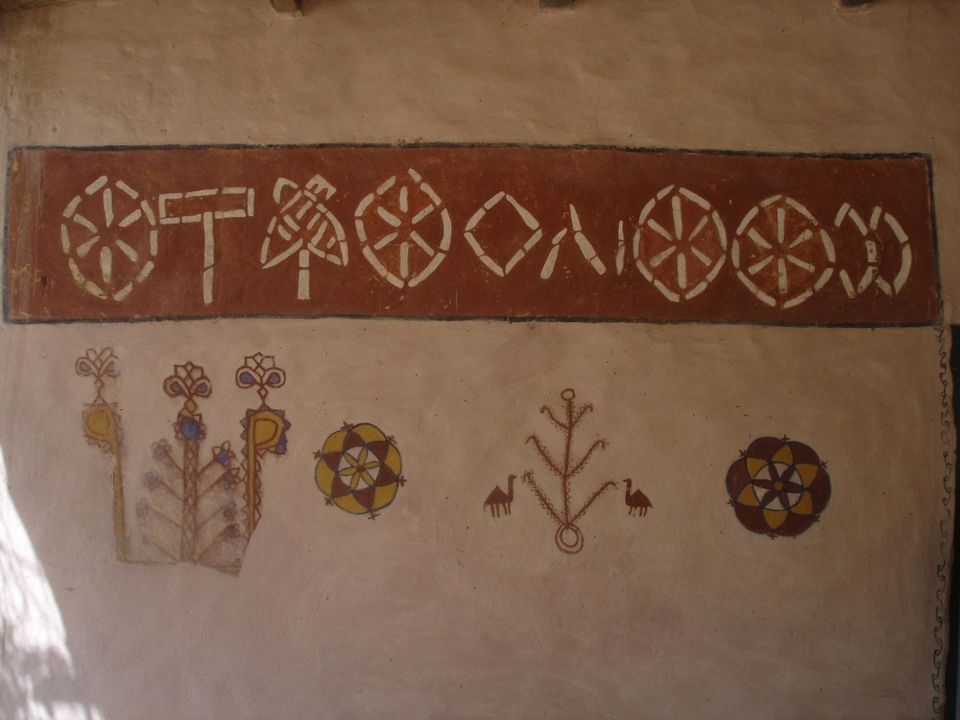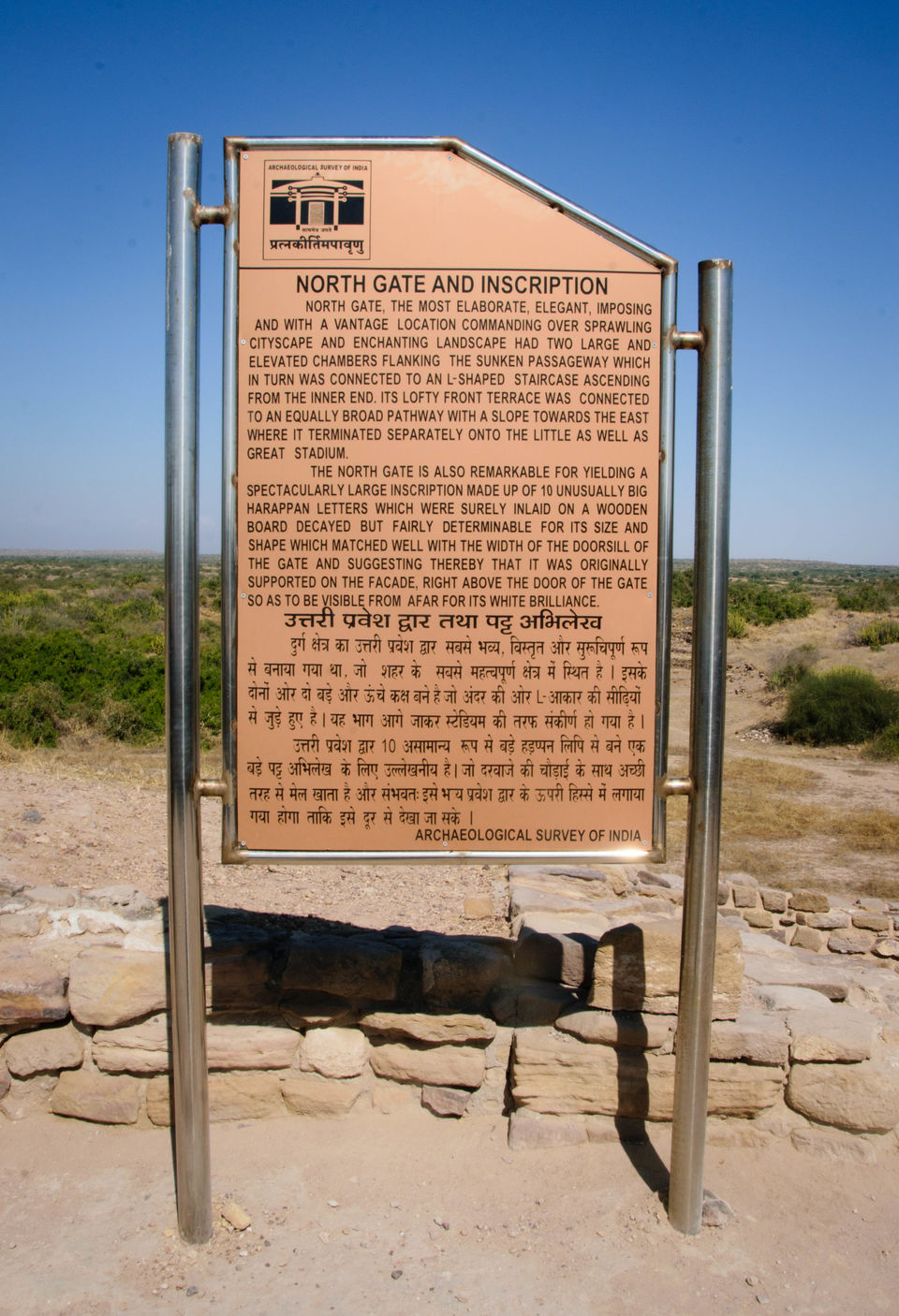 I next headed towards the Fossil park and unfortunately I couldn't find anyone to provide me information. The Fossil park is located at the very end of the island from where the view of the Rann of Kutch Lake is spellbounding. I could only imagine how great the view would be at sunset.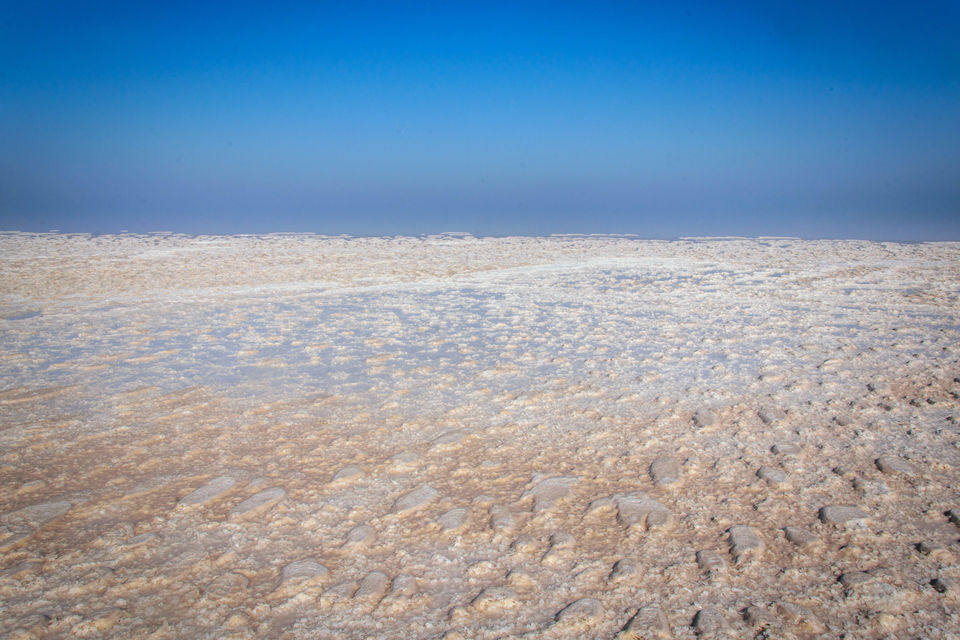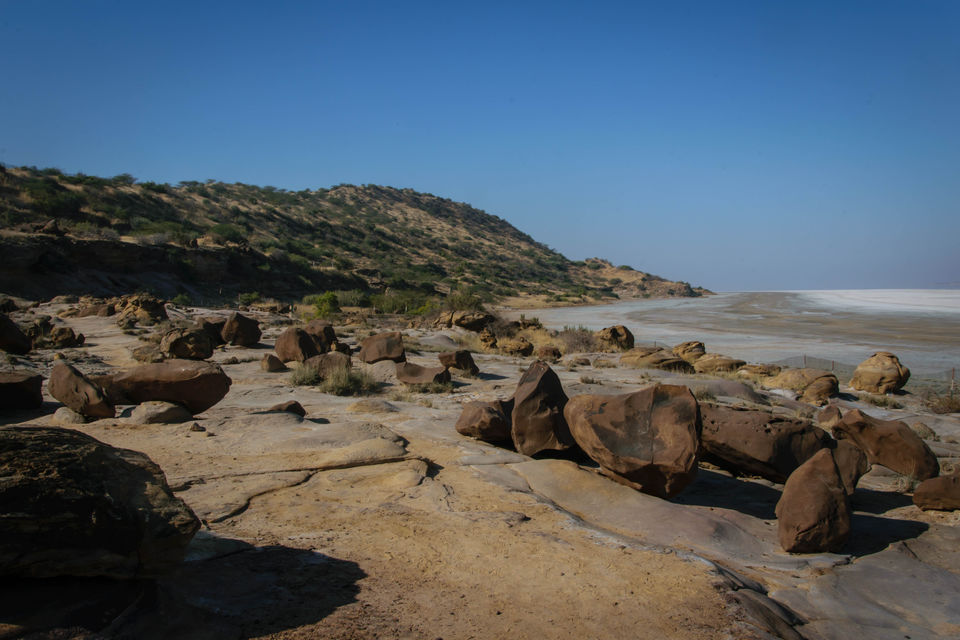 After 4 hours and a quick brunch at the homestay, it was time to bid goodbye to Dholavira and Gujarat. Finally, I would be heading towards the magnificent Rajasthan.