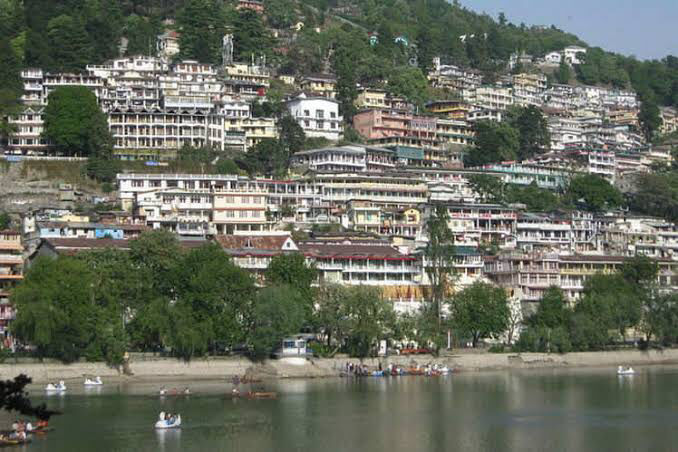 Nainital was Once a beautiful scenic hill station, I can say at-least ten years back but now it's more like you are driving to another busy area...
We went this summers to this hill station though I have been there several times but this was my last visit, it's so crowded and hotels are like every corner of the road ... it has lost its charm.It is very very crowded and over populated hill station, every step you will see a hotel and that all also cheap hotels with clothes hanging outside , people are smoking and spitting in the balconies ...
We thought to stay little away and took room at Manu maharani hotel which was really nice and got scenic view from our room.It took us around 8 hours from Gurgaon to Nainital and the way was good.Hotel we chose was nice so stay was relaxing, buffet spread was good too.
So the first day we thought to roam around and visit temple and Naini lake, which was okay as it was crowded like crazy with tourist and locals with so many tourist vehicles and pollution everywhere!
We couldn't find any place where there was no garbage or dirty polybags... it was a mess...
No charm of hill station it was... long Mall Road but was full of pollution and vehicles with fried unhygienic food ... very few proper shops were there when one can hve good food.
Naini temple was good at the bank of naini lake and we also did boating which was fun.
We planned and visited zoo and there is government bus or Innova that will take you till the entry , they will charge but was worth!
Walk till the zoo entry was steep but view was beautiful and no pollution at all..
Well zoo was fun we saw pandas , fox, tiger, cheetahs... deer's , overall was relaxing and we were at the top altitude, we returned after 3 hours from zoo and had pizza at dominos.
Next day we went to Naini peak-Amazing view from the point, Overall kind of trekking place. Drive only when you are confident and with strong heart but unique experience of driving in such narrow road, it was chilling and was really good.
After three days stay we returned back and journey was good as we stopped in Haldwani for buying chocolate barfi from Sati sweets which is very famous all over...
Felt sad seeing our hill station in this condition, commercialisation is at its peek which has destroyed this beautiful hill station.