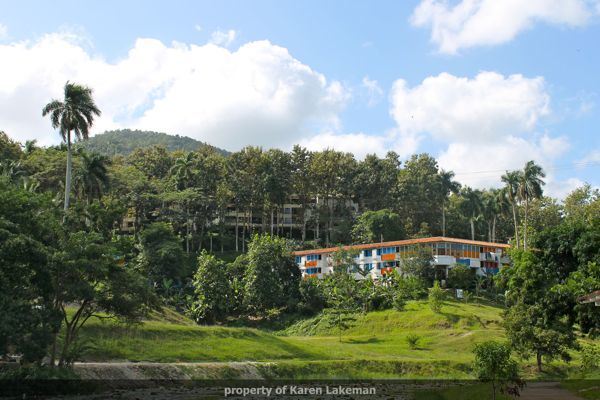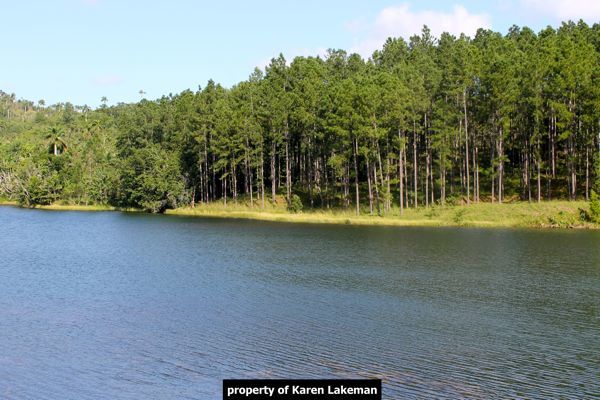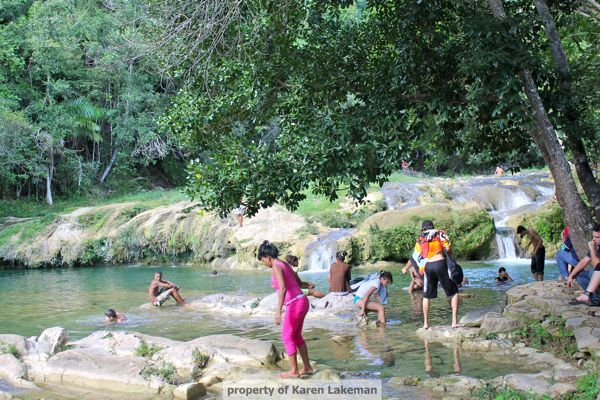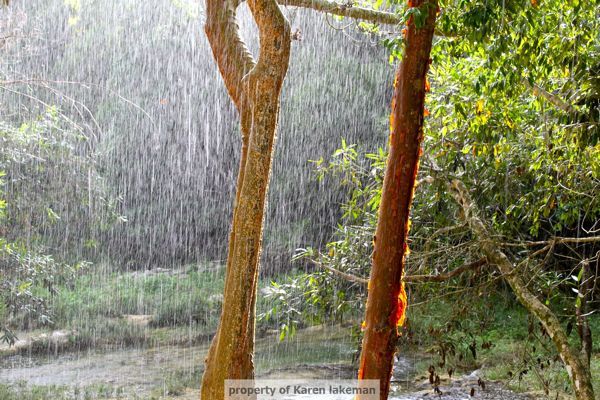 In stark contrast to Cuba's beautiful neoclassical and Spanish colonial Havana facades the Eastern bloc blocks in Laz Terrazas stand like giant lego pieces on the green hillsides.  Las Terrazas, an eco village built in the 60s is fifty miles out of Havana.  This bucolic idyll is well worth a visit for the tranquility of the beautiful river and its setting in the heart of a 25,000 hectare UNESCO biosphere reserve in the Sierra del Rosario, (incongruous Soviet era prefabricated concrete buildings aside.)
If you go there on the wonderful and very economical government tour (bookable at hotels and Cubanacan offices) a lunch and music will be provided at a beautiful spot by the river.  Those in the know (our little bus picked up Cuban people at various places in Havana) had brought along their costumes and swam here for a while until the heavens opened.  I found a thatched roofed picnic table with wooden benches in a tranquil spot along the river and laid down and watched the rain.
If you are in a group and can hire a vehicle then you can plan your own schedule, dont miss the beautiful spots by the river but then later on (and we didnt have time) you can eat at Las Terrazas' vegetarian restaurant El Romero (Terraza 170, Edificio 5).  The menu looked amazing.
When Vladimir Putin visited Cuba in 2000 he and Fidel Castro bemoaned the increasing United States world domination.  Castro told him  'Who knows better than the country situated only 90 miles from the biggest superpower of the world?'  Vladimir Putin, without mentioning the United States, agreed that such 'unipolarity' allows one country to 'monopolize international relationships and to dominate them." He said the last time this occurred, 'we all know how it ended,' apparently a reference to Nazi Germany and World War II.