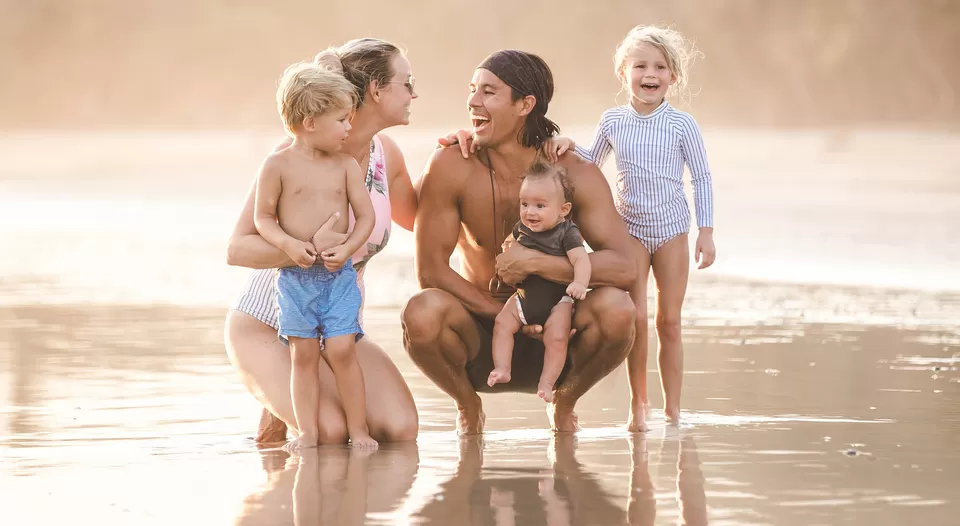 Travelling can be addictive and being married or having kids shouldn't impact it. Family travel is one of the most wonderful and rewarding experiences you can have together. It teaches your children about the big wide world, while also building their resilience for coping with change, helping them to become more flexible in their everyday life beyond travel. It also brings families closer together, through shared experiences, fun and adventure.
Think that traveling with kids is difficult? Check out the amazing Instagram of these families traveling the world on Instagram! These gorgeous feeds show that globetrotting is possible with families of all sizes.
1) THE BUCKET LIST FAMILY
This nomadic family made headlines in 2015 even before they set off on their 6-month trip around the world. They chose to invest the money but sell all their belongings for $50,000 to fund their trip. What began as a half-year tour turned into 3-years living on the road.
Self-titled travel journalists Garett, his wife Jessica and their three kids Dorothy, 6, Manilla, 5, and Callihan, 2, have visited 65 different countries.
The Bucket List family Instagram feed captures tender family moments in the most beautiful destinations. Travel around the world and back with one scroll through their feed. Recently the Gees chose Hawaii as a home base, but their journeys to bucket-list locals continue. In addition to their Instagram, they have a blog and YouTube channel which gives a behind-the-scenes peek at this photogenic family.
2) TRAVEL THE WORLD FAMILY
A couple years back, the Fisher family left their old lives behind for adventure. They quit their jobs, sold their things and bought a one-way ticket. Now based in Iceland, they are still traveling the world.
Join Clare Fisher, husband Ian and their two kids — Kallan, 7 and Maddison, 5 — as they explore charming cities, far-flung beaches and exotic jungles. Scroll through their travel-mag worthy feed for some instant family travel inspiration or envy.
They have visited some amazing countries over different continents and don't have any plans to stop! They could be sailing and sunbathing in the Mediterranean one week and exploring the Antarctic the next.
3) CHASE FOR ADVENTURE
Annette & Daniel, who call themselves 'Full Time Travelers' chasing epic adventures across the globe and have traversed through several countries in the last 3 years. This adventurous couple sold off all their possessions to explore very single country in the world, got stuck in Thailand during the pandemic and gave birth to a baby in Krabi and have been living there since then.
Their resolution was to soak in the sunshine, hop along the beaches and gaze at the breathtaking sunsets, as they counted days to welcome their baby into this world. Along with that, they also started a Digital Nomad course called 'Worker to Wanderer!' - with the aim to guide and motivate all those people who are craving for an everlasting adventure! Read their full story here!
4) HUNGRY TRAVELERS
The couple Anushree and Pavan decided to do 12 trips in 12 months with their 1.5 year old in 2018. Today, 5 years of travelling with 2 kids - Kabir 6 and Mira 2 and going strong! They learnt a whole lot, experienced some incredible things and most importantly, stepped outside their comfort zone in this period.
They share travelling tips as well as food experiences on their Instagram page. "We tasted food we never imagined we would, tasted flavors like never before. From snails, to raw beef to vegan mock meat, we even experienced our very first Michelin star meal," says the couple!
5) EXPLORING LEGACY
Three mail-in ancestry-DNA kits was all it took for the Anderson family to leave everything behind and travel the globe. Parents Ike and Natalee wanted the family to explore their ancestral lineage, so they charted a course for 16 countries in 14 months.
Their roots took them to West Africa, Egypt, England, Ireland, Scotland, and India. On the road, they homeschooled kids Manni 13, Jasmine 12, Kaylee 10, Layton 7, who got to learn from firsthand experiences.
While their first around-the-world trip might be over, the Andersons are still traveling. They launched a company called Your Healing Experience for clients who want to explore the journey of West African peoples.
6) DOWN WITH ADVENTURE
Down syndrome advocate Melody Forsyth began this account to "inspire special needs families to get out," and ended up inspiring us all. Forsyth had only recently become an avid hiker when she found out her fourth child, Ruby, 4, was going to be born with Down syndrome. Instead of ending her adventure lifestyle, it became a special bonding activity the two could share.
"Carrying Ruby on trails felt like our thing. I could just feel how excited she was to be outside and it bonded us" she said in an REI interview.
Joined by her husband Victor and three other kids Samuel, 10, Logan, 12 and Angelina, 19, this inspiring family has visited 24 national parks and 21 national monuments and historic sites. Their goal is to eventually visit all 61 U.S national parks.
7) TRAVELYNN FAMILY
Young lovebirds Jenny and Jason spent 10 years traveling the globe before they embarked on the biggest adventure of all — parenthood. Since the birth of their two boys Ezra, 3, and Arther, 4, the Lynns have traveled as a family to more than 20 countries. From camel rides in the Sahara to safari tours in Tanzania and mountain hikes in Sri Lanka, this family wants to show that adventure travel with young kids is possible.
A finalist in BritMum's BiBs2019 Awards for photography, Jenny not only snaps awesome candid shots but writes heartfelt captions that connect with her followers.
8) THIRD COAST TRIBE
Photographer/videographer duo Carrie and Josh Willink are no strangers to a good shot. Coast to coast, ocean to ocean, they capture vibrant photos of their travels. Joined by their lively daughters Remy, 4, and Jade, 2, this traveling family refuses to slow down.
They've road-tripped Route 66, the PCH [Pacific Coast Highway], traveled most of the lower 48 and backpacked Western Europe, hiked the Grand Canyon and many national parks all in an effort to satisfy our never-ending wanderlust!
Traveling promises unforgettable experiences and adventure. With each trip you grow up more, and every time you come home you'll most likely want to go out again. Hope this blog will help you plan your next family trip!
Click here to follow me on Instagram, where I share snippets of my travel-tales and follow Tripoto on Pinterest for more travel inspirations.