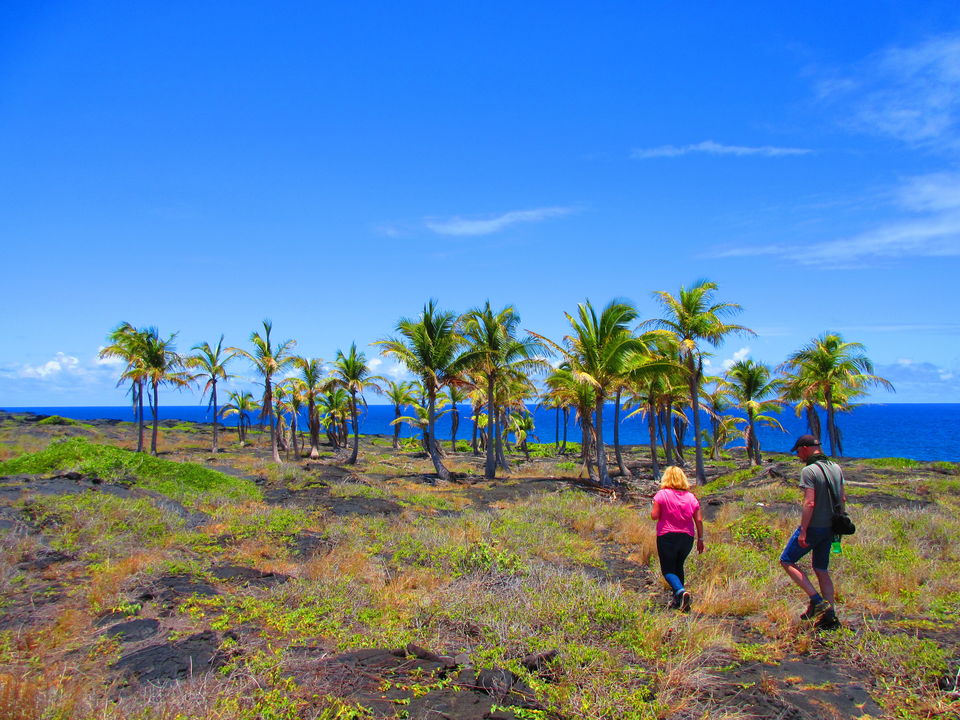 Choosing a favourite from Hawaii's islands is a tough call. We have been to Oahu, Lanai, Maui, Molokai and Kauai as well and they are all beautiful and unique in their own way. However, we have to admit to having a soft spot for the Big Island. Not only is it big, but much of it is less commercial than the other islands and the fact that it is home to a national park with an active volcano is simply phenomenal. Here are a few highlights from our most recent trip to the Big Island.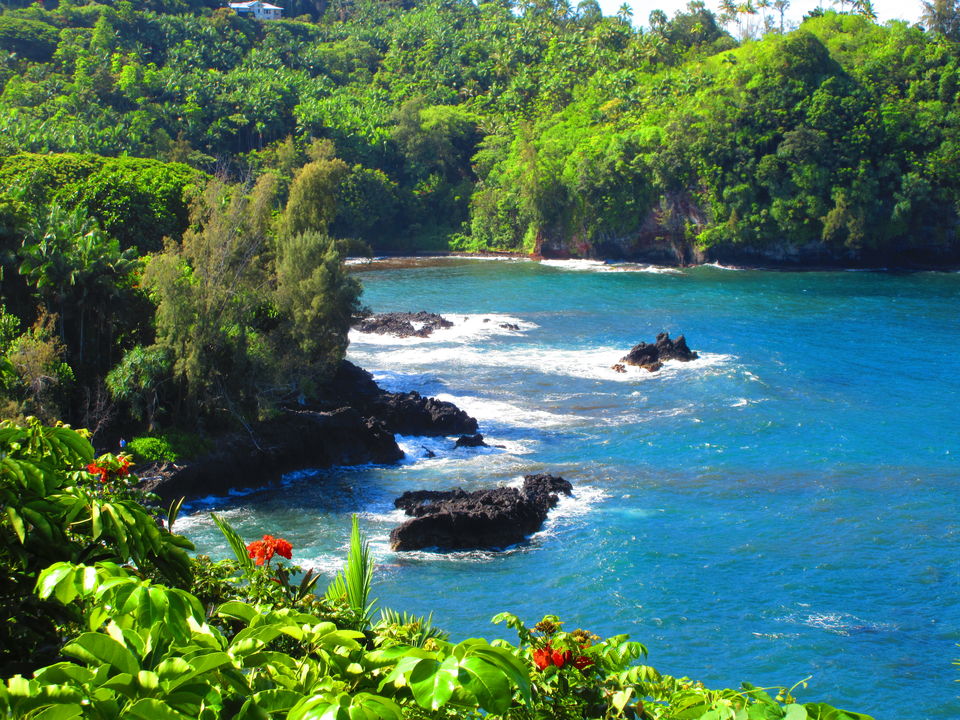 Volcanoes National Park
This was our second visit to the national park and this time, Pele the Volcano Goddess, put on a spectacular show for us! From the Jaggar Museum, we were fortunate enough to witness lava spewing up from Kilauea Volcano. It was an amazing sight and will count as one of our greatest travel experiences.
The steam vents were also active, rising up from the earth randomly and engulfing us in swirls of steam. We drove down Chain of Craters Road, stopping off at lava tubes where spectacular flows that had cooled down many years previously. Clambering over the twisted and gnarled lava was great fun and it was fascinating to see the variety of formations. Volcanoes National Park is undoubtedly the highlight of a visit to the Big Island.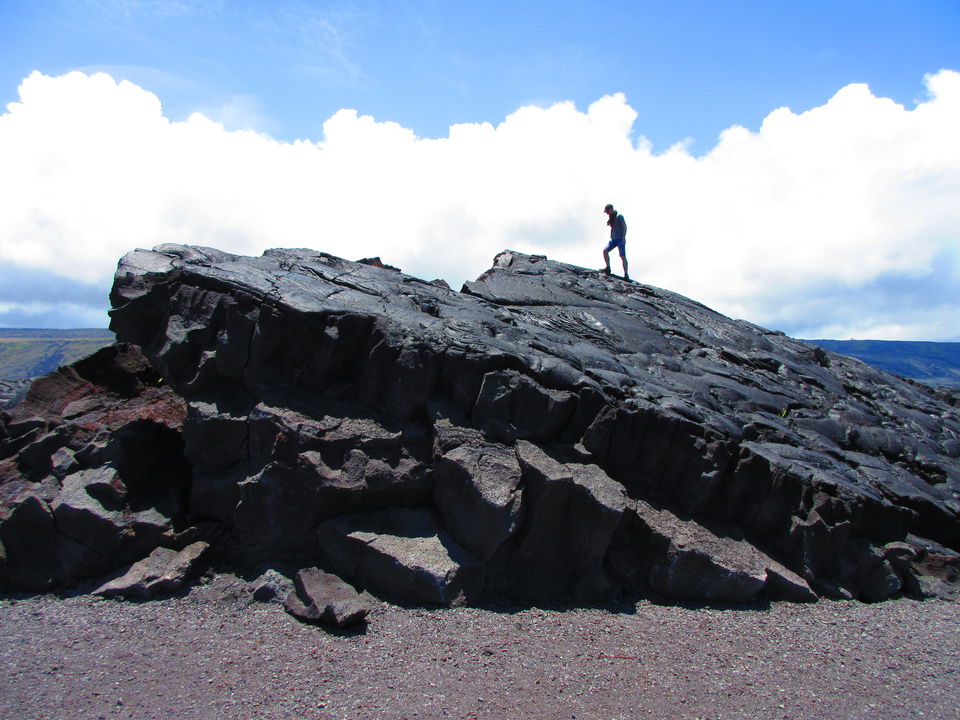 Where the Lava Flow Meets the Ocean
The road ended where the lava flow had covered it, rendering it unpassable. A few miles beyond was the point at which the lava last flowed into the ocean back in 2013. Two days after we left Big Island, we read in the newspaper that the flow had re-commenced, hitting the ocean again for the first time in three years.
Turtle Sighting!
At Punaluu Black Sand Beach, we spotted a green turtle in the rock pools. We spent a delightful hour or so watching it nibbling on algae. Punaluu's black sand derives from the lava from both Mauna Kea and Kilauea volcanoes. Fringed by coconut palms, the beach is a unique sight, made even more extraordinary by the presence of the turtles.
Honokaa
A quirky town en route to Waipio Valley, we found ourselves in Honokaa on a couple of occasions. The first time we were there, we enjoyed a fabulous lunch at Café il Mondo (the best Italian food we had in Hawaii!) and had a wander along the main road, checking out the offbeat antique/gift stores. A couple of hippies played drums on the sidewalk.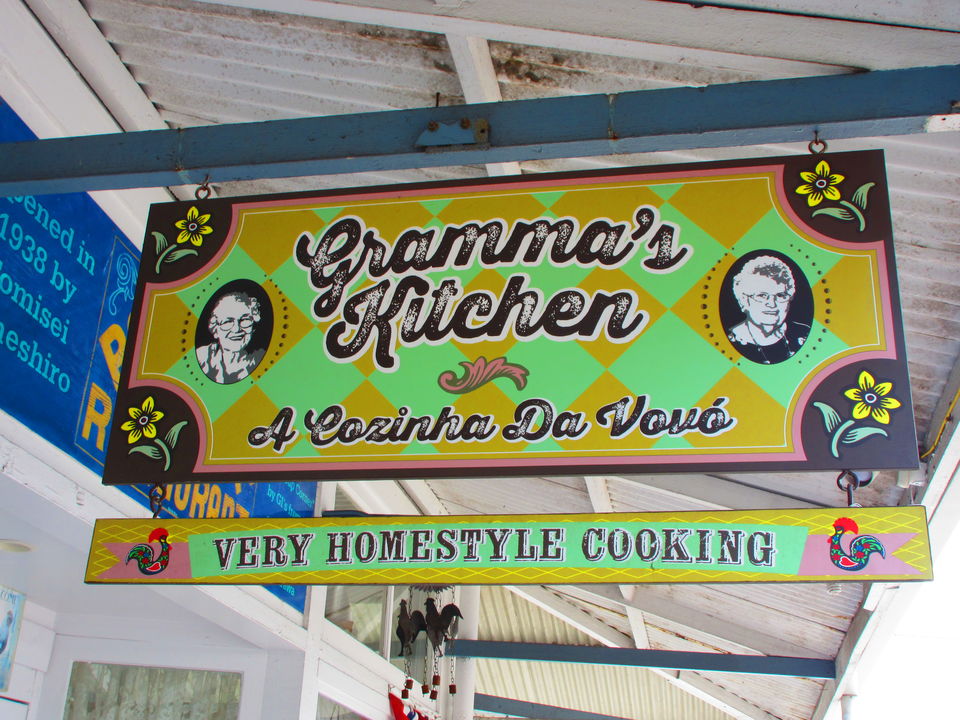 Hands of Tibet, an interesting store selling items from Tibet and Nepal proved too much for Ku to resist and she emerged from the shop wearing a lava mala bracelet.
Taro Patch Gifts sold a mishmash of arts and crafts, many of them produced by local artists. Out front, there was a basket full of ducklings (?) and boxes of bananas. Eclectic indeed! And if you ever find yourself there, be sure to say hello to Foxy, the store dog.
Vera's Treasures is an antique store bursting with weird and wacky objects. The window display would have you believe you were in 1950's Hawaii.
A former sugar plantation town, Honokaa is a colourful little place, full of character, clapboard buildings and funky stores.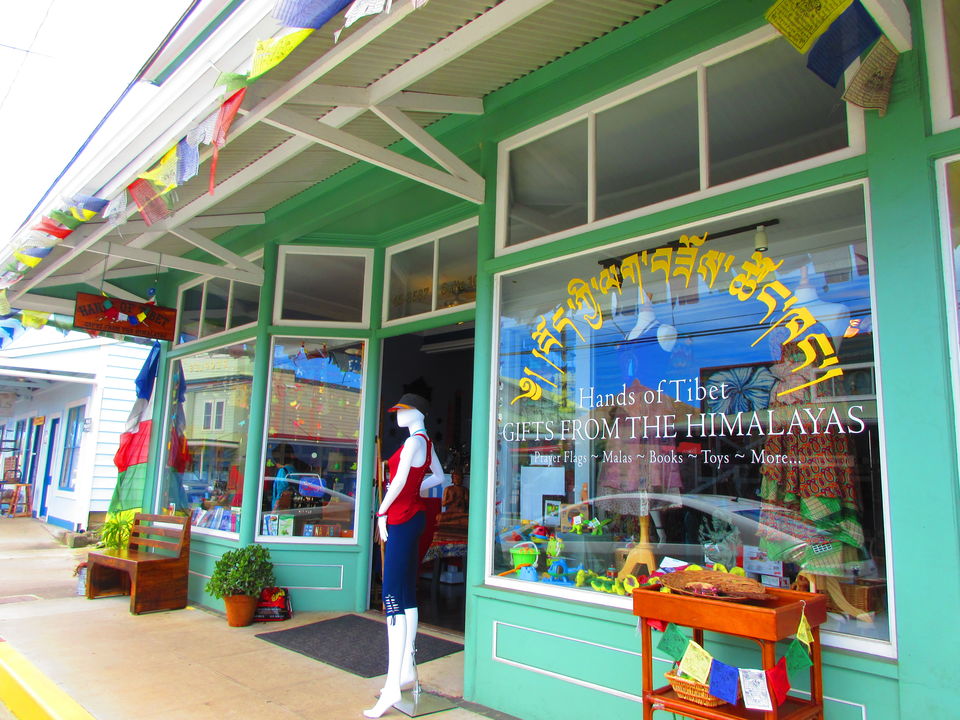 Kona
We had a fun day in Kona on the sunny west coast of Big Island. You can't help but feel that you are on vacation in this popular tourist mecca. Bars, restaurants and gift shops line the ocean front and cruise boats drop their passengers for a few hours of shore time.
We had a tasty Indian lunch at Kamana Kitchen. The manager was from Edinburgh and had left the drizzle of Scotland for the sunshine of Hawaii. We didn't blame him, although he still claimed to miss Edinburgh. Afterwards, we headed to Kona Canoe Club for Happy Hour where we enjoyed 2-4-1 margaritas with an ocean view.
We perused the market, strolled along the boardwalk and shared a bottle of pineapple wine on our balcony before heading out for dinner at a rooftop bar.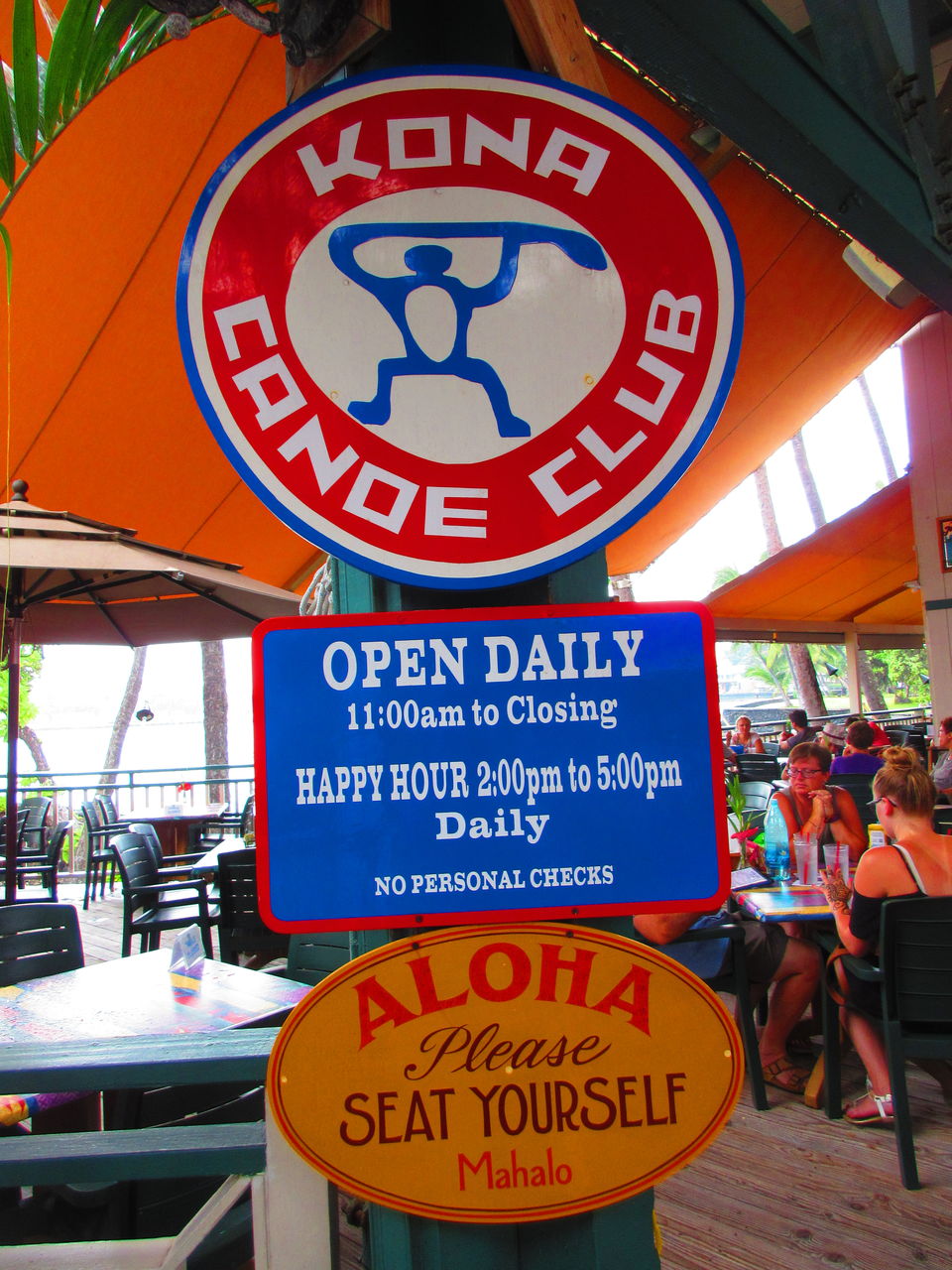 Hilo
We hung out in Hilo for a few days and and discovered that we really liked it. We stayed at Reeds Bay Hotel, a fifties establishment, where the furniture hadn't been updated since it opened. It was, however, clean and comfortable. We even had an ocean view from our balcony. The Japanese Gardens were nearby, a pretty park, where locals and tourists enjoy chill-out time.
Downtown Hilo was a revelation to us this time. Although we had been there before, we hadn't stayed for long and we couldn't remember much about it. We went to the Wednesday market, which was fascinating to walk around. One side of the street concentrated on arts and crafts and the other was aimed at tourists. There was also a flower, fruit and vegetable market, where exotic fruits were piled high and free samples were handed out.
We found some interesting stores and cafes in Hilo, including the organic Conscious Culture Café and the Booch Bar. And Dolly's Handicrafts. There were also a couple of cool bars, many attractive wooden fronted buildings and a pleasant and friendly authentic tropical vibe. Hilo feels like a real town in relation to Kona which is blatantly tourist orientated.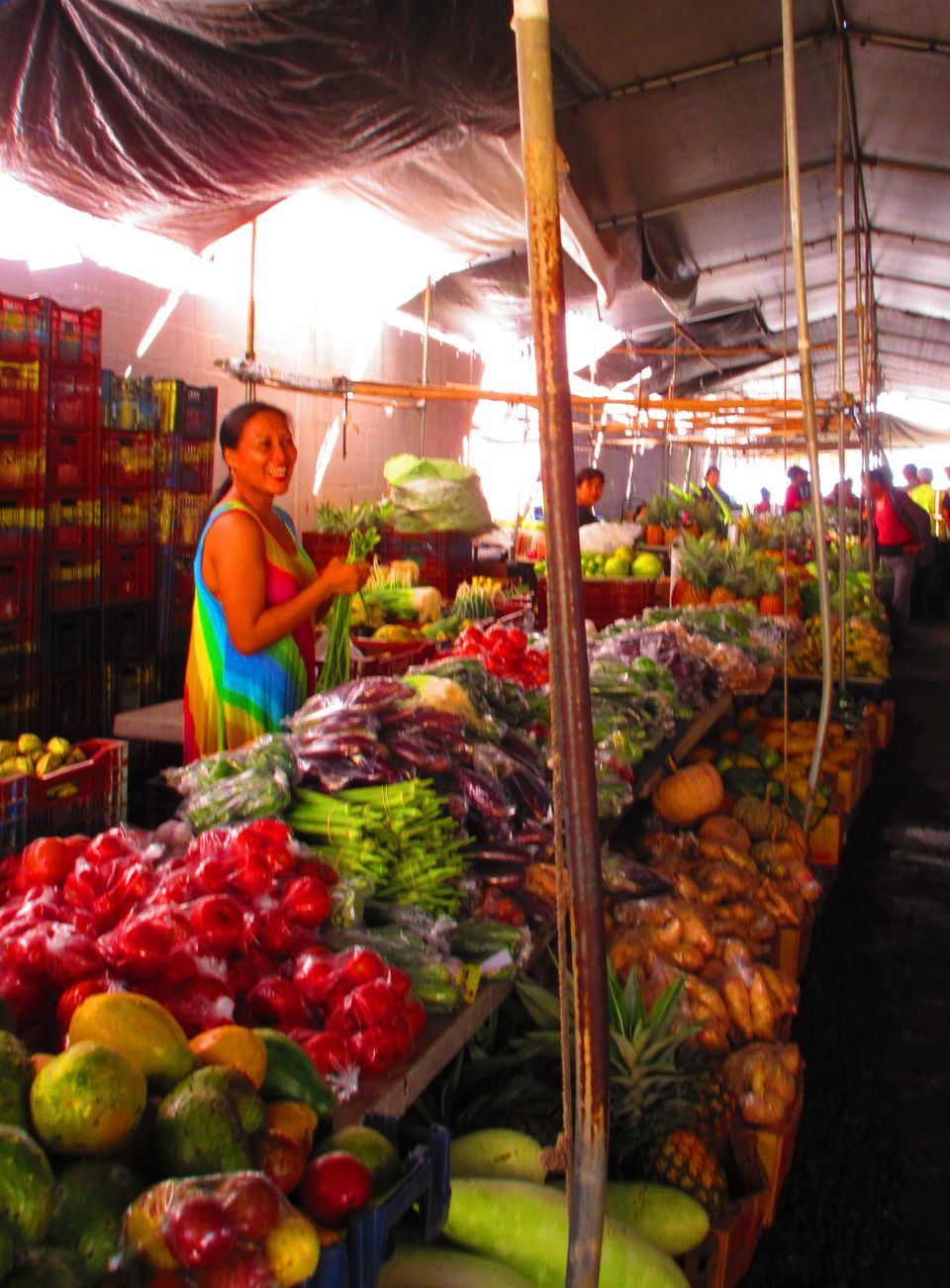 Volcano Garden Arts
We loved this fabulous art gallery, Volcano Garden Arts, situated in the tiny town of Volcano. We had hoped to have lunch here - apparently Café Ono serves some excellent vegetarian cuisine. Unfortunately, we showed up on the only day of the week the cafe is closed - Monday. We did, however enjoy browsing the gallery and wandering through the garden.
The large gallery was crammed with local arts and crafts. There were certainly several items we could have been tempted by, had we not been 1) travelling on a budget and 2) travelling light. We met Ira Ono, the resident artist, who was friendly and welcoming.
The gardens were beautiful, with touches of quirkiness throughout - sculptures, tiny painted houses hanging in the trees and Buddha statues made it a delightful place to explore. There is a meditation area hidden away amongst some trees at the rear of the garden.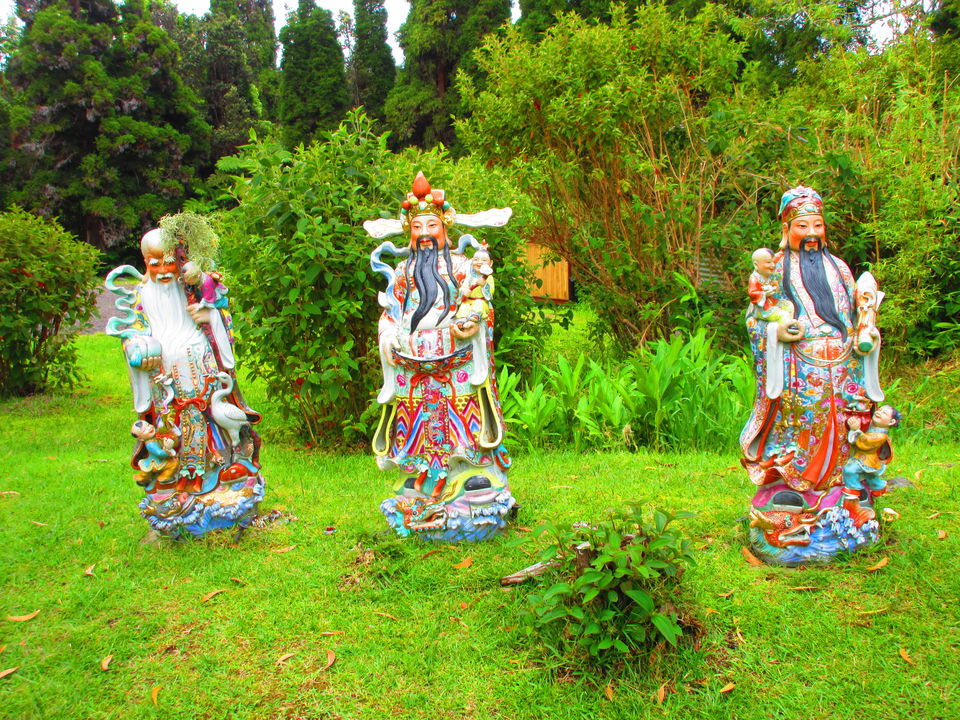 Akaka Falls
What made a visit to these falls so special, was the scenic trail that led to them. The lush rainforest that we walked through was full of wild orchids, bamboo groves and draping ferns. You can hear the falls a long time before you reach them. The Akaka Falls plunge 442 feet into a stream eroded gorge. The trail is fairly short and paved all the way. We agreed that these waterfalls were the most spectacular that we have seen in the Hawaiian Islands.