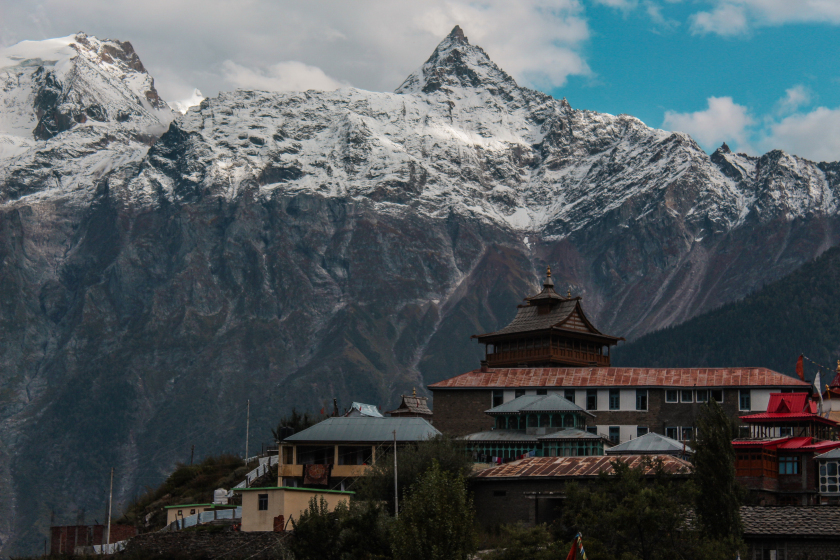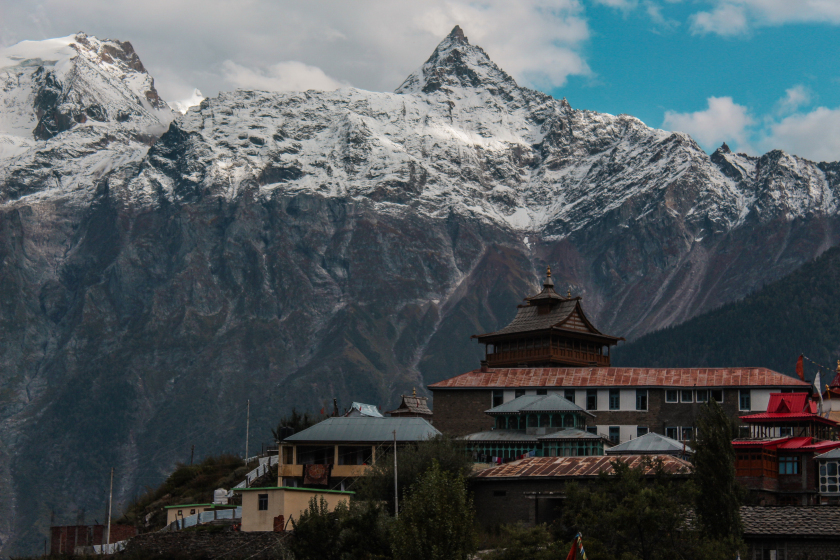 As we were finishing our lunch, my thoughts were meddling with my mind about what to do next. Should I take rest? Should I visit a new place for that was the only day we had in Kinnaur? After talking to the hotel owner about buses to Kalpa, I decided to give it a shot. We could anyways sleep again after coming back to the room at night. Life moved slowly here, even for a district centre. There was kind of a laidback attitude in everyone and everything they did. As if, everybody knew the truth about life. It goes on. Sun was not too unforgiving, the cold breeze made it feel alright. People were busy in their chores after their lunch while we were waiting outside the bus stand to catch a bus. The road that led to Kalpa was full of hairpin turns. It was amazingly quiet in the afternoon. I didn't have a specific place in mind to visit so I just followed the narrow alleyways. There was a monastery that caught my attention. Without a second thought, we went in.
To my surprise, there was enough crowd in the veranda. Particularly elder women who must be in their 50-60s. They were all chatting, laughing, cheering until they saw us. They were so welcoming that they offered us tea and even lunch after that. But sadly, I had to give up on the lunch over there since I was full. This one thing really made me sad, being a foodie! Anyways, there's always a next time. Their hospitality left me speechless. That phrase, 'Making you feel like home away from home', it was that kind of a reception we recieved from total strangers whom we may not even meet again. ever! At the end when we decided to leave, they offered us some prasaad from monastery which was full of apricots, dried apples and what not. That too in ample amount! After all the hospitality they had shown; I was more than happy to oblige to that request. Here's a happy picture of us.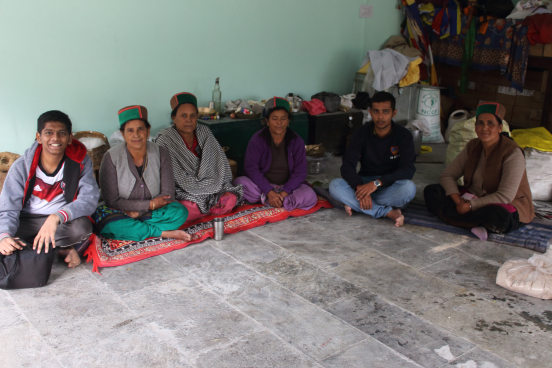 After all the goodbyes, We headed further ahead into the village. There was a temple which was closed and a school nearby where I was reluctant to go. It was at a higher elevation behind the monastery which tempted me to go inside anyways. As soon as a I reached the school playground after climbing a few steps, I was taken aback. As if, I have just arrived at the best school in the world. The entire Kinnaur-Kailash mountain range in front of them. Now, who wouldn't want to be a student in such a school? The peaks were fairly covered with snow as there had been torrential rains 2-3 days prior to our visit. It was cloudy, calm and quiet. The only I could hear were the school children having their recess. Cold was getting intensified as the evening moved closer. As the breeze it me on the face, the sheer force of it made me realise that I have to face worse than this for the next few days. 'You have to do it anyways. There is no looking back now', My heart whispered and I couldn't agree more. Later, I got reminded of the one thing that I came here for. Kinnaur Kailash. A naturally formed 40 Ft. high rock that has been facing the Himalayan winds for countless years and still going strong. It looks minute from Kalpa. You almost can't see it with your naked eyes if you don't know it's exact location. While a local helped us in spotting it; I used my zoom lens as a binocular. Hiding intermittently behind the clouds, it did test my patience but no way was I going to leave that very spot without seeing the beauty of it in all its glory. It's a holy site for Kinnauri people. And the height at which it's situated, does make you question 'How the hell do people climb upto there?'. But they just do. It's a ritual they follow every year in the name of their god. To conquer the mountain but at the same time feel humble at the footsteps of that rock when they offer their prayings and hope to get showered by the blessings of almighty.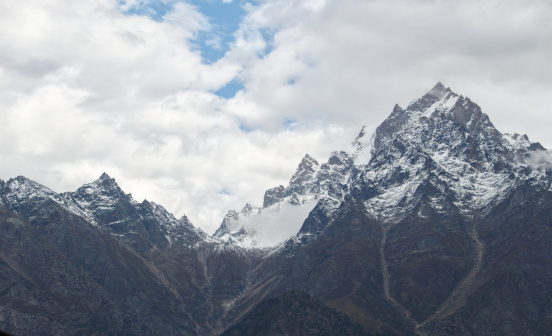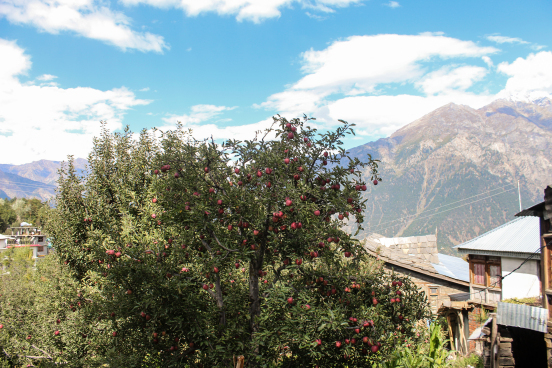 One more feature of Kinnaur are the world class apples that grow here. The village was full of apple orchards on the slopes or you could find one almost anywhere in the village as well. It was like landing in Alice's wonderland. Apples apples everywhere we could see. You pick any apple tree and it had at least 20-30 apples on it. You can only imagine the count on fully grown big trees. Not exaggerating but these apples seriously taste like the best apples in the world. In fact, they are not sold anywhere on roads in Big cities like Mumbai because these are catered only to five star and seven star hotels there, according to a dealer we met later in Spiti. So, better to visit Kinnaur and have them. Also, these apples make up for a great breakfast while being on the move. Now came the time to leave the tiny hamlet, yet even till today, I've never felt like I've left that place mentally. Whenever I close my eyes and imagine, this place speaks of purity and innate beauty. Something that is rare to find in today's world. ????