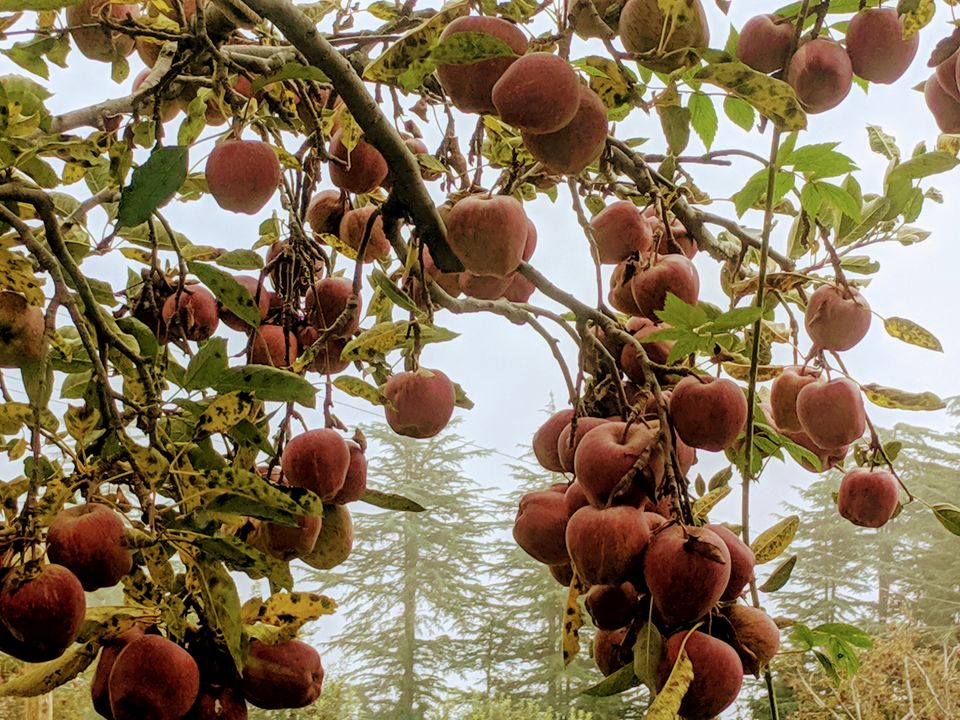 I had it iny mind for a long time to visit Kinnaur Valley,Himachal Pradesh.. As September arrived, I started researching about the place and what it has to offer during early Winters(as these places change dramatically with season).. Finalised my itinerary and bookings ..
The most enticing thing about it was it was the peak reason for apple bloom..So there was no more data required.. I have seen a lots of fruit trees during my previous tours, but did not come across the apple tree before..
We began our journey around September end with the onset of Durga Puja.. It was a 5 day trip..
Boarded HRTC bus from Kashmiri gate,New Delhi.. We reached Shimla next day morning..
Our plan was Delhi- Shimla-Narkanda- Rampur- Sangla- Chitkul- Kalpa- Shimla- Delhi.
During forward journey, we straight headed for Narkanda .. I had booked a homestay in Narkanda..THE ROYAL VILLA..It's just 2 bedroom wooden cottage amidst a huge apple and cherry orchard.. Such a beautiful view.. We has a wonderful stay there.. it was relaxing and calm n magical.. Everything which we hoped for..Our room was upstairs..There was a small sitting place ..After sunset, we did light some candles and had a perfect evening..Perfect ending to our first night..
Next day we woke up early as we wanted to soak in the beautiful weather as much as I could.. To our delight.. we witnesses the Himalayan glaciers right in front of our window.. As far as our eyes went, we could just see apple trees which big juicy apples waiting to be eaten and at the end, glaciers with fresh batch of snow...It was difficult to check out from that place.... After breakfast, we packed our luggage and headed towards Rampur..
We had lunch at Rampur,bought some tasty guavas from an old lady.. Then we headed towards Sangla valley.. Our destination was Chitkul- last Himalayan village on Indo-Tibet border.. As the journey was quite long, we didn't stop for long in Sangla..Finally arrived at CHITKUL..
it's a very small village with countable numbers of houses and few hotels to stay .
We opted for ZOSTEL..wanted to experience it's feel.. Basically ZOSTEL is like hostels, where you can book your private room but dining area is common for all and you can't take food to your room..There are lots of games in the dining room and you get to interest with fellow travelers and know about their journey.It was quite interesting... Since it was quite late and too much cold, we preferred to hit our bed early...
Next morning we woke up early, from our hotel, we walked down to Riverside which was roughly a km away.. These are the kind of experiences which is not possible to describe on words or capture in a single shot..
amazingness overloaded..The view was worth all the tiring and long journey.. I will try not to describe it as it won't do justice to it's beauty..
After spending couple of hours at the river bed, we headed back for breakfast and packed our bags..
Then we took a tour around the Chitkul- village, visited the monastery...
There is even a Dhaba called Akhri Dhaba there..as it's last place to eat near the border..
Then we headed towards Kalpa- for our 3rd night stay..
We booked a Oyo room in Kalpa.. Our room was mountain facing... It was all we hoped for.. It gave a beautiful view of snow filled Himalayas- treat to our tired eyes...
Day ended on a good note..
After breakfast, we headed towards famous suicide point..It was scary and worth the trip and will definitely give a memorable shot for lifetime...
Next,we headed back to Shimla for our last night stay ..Journey was quite long..Had food at dhabas on way and visited few monasteries on our way..
I forgot to mention it was raining most of the time in the valley, which lead to decreasing temperatures..
We reached Shimla at evening...dropped our bags in hotel and we walked down the famous THE MALL road..It was just a pleasant evening strolleith lots of food options..We were lucky to find chole kulche at such late hours..
For our return journey, we had booked a you train ride from Shimla to Kalka and evening train from there to Delhi..
After having our last Himalayan meal of this tour, we headed towards station for our toy train ride.. I have travelled a lot by trains, but this was really special..It gave beautiful view of the green lush valley.. It was nature all around Best medicine for any illness...
Reached Kalka on time and headed back home with lots of memories to cherish and a big box of Kinnaur apple to eat..
Rightly said' An apple a day,keeps doctors away'