I travel not to see places but myself . Every place has a reflection relation to feel.
Nothing matters more than being at peace and tranquility . December being the last month on calender I couldn't stop myself from exploring.
So I put my backpack on & board the train from Bandra to Hazrat Nizamuddin . It's an amazing train which is filled with fun lovers and youngsters too . All with great mind and good heart .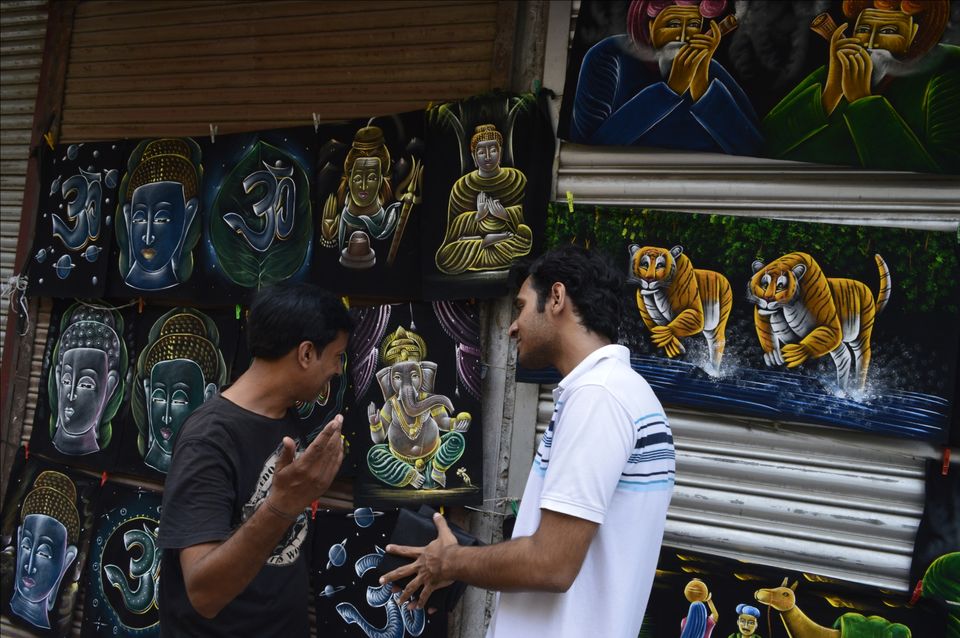 After reaching NZM at about 11am I booked a bus service from Kashmere Gate which was about to depart at night . Now for many who travel through this route , the itinerary is to enjoy glimpse of good streets of Delhi to shop.
For hippie by heart - Paharganj is best ; for Fashion lovers - Sarojini market , Janpath market is good ; Electronic - Gaffar market ; For wholesale purchases of apparels and outdoor gears - Azad market
Please note all these places are within the range of Kashmere gate but do not cover more than 1 shopping hub to avoid delay of boarding at night.
Enjoy shopping and relax the night in the Volvo.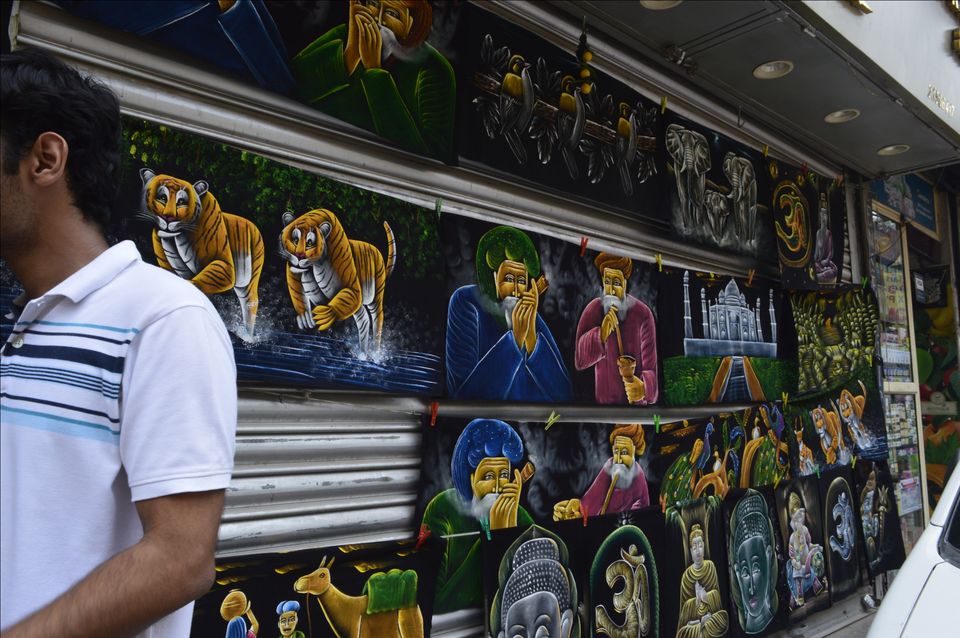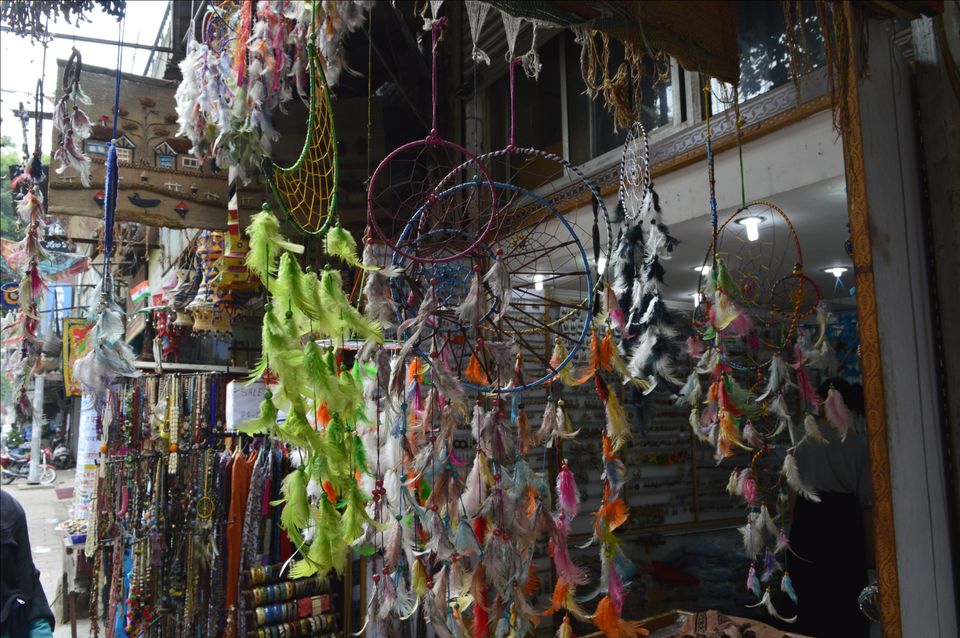 Next day I reached Bhuntar at around 10:50am and 2 hours more journey to Kasol. Now this place is hyped by many bloggers and travellers, also many teenagers , corporate professionals and family people all visit this place making it slightly overcrowded and the vibe here is now a mixed one . So I decided to hike up to Manikaran , all devotees enjoy sumptuous food . Manikaran is situated in the Parvati valley near Parvati river . It's approximately 1750mts above sea level . After enjoying the food I began to walk towards the villages to explore around the Parvati valley. So it was my first day in the valley and I wanted to acclimatize to the altitude and temperature so I travelled upto Barshaini (a village that hosts a lot of trek and acting as base camp ) , Trek to Tosh village from here or may be kalga village , pulga village . I started my trek to a lesser explored place tulga village .
It's a combination of dense forest with vegetation and flowering compounds by mother nature . The plateaus here offer a clean ground for camping and one should carry portable stove for food and beverages . What's the beauty of Tulga ? It's on the middle of kalga and Pulga with a much lesser tourist inflow and less accomodation facilities . This was one of the key reason to explore this place and head towards the forest to glacier top .
It takes around 2 hours to explore this place and I decided to pitch my tent right here at Tulga since I saw a water source clean and untouched by many .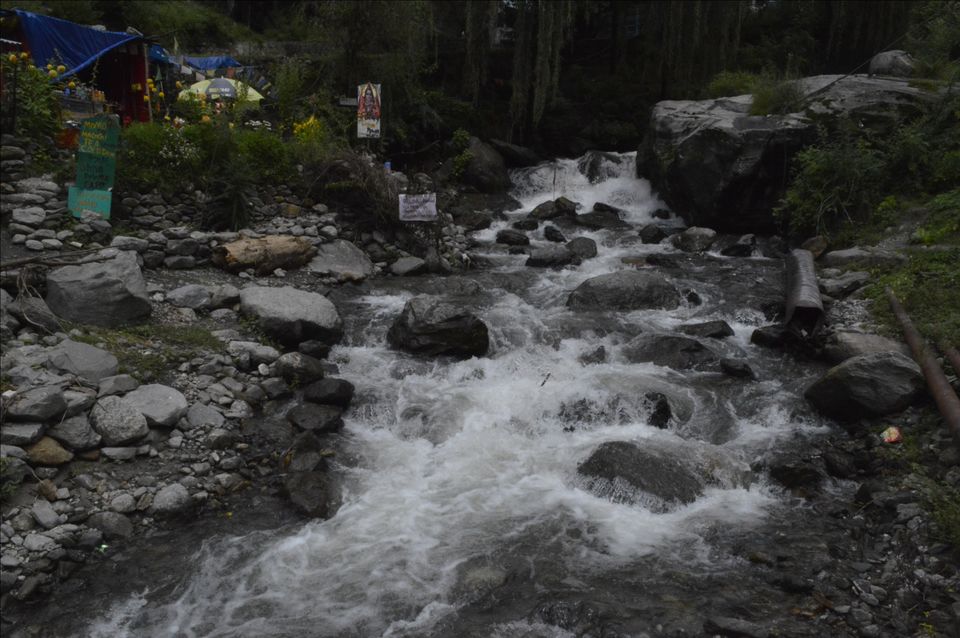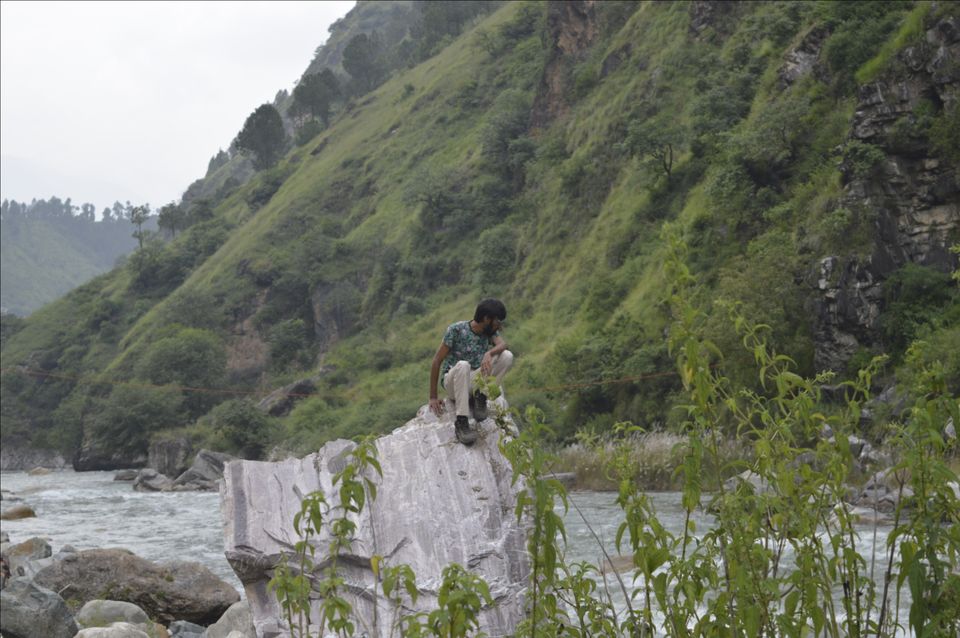 Now at 4:30am I had my coffee and the birds chirping around was just an explanatory to the title . One could feel the elements of life combined with all species of animals including hooman (also Human) , embraced by love all play in simple harmony of vibrations . It was then sunrise dominating the night just like happiness dominates the sad days . From here I had to keep moving so I enclosed all my stuff into backpack and kept walking . Now once you walk towards the village ahead you see a diversion to right and a trail straight . Take the right trail and you should spot endless apple orchard all your way and as they end there is another diversion , one is forestry land and another is private both looking similar and without any physical boundaries , one has to be careful while selecting the correct ground.
This is around 1190metres and it's pleasant here , one can manage blogging , freelancing their tasks and socialize or connect to outer world from here . It's a disconnection of connections (meaning you disconnect the outer world to connect to your inner world )
Nothing can actually be compared to serene surrounding at this place . I can share the lat & long of this location so that with the help of coordinates one can reach here without facing any troubles . I met few Christians who were ready to celebrate their Christmas evening at Parvati valley .
It makes me feel cherished to see travellers from globe sharing happiness and festivals together . "One is all & all is one" the true purpose of religion is to connect each and every soul to the matter of being . Refer the first line of day 1 again 🙂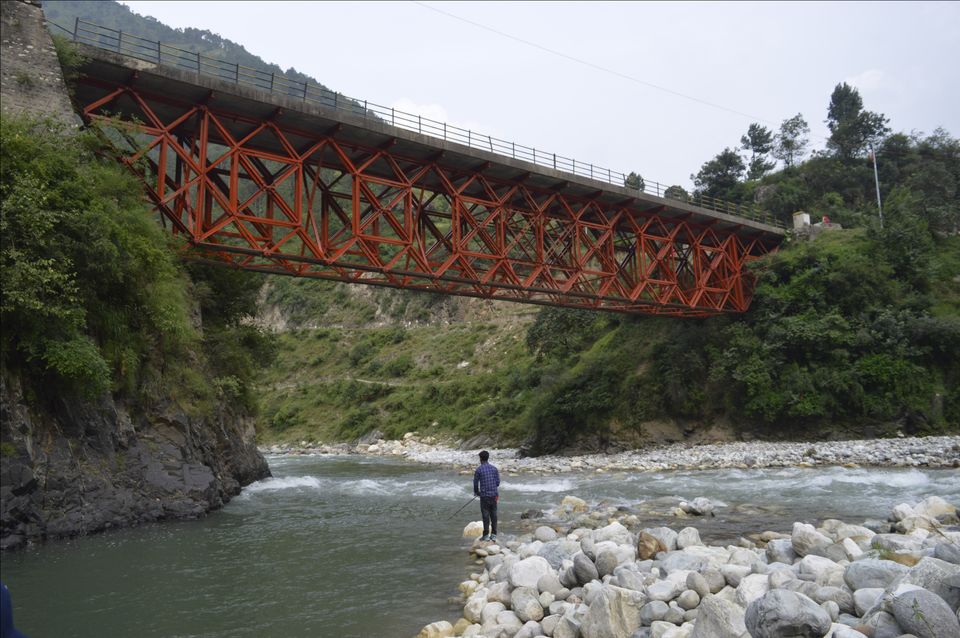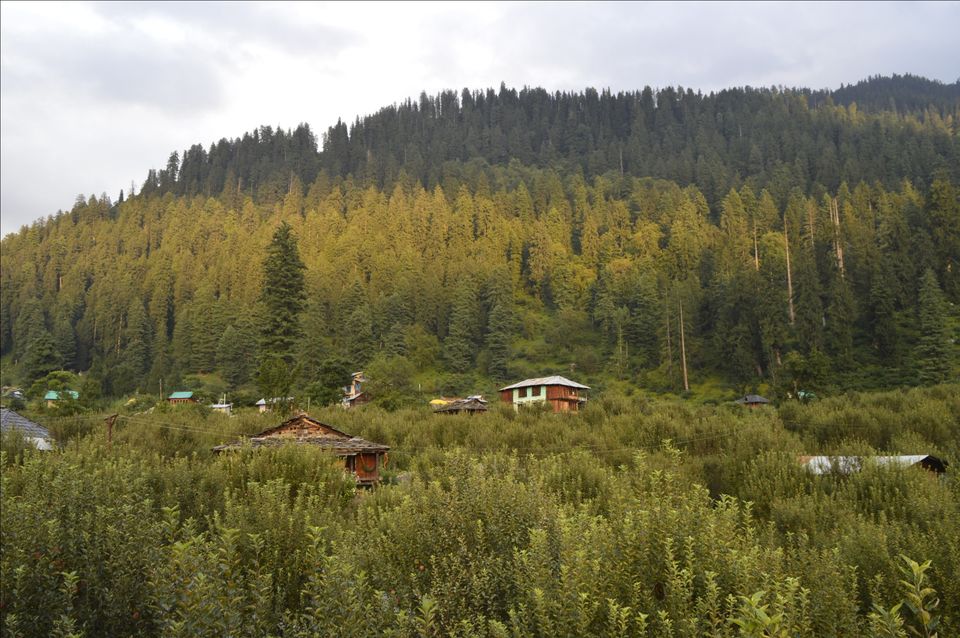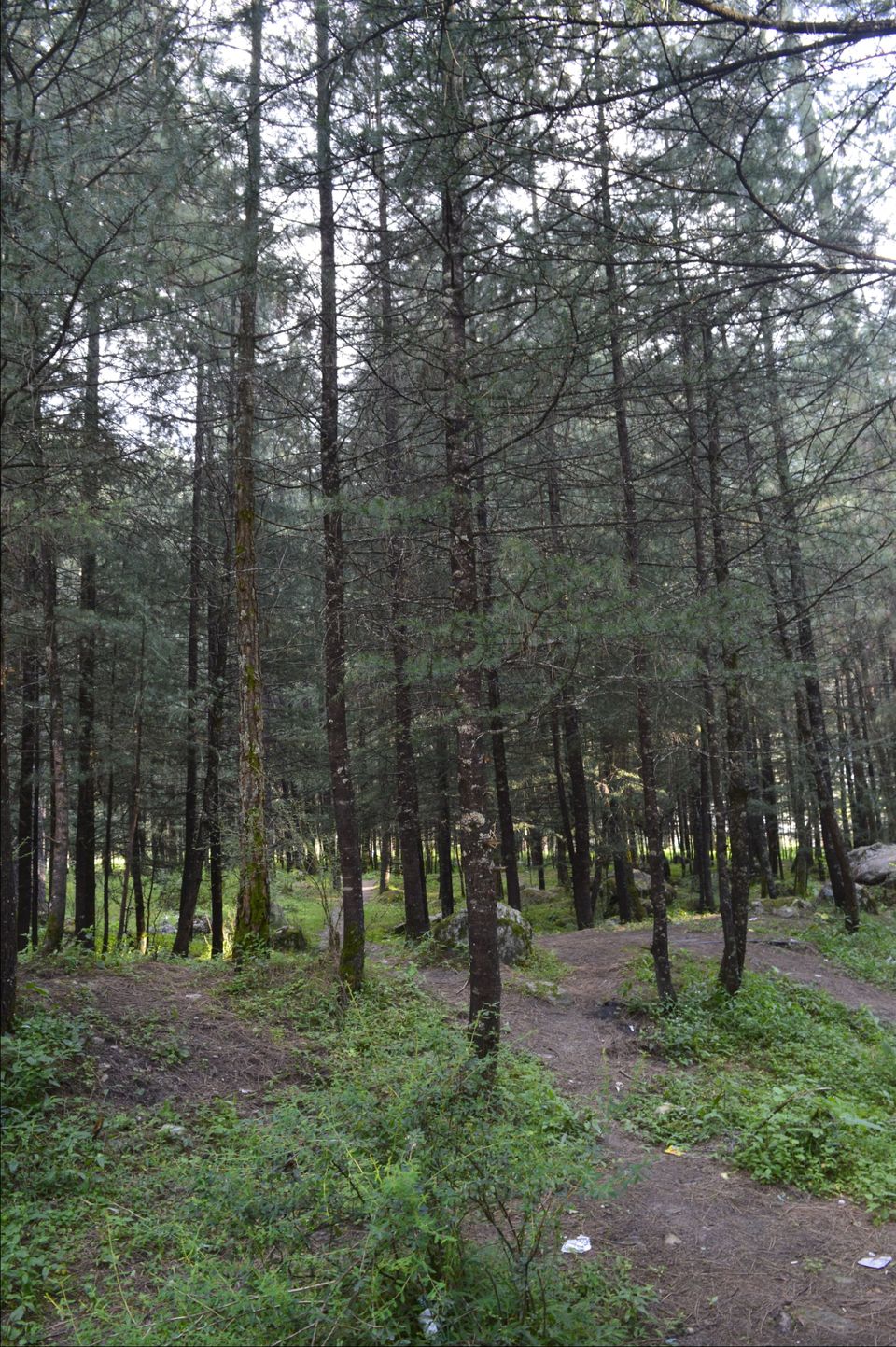 Trippin' with backpackers is my favourite activity but today I had to leave everything behind to cherish moments of showers which I heard through some local villagers and thus I headed towards Kasol . The air bridge on my right tempted me to travel the other side of mountain ranges that got separated because of Parvati river ( I personally call it Powervati river) because of its immense power that is generated due to loud crashing sound with huge rock formations . Now I call it air bridge since it has a wind blast with chill sprinkles of water underneath with a vibration of water crash. After walking down few steps I reached a village called choj . It was a kind small village or vicinity to be precise with electricity supply , guest houses , cafes (not too many options) .
One can have staple food here including pahadi parathas , momos , thukpa & authentic pahadwali Maggi too . Sip tea and enjoy the mountain ranges with a view till mountain top and Himalayan crows Trippin over the trees . I relaxed by a cafe nearby to a guest house called wandering Kasol . I then started walking towards the backside of village from the hemp farms and reached a clear surface good enough to camp . To reach this place I have used white liquid paint to mark the trail for my fellow backpacking friends . You have to carry ample amount of water here since finding a source is difficult and might be bothering to you since the walk is a long way of about 3 hours before you could find the spot .
I got a mixed vibe of peace , fear and thrill due to deep forest but also my wise side helped me to stay since there was no water source nearby .
Please note I didn't spend a single penny for accommodation till now and I only spend for raw food , travelling and water (at worse case )
I pitched my tent unpacked the camera stuff and loaded the focus by the day before I could actually begin night photography and here we go I'm all set for a beautiful night sky .
Tip for Astrophotographers : This spot hosts a lot of shooting star , clear sky and a considerably darker sky without any light pollution . It's located well on the outer side of Kasol village with the huge mountain that's on the side of Thakur guest house / Jim Morrison cafe . It blocks a good light including moon rise on a full moon day (just in case you land up on a full moon day) this place is heaven for you .
Also this place has got a good background of mountain structure with milky way at infinity point .
Another plus point for night photographers is you can see the wind stability here and thus making your camera gear safe from wind blasts and falling . But apart from being non windy it has a pleasant climate to enjoy throughout the day .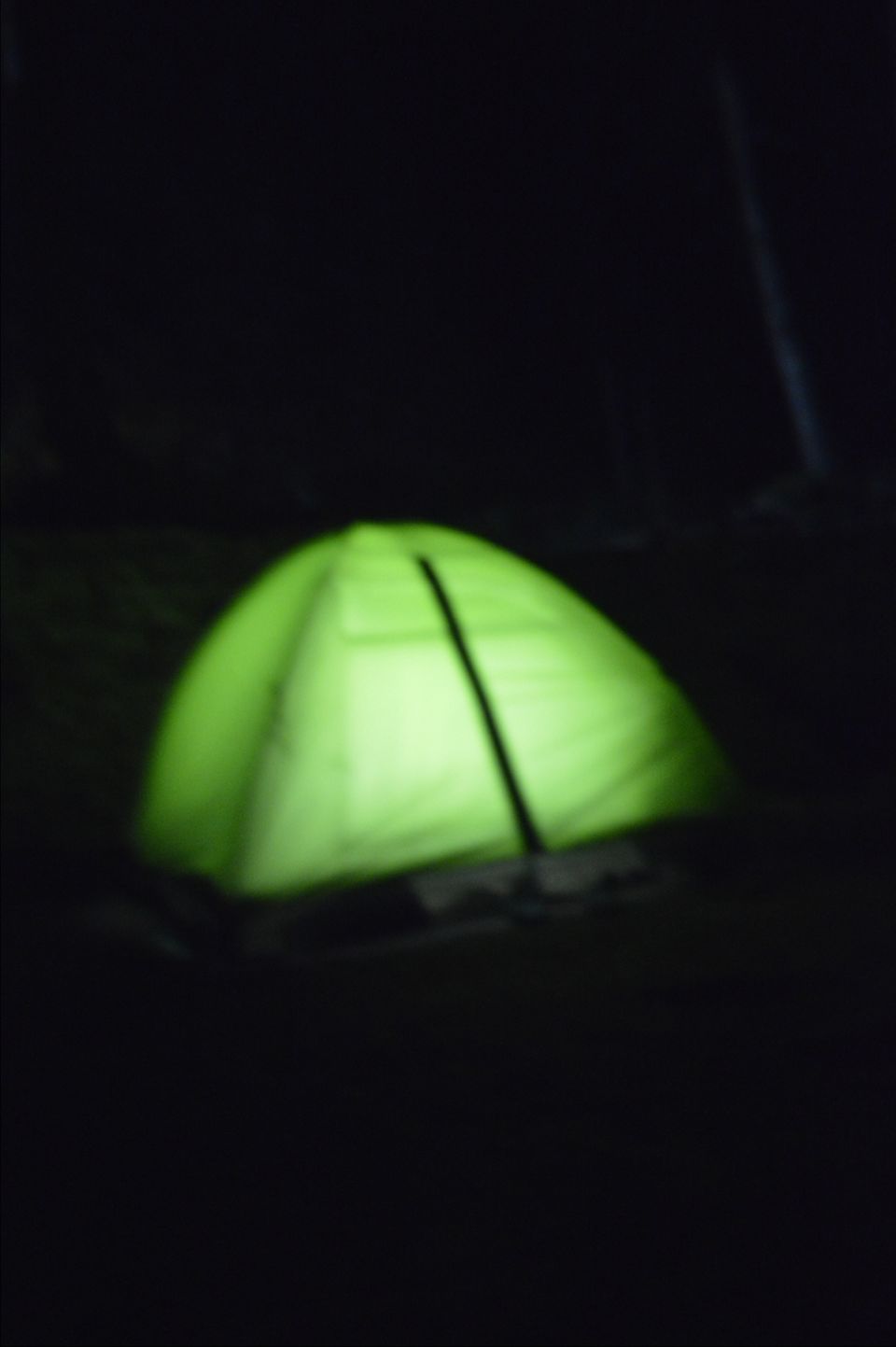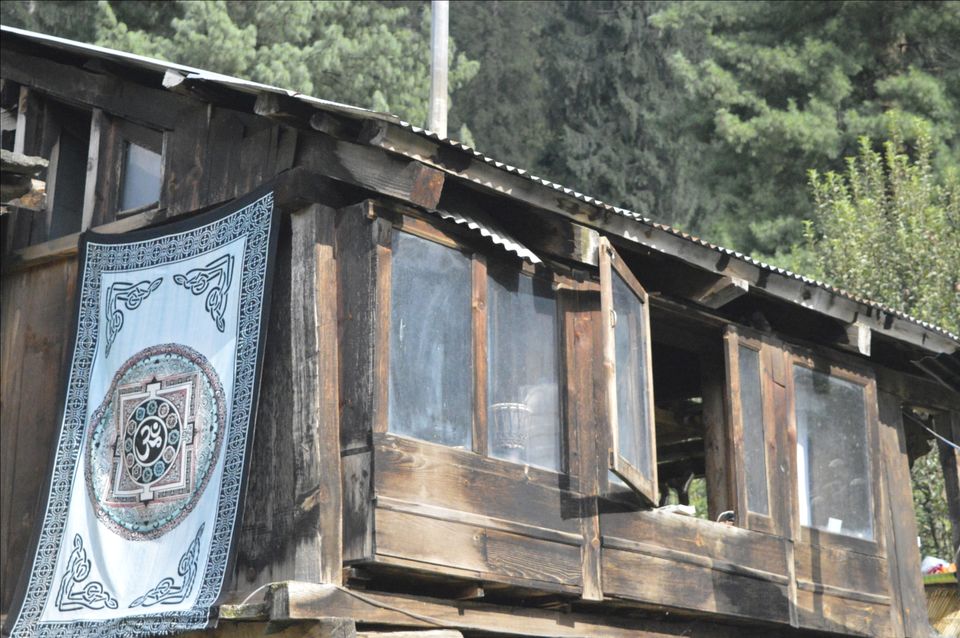 It's almost 3 days to the end of this year and nothing could get better than treating yourself with a trek filled with courage , power of mind and intensive energy to give n take with nature . So I decided to visit kheerganga which is about 2950 metres above sea level and the ascend is gradual and terrain is average . One can do this trek post monsoon to relieve within Lush green matress . As said by locals this trek was medium difficulty graded and was around 15.5kms to the summit . I started my trek at around 8:30am , at first it was pretty easy patches to cross when the sight suddenly changed and terrains became challenging and demanded for some true sense of wisdom . I had my 20kgs on the back and walking this path was difficult without help of someone since getting lost is another fear to tackle cause I wasn't prepared for the changing terrain to survive . One must definitely take guides or walk with other solo backpackers to avoid getting lost to forest trails. I was pretty happy and getting lost was not much of a concern (remember I had power of mind ) along with me.
After walking till 5pm I realised there is no one ahead or behind , I was also suppose to cross village which I didn't so it got me bothering and I started to hunt for a shelter spot . On a great good search I could find a ground at 6:15pm and without making it much delay I pitched my tent . This night I had no itinerary for the new location and I decided to crash early and begin early .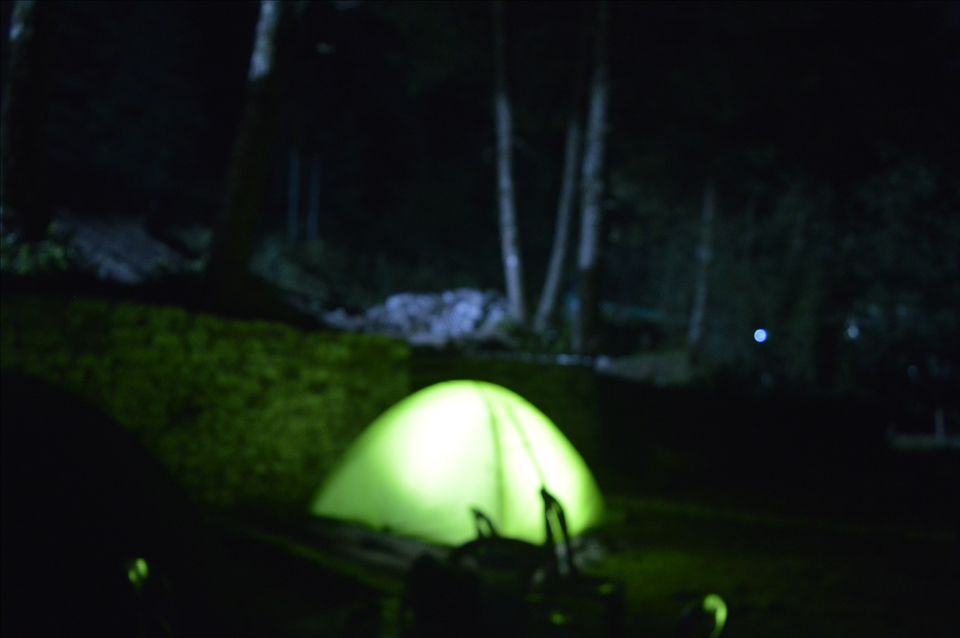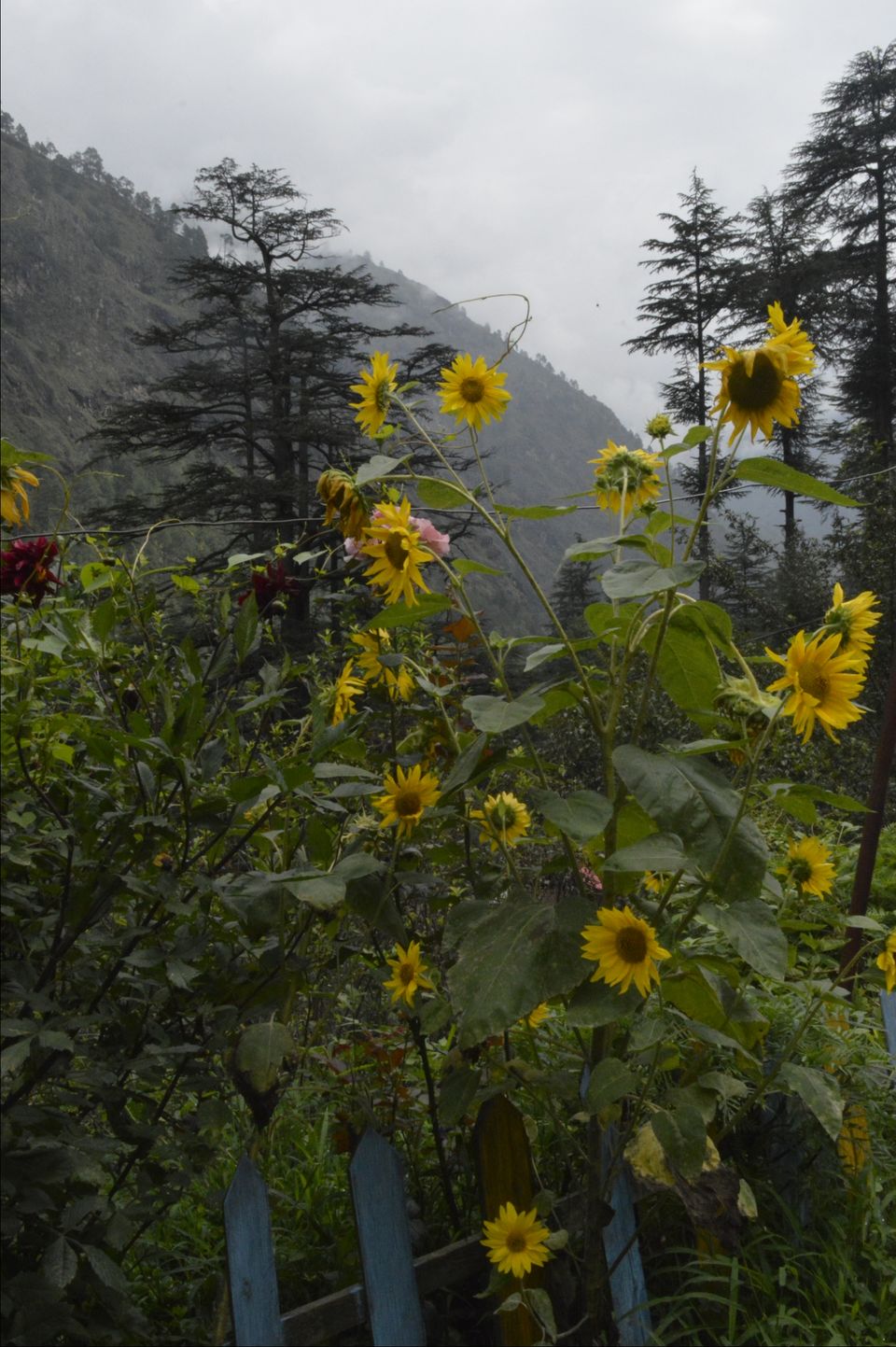 I woke up at 3:45am and packed up all my stuff , did my self care and started walking back at about 6am , I was filled with joy after spotting 2 Himalayan dogs and I could just walk with them together . Please note (all mountain dogs are almost aquainted with routes to the destinations of respective peaks)
Undoubtedly I followed the dogs or say dogs followed my intuition up till spot where I felt I got missed , believe it or not ! It was this spot from where dogs took the right diversion and started walking ahead of me and I was much more excited with this attitude dude ! These are guides for life. I reached kheerganga at 11:30 and first thing I did was a hot water spring bath. After which I was walking towards the camping site for accomodation, everything up looked commercialized and unhygienic and dirt was around. For villagers they have no option to make money but spenders beware take the garbage along don't dispose anywhere , it's only making it worse and not reachable due to several bans and restrictions that's imposed. I can't see this happening and I walked away from kheerganga top after watching a beautiful sunset from top , now that it was getting darke my concern again was to camp at a safe place but walking and pitching wasn't a major concern since there was moonlight .
What amazed me at kheerganga ? To this trail which is right behind the kheerganga top I saw shinning rocks on the ground , I freaked out watching the crystals . Milky white bright crystals that reflects the moon and all I can feel is a blessing . Camping here was a real fun and I went for night trail of about 750 metres which offers a great view of pin valley and the river path . I slept off with pain in my legs , fear in my heart and happiness on the mind.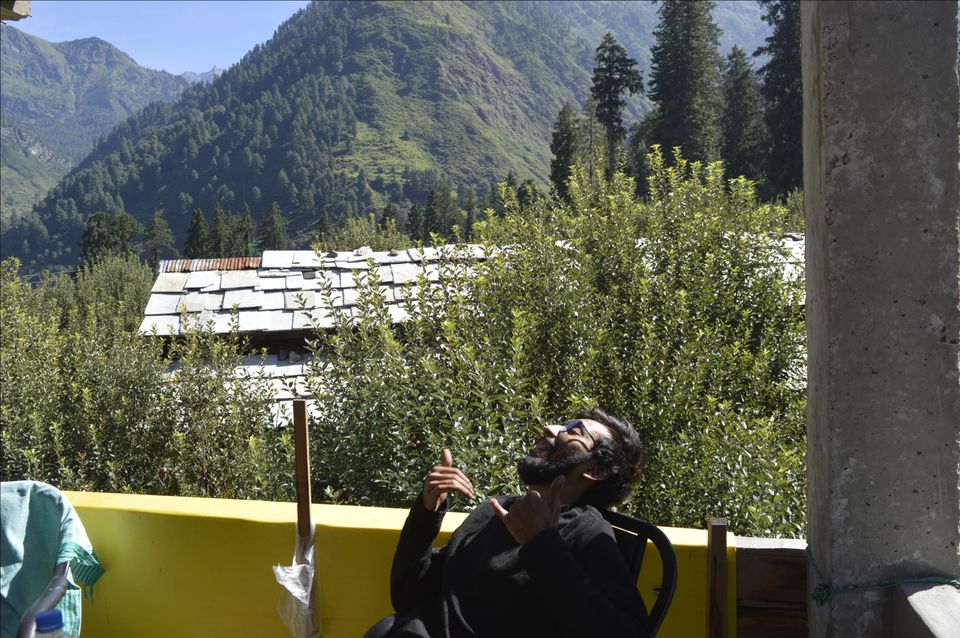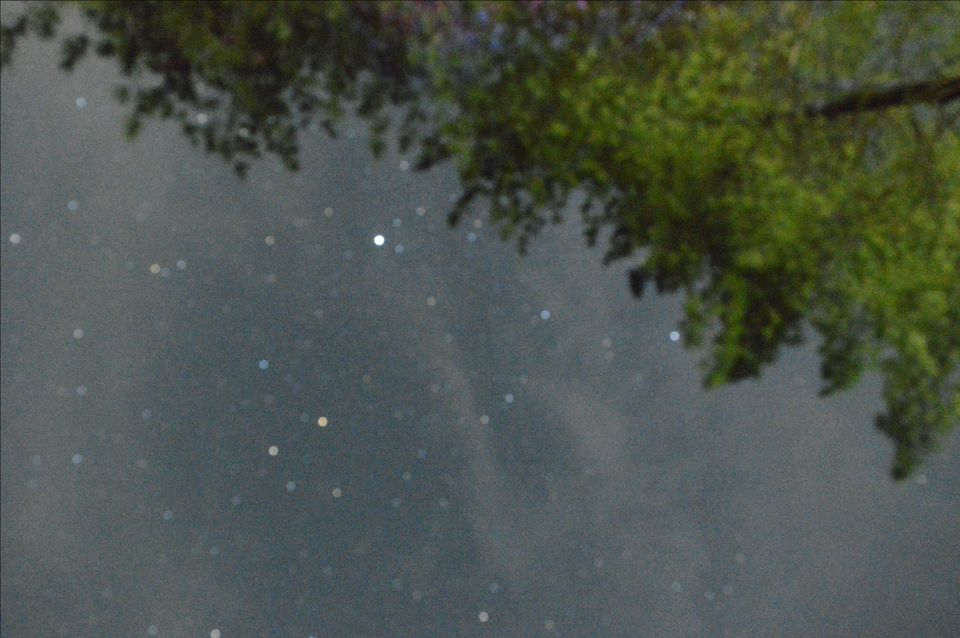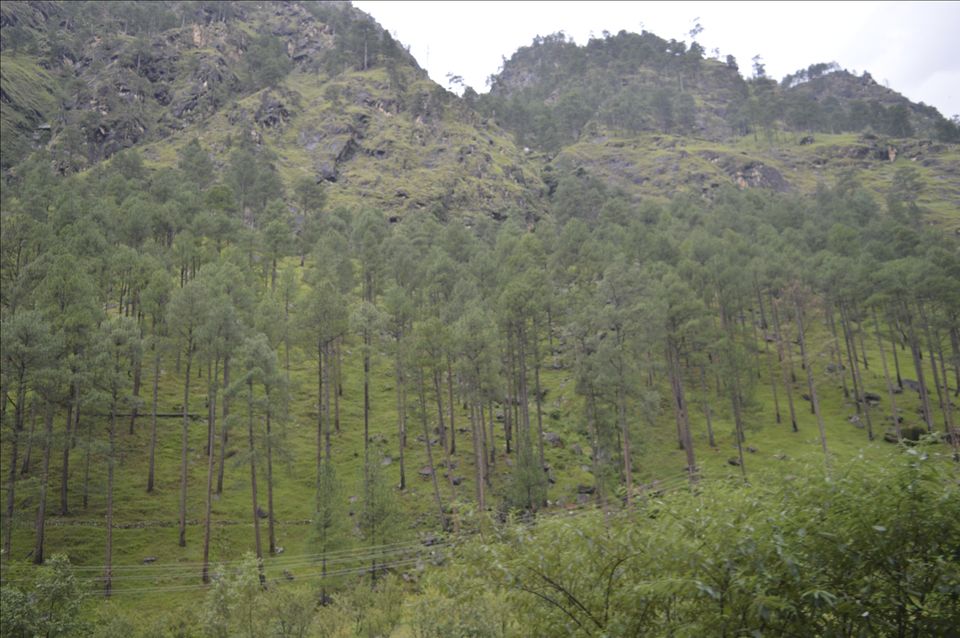 The morning was weird and I have lots of experiences to share which concepts paranormal activity , supernatural energies and much more . I prefer to not share these moments and would also suggest one n all to explore this place and beauty . Sometimes connecting with energies and hearing them isn't a bad idea , the scream , the run, the whispers ,heavy thug sound and shivering due to chills. But after all that I'm here sharing the memories not cause I was lucky , it's because of certainty ( Nothing can ever happen to your true form of existence , the soul is inevitable and indestructible what you lose is a body to experience the physical forms of nature )
Reality uplifts the dimensions within and travelling is yet another dimension of existence . With tons of mixed vibrational energies I spend my rest of the year here and welcome the New Year .
Happy Reading . Thank you
Stay tuned .