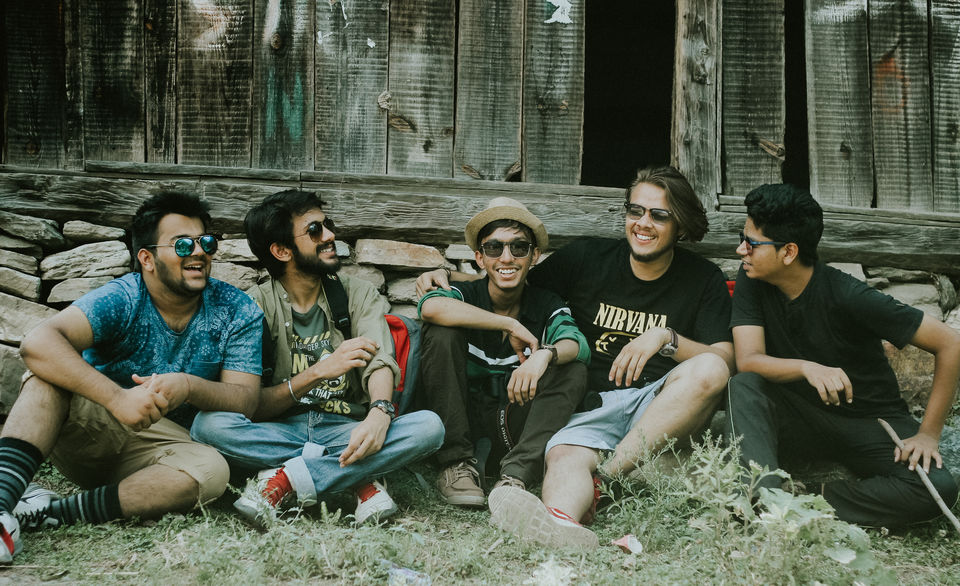 The summer of 2017, I got to visit one of India's natural heavens, Parvati Valley in Himachal Pradesh . I had been inspired by a travel show called 'Way Back Home : A Himalayan Travelogue', and so I decided to pack my bags, called a few friends, made a plan, and set it in motion. This trip, was going to be our 'Escape' from our regular lives.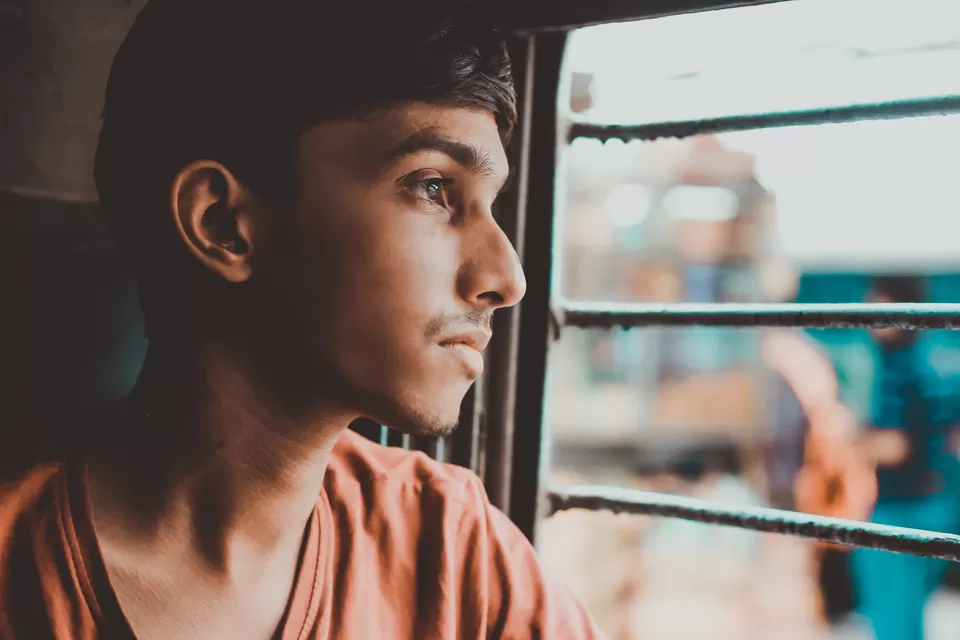 We started our Journey all the way from the heated Jaipur in Rajasthan, and took a train to Chandigarh, from there via a bus, we reached Bhuntar, which is how you reach Kasol, that was the first destination on our trip. From Bhuntar, Kasol is a 1 and a half hour journey via another bus.
Tip : If you want to reach Parvati Valley, you could also take a direct bus from Delhi to Bhuntar.
While I hate to do bus rides, these were still worth it, you got to experience stunning views, as the buses went up the mountains, and at the same time, if you are the social type, you can make friends with other travelers around.
We reached Kasol in the evening, and it was a bit tough to find accommodation, as most rooms get full by the middle of the day, however, if that is the case, you could do a small trek to a nearby village Chalal, and get cheaper and much better accomodation. We stayed in a small homestay in Chalal, and explored the markets and cafes of Kasol later that evening.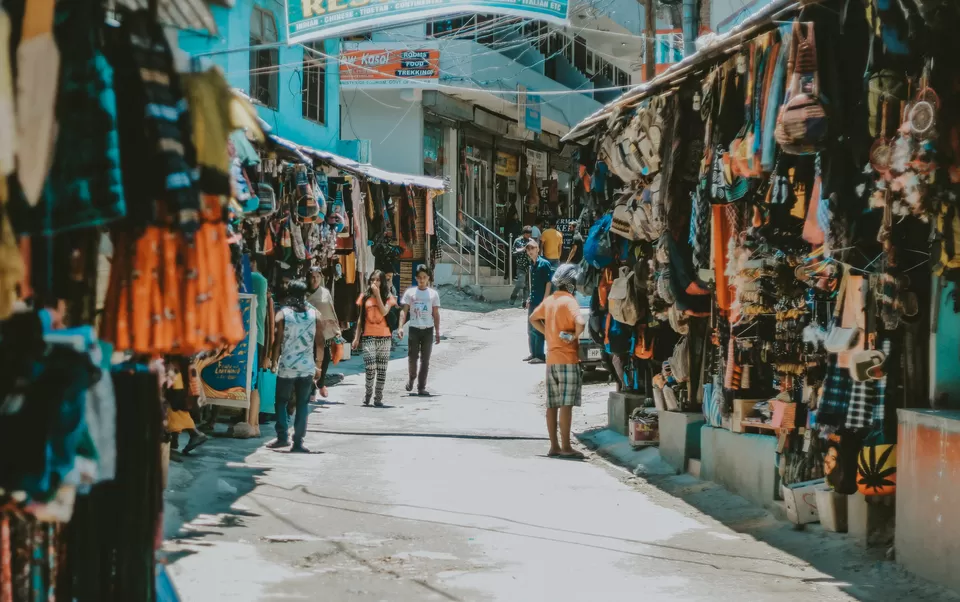 Tip : Kasol gets overcrowded during April - July, it's better to stay in Chalal, it's a small trek of 1.5 kms and much more peaceful and cheaper.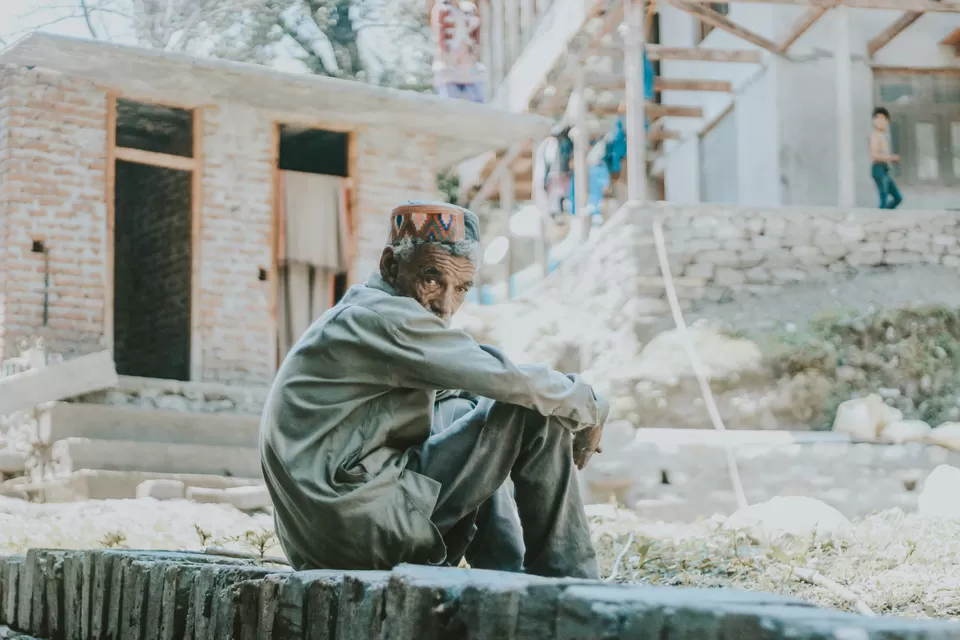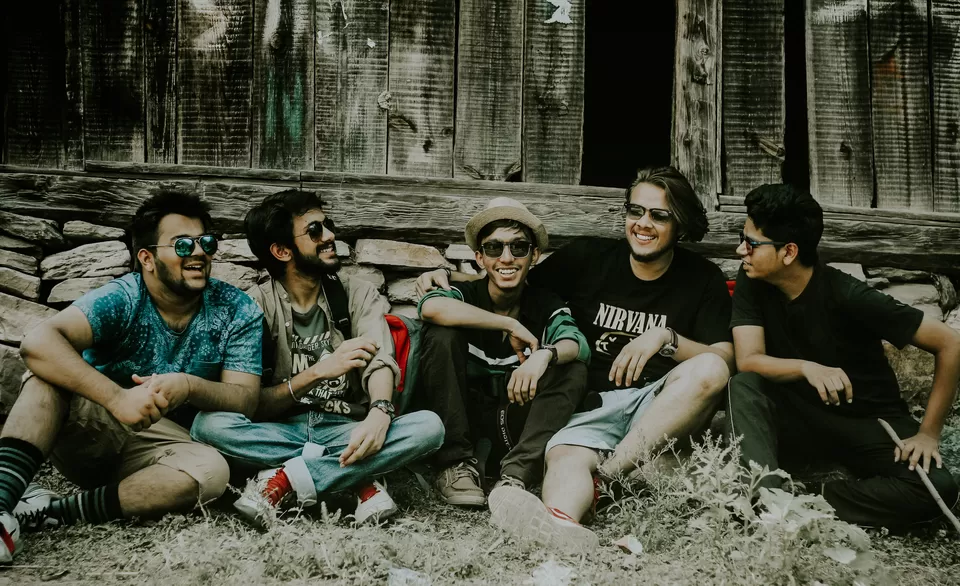 While Kasol is famous for a lot of things, including the hash that you get there, our drug was the nature itself. It is beautiful, especially with the Parvati river gushing through its heart. You can even camp nearby the river.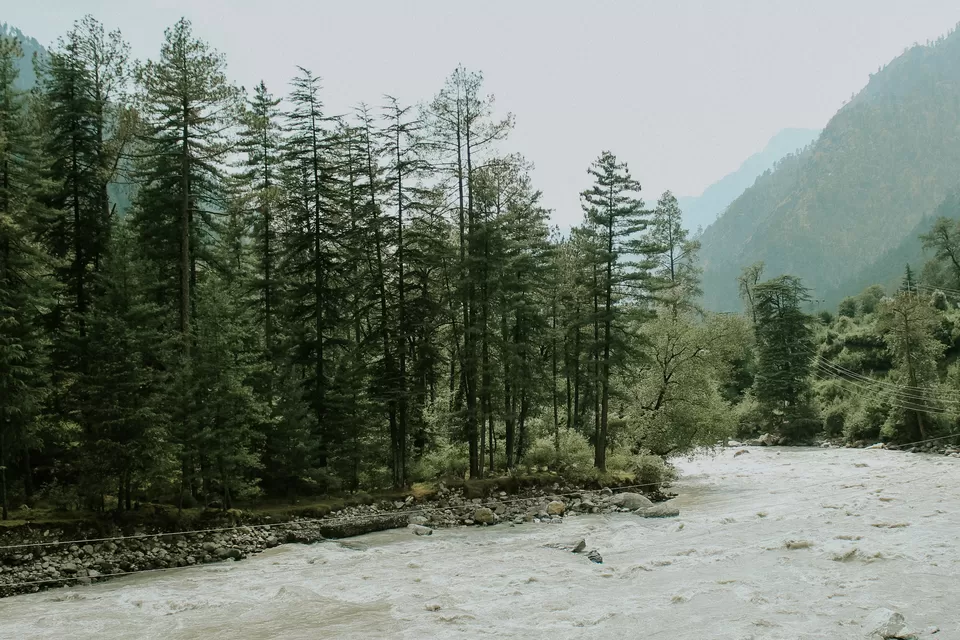 After embracing all that Kasol had to offer, we took a bus to Barsheni the next day, in order to go to Tosh, our next stop, however, we made a change of plans and went to a small village called Kalga instead. The bus leaves you at Barsheni, and from there on you have to trek about 3 kms to Kalga village. It's a small village on the mountain with stunning views of the valley, and peace.
We stayed at Raju Bhaiya's homestay, for about 100 per person. It was truly homely, and the food was well cooked. There were a lot of other travelers, and it was here that we met Yachna and Rahul, who agreed to be our travel companions for the next day. We spent the night at Kalga, with the peace, and the quiet of the mountains, admiring the night, and singing songs at a bonfire that was lit up.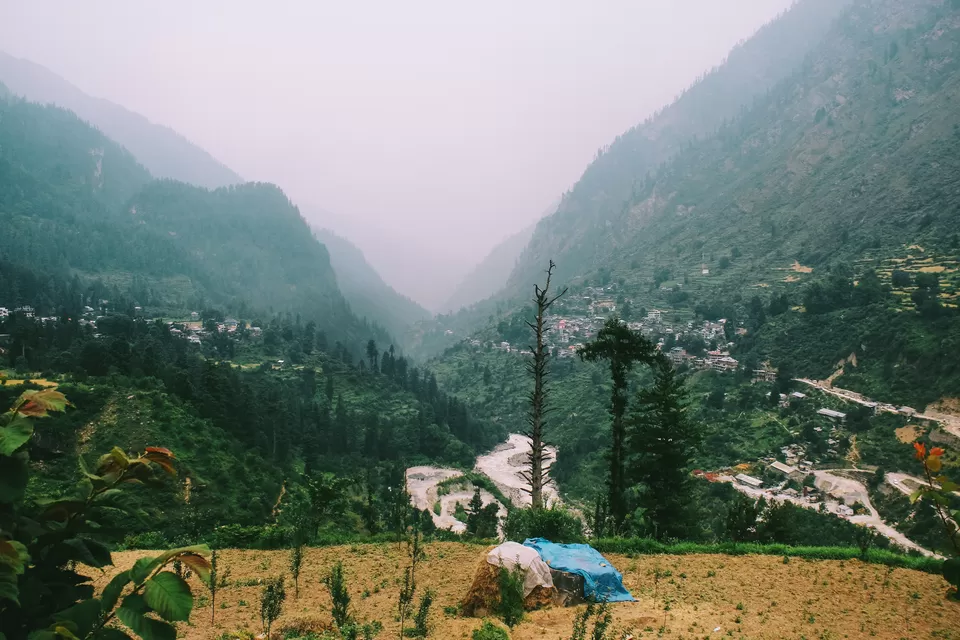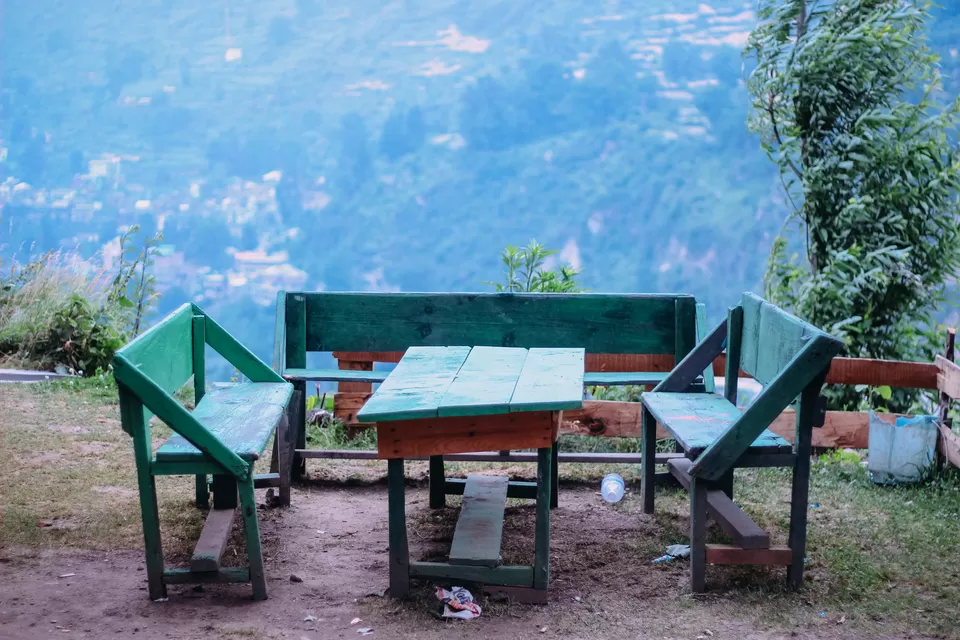 Tip : If you want to do the Kheerganga trek, instead of Tosh, you could visit Kalga. It's on the right of the Barsheni bridge and has a different path for the Kheerganga trek, which very few know about. This path joins the main one, after a while.
Our next plan was to do the Kheerganga trek, early next day, around 9AM, our group of now 8 people, set off through the village to do the Kheerganga trek. And this was the most exciting, memorable part of the trip for all of us. We started the trek around 9 and reached the top around 1pm. Overall it's a 4-5 hours trek, and is neither too rough on the legs nor dangerous. Though some areas do get slippery, so don't take any shortcuts.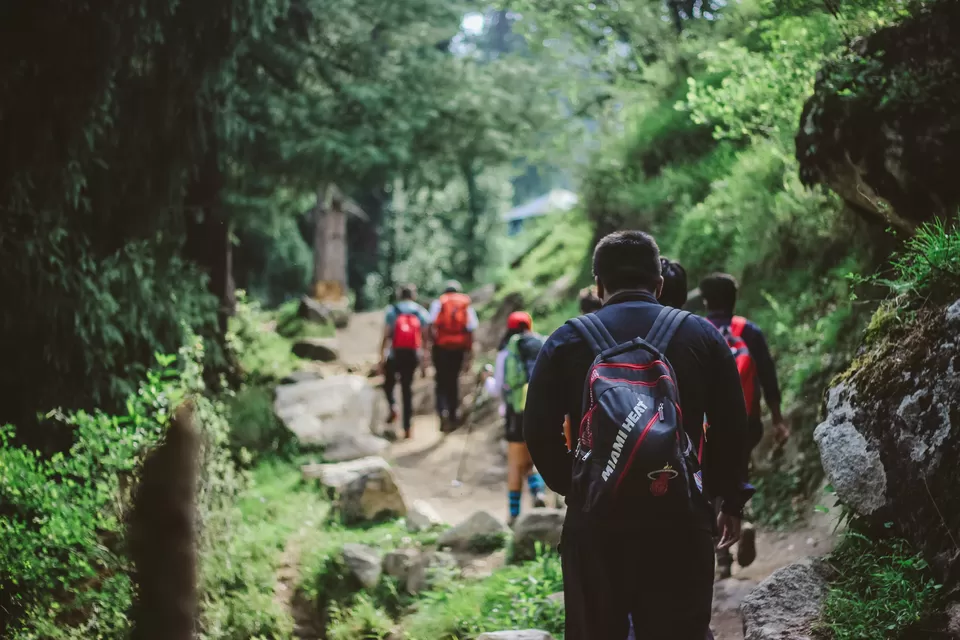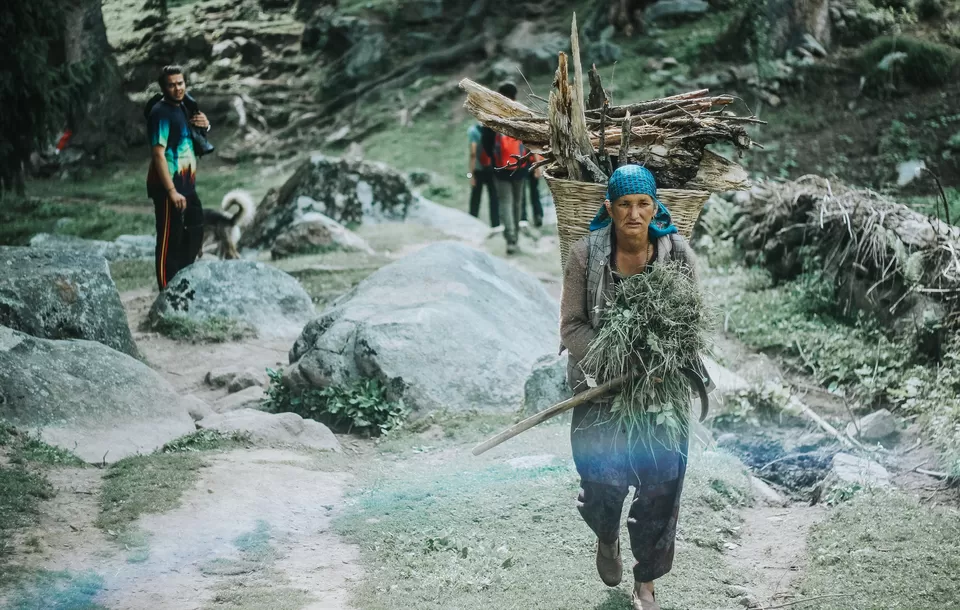 Tip : If you are staying in Kalga, you could also keep your heavier bags down at Kalga, and do the trek with basic requirements like a change of clothes, some food, and first aid, and a water bottle.
Around the halfway point, there will be this cafe called Shalom Waterfall Cafe beside a huge waterfall. You'll also find these mountain dogs accompanying you on the trek, feed them biscuits whenever you take a break at some cafe. On our way, we experienced and saw rain, shade, forests, a waterfall, and all that nature had to offer.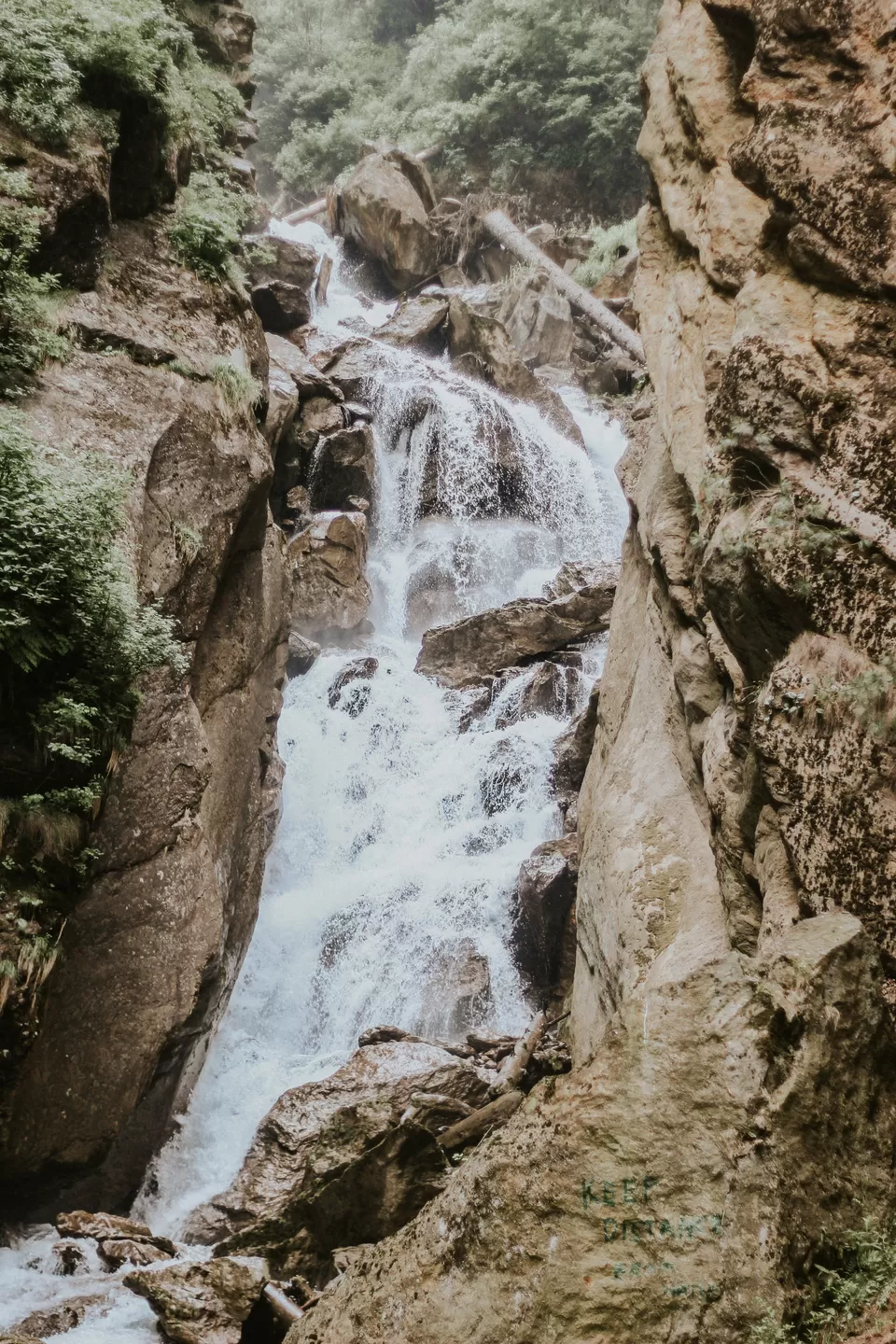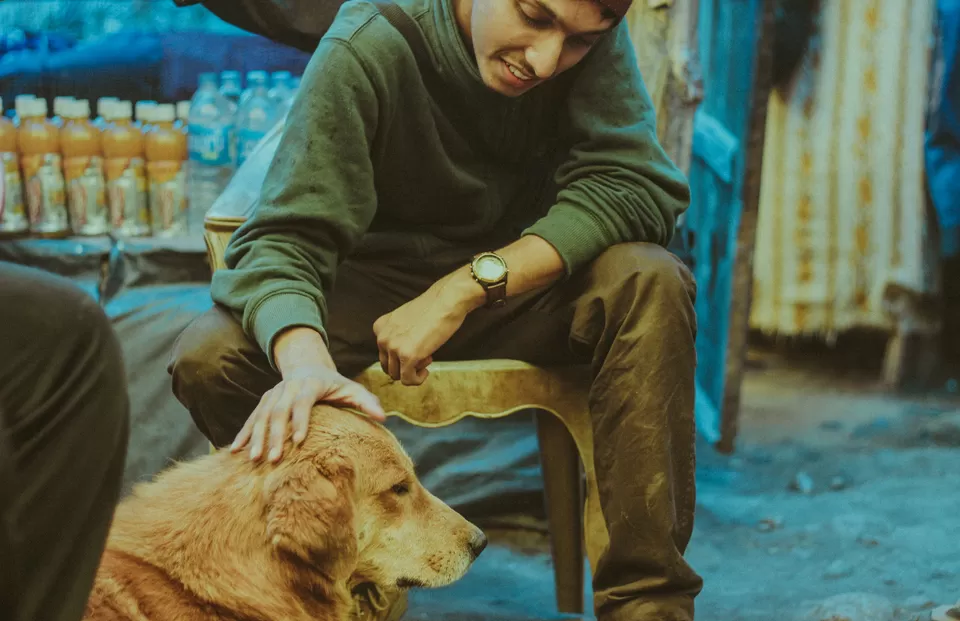 Tip : The mountain dogs mentioned really help you through the trek, they are dogs used by villagers to often accompany while doing the treks. You don't buy or rent them, they just accompany any group they like on their own, just feed them biscuits.
Once in Kheerganga, you could stay either in tents, common sleeping space, or get a private room (no attached toilet though). There are no hotels. We stayed in a common sleeping space area. After reaching, we first took a bath in the hot water springs at Kheerganga, and enjoyed the beautiful views of the snow-capped mountains. Then we had lunch, and enjoyed the setting sun and the views.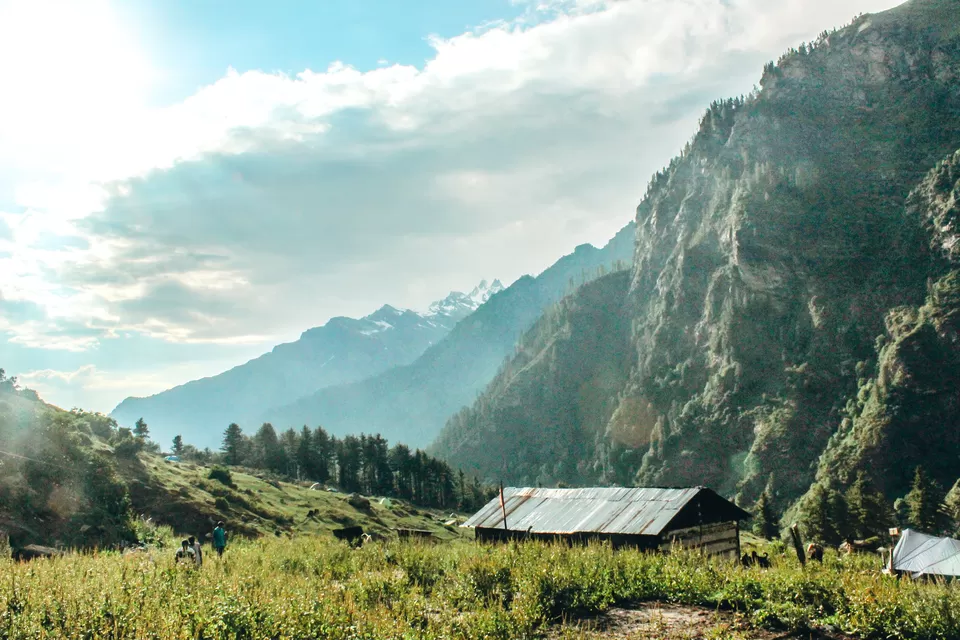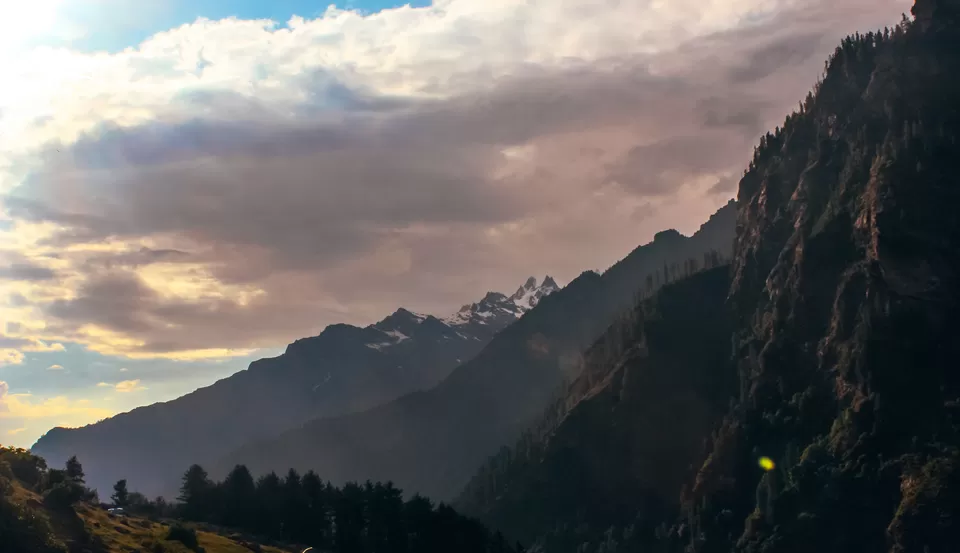 At night, it does get very cold, so keep a good jacket with you. The trek isn't cold, but the night up at Kheerganga is. We saw a sky full of stars, before going to sleep. The next morning, we had to descend.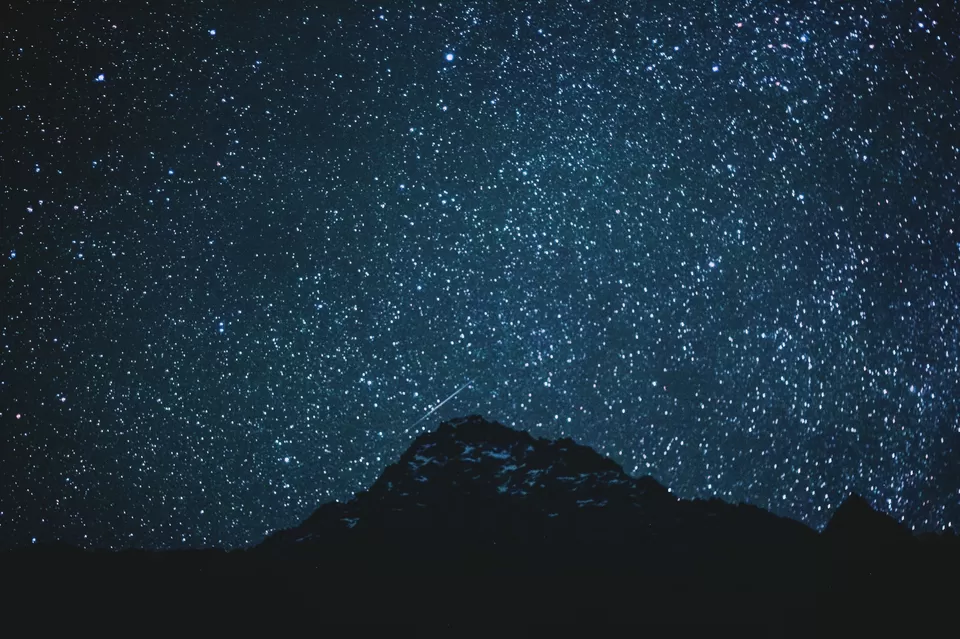 It took us about 2 hours to descend. Descends on the treks are faster. We spent some more time at Kalga village and parted out ways with Yachna and Rahul before going to Manikaran Sahib which is a Gurdwara, close to Barsheni, about 40 minutes via the Bus from Barshaini. At Manikaran we were offered some amazing food at the 'Langar' in Gurdwara.
Later, we departed from Bhuntar through an overnight bus journey to Delhi, from where we reached Jaipur via a train.
Tip : Last bus from Kasol/Barshaini is around 6PM, so you have to reach Bhuntar via that. Otherwise, you could find a taxi from Kasol. Also, you could extend your trip by a day, and go to Manali.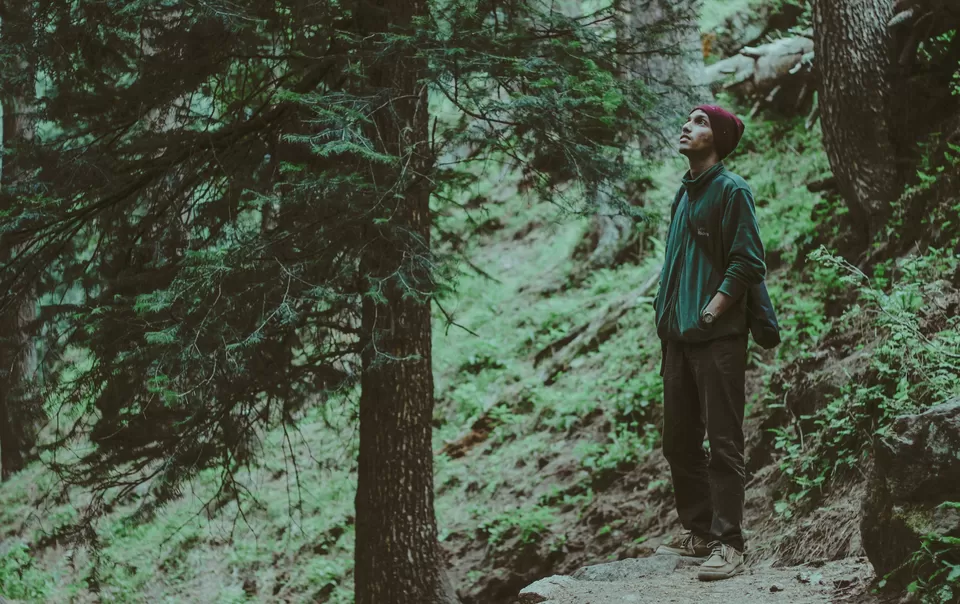 Himachal Pradesh, and Parvati Valley is truly a heaven on earth, and a backpacker's paradise. Keeping some small things in mind, you can truly make this trip an adventurous and memorable experience.
Frequent Searches Leading To This Page:-
himachal tour package shimla kullu manali, himachal tour packages from katra, luxury himachal tour package, himachal tour packages from mumbai for couple, tour package of himachal pradesh, himachal tour travel package