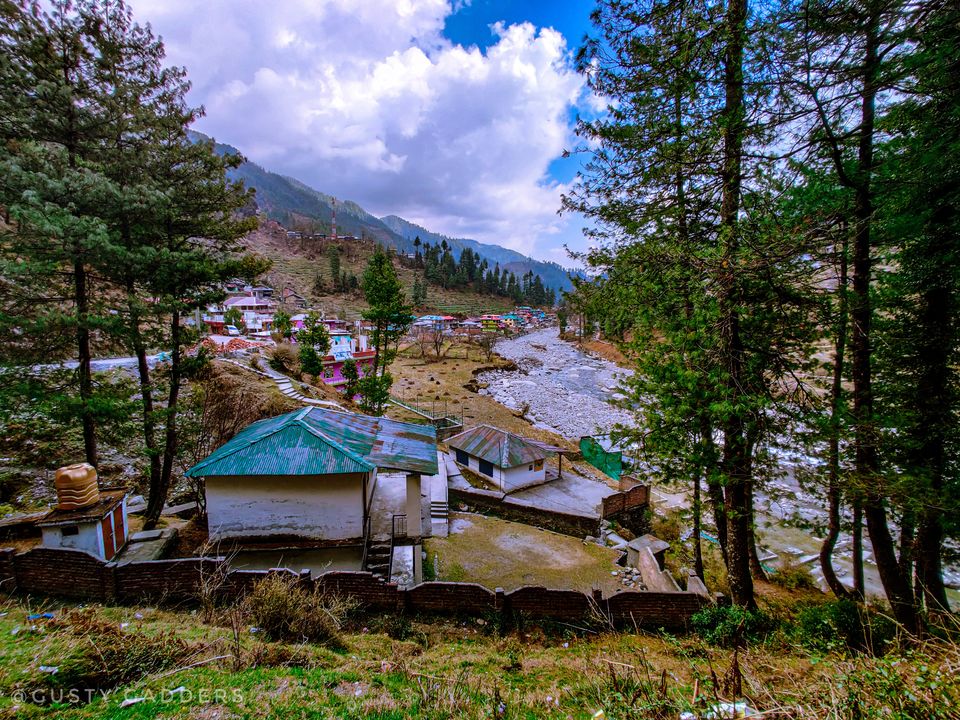 Barot Valley is situated in the Mandi district of Himachal Pradesh at an altitude of 6,000 feet above sea level. A valley so beautiful, clean, full of pure and good-hearted people, where you can feel the simplicity in its air, where you can find a new version of yourself to explore, to get lost in those sound of gushing river, birds flying high and chirping loud, and whatnot.
'Before climbing the summits, you first walk in the down valleys'- Mehmet Murat
Just like the above phrase you need to walk beneath the valley to know about its hidden gem. Believe me, this valley is full of wonders and unfolds a new magical page every morning. I could have lived for months to see that sunrise from the balcony of my homestay. There was a field in front of it and the Uhl river passing by with a backdrop of snow-capped mountains and that's it, the view where the immense happiness lies for the whole day.
A Little More About Barot
Barot lies between Kangra valley at one side and Kullu on the other. There are various area lies in different parts of the other districts. The valley was well not connected to the rest of the country until 1975 when the road was constructed and opened. This place actually came into existence back in the 1920s as a part of the Shanan Hydel Project. The Britishers constructed the reservoir that used to run from Joginder Nagar to Barot using the trolley system in mid-1925. Also, the trolley track set by them inclined at 45 degree from the steepest section which ends at Zero Point in Barot. The steepest gradient is known as 'Khooni Ghati'. Barot is a base route for many treks but is still unexplored as many people are not aware of this.
Being not a very touristy place, this small village is a perfect getaway if you are looking for a peaceful place with locals around.
By Air
The nearest airport is in Dharamshala. It takes around 4-hours to reach Barot which is at a distance of 90 km. You can easily find taxis and buses from there.
By Train
Joginder Nagar is the nearest railway station, it is connected by railway line to Pathankot. Pathankot is connected to most of the major city railway stations and from there you can either go to Palampur or Joginder Nagar to continue further distance to Barot.
By Road
The most convenient option to reach Barot is by road. Since it is an offbeat place, you would love to experience the road journey while reaching this valley. Though you have to change several buses according to your starting point to reach here.
Bus Route: Delhi- Mandi bus stand- Ghatasani- Barot. At Ghatasani you get the bus of Baijnath to Barot valley starting from early morning.
If you are coming from Chandigarh, it will take around 7-8 hours by bus and 5-6 hours by taxi.
We drove by taxi to reach Barot which takes around not more than 2.5 hours from Bir. Bypassing through dense deodar forests en route the towns of Jhatingri and Tikkan, Braot valley looked mesmerizing along with the silver sparkly river called Uhl.
Bir-Barot taxi charges: INR 1300-1500/-
Best time to travel Barot valley
Chilly weather, snow-capped mountains, sun shining bright enough to enjoy Barot valley with eyes open wide. This place is heaven for peace lovers and if you are an off-season traveler like me, try coming here in starting of march. I can bet this place appears all lush green and more attractive at the time of monsoon. But yes, it is not advisable to visit this place in Monsoon until n unless you are planning to stay here for a longer period. This valley welcomes you any time of the year but still, you need to be a smarter one to chose your timing.
Summer: It starts in April and lasts till the end of June. Though it is not a very popular destination among tourists but more people come during this season only. It becomes crowded and home-stays are difficult to find during the period.
Monsoon: Due to sloppy roads, and uninvited landslides the place remains tourist-free mostly. It starts from the mid of July and goes till the end of September.
Winter: Winter turns the whole valley into some fairyland and the Himalayan stream coming all the way from the white mountains glows at night.
It starts in October and remains till February. People visit during winter time to experience the snow trekking of Rajgundha.
According to me, March is one of the magical month to visit this place!
Where to stay
Watching from any top corner of the valley, cute looking color blocks appear to be a painting of Van Gogh with charcoal smoke coming out from the chimney. Most of them are the homestays around the valley which are super cozy and serves home-cooked delicious food.
Surat Hotel/Homestay is one of them and made our stay very comfortable till the end. The owner of the place was very helpful and prepared the food by himself along with one helper. It is advisable to opt for the homestays despite the hotels which are quite costlier.
Top things to do in Barot Valley
Fishing
Cold Uhl river flowing through the valley makes it a hot spot for trout angling and is a great tourist attraction. You can get the equipment at a very nominal price and can take permission for fishing from the trout farms. The best months for fishing are from April to October.
Trekking
Barot is becoming a heart for the trekkers and excursionist. Many trails are passing through this valley which include Bada Bhangal, Kullu, Manali, Billing, and Kothi. Rajgundha trek can also be done once you reach Badagran from Barot.
You will come across the amazing scenic beauty while passing through the trails full of cedars and pine forests.
Camping
Stargazing at the riverside, the tranquility of water basin, that gushing melodious sound of flowing river, everything glowing together at night makes you fall in love at this place.
Camping is another option to spend your time in peace across the Uhl river and in and around Barot. There are other camping sites as well and you can spend your quality time by taking one of the camps.
Self-exploring
Exploring a place depends upon you, you won't get all the information online. To learn more, grasp more, see more, live more and feel more you have to just go out there, outside your window, let your mind see what the heart wants. I was roaming around the upper side of the valley and came across a trail going somewhere towards the hill. There was a bridge, an old shepherd with his goats and sheep around and it made me climb up that path without thinking twice.
Places to Visit in Barot
Uhl River
The river originates at the Thamsar Glacier in the Dhauladhar range of Himalayas and passes through the Barot valley. It continues till the Chohar valley and then meets the Beas river which is 5km downstream from Pandoh.
You can enjoy your food beside the river camps, avoiding any kind of littering around.
Nargu Wildlife Sanctuary
Barot is situated inside this sanctuary and the other side of the Uhl river comprises of the forest area. If you are lucky enough you might get to see Monal, Black bear and Goral while camping here. Trekking to Kullu goes from the dense forest of this sanctuary itself.
Shanan Hydel Project
Project constructed in the backdrop of dense forest and it is the reason of existence of the Barot valley. It is known to be India's first hydel project in Megawatt capacity.
Barot Temple
Situated on the bank of Uhl river, this temple can be reached by doing a 15 minutes downhill trek. Surroundings of Devta Pashakot Temple is very peaceful and relaxing.
Itinerary
Day 1
Starting any journey early morning makes it productive and we exactly did that. We wanted to experience all the viewpoints on our way from Joginder Nagar to Barot. After reaching around 12'oclock, we relaxed a bit with a perfect view from our balcony. We wanted our first day at ease so we took a walk to know about the place and meet the locals. While walking towards Bakhlog we came across women working in the terrace fields mostly covered with mustard. There are villages in the mountains which are unexplored and remains uneaten by the bug of commercialization. We found a small fountain just at the end of that road towards Bakhlog.
I met a bunch of school children who all were excited to go home after a hard-working day. It takes around 2 hours to reach their home which is at the top of a mountain. I was flabbergasted by their dedication! I invited myself and took a walk with them but got busted in the half as I supposed to come down all by myself.
Later on, we just spent some time with the gushing sound at the bank of Uhl river to enjoy the sunset. You will find very few lights and people on the road at the time of winter.
Day 2
Next day you can explore Nargu wildlife Sanctuary, Shanan Project, Barot temple, waterfalls or try out trout fishing and other activities.
Try to plan accordingly and cover them on your first day if you can. On your second day, you can plan your trek to Winch camp which takes around 3-4 hours from Barot. Enjoy the Sunset and spend your night while camping around. You can extend your trip days according to your comfort.
Day 3
Trekking to Rajgundha Valley
Rajgundha valley can be reached from Billing traversed the oak, rhododendron and deodar trees with the picturesque view all around. It is a popular trail among the travelers and usually taken by them using the same route. It takes around 14kms to reach Rajgundha, covering a 360° view of the valley from the Channa Pass.
But if you want more adventurous and a different route, I would suggest you cover it from Barot. It is around 2.5-3 hours trek from Baragran if the weather is clear and if there is no snow.
Rajgundha
Rajgundha valley is a bliss to eyes and one cannot miss the divine sunset and stargazing amidst the beautiful Dhauladhar mountain ranges. People live a simple life and depend upon farming and cattle for their livelihood. In winters they usually move down to the lower regions to keep themselves warm. Hence, you will find very few people during winters.
Travelers come here to enjoy the zillions of stars at night and the gorgeous sunrise and sunsets in peace and serenity. I have read about it a lot and knew that I could not miss the chance of going here while there is still snow. But little did I know the later on consequences!
Morning Tea
After having some breakfast and packing a little for our lunch we were ready to head towards our journey of the day. The first local bus comes around between 9-9:30 a.m. The last bus of Badagran runs at 5 o'clock which comes back the next day in the morning. If you are planning to return on the same day, it is advisable to book your cab beforehand.
Bus ticket: Rs 25/-
Cab: Rs 500/-
Journey from Barot to Badagaon
Sitting on the window seat amid serene beauty going upwards was quite scary and very exciting. Those bumps on the road keep pushing the inner adventure junkie to the corner but we were not afraid at all. We keep passing each other that look of ultimate satisfaction from one window seat of the bus to the other.
We were lost in our thoughts when the bus suddenly took the break. Our heart stopped for few seconds reminding all sorts of thought that could be possible in such a small moment. But it was all good and turned out to be the mistake of the driver driving from the opposite direction. You start imagining stuffs if things like this happen. You start thinking about the uncertainty of life and the people around you. But the jaw-dropping views grab me back from that what-if situation. I kept smiling and the ride goes on.
The journey till Badagran by bus was mesmerizing and was one of my favorite parts of the entire trip.
Sometimes you couldn't describe your emotions in words and you eventually get lost in your thoughts. My breaths were getting reckless while I was crossing all the snaky roads. It took around 1 hour to reach Badagran from Barot valley and the whole journey has already made us excited.
Fascinating Half-done trek
Sometimes you don't know what turn to take in your simple journey. It seems not all journeys are that simple.
The trekking trail of Rajgundha in starting is easy and when you start climbing towards the upper direction the real struggle starts. The only problem that happened was that our trek was not pre-planned and we had no idea about the snowy path. Trek remained unfinished due to bad weather and no clear direction available at that time.
Carry your gumboots in March as well because there would be snow and it becomes very difficult to walk in your normal trekking shoes. We had no other option rather than coming down and we glad we did at the very right time. Till the time we had reached back to Badagran, heavy hailstorms started making it impossible to walk any further.
To sum up my whole experience, I am eagerly waiting to come back to complete my unfinished trek from Barot. To enjoy a little more in the laps of serenity and rejuvenate myself to the core of enlightenment. Barot is heaven to eyes, an offbeat place and I hope it remains the same without getting much commercialized.
Travel this undulating beauty and get yourself an unforgettable surprise with open eyes.
Let me know if you have any queries regarding this trip and don't forget to share your experiences.
Also, read more such interesting stories on my travel blog Gusty Gadders and don't forget to follow on Instagram , our travel page!
To see more of Sanvi's fascinating travel tales, follow her on Instagram here.
Sign Up now and get the latest travel updates from Tripoto straight in your email's inbox!