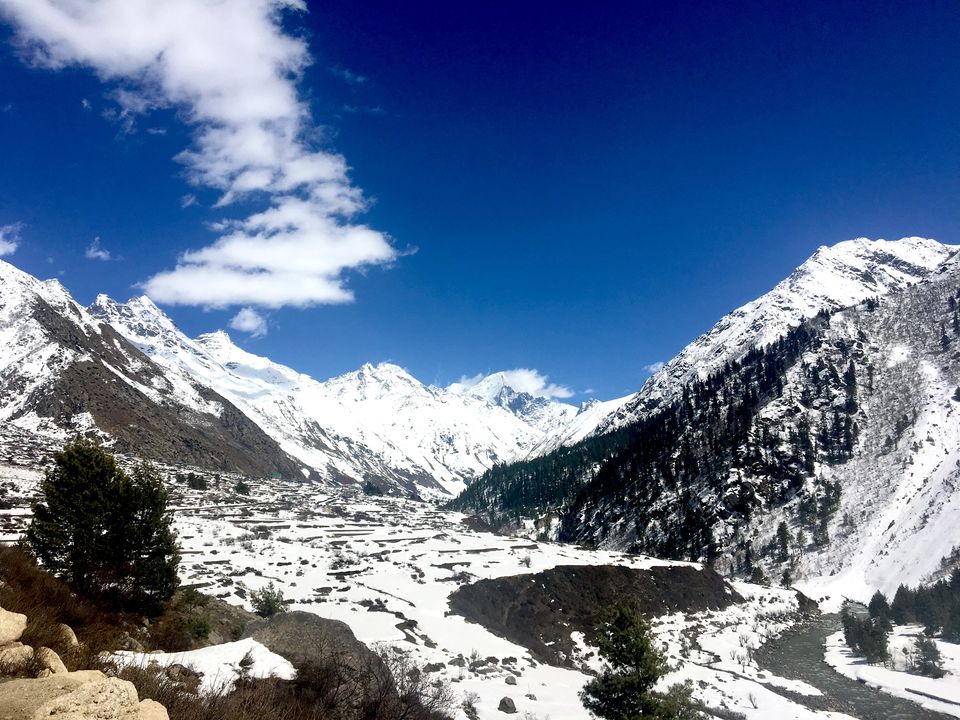 I am sure, you all have heard of Chitkul by the names like Crown of Kinnaur, Paradise on Earth and what not. Chitkul is one such far place located in Lap of Kinnaur near India- China Border at the elevation of 11,320 ft. So, this one was my birthday trip. It had got planned just 2 days before. I had already read a lot in past and it was on my list so, I was super super excited to go to this place and meet the mountains there. I am going to write my travel experience in detail as much as possible, this one is going to be long so, stay with me.
My Itinerary was: Delhi- Matiana- Chitkul- Shimla- Delhi
Please note: I got driven down to this place as this was the least time taking transportation option for me. Also, please please make sure if you're also getting driven down to the place by someone then, he/ she shall be PRO at driving on narrow, steep roads because no kidding when it comes to reaching Chitkul. Sangla-Chitkul road is super bumpy and narrow. Be Careful!
April 6th- Matiana
Coming back to my itinerary, I left from Delhi for Matiana sharp at 12am on April 6th. It was drive of straight 9 hours for me. I had booked my stay at Echor. The owners were so generous (owner details along with others have been mentioned in review link). I highly recommend it. Check the review here. You guys will absolutely love it.
I had reached at the cottage at 9:30AM sharp and I was dead tired from long drive hence, all I needed was peaceful and comfortable stay to get re-energized for my further travel. And I tell you, staying here was the best decision ever!
After having good breakfast and sound sleep, I woke up at 4:30pPM and after a while, left for Hatu Temple situated at Hatu Peak which is like one hour drive from Matiana. Be super careful again because the way to Hatu Peak is one-way road which is steep as well.
After saying my prayers at Hatu Temple, I got busy in capturing the nature in my camera. The beauty of our nature never fails to make me drop my jaw. The sun had set. After a while, I started moving back to Matiana as it was getting dark.
Once again, I was so happy to stay the Echor because the food was just Yum- Yum, I could not stop appreciating the service guy for good food.
April 7th- Chitkul
I woke up early as I had pack my bags and leave ASAP. I finally left from Matiana at 7AM for Chitkul.
*Detailed Route to reach Chitkul: Matiana- Narkanda- Rampur- Karcham- Sangla- Rakcham- Chitkul (the roads like in above picture will be only before entering Kinnaur, it is a bumpy ride after that)
Note: Make sure to carry some snacks with you as there is no proper restaurant before entering Kinnaur.
After hours of drive, I had found this place where I got proper meal to eat after which I continued my journey.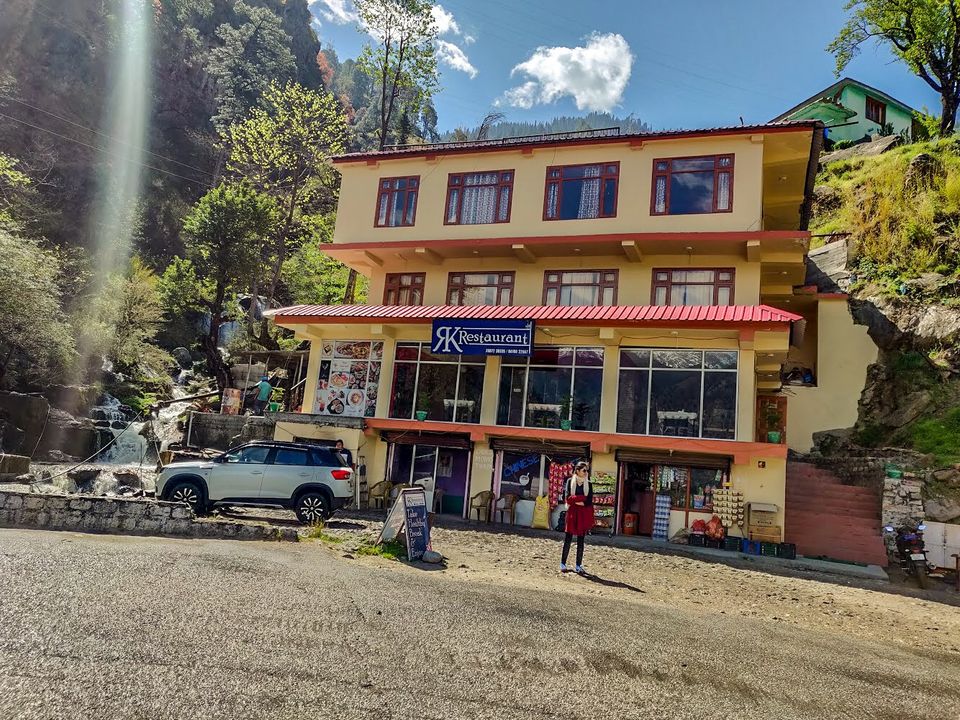 Just after crossing this, I got to enter Kinnaur District in few Kilometres which gives you scenic cliff- hanging drive experience. The amazing thing about going to Chitkul is that not just the place but the drive is beautiful as well.
I kept clicking pictures on my way until I reached here and literally stopped for a photo- session here.
And the view (below) was mind- blowing, I could not believe my eyes that I am living in India.
Later, I reached our hotel The Wanderer's Nest where I had planned to stay and I regretted staying here as much as I loved staying at Echor, check out why? It was just bad experience. Guys, please prefer home-stays which are better than where I stayed. The only good part was the view which you get from every other property there. Check it out.
As the day was getting over, the weather was changing as well because of high altitude. You will not be even able to stand outside due to the sudden change in weather. When I visited Chitkul, the place was covered in snow. I even had to trek in snow to reach wanderer's nest. The next day was bit better though as snow had started melting.If you go even now, you will find snow there. But not in end may- June when there is most most foot fall. Chitkul has given me the chance to have a glimpse into how nature is at its best and its worst (will be sharing another blog on the same very soon). But irrespective of everything, the stay, the extreme cold, Chitkul has given me one of my best travel experiences.
Note: You guys can explore the Mathi Temple, Baspa River and Chitkul Fort as per the weather, if it suits you.
April 8th
I had quite a chilled up morning, sipping my coffee right in front of these mountains which were so damn humongous.
Once again, I was ready to pack my bags and leave for Shimla as per my plan. Another long drive was waiting for me for which I was all set. Before getting on the road, I went to the most talked about "Aakhri Dhaba". I had maggie here which was my breakfast, it tasted just okay. Sat at the Dhaba for half an hour or so and was in the form to leave but not without the important click there.
This time, I had made sure that no matter what, I cannot go wrong at planning this stay because this was the time when I needed homely and cozy stay more than anything else. I chose to stay at Simply Shimla: The Kothi (again, the review is here). I reached here at 5:30PM. Got freshen up and reached the infamous mall road to celebrate as it was my birthday the next day.
Note: You get to park you car near LIFT (elevator which will take you to mall road, can ask localities for the same) and walk for a minute to reach at the LIFT.
I enjoyed walking on mall road while having soft serve cone in my hand. Ice-cream in winters are the best thing. After spending good enough time here, I moved to Cafe SOL, the best dining restaurant in Shimla. I celebrated and clicked few more pictures.
I was ready to leave unfortunately as the LIFT does not operate after 11PM.
Next day, I checked out and had to leave for Delhi, realising part of me is still in that very Paradise on the Earth. I missed Chitkul with all my heart then and now, while writing this experience.
Things to Carry: These are the only items which are must to carry- Jacket for extreme cold weather, Trekking boots, Sunglasses, Sunscreen, lip balm, Parachute Oil, Paper Soaps, Facewash, Extra Socks pair, Extra pair of Jeans, Water, Snack, Thermals. Rest you can pack as per your convenience :P
I have kept the blog really really precise. I am sure you'd be having questions. Mail me @banjaaran.s@gmail.com or drop a text @_ekbanjaaran__
If you guys like the blog, please wish list it and share it with your friends.
Be careful & Happy Travelling!
#travel #travelling #chitkul #wanderlust #blog #travelwriter #traveldiary #travelawesome #travelphoto #travelgram #instatravel #instapic #tripotoblog #share