Once up on a time, there lived a kid. He had a friend called Shanti, his best friend forever. But this story is not about their growing up.
The kid grew up and Shanti was always beside him. They were inseparable. So when the day came for him to move out of his little kingdom in search of knowledge, Shanti followed him. She stayed with him for eight long years and with time, their friendship grew stronger. Or so he thought. One fine day the kid (or the man, as he preferred to think about him by the time) planned a trip with his friends to the Himalayas, heaven on earth, as Shanti would have called it! But there he fell in love!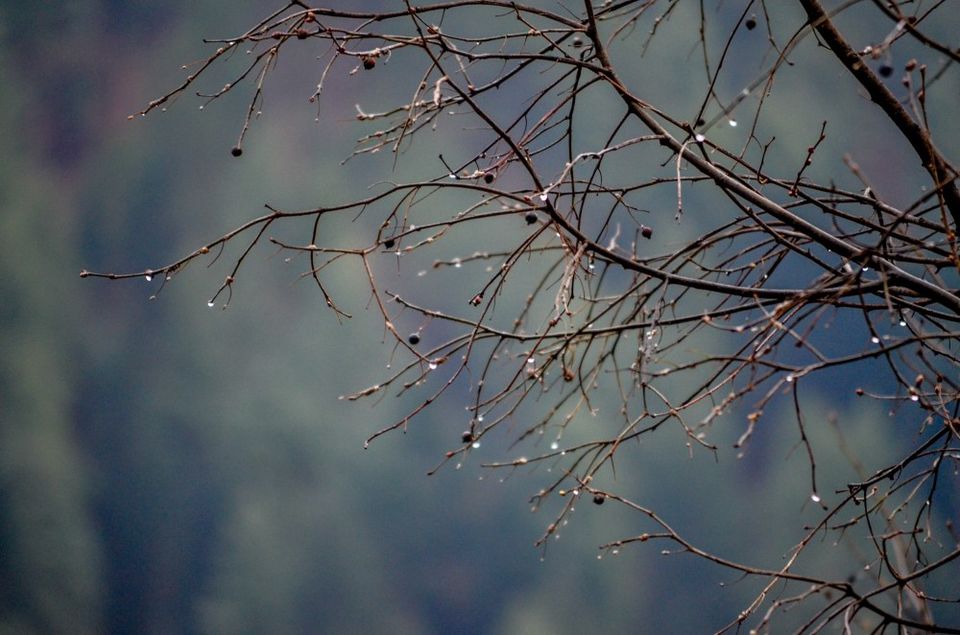 Now that he gave his heart to the mountains, Shanti, heartbroken, told him that she could have perhaps stayed without him, but not without his heart. So she decided to stay in the mountains where lies his heart, forever, and he came back to his "duties" without his heart and his beloved friend, Shanti. Since that day, he has been on and off to the mountains frequently, just to behold his love and for some quiet moment with his friend. Wherever he went, mysteriously, he found Shanti already waiting there for him. Now it has been months that he met either Shanti or the mountains.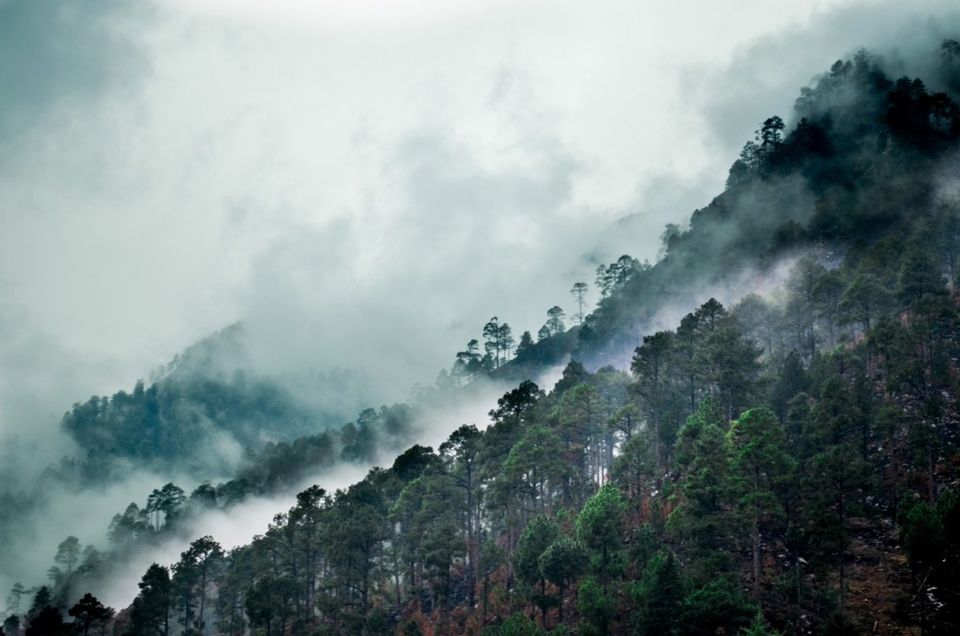 Probably his longings were so pure that the universe conspired for a grand reunion. So when he saw the extended weekend coming, he readily arranged a journey to the mountains, which, by that time, perhaps out of love, were all dressed up in dazzling white snow! It was Friday night when he along with some of his friends, boarded a bus from Chandigarh. His excitation knew no bounds. For the entire night, as he tried to sleep inside the bus, the power and the purity of their love made the sky pouring tear drops as rain. He thought, when he would get down from the bus at Bhunter, he would see Shanti waiting for him there, as she always did. But this time she was not there. He thought she would be waiting for him in Chalal. Shanti somehoe always knew where is he headed! So instead of waiting at Bhunter for the morning bus, they booked a cab which drove them to Kasol. It was still dark when they reached Kasol but he could not wait longer and started walking towards Chalal.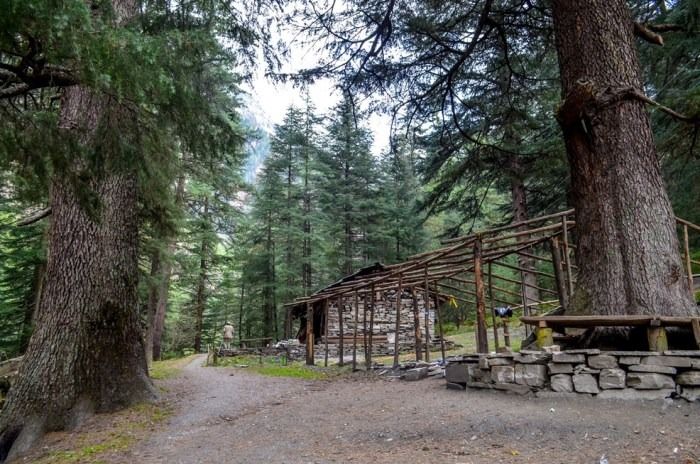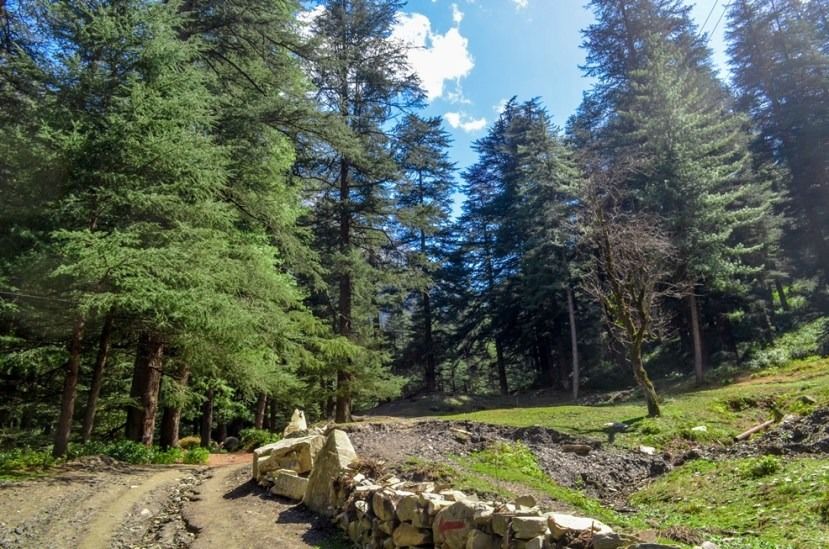 The bridge that runs over Parvati, joining the trail to Chalal to Kasol was under construction and a shaky makeshift bridge was placed instead. In the darkness of the night, they crossed the bridge carefully while Parvati gushed below. It took almost 30-40 minutes for them to reach Kasol. The plan was to stay the whole day at Chalal. He thought he would meet Shanti and behold the majestic Himalayas together. They would have the whole day for them. Gradually the sky lightened up, birds started chirping, azure water plummeted down the slope with blissful and melodious murmur, the distant misty mountains started to unfold unparalleled awe-inspiring beauty, the chillness in the breeze paved the path for a silent dawn, but still somehow he could not spot Shanti.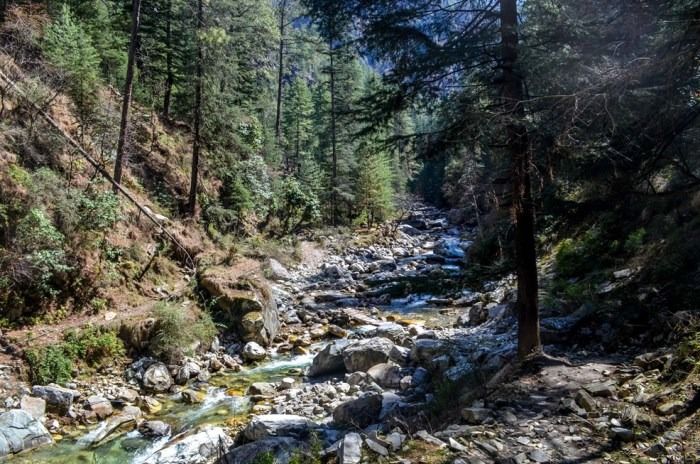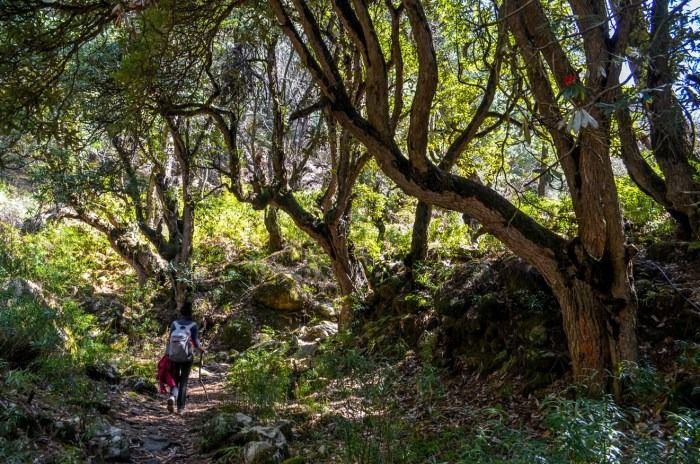 His stay at Fusion Cafe was nice though. The surrounding was beautiful, the food was good and the winter breeze and the snowy peaks tried their best to please him and so was he. Even though often his mind waded around the many slopes of the gigantic mountains covered with thickest of clouds, looking for his beloved friend. But all in vein as she was nowhere to be seen. Next day morning, they decided to trek to Grahan. The trek starts from Kasol. So they came to Kasol, had breakfast and started the trek. Somewhere in his mind, the kid knew he would find Shanti in Grahan.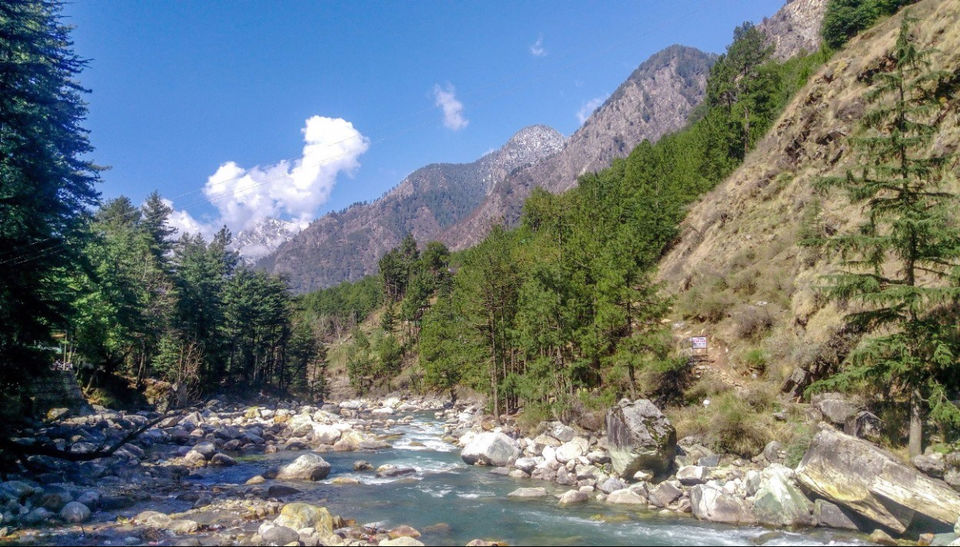 Everybody told them the trek would be an easy one and the four to five hours trail goes straight to Grahan. So they kept walking. After a while, they came across a shepherds' hut on their right and a dog, whom they wold soon name as "Tensoon", started to accompany them. But a few hundred meters in to the trail, they encountered a bifurcation. One trail went up the mountain and the other, the more prominent one went down to the river that is coming from Grahan.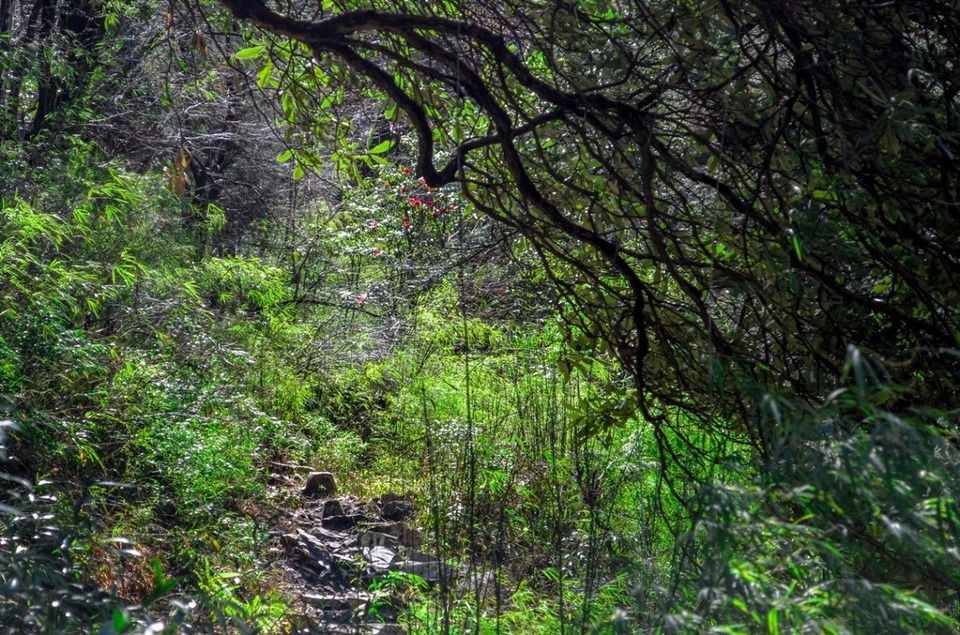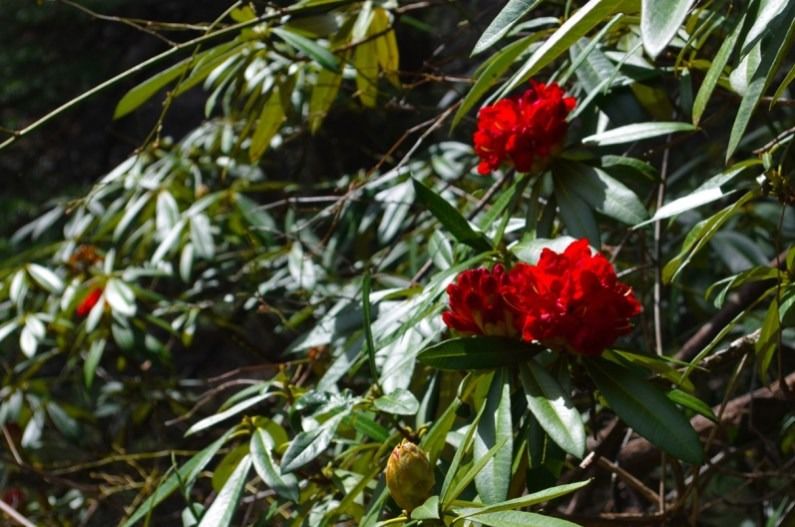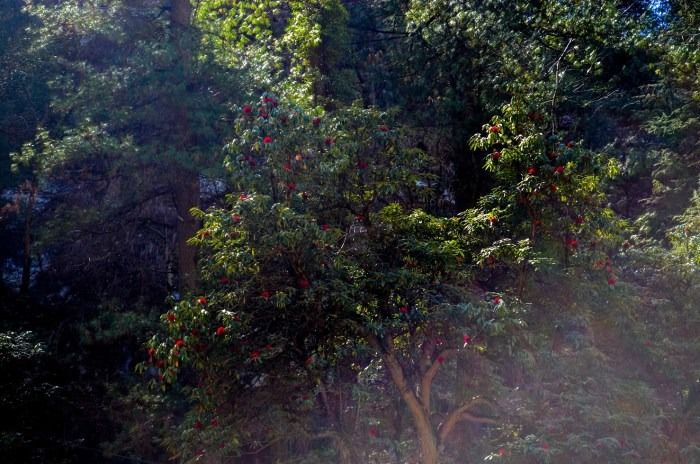 There was no one to ask about the trail so they kept walking on the left and the most prominent one which brought them over a beautiful makeshift wooden bridge. After crossing that, they encountered an arrow pointing towards someplace. knowing that they were on the right direction, they kept climbing. The trail went up, with reasonable steepness and some more arrows drawn on rocks giving them directions. The river with all its enthusiasm gushed below.
But soon they came across a second bifurcation and this time they could not say which one was more prominent one. After examining the right trail, they became sure that this time also they were to follow the left trail which brought them to a fairy-land. Trees grew from rocks and canopied the trail and rhododendron bloomed all over. They all had some few moments of rest contemplating the beauty of the place.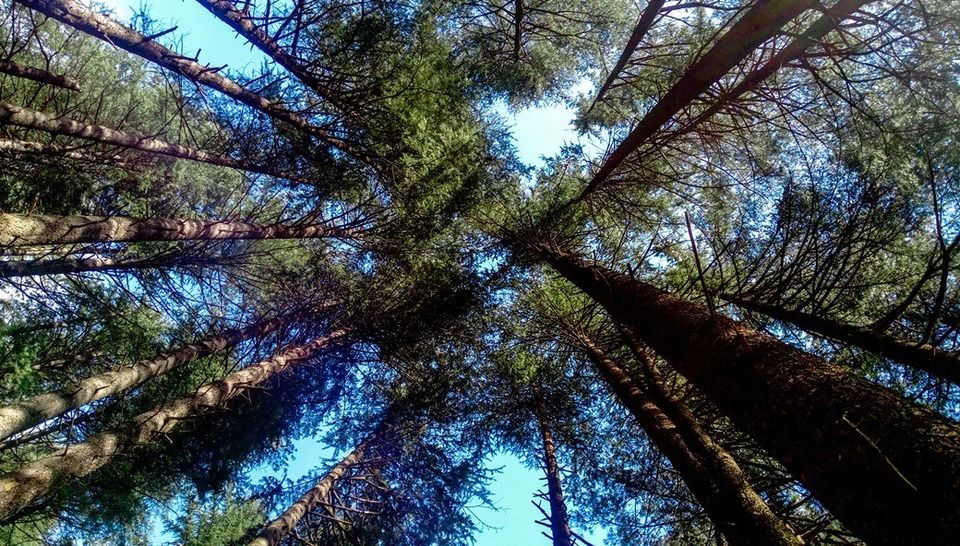 But the climbing did not seem to have any end. They climbed one mountain thinking to be able to see Grahan from the other side. But already three hours in to the trek, they got no signs of Grahan. Though the arrows made sure that they were on the right trail. But in his mind, the trail seemed a lot more tricky than what he had imagined. They crossed one more mountains in search for the motivational sight of the village.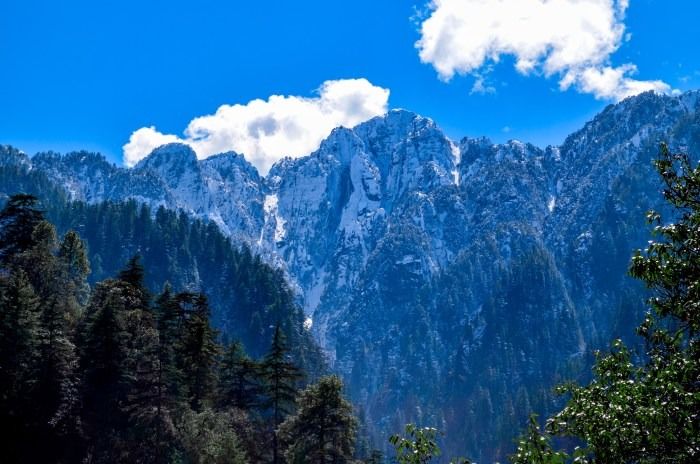 But except for grander mountain views, Grahan was nowhere to be seen. And so was Shanti. But he was not complaining as the higher they hiked, the mountains became more and more grand and gigantic. The white washed cliffs with a background of impeccably blue sky stood in contrast with the dark green forest carrying the murmurous brook in its lap.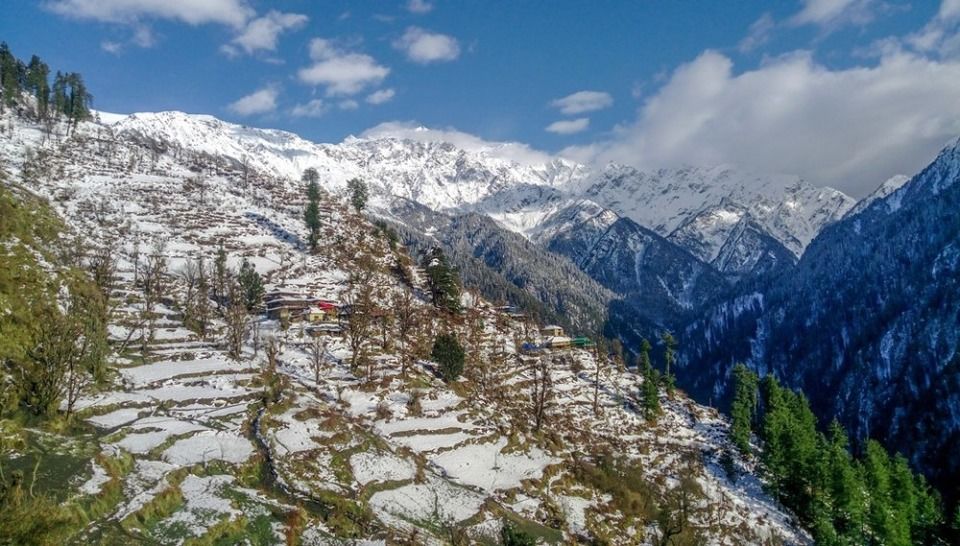 Soon they found themselves walking over a narrow trail which run over a rocky top of a mountain. On the both side there were deep cliffs. The cold had also increased significantly by that time. To drive their minds away from the struggling climb, they put on some music which rhymed with the nature. Then came a place with another small brook hurtling down a thick forest of pines and rhododendrons with its murmurous symphony.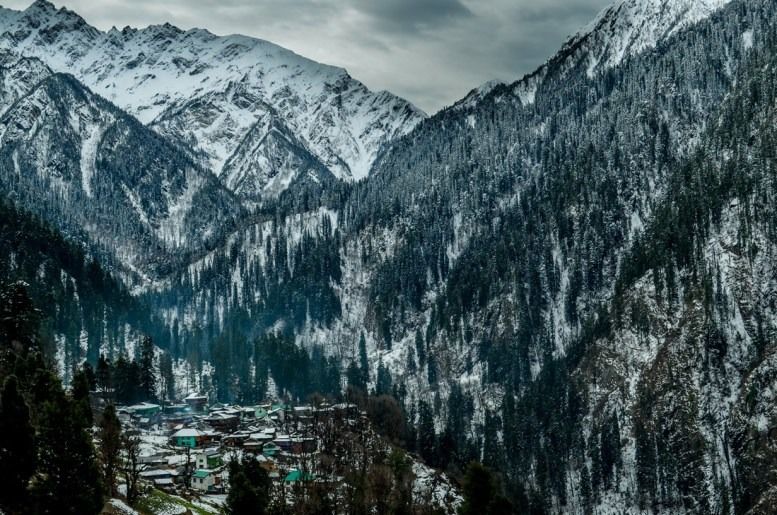 The place had a blissful silence all around it which was cut only by the splashing water. Suddenly he felt as if it has started raining again. But the clear sky gave no such false signals. Then why would water drop from the trees? Before they realized that, it actually was snow that was melting, they spotted snow covered patches on the ground. At one place even flowing water formed ice cones hanging from rocks. And through all these, they crossed another mountain and behold grander beauty of not-so-far snow capped peaks, but Grahan remained eclipsed by the mountains.
They climbed and climbed. Snow had increased considerably by that time making the trail extremely slippery, sometimes with solid ice and sometimes with sticky slippery mud. But still they continued. After crossing another ridge, they could suddenly see the village. Finally. It was fully covered with snow and completely enclosed by high and white mountains. What a sight to behold was it. They have already trekked for six hours. Tired and cold and hungry they rushed towards the village neglecting the thick cover of snow. the excitement and enthusiasm was boundless. Just before entering the village, they met a villager who informed them that, unfortunately this village was not Grahan but Thunja. Grahan is another hour from there!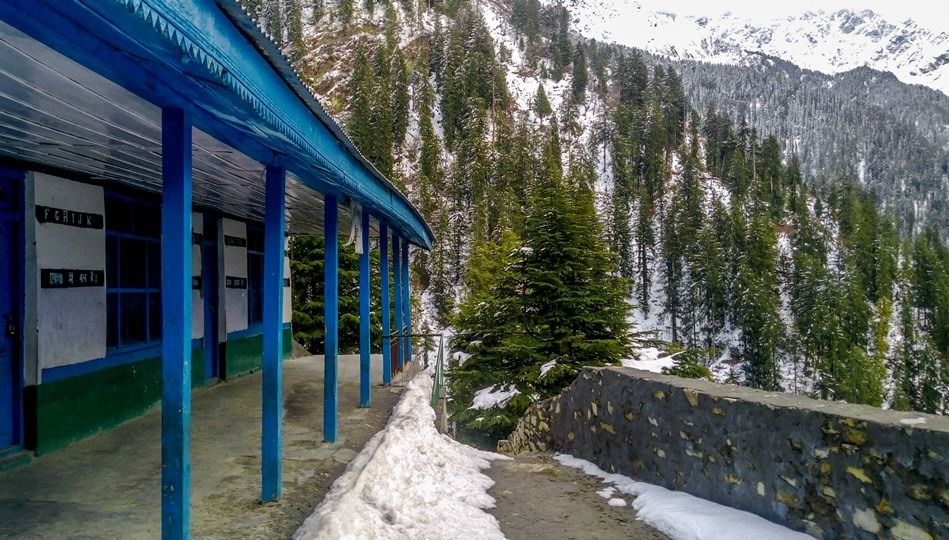 In fact from Thunja they could see Grahan far away. Tiny blocks of village huts covered in snow. But it was almost dark and they had no strength in their knees to undertake the snowy slippery steep descent to a stream and then again climbing up to Grahan. So they requested some villagers if they can arrange some place for them to spend the night. But Thunja is an extremely small village with only 10-12 houses. They had no guest houses or cafes or hotels or anything that one can normally find in a tourist place. In fact, the villagers told them that the trail to Grahan is a different one which is not as tough as this one. But it was too late for them to realize that. After some more time of requesting and asking people, Ganesh, an "angelic" person agreed to give them a room for the night in his own house. Happily and readily they moved in. It was a small but completely wooden hut with two floors. Ganesh asked them to leave their backpacks in one of the room in upper floor and to move to a second room which had a tandoor inside it to keep it warm. We all sat around the fireplace, enjoying the heat while darkness covered the white snow outside.
Ganesh was a kind host. He got them water to drink and sat with them to chat. The kid asked him about their lives in village. He asked what do they do to earn money? To which, Ganesh replied selling some medicinal plants. Most of the people in the village does nothing of that sort even. They all has their share of land, where they cultivate crops not for selling but for themselves primarily. There is a small school in Thunja too which has up till class 5. He also told them about the hardship that they must go through if some elderly person or kid is sick and need to be carried to the nearest hospital which is in Kasol, through that same trail. No matter how dark it is, or how much snow is there on the trail! And they were pretty much taken aback that people actually trek for hours just to behold snow!!
As food, they were carrying some biscuit packs and cakes which they had sitting around the fire while Ganesh and his brothers wend down for some work. The kid and his friends were about to go to the other room when Ganesh appeared again and asked them to come out to have dinner. This was completely surprising to them. Overwhelmed with kindness and emotions towards these simple and angelic human beings, they had dinner. Plain Daal Chawal never tasted so good, they all thought. And they ate like they never had food before. Happiness truly lies in the simplest of the things. Content with the hot food and more so by the warmness of the host, the kid decided to go out to experience the chilliness outside. As he came out of the house, shocked, he saw Shanti right there sitting in front of the hut staring at the moonlight soaked mountains. He sat beside her. They did not spoke a single word but just stared at the high peaks and the snow covered mountains flooded with moonlight. Those were some moments of pure happiness. Absolute silence prevailed the mountains, the muddy ground started to freeze as the cold creeps in to the moonlight and hugged whatever it fell on to. Tensoon slept like a coccoon.
And that night the kid slept with peace!
In the morning they asked Ganesh to take some money after thanking him with all their hearts. After a few minutes of not wanting to ask for it, all he asked for four people's food and stay for a night was only 500 rupees!
In the morning, walking was a bit easy as the muddy ground was frozen. So it was no more slippery. They decided to go to Grahan and then take the trail that goes to Kasol from Grahan, the trail which they were supposed to take while coming. For freshening up, when they went to the washroom, there was no water as all water has been frozen during the chilly night. So without spending more time in Thunja, they gradually started towards Grahan. On the way they saw the small school also. The trail went right beside it.
Compared to Thunja, Grahan was bigger and felt more commercialized. They had guest houses and fancy food menus. The name of the village perhaps came from its eclipsed position amidst all the high mountains all around it. Grahan is famous as the first campsite for the popular Sar-pass trek. They went to a guest house run by a lady whom they called aunty. While they had breakfast, they came to know that aunty lived there alone. Her husband is a school teacher in Kasol and two of her sons are studying in a school in Jari, a place 9 km from Kasol. When asked, whether she felt lonely by living all by herself, she replied with a laugh that no one in the village would feel lonely as all of them stayed as a family. Neighbors had morning tea together. If someone is building a house, everybody lends a helping hand in cutting woods or building. the kid wondered how strong was their community feeling and how weak it was for people in the cities! Such hardship they all have to go through everyday, but still at the end of the day they would laugh and smile. And with all the luxury in the world, city people still rant about their frustrating lives!!
After breakfast, they started walking down the trail that they were supposed to take the day before. This trail seemed a lot easier than the previous one. After a steep descent, the trail came closer to the Grahan nullah, the water stream coming from above Grahan. They did not miss the chance to take a dip in the freezing cold water.
The trail afterwards was mostly plane with some ascending and some descending at some places. But at all places it was a straight trail to Kasol. But compared to the other trail to Thunja, this one was littered with plastic wraps and empty food packs at places. In a way they were happy about choosing the wrong trail.
After crossing another two bridges, ascending some more, and mostly descending, they came in front of the shepherd's hut that they crossed the day before. Then they realized the mistake. Nobody told them to take this tiny trail which left the main trail and went up. Anyways they were not complaining about it. The kid was more than happy about the unfolding of the previous days events. What could have really gone bad (had they not got any place to stay at night), turned out to be an impeccably perfect trekking experience for him. He saw great mountains, met Shanti, met some beautiful souls living with peace deep within the mountains and fell in love witeverything around that place.. What more could he have asked for!
They came back to Kasol and after a fulfilling Israeli meal to they drove to Kullu to get the bus back to the plains . Shanti accompanied him the whole way. Now was to say goodbye until next time.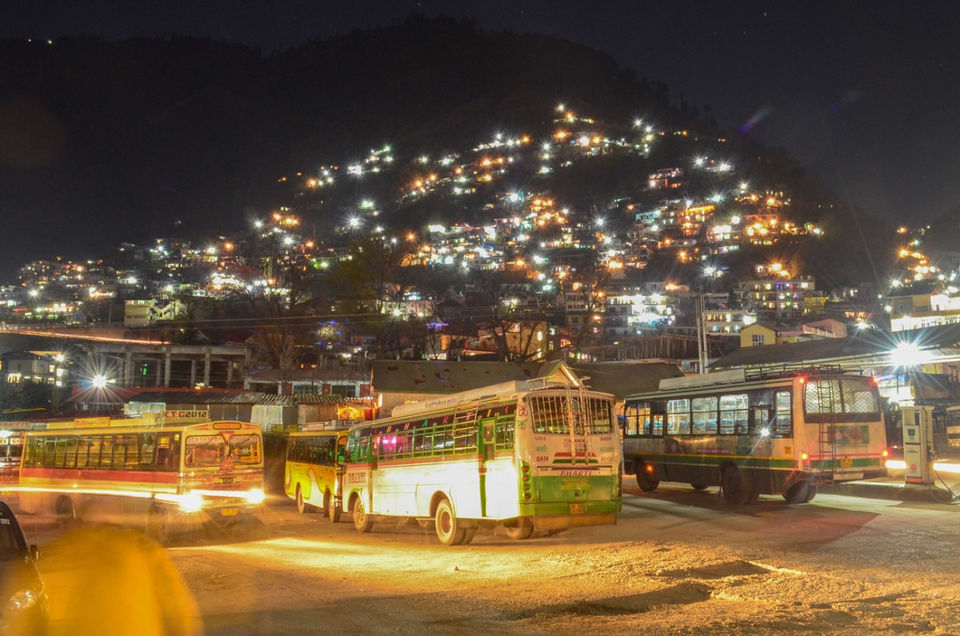 Elevations: Bhunter-1089m. kasol and Chalal-1600m, Grahan-2300m, Thunja-2500m.
Itinerary:
Day one (leisure day): Bhuntar to Kasol (1 hour. cab 200 Rs per head, or bus)Stay in Kasol or Chalal, or roam around nearby places. this day can be omitted in case of need or adjusted in between if you want to chill at Grahan for one day.
Day two: Kasol to thunja (4-5 hours). One can go to Grahan via Thunja.
Day three: Grahan to Kasol and back to Kullu (Kasol to Kullu cab 1400 Rs. kasol to Bhuntar cab 900 Rs.).
The trail to Grahan: from the main square of Kasol, standing in front of Moon Dance Cafe, take the road that goes right. You will soon encounter a bridge. Do not cross that, instead, continue on the trail that goes along with the stream on its left. Alternatively, from the market, there are two road-heads in front of the Taxi drivers union office. The left one goes towards Manikaran. Do not take that. Take the right one, cross the same bridge and take the trail now on your left. After a few hundred meters, on your right side, you will see a Shepherd's hut and a small trail going right beside it. That is the trail to Grahan. In case you want to take the trail less traveled, keep left, always. This will take you to Thunja.
While coming back, buses can be boarded from Bhunter although for online booking, they can not be booked from there. One can call HRTC Manali office and arrange for the bus to stop at Bhuntar in case of need.
Other short and easy treks around kasol: Kheerganga, Tosh, Malana, Rasol.