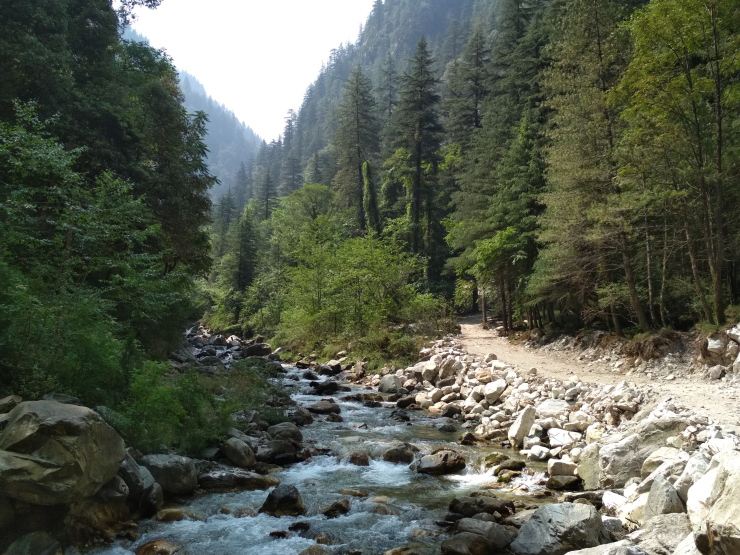 Day 3: MingThatch Camp, 11,300 feet
It was 3 am on a cold windy night at 11,300 ft. As the moon rose from the east, my gaze followed the clear streak of the star-studded Milky Way. We had planned to wake up at this time to witness the night sky, but unluckily, only I did.
Writhing in pain, I squeezed my eyes and clutched onto my churning stomach with both hands as the altitude played havoc with my digestion. I had no choice but to leave the comfort of my sleeping bag and venture into the cold night. Under the tiny light of my headlamp, I went 10 meters down the hill to fetch a pale of water and climbed back to go to the tented restrooms to relieve myself.
However, it hadn't started that bad.
June 1, 2018: Reporting at YHAI, Sar Pass Base Camp, Kasol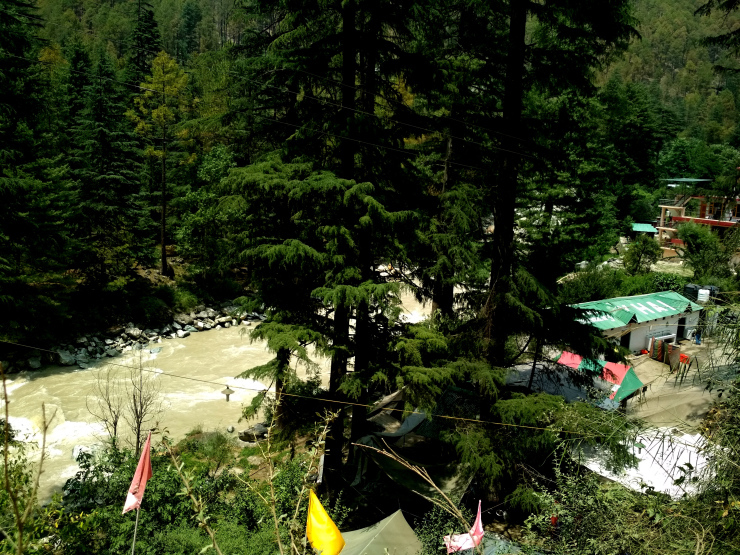 The base camp of Youth Hostel Association of India (YHAI) is set up right next to Parvati river - you can hear the rush of the lilting river from the bathrooms and even while sleeping in your tents! The smell of fresh cannabis, growing behind our tents lingers in the afternoon air.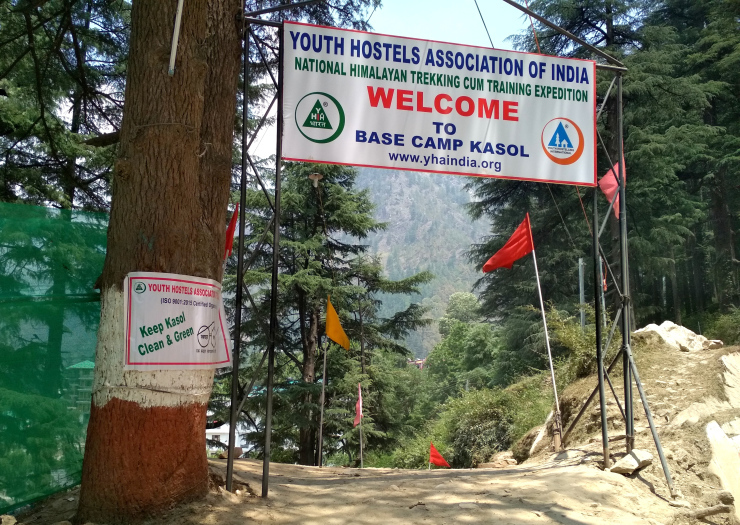 The food served by YHAI was tasty and up to the mark. Our lunchboxes remained unclean though - we couldn't wash them properly under the freezing river water that flowed out of the taps. I and a friend took up Parvati river-bucket challenge - a literally breathtaking head-bath before proceeding for 7 days trek without bathing!
I made friends quicker than it takes to say the full-form of YHAI - all thanks to the arrangement of 8-10 people sharing a single tent. We had a speedy round of introduction and got to know who would be our fellow travellers from the lot and started hanging out together.
Our base camp schedule could have given an Army School student a tough time. We were disciplined by camp leaders who expected us to be alert, on time and adhering to the rules set by them, which was -
5:30 am: Bed Tea (not given in bed) 6:00 am: vigorous Morning Exercise 7:30 am: Breakfast 8:30 am: Acclimatization walk Grade 1 (with our rucksacks containing two blankets and one water bottle - close to 8Kg)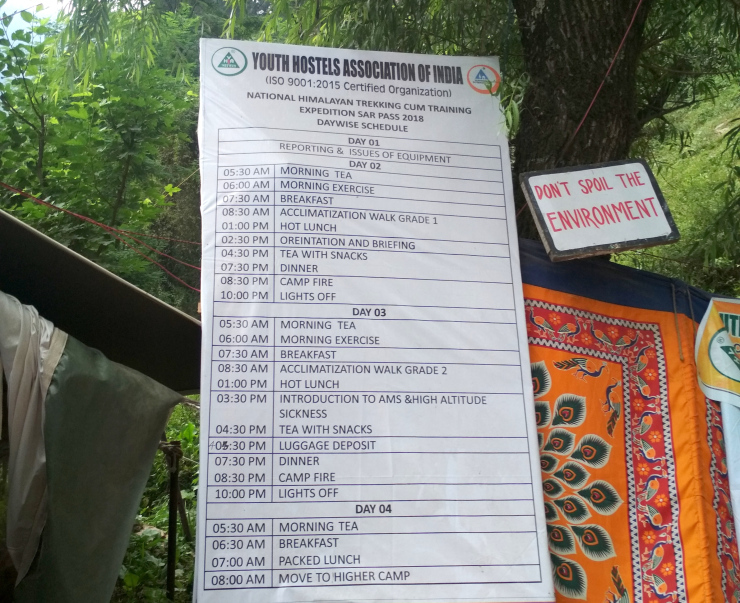 Breaking the rules was fun though, including those in exercise sessions where we skipped backwards frog jumps and tried our best to not laugh at Jagdish Thakur, the lean, small-built, know-it-all instructor from mountains who claimed to have trained officers from IPS (Indian Police Service).
1-down, 2-down 3-down, down-down he would say, taming us to do 3 rounds of squats that would magically prepare us for the arduous 7 days' climb.
You would remember me up there - he would say. I won't even say he was partially wrong.
Go to original blog: 2 Little Mountains to know more about my travel journeys.
The Evening Ritual
Fire, Fire? Campfire!
A senior YHAI member would say in his baritone voice and 'switch on' the campfire made of lightbulbs. It did look silly, but YHAI strictly follows sustainable environmental practices. Appreciate that - only if they made the dimly glowing Diwali lights appear a bit more appealing.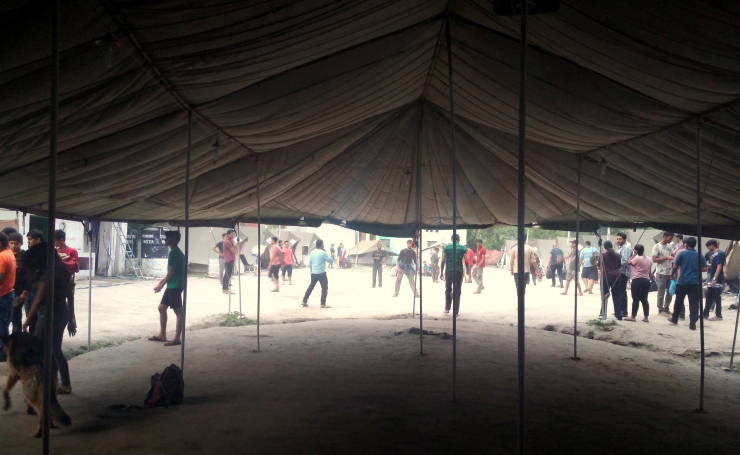 After an early 8pm dinner, everyone would huddle under a huge tent for the evening program, which was hosted by the new batch that arrived the previous day. The director would distribute certificates to those who had successfully completed the trek. This was followed by singing and dance performances by hosting batch.
We had some hilarious moments of uncles lip singing songs played on mobile phones, over-energetic youths dancing, mimicking, singing and saying 'shayaris' that received applauds and whistles from the audiences.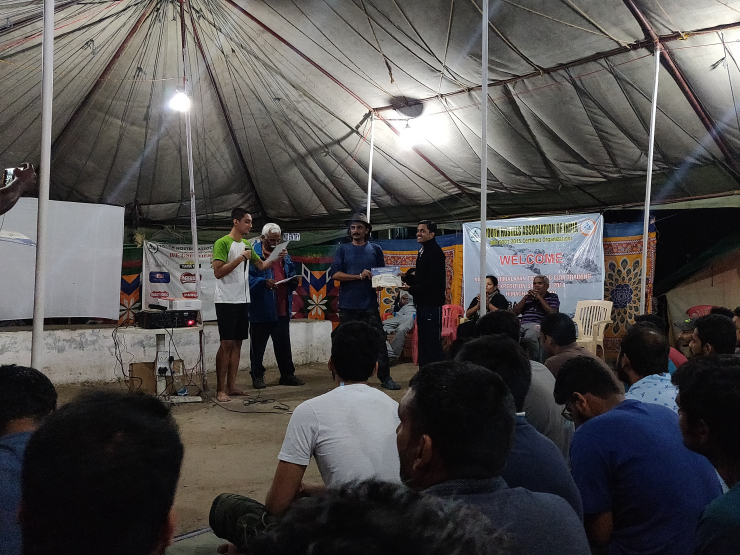 Supper included a sweet, hot cup of Bournvita milk that could have beaten Kasol ki thand (the cold of Kasol) in any season. Then we would be sent off to sleep with the tent lights being switched off sharp at 10pm.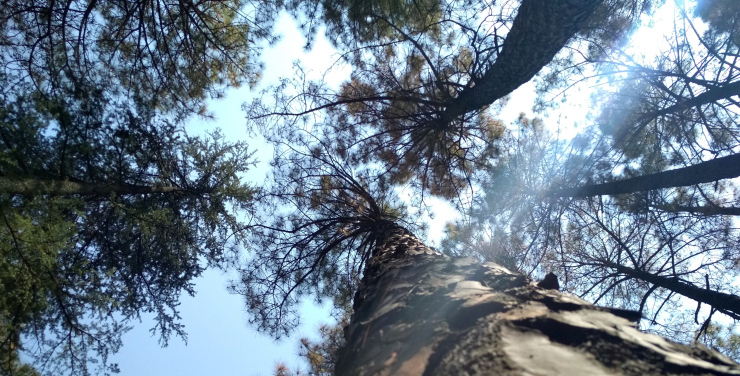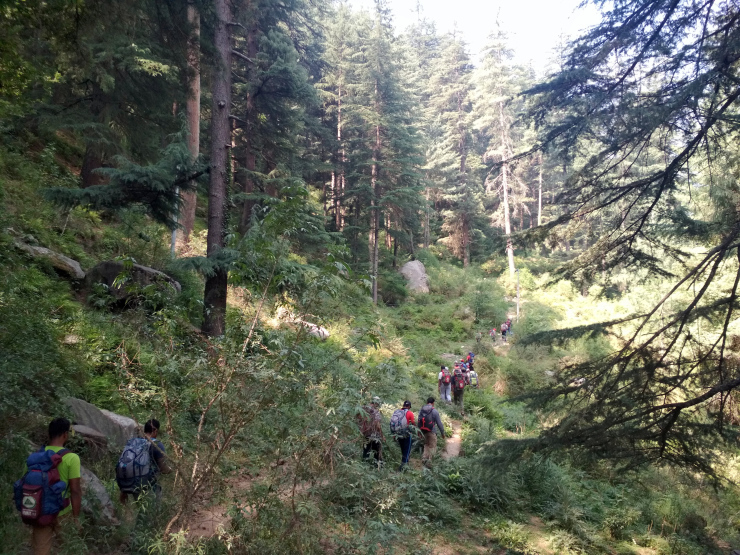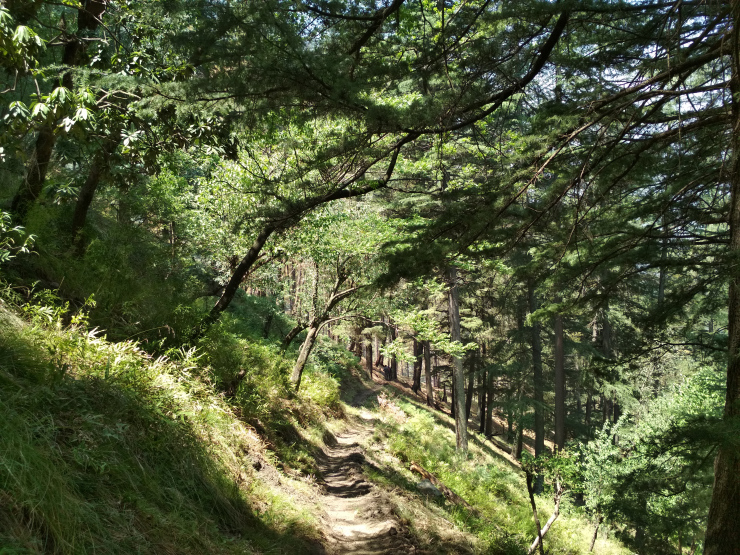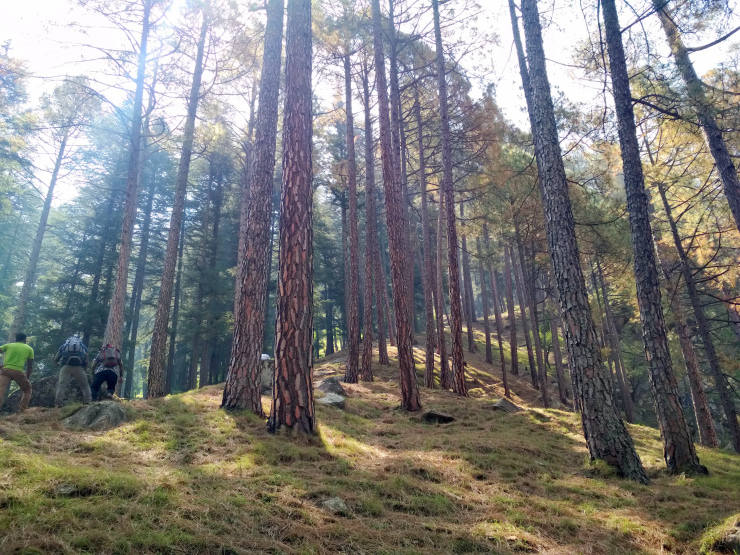 With this routine and a 2-day training where we trekked around the base camp for a warm-up session, we began our trek to the Sar Pass on the third day.
To Grahan, With Love
All 52 of us were fared well by the next batches, who clapped and cheered for us as we left the camp. We were overwhelmed by people who stood on both sides and wished us good luck like we had done previously.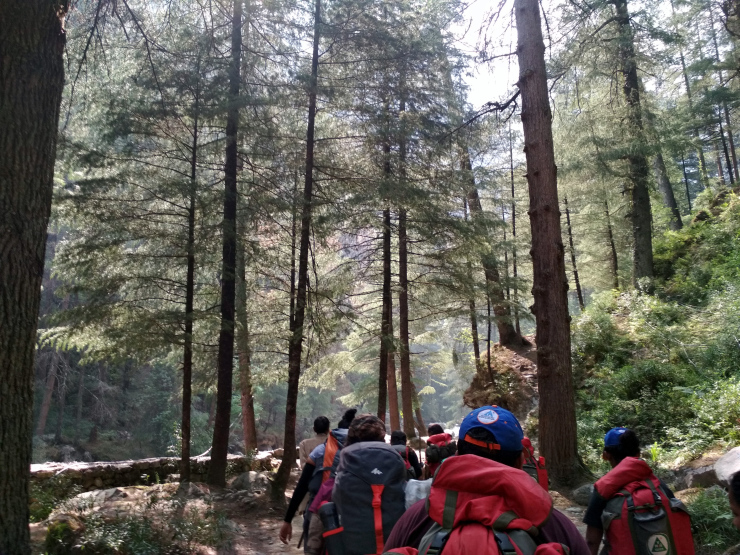 Our next camp was Grahan, a small village about 4-5 'walking-hours' away from Kasol. It was a moderate but exhausting trek to the village through the plane and rocky terrain - the sun was in full-force and eventually, the trail turned into a perpetual ascend.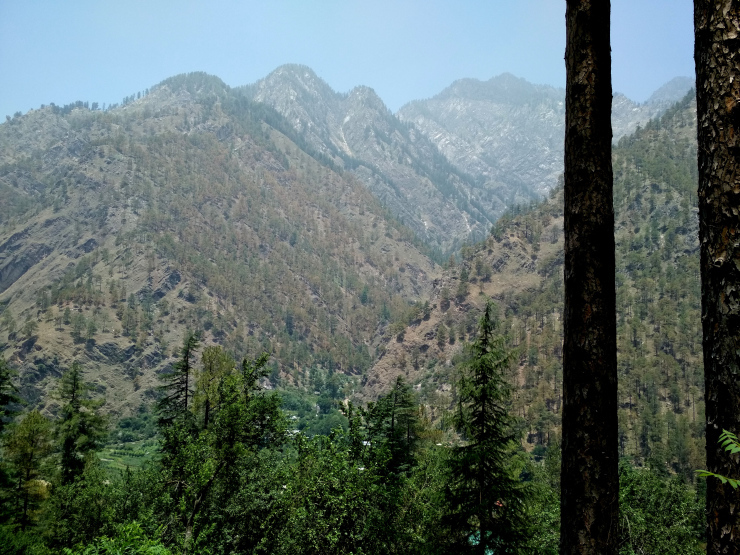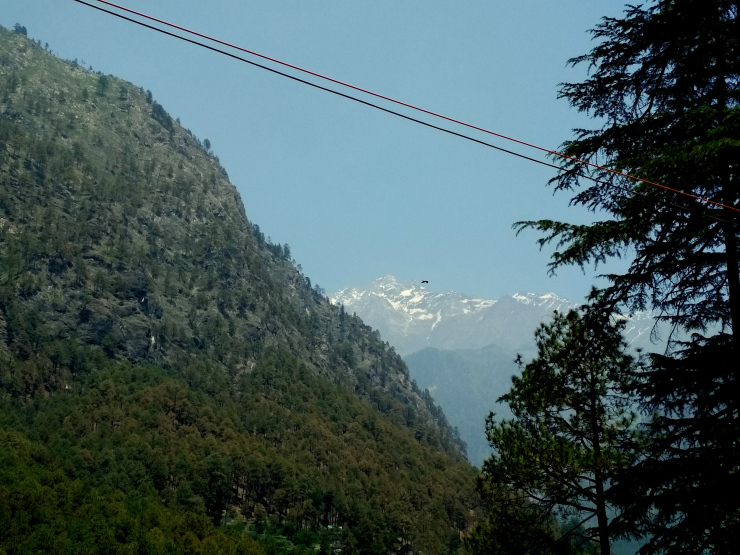 The snow-capped mountain played peek-a-boo from behind the magnificent hills that gave us a steady company while the ruffling Parvati stayed close, sometimes greeting us in the form of rivulets and small streams.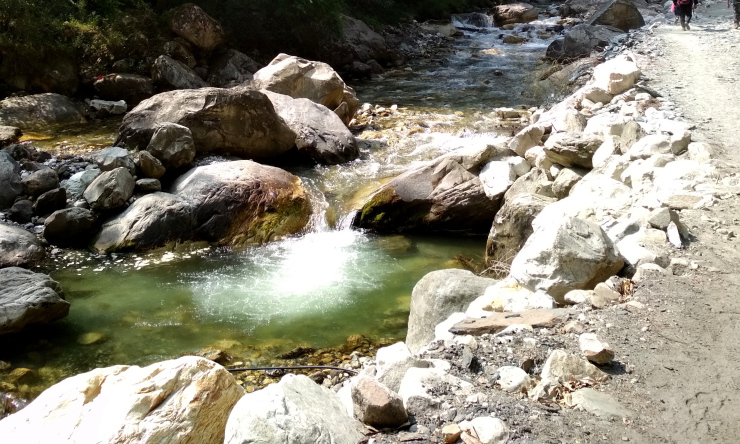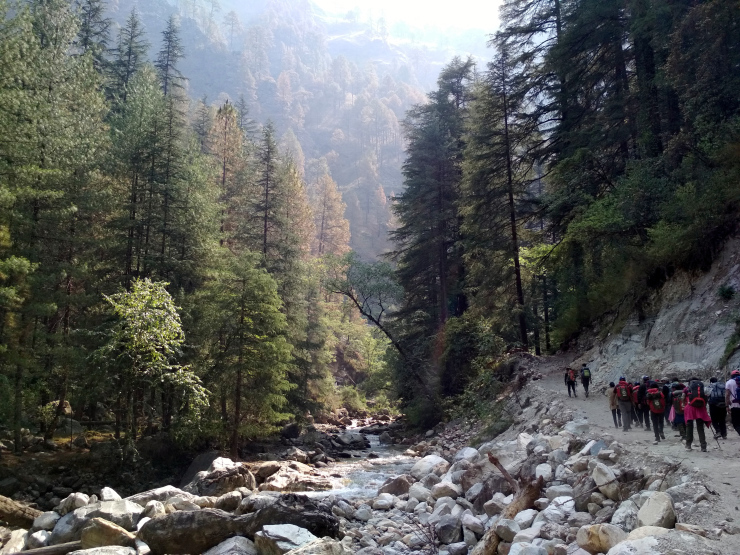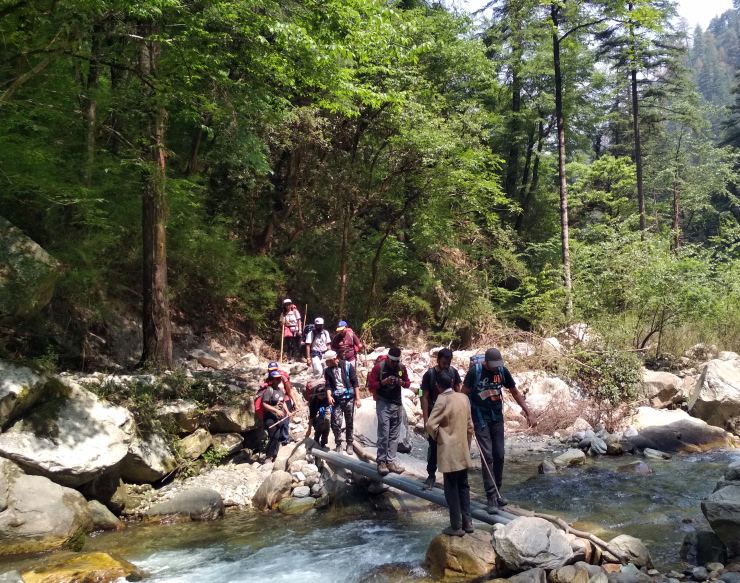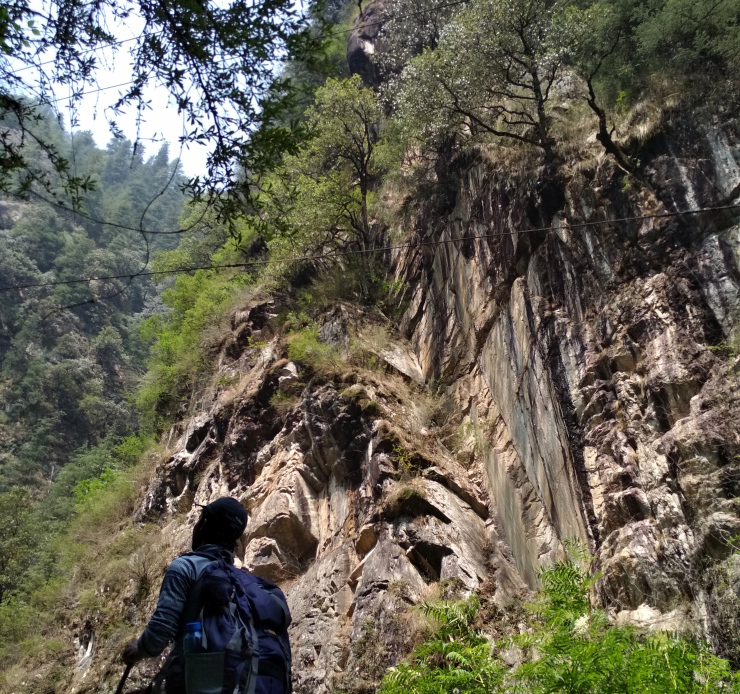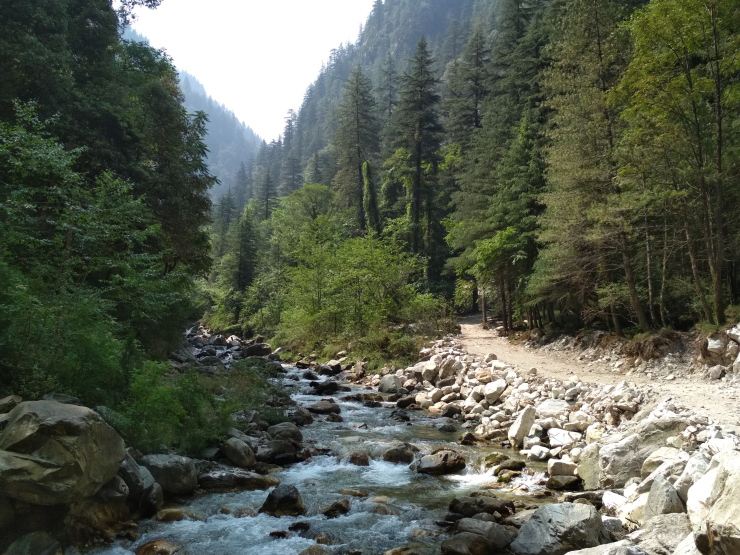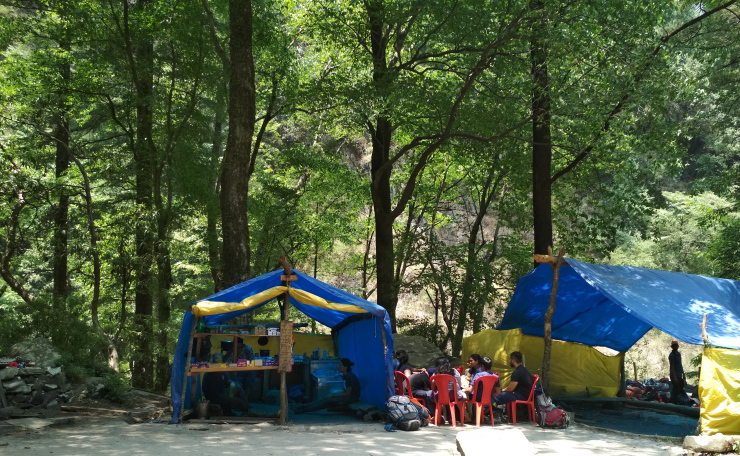 With the number of breaks we took at every 'nukkad' to have tea-maggie, we started at 8:30am and reached late by 4pm.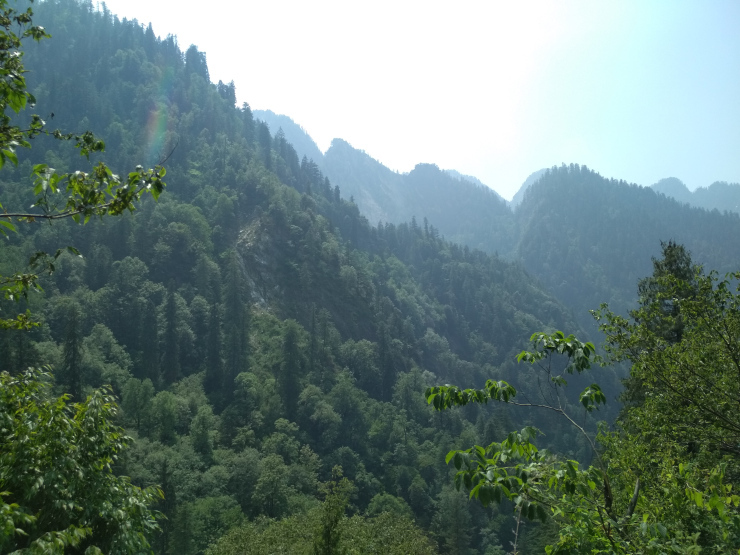 Grahan is a beautiful village nestled in the laps of the natural sky scrappers.
Envision old wooden houses with sloping roofs, separated by stone walls - with the season's wheat harvest hanging out from the doors and windows for drying.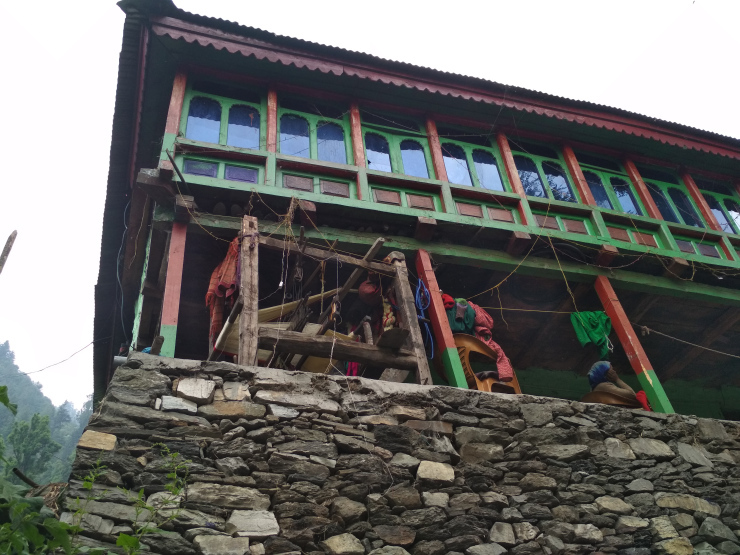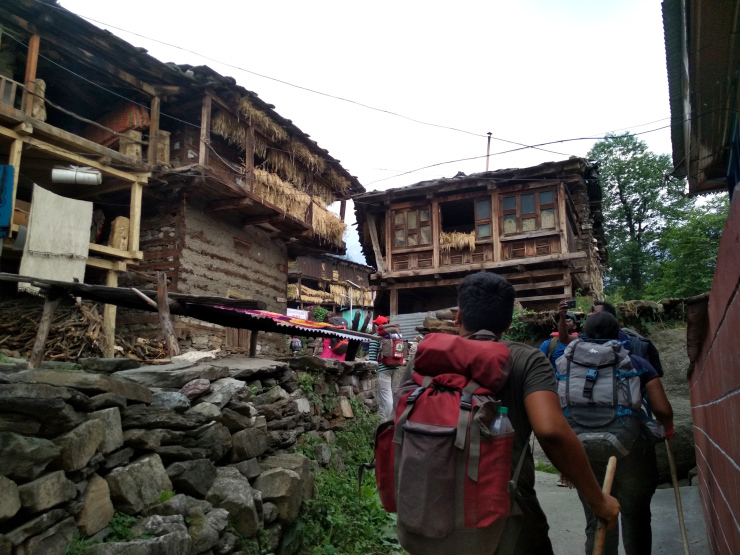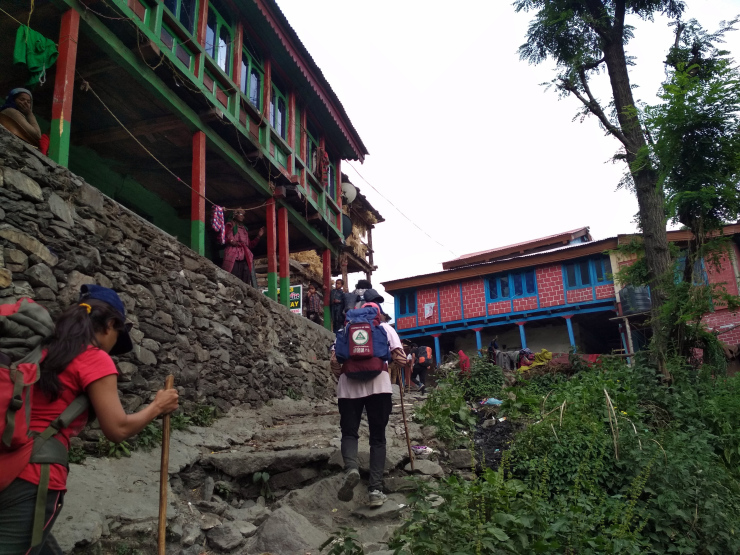 Imagine children with hazel eyes and tousled brown hair running bare feet through a maze of narrow lanes while traditionally dressed women and men (as if ready for the winter) carrying out their daily chores with smiles beaming from their faces - this is Grahan.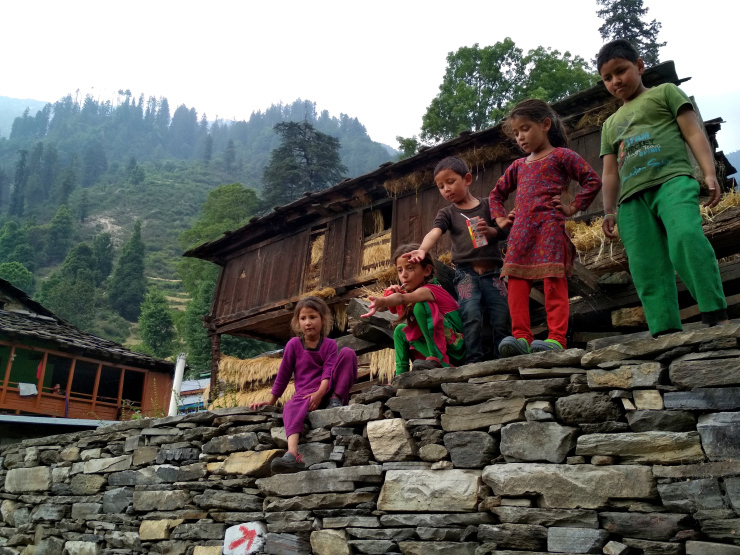 Using your diminishing reserve of energy, you climb up to see a row of houses and small restaurants, tricking you to believe that you finally reached the base camp. Alas! There is still more to go.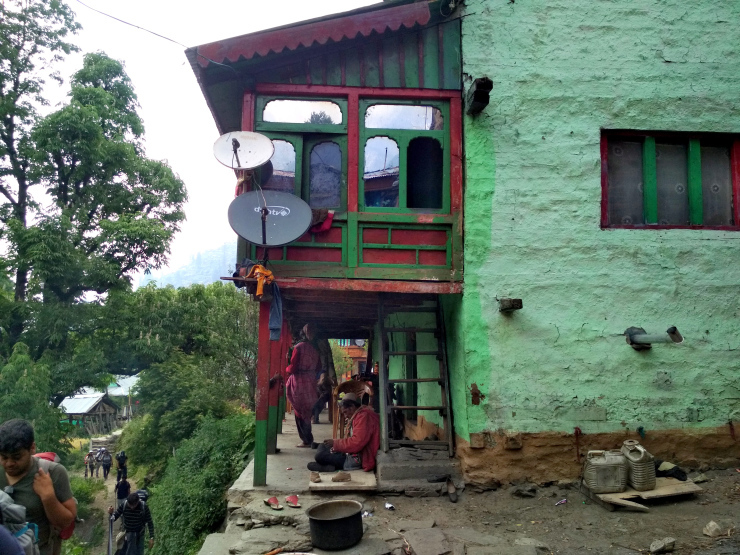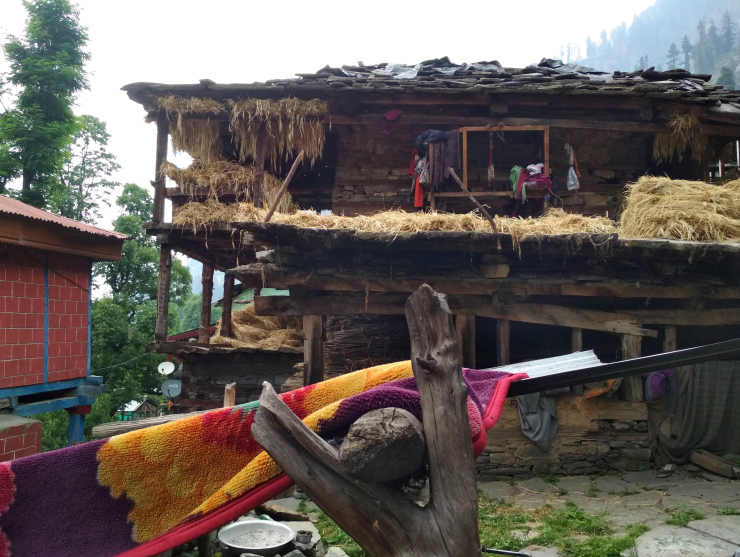 Moaning and quetching across the labyrinth of fancy tourists homestays and traditional houses, we passed a swollen stream of cold, limpid water and hiked uphill to a small patch of land. Next to the swaying wheat fields, against a striking background view of majestic mountains, the YHAI has arranged our tented stay.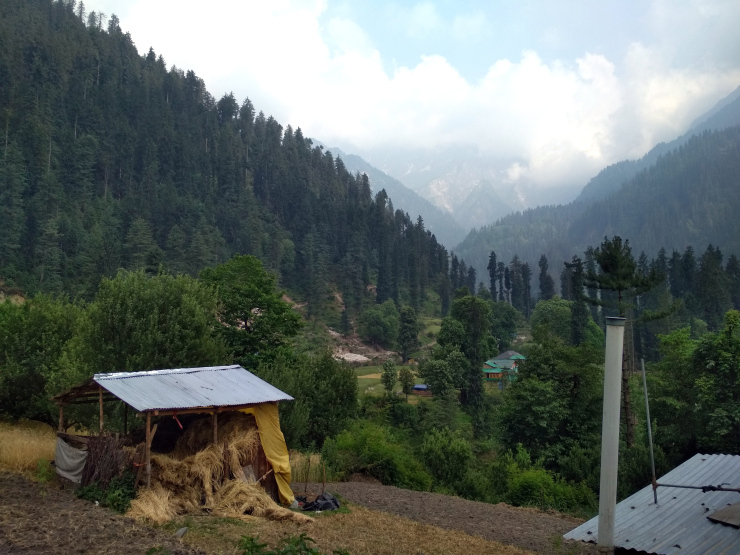 It was difficult not to fall for the beauty of the place.
As the evening fell, the deodars and pines towered over us like hefty guards.
Juice, a hot cup of much-needed tea and snacks and an uncomfortably early dinner at 7:30 followed our arrival.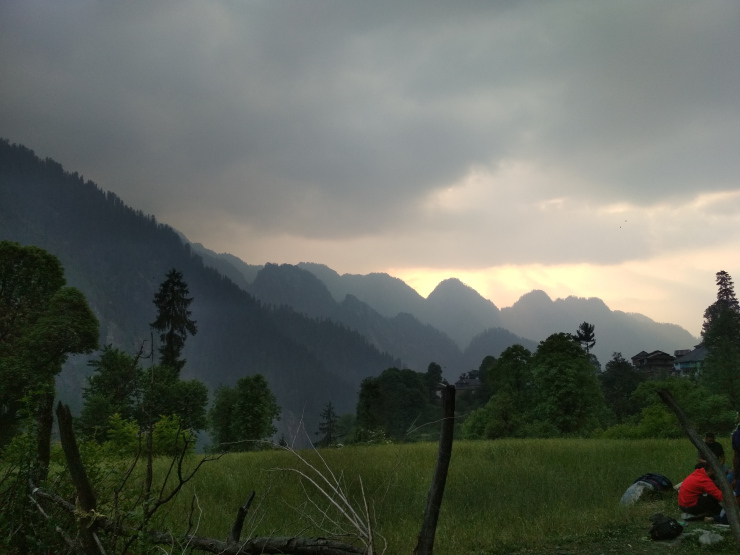 The daylight was slowly receding in the mountain land; some of us played cards, sitting on the grass, others sat on a rock, engaged in conversations; yet others worked on stupid plans to explore the dense corners of the jungle around through the diminishing visibility.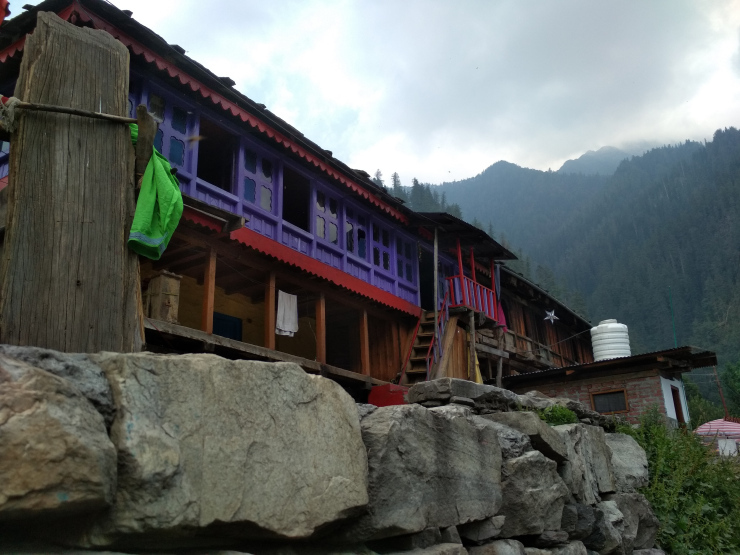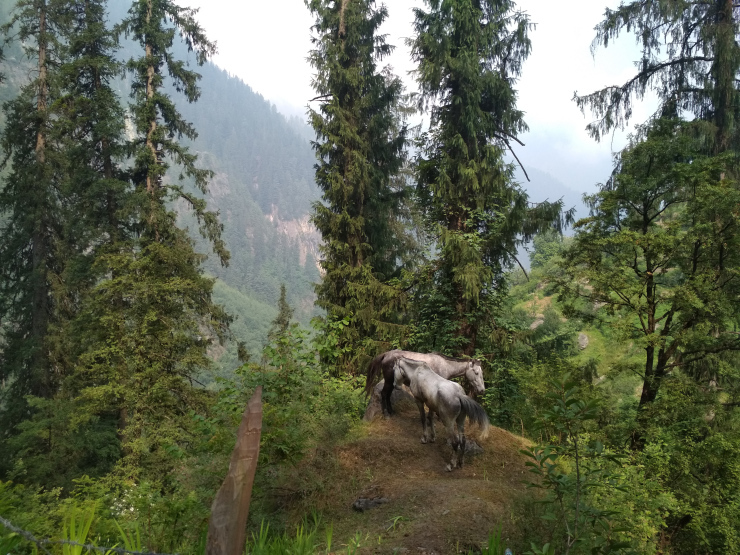 Though YHAI discourages from having a campfire, we arranged one for ourselves at Grahan. As the fire rose and melted the ice between us, we danced around it like a bunch of hippies and tribals.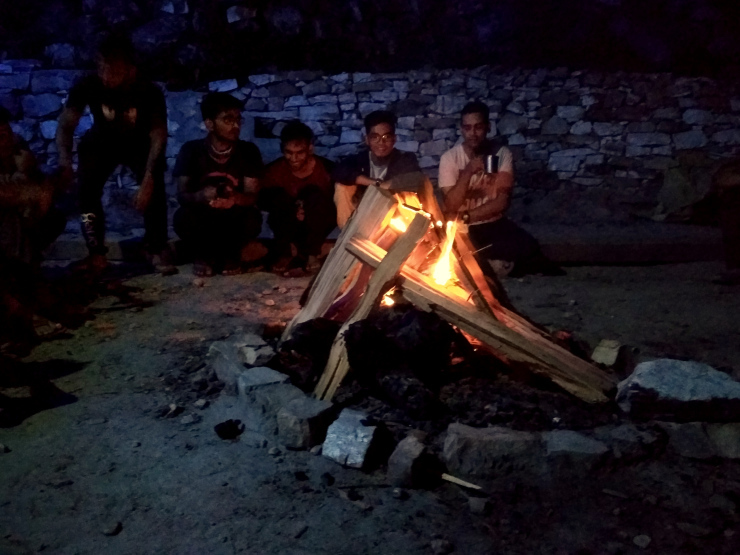 A keen dancer in our group - who had the endurance of carrying the additional weight of Bluetooth speakers and power-banks on the trek - became our DJ for the night (and annoyingly for every day that followed), playing Bollywood and Punjabi party songs.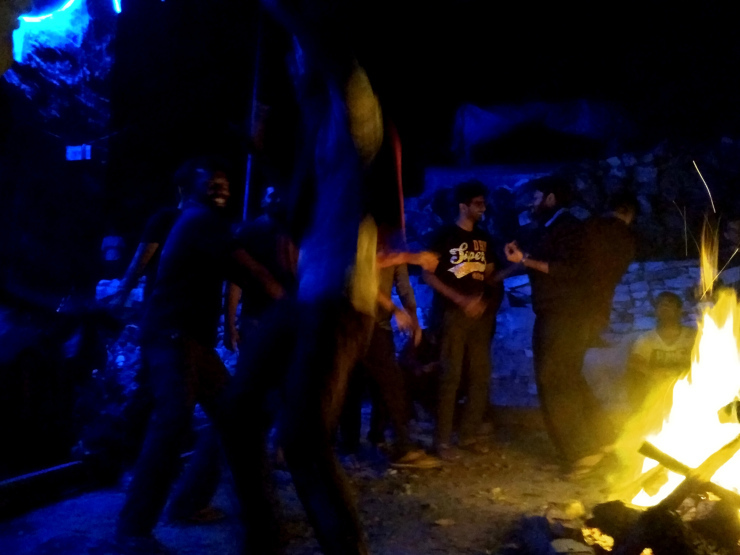 We danced like drunkards around the huge fire and kept feeding the flames to keep the fun going - we celebrated our being there, far and away from home, from familiarity to the world of which we knew nothing.
Tired and perspiring heavily on a cold, windy night, we quickly retreated to our tents, each of us exhilarated with energy and joy, unaware of the next day's surprise that awaited us at 9,300 feet.
Find out what happened next on our trek towards the higher mountains of Sar Pass.
Go to the original blog: 2 Little Moments