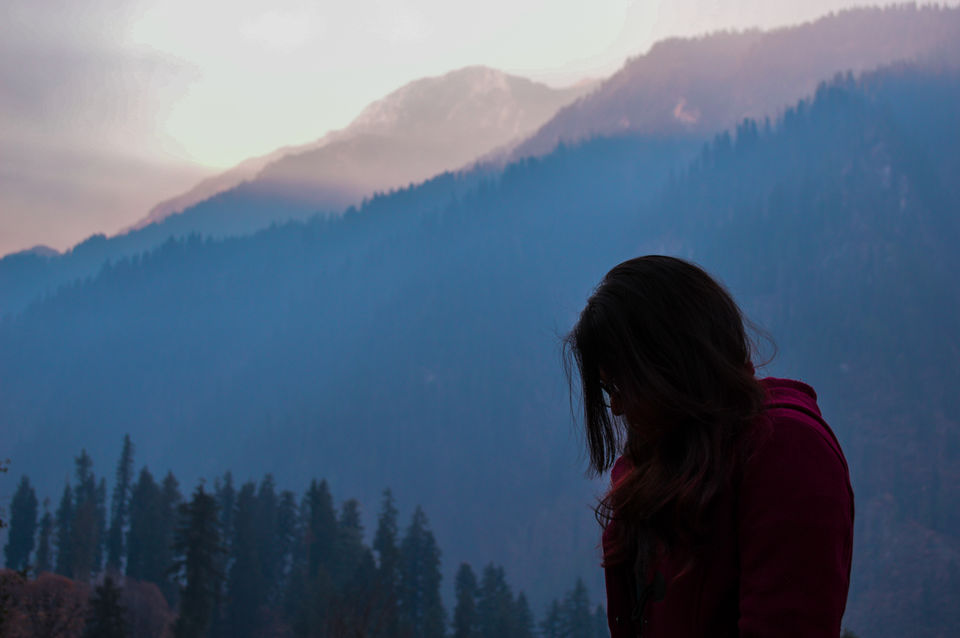 The Journey
A trip with school friends. Something we all plan for ages but it never happens. But when and if it does, be assured that it's going to be one of the best trips everrrrrrrrrr!
So ever since we finished school and started college in 2013, we plan a trip every single year without fail. And it fails every year, without fail. So this year when we started planning, most of us were pessimistic that it's not going to happen. As always. But this time the universe was on our side and it let it's magic work.
Yes, we were finally going. 6 of us. It was all set. We wanted to it be offbeat. The road not taken. Very Robert Frost-y (If you know what I mean)! So very wisely we chose to go to Himachal Pradesh in late December. With all the snow and the cold. We're smart. Really.
Our 7-day trip began from Delhi, by car and we went to Manali via Chandigarh. The highway is packed with ostentatious and mighty pricey 'dhabas' (They look super sexy but they don't have chicken. Such a turn-off!). And even after midnight they're jam packed. We reached Chandigarh close to 3 am and changed cars. That was the moment, Billa (let's call him that. Although 'Chilla' works well too given the amount of yelling he does. Or 'Dhilla' cause I'm pretty sure he was a lunatic.) entered our lives. Billa was our driver for the next 5 days and with his haryanvi accent, non-stop smoking (not just tobacco), driving with windows down in the night so that we freeze to death and his infuriatingly dominating and opinionated nature, he was a pain in the ass. It would be an understatement if i said we were scared that he was our driver.
Cause:
1.It was an overnight journey
2.The twisty, bendy hilly roads from which if you fall there would be no remnants to cremate
3.He was high as duck. But fortunately his reflexes were fine cause he almost saved us from a head along collision with a truck. That was perhaps the only good thing he did.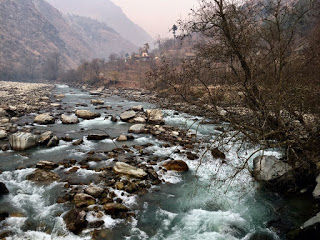 The 8 km trek to Grahan village is an experience of a lifetime. We were told it's a beginner level trek. Maybe it was. Maybe not. (IT WAS NOT!)
We covered the return journey in 3 hours 15 mins. Commendable for us! :P
Remember one thing, when you go downwards from Manali/Kasol there is heavy checking by the police for illegal substances. They're not to be carried out of these places. In fact we saw this group right in front of us, who had some stuff and were heavily fined. They had stopped us too but then Parle-G came to our rescue (Not that we had any with us. Illegal stuff, I mean).
Anyway, the road to Ghiyagi is a little unchancy. But we reached there by 8 pm.
Stay: Wayward Inn
Booked Via: Airbnb
Price: approx 600 per person
It's owned by a guy called Ved. He and his family are simply amazing! Fresh orange juices and trout fishes straight from the river. Infinite bliss!
So you know whenever you travel somewhere you have this wishlist of the things you want to see/do. We wanted to witness a snowfall. And we did on our trek to Serolsar lake from Jalori pass. It was one one of those phenomenal moment that you could hold onto forever. Those little, squishy, vanilla white balls of ice on my jacket. It was my first time and I was ecstatic. We all lost our snowfall-virginity. :D
Jalori pass is an hour drive from Wayward Inn. And it's a 2 hrs trek from there to Serolsar lake. The trek is again splendid! With lush green trees, mind-blowing meadows, tricky trails and in the end the half frozen lake. Superb!
The break-bone trek and the half-frozen lake
Looking back now, I'm glad we chose to go to the finger-numbing, bone-freezing north in the winter. Cause like they say there is something special about having ice-creams in winter. Those who've had it would know what I mean. And those who've been up north in the winter would feel what I felt.
Lessons Learnt/ Tips for future trips:
Long distance travel is way more comfortable via plane/train/Volvo buses wherever possible.
If you have to book cabs, do it via a reputed and reliable agency. Do NOT contact the driver directly. It's a rip-off and they're answerable to no one. You might be left in the middle of nowhere, in the middle of the night (actually way past mid) and you can do nothing about it.
Airbnb rocks!
Trout fishes are a delight.
You definitely need good shoes if you are going trekking cause you never know when the sole might come off.
You should have a packet of Parle-G with you always (for yourselves, dogs or to show the police)
There is always someone who wants to poop! Even when you're climbing downhill, in the middle of nowhere.
You don't necessarily want to know where the water in your bottle came from.
You should never leave your ultra-fluffy, fleece footwear right outside the bathroom. Someone might just use it, after asking you of course.
Check for your valuables (like things of utmost importance - read cellphone) before leaving the room.
Boys find extremely absurd things funny. Like someone saying 'hain' in a video.
Word games can give you sleepless nights. Avoid playing them for your own sanity.
Scissors are handy.
There are sadistic people everywhere.
Some people are perfectly capable of proving their idiocy by forgetting the pass code of their goddamn phone at vital moments. Like when you need to enter the movie hall and the tickets are in your phone!
Or how you can travel in the complete opposite direction of your destination and somehow you're aware that you're doing so, cause everything looks so different, yet you do it.
Leaving things to destiny is a good or a bad idea is something only time can tell.
Until next time. Au revoir!
To follow me on my epic journeys around the world, click here.
Frequent Searches Leading To This Page:-
manali food restaurants, places to eat in manali, activities to do in manali, manali itinerary for 3 days, manali trip from delhi, where to stay in old manali, top manali tour packages with prices from delhi
The first thought I'd after reaching Manali and standing on this bridge overlooking the Beas which was mesmerising but at the same time excruciatingly cold and windy.
So when you've been travelling for over 30hrs, enduring delayed flights, obnoxious drivers, unappetizing food and disturbed bowel movements all you want to do is goto your hotel (or homestay as in our case) and shit peacefully. But Billa, being Billa, bullied us into going to a hot spring. Although I've to admit, it wasn't so bad once we got inside it.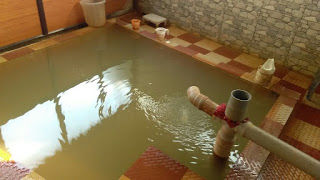 The Sulphur hot springs are very popular in Manali. Especially in the chilly winters. They cost about 20-40 INR per hour. I'd suggest not shampooing your hair there cause it makes them dry as a bone.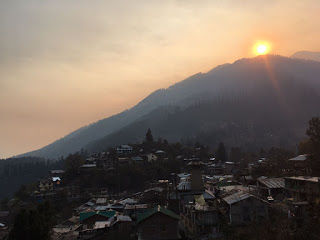 Stay: Sharda Homestay
Location: Near Manu Temple
Booked via: Airbnb
Price: 140 per person
Would definitely recommend staying here. Not only is it cheap but the view from their balcony is breathtaking. You'd have to trek a bit to reach there, though.
Do NOT eat at: Renaissance (Big big mistake as we were starving!)
Do eat at: Bhabi da Dhaba (don't know the real name as that's what Billa referred to it as. But the food is amazing. Gobi ka paratha!)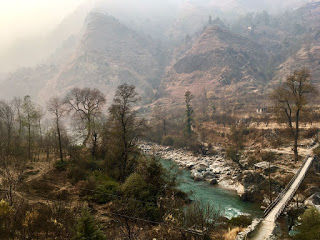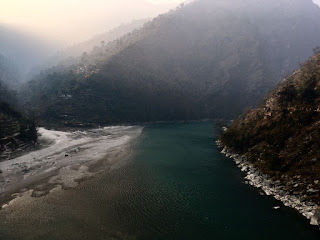 Early morning (by early I mean 11 am) we left for Kasol. And on Billa's persistent nagging we went rafting in the freezing Beas river. It was a hate-love experience. We hated the sub-zero water which kept hitting us and we loved that we could somehow laugh it out. The sadistic sculler reminded us a million times that the perfect season to go rafting is the summers. Umm..Thank you! Like we were not already regretting freezing ourselves to death, you'd to rub salt in our wounds.
Moving on, apples are a delight. Both green and red. I'm telling you they give us turd in the name of apples here. You can buy Apples, Kiwis and Ram-phal there. Which we did, on Billa's insistence.
Stay: Thakur Cottage
Price: 600 per room. And we had 2 rooms.
Booked Via: Telephone (+919418007271)
This place is again strategically placed high up above. So you've to hike all the way up. It's a task with all the luggage. But the view is great. And we met this handsome husky (who by the way looked like Ghost from GOT) there. So no complains.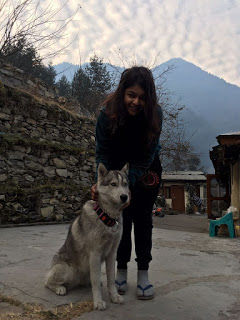 Dinner: Evergreen (We'd assorted food like chicken schnitzel, sizzler etc. The food was okay.)
Post dinner we sat around a beautiful bonfire and chilled.
But, boy! It was phantasmagorical.
We started from Kasol around 12 pm and it took us around 5 hours to reach Grahan. The trail was alongside the river and we'd to cross a lot of bridges. We were guided by 3-wonderful dogs all the way up and back. They were such gentlemen too. They'd stop, look back and wait for you to catch up. Make sure to carry some biscuits for them.
Skinny dipping might not be such a good idea in the glacial water but then we saw a couple jump in and yell like there were inferi around.
While trekking we came across a rock mural of sorts, which said,"No wine allowed in Grahan". It's true. The people of Grahan believe that long back God appeared in someone's dream and said no alcohol within the village. And they follow it religiously.
Long after that there is a bifurcation, one which says the easy way to Grahan and other is the shortcut. The shortcut is steep, rocky, and dangerous. But it gets you to Grahan faster. So we, being we, chose the shortcut. But it wasn't as bad as we thought it'd be. At least we reached marginally early.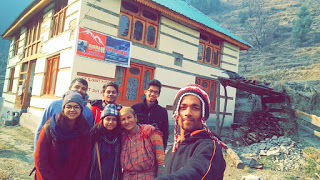 Stay: The Mount View Cottage
Price: 100 per person! And since it was empty they let us have as many rooms as we want. However, because of the freezing temperature we all ended up snuggling in one room which had a fireplace.
Booked Via : On reaching Grahan we ran into Puspa Aunty, the lovely owner of the place. I guess destiny played it's game and we ended up there.
She and her husband are fantastic people. They have EVERYTHING you will need. No need to go elsewhere (*suggestive wink*). They served us some awesome Maggie, Rajma-Chawal, and some not-so-awesome tea.
Apparently, there is a picturesque waterfall near Grahan and is a 2 hrs trek from there. But we couldn't go there as our legs had given up. Also, we had the steep journey back down too. And if you have a lot of time and you're a trek person then you could go to the Sar Pass from there. It's a 4 days trek and uncle hosts such guided trips.