This was my 4th solo trip and first trip of 2020.
I planned this trip a week ago and did bookings of bus thorough Rail Yatri app. They provide good discounts compare to Red Bus. I always prefer them to book my bus tickets. I had two options one was to book a bus directly to Kasol which was expensive or a bus to Bhuntar (from here Kasol is 30kms) which was cheaper comparatively. So I chose Bhuntar option.
I took the half day from the office and took a bus in the evening at 6pm. So here the journey begun. Bus reached Bhuntar next morning at 7am on time as it was mentioned during the booking. It was very cold. From Bhuntar I got the local bus to Kasol at 8am. It costed me 30inr and took 1hr to reach Kasol. Ther bus journey along side the river Parvati was quite soothing. On the way I found out that it snowed there in morning.
So I reched there determined to do the Grahan Village trek. I was having a tea and was enquiring about the route to Grahan. The lady from the tea shop strictly said no to me. She it's not safe to go there. It has been snowing heavily up there in the village for weeks. The path is not safe. But I didn't come all the way to go back with accomplishing the trek. There was one local guide sitting in the tea cafe offered me his help. As locals already scared me, so I took the help from him. It costed me more than it should. But then I didn't have any other option.
First he took me to show tha Chalal bridge, hot water spring and river side Shiva temple in Kasol. After that me, my guide and a friend of his gathered the required things and started the trek to Grahan Village.
To inform you Grahan Village which is also known as Mini Israel of India is small village located 9kms from Kasol. It has got the name so because during the summer seasons Israeli people come and stay here. They mostly come here get the cheap weed. However they have influenced the fool culture of Kasol and near by areas.
We begun our trek at around 1pm. The trek goes along side the river. It goes through forest of Himalayan pines, old wood and nail bridges and apple farms. The route was rough and also covered with snow at some place it was quite dense. On our way up we took a halt at the only cafe which was opened during the cold winter Kasol Cafe. We stayed there for 15mins to have a tea while my accompanies smoked Chillam along with tea.  We continued and suddenly we saw the paw print of snow leopard. We got bit scared as there was a slight possibility that we might ran into that wild animal. The prints were quite fresh. However we still went to complete the trek.
God's grace was upon me and it started snowing. I never seen snow fall before. The whole trek was already so exquisite but the snowfall made it more wonderful. The whole forest got covered with the white sheet of snow. It was looking like a heaven. We did snow fight and made snow balls. Trekking was very fun and we reached the village finally. It took total 3hrs15min.
After reaching the village our first task was to find the Homestay to spend the night. So asked few and found one. It's name was Snow Paradise Homestay. It was quite nice, cheap and comfortable. It costed 200inr per person. So to tell you about the houses there. Most of the houses is made of out of wood, they have tandoor like thing with chimney to keep themselves warm, every house has handloom to produce winter caps, shawls, sweaters, they sell these things to earn their livelihood. During winter the village hardly gets any tourist.
I took the short tour of the village. I couldn't roam freely there as it was covered with dense snow. So I saw two beautiful temples there. Temples of Yagya Valakya Rishi. Then there were apple farms. After a short tour we went to the famous Krishna cafe.
I really liked that cafe. The best thing about the cafe was it's owner and food. So like other house this cafe also had that tandoor like thing with chimney. As common culture friends family gather and sit around that tandoor to get warmth and smoke Chillam. So it happens like everyone gets a chance to smoke and also a chance to make the Chillam. The produce their own weed. Although I don't smoke but seeing those people smoking making me try it. So I smoked a few puffs. Then comes the food. From the beginning of my trip I had this thing in my mind very clear that I'm going to have Israeli food not matter what. Krishna cafe had Israeli food on their menu. Unfortunately only two dishes were available as meats were not present with them at that time of winter. So the dish I ordered is called Ziva. It's simple pastry filled with mushrooms cooked in oven served accompanied with boiled eggs and tomato sauce. It was tasty. The best part about it was the chef which was a 13yr old kid. The other best thing about the cafe was its owner. We talked alot on different topics. I asked him as many questions as possible like who designed their menu, what are the difficulties they face in day to day life, how do they earn they livelihood in off season,how often do they go to the near by town to get supplies and the list goes on and an. It was kinda informative and healthy conversation. After that we went back to our homestay, had dinner there and called it a day.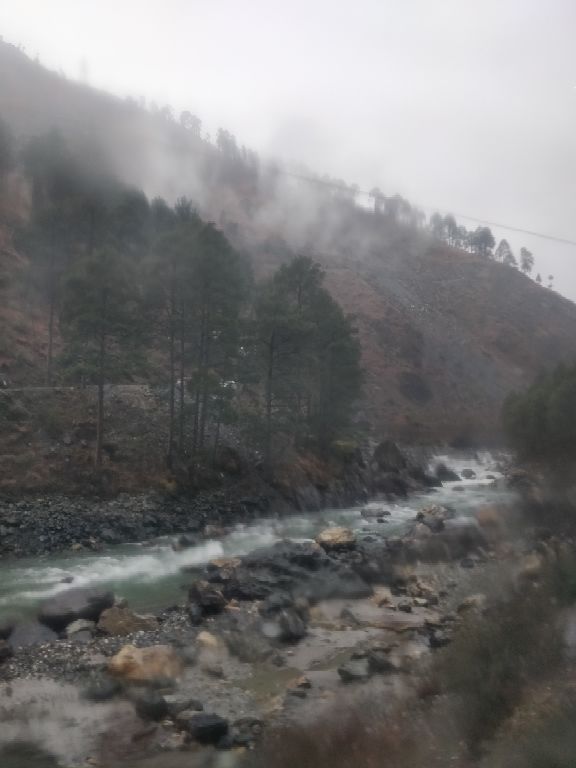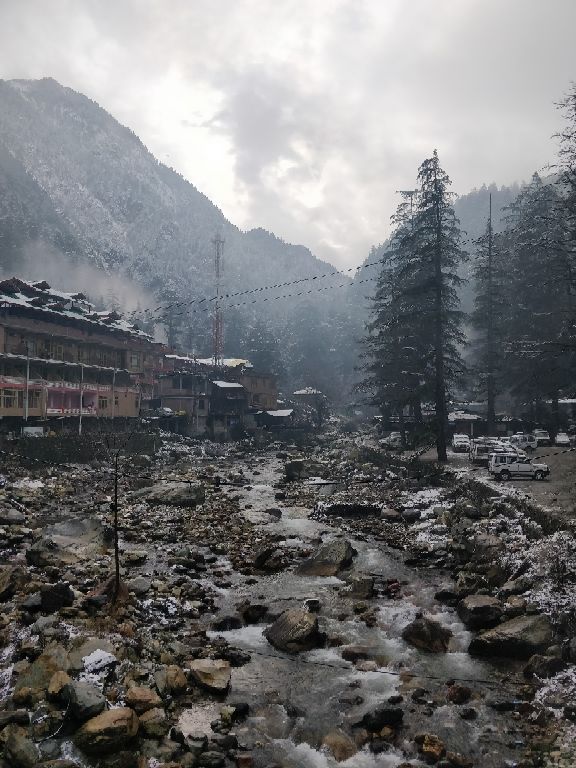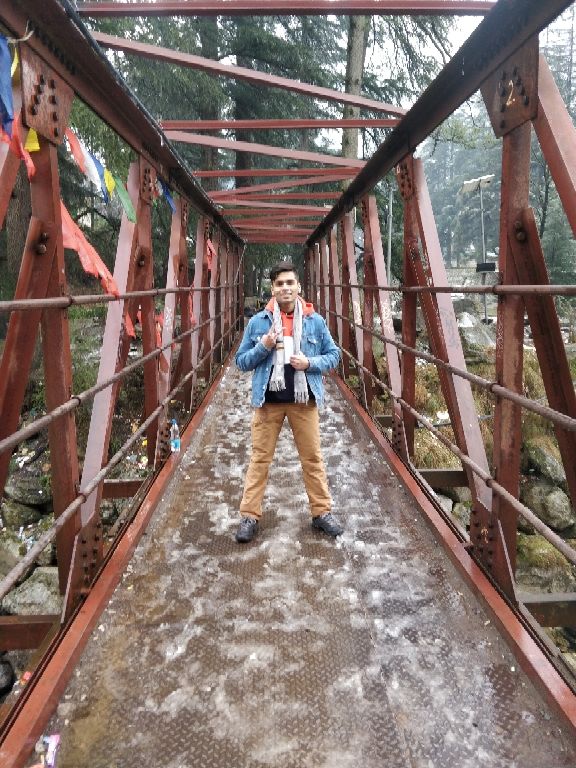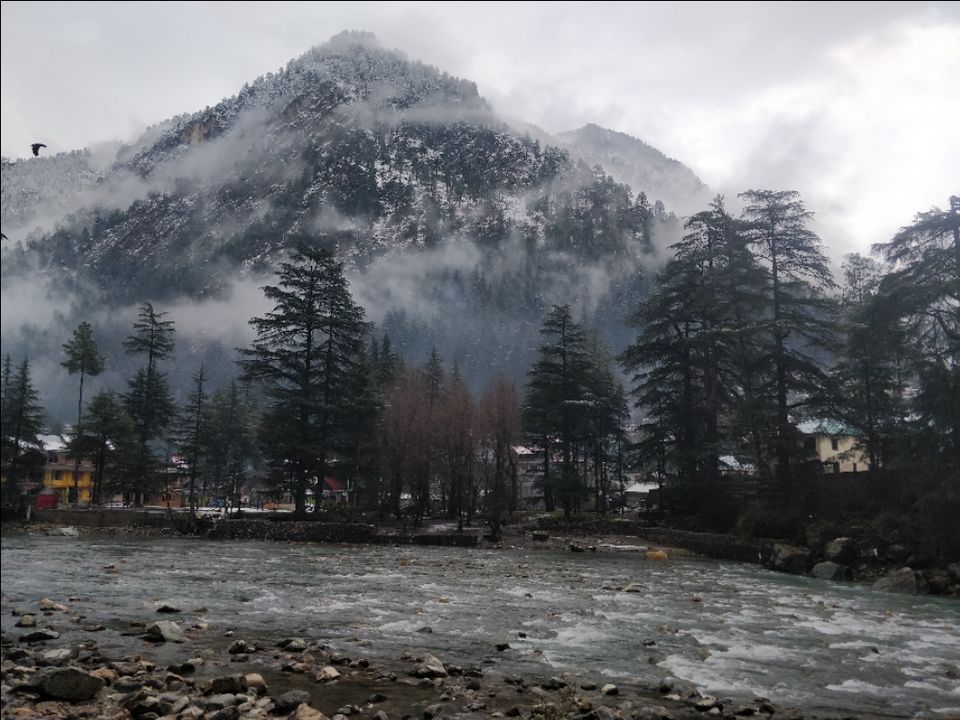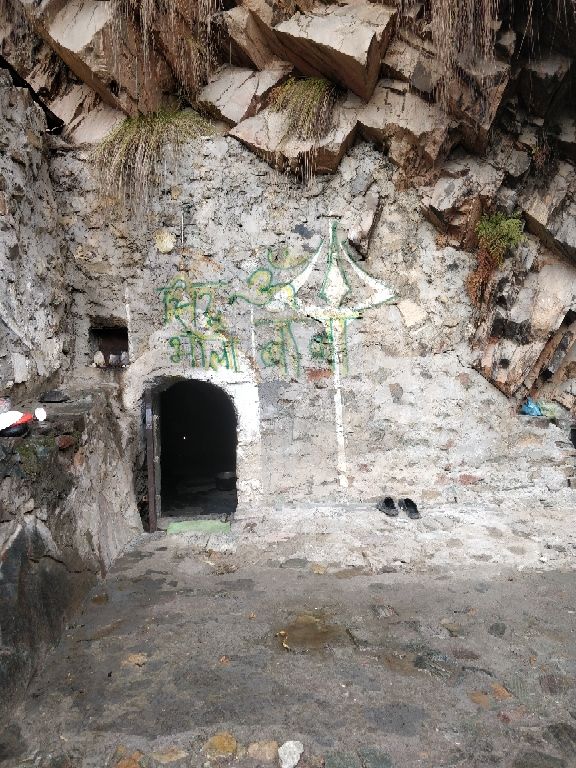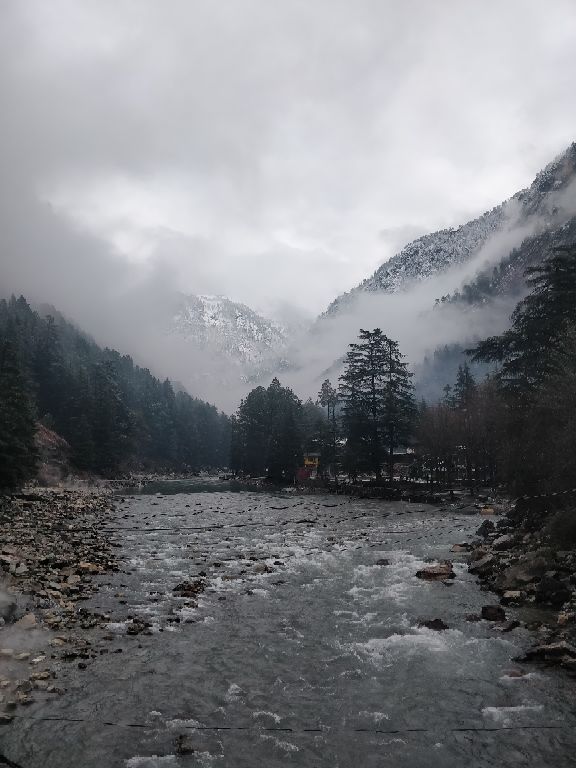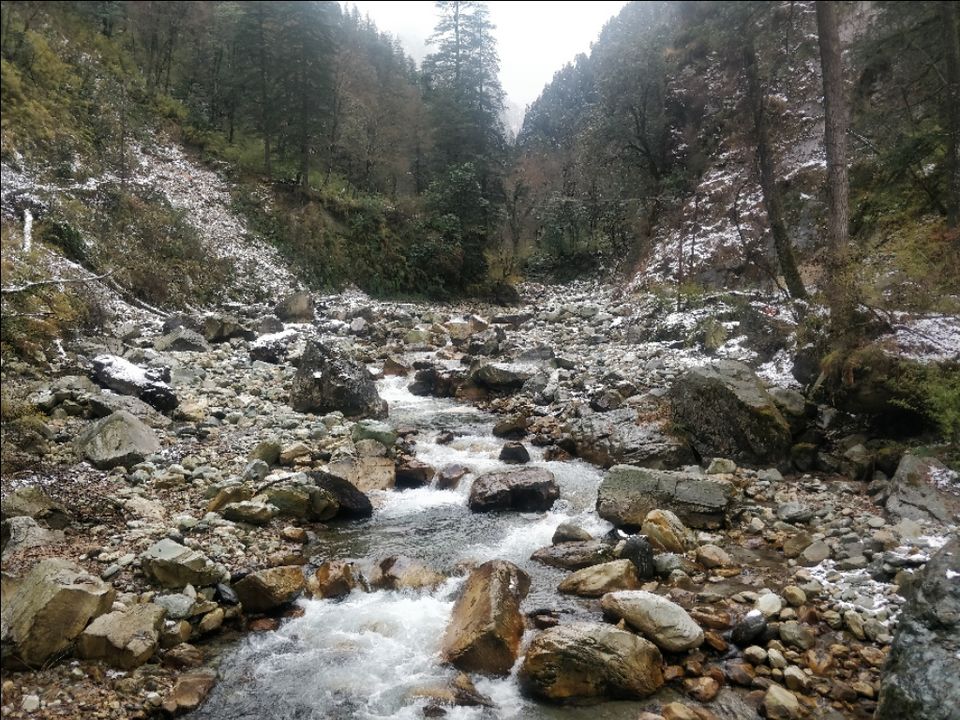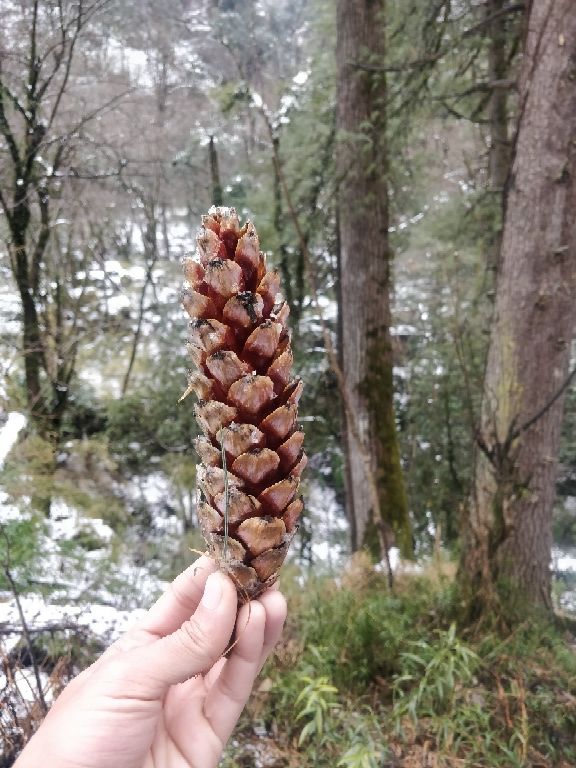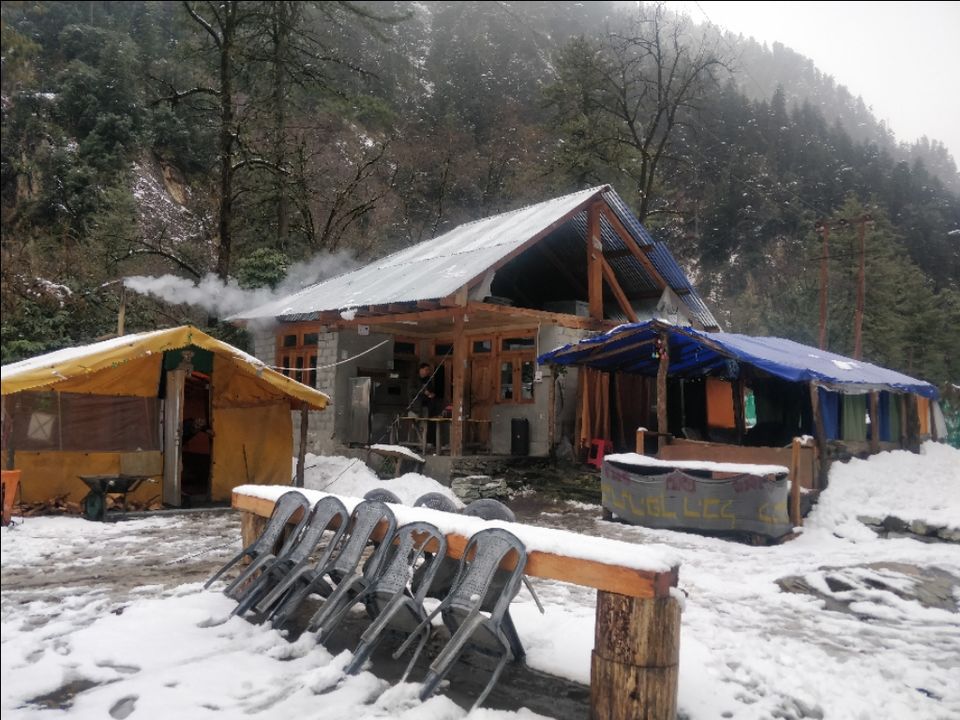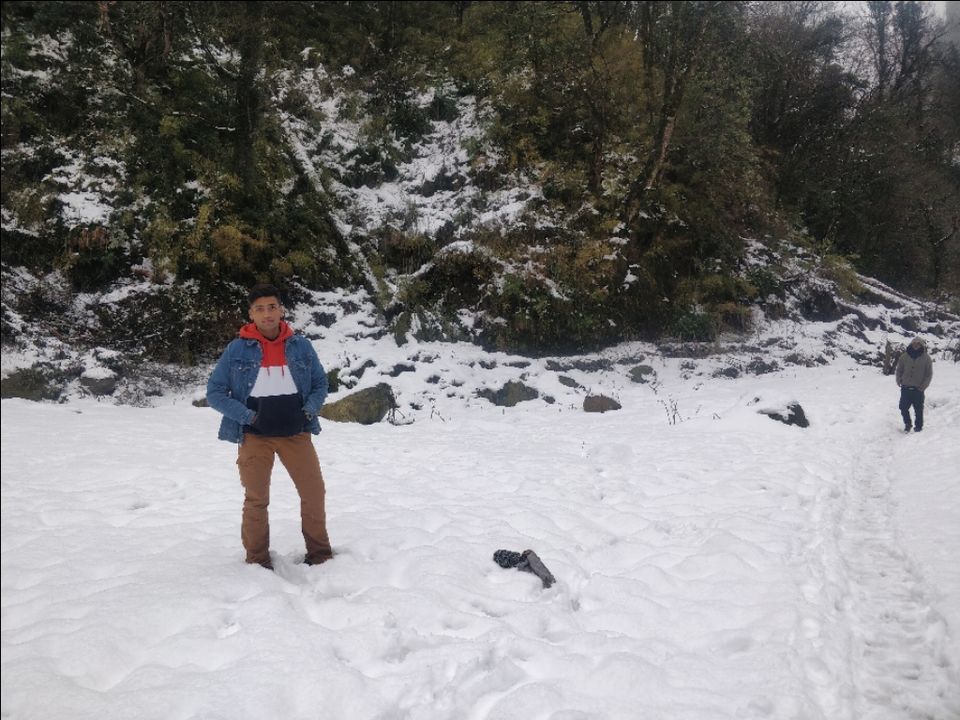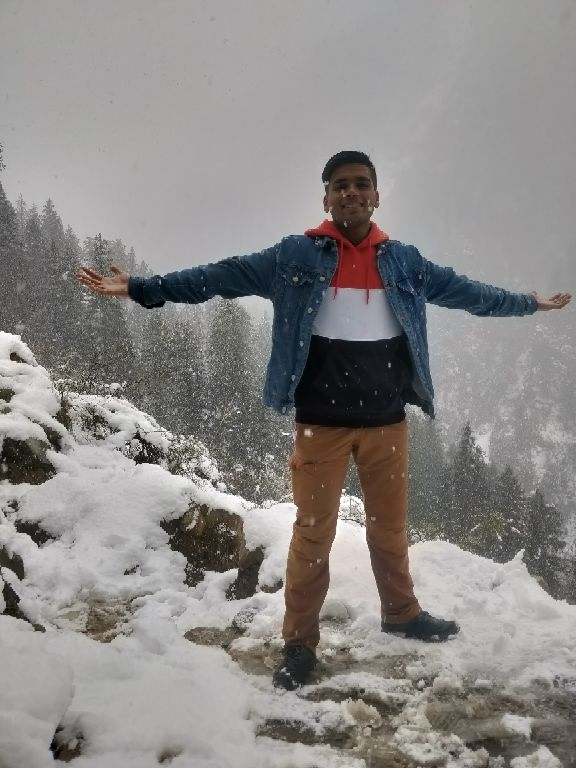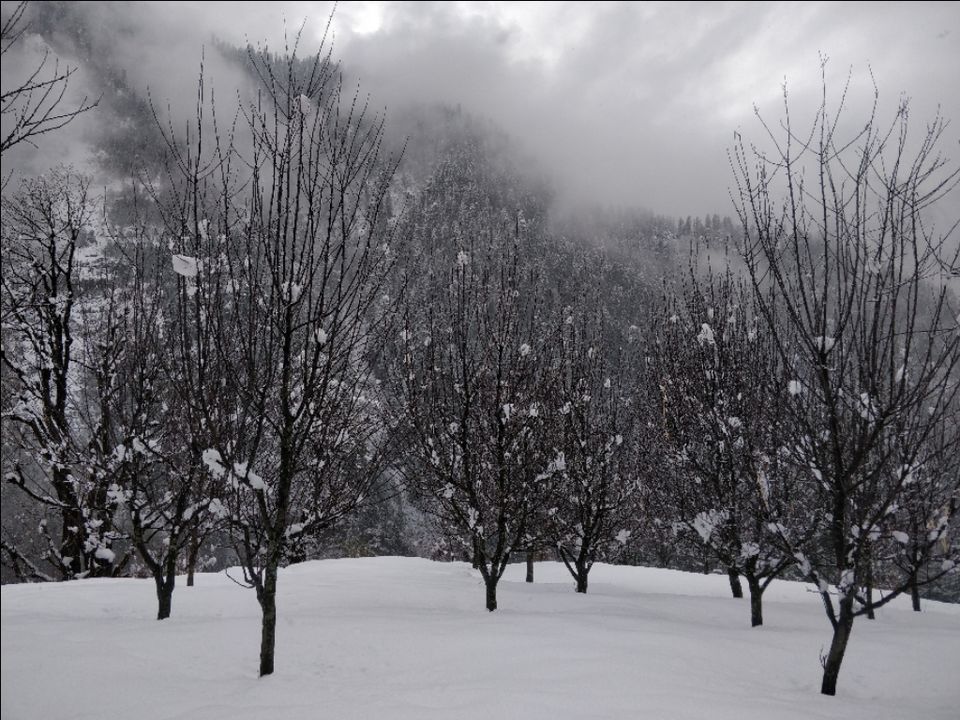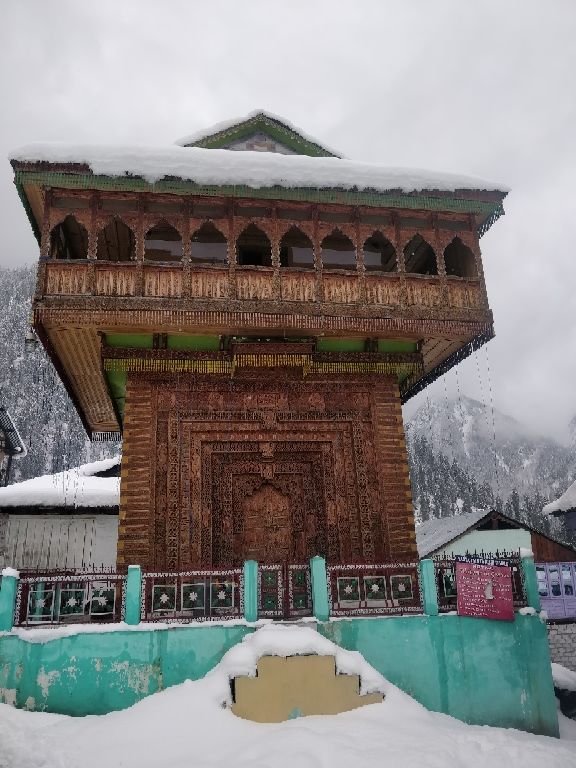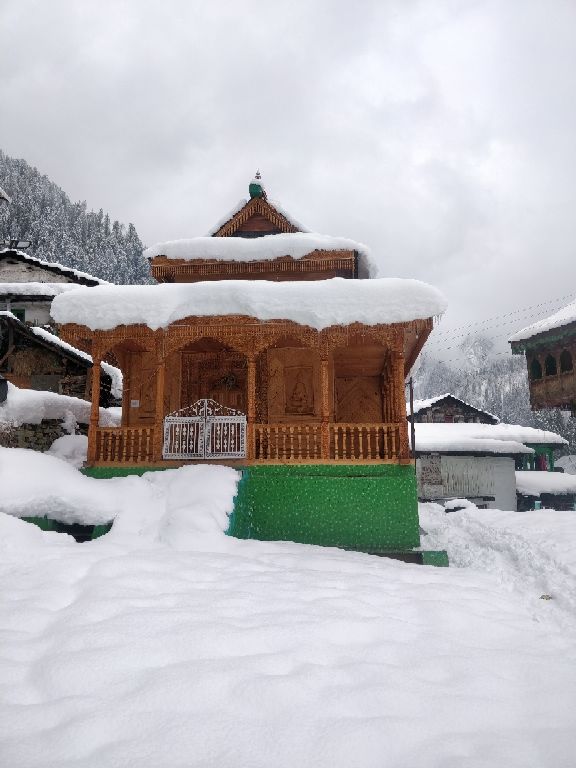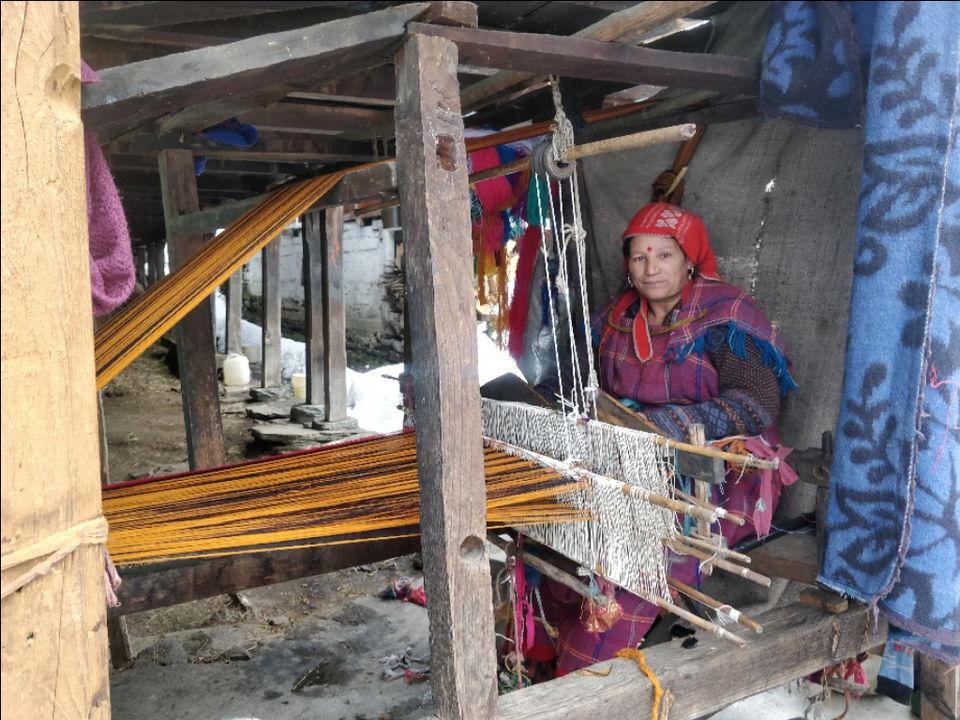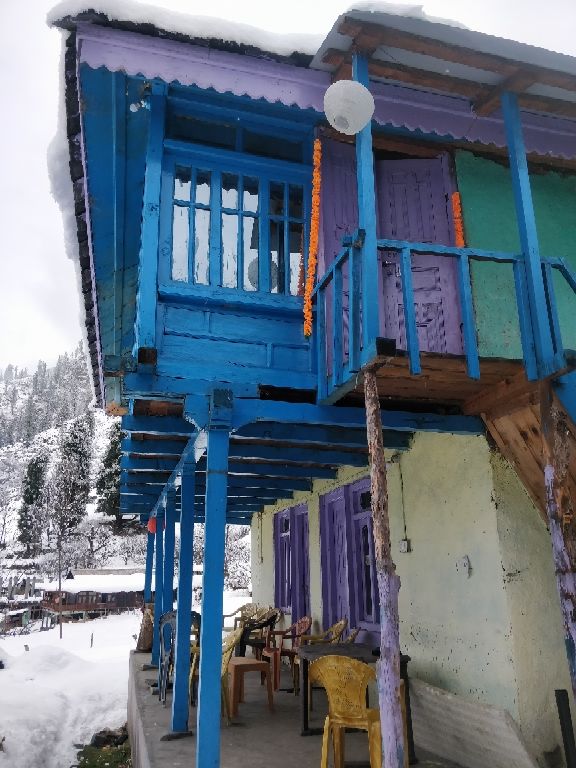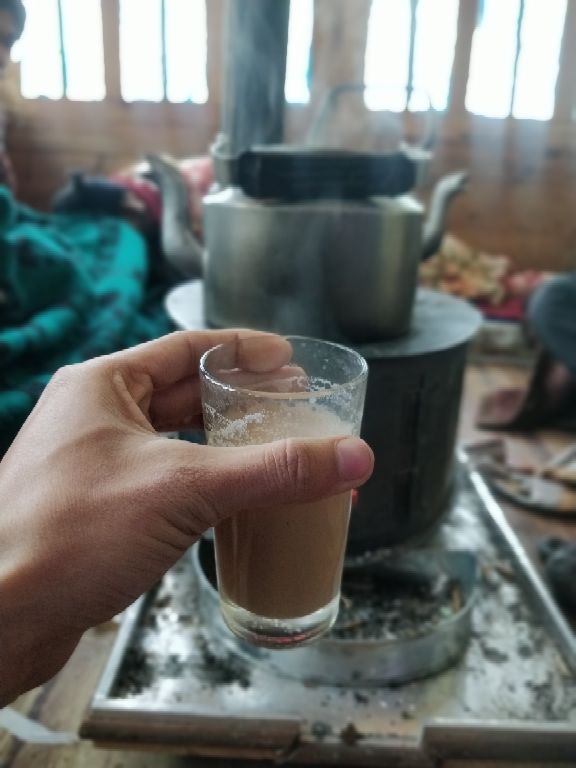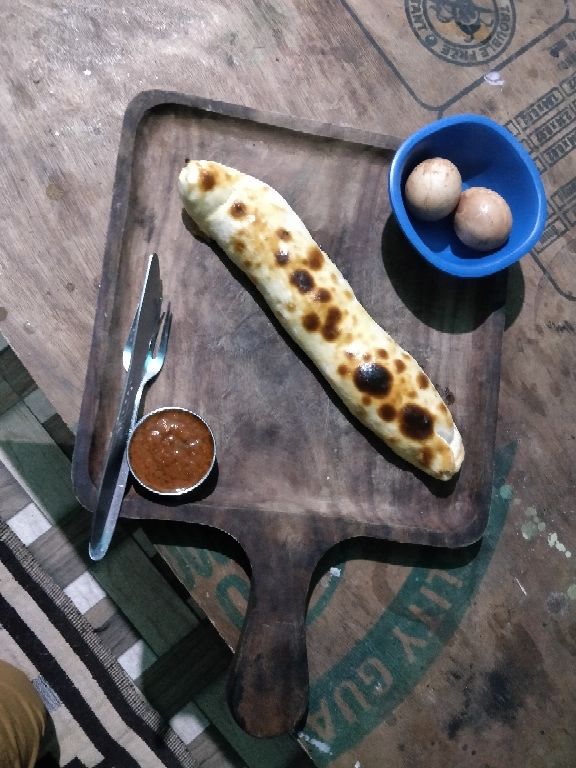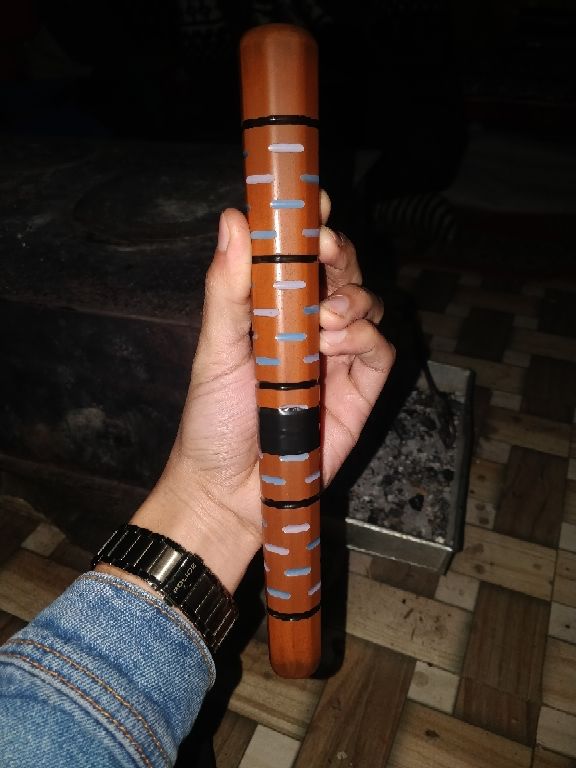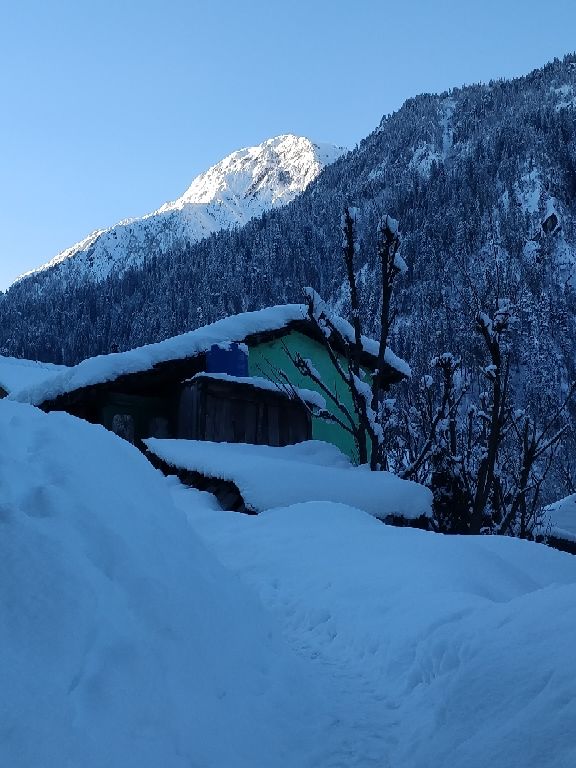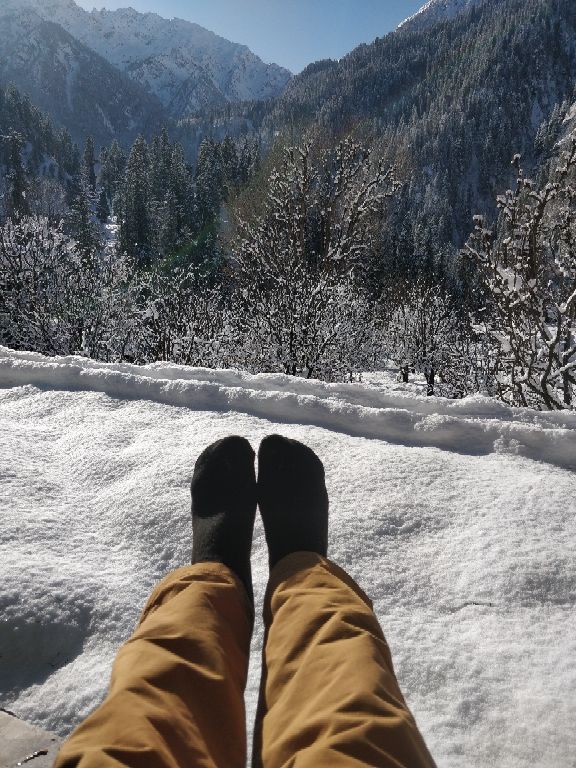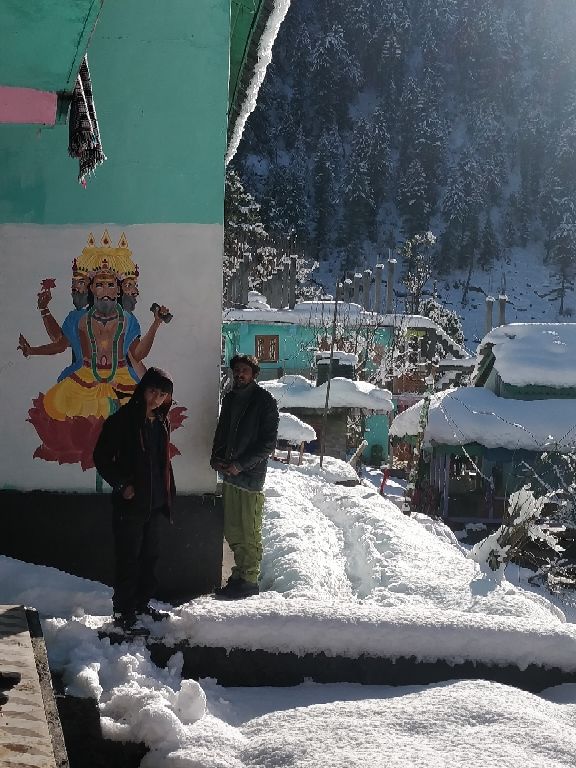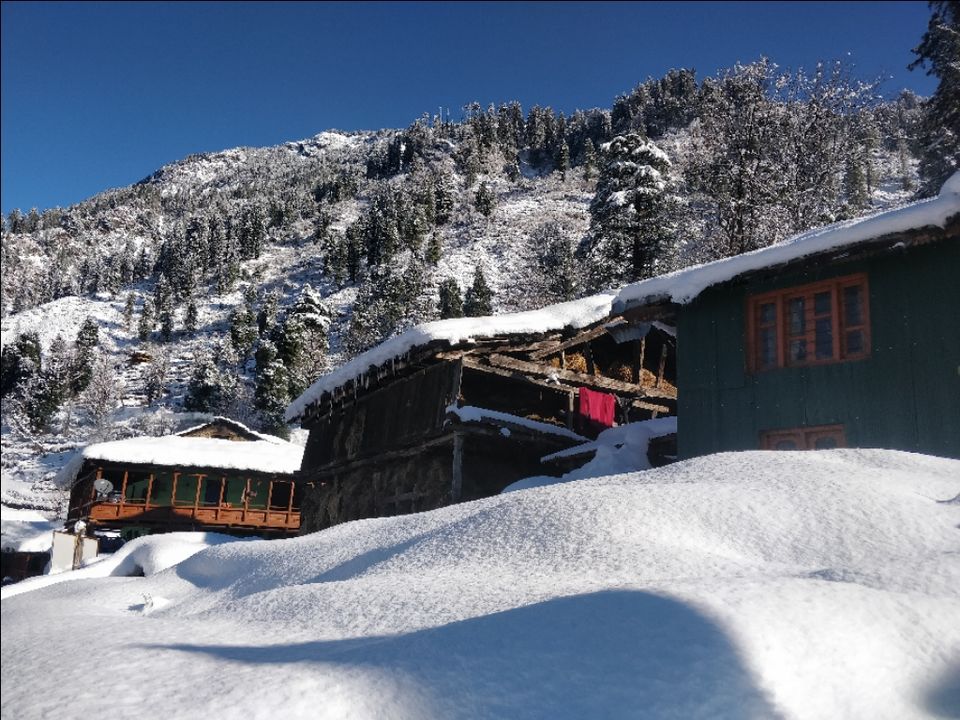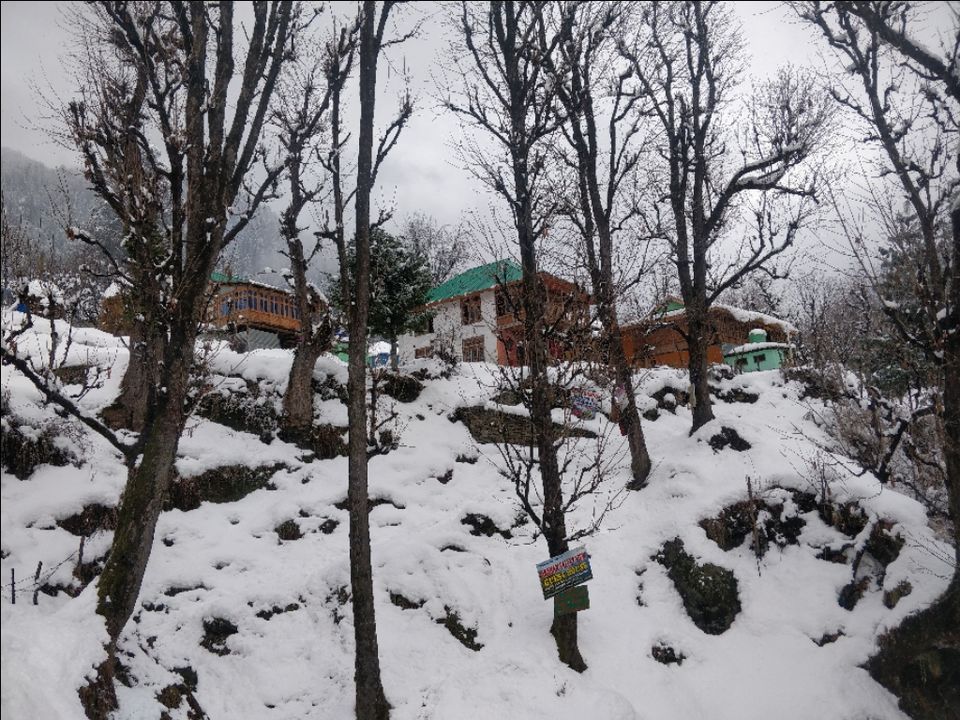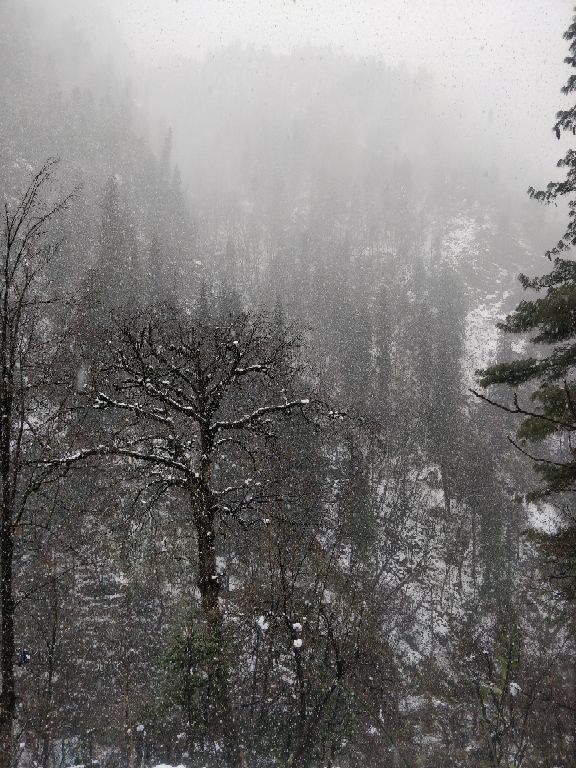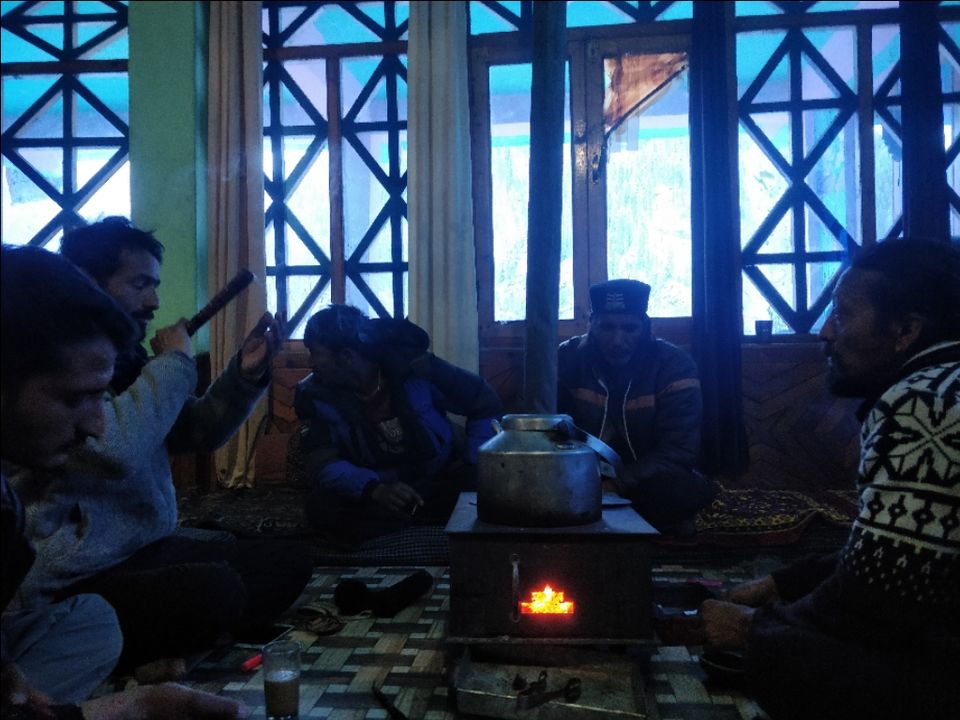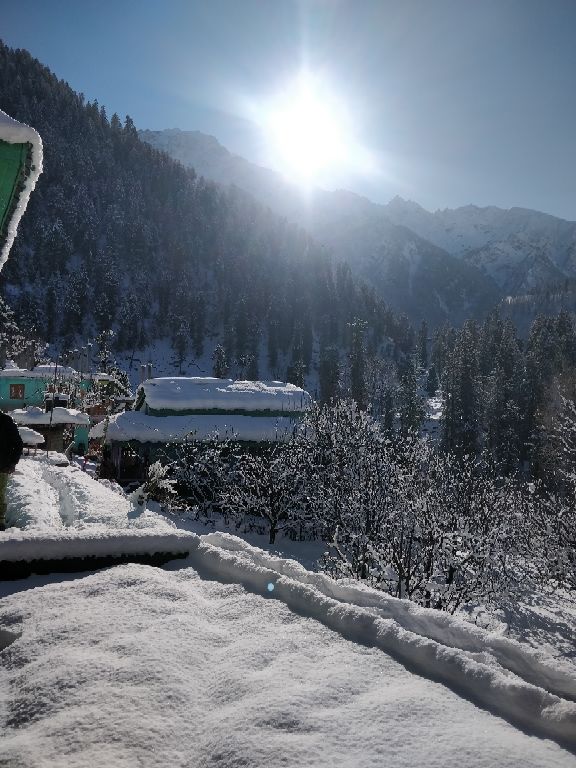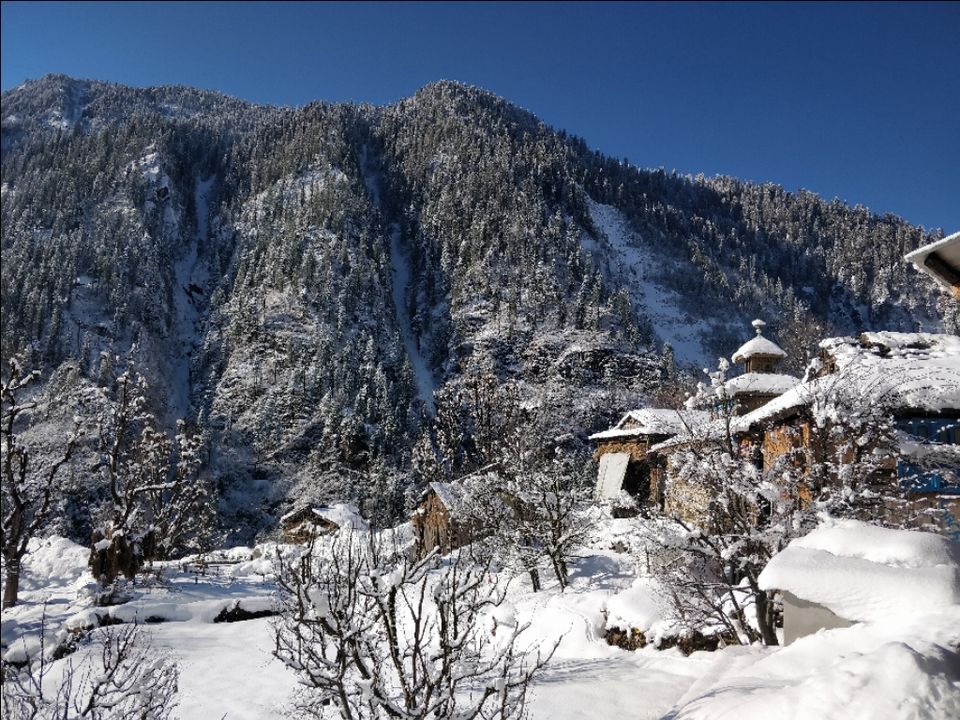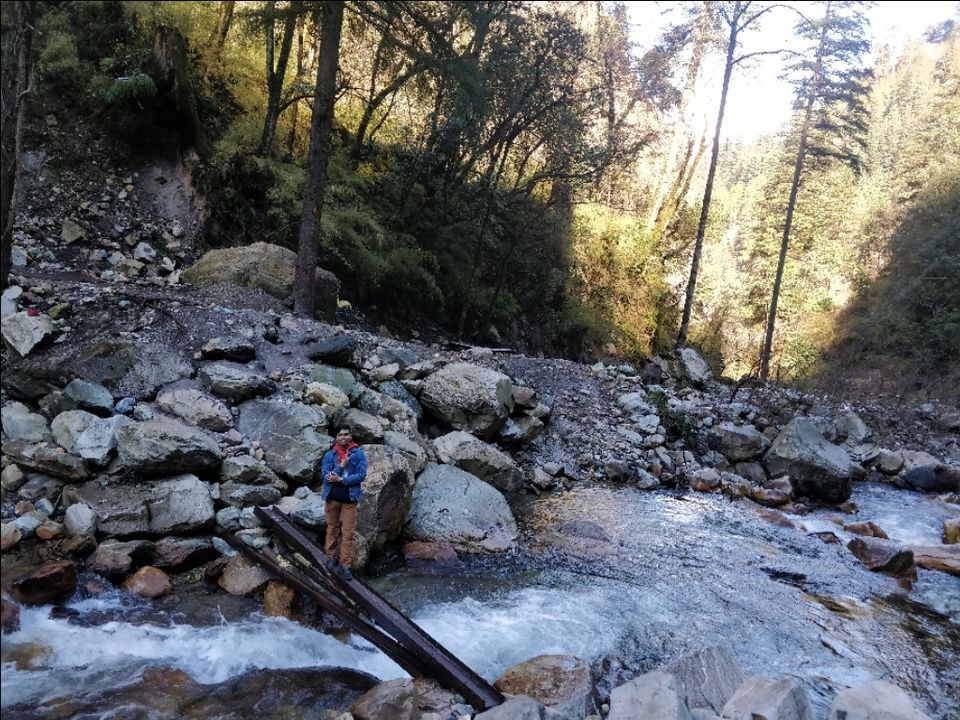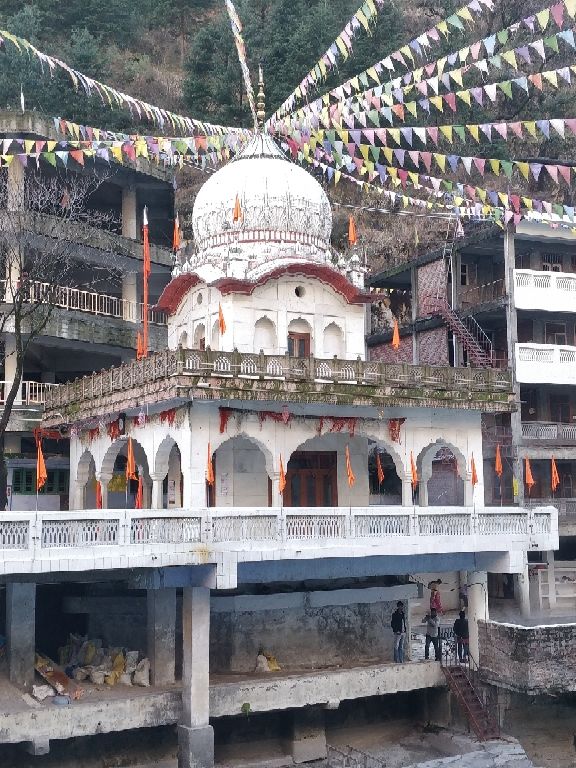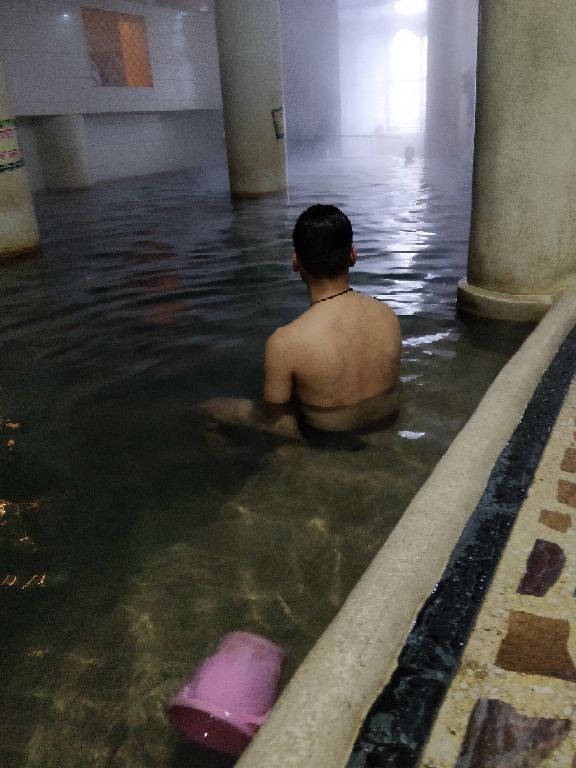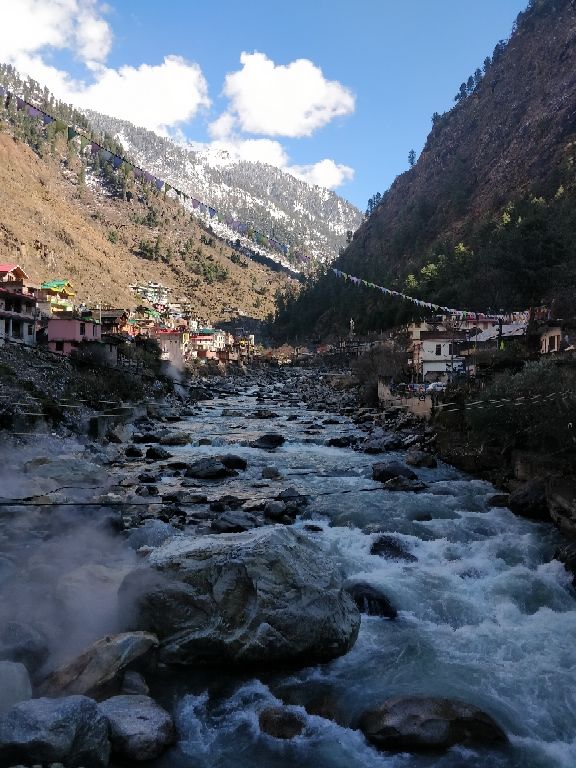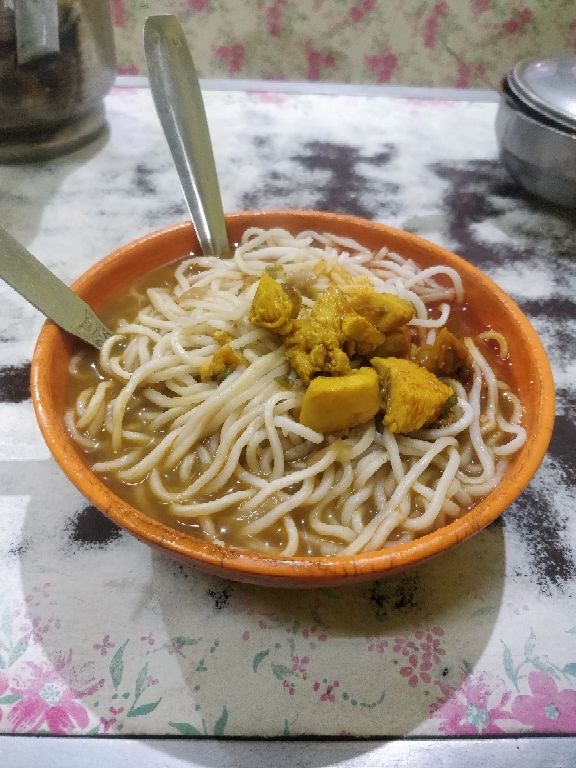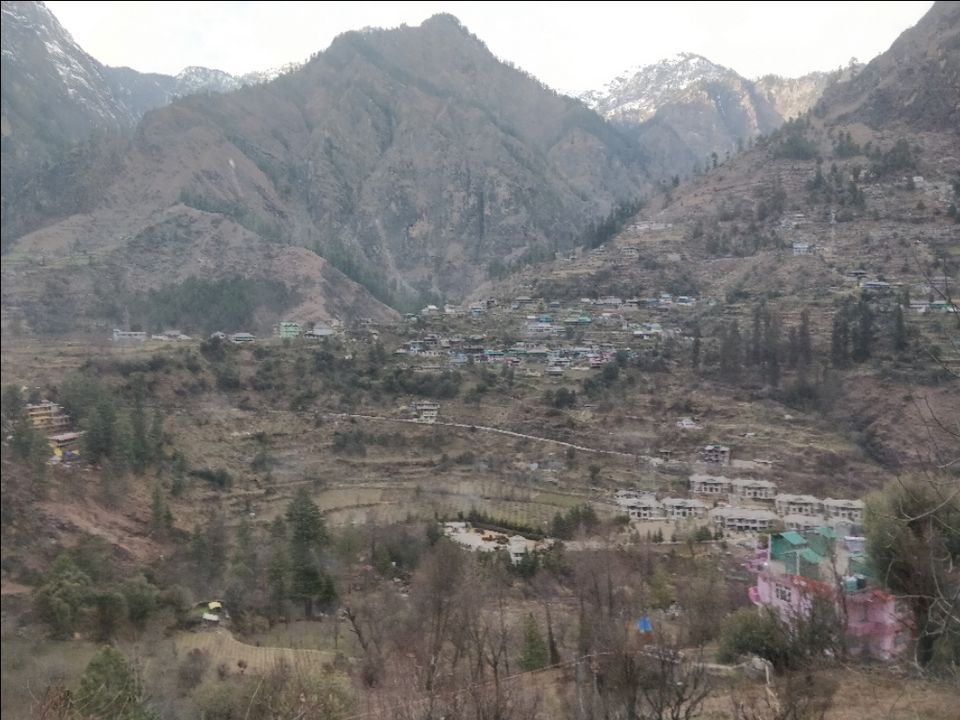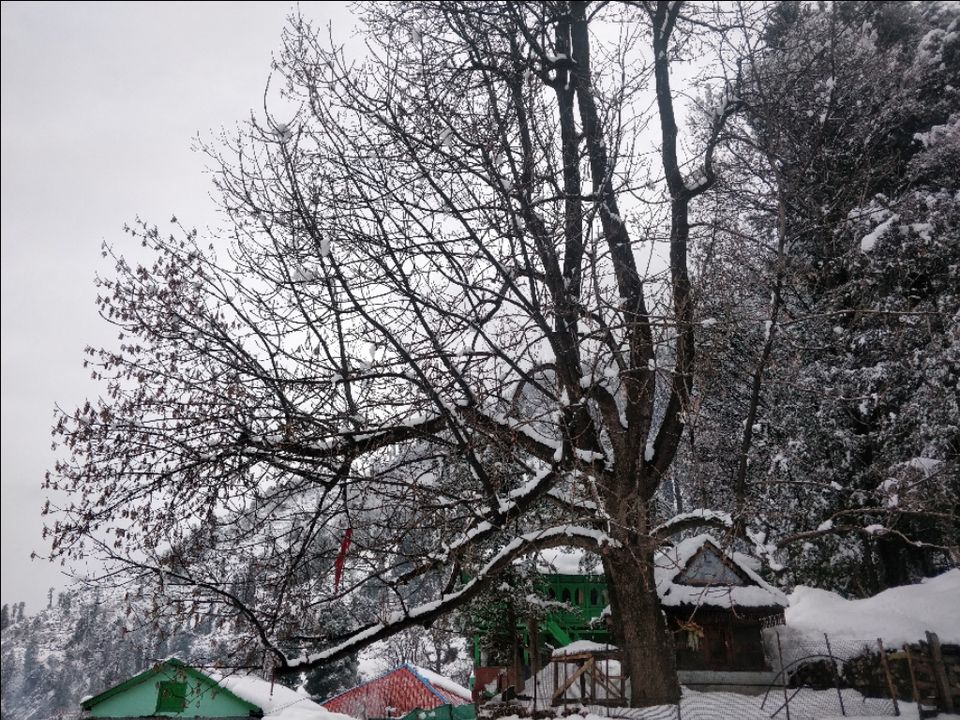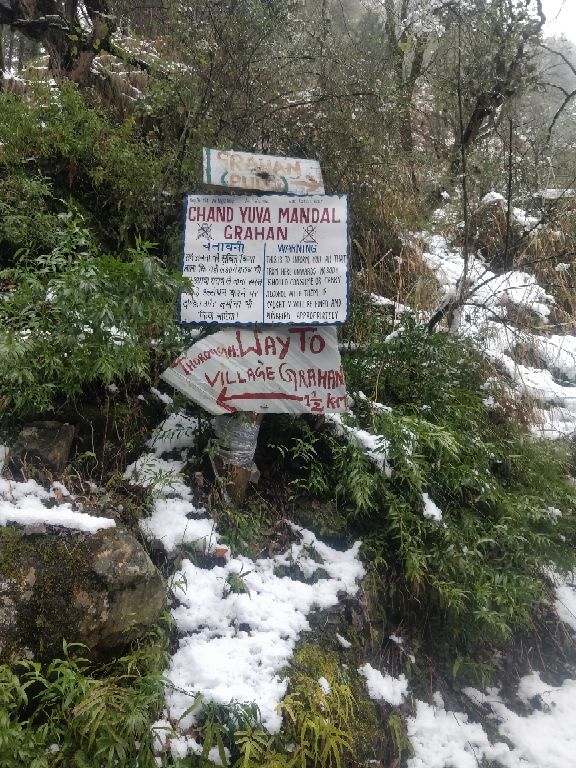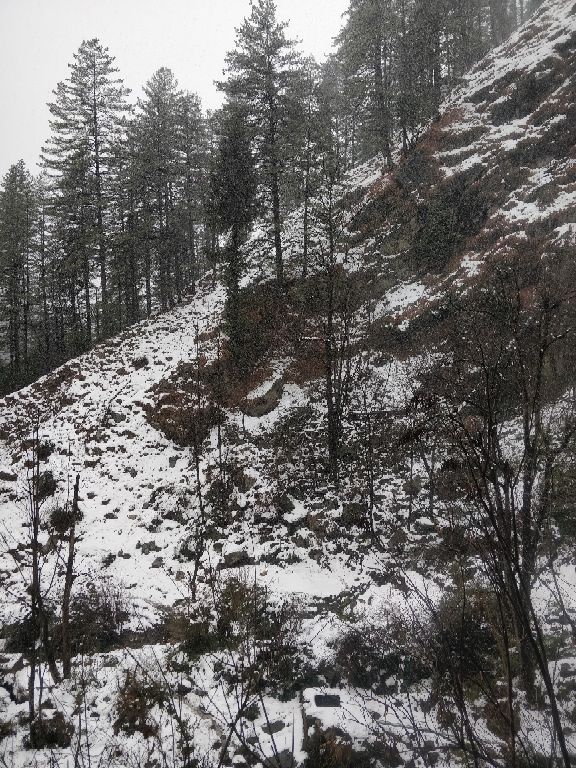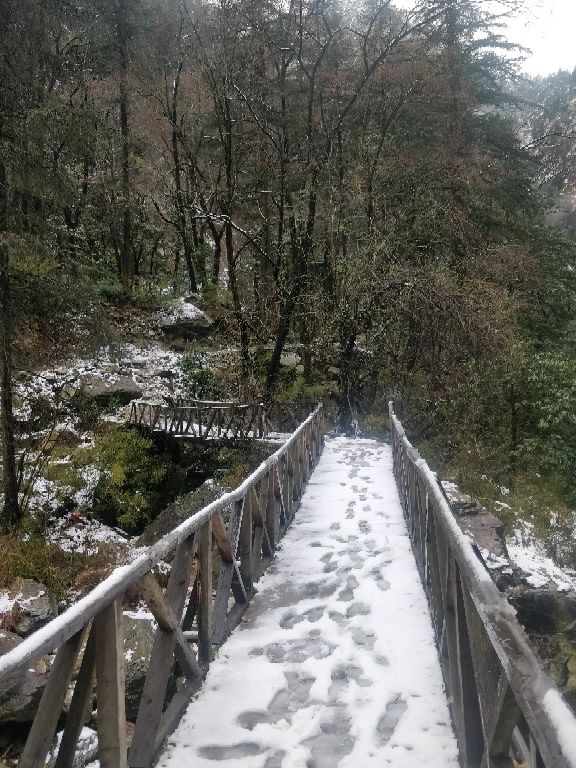 Next morning at 7:30 we woke up to the scenic beauty of land covered with the sheet of snow which was shining like a silver as sunlight was reflecting on it. We refreshed and went to the cafe to had tea. Stay there for a bit and left for the Kasol at 9:40am.
Here came the main challenge. Last night heavy snowfall happened which left the trek covered with dense snow. In addition to it due to the sharp sunlight the snow started melting and hence making the path slippery and hard to walk. If you would lose your balance you would directly fall into the ditch and river. It was quite scary. First 3 kms were tougher because of the steep path. However I somehow managed to pass and finaly reached back Kasol at 11:40am. It took 2 hrs to complete the back journey. So here the adventure of Grahan Village ended.
My next destination was Manikaran gurudwara. It is located 5kms from Kasol. I took the local bus to reach there and it costed me 10inr and reached there in 15mins. The best thing about Manikaran was the hot water spring. As I didn't take bath in Grahan, I decided to take in Manikaran. I got into my undies and went inside the pool. It was so soothing that one would not feel to come out of it. I took bath for 20mins and relaxed myself. Then I changed and went inside the gurudwara to offer my prayers. I was already feeling hungry by that time as it was already 1:30pm and I hadn't eating anything since morning. I decided to have langar food. It was quite simple yet very tasty.
Near Gurudwara there was Shiva temple and Ram temple. I didn't go there and offered my prayer from outside only. Then I took the bus back to the Kasol. Their I explored the market bought few items like locally woven sweaters for my mother and father, a shawl and a woolen cap for myself. The rates were quite high though but the material is very good. Then I searched for Trout fish to eat in local restaurants but it wasn't available as that wasn't the season of Trout. After that I picked up my baggage and took bus back to the Bhuntar from where I had already booked a bus to Delhi. I reached hour ago there so I had my last meal there which was Thupka. It was good.
So here my short solo trip ended. I would suggest you all to do visit Grahan. It is worth to visit.