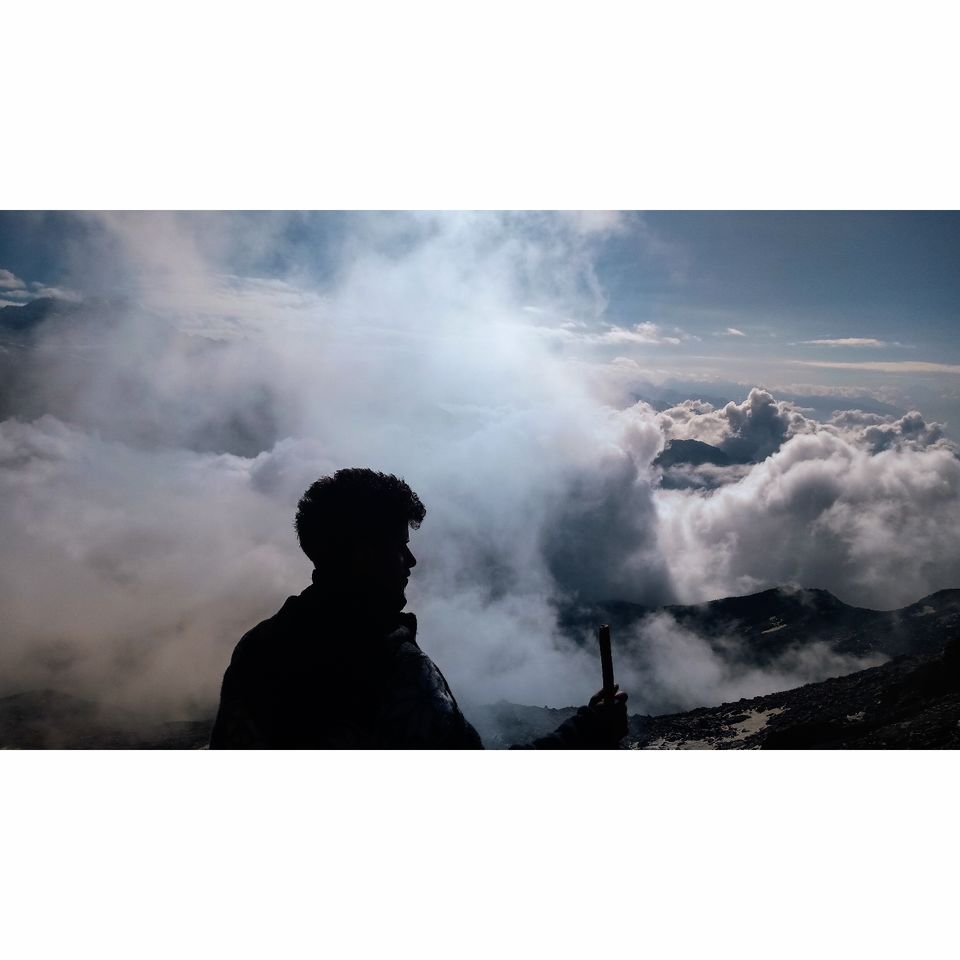 Travelling is the key to happiness for all the wanderers. I travel because I need a break from reality, from all the noises in our life and just want to sit on the porch of an old cabin and listen to stillness, to nature's music.
We all need trips to mountains because life sucks alot less when we add mountain air, a campfire and some peace.
I just want to reel off about my expedition and I want you guys to vibe with me.
Recently I conquered the mighty Shrikhand Mahadev trek; the toughest pilgrim trek in India (approx 5300m above sea level) a 32km trek. It is situated in kullu district in Himachal Pradesh.
Me and my pals were making plans to go somewhere, we didn't knew where but we just want to go somewhere. Atlast a mate came up with this idea to go on shrikhand mahadev yatra ( pilgrim trek). So we just went.
Day 1:
Next day we took a bus to the place from where the yatra had to start. Actually we changed few buses to get there and it took approx. 6 hours. We reached there at dawn and decided to start our journey the next day as we were exhausted . We stayed in a rest house which was in Singhad but I was so damn excited that i couldn't sleep that night because we were about to start the yatra the next day.
Day 2:
Atlast the yatra started . We woke up at 4:30am because we had a long way ahead. We had just one mantra and that is to stick together no matter what and if one stops to rest for awhile, we all rest there. We greet people by saying jai bhole instead of other formal ways. They too greet us by saying the same.
We walked for several hours and then took some rest for awhile.
All I need is a mountain breeze and tall trees
This picture is just a glimpse of what we saw there. There was no signal, no luxury items, just you and the nature. That moment you realise what nature has stored for you. That day we jaunt for 16 km to reach to our next stop that was bheemdwar.
We stayed for the night there as it was a long backbreaking day.
Day 3:
Next day this was the morning view from bheemdwar. For a minute there, I lost myself.
[wpvideo BkwRazER]
After having our meal we started to hike and suddenly I saw a frightening scenario .. A corpse.. A real freakin' corpse. It's not like that it was my first encounter with a corpse but this was more intense as he died while conquering Shrikhand Mahadev. So before we were just tired.. But after that 'dead body thing' we were tired and terrified too.
So we decided to stick together and help each other while trekking. We've heard rumours that many people die while climbing but this was different, this feeling was terrifying.
So we just tried to ignore that, which was quite difficult to ignore and started trekking again.
After walking 2 hours straight we reached nain sarovar where we saw a bunch of guys were bathing in the morning. I think the temperature was around 0° degrees, quite a devotees though.
After few hours of walking over slippery rocks and glaciers we were actually above the clouds.
And then finally we reached to the top and I can't even explain my thoughts what I saw there, what I felt, what I experienced. We were relieved that we reached there. We sat for an hour and enjoyed the scenic beauty because the best view comes after the hardest climb
There, a thought struct my mind that there's magic still left in this world.
You know, these mighty mountains make you realise how small you and your problems are. You are nothing but a living being with anxiety issues.
When I reached at the top, only one word came out of my mouth and that was paradise found. I needed this trip to loose my mind and find my soul.
I was speechless and that's what trips do. Right? It leaves you speechless and then turns you into a storyteller.
So just escape to the Unknown where nobody knows your name because you weren't born to just pay bills and die.