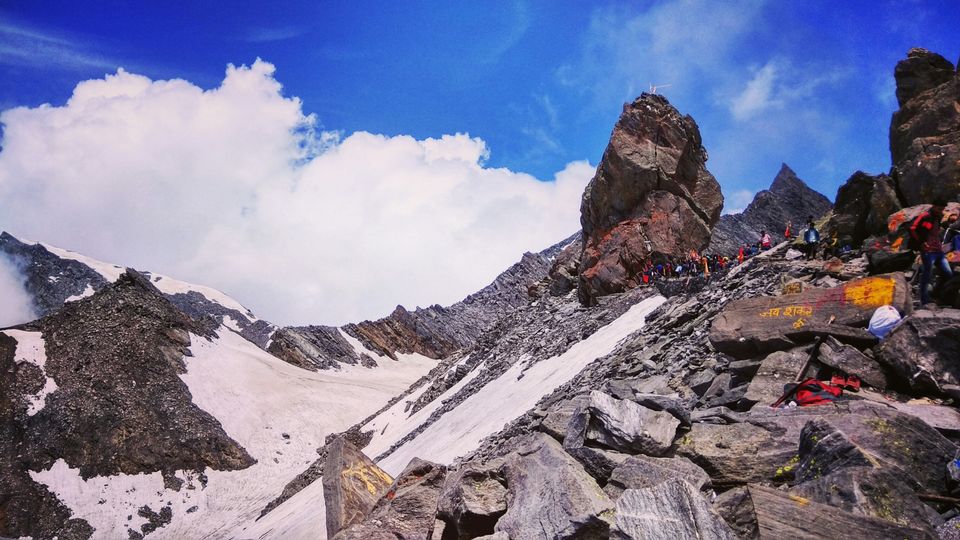 A lot of people wonder why traveling is important, without knowing why we do things we do them anyway because it makes us happy, content, fulfilled to some extent, seeing new places, meeting new people makes me happy, most importantly wherever you go becomes a part of you somehow.
This was my first solo trip, unplanned just like the previous one, I'm glad I chose this place to go alone in the search of my physical, mental and spiritual boundaries. People recommended me that it'd be an awfully bad idea to do this alone based on the fact that this being the hardest pilgrims of them all, regardless I believed in my training and you can't beat the excitement after watching all the hyped videos and news columns.
12-july-2017
MANESAR (2:30pm)
Elevation : 709ft
It seemed like I'm not gonna make it, sitting in the office till 6:00pm near manesar, not sure who to go along with, bags not ready yet, waiting for the response from my dear boss to approve my leave. Mail received, left office, bags packed, 10:30pm took the volvo to SHIMLA listened to The Doors and :zzz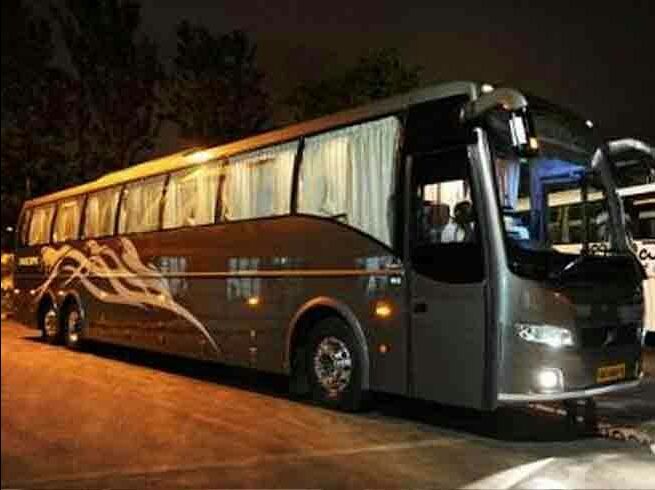 13-july-2017
SHIMLA (6:30am)
Elevation : 7467ft
After reaching SHIMLA 6:30am took a bus to RAMPUR got off 10km before RAMPUR at a village called DATTNAGAR, there I had to wait a while for the bus to JAON which is the village from where the yatra starts. After a while I reached JAON. There I got off the bus and started walking to the base camp called SHINGAAD. Now, in shingaad you can easily get a decent stay and nice meal for a nice ending of a tiring day, but instead I got 3km up the trek till BARATHI-NALAH, the base camp of the babas :D Being a shiva devotee those camps had a different vibe. I got the corner space in the tent which I shared with 7 himachali boys (soon to be my trekking partners) and 5 babas with a good taste of chillum, that kept our heads high till late evening with the ambient of a river sounds flowing by the side and heavy rains in the deodar forest, clouds of smoke in the tent.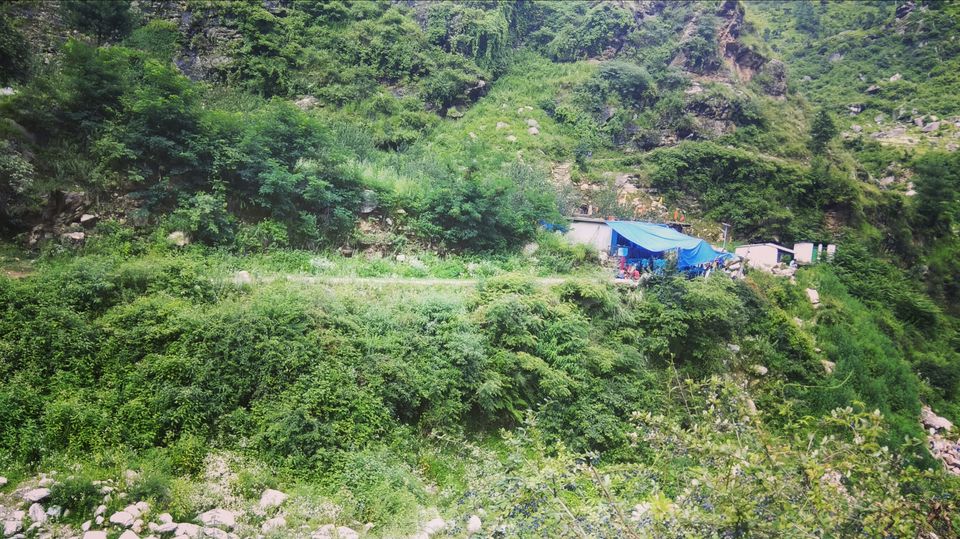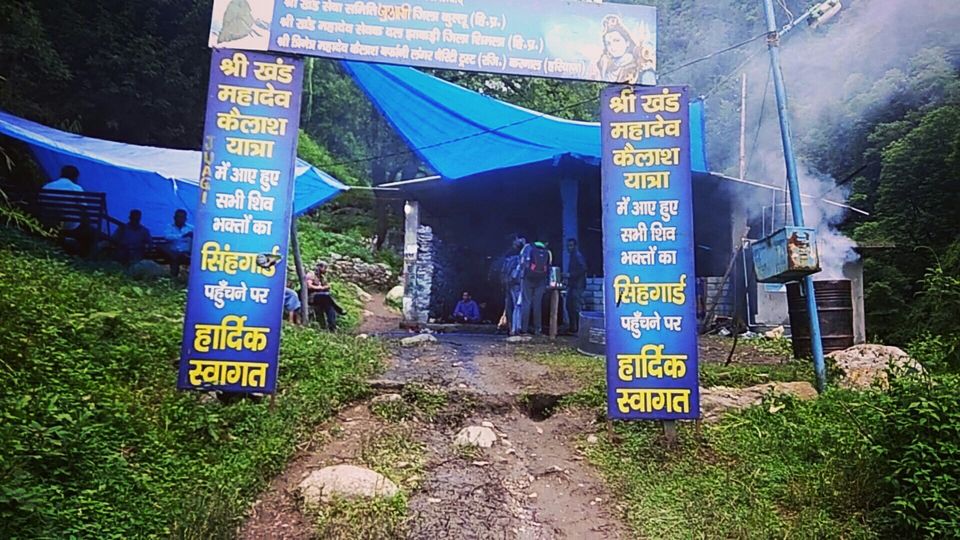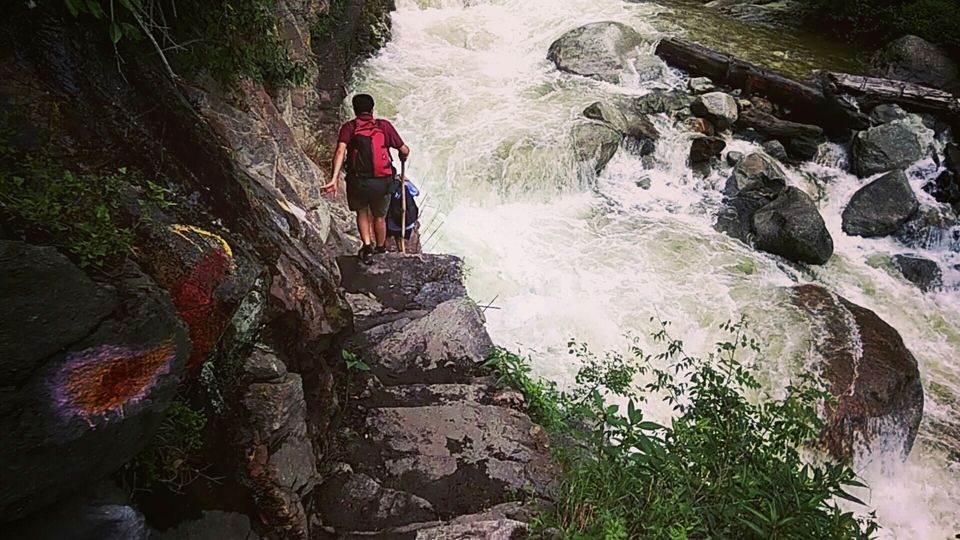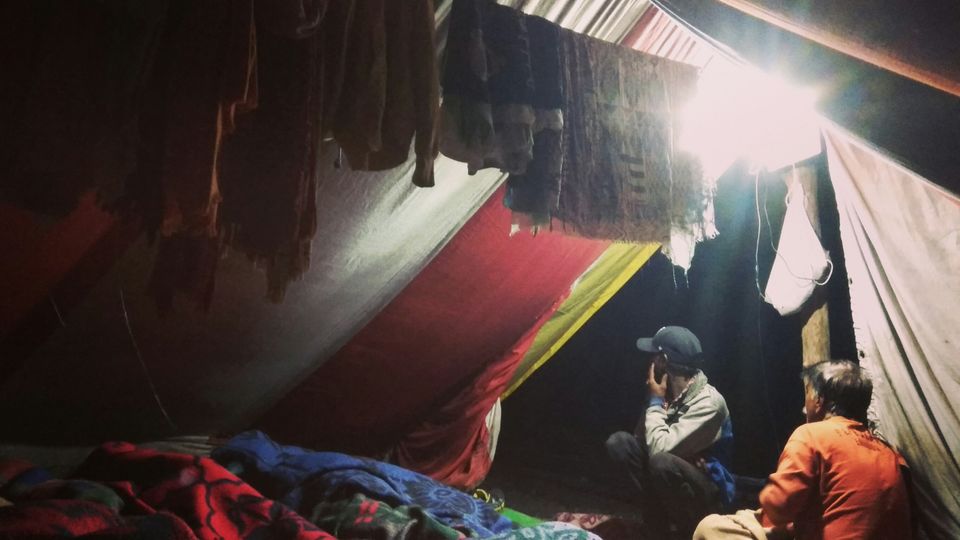 14-july-2017
BARATHI-NALAH (4:30am)
Elevation : 7200ft
I tagged along the fellow pilgrims and started off quite early, THACHROO (11300ft) was going to be the next milestone offering sudden changes in the vegetation and evergreen view of the kullu Himalayas, to reach the top one has to climb 6km of vertically rough, rocky and back breaking terrain this is often called DANDI-DHAR because of its steep track nature. After THACHROO comes KALI-TOP after 3km more of treacherous climb at 13000ft, there's a temple at the top to worship goddess kali to reach Kali top it took around 3.5-4 hrs. After worshiping Kali next journey begins with 1.5 KM trek that leads you to Bhim Talai. After Bhim Talai, you start climbing the mountain to reach Kunsa. It's a smooth trek of 3 kms. You'll cross a 200m long and 80m wide glacier. While on the way you'll get to eat at langars organized by the govt. Finally after a long day at around 6:30pm I reached BHIM DWAR found a tent and stayed the night for Rs. 250/- including food.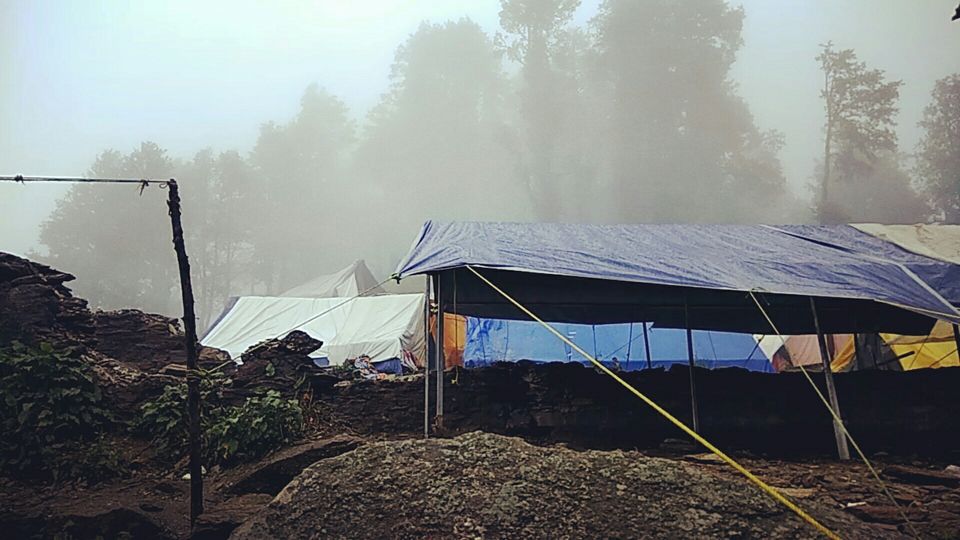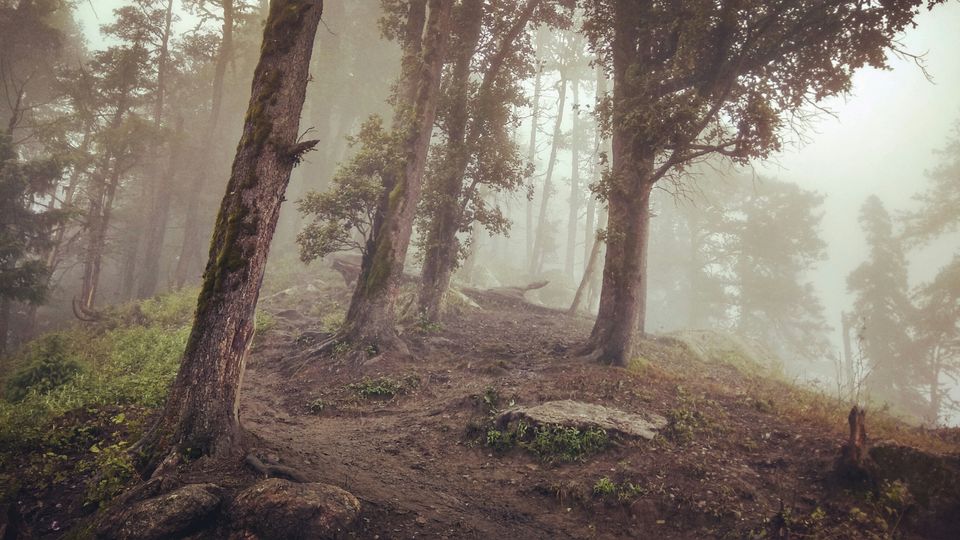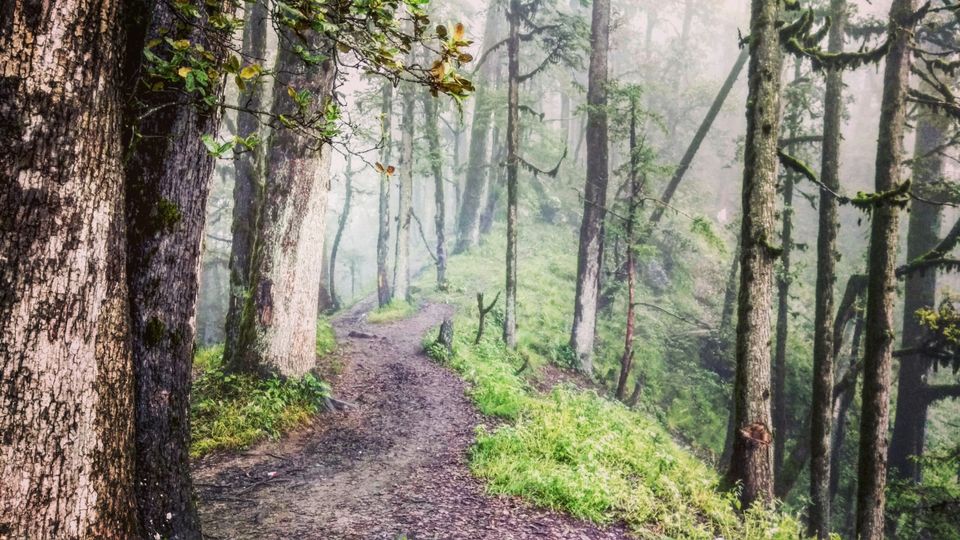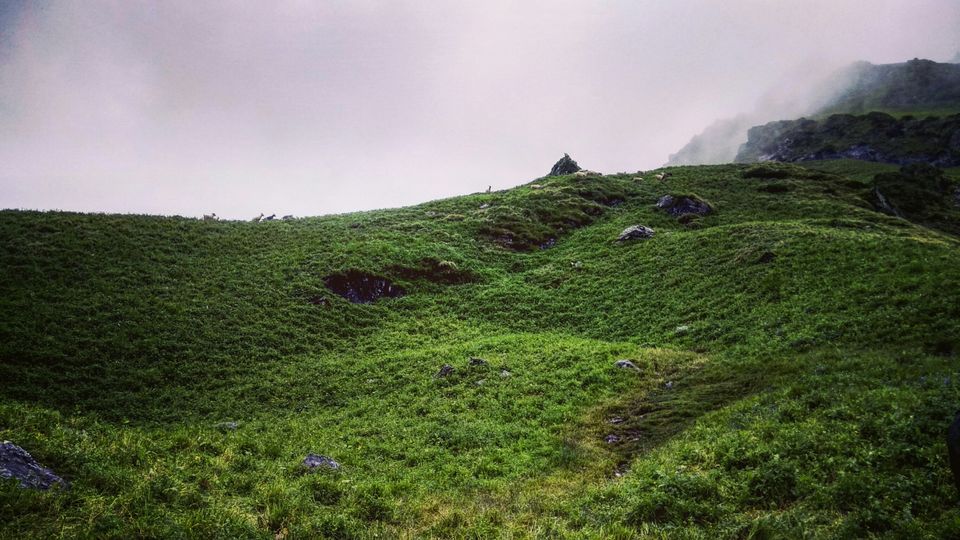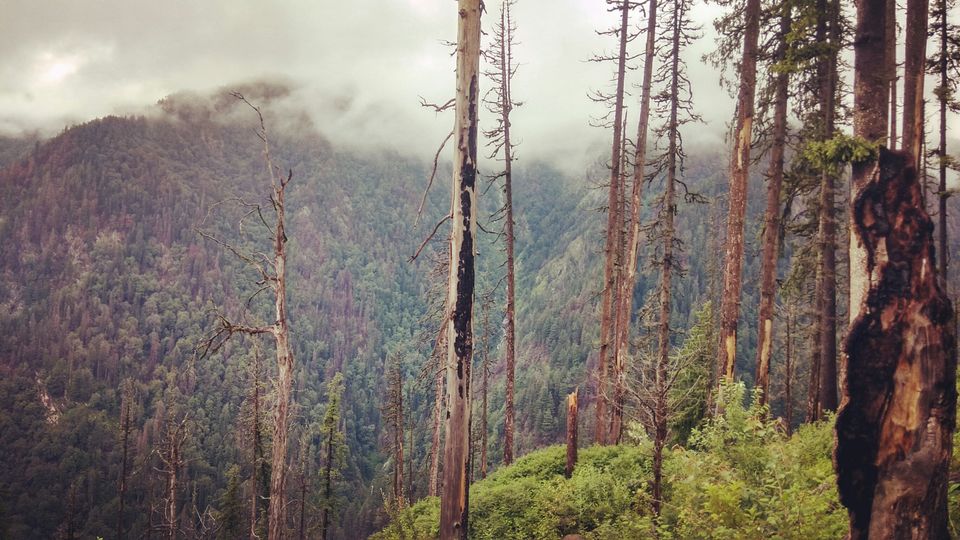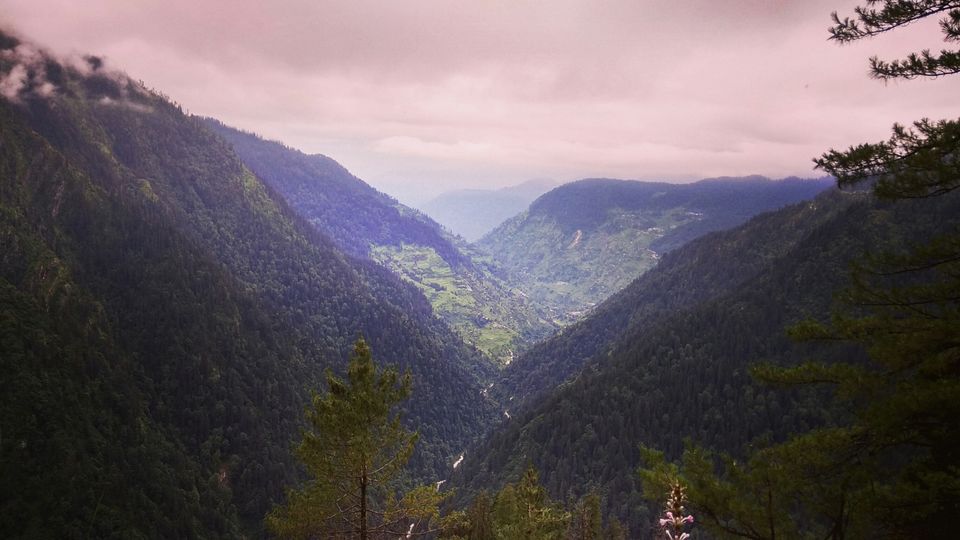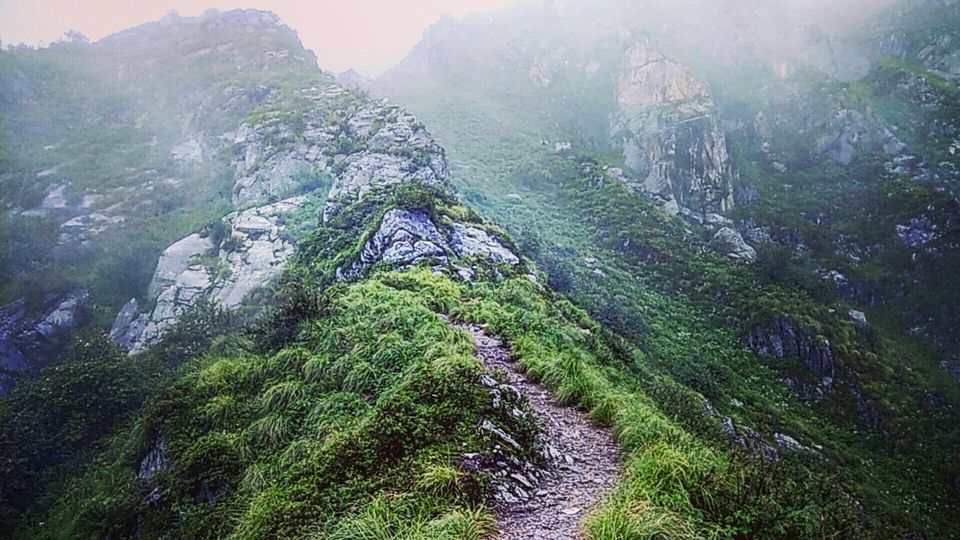 15-july-2017
BHIM-DWAR (4:30am)
Elevation : 10622ft
Early morning is the best time to start off for Parvati Bagh, so we left at 4:30am amidst the picturesque and exciting landscape with deep gorges, big waterfalls with streams flowing down, gives you a fit of thrill. Picture Bhim Dwar as huge grazing ground surrounded by waterfalls. It is said that 'Pandavas' stayed here during their exile.
PARVATI BAGH
Elevation : 13622ft
After a uphill drift walk of the dawn we reached Parvati Bagh at 6:30am to a asthetic view, flowers of a thousand kind is also the home garden of Bhrama Kamal. Make sure you carry camphor tablets for altitude sickness and keep away from plants you know nothing about, Some can be poisonous.
NAINSAR LAKE
Elevation : 14527ft
After a trek of another 1.5hrs you reach nainsar Lake. Nainsar Lake is said to be flowing with the tears of Goddess Parvati, and is the holiest of water direct from the glacier, this serves as a vantage point for the whole sight seeing, then next part of the trek is a bit treacherous, with a few tricky glacier and steep rocky climbs.
BHEEM BHAEE
Elevation : 15921ft
The next part on the trek is full of Moraines and snow at very few places. There are seven small peaks which you have to climb to reach Shrikhand Mahadev. On the way to Bheem bhaee you have to cross many small stone tunnels, glaciers and moraines.
Elevation : 17195ft
Last part as they say is the hardest, one need to go through 200m long glacier, steep rocky climbs it takes about 45 minutes to cover 0.5km on the way up you'll find stones marked with some engravings Bheem once made in his search for heaven. You will find a number of stones one top of another which appears like a stairway. From Bheem Baiee you can see the holy Shrikhand Shila. It takes half hour to reach Shrikhand. You have to cross a big glacier to reach Shrikhand Mahadev.
|| This is where shiva comes to rest, and all the natural beauty begin to show, with kinnaur Himalayas on one side and kullu & Shimla Himalayas meet above the clouds ||
SHRIKHAND PEAK
11:30am
I saw the clear and magnificent image of shivling standing still at 80ft high on top of the mountain the sun was shining bright, after good 45-60mins took rest then we moved back at 12:30pm and headed downwards as weather was about to get harsh, in around 4 hours we were back at Nainsar Lake took some time out to relax and admire the beauty of nature. In another 1.5hrs we were back at Parvati Bagh and further more 2.5hr to reach h Bheem Dwar. I reached Bheem Dwar at 7:30pm. Rent camps there for as less as 250/- and rest for another day.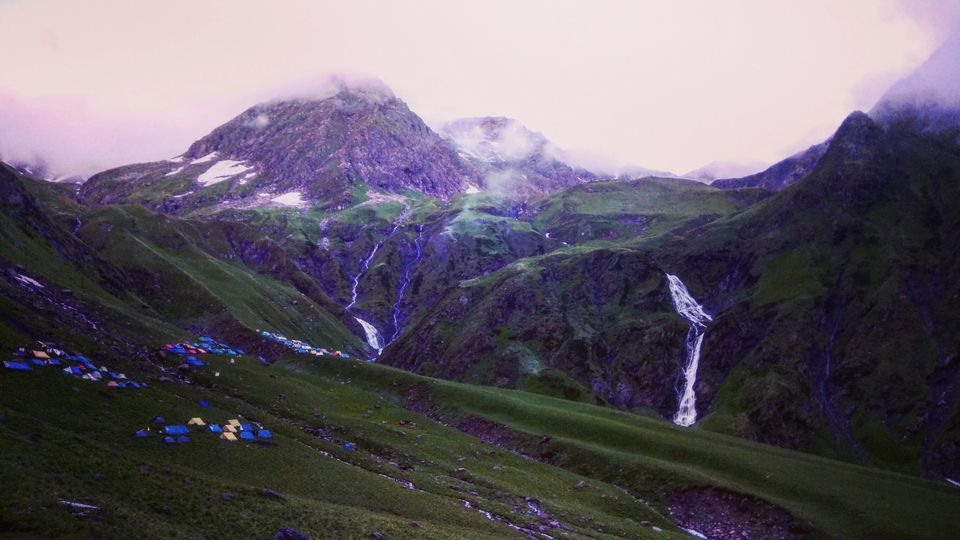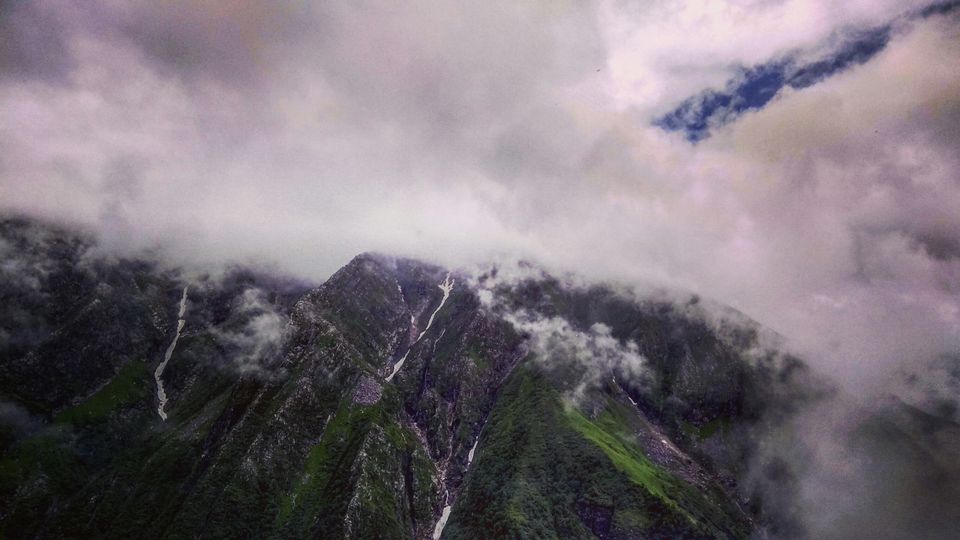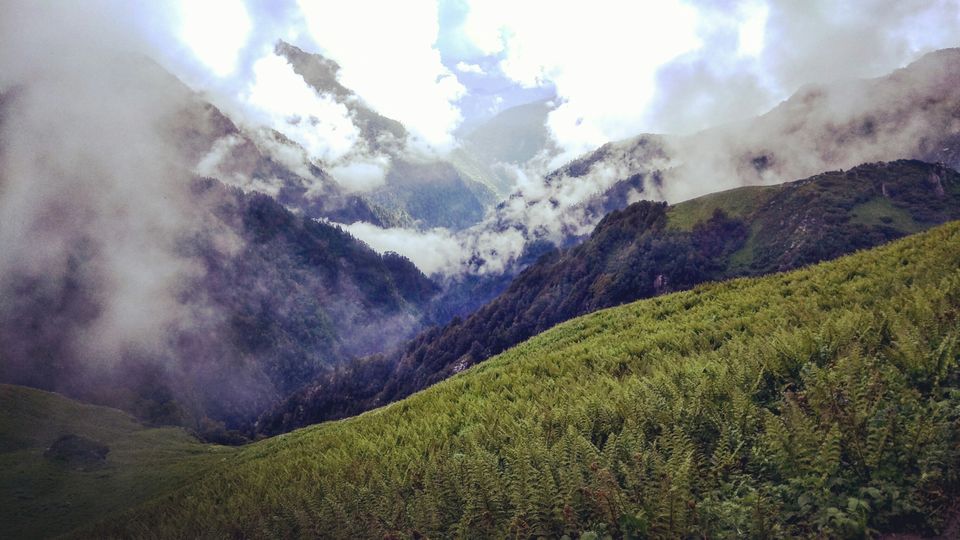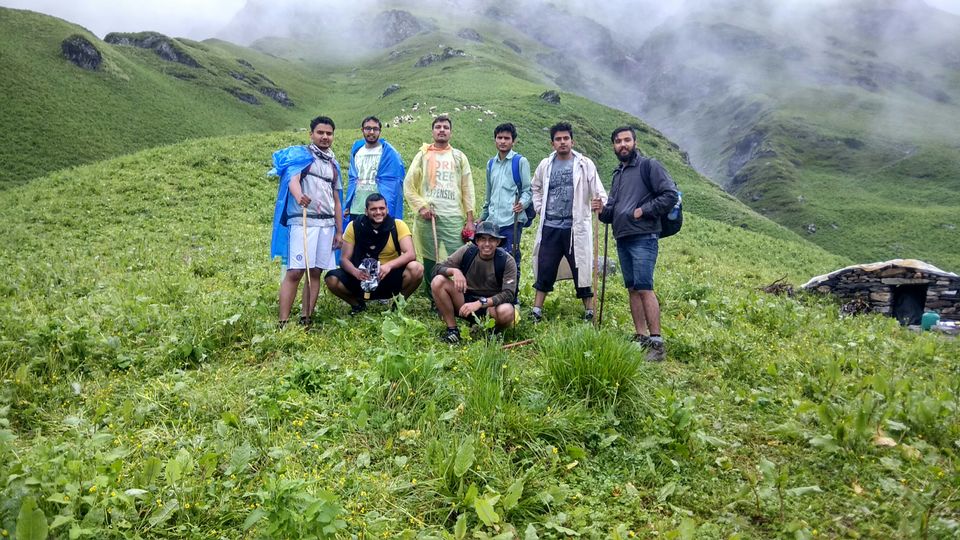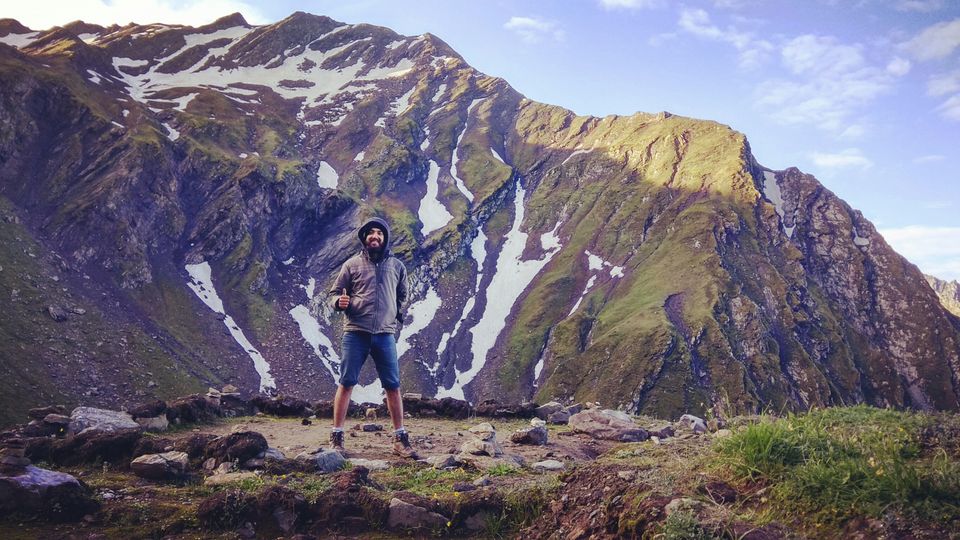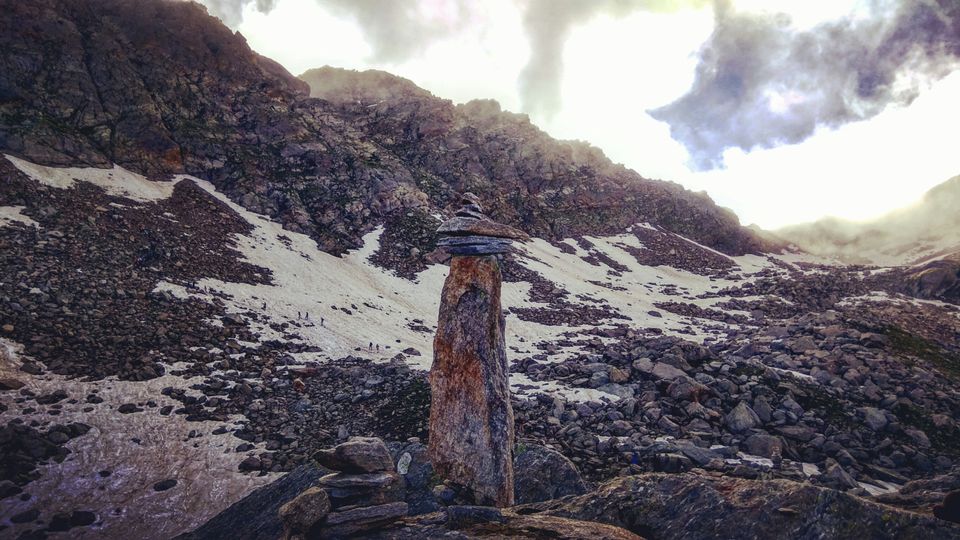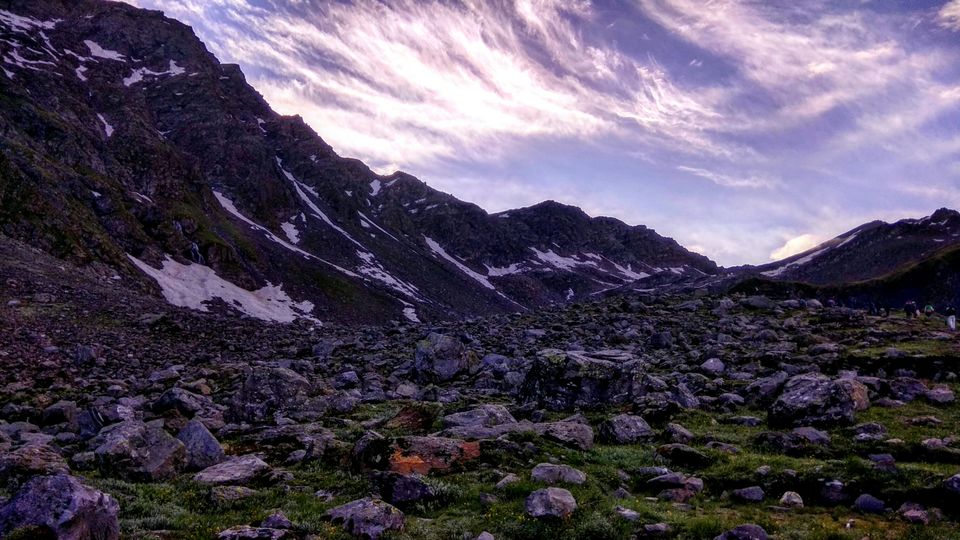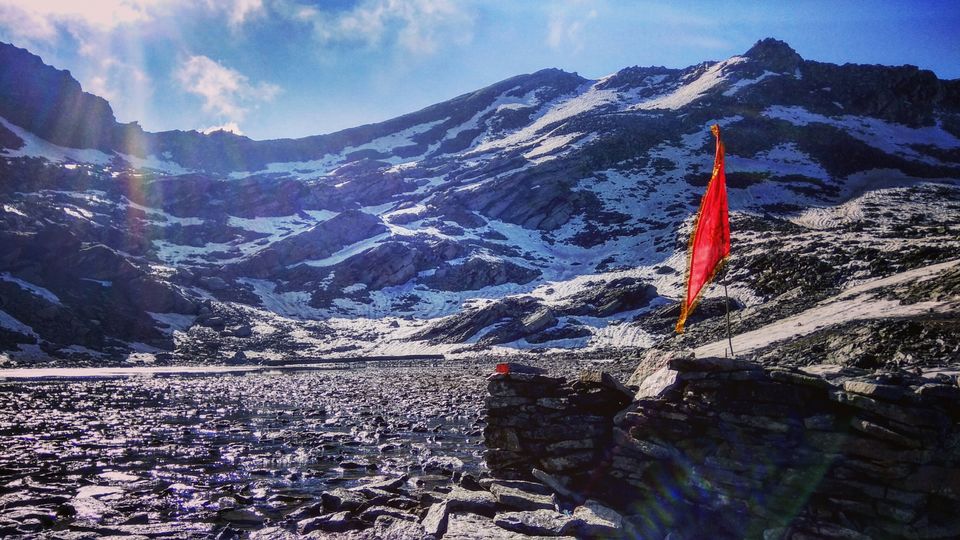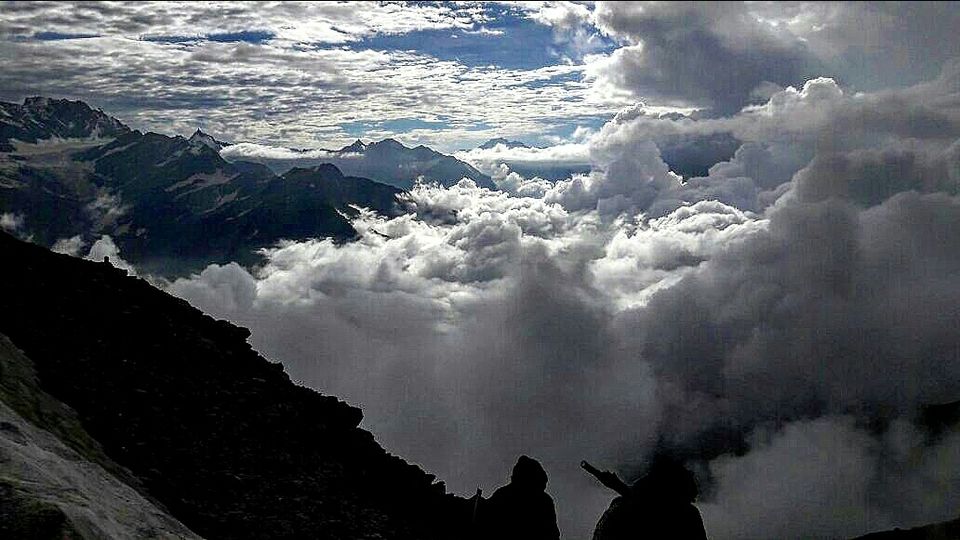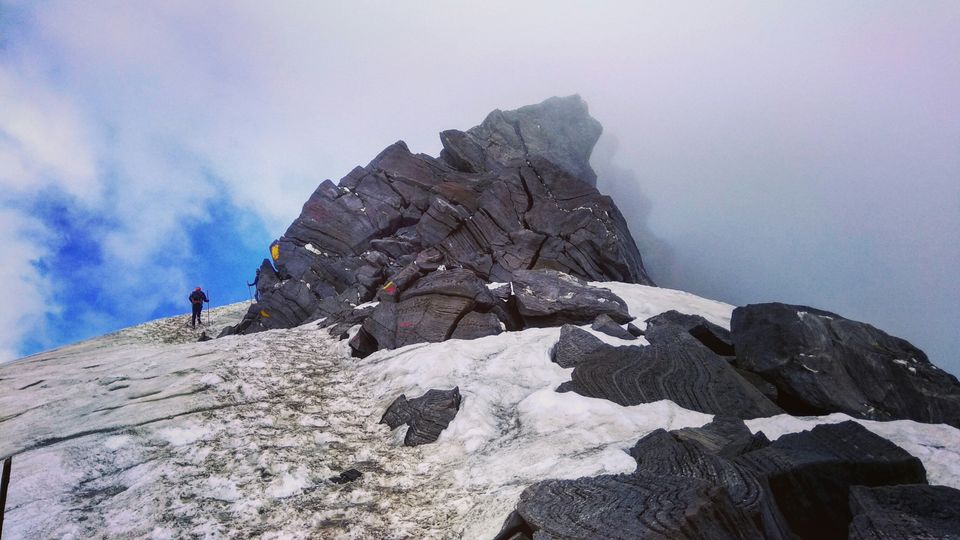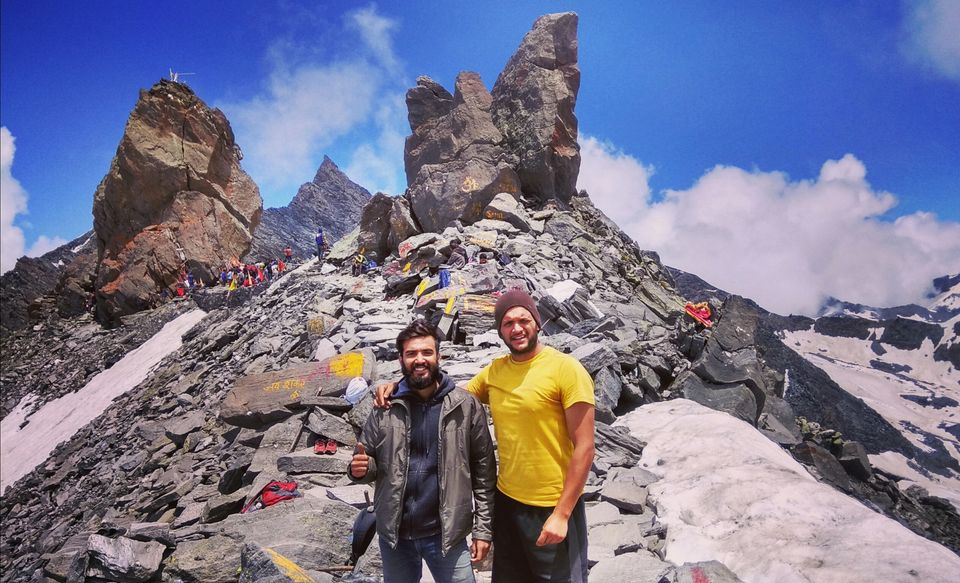 16-july-2017
GETTING BACK
Decend 1 (17195-10622ft)
Decend 2 (10622-6500ft)
4:30am
I started early morning and with some dry fruits as the first meal and to my good fortune the weather was as good as pleasant my fellow travelers were keeping good pace so I had to be with them, it's not recommended to walk those forest alone due to obvious reasons. By 7:30am we reached Bheem Talia had our food at langar then marched again by 9am Kunsa then 2pm after a bone breaking climb back to kali top was testing the limits, but you keep coming down finally after 5more hours of thachroo's bone breaking decent you reach Barathi Nalah, there you'll find hot served food again, and a place to take rest. Moving still forward by 7pm I was at Shingaad from where the trek starts and by 9pm Rampur bus stand from where I got the bus to Simla and from Shimla back to Delhi.
Srikhand Mahadev 15-july-2017
Instagram : zeppelinchild
Youtube : https://youtu.be/mu1OG9eDe38
Please connect to Insta for more pictures!!
Stay safe up there and keep himachal clean.
*reviews welcome*
Frequent searches leading to this page:-
how to reach shrikhand mahadev, delhi to shrikhand mahadev, Shrikhand mahadev trip