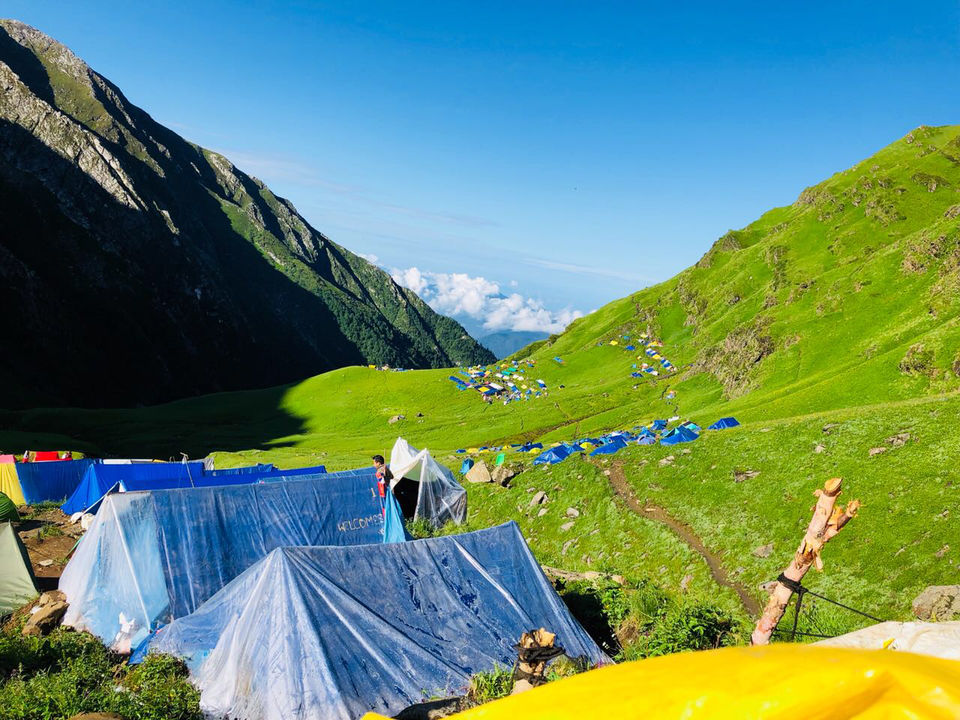 Mountains force you to contemplate about your existence among the larger scheme of things. The scale and grandeur of these almighty mountains always makes you wonder whether our superficial lives and our falsehood dominance over this world really matters among the raw nature. The sturdy trails and the rocky boulders challenge your will and courage to its optimal level and bring out the best in you. We are also devotees of Lord Shiva and determined to trek and hike all the Five Kailash of India. The toughest one is supposed to be Shrikhand Mahadev.
After searching the web and watching so many videos about Shrikhand Mahadev trek, me and my friend Neeraj decided to do this trek in the month of July as during this month the H.P Govt duly organised the trek as Shrikhand Mahadev Yatra for the devotees and pilgrims. As we all know religion and faith in India are inextricably entwined and it is a common belief in Hindu religion that completion of such hard treks of Kailash might lead you to the path where you can seek the blessings of the creator of this Universe- the almighty Lord Shiva. So devotees of lord Shiva from different parts of the country come here at this juncture and pay their obeisance to the great Lord Shiva by accomplishing the formidable task of reaching the summit of 17150 feet high mountain. People try to please Lord Shiva by offering Holy Ganga water and Bael Patra(Aegle marmelos) to the natural Shivling standing tall at the height of 5162 metres. After seeing the diversity among the pilgrims, one can easily presume that Faith knows no bounds and it cannot be defined with any reason and scientific logic in India.
As per the popular belief this is a place where Lord Shiva had emerged when the demon named Bashmasur was chasing him as he was being conferred the power by the great Shiva himself on the influence of which he could destroy anyone who comes under the area of his palm. As the Shivling is broken from the middle portion, it came to be known as Shri Khand which normally means broken in English. Taking a serious note of the toughness of this trek as generally described in various blogs and YouTube videos, we started to prepare early in the month of June for this trek. Every morning we do 2 km of running along with 4 km brisk walk alongwith situps and it was our only training programme to prepare for the trek which later proved a boon for us while traversing through each point of the trek.
ROUTE MAP OF SHRIKHAND MAHADEV FROM JAON VILLAGE
DAY 1: CHANDIGARH TO SINGHAD VILLAGE (250 km) -By road to Jaon- Then 4 km to Singhad on foot.
We started our journey from Chandigarh with a pro trekking group called Trekking Cougars- DIY whose leader was Mr Jograj Singh, an experienced trekker who has done various tough treks in the past. We have hired an Innova for the journey and the group contains people belonging to different states who in spite of their busy schedules came this far to accomplish the daunting task of reaching the holy mountain standing 17150 feet high. Such is the magic of internet these days that it can connect you with everything and everyone which seems to be a happening thing or a place around this world. The only irony among these pro-trekkers is that they want to travel to these high altitudes to disconnect themselves from the world as per the assumption and when they reached there they are the ones who mostly crave for internet in these mountains. It is trendier now to tell others about your travel experience rather than be an silent observer of your journey. In an instant, pics of travel were posted into social networking sites to get the maximum likes and views. We travelled through lush green landscapes of Shimla, Fagu, Theog and Narkanda. Apart from the hubbub of people and tourists on these hill stations, we surprisingly found some mountains which are free from any human habitation and tourism facilities and the resulting scenic views really gripped our mind and soul. The beautiful verdant jungles created curiosity in us and we craved to unravel the mysteries hidden there as we all know that every mountain has a story to tell. When people in the low lying cities are vexed by the humid hot weathers we are the ones who felt the touch of cool winds on our faces and at that juncture it was an exhilarating experience and we felt privileged.
Near NARKANDA VALLEY
One can easily figure out that why this belt of mountains is suitable for apple vegetation and you can also spot various cobwebs like covers in each farm on these mountains which are neatly placed over the apple trees in order to save them from the harsh rainy weather. One can easily persuade others with reasons that why Himachal is called the apple bowl of India. Some locals have told us that the majority of the apple production of this region is exported to foreign countries and we people only get the third grade apple supplied in our mandis. Also he told us that apple is the only fruit that can be consumed all throughout the year and even if these apple crops are rotten they can be utilised by the govt and other private factories in production of the famous byproduct named as apple cidar vinegar. Nice information we got there. We came to know that earlier people were also engaged in honey production but due to the ongoing rampant construction projects to promote tourism and the profitable gains in apple production,, farmers here have renounced apiculture. The abandoned beekeeping boxes lying near the roads can prove this point and it could give you an idea about the current scenario.
Covers to save apple trees from rain
After 12 hours of weary travel, we reached Nirmand village at 6 pm where you can find various apple orchids in such an abundance that you can easily name this village as Apple Bowl Village. Apples and Apples everywhere. After half an hour of trundling through a narrow road , we reached Jaon village during dusk which is the last point of this journey travelled through road. After that you have to walk through a gravelled path which leads you to the village named as Singhad and it is also known as the base camp for this trek. Singhad is a very happening place during the Yatra as it was always swarmed with the devotees and pilgrims who continuously chants Om Navay Shivya and Jai Shankar to encourage the people. The melodious environment combined with the religious jagran instilled a sense of courage in us to complete this Yatra successfully and we felt very excited for the whole trip. Here you can spot locals alongwith some trekkers who seems to be very excited to do this Yatra in the first instance and some of them actively participate in the jagran which continued for the whole night.
JAGRAN AT SINGHAD VILLAGE
We met some solo trekkers who came here just to explore the beauty of Himalayas and complete this trek which is supposed to be one of the toughest trek of India. It can be a great feat for them to enter this trek in their trekking biodatas. The pro-trekkers are equipped with expensive equipments- the nicest stuff you ever saw and top of the range cameras having tripods which helps them to capture every moment of their trek. All of them have the best trekking shoes available for this trail and they have stashed their rucksacks with all the required clothing in order to sustain in the cold and harsh environment they would face on the higher altitudes. They were busy in hiring the porters who can carry their equipments and their luggage with them so as to make this trek less tiresome and easy. It is beneficial to hire a porter as they know these mountains like no one else and they have done numerous trips every year up and down with huge loads carried on their backs. They were exploited to a great extent by the urban trekkers but their origins and harsh upbringing in these mountains is a blessing which makes them able to bear the weariness. Their bodies are naturally designed for these high mountains and they are less vulnerable to high altitude sickness(AMS) which has proved fatal to most of the urban pilgrims in the past years. Also, it is amazing to see the locals who without any equipment complete this tough Yatra in their slippers and basic clothing. The harsh environment of Himalayas really tests one stamina and strength which can only be endured by these locals from their utmost faith in lord shiva. Sometimes you can spot youngsters smoking sulfa to get a high as they believe it is a Prasad of lord shiva. I would not recommend it though due to the health hazards of smoking but you can't say anything here which opposes one belief and we let their sentiments prevail over health. There is a free langar service in singhad alongwith free basic sleeping facilities to rest in the night after such a long travel.
DAY 2:- SINGHAD VILLAGE TO KALI TOP (15 k.m.)
Early morning from the singhad village all devotees chanted Om Namah Shivaay and started their Yatra from the tasty langar service comprising of aloo parantha and dal chole which provides you with some energy for the upcoming day. The path from the village carries you to the narrow way where a river is flowing by your side with such an enormous amount of flow that gives you fear in the first instance but then it makes you feel excited about the adventure you will face along the way. After walking through this path for 4 km you will reach Bharathi Nala where you can register yourself officially for this Yatra.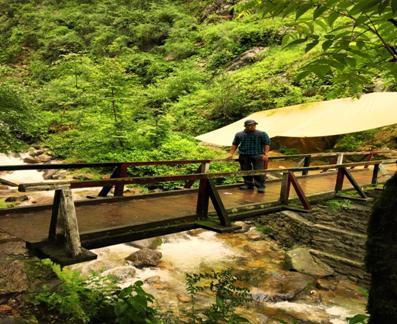 BARATHI NALA
After crossing the small bridge of Barathi Naala you can find a tent where you can buy some water bottles and one can have a Maggi and click some selfies to cool oneself down. From the locals this point is believed to be the starting point of this Yatra as the real trek starts from here which is also known as dandidhar a steep incline of 70-80 degree that can test your body and mind to the optimal level. It can challenge your strength and endurance to such a level that most of the pilgrims specially novices and unfit people lose their interest and courage to climb this steep ascent of mountain. A quote to remember there " climb that goddamn mountain" from Jack Kerouac and the quote hold our minds and we started ascending. The trek was so slippery that your wrong judgement can break your ankle and bone in a blink of an eye and your whole trip could be spoiled with pain and agony. It is a very dense forest and has a lot of vegetation comprising of deodar and sal trees. You can hear the chirping of birds which can make you feel like intruders which come in their homes to wander and search for the unknown. The trail is all about climbing climbing climbing.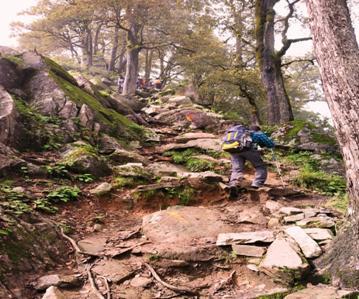 STEEP ASCENT OF DANDIDHAR ON THE WAY TO THACHRU
All your queries about the time left to reach the next point are met with lies by the locals who otherwise really want you to complete the trek. It's a long distance and the best way to complete it is keep walking at your own pace and having less stops. The large canopy of deodar forests deceive your eyes about the height you have gained and then suddenly through an wide opening you realise that you are really above the clouds where the view encompass the lush green landscape of Himalayan forests.
On THE WAY TO THACHRU
After so much weariness many unexperienced trekkers specially people wilting for lack of courage started descending. After toiling incessantly with our full strength and endurance we reached the first point of our journey named as Thachru. There are lots of tents and other arrangements for the pilgrims to have a night stay there. One can take a sigh of relief and quench his thirst and hunger from the tasty langar service of rice and daal kadi. We spent our time guzzling the food but ate sparingly as our digestive system is not accustomed to outside food for a long period. Hats off to the devotees who organised such langar services. With their help people can afford to complete this trek successfully. My friend Neeraj was obsessed to complete this dandidhar trail in one go and I also agreed with him as we did'nt want to ascend on the next day with so much sweat and labor .
TAKING HALT AT DANDIDHAR
So we decided to reach kali top on the same day. Locals can reach singhad to bheemdwar in the first day very easily but we know our abilities and due to the loads of weight we carried in our backpacks it was really supposed to be an ardent task. After one hour from thachru the vegetation has changed to a great extent. The long deodar trees and thick vegetation was replaced by the green meadows and rocky terrain where one can see beautiful tiny flowers of different colours. Evidenlty, weather in these mountains changes very rapidly and it was same with us. The warm sunlight was gone and a light drizzle started pouring small droplets over us which shivered our body and chilled our bones. The beautiful scenic views were shrouded by the fog which has reduced the visibility to almost zero and it became quite impossible to see our next path in these mighty mountains but we walked and walked and suddenly found a group of people worshipping around a stone idol and suddenly we heaved a sigh of relief and came to know that it was Kali Top where we have to stay until tomorrow.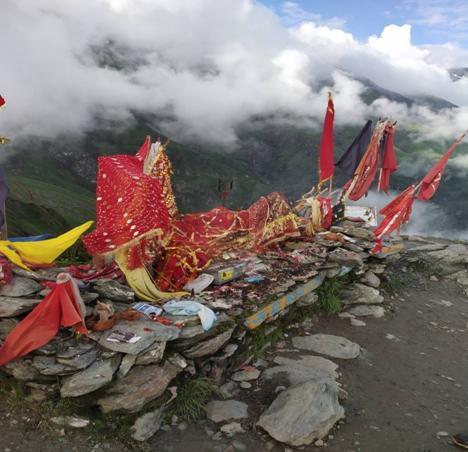 KALI TOP
After worshipping the idol of kali mata. we hired a tent for one day with complementary food facilities. It was a nice and cosy stay as the tent was meant for only two people and we manage to have our own privacy which is very rare to find on such stays .After leaving our stuff in our tent we came outside for a stroll and suddenly the weather became clear and we have the first darshan of shrikanth Kailash. I zoomed through my camera and saw people there and we both felt amazed about the level of reverence of these people who managed to reach there successfully at that nick of time when the last ray of sunshine is about to leave from the earth. That moment infused a deep respect in our minds and hearts for the great lord shiva and we Shouted loudly the magic words " Har Har Mahadev"
View from Kali Top
Shrikhand Mahadev from Kali Top
My friend Neeraj
After a nice stroll and admiring the beautiful Himalayan landscape we had dinner and some discussions about our schedule for the next day. Thereafter, we slept like a hibernating beer. Our sleep was broken by a loud thunderstorm and suddenly it began to rain heavily. At that moment I began to think non sensical things and ominous thoughts which were mollified by the chants of Jai Bhole.
DAY 3: KALI TOP TO BHEEM DWAR (8 km)
At early morning we packed our bags and started moving to our next stop i.e. Bheem Dwar. From kali top the distance was approximately 8 kms. Basically we were somehow relieved that we have covered the main steep ascent of dandidhar and now we have to only descent further to reach it. There was a slight drizzle which has created the ongoing path a slushy mixture of mud and rocks. It was a descent now but it was very scary because of the slippery nature of rocks which contains no point of friction for the feet to hold on between them. It seemed like we are descending on a ravine which has no clear path and you are completely relying on your rock climbing skills.
We managed to reach the end point of that valley named as Bheem Talai. It also have the free langar service and we both took a halt there for some time and then started on our path. The water from the glaciar streams get collected here in a small cavity to form a small lake which is the speciality of this place. A nice place to click some pics as this region encompass the whole portion of verdant Himalayan landscape and you can easily capture them from all sides. After clicking some shots , we started moving towards our next stopping point.
Neeraj heading on the way
After trekking for one hour in undulating hills, our heavy bags started to take a toll on us and I felt very tired after climbing a steep hill. Suddenly a feeling of faintness came and I stopped at a point and asked my partner Neeraj to kindly take a halt somewhere. Unexpectedly, I got a strong urge to unbelt my rucksack and flip it down the hill so as to relieve the tension it was causing on my shoulders. We realised the importance of effective and minimal packing on such hard treks at that time and promised each other to comply with the rule books of trekking. Like a miracle , a small tent shop came and we decided to leave our unnecessary items like unused tshirts, data cables, extra pair of shoes in his shop so as to alleviate the weight of the bags. Thereafter, we carried on with the trail which is actually the trodden path made by the thousands of pilgrimages coming from far-away places every year in order to have the darshan of Shrikhand Mahadev. We crossed various undulating hills and the weariness caused due to continuous walking on the trek makes you lose track of how far you have come. Your eyes search for the next halt among the receding ascending slope and then descending slope and the circle goes on and on. On the way, we encountered various small streams which have made our shoes soggy which later proved very detrimental for our feet. The next place to reach was Kunsha Valley, a beautiful open grassland having few tents and surprisingly we found Diet coke cans.
KUNSHA VALLEY
People there were busy munching snacks and gulping the coke cans in order to ensure their minds that they actually belong to the urban world and this is only a fleeting visit on these mountains. We clicked some pics there and you can spot some sheeps grazing there behind me in one of the pics through zooming a bit. During this season people trample on these mountains and the natural beauty is somehow destroyed to some extent but this gathering of pilgrims is for a short period of time and nature was invited back in these mountains after the Yatra which enable these mountains to retrieve their exotic beauty and charm. One of the streams was actually a glacier in the past.
Beautiful Landscape on the way to Bheemdwar
After trudging up and down for another two hours we reached a crest of a hill where colorful tents came slightly into view. We took a halt for fifteen minutes there and pondered about the distance we have covered on that day. The whole point of the trek is to get rid of the comfort zones of our homes and be the lonesome traveller for one week. We just succumbed to the panoramic view of that landscape which consists of various streams flowing from all sides on each mountain and gurgling sound it produced was the best sound I have ever heard during this trip. It was a fantastic view which cannot be expressed in words and ahead of us there was Bheem Dwar our last and next halting point. From Bheem Dwar you have to complete the final trek of 7 Kms to reach Shrikhand Mahadev.
After completing such an ardent journey on such a hard trail on one day for 8 km, it was a quite a respectable distance for us. After hauling ourselves step by step we reached another halting point where youngsters were sitting on a huge boulder which stood right in the corner of a deep ravine. There were colourful tents all across the valley and here one can easily perceive the scenic view in front of him as the work of a painter who splattered different colours on his canvas. We have finally reached Bheem Dwar . This is the place where our final trek to Shrikhand Mahadev starts. We crossed some more undulating hills and reached the camp site where hundreds of tents were pitched to provide the night shelter to the ascending and descending pilgrims. We decided to take a halt at the last point among the series of tents as we wanted to minimize distance for the final summit the next day.
We met some men and bargained for our night stay. Our tent was just a small canopy of hard plastic sheets with some blankets for the night. We were so tired that after we untied the buckles of our bags we just laid down and slumped on to the floor and finally succumbed to deep slumber. After two hours of peaceful sleep we woke up and mesmerised by the view of the beautiful landscape around us from our tent. It was bliss to be a part of such a natural environment where you can witness numbers of waterfalls all around you cascading through each mountain from huge rocks and boulders. It was a heavenly experience for our eyes. The clouds hung in the air and it seemed like God is showering its blessings on us in the form of these waterfalls and the water itself was coming from the heaven. One cannot imagine the scale of the beauty we have observed at that juncture as it should require ones presence at that point at that place. I cannot define it now. We heard chants of Jai bhole from the pilgrims who were descending after having the darshan of Shrikanth Mahadev. Their relaxed faces were filled with deep sense of gratification as their desire to touch the feet of Shiva has been fulfilled after so much labor and physical pain. They were acting as guides to others and conversed with them about the ways and measures to be taken to reach the top .People like us were closely listening to them and convincing our hearts that we can climb the trail easily and safely. We decided to do some cleaning as our pants were fully covered in mud. We went towards the nearest of the gushing waterfall and cleaned our pants and other clothings. The water was so cold that it made our hands numb for two minutes. We managed to do some cleaning work.
View from Bheemdwar
Dog that followed people on the trail- P.C.-DIY
At the dusk we had our dinner and we slept early at 7:30 p.m. due to the weariness and the reason that we also have to wake up early at 4:00 a.m. in order to walk the distance from Bheem Dwar to Shrikhand Mahadev a to and fro journey so that we would reach at our camp before dusk. Rain started again and made things worse. Our tent was just a thick plastic sheet erected with the help of two wooden rods. It started soaking with water and tiny droplets from the roof of our tent started dripping on our blankets. We were so exhausted at that time that both of us showed no concern to it. Around 9 p.m. I felt a strong urge to pee as I was drinking quite enough water to prevent dehydration. The most daunting task in these kinds of camps is to find a hygienic place to attend your nature calls as the make-shift toilets installed there were used by all the people staying around these camps and our toilet was so disgustingly dirty that one could not bear the stench and cannot afford to stand near it. Moreover, it was always occupied with some person or other. I decided to find some other natural place to relieve myself which was far away from the camps so as to maintain the cleanliness meter. The rain started pouring heavily and I stumbled and slipped many times as I was in slippers. It was really intimidating but I managed to find a place to relieve myself. I am sharing this awkward incident just to let people know that in such kind of treks you have to shun your basic sense of hygiene and be prepared for such kind of situations which would otherwise seem embarrassing in the first instance. Ancient human skills and methods of living prevail over the rational ways when you trek in these Himalayas.
DAY 4: FINAL TREK TO SHRIKHAND MAHADEV- BHEEM DWAR TO PARVATI BAGH - NAIN SAROVAR- SHRIKHAND MAHADEV
We woke up early at 3:30 am and packed the necessary items into our small bags and then started our journey together with the DIY group as they were also camping above our tents. We met them in the evening and discussed about our journeys. The heavy downpour of the night has made the track ahead really slippery and muddy. The people who have gone ahead of us have lighted their torches and they appeared like fireflies roaming above the mountains in pure symmetry in zig zag shape. We came across the first gushing waterfall and it seemed impossible to cross it as the night showers have swelled the river to a great extent. We all managed to cross the stream meticulously and heaved a sigh of relief. But it was just the start. The rain called continuously on the trail made it really boggy and slick. It was a never ending cycle of rain which irritated us and tested our patience. The whole path became muddy in such a scale that you cannot escape it in any way. You have to trudge through it to reach to the top of the mountain where Parvati Bagh is situated. We were fully covered in mud as we knelt stumbled and trod to make our way. We reached Parvati Bag after two hours fully soaked and filthy. The main path is actually a zig zag shaped trail and for a moment it appeared to be a screen of handheld videogame. The main path was discarded by the pilgrims due to its slippery nature and the pilgrims started plodding on the vegetation one after another.
PATH TO PARVATI BAGH
The path ahead to us has no vegetation and the trail becomes rocky and full of huge boulders. Some said it is a stretch of 2-3 kms and then we would reach Nain Sarovar. We started to feel the chilly air rushing from the mountains into our bodies and it made us shiver as we were completely wet from inside. All our clothings were wet and soggy. My lighter trekking shoes became heavier due to the water retained in them as we were continuously treading on the wet path. We came across a region where yellow and white flowers are lying everywhere but they were not in a blooming state. A voice came from behind me and we came to know that it is the most revered flower species in the Himalayas, the prominent BRAHMA KAMAL which only blooms in night. Both of us feel lucky to be an onlooker of this holy flower which we have seen earlier in Internet. We wanted to touch it. But a local warned us that it contains chemicals which can make you feel giddy and nauseatic. None of us wants to take that chance in that kind of situation. Also, he told us that it is a common belief among them that breaking the petals of BRAHMA KAMAL can call rain in these mountains. So we respect their beliefs and started our journey further..
Brahma Kamal
After two hours of walking meticulously over the huge boulders we reached Nain Sarovar. It is a large glacial lake which was believed to be the tears of Maa Parvati who cried on her parting with Lord Shiva. People used to take a dip in its holy water and it is believed that the water of this glacial lake can cure eye problems. I was shivering with cold as rain has not stopped for a second but my friend Neeraj decided to take a dip in the holy waters of Nain Sarovar. When you immersed yourself in such frigid water you become more vulnerable to Hypothermia. But faith can conquer everything and he took a small bath there. Too much googling and browsing materials about AMS made me worrisome as I started to feel a twinge on my forehead. I discussed this with Neeraj and he convinced me that I was OK and requested me to have faith in the Almighty Lord Shiva. With a loud chant of Har Har Mahadev I started ascending.
WAY FROM NAIN SAROVAR
The next and final four hours of the journey was such an arduous and strenuous exercise for the body that one can only fathom that why this is called the toughest trek of India. There were boulders all across the area and they were so slippery that our one wrong move could land us in hell. We meticulously started ascending and our every breath chanted Jai Bhole in order to fill our hearts with some courage so as to reach the final point. It was like a never ending journey of boulders and glaciers. The mountains were draped with so much fog that it was impossible to calculate the distance remaining for the summit. The pilgrims who have the darshan consoled us with the fact that a short distance was remaining to reach the summit but all of them were lying as we climbed one summit after another but the holy Shivling of Shrikhand Mahadev was out of sight. The process repeated continuously for two hours. It was really a daunting task and a challenge for us about how much our bodies can endure but we just clambered and trudged through the huge boulders and glaciers. At last, a point came when we saw huge rocks having some coded language embedded on it. We have reached Bheem Bhai- which is believed to be the place where Bheem from Mahabharta has written the accounts on these rocks. Amazing sight for the eyes. From there, an hour of steep ascent was the last trail to climb.
With JOGRAJ SINGH-DIY Leader
After hauling ourselves for another one hour, we have a slight glimpse of Shrikhand Kailash which instilled a great sense of excitement in us and filled our hearts with reverence. All our pains and the physical toiling vanished in an instant and we increased our pace chanting Jai Bhole. We crossed another one km stretch of glacier and thereafter clambered through a steep ascent of boulders. We were mesmerised by the views and really admired the Shivling for five minutes silently standing, amazed at the grandeur of it and the reverence of people there. I offered Ganga Jal from Haridwar to the feet of the Shivling and paid my obeisance to the creator of this Universe. Jai Bhole. We were so proud to complete this trek and expressed our gratitude with folded hands to the almighty Lord Shiva.
HAR HAR MAHADEV- SHRIKHAND MAHADEV
NEERAJ showing his exultation after completing the trek
We learned so many things from this trek and our hearts has been filled with deep and great respect for the Himalayas. In a way, we begin to admire the great power of woods and the colossal scale of these amazing Himalayas. The wilderness stashed in these large mountains needs preservation and conservation by us. We learned about patience, courage and determination while traversing through each point of this trek. We discovered these mountains that millions of people in India scarcely know exist. Our perception for these mountains has changed to a great extent and we really bow our heads to such magnificent summits existing in the Himalayas.
Thats all Guys .. Hope you enjoyed reading my blog. Kindly post your valuable comments.