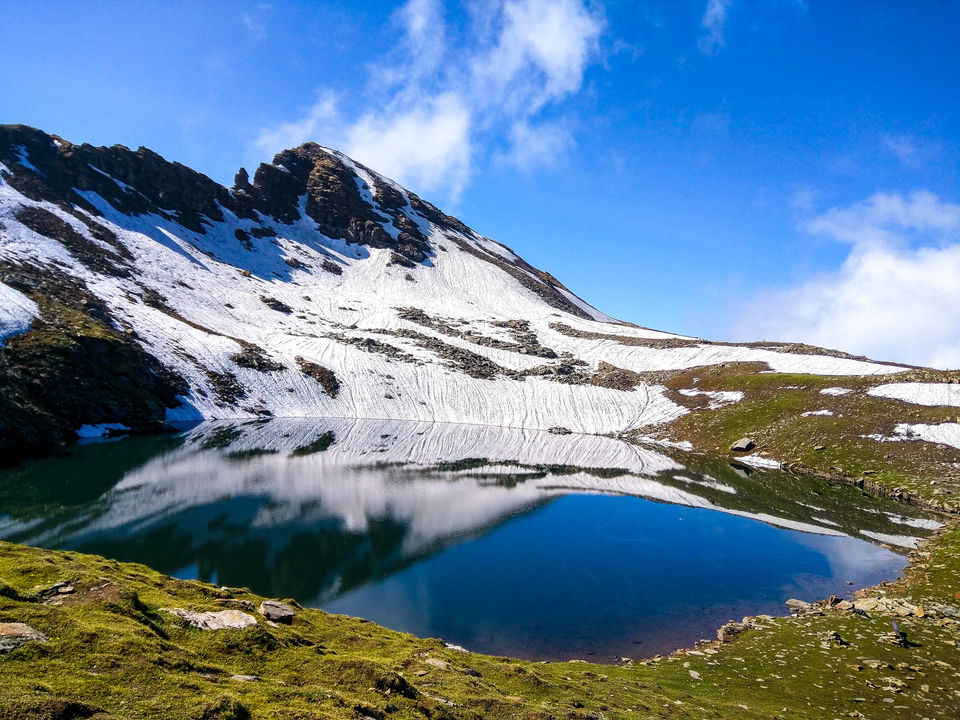 If you've already explored the ins and outs of the Parvati Valley & the maddening rush at Manali saddens the backpacker in you, this three day trek to the mesmerizing Bhrigu Lake, situated at an altitude of 4,300 m is the perfect option for you. Look no further, and read on.

Why the Bhrigu Lake trek?
The trail through alpine meadows is a treat and rarely found the first day of your trek
A high altitude trek that can be completed in three days
The beautiful Bhrigu lake and unmatched view of the surrounding peaks
The camp site (mid-way into the trek) of Rola Khuli is something out of a textbook
If you are not a seasoned trekker, taking a guide with you (various tour operators have their offices on Manali mall road) or booking a package through Indiahikes or Thrillophilia might be better. Personally, I prefer Indiahikes.
Here is the link to my blog post about the three day trip.
How to reach Manali
By bus- Manali is well connected with Delhi, Chandigarh & other cities by a network of HRTC and Punjab roadways buses. It is situated about 550 kms from Delhi and the journey is overnight (about 13 hours). The route is Delhi->Sonipat->Panipat->Karnal->Kurukshetra->Kharar->Kiratpur Sahib->Swarghat->Bilaspur->Sundarnagar->Mandi->Aut->Bhuntar->Kullu->Manali
Bus remains the best mode of transport to reach Manali.
By air- The closest airport is at Bhuntar, about 50 kms from Manali.
By train- Journey by train is not a good option as the closest railway station, Joginder Nagar (50 kms from Manali) is a narrow gauge one. The broad gauge stations, Chandigarh & Ambala are pretty far off (around 300 kms).
Day 0
If you're leaving from Delhi by the evening, you would reach Manali somewhat around 9 am on the next day depending on the traffic conditions. Please note that this area is one of the most popular Himachal destinations, if not the most. Hence the traffic conditions on the highway reading to it are pretty bad, specially in the peak season.
After being tired after such a long journey, we suggest you take a day's rest at Manali. There are plenty of hotels/resorts to chose from. But we would definitely recommend staying in Old Manali, away from the hustle and bustle.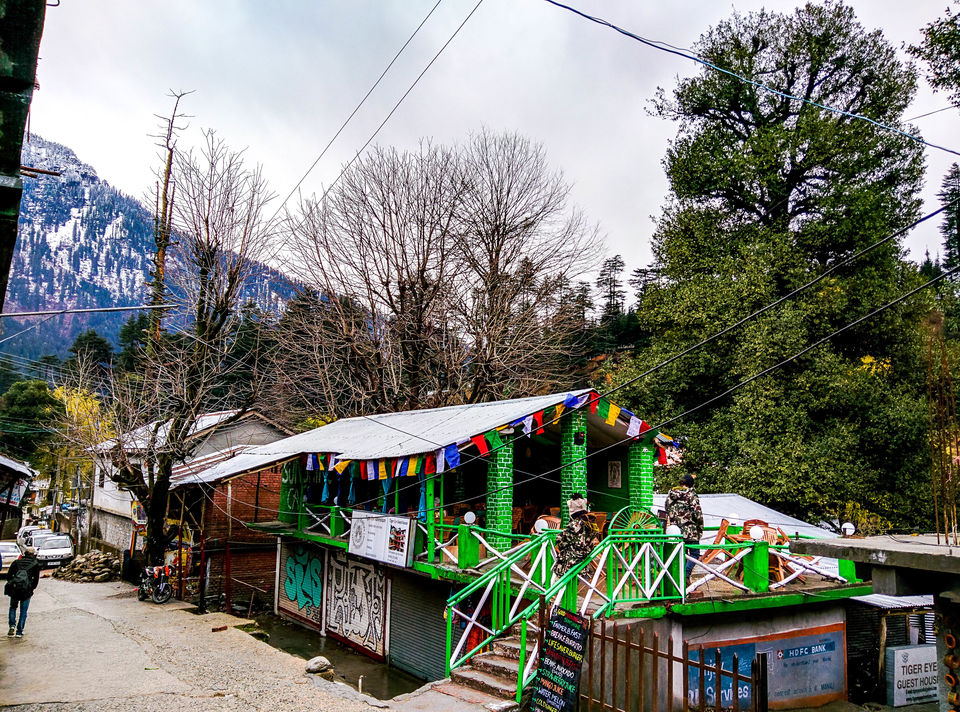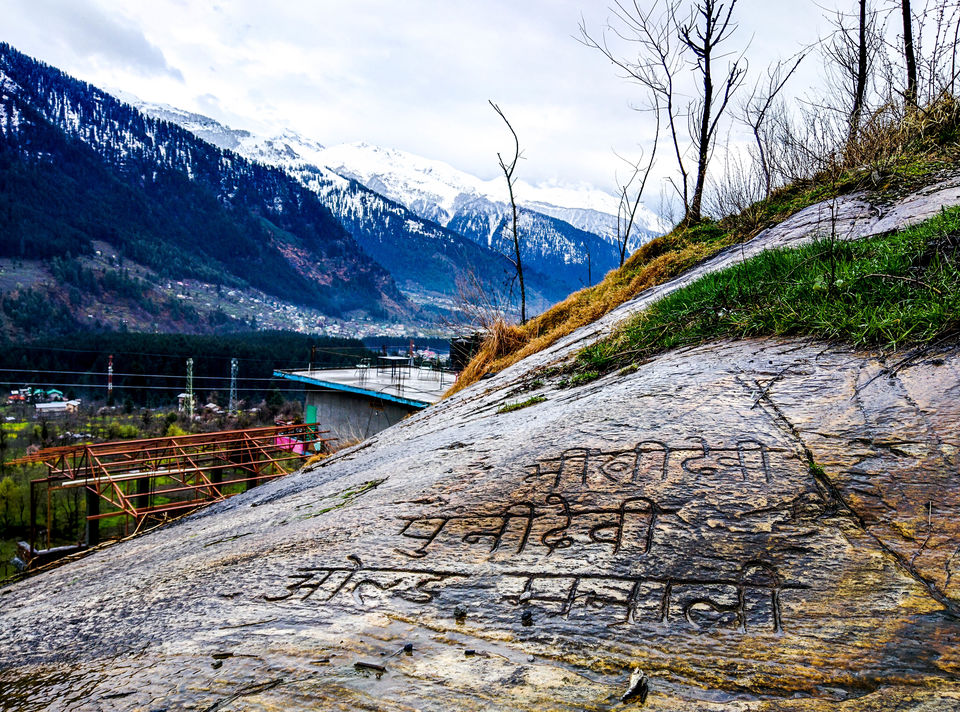 Since there are no tea/maggi stalls en route to Bhrigu lake, you should stock up your supplies of maggi/water/energy bars/stove/tents/sleeping bags/ trail mix and other necessary items, if you're going alone. Otherwise your guide would take care of these for you. (If this is your first trek, go through this post to know the MUST CARRY items.)
We had done neither, so we landed upon a campsite at Kothi and found a guide for us.
Day 1 (Gulaba to Rola Khuli, 3-5 hrs, 5 km)
Your guide/company would pick you up from Manali early in the morning and take you to Gulaba check post from where the trek starts. If you have some time on your hands, you should visit the last food joint on your left at Kothi. The lady who runs the joint makes delicious maggi, paranthas and tea. Her amazing chutney would leave you longing for more.
You should start trekking around 9 am. From Gulaba, you first start ascending on steep slopes covered with trees, but soon you would start walking in lush green undulating meadows. The vast green landscape dotted with trees, wandering sheep and the beautiful clouds overhead are enchanting. It is impossible to believe that such a place would exist so close to Manali. You will find red berries, Himalayan Cobra lilies & other interesting varieties of plants en route. The red berries are delicious and we ate plenty of them. When you go a bit further, you can see high peaks all around you. If you're falling short of water, look out for a couple of streams before Rola Khuli where you can replenish your bottles.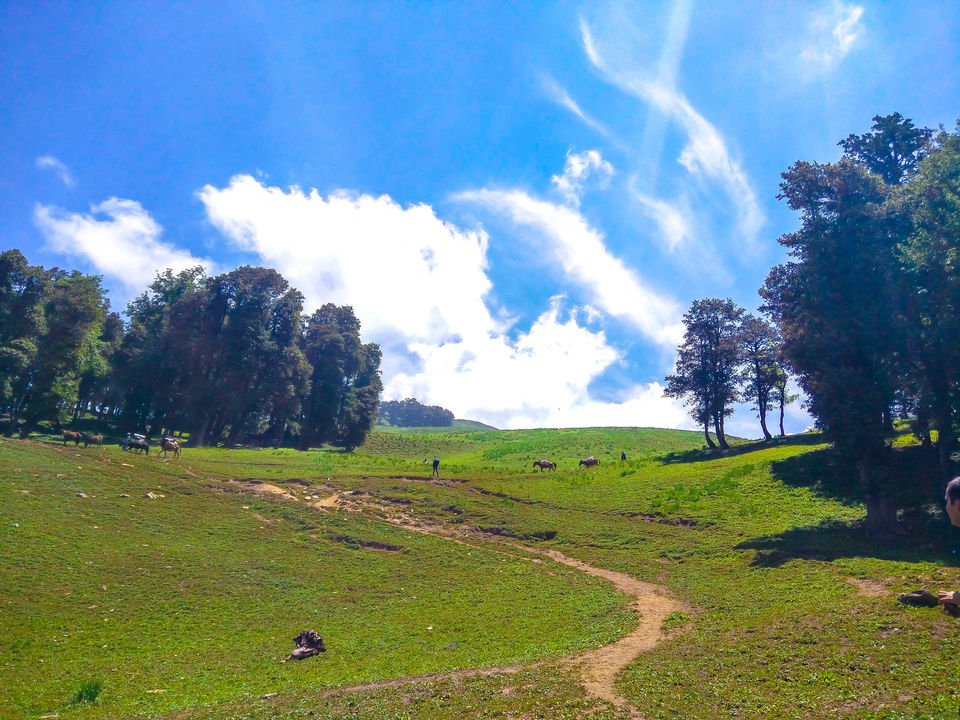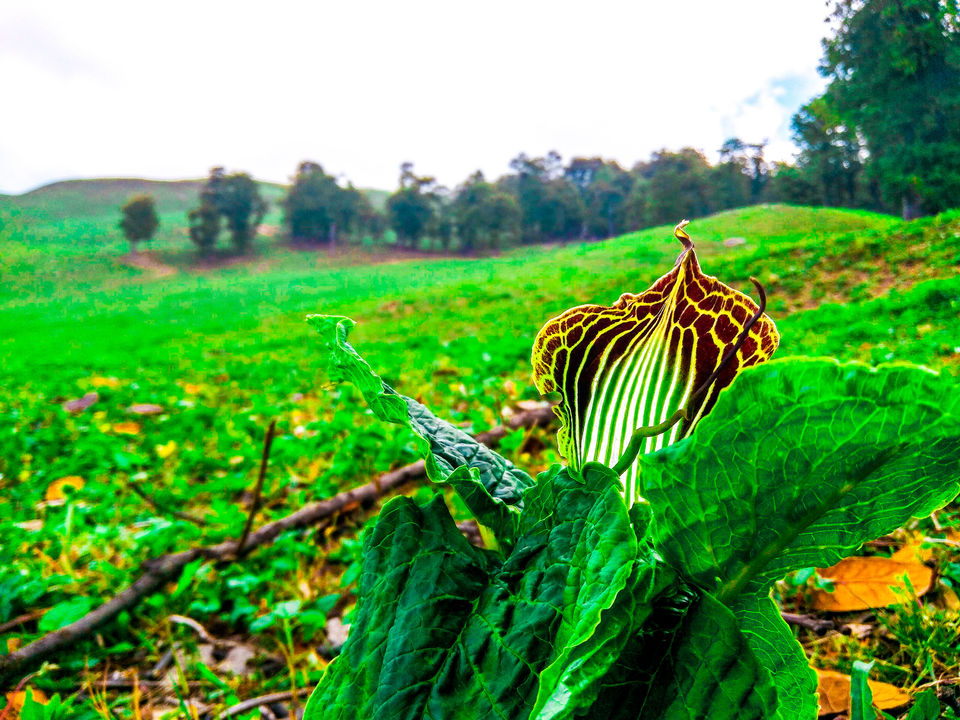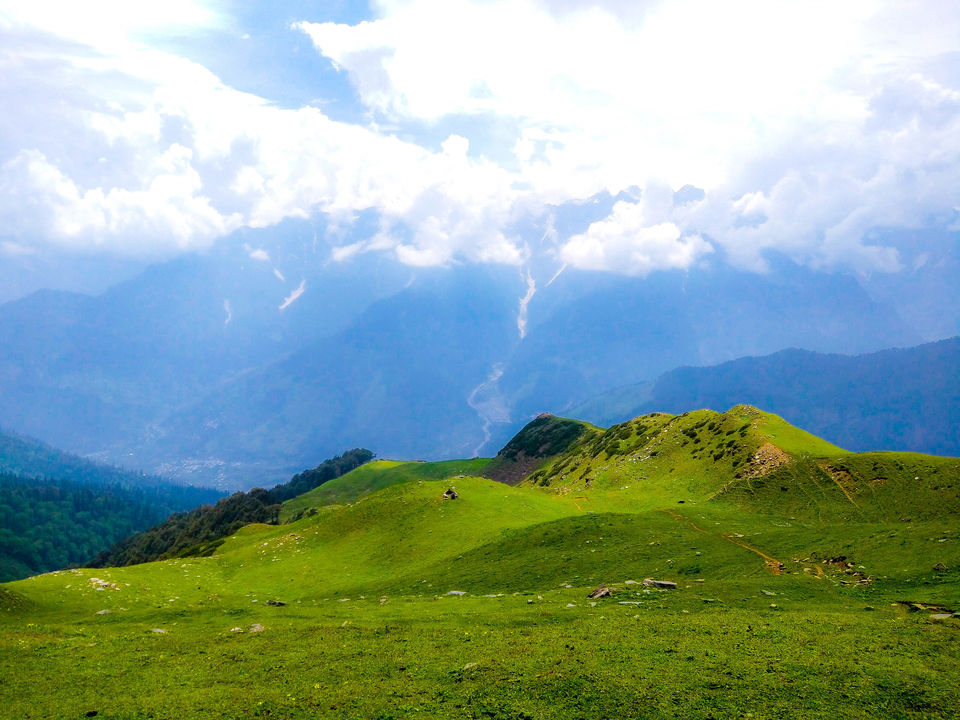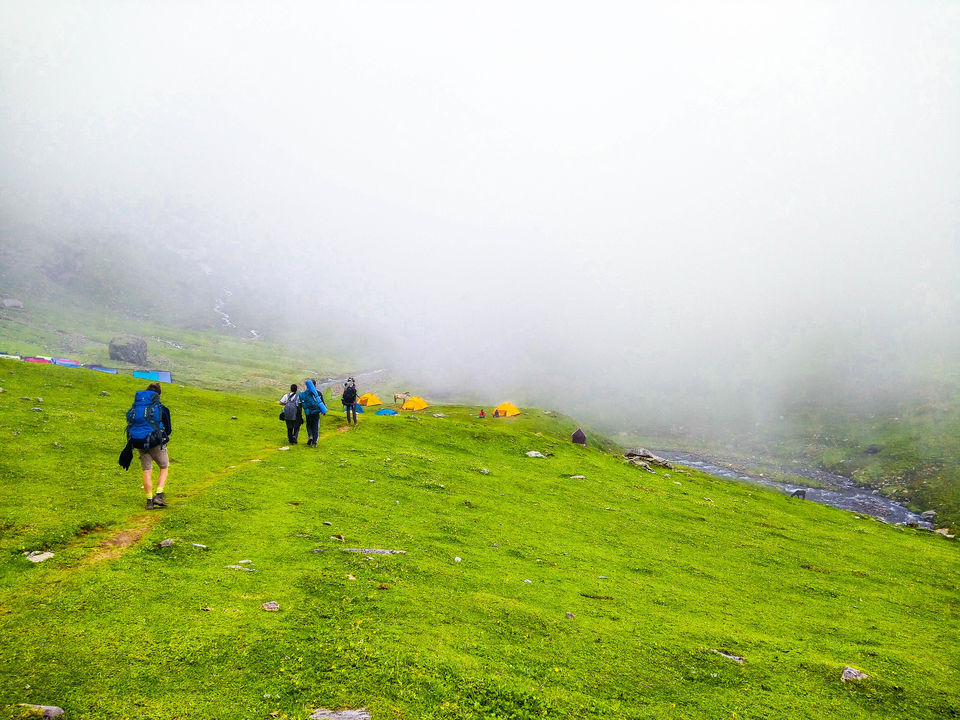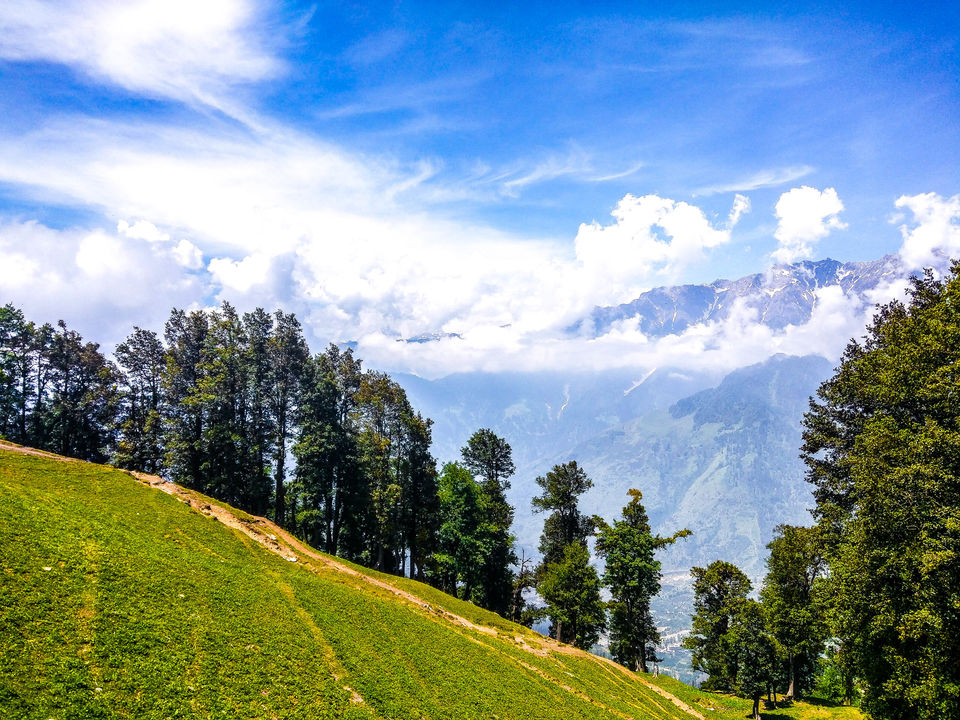 When you reach Rola Khuli, you will be left spellbound (It should be around 2-3 pm depending on your pace of hiking). I've camped at some pretty beautiful places like Chandratal Lake, Prashar Lake, Kheerganga & Triund but I've found Rola Khuli and Kheerganga the best so far. However, while the charm of Kheerganga is because of the natural hot water spring pool, nearby forests and beautiful cafes, Rola Khuli is a textbook campsite. Mountains all around, streams flowing in zig-zag pattern, beautiful yellow/purple flowers interspersed with snow. You have to be there to see for yourself. I feel nothing I write here will do justice to its beauty.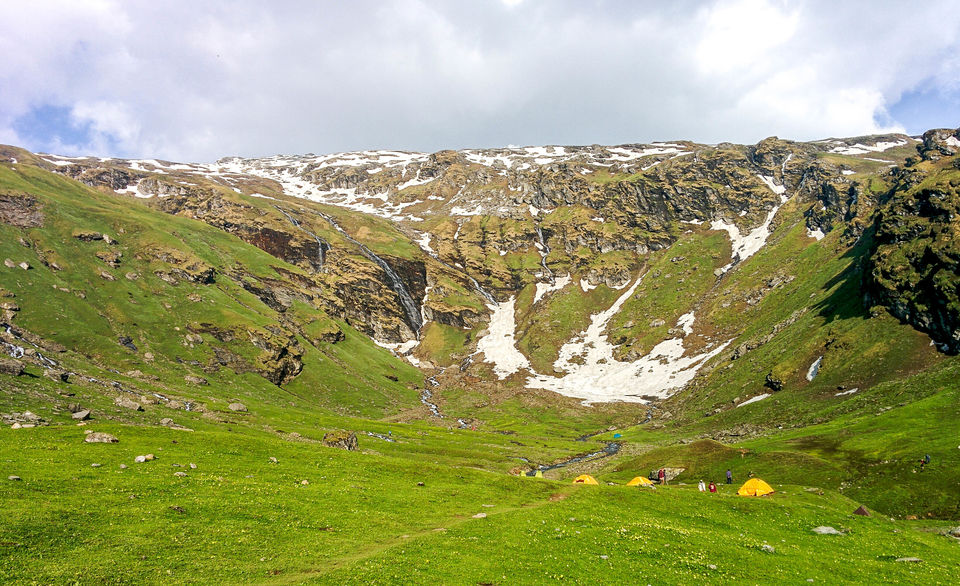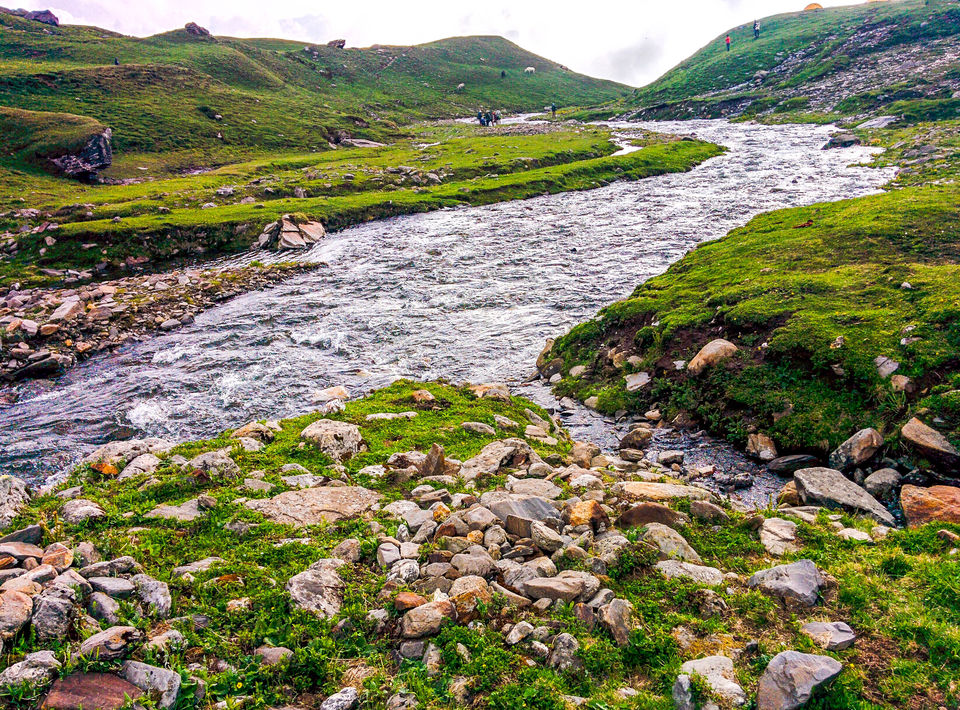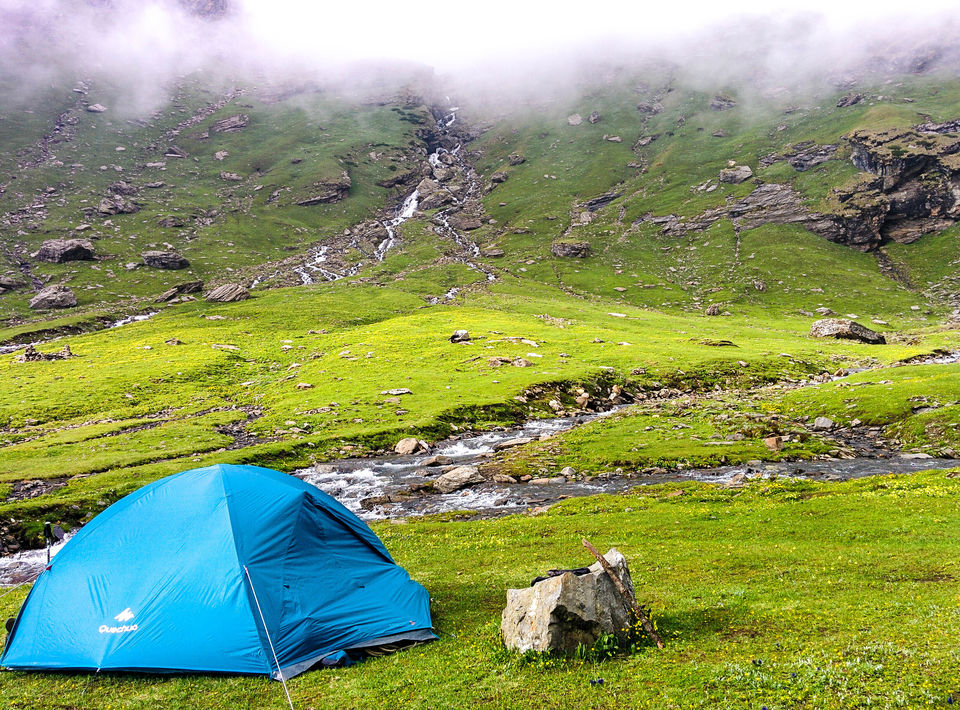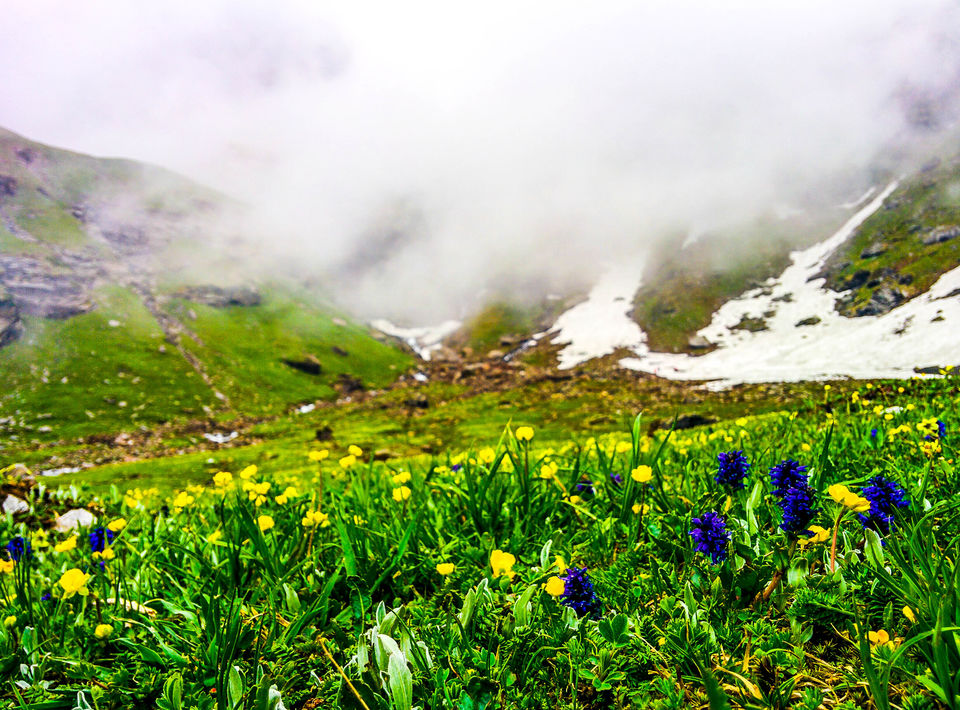 I will recommend that you stay the night here. Since there are no maggi/tea stalls or any local population of any kind, you will have to take care of the food yourselves. When we went there, we were unprepared. Fortunately, there was a group of people coming through makemytrip, and the guides with them were extremely nice to fix us with some amazing rajma-chawal and tea. Pitch your tents as far from the main crowded area as possible to enjoy the place more.
Day 2 (Rola Khuli to Bhrigu Lake & back,7-8 hrs, 10 kms round trip)
Start from the campsite as early as possible because you have to come down to the campsite before dusk. The round trip would be around 8 hours long taking into account the time spent at the lake. From the campsite, you will have to first climb up one of the ridges and then start the long and arduous trek to the lake, ascending & descending various ridges en route. When we went in June, the ridges were either covered with snow or carpet of yellow flowers. It becomes pretty tiring but do not give up. Take a rest, talk to the shepherds and stay strong. One of our friends was very tired and he thought of giving up just before the lake, but a kind shepherd nudged him on and the friend couldn't be more thankful.
When you reach the lake, you would be exhausted, out of breath and maybe with a few bruises and a little pain. But the view will most definitely make up for it, we were almost proud of ourselves. The clear blue lake surrounded by small ridges covered with fresh snow made our hearts melt. When you look at the side, you will feel like you are in the middle of the clouds (literally!!). You will feel both the sun and the cold biting winds against your body at the same time. Climb up any of the adjoining higher ridges and you will see mountain ranges everywhere around. When we climbed a nearby ridge, we estimated that we were at an altitude of around 4400 m.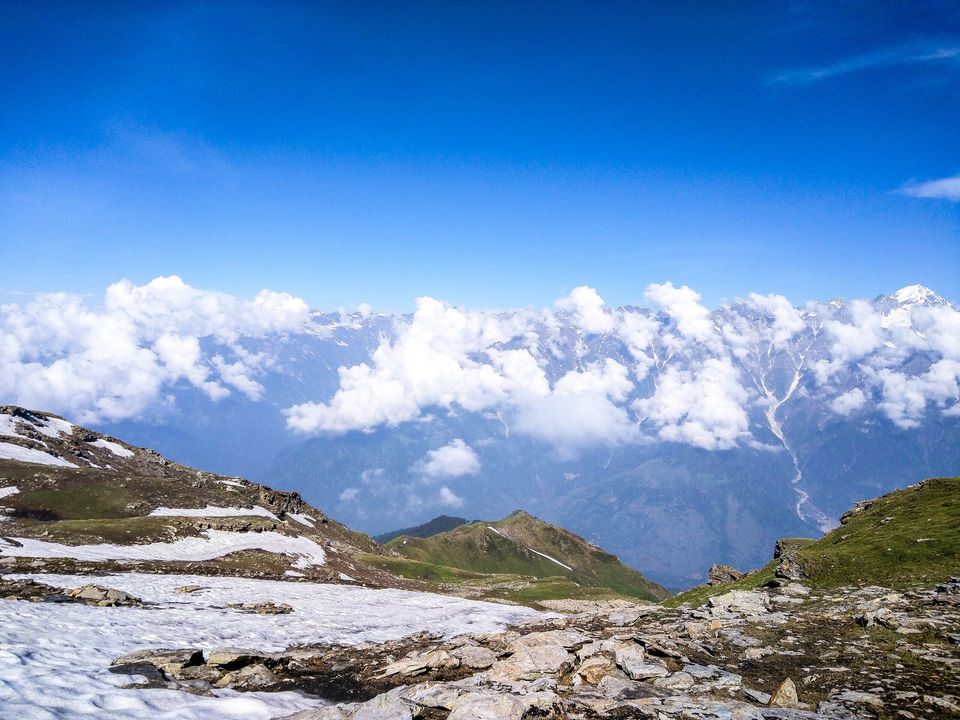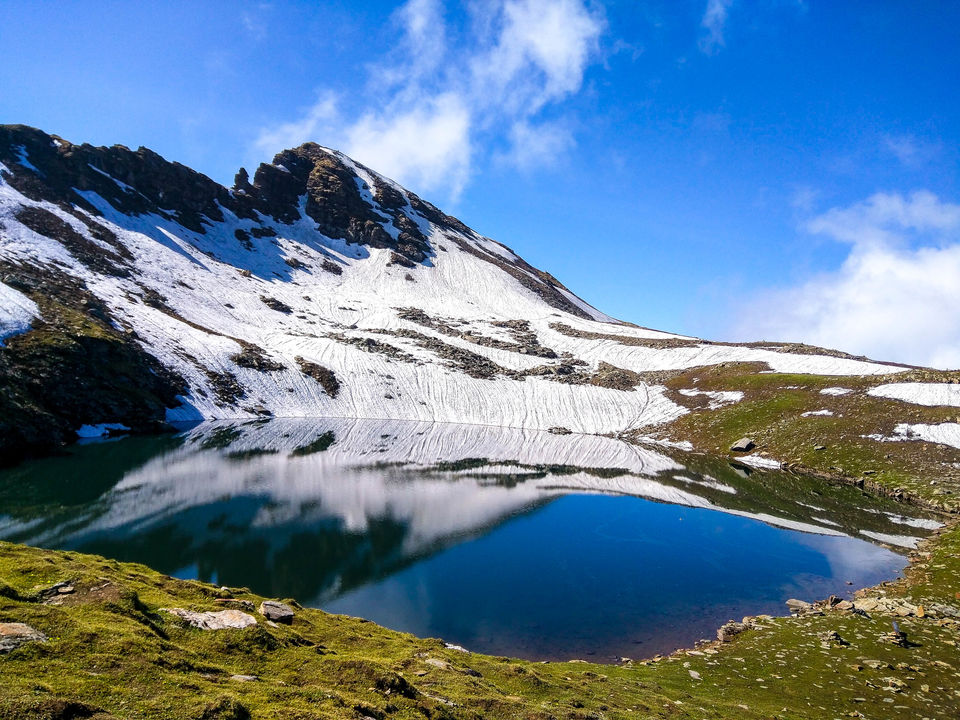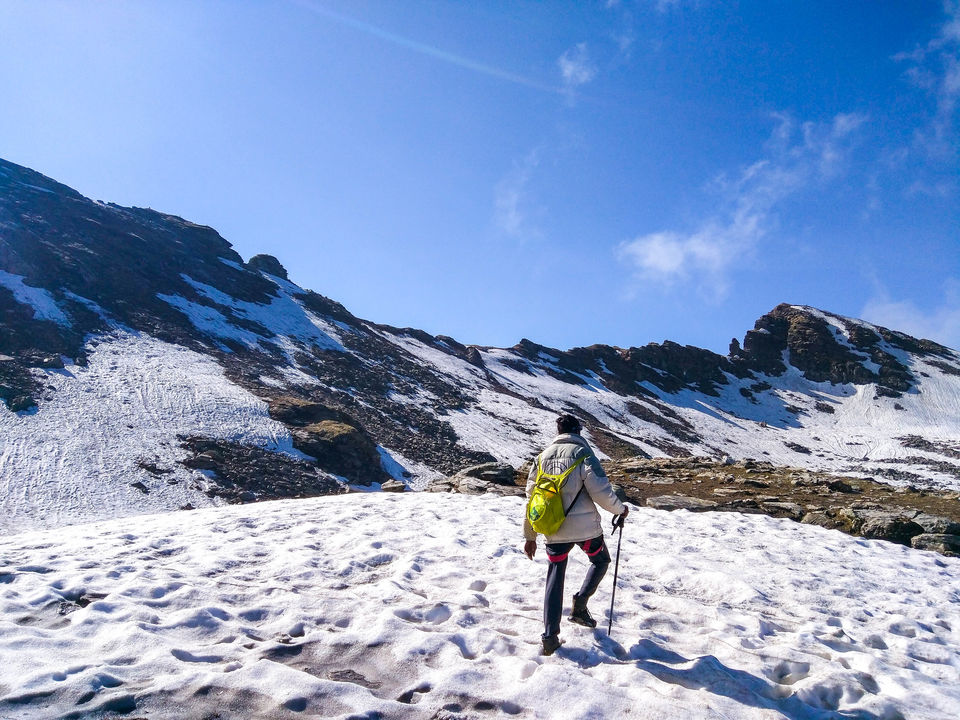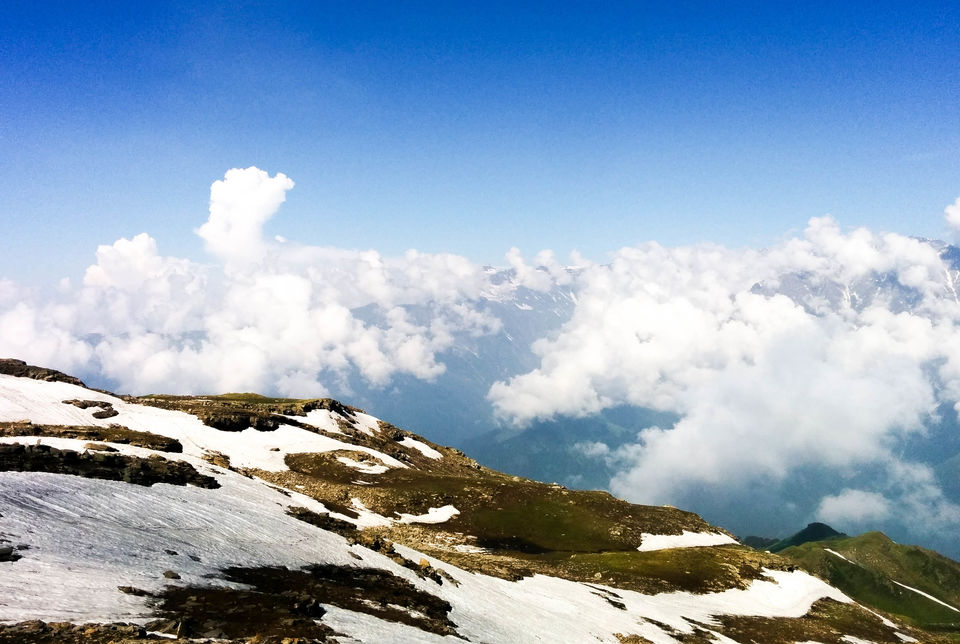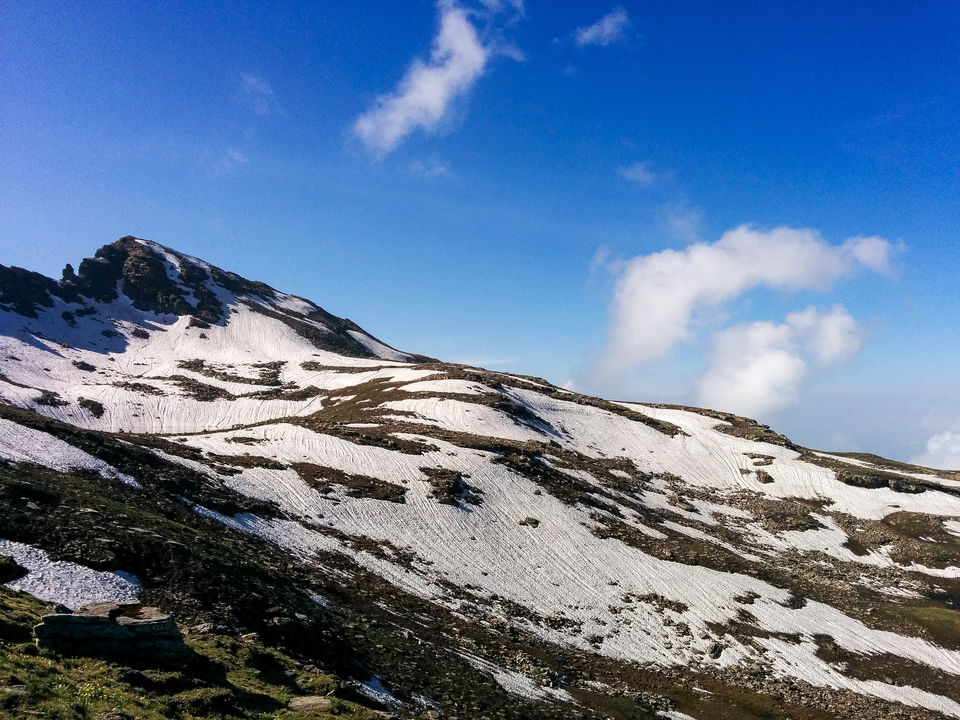 Start walking back to the campsite by the afternoon to reach it before sunset. And spend the night there rejuvenating yourself.
Day 3 (Rola Khuli to Gulaba,3-4 hrs, 5 km)
Start in the morning and reach Gulaba by the afternoon tracing the way back as you came. Take a taxi from Gulaba back to Manali and reach bus stand by the evening so as to board your bus comfortably.
Important points to remember-
After Kothi, you will not find any food or supplies anywhere. Take and ration your supplies wisely.
There are no ATMs after Manali.
Keep a torch with you so that you can walk around Rola Khuli in the night without falling into any of the number of streams flowing all over the place. To look over other essential but not talked about items to take on a trek, please see my post.
There is a particular, slightly elevated spot in Rola Khuli near the entry, where you will get Airtel signals. Enjoy.
Do not enter into the lake to bathe or play. The lake is considered holy and doing such things is prohibited (see pictures above).
Please do not litter. No one will come to clean up the place after you!
Consuming alcohol and non-vegetarian items is also prohibited in the vicinity of the lake.
Leave your backpacks in your tents and take only a day trek bag with you.
Take ready made food items with you when leaving Rola Khuli for the lake on Day 2. This would reduce the weight of your bags and prevent you from littering the place all over.
The route back from Gulaba to Manali is often jam packed and as such keep plenty of margin with you if you have an evening bus from the bus stand. You can take anywhere between 20 mins and 2 hours to cover this distance.
Do climb the nearby higher ridges around the lake. The view from the top would be engraved in your memory for years to come. Push yourself to do so, if you're tired.
I hope this post was of some use to you and it pushed you further on the road to Bhrigu lake trek. If you have already been on the trek, do you have anything to add? Do let us know in the comments section what we missed!
If you're going to Mcleodganj, this post might help you; or you may be planning a honeymoon to Maldives. Or you're looking for motivation, then go through my travels.
My upcoming blog posts will be about Kheerganga, Triund, road trip to Spiti & an all encompassing account of the Parvati Valley (hopefully in the same order).
Happy travels! :)