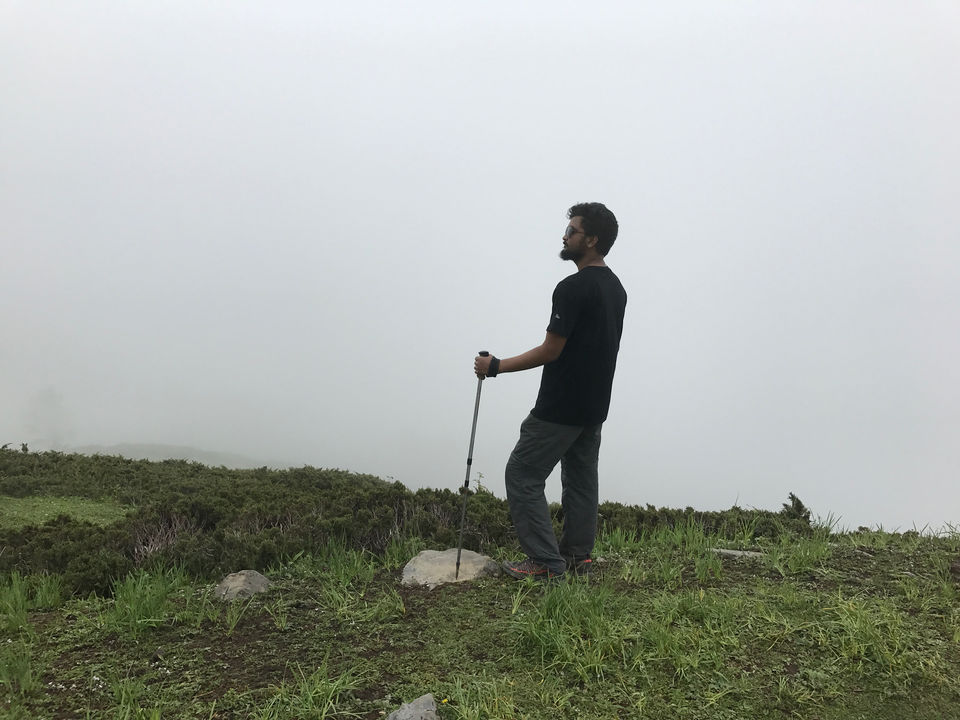 "It is not the mountain we conquer but ourselves" - Edmund Hillary
There was no such destination in mind. Never is for me. What there was in its place was a build up. When I feel I want to be happy (like really happy), I explore. I trek.

So I turned to Facebook in search of people who were looking for travel mates. Luckily I found the right bunch. We discussed essentials for a week or two on how to go about it. But mostly to get to know each other and to keep up the banter.
On 23rd June, I bagpacked.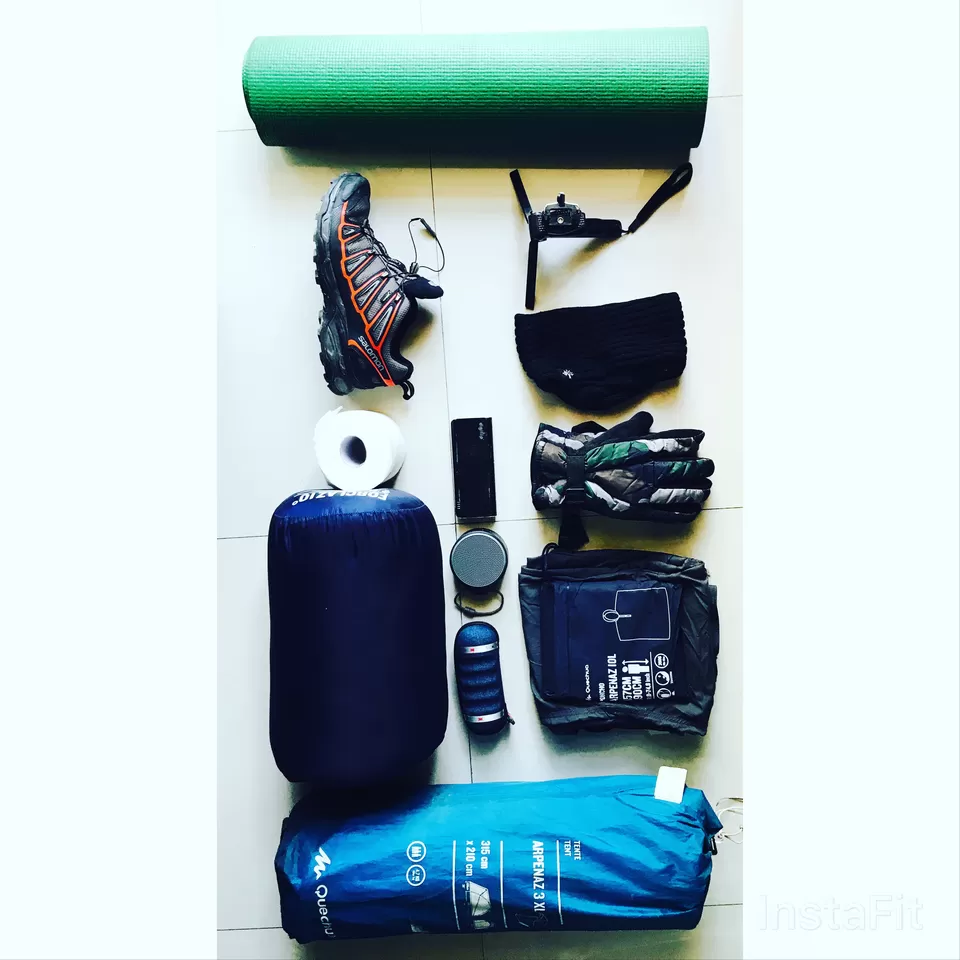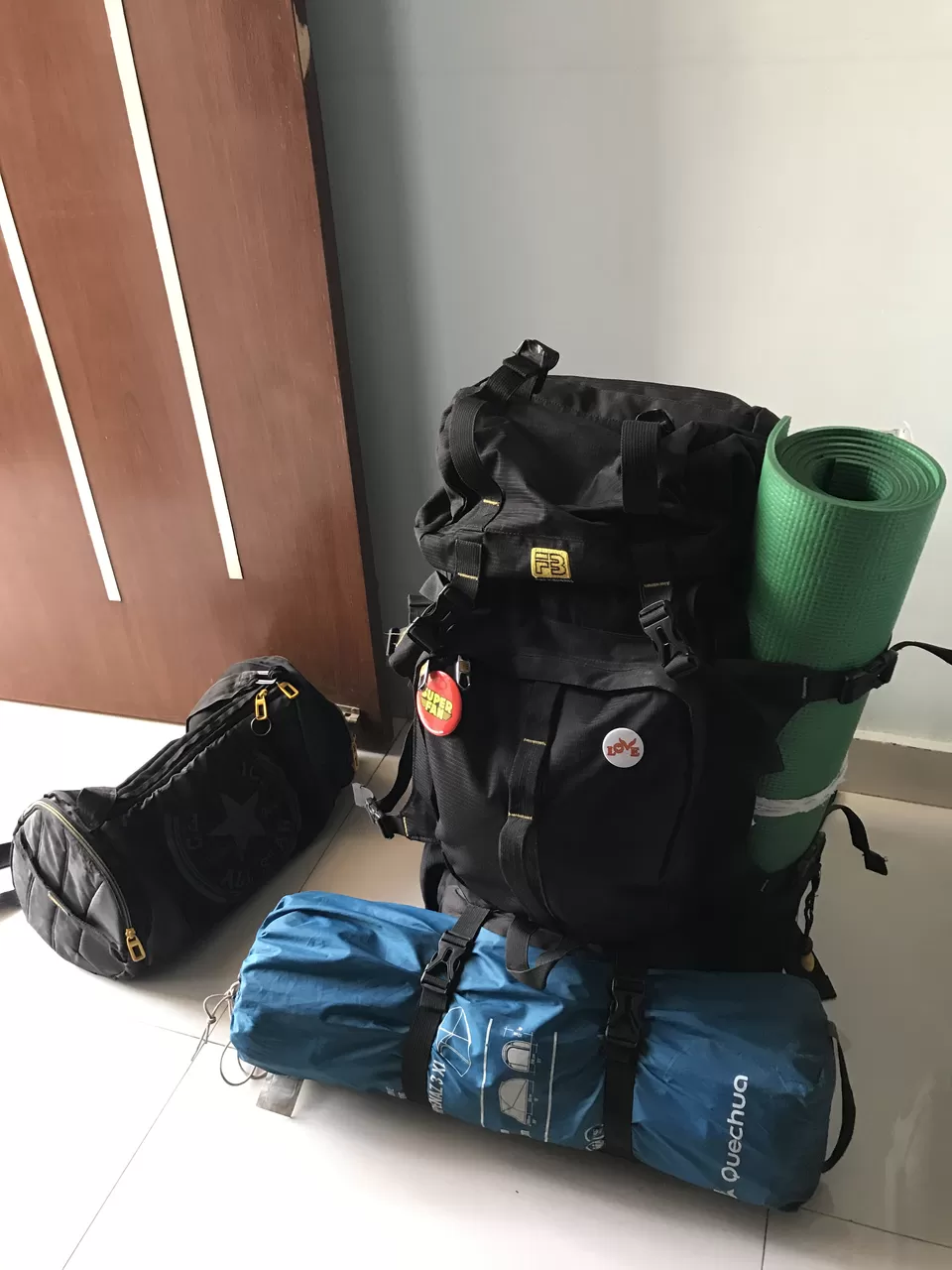 The day finally comes when you've to leave the valley & embrace the shitty (city) life.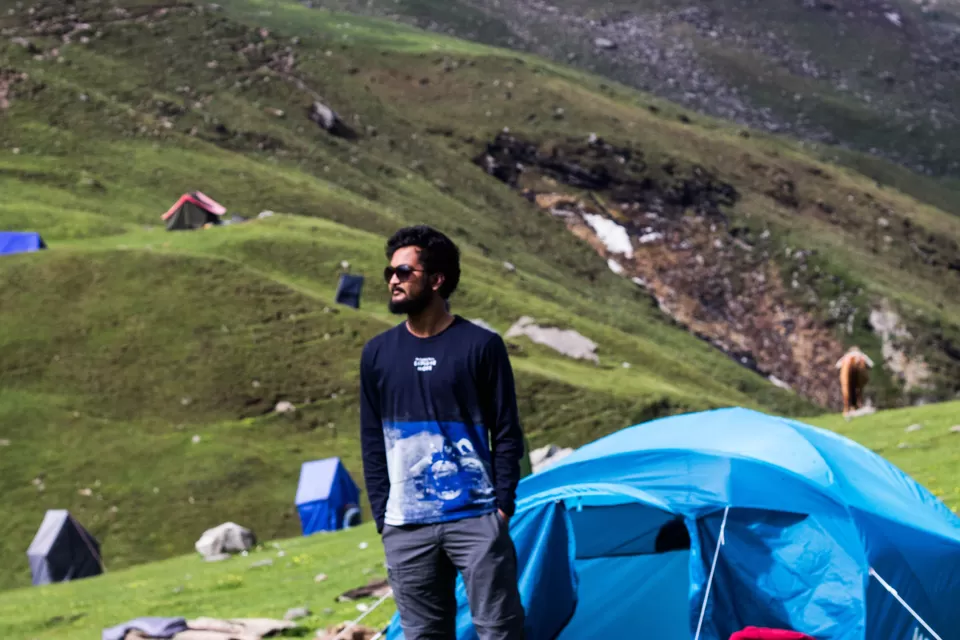 We were the last set of people who reached the lake. The air was getting thinner & we exactly hadn't taken a rich diet. Slight AMS had struck me. We reached @ 6.45 PM. The isolation, the silence & the beauty of the lake was mesmerising. I was here at last, I completed it. The feeling can't be described. You set your mind onto something & then you achieve it.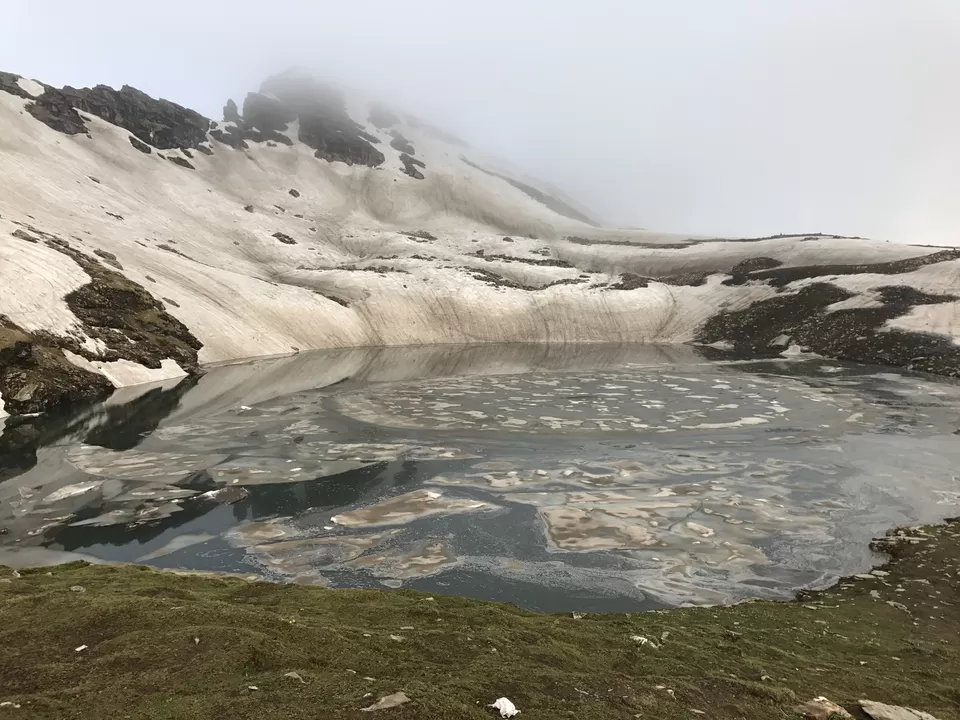 Met a few travel mates in metro, met more at ISBT, Kashmiri Gate (after syncing up on Whatsapp). After brief introductions, we set off. We chipped in towards a common kitty from which all expenses were to be carried out of. It was a 12 seat tempo traveler which was converted to a 16 seater. We booked it via Shuttl (never doing it again), it bore resemblance to an Ambulance (it was completely RED !!). No wonders it made me sick! Leg space was an issue for a tall guy like me. Not to forget their was an issue with the air conditioning too. It was an ugly rickety box on wheels! Anyways, it managed to make it to the first pit stop, Shiva Dhaba, Murthal.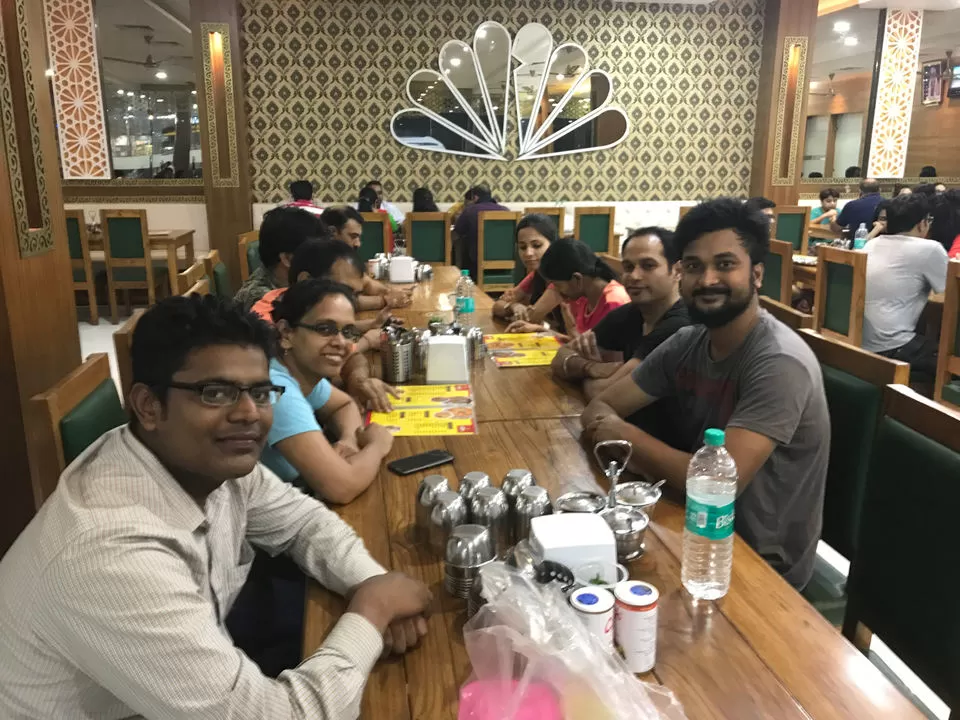 Food brought my mind at peace. When the banter fizzled, I got lost in my thoughts. Was I escaping something? Or heading towards something? Just looking at those street lamps passing by one after the another, I'm not sure when I fell asleep. "Lights will guide you home".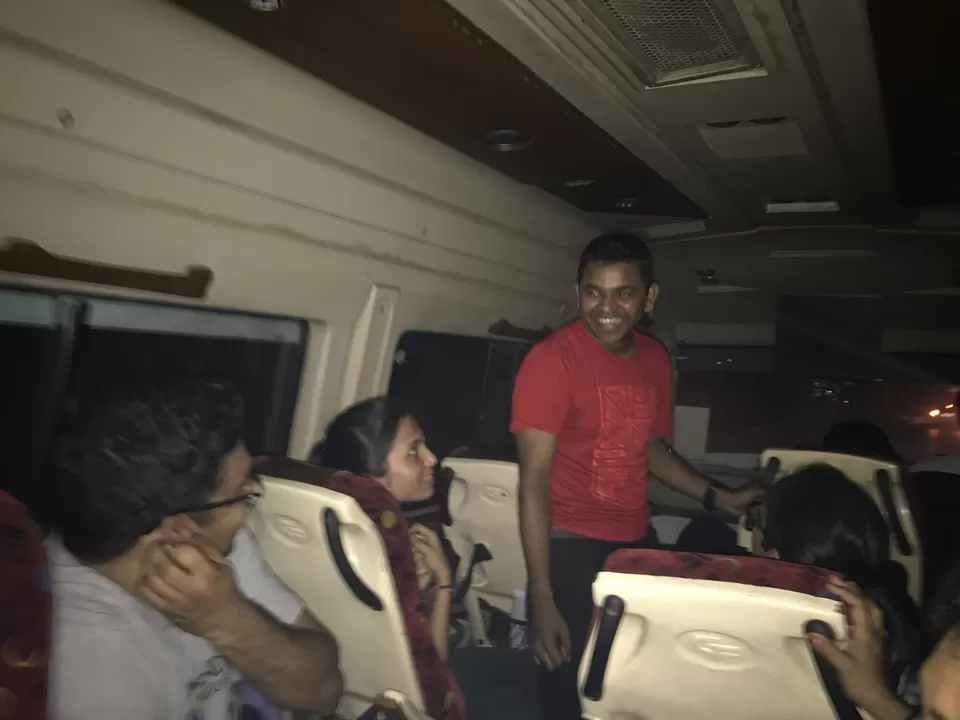 Due to the traffic jam we were moving at a snail's pace. So most of us got off and used the opportunity to freshen ourselves, have brunch and even buy groceries (after all this was an unorganised trip!!). We were figuring out as we went.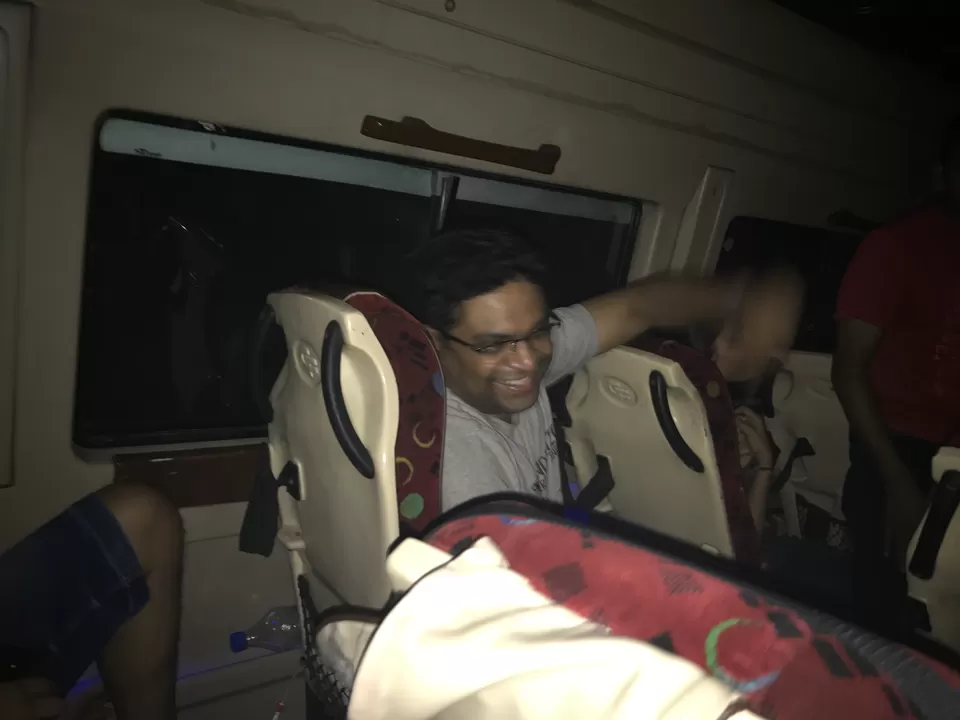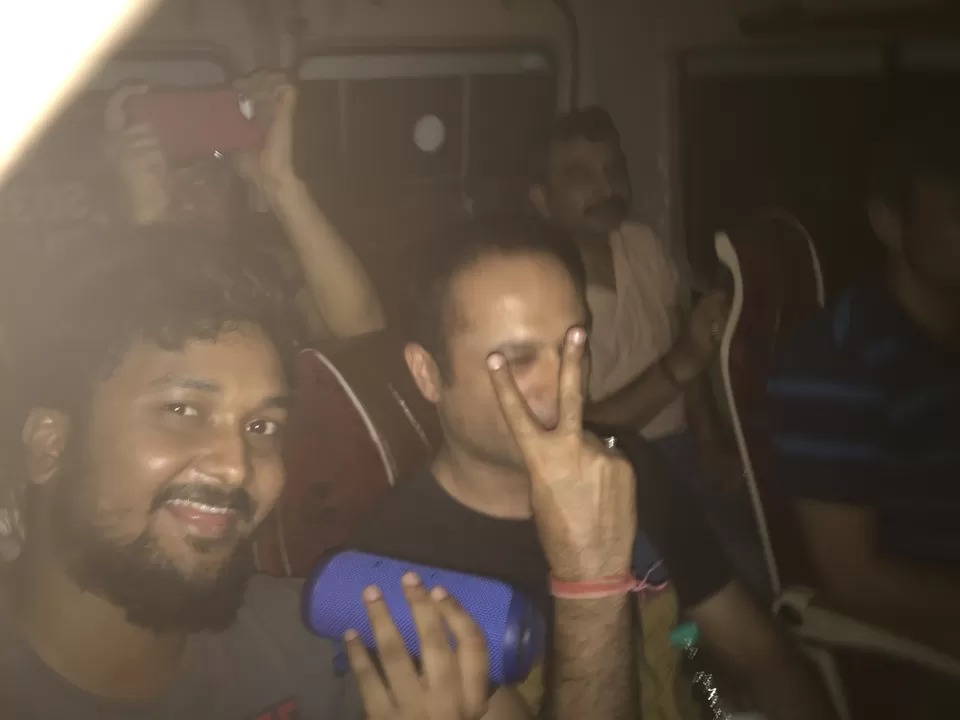 Himachal Pradesh hugged me with a sunshine!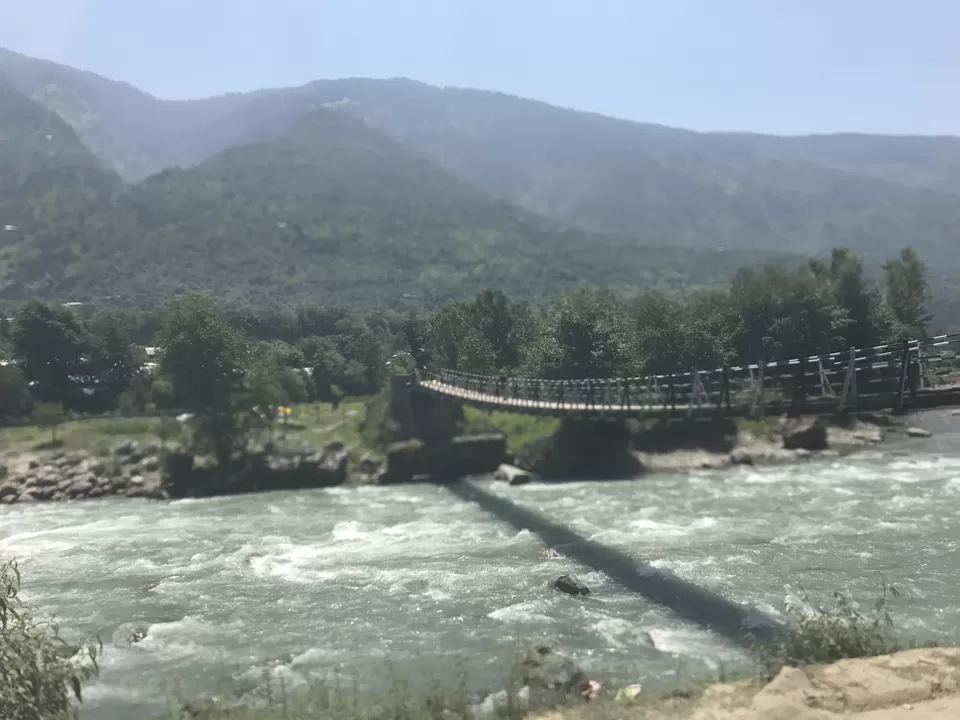 Enter Manali. Traffic jam. This was expected due to the long weekend (Eid). There needs to be a mechanism to regulate the cars/buses flowing in to Manali. "Dumb charades" was played to pass the time which apparently we had plenty of. My limited (next to zero) knowledge of Bollywood, apparently meant I had to be the DJ who kept dropping the beats. (Neha, I have finally sent you the playlist :D).
There was madness in front & serenity to the side.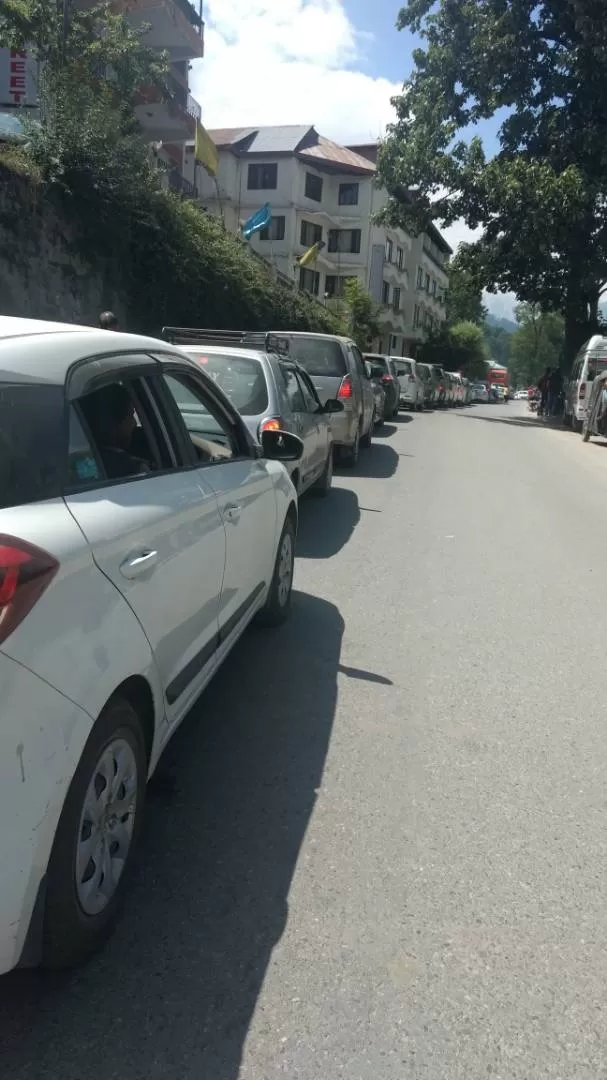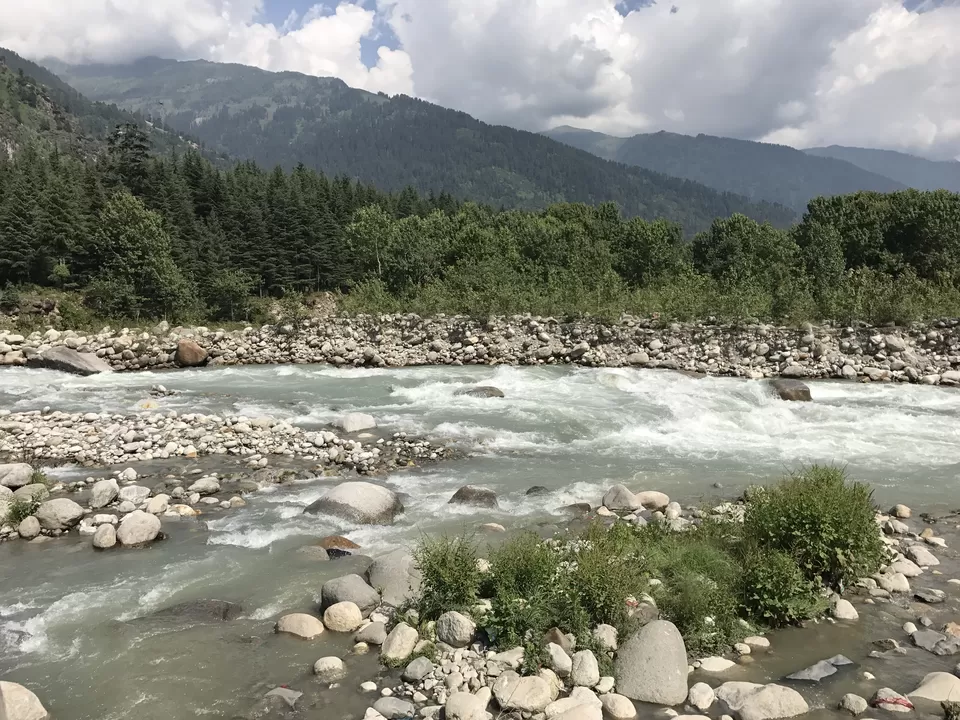 Delhi to Manali usually takes around 14 hours (We covered in 17 hours) and Manali to Gulaba is just 22 KMs (We covered this in 4 hours thanks to the long weekend traffic). Total journey: ~21 hours!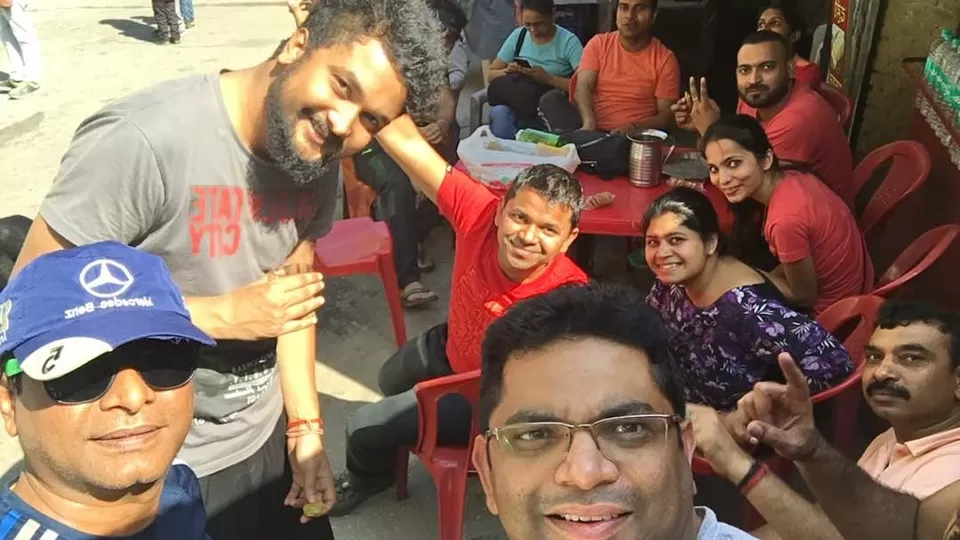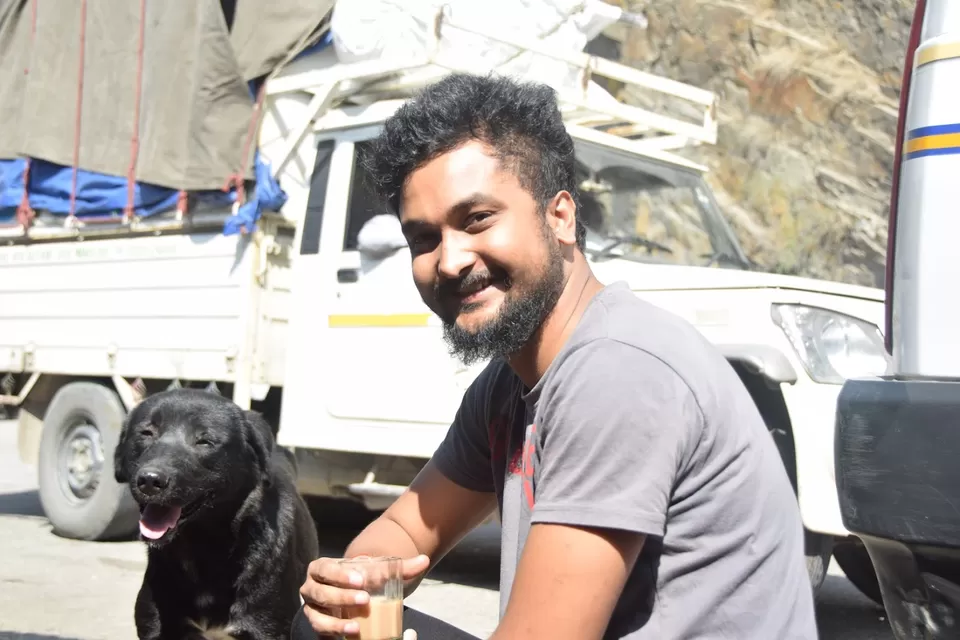 Furry dogs found commonly on higher altitudes.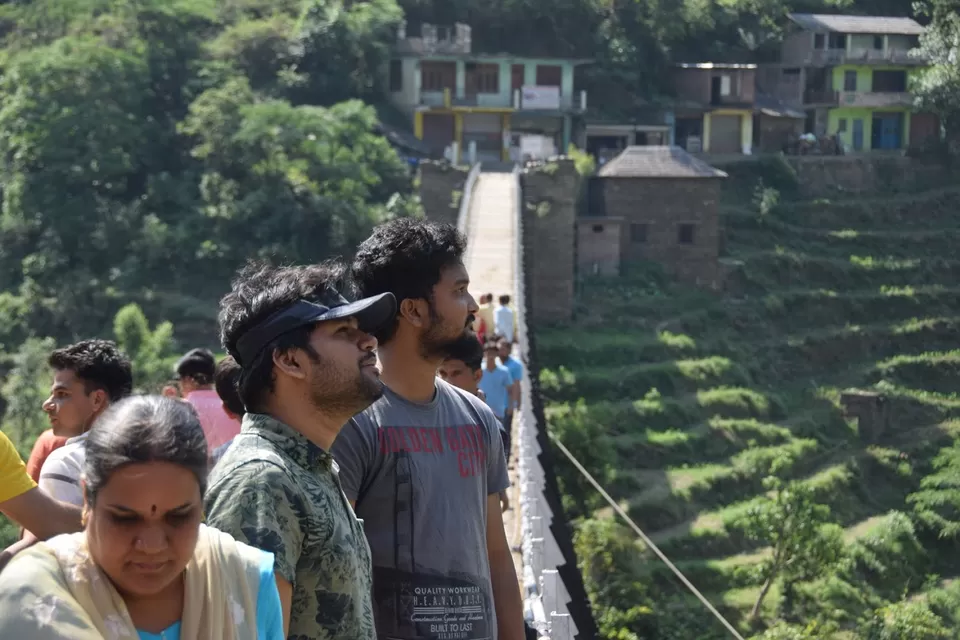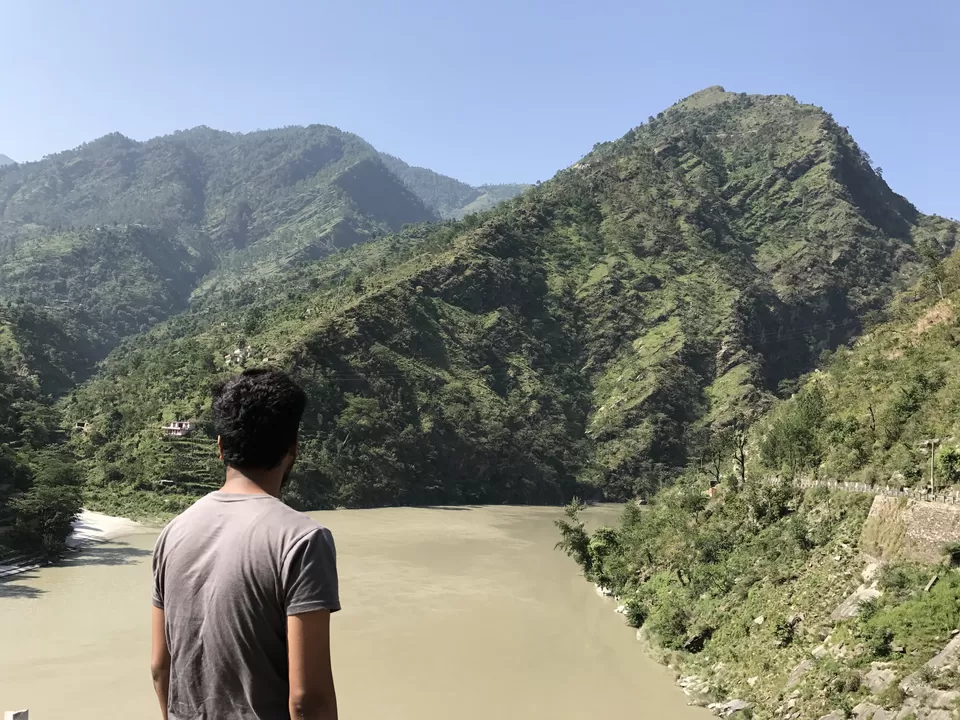 Our guide (I forgot his name) was picked somewhere between Manali & Gulaba (I was snoring at the time). He was also our navigator and took us to the starting point of the trek. One might simply pass it by without even noticing !! Our ugly traveler stopped roadside, & we had to decide what to load on the porters and what to carry on ourselves. Our necks were stiff from the ride & we had back aches, but the trekking spirit was alive.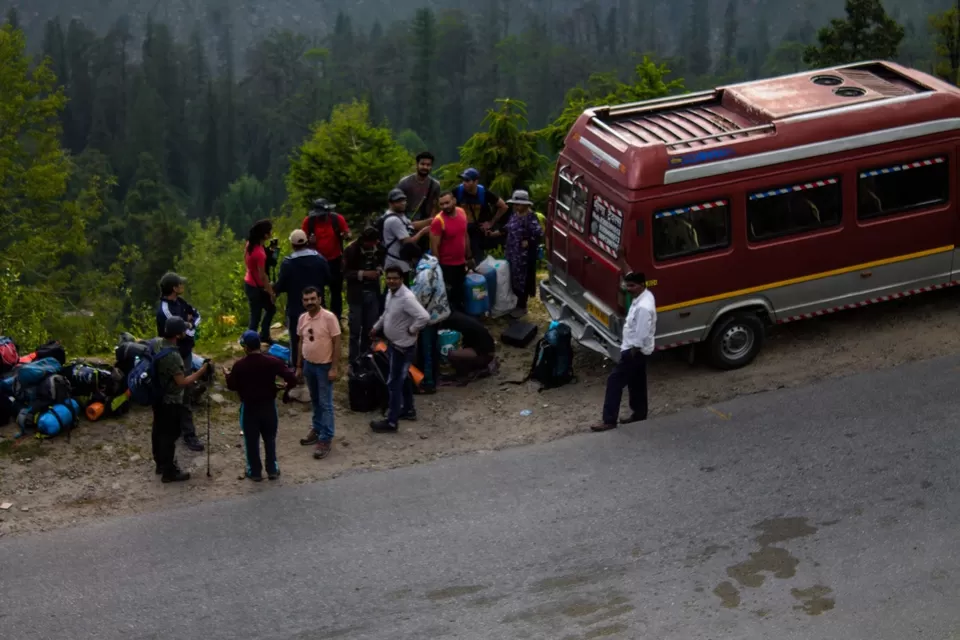 The Trek Begins from Gulaba Road to "Chaudah Mod"
And so we progressed through the lovely meadows. Daylight was burning as it was 7 PM already. In just about an hour or so we reached "Chaudah Mod", a beautiful Bugyal (meadows) it was.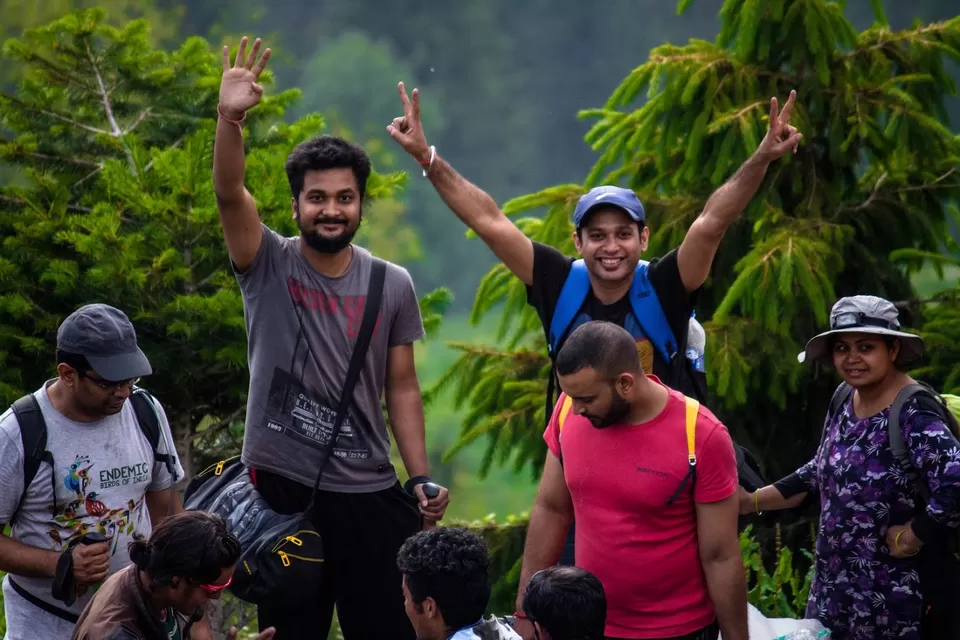 To walk next to the flowers was a pretty sight to the eyes.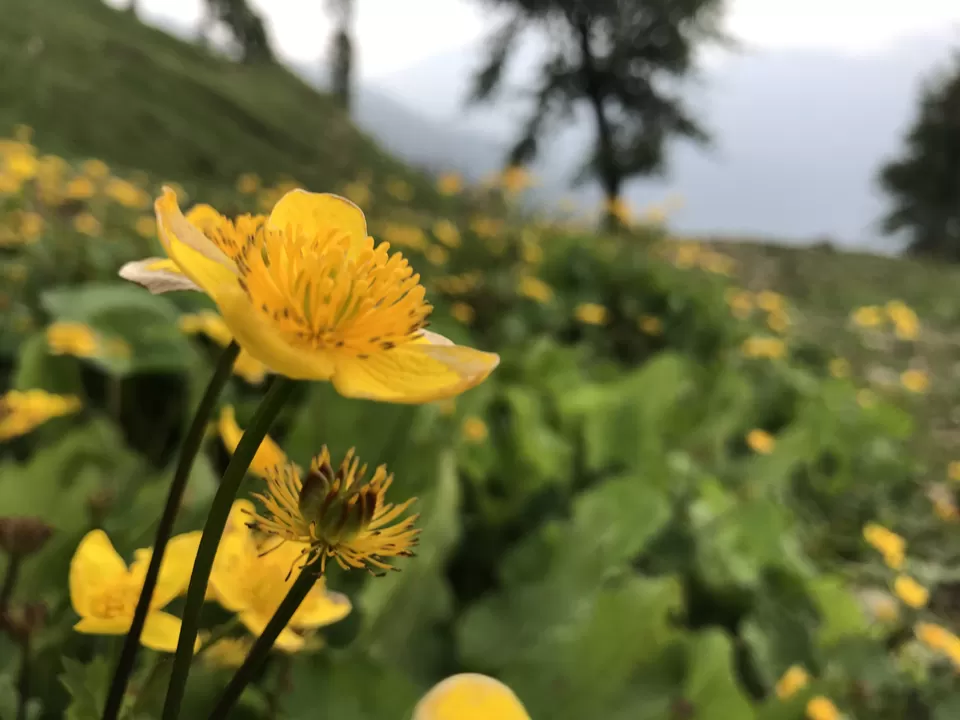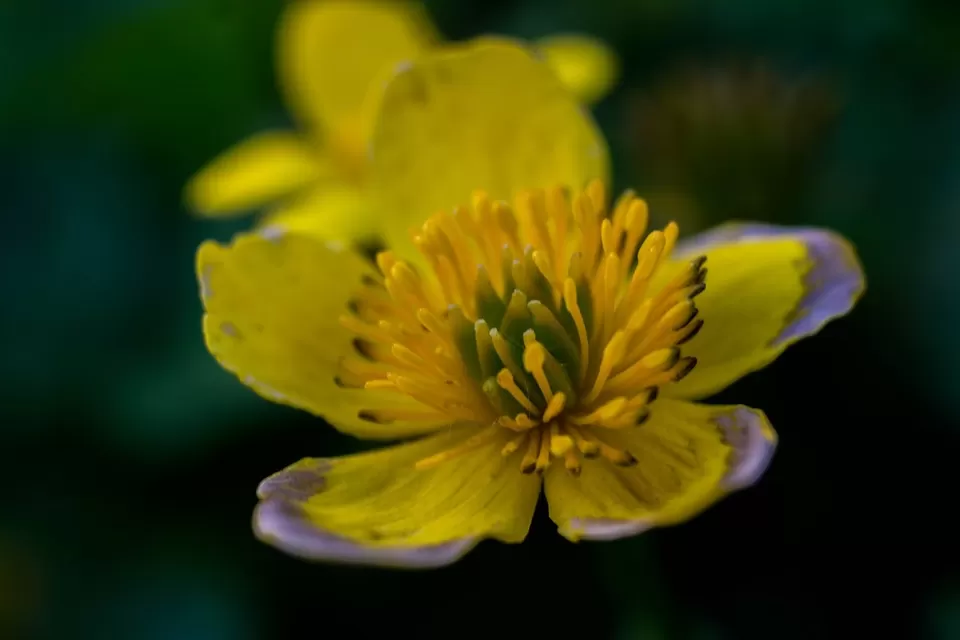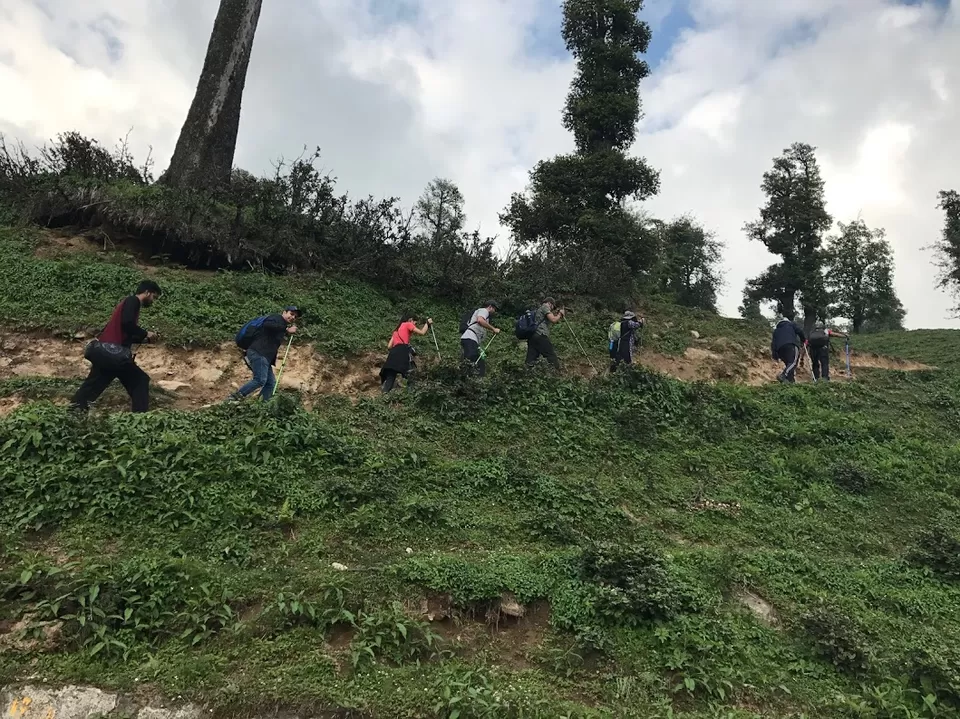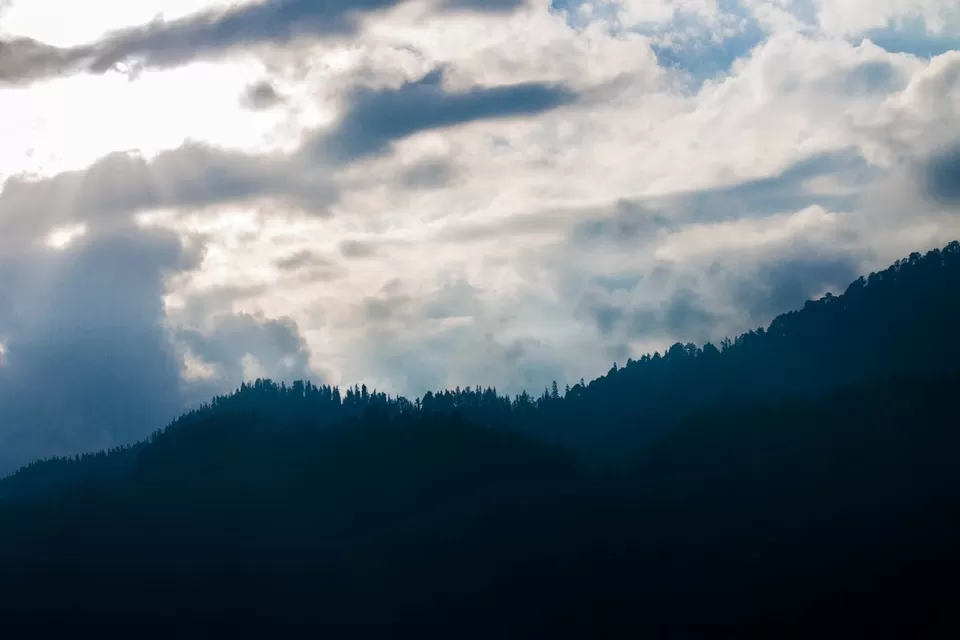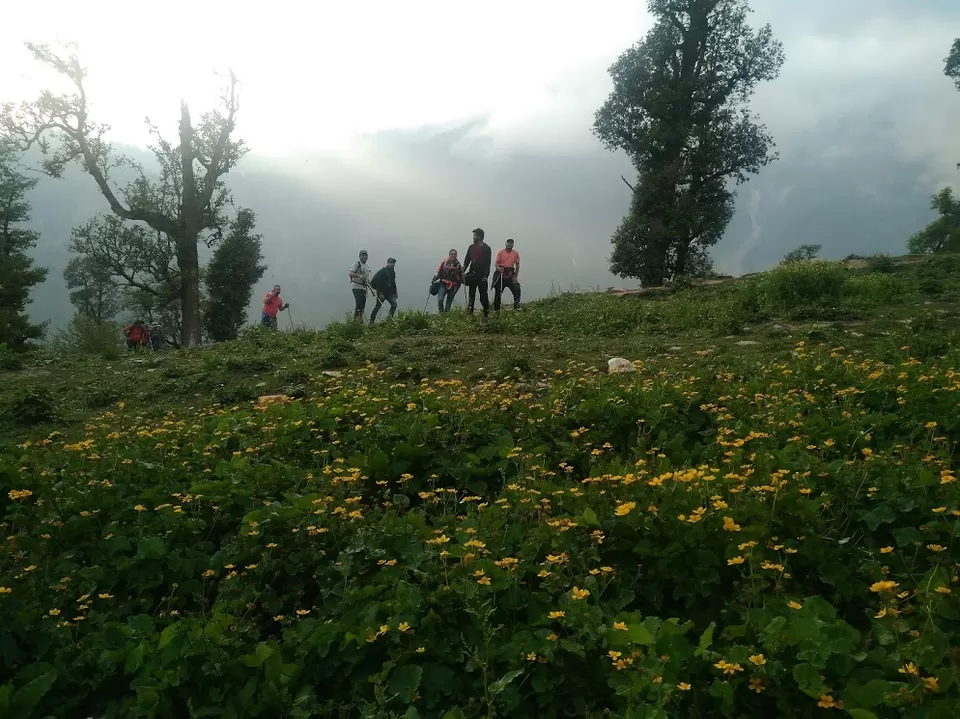 You'll find phone signal in "Chaudah Mod", even 2G! So it's a great spot to call your peers, friends etc. to let them know you're alive and breathing! It was my parent's 29th Anniversary and they sent pictures on WhatsApp. I started to miss them already! My voice would give them the much needed relief. Wished mom & dad, spoke to bro briefly.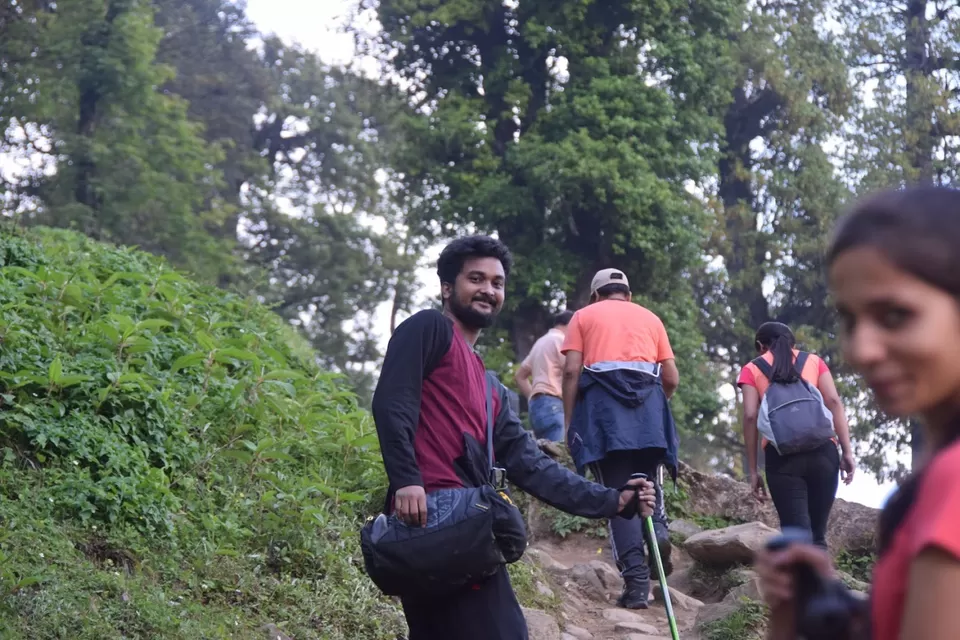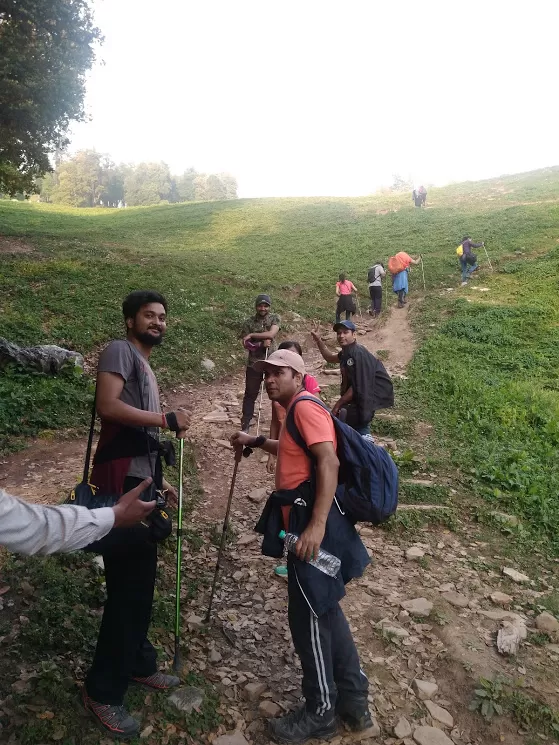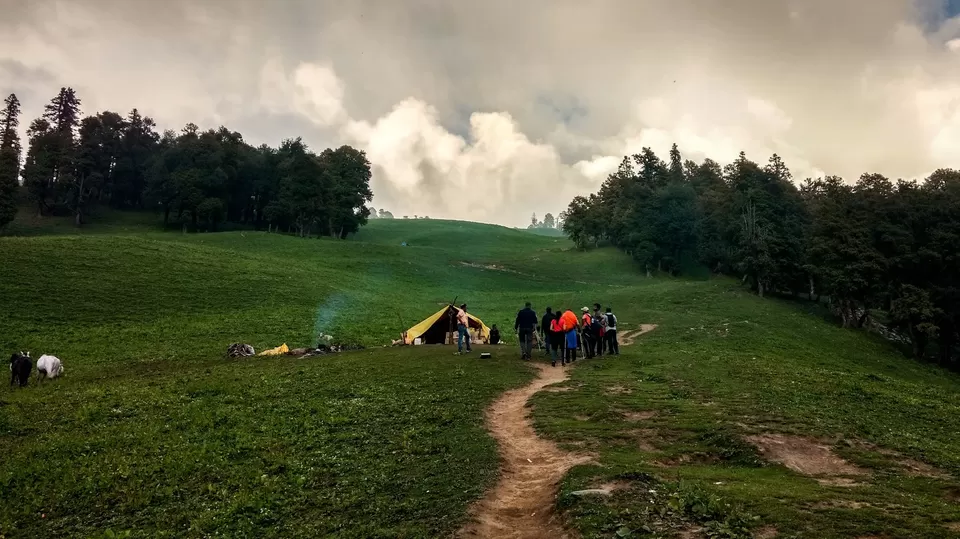 The best patch of the flatland was occupied by tents of, I guess, "India Hikes" (someone informed later). We pitched ours on a slope!! This was the first leg of the journey.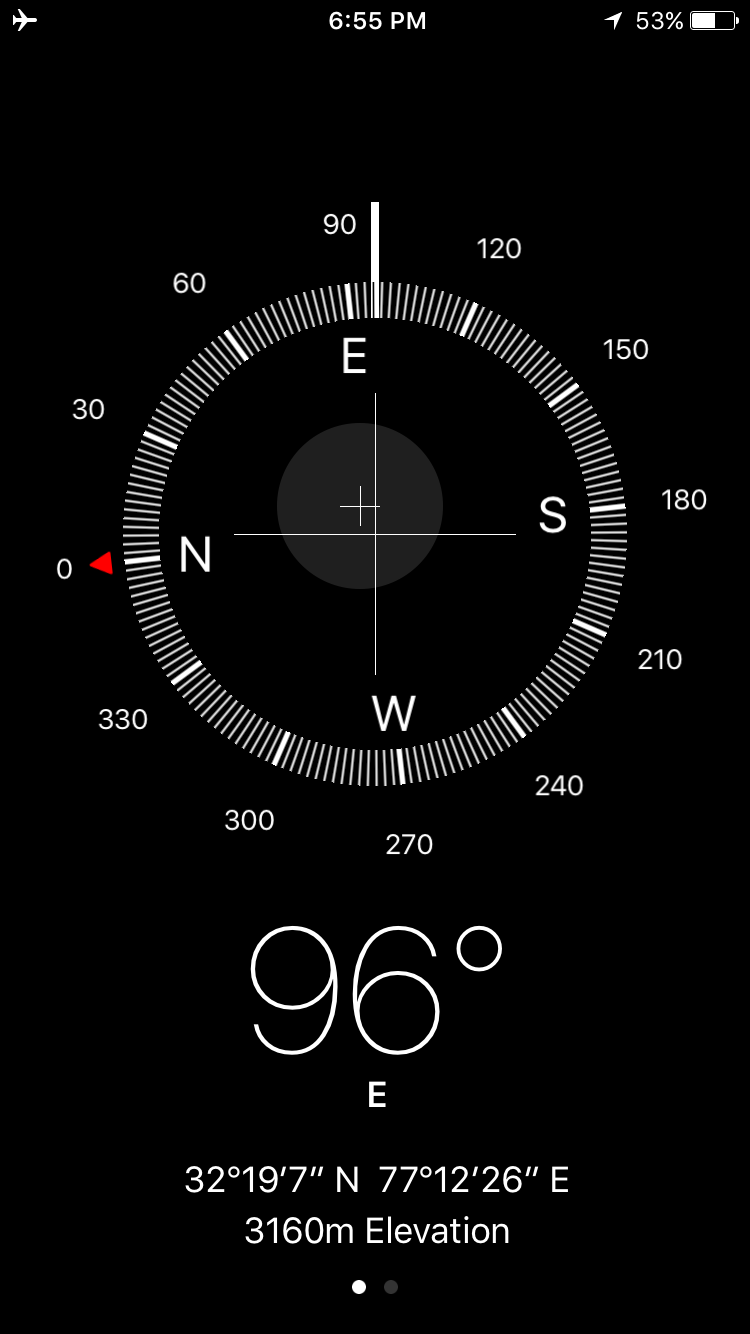 After pitching our respective tents, we divided responsibilities. Those who had no part in cooking would help with the washing/cleaning of utensils, assist in fetching water from a stream nearby or pick wood from forest or other combustibles (to be later used for Bonfire). No one can be a dead weight in such trips. You gotta contribute!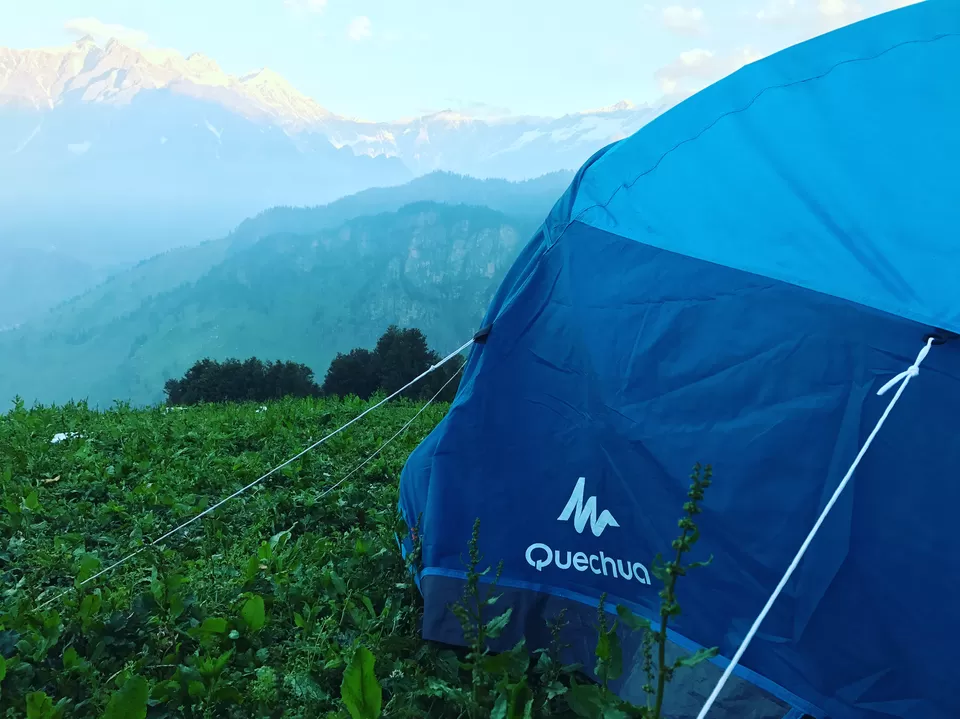 You'll find phone signal in "Chaudah Mod", even 2G (with Airtel)! So it's a great spot to call your peers, friends etc. to let them know you're alive and breathing! After this point it'll be pretty much BSNL running the show.
It was my parent's 29th Anniversary and they sent pictures on WhatsApp. Wished mom & dad, spoke to bro briefly. I sent a few pictures back to them knowing they won't be able to contact me for the next 2-3 days. It's best to set expectations family side when you're heading deeper in the mountains.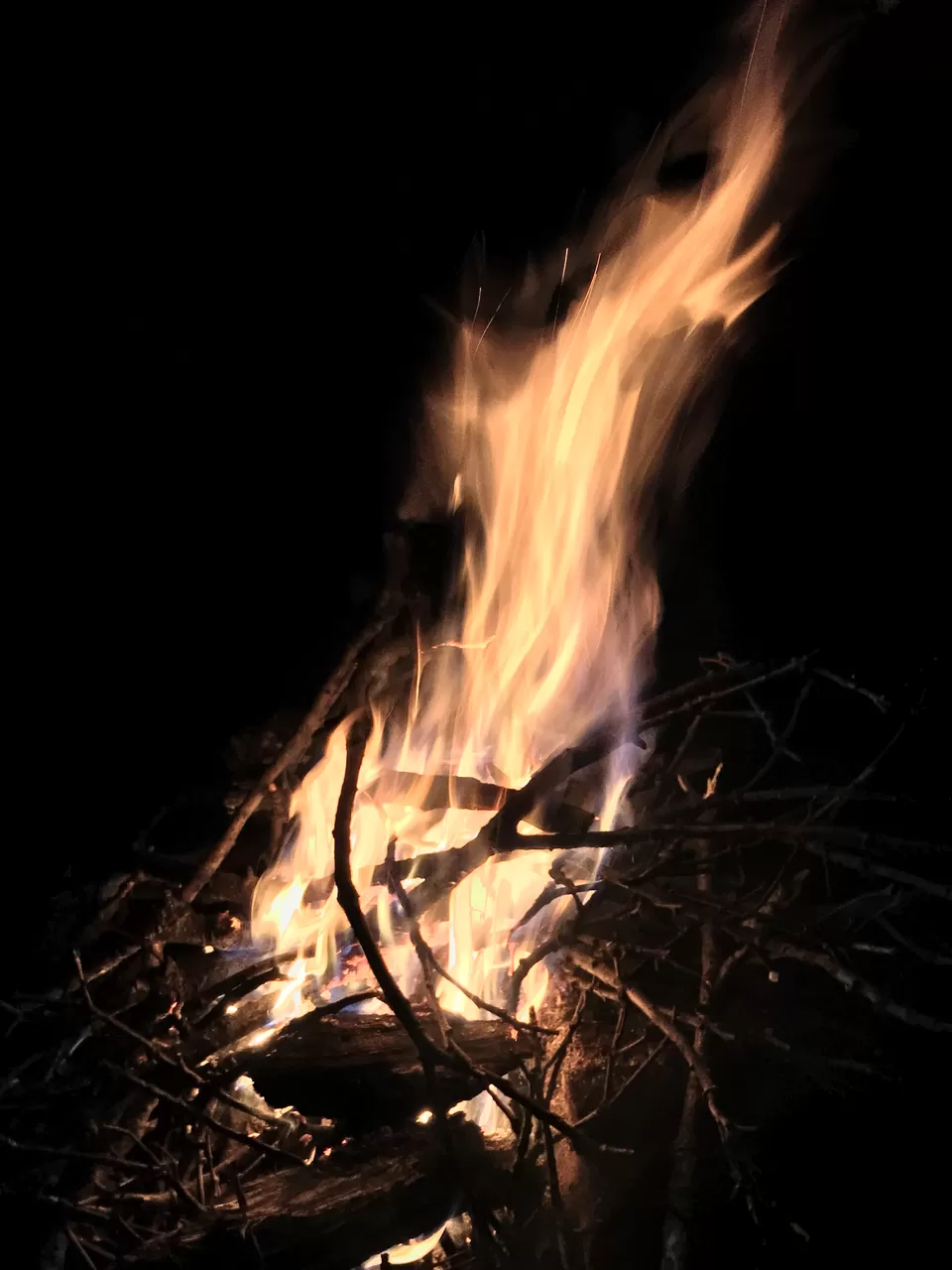 It took us a while to start the bonfire, but that was expected. Wood was piled on in large quantity but the kerosene wasn't enough or perhaps we weren't pouring it right. Somehow we managed to pull it off. We signaled our neighbors (other campers) via flashlights. Lot of hooting was going on but no one joined the other. I don't remember what I ate that night, but sure as hell recall the crazy dance we did with glow sticks. We weren't ourselves. Maybe it was the rum.
I guess around 3 AM mid-sleep, I started drifting in my tent! Gravity! I had to pull myself up along with my sleeping bag. I cursed the other campers (the organised ones, 100 feet away from us) for a split second, as they got to have the best part of the land & not us. I dozed off instantly because I was tired from the constant traveling. I needed to get a good night's sleep as a longer trekking was expected!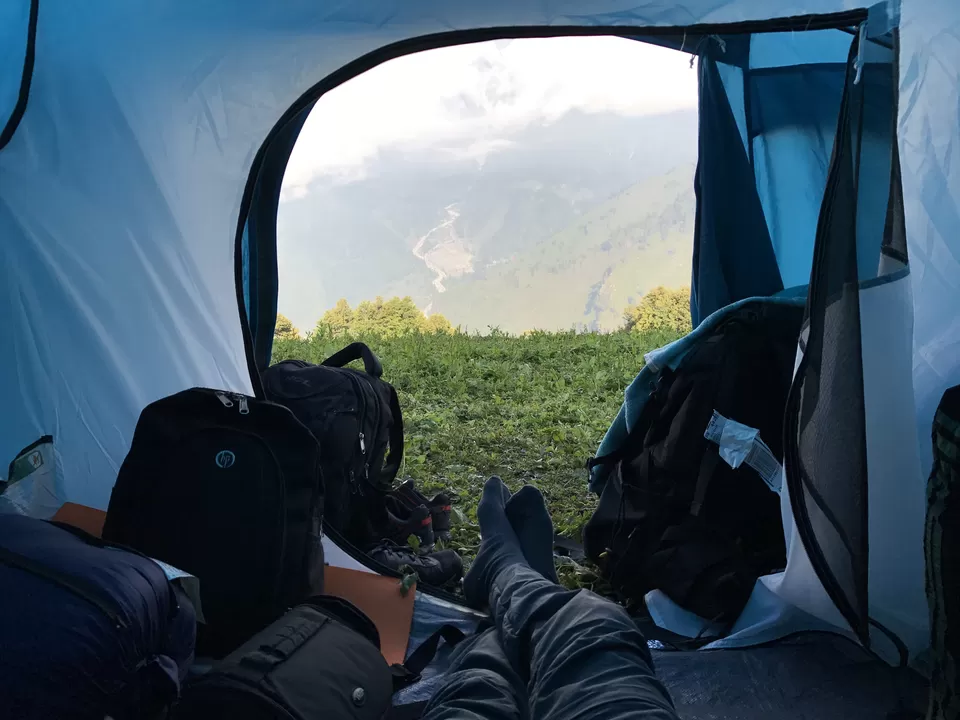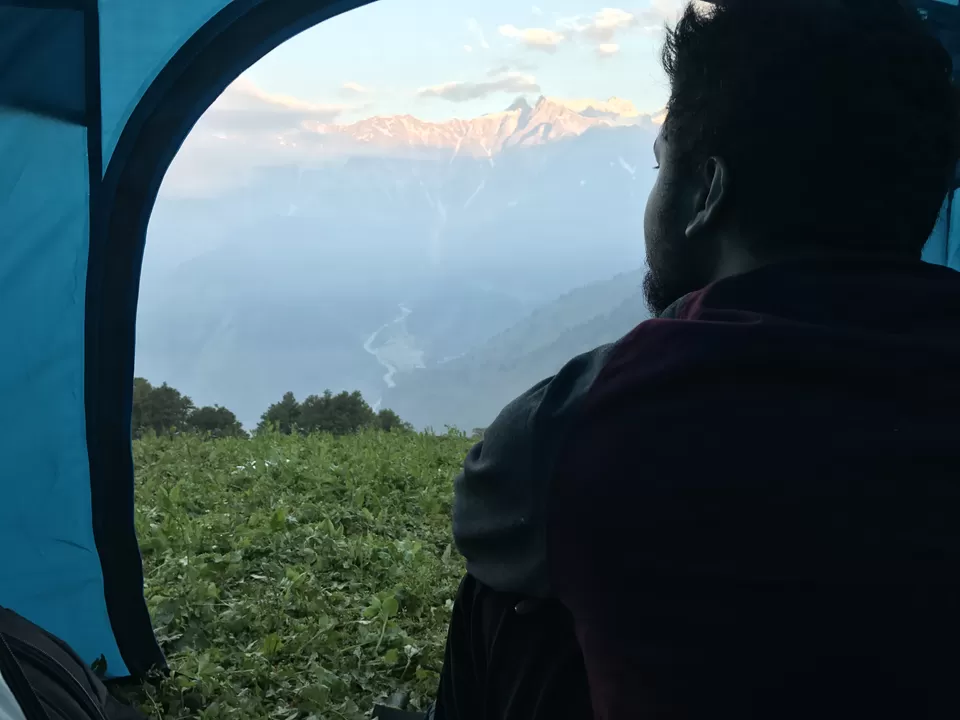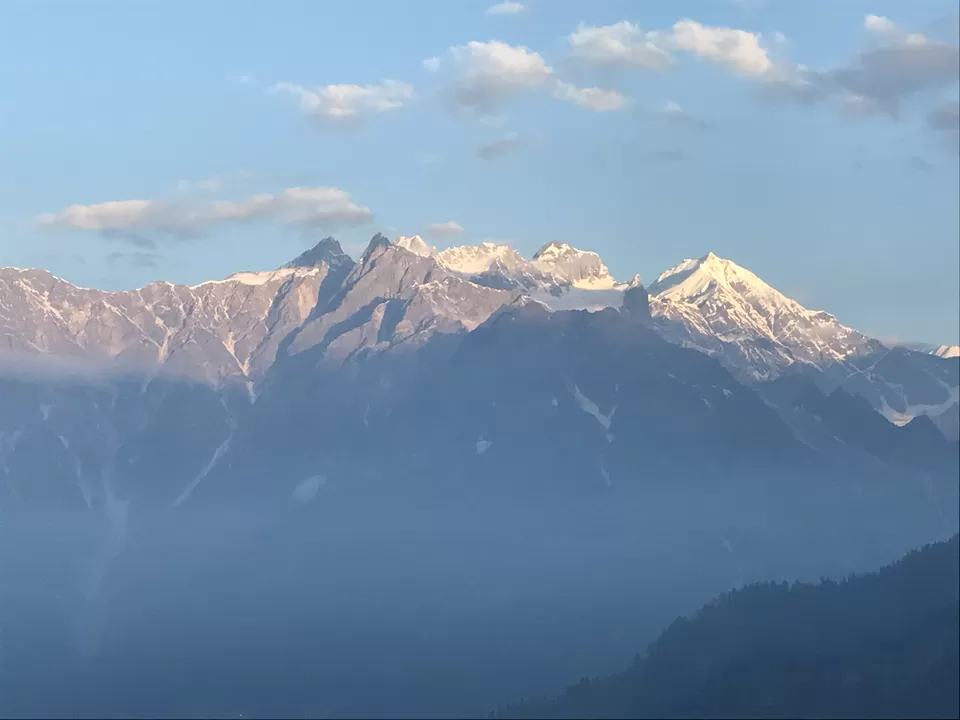 My thoughts were disturbed by the morning chatter.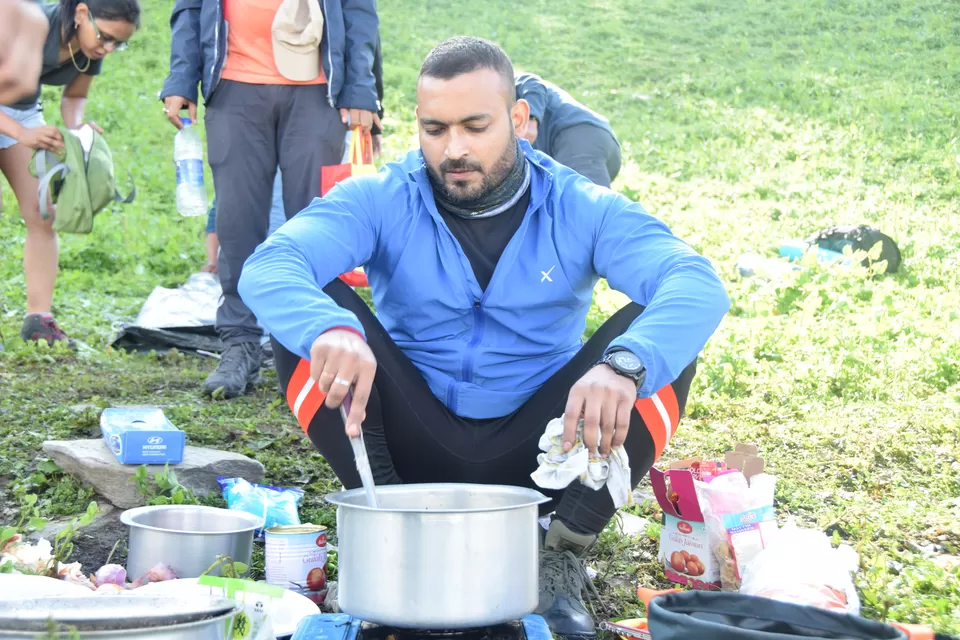 Woke up. Divesh & I wrestled the thought of pooping in the open. We finally gave in, lol.
Again, the organised campers had this facility at their disposal too (portables)! But we were getting the wilderness feel :D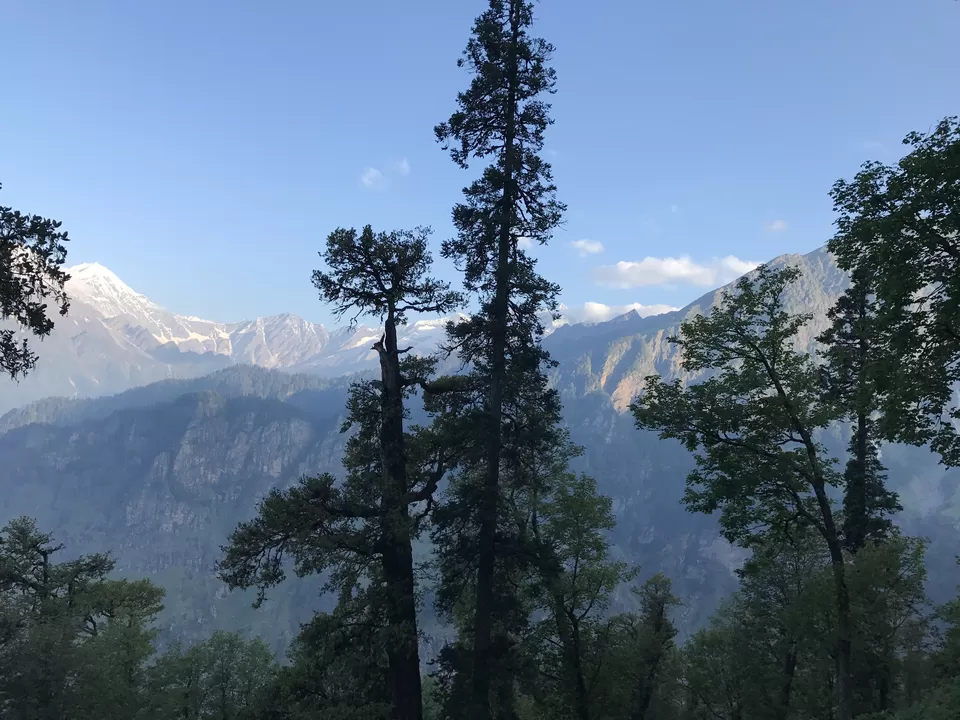 Trek from Chaudah Mod to Rola Khuli (Base Camp)
And so the journey began again. The porters follow a different route to Rola Khuli, so if you turn your head & find them missing, that's okay, don't freak out. They obviously have much better stamina and can climb up faster. If they continue next to you it'd give less space to you and the animal too & the trek would be congested. So it only makes sense. You might spot them on an adjacent hill, they'll meet you later at the camp site. People in the valleys are friendly and have nothing to gain by conning you. So relax.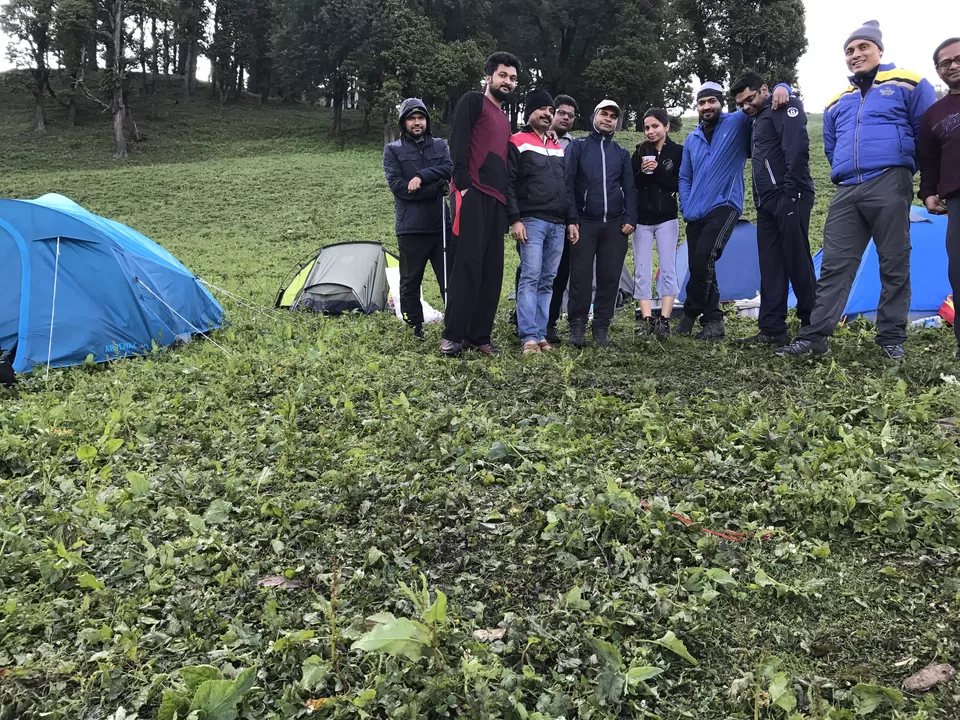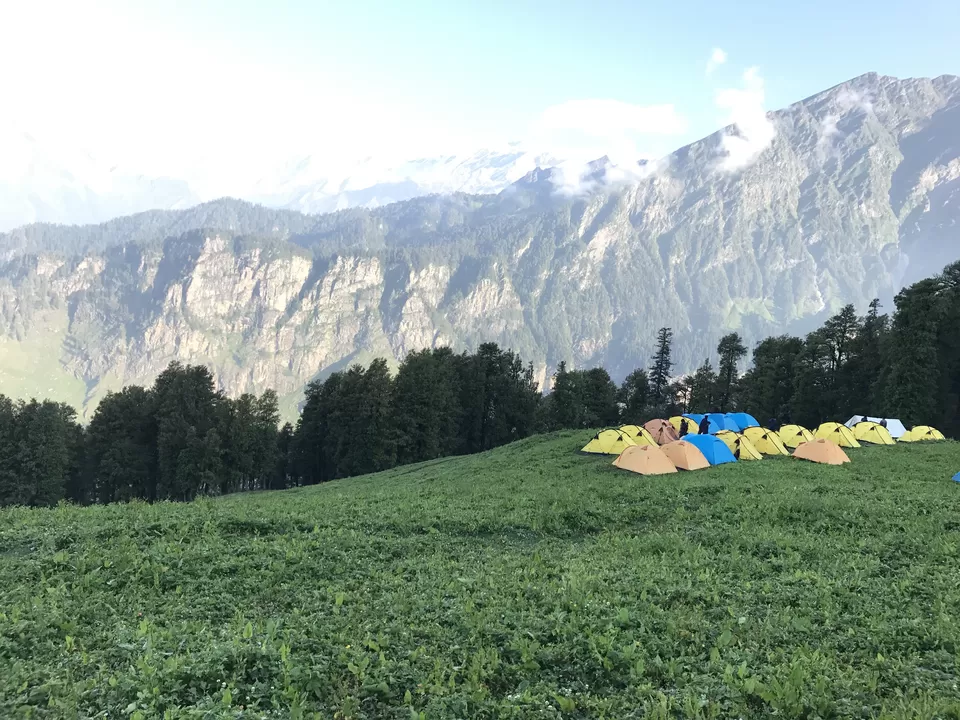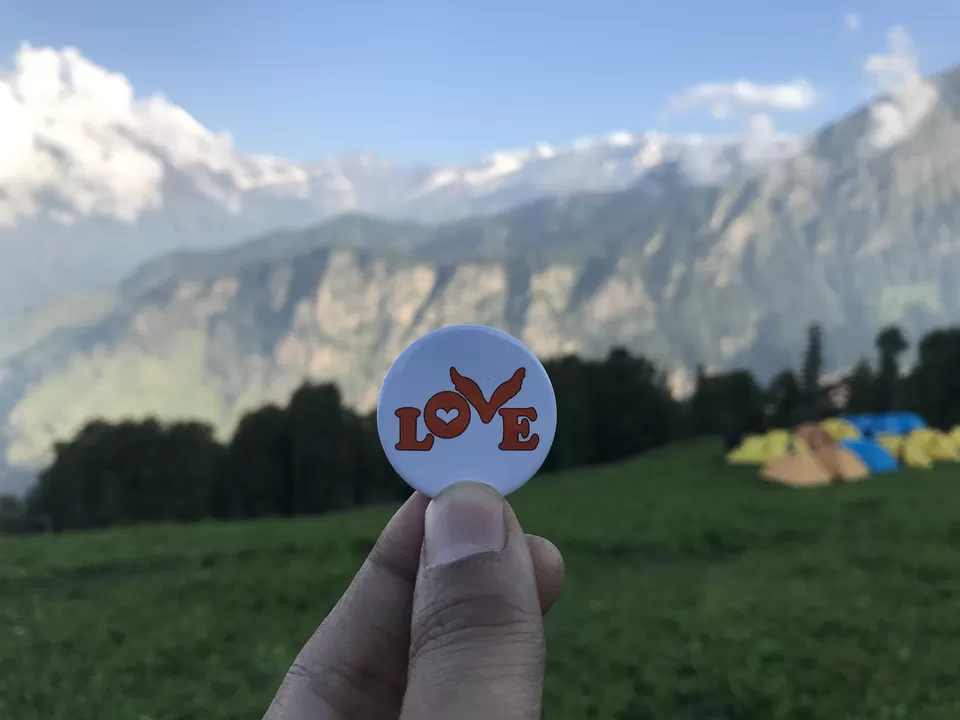 Shot time lapses, snapped pictures with the group, ate a light breakfast, packed water bottles & started our trek towards Rola Khuli (considered base camp for Bhrigu Trek). 4 KM from "Chaudah Mod". Crossed streams, saw stallions, an amazing feeling. We used to stop together, catch our breath & then start again.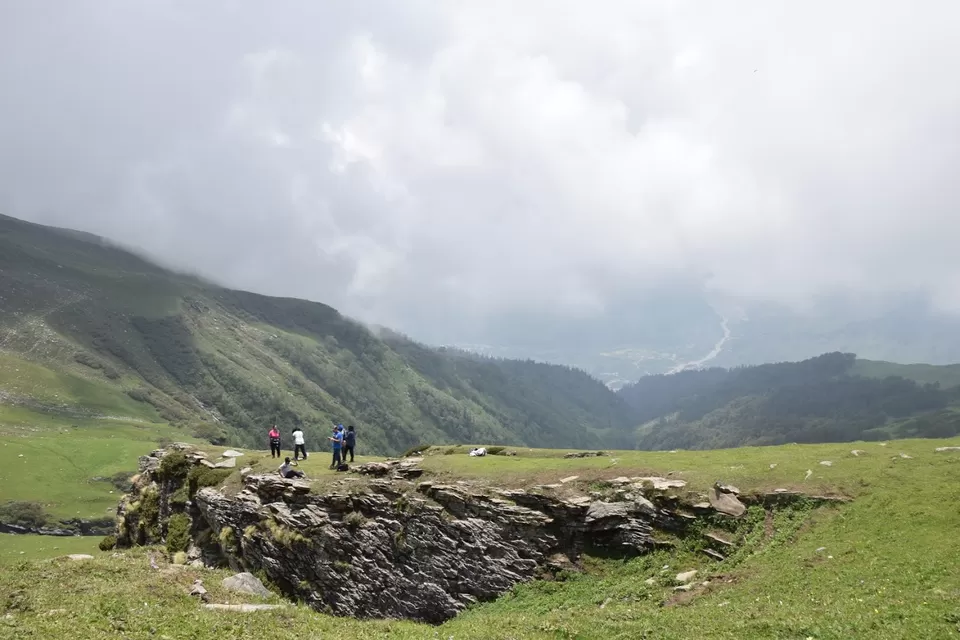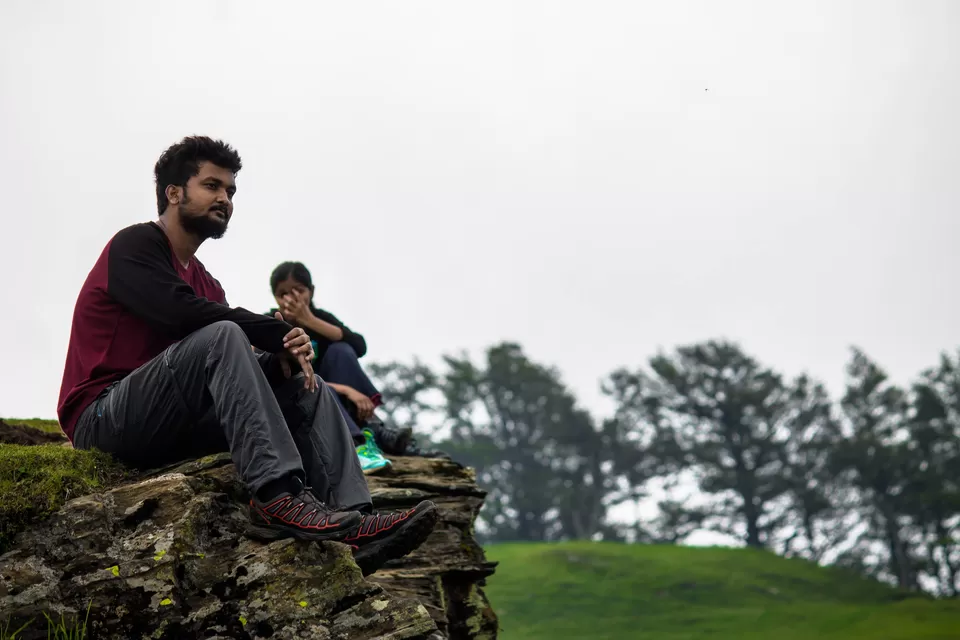 As I sat there, I thought, how did I reach here? What were the events which led to this? You try to put things into perspective & question the rights and wrongs of life. Your life. Something you could have done differently? Have you ever had a feeling when you've been here before? Like this moment, you've lived already. A déjà vu of sorts. I get that a lot. It's a necessary thing for me to get away from this madness. This is therapeutic & calms my senses. There are many things we see clearly in retrospect.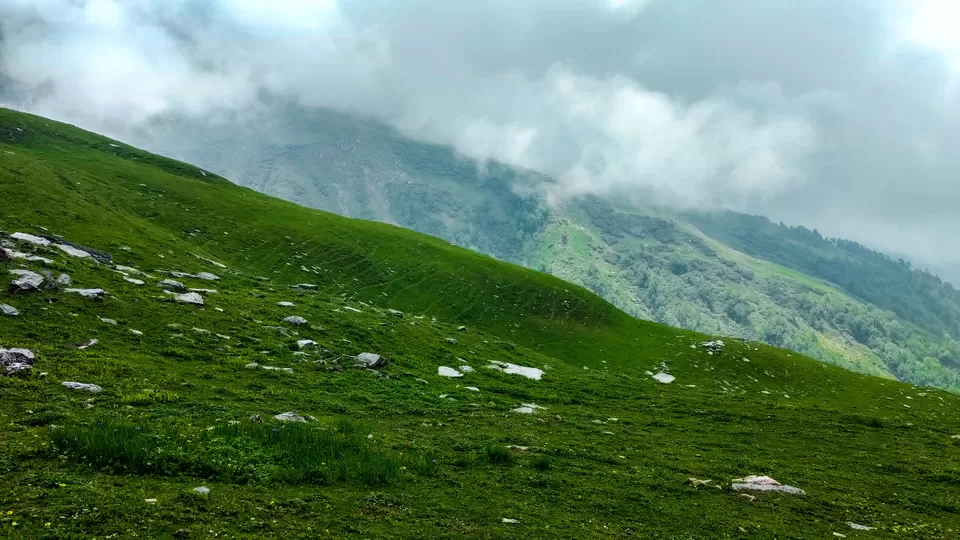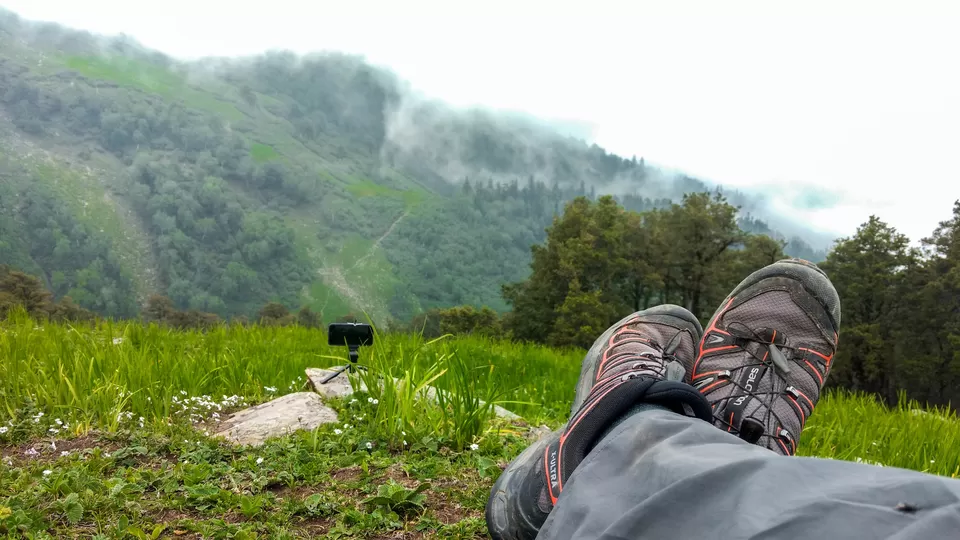 As you climb further up, people who are approaching you, greet and wish luck for the journey. Smiles are exchanged. You shoot queries like "How much further?" etc. Most responses are genuine, at other times you'll hear ridiculous answers. They are just playing with you. My advice: Don't ask and just concentrate on landing your next two steps properly. Look ahead, but mostly below.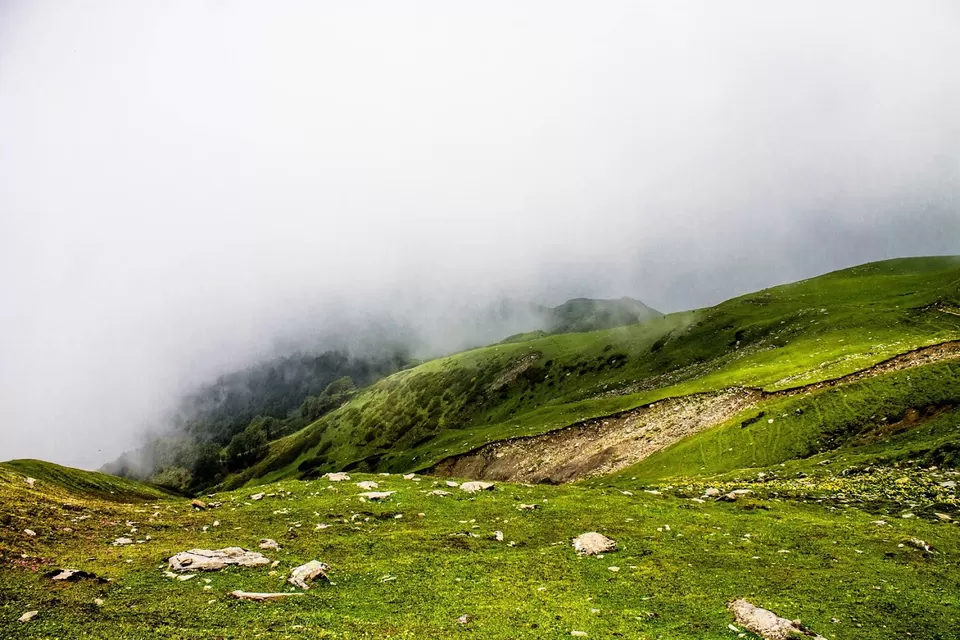 I trek at my own pace, which is slow, but I go longer distances. Trekking is not a race & there is no need to rush. You are here for yourself & not to play catch up. Take a break, gulp down water and move on when you think it's time. What's the hurry after all?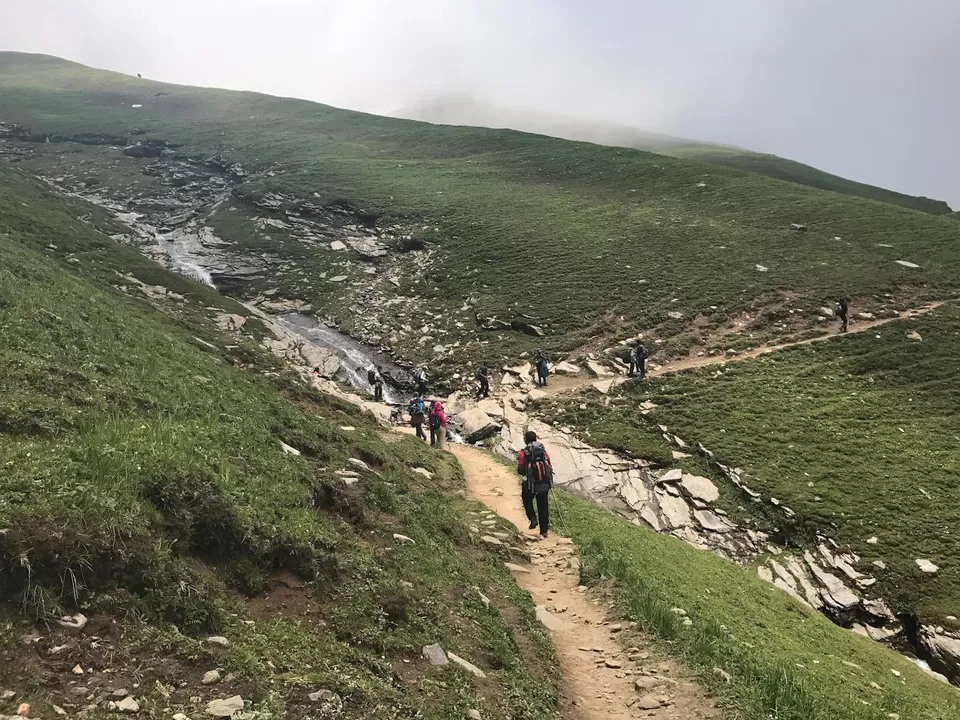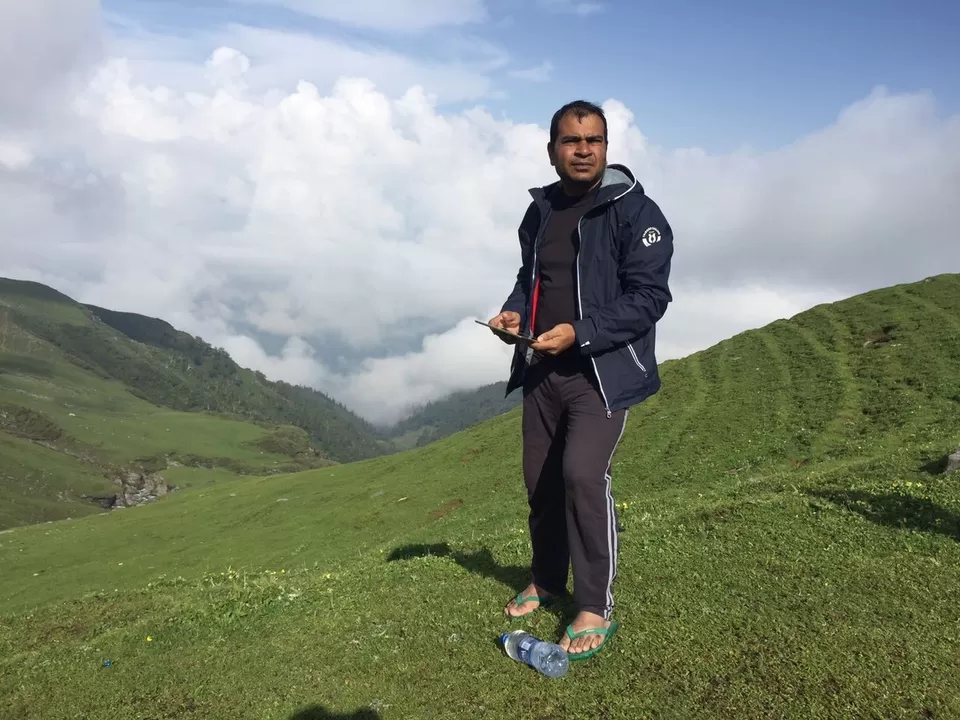 Someone confided in me while we were trekking. We've all dealt with, or are in the process of dealing with the hurts, insults etc constantly. It's like holding your breath deep under water. You try to hold on and on. But then, you start to choke. You are gasping for breath and like a volcano you erupt when you reach the surface.
It's not easy to open up to people you know already. The fear of being judged is always there. Besides, mostly it falls on deaf ears. Or if it doesn't, then you have exposed yourself. Your guard is down. Look around. Do you have peeps with whom you can share your demons? If not, well well, I hope you are strong or you trek ;)
The patient listener that I am, I ask to "let out" and then "let go" (the latter not the easier task). Perhaps the thoughts were weighing this person down more than the bag-pack. Time is the greatest healer.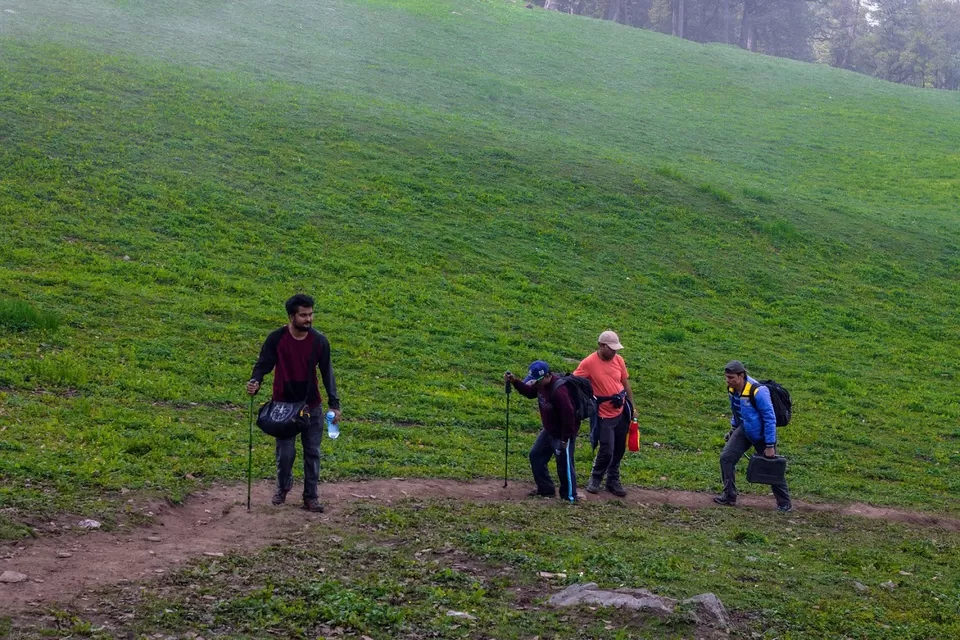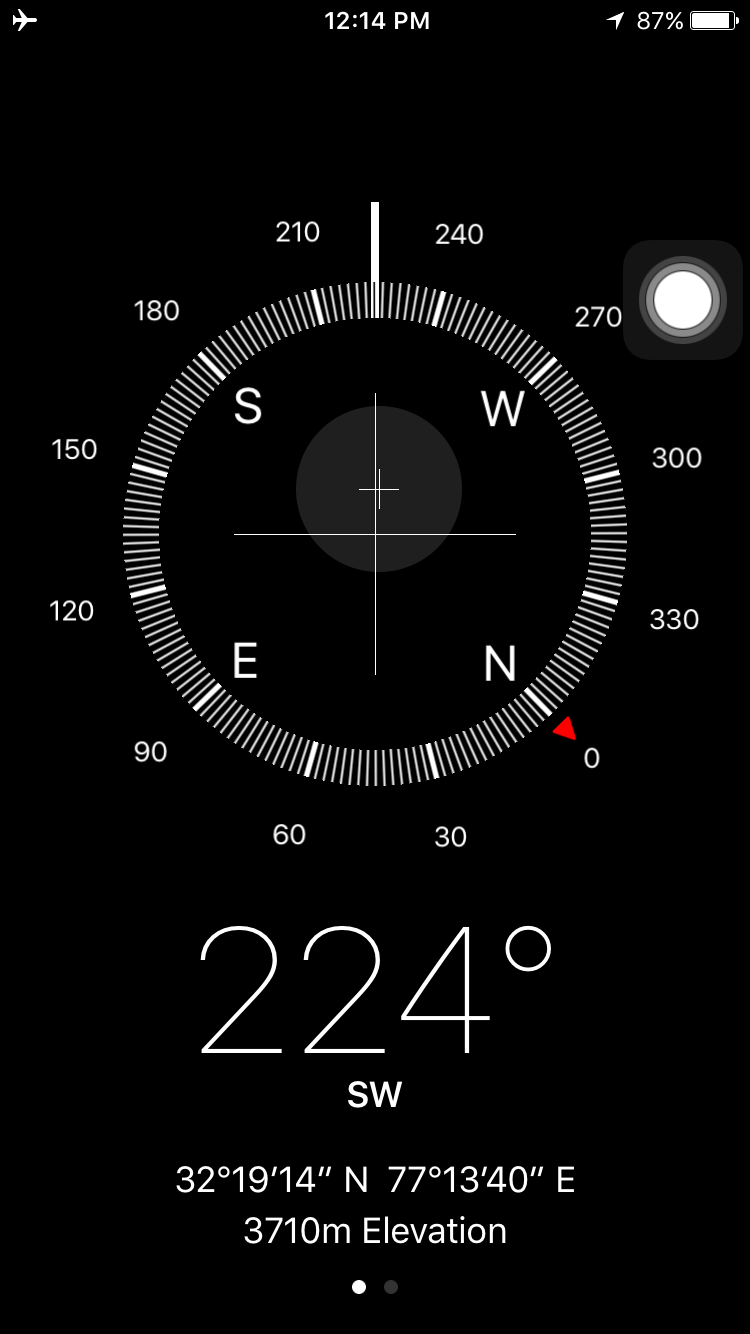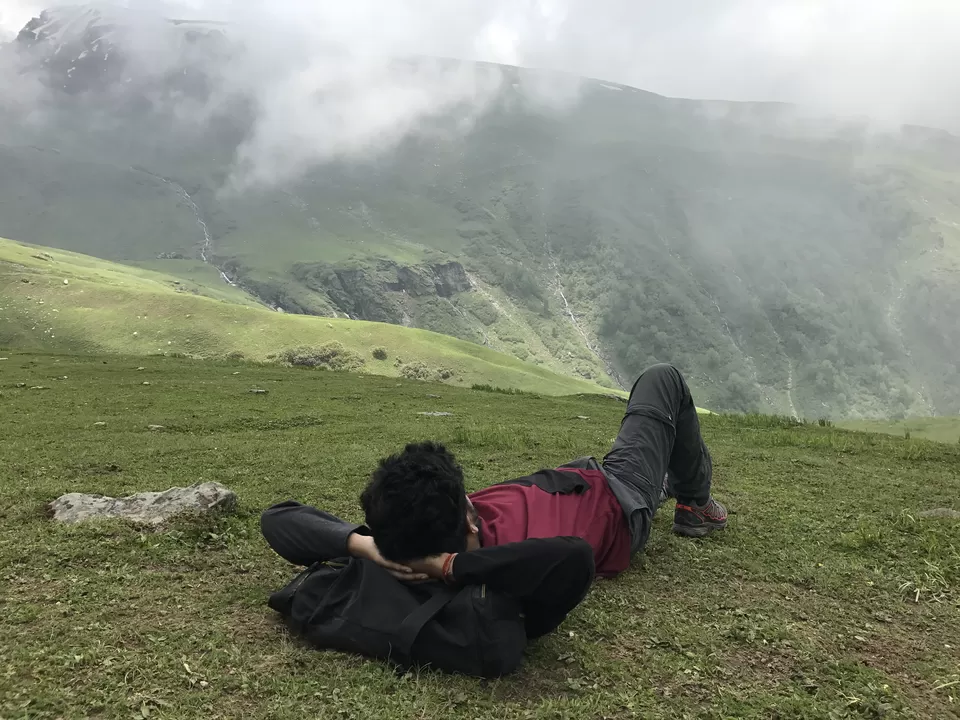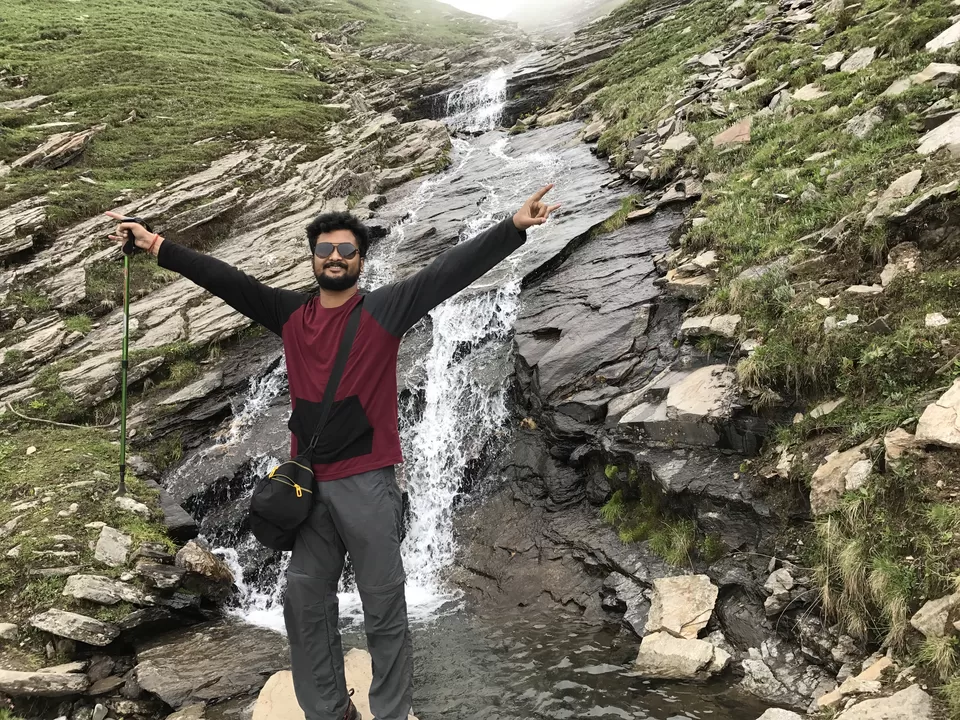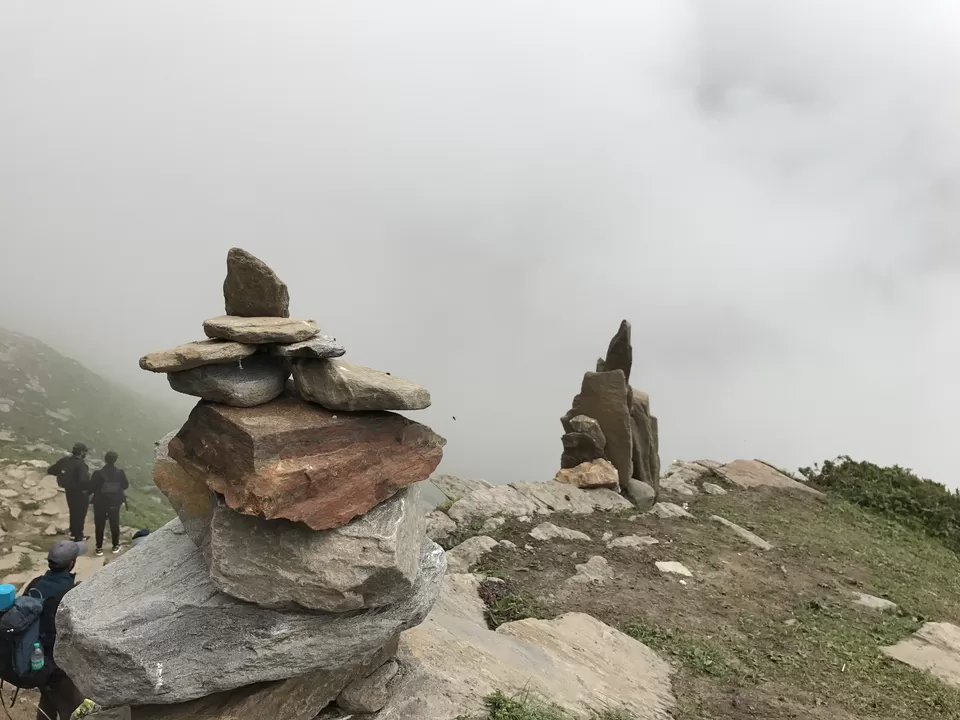 I reached Rola Khuli at 1:37 PM. We planned to stop only for lunch (i.e. if you call Maggi + Chai to be lunch) as we couldn't afford a night stay here, since that would affect the timeline we were supposed to stick to. This meant that while other trekkers would, halt, rest and start the next morning, we would proceed further more, today itself. I'm not a guy who complains a lot, especially in the food department. I eat to live, not the opposite. So I was happy as long as I could stand on my able legs. Besides, nobody wants to stuff themselves before a trek. I wished I had stocked a few energy bars though. Nonetheless, we consumed what we could, cookies, Maggi or dry fruits and moved on.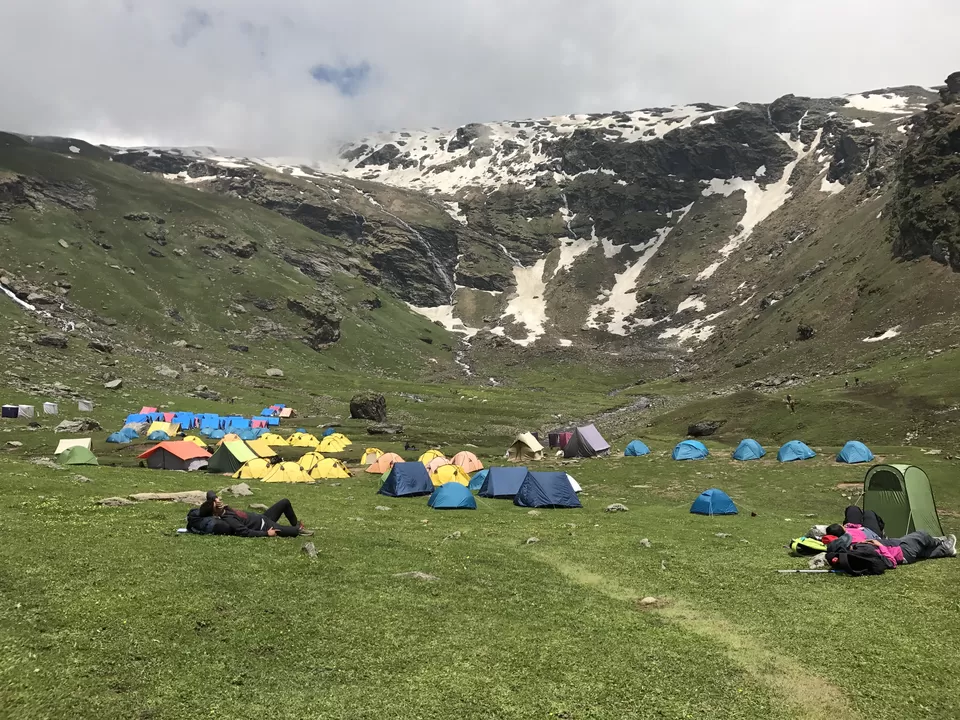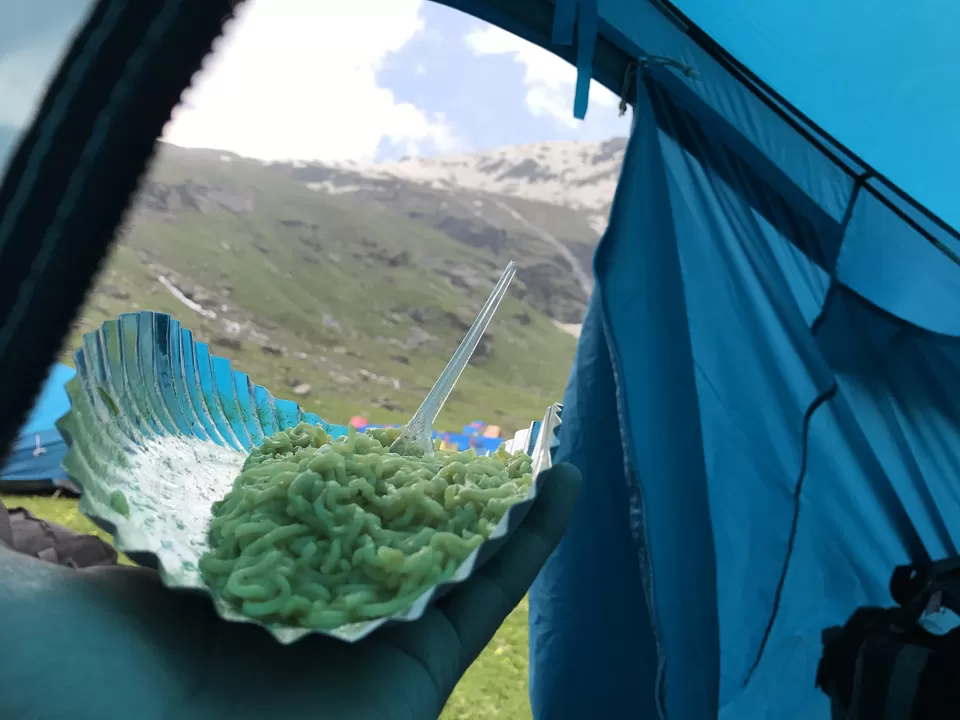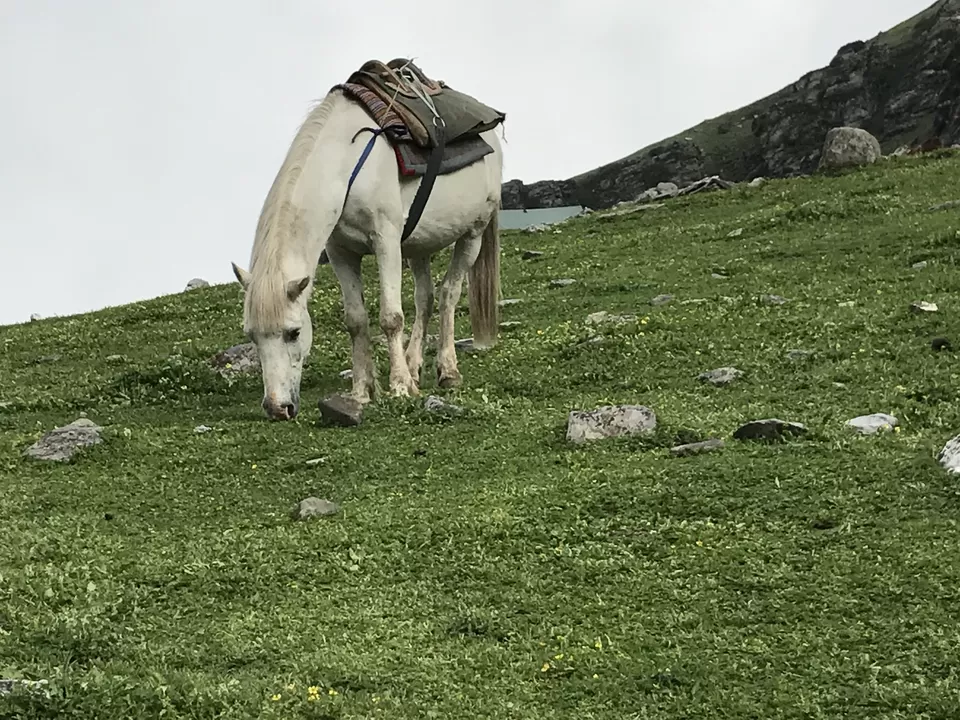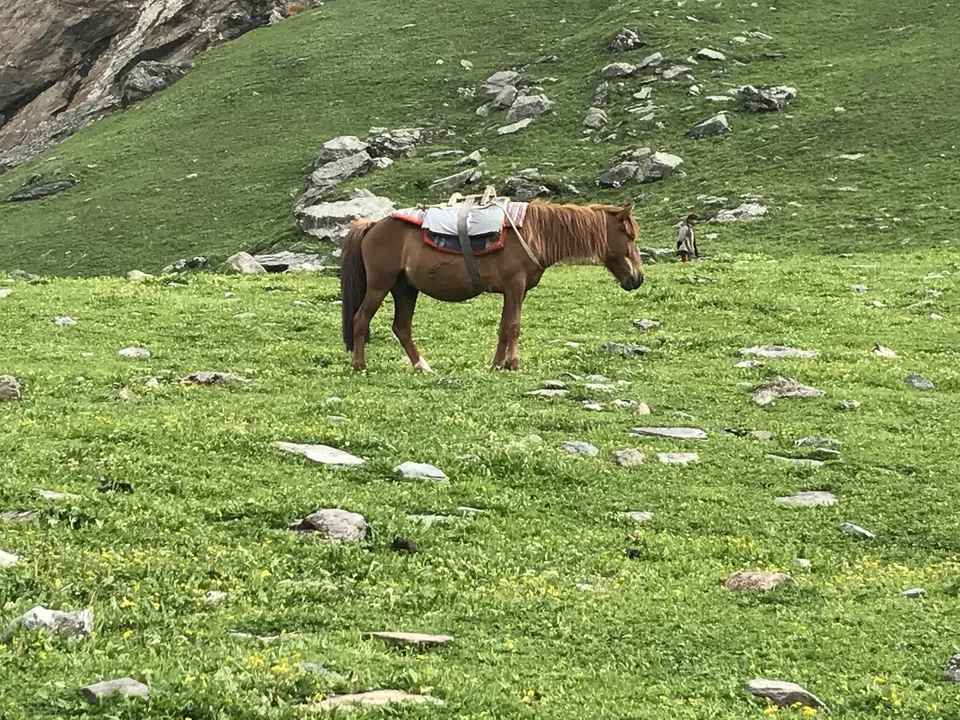 Our guide was shocked to know that we'd proceed to Bhrigu Lake on the same day!! We started from "Chaudah Mod" at 9 AM & reached Rola Khuli (base camp) at around 1:30 PM. It was a steep climb at first but it evened out later. We then started our march at around 3 pm from Rola Khuli. The initial climb was pretty steep and many would start questioning the guide, if this is how the rest of the trek is.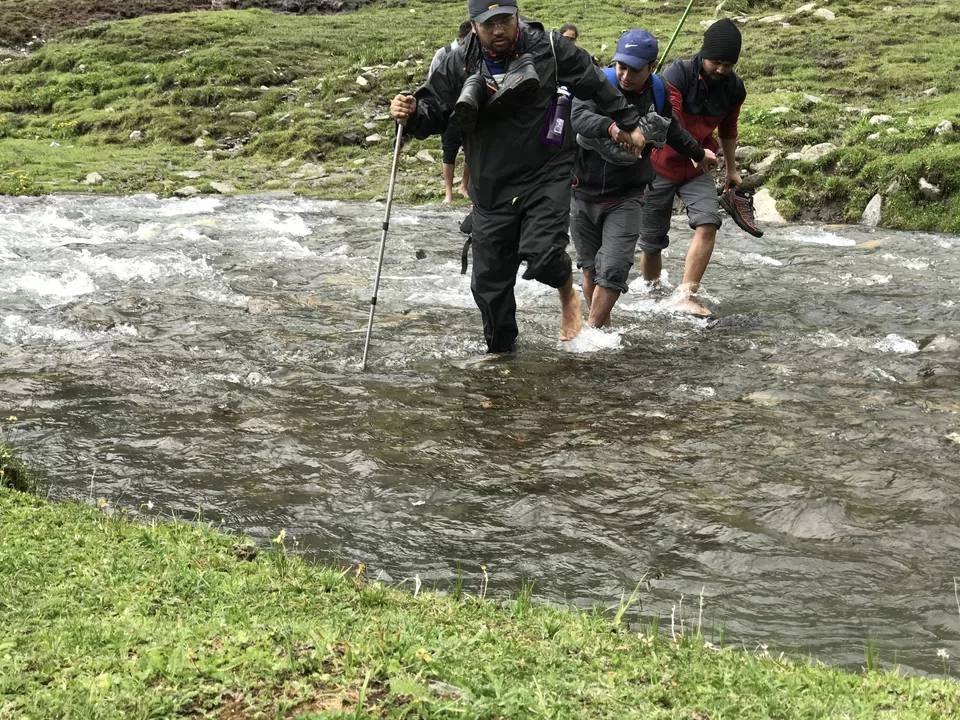 By 5:30 PM some of us backed out. There was a 5 minute discussion about it. Problem was, we would've to return at night. Nobody was climbing up anymore. Those who were coming down, deemed us crazy for going up this late. Our guide asked us to have faith in him.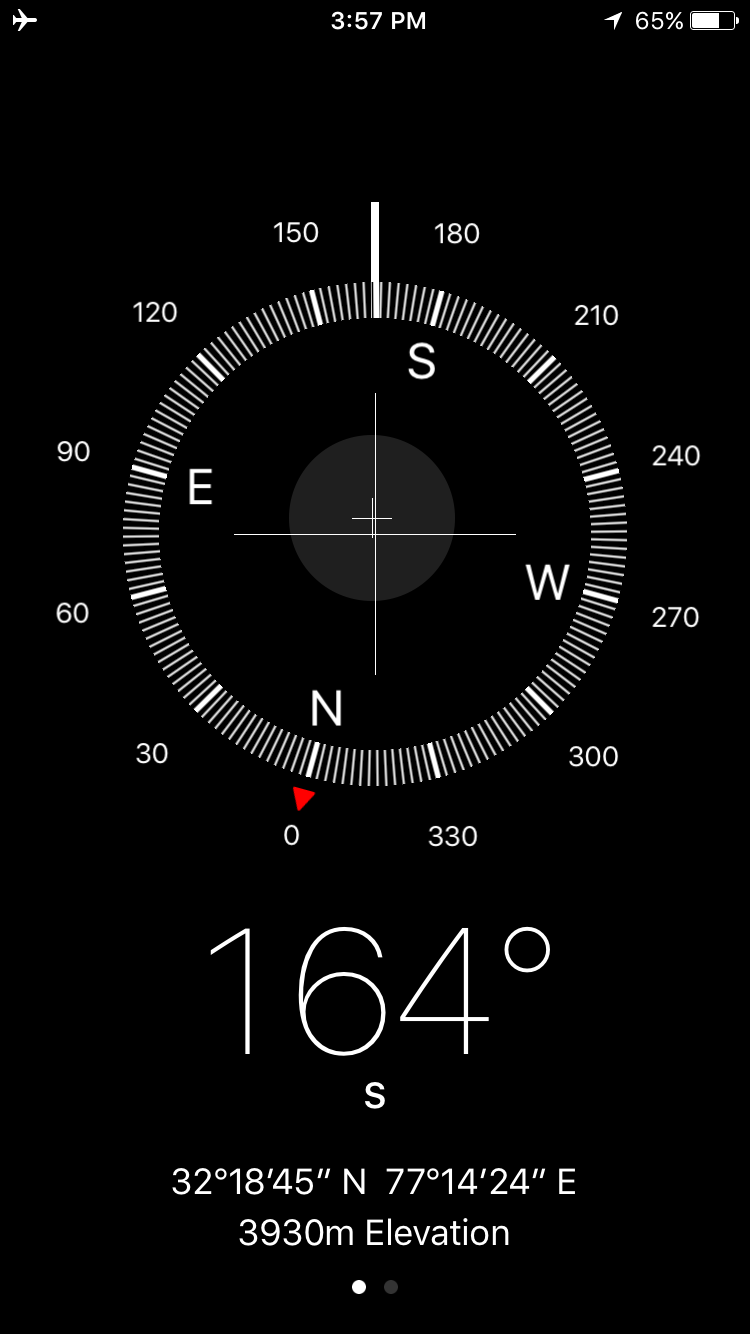 But "When one domino falls, other dominoes fall".
There were people who had second thoughts about the next leg of our trek. After a few minutes of discussion on the snow line, a few more decided to head back. Divesh also decided to return to the base camp. Here's the funny (and scary at the same time) part, in his backpack were my waterproof gloves, cap & water bottle. I forgot to take all this from him & by the time I realized, it was too late. Yikes!!.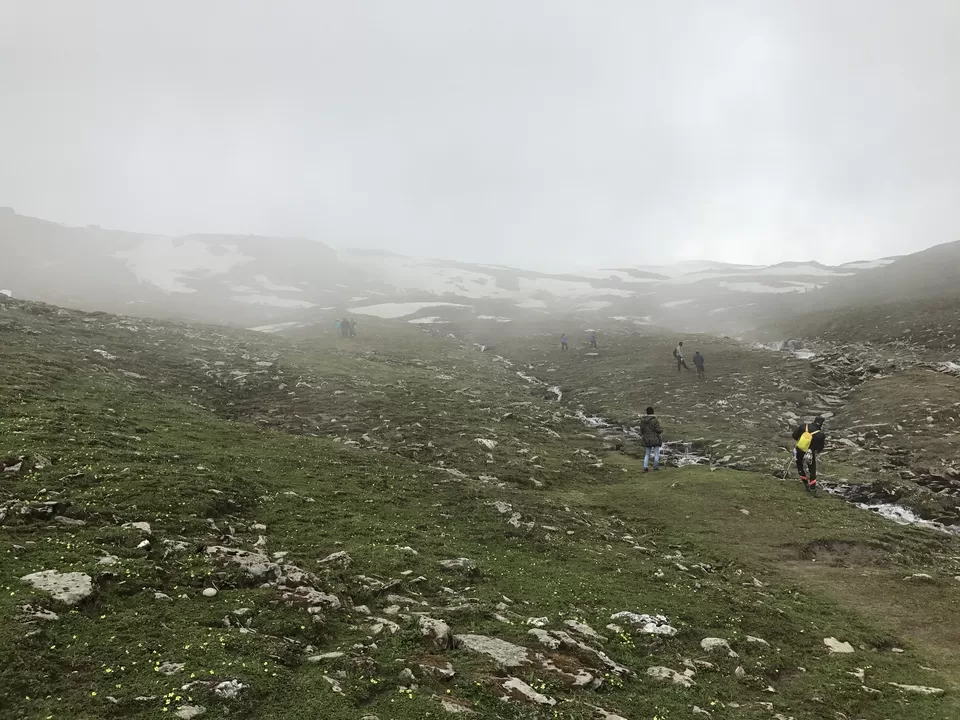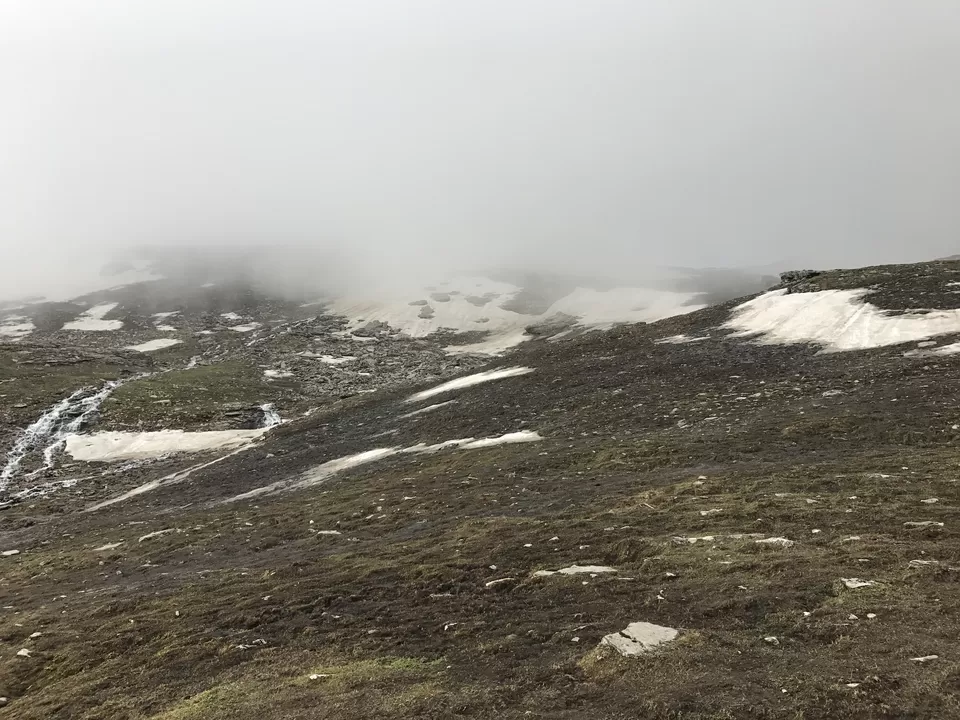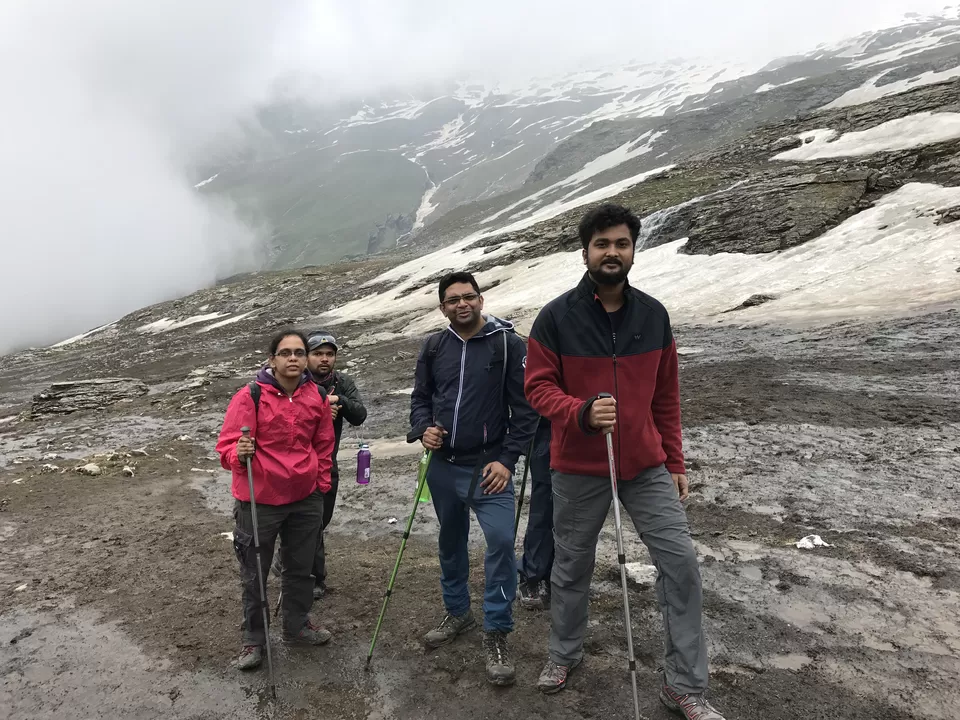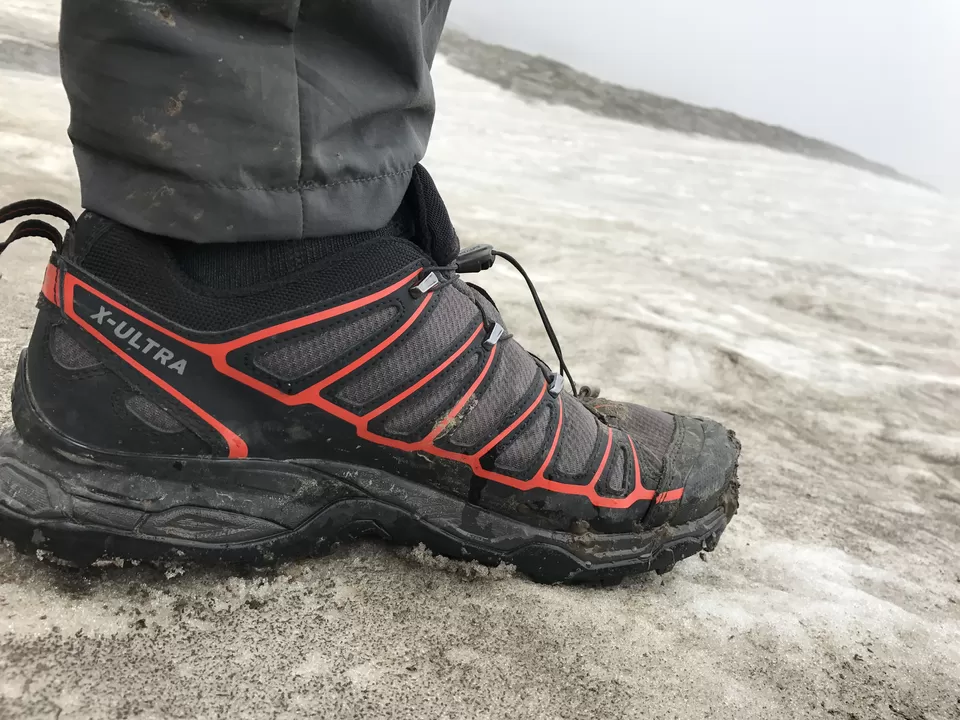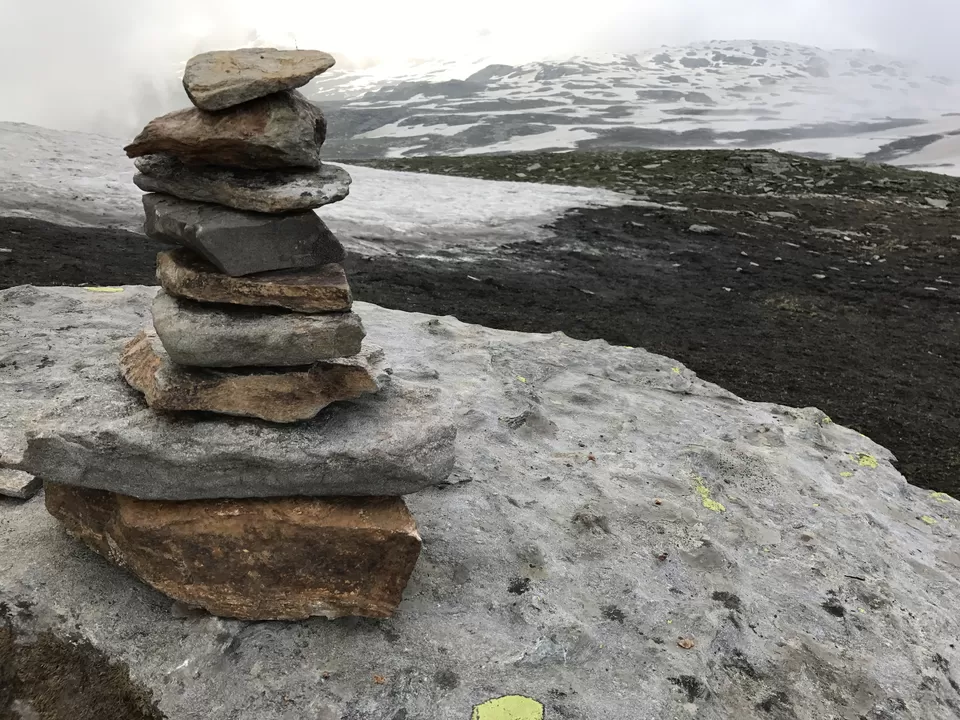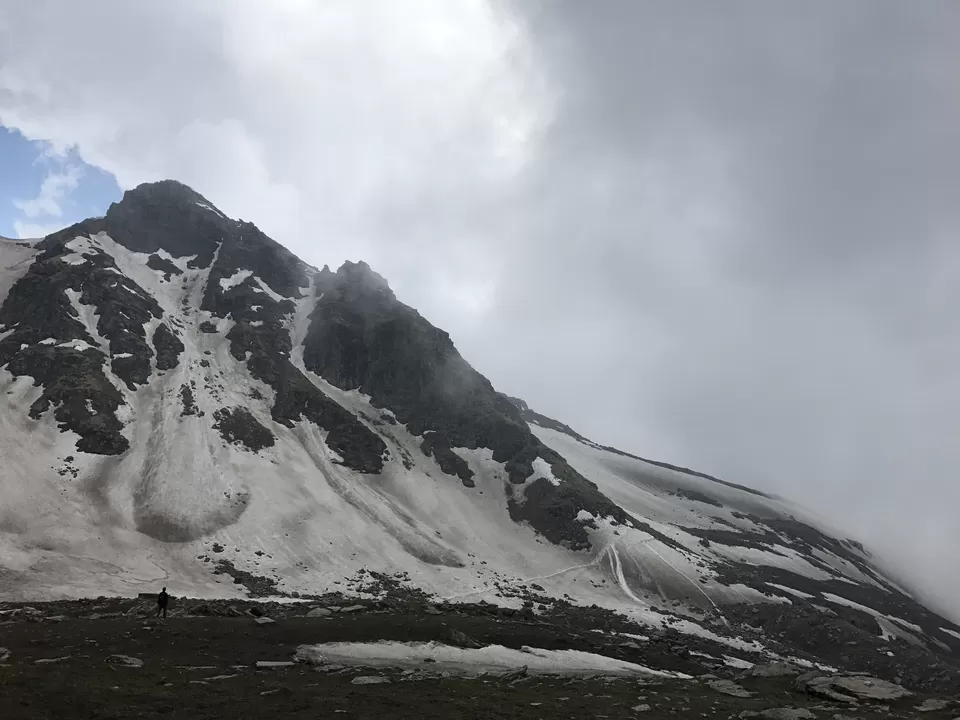 Ultimately 8/15 proceeded towards the snow clad mountains. Someone gave me a left hand glove. We didn't expect this much snow in late June & were amazed by the views we got to see. I almost felt bad for the people who backed out. But it is what it is. You can't push people. You shouldn't try to bring them out of their comfort zone. Slowly and steadily, placing our foot on the already made footprints of trekkers who went before us, we progressed.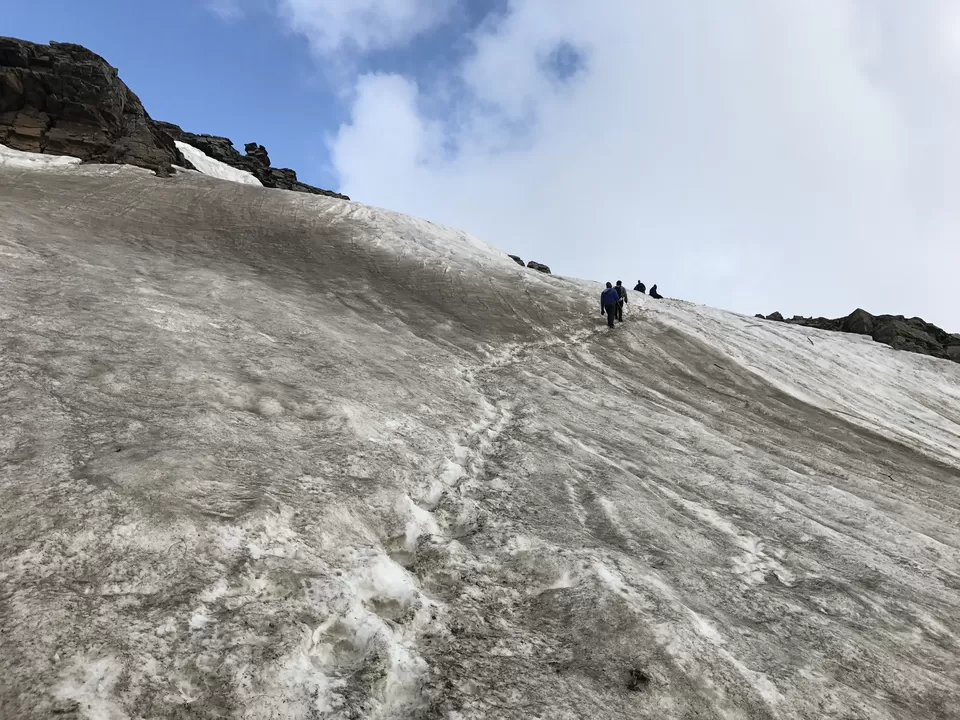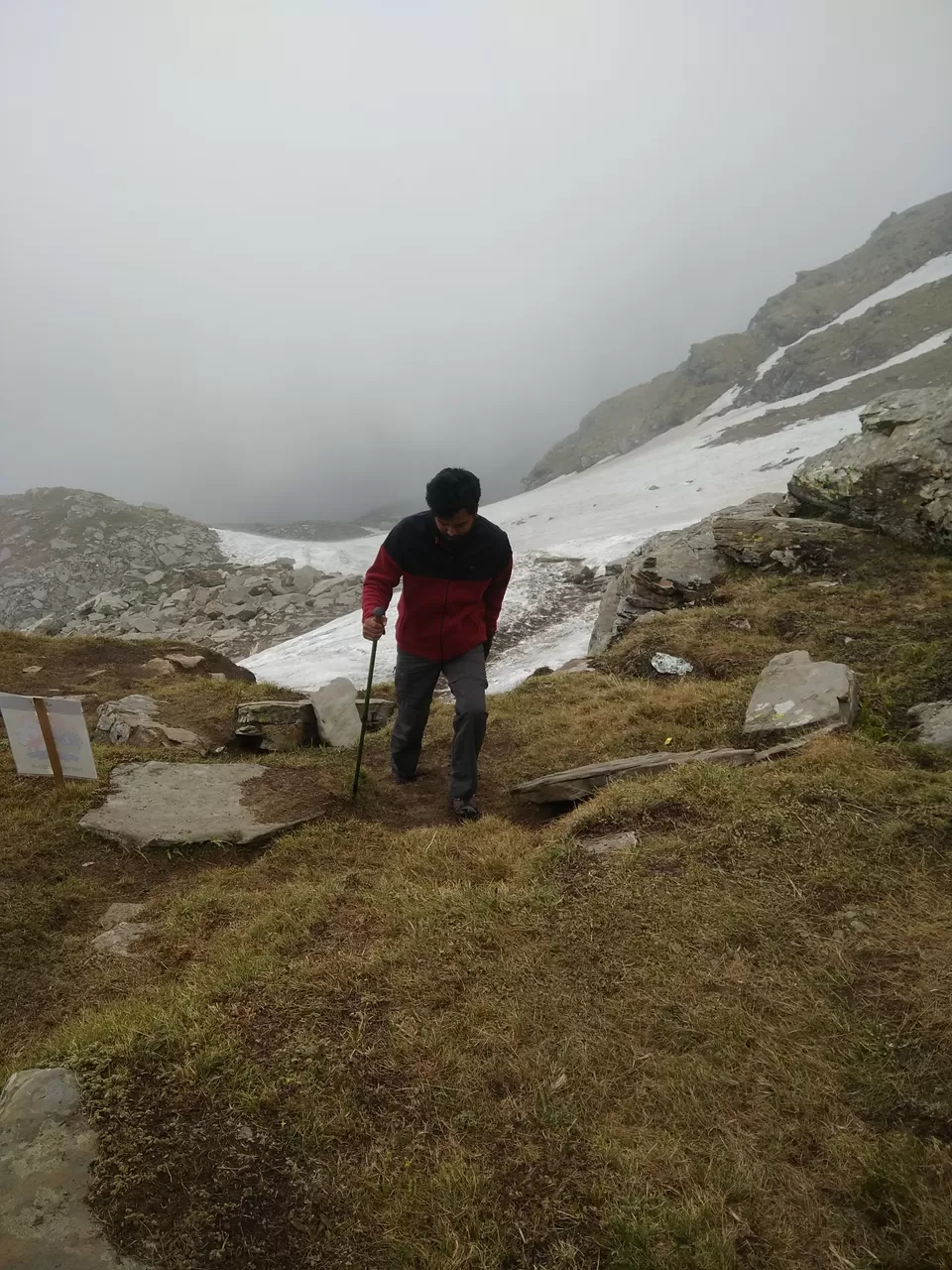 I remember someone said at one point, that I wouldn't be able to make it till the Lake & that they were amazed to see that the one who was usually lagging behind managed to complete the trek and back. Trekking is not a race I tell you. Do it at your own pace, don't let anyone bring you down.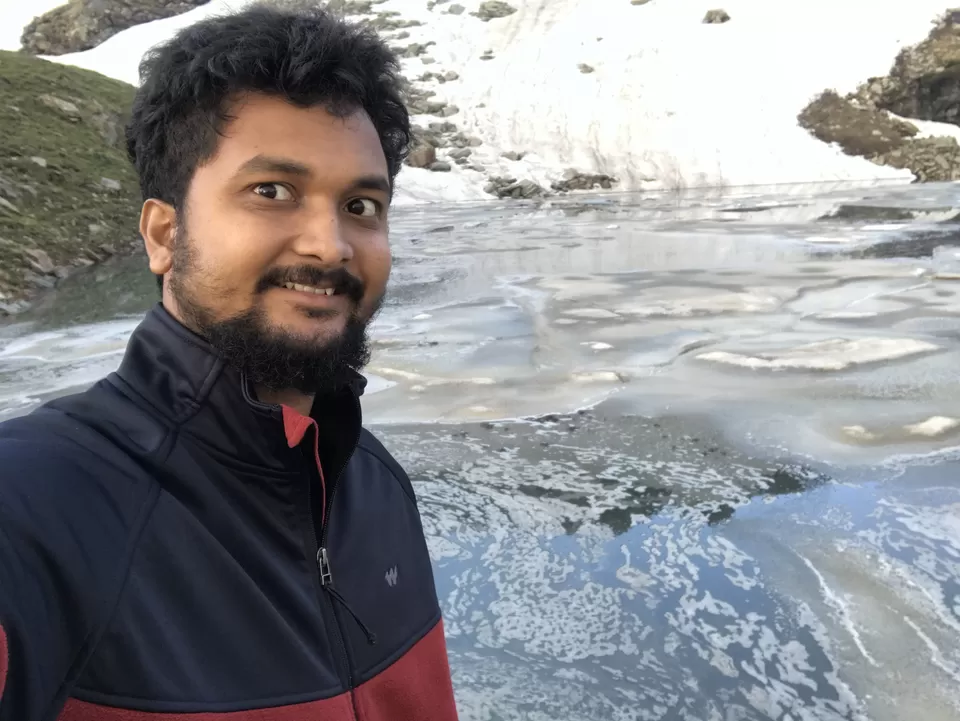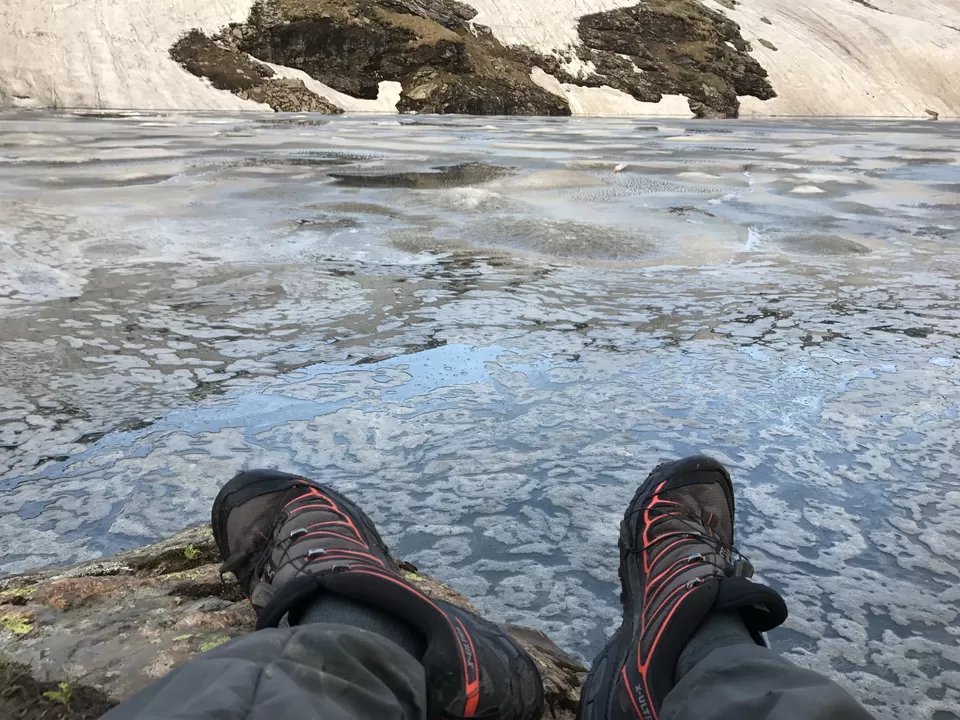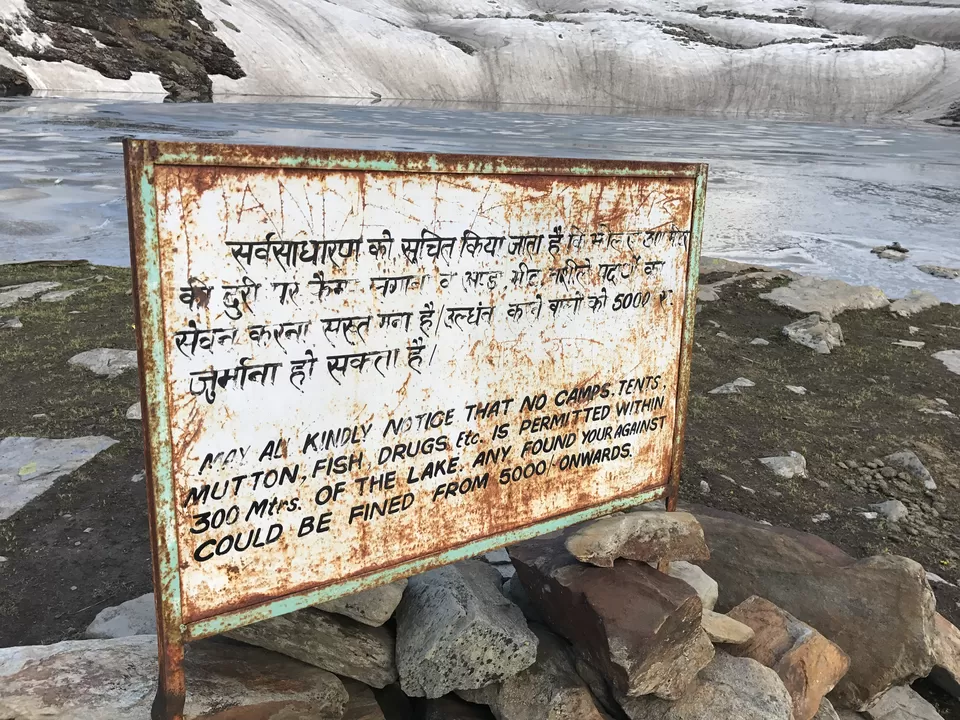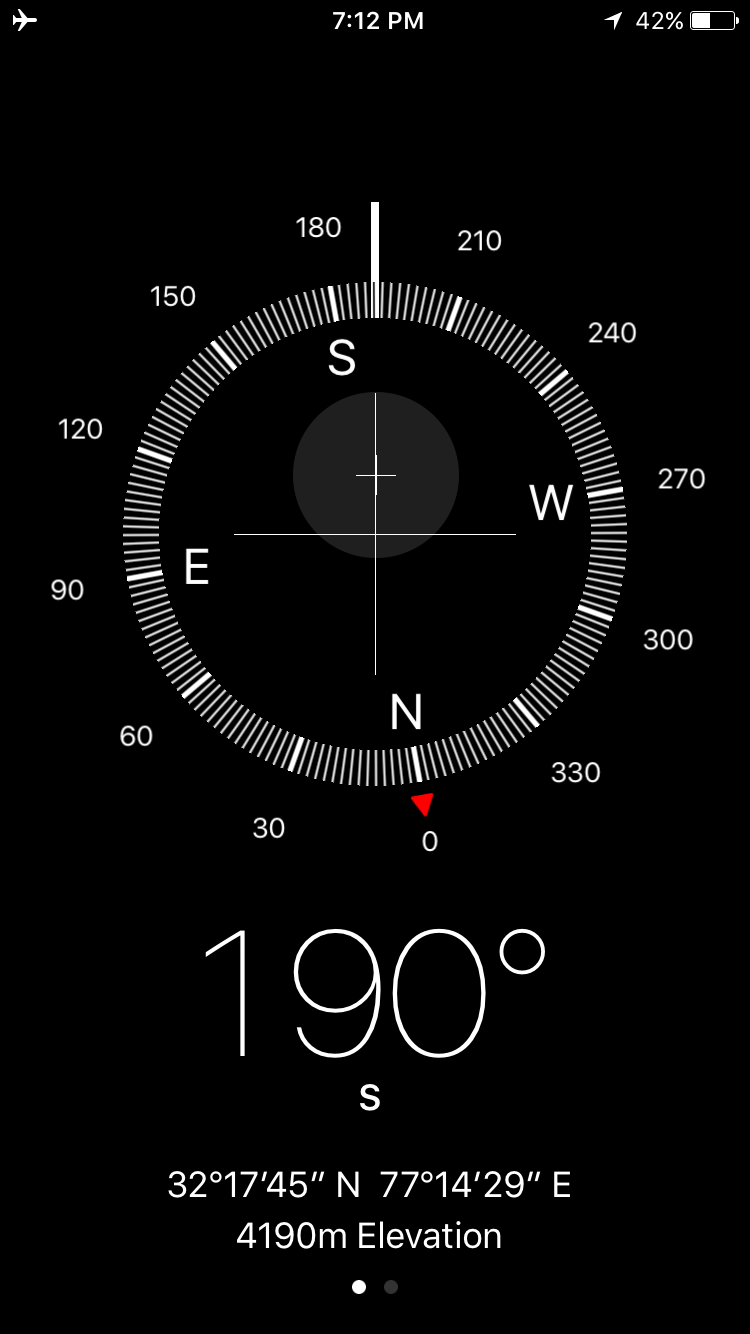 Made a few montages for my friends, family & also managed to take a 360 Degree Panorama of the lake with the backdrop of the snow clad mountains.
While descending, our guide diverted from the trek & asked us to slide down on snow. We thought he was crazy until he gave us a quick demo. His motive & pretty brilliant too, was to save daylight. I didn't realise that this little advise was going to be the best part of my trip (damn adventurous!! Do check out the YouTube video of it). Braced myself & let gravity do its job. Had to brake hard with my ankles to stop. What an adrenaline rush! You'd wish to descend all the way down sliding! But you have to climb huge rocks and cross small streams as well. My trek pants were wet & snow had entered my shoe. The shoe was 100% waterproof (Salomon GTX X-Ultra) but snow had entered & now soon I started to shiver a little as temperature had dropped as well. I had a bad headache at this point.
With wet clothes/feet, one hand bare, no cap & just a fleece line jacket, I realised this wasn't going to be easy. Started getting bad thoughts about having to spend the night in the valley or if we needed rescuing. Sometimes we would just slip, at other times one leg would just go down a pit you thought wasn't there. A girl's condition got worse & we had to take short breaks so that she could get back up on her feet. I think she probably threw up. Even our guide was doubting at times if we were going the correct way or not. There was no sense of direction. Nausea struck again but I fought it hard with will power & brushed the negative thoughts aside. The adventure was getting the better of all of us.
We were trekking back at night with help of flashlights & cell phones. A risky affair. We literally took baby steps most of the way. Around 10 PM we saw individual sources of light in the distance, as if the stars had come down on the horizon. Seeing the base camp brought back everyone's confidence! The lights were coming from hundreds of tents. We signaled from our flashlights & even got a response! I remembered the lyrics "Lights will guide you home" from Coldplay's hit song "Fix You". It was a blissful sight, but there was one more obstacle.
The innocent looking glacial stream we crossed while starting our trek from Rola Khuli had turned demonic in the night. Barefoot, holding hands firmly we overcame this too. I think that definitely gave me mild fever. (Swallowed a pill later)
Spine chilling experience!
Reached Rola Khuli (Base Camp) at around 11 pm amidst applauds of our camp mates. We were greeted with Rum & Dinner. Even had Gulab Jamuns! Bless the person who brought it! Our guide said, what we've achieved is remarkable, even by his standards. No one completes Bhrigu Trek in 2 days. Almost 13 km of trekking without rest or acclimatization! An adventurous tale to tell.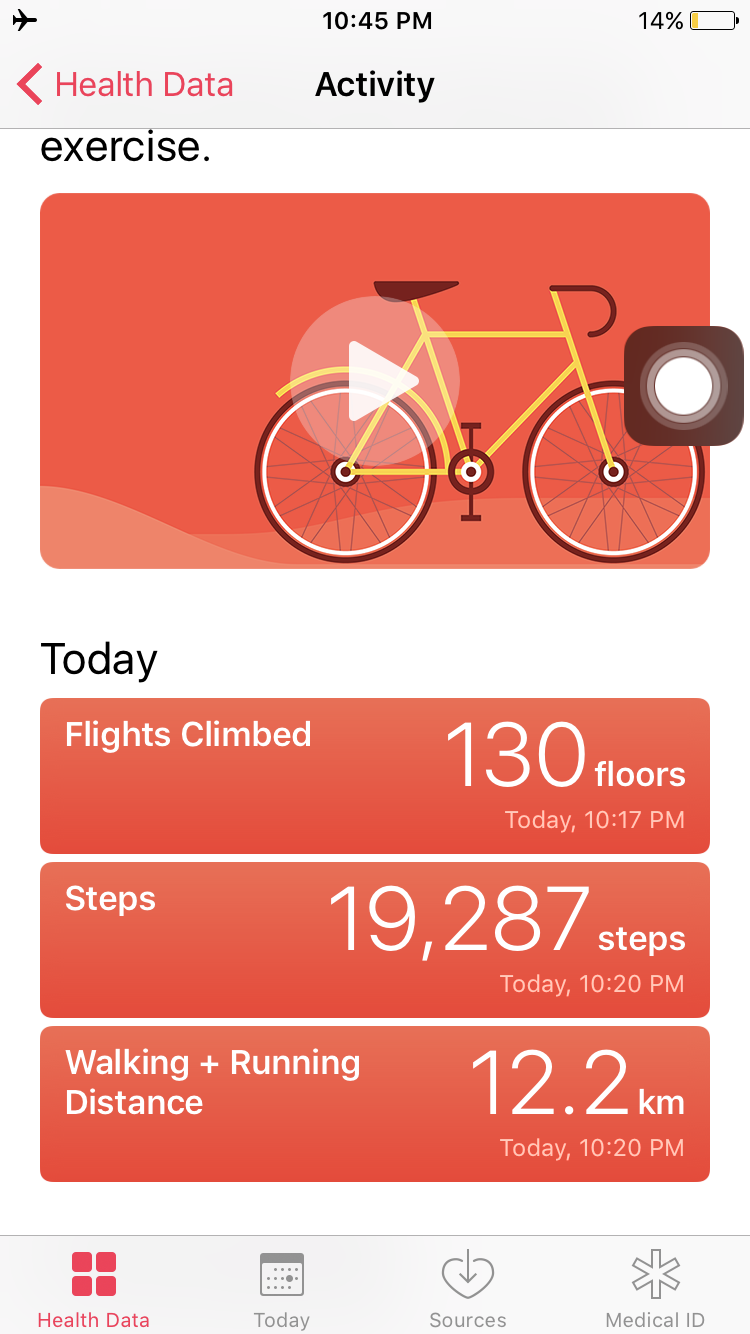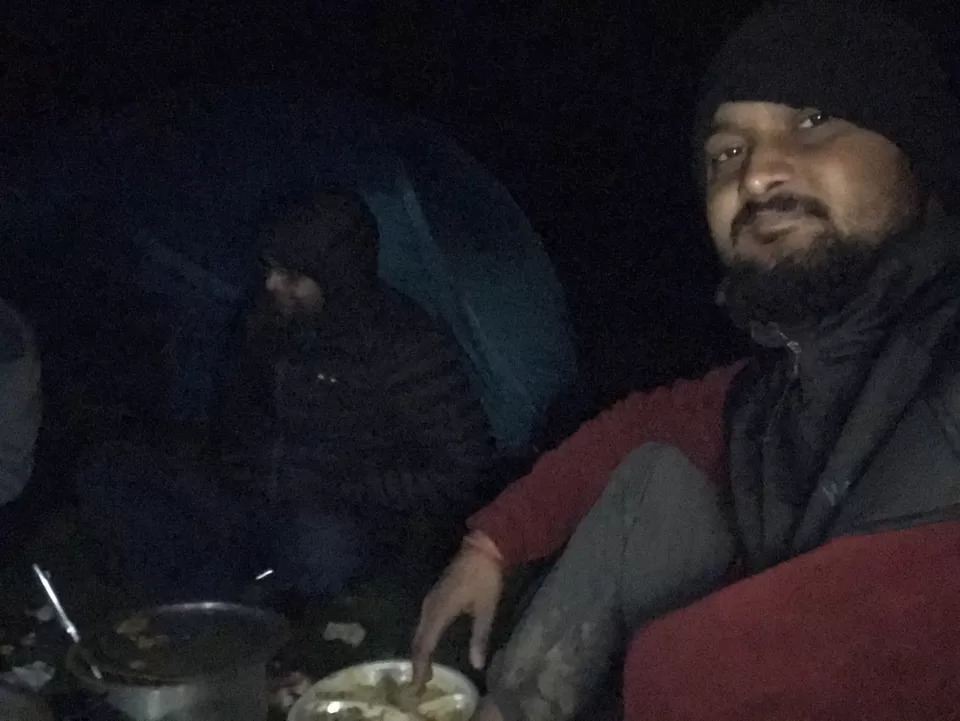 I had Poha & cookies for breakfast. Packed stuff. Trekked back with Vinod. Did I mention I met him in a coaching institute 7 years ago? Such a small world. Crossing paths with familiar faces. The guide, Vinod & me, discussed life in the city in contrast to the hills, as we trekked back.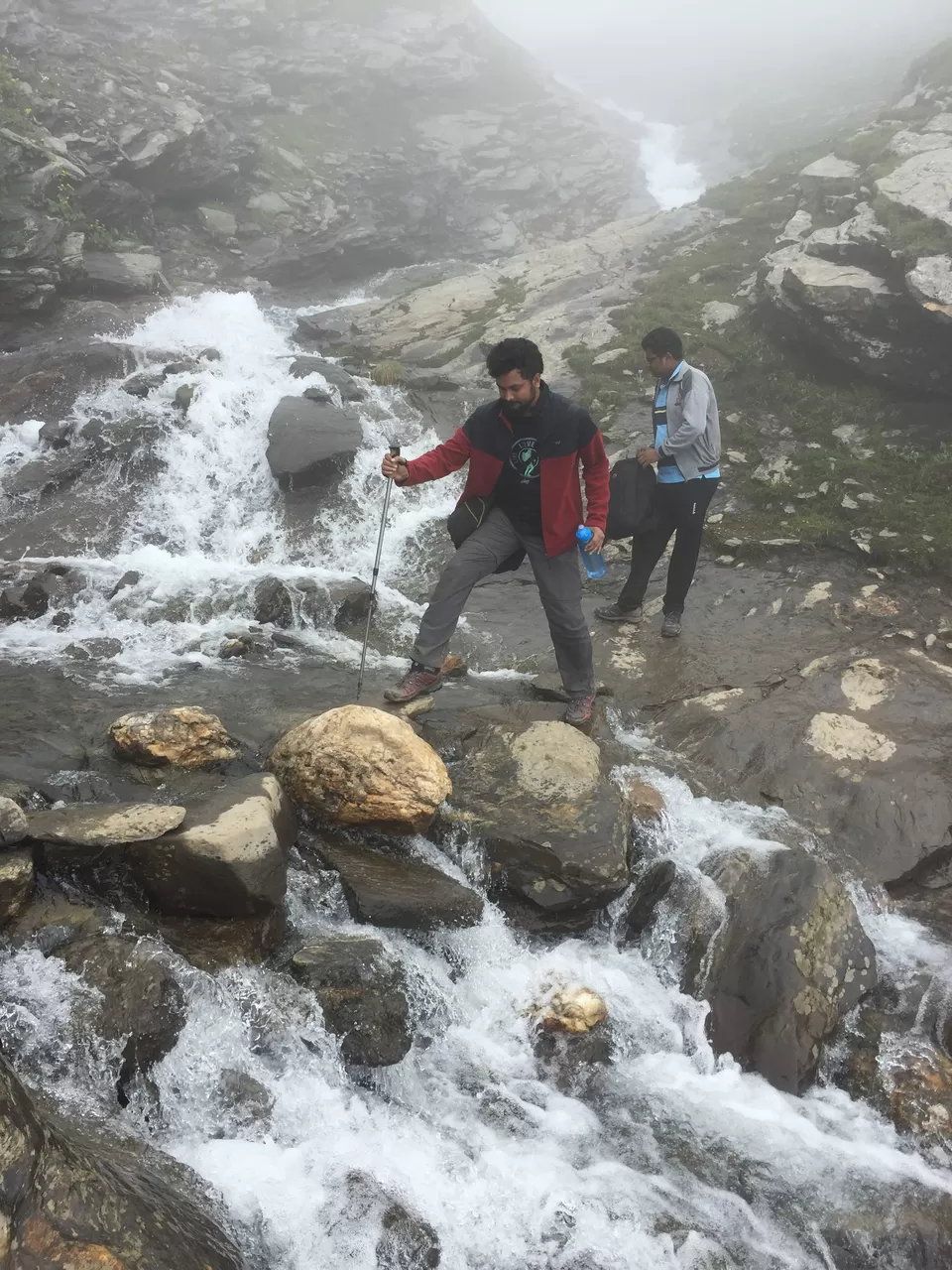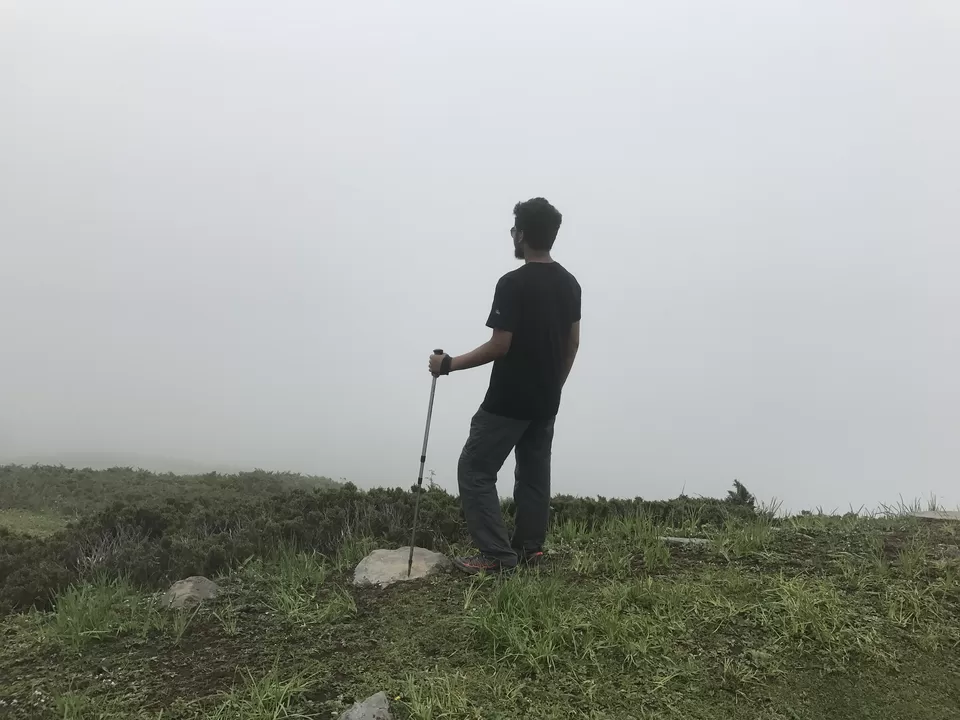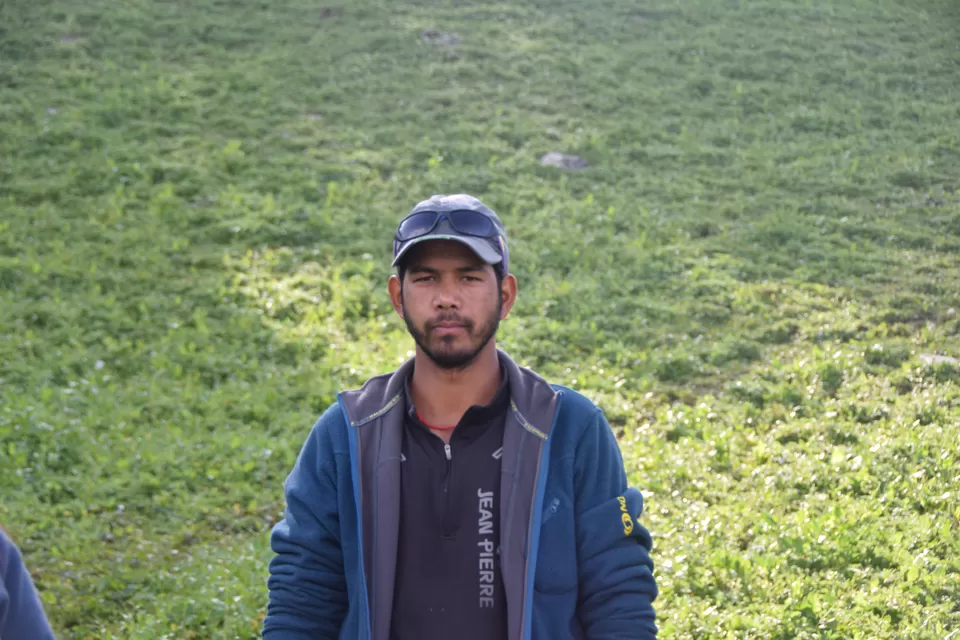 We were going to spend the night at Rola Khuli campsite. It rained bonkers that night. Sound of thunder gave everyone goosebumps!. My tent didn't cave in thankfully. Everyone was talking about it in morning.
All good things must come to an end.
Slowly and steadily we reached Gulaba road where our traveler was parked. It was the same point from where other trekkers were approaching. I greeted and wished them the best, the same way I was wished upon by fellow trekkers on my 2nd day. A trekking code, perhaps?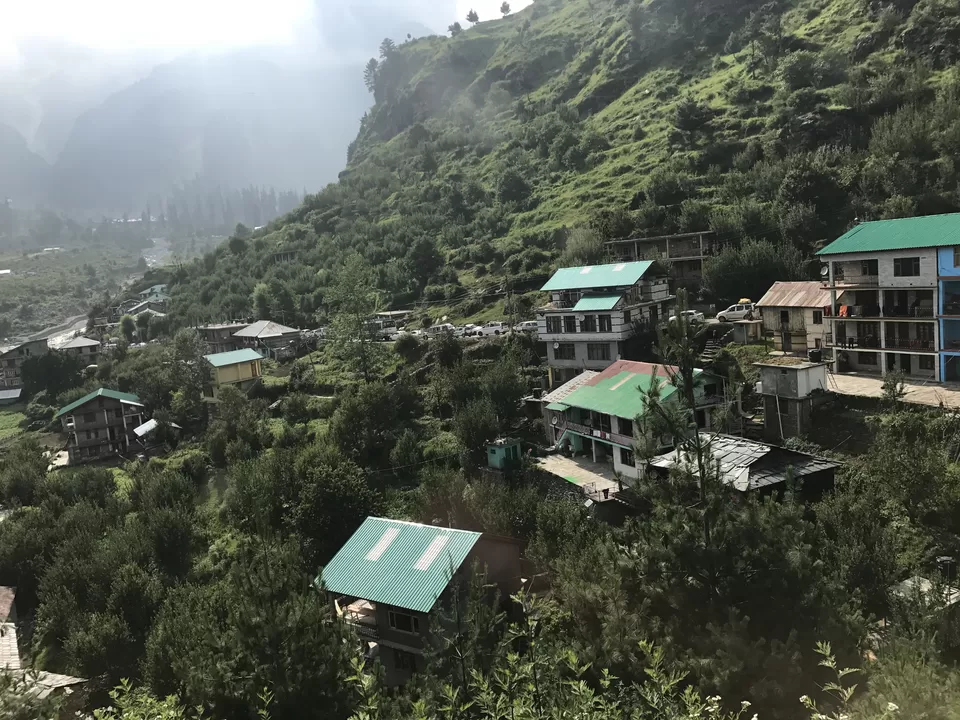 Although you may argue, it took 2 days to reach the summit & back to base camp, I'd say, first day's trekking was hardly 0.5 km & of 50 minutes. The real trekking occurred on day 2 wherein we had to push ourselves hard & the best of us retreated from the snow line. The last day was all descent further down till the main road.
I reached Delhi on 27th, 9 AM. Caught a metro and was the immediate talking subject of the compartment thanks to my exhausted face & the huge bagpack. The whole trip was a success right from the moment go & will live on my memories forever.
One amazing trek without stoppages! Back to back hiking! Amazing like minded people with amazing stories! No complains whatsoever. Happiness created.
"If you're concentrating on climbing , you can't be concentrating on money and cars and houses and wives and boyfriends. And when you come back to deal with them, you have a better view of their relative importance. Climbing puts things in perspective again" - Jeff Lowe.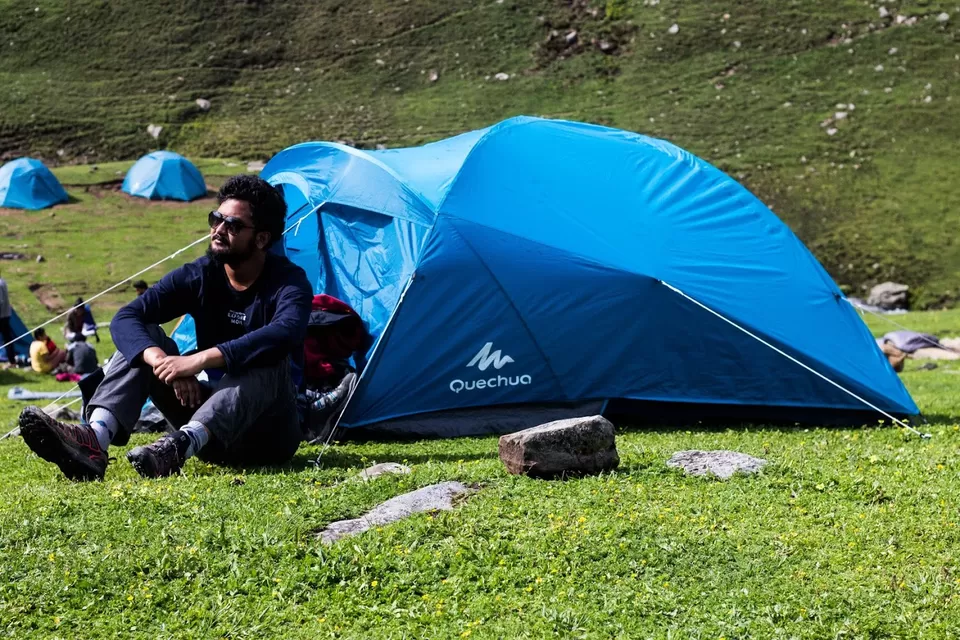 "Contest entry for The Adventurer Blog Contest May 2018 by Bikat Adventures"
-------------- x --------------- x --------------- x ------------
This trek is easily doable without organisers.
The whole trip concluded in 5K (Delhi to Delhi, beat that)
Feel free to reach out to me for any guidance regarding the same.
Follow me on instagram: caveman_shanky
YouTube link of Bhrigu Trek: https://youtu.be/b5sJfyY6i8s
Frequent Searches Leading To This Page:-
bangalore to himachal pradesh tour packages, camping trips in himachal, kesari tours shimla package, himachal pradesh yatra, himachal pradesh tourism packages from chennai, weekend getaways from delhi