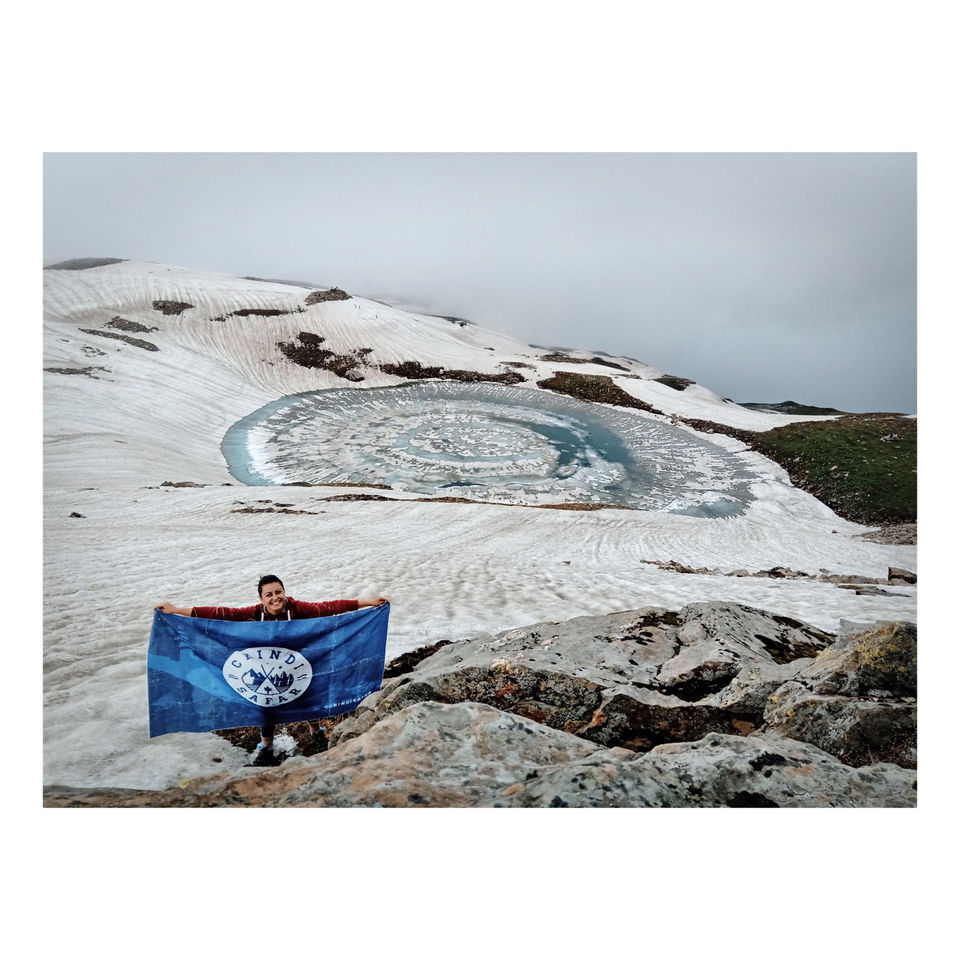 Delhi-Manali
I started my journey from Potala Ground, Majnu-Ka-Tila, New Delhi at 8:30pm. We were a group of 5 people, desperately wanting to escape Delhi's heat and our respective routines. I personally have been frequenting to the hills of Himachal a little too much lately. Considering how the winters stayed a bit longer this time than the usual, most roads to some amazing places in Himachal were recently opened for public. Keeping that in mind I wanted to take this trek before the place gets the traffic and kills the quaint & calm of this place for me.
Manali- Gulaba-Rola Khuli
We reachead our first stop, Camp Jungle Brooks, Village Gazan, Manali around 9:30am. Welcomed by 2 beautiful German Shepherds, Max & Barfi accompanied by Kaalu, an indie pupster. The camp is super accessible from the Highway and is located just across the bridge on the river bank of Beas. After breakfast & a bit of morning deeds, we started our adventure in a cab that drove us via Gulaba(22kms | 1-1.5hrs drive, approx from Manali) and dropped us at our starting point. We had an amazing tour guide Ved Prakash with us who was provided to us by the camp authorities and in them locals, WE TRUST! Nobody, literally NOBODY can know and do better than what the locals serve and provide you with. They are indeed the kings of their land.
We started hiking up, still alongside the trees of oak & cedar. And after almost 25-30mins of up-hill hike, the trees were all left behind and the whole patch of the hills looked lush green, with beautiful tiny wildflowers and the land filled with Moo-ing, bray-ing, bleat-ing, neigh-ing creatures. We could spot Hanuman Tibba, The Beas Kund Valley, The Seven Sisters Peaks all, from this spot onwards. The weather gods were a bit confused and clearly not in-sync with each other and we experienced rains, hailstorm, blinding bright sun and back to raining cats and dogs in shifts. We walked almost 7kms to our base camp at Rola Khuli(12,500ft. Approx), which took us almost 5hrs with multiple halts.
After our evening snacks we took a stroll around the area and chilled till we hogged on our dinner and eventually dozed-off, snooring.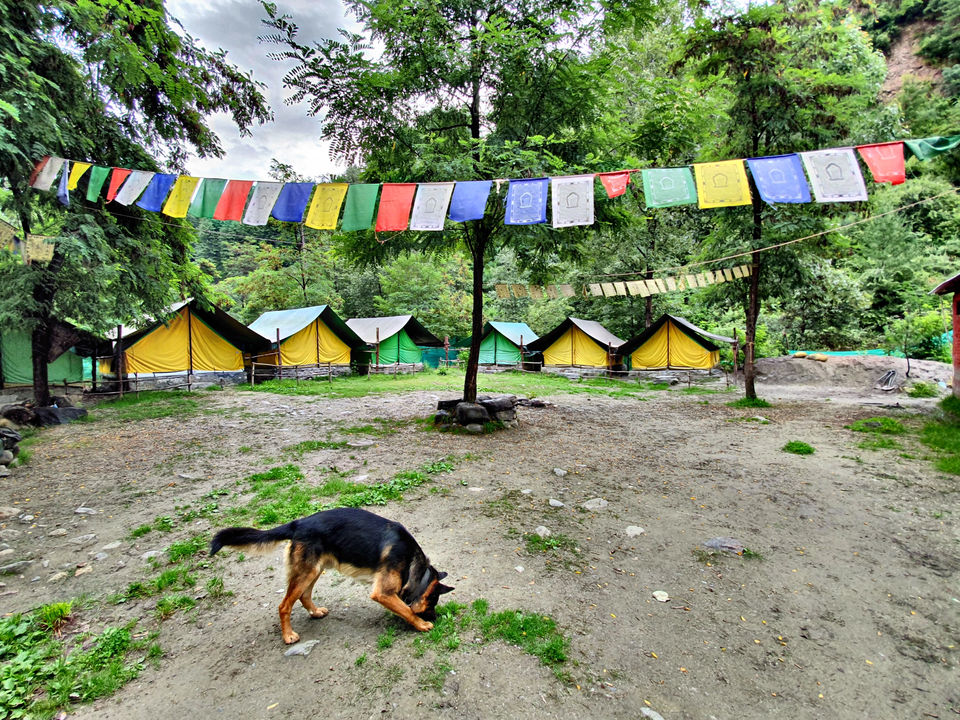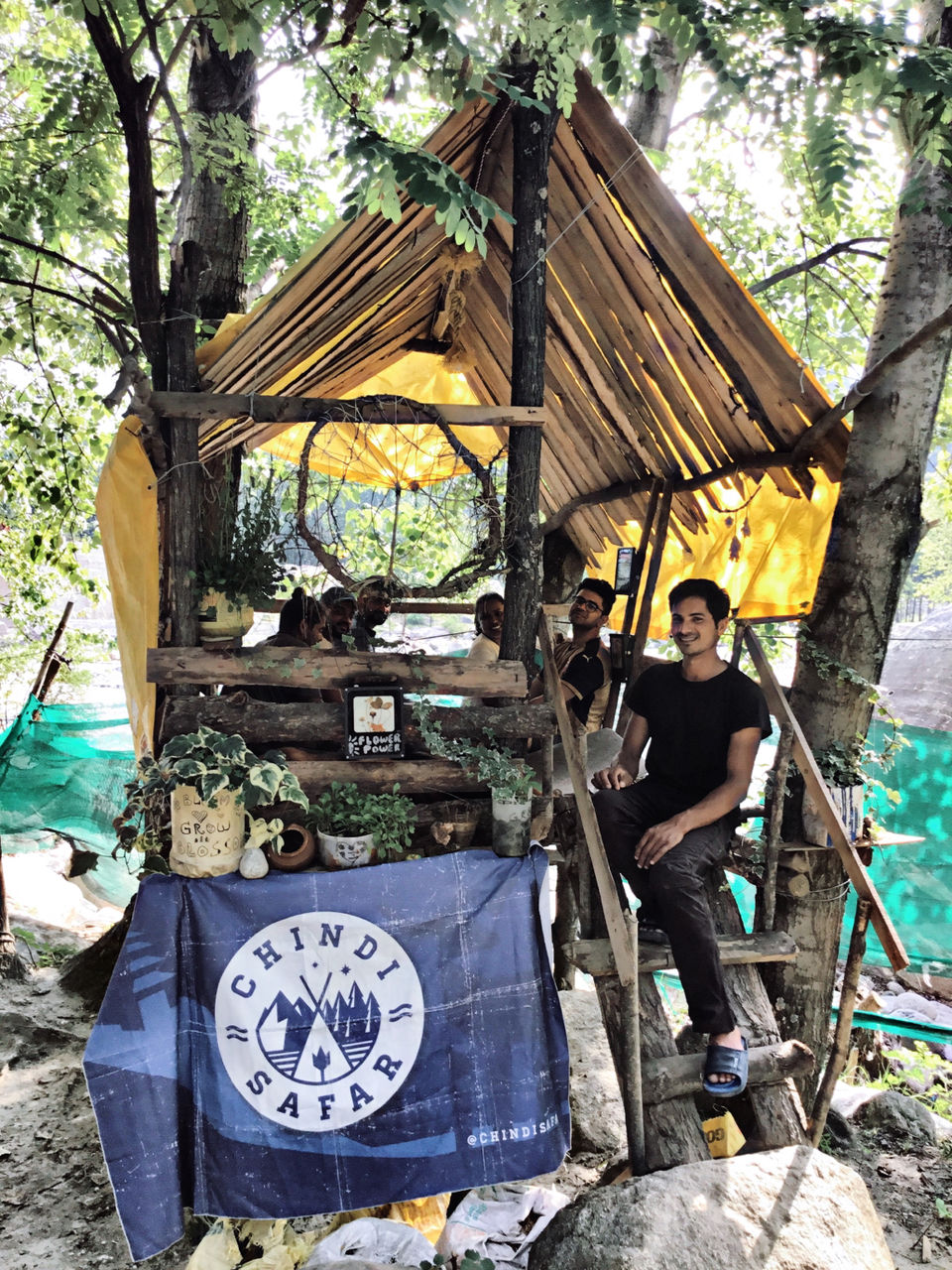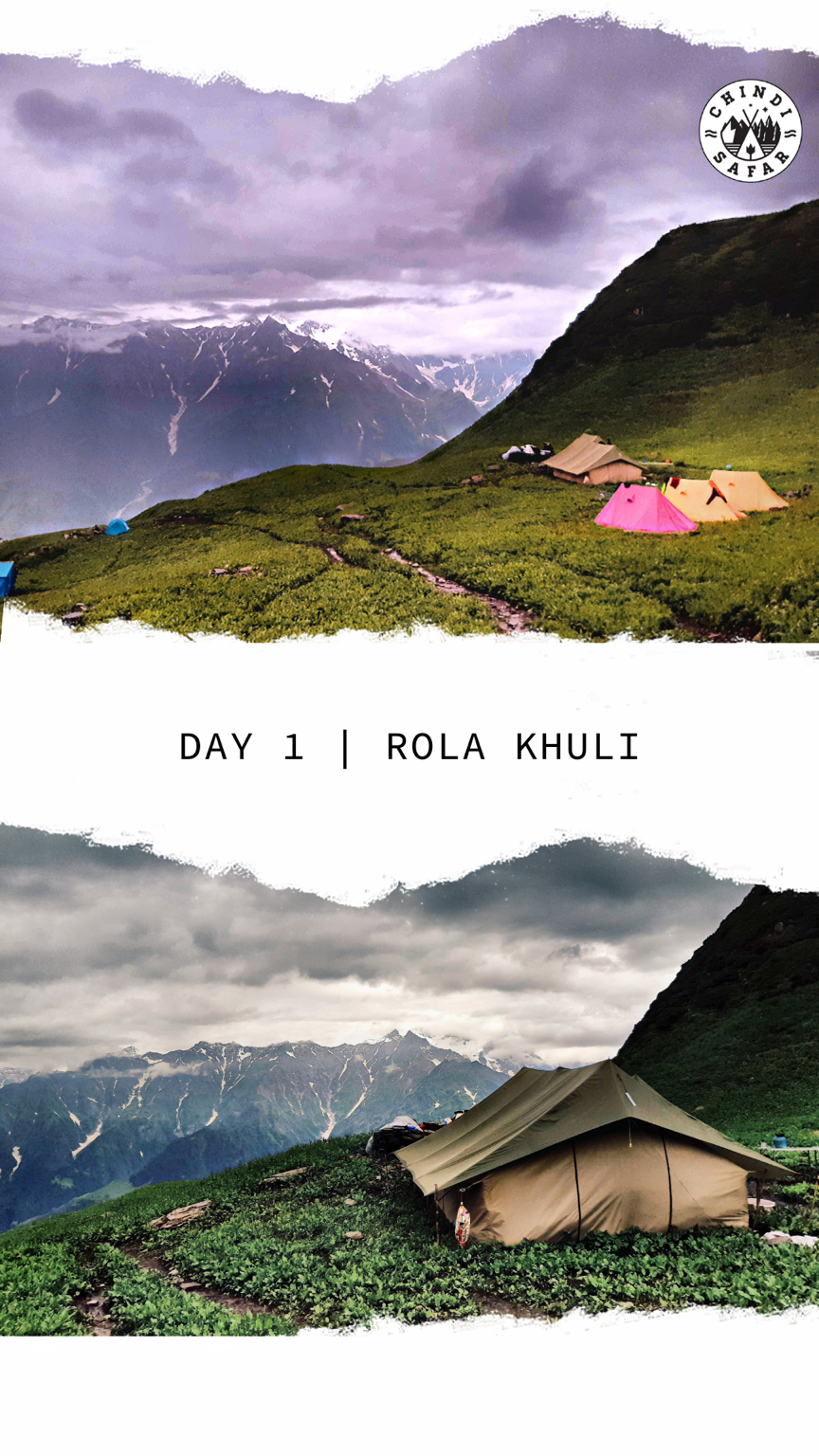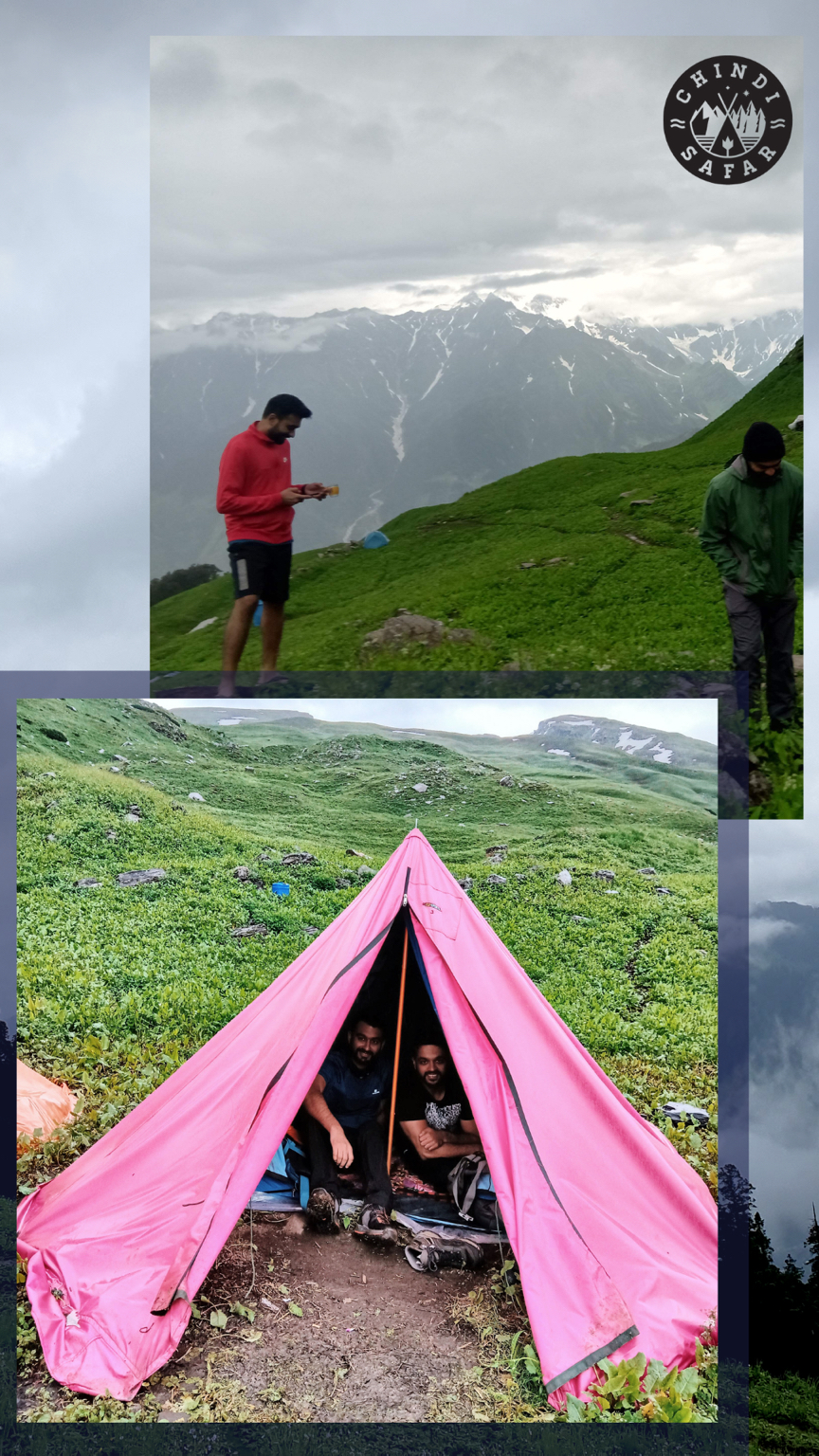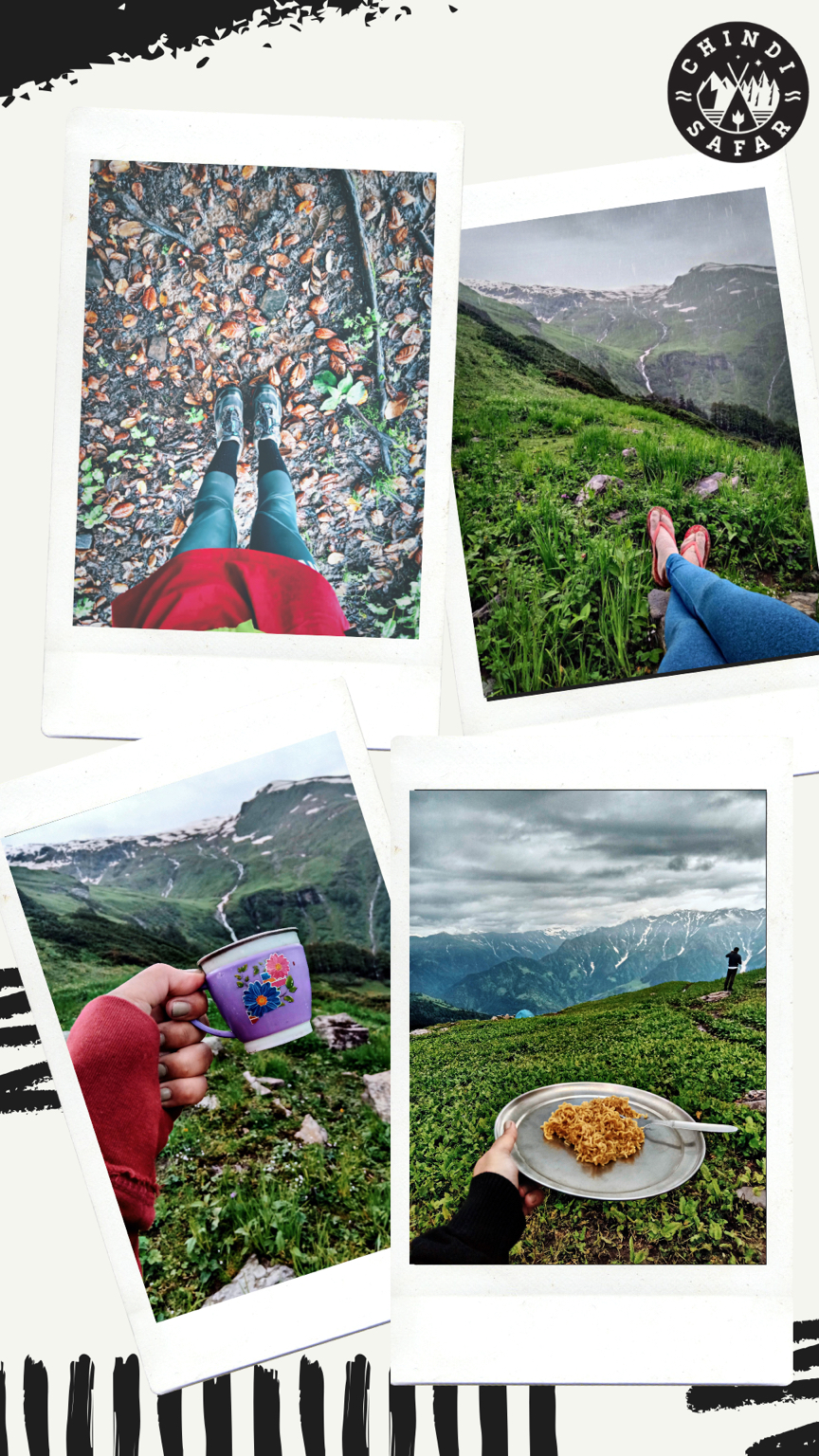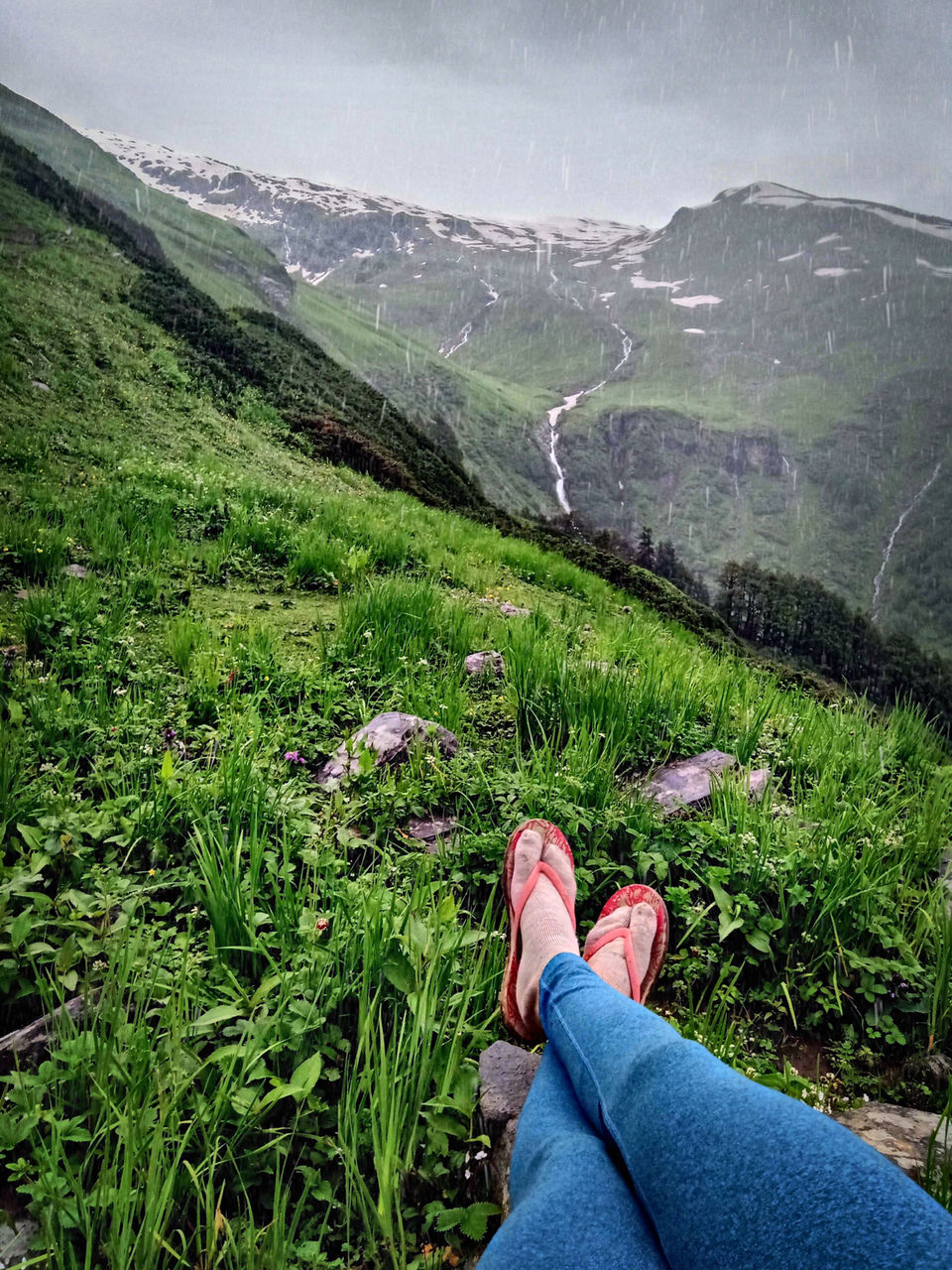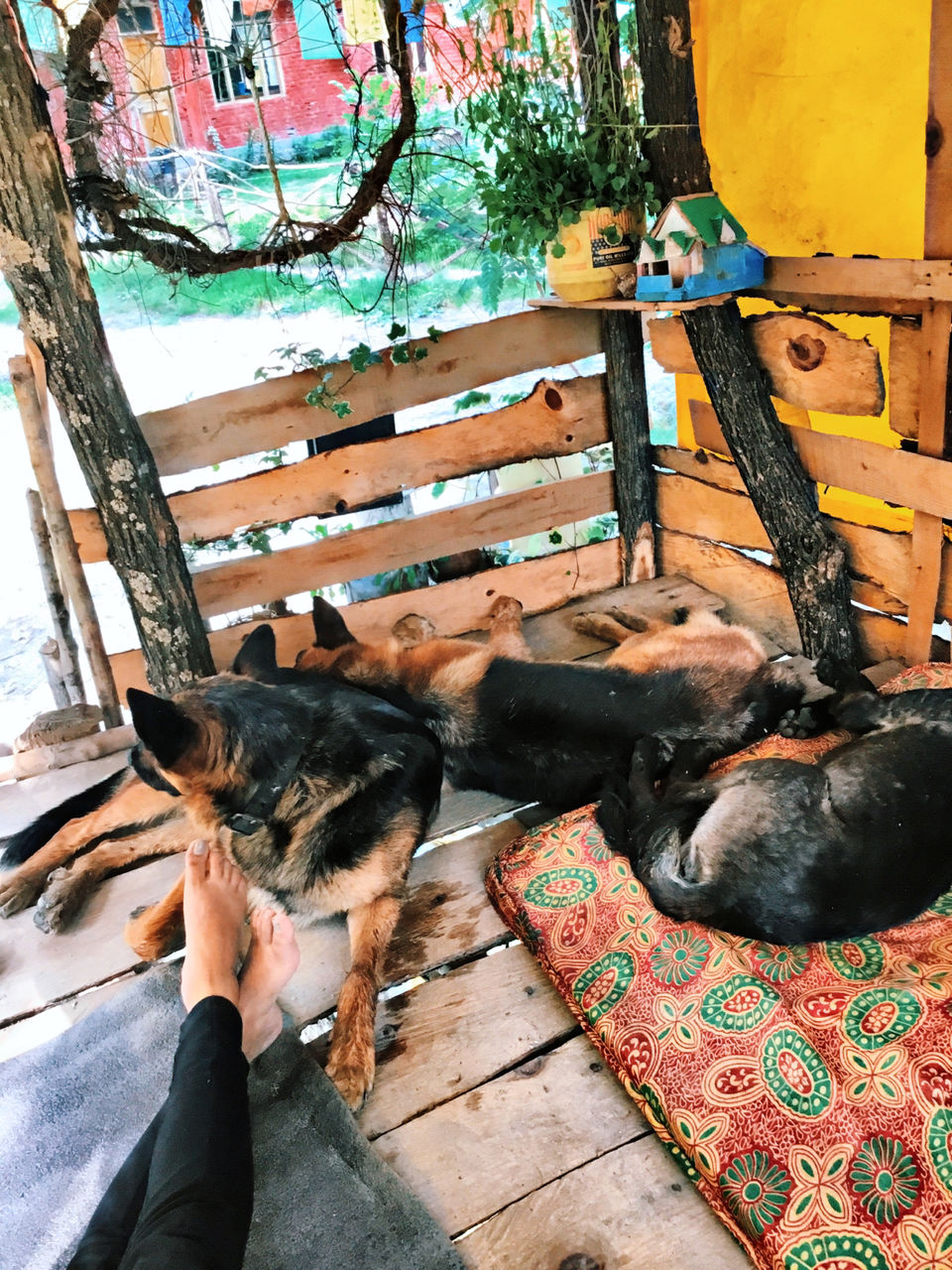 Rola Khuli- Bhrigu Lake- Rola Khuli
We were up by 06:00am, and decided to start by 8:00am tops, as the weather seemed clear but the weather app said otherwise so we decided not to risk it out and started soon after our breakfast. By 08:00am we started our trek for the lake. Like I mentioned before, winters stayed unusually longer this season, we had a lot of snow patches to walk on. The weather also started to fluctuate and got all misty. We were literally walking parallel to the clouds and then in them, in no time. We had 14,000+ ft. and almost 5kms(one side) in our PoA. So, we kept trailing upwards in the grassland, on snow, in waters(there are multiple waterfalls), on rocks and the hateful slippery muddy patches. We finally made it to the lake which was frozen EVEN in this month of the year( told you, winter stayed a little too longer). We were exhausted but greedy for the best view of the lake so we walked up on the snow to get to the top of the hill, again and now we stood at 14,350ft. Above the sea level(so said the AltiMeter App) and I couldn't have wished for a better feeling.
As much as I was eager to reach the lake initially, in that moment I just wanted to stay there a bit longer and appreciate every single thing that was involved and that crossed my path on my way to THE BHRIGU LAKE. From the top of the hill there was The Lake on one side of the foothill, the other side had a straight away 2kms deep ditch and the 3rd end had the most spectacular view of The Hampta Pass Trek. Of all the things if you ask me what were my favourite moments of all? I would like you to watch these tiny clip ( https://bit.ly/2YKbo9G ).
On our way back to our camp site which was 5kms of walking back, it started raining mad, so we rushed back and made it to our camps in 2 hrs(approx). Ate soup for the sake of our health, chilled around INSIDE the dining tent and post-dinner dozed off.
Rola Khuli-Manali
It was time for us to head back and again, to avoid the rain we started earliest,soon after our breakfast and did the downhill trek in JUST 2hrs.(Oh, I love descents). After reaching Manali we had our lunch at Camp Jungle Brooks, at the river side. Bidding perfect goodbye to this magical experience.
DIFFICULTY: Moderate
LAKE ALT. : 14,009ft. approx (Top of the hill, 14,350Ft.)
DURATION : 4-5days
**Must carry Poncho/Raincoat**