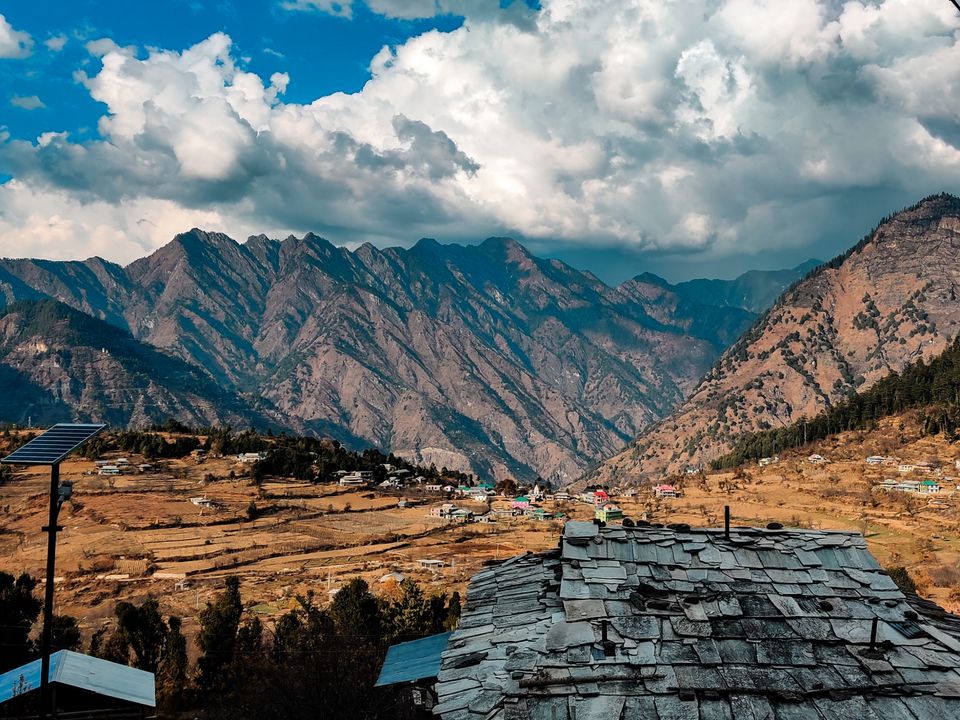 Traveler within me was feeling the itch to travel to the mountains, as this pandemic scene has made all of us to sit at home locked for around 8 months now. With the new unlock guidelines over the country it was still unclear whether i could travel. Finally, after 30 days of planning, bookings, chalking out the itinerary, packing the bags it was time to leave for the next trip. Of course with the recommended travel guidelines and with all the safety and social distancing measures.
I took Mumbai- Delhi Flight and boarded Bus to Manali, HP to get down near AUT Tunnel.
Below is the itinerary to Exploring lesser known villages in 3 valleys of Himachal - TIRTHAN, BANJAR, SAINJ
Day 1 - AUT to GUSHAINI to TINDAR (Homestay)
Got down before AUT Tunnel at 9 am to proceed next to Gushaini. Thought of being in the mountains after so long and that too in Himachal was so peaceful and cannot be expressed in words. Boarded local HRTC bus, which runs every half an hour, to Banjar town . From Banjar town took another bus to Gushaini, got down at Shai Ropa forest complex around 4 kms from Banjar.
Here I met my host and guide Mr. Basant Singh. He collected my permit for camping at Rolla in THE GREAT HIMALAYAN NATIONAL PARK (GHNP).
Where to stay and how to plan: www.teksinghnp.com would help you in planning and guiding on the trials inside GHNP. Contact person - Mr. Eknath Singh - 83187 64151

Basant Singh has been into guiding since 1982 and has guided many Indian and foreign nationals and photography enthusiasts. After reaching Gushaini had parantha and omlet for breakfast, hired a small cab to reach Tindar village - 4 kms of bumpy dusty ride - where I would stay for the night.
After reaching the homestay had tea, got freshened up chatted with my host on his experience in trekking. Now he has his son Krishna, carrying forward the legacy of treks and guiding. I got to know he is an amazing cook as well.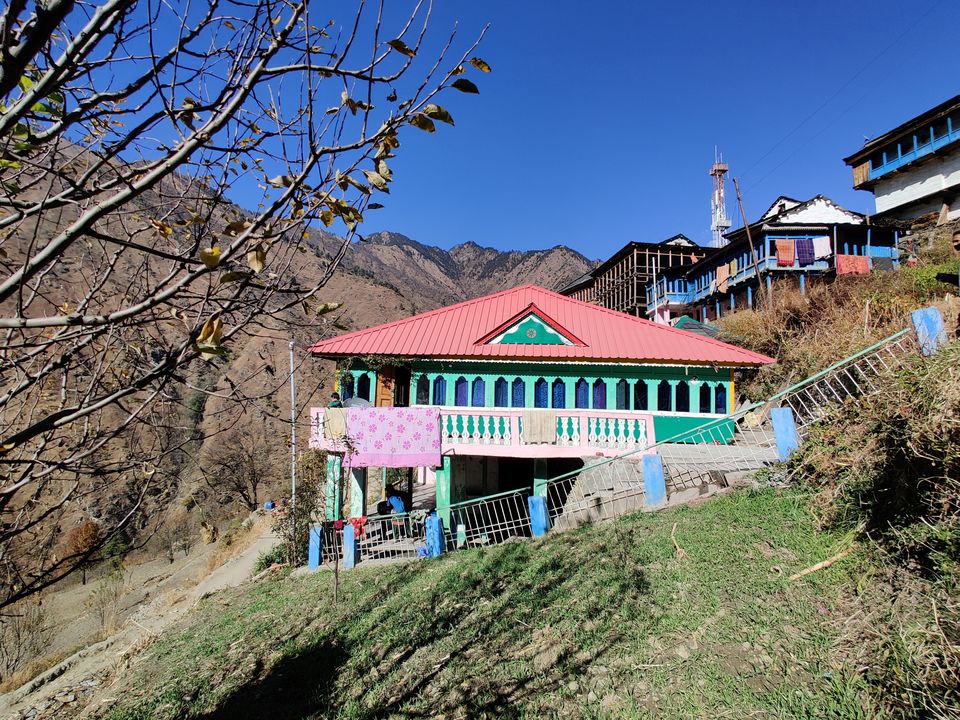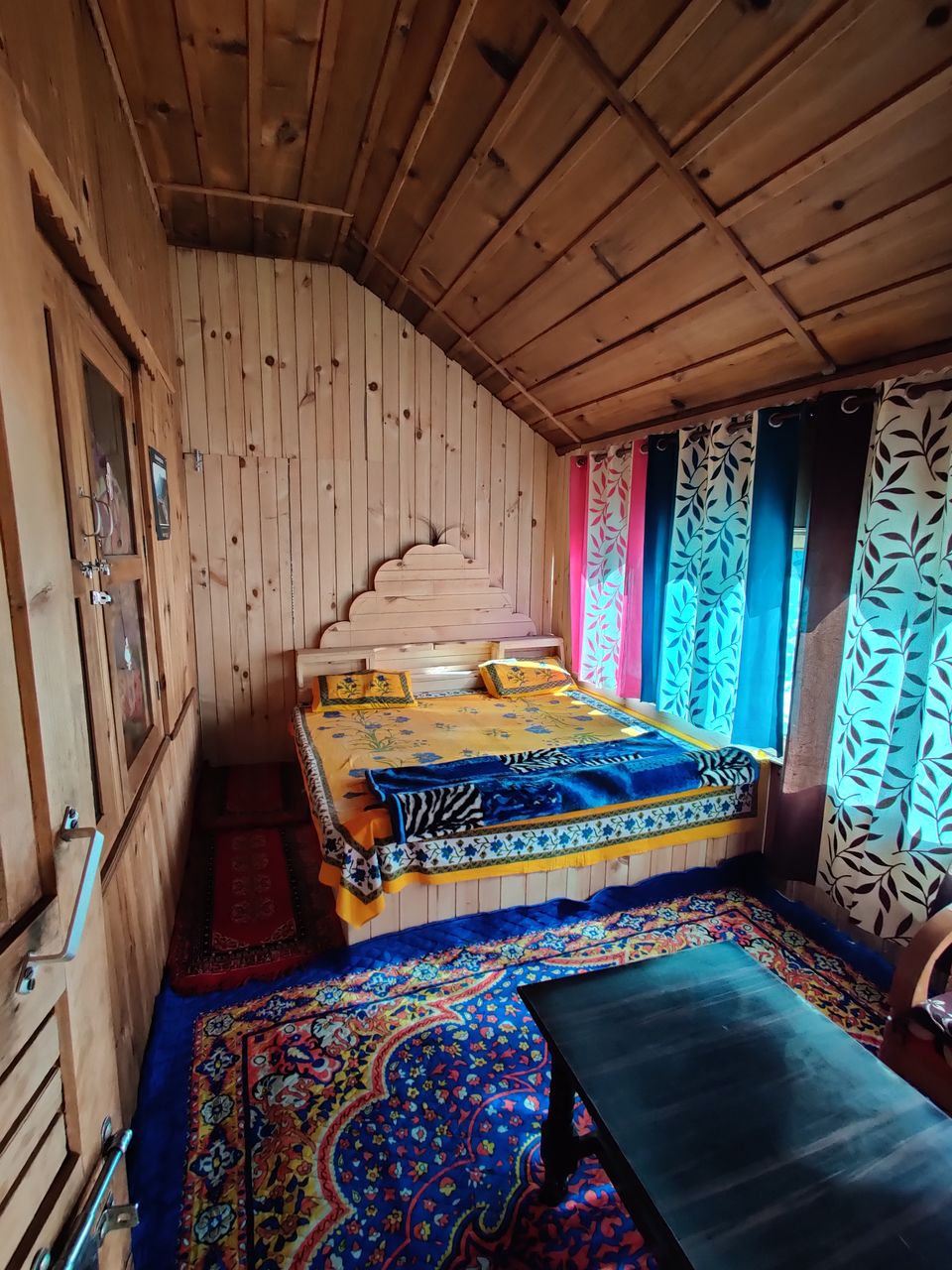 After having lunch it was time to explore tinder village, took a stroll around clicking pictures, videos, timelapse until I got a call for tea.

The sun went down and the sky started showing amazing colours. Never ever have I witnessed such beauty.
As the locals were engaged in their daily chores I was busy soaking in the atmosphere, the wind getting chill and sky turning dark.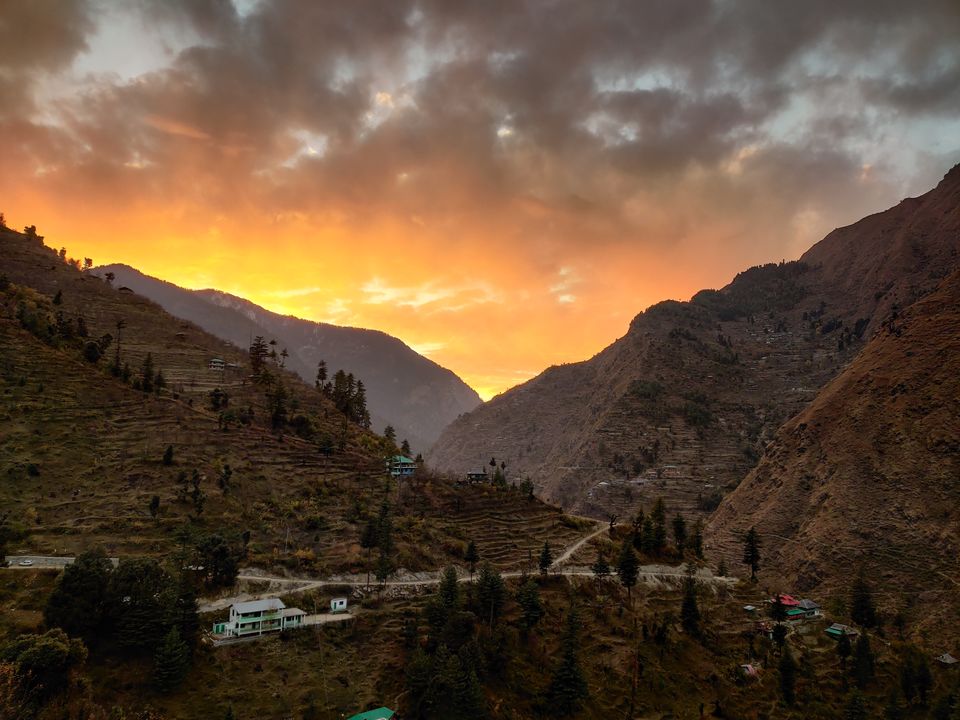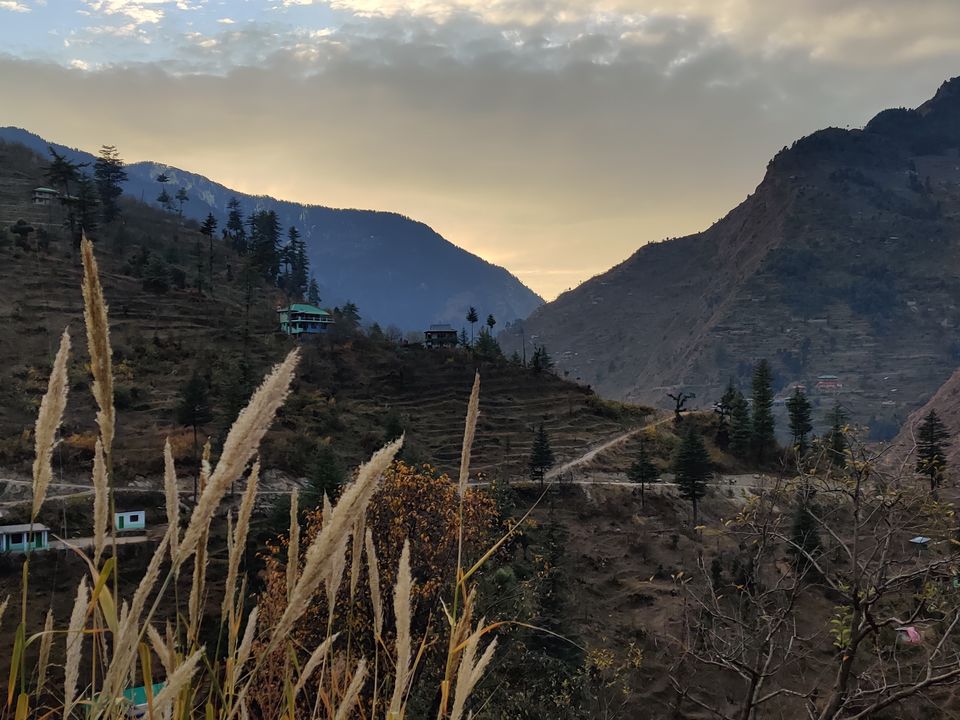 It will be an early off to bed today, as next day i had to move on 2 day ROLLA trek inside the GHNP with the father son duo.
Day 2 - TINDAR (1700 M) to ROLLA (2100M) camp (GHNP)
Today was the day of the trek, almost after one year as this pandemic had screwed many travel plans of mine.
After getting up at 7 am and having a hot cup of tea had a good start to the day. Got ready by 8, had aaloo parantha for breakfast and BANG -- we were on the trial.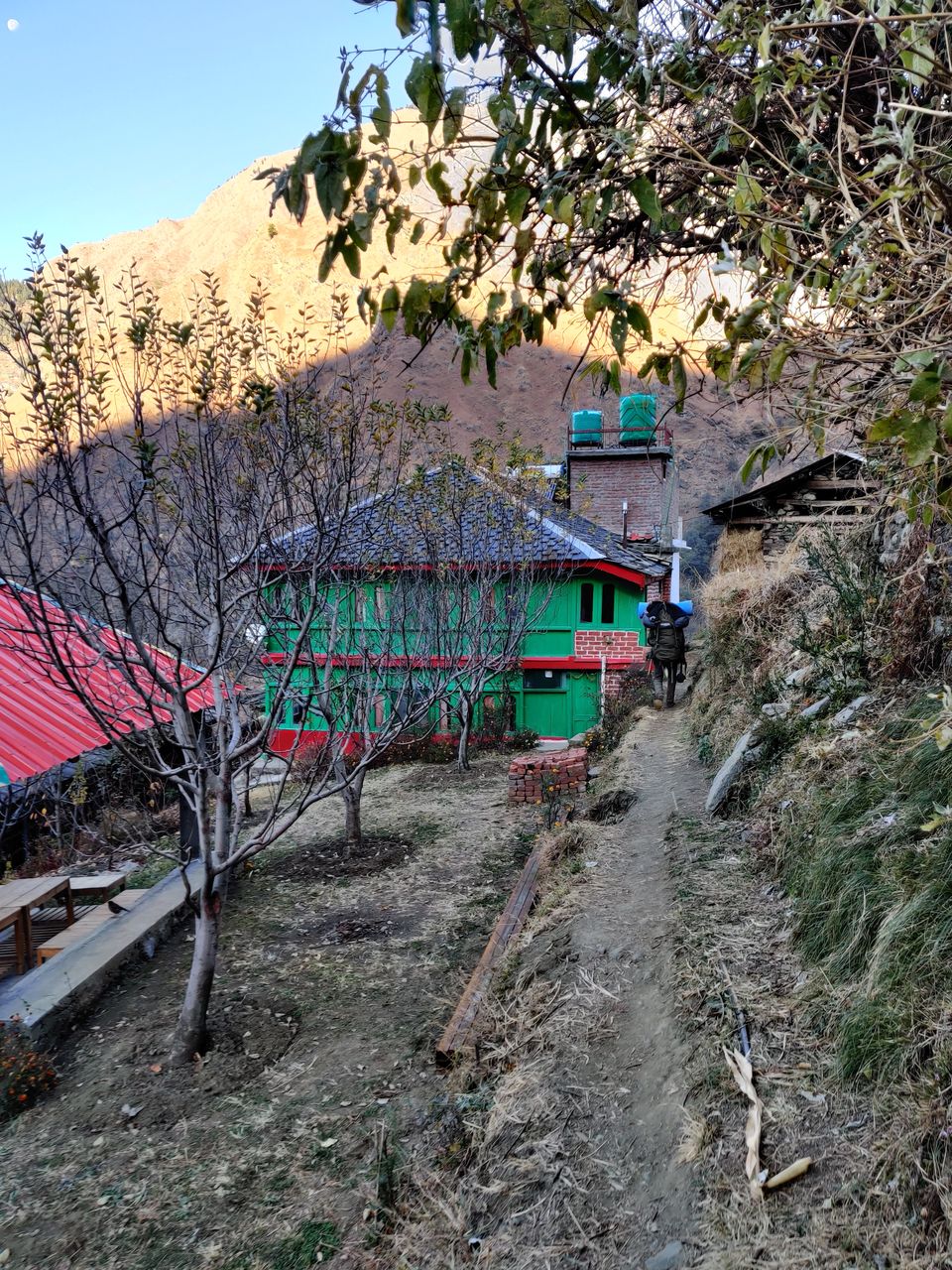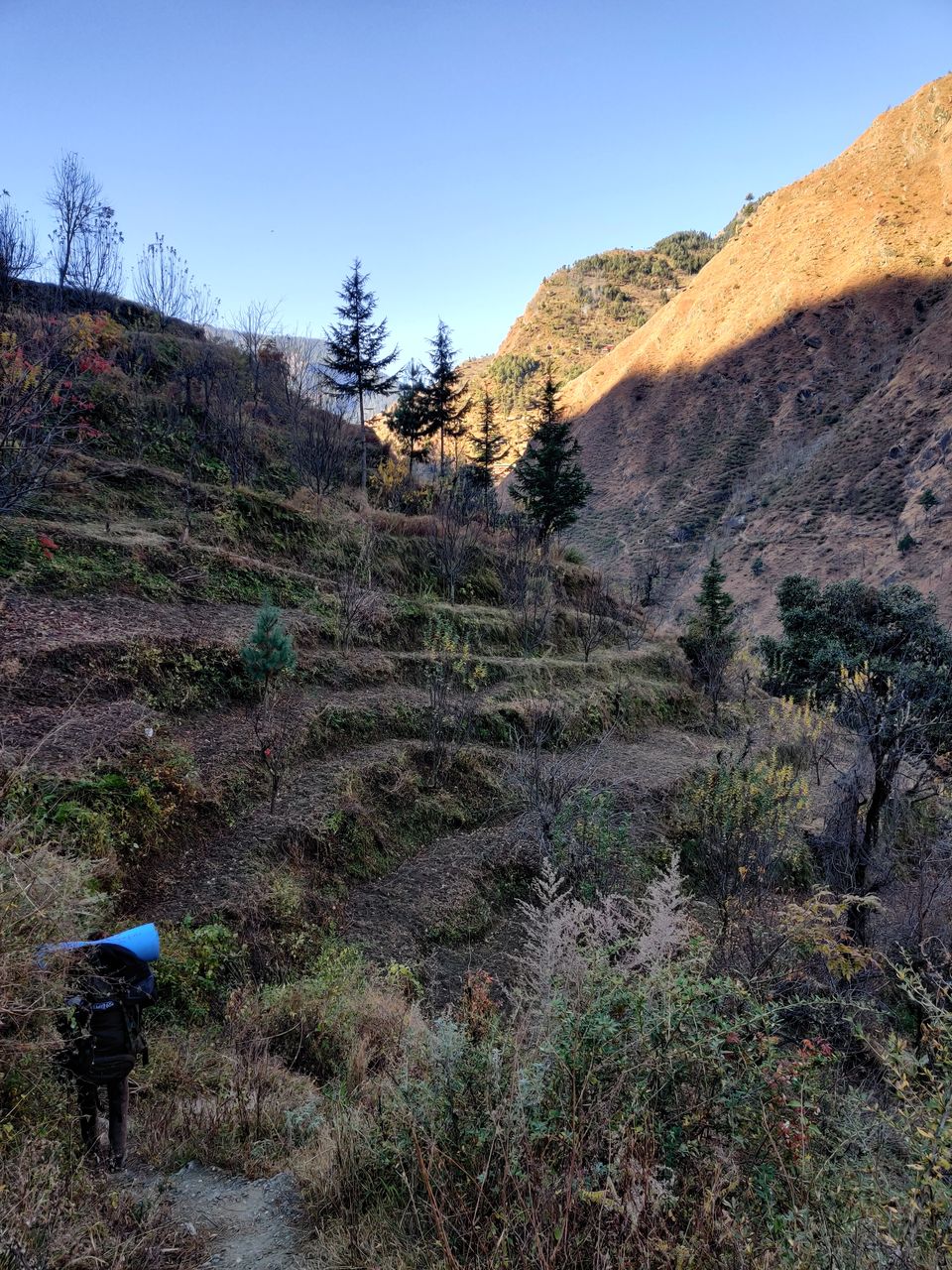 As we left Tindar the trail went steep down around 20 mins into the valley and towards ROPA village - another tiny village with wooden house with offer homestays and food on the way. For the valley view one has to go up to TINDAR village.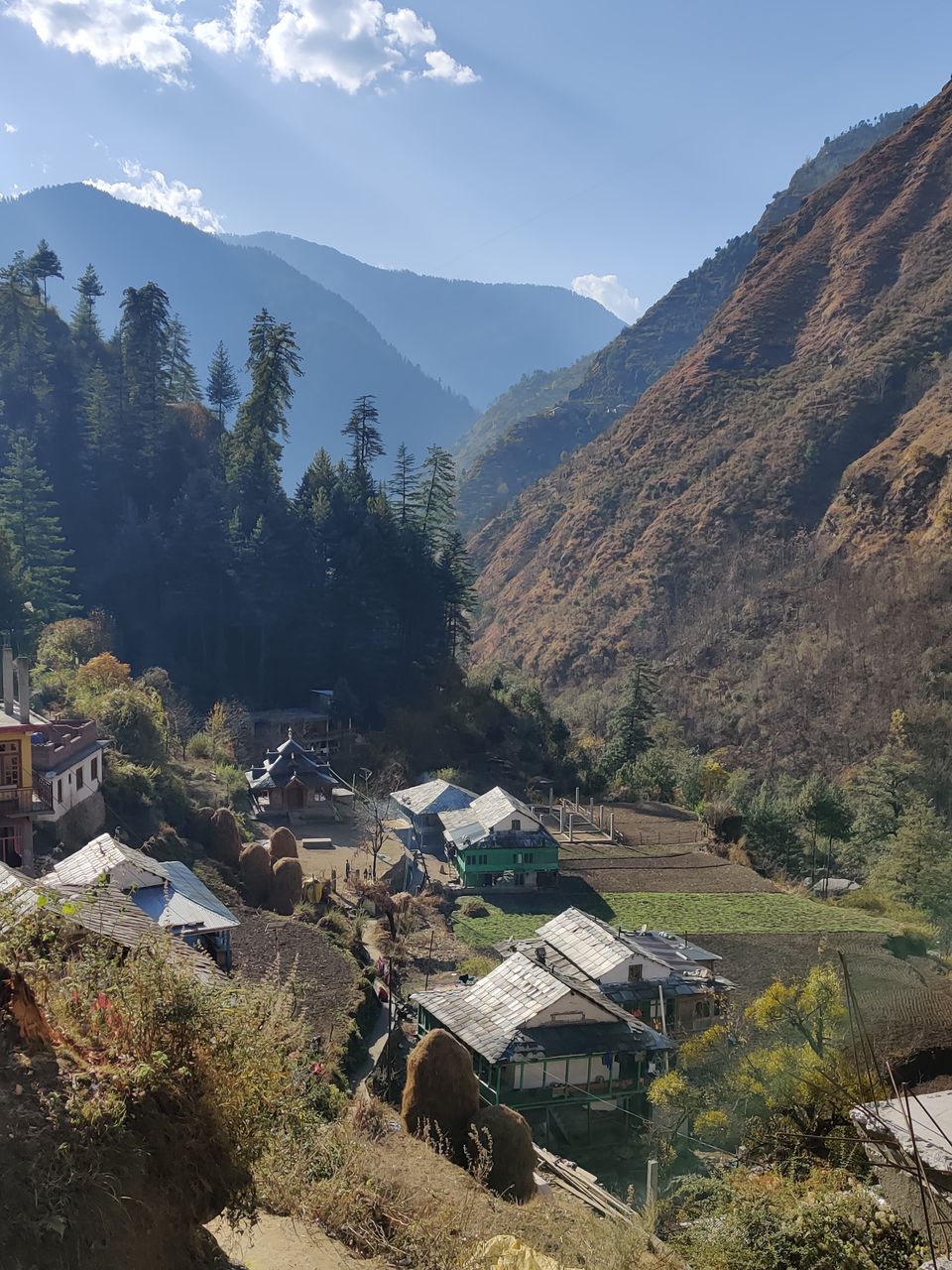 Gradual up and down trial for about another 40 mins took to the last cafe where we took a break for tea.
From this place, the trail got dense with tall deodars on the way. We also had one doggy whom I call the mountain friend, who followed us throughout the trail to the camp.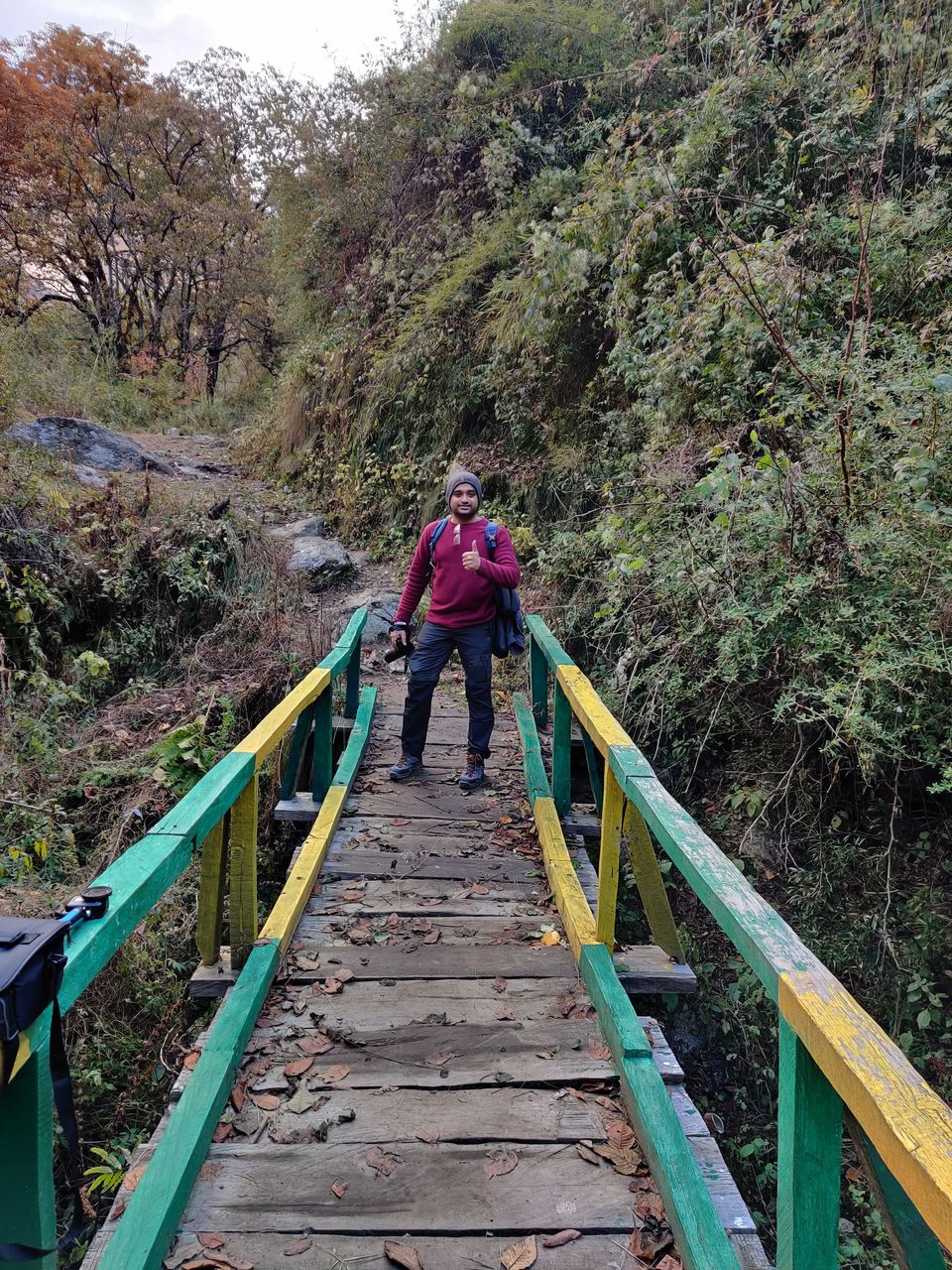 Further there were 2 -3 little streams flowing down the valley to meet the tirthan river. One can fill up water to drink from these streams. The trail was all lit up with the autumn colors and a thick layer of those fallen leaves on the trail. Every turn into the valley gave me ample frames to be clicked.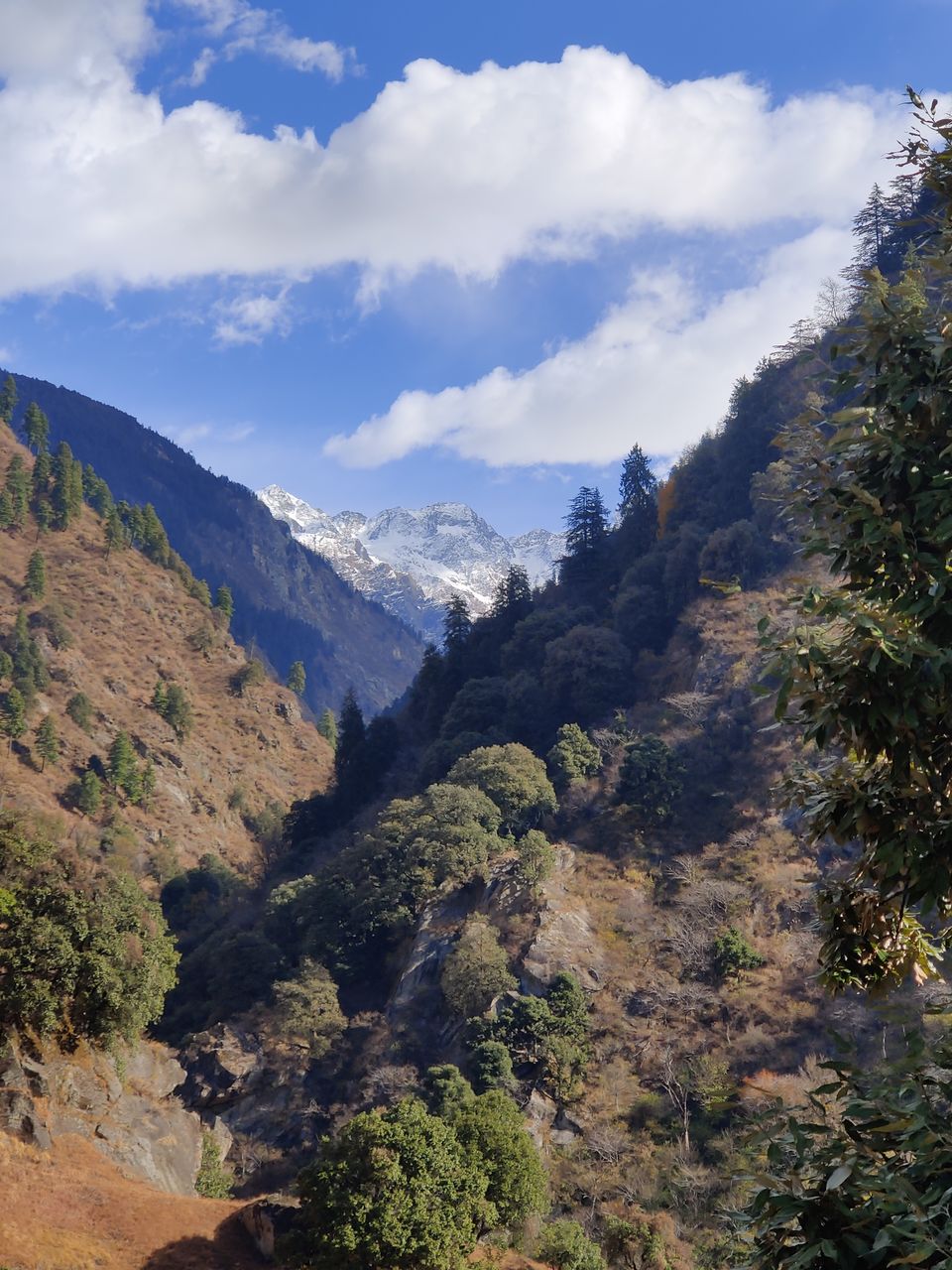 Darakhali view point - around 2 kms since the start - we took rest here for good 20 mins as my guide and host Mr. Basant explained me the other trails into the great Himalayan national park.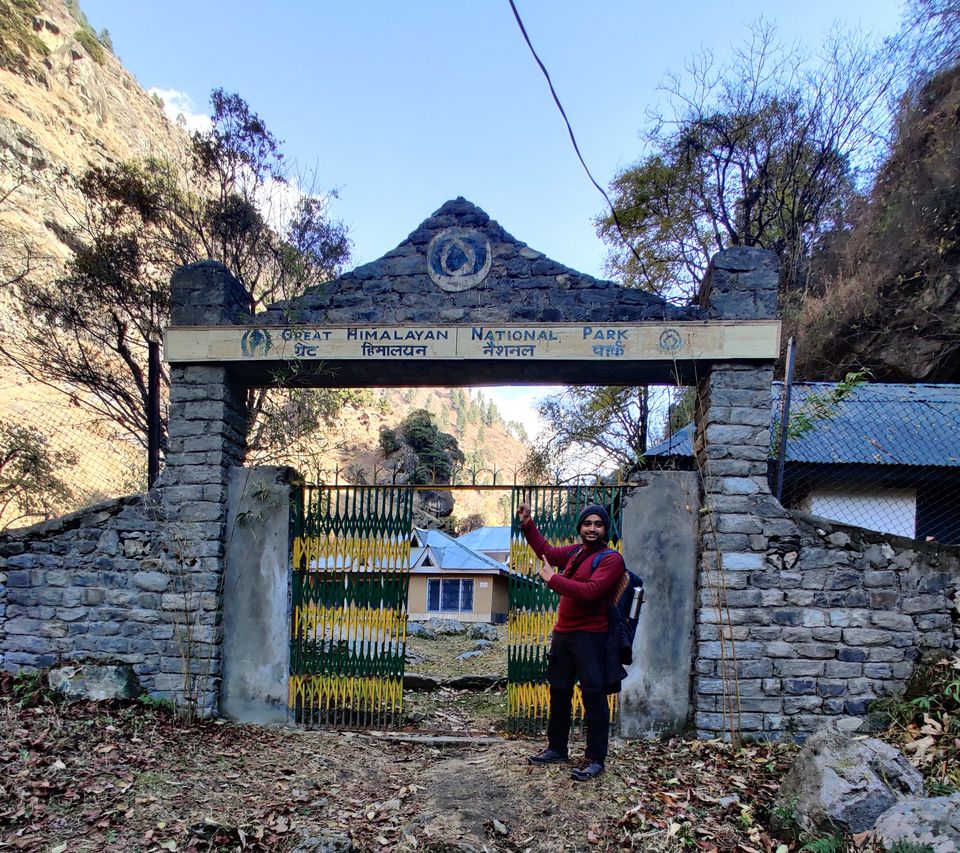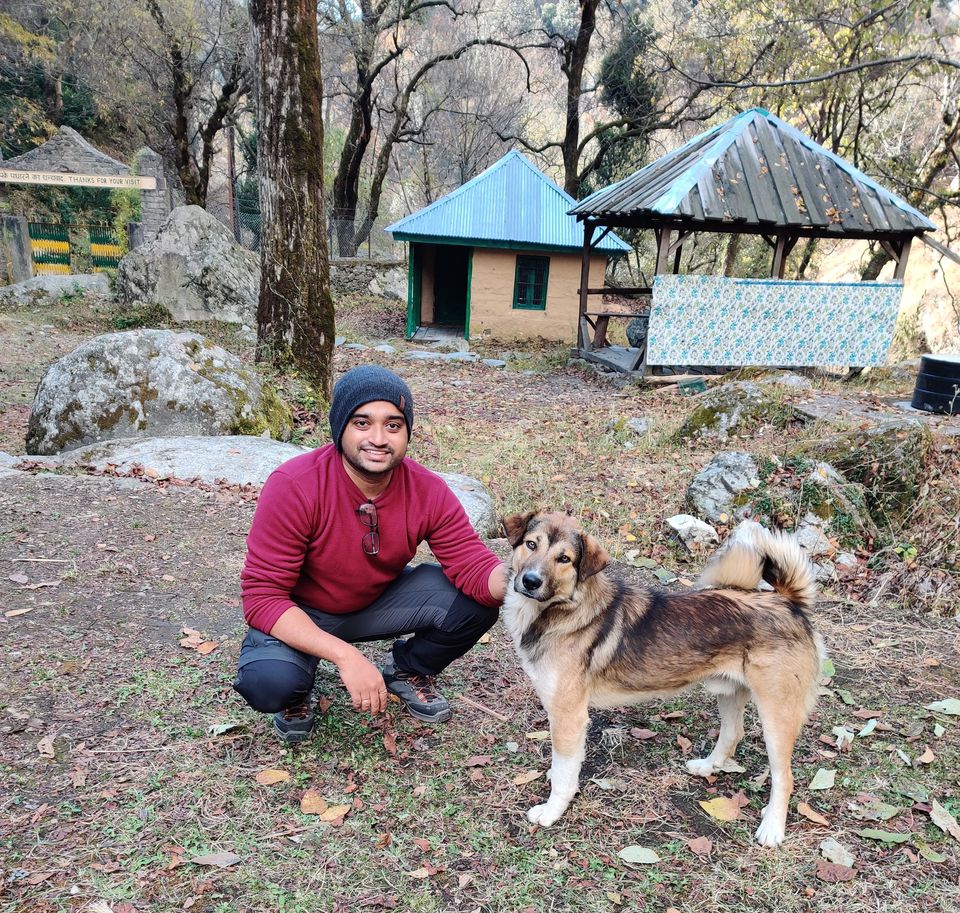 Around 1 kms from the view point comes the gate to the national park (GHNP), where the permits are to be verified. There were few wooden bridges to be crossed across the river. Another 2 kms from the park gate, with up and down gradual ascend we reached our camp - Rolla.
This camp is near the tirthan river had camping huts and well constructed kitchen and washroom stone huts. Due to less no of visitors - courtesy the pandemic - the huts were locked up. But we had our tent carried with us.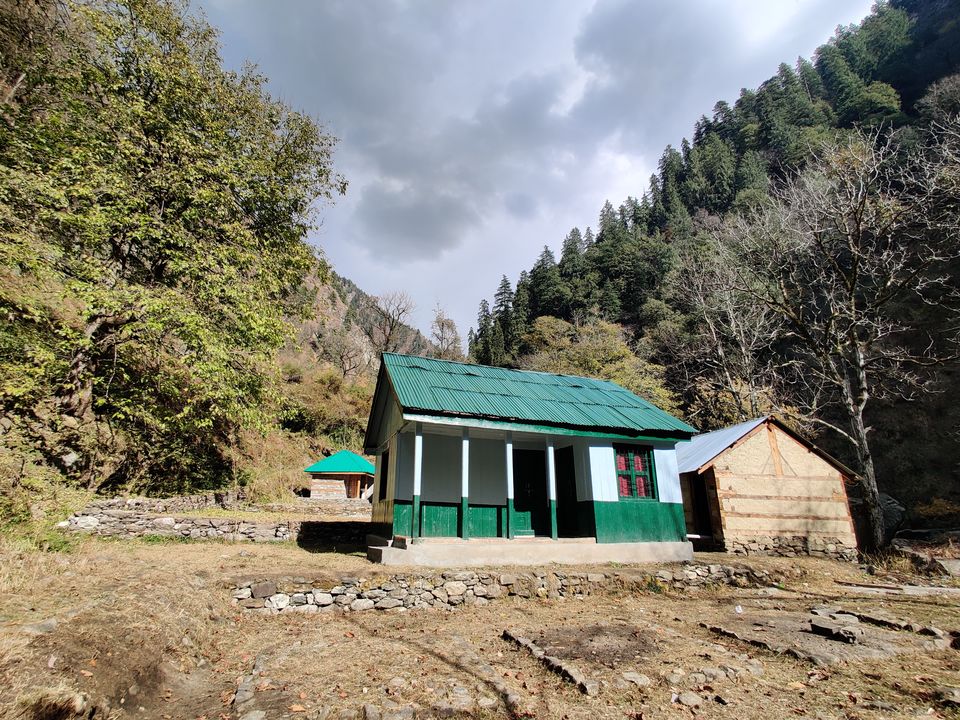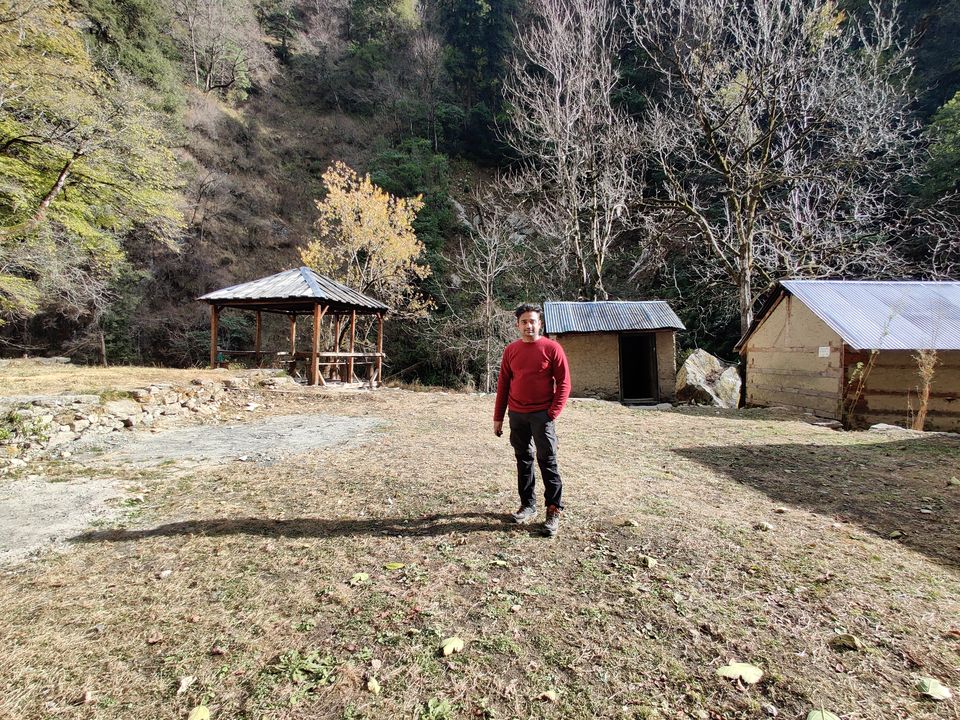 After reaching camp and some roaming around I was served the packed lunch around 2:45 pm.
Now I had the whole time to myself to go down to tirthan river and just sit back and relax. Spent good 40 mins being at peace and ease. There were some fellow trekkers who were on a day trek to Rolla and were to head back to Ropa village where they had their stay.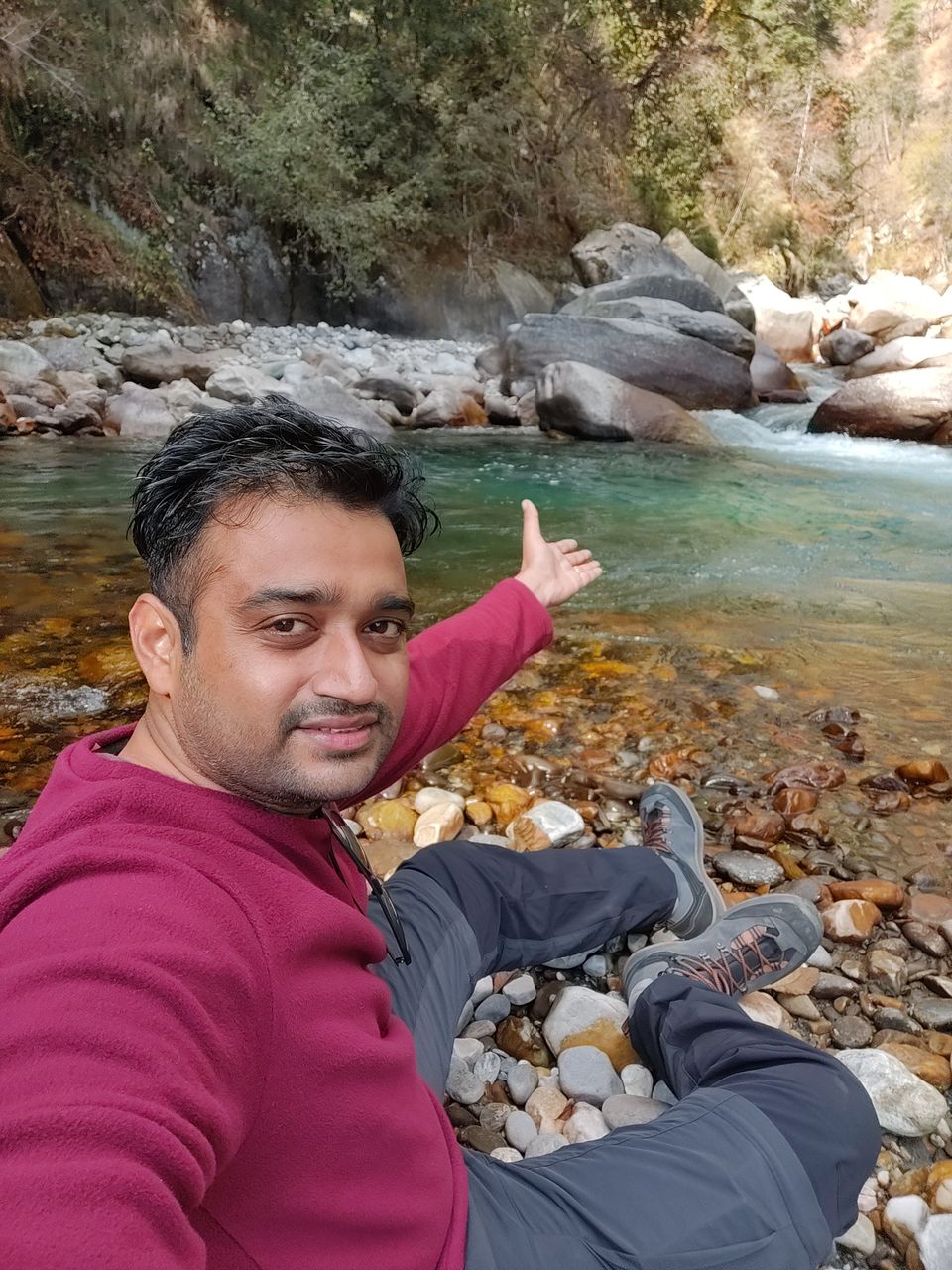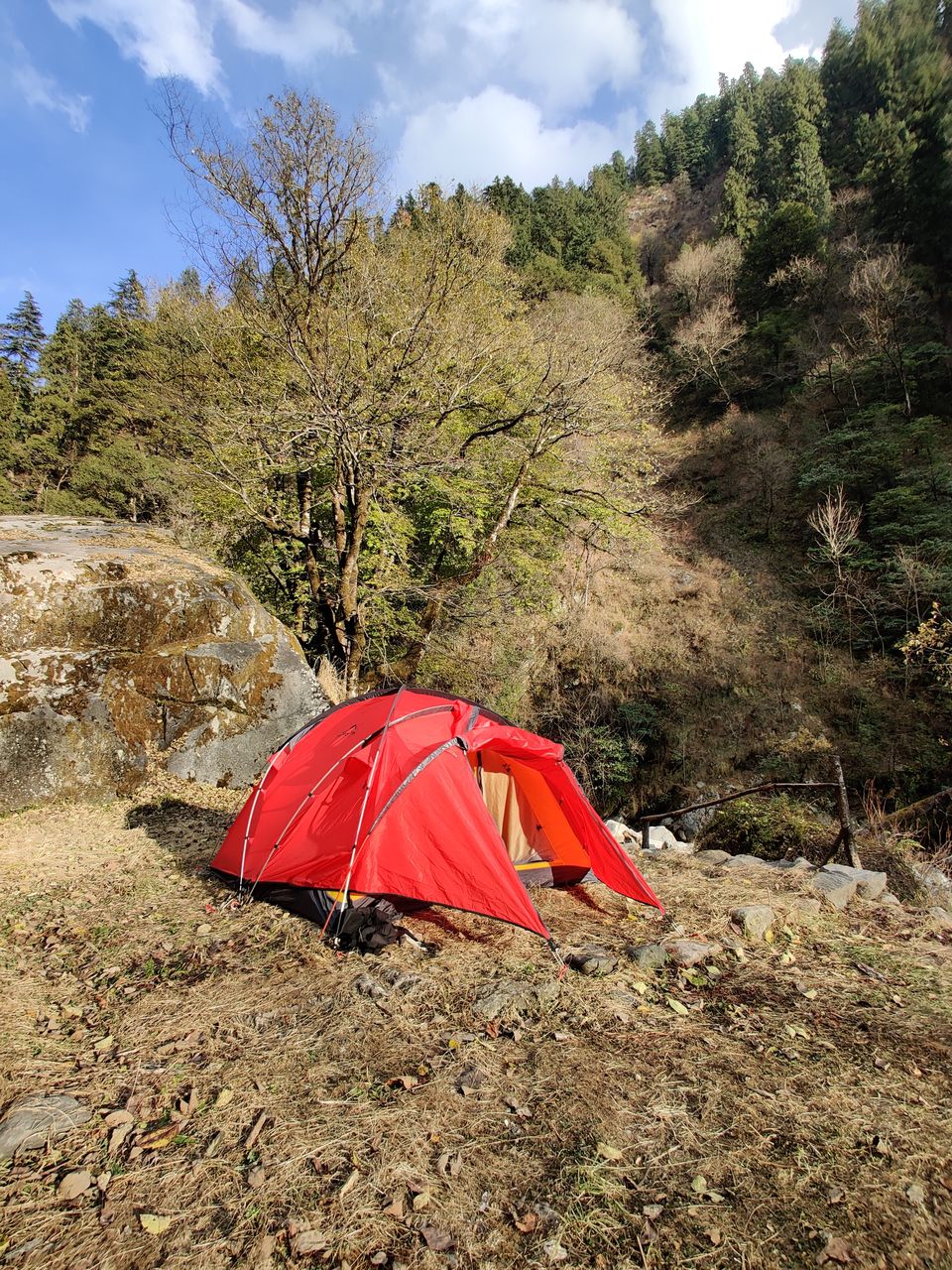 As the sun was about to set and get dark, hot maggi was served at 5 pm. Mr. Basant meantime was collecting dry woods and essentials for camp fire to be lit when it got dark and to keep us warm.
Never felt so good to have bowl of hot and spicy tomoto soup at the campfire.
The wind was getting chilling and the temperature was heading to negative, but who cares - thanks to the campfire.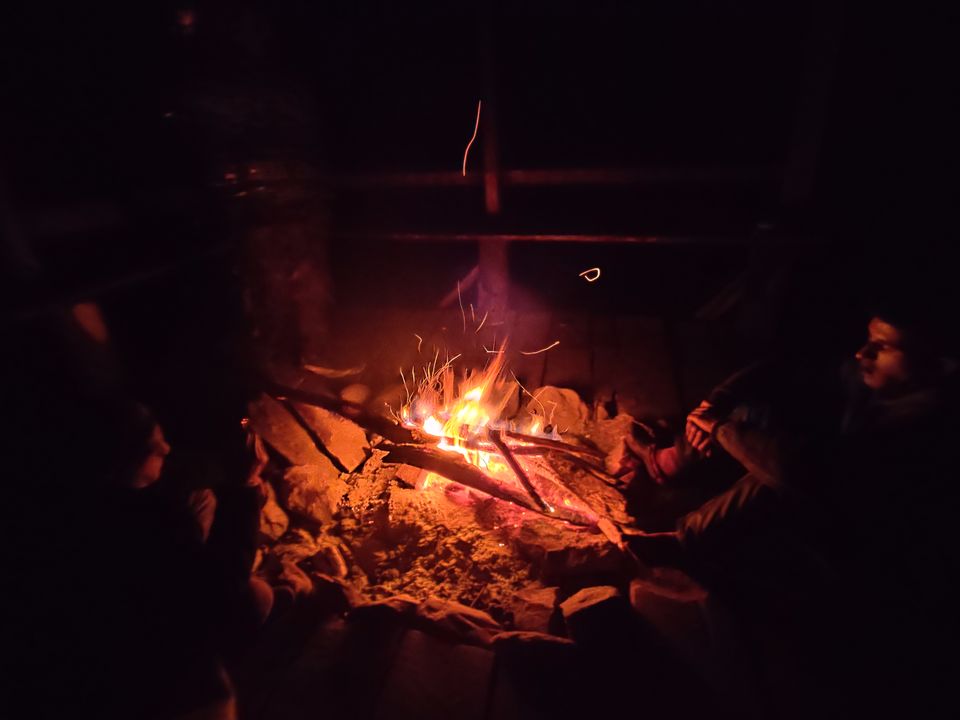 We chatted till the dinner time - dal, rice and Simla mirchi sabji for dinner with sweet dish - KHEER. Off to bed at 10 pm.
Day - 3 - ROLLA towards (2kms) CHALOCHA and back to TINDAR
Got up around 6:30 am and open up the tent for fresh chilling air and the view. The camp was so silent that one could hear the dry leaves from the trees falling around. Got freshen up by the tirthan river, had omlet and parantha for breakfast and not to forget a hot cup of chai.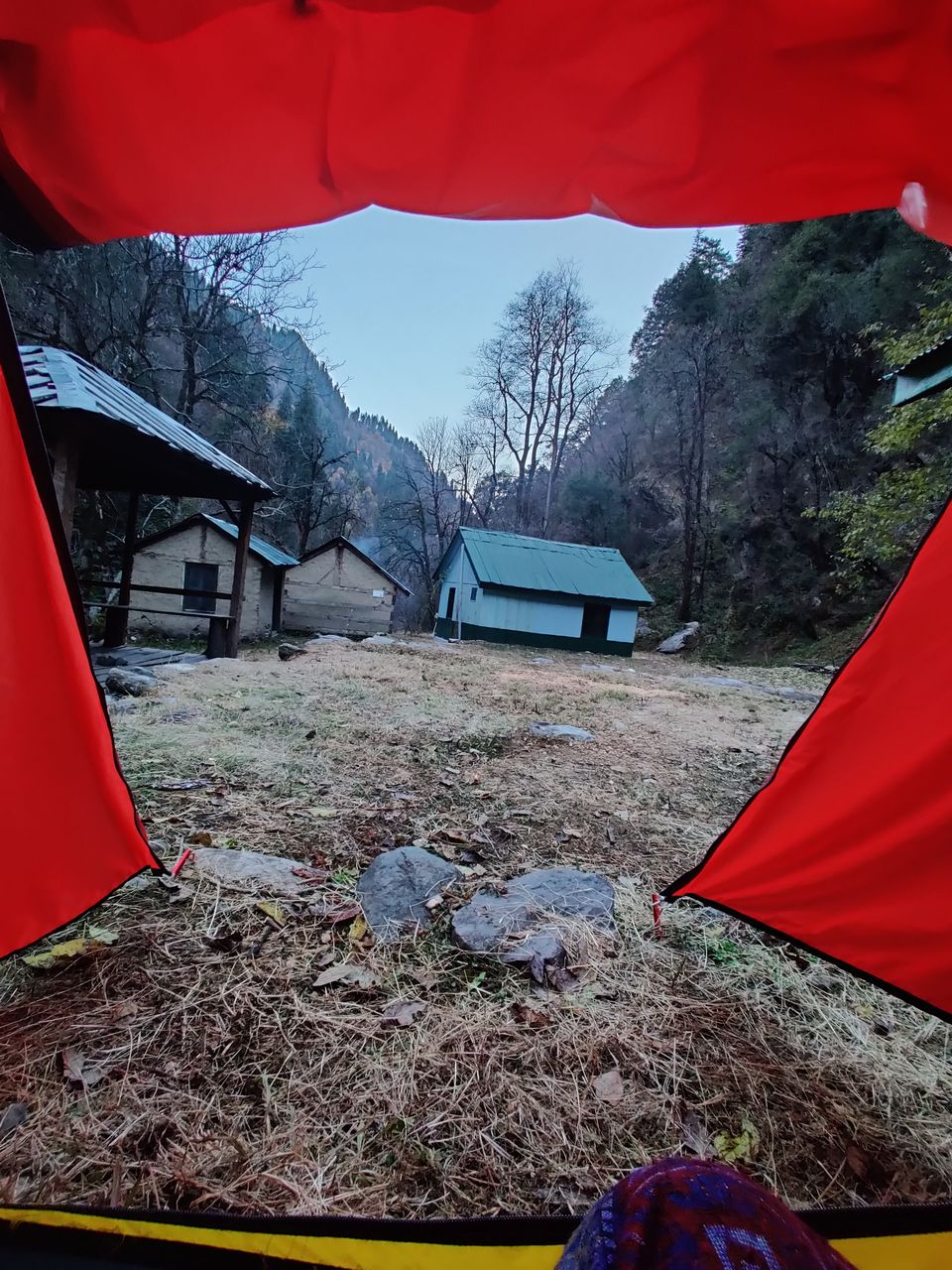 We had a plan to move towards the next camp - Chalocha around 2 kms and then start the journey back to Tindar.
Unpitched the tent, packed the bags, left it at the kitchen space and moved at 8: 30 am, only with camera gears and water, off towards Chalocha.
From Rolla as we moved ahead, the forest cover got more denser and silent. We passed as many as 8 bridges small ones though which were made along the trail to pass by. At some places the trail gets so narrow that one needs to be extra careful to avoid any slips and fall. The forest department and locals passing by have laid wooden planks and stones at some places to walk and pass by the narrow stretch.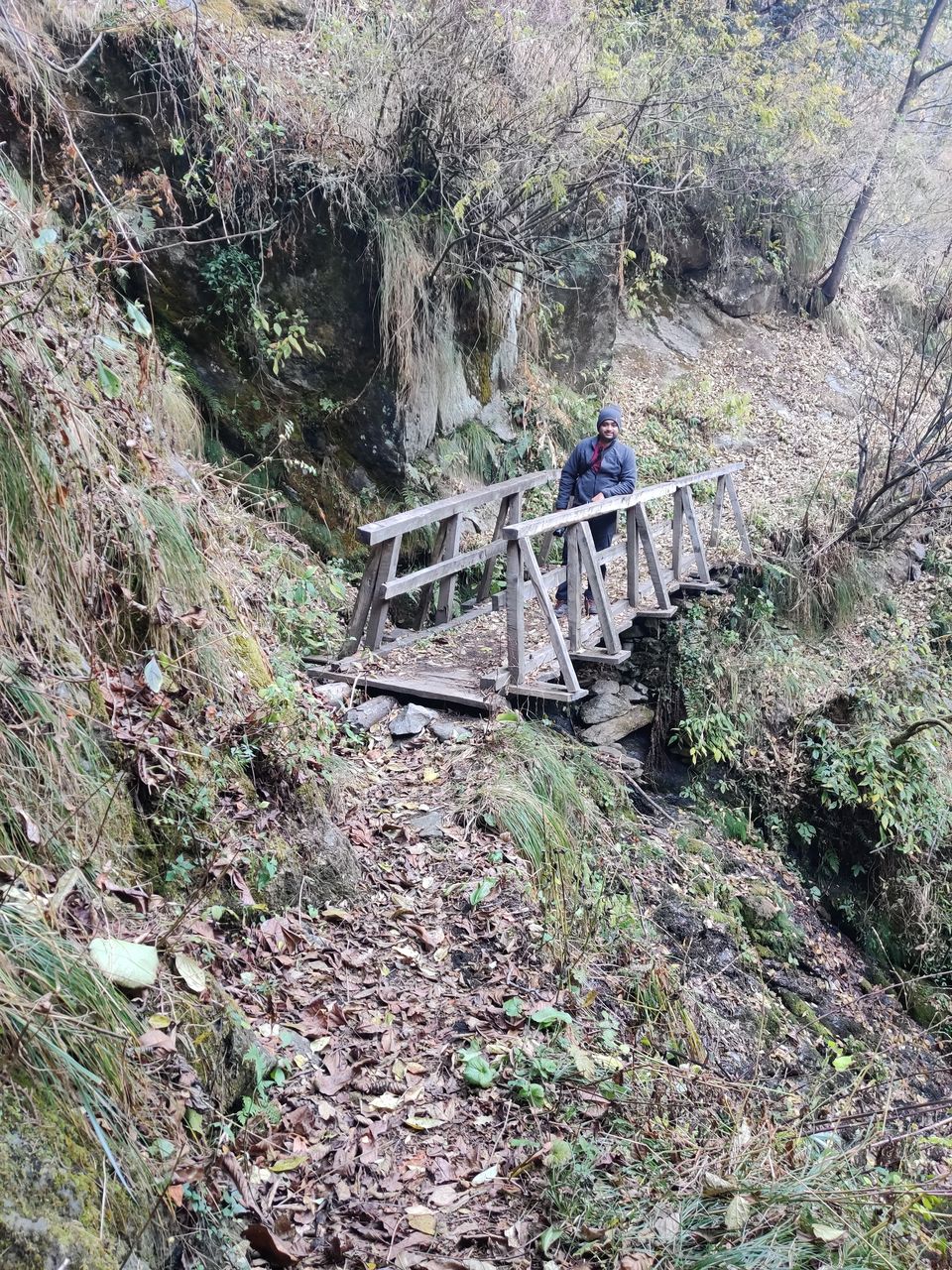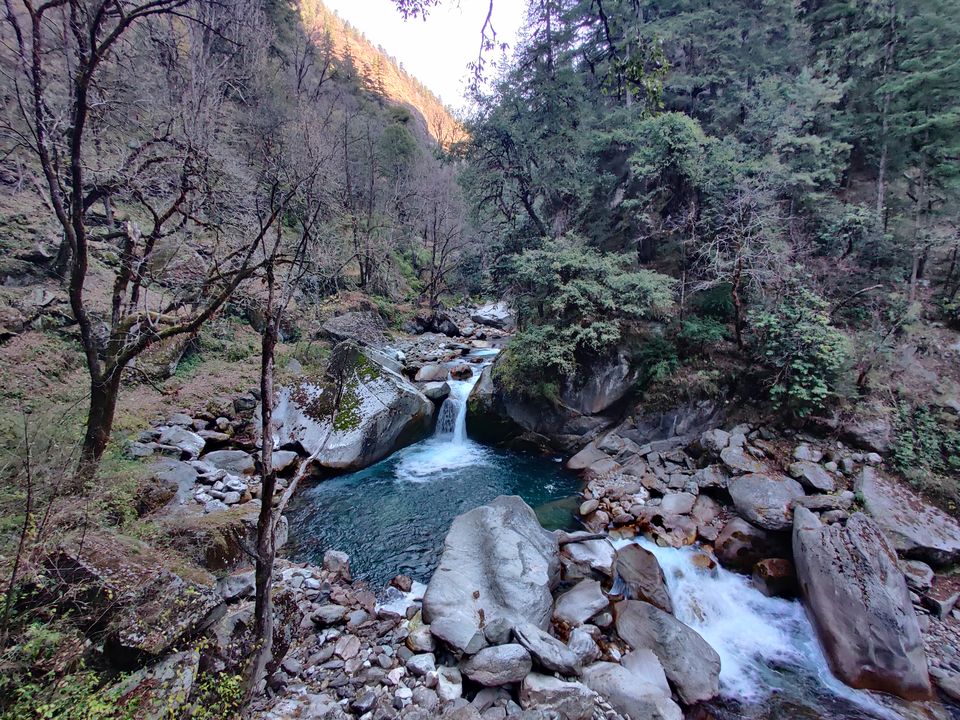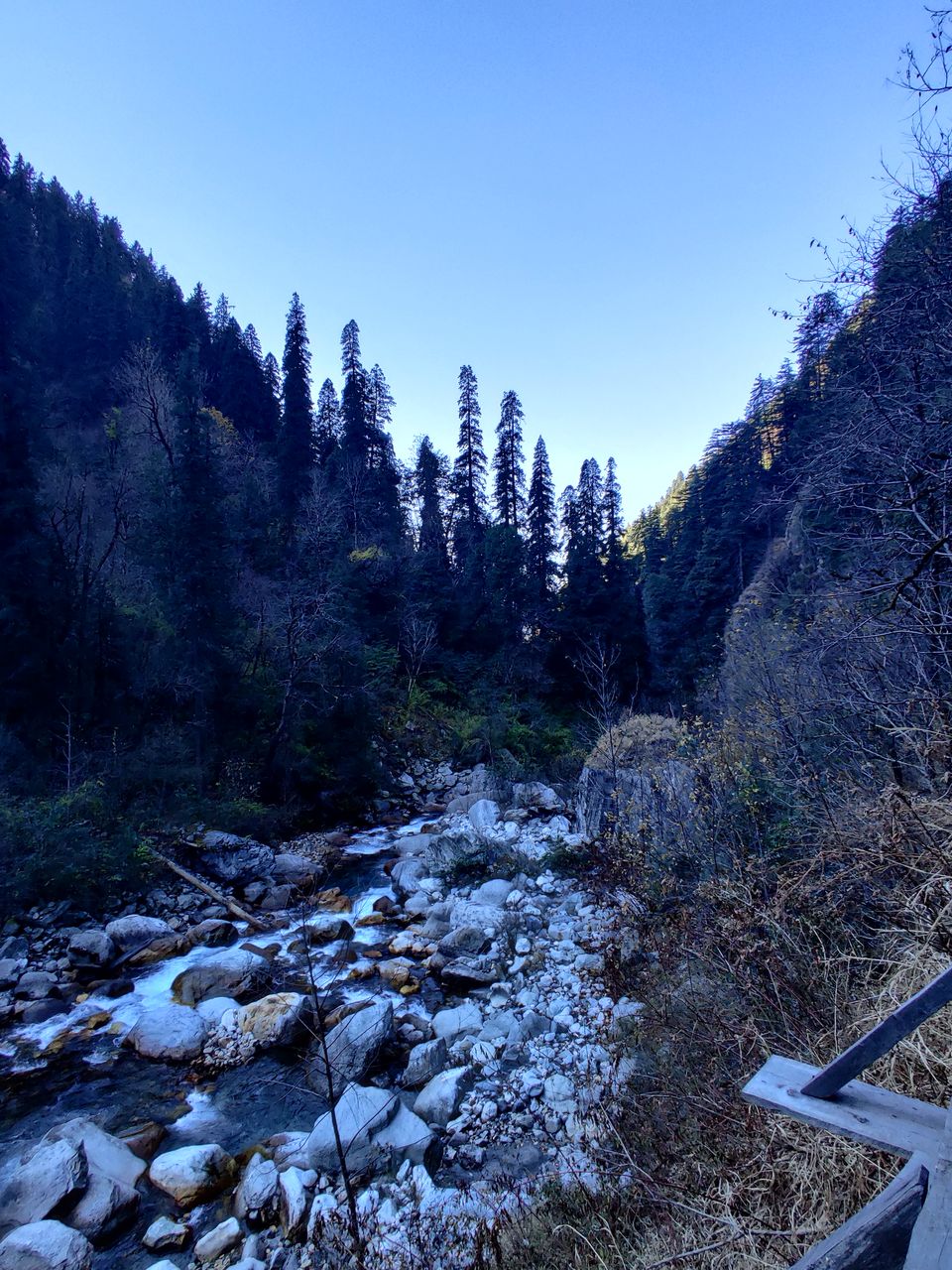 We took ample amount of 2 -3 min break to click pictures. The trail was so soothing to walk and so musical - the sound of us walking grinding the dry leaves on the trial, the birds chirping their morning rhythms, the river gushing way down, the sound of wind flowing through the valley - just magical.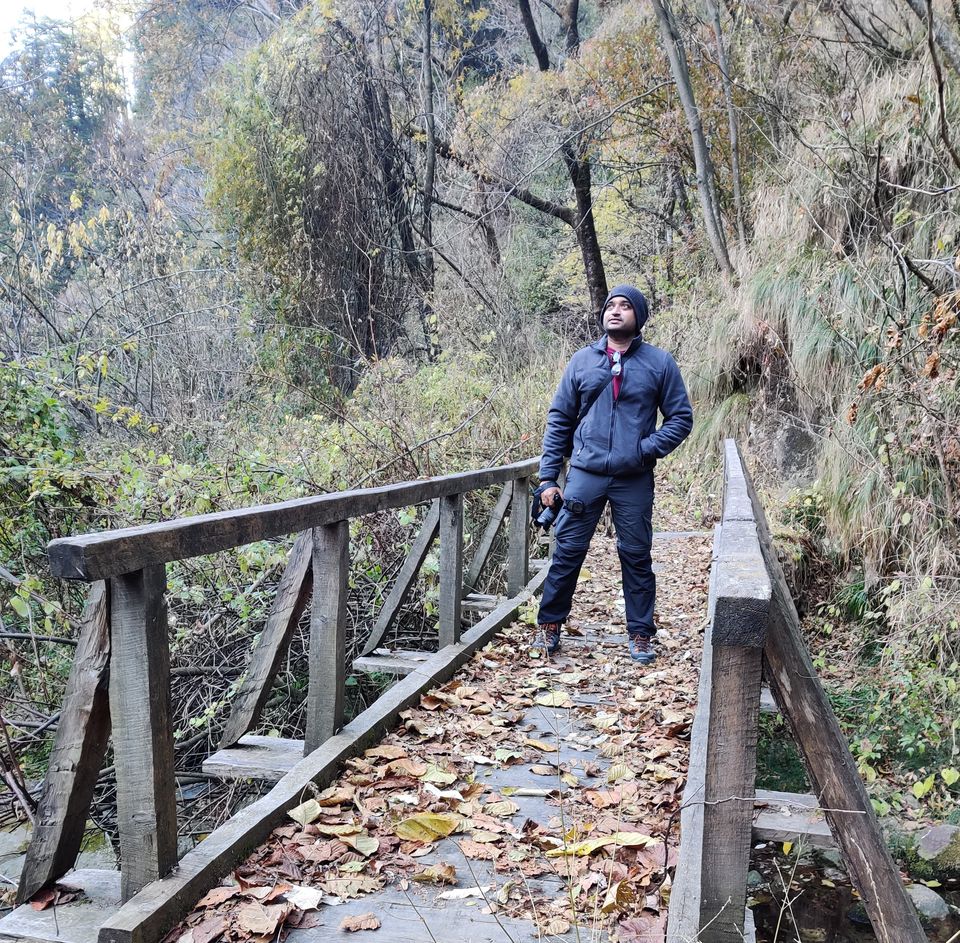 Their came a point where we saw the trail to shilt village/viewpoint which went up (it is said that trail to SHILT is way steep and takes around 2 hrs to reach the top, one can camp at SHILT) and the other moved to CHALOCHA. We took the latter one. Around 10: 20 am, we had reached the point where we had to stop and move back.
There was one huge tree log fallen along the trail. We took a fifteen min water break and some rest and moved back.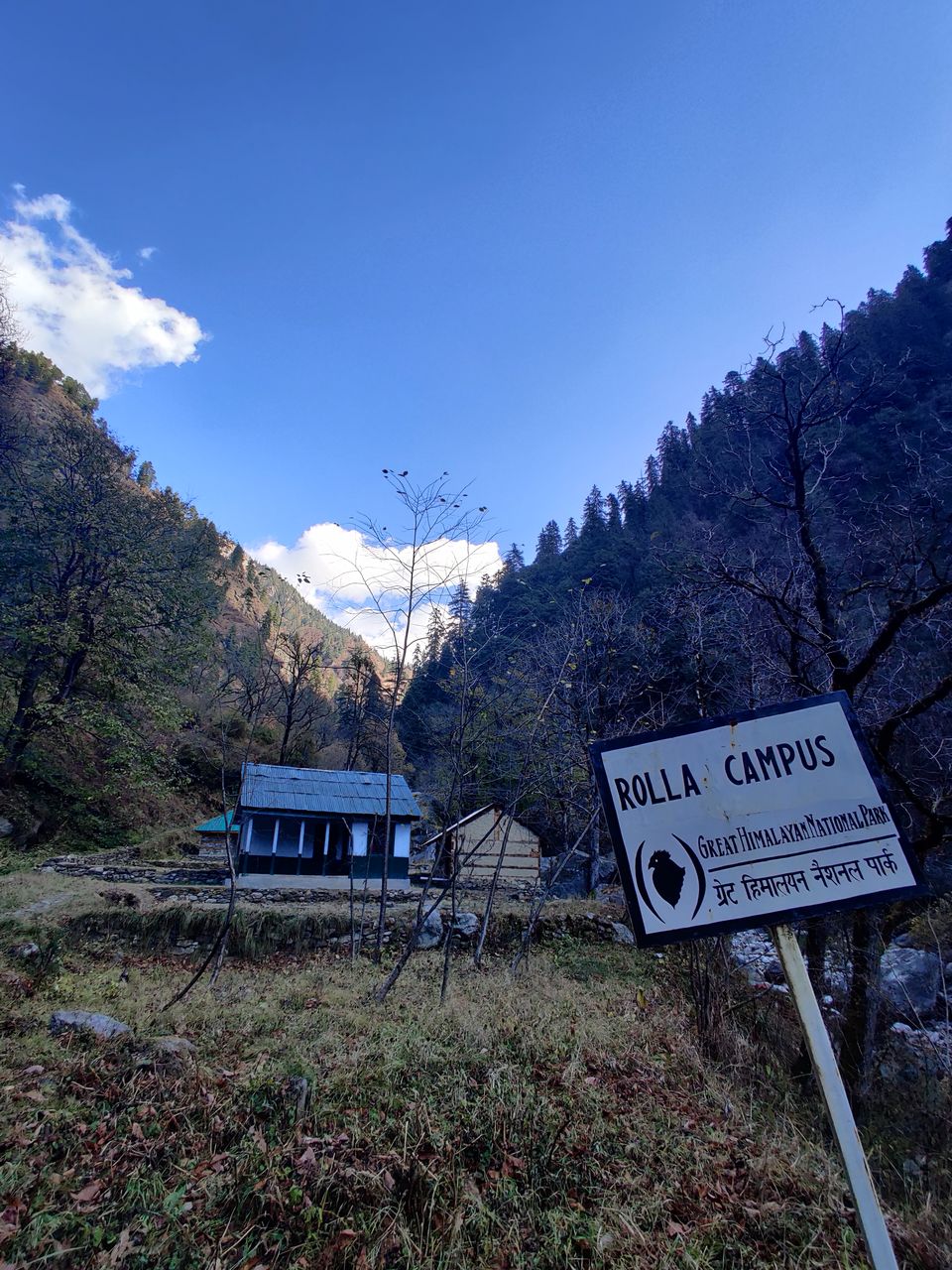 Now the trail was so familiar to me and was all about descend. We ran down the trail to Rolla camp in flat 25 mins. It was time to leave the Rolla camp with our backpacks and move to our homestay in TINDAR.
It took us half the time to reach ROPA village compared to what it took the previous day.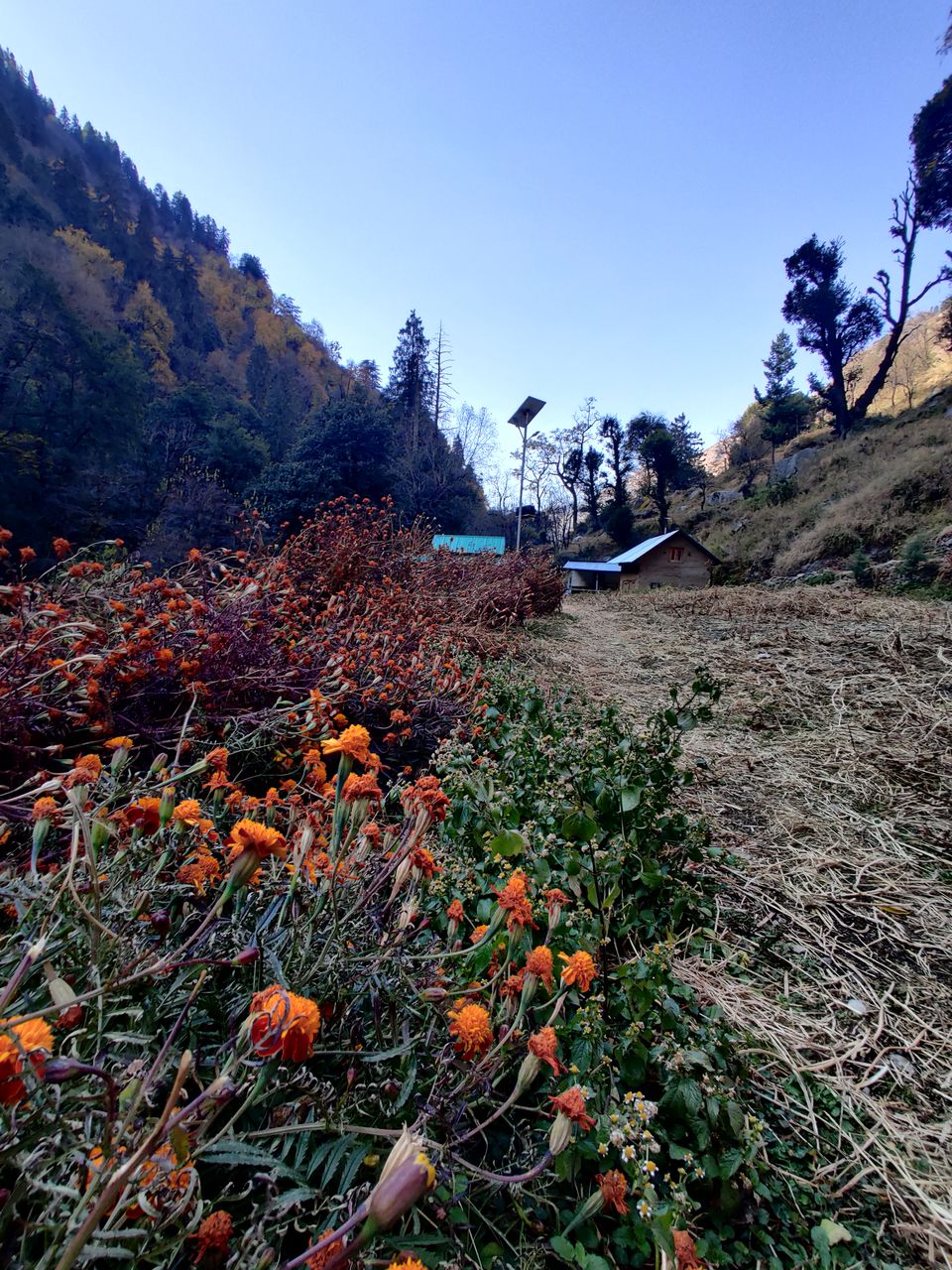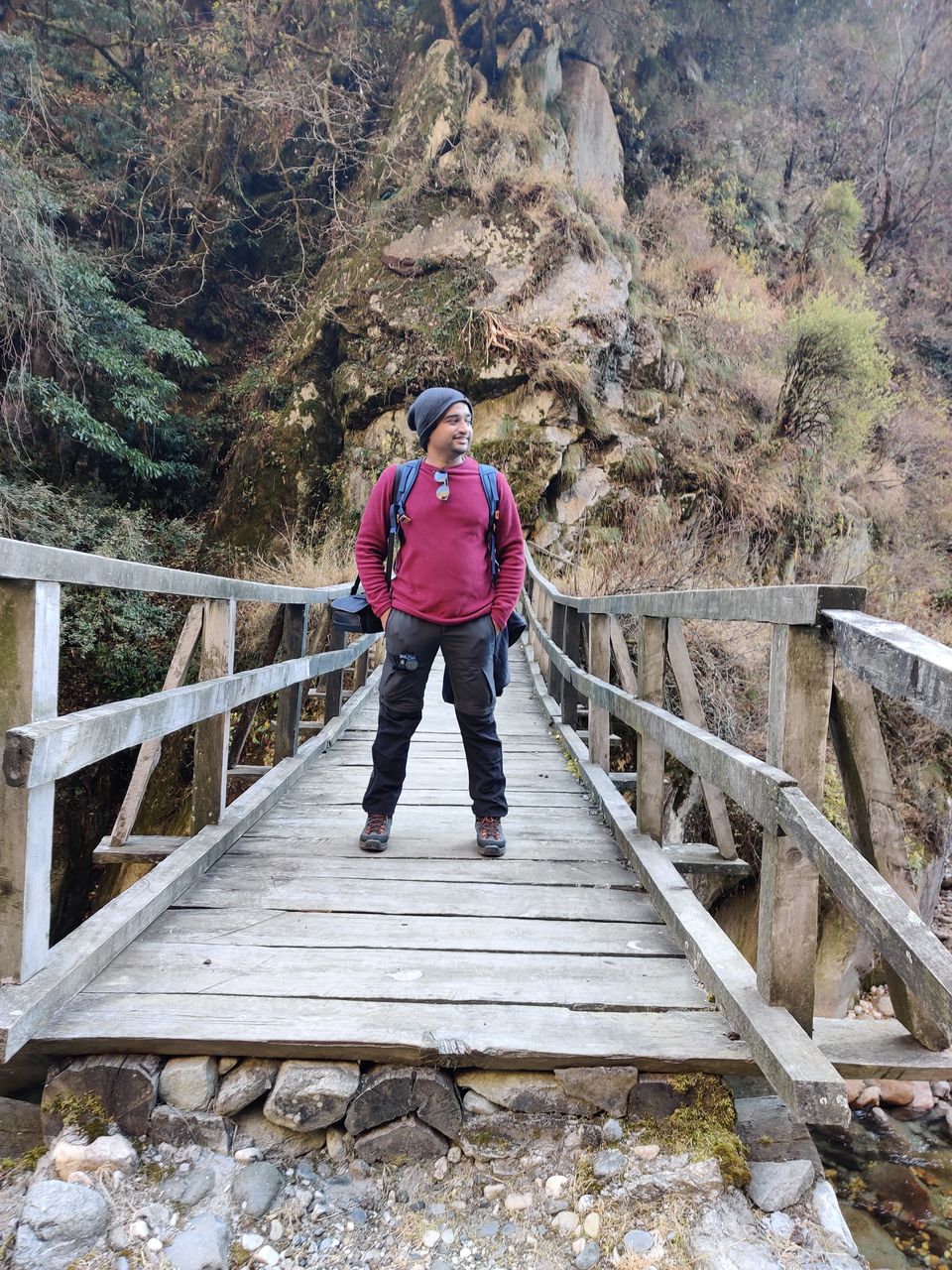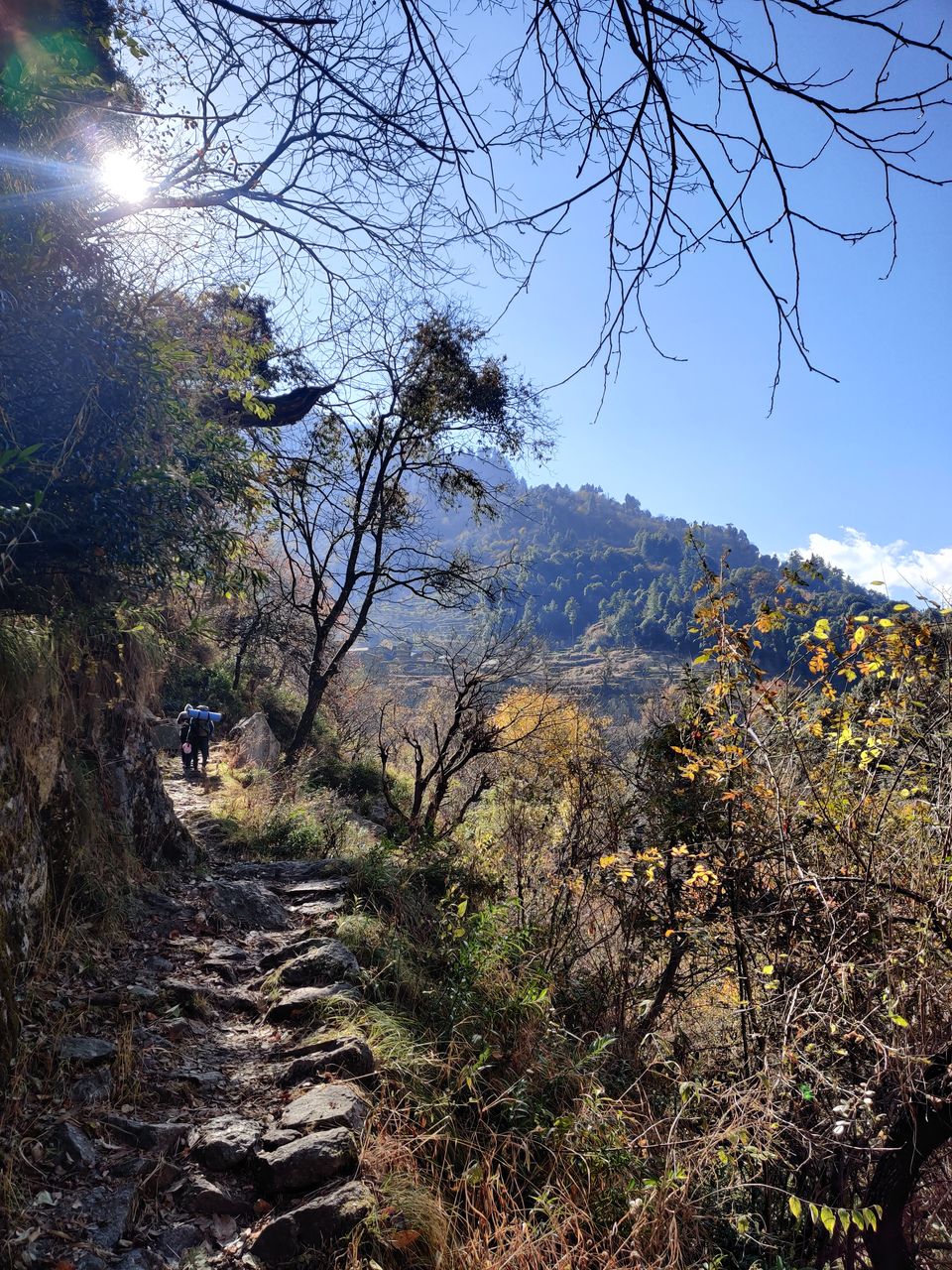 At around lunch time we were back to TINDAR. I was totally exhausted to my lungs popping out at the last stretch of getting up from ROPA to TINDAR.
As we reached the homestay it was time to have a cup of chai. After hot water bath I was served lunch - rice and masoor dal sabji with pickle. Around 5 pm, hot bowl of maggi noodles watching the sun go down and getting dark.
Today it would be early off to bed as I need to push to another beautiful village the next day.
Day 4 - TINDAR to SARCHI village (18 kms)
Got up at 7 am with a recovery sleep after the trek. With a cup of tea and getting freshened up, packing the bags, it was time to say goodbye to Tindar village and my amazing host Mr Basant Singh, his son Krishna and family.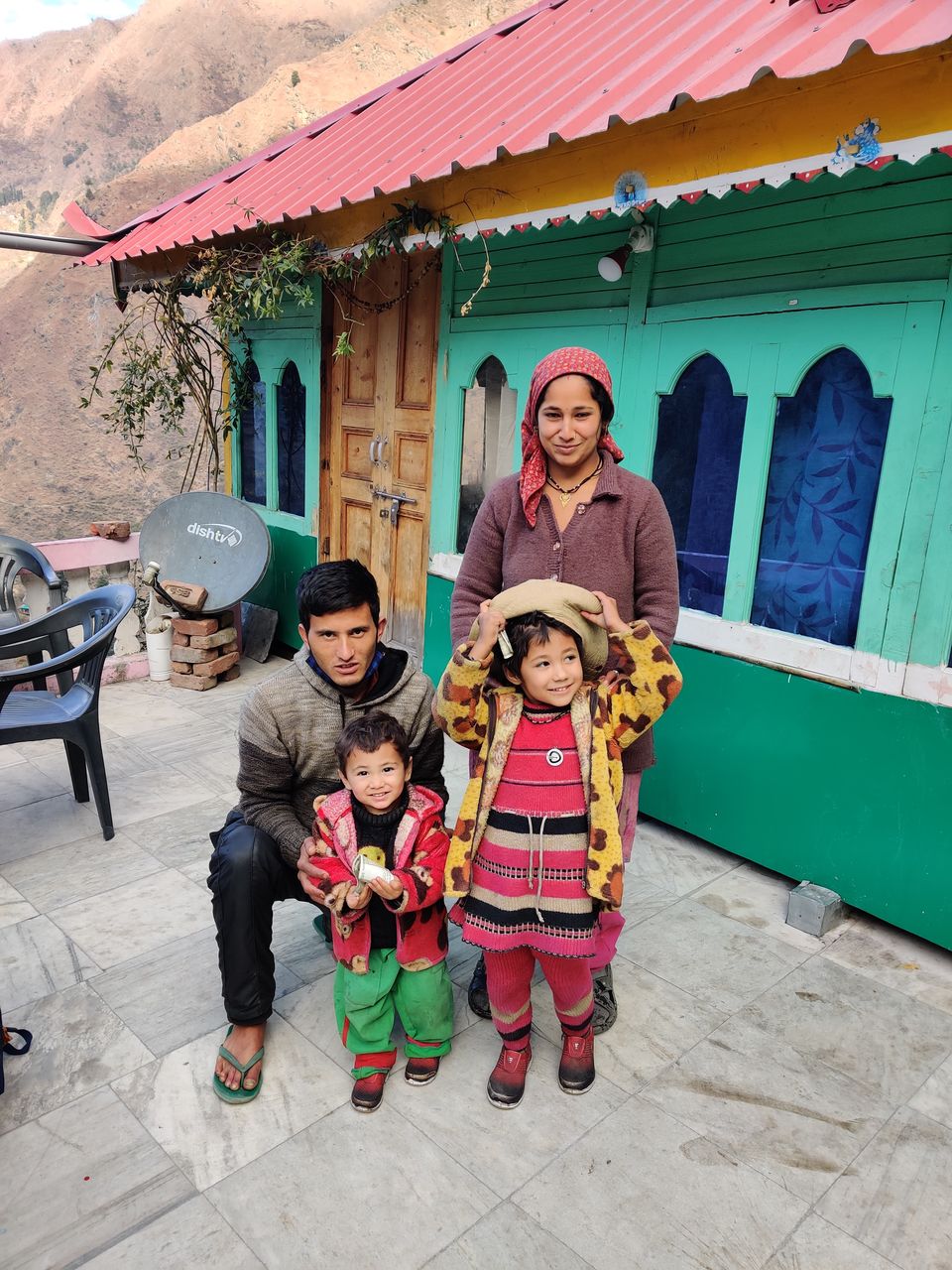 The adorable grandchildrens caught me packing the bags and the elder girl said 'mamu aap jaa rahe ho' I said yes. To which she said, 'Kyu?' (Why?). I just couldn't answer her.
My cab was ready downhill to take me to Sarchi village. Mr. Basant accompanied me to Gushaini village 4 kms from Tindar. He would buy some household essentials and was to head back. I greeted him goodbye and with a promise to meet him soon for another trek.
From Gushaini around 2 kms, there comes a bridge to which we take a left to move uphill 14kms to reach Sarchi village. The beautiful sight of snow capped mountains around confirmed that the views are going to be spectacular. The deodar trees all over the slopes were tall and aged. The road to Sarchi is a good tarmac one.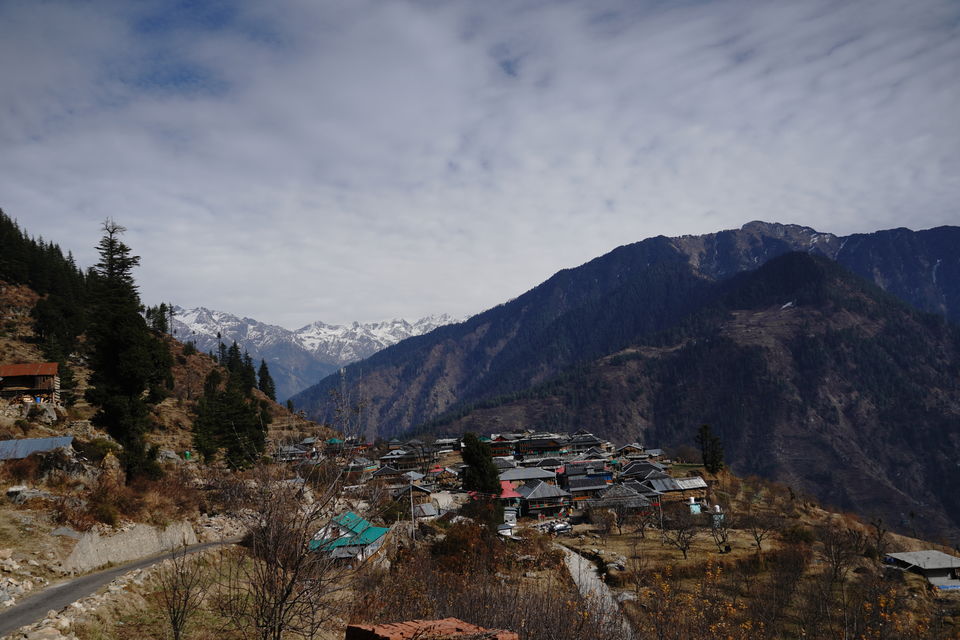 My homestay owner was waiting for me at the Sarchi village entrance and took me to his homestay. He operates a homestay named - Sharchi green valley homestay. Contact: Titu Risky - 62304 59067.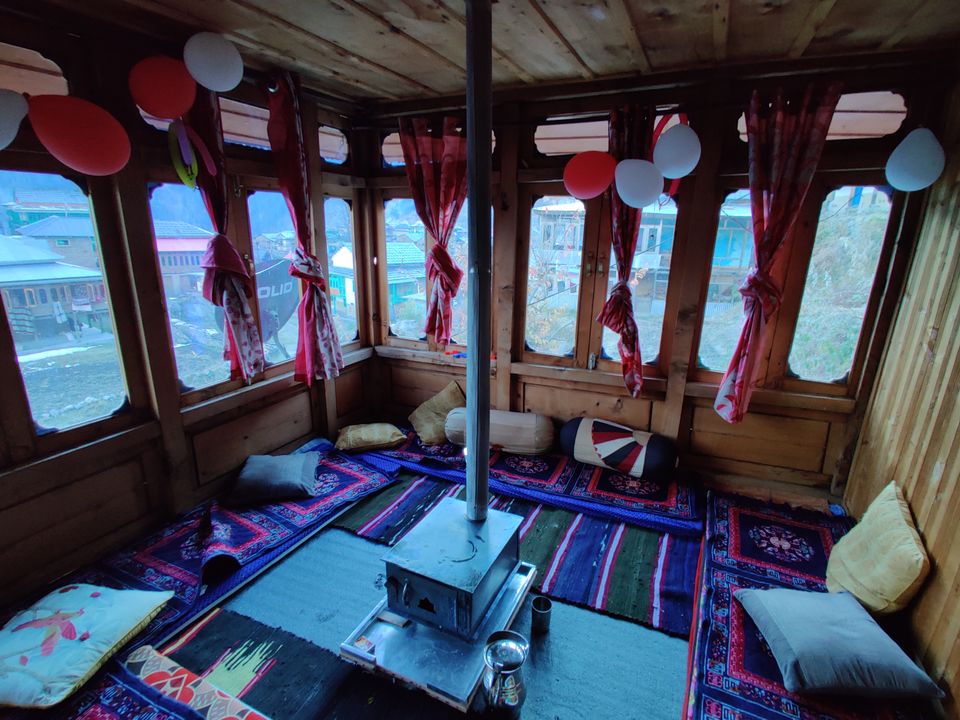 The village has over 80 houses and some of which are converted to homestays. There are only 2-3 small cafe setup for basic refreshments. The village was so calm and the people were engaged in the daily chores.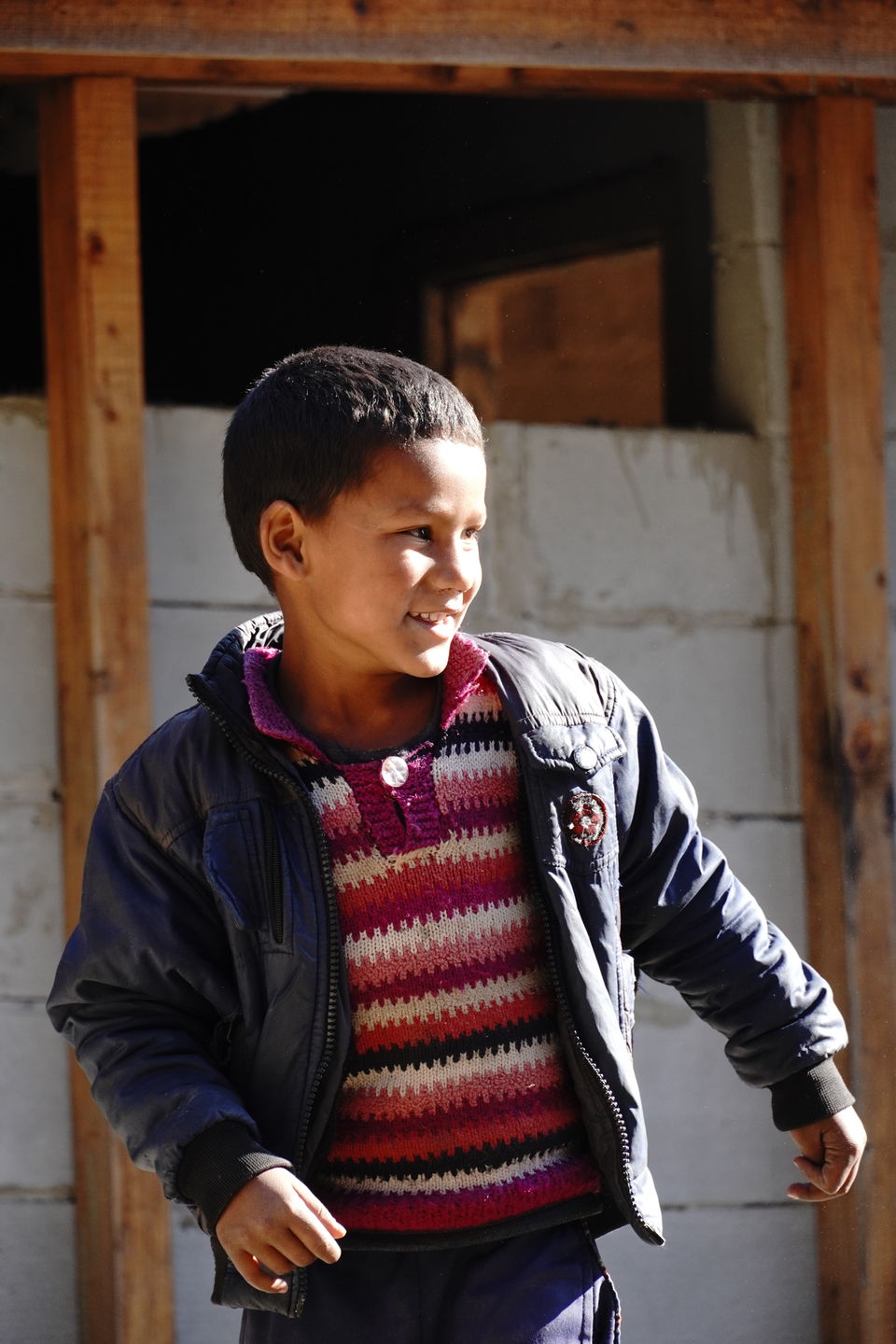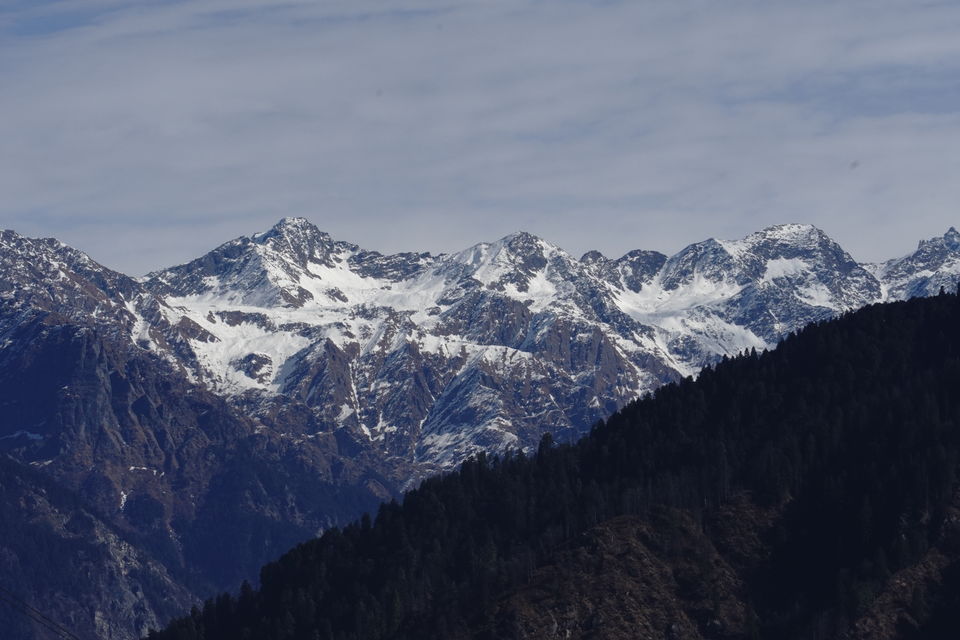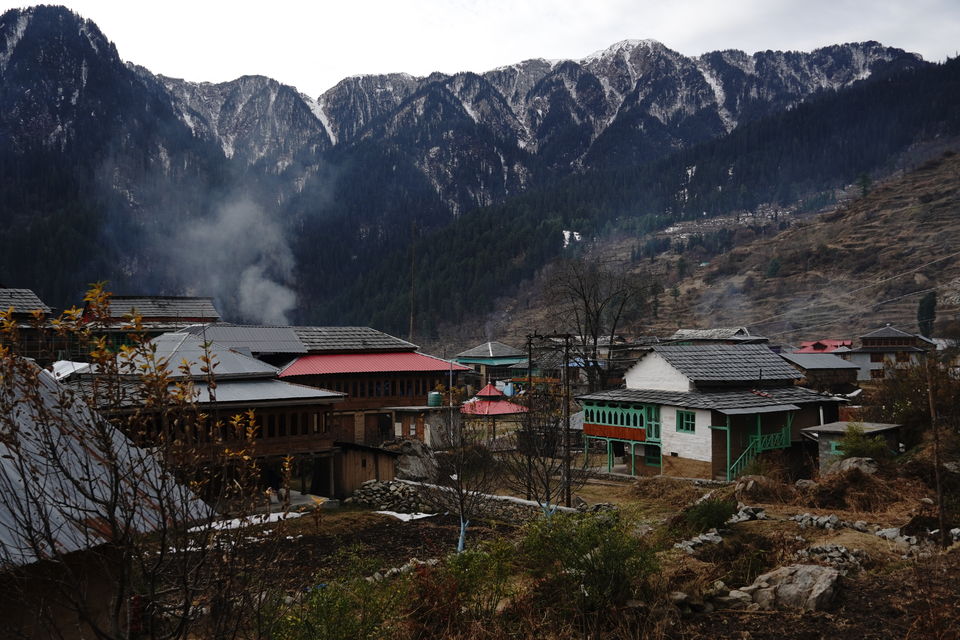 I checked in my stay. Got freshen up, gathered my camera gears packed in small backpack and moved to explore and click the valley around.
One can see peaks of the GHNP leading to Tirath trek and also Shrikand Mahadev peak which was not visible at that moment.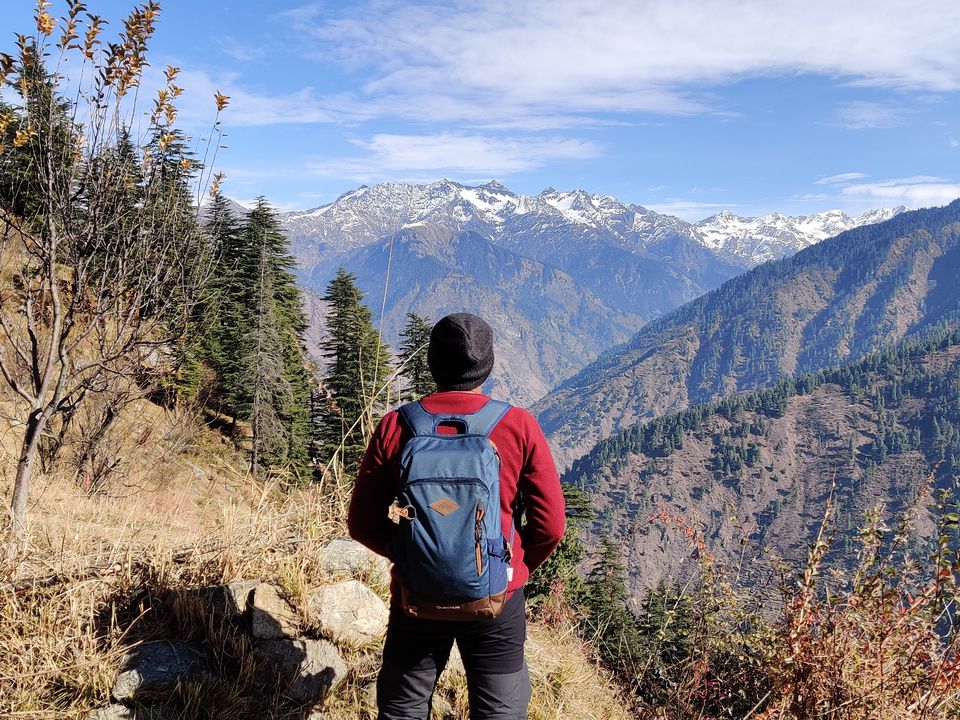 Shot some videos of the village, the houses, temple, a small play ground. The locals suggested me to trek to Jamala village to witness some breathtaking views and a meadow covered with snow.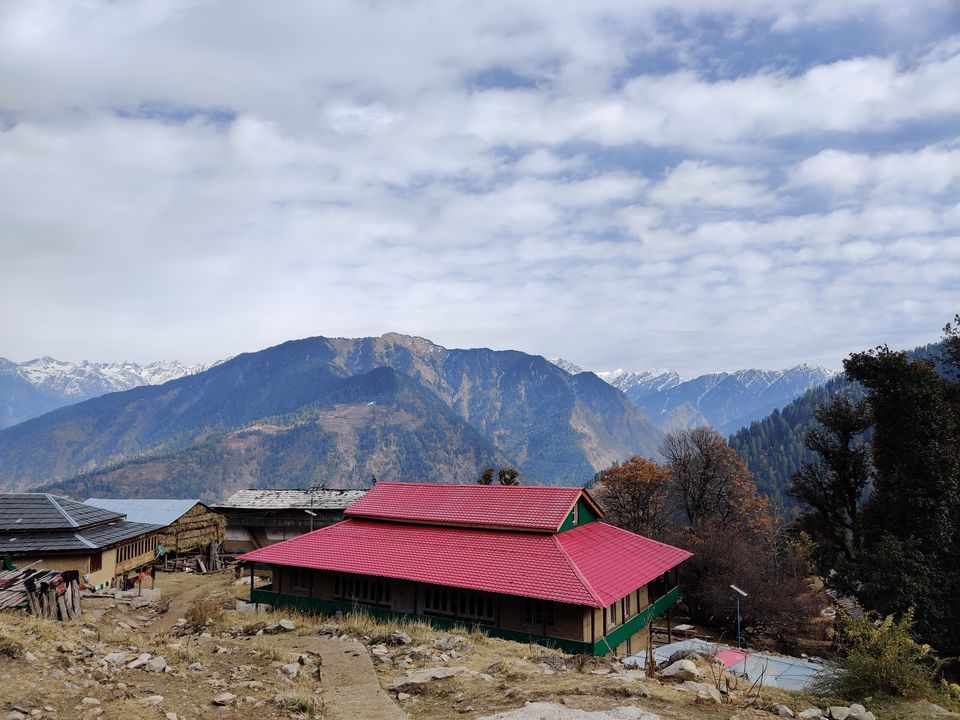 Trek to Jamala village is around 1 km, starting from sarchi village the tarmac road around 200 meters and then take a steep trail up the apple orchards to reach the Jamala. Another lovely place with around 30-40 houses all constructed out of wood and were so colorful and catchy. The meadow is up ahead of Jamala main village - a flat land with horses grazing around greeted me.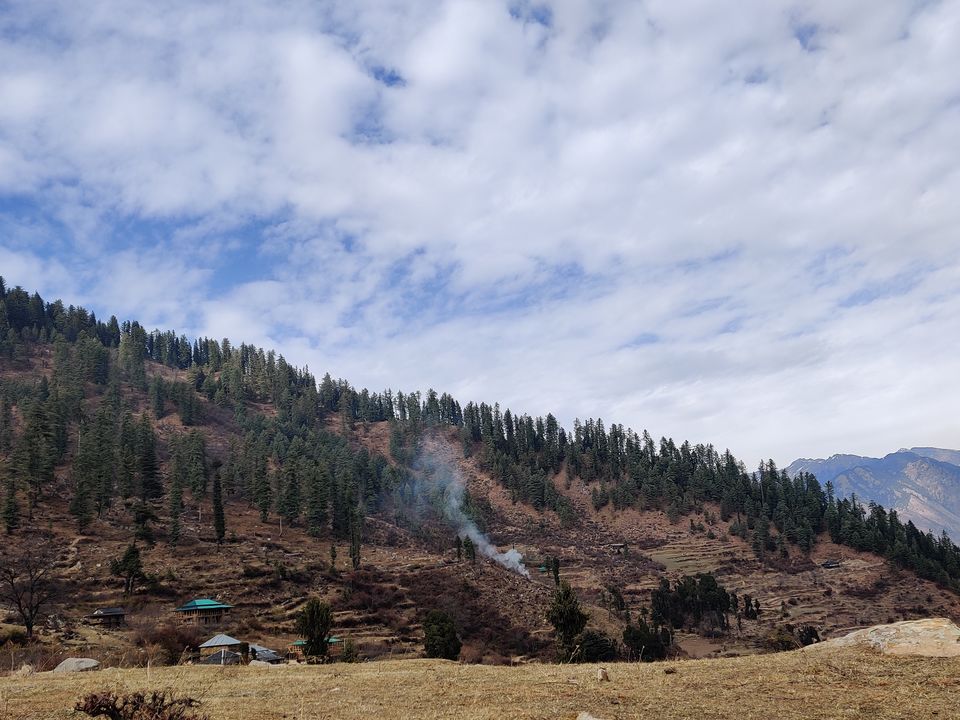 The views were just spectacular. One could also see the Lambri top which is a 2-day trek. My homestay owner Titu conducts this trek.

Got back to sarchi village at lunch time and had kadhi chawal and a cup of black tea with local herb into it. Never ever have I tasted such good tea which seemed medicinal.
After lunch it was time to just sit back and relax and enjoy the views of the golden hour as the sun was to set and the air was getting colder reminding to put on thermal layers.

At around 8 pm, had lip smacking dinner - Palak kaa saag, tandoor roti, chana sabji. Bedtime. - 9:45 pm.
Day 5 - Sarchi to JALORI Pass / SEROLSAR lake
Got up at 5:30 am to witness the morning view. it was time to leave this beautiful place. Had bread omlet and bread toast with chai. Bid good bye to the amazing hosts and started my journey towards Jalori pass.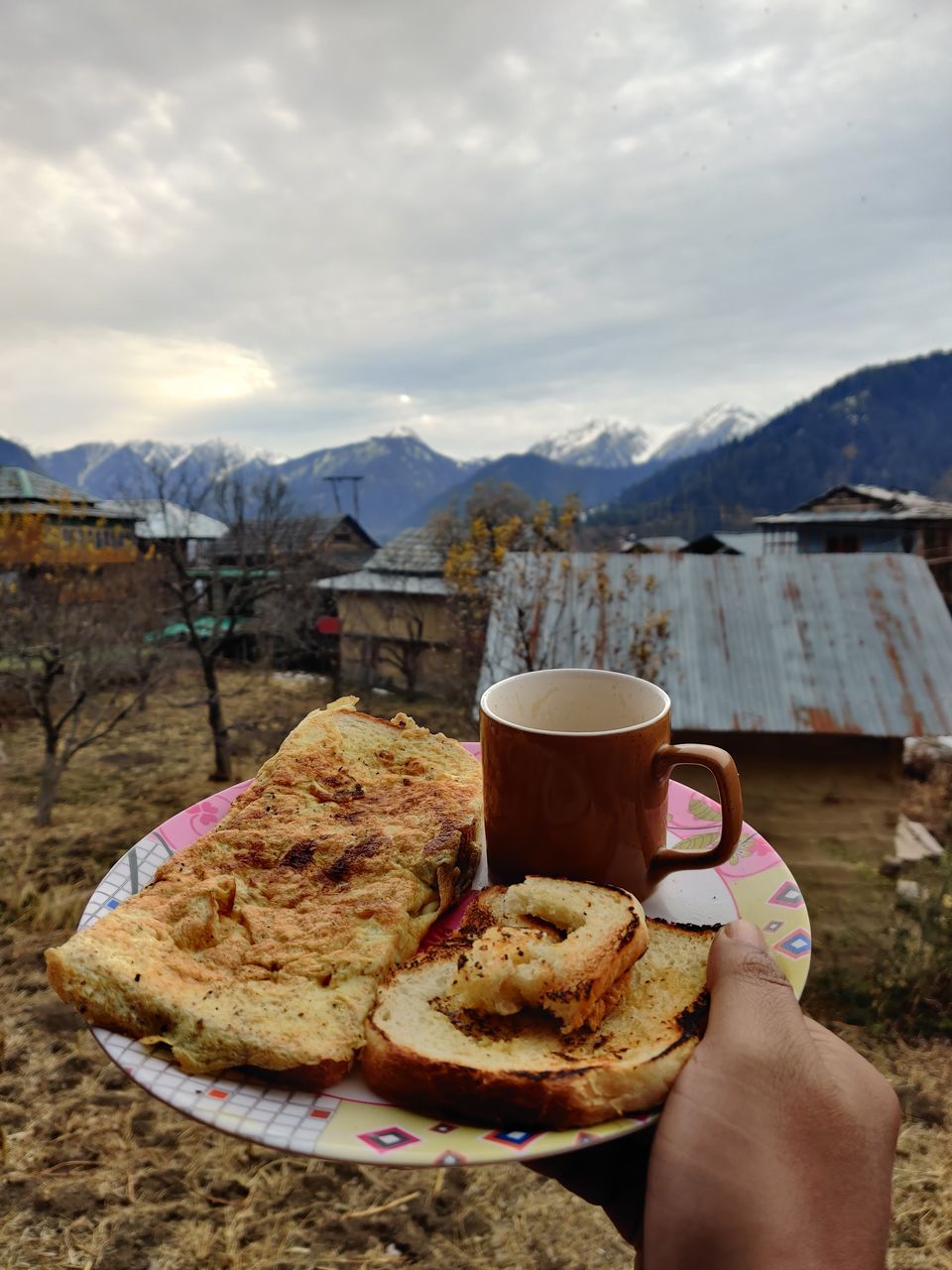 Gullu taxi driver was there to pick me up at 9 am. The downhill ride to Banjar town gave beautiful views of the valley with pine and deodar all around and the fall colours.
Today plan was - Sarchi to Jibhi(31 kms) to Jalori (12kms) to SEROLSAR lake (5kms walk) to Shoja (Homestay 8kms)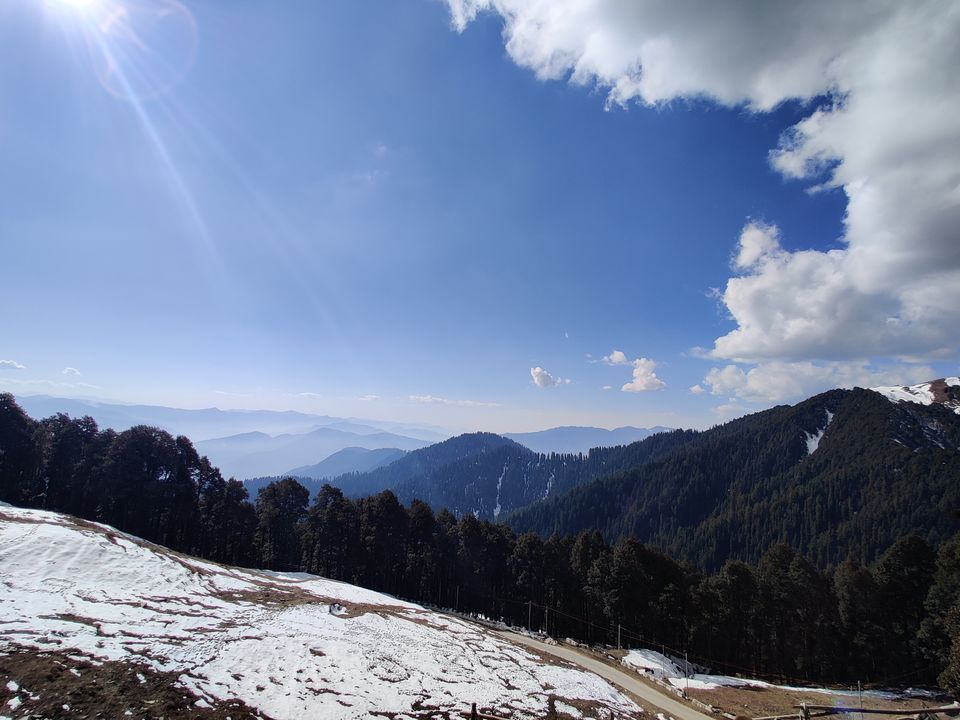 As we reached Jibhi my driver pointed to the jalori pass way up the mountain. The sky was clear and sunny. The road to jalori is real steep and I could see the snow patches now. The ride was slow and careful. We reached jalori pass around 11:15 am. Picked my camera gears to move on the trail to serolsar lake.
I took blessings from Mahakali temple and moved towards lake along with my driver friend who accompanied me. Its a 4.7 km one way distance to the lake. Initially the trail is flat walking for around 1 kms and then it goes up and down. Jalori pass and the trail had fresh snow from the previous day's.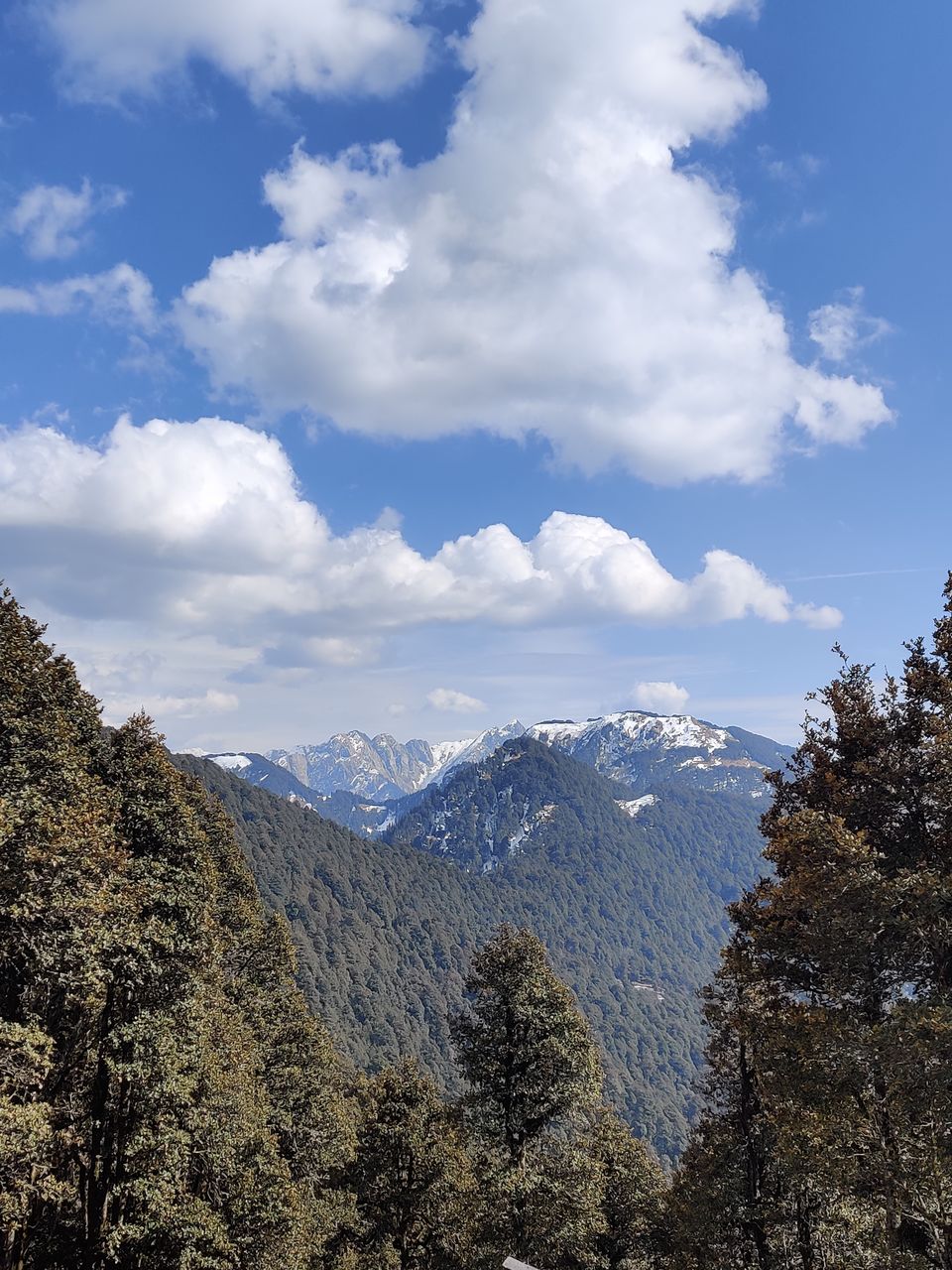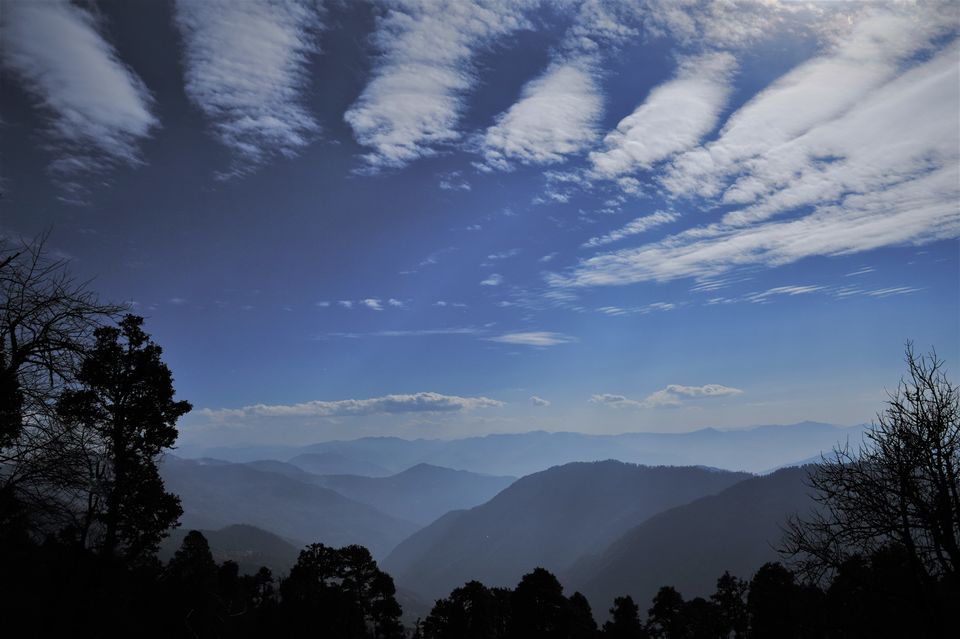 The trail had heavy snow patches, mud slush and stony as we moved ahead we took a halt at a cafe who's owner happened to be friend of my driver/guide. After a coffee, maggi and rest, we moved ahead.
We were at half point around 1:30 pm. The camera couldn't make justice to the view of nearby valley as Gullu explained me the region and the villages around the valley. The weather got cloudy and it started to drizzle as we were about to reach the lake.
The trail is well defined and had cafes and place to have refreshments. Although only some were operational due to less visitors.

We reached the picturesque lake around 2:30 to find it partially freezed. There was a transition from clear sky to cloudy and it was freezing cold.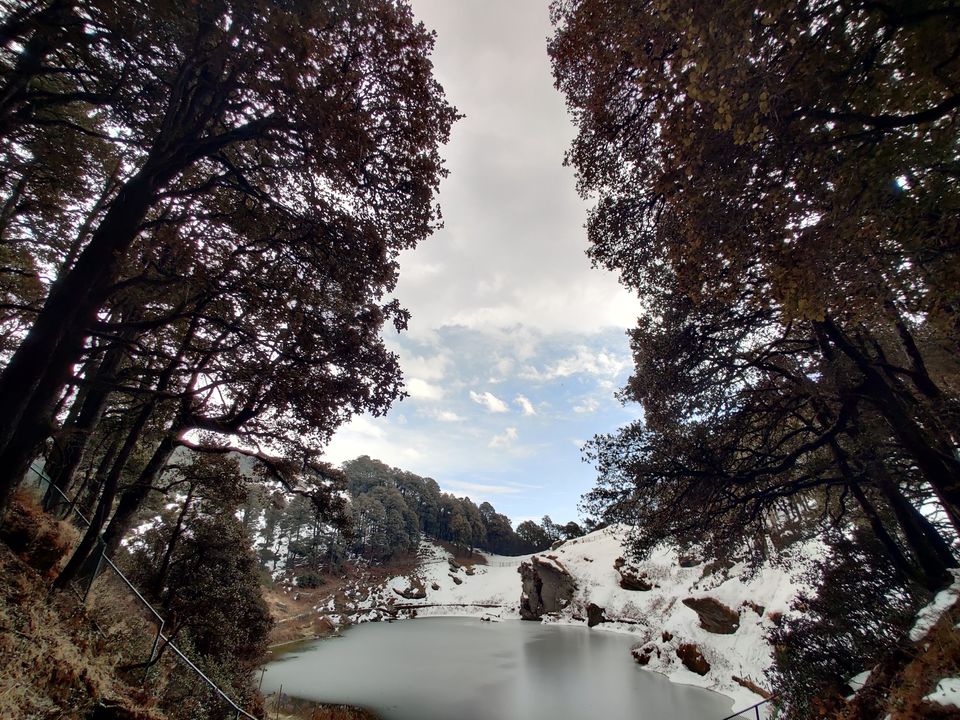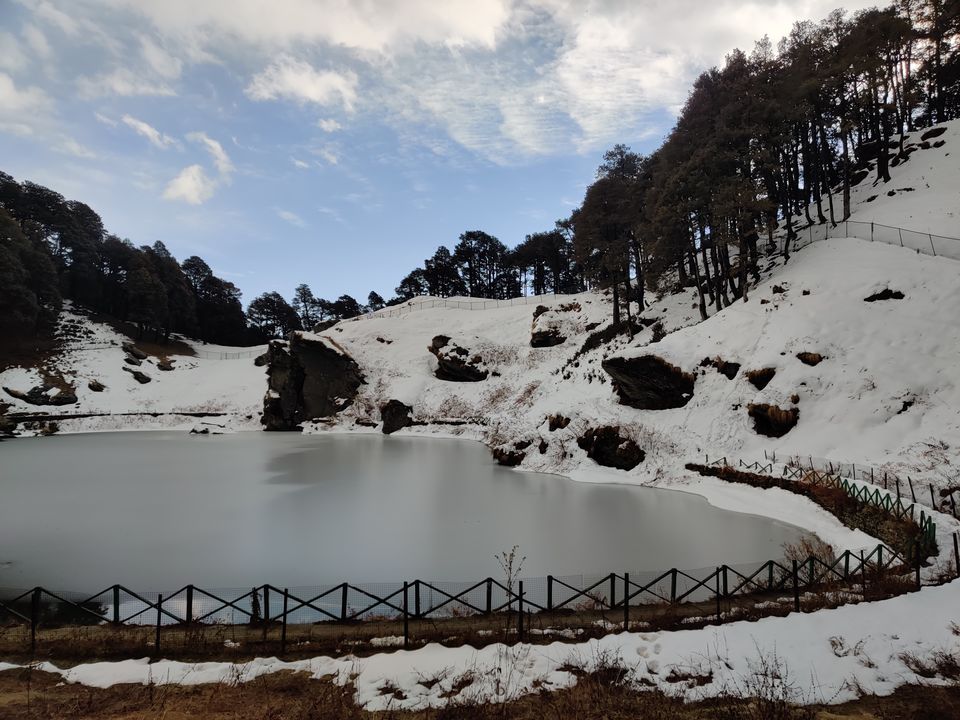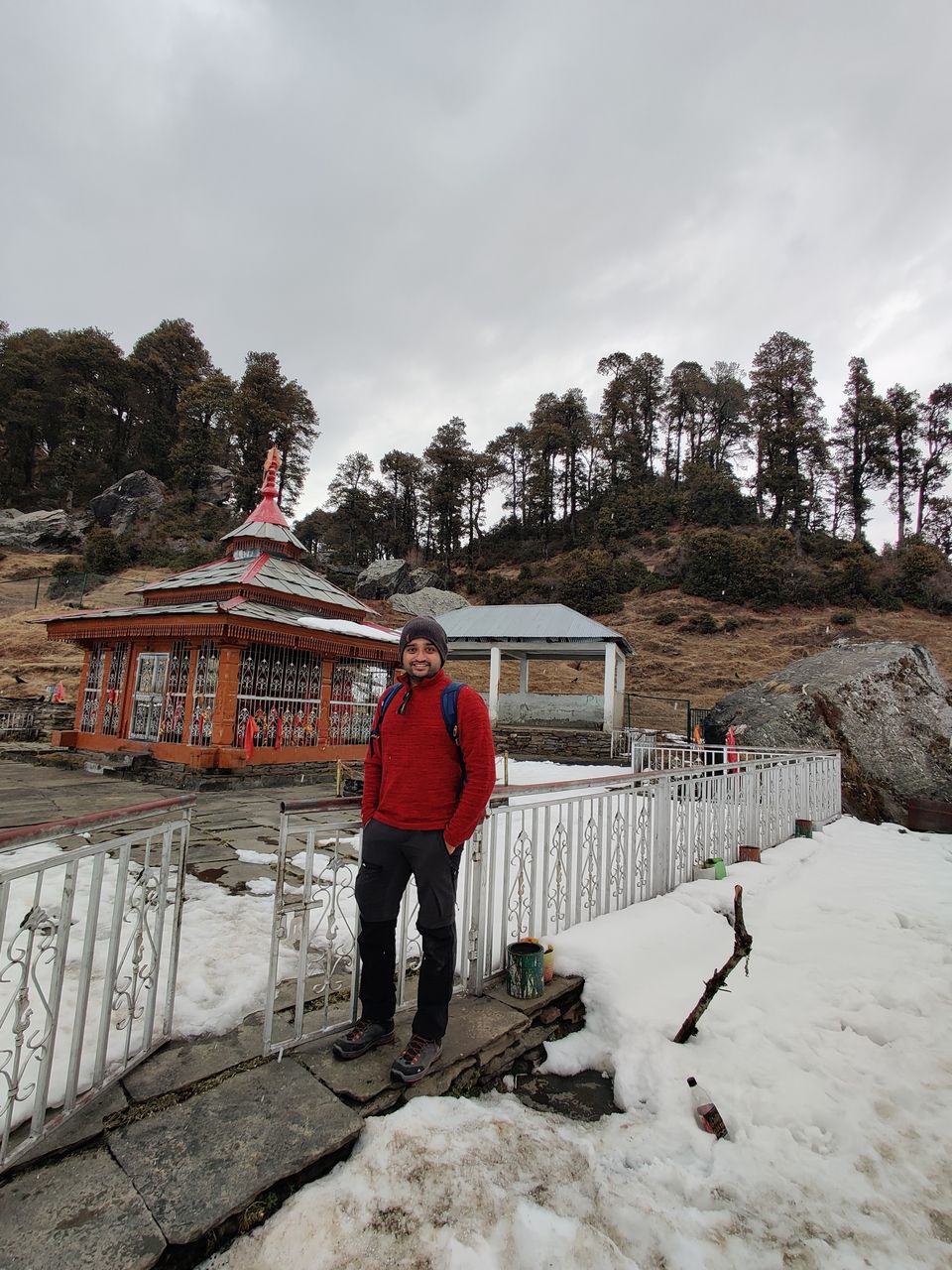 There is a temple of Mata Budhi Nagin some 50 mts ahead of the lake. After taking the blessings from the goddess and clicking some pictures, we started our journey back around 2:45 pm.
Now it was a cake walk for me as I was familiar with the trail and the descend was easy. We reached friends cafe in half the time, hadtea and moved back to Jalori pass where we parked the car. Time was around 4:30 pm.
We left the place around 5 pm and moved to Shoja - No society cafe for my stay. Contact: Piyush: 86838 21277

Checked in, got freshened up and moved to there cafe to meet my insta friend and lovely soul @Scatteredmaps.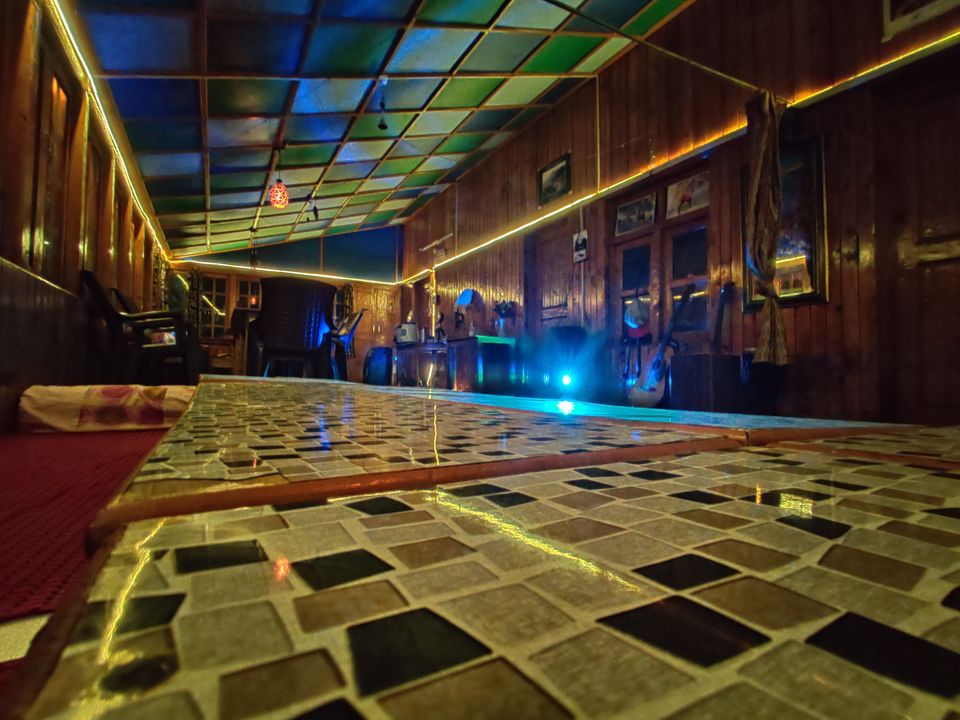 After chatting for good 2 hrs it was dinner time. Off to bed at 10 pm.
Day 6 - Shoja to Deohari village (SAINJ valley)
Got up at 7 am, had a hot water bath to cure the previous days pain. Morning sunshine gave me the required warmth. Order for a sandwich and two ginger lemon honey te and checked out to move to Deohari Village, Sainj valley.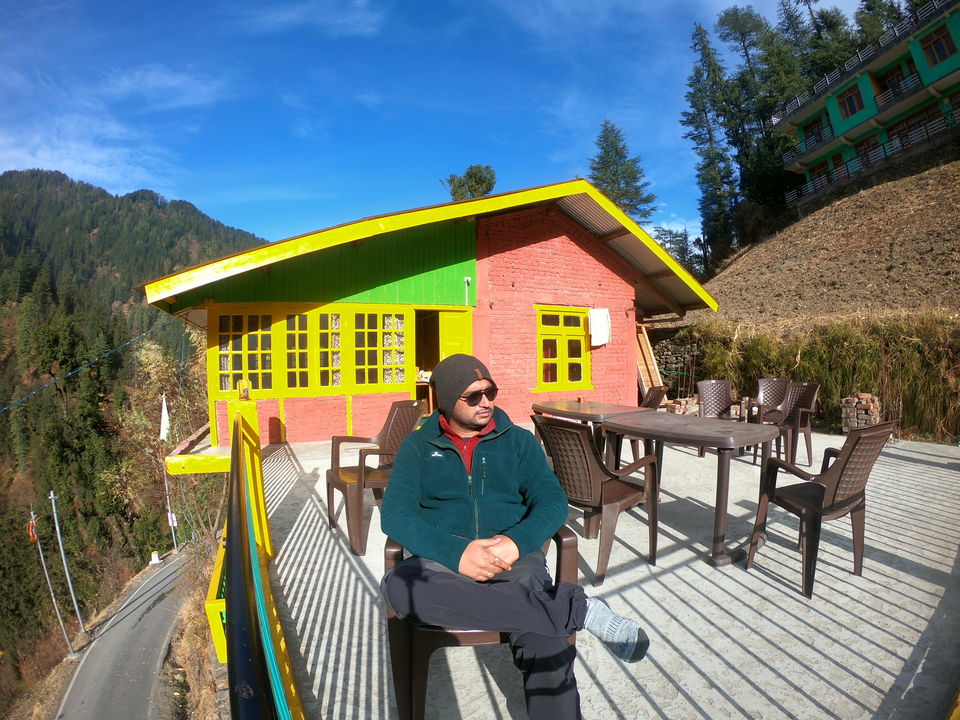 It was a 2 - 3 hrs journey from Jibhi through the Banjar valley and entering the sainj valley via larji market. As you cross Larji, you pass through 2 hydro power setups. The road to sainj is good tarmac and wide enough for two buses to pass.
The road to Deohari village is bumpy for a good 7 kms. I got to know that it's under-construction with the PM gram sadak Yojana and will be soon made into tarmac.
As we reached the parking area at 1 pm, I was greeted by the owner of my homestay - Bablu bhaiya who took me to his place through the village. Deohari valley homestay: Contact: Ritiz / Naval Thakur - 98822 03006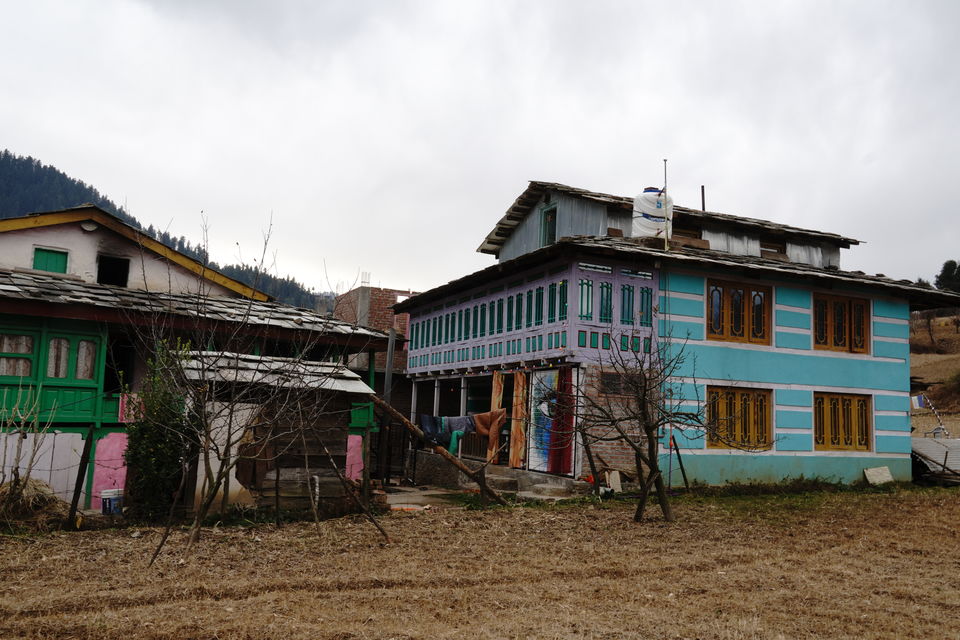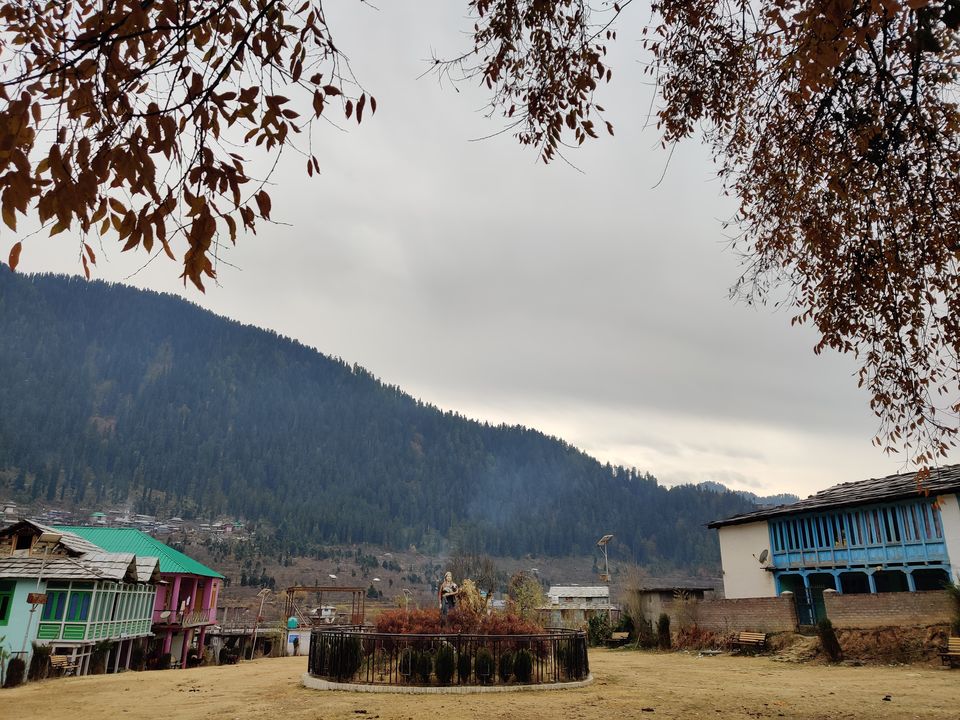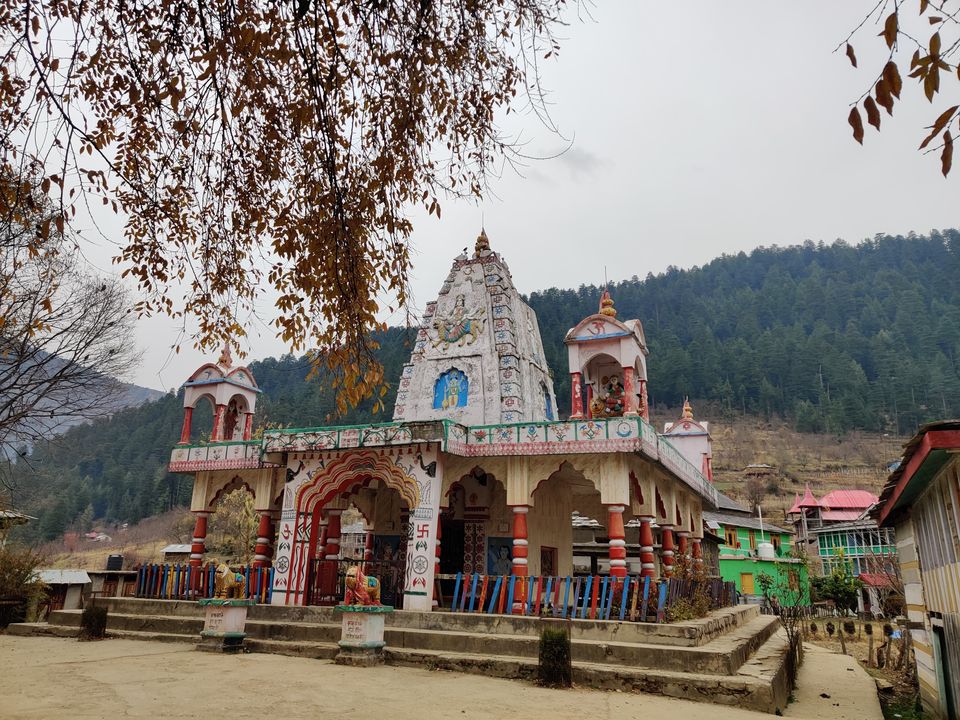 The vibe of the village was so soothing, children playing in a small playground, a temple with colorful walls, many local small food and vegetable outlets, the birds chirping on the trees, large numbers of birds flying through the valley. The weather was getting cloudy.
I checked in my room, had scrumptious lunch - kadhi chawal, masoor ki daal, pickle and local makkhan.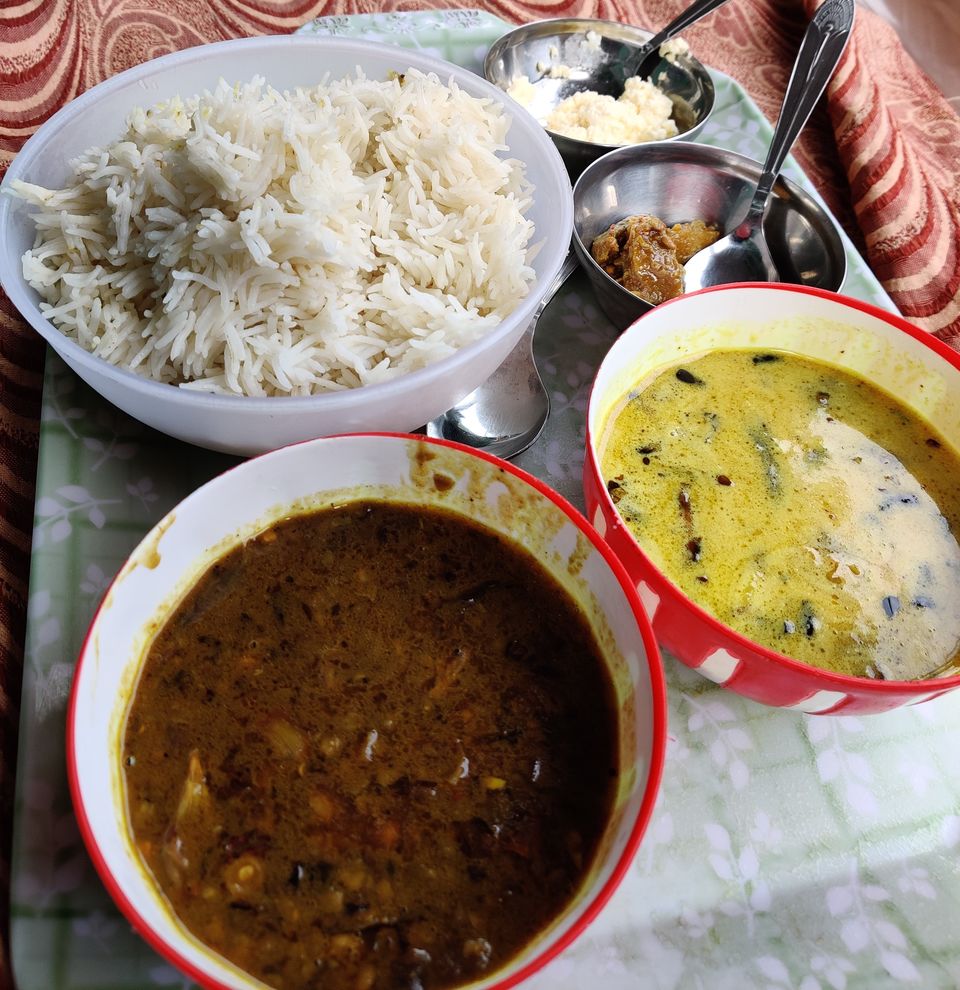 This village is now attracting tourists - thanks to the internet. Locals here have started constructing homestays in their available piece of land. The houses here are so colorful that it gives a rich cultural Himachali vibe.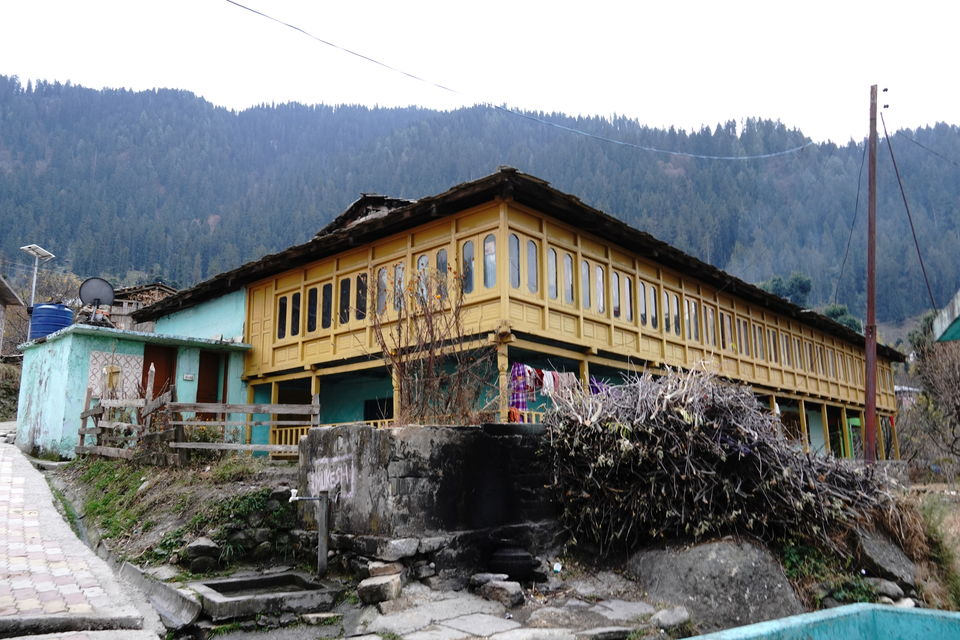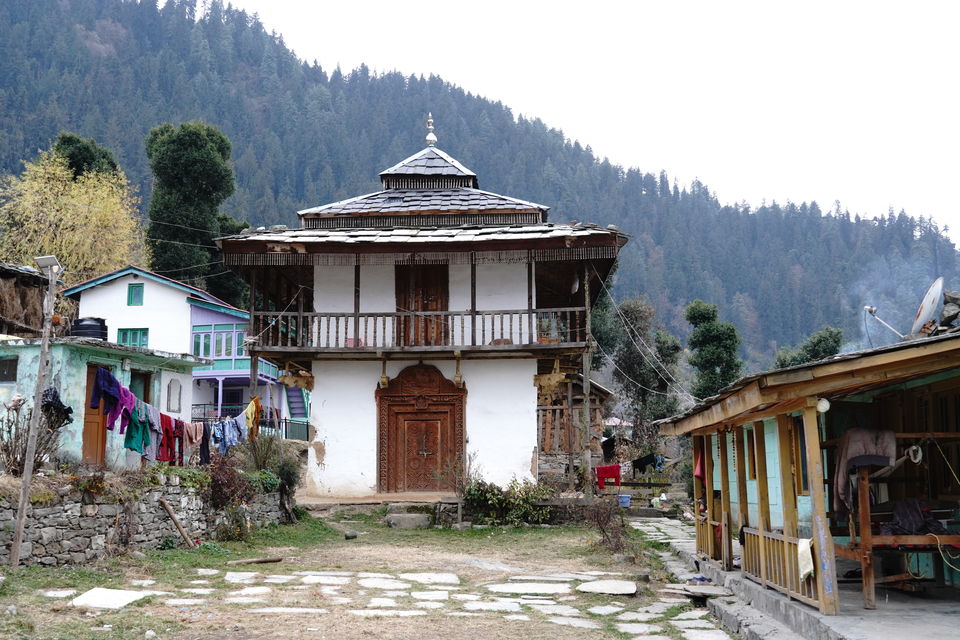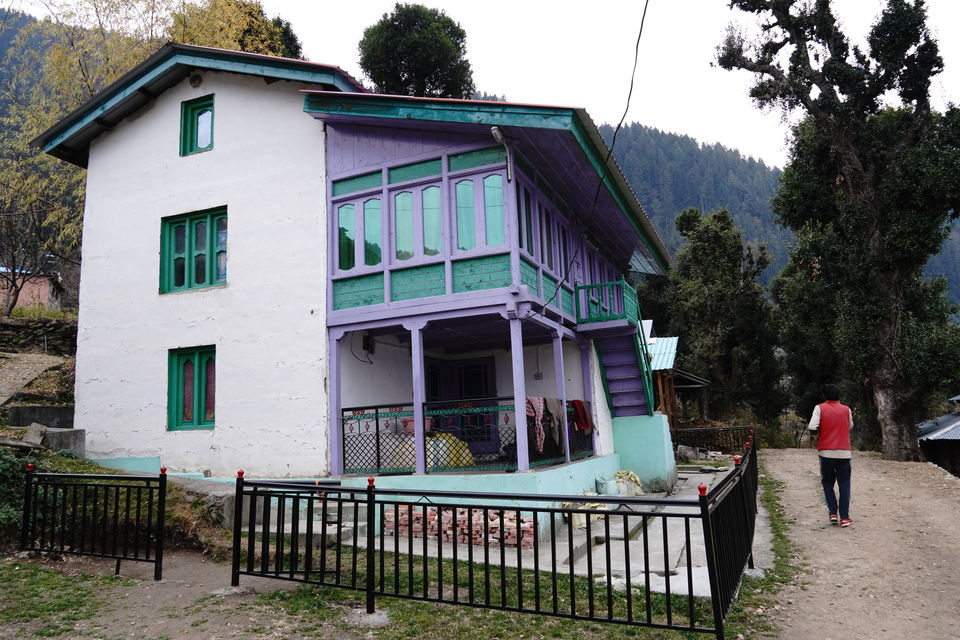 My host took me for a walk introducing me to other corner of villages and also saw the flour mill which run on hydro power, the water running down hollow wooden block to a chamber fixed with grain grinders to mill. It was not operational though but is in working condition.
We took a trail up the village to understand the valley and the directions to the places around. As we returned, it was already dark. The village had a marriage ceremony called - DHAM -and the locals were all excited to join the celebration.
Had dinner at around 8 pm and went, off to bed - 10 pm.
Next day is all about exploring and hiking to nearby village and viewpoints.
Day 7 - DEOHARI - Pundrik Rishi Lake, Village NEAHI and Banogi Thana/ DEVGAD viewpoint
Got up at 7 am had a hot water bath and Paratha for breakfast and around 9 am left for Pundrik rishi lake and village Neahi. Locals were all dressed up in traditional attires for the marriage ceremony and some of the senior ones were engaged in morning chores.
Dhyan Chand Ji (onwer of Deohari valley homestay) showed me the trial up to the lake. It passed from near the temple and went through the post office and then up the forest area.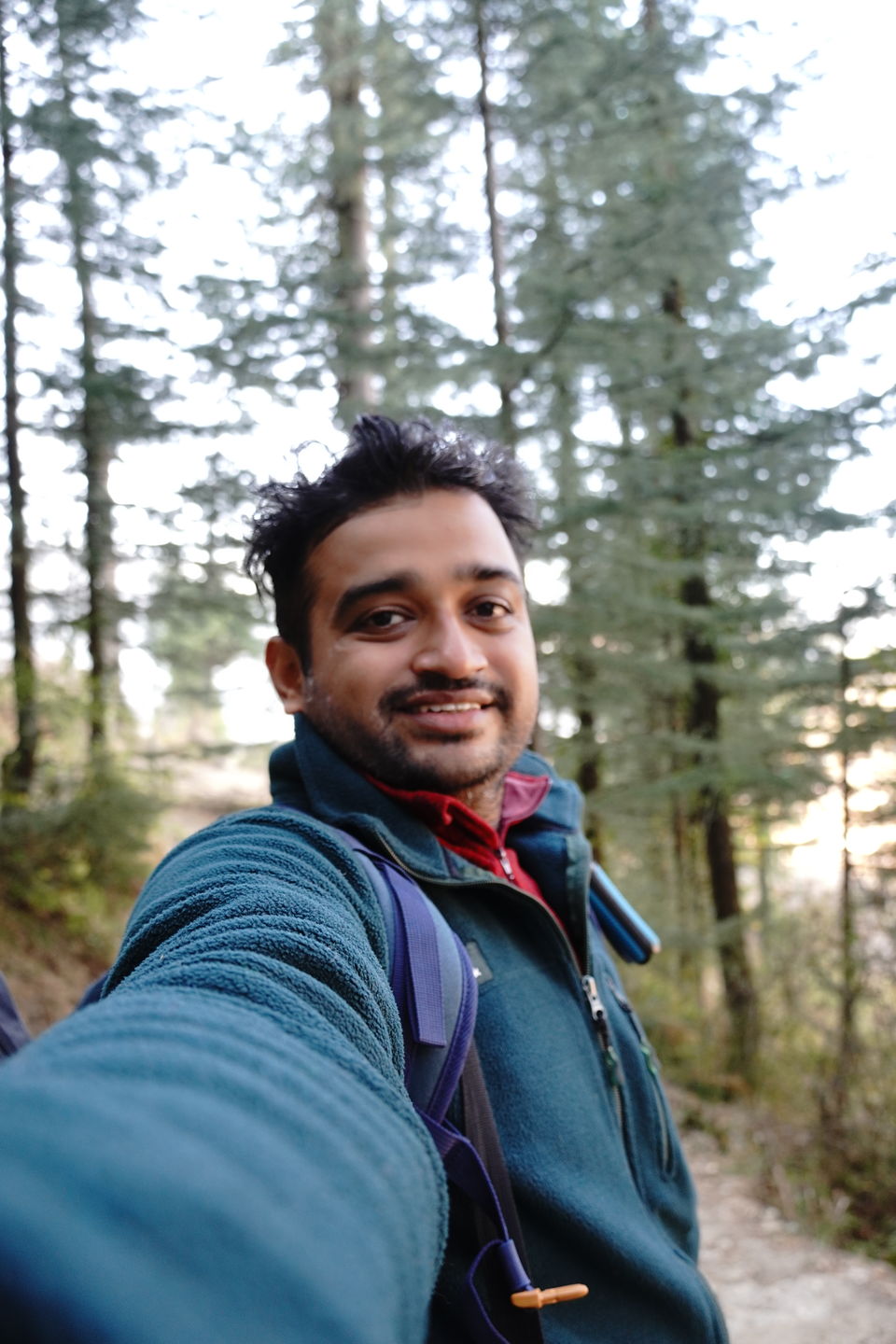 The trail was so silent and calm that one could hear the crushing of leaves under the feet, the birds chirping up the tall deodars. After 20 mins of up the trial I took a break for water. The trail goes slightly upwards and into the forest with dense cover. The sky was clear and the sun shine peeping through the trees for some warmth.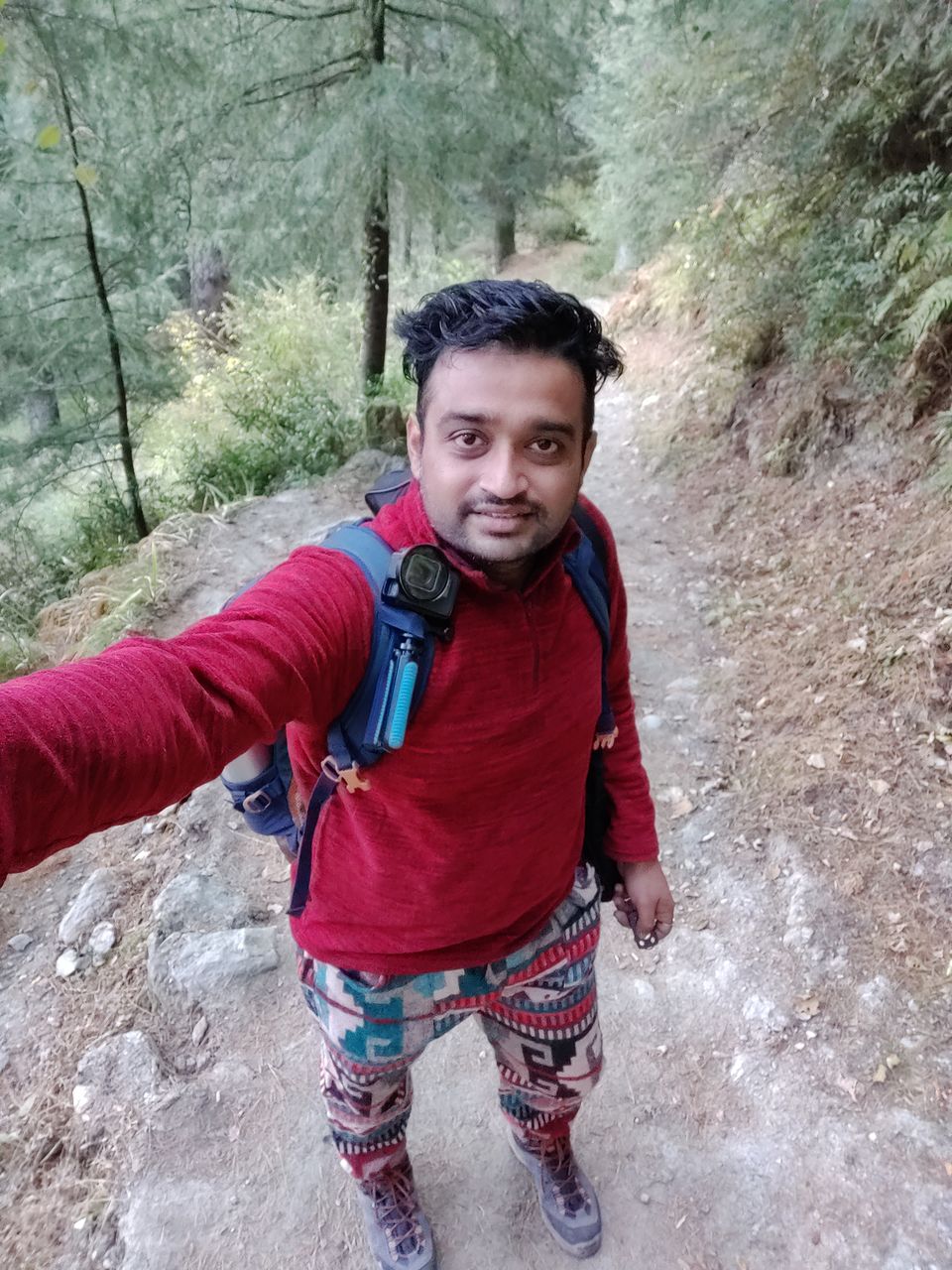 Around 10:30 am I reached the lake to have the view of an open valley. The lake was all dried up with grass turning yellow and dry. After you cross the lake from the left side and reach the end, you get the view of Upper Neahi village.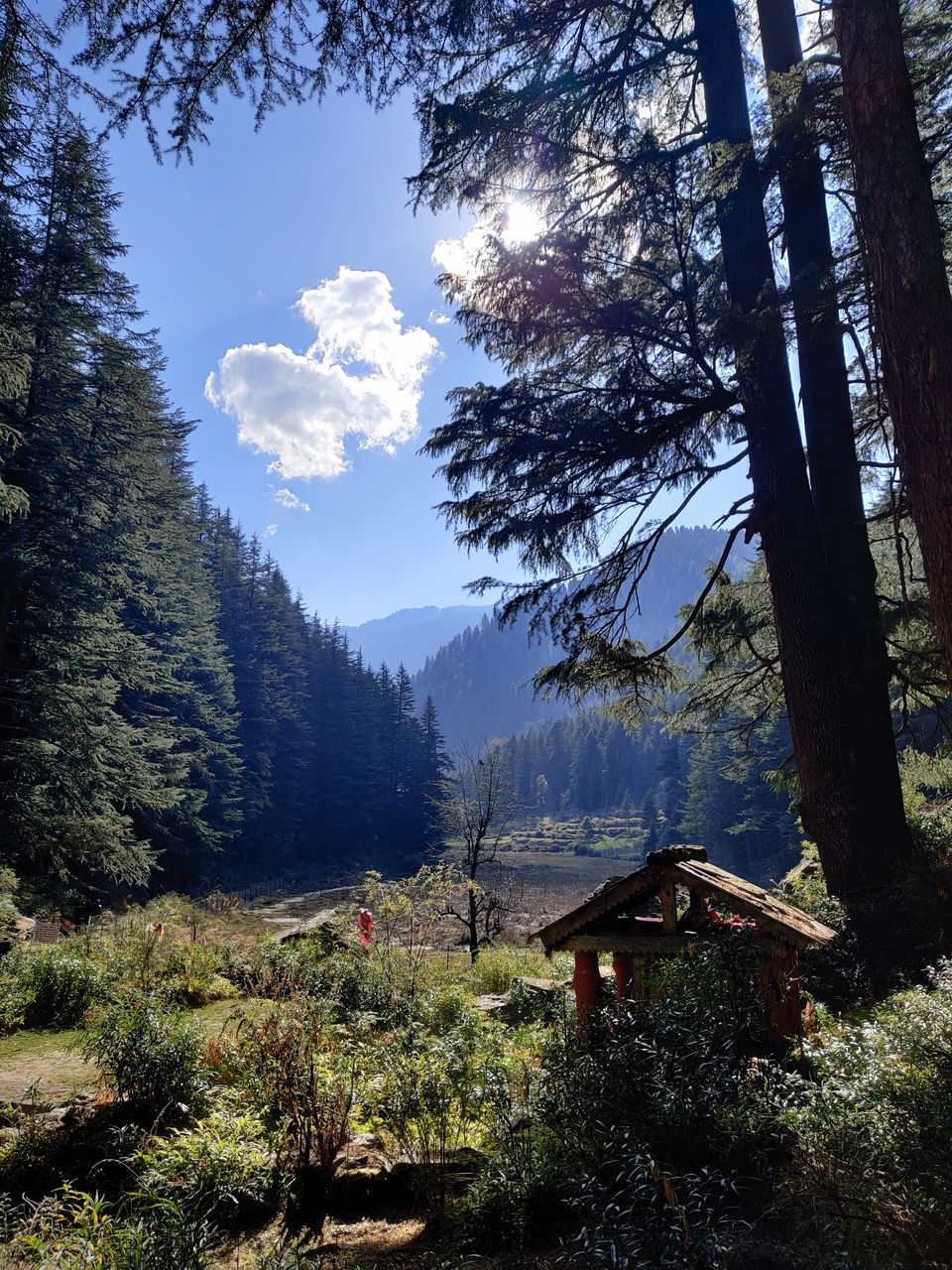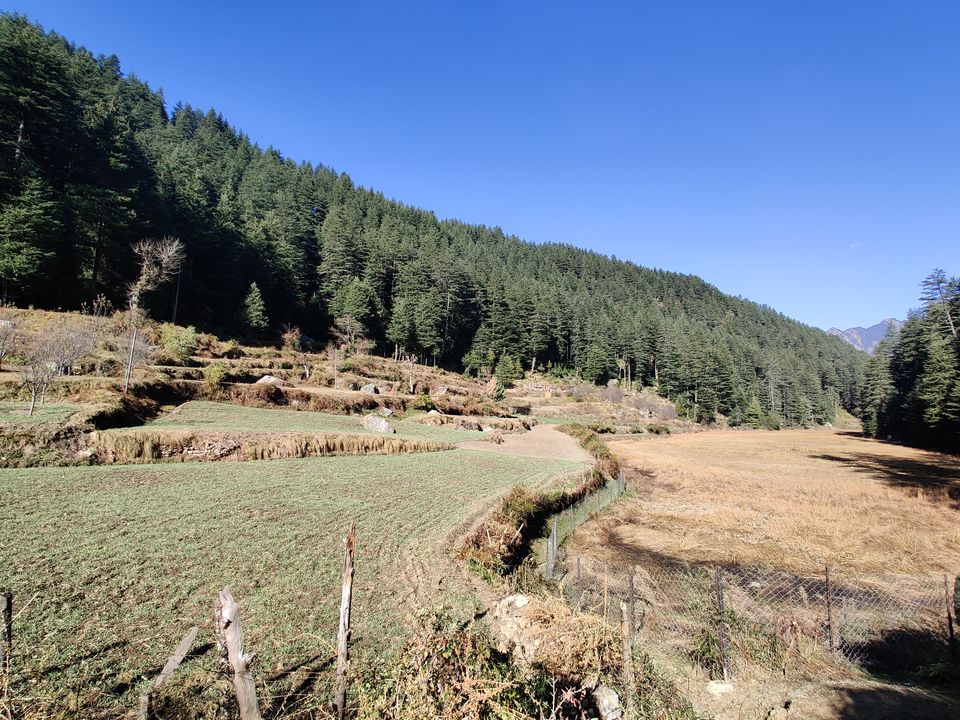 A small tiny village with around 20-30 houses gave panoramic view of the valley as the sunshine has lit up the valley.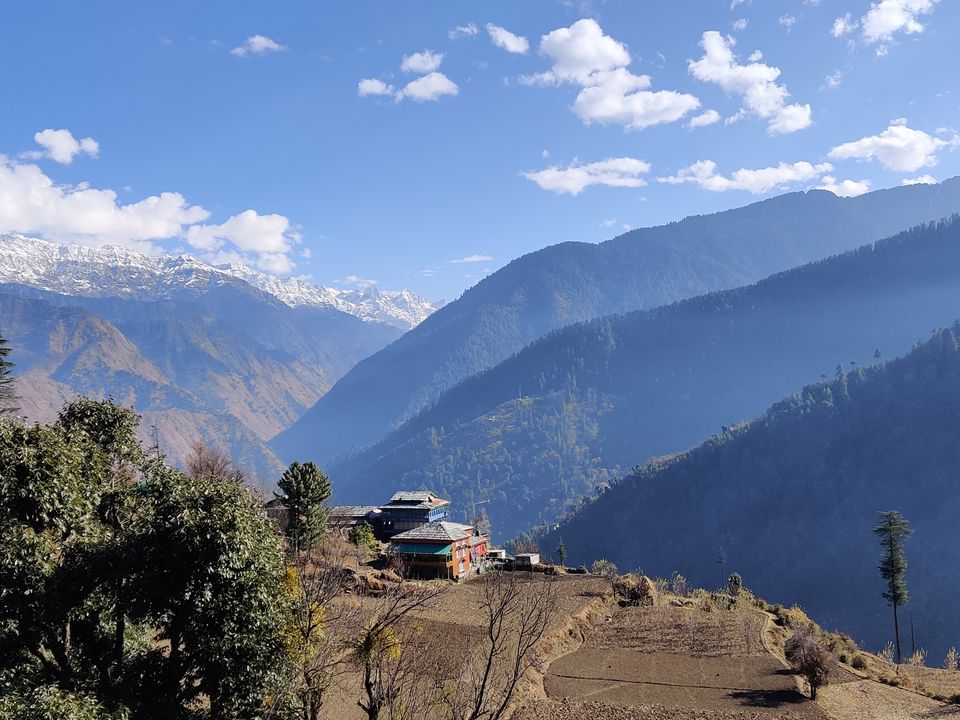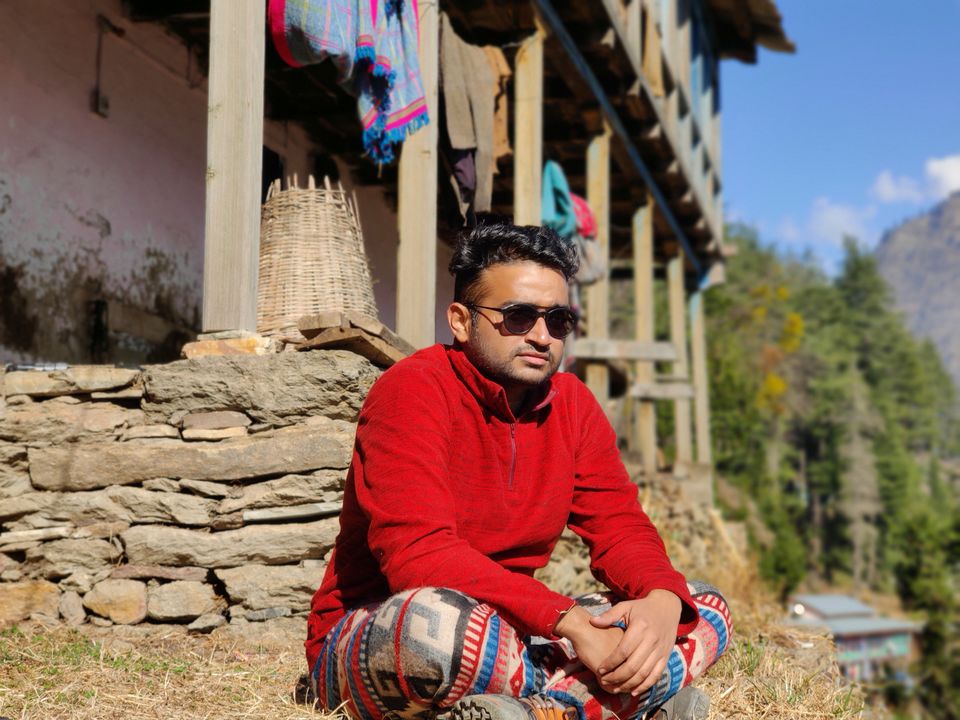 I was clicking the valley like there's no tomorrow. Spending around 2 hrs at the place I left back to Deohari village to reach by lunch time.
Dhyaan chand ji offered to take me to another viewpoint and village Banogi thana high up, on the other side of the DEOHARI.
We left around 3 pm and walked through a defined trail to reach village Manyashi and then moved up a steep trail up the mountain with pine and deodar and others. I was gasping for breath after one hour into the trek and asked to take a break.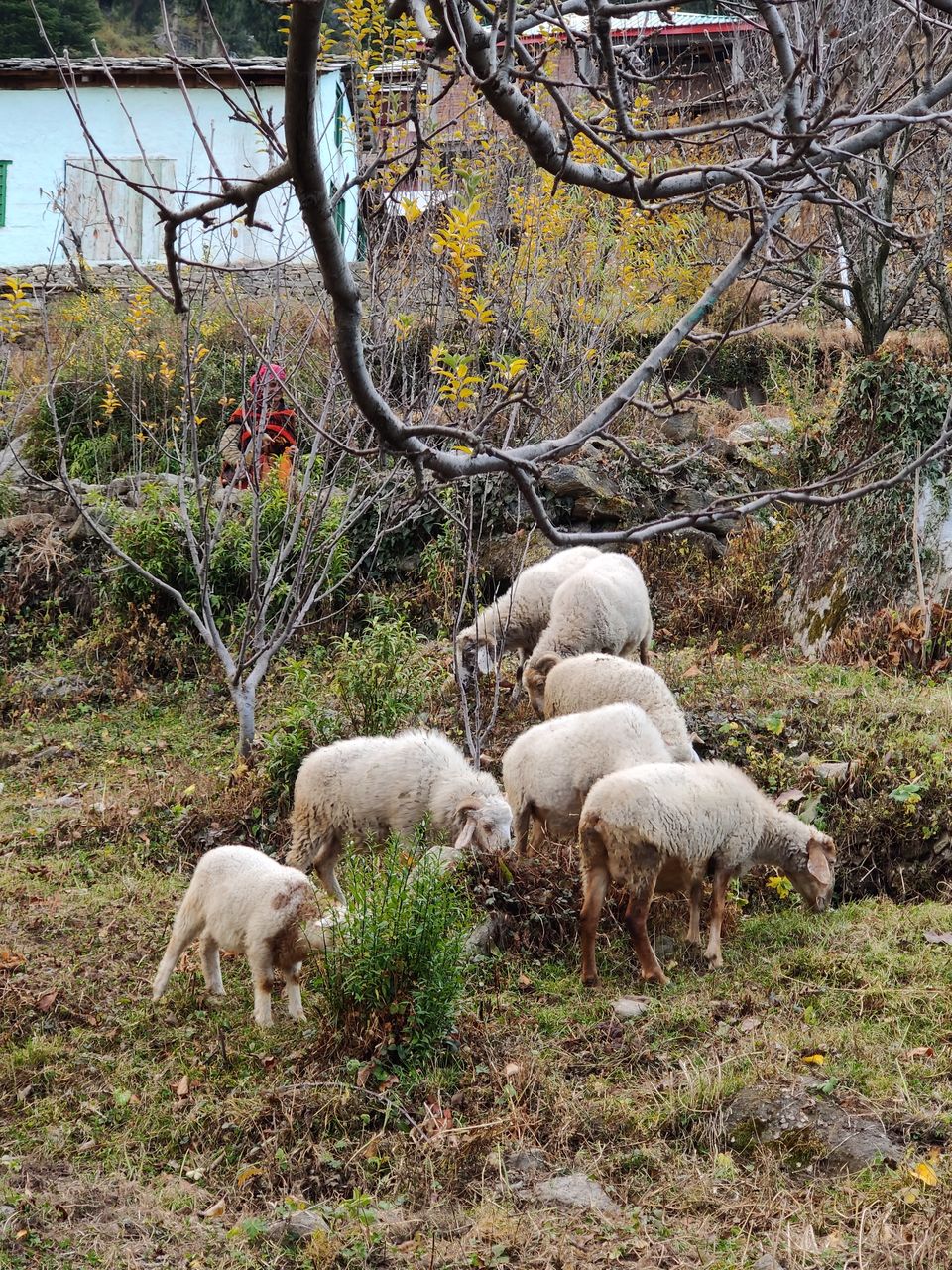 Dhyan Chand Ji narrated some stories about him taking other visitors through this trail and his experiences with them. He well explained the directions to trek ahead.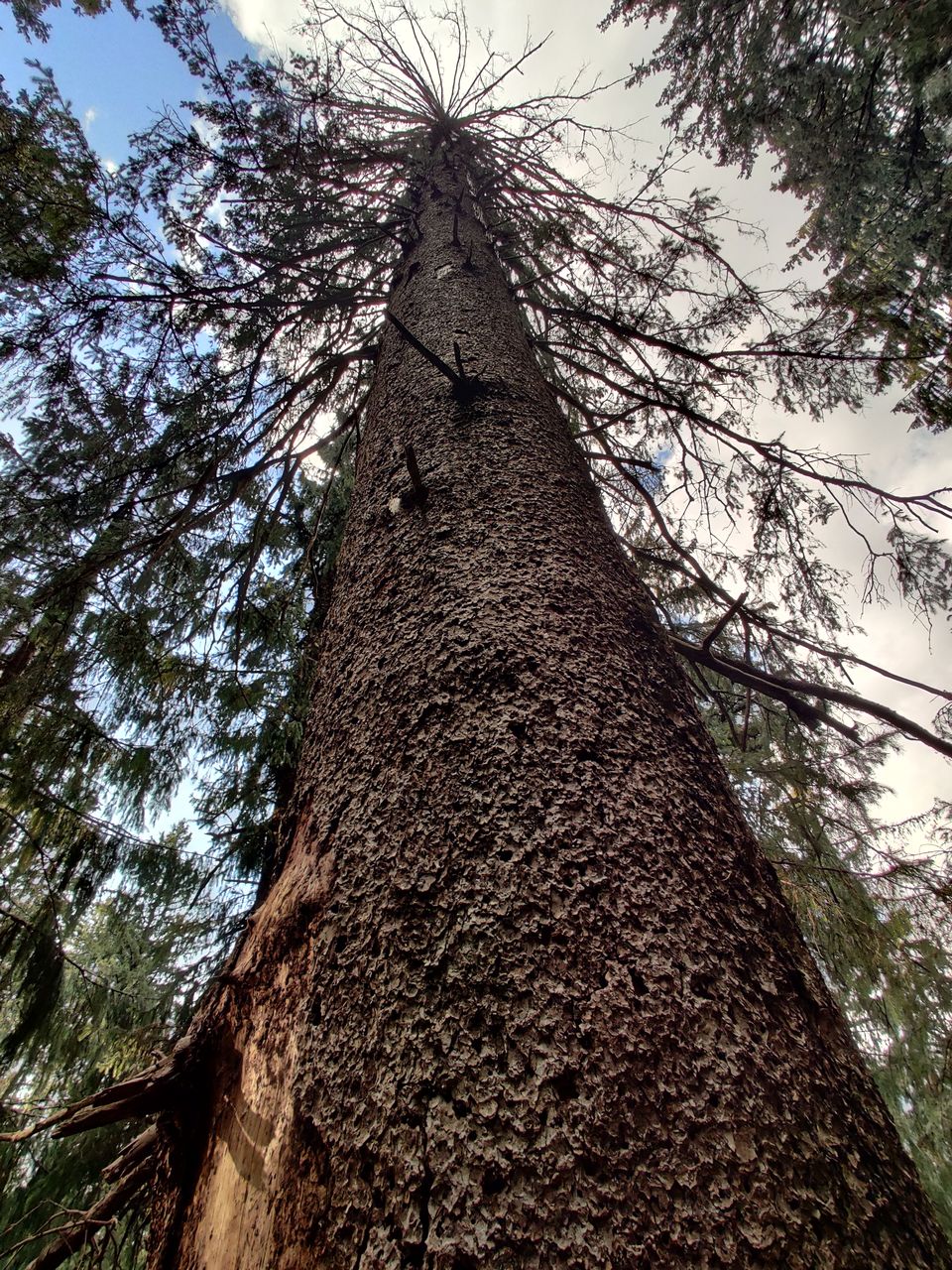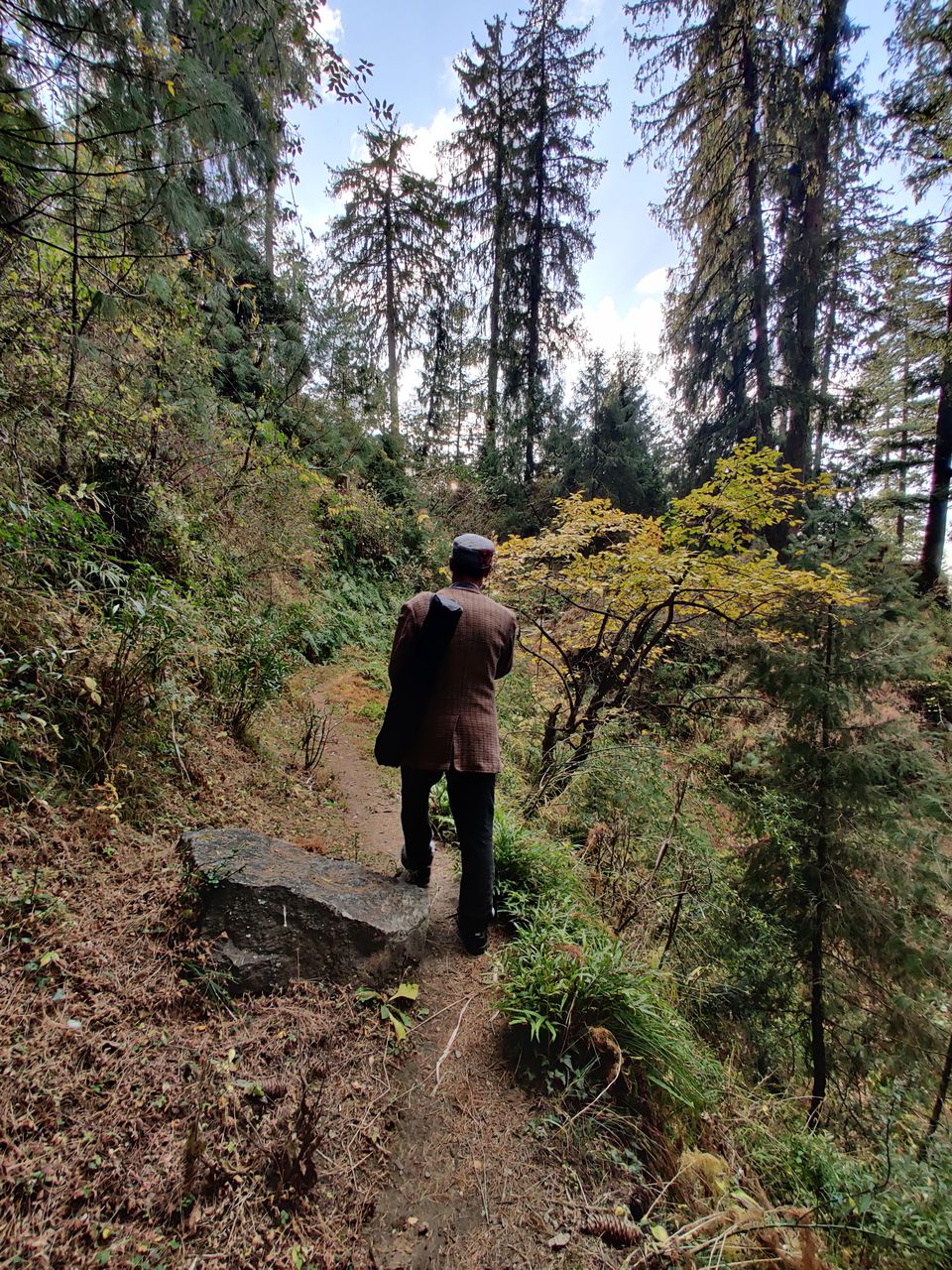 Around 4 pm we reached a place at the top where it is believed that the Pandavas stayed there for a brief period. We found a huge stone with deep hallow space and it is believed that the Pandavas used the same for grinding the grains and making flour. One could see the stone cuts on the inner side.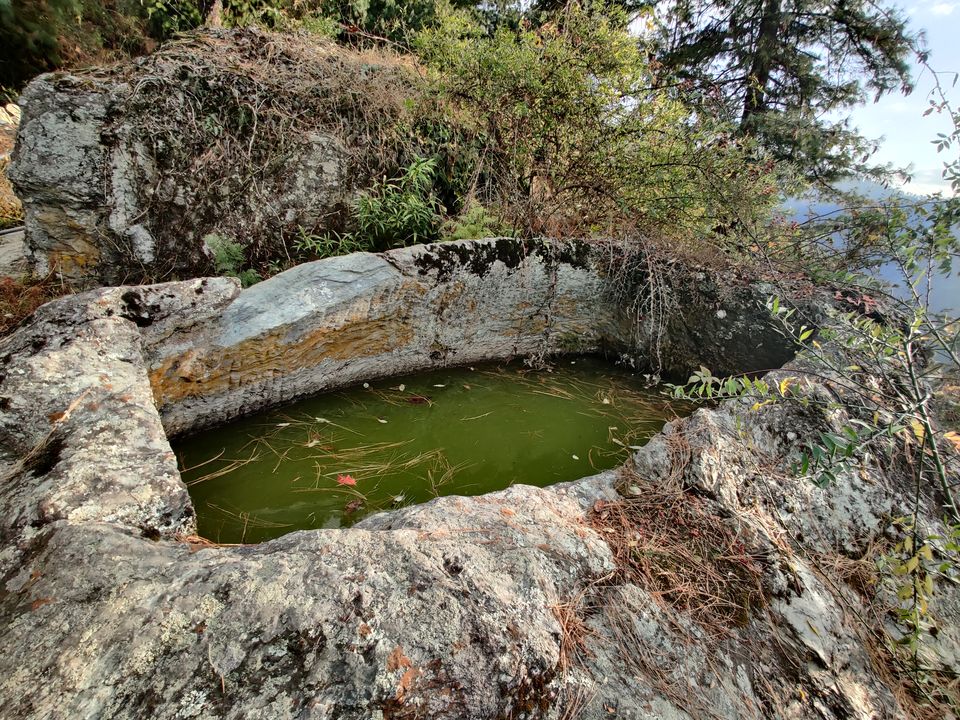 A few meters ahead we reached the viewpoint called Banogi thana. The temple there had well carved door frames.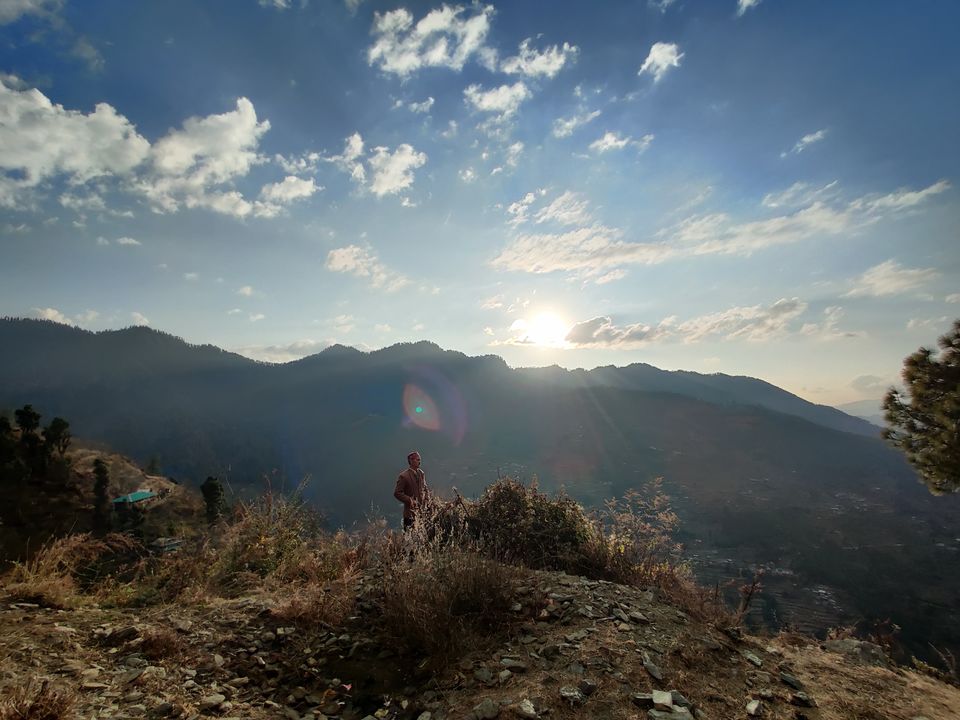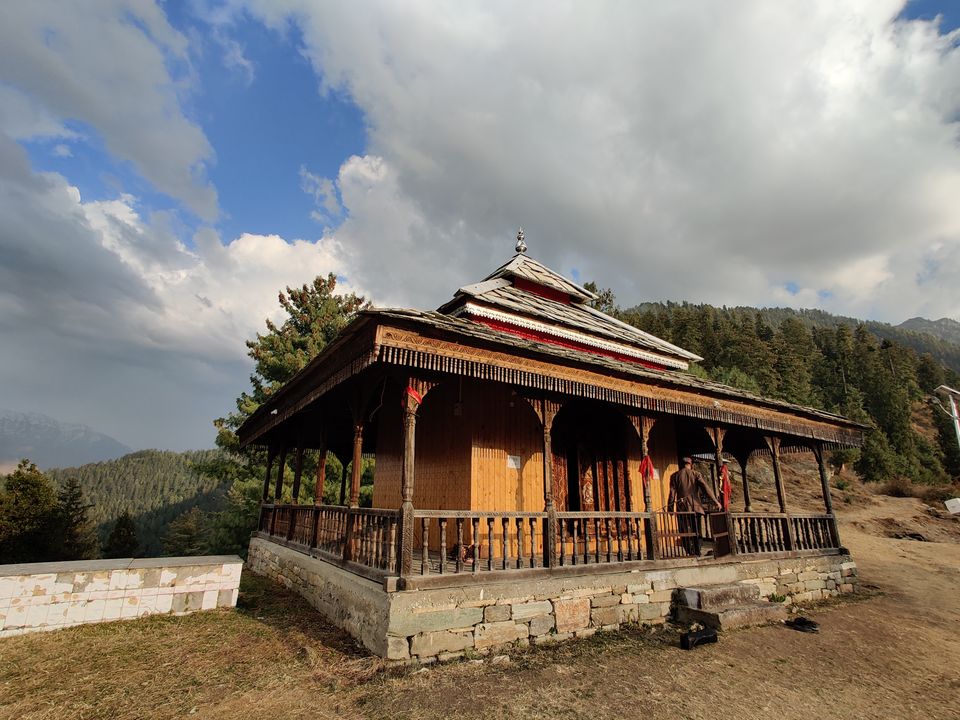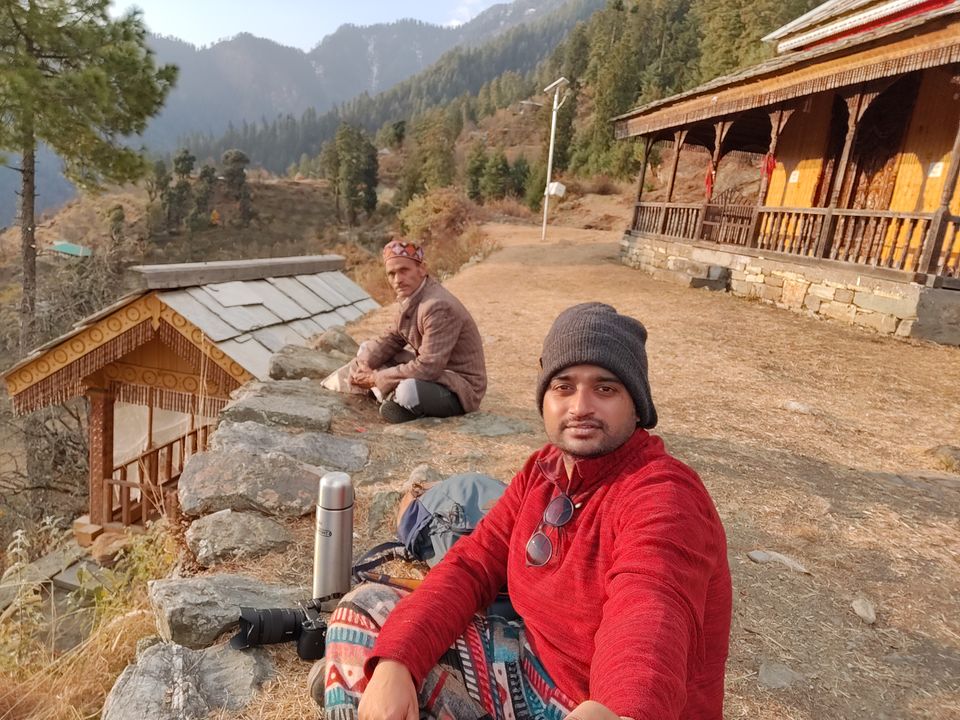 Just relaxed at that place for half an hr watching the sun go down and the golden hour. Started to descend through the village and reached Deohari in next one hour around 5 pm.
Freshened up to have tea, gathered all my stuff and packed in the bags. Tomorrow i had to leave for next destination.
Day 8 - Deohari (Sainj valley) to MANALI
Time had come to leave Deohari and bid adieu to my amazing hosts, with a promise to visit again in summers - May to August - to enjoy the clear, pleasant and green cover across the valleys.
Deohari has its first HRTC bus to SAINJ at 8 am sharp from bus stand. It was quite cold and i had got ready at 7:30 am with all my baggage. The bus took around 40 mins to reach SAINJ bus stand.
I had to hop into another HRTC bus for KULLU which took another one hour. The third private bus to MANALI tested my patience as it took around 2.5 hours to cover 42 kms.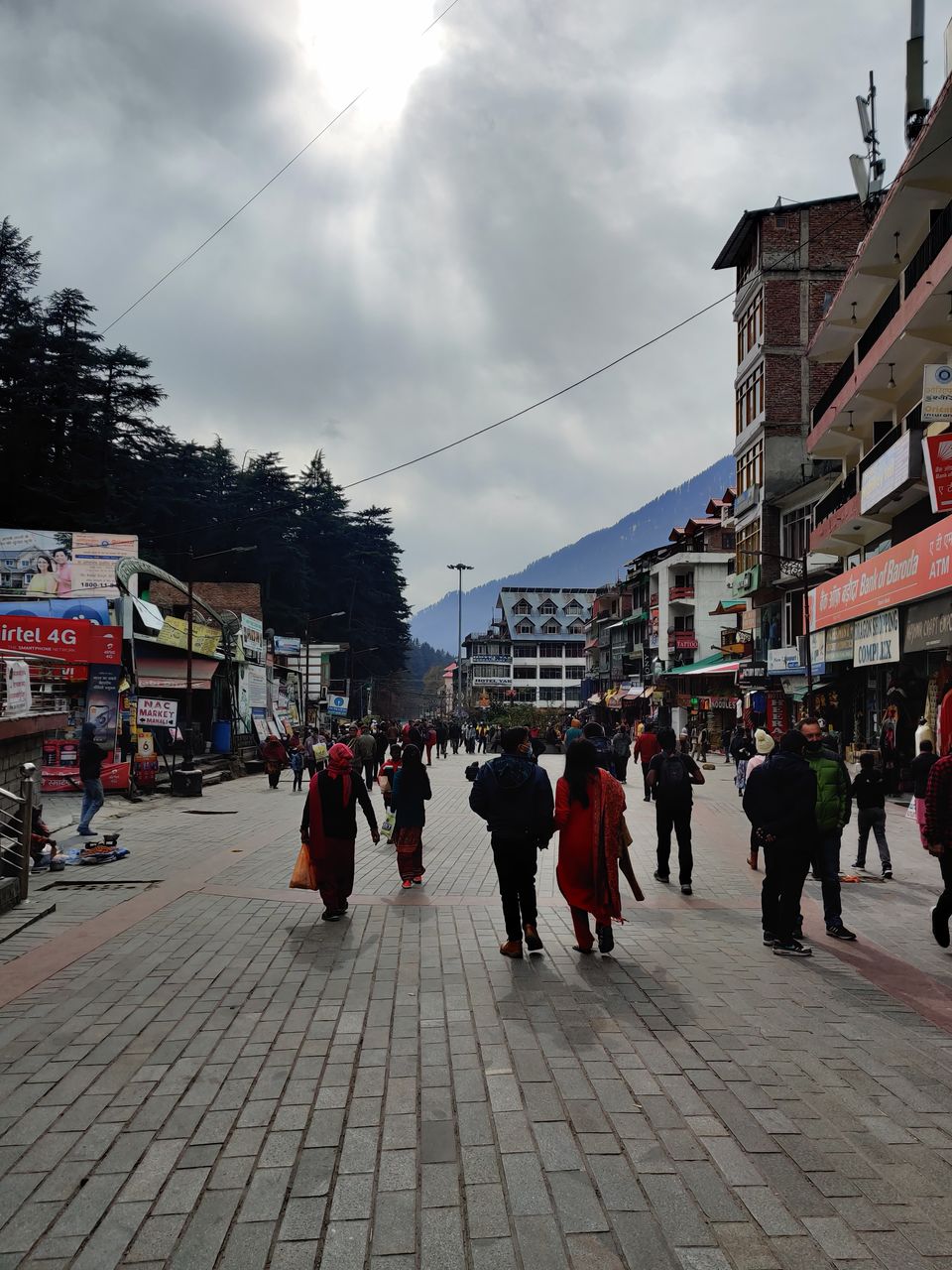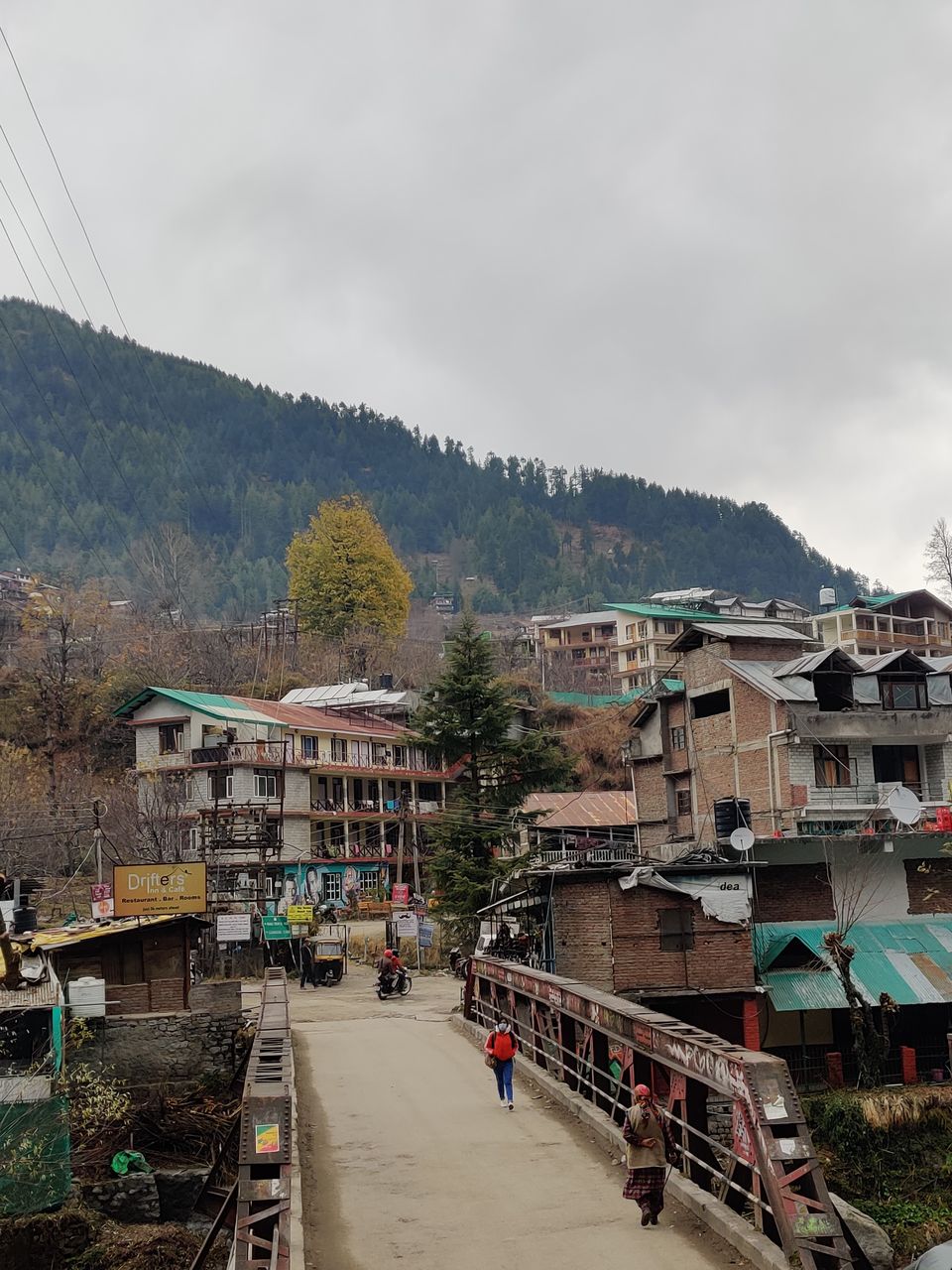 Around 12 noon, i was at MANALI mall road which was buzzing with tourists. Almost all the shops and restaurants were operational with all the safety precautions. The weather was sunny as i reached and suddenly turned cloudy.
I checked-in at ZOSTEL - my all time favorite place to stay and hangout. This time Old Manali was silent with very few shops and cafes being operational due to the PANDEMIC.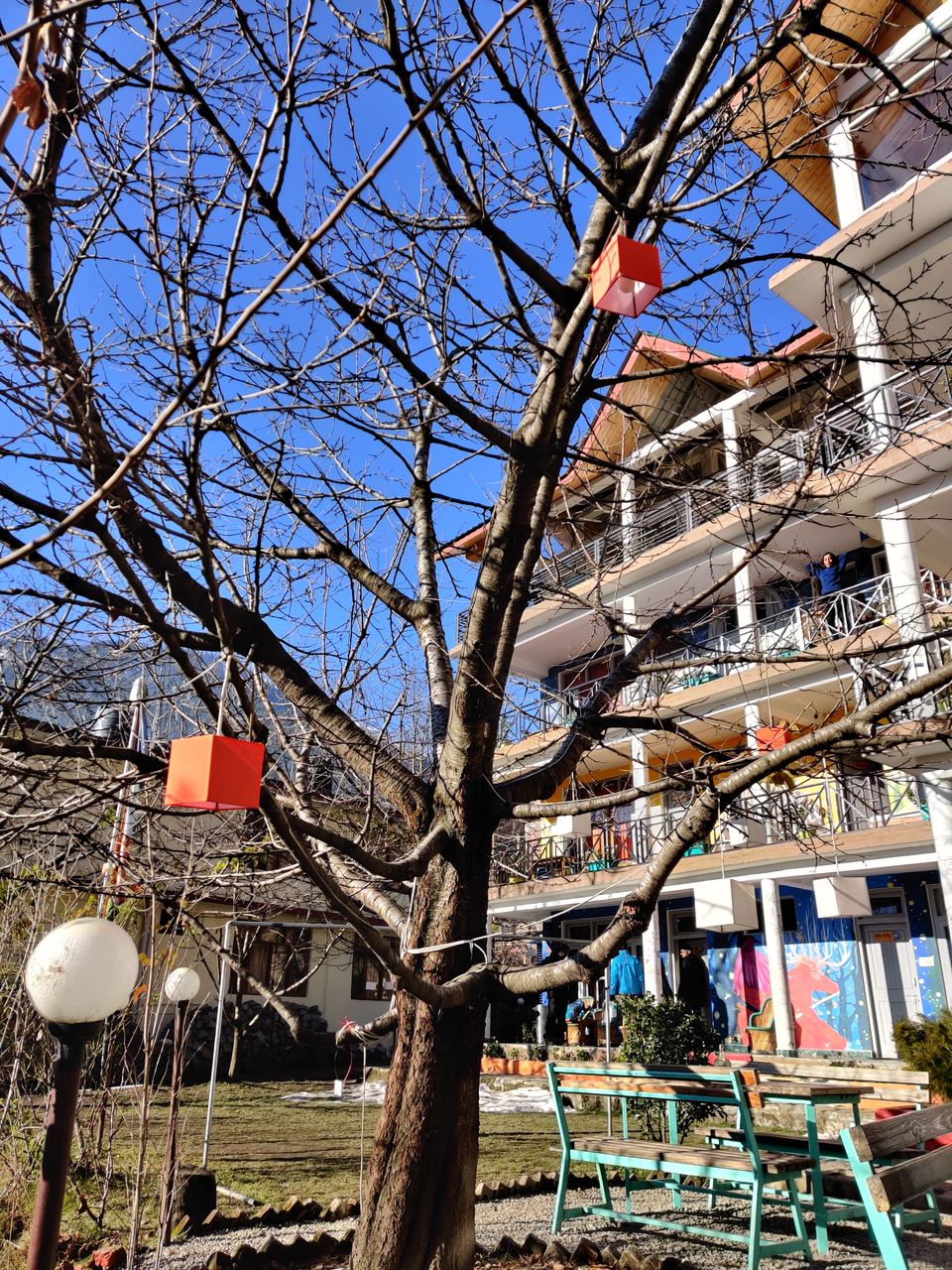 Zostel was fully occupied with backpackers like me, travelers having long working stay here.
Spent the day just chilling around, visiting ROCKY's cafe near Manu Temple, taking a stroll around Old Manali. The temperature had dropped to 5 degree.
Later that evening relaxed in the ZOSTEL's garden cafe chatting with fellow travelers about their travel experiences and what was their next destination. There was prediction and heavy chances of snowfall tonight.
Day 9 - Manali Snowfall and Bus to Delhi
Woke up to lot of sounds of fellow travelers screaming with joy. Time was around 7 am and was astounded to see the white washed wonderland outside.
Yes, snowfall since 3 am in the night, Manali had changed its look and landscape.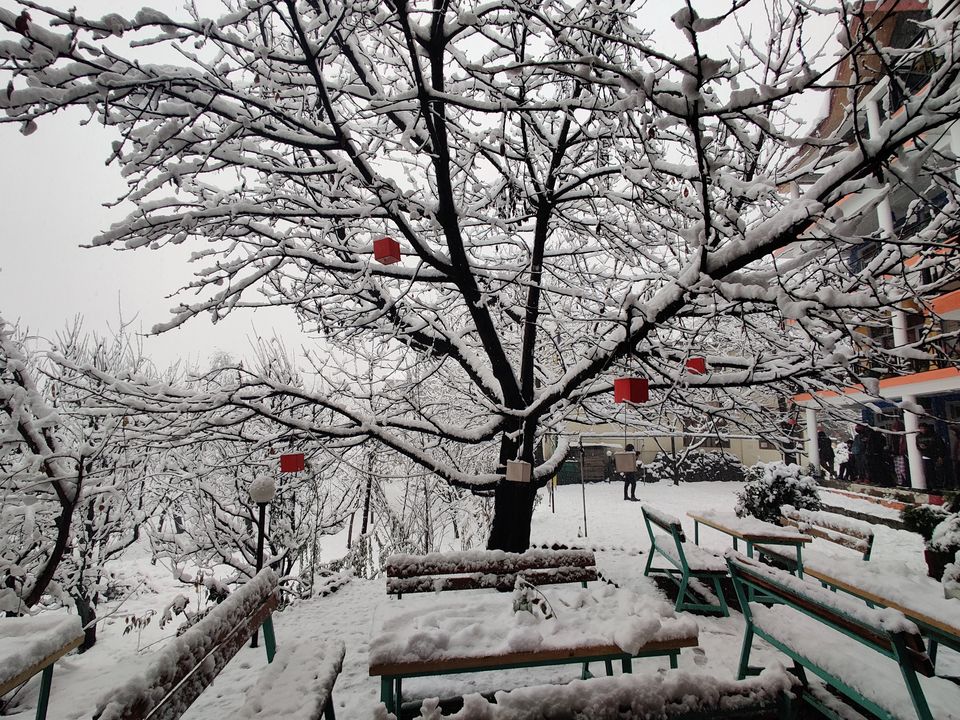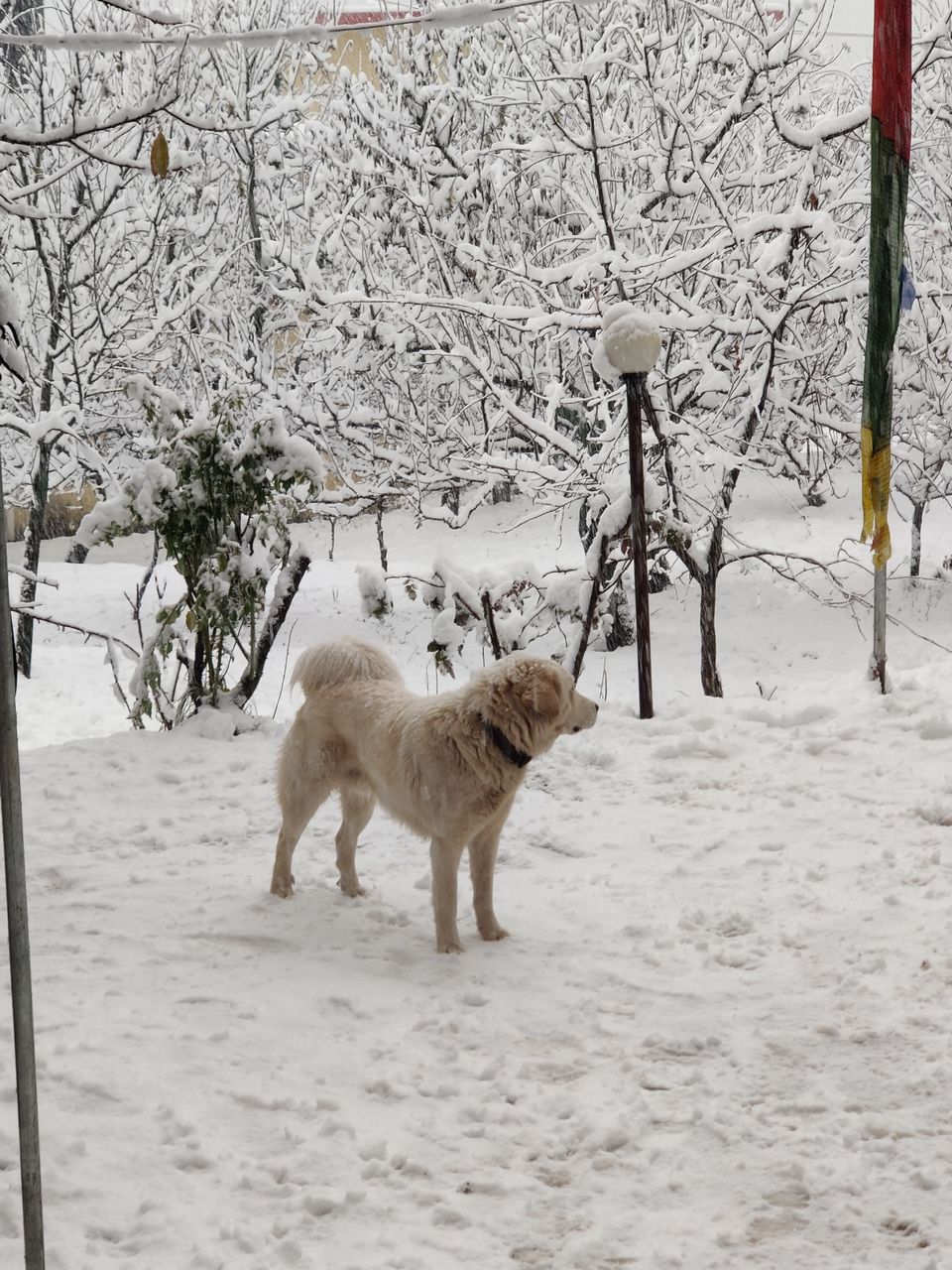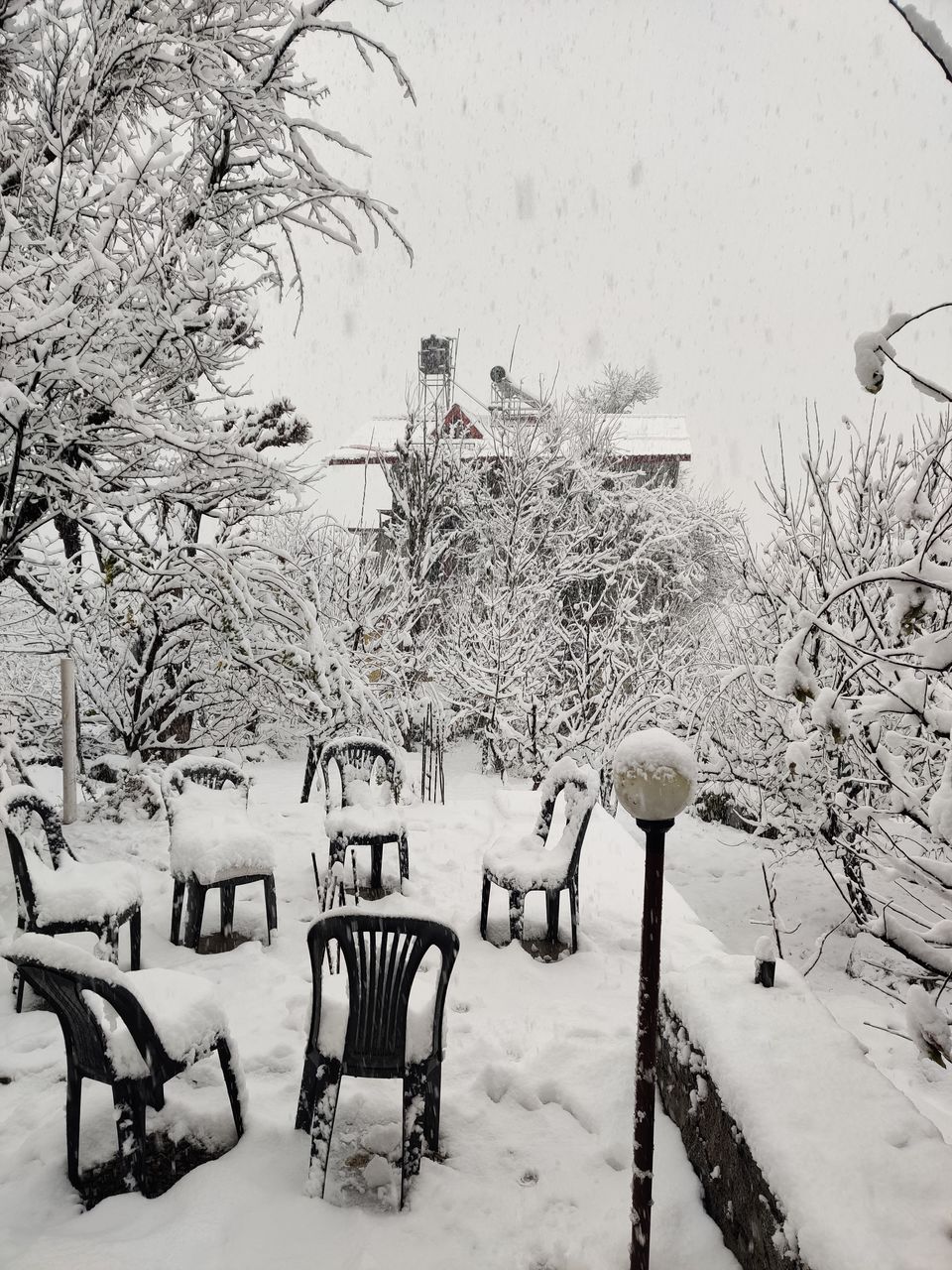 The prediction went true and the snow cover was around 5 -6 inches till now. It showered until 9: 30 am as we enjoyed the vibes, snow fights, hot ginger lemon honey. The feeling was out of the world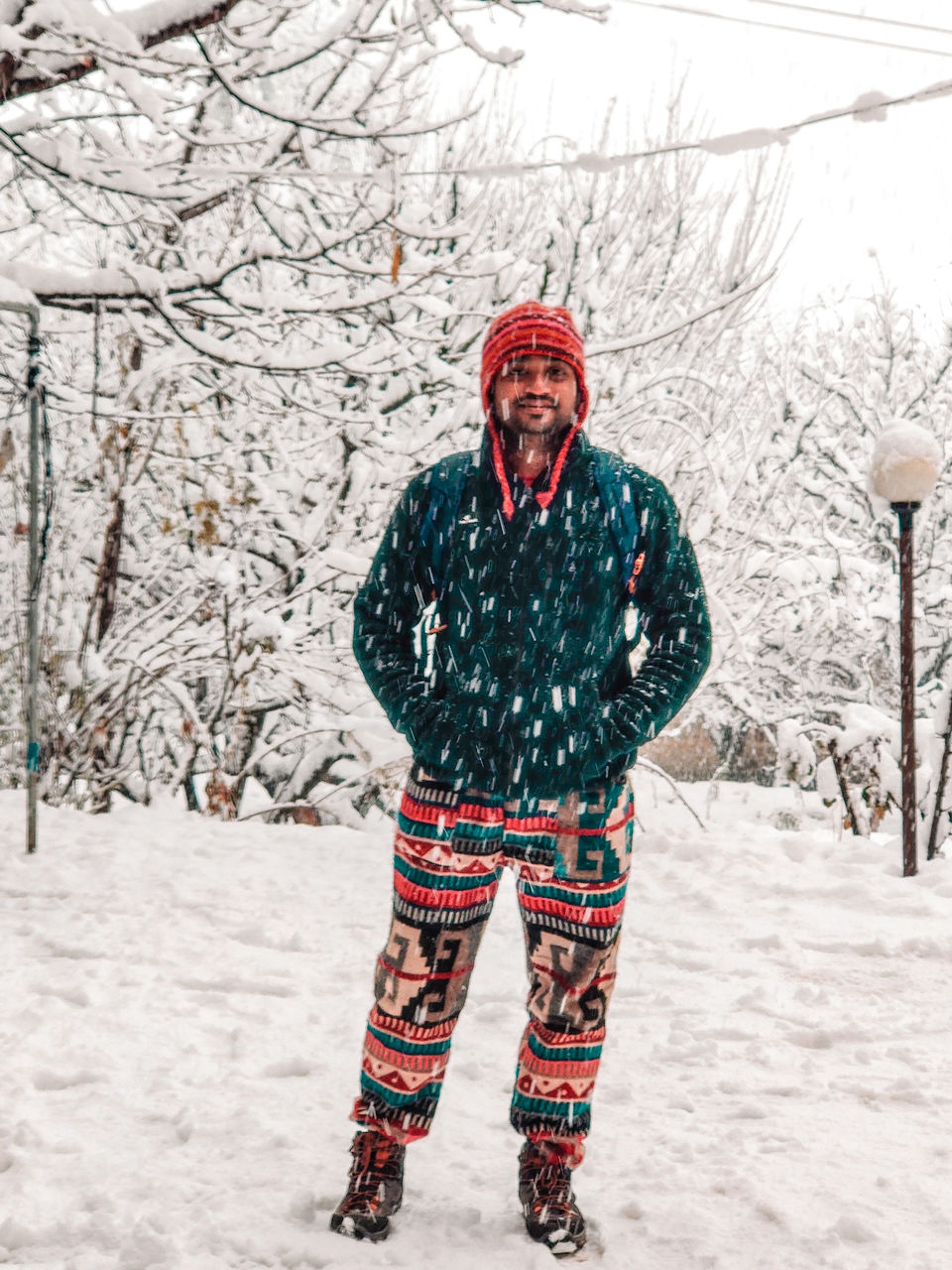 It was Mandatory to visit Rocky's cafe for the view of the valley and i was damn sure that the Snow view would be breathtaking. On my way to the cafe for breakfast.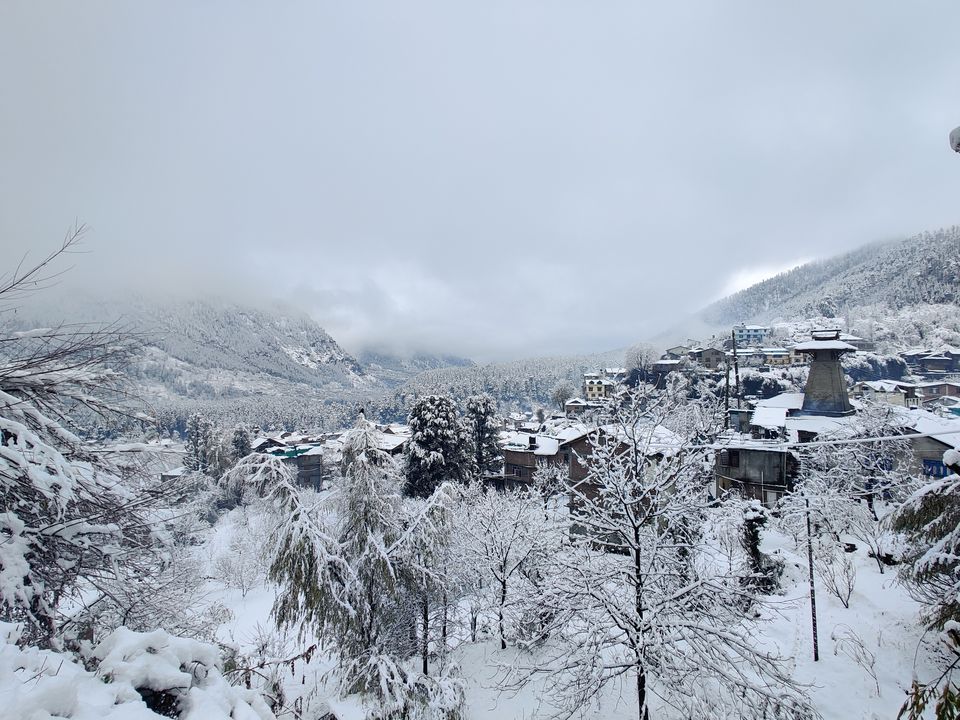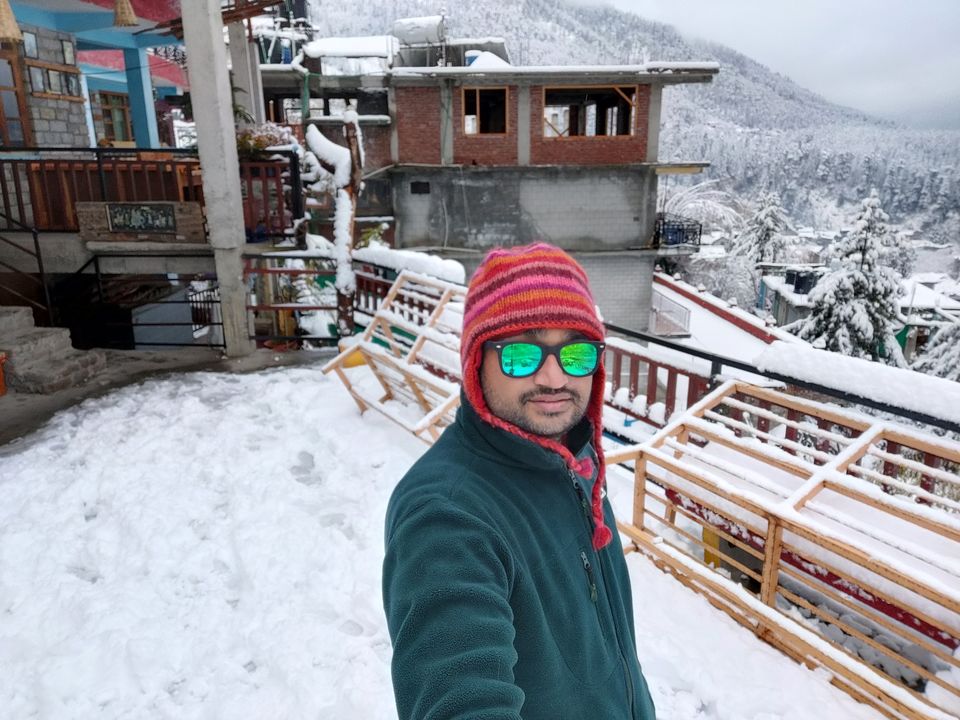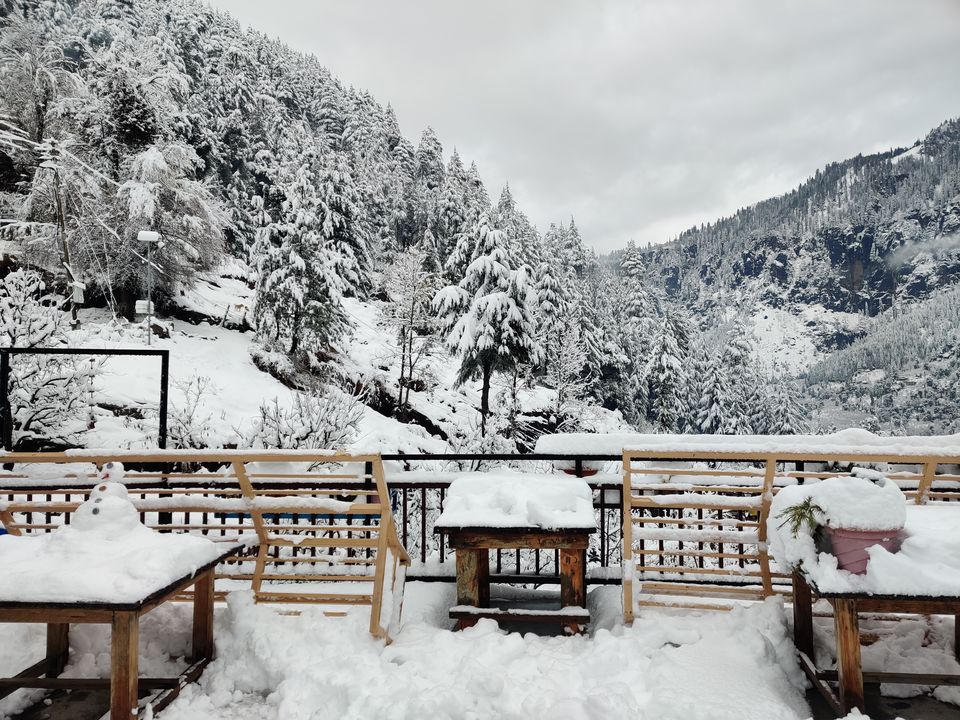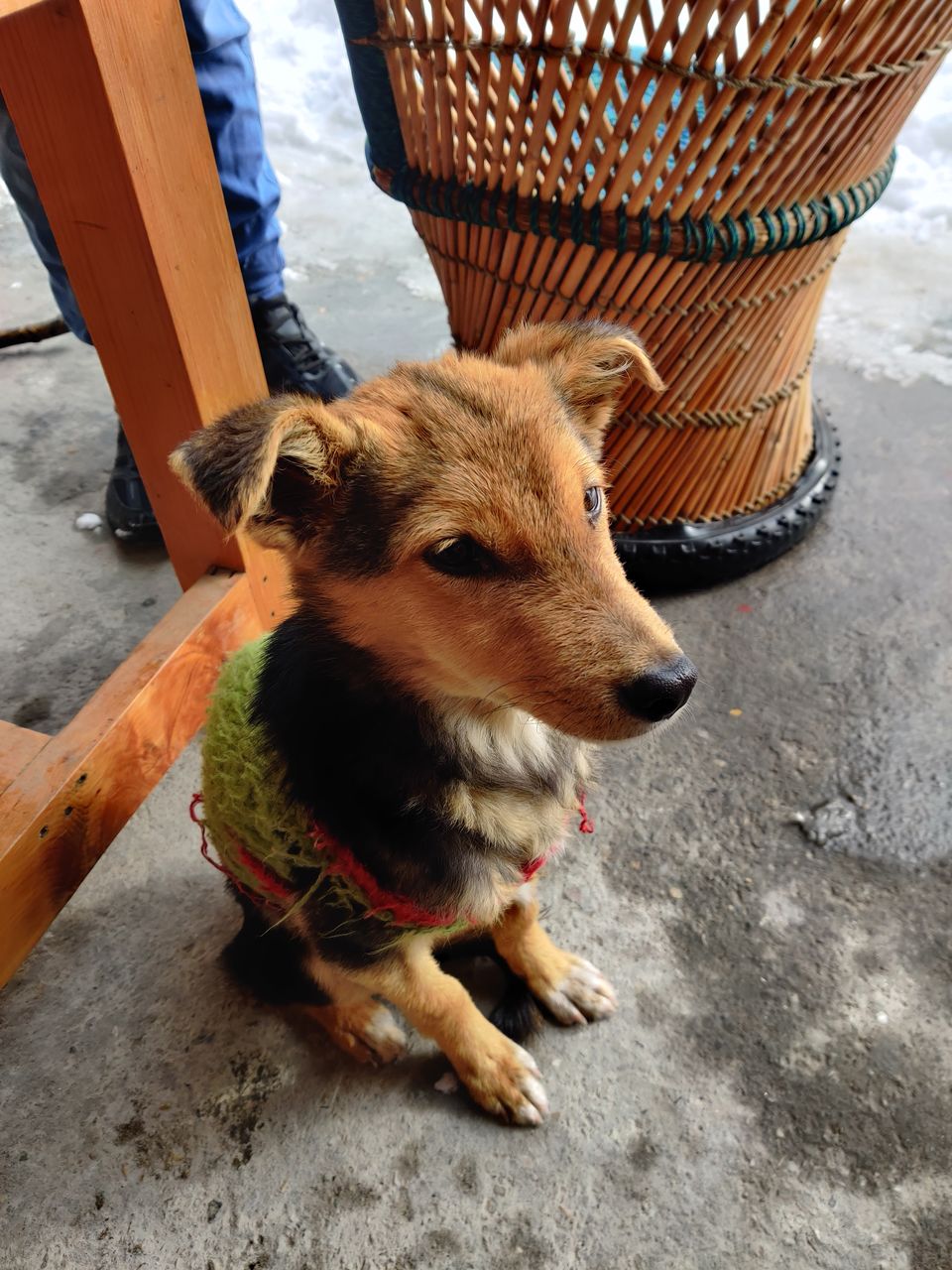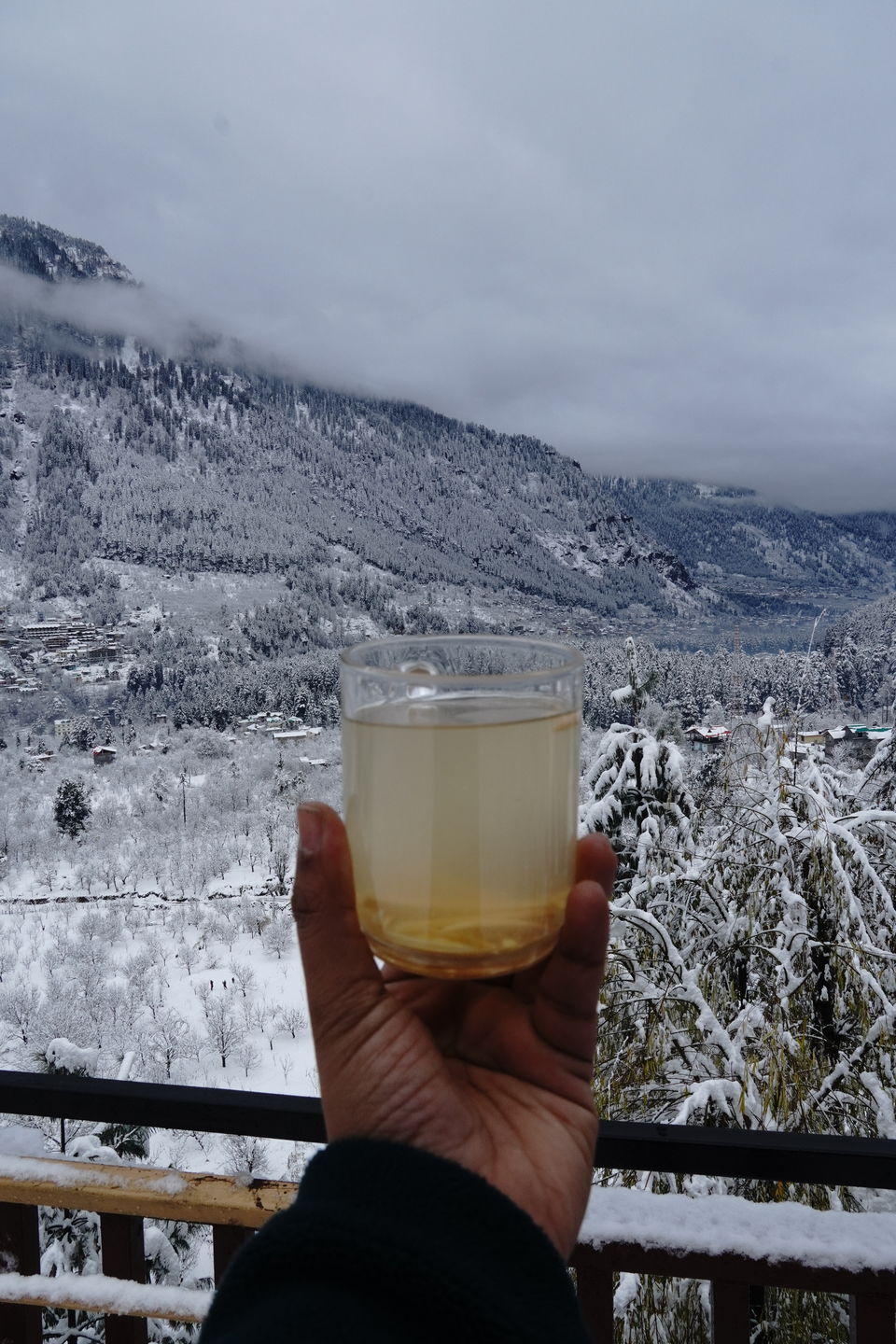 After spending good 2 hours, it was time to leave. Came back to Zostel, packed my bags and check-out of Zostel for my journey to Delhi. I had a bus to board at 4 pm.
Before that i had to meet a friend - a couple - who operates Dejavu Cafe in Old Manali. It was a pleasure meeting Angela and her hubby Narender Kumar. I had such a warm welcome at their cafe where i spent around 1 hour chatting on the current situation of tourism in Manali and the impact they had on the local businesses.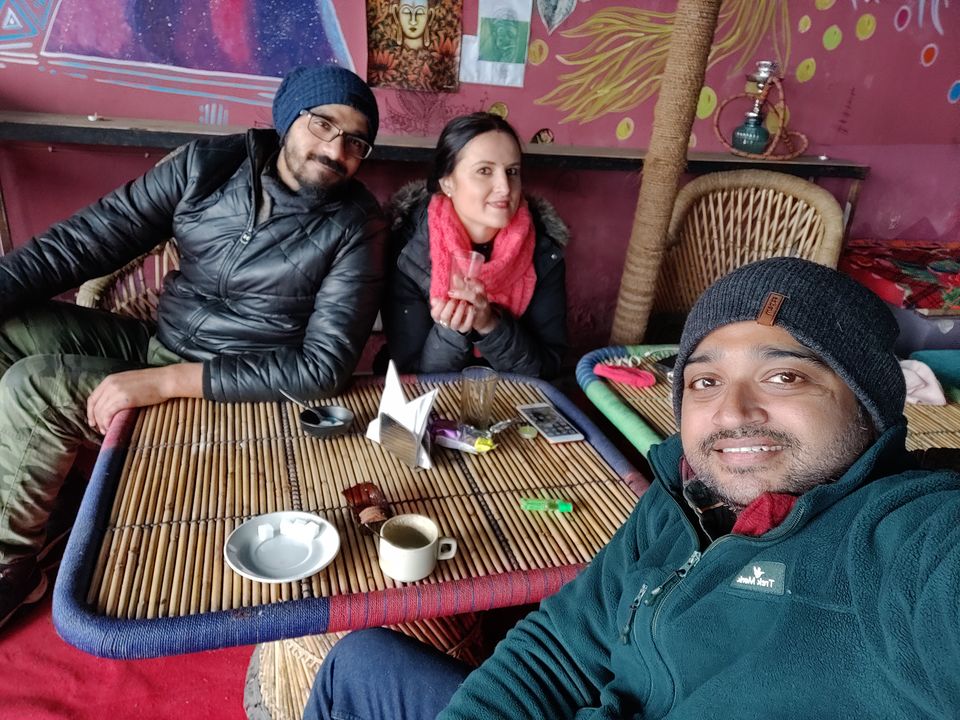 I wished all the success and happiness to both of them and left for my bus. Manali has always been special and welcoming and for the past few years i prefer ending my exploration trip at this place.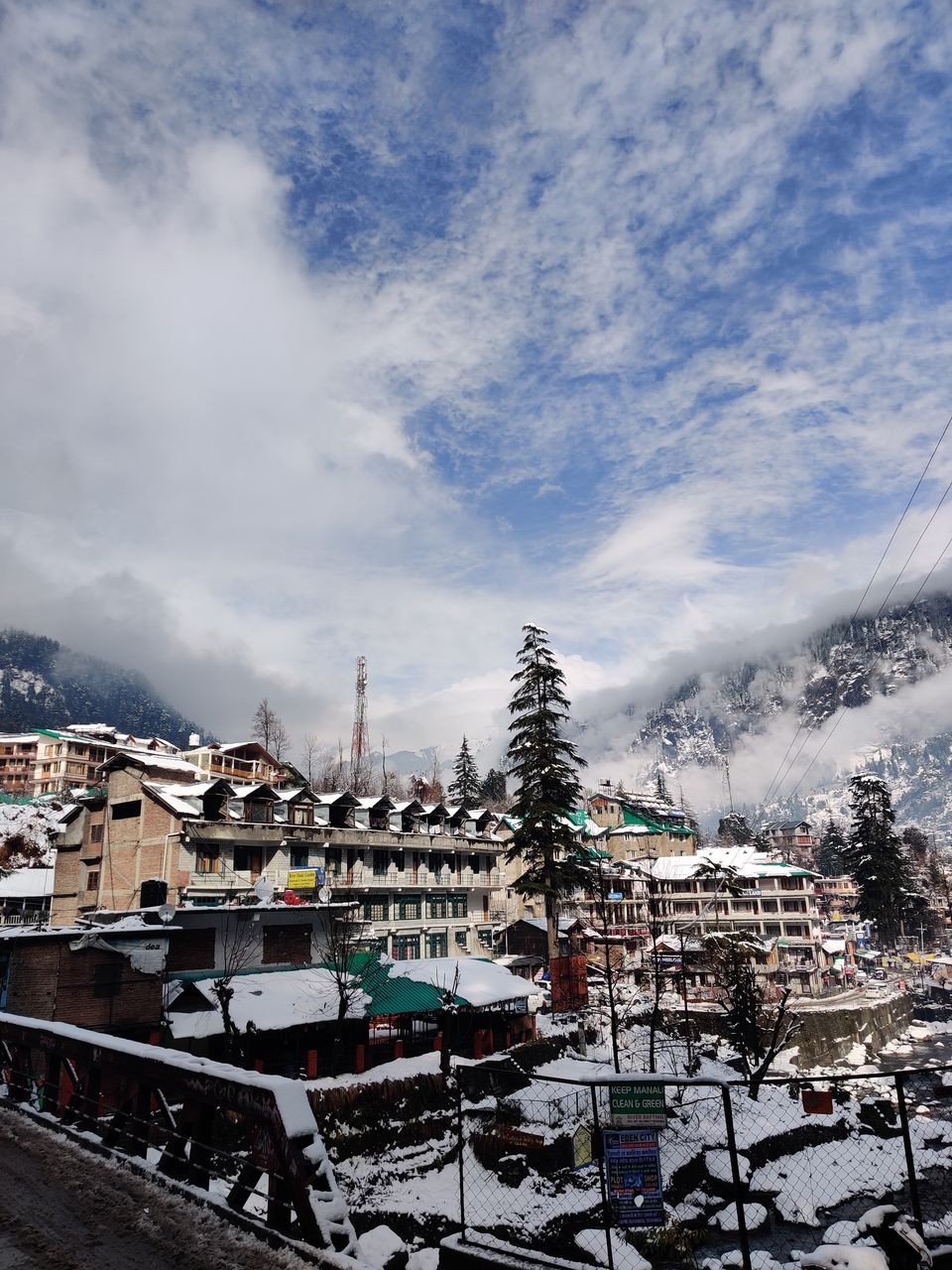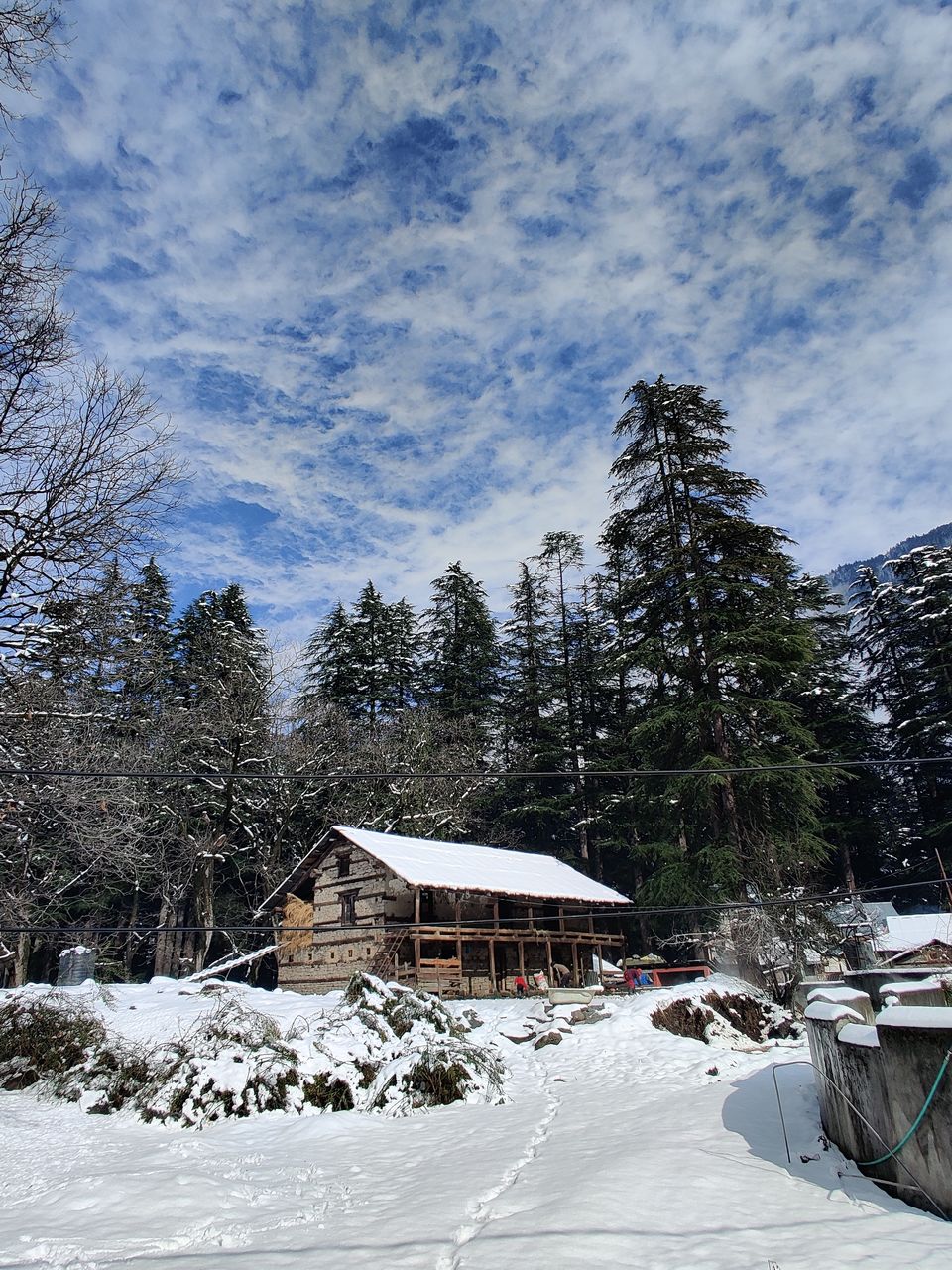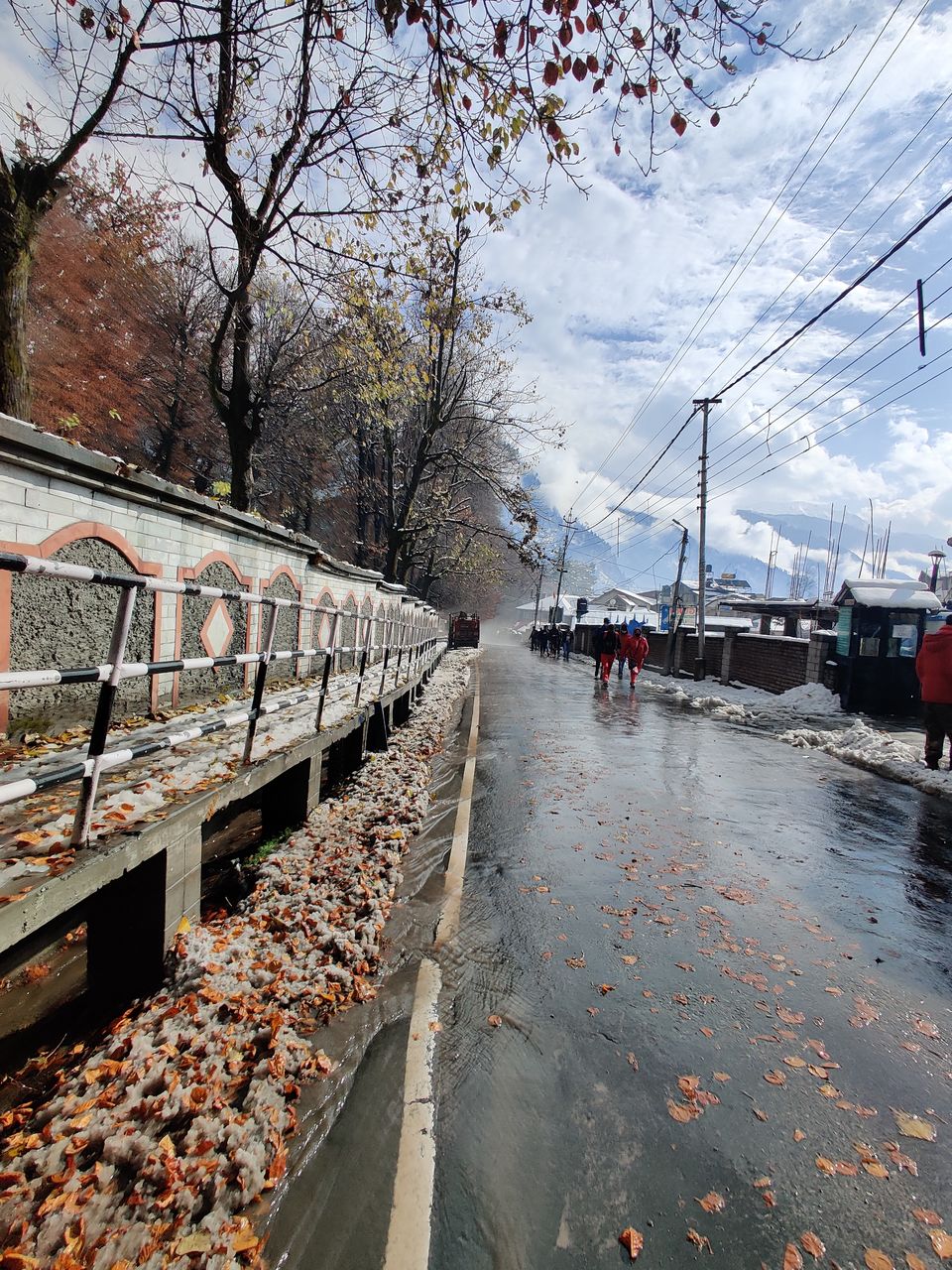 This was my solo trip after so long and i thoroughly enjoyed it. I have missed on visiting many many beautiful places around the valleys and would surely plan to cover them soon.
Hope this article stands useful to you. CHEERS and HAPPY BACKPACKING.
KEEP SUPPORTING....@Travel_o_saga