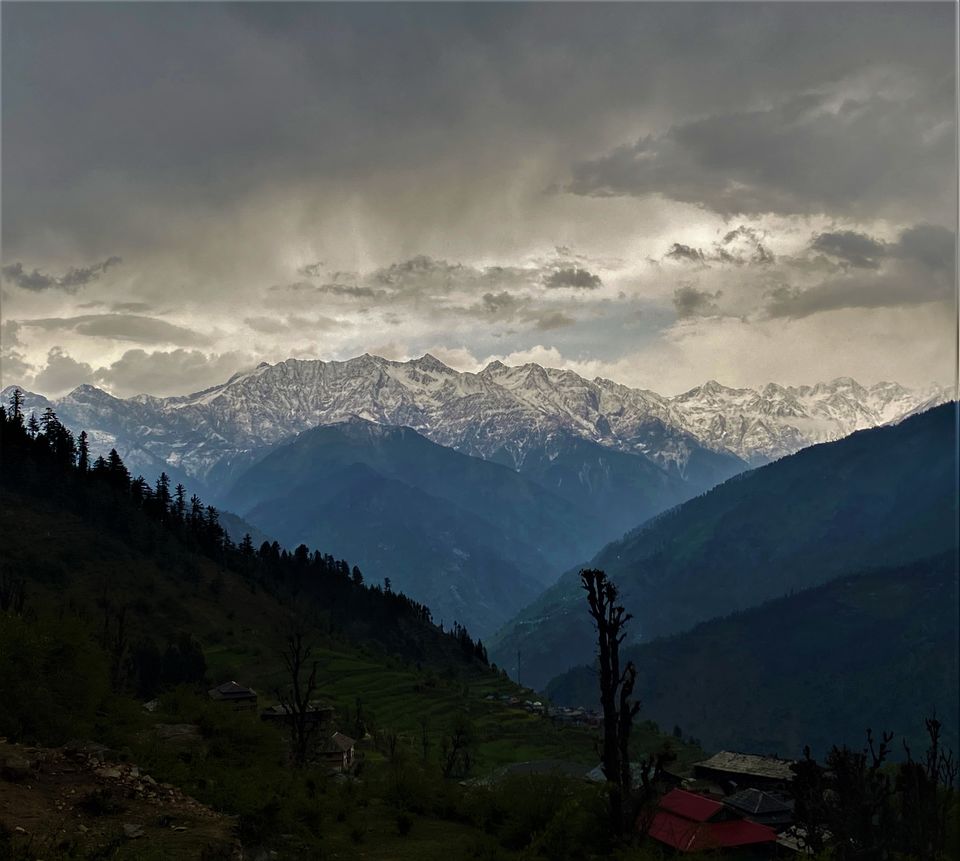 A complete guide to planning 3 days 2 nights trip to Banjar Valley through our experience to one of the most unexplored areas in Banjar Valley. We skipped the most common destinations "Jibhi/Shoja" and instead went towards "Gushaini".
We booked Prabhat Homestays, (visited 2nd time to the same homestay) since it is situated amidst river valley and mountains reaching atop of 6000m plus in the Great Himalayan range. One can see beautiful Dhauladhar Ranges from a top Sarchi Valley. Their host Ashish bhai and his wife make delicious home food and with exceptional hosting, our stay became memorable.
It is a great place for Fresh Water Trout Fishing/Hiking to Choi waterfalls covering World heritage Great Himalayan National park/ Trek to Sarchi valley/ and if you are not in a mood to do anything, just relax to rejuvenate away from city hustle bustle.
Route was Delhi to Aut(Bus)-Aut to Choi Waterfall- Nagini-Gushaini(Cab).Our Destination was Prabhat Homestays(Nagladi village, Gushaini road).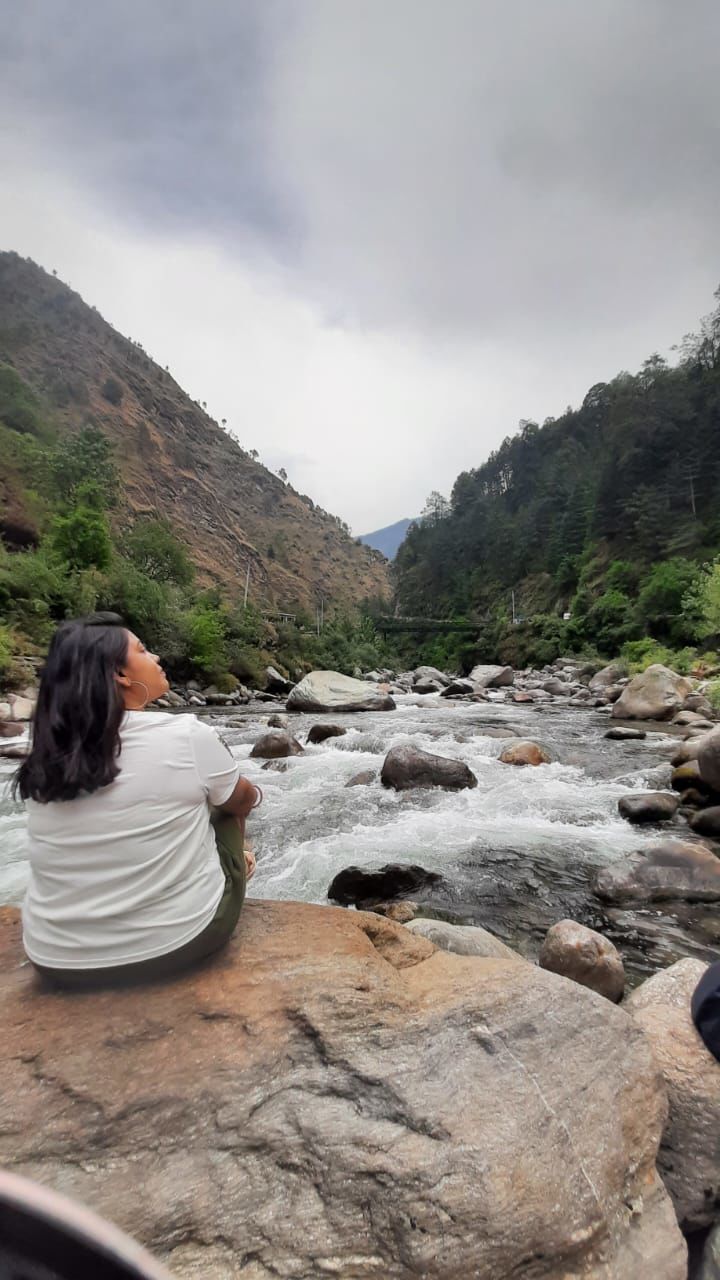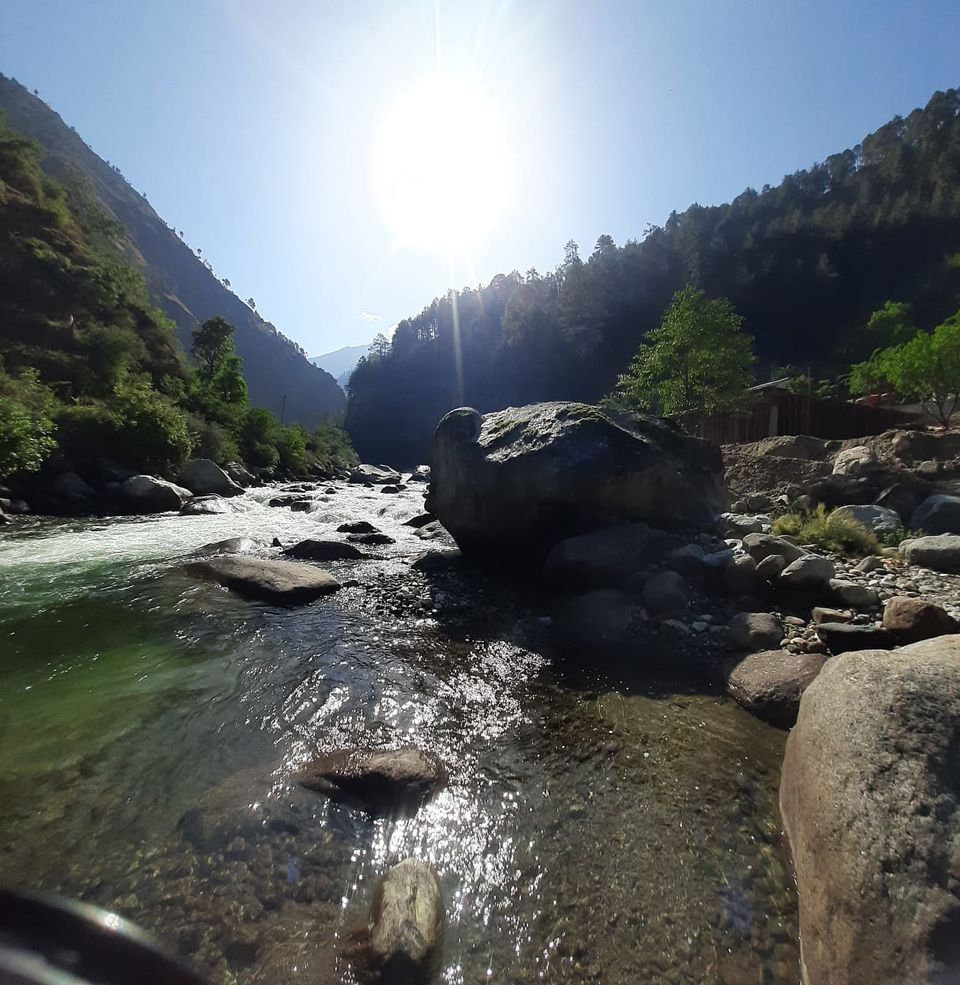 Tirthan river and Choi Waterfalls
I had visited this place in 2019 with a group of unknowns organized by Decathlon, since then I always wanted to visit this place again.The Idea was to book the place first, explore nearby areas and plan accordingly for next 2 days. I had known the host since my last visit so booking the place was easy. Their charges are Rs4000 per person including 2 meals (Breakfast +Dinner). We booked Laxmi holidays semi sleeper bus from Delhi, most of them can be boarded at HP petrol pump near gate no. 4 Kashimiri gate metro station. They have waiting a lounge also available at the petrol pump. We reached Aut tunnel at 11:30am which was supposed to be touched at 9 am, due to construction work and heavy traffic we had got delayed by 2 hrs.
We took a cab sent by the owner of the guest house, although one can find passenger cabs there standing. It took us 2 hrs to reach at the Guest house, by the time we were hungry as a hog. Ashish bhai and his wife greeted us very warmly and we straight away did our lunch. Also one of my traveller friend was there, i could imagine it to be an amazing trip then onwards.
Our plan was to relax, take a nature walk, sit by Tirthan river. As I had expected it to be, our night was even better, my friend Adarsh, Homestay owner Prabhat bhai, another very interesting person and a friend of the owner Mr. Anil Gaba(Nature Photographer) and 2 traveller(Dveep and Shalini) met and had a very fun night. We had Mocktails + Trout fish caught in the morning was cooked in the evening + Bonfire and complete strangers getting to know each other.
DAY2: Trek to Sarchi valley
We woke up early since Ashish bhai proposed us to take his car(Alto with no Power steering) to the trek point. We had Aloo ke paranthe with Lungri Achaar in breakfast. Initially we were two people but later on joined by 2 more(Dveep and Shalini). We 4 Drove 15kms from Homestay to Sarchi village where we met our guide Jitendra(Also famous as Tarzan),we picked him up enroute. We purchased maggi, water, utensils, veggies and started the trek. It was 3km from the trek point to Jamala, a small village(Old houses built in Kathkuni architecture) and meadows where cricket was being played. Most of the people had come to Jamala only for short hike but we went 5 kms furthur from Jamala and spotted a place where the Great Himalayan Ranges was seen as if we were looking at a painting. We sat and enjoyed the textbook perfect Himalayan ranges.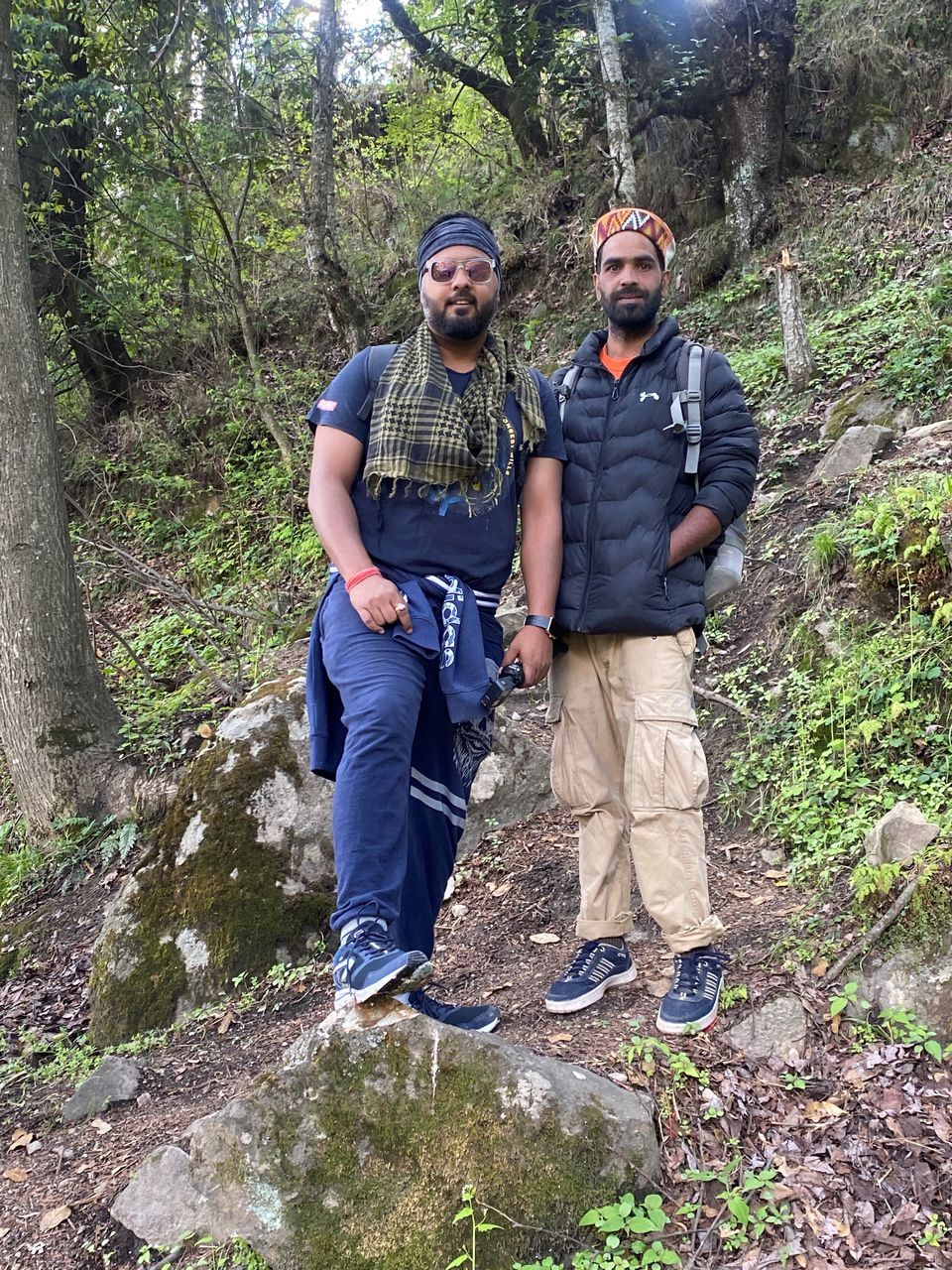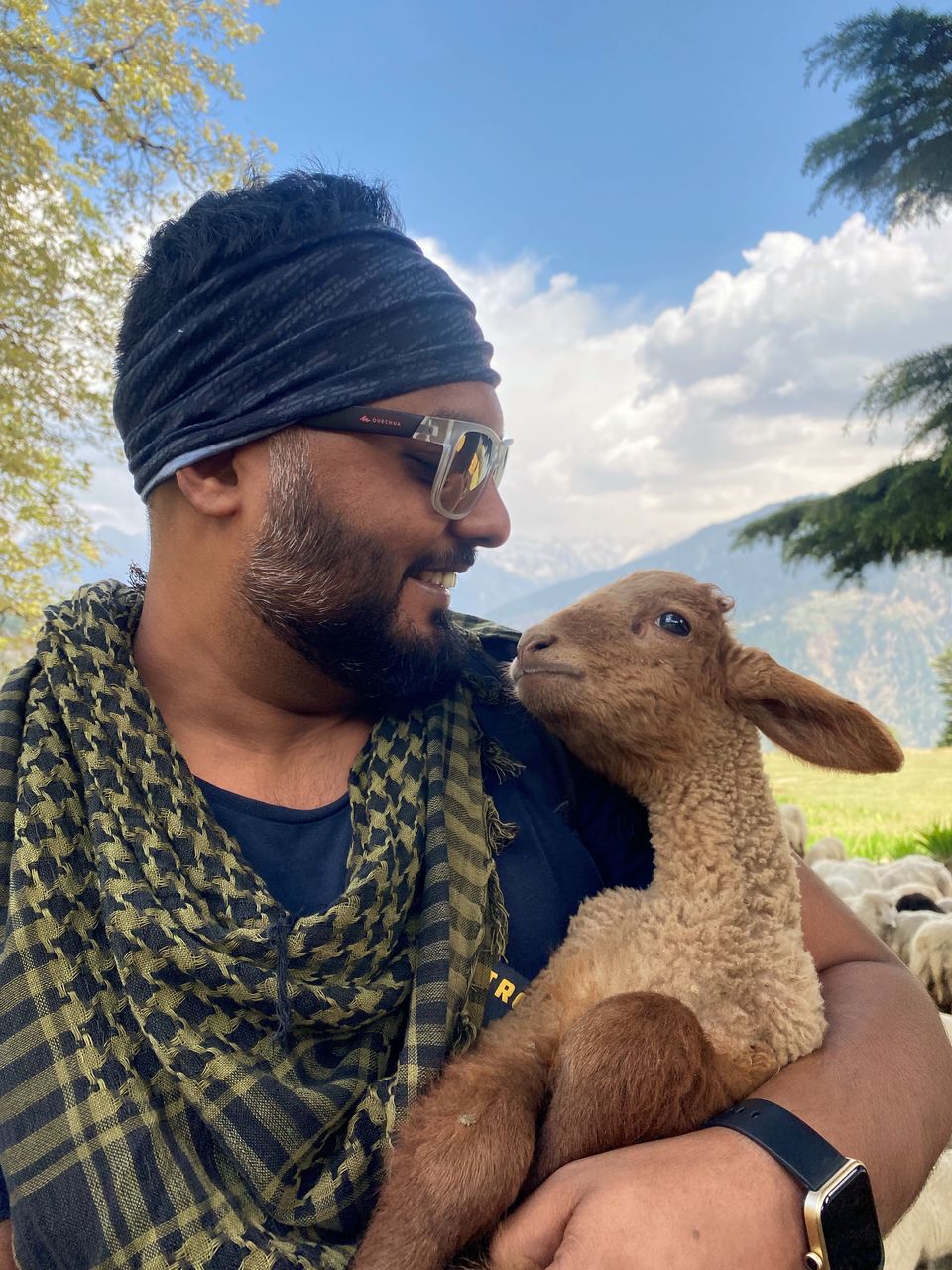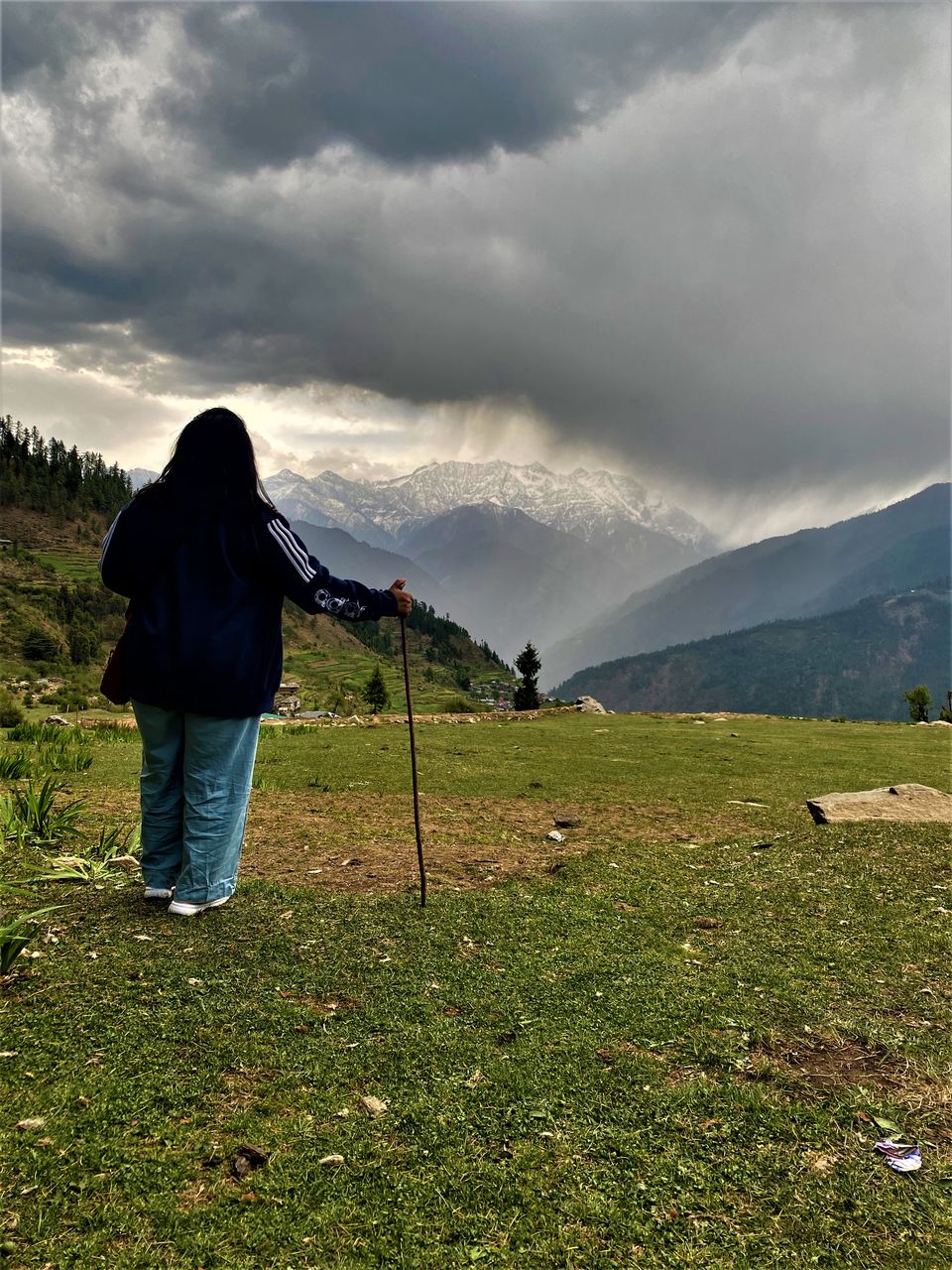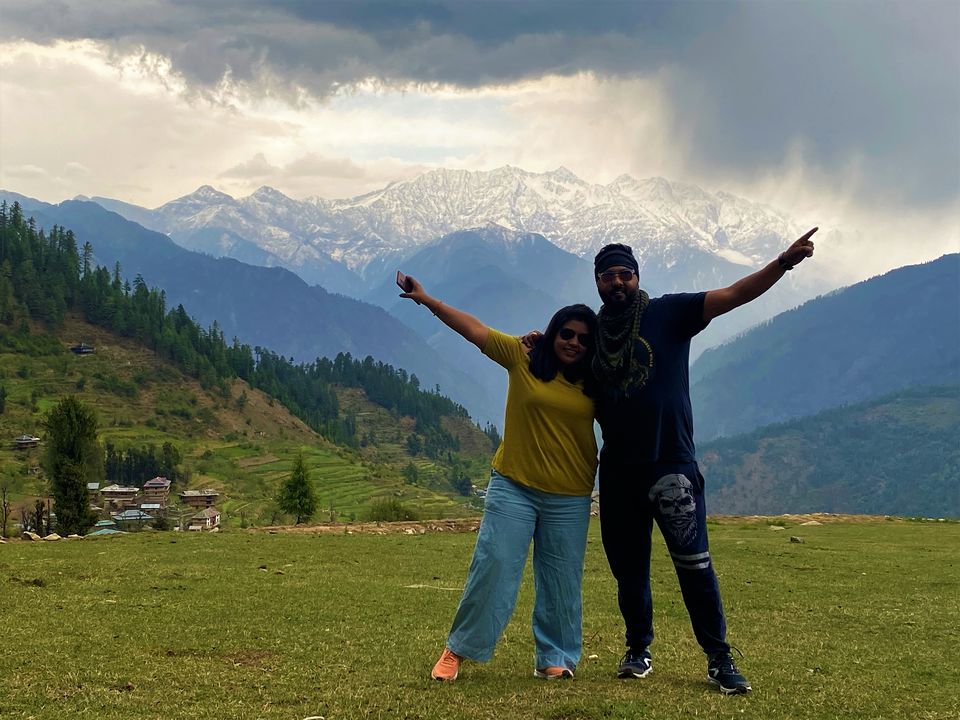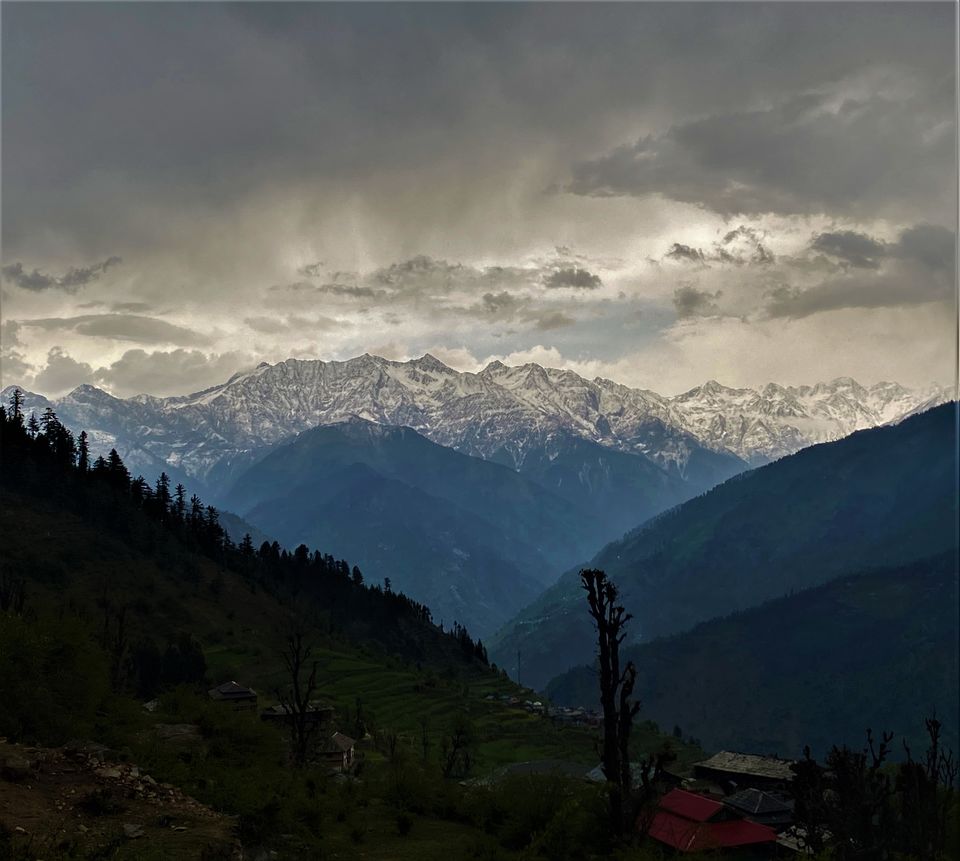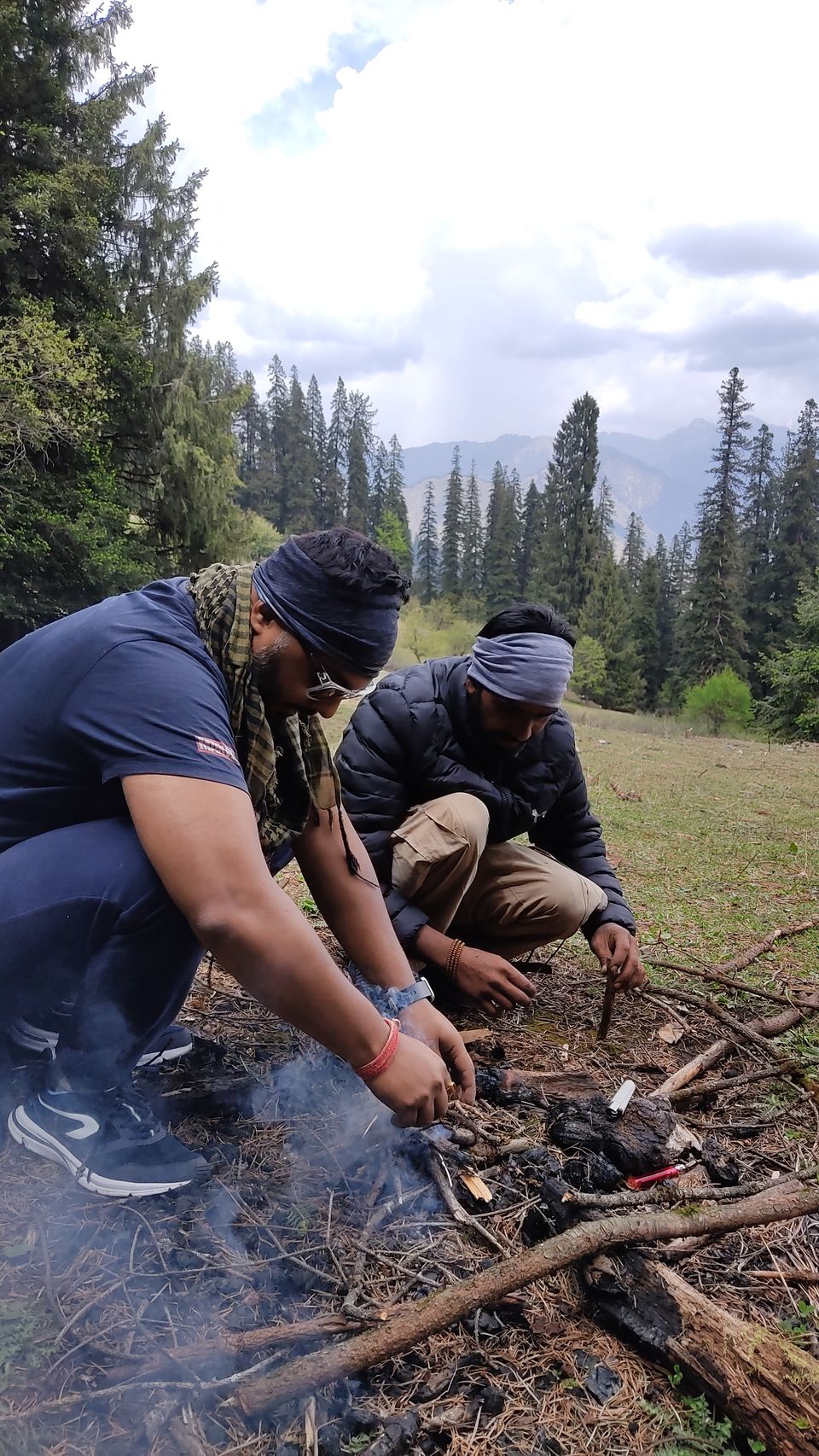 Before it started raining we descended down and reached to Homestay at 6pm. It was raining like crazy but the picture captured by our naked eyes at the top was worth million dollar. Trek goes to Lambri top(altitude of 3600m). I will cover that some day hopefully. Since it was my lovely wife's B'day for which we had planned at this place, i ordered a cake and owner was so kind to bring it there himself with Adarsh bhai. Also new guest joined, friends with the owner and Anil ji with his wife, Mr. Naresh Modi (Retired businessmen) and was there for few days in nature's lap. Again we had such a beautiful night, music, Bonfire, Snacks, Mocktails, Cocktails, stories and what not.
DAY3 : Jalori pass and Return
Our Plan was to cover the Jalori pass and the return bus to Delhi same day. Although was suggested to start early so that we can touch the Divine lake, but again seeing the same people enjoying tea in sunny morning we also took our time since we knew that these moments are golden so we became late. We said goodbye with a heavy heart to everyone and left at 11am and reached the Jalori pass point at 1pm. It took us 2 hrs to reach there. Route followed was Gushaini- Banjar-Jibhi-Shoja- Jalori pass. A total of 30kms and time approx 1.30hrs that to subjective to traffic since there was lots of tourists especially at Jibhi.
The lake we were heading to was Serolsar lake. It is said that the most beautiful Places are hidden somewhere around the corners of this planet and one such place is Serolsar lake. Locals believe this lake to be the home of a local deity "Buddhi Nagin" and she lives in the Golden palace at the bottom of the lake. No geological study has still been able to accurately calculate the depth of the lake, as told by the people. Many stories were told by locals but it is difficult to write all.
NOTE- What ever you believe don't take a dip or bath in that lake or walk on frozen lake as locals become angry since they worship their deity. It may hurt their sentiments.
We were running short of time. Although the trek is basically a 5kms Hike rather than a trek. Easy for beginners also but yes it is time consuming. We took it as challenge to reach at the lake and then make it back on time. We reached the lake at 3pm, it is only once you see lots of eatery shop you can see the lake. But making it to the lake was greatest decision ever. It was purely Divine, the solitude, calmness, blue sky, clear lake water that one could see the trees and sky clearly in the lake as if coming straight out of a painting . If i was a painter i would have painted that entire scenery. It was magnificent. There lies Budhi Nagin temple.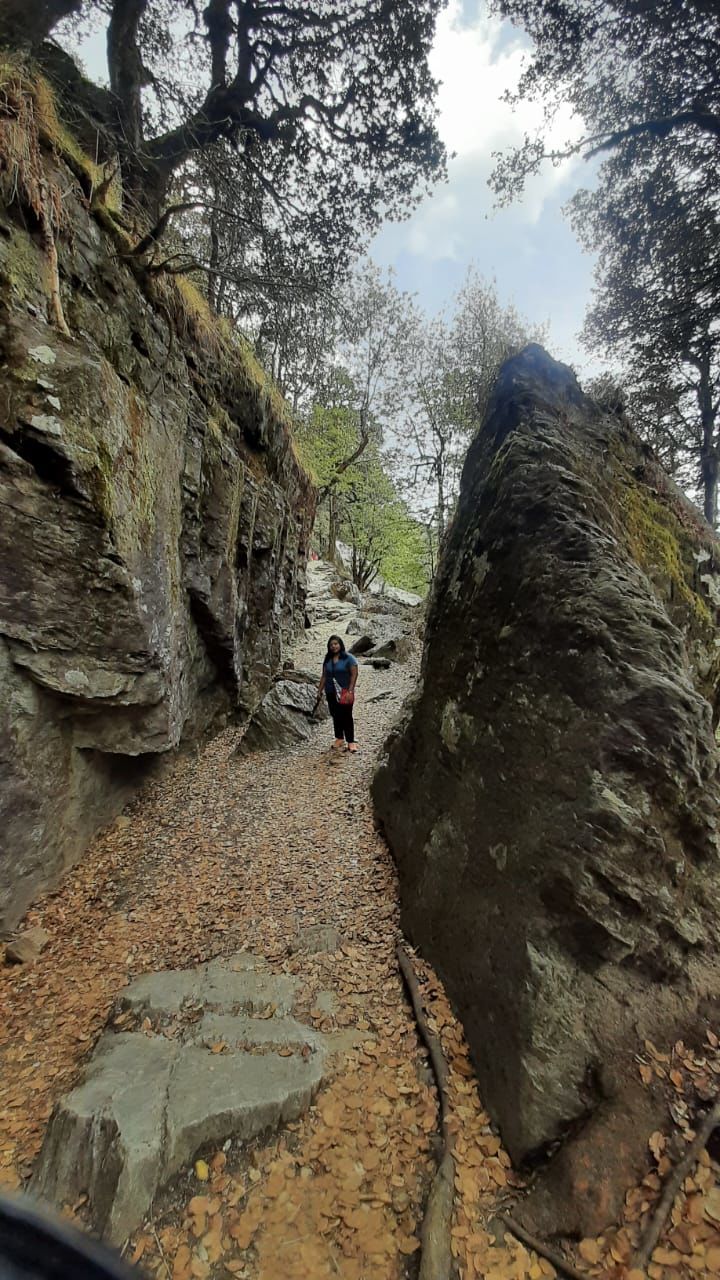 We did darshan and covered the whole lake in clockwise rotation taking all the photos and videos and moved out. I would highly recommend 1 day to be there on time and just sit for the peace it offers. While we ate Rajma chawal since we knew that next we are gonna eat only when the bus stops somewhere in the middle of night.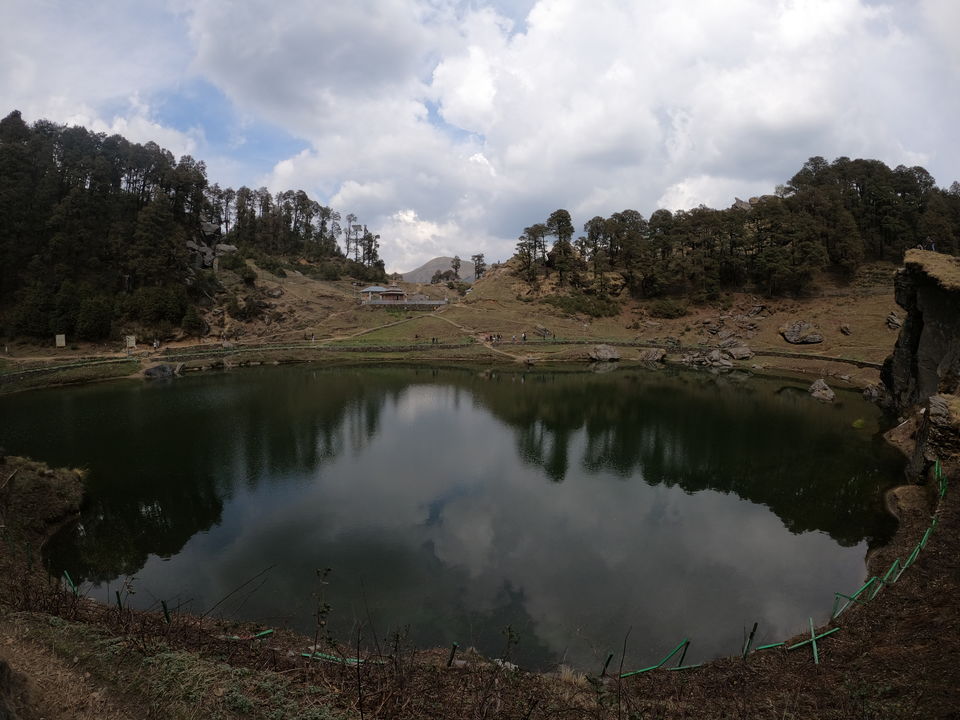 Next challenge was to catch a bus on time. The time of the bus reaching Aut tunnel was 6:40pm. We trek back to our car and reached by 5:15pm. With highly crowded roads especially near villages like Shoja and Jibhi we knew it would come down to the wire. Driver was also very supportive and he rode like a rocket..it was just like seating in a roller coaster ride. To our luck the bus itself was late which buy us a little time but still we only reached by almost 2mins difference, had it been 5 mins delay we never would have been able to catch our bus.
We thanked out stars that day and taking a lot of good memories took a sigh of relief. But that bus was not ready to turn on the AC and there was packed jam at Banjar which took almost 1.30hrs sitting there and waiting for the jam to be cleared. Meanwhile we were making list of all the good things we had had in last 2 days such as travelling by public transport, eating "Siddu" made by aunty, Hiking, Trekking, Fishing, making friends with complete strangers and lots of small things which made our trip memorable forever.
Things to do or not to do:
1. We paid for semi sleeper Laxmi Holidays bus both ways but return bus was a general where driver refused to turn on AC and very compact leg space. So check the ratings before booking and try booking at least a month before going.
2. Try fishing , best fishing season is Mar to Oct. Fishing Licence is about Rs500/-, 100rs /- for Fishing Rod, and additionally for the guide. We saved on rod and guide cost since our owner had got his own rods.
3. Serolsar lake is best felt with ample time and calmness. Plan early to spend few hours there. The calmness and silence will blow your mind.
Camping is also available at the lake, so plan accordingly.
4. One can do Himalayan national park trail. 8 kms from Gushaini to official Entry Point of GNHP and from their Choi waterfall Hike. Both can be covered in 1 or 2 days.
5. It is a place for many great treks such as Basleo pass trek, Sarchi to Lambri top to Serolsar, Chenni kothi Hike.
6. Do enjoy the locally made drinks(wines made of barley and rice), juices made of Rhododendron, lychee etc. and local foods such as "Siddu", Lingri achaar etc.
7. Do stay at Prabhat Guest house- 9418503790 for amazing experience and hospitality.
SOME MORE PICS FROM THE TRIP