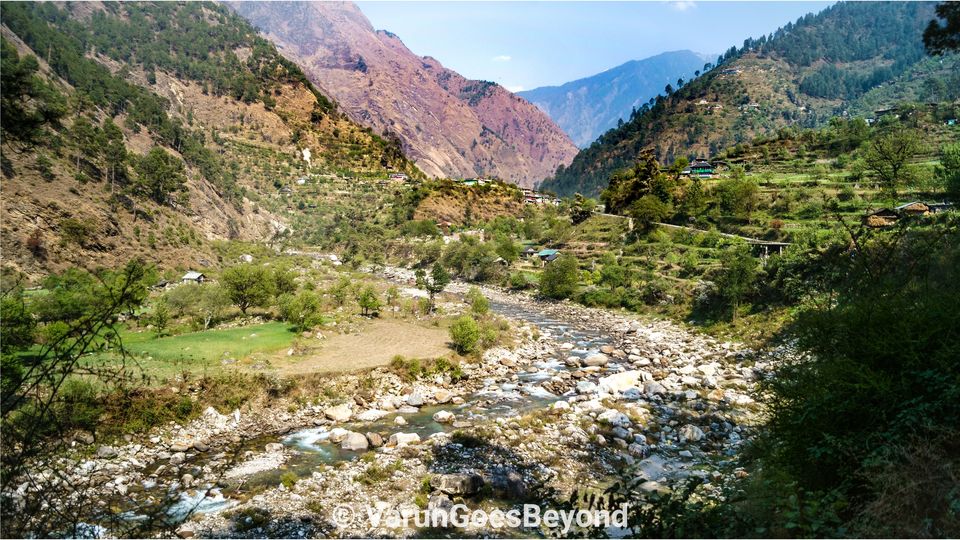 "Be Brave. Take Risk. Nothing Can Substitute the Experience." - Paul Coelho.
You might be thinking that what a weird quote to start to blog. But this is what we learnt from our tirthan valley trip.
Tirthan Valley is located in district of Kullu, Himachal Pradesh. As the name says, tirthan is not a place. I have seen many people saying we have been to tirthan. But let me tell you, Tirthan is not any place. Its a valley which lies along tirthan river. It is a part of the Great Himalayan National Park (GHNP).
The two main place of this valley are Jibhi and Gushaini with Banjar centered between these two places. At banjar, one road coming from Aut continues ahead which crosses through Jibhi following by Jalori Pass and and the other road takes to Gushaini and further into the GHNP.
How to Reach -
(i) If you are driving yourself, take the route for Mandi-Aut-Manali. There is Aut tunnel. You should NOT enter the tunnel, before the tunnel take right turn. After crossing the hydro project you will reach Larjee. From Larjee you should take left towards Banjar (the other route will take you to Sainj valley). Before Banjar, the road bends towards left for Tirthan which should be taken.
(ii) If you are taking Volvo from Delhi or Chandigarh, reach Aut and then take a bus for Banjar. There will be many private bus operators going to Banjar from here. From Banjar, take the next bus or cab (Rs.100-200 max)to Tirthan.
Let's Start the Journey -
Day 1 -
As per the plan, We Started for Our Journey to 'Tirthan Valley' from Delhi in Morning. "Unfortunate Things Can Happen Anytime, Anywhere, It Doesn't Needs an Invitation to Happen. So, the Same Happened with Us Also. Our Car Broke down near Karnal. After Wasting 4 5 Hours, We Were Left with No Option than to Take a Local Bus to Chandigarh and Then Continue Journey to Himachal. So, We Boarded a "Haryana Roadways" Bus. Who Are Also Known as the "Kings of Roads" to Chandigarh.
We finally reached Chandigarh at 9:30 PM. We decided to hire a taxi for our 5 day tour. We had our Dinner at the very famous "Pal Dhaba" of Chandigarh. The taxi Costed us around 13,000 for 5 days. The name of Taxi Company was - Sapra travels.[caption id="attachment_275" width="1836"] Somewhere in Haryana[/caption]We finally started our journey to the valley at 11'30 PM leaving all the struggle for reaching Chandigarh behind. It was a 6 hour Drive till Jibhi. Once you exit the Manali- Chandigarh highway at Aut, The Scene Starts to change. You will Find Yourself between the mountains with Tirthan River flowing. Jibhi is around 30 KMs from Aut. It was month of march ( the best weather for going in mountains ) and the temprature was & Degrees at Jibhi.We reached our homestay at 6'30 AM, which I have booked through Airbnb for 1200 for 5 people. The name of the guest house was "Jibhi Inn homestay" which has the view to die for from the balcony. Words can't make justice to the Views- Speechless.
Jalori Pass -
As we were already a day late, we don't wanted to waste more time. So, we decided to quickly freshen up ourselves and start our day of exploration. Initially, our plan was to go Jalori Pass and trekk to Raghavpur Garh Fort and return to Jalori and trekk to Serolsar Lake. These both are 2-3 hour trekk each.
We Started Our Day with a Visit to Jalori Pass Which Is Loacted 12 Kms from Jibhi at 3000 Meters. The jourrney to Jalori Pass took us 1 hour to reach due to the bad road condition for 6 KMs from Sojha to Jalori Pass. After leaving Jibhi, the view starts to change from valley to high mountain view. We First Decided to Trekk to "Highs of Raghavpur Garh" Which Has the View to Die For. After Trekking Around 2 Hours We Finally Reached the Top and Seriously the View from the Top Was Amazing and Magnificent.
As we reached there, one of my friend got fever. We somehow managed to reach the Pass and had lunch. We was not looking enough to do a 2-3 hour trekk to serolsar Lake. We decided to head back to our home stay to take rest.
For dinner, we went out to a cafe just a few meters from our home stay ( I don't remember the name ). The food was just as home-made and very delicious. After a long 7 hour journey, 1 hour to Jalori pass, 3 hours of trekking, we all ate the dinner like hungry lions. We called it for the day early to wake early morning.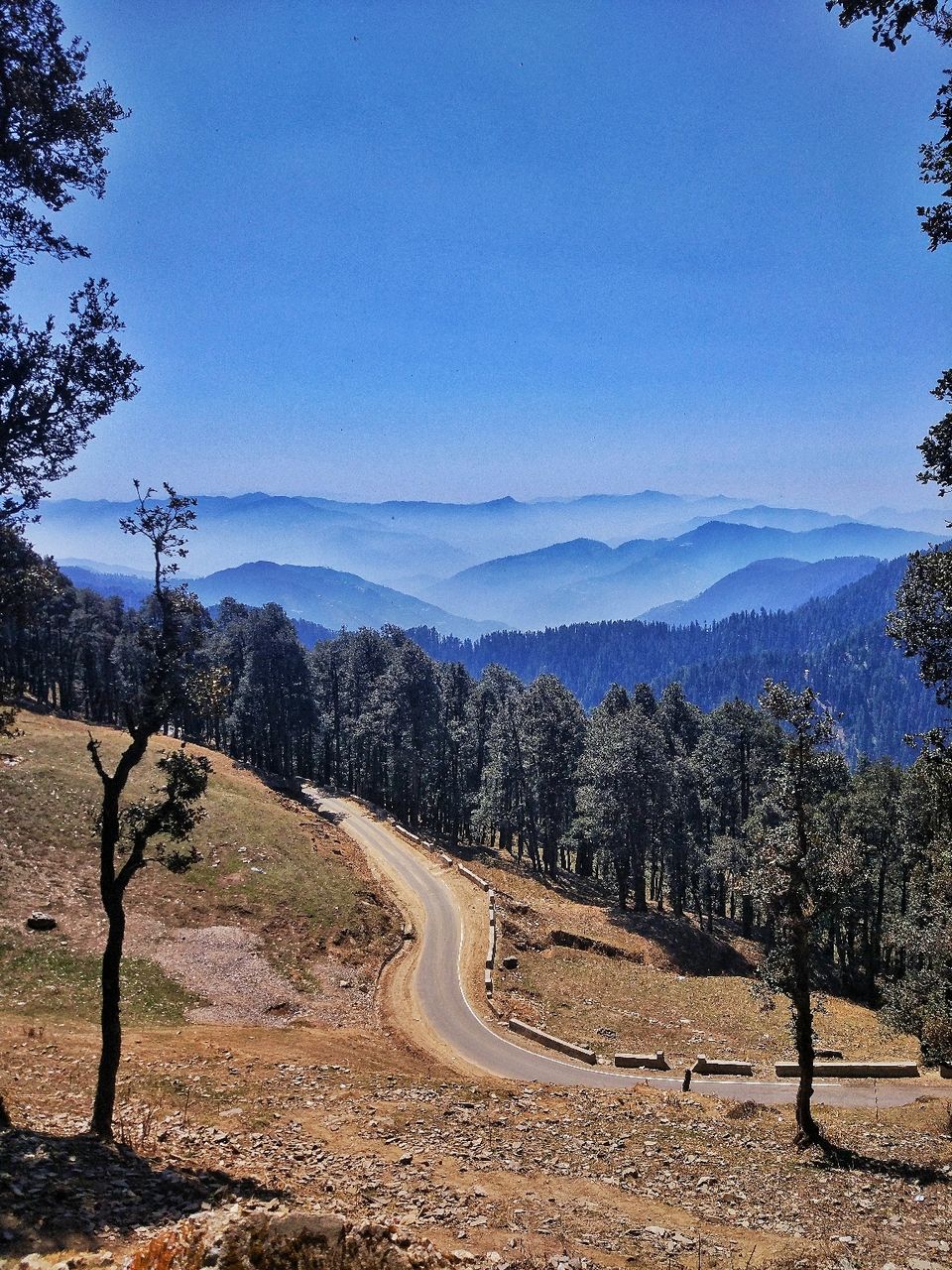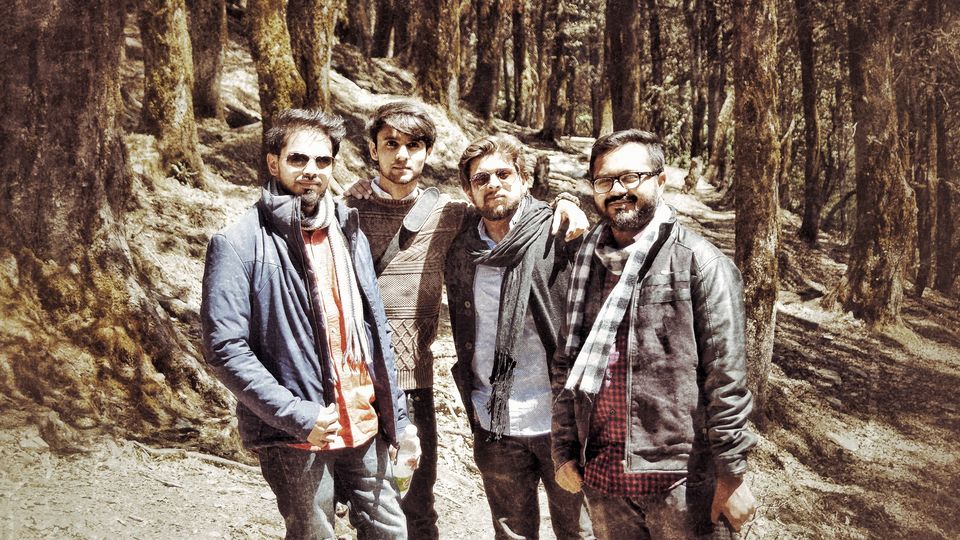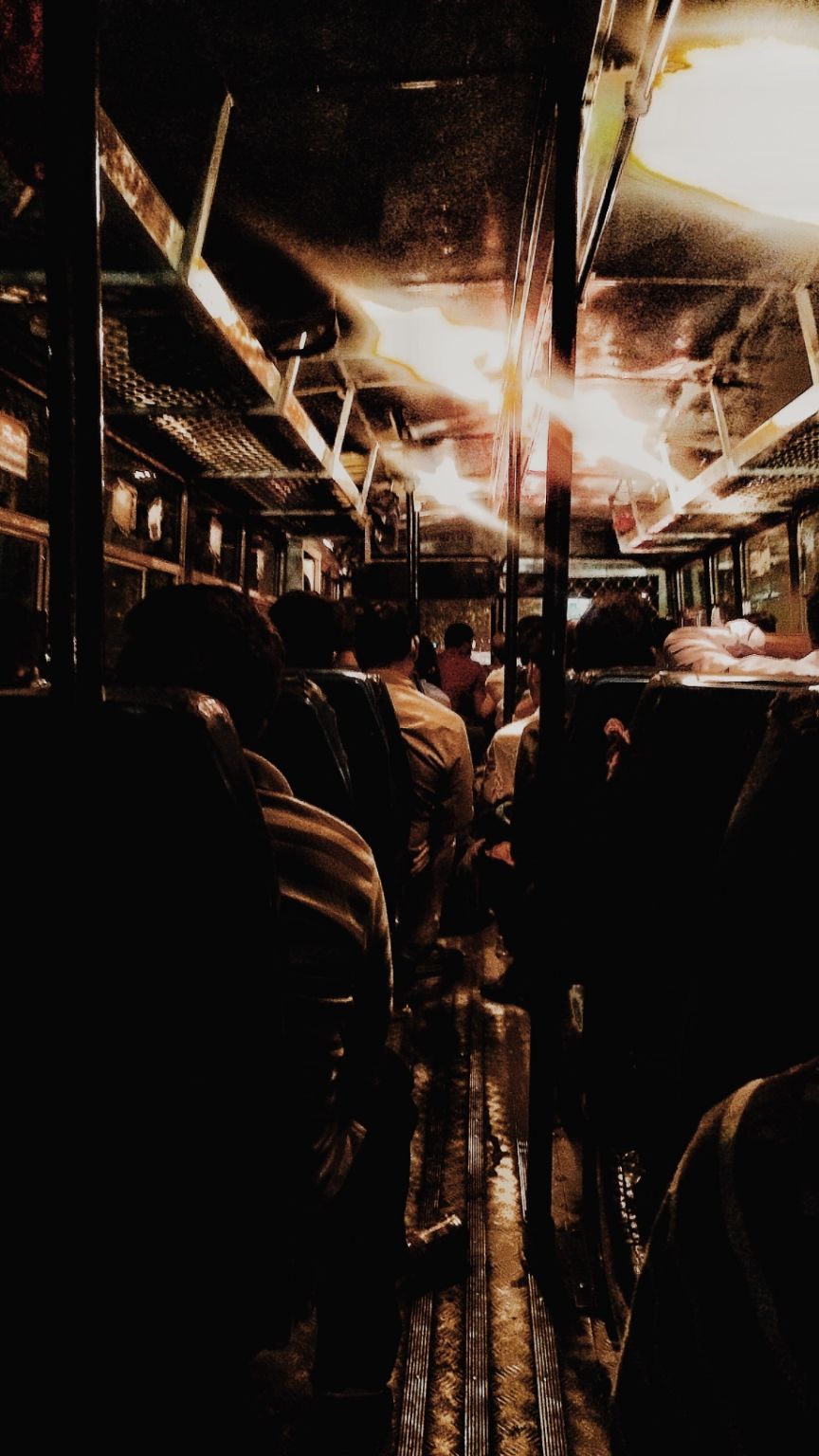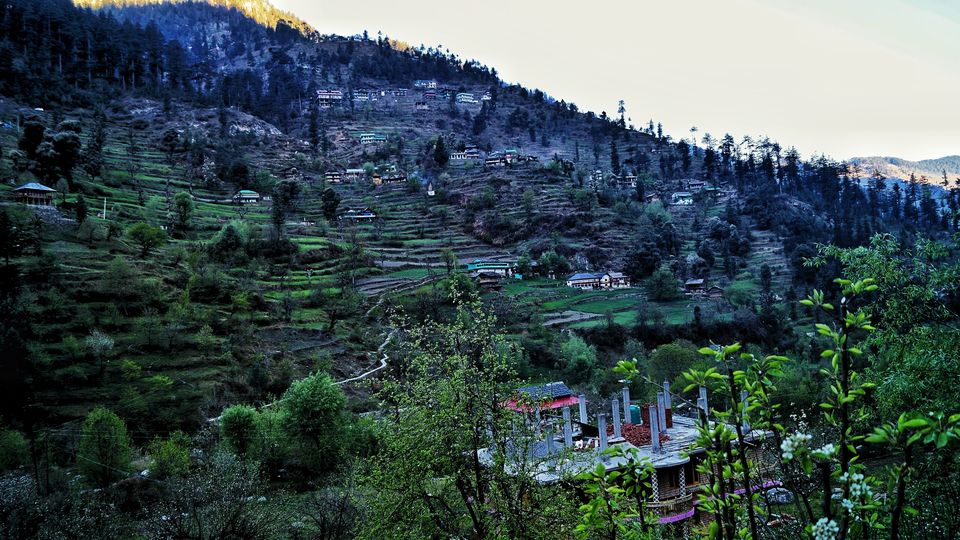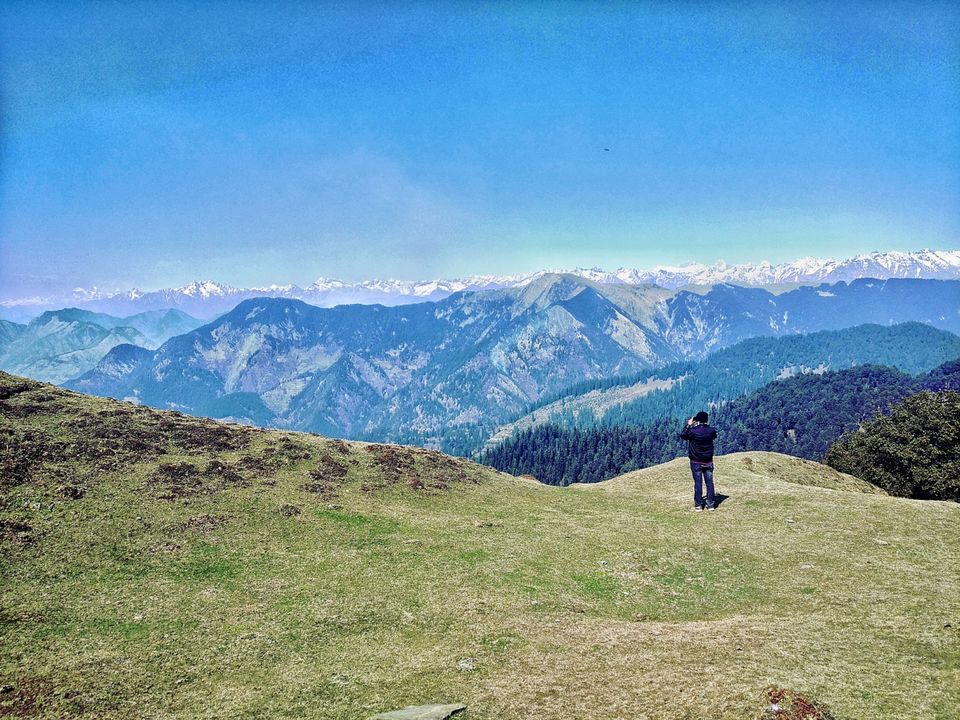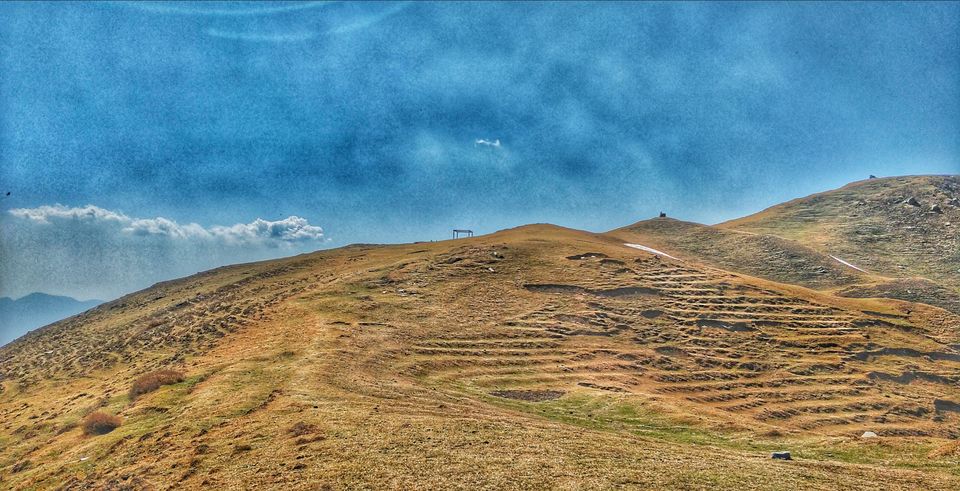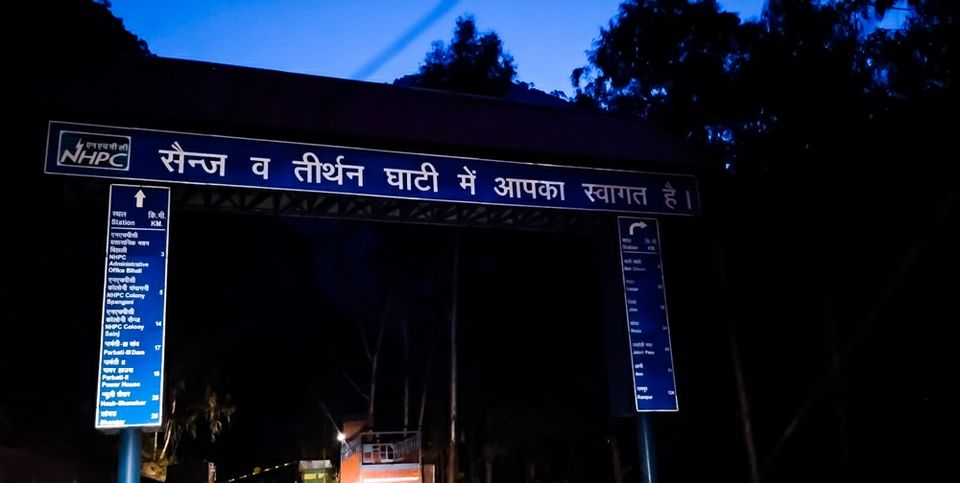 As decided, I woke up early morning and went to explore the valley in the cold winds of spring. I walked down to the river to get some beautiful views. I sat on the stones present in river and started enjoying the views. With the fresh sunlight touching the ground, cold spring breeze flowing, I started feeling myself onto some heaven and thinking what if i can enjoy every morning of my life like this. After an hour relaxing there, I hiked back to room and had breakfast and got ready. We initially planned a 2 day stay but due to the first day travel fail it got reduced to one day. That was the worst moment to leaving Jibhi too early.
We got ready and left for Jibhi waterfall. Its a small waterfall which is surrounded by the hills making the bay cold. We took some photographs and relaxed there for 1 hour and left for Gushaini. Now, In the early part, I told that Tirthan valley has 2 parts. One is at Jibhi, jalori Pass and the other is GHNP. Gushaini is the starting point of the trek to GHNP starts. We started from Jibhi and reached Gushaini in an hour drive. When we reached Jibhi from Aut, it was night time, So we missed the most of the views. But on the Way to Gushaini, we got to see what tirthan valley has to offer. We Stopped just a few KMs before reaching Gushaini. The view from that spot was wonderful, the tirthan river, the mountains making the view a true landscape. We took some Photographs which I will Share here. We headed to the trout fishing spot on the banks of tirthan river. We went in the river and spend some wonderful, not to fade moment of our life. We Spent last 2 hours just lying on the stones on the river bed. After spending some last moment in the Tirthan Valley, we headed to our next destination Sethan.
I read somewhere that Tirthan valley is still untouched by the tourists. I felt the same when I was there that it is still untouched, unexplored making it calm even in time of long weekend as compared to other hill station in Himachal Pradesh. Thank You Tirthan Valley for offering us a beautiful time and made me to add this destination in Travel my calendar to go once, twice or more to this beautiful heaven.