In September 2017, I finally found time to visit a friend's cafe in Bir. These glowing meadows of the Kangra district grow on you with every passing sunset you spend at the landing site where hundreds of parachutes glide down at sunset and joyful kids run in frenzy, as if to catch those beautiful things descending from the sky. You're, honestly, never prepared to leave these glistening hilltops of Kangra. I had to because two amazing hosts in Bandal had been kind enough to host me at their boutique homestay for two days. Little did I know, that a new destination ahead, Sarchi in Tirthan, would simply blow my mind.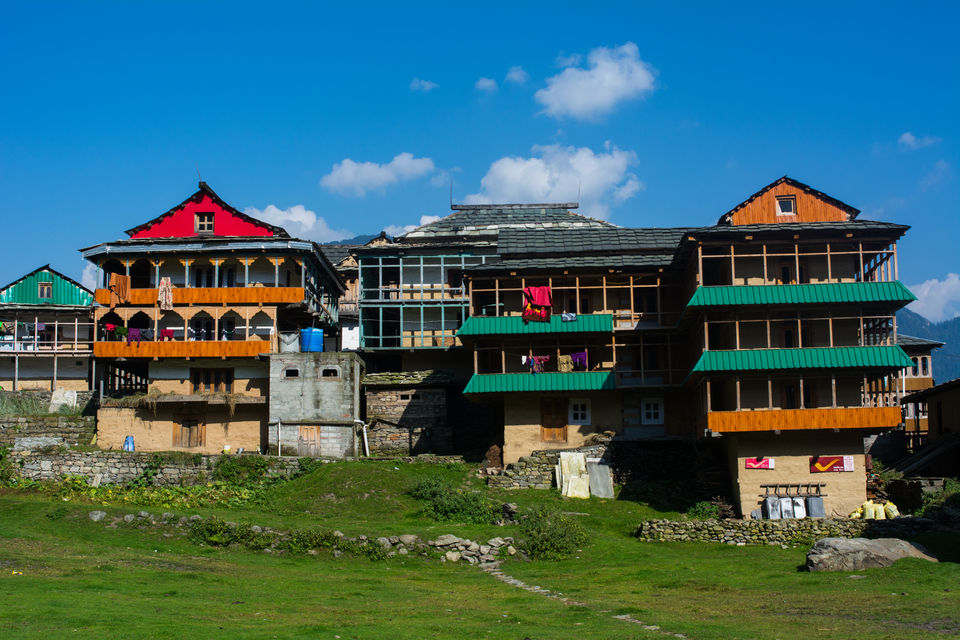 How to reach Tirthan Valley?
To reach Tirthan Valley from Bir I had to travel back to Mandi and take a Manali bound bus till Aut. I took another bus from Aut to Banjar. If you're planning to travel to Tirthan, take the same HRTC bus from Delhi and get off before the Aut Tunnel. Take a taxi/bus from Aut that drops you at Banjar or take a taxi directly to Gushaini.
My host, Sudhir met me at Banjar and then began a 10 km car ride to Gushaini and another 5 km drive to reach the gorgeous homestay in Bandal on the Sharchi Road.
Hike to Sharchi from Bandal
The road from Bandal to Sharchi is an unpaved one. Therefore, the next day when I asked my hosts for recommendations to explore the valley, they suggested a hike to Sharchi. Occasional vehicles can be sited on this road but it's mostly the road construction material being sent uphill.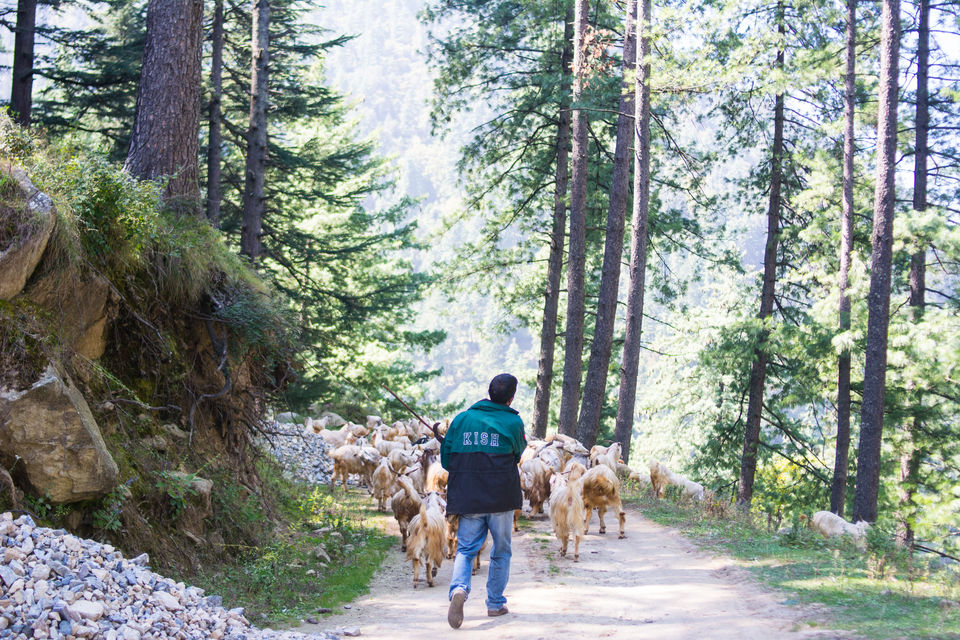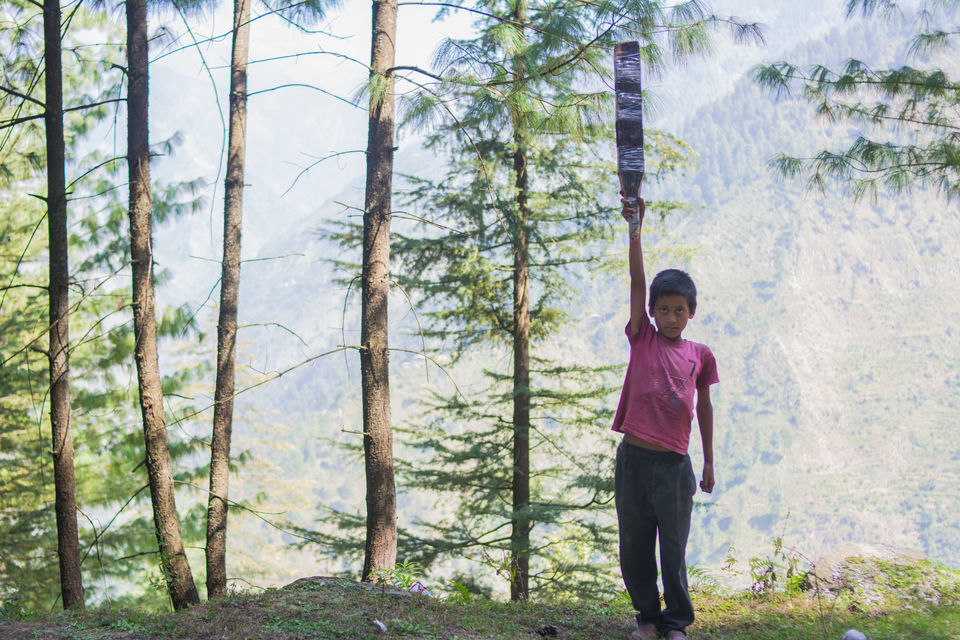 I took a trail crisscrossing up the hill starting from a deserted water tank. I met several shepherds on the way who just pointed to the hill top when I asked for the way to this village. One of the shepherd woman walked with me almost all the way to the village.
During this hike through the deep the jungles of this unexplored side of Tirthan, I could see the green cedar dust falling and by the time I reached Sharchi my shoes were covered in this beautiful green dust.
Just a two and a half hour slow walk on this trail through the Deodars and I was at Sharchi.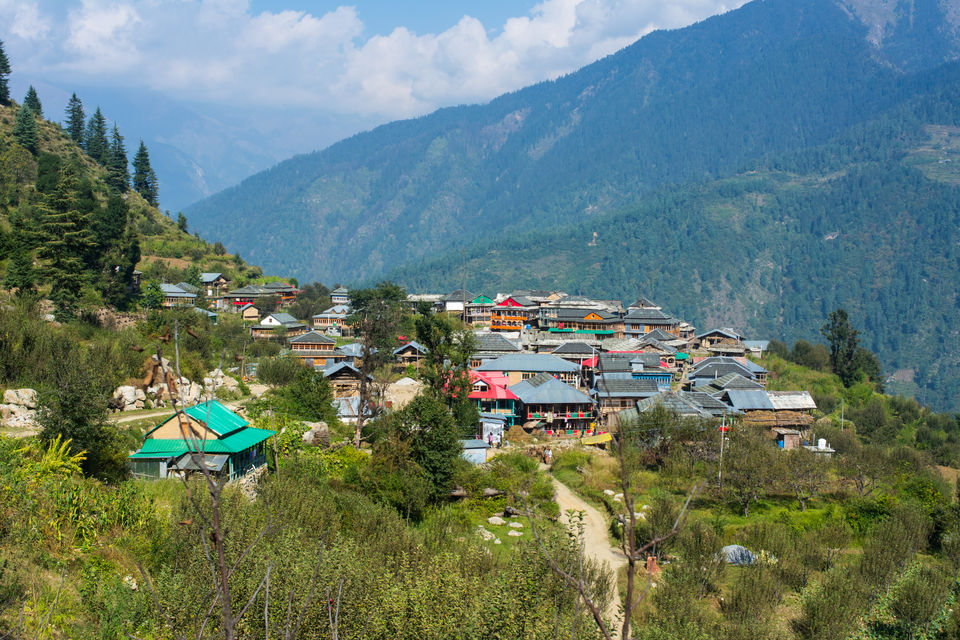 Discovering the second Malana
Sharchi is a Gram Panchayat located in the Banjar Tehsil of Kullu District. It is 71 km away from the busy town of Banjar. A 15 km dirt road from Gushaini takes you to Sharchi via Bandal. I opted for a hike instead since the slow unfolding of these hilltops offer a better joy than the rushing views outside a car window.
The stone walled, wooden panelled houses of Sharchi could be seen from a distance. I walked up the narrow terrace fields of corn and bhang enquiring about the nearest shop I could go to.
Folks in these far flung villages never care about the courteous ways of the cultivated world. One should not mind these habits too. Only a few of them excused themselves to point towards the right direction. Most of them, which I later confirmed, were busy harvesting the bhaang that grows wild on acres of land. Sitting on the field, rubbing those palms endlessly under the scorching sun had burnt their faces in a way that somehow all men looked the same. The charas mafia had obviously reached this village before even the frequent travellers could.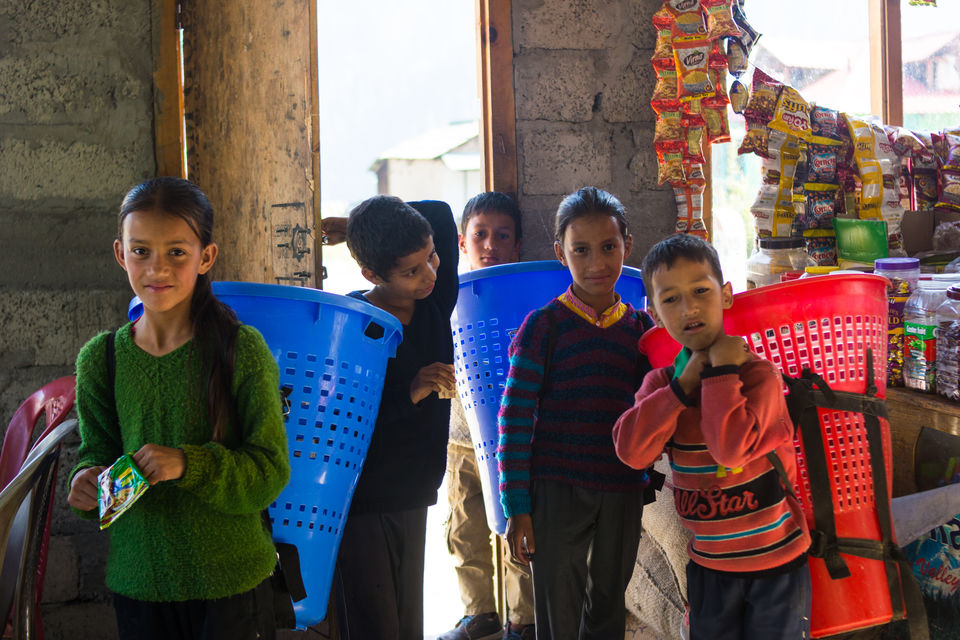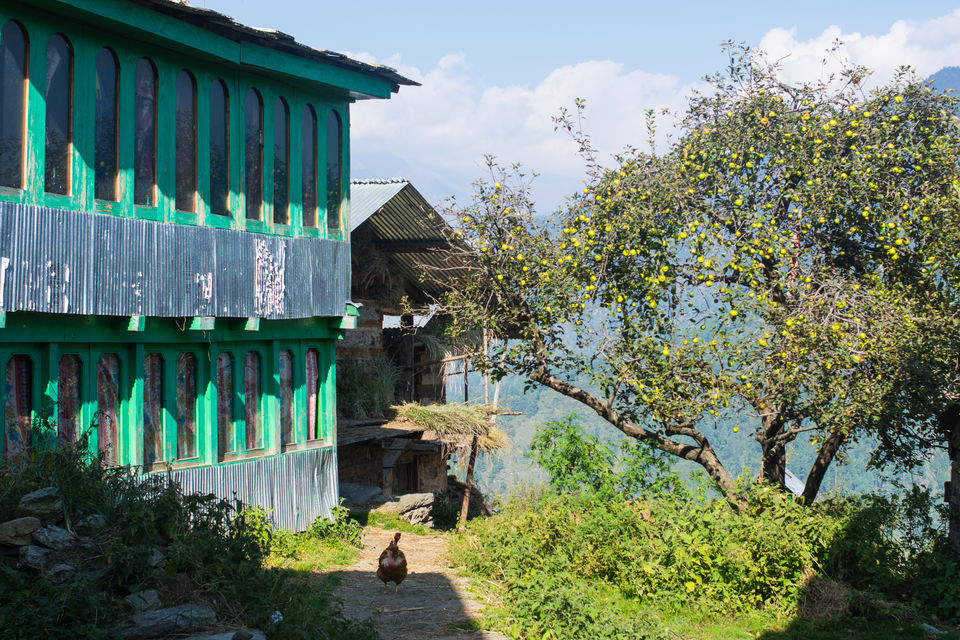 The Devtaa of Sharchi
It is often mistakenly understood Malana is unique with respect to obeying the archaic laws of untouchability in Himachal Pradesh. From the villages of Kangra to Kullu, every village community believes that their Devta, or the local deity, resides in their home and the caste less (as they unfortunately say) and outsiders are often not welcomed inside the house.
The local deity of Sharchi is Jagdamba Rishi. At the centre of the village you can see an ancient temple dedicated to the local devta that stands on verdant green grass. The wooden structure has an amazing woodwork of an undulating body of a snake that almost looks real.
Near the temple a 15 feet high dead and erect tree trunk can be spotted. Once a year, during the annual celebration of the local devta, the men of the village go to the forest to bring a tree to the village courtyard without breaking it's top. The tree stays in the courtyard for one year before it's replaced again on auspicious annual celebration.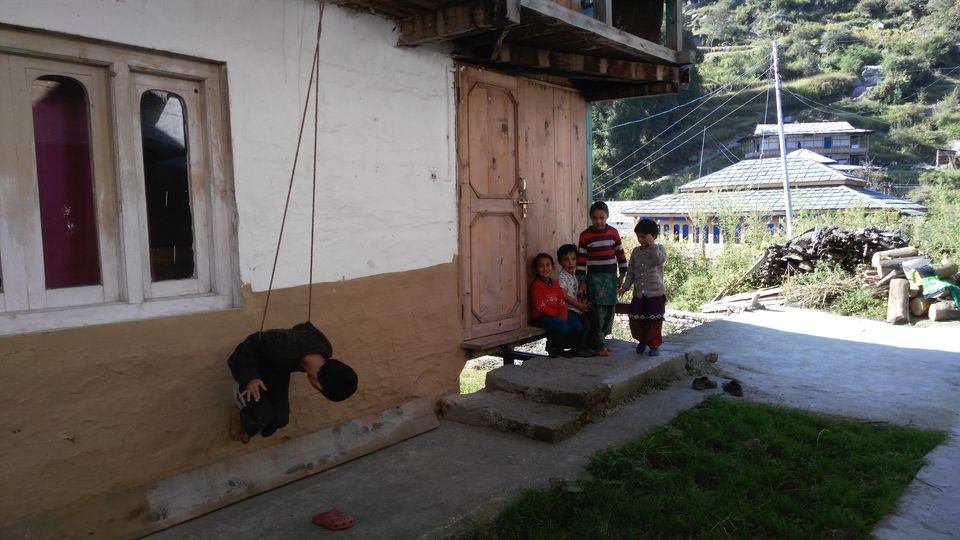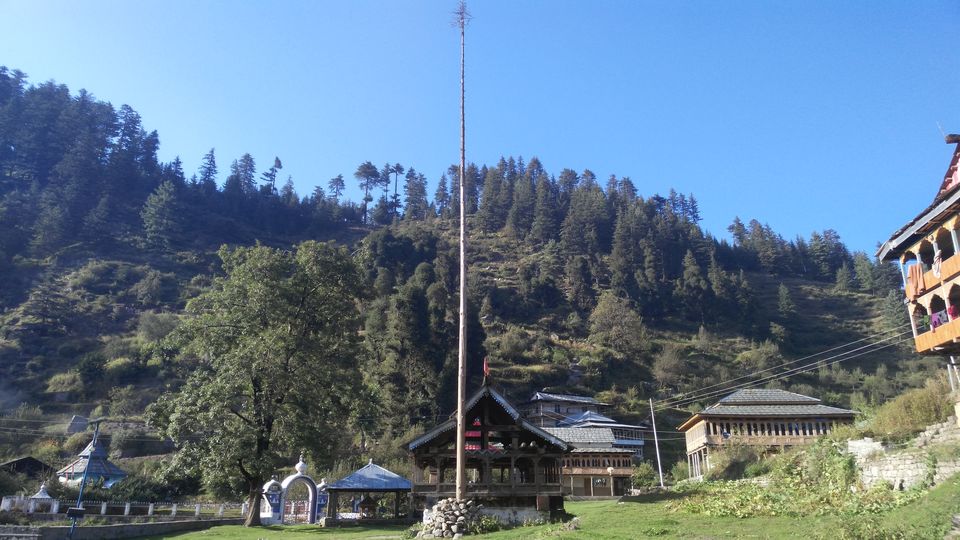 Where to stay on this trip?
There are approximately 10 to 12 hotels and homestays along the Tirthan river in Gushaini if you wish to stay in this valley. When most of the travellers, take the detour from Banjar and head to Jibhi and Jalori, this side of the valley remains quiet for an ideal holiday. During your stay at most of these places, you can enjoy trout fishing on the river during the afternoon and Sharchi is just a short drive or a day hike away.
I stayed at Kudrat Luxury Stay in Bandal, 5 km from Gushaini on the Sharchi Road. Check out my blog on Kudrat Luxury Stay here.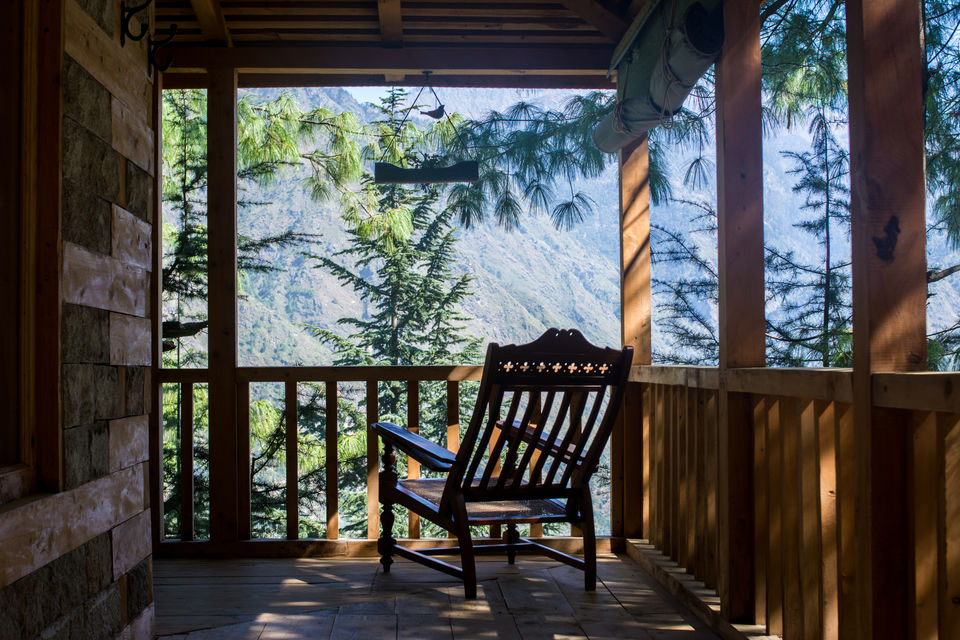 Other places to stay in Tirthan valley are,
1. Khem Bharti Homestay: 094591 01113
2. Trishla Guest House: 91-94187-03820
3. Raju Bharti's Guest House: 096252 11848
Places to Visit Around Sharchi
Jamala: Once you reach Sharchi, a short hike away from this village lies another ancient village Jamala where you can trace age old houses built in Kath Kuni architecture. This could be another great day for village exploration if you want to extend your Sharchi trip just by a few hours.
Lambri Top: This is another stunning hike that starts from Gushaini. Sharchi can be the basecamp for this hike. Lambri Top has an altitude of 3600m and trekkers often start this trek from the Jibhi and Jalori Pass route . The alternate route from Sharchi could give you a chance to see the underrated side of Tirthan.
Jalori Pass and Sereolsar Lake: Judged on accessibility, it is the closest mountain pass to New Delhi. When in Tirthan Valley, you can plan a hike to Jalori Pass and the Sereolsar Lake to experience the stunning sights these mountains of Kullu District offer.
If you have explored Tirthan Valley, tell me in the comments which if these offbeat villages did you explore and help other travellers plan their trip to this stunning corner of Himchal Pradesh.
Frequent Searches Leading To This Page:-
shrachi group, sharchi himachal pradesh, shrachi greenwood nest, weather sharchi himachal pradesh, chhoie waterfall sharchi himachal pradesh