I've always been of the firm belief that Delhi is the most geographically fortunate territory in our entire nation. Surrounded directly or indirectly by an eclectic set of incredible locations, one is completely spoilt for choice when deciding where to vacation. There's the amazing land of poetic and culinary wonder, Uttar Pradesh, and then there's the state of regalia, Rajasthan. The serene mountains and valleys of Uttarakhand and Kashmir aren't far either. But what I, personally, am the most enamoured by is the sublime Himachal Pradesh. It is just a comfortable night's journey away from Delhi and you wake up to snow-capped Himalayas and Dhauladhars in the morning.
The reason of the prose above is my recent discovery of a miraculous little retreat called H2O House tucked away in a secluded village in Chamba, Himachal Pradesh.
Where is it and how to reach?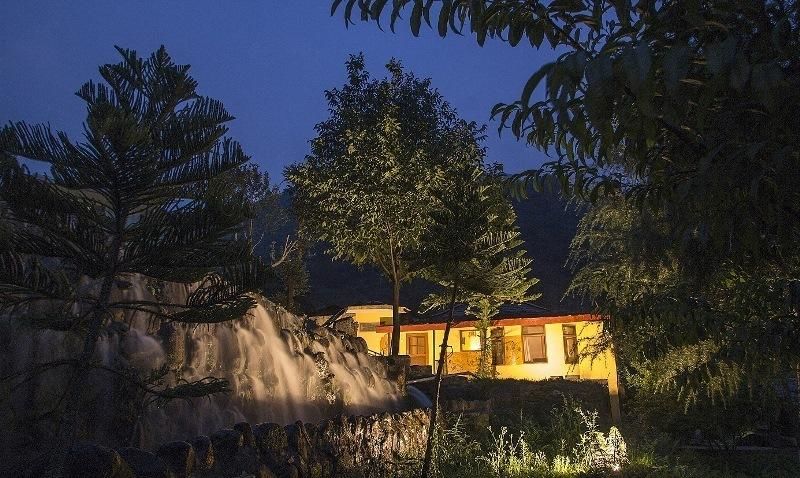 H2O House is located in Chaminoo Village, which is approximately 8km away from the main town of Chamba. Since reaching Chamba from Delhi takes longer than a mere night, I recommend that you choose a comfortable mode of conveyance. Let's discuss how to reach this location.
By Bus: I opted for this particular mode, and I feel it's definitely the most convenient. There are only two A/C Volvos (Himsuta) that ply between Delhi and Chamba, and which can be boarded from ISBT Kashmiri Gate. The other two A/C buses are Himgauravs, which are not as comfortable as the first two, so I won't recommend them. All these buses are managed by Himachal Pradesh Tourism, so they're always punctual. Himgauravs cost approximately Rs. 1,100 per seat, leave Delhi at 7pm and reach Chamba by 10 AM on the next day. Himsutas cost approximately Rs. 1,500 per seat, leave Delhi at 8:15pm and reach Chamba by 11am the next day.
By Train: This is the best option for people who don't like buses. There aren't any direct trains between Delhi and Chamba, but the nearest station is at Pathankot. You can then catch a local bus or hire a personal cab from Pathankot till Chamba for a 4-hour-long journey.
By Car: The least advisable mode of commuting between Delhi and Chamba. However, if you really wish to travel via your personal car, a gruelling 12-hour journey awaits you.
By Air: The airport nearest to Chamba is in Pathankot. Not really advisable because this is the most expensive mode of travel.
Why should I visit this?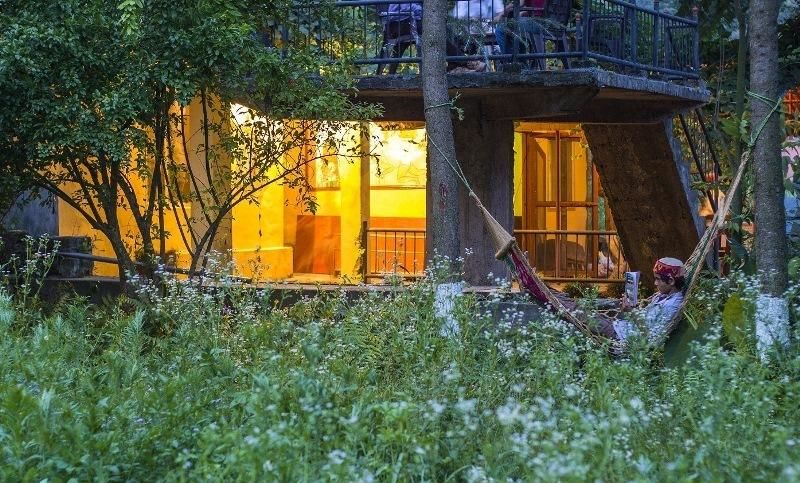 Give peace a chance.
As soon as you step foot on the verdant premises of H2O House, you'll start thanking your stars and the author of this article, yours truly. Nestled comfortably in Chaminoo Village, 9km away the main Chamba Bus Stop, this eco-friendly place is a tiny self-sustaining heaven. A fresh water stream flows by the homestay, accentuating the beauty of the place with its mellifluous sound. This is the perfect place to switch off from the world and relax. There is an attic-shaped meditation room (check picture above) where you can spend hours doing yoga, meditating, or just pondering over life in general. My partner and I are not into meditation, so we preferred to have our dinner in that room just to experience the sense of absolute quietude.
Earlier they dedicated the entire homestay to just one family irrespective of the number of people staying here. There were three bedrooms and a couple of terraces providing an unprecedented view of the majestic mountains on all sides. Now, they are constructing more rooms on the property to let more people enjoy this serenity. So the next time you book this place, you can take your entire gang along for an experience of a lifetime. You can also find snow here if you go between the months of December and February.
What makes it unique?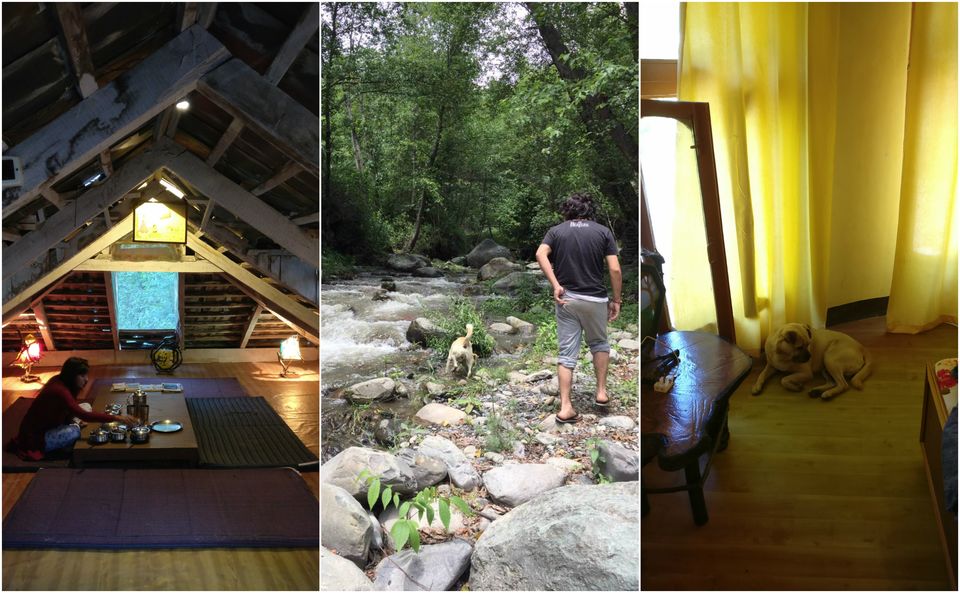 H2O House is managed by Manuj, a social activist in Chamba, who has worked for the welfare of women and youth and for the preservation of local art and craft. He carefully ensures that the place doesn't lose its ultimate aim of giving it back to the environment it takes from. H2O House is a completely self-sustaining property where the food is produced in-house using locally-sourced ingredients. All furniture and decoration on the premises is made with branches that fell from trees. There is also a dog called Buzo, who is a hybrid of a pug and a stray dog; he mostly keeps to himself but will also shows you around if you take him along. My partner and I spent a lot of time with Buzo by the stream and he is one of the most genial dogs we ever met. Special mention for the staff going the extra mile to ensure that we always felt at home and had everything we asked for. The food was Indian, and fantastic each time around.
H2O House is ideal for: Couples looking for an ultra-peaceful weekend retreat, peace-seekers looking for natural seclusion to meditate, and families looking for a drastic change from hectic city life.
How much will it cost: Rs. 2,900 per night. Rs. 250 per veg/non-veg meal.
Things to do in & around Chamba: There are plenty of temples like Chamunda Devi Temple and Sui Mata Temple in the town. Bhuri Singh Museum is also worth a visit if anyone is interested in the rich history of the Chamba district. The romantic town of Dalhousie is just a 2-hour drive away.
You can book H2O House right now if you're interested. You can also contact Manuj directly at 09873146404 for detailed information on the property.
If you've already been to the H2O House or any other property like it, do share your experience on Tripoto and help 25 million fellow travellers choose their next vacation destination. We promote safe travelling and believe in preserving nature.
Frequent Searches Leading To This Page:-
h2o house chamba contact number, h2o house chamba reviews