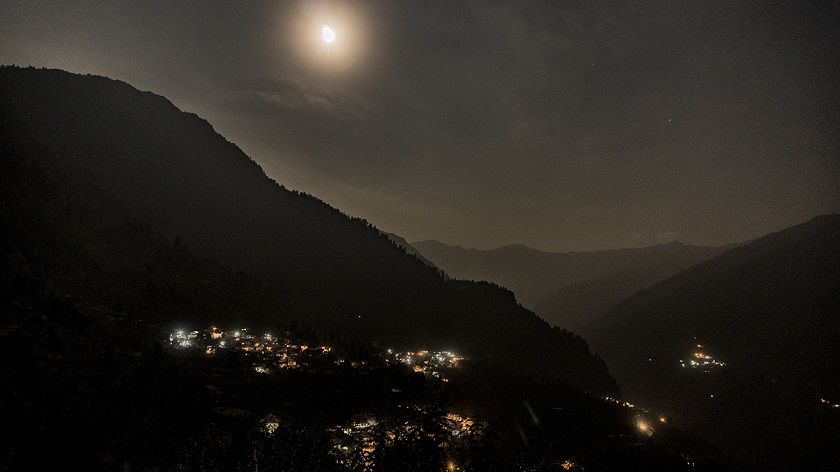 This blog was originally published here: https://footloosedev.com/hallan-valley-himachal-pradesh/
The article written below on tripoto is an incomplete version of it.
About me:
Now let's continue with the topic in hand and discuss THE HIDDEN VALLEY NEAR MANALI...
Sometimes we want to just get away from the city and lose ourselves under the bliss of nature. Walk with no destination in mind and chance upon a secluded village. Enjoy the pleasure of our own company and wait for the sun to come to the horizon. Drink from fresh water streams and watch the life go by, minute to minute.

Driven by these thoughts, I ended up exploring Hallan Valley, while returning from a solo motorbiking ride to Spiti Valley. It happened while I was on my way back to New Delhi and I decided to take the old Manali-Kullu highway before submerging into the new highway. But as I came across a perfectly looking road climbing up in a different direction, little could I control myself. With no desire to explore another offbeat place, I still went on exploring a bit more of the area around Manali and the place I ended up was unusually offbeat. I ended up in Hallan Valley.
Understanding The Geography
A taxi may cost you at least Rs 500 from Manali.
Or nearly Rs 200 from the nearby town of Naggar.
To self-drive, however, take the old Manali-Kullu highway (make sure you don't end up at the new Manali-Kullu highway) and drive nearly 18 km towards Kullu, before turning left. If you're coming from Delhi, you don't need to drive all the way to Manali, but only halfway from Kullu to Manali, before you'll find the Hallan Road on your right. A no signboard indication may be confusing, but if you'll just Google Search 'Hallan 1' you should be fine. Please note that there are two Hallan (Hallan 1 and Hallan 2) and we are talking about Hallan 1 here.
If you're travelling in a bus (from Chandigarh or from Delhi) get off at Kullu and take a local bus to Naggar. From Naggar, hire a taxi or ask your guest house for organizing a pickup for you.
Please note that there are no cash points in Hallan Valley, so get all the cash you may need before you get there.
Things To Do In Hallan
Hallan Valley is one of the tiniest valleys in Himachal Pradesh, and is comprised of no more than a dozen unspoken villages. But the good thing is, it's listed in Google maps, making it easier for the first-timers to get there, because to get there you may need to self-drive (or have a will to hitchhike) as there are no regular buses working on the route.
Relax In A Village: Since Hallan Valley is a no tourist destination, imagine it as a cluster of a few rural Himachali villages, with nothing much to see and do beyond just relaxing and soaking in a laidback Himachali life. Holidaying in Hallan is all about experiencing the refreshing greenery, unbounded openness, fresh air, and following a rustic simplicity in life.
Camping At Shila Ka Padr: Since the entire valley is pretty under-civilized, finding picturesque flat surfaces and camping on your own should never a problem. However, if you want to camp with views unlike any other, overlooking the majestic Kullu Valley, look no further than a point called Shila Ka Padr that is accessible after a 15 minute trek from a village called Charanag.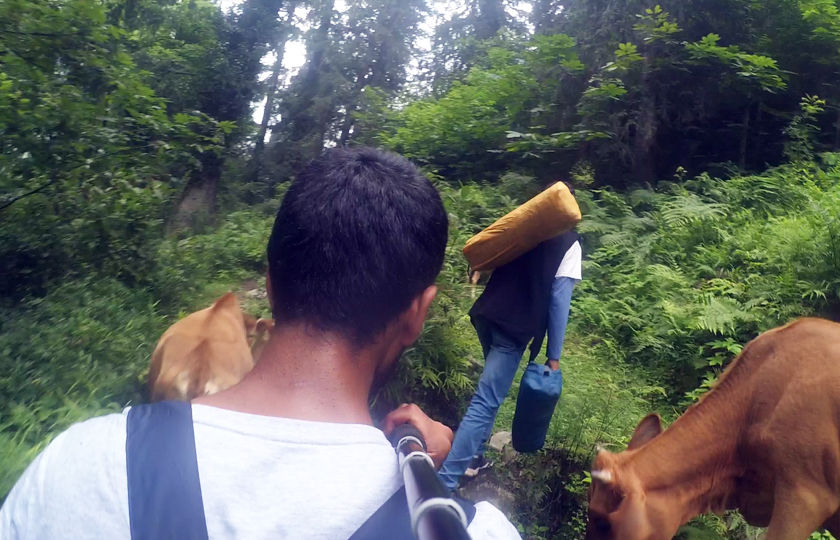 Trek To Foota Saur: Popular for its mythical and religious value, Foota Saur is an auspicious green-water lake for the people of Hallan — a place where they carry their local deity for a holy dip every few months, before bringing it back to the temple it belongs.
Located nearly 15 km from the village of Hallan or Charanag, the trek takes you through the beautiful Pir Panjal range, by-passing a few other points of religious significance and of natural bounty. For a regular hiker, it may take a minimum of 3 days to complete the trek while carrying tents and all food items, as there's no civilization and definitely no shops on the route.
Other Adventure Activities: Hallan Valley boasts for one of the longest paragliding flight in and around Manali — of nearly half an hour. The flight starts from the vantage point of Shila Ka Padr and ends up somewhere in the adjoining valley of Kullu. Other than paragliding (and ofcourse trekking) Hallan Valley is also getting the longest zipline in Asia, which is due to finish its construction next year in summer (in 2018).
Where To Stay
Unlike the popular Parvati and Kullu Valley, Hallan Valley remains pretty offbeat and unknown to tourists — resulting into a very limited accommodation. So far, the entire valley offers a tourist home in the village of 'Charanag' where a local homestay 'Anu Homestay' is up and functioning for the past few years, and can accommodate a maximum of 4 people at one time.
About 2 km downhill, another village called 'Kumhati' is getting a dedicated guesthouse sometime in the summer next year in 2018. It is currently in making.
With Asia's longest zip-line coming up in Hallan Valley, tourism is going to get the next big thing there. But for now, imagine Hallan Valley as one of the offbeat destinations near Manali that promises a totally peaceful and an unhurried holiday experience. A place that is far from the hustle and bustle of a popular tourist trail.
Frequent Searches Leading To This Page:-
manali sightseeing packages, manali sightseeing package cost, manali tour packages for family from bangalore, top things to do in manali, best things to do in manali, top 10 things to do in manali
Frequent Searches Leading To This Page:-
manali sightseeing packages, manali sightseeing package cost, manali tour packages for family from bangalore, top things to do in manali, best things to do in manali, top 10 things to do in manali