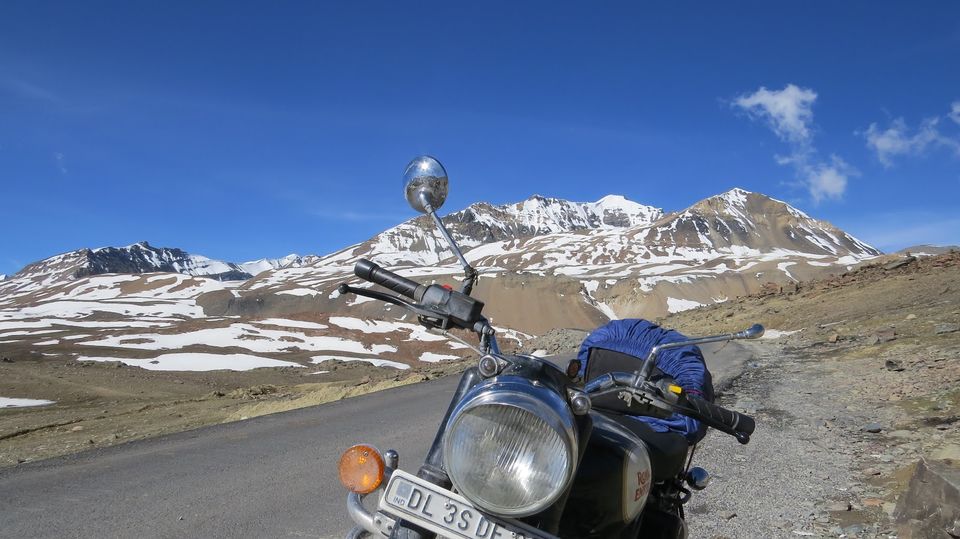 Yes, I was very excited to be alive after what had happened last night. The picture below does not justify my excitement level at all (mainly because my friend's photography skills are awful).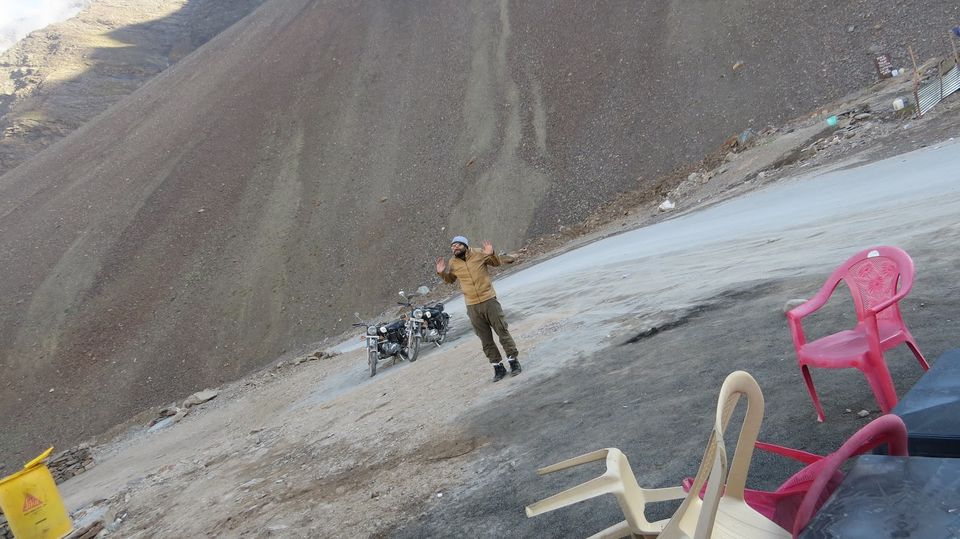 Well, we gathered ourselves the next morning and waited for the sun to start shining as we were still shivering from last night. As soon as the first light broke and fell onto a snow covered peak, the flow of energy through my body was extraordinary. The cotton clouds were like a cherry on top of the cake.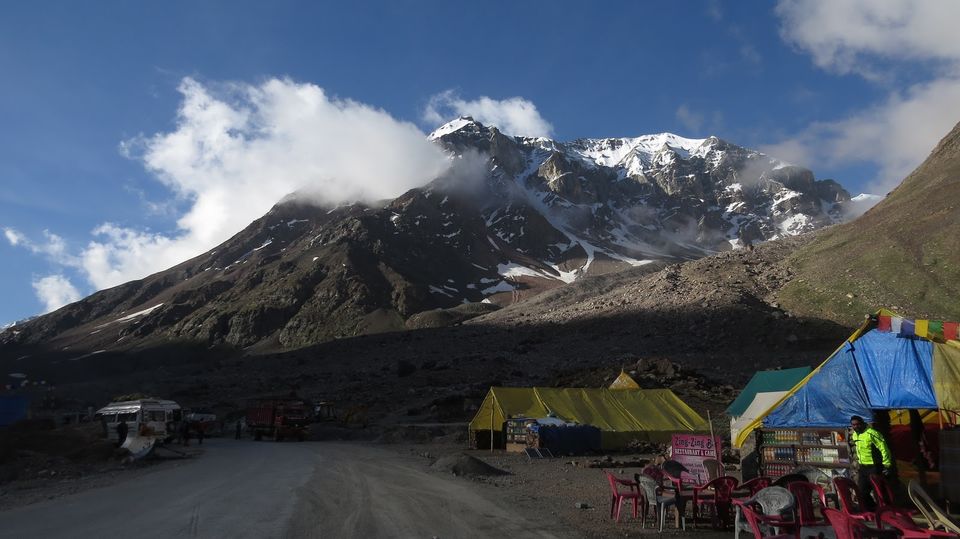 Even though I almost died last night I was still delighted to be there. It was now pretty evident that there was no point of making a plan as to where to stop and how much distance to cover so we decided to keep everything simple and go with the flow. The variety of terrains we crossed that day was just crazy. Only after 10 minutes of riding I saw this: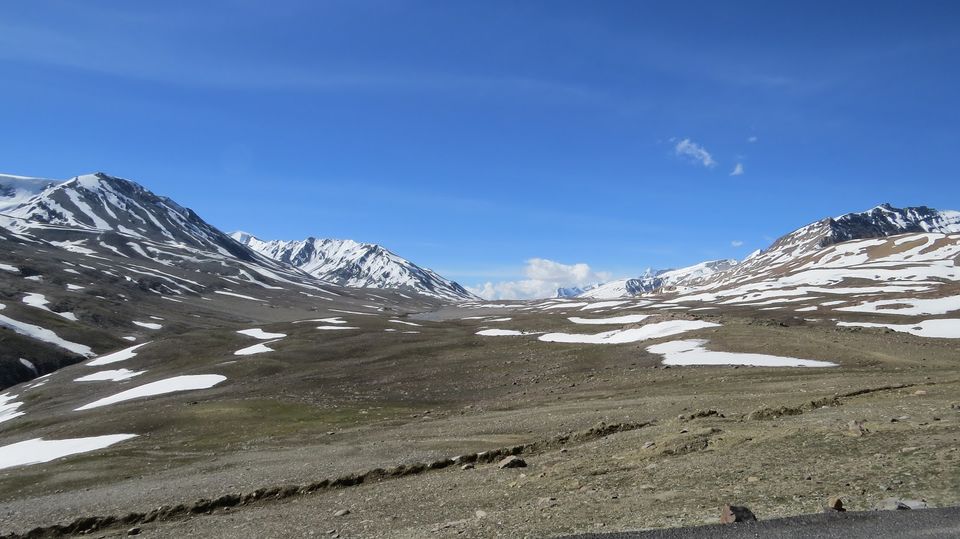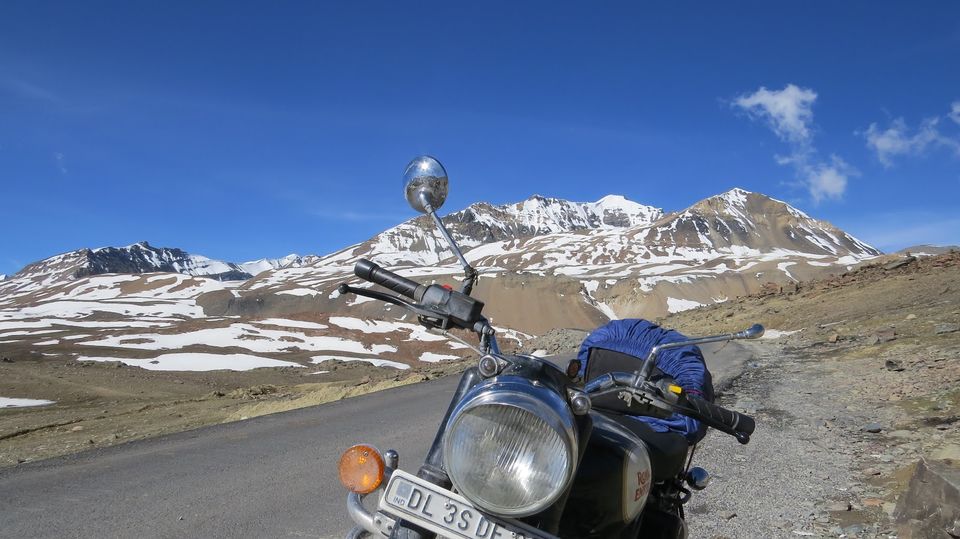 I thought it's gonna be a cold day ahead with snow covered peaks all over but, I was wrong as usual. The temperature and the view both changed very frequently.To add to our amusement there was a small lake right in between those high mountains and it appeared out of nowhere too. We just took a left turn and boom there was the lake. It was so mesmerizing and relaxing to see that water body.
After crossing that lake we started descending and things started to become a little more difficult in terms of the roads and the temperature. We found ourselves in the middle of a huge valley and it was hot with no actual road. We were just riding in gravel trying not to get lost while balancing our bikes. Next few kilometers were tough as slowly the mountains started to appear dead. The color of the soil changed and the rocks were brittle too. The roads were just heaps of dust.We finally crossed Sarchu which is a state border and is a part of the two states( Himachal Pradesh and J&K). Here you are supposed to mark your exit at the HP post and then your entry at the J&K post. The two posts are separated by just a wooden bridge.
Random but Important
I am not sure how many of you would relate to this but, my friend is supposed to talk to her mom every single day and if that doesn't happen she doesn't sleep. As we had been in a very low network coverage zone he hasn't called her mom in 2 days and it started making me worried as I knew that it would affect him too. So we started looking for options such as a satellite phone or an army fixed line. We were cruising along a decent patch of road when a I saw a sign that read " Satellite Phone". His eyes lit up and we rushed into the camp to find the phone and spent 120/- a minute.
The massiveness of the mountains began to make me feel tinier every moment. We saw the river changing color from crystal clear to pitch black. Saw the mountains with spectacular life and no life at all. The roads became even more challenging to the bikes as they were to us. We had stopped expecting good roads and were just embracing whatever small patch of road we were encountering along the way. There were moments when I felt like Ranbir Kapoor from the movie Roy, riding along the river on a smooth road and then there were moments when I felt like I was sitting on top of an electric hammer.
THE FIRST ACCIDENT !!
We had been riding for over 5 hours now and our bodies were exhausted and dehydrated. We were approaching Nakeela pass situated at a height of 15547 feet above sea level and the roads were very dusty. Even though the valley to our right was beautiful the mountain to our left was dead. There were small stones falling off on the road continuously. I took a sharp right turn and realized I was going too fast so I applied brakes. Which did no good as I had gravel under the wheel so, instead of stopping the wheel just slid. In order to avoid getting dragged on the road I released the brakes and went straight for the mountain. Luckily there was an incline and I did not get into a head on collision. My bike climbed up a little and then came down in the same manner. I did fall off of it on the road but no injuries happened. The biggest regret about the incident though- my Go-pro wasn't recording !!!
We reached Pang( highest military base) which stands at 15280 feet just after lunch. The roads till Pang almost broke our spirit and back. We stopped over for hydration at a local shop.
The lady who was the owner of the shop told us that Leh was a mere 120 kilometers from there and the road ahead is fantastic. We both looked at ourselves and left for Leh. The lady was right about the condition of the roads.
More plains greeted us with a 40 km long almost straight stretch of road. The wind was very strong, almost pushing us off the road. It was still a delight to ride there after a long day of dusty broken paths.
THE SECOND ACCIDENT !!
As soon as we were done having fun riding on the flat roads of More Plains the ascent started to the second highest motorable road in the world "Taglang La". It reportedly has an elevation of 17,582 ft.
I do not have an original picture of the place because I was not in a state to stop and click one. The ascent was so steep that the oxygen concentration in the air dropped very quickly and the air was so thin I was unable to breathe properly. Because of the lack of oxygen in my system I started feeling dizzy and my responses slowed down. I knew that the descent after the pass is as steep as the ascent is so, I decide to not stop and get to the low grounds as soon as possible, which soon turned out to be a blunder. First, I was in a hurry to get to the low grounds so I was riding faster than I should have. Second, it was a decent so the momentum of my bike was getting out of hand. After about 2 kilometers past Tanglang La I took a right turn and because of my slow reflexes and over speeding I slammed my bike into the fence. I am not even kidding when I say this, I would have been dead if that fence wasn't there. It would have been over a 1000 meter drop into the valley. The left handle bar and the leg guard were stuck in the fence pretty bad. I was in a state of shock and nausea. My friend and I tried to pull the bike out but were unable to. Plus at that altitude all that effort made us short of breath in just 2 minutes. So, we decided to take a break and drink some water while we figure out a way to free the bike. I started my diagnosis to check if there was any damage done to the bike. Luckily, neither I nor the bike were injured. I noticed that the front tire of the bike was stuck on top of a rock and if we could move that rock somehow we would be able to lower down the bike a little bit and get it out of the fence. I started digging all the gravel under that rock with my hands and was finally able to get it out. It only took me like 5-7 minutes to move that rock but it felt like a 5 kilometer run. We took 10 more minutes to gather ourselves and get back on track. We lost about 30 minutes of sunlight because of this incident.
As the sun started setting we could only reach a small village Upshi. We were still 49 kilometers away from Leh but, only 2 kilometers from Karu which is the place where you find the road to Pangong Lake(our next destination).
We decided to stay in Upshi for the night and found ourselves a small room in a house which only cost us 200/-.
We went to Pangong Lake next day. Stay tuned for that one as we discover the most beautiful water body on the planet.