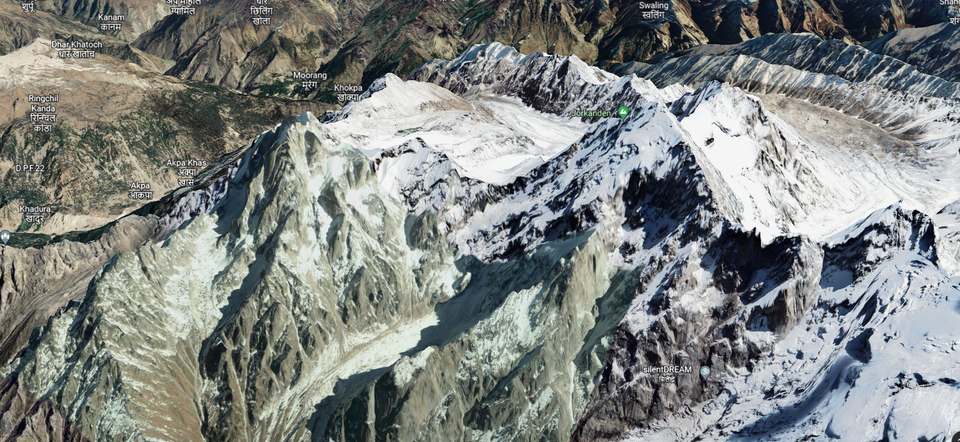 Jorkanden is a 6,473-metre Himalayan peak in Himachal Pradesh, India. It is the highest peak in the Greater Himalayas' Kinner Kailash range. On May 26, 1974, an expedition team of the Indo-Tibetan Border Police climbed the peak for the first time. The peak is frequently confused with Kinnaur Kailash (6,050m), which can be distinguished by its distinctly pointed 'pillar' on top, which is worshipped as a shivling, the abode of the Hindu god Shiva.
Jorkanden peak shines and dazzles in the evening hours as the sun sets and is best viewed from Reckong Peo, the Kinnaur district headquarters. The Kinnaur Kailash peak is nearby, but it is lower in elevation than the Mighty Jorkanden. The mountain is one of the largest in the Greater Himalayas and can be seen from various locations throughout Himachal Pradesh. The peak is easy to find because it is visible alongside the Kinnaur Kailash peak, and the magnificent views are best seen during the winter and summer months when the weather is clear and free of nimbus clouds.
The best time to see the peak with all of its characteristics is between May and June, when the sky remains clear, clouds do not fall, and there is less chance of rain.
It is well worth climbing this giant because it is the highest peak in the Kinnaur Kailash range and all other peaks in the belt are easily accessible from Jorkanden. Other parts of Himachal, such as Kalpa and Karcham, offer glimpses of this colossus. However, the best view is from Reckong Peo (Kinnaur), as the belt of mountains approaches and it appears that humans are not far away.