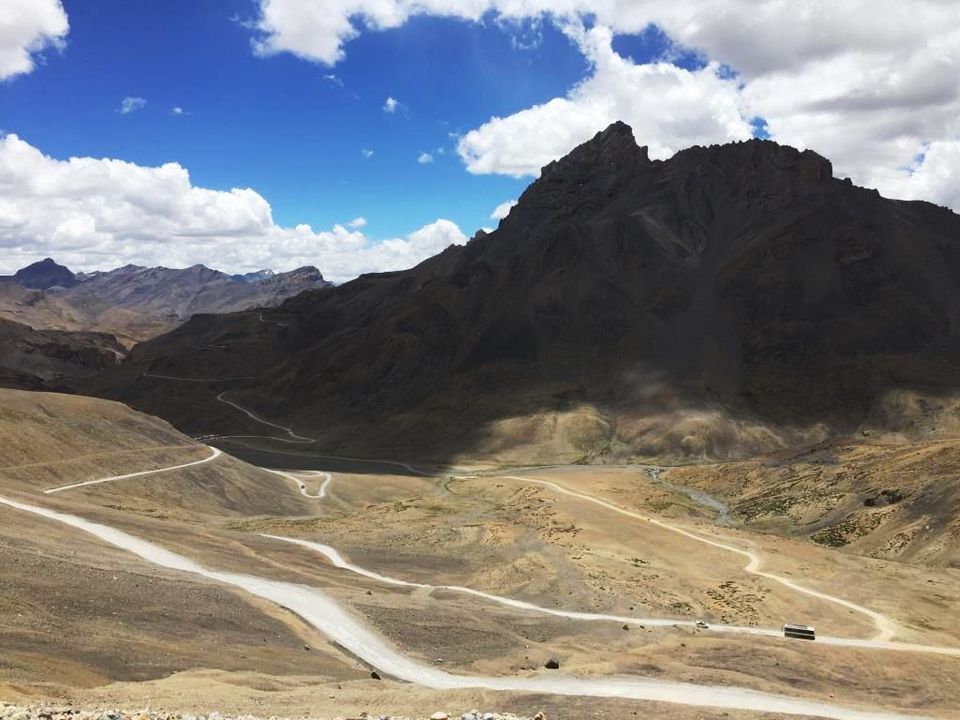 Often when we vacation in places of our desire, some common questions are - what is there to see; where did you stay; how the view was from there; was the food good; how you liked the place. But there are some vacations where there is no answer to most of the above questions since the journey in itself is the most cherished part than the destinations where you stay.
Manali - Leh is often regarded as one of the most exhilarating road journeys in the country and it has always been years in my dream till it slowly started becoming an ever elusive one. Never imagined that an evening session meant for business discussions with a couple of colleagues will be the foundation of this long dreamt trip of mine.
As the day of journey approached, one key additional planning for this road trip is to ensure you pack up your medicines properly since behind the indescribable beauty haunts the silent hazard of limited oxygen in the air which may lead to discomforts which exhibits in different forms.
Manali, the long cherished mountain destination of many, is what you want to cross as soon as possible and get into the highway since what awaits you is something that will probably make any memories of Manali fade away. As you move out of Manali, the Beas accompanies you with some lovely green mountains and trees emerging on sides.
Being August, we were lucky enough to not get stranded en route to Rohtang Pass. During May - June, time taken to cross Rohtang surely stretches by an hour more because of hordes of tourists from Manali coming down to visit the snow covered Rohtang. What we also got to see is a completely different Rohtang with very little snow and lush green meadows with shapes of mountains clearly visible.
Manali being at 6400 ft, climb to Marhi (10,800ft) is steep in little over an hour. At 13,000 ft, Rohtang gives you the first feel of what is ahead as it is the lowest of the three famous passes that one will cross en route to Leh.
Till Rohtang you get to see the green meadows but you slowly realize that the mountains are starting to become rugged and devoid of vegetation. Descend from Rohtang to Gramphu slowly presents such a landscape. You are also joined with Chandra river (which later joins with Bagha to form the more well-known Chandrabhaga river). In certain stretches, Chandra follows absolutely next to the road as you drive down separating you from the towering mountains on the other side.
After Gramphu, you need to take the road for Leh as the other road turns right into the Spiti Valley and is a popular circuit for those who starts off from Manali and takes the round trip to Shimla via the Lahaul Spiti valley crossing Kaza, Nako, Tabo, Kalpa & Sarahan.
Descend through the green meadows and rugged mountains continue as you reach Tandi via Sissu.
Tandi presents two salient aspects to the tourist. That's where you get the last filling station and post which the next one is 365 Kms ahead. Hence, for those driving down, it is critical not only to fill the fuel tank up but also to carry additional stock of fuel, in case needed en route. After refueling your car, as you proceed, you see the Bhaga river flowing down from north and meeting Chandra river to form Chandrabhaga which flows into Kashmir and is known as Chenab river there.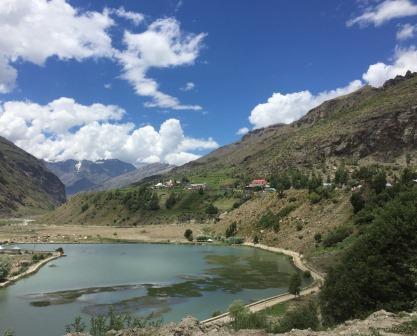 10 kms ahead is the well-known town of Keylong. While many choose to halt here for a night, covering about 370 kms the next day is an uphill task.
We chose to take our halt for the night at Jispa, 22 kms ahead. Jispa Journeys has comfortable tents, which are at a sudden drop from the mountainous road down below, absolutely on the sides of Chandrabagha river. You can view that flat plateau on which the tents are put up from the highway and while the mountains guard the tents from all sides, lovely garden of flowers on the front and Chandrabhagha on the back is bound to make your stay memorable here.
Nice well laid out buffet meals are served for dinner and breakfast and in a remote point like that, the care with which food is cooked and served makes ones stay at Jispa Journeys memorable. Do note that throughout this stretch, meals served are mostly vegetarian with egg being the only non-veg option available at times. However, the culinary skills of the people preparing your food surely deserves mention and for a hardened non-vegetarian like me, the food there seemed a lot more tastier than I ever expected.
At Jispa Journeys, avid photographers can surely attempt night sky shots as the sky is mostly crystal clear filled with stars and early morning sky stream shots can also be quite exciting.
A note of caution here is that, many plan to balance the distance covered on day 1 and day 2 and hence choose to stay at Sarchu. My limited interactions with people make me believe that people staying in Sarchu has suffered from altitude related sickness more than people choosing to stay at Jispa.
Sarchu being located at 14,100 ft, leads to higher incidences of acclimatization issues on night 1 than Jispa located at 10,800 ft. Hence, even if one needs to break the journey to Leh into two night halts, it is always recommended to avoid first night stay at Sarchu.
Start early next morning from Jispa as the distance to be covered is significant and urge to halt at various points would be pressing, considering the landscape that will unfold in front of you.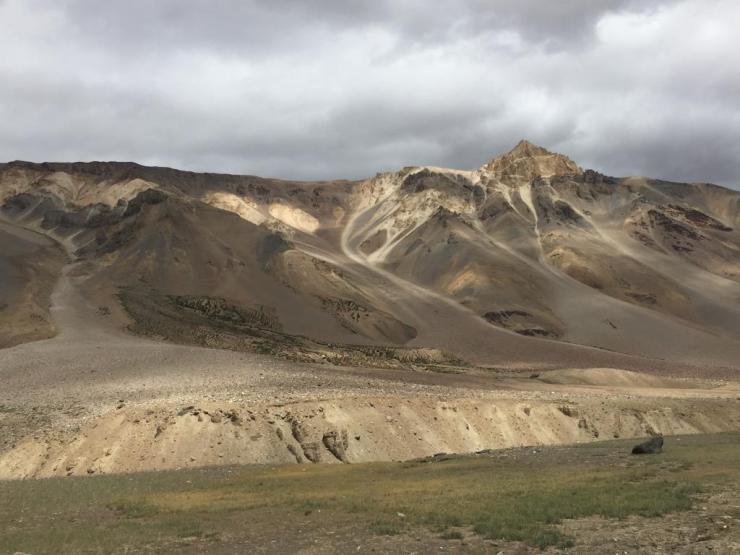 Once one crosses Darcha and you register yourself at the checkpost, the climb begins, that will not only be one of the steepest, but was surely the most memorable for me at least. The greenery is now all gone. The rugged mountains on far sides and pebbles and bare rocks near you with vast endless slopes of mountains creates a feeling of how insignificant we are compared to the scale and spread of this earth.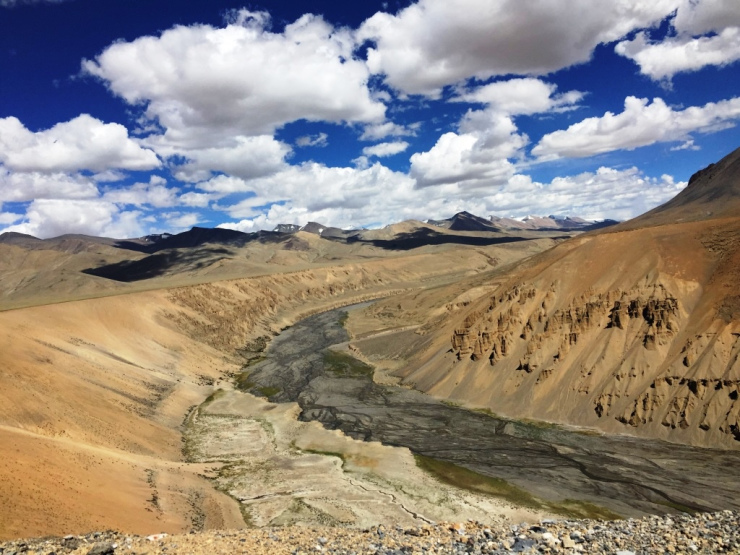 The road spirals up, but unlike in many other terrains, here you will witness many of those spirals and a feeling very different from usual mountainous as you see a vehicle up on the track which you will shortly take or down below the tracks that you crossed over to reach where you are.
On top of 16300 ft at Baralacha La Pass, you see the origin of Chandra and Bhaga river, former flowing first southeast and then northwest and later flowing at opposite direction i.e. southwest and then meeting again at Tandi.
As the eye starts settling down to the rugged dry mountains, alighting from Baralacha La, you suddenly notice a lovely serene green waterbody on your right. There has to be a halt here as the picturesque Surajtal appears amidst the rugged mountain slopes, tranquil and still, presenting itself with the grandeur of a lone waterbody in that arid mountainous pass.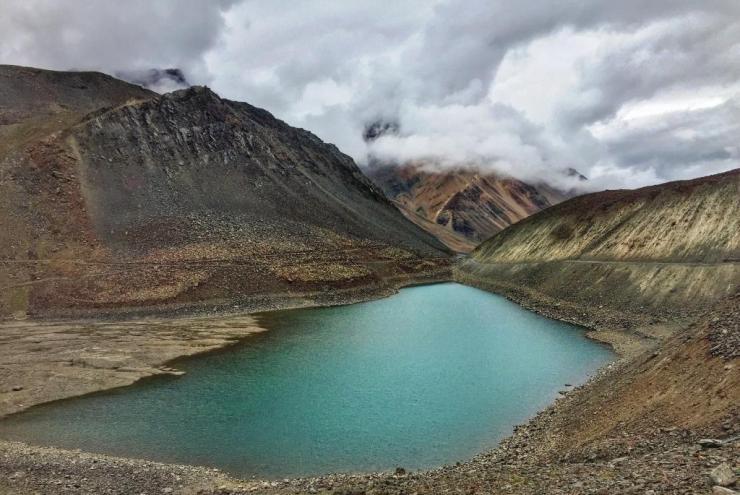 Enroute, halt at Bharatpur for a refreshing glass of ginger, lemon and honey tea. It surely helps overcome the cold and also energizes for the journey ahead.
As you descend and drive ahead, slowly tents appear on both sides. These are the ones that are set up for tourists from May-June till about Sept for people choosing to spend a night at Sarchu. The terrain flattens out as you approach Sarchu, which is also a military base.
This is where Himachal ends and Ladakh region of J&K begins.
For any discomfort here, one must surely not proceed ahead without consulting the primary healthcare unit or seeking medical help at Army camps.
You will notice that the bare stony meadows have again given way to some bit of greenery and on your left, you should keep looking out for the unique carvings on the walls of river bed, of various shapes, that starts getting visible here. Windswept mountains has taken various shapes and formations which gets more striking as you progress further
Steep hairpin bends starts, but you maynot realize it. The natural carvings on the mountains created by years of wind erosion leaves you awestuck. And there will be more than one halts as you will not feel like stopping for taking snaps of such well-kept secret of this landscape.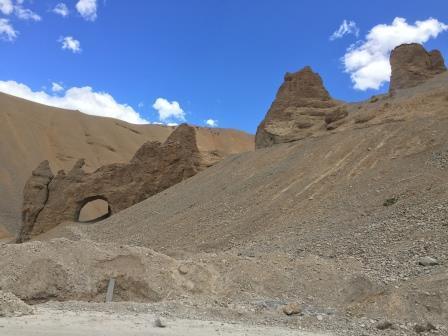 You may even miss realizing the fact that in the process you cross Lachungla Pass which is even higher that the Barachala Pass at 16700 ft.
The entire landscape so far transcended from rugged mountains to dark brown shining rocks and at times dull yet overwhelming light brown shade and in between golden streaks with sun's rays glistening on them.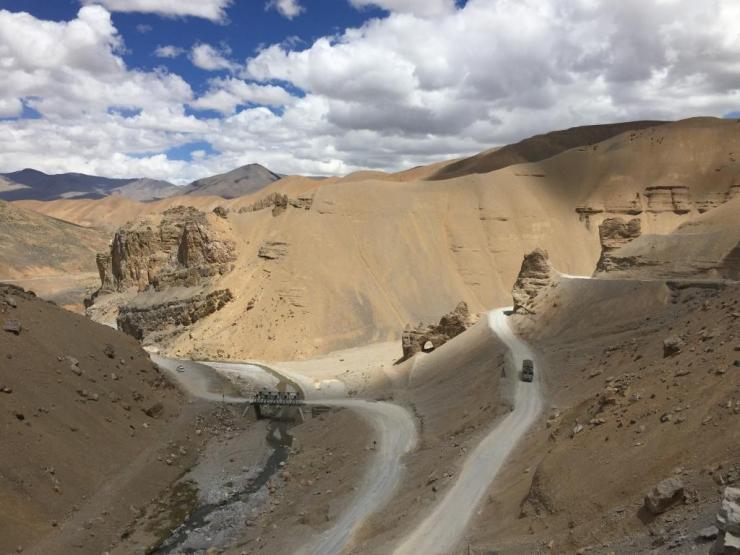 Halt at Pang for a light meal as you register at the Check Post at Pang. Re-energize yourself as shortly your will ascend to cross the highest pass in this route...Tanglang La Pass at 17500 ft, third highest motorable pass in the world.
30 km of flat land with straight road where your car speeds at more than 120 kms/hr is an unsual experience at such heights and Morey Plains offers you once rare such luxury. It is part of Tibetian-Changthang Plateau and is home to the nomadic tribe of Changpas.
Patches of snow scattered on rugged brown mountains and steep ascend makes it feel as adventurous as it should be....you are crossing the third highest motorable pass on earth. You cross amazing natural tunnel formed by arching of rocks over the highway.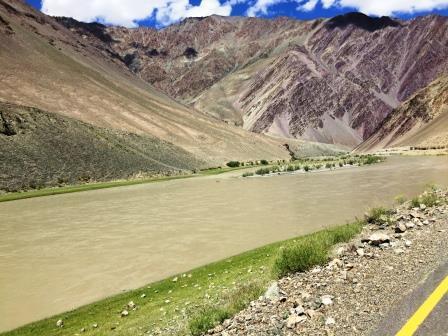 As you drive down the mountain you approach Upshi and soon get the glimpse of Indus River as you cross over it. Indus river starts accompanying you as you proceed towards Karu. It seems all the creations are curved out in such a planned manner. The river soothes the eye and mind which was awestruck since morning watching and devouring stillness of the overwhelming mountains, feeling isolated amidst the grandeur and might of the mountains. Yes, the body tells you, it needs to rest. The sound of flowing Indus is so well suited to put you onto sleep and as your inner-self feels satiated by the fact that finally you have completed the journey - THE JOURNEY OF MANY LIFETIMES.
Tips for travel:
It is recommended one consults physician before planning the trip and seek his advice for the same. I am sharing what we did to ensure that we minimize impacts of altitude sickness.
Diamox 250mg twice daily we started one day prior to departure after meals. Every morning, before breakfast, an anti-flatulent / Antacid tablet to avoid any possibility of bloated stomach Have an Avomine with that if there are past experiences of motion sickness Carry ORS packs and sip it intermittently during the journeys Have at least 3 -4 ltrs of water per day. Ensure you avoid drinking a lot of water together. Keep sipping it regularly. Wherever possible, take warm water Carry pills for headache and digestion In that stretch there is nothing available. So whatever usual medicines are required needs to be packed Reduce quantity of food during major meals and keep dry food handy like almonds, cashew, chocolates, biscuits. Ensure that you have an oxygen cylinder in your car from Jispa onwards