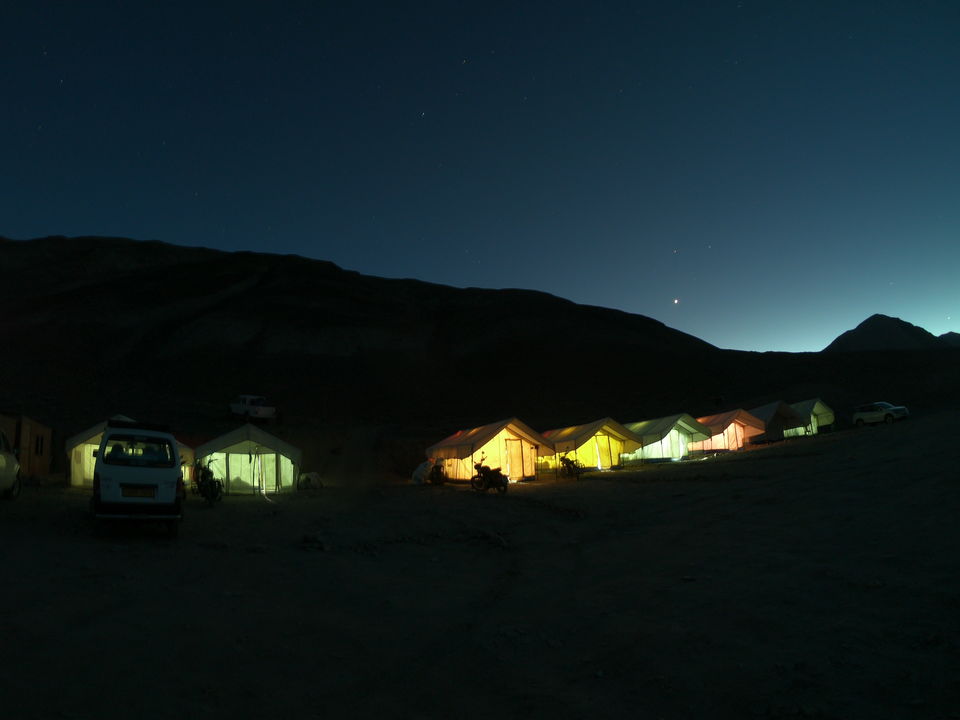 Scenic view of the valleys enroute Leh, where one can see every different shades of mountains. The mighty himalayas and its range never fails to mesmerize. This is what made me to plan this trip.
It was one of my best descisions to take a small break from corp. life, its dirty politics and ugly descisions. I was just making up my mind to travel somewhere alone..Somewhere where no one knows me who I am, where i could breath freely to feel the my own presence.
Few days later, I decided to take up on my dream ride and decided to travel solo.
As I decided to take a solo roadtrip, I was too much confused about the routes. On the other hand, I always loved the scenic views from hairpin curves on Rohtang Pass.
After thinking for a while, I decided my route: Delhi-Manali-Jispa-Sarchu-Leh-Nubra Valley-Leh-Sonmarg-Drass-Udhampur-Delhi
With 17 days in my hand, I was glad thinking that one of my dream would come true.
That night, I just packed my bags and made things ready planning the worst possible situation as monsoon was about to arrive.
Just a day before leaving, I got my bike fitted with saddle support and an extra carrier to hold up my essentials.
Day1: 27th May 2018
Route: Delhi(Janakpuri West) to Manali
Checked the map- Distance 538.8kms
Weather was warm. It was 10:00Am in the morning and It was the worse time to travel in delhi. I was late as it took time to fix things up on bike to maintain good balance. I just put my riding gears on, turned on my GoPro and made myself to hit the roads.
Ready to cruise :)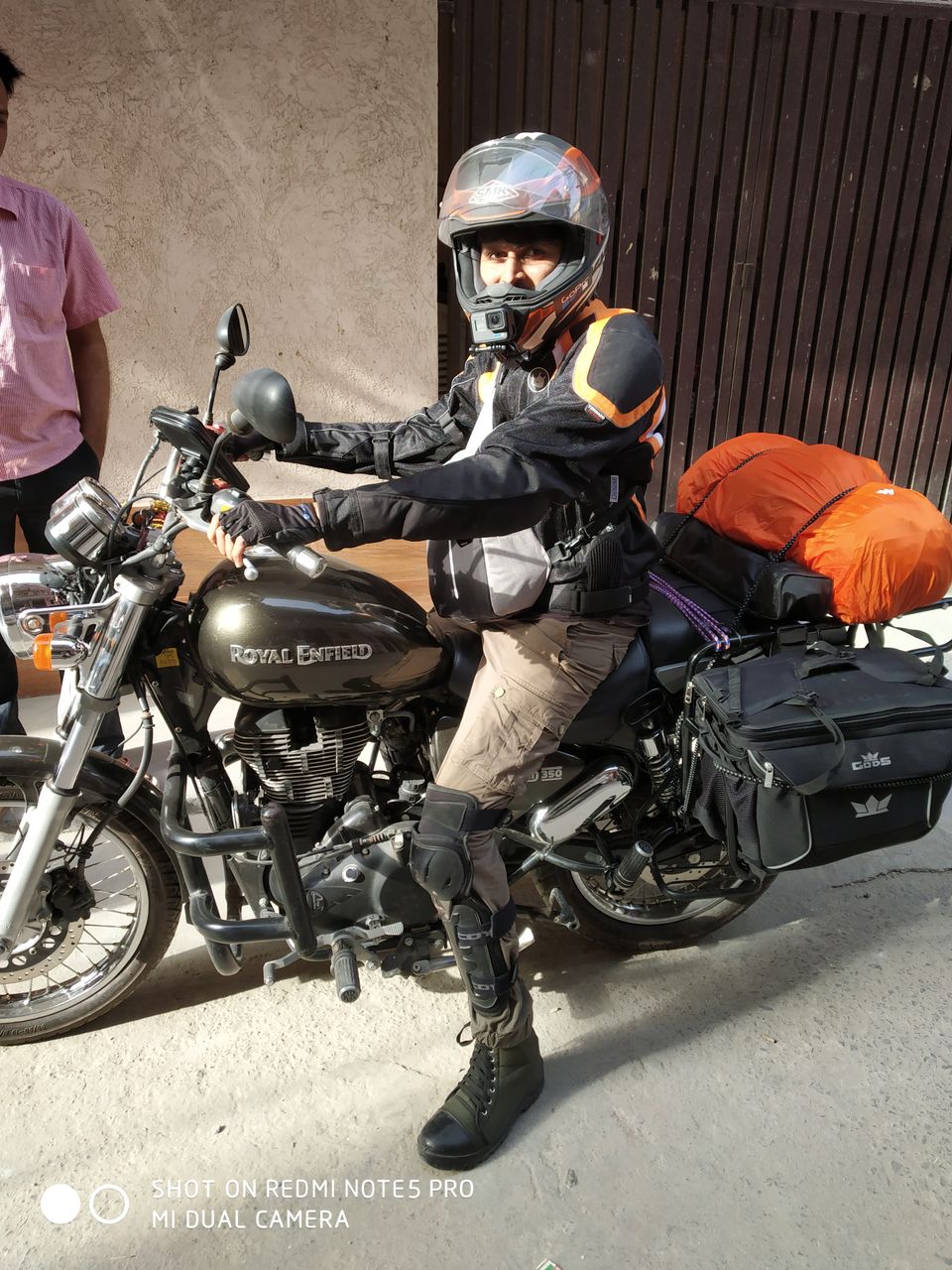 Cruising at 95 kmph It took 4 hours to reach Ambala at 2:30 PM, where I met an old school friend and after 10 years it was a moment of joy to see an old school friend. Time flies and so it did.. it was 4:30 Pm and I decided to move on further. Manali was in my head and I still had huge distance of 337 kms to cover.
It was getting dark and I was up on my descision to reach Manali. I was still taking regular breaks at every 85 kms, After Mandi, the roads were getting hilarious. Drivers of Volvo and tourist vehicles were considering themselves like god.. driving with high beams on making me feel like half blind. I just took left corner of the road and kept myself on and reached Manali at 2:30 am. The worst part was book a hotel now. Well, After hunting for an hour, somehow got hotel by 3:45 am at Mall Road. I was damn tired to take care of ambience and views so I just ditched that fancy part.
Receptionist: Rs. 2300 for 2 days. the receptionist said. Me: Okay. No Problem. I said nodding my head as I did not have other option.
That guy helped me to bring my bag and saddles up. It was already 5:00 am. I just washed my hands and face to move dirt away and slept like hell till 4:30 PM uninterrupted.
Route Planned: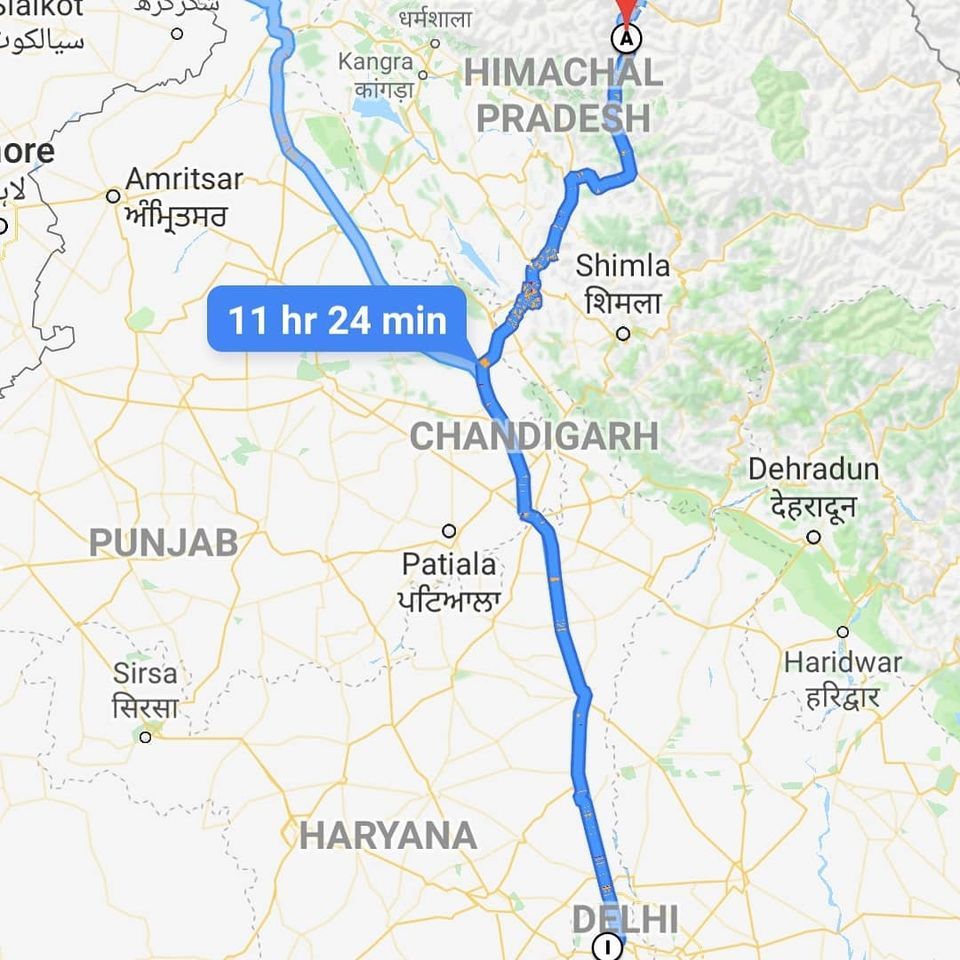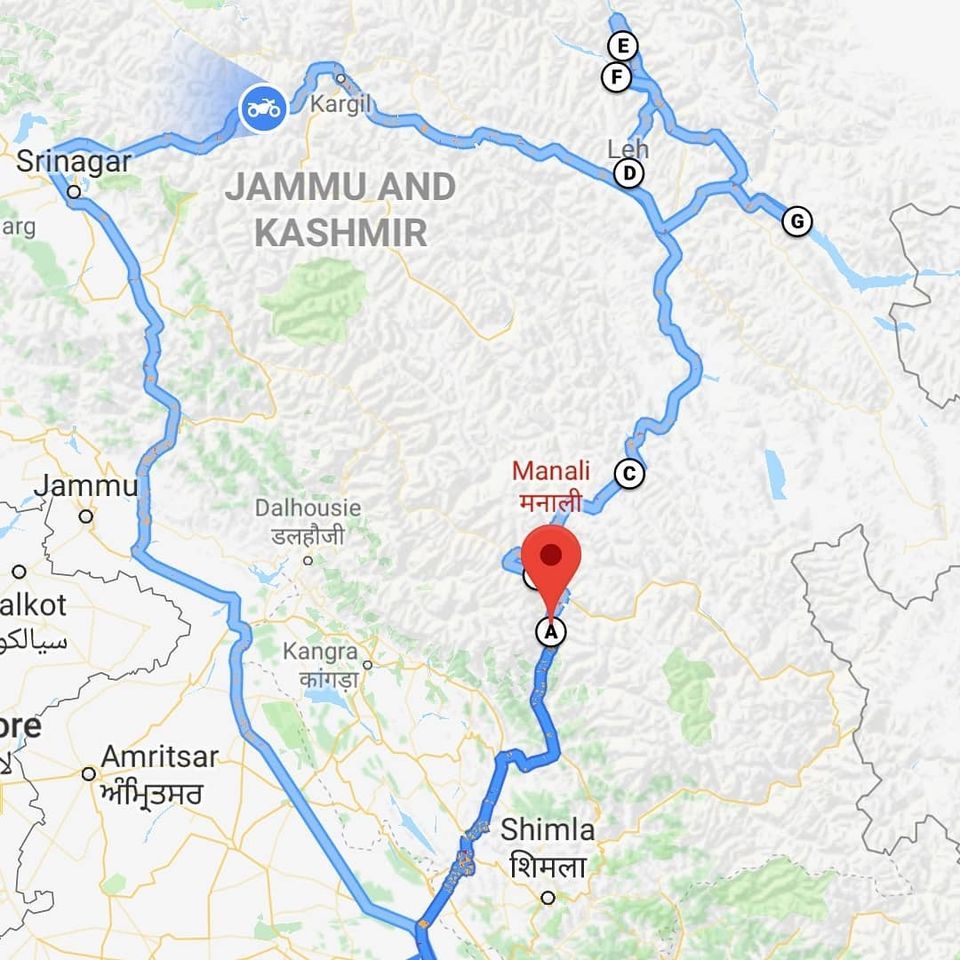 Day 2: Manali- 28th May 2018: Monday
It was monday 5:00PM . Unaware about the situations of the road and weather ahead, I started checking for passes. SDM office was closed and online booking was not available for passes.
After thinking for a while, I just went on to Mall road, Had a tea, and consulted few agencies if they could arrange passes. Unfortunately, I decided to stay for one more day.
The beauty of market Mall road in mountains is different. It felt like as if this market was doing the actual trade. I just stood at the end of slope at top and was able to see entire market with a cup of tea in my hand. Moments later, I came back realising that I just wasted 2 days. Knowing that Rohtang Pass would be closed on Monday, I was checking for passes online and still had no luck.
I had dinner and came back to my room at 9:30 PM. I decided to get the permits from SDM office so slept early inorder to wake up early.
Day 3: Manali- 29th May 2018- Tuesday
I woke up at 6:00 AM and refreshed myself with a cup of tea. There were only four things planned for entire day before I move ahead.
Get Rohtang Pass Permit, Change the hotel, Get bike checked and Visit Hidimba Mata Temple.
I just left my room at 7:30 Am, Had a cup of tea and went straight to SDM office where I had to stand in queue because of the peak season coming up. Everyone there was waiting to get Rohtang Pass Permits. Somehow I managed to submit the form at SDM office. It was declared that permits can be collected after 1:00 PM. I went back to hotel, checked out, changed the room as there was an issue with parking space and I was not in mood to compromise with my ride.
At 1:30Pm, I had my passes and met few strangers who asked me to join and decided to leave early morning on next day.
Permits.... :)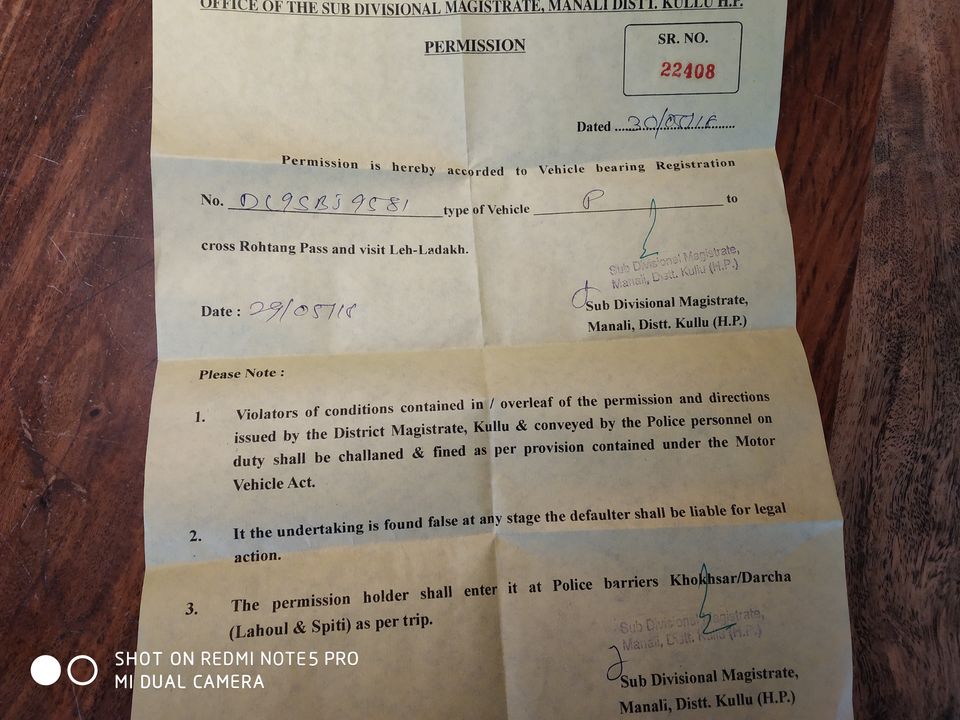 I was checking for a Royal Enfield-Service Center on maps to get my bike checked.
Since two tasks were done successfully, It was time to take over the rest two. It took me another 15 minutes to reach the service center and another hour n half to get things done. Meanwhile, they gave the route map and guided about the route which was very helpful. Moments later, I made a visit to Hidimba Mata Temple to get blessings. I knew, I would need it for remaining days.
All Good.. Ready to leave.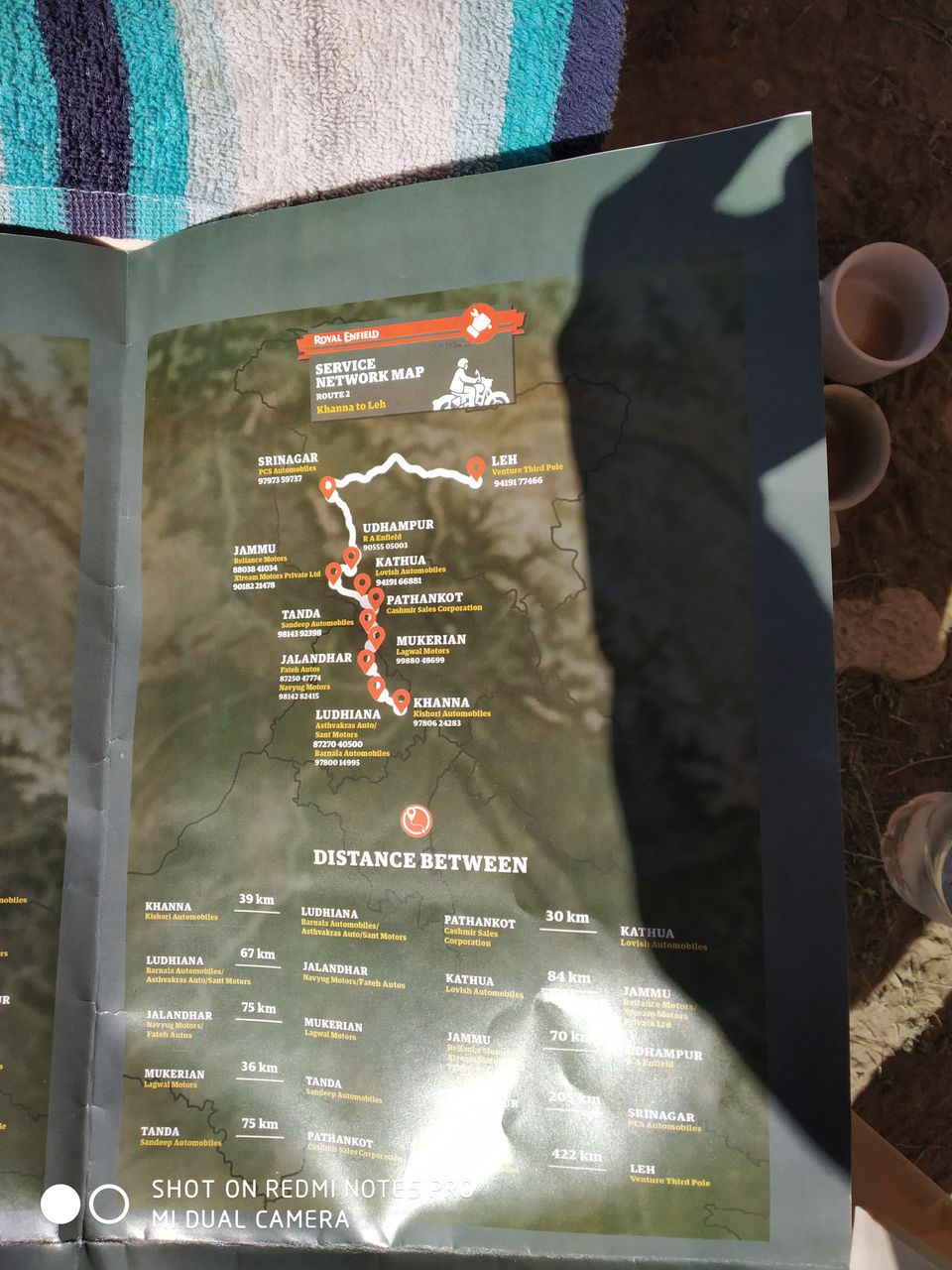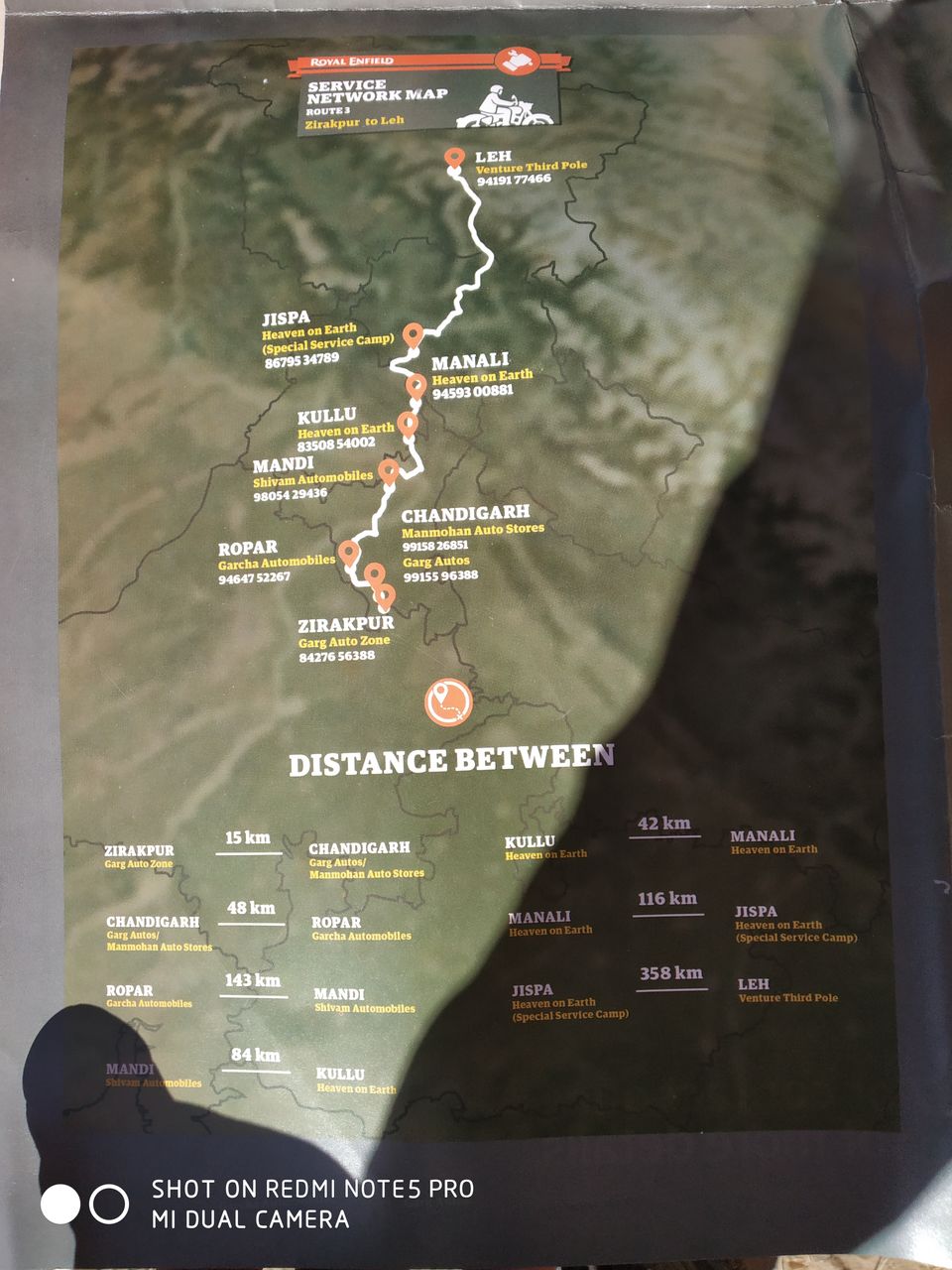 I just shopped for gum boots and raincoat and rain cover sheet from Mall Road and returned to my hotel. It was about 9:00 PM and i had a paratha and slept in that cozy warm bed of new room.
Cost for a Gum Boot, raincoat, and rain cover sheet: Rs.950 (Bought from Mall Road Market).
Day4: Manali to Sissu, 30th May 2018 -Wednesday
It was 8:00 Am in the morning and I was sleeping like hell in so called cozy bed with my phone on silent mode. Those guys called me up and I was unaware about the world going on outside. At somewhere around 9:00 AM I opened my eyes and said. What the heck...I called them but they were not responding. I just thought that they might have moved ahead. So, I took shower and went straight to my ride leaving Manali by 9:50 Am realizing that I have to cover Rohtang Pass alone. I skipped my breakfast in hurry. I was much more concerned about the traffic jams and time it would take for me to reach as Jispa was my destination that day.
At 10:15 am, I got my tank filled up to its neck in order to take any unnecessary fuel up halt.
It took me 2 more hours to cover Rohtang Pass. Due to disbalancing, I fell 3 times however I was lucky enough not to get a single scratch. Moreover, I was driving at 40-60Kmph enjoying the views.
Suggestion: If you are travelling by bike, ensure that you have a good leg guard fitted on your ride. You will know how much safety it will add to your trip. It saved my legs like hell.. everytime. If you are a night rider, be sure to have sufficient lights to keep yourself and your way visible.
It was time consuming to cover up the long queue of tourist vehichle validating their passes. Seriously, the queue was long for about 3 kms and people were mostly roaming out of the vehicles taking snaps and enjoying the beauty.
I took my first halt at 12:25PM, gazing at the board "Project Deepak Welcomes you on Rohtang Top". Lucky me riding solo. I just made my bike parked a side and turned hazard lights on, took my helmet off for few snaps and felt the chilled up winds hitting my face..I call it as Frangrance of Mountains. I knew that this place is just a part of my journey and not my destination. I was feeling hungry as well. I decided to move on.
Yes, I was glad that I was able to cover up those treacherous roads taming them slowly while enjoying the beauty.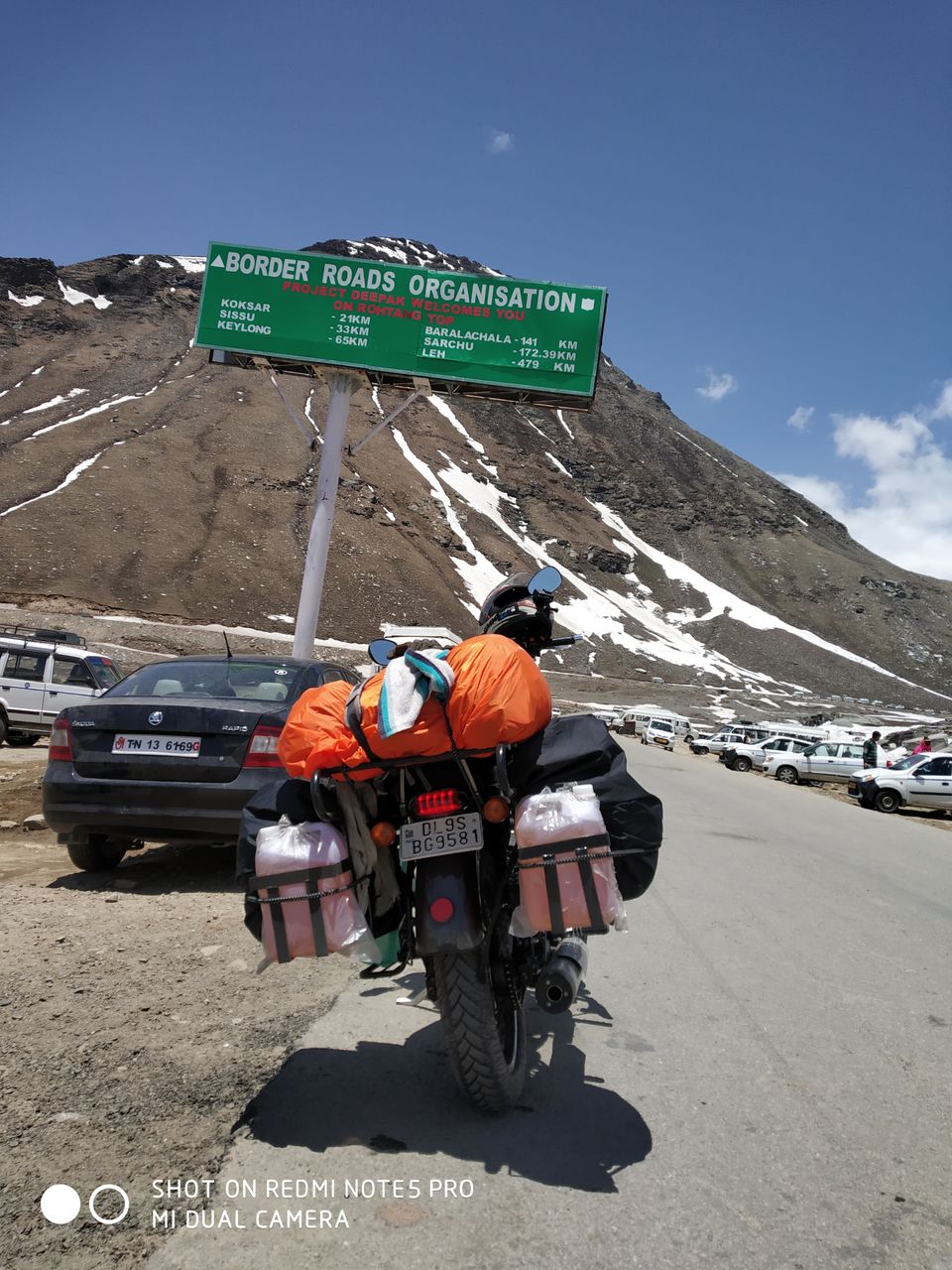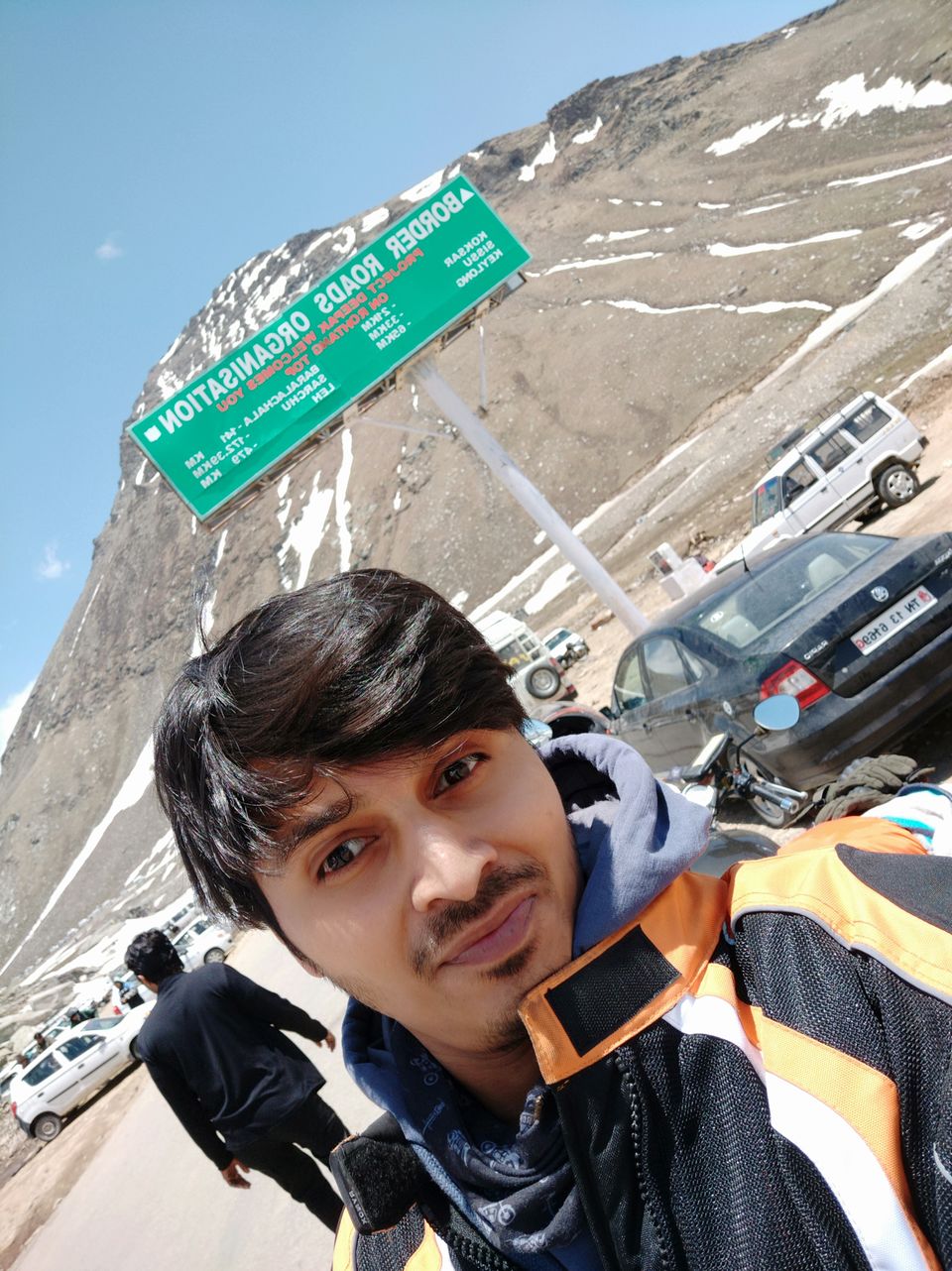 After few kms, the roads turned worse and more bumpy which was just a part of journey and I kept myself on left of the road keeping my ride slow enjoying the panoramic view and the beauty of Himalayas. I took halt at about 22kms away from Rohtang Pass..where I met a stranger family having lunch. I had my brunch and I joined them till Sissu without knowing that it would be my destination.
I did them a good bye. And moved forward..
34km ahead of Rohtang Pass, there is a small beautiful village named as Sissu. The admiral beauty and the view of the valleys where this village is amazing.
One can only imagine the beauty it has. With a very small lake nearby that reflects such beautiful panoramic view reflecting the mountains on its calm water all the time.
Enjoying the beauty, I was cruising at 60-70km per hour. I saw a duke coming from front. I put my brakes on. What the heck, I thought that these strangers might have reached Jispa. Well, these were the riders I met at SDM office.
Me: What happened.
Yatin: The shocker of Avenger gave up.. we will have to wait till tomorrow morning.I was shocked to hear. I went few kms back to Sissu where mechanic said that he will get the parts by tomorrow morning. We decided to stay there itself. This was a good reason to take halt at Sissu.
We roamed around the village looking for a place to stay and met few officials from army who were there for training. They guided more about the route, place and weather conditions. We gossiped for an hour sitting on the banks of River chandra.
Sissu is just a beautiful place in Lahaul valley but its beauty is completely different and unique.
Moments later, we got a nice cozy place to stay. PLM Dhara Hotel: Rs 4000 for 5 people. Cost per person was Rs. 800
I came back at hotel, had few cups of tea and had dinner and slept early. 'View of sunrise in mountains is completely unique'.
Day 5: 31st May 2018, Thursday: Sissu to Sarchu
Sissu- Keylong: 30Kms, Keylong- ZingZing Bar: 54Kms, Zing Zing Bar - Baralacha La: 22Kms, Baralacha Pass- Sarchu: 34Kms
Route: Keylong- Jispa -Zing Zing bar- Baralacha La- Sarchu
This was going to be the toughest part. I woke up at around 4:00 am in morning and set up my camera on tripod to capture the beautiful valley from one balcony and my phone into second balcony ensuring to capture another half of this valley. Moments later took a walk and shower, had breakfast with few cups of tea. These strangers with whom I stayed collected their bikes. Hopefully the mechanic was able to fix it with new shockers.
At 10:30 AM, we were all set to leave. The mechanic mentioned that it happened because of overloading. We decided to take their luggage to few kilometers and asked them to send the unnecessary things back to their home via post in Keylong.
We left Sissu at 10:40 am and covered 30 Kms by 12:15 PM driving slowly and enjoying the beauty of mountains, the valleys, clear sky and snow covered peaks. It took 20 mins to get the passes and documents checked at checkpost in Keylong and another hour to parcel their things up.
At 2:00PM we left Keylong covering the good roads which were getting bumpy in between but everything was going good. The watercrossings were about to come up and I was pretty ready to face them. I gained more confidence after I crossed the first one. The water was clear and was not so cold. I just put my Gum boots on. This felt easy but I was still not aware about things that were about to come on this route.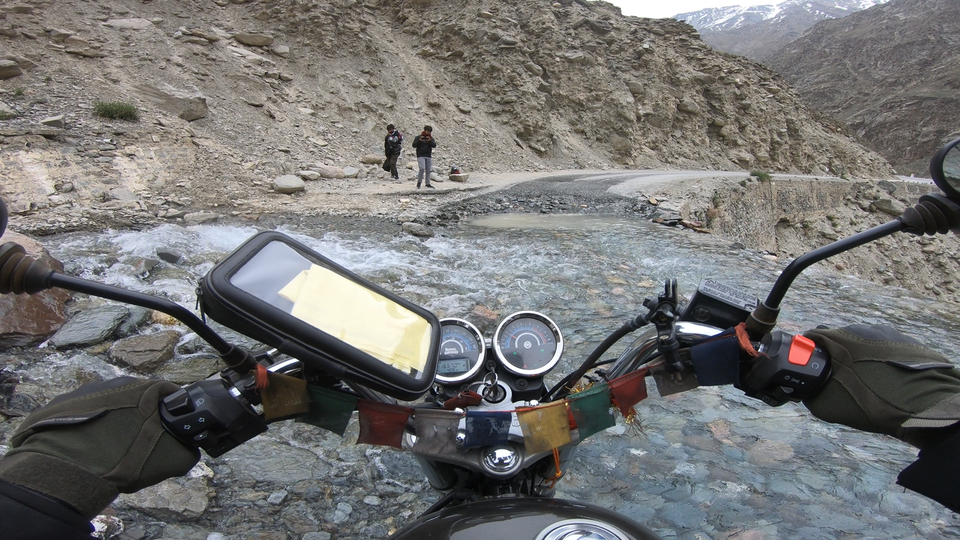 Unaware about the water crossing before Zing Zing bar, I was proud and happily moving towards it. It started getting cold but I was hopeful to see the sun still shining. We were moving fast this time and reached at the second water crossing. Enormous, muddy, and later on when water went into my gumboots, it was freezing. I had enough guts to cross it but those two huge stone pebbles were in front of front and rear wheel. I got stucked and more water went into my boots. I somehow grabbed all my patience, made it to 1st gear and gave a hard throttle letting the clutch go all ahead. It made no difference and I got disbalanced in middle of stream and this time my gumboots were full. That stranger who crossed up earlier showed and helped to cross. This was just the beginning of difficulties. My gloves were wet. Hands and legs felt like freezing. We took a halt at Zing Zing Bar and warmed up. I changed socks, as well as removed gumboots and switched to Army boots after having tea. Later on switched to another half gloves and hanged the wet one on mirror frame.
Well this was hard to do. After Zing Zing bar, the weather dropped down more. It was literally freezing. 3:00PM in afternoon, I was riding carefully between 10ft tall snow and roads in between were getting cleaned by ice melting up making the roads very chilled.
The view at front, the view at right side was equally mesmerizing. It was the real untouched beauty of mountain that I saw. For a moment I forgot my frozed fingers and legs. It was getting really hard to drive in those half gloves. I made my bike aside and took my winter waterproof gloves out and changed them. For my legs I had no option left apart from reaching Sarchu. I knew It would be the closest place where I could stay for a night. I was not hungry, I was not in hurry, I was unable to feel my legs and my fingers. After I changed gloves, My hands were getting warm slowly but legs were still freezing.
At this moment, I knew Sarchu is not far and I knew its necessary to get there before sun goes down the horizon. I knew it would be more freezing after sunset. Luckily, with my warm hands I was able to drive properly enjoying the view.
On my right side, There were mountains covered with firm white shining snow and deep down in the valley there was a semi frozen 'Bagha River' with blue water and banks covered completely with snow. Well, I was enjoying this view and I didn't came to know how easily those 19kms passed.
'Suraj Tal', I saw it mentioned on a board. A completely frozen lake in front of me. Shining snow on it, It was around 4:30Pm and sun was close to go down the horizon. I didn't took any Halt at this lake but it was really mesmerizing. I moved ahead and kept on riding. Sarchu was still around 35 kms and I was in no mood to take a halt knowing that Baralacha Pass would fall up. There were two more water crossings to cover up. Both water crossing made my shoes wet completely. I just kept on riding till I saw the First camp. By this time I was not feeling my legs water was damn cold in those crossings and I was literally freezing.
It was 7:00 PM when I reached camps and I did not have enough energy left in me to ask prices of camps ahead. Someone told me that they were charging Rs. 1000 per head including snacks, dinner and breakfast. I was okay with it. I just parked my bike. Took my rucksack along with me in tent and left the saddles and my tripod stand on bike itself.
I was tired enough to do anything. I just put my helmet aside, put off my riding jacket, Kept my shoes out as it was wet and jumped to bed. As my legs were numb, I put my woolen socks on. Thankfully they gave a blanket and quilt which was good enough to make warm. I thought I would wake up for dinner. Later on, they provided everyone with warm pouch filled with water which was helpful for my legs.
I remember that last moment before I went out badly. I made blanket above bed and kept that warm bag on my finger tips of leg, a quilt above me and I slept till 6:00 AM in the morning. Th night I took my head out of quilt several times to take oxygen in properly and in morning, when I woke up, I came to know that temperature at night went down to -10 degrees Celcius.
Day 6: Friday , 01 June 2018 : Sarchu to Leh
Route: Sarchu- Gata Loops- Pang- Taglang La - Leh.
It always feels good to watch sun rising up in mountains bring warmth up. I was sipping my cup of tea when fellow riders woke up saying that they need to move ahead from here as early as possible as their head was dizzing. I had my breakfast hurried to my bike and warmed it up for the next ride and by 9:30 AM we were ready to leave Sarchu.
We moved on.. At Check Posts, I bought 2 bottles of water.
The next interesting that I knew would fall on my way was The Gata Loops and TangLangLa.
Frequent Searches Leading To This Page:-
Leh Ladakh Bike Trip Packages, Top Leh tour packages with price, Budget Trip Packages for Group to Leh, Things to do in Leh, Leh Holiday Tour Packages, Leh Ladakh Tour Packages Itinerary, Leh Ladakh Road Trip Packages