Route:
Manali -> Jispa vi Rohtang pass -> Leh via Baralacha pass and Tanglang La -> Chang La -> Pangong Lake -> Nubra Valley -> Khardung La -> Leh -> Jispa -> Manali I have travelled this place in June 2019. It's a story of my 10 days of fun-filled adventure.
It was my first solo trip outside my town and that also for more than 10 days. I never imagined myself being a solo traveler but that's what Himalaya does to you. An ever ending love with this Himalayan mountain range streched across jammu kashmir, himachal pradesh, uttrakhand, sikkim and arunachal pradesh. So after so much of inner thoughts and deep thinking i have decided to go solo. I have booked this travel via https://www.wanderon.in/ who has invented new way to organize travel for youth.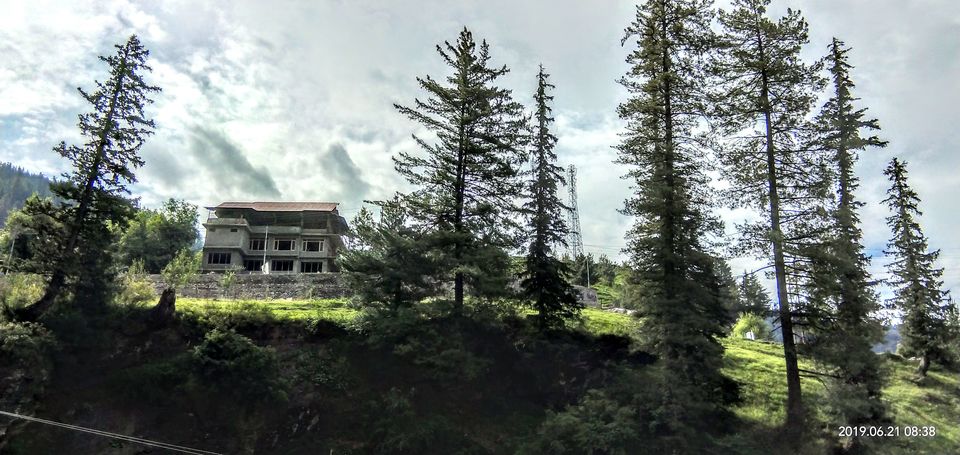 Early morning on 19th June we have reached Manali. WanderOn has booked nice cozy resort for us to wander around Manali for one day and get acclimatized to this weather and altitude. It's very important to acclimatized at Manali because most of the people come from sea level altitude and directly travel in more than 6000ft altitude is not easy for our body. We got Royal enfield himalayan bike and did test drive around city. Riding gear like elbow and knee protector, hand gloves, helmet was also provided by them. we need waterproof shoes with modest height so we can cross waterfalls easily while riding. It's a must thing to buy. Next day early morning we have to depart for a long enthralling journey. So we slept early.
Day 1: Manali to Jispa - 140km
Highlight of this day was Rohtang pass, Chandra river and untouched part of lahaul spiti valley. As Rohtang pass is infamous for its long traffic, we have to leave early from Manali. Rohtang pass is around 60km from Manali but it takes more than 5 to 6 hrs. to reach because of mountain roads and long traffic. However beauty is unmatched in this vicinity. We were driving in thick and dense part of the pine forest. Cold breeze is like a dream. shades of greens were eye soothing. Don't forget to take inner line permit otherwise they won't allow you to cross.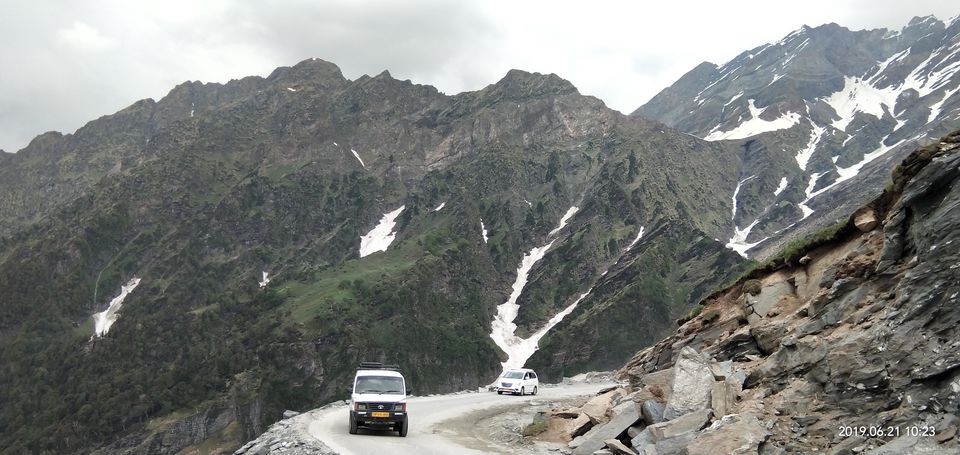 Driving at 14000ft is a dream for so many bikers and it came true that day. 360 view of pir panjal mountain ranges with a view of white vista. Wherever you can see, you will find a snow. At some places, snow is more than 8 ft. Roads are broken and slippery because of snow melting. You will feel real thrill driving on this roads as unlike city roads, terrain is not normal here. Try to enjoy roadside café at Marhi(A small spot just before Rohtang). Sipping a cup of tea with a view of Rohtang - A sight you never want to miss.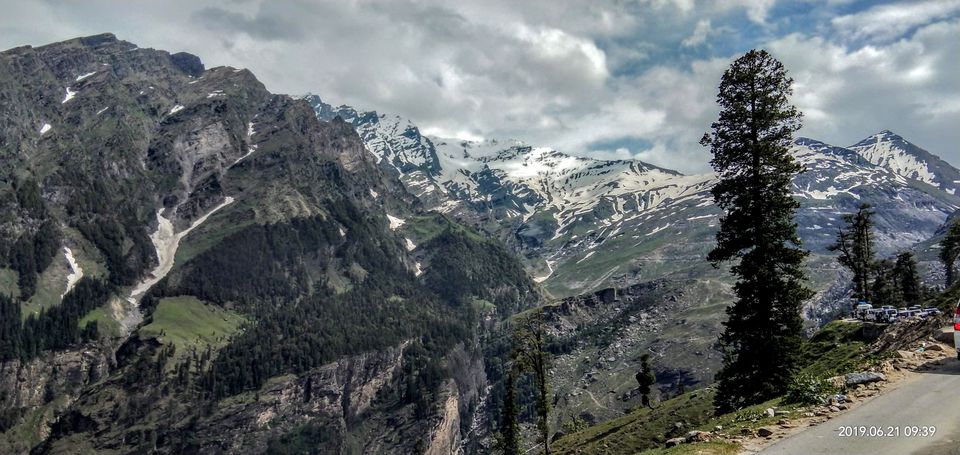 After crossing Rohtang, you will enter into Lahaul and spiti valley. A river that you will see here is a Chandra river originated from Chandratal located in higher altitudes of spiti valley. Take a lunch after crossing Rohtang pass as you won't find any food till you reach keylong. Fill your fuel tank in between as it's a last petrol bunk before leh which is stil 460km away.
Just 15km before keylong you will find a spot which is a sangam of two river called - Bhaga and Chandra. It becomes chenab river from this point which flows through kashmir valley later. After this point you will be driving along with Bhaga river only. You will see so many stream flowing from mountain ranges merges with Bhaga river.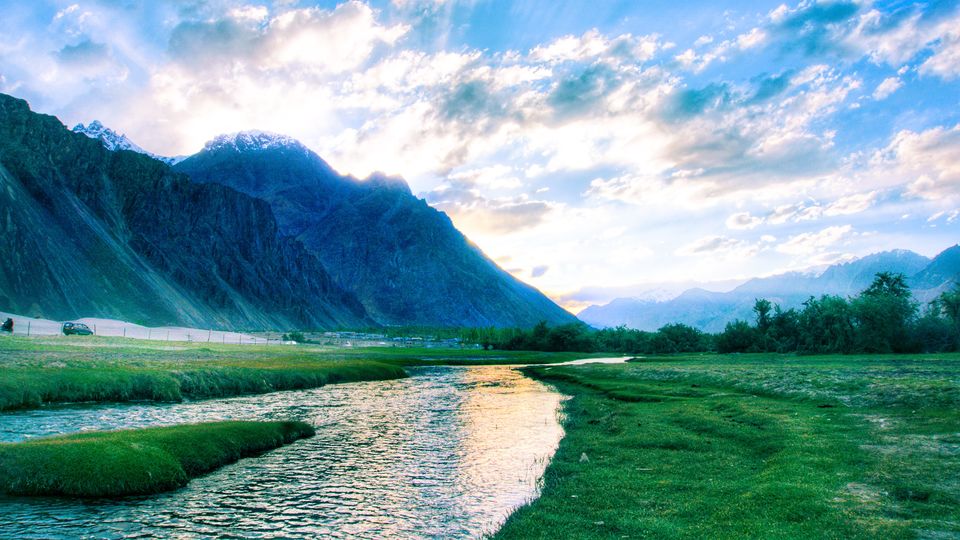 Your destination is now only 40km from this point and you will reach beautiful town called Jispa settled just besides Bhaga river. Our camp was 30m from this river and you can literally hear a voice of river flowing through. Tents were luxurious. Food was awesome. Getting a buffet like food in a camp just besides river flowing is a dream.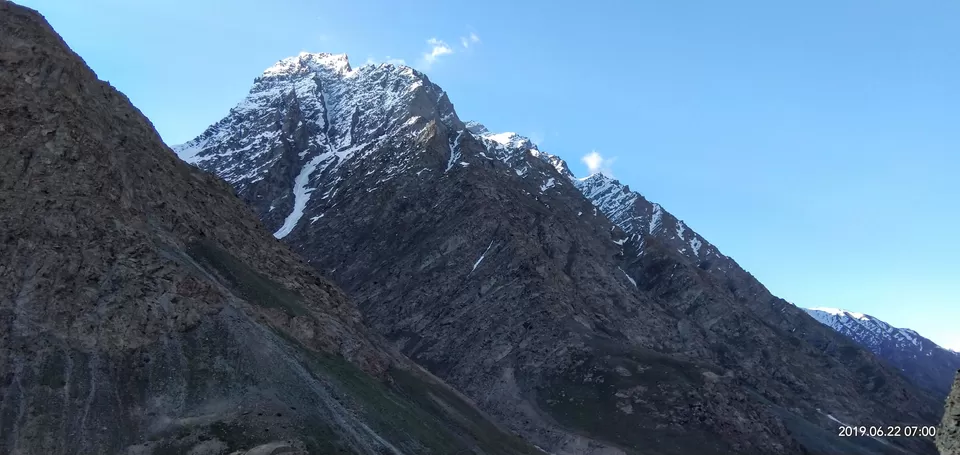 Don't miss star gazing. Amazing. A barren mountains with billions of stars - You can't see this sight in normal Indian cities.
Take a rest as next day is going to be super long. wake up early at 5AM
Day 2: JISPA TO LEH VIA BARALACHA PASS (350KM)
Toughest day of the trip. Most km we have to cover. Riding 350km in a mountain like terrain crossing 4 high altitude passes of more than 15000ft, crossing water streams is not an easy task on any given day. Start you day early at 6AM and expect that you will reach leh by late night around 8PM.
Highlight of this day is Baralacha pass, Sarchu, Naki La pass, Morrey's plain and Tanglang La Pass.
Baralacha pass is tough to cross. Tougher than Rohtang. Weather is harsh. layers of ice on the road made this terrain even more difficult. Just imagine riding a bike on a ice. snowclad mountains surroundings, 10fts of hard snow, white carpet of snow wherever you see around. A ride with adventure at its best, A thrill you never forget, A view you never want to miss. Just cross 50 to 60 km from Jispa, you will reach this beast and beauty. Baralacha pass is a source of Suraj Tal and Bhaga river. That's how Sun and moon's child marries at that Sangam point. Chandra river is a daughter of moon and Bhaga river is a son of Sun. And both get married at Sangam point and becomes Chenab river. Suraj tal is a very huge lake with crystal blue water. If you are driving in monsoon then only you will be able to see it completely otherwise it's completed frozen throughout year.
From this point Barren mountains starts. A glimpse of ladakh i would say. Beginning of Zanskar valley. Sarchu is 40km away from this place. Main thing about sarchu is its location. At an altitude of 12000ft, It's completely open. wind is high. Mountains are very far, which makes it more chill and windy. Try to avoid campsite here otherwise altitude sickness will ruin your trip. It's a border of Himachal and Leh-Ladakh. Keep your inner line permit with you.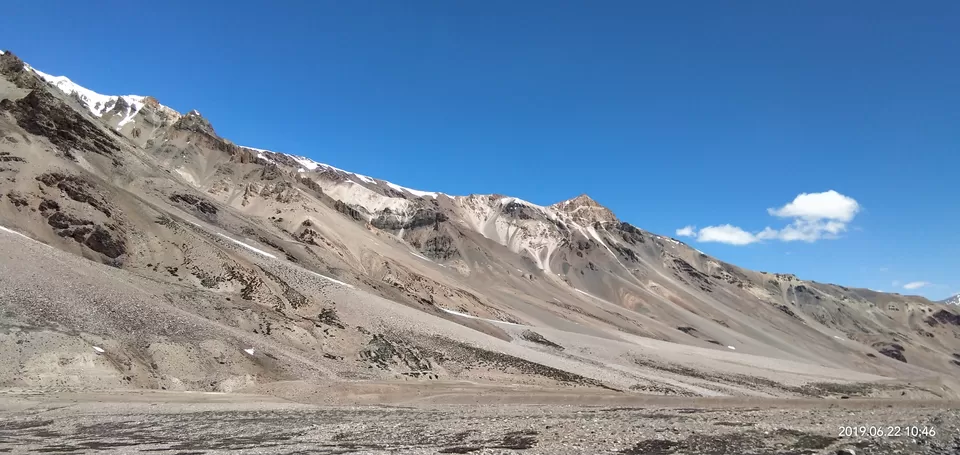 A river you will see after Sarchu is Tsarap river which merges with Zanskar river - A famous chadar trek. Once you cross this river, you have to climb another thrilling pass - Naki La - At 15000 ft. No challenges here. Drive your passion. Enjoy Vista surroundings. THere is a cafe just after crossing Naki La pass. Drink Kava or so many other varieties of tea. A traditional tea with a blend of so many herbs, very famous in kashmir valley.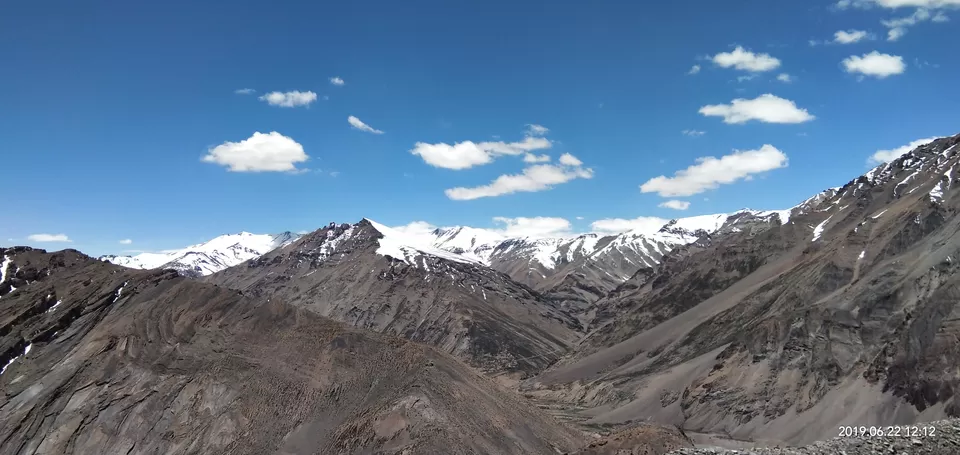 From here start your journey towards Pang village - Another 50km journey. Take a lunch here. You won't find any other place to eat in between before leh. Excitement begins as Moorey's plain is about to begin.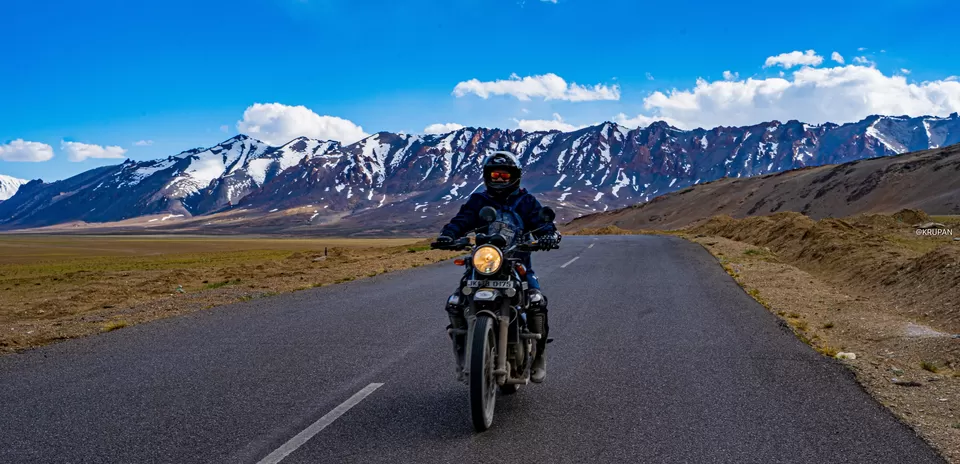 Moorey's plain is very special in its own way. A largest strech of 40km plain road anywhere on the earth at 12000ft altitude. After so many mountains curves, for the first time we are getting plain road. But it's a love at first sight. Beauty is unparalleled. It's an open area. A large ground of 40km straight with snowclad mountains. A ride you will enjoy a lot. A feeling of calmness it gives. It's the only plain area in entire leh-ladakh. Just after completing this strech, Another daunting task of crossing a giant pass - A third highest motorable pass of the world starts.
Tanglang La pass. Well, it's not as tough as Baralacha pass but nothing to be taken lightly. Weather is harsh here also. Road condition is good which makes it easy to cross. You will actually feel the culture of leh ladakh here. So many high mountains of ladakh is visible from here. You will cross this pass in evening. Better you have layer's on. otherwise cold will make your journey difficult. Take a break at Ramsey village.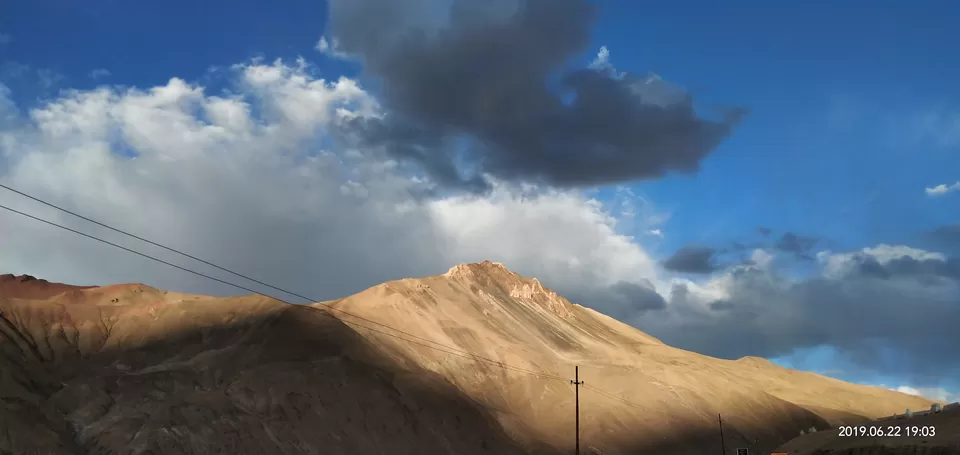 Ramsey to Leh is around 80km and takes 2 to 3 hrs to reach. You will drive in very cold weather. No lights around on the road. Drive slow at last patch of the day. At last hour, you will drive along the Indus river. A stream of river you never want to let go. A river you heard of many times but you will see now. A pleasant evening that you have dreamt of. Ladakhi culture will be clearly visible. You arrived at Leh. Happiness hormones will flow through your body definitely. Take a rest at hotel. Get freshen up. Have a nice dinner. Walk on the street of leh. Feel a chill and calmness in the weather.
Day 3: Visit Leh city and nearby places
Places to visit:
Sangam of Indus and Zanskar river
Leh fort
War memorial
Magnetic hills
Patthar sahib Gurudwara
Shanti stupa
Wander on leh market
Sangam of Indus and Zanskar river Leh fort War memorial Magnetic hills Patthar sahib Gurudwara Shanti stupa Wander on leh market
Keep it as a relax day. visit nearby places. Enjoy cold weather of leh. Shanti stupa gives you bird eye view of the city and snowclad vistas of ladakh - A land of high passes.
Defy gravity at Magentic Hills- One of a strange phenomena. Visit gurudwara and its story. Just opposite to gurudwara, there is a hill which has its own importance in making of this gurudwara. You can climb this hill via steps.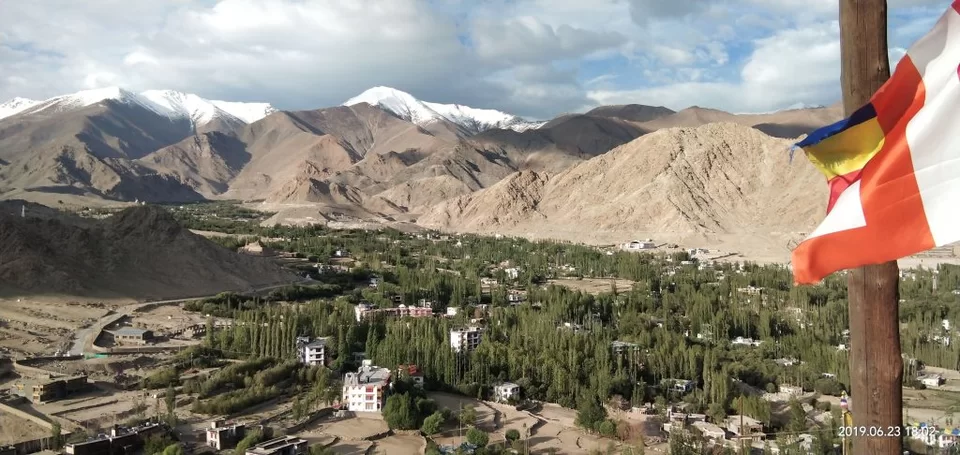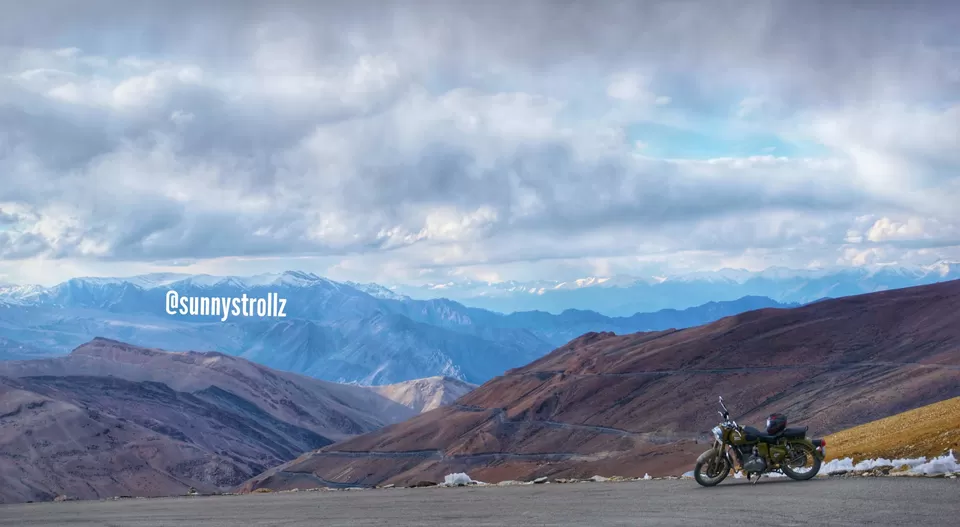 Day 5: Leh city to Pangong Lake (160KM)
A never ending love for Pangong lake. Why? You will get to know today. A drive to pangong lake itself takes you in a wonderland. A scenery you have never seen before.
You will cross second highest motorable pass - Chang La at 17600ft. It's a thrill you can't miss. Imagine you are at a pass where air is so thin, oxygen is very less, cold is around 5 degree, wind is making your ride so tough, everywhere around you is white and snowclad mountains. A feeling of relief. Take a breathe and be in a peace of mind. Just look around. 5 min of silence. You will feel power of mountains and nature. How delicate it is. How strong it stands. Don't stay more than 15min here as breathing difficulty will make you sick.
Descending from chang la requires patience. Terrain is tough and slippery here because of snow melting. Wind is much more than you realize. 3 layers with padded jacket is a must with riding gloves. Now you are in a territory where only few people have went and untouched territory with hardly any development. It's a pure nature. Love for barren mountain will go four-fold. You might think how barren mountains are beautiful but after seeing this, you will get an answer.
A small bridges that came across, water stream crossing in between are a sight to behold. Devoid of any vegetation. Sunlight won't trouble you here but you actually need it. You will actually realize that how this mountain came into existence where it was sea earlier. The sand around this are is similar to what we find in beach.
Finally you will reach to a place you heart waiting for so many days. A grandeur of Pangong lake. At an altitude of 14000ft, it's a highest salt water lake which spans across 135km in length and at some point 5km in width. A mountains in this vicinity has so many colors that you just want to sit there and look at those beautiful mountains and pristine blue waters. A lake which changes its color seven times a day because of varieties in color of mountain and its reflection. Water is bone chilling. Don't even try to think for a swim. Anyways it's prohibited. Clouds playing hide and seeks, purple/brown/rust red mountains, aqua marine blue waters - You actually are in a wonderland.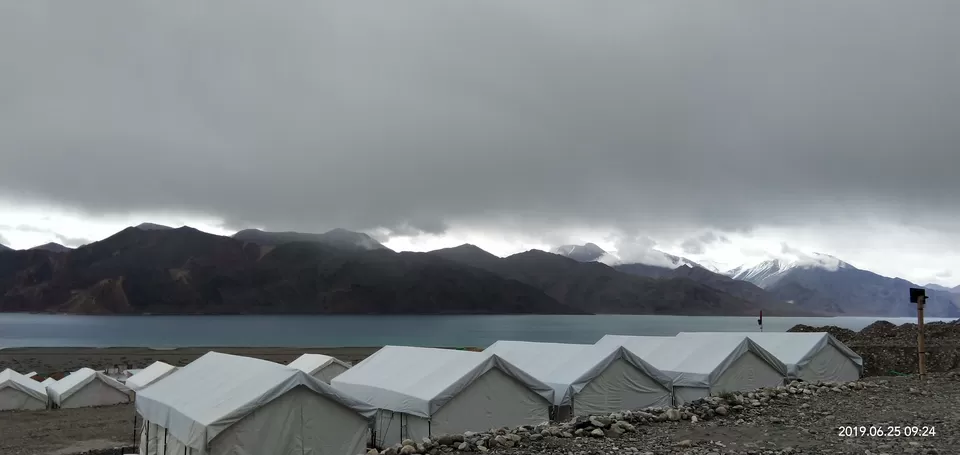 Just imagine your stay is also just 100m from this lake. Spending a night at 14000ft under a bed of billions of star, surrounding snowclad mountains - It's a dream many people can't even imagine. Night photography and star gazing can't be missed.
A morning with a sip of tea just opposite to grand lake with a cold/windy yet lovely weather and fresh oxygen. Have you even imagined your morning like this?
Day 5: Pangong lake to Nubra valley(150km)
Nubra valley is famous for its sand dunes, two humped camels and Diskit monasteries. Siachen glacier is only 200km from this location - A highest battlefield in the world.
Again you are in untouched territory where only few peoples have wandered. You will enjoy drive through this route. Mountains curves are beautiful. Few water crossing, Small bridges, Narrow valley. Sceneries are beyond imagination. Barren mountains are never ending. Snowclad mountain will never go out of sight. Less habitant area, minimum development makes it more attractive. once you are near nubra valley, sand dunes will be clearly visible from the distance.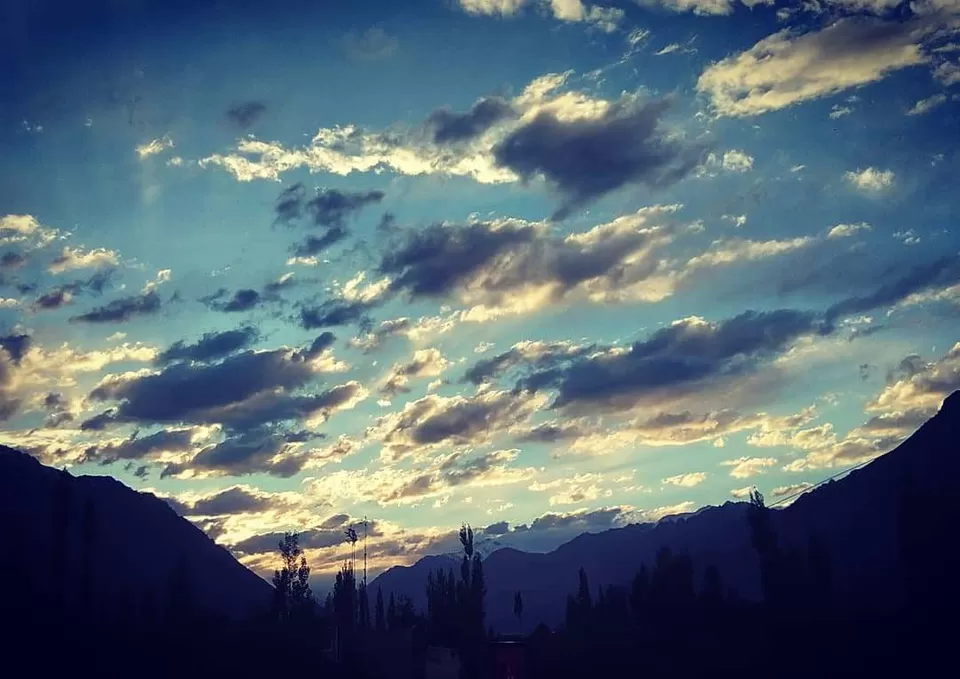 Try adventure filled two humped camel ride. A unique kind of camel nowhere else you will find. Spend a nice evening around this place. Evening view is awesome.
We stayed near diskit monastery which is very near to sand dunes. Star gazing and campfire should not be missed.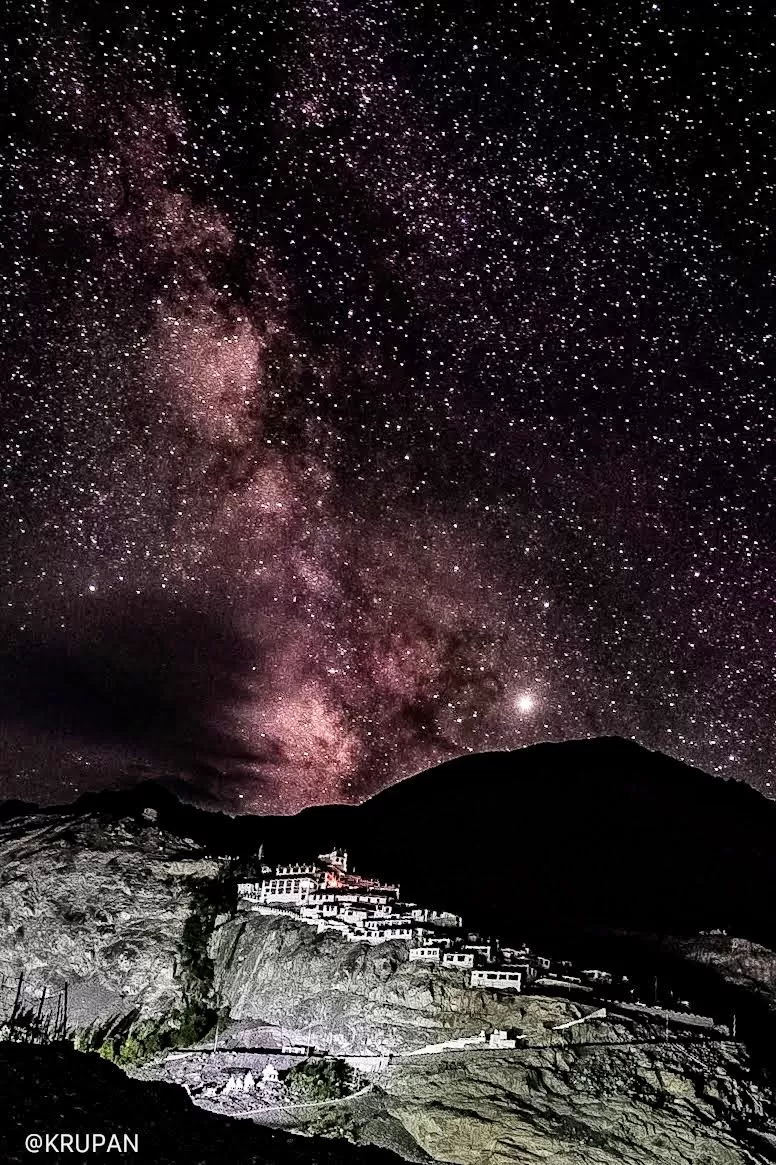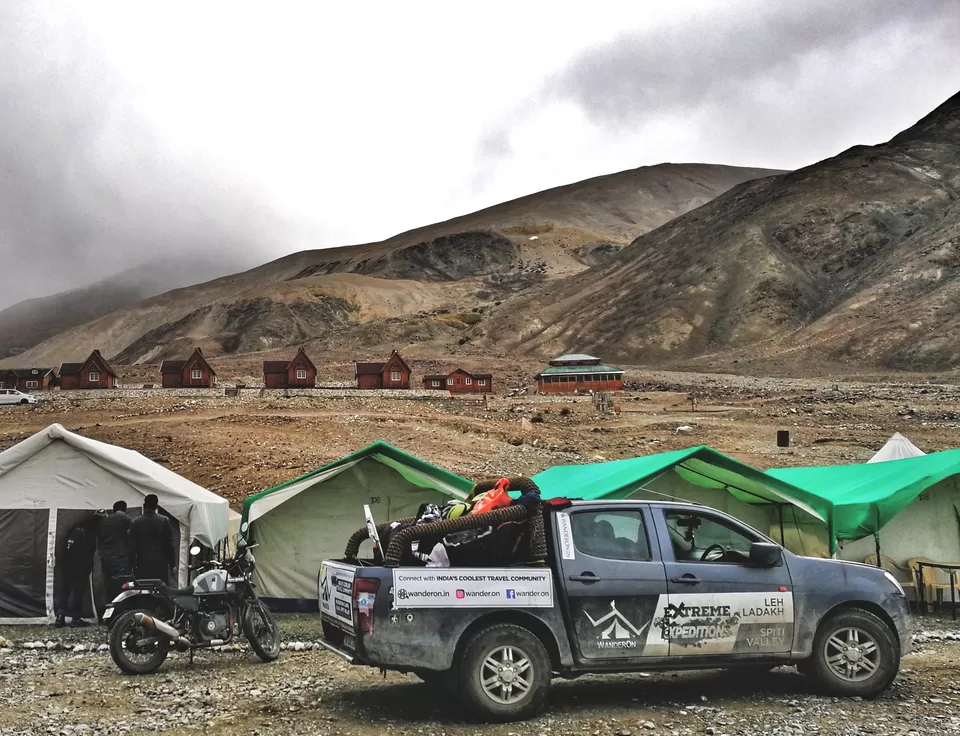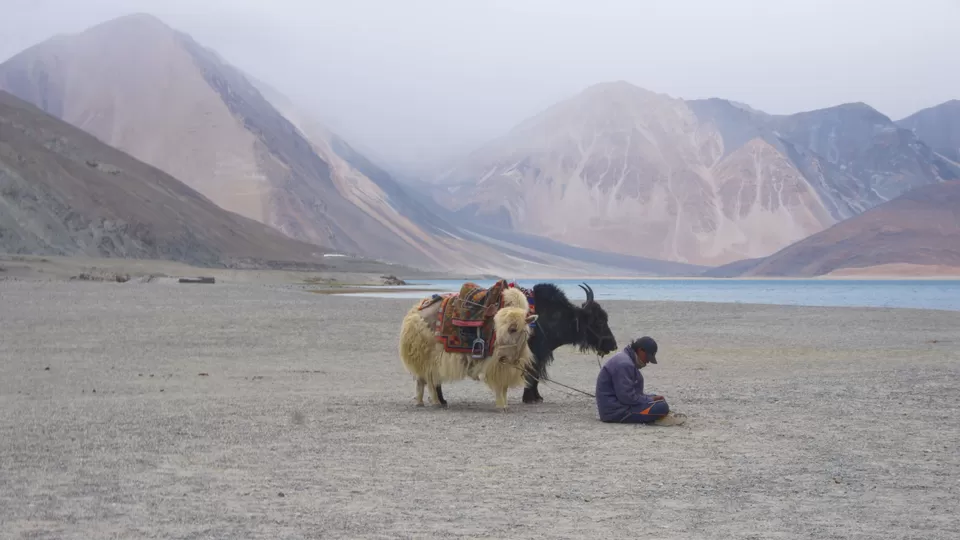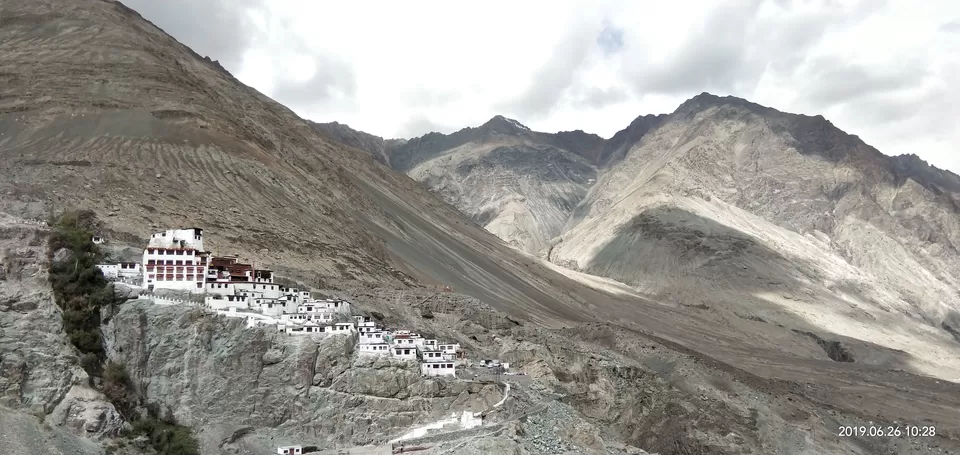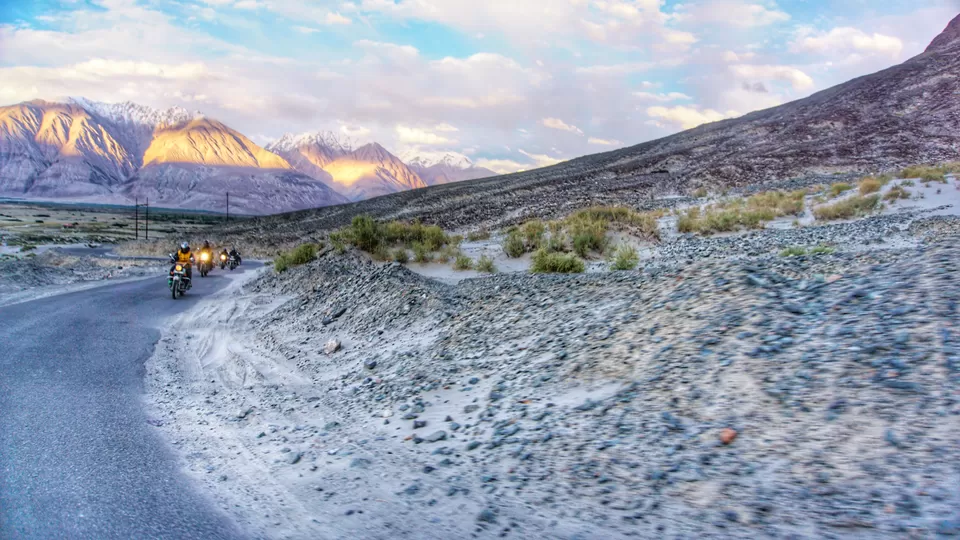 Day 6: Nubra valley to Leh via Khardung La pass(180KM)
Visit diskit monastery in the morning and depart for khardung la. Goosebumps isn't it? you are going to drive through world's highest motorable road at 18360ft via khardung la pass. You are on top of the world with your Himalayan bike. This feeling itself is so enthralling. Most awaited pass of all passes that we have traveled trough till now. It doesn't disappoint you.
Weather is worse than Chang La pass. Air is so thin that medical team is always stand by there in case of emergency. Roads are not in good condition. Snow has melted and mud has made the ride more difficult than ever. Almost 10 to 12 inch of never melting snow. A grand vistas and snow clad mountains of entire ladakh region is visible from here. Military won't allow you to stay for more than 15min as air is thin and lack of oxygen.
Same road will take you to the leh city. Enjoy evening in the city. Go for street walk in leh market. Eat local food.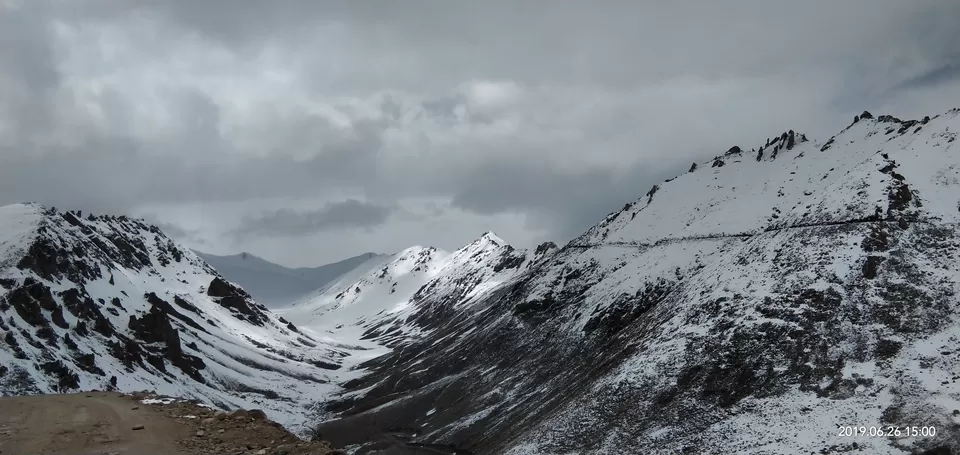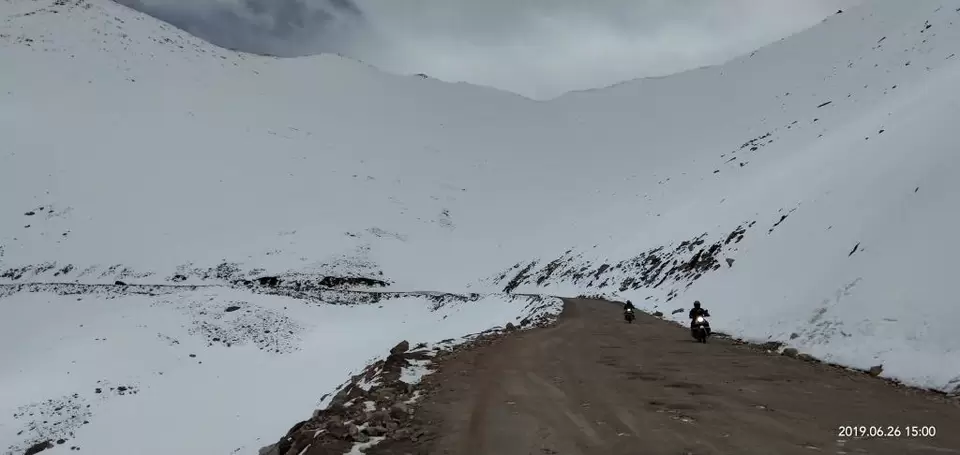 Day 7: Leh to Jispa(350km)
You will be driving through same roads and terrain that you have used on Day 2. But in reverse order and time. You will see indus river in your morning time with a grand vista of ladakh that you have missed last time because you were riding in the night. Tanglang la pass will be crossed in morning and you will face similar difficulties that you have faced in baralacha pass in the morning of day 2. Moorey's plain has a different weather at 10AM. Sunrays will make your drive easy. Naki la pass will be crossed easily.
But pain of baralacha pass is still about to come. Water level has increased a lot due to snow melting, you are literally driving in a river bed. Half of your bike is submerged in the stream itself. All this things can be suffered easily when you have grand views of snowclad mountains in front of you. Suraj tal is clearly visible. Big mountains that were not visible earlier because of clouds are visible now. Sunset has made this view even more beautiful. You have seen same mountain views at two different time. A difference is clearly visible.
From here jispa is just about 40km away. You still have to cross so many water streams, bridges, tougher terrain as you are crossing it in evening. Enjoy riverside stay with sunset.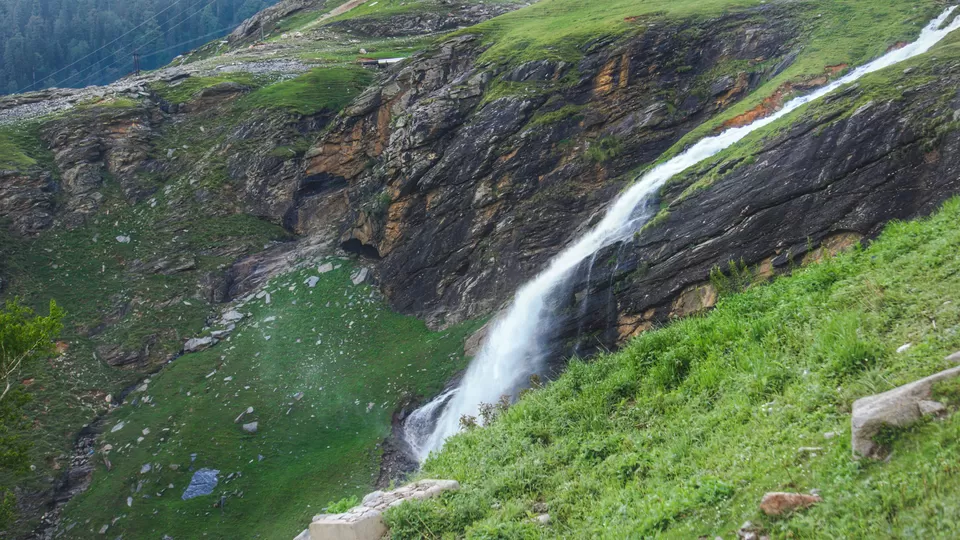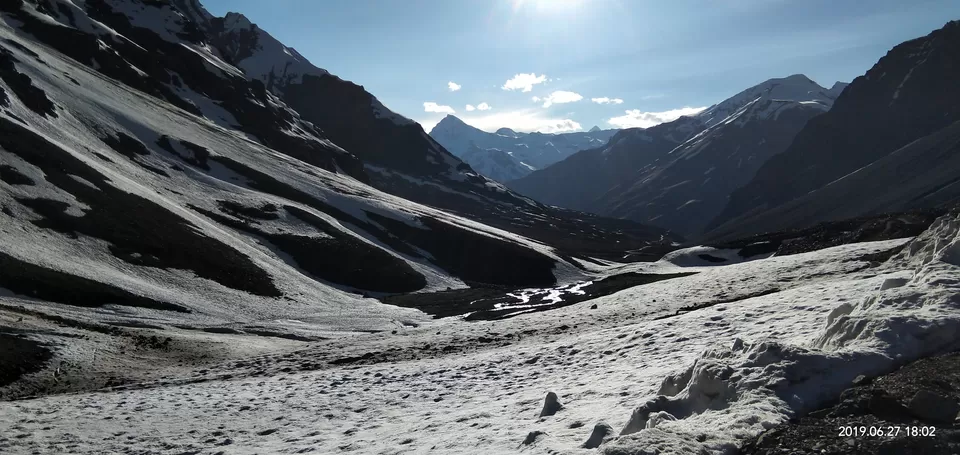 Day 8: Jispa to Manali via Rohtang Pass(140Km)
Now terrain is familiar to you. On first day itself you went through this route. But in reverse order now. Enjoy Bhaga and Chandra river while driving through lahaul valley. You will literally feel emotional as you pass by each and every curves/mountains/bridges as trip is about to over which has given you a lot of memories till now.
Rohtang pass will be cakewalk now as you have crossed so many mountain passes till now and become an expert in high altitude mountain riding. This curves are familiar. Terrain you can cross even if it's challenging.
Reach manali in evening and head for your hotel. Get freshen Up. Take memories with you.
Day 9: Manali to Delhi
As boring it can be. You will miss mountain a lot. Memories of ladakh will never go out of sight ever.