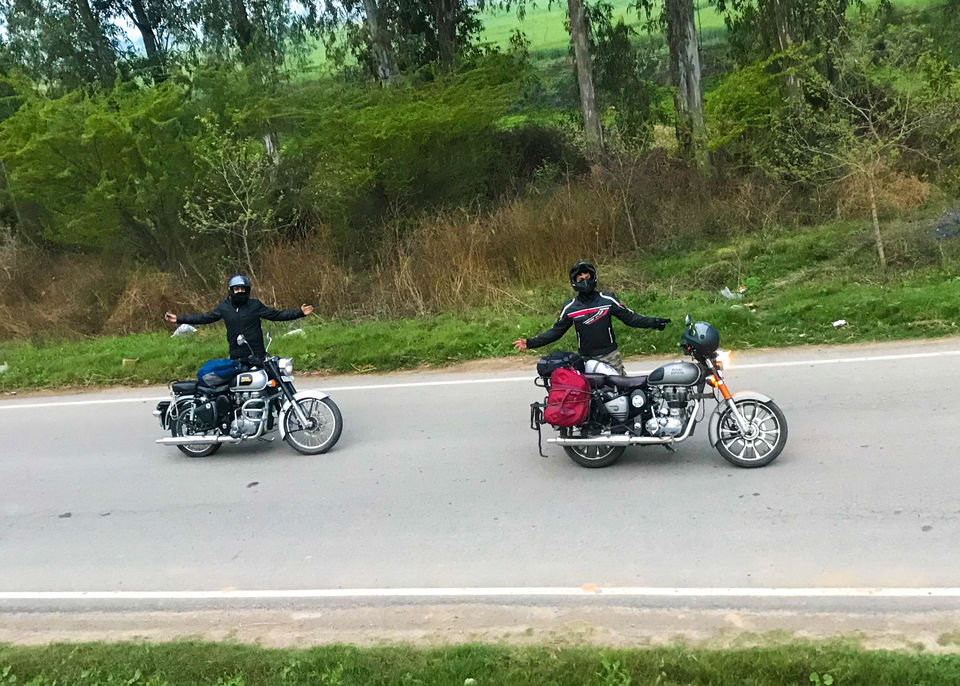 Kasol is known as Amsterdam of India. It is a hamlet in Kullu district of Himachal Pradesh, India. This place is not ruined by the urbanization, This place does retain a peace and quite place to chill and feel the mother nature. Kasol is situated in parvati valley, This valley is literally the most beautiful place of world, Kasol is fast becoming a backpackers, trekkers and nature lovers.It is home to a deep-rooted local culture of pot and hippie hues. Even if you are not into those you still have alot to do in Kasol. Kasol is famous for its trekking trails, which include treks to Kheerganga, Yanker Pass, Sar Pass, and Pin Parbati Pass. Kasol is inhabbited with large number of israel. kasol has few streetside cafes serving delicious food, Which is an amazing experience to enjoy meal in those dark dense forest.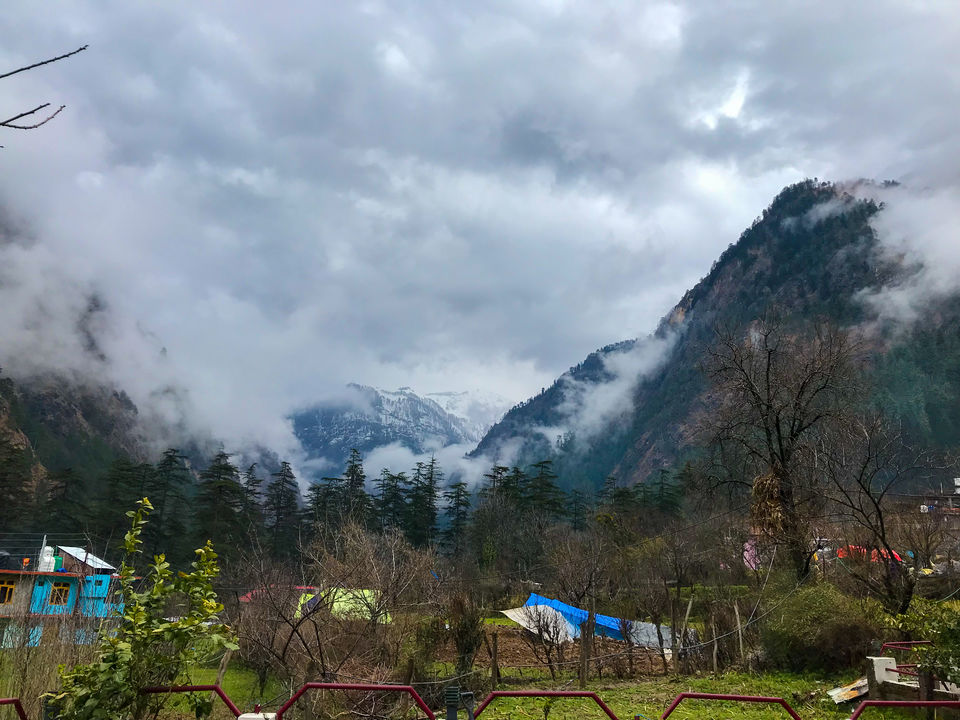 Day 1
Delhi - Kasol
It was an unplanned road trip to kasol on bikes. I was travelling with two friends, So we started this trip with two bikes laoding our stuff at 10:00 pm, it was a 12 hour ride with 520 km. We expected to reach there by 12 in noon including breaks. Bikes were going very smooth, We had lots of fun riding at that hour of night untill Kurukshetra on NH44 we had a flat tyre on one bike. It was dark on that highway at 1:00 am there was nothing around to help, Our pump was not working due to some inner damage in tyre, It was not possible to go any further with that tyre and there was no one aroung to help at that time we searched alot for help but no use, So we decided to spent that night on a small dhaba beside that road. Next mornig just 2-3km ahead there was a MRF Tyre store, I explained everything to store manager, He was so nice he offered us an old good tyre for cheap price .After getting bike fixed we left from there with same excitment. It was rainy after crossing kullu, those roads were looking beautiful with rain it become so scenic, We were not prepared for rain still somehow we manage to ride slowly in rain and we reach kasol by 10:oo pm. Our initial plan was camping in tosh but eventually due to incident we were not able to make it in day time so we took an hotel room to rest.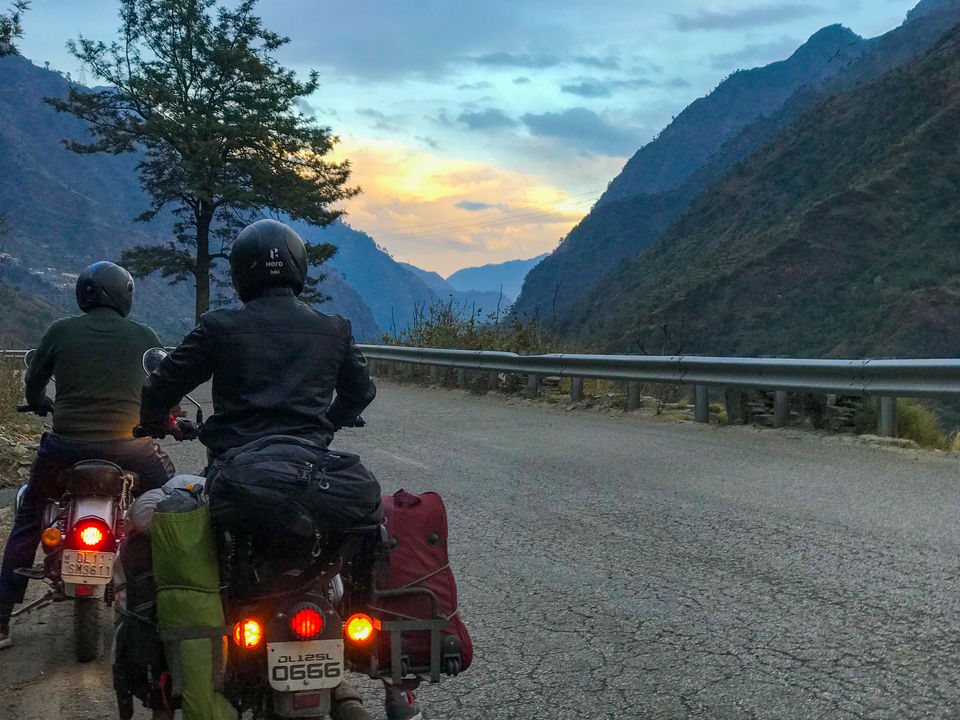 Day 2
We woke up early in morning after getting ready we went for breakfast in kasol, So many beautiful cafe to sit around and enjoy your breakfast with exotic nature feel. We went to one cafe it was exclusively tibetan, We tried some thupka of that place, It was amazing we that view. While havimg our breakfast we saw Kullu wali mata. It is one of the most spiritual activity of himachal, People gather around in rally with music instruments and take mata all over himachal on sedan chair on their shoulders. After breakfast we took our stuff from hotel and went to Manikaran. Manikaran is a majestic gurudwara is situated in the Parvati Valley right along the banks of river Parvati. It is a crucial pilgrimage destination for both Sikhs as well as Hindus coming to this area. Religious steam bath or hot spring attracts tourist alot. At manikaran we spent some time on that beautiful place and left for tosh village. Tosh village was around 20 km from there, It took us 2 hours to reach there due to heavy snowfall we were going slow, Due to snowfall it was hard to ride as we were not able to feel our hand. Somehow we reach tosh it was covered badly with snow. We parked our bikes around the village. We planned to put a tent above that village, So after a small hike we crossed that village and went straight up. We looked for a perfect place to set our tent but everthing was covered with snow badly, So we clear some snow but we were not able to reach ground so we put our tent on snow. It was hard to sit inside tent on that snow after putting some blankets on tent floor, We settle ouself and start wandering around, View was too beautiful, Suddenly heavy snowfall started nothing was visible in that weather everything is white, We spend rest of our day and night inside our tent eating food we bought on our way.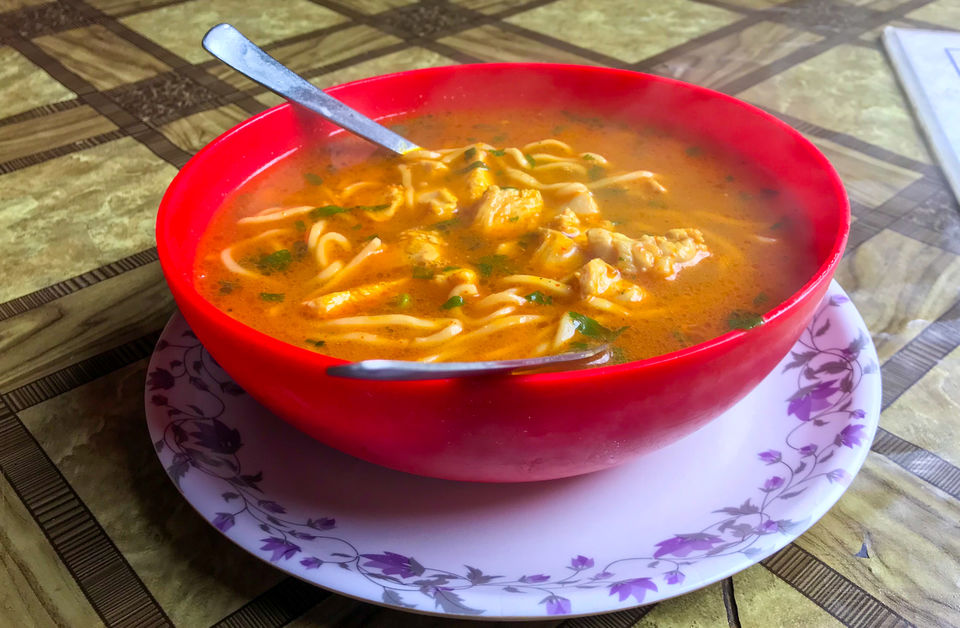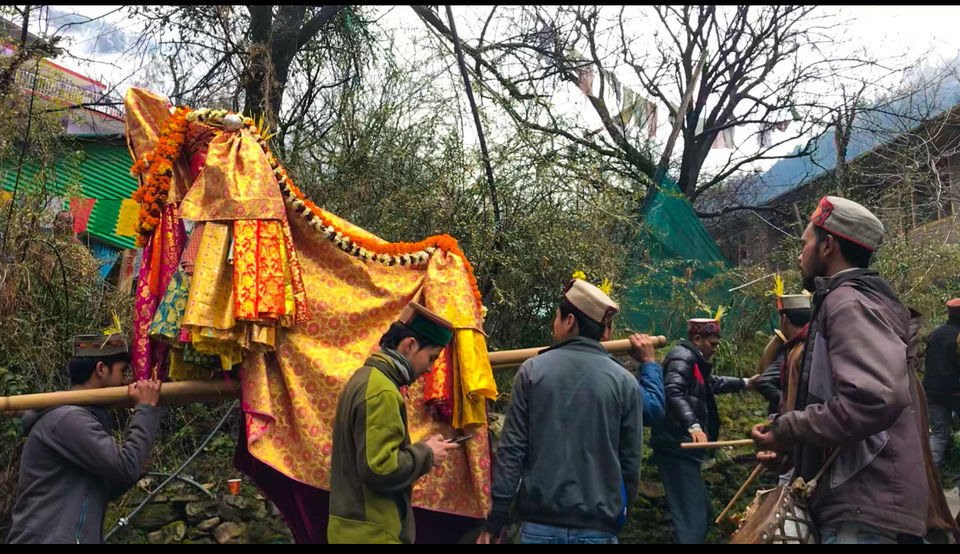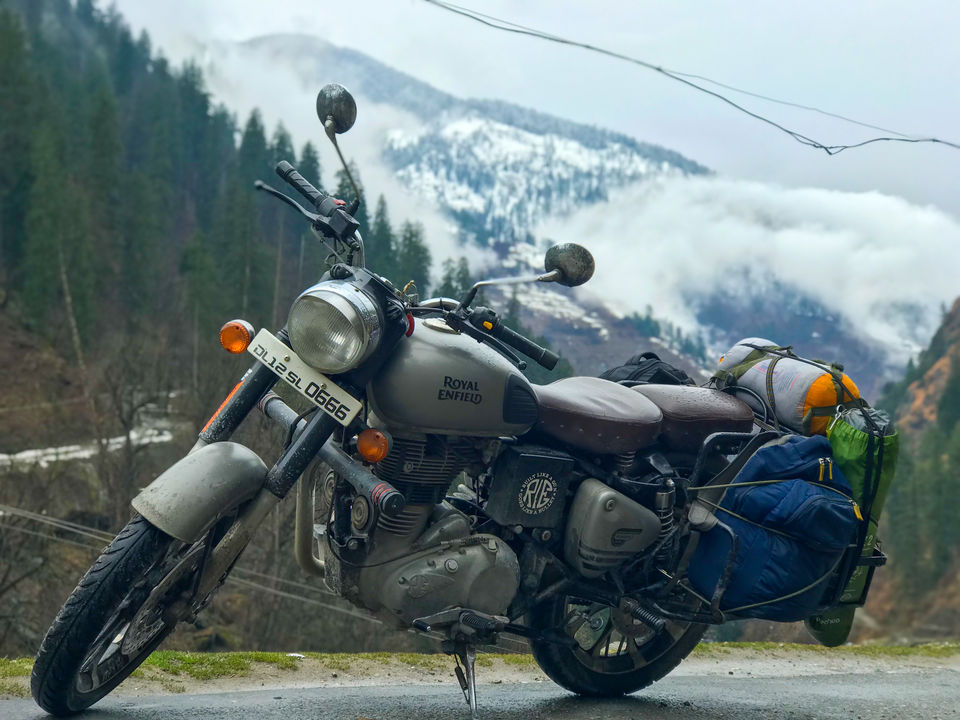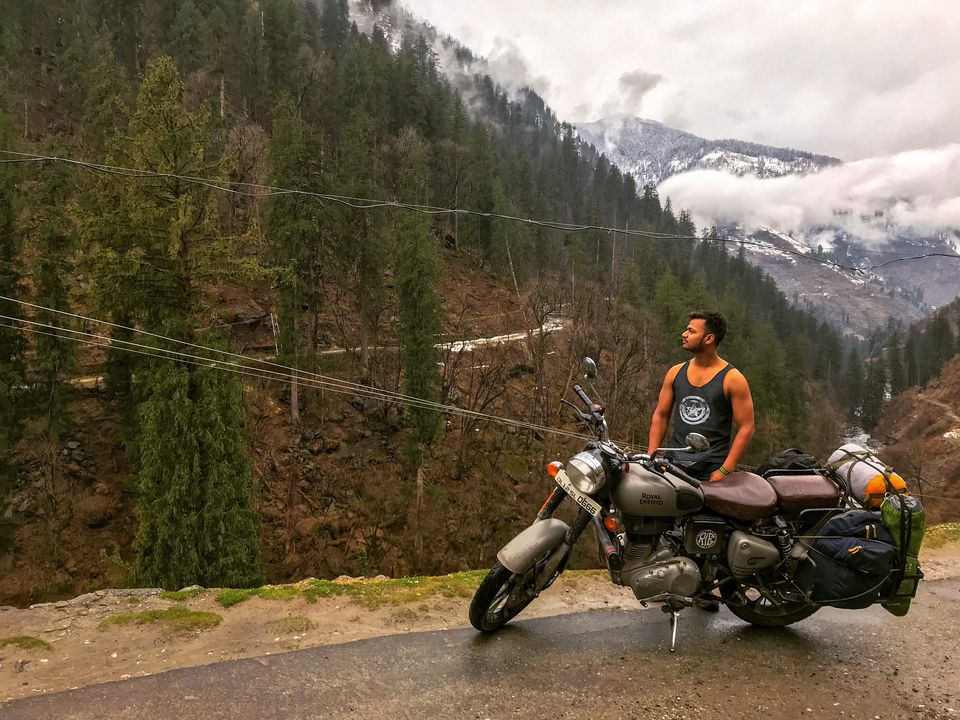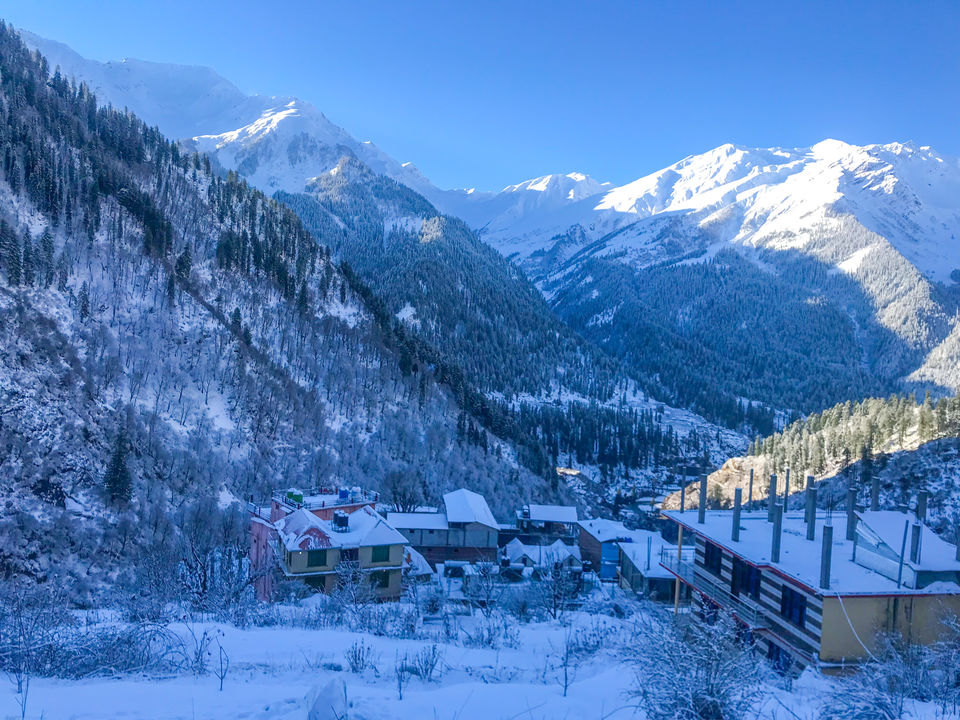 Day 3
Next morning was so beautiful, There was snow everywhere and sun was shining above. Everything was clear snowfall creating a blanket of white as far as the eye can see. Creating a picture-perfect landscape due to its sparkling quality which meteorologists refer to as "snow sparkle," is due to the sun reflecting off the individual ice crystals in the snow. We took soo many pictures of that perfect view after coming back to village and had a beautiful breakfast there. After we went down to the bikes and packed our stuff. It was still 10:00 am we were heading back to delhi it was 550km to be covered in 13-14 hours. We were going back through same roads it was a beautiful day we made soo many memmories on that trip. we had our lunch in kullu and reach delhi by 12'o clock in night.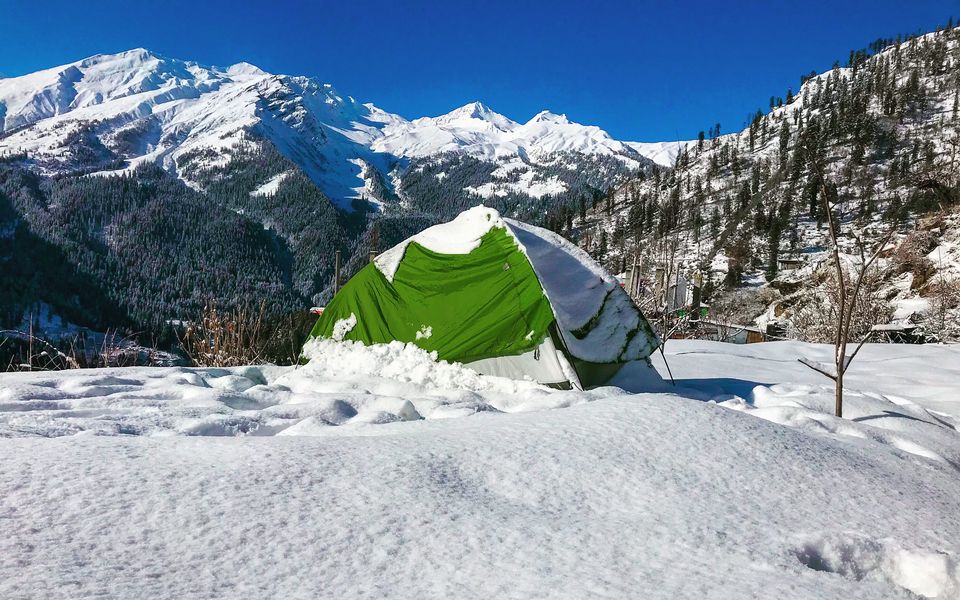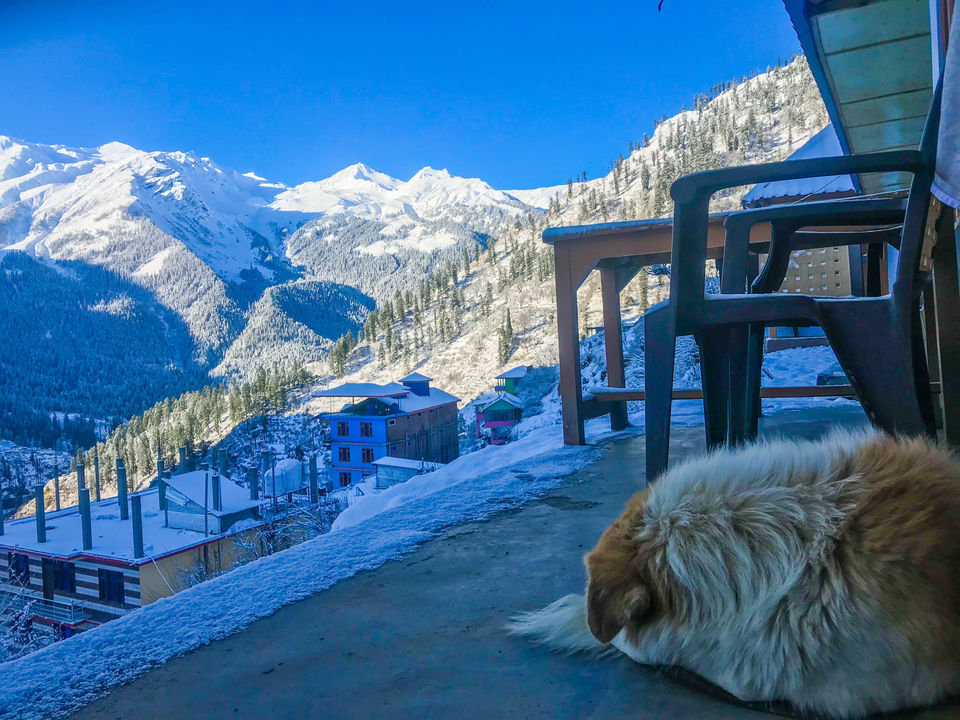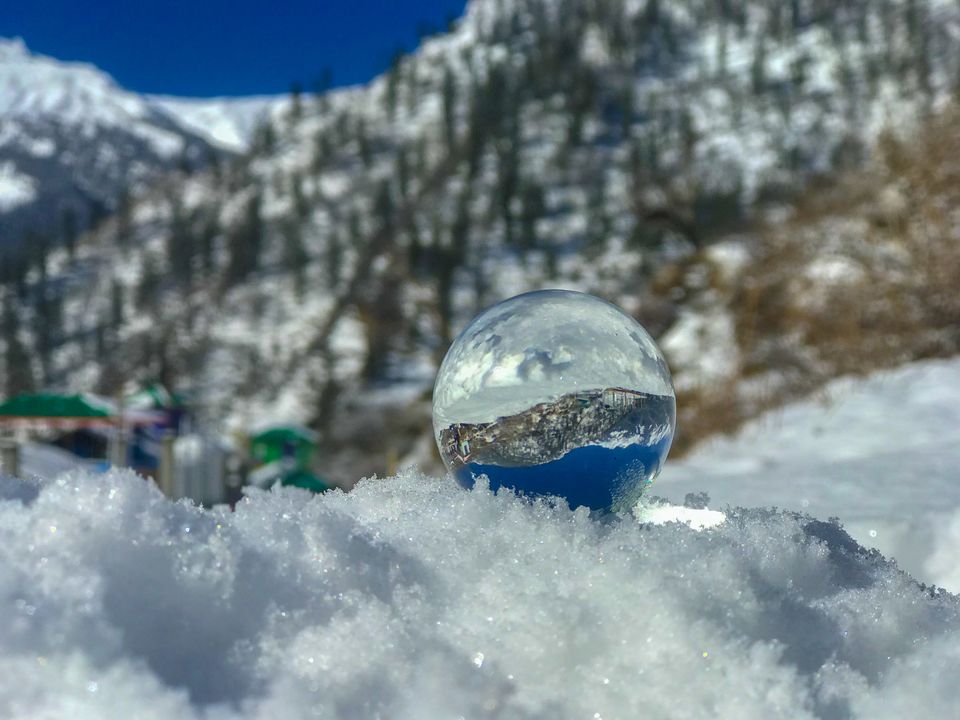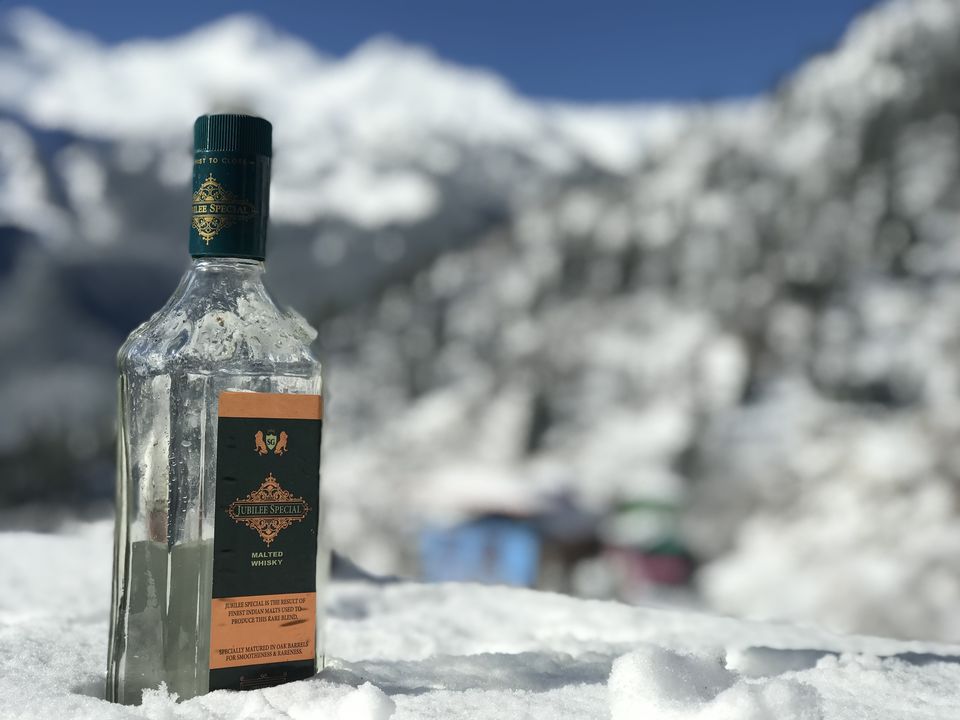 We had amazing trip and great time together. I still feel lucky to have that trip.