Tosh is the top most and probably the last village connected to the end of Parvati Valley. It lies at the height of around 7900 feet. If you are visiting Kasol then going for a trek to Tosh village is one of the most required things to do in Kasol.
Mostly Europeans and Israelis come to visit tosh to enjoy fresh Marijuana. But I would recommend everyone to visit Tosh if you are truly a nature lover and enjoy spending time with locals.
Kasol to Tosh
Starting early in the morning, we took a bus of 8 am from Kasol to Manikaran. And from Manikaran we changed the bus for Barshaini.
The whole bus journey to Barshaini was quite an adventure. The bus was continuously going up through the steep and narrow patch. While one side was covered with mountains the other side had a huge deep valley. As we moved up, we could see the distance covered lagging behind. The view was incredible with the deep valley, lush green mountains, ripples of water on the tree leaves, snow clad mountains far from the valley, and at the extreme bottom... river flowing with crystal clear water making the stones on the surface visible even from such a height. The bus was running with full speed on narrow patches and turns. Hardly able to stay stable in my seat, I was trying my best to take a click of the view.
For around fifteen minutes, altitude sickness took over me. Poof! It was all ignorant when I stepped out of the bus and glared the view. A light rain was pouring down. We had a tea and glucose biscuits and then we left for the trek.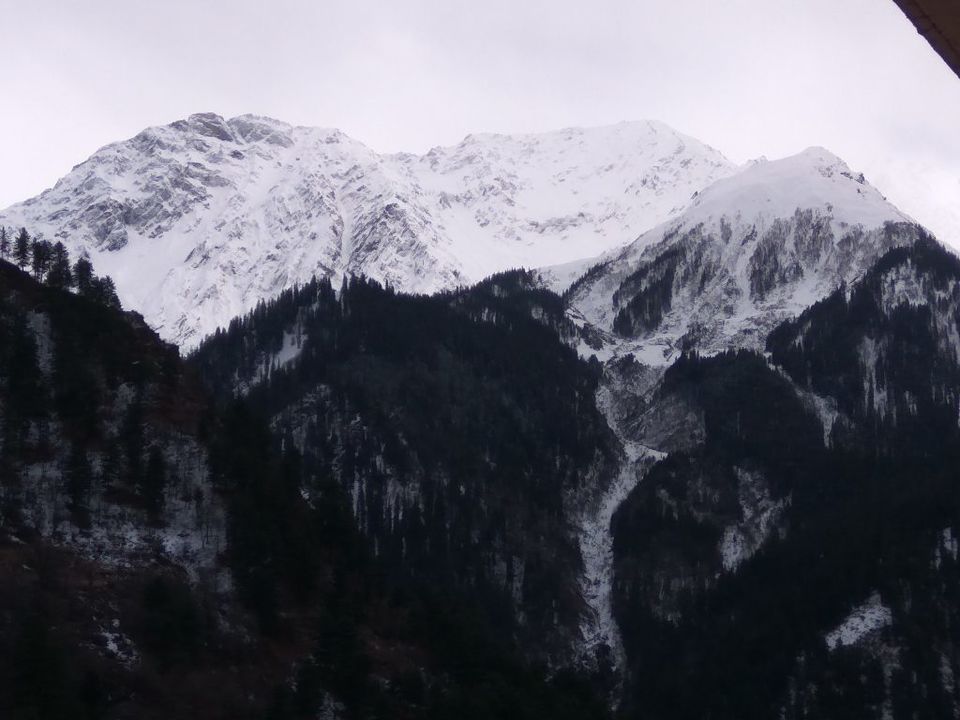 Ways to Trek to Tosh
There are two ways to trek till Tosh Village. Either you can go by the shortcut from the unpaved way through mountains which will have its own adventure or you can take the main road which will provide you the view of the valley on the whole way to Tosh. You can either go by walk which would take around half an hour or you can take a taxi directly starting from Kasol which will take you to Tosh.
I would suggest you trek yourself rather than taking the taxi to take the most of your trip.
Tosh Village
We reached in an hour to Tosh capturing a lot of pictures and playing with the snow in midways.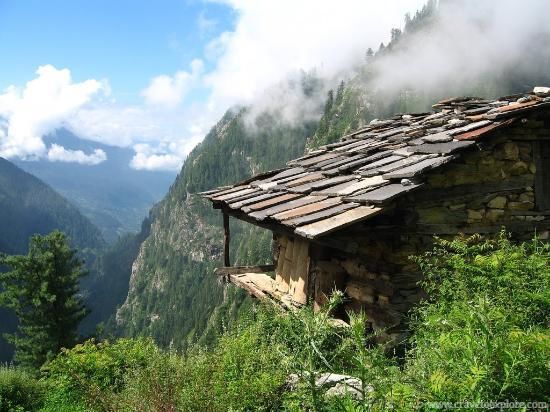 As we climbed up, a light snowfall started making the weather more cold and beautiful. As I was wearing a dark colored jacket, the white shining snow was clearly visible on it and in my hair.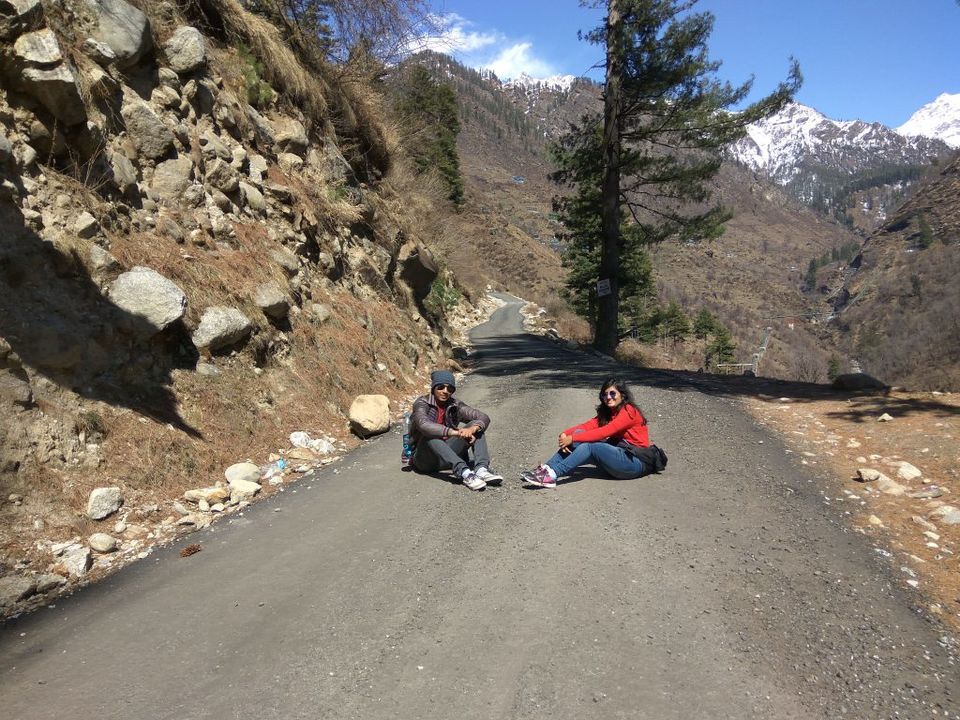 Although we had a full day at Solang Valley in the snow, this experience of snowfall was mesmerizing. It's a raw beauty of India with no commercialization. There was hardly any tourist apart from 3-4 groups of hikers.
As we reached the Tosh village parking area, there was a wooden bridge that we had to cross to reach inside the Tosh village.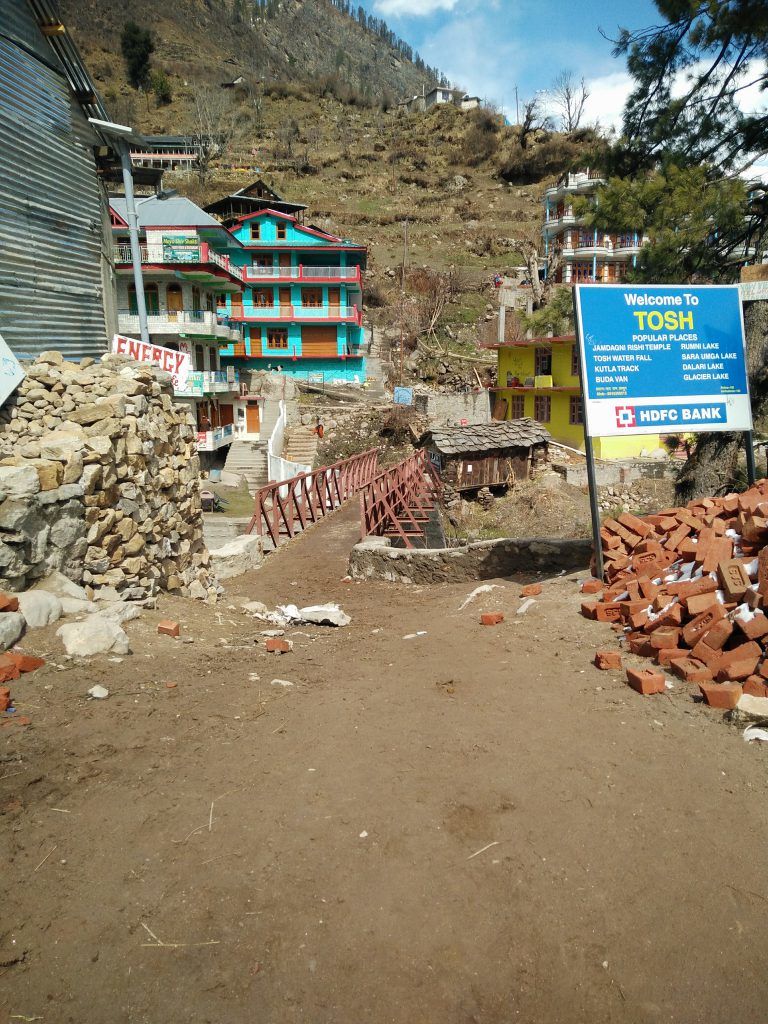 The more I moved forward, the more I fell in love with the place.
Pink Floyd Cafe and Hill Top Cafe
Though both of these are simple but located on the corner of the hill gives you the beautiful view of Parvati Valley.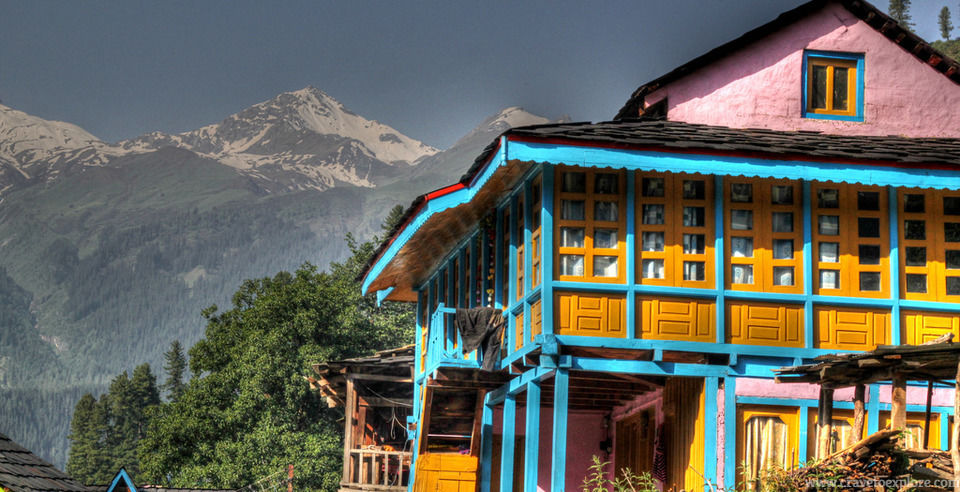 Local people have created these beautiful hillside homestays for tourists. We went to the Hill Top Café.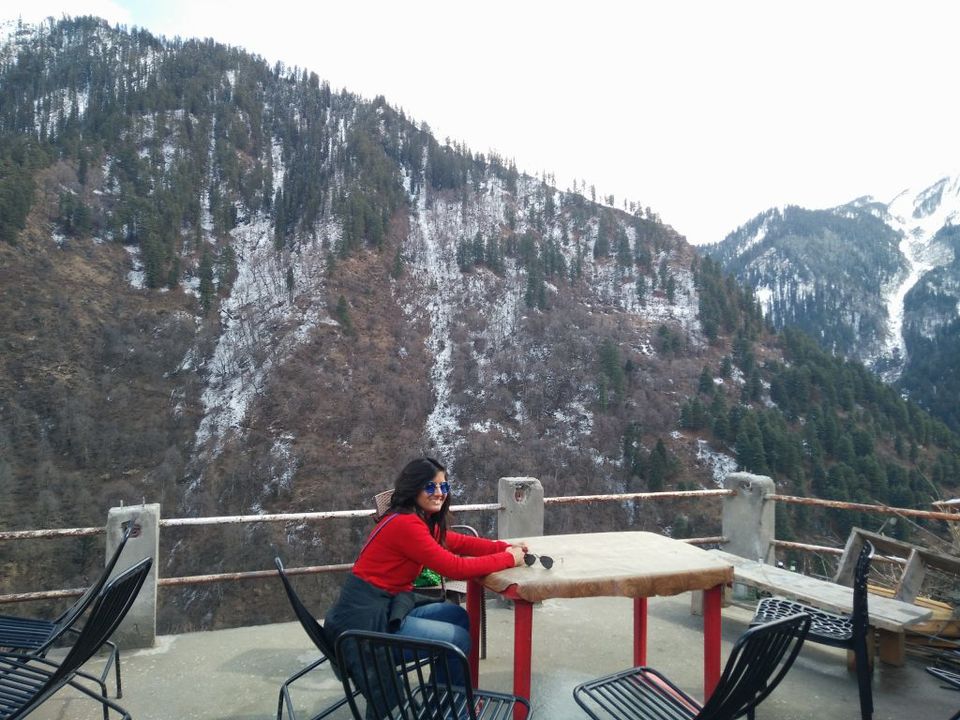 They provide clean, fresh and tasty food in extremely low price. From the balcony or rooftop of these home stays, you can view the snow-capped mesmerizing mountains and the huge valley. We ate like hungry monkeys.
We spent half of our time playing with cute, innocent and beautiful Himachal kids and then enjoyed photography on the roof top. Paresh and one of my friend were so involved in teaching the symbol of their favorite pose to those little kids. Though the little kids hardly could make it with their little fingers they were happy and enjoying a lot, which made us even happier.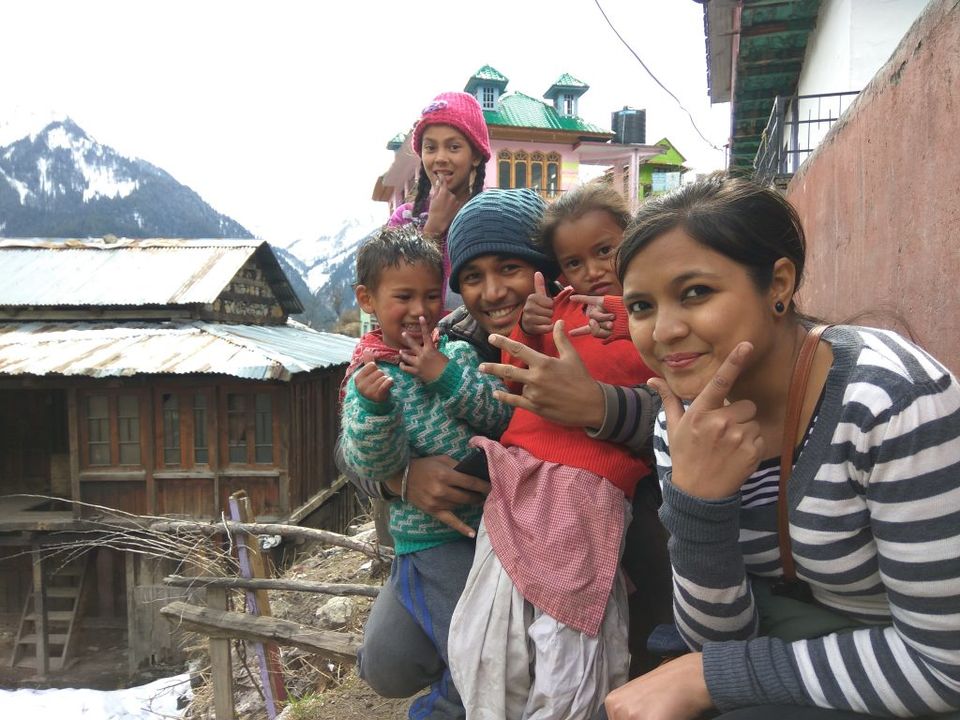 Farewell to the beauty of nature
We stayed there for around 2-3 hours. We could spend more time without thinking but due to lack of time left for the trip and our pre-bookings made at Kasol, we had to say goodbye to such a heavenly beauty of nature.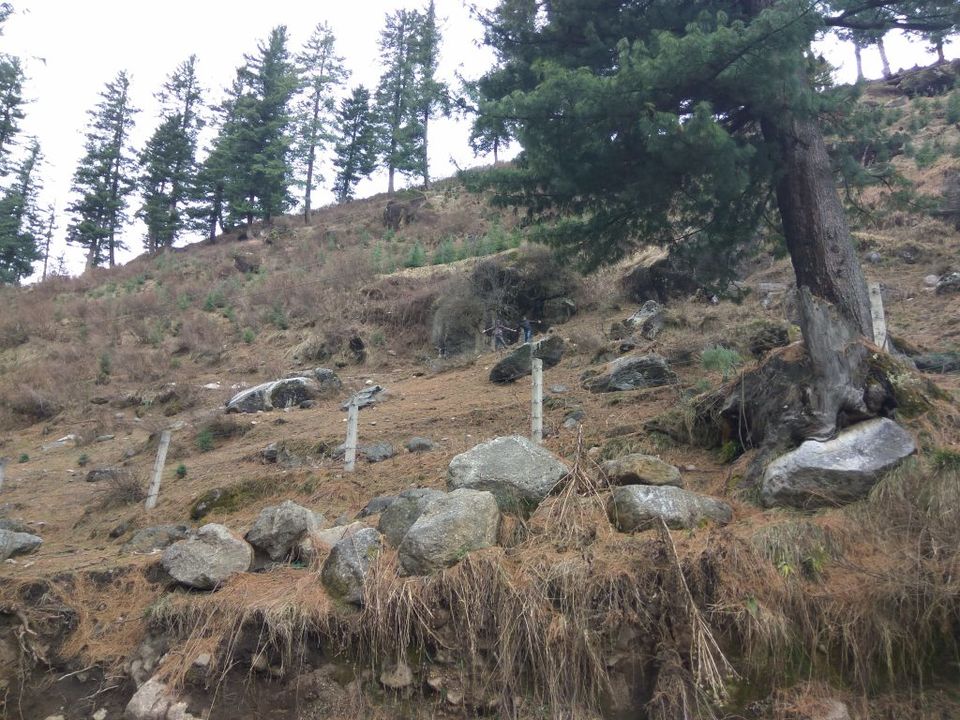 While returning, we took the unpaved adventurous way to return back to the base village. There we had a tea at the small tapir nearby and then we took the next bus back to Kasol.
Budget required
Well! Technically we spent hardly 1000 bucks which included bus fare, breakfast, lunch, and tea for four people.
So if you are visiting Kasol, Kullu and Manali, you hardly need a budget to visit such a beautiful place.
Personal Recommendation
Planning to visit Tosh Village?
You can go ahead and follow my plan but take one more day with you so that you'll get to spend a night on those hill sided home stays. The village is free from pollution and crowd.
Nothing can give you more pleasure than lying in the lap of nature far away from the cacophony of this fast world and gazing at the twinkling shiny stars clearly visible without any layer of pollution hiding them. You can easily get a room in just Rs.300 to Rs.400.
Let's see where our destiny takes us next. Moreover, I always believe:
"Once a year, go someplace you have never been before"
Do you still have any questions? Need any help to plan? Loved the article?
Please comment below. I would love to get your feedback and suggestions. :)
Till then...
Keep Exploring ????