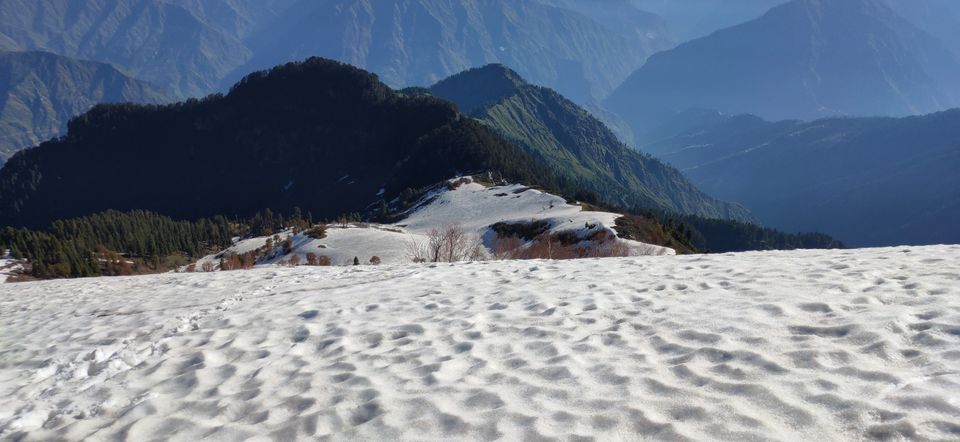 One day i was planning for the trek somewhere with friends and from somewhere my grandfather came and told us about kantok dhar. On that day we discuss about that and think of going there. Next day we gather at a place and write down the important items that we need during the trek and handover the responsibility of items to everyone one according them.
At night everyone pack there bags.
Day start
At 05:30 AM we decided to start our trek everyone was punctual and reached at the starting point.
Our start point was our villages little playground. My village name is Biutha located in gehra panchayat of district chamba in place of Gods ( Himachal Pradesh).
Everyone was fully boosted with enthusiasm and we start journey from there. We were total 10 peoples on trek.
At the distance of half an hour our goddess Chamunda Devi temple is located we worship there and pray for success of our trek.
After that we start persuing on our route. We passed from many villages like , Sakaral, Brehi, Sadun and last one chobhugla.
The trek was plain till the Brehi village but from Sadun village the path was fully vertical no curves till village chobhugla.
We passed last village at approx 09:45 Am and we take a break for 15 min. and get relaxed.
During the break i went for some look on the path we cover and i see a picturesque view and i take a clik of that.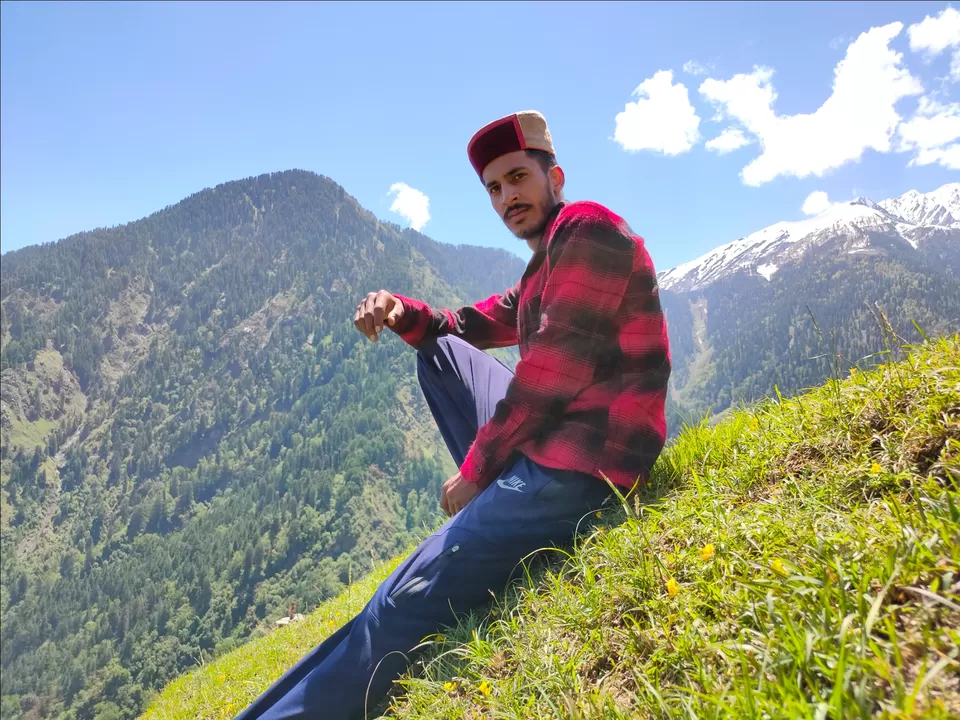 After little break we continued forward towards our route. We cover distance of 1.5 km after that break and there we decided to have breakfast there. The time was 11:35 AM.
We find a little plain place and everyone settle down there baggage there and open there tiffin box and our two friends make tea for us.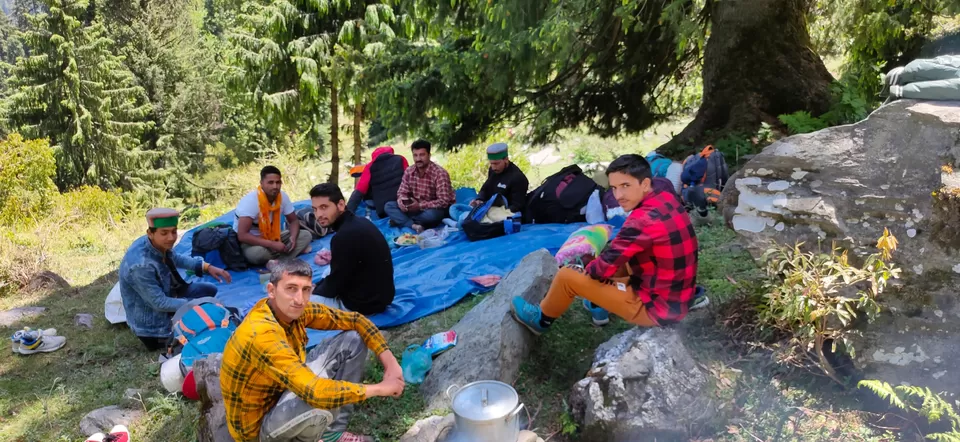 After having breakfast we relaxed there for 10 - 15 min.
And start our journey upward to our goal at 12:15 PM.
We passed through forests, little waterfalls and see different species of beautiful flowers.
While we was passing through them the cold breeze was flowing and the shadow of chir and tosh trees was heaven for us at that time.
We not take any pause because now there was no path for us for direction, we were only climbing toward the mountain peak.
And we dont have any idea of how much time it will take to reach there?
After some time we reach at a place where little damage house were there of the Shepard's.
That place was named " khoda - ra - Goth".
We reach there at 04:45 PM.
We discussed there for staying night there because we know how far our destination was and everyone know that in forests the night happen fast as compare to open or other area.
So we stop there and handover the works to every pair ( 2 person) .....after half an hour our sleeping arrangements were done we settled our camping tents.
Now we start prepration for our dinner and our pro chef's were Mr. Inder Singh and Mr. Rakesh Thakur who knows cooking well and they prepared delicious dinner for us .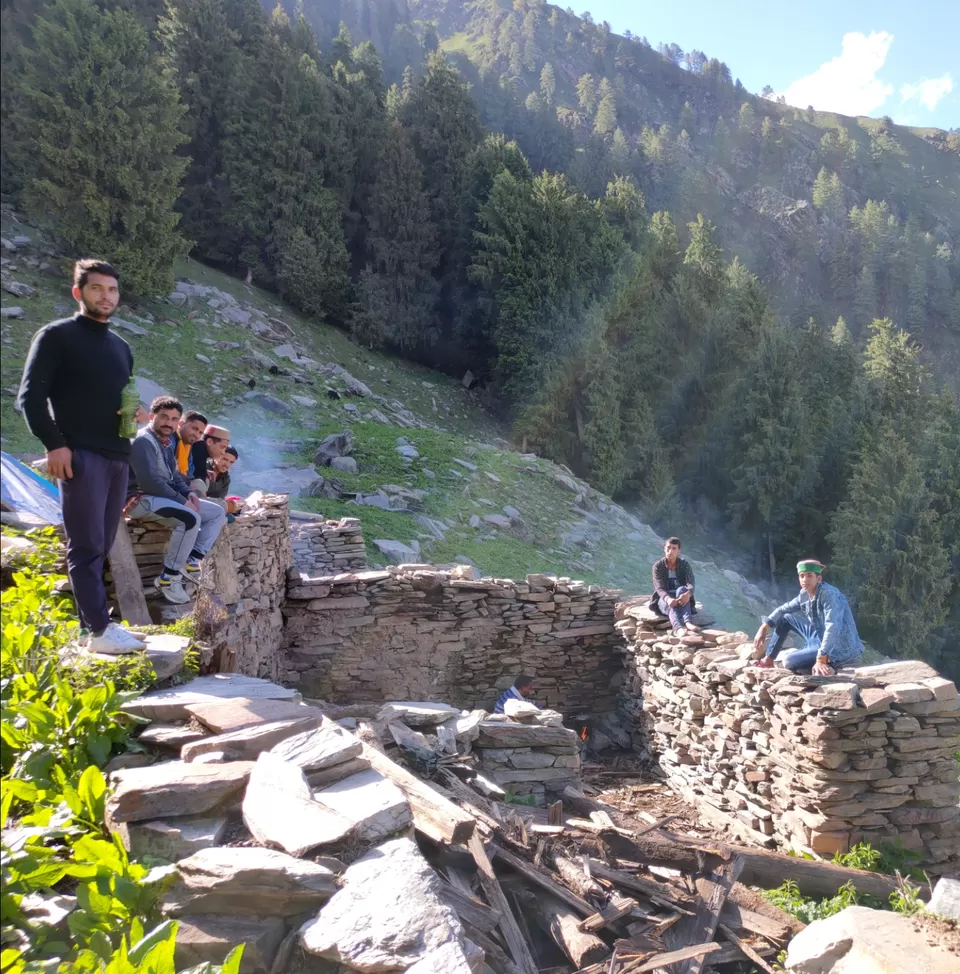 We all enjoyed dinner together and make bonfire there , we shared the old sayings of our ancestors and enjoy singing and dancing.
At 11 O'clock we all went sleep.
On second day we all get up early in the morning at 6 O'clock.
All get fresh and again pack our bags for our final destination Kantok Dhar.
We had our breakfast at 07:30 AM.
We all we fully enthusiastic and power boosted for next step towards destination.
We arrive from Khoda - ra - Goth where we stayed yesterday at 08 O'clock.
Now we had to step next forest very carefully because that forest was house of Black Bears, Himalayan Tigers and Himalayan Fox's.
So, we all carefully continue our journey.
At a point we all said that we had done it because from there we can see our destination.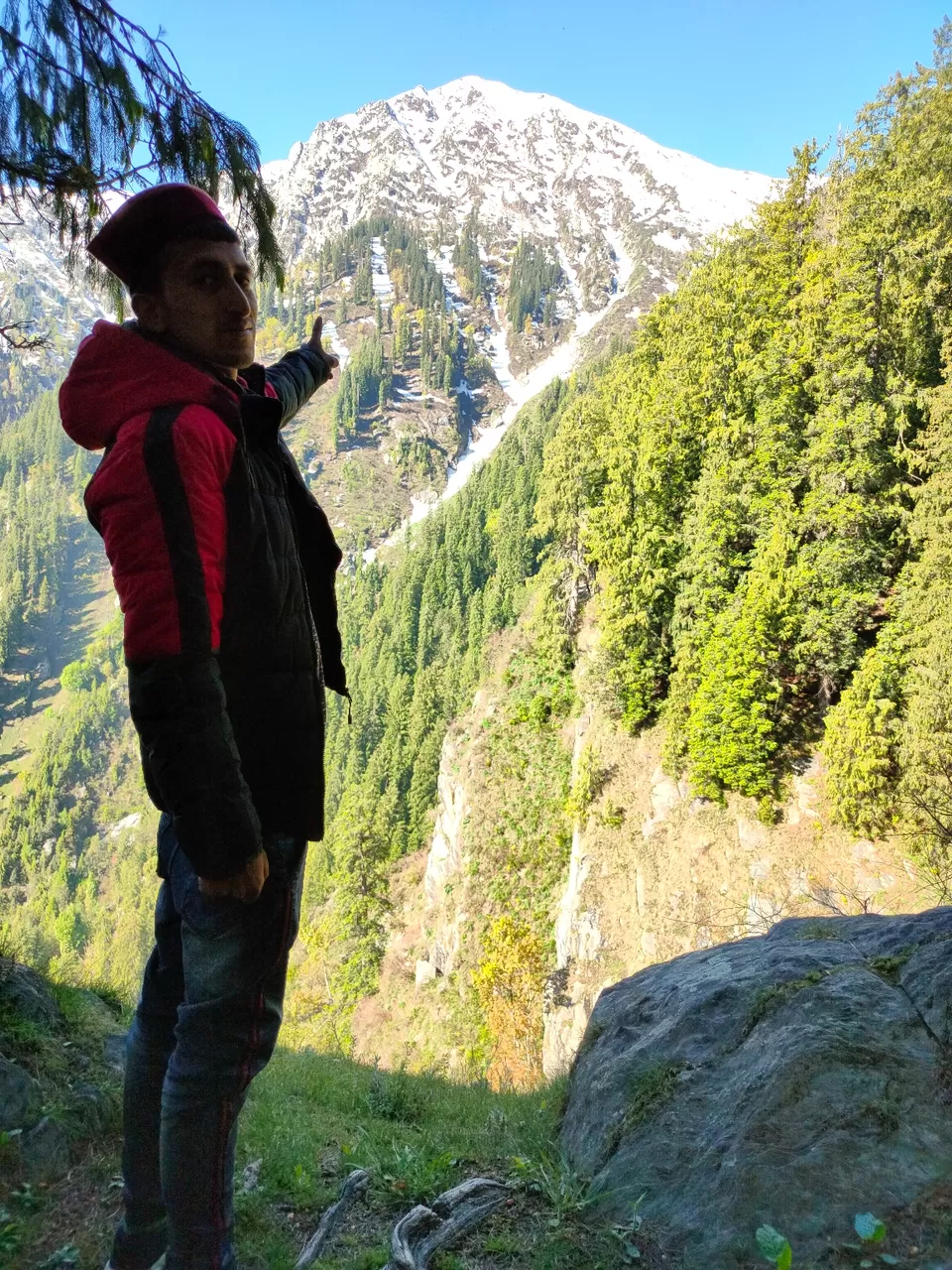 We all start climbing the forest because there was no path gone for that destination.
So, we were only climbing in the forest from here and there we faced some difficulty but we not step back because our mind was saying you can do it and you will.
Here I appreciate my all team members because they was not stepping back and they all was coordinating each other. A big salute to my teammates.
let it go after that while going on the way, we passed glaciers and deep chasm.
Finally after the workout of 5 hours we reached our destination.
We all we were very happy.
We reached at 1:15 PM there.
There was too many caves. so, we have a look of a cave and clean it and make it comfortable for sleeping and we also settle a camping tent along with the cave.
The sleeping arrangements were all done. Now we start prepration for our lunch.
Our little chef's prepared lunch for us.
After little rest we all distribute work and start doing that.......some was filling the water, some was collecting the wood for bonfire.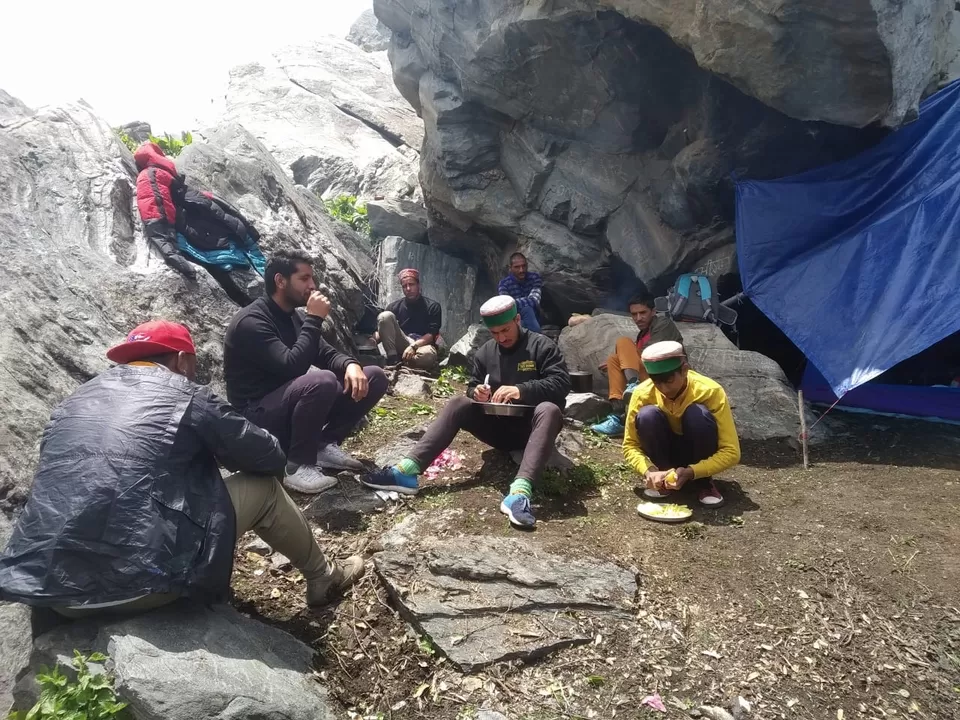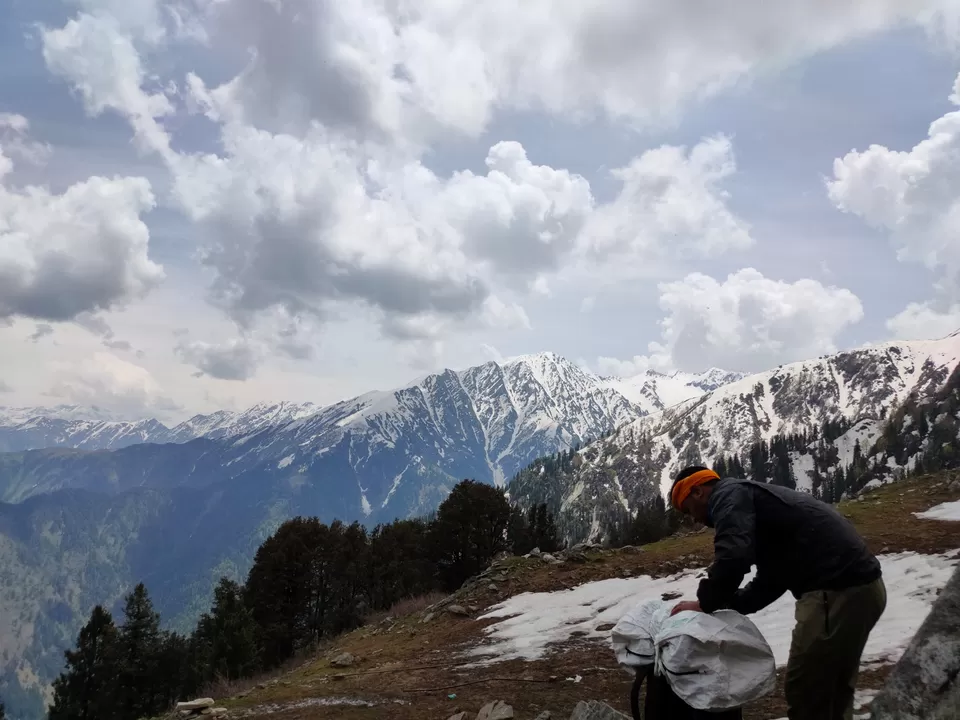 We decided to go upward in the snow for sightseeing tomorrow.
At evening we prepared our dinner.
After that we start our bonfire and we all enjoyed by singing our cultural songs and we danced there.
At 10 O'clock we had our dinner and everyone went to sleep.
Today was our last day and we all will go home back.
So, everyone get up early in morning and get fresh.
Know me make two team and a team will go form one side and second team from another side.
We start our journey for sightseeing again we passed glaciers there and we found trees of Bhuj, this tree is famous for its skin because in old time its skin was used as paper for writing many things like the hindus holy Ramayana was written on these Bhuj patrs.
We also collect Bhuj skin because it is used in Hawans in Hindu culture.
Climbing on snow we reached at point from where all things were below us, we take a break there because we were climbing continually from 2 hour's and we also see beautiful flowers in the path.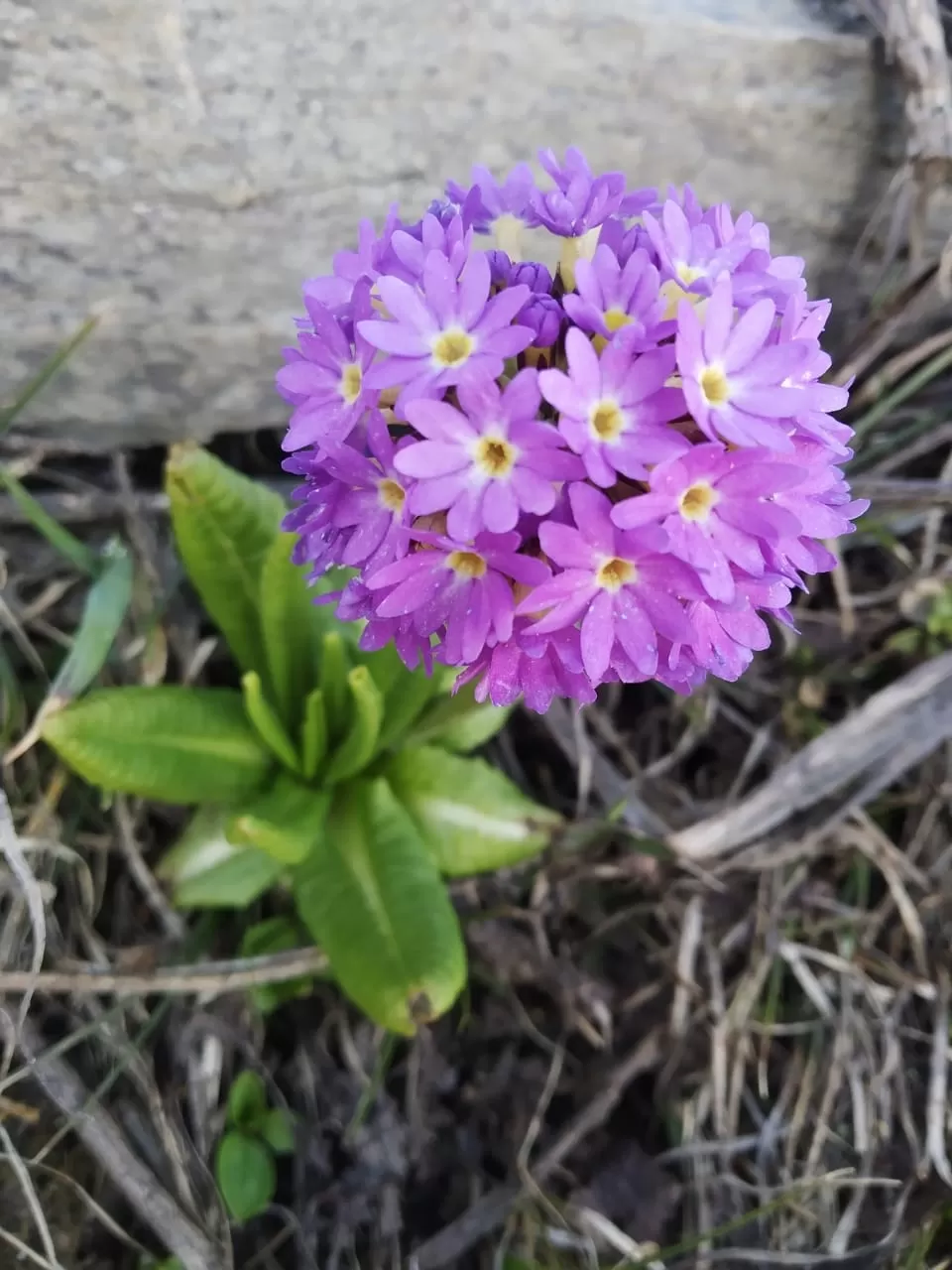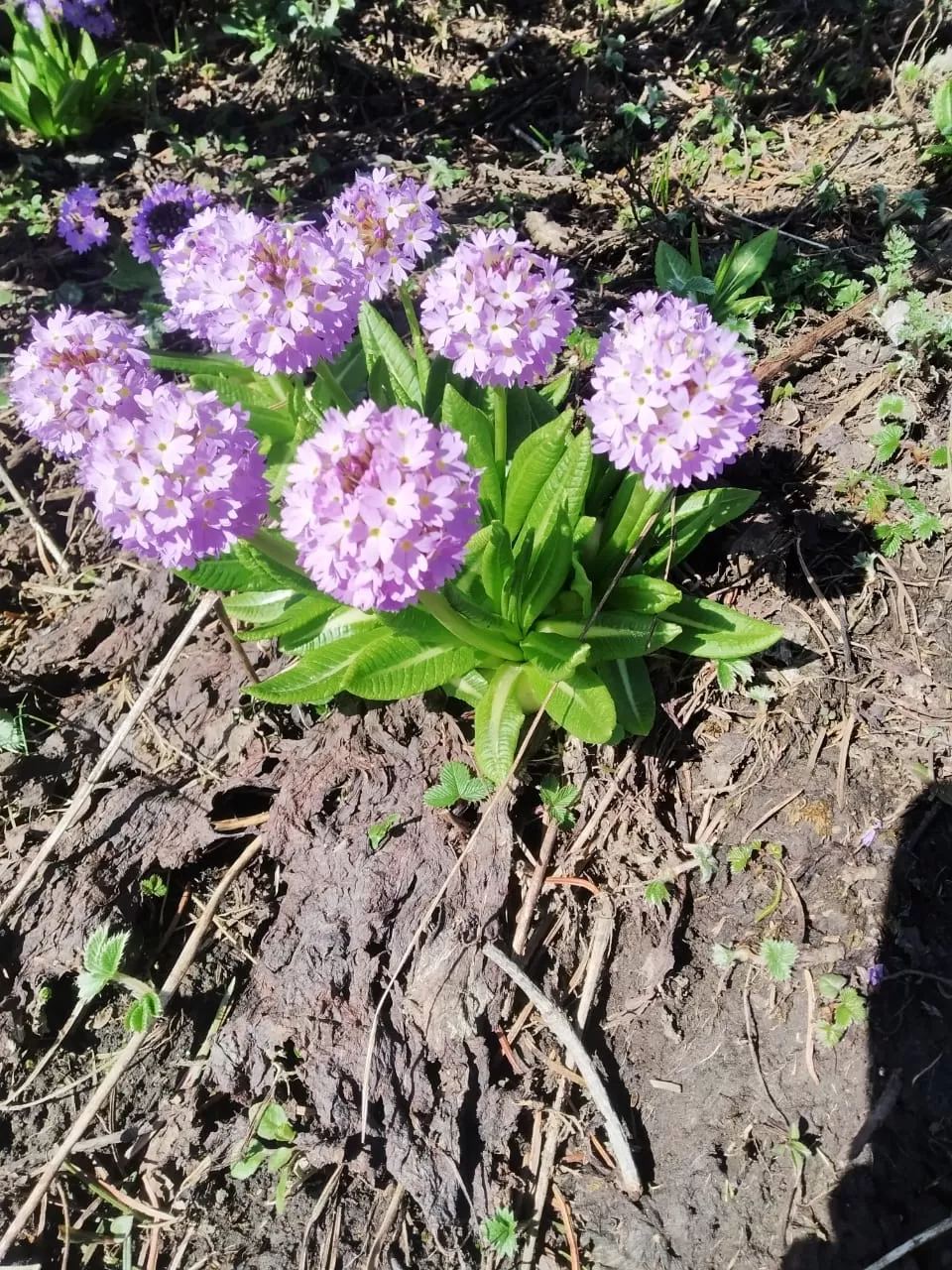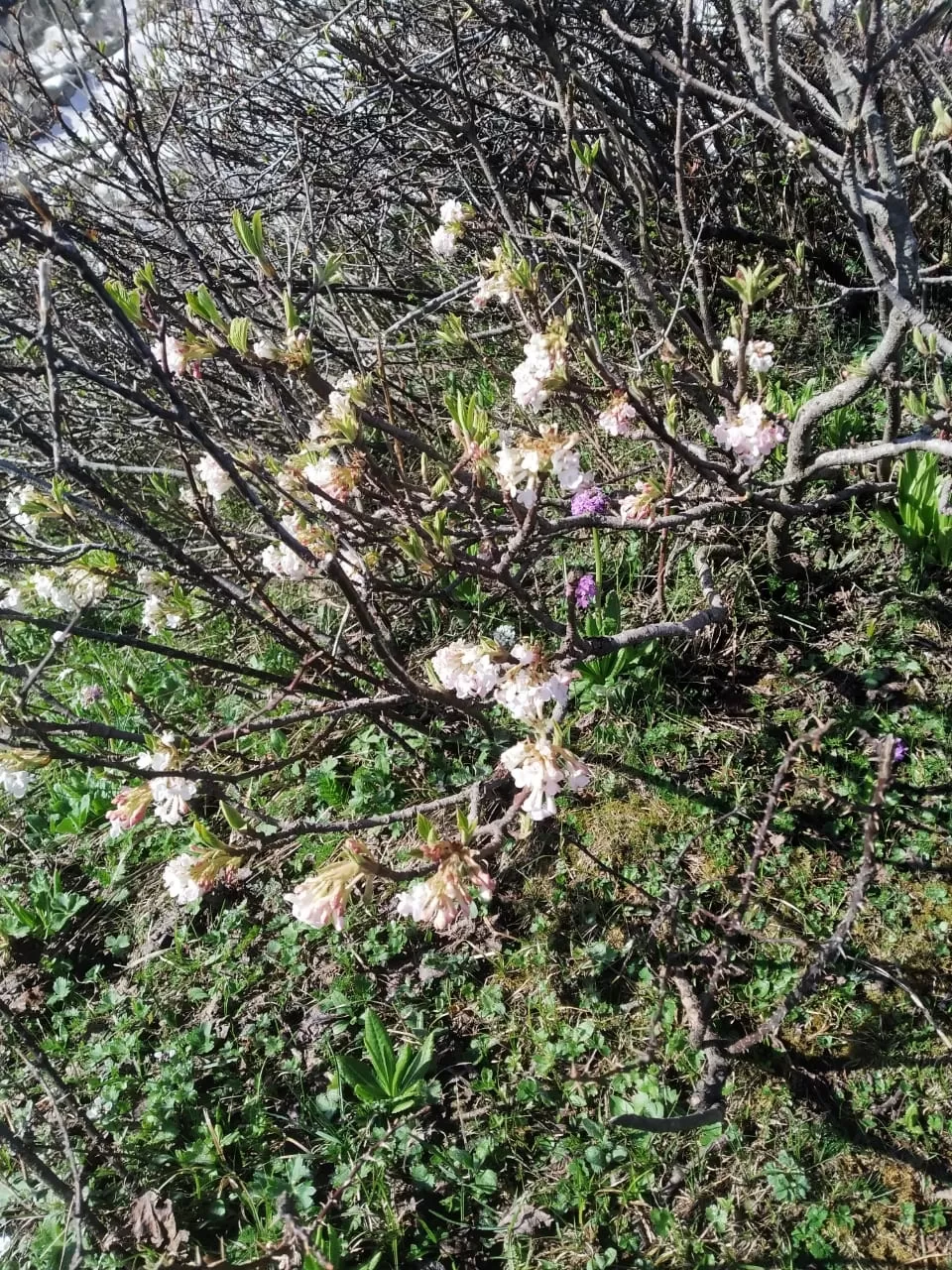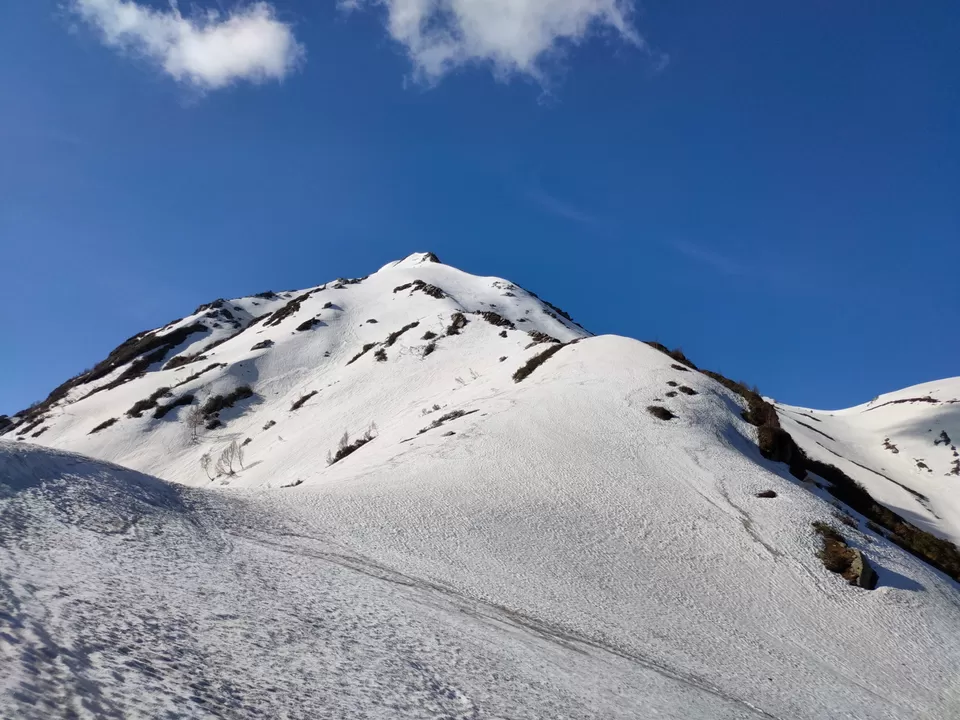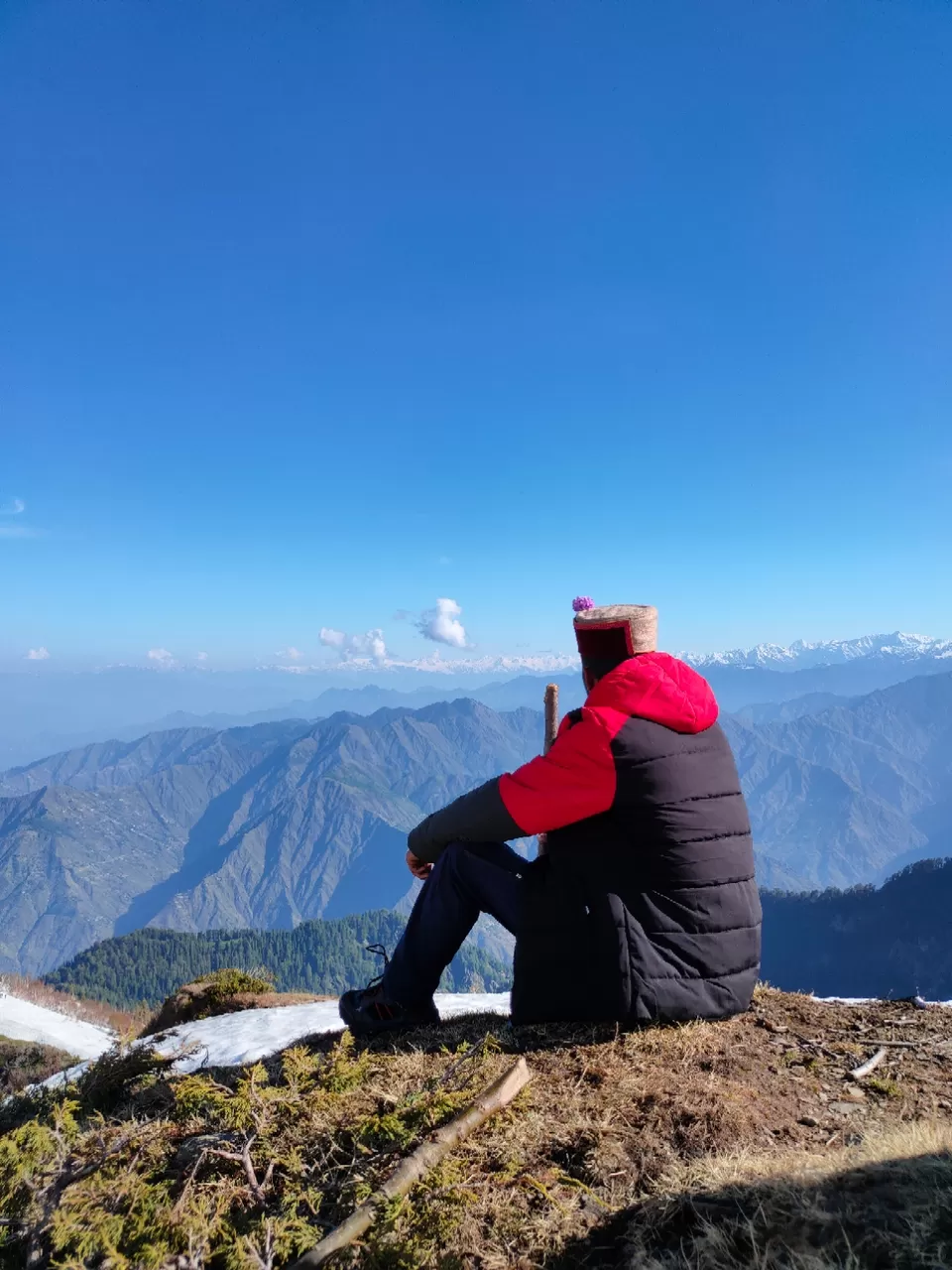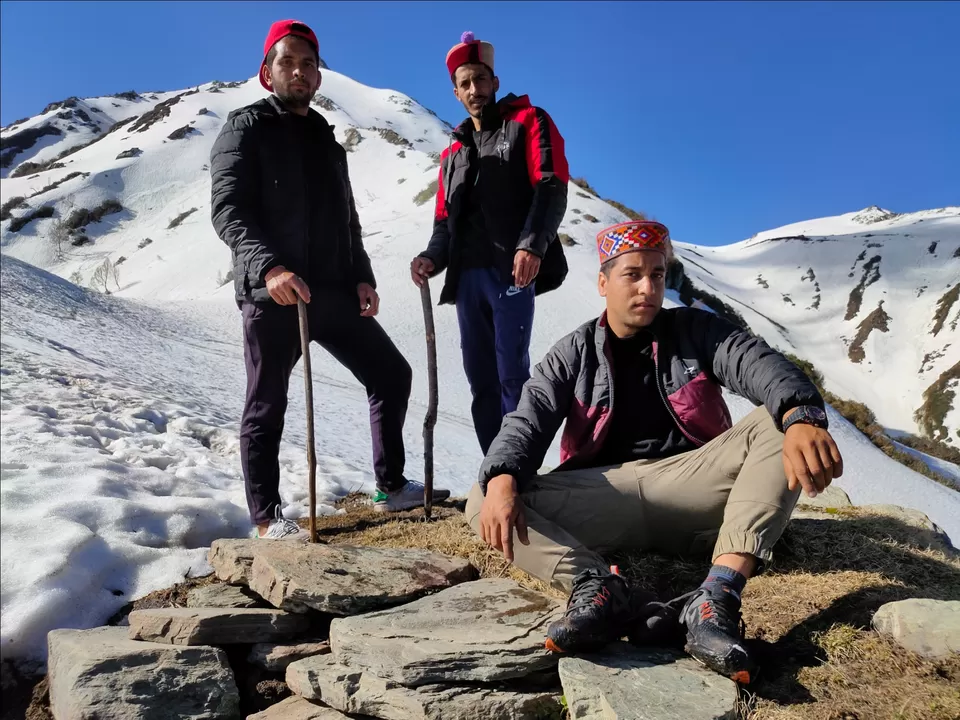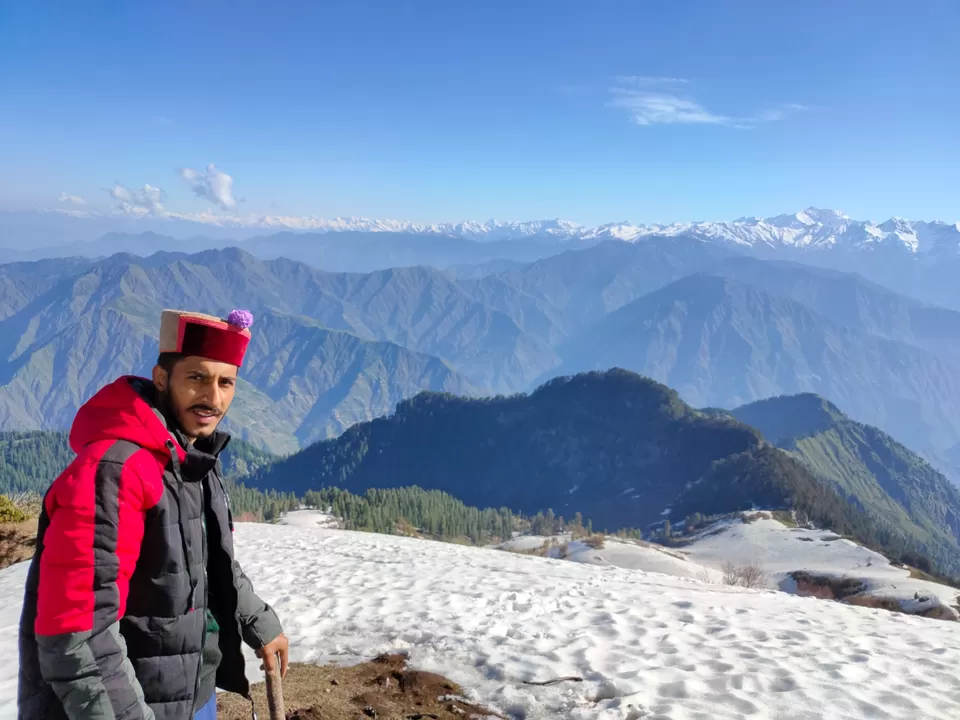 After relaxing we came back from this spot because on upward path it was difficult to climb without proper gears.
So we all decided to do fall back from here and on the way back we enjoyed on snow we slide on the snow for many time from one place and to another and the slide was not short we approx take slide for 2 km.
After playing in snow for 4-5 hour we came back to our camp.
We start prepration of breakfast and change our cloths because cloths were wet.
After finishing of breakfast we all again pack our bags and return back to home.
The experience of this trek was awesome.
The full trek was of 17.1 km in one side.
I really appreciate my teammates.
I will again plan for this trek and again share different experience from this.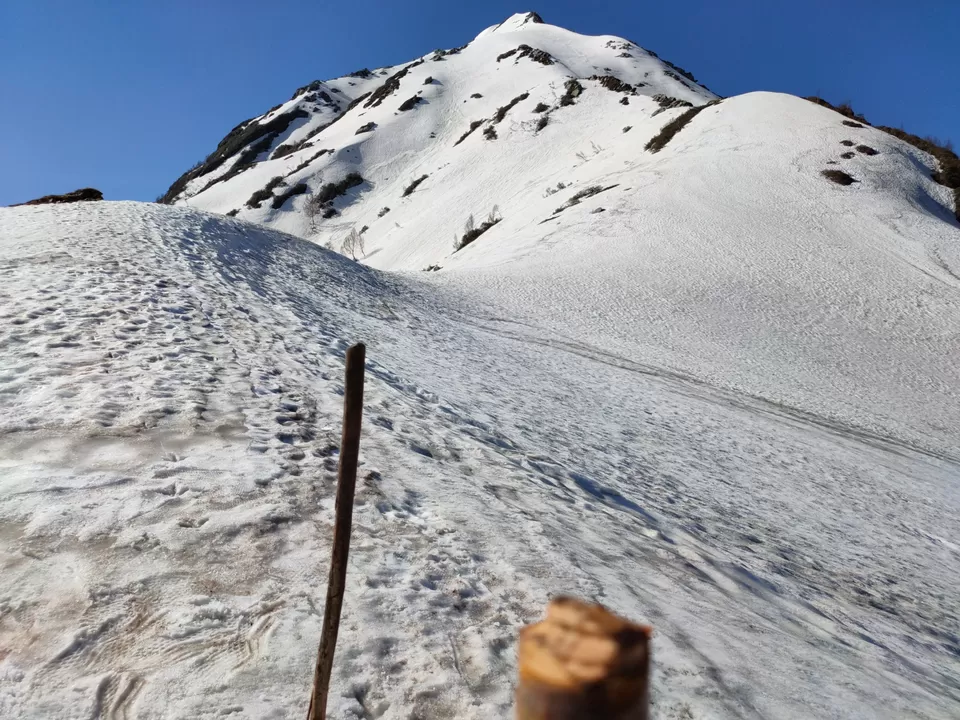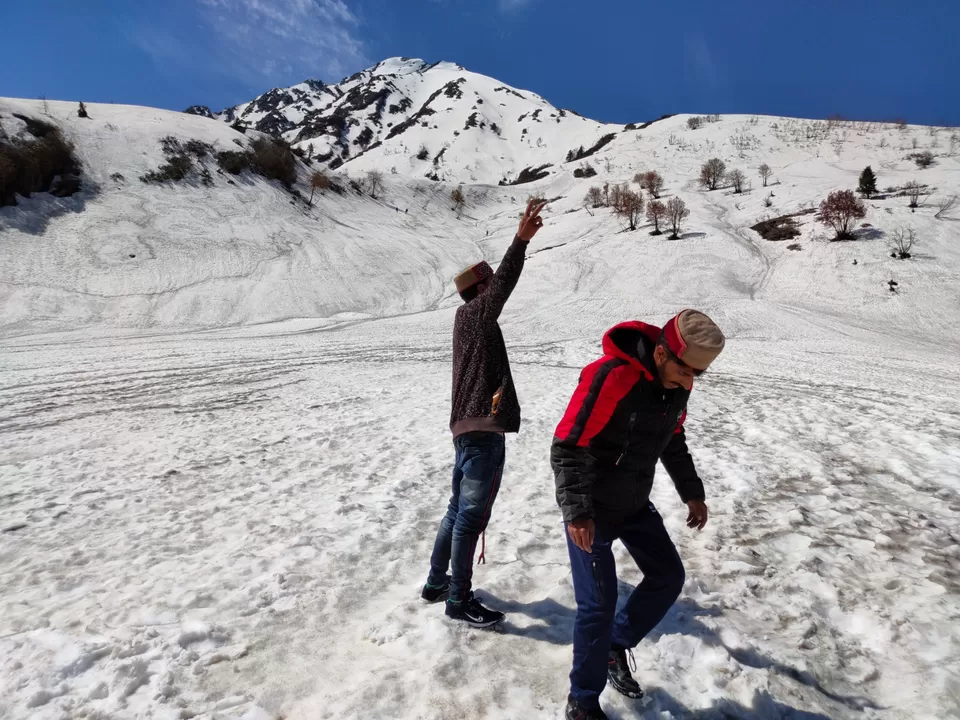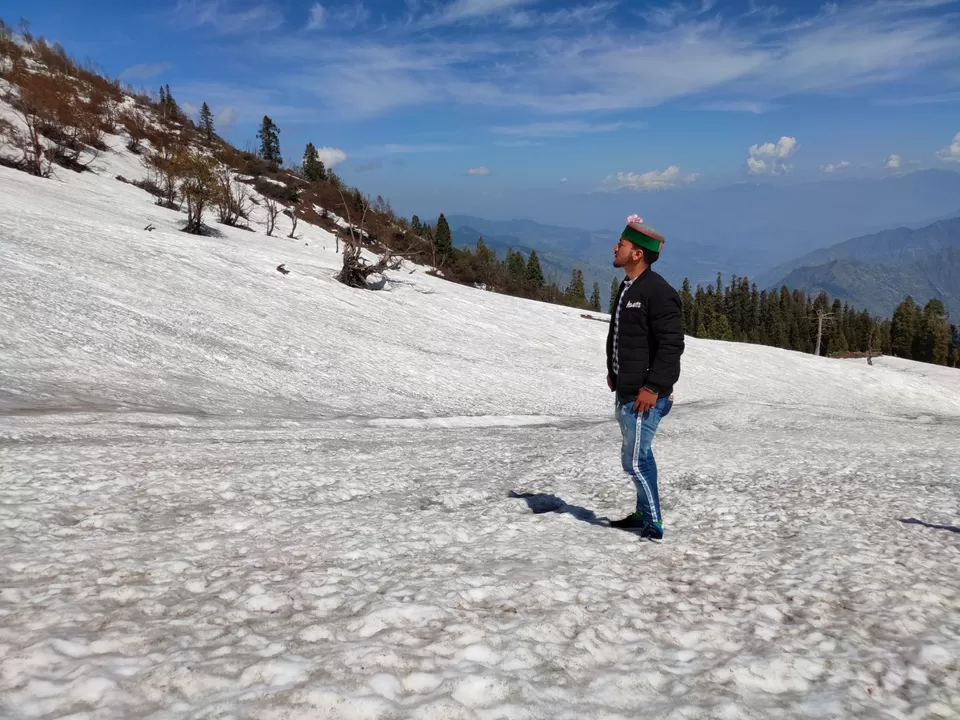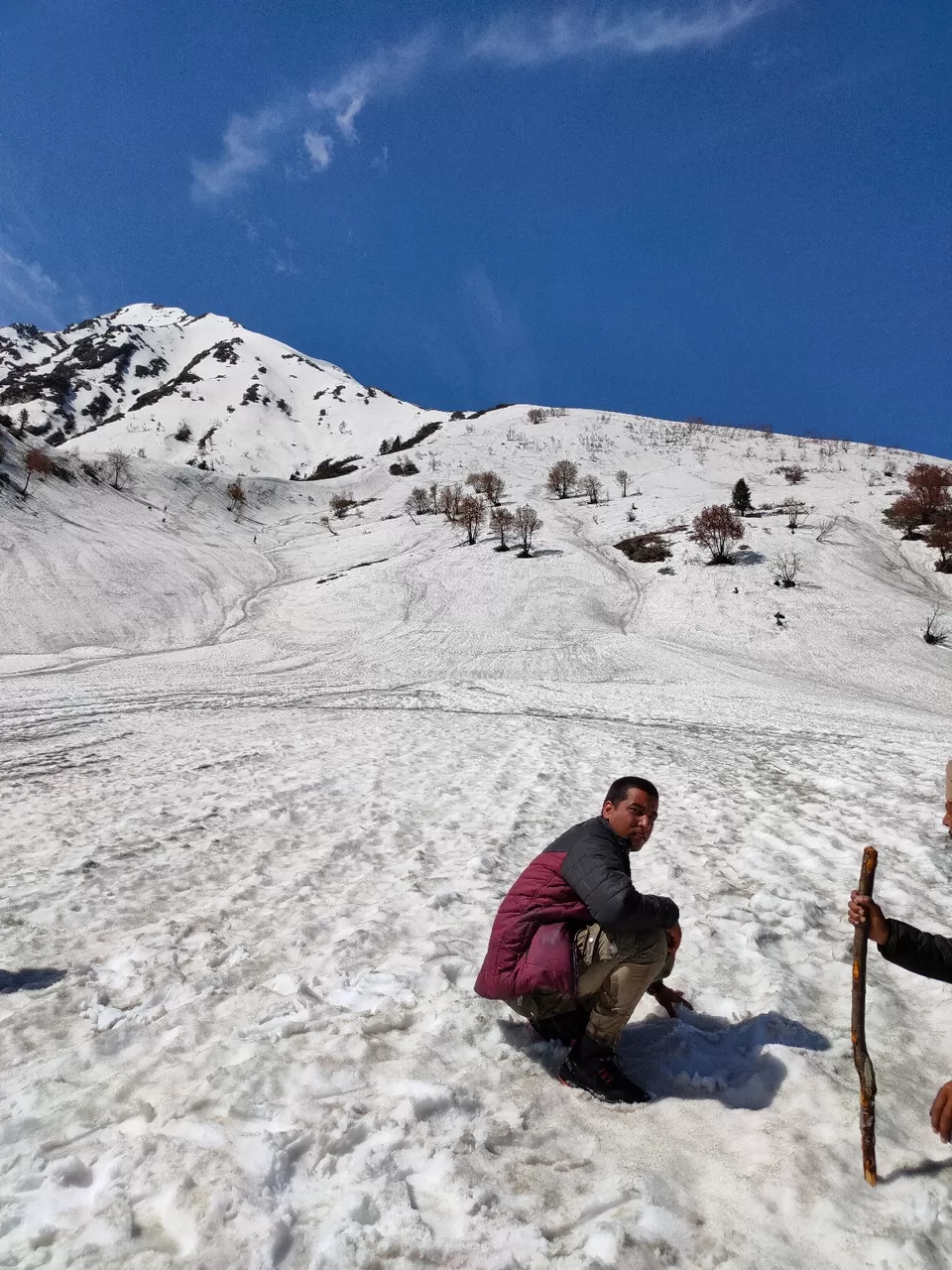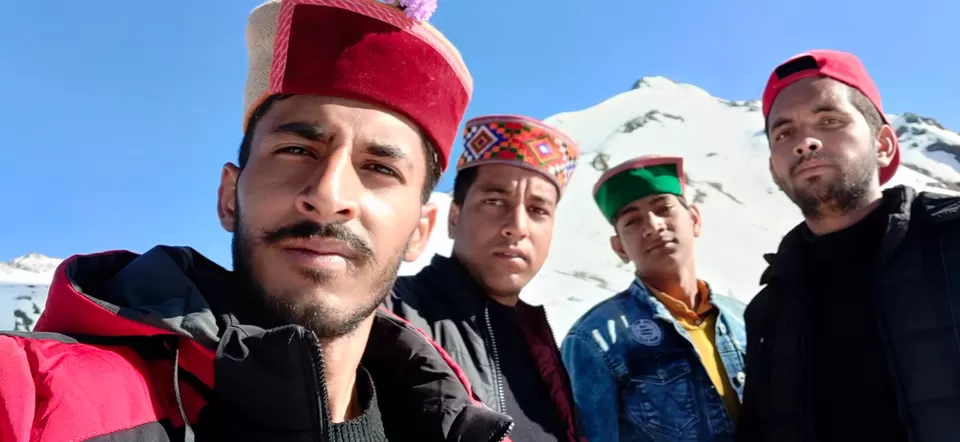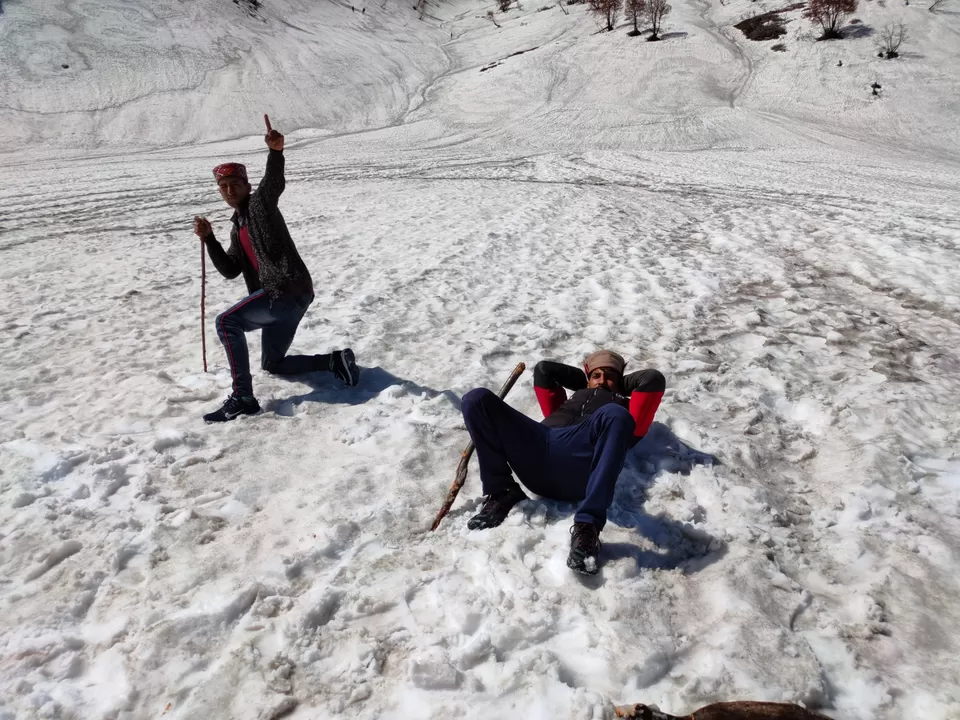 "Great things are done when men and mountains meet; This is not done by jostling in the street." -William Blake