Kedarkantha, situated in Garhwal Himalayas (a mountain range which is home to many 7000+ mtr high Himalayan peaks), in Uttarkashi district of Indian state of Uttaranchal, is one of the easiest treks for amateur trekkers. Kedarkantha summit is known for its 360 degree view of Himalayan peaks. With altitude of around 3800 mtrs, this trek also gives us a chance to encounter snow lines if done in winter season. (As this was a four day trek and we had many amazing experiences, this trip overview is little bit longer than usual)
We reached Dehradun Railway station by New Delhi-Dehradun AC Special. Most of our fellow trek mates were travelling by same train, as it happened to be most convenient train to reach Dehradun in early hours. We had to start our journey from Dehradun early in morning, so that we could reach Sankri (Base camp for Kedarkantha summit) by evening. We had gathered some information about travelling from Dehradun to Sankri by public vehicles. So as soon as we got out of railway station, we walked to Gandhi Road, which is right next to station, and inquired about buses for Sankri. If you are planning to take these private buses, please make sure that they take you upto destination and not leave you somewhere in between. We came across a person who first told us that he will drop us at Sankri and later said that he will take us upto Purola (A town on the way) from where we can take a cab. Luckily, there were few more buses waiting for passengers in same lane, and we found a bus which was going all the way to Sankri. This journey nearly took entire day but wasn't tiring at all. This road travels through outskirts of Mussoorie and moves through pine forests to take you at Sankri, a small beautiful garhwal himalayan village at height of around 2000 mtrs.
Sankri is base camp for many himalayan treks like Kedarkantha, Har ki Dun etc. If you are truly a traveler, who prefers to interact with local people, likes to understand the culture and life of new places, these private buses are best for you. Otherwise, you can also book a cab from Dehradun to Sankri. As it was peak winter in Himalayas and we reached Sankri at around 6 in evening, we were welcomed by coolest bone chilling breezes from valley surrounding the village. As sun set behind the huge mountains, we met our trek leader and he guided us to our rooms. Temperature was 1 degree celsius and we were already shivering. At entrance of our hotel, we met a girl who had arrived back from summit that evening, and she looked just fine in that weather like she was seating in afternoon sun. We asked her, if she didn't feel the cold and she said, up at advanced base camp, they experienced -20 degree celsius. Though she said it proudly and it doubled our excitement, that was surely not the moment to know what challenges we had ahead of us. After putting our bags in our room, we headed for a briefing from our trek leader. We learned about the trek route, our plans for next few days, what all we need to take up the route and things that we wont need on slopes (which meant, DO NOT take them with you on slopes, keep them at base camp). After this, we had our dinner (typical pahadi dinner) and came back to our hotel to shuffle the stuff in our bags and remove unnecessary things. When we finished packing our bags and thought of sleeping, we actually realized how difficult it is to fall asleep in such cold weather. Everything around you is dead cold, your bed, linens and cover of your blankets too. But 50 hours of travelling made sure that we fall asleep and wake up fresh next morning for our trek.
For a Mumbai resident, its not a everyday deal to wake up in 2 degree Celsius. It seemed just impossible to get out of blanket. After getting fresh, we put on our trekking shoes, took our trekking pole, heavy backpacks and marched towards of meeting point. We had breakfast and gathered together for a small briefing by camp leader of our first camp site.
Sun was already shinning above Bundarpunch massif, sunlight was never so pleasing before this. On first day, we had only 4-5 kms to cover. After briefing, we started walking towards our first camp site Juda Ka Talab (JKT) in a single line. Walking for about 300 mtrs on plain road, we turned and started walking on a mountain trail in pine forest. As we moved deep into the forest and kept climbing up, the air got thinner and cooler. We were listening to more of camera clicks than chirping of birds and few of us were already down, seating over large rocks or below trees to get a breath. After around 2.5 kms of walking, everyone started to ask our trek leader, if he was planning to take a break, or he had no plan to stop before camp 1. After a few turns he showed us a large piece of fallen tree trunk which was our point to take a break. As soon as we saw the place, we planned to reach there quickly, so that we could take enough rest. But we hardly knew, that we wont get chance to take rest even for a single minute. Right next to that tree trunk was a snow line. As we moved closer, we realized that entire place was covered with snow. (Though I had been in himalayas before this and had encountered fresh snow, this was all together difference experience, because we were right in the middle of a forest, far away from civilization, buildings, houses, cars, totally into embrace of nature). We also came across a frozen water stream. Pine trees with snow all over their branches looked amazing. After 30 minutes of break, we again started our trek to complete the remaining part of our walk to camp 1. This part had some steep slopes, at places we had to stretch a little bit to make sure our foot landed properly. Finally at around 12:30 PM we reached our first camp site Juda Ka Talab. We were at 2700 mtrs. Looking at places in photos and videos is different and experiencing them first hand is totally different experience. This camp site, full of greenery. is located besides a small mountain lake, which was frozen when we reached there. This has to be one of the best camp sites in garhwal Himalayas, next to a mountain lake, in shadow of tall standing mountains, right in the middle of forest.
We put our bags down and took some rest. Few of us literally slept right there on the grass the moment they reached. Climbing all that way, carrying 8 kgs of backpack, had exhausted me upto some level but not so much that I will sleep and neglect the beauty around me. It was 1 PM and temperature was already -2 degrees. JKT always gets low light in afternoon as it has a mountain on its west side. This lowers the chances of sun light and weather seemed more harsh than ever. We had our lunch. Guess what all we had? Roti, Rice, Daal, Paneer Masala, pickle, papad and much more. Trust me, I had prepared my mind to eat maggie for all 4 days on slopes. But this was an awesome delight from our fantastic camp crew. Later we understood that it was really tough to collect water at these camp, and they were collecting the drops of water from frozen snow. This needs a lot of patience, far more than we can think of, and seating in same position in such cold weather is not easy. But the way these pahadi people handle all these things, it always leaves me speechless. After lunch, we went for an acclimatization walk. In next 20 minutes we reached a place deep into the forest (I had no idea, how much more deeper that forest was :p), and stopped there for few minutes before descending back to camp site.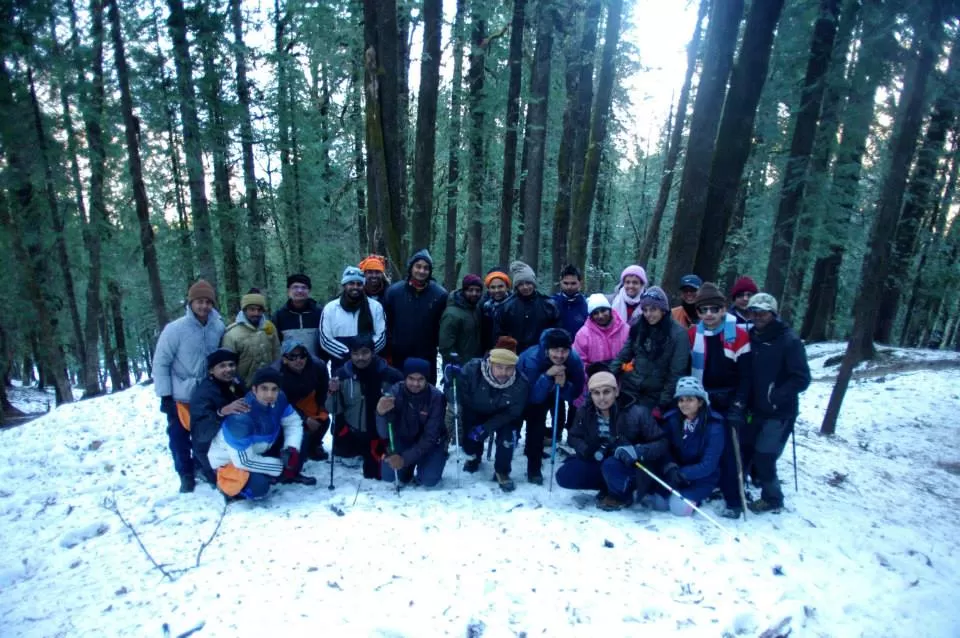 The idea behind this acclimatization walk is, when we move from a place with less oxygen to lower altitude where we get more oxygen, we feel better. On our way back, we collected wood for camp fire. We placed all woods together, and our camp instructor helped us to put it on. We all grabbed a tea/coffee (feels like amrut in cold weather) and made a circle around the fire to make sure everyone could feel the warmth of it.
After spending the evening singing songs, drinking more coffee and getting to know other people in group, we grabbed a quick dinner. After dinner most of us got into their tents, few preferred to sleep while few were playing cards. Few of us stayed near camp fire for another hour. Looking at the sky from there made us realize how much polluted our cities are. We could never be able to see such clear sky with so many more stars in it that we usually see. Finally we decided to call it a day and came back to our tent. Sleeping in sleeping bag sounds easy, but its really not, if one is not used to it. You have to move your shivering body into the fleece and then move yourself into the sleeping bag and zip it. TOUGH TASK with hand-gloves on. People were shouting 'good night' to each from tents and suddenly, our tents started making noise. Something was falling over it, like rain drops. But no one was curious to get out of the sleeping bag and check it. But within a minute our camp instructor made an announcement "Guys, its snowing...!!!". Probably all the previous surprises and experiences were not enough for first day, that we got a chance to close our day with this news. Obviously, no one got out of their tents to look at the snow. Sleeping bag drama was too much, to do it all over again :P.
The moment we opened our tent cover in morning, we saw a sight nothing similar to the place we were at last night. Grass all over the campsite was now covered with snow which was few inches thick. It had snowed heavily last night. Weather was cold in morning and people had already gathered around the camp fire to warm up their bodies.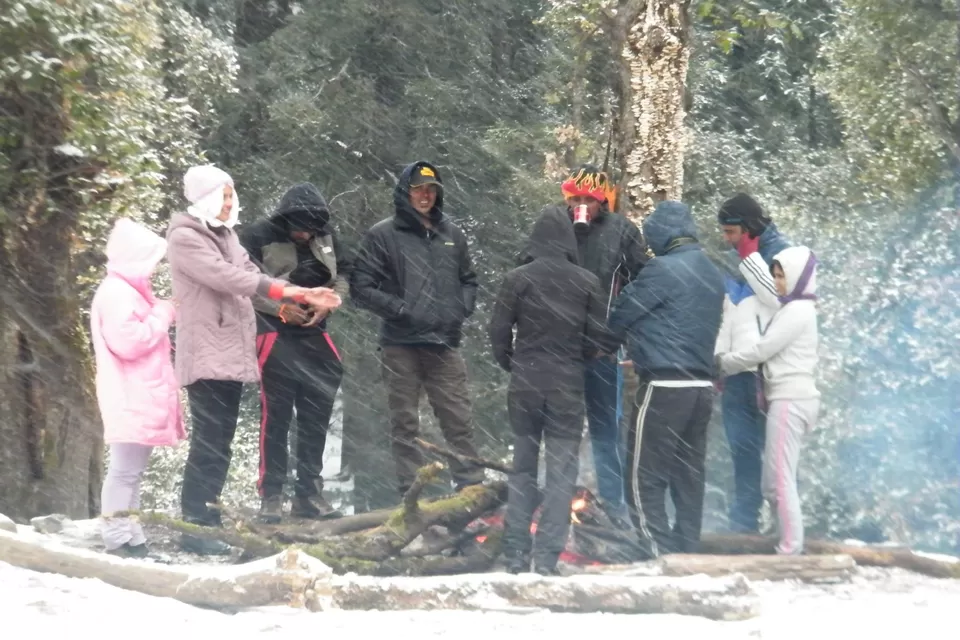 Walking in snow was becoming difficult. We took some tea from Dining tent and joined other people. It was an amazing site, entire place covered with snow, people playing with it, making snowman and throwing snow balls at each other. In mean time, snow fall started again. But with all this joy, came a news which was not joyful. We had to wait till weather gets clear. We could not move further to Kedarkantha Base camp (KK Base) unless the weather improved. It turned out that people were more happy with the news. They just got more time to play in snow.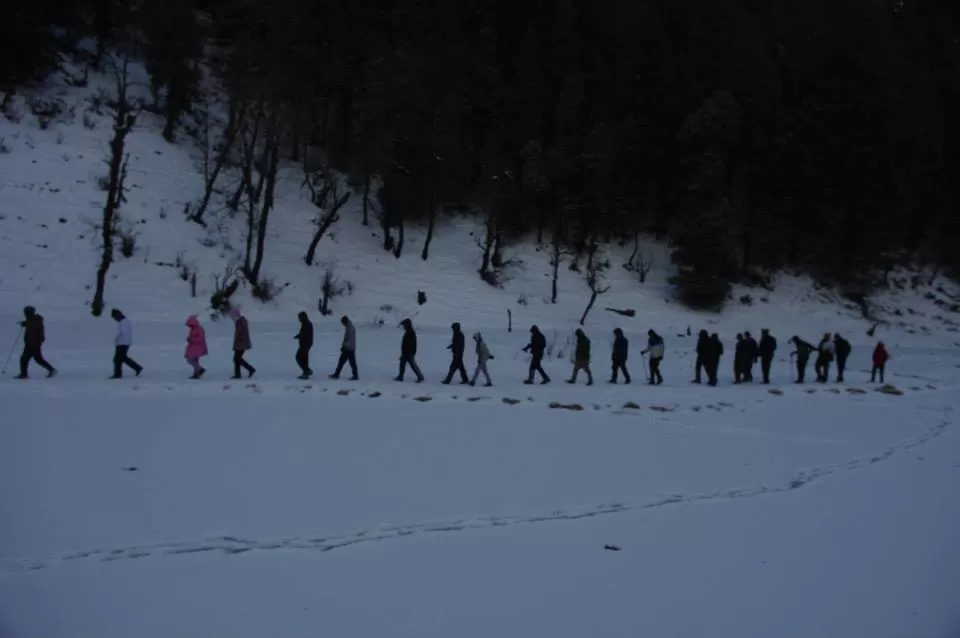 We all walked over the frozen lake (Hell risky), did sliding in snow with help of a plastic sheet which we got from another group of independent trekkers. After having breakfast at around 10, we were informed that we will go to KK Base and then decide if we had a choice to make a summit attempt or not. So after all the fun, great breakfast, we said bye to our first camp site, and followed the same trail which we took for acclimatization walk to move towards next camp. JKT to KK Base is a simple trail. It has few normal inclines at start, but later its just a walk through forest.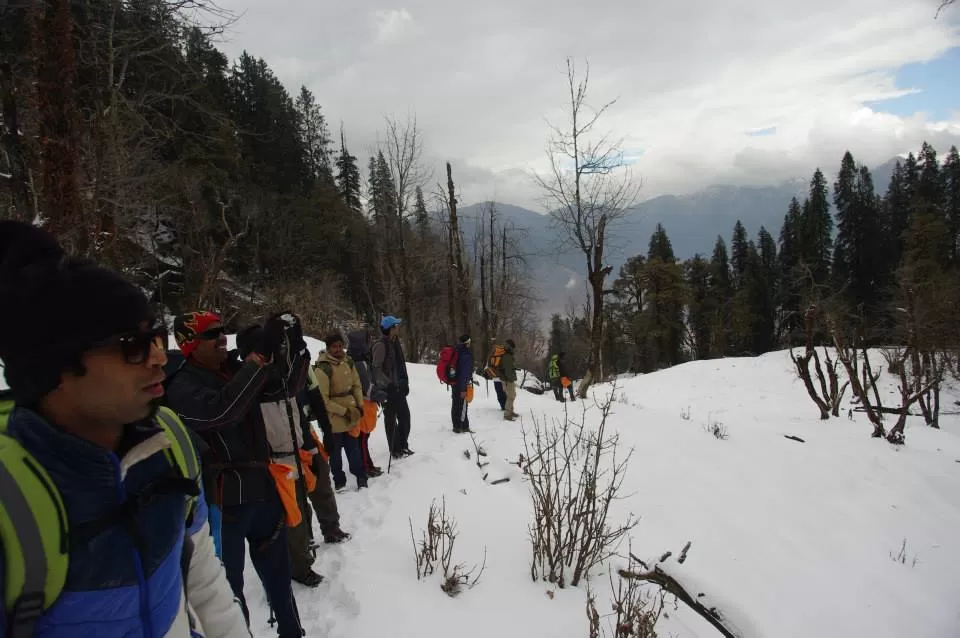 And it felt like we were walking in Narnia world, snow all around us, all over trees. Within an hour and half, we reached KK Base. It was still snowing, but by the afternoon most of us were fed up of snow. We have had enough of it, and now it was making our lives difficult. On this camp, our tents were pitched little further down from dining tent.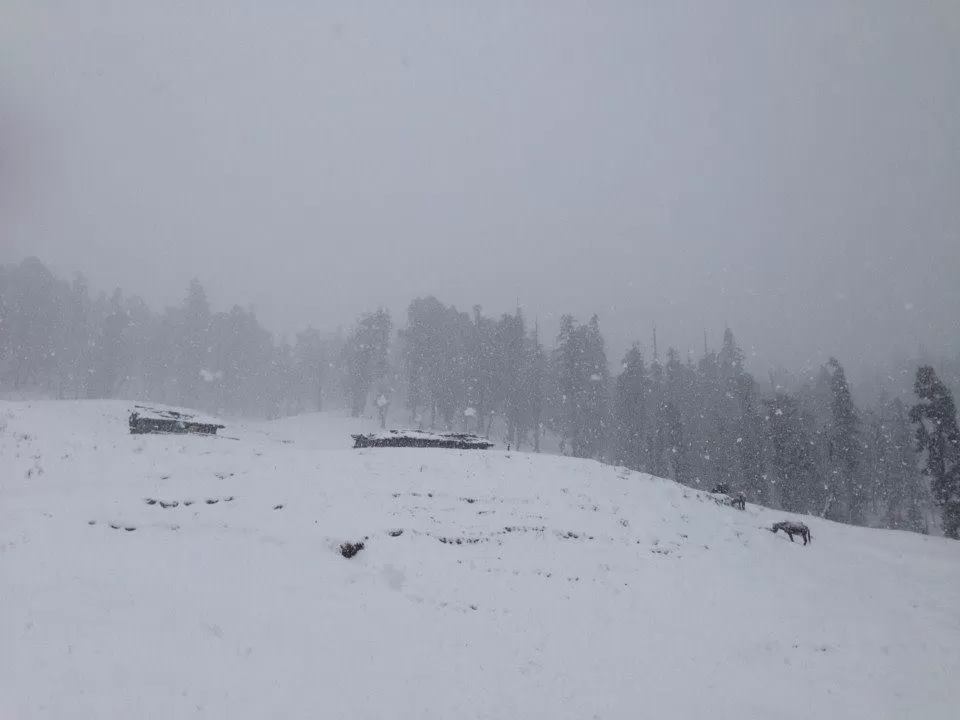 And from our camp, we had an amazing 180 degree view of valley from where we had walked up.
After lunch, most of us spent their time in tents, few of us took up the task of cleaning snow off the tent tops, as tents could collapse because of weight of snow. Till 4 PM, weather was not showing any signs of improvement.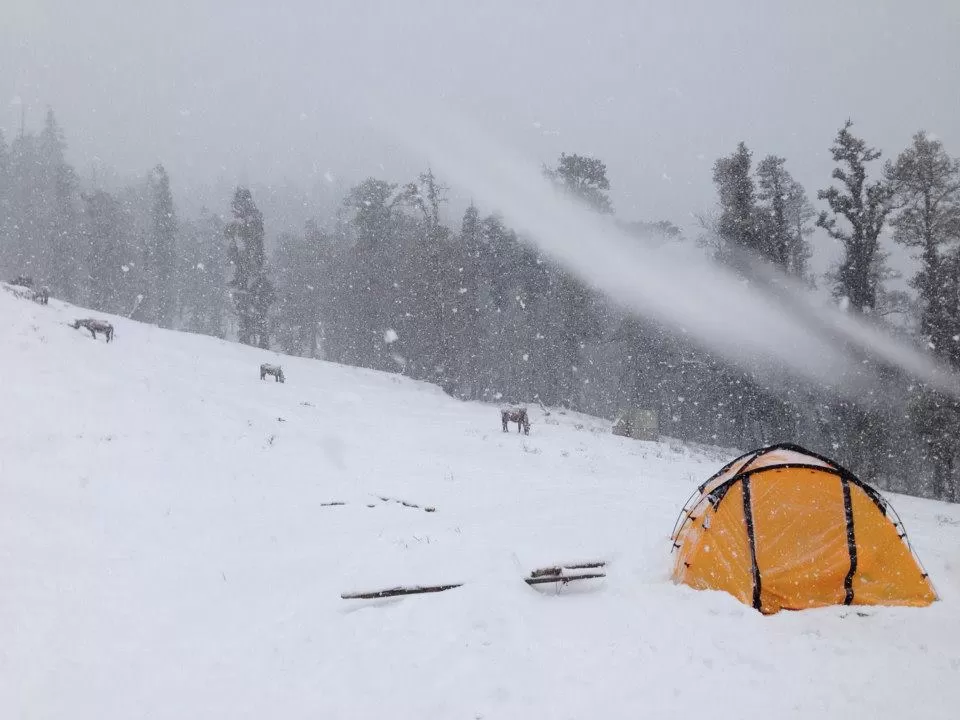 Only positive thing about snowing was, temperature was not dropping. (When it snows/rains, usually temperature doesn't drop). We had a soup and maggie. None of us were ready to put our hands in water to clean up our dishes. So we decided to use snow to complete the task. Over the time, people were bringing updates from team, and most of the time, they came back with negative results which surely said that summit attempt was difficult in these weather conditions. All of us were disappointed. We were not ready to waste our efforts of last 2 days which we put in to come up to this place. At that time, I felt really bad for the people who go on big mountain expeditions (Everest, K2 and all other similar ones) and have to return back from higher camps like camp 3 or 4. If we felt bad after efforts of 2 days, those guys spend 30-50 days to reach upto that altitude, it must be the worst feeling not able to climb further. At around 5 PM, our camp leader asked us all to gather for a small meetup. Everyone was sure enough that we had to pick our bags and go down to third camp. But the camp crew came up with crampons and gaiters. And those who knew what they were, started smiling. Hopes were still on. All of us were given crampons and gaiters, so that we could walk around the camp site and get used to them. Crampons are supposed to be put on our shoes, they have pointed metal pieces over it, which makes our walk on snow easier and gives us a better grip. Gaiters cover our shoe openings and make sure that snow doesn't enter our shoe and keeps our feet away from cold and ultimately frost bite. We put on camp fire in one of the Gujjar huts at camp site and 25 of us sat in that small hut of about 150 sq feet with camp fire in middle of it. Small openings between wooden walls of hut were our biggest concerns at that moment, since they were the only source of cold breezes. At around 7 PM, we had dinner and we got Gulab Jamuns in dessert. We spent most of our evening in tent chattering about things, and how life without mobiles, laptops and internet also felt good and amazing. Finally after a long and amazing day, we had to deal with sleeping bag drama again.
Everyone was happy about the fact that we got a chance to climb. All of were ready by 7:30, after some tough time at toilets (A big hole in ground, simply covered with a tent. Well, that was far more than one can get in those conditions). When we reached our Kitchen Hut, we came to know that temperature dropped to -16 degrees in morning. It was one ultimate feeling, to know that we survived it. Everyone had a quick breakfast and we started the final walk by 8-8:15 AM. All of us were walking in one line, with our camp lead at the front and trek lead at the back. Because of all the snow, that had layered there since last 36 hours, it was becoming really difficult to walk in snow.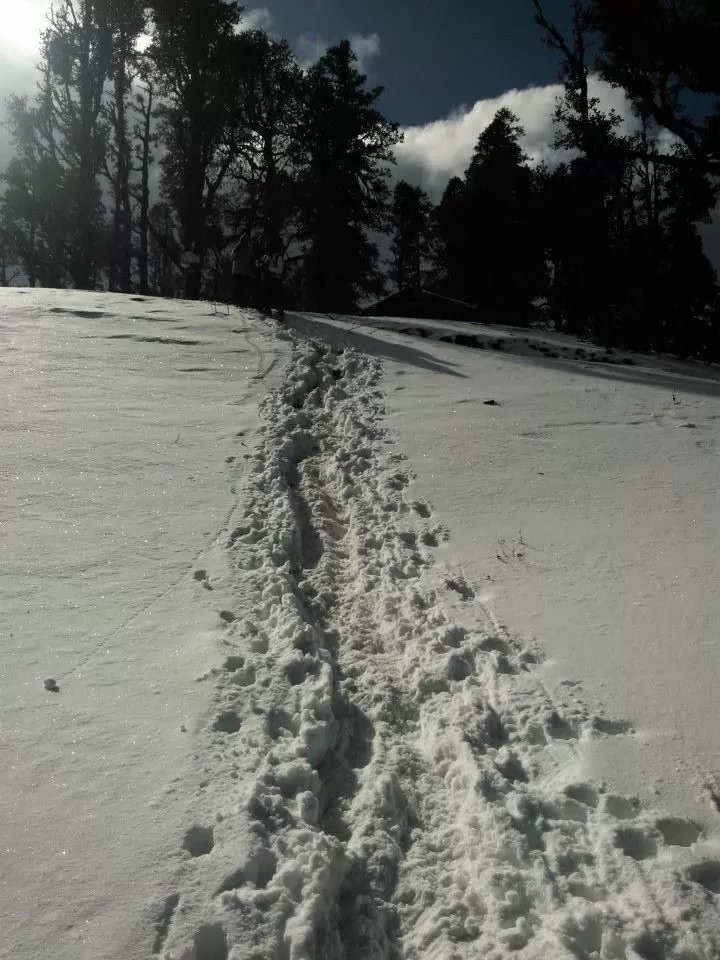 This climb was steep at places, and since the slow walkers were in front of the queue, everyone had to stop when they stopped. After walking for around 40-45 minutes, we reached a plain to take some rest. Standing there, I realized how important it is to wear glasses/goggles in such conditions. Because of the snow all around you, sun rays reflect from everywhere, it can cause snow blindness very quickly. Its really risky to encounter such things at high altitudes as it becomes difficult to bring down a person without proper eyesight. After taking some rest and having Parle-G, we resumed our climb. We were approaching the remotest region on route of our trek. Small wooden bridges covered with snow, empty wooden huts, skulls of dead animals, reduced oxygen in air, everything was new and exciting.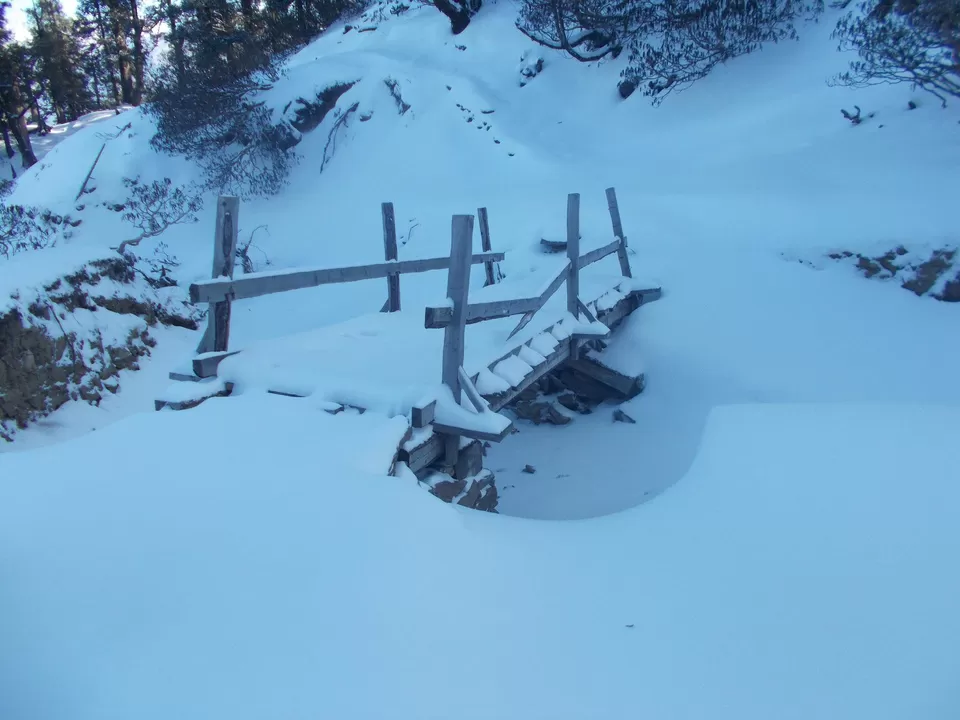 At around 11, we reached a small summit. From there, one could see the summit very clearly.

Standing there I started wondering how exactly was I going to reach that place, looking for the climbing routes. Soon, we started climbing towards summit. The route looks easy from far, but was tough with snow all around the place. Right after we started, we came across a part where there was valley on right side and rock patches on left. Few of us slipped there as they were holding the poles on left side (that is near rock patches). Once we passed this part, we started with a rocky patch. Its a good climb, where you really need to stretch a lot. Putting your feet from one rock to another, trying to get a grip over rocks and gaps in between them. Few of us were climbing it like monkeys while others were really gasping for air. What made this part more difficult was a valley on the left side, where all we could see were clouds. After spending around 10-15 minutes in that rock patch, we reached summit. It's a place with lots of small rock walls around it. So when we reached near the summit plain, we could see the place, but we had to walk some 50-60 meters through big rocks and under the dark clouds (they are scary) to each the summit. There is small temple of Shiva at summit. Standing there, all you can feel is, proud of yourself. Standing on summit of any mountain is an experience in itself that nothing else can beat. Everyone was congratulating each other. Few also tried to find network on their cellphones to call their loved ones. We spent around 20 minutes up there at the summit.
(We got more time as we reached early, those who came late didn't get much time on summit. But this doesn't at all mean that you should rush to reach there. Take your own time. Because, reaching there is important, not how much more time you spend there). Everyone was busy taking pictures and capturing the best moments of their life. Standing there, our trek lead showed us famous Garwhal summits in the region like Trishul, Chaukhamba, Swargarohini, NeelKanth etc. Every single moment we spent walking up there, all the pain and struggle felt worth standing there. But then, clock was ticking and it was our turn around time. We started descending in single line. After we passed the rock patch, remaining descent was very much easy and we covered it fast.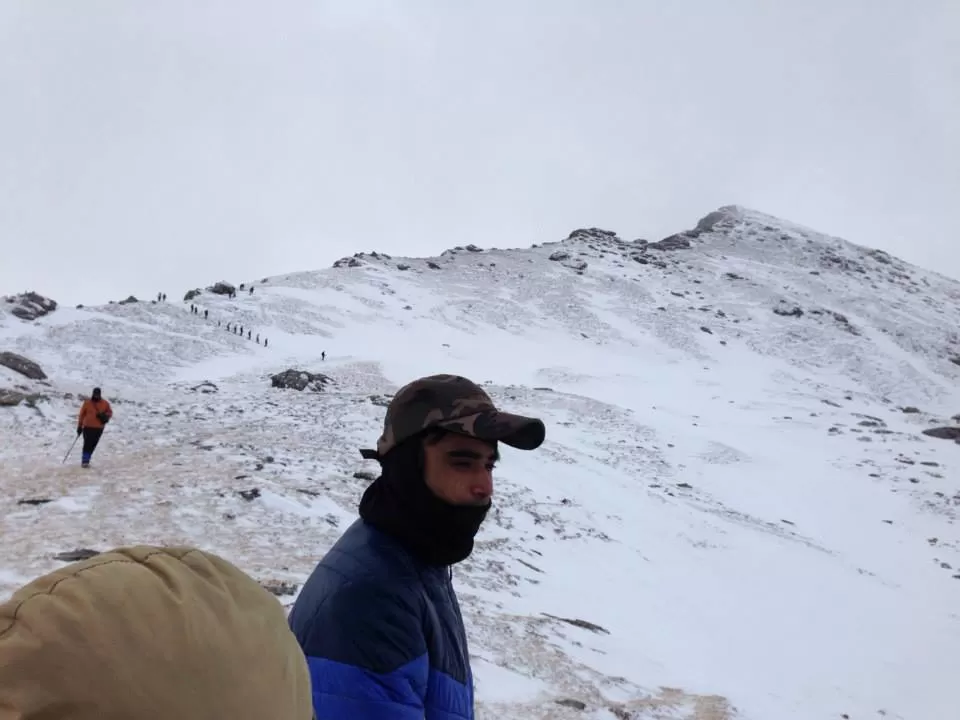 Still few of us struggled to walk as they were already exhausted by climb. We reached the KK Base camp at around 2. By the time we reached there, our tents were folded, so we sat on tent mattresses that were lying around waiting to get packed. Last member of team reached Base camp at around 2:20 after which we all had our lunch. After some rest, we had to move towards Hargaon, our next camp site. We started to descend further at around 3. This route was again through a dense forest. Tall pine trees all around us made sure that hardly any sun rays reached us. As this part was very steep, few of us decided to slide some difficult steep patches using their coats. But this turned out bad for the ones who were walking behind them. As they slid over the snow, its surface became smooth and we didn't get enough grip the walk over them. (Telling this so that you guys wont slide and make it difficult for others). 90% of this walk is through forest, and the moment we walked out of the forest, we saw those yellow tents placed in distance, on a ridge covered with snow.
Just like other two campsites of this trek, Hargaon also had something different of its own. This campsite was situated over a greenland just at base of a small mountain with a huge valley opening up in front of it on one side and dense himalayan forest on the other site.
All our tents were pitched in 1 row at end of the forest right before the slope. After everyone came back to camp, we had some quick snacks and gathered some wood to make campfire. Everyone was exhausted after a long day, but a singing songs around campfire never makes you feel tired. Specially when you have some hot bournvita with you. Everyone was talking about their experiences on the slopes while they climbed up the mountain. During dinner, we had a small talk where we as a team thanked our trek leader and his team for amazing management and experience. Though we did not have a summit to look forward to while going back to our tents, we were surely looking forward to getting into those sleeping bags after a long and memorable day.
Our last day on slopes started like any other day on campsite. But today, no one was in rush, we had a very short distance to cover to reach our base camp and since altitude was dropping. all of us were lot more energetic and less stressed. After we had breakfast, we started descending at around 10 AM. Initial one hour of trek was through some very dense forest, but it was very sunny today. Though we came across some snow, it was in patches and not all around us. This route has some steep descent and few fellow trekkers found it difficult to walk on snow over slopes. Greenery around us was increasing and we were leaving behind those snow capped mountains, with every step. After few kilometers, we can started walking through daily commuting routes which were made of stones and were full of ice. Walking on snow is a different thing, but walking over ice is one hell of a thing. Many of us slipped over it a lot times and I was really glad I had my trekking pole with me, which was really helpful in this situation. Around 12:30, we reached Sankri, after a short but time consuming trail. The fact that this wonderful trek was about to get over within few hours was slowly sinking in. We played some cricket with local kids outside our hotel and at night, put up another campfire for one last time with that amazing group of people. It was great to see how a bunch of people who hardly knew each other 4 days back, were suddenly so familiar with each other. Mountains can really change people.
Next day morning, me and my friend, started earlier than everyone else, as we had to catch the bus for Dehradun. Others were leaving by private taxi which they had already booked. But we decided to travel back the way we came to Sankri, after all this was one last chance we had to connect with local Garhwali people on our way back to concrete jungles filled with noise and smoke.
But we were taking back with us, a lot of memories, amazing experiences, new friends and a wish to come back to these mountains as soon as we could.