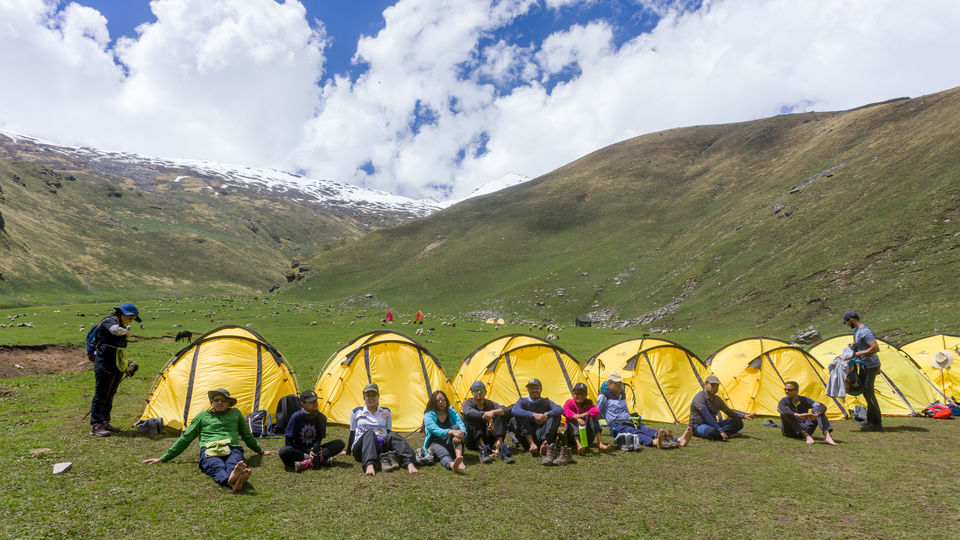 In March 2019 when I was thinking about my birthday which is on May 31st, this year I did not want to celebrate it like I do every year. Cutting cake at 12, going to some good restaurant, going to movies spend time with your friends and phone calls from everyone with whom we are not in contact but thanks to Social Media everyone knows when your birthday is, even I am one of those because I can't remember dates. But this year I wanted to do something which was out of all the things which I had done on my birthday previously. I thought of going on a trek to the Himalayas. I made a list of dates where I can be in no man's land on my Birthday at that time I shortlisted two treks one was Goumukh Tapovan which is the actual source of River Ganga usually it is said Gangotri is the source of river Ganga but in reality, its Goumukh Tapovan and the second option was Buran Ghati Trek which was an alternative to Rupin Pass trek, Rupin pass had become crowded in past few years so I found an alternative which was not a crowded trek. So after a lot of research, I finally booked my trek for Buran ghati starting 26th May 2019 to 1st June / 2nd June depending on climate conditions.
I was very excited about the trek and also I had to face a lot of issues for explaining to my family members and people close to me that why I was going on a trek on my Birthday and also there will be no network but I had convinced everyone. After some week when I met my 2 friends Swapnil and Rahul, they asked for a trek in June start, at that time I said them that I had already booked a trek on my Birthday and shared my itinerary with them. Within a week they both also booked their trek and also one of their friend was accompanying us. So now it was time for getting ready for the trek in form of fitness. Jogging- Brisk walking daily after a month I was all fit to go for the trek I completed my target of 5 km in 30 minutes. We 4 were excited about the trek and well prepared as it was not an easy trek. We were all set with all trek gears and all the camera accessories.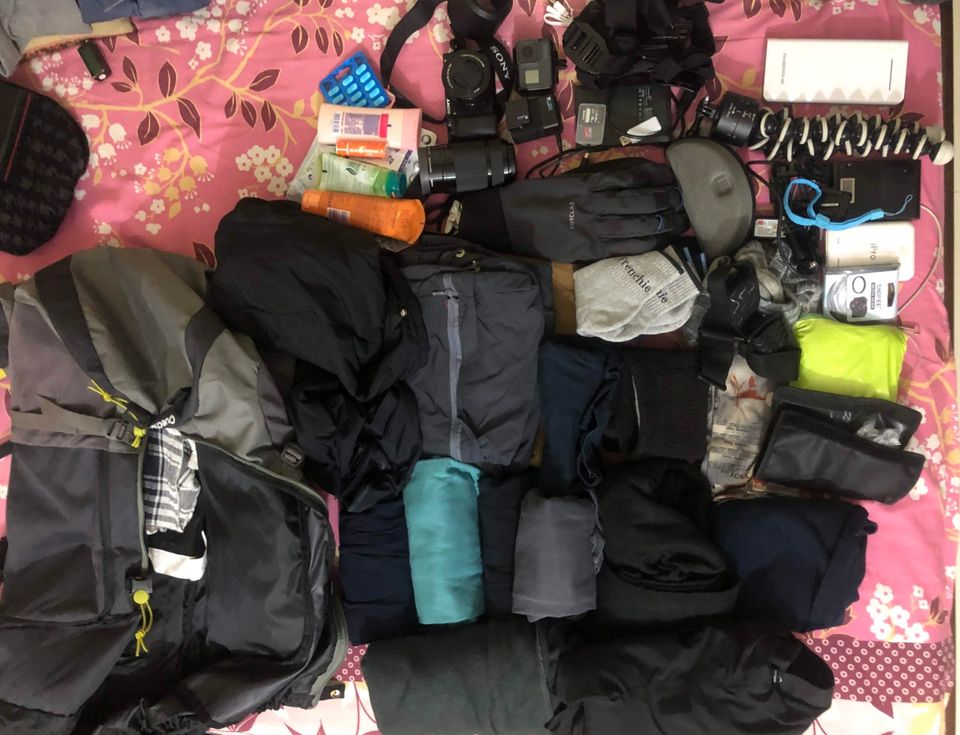 We left from Mumbai early morning @ 7 in flight to Delhi which cost us around return fare of ₹6100. From Delhi, we took a cab to Shimla as our pickup was from the Shimla parking area. For a 9 hour journey, we paid him ₹1000 per person. We reached Delhi by 12 and left from Delhi by around 2 as soon as we started our journey the driver felt some issue in the tyre and we stopped for checking and there was a puncture in the front tyre so it took us a lot of time to get it done after all this mess we left Delhi by around 3 and reached Shimla by midnight 1 where we booked a budget room for a night stay whose cost was 500₹ per person and it was near our pickup point. It was a very hectic journey. Midway we took a halt at a local dhaba for lunch near Haryana - Pehlwan Dhaba, where we had their staple food paratha and Lassi. If in my life I will again have to travel on the same route I would take a halt there again just for that mouth-watering paratha and Patiala Lassi. And we took a dinner halt at a local dhaba just after Chandigarh. Finally, at 1 we reached Shimla. The doors of the hotel were locked from inside after calling him multiple times he woke up after some 20 minutes and finally went to sleep.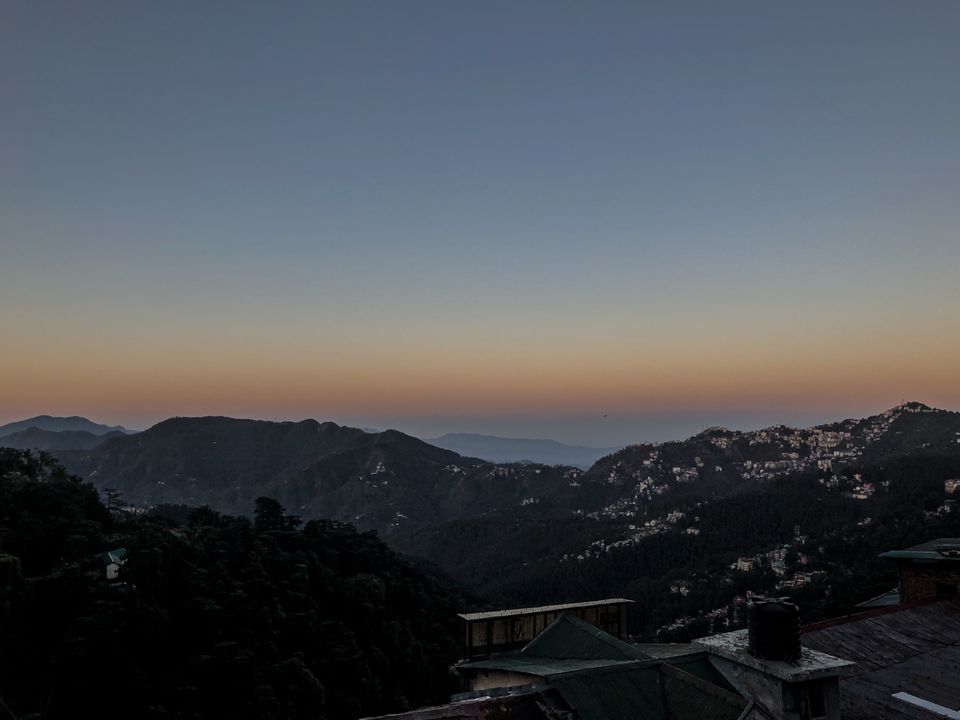 We woke up at 5 as we had our pickup at 6. The view from our balcony was very pleasant. We meet everyone at the bus stop and moved ahead in our pickup car, we 4 got a separate car as we were late and till the time we reached the pickup point all the seats in other vehicles were occupied. We started our journey for Janglik which was our base camp for the trek. After some time we took a halt for breakfast and then moved for Janglik, today's ride was about 10 hours. The route was very scenic with mountains, roads from the jungle and roads by the Pabbar river, and also some off-roading. After some time we took a halt at Shiv Temple which was more than 100 years old. Our next halt was for Lunch at a local Dhaba and after that, we took one last halt near Pabbar River. Pabbar river is called a blood river by many locals as many villagers were drowned in the flood. After taking a halt for a long time we moved for Janglik, now it was just off-roading, bridges had collapsed here, new bridges were made nearby no proper road just a dirt track. Finally, we reached Diude from where we had to take a short walk to Janglik. Janglik was at 9200 ft. We went to our base camp took a briefing session after that the trek leader, Gautam asked me that is my Birthday on 31st May? and he said there are chances of going on a summit climb on my birthday but it depends on the weather. After the briefing, we meet our guide Vijaybhai And subhashbhai. We use to call them "Aate" which means big brother in the local language. We later went on a small walk near the village and came back and had our dinner. We went to sleep early as we were traveling for the past 2 days.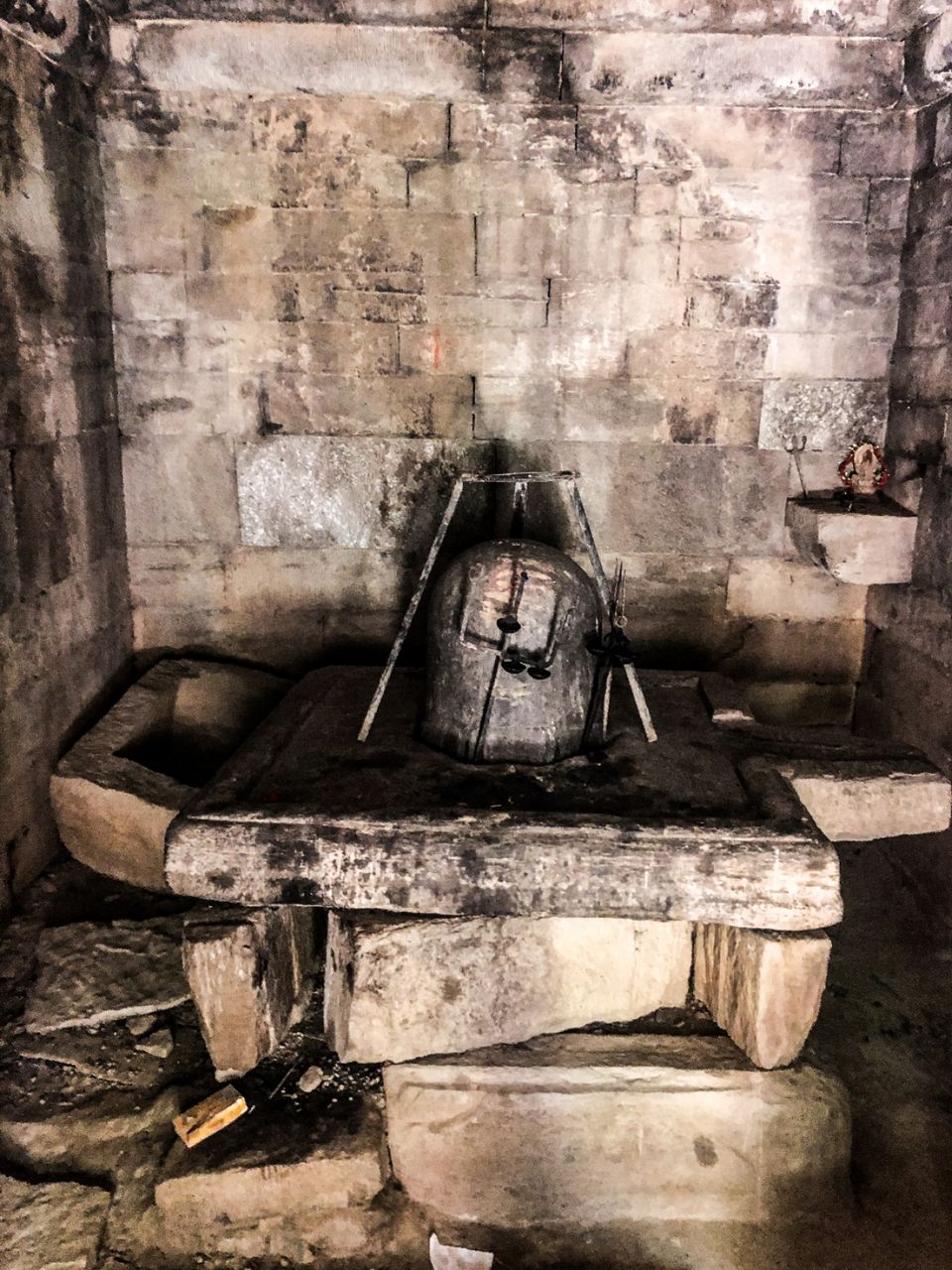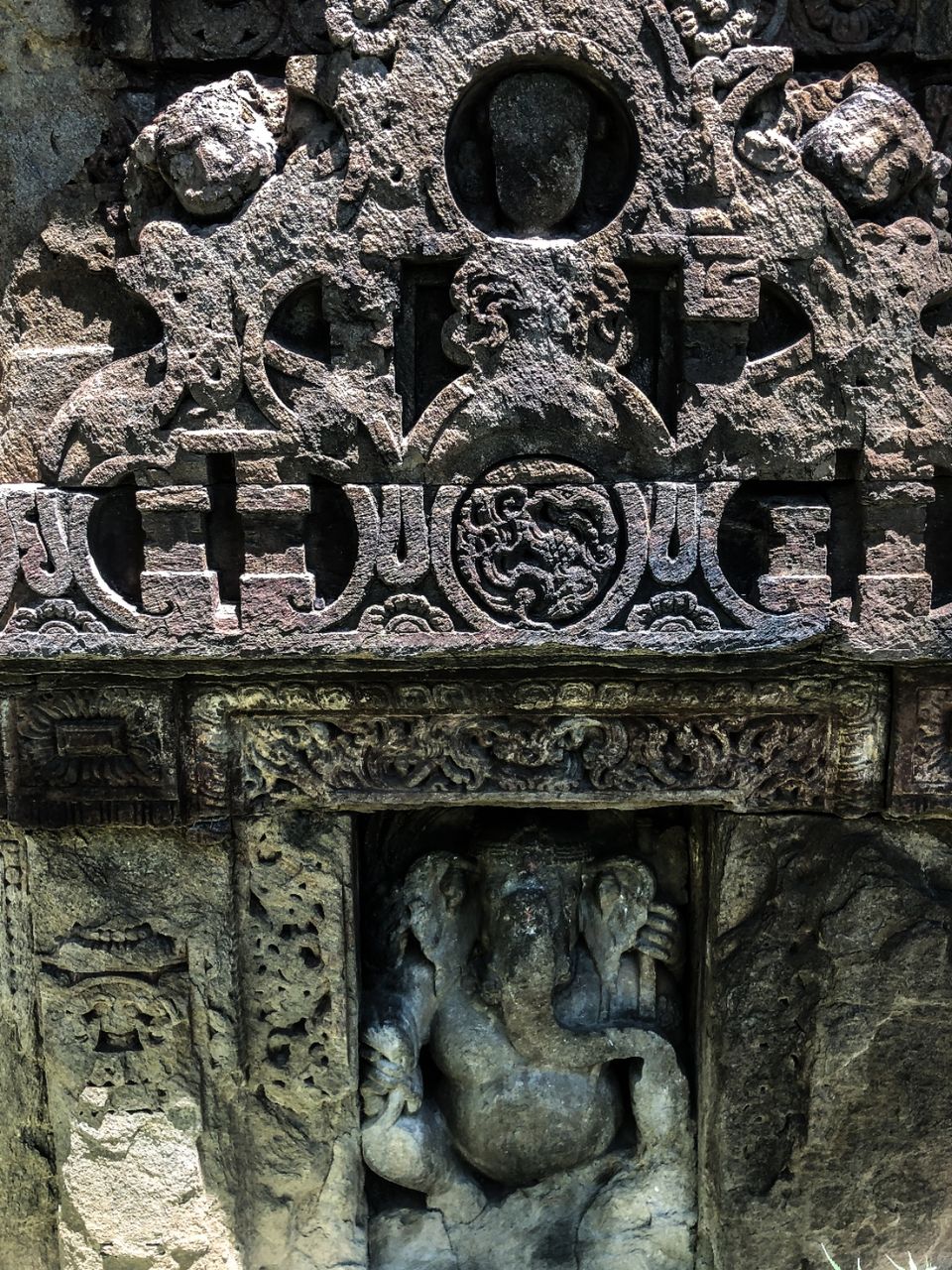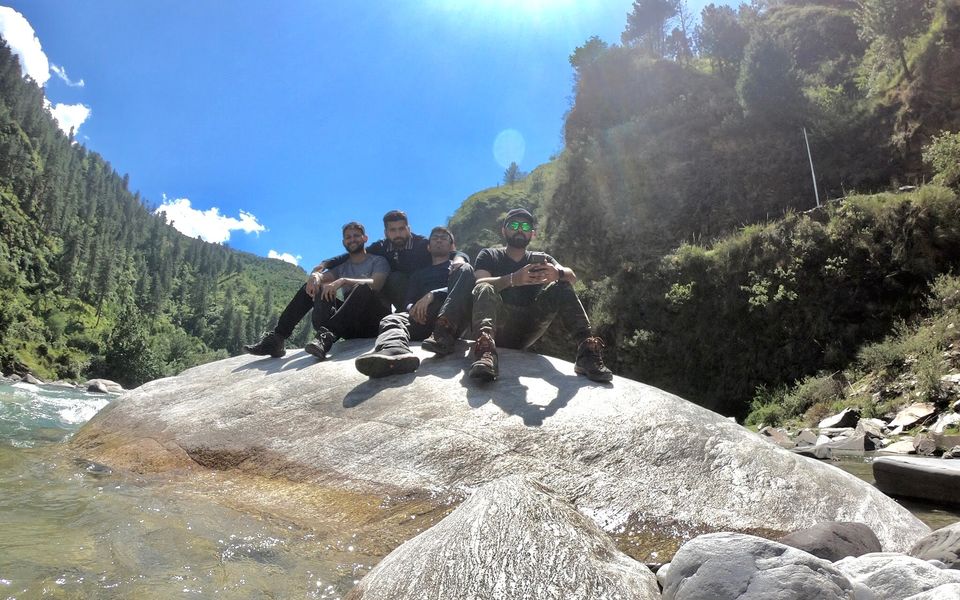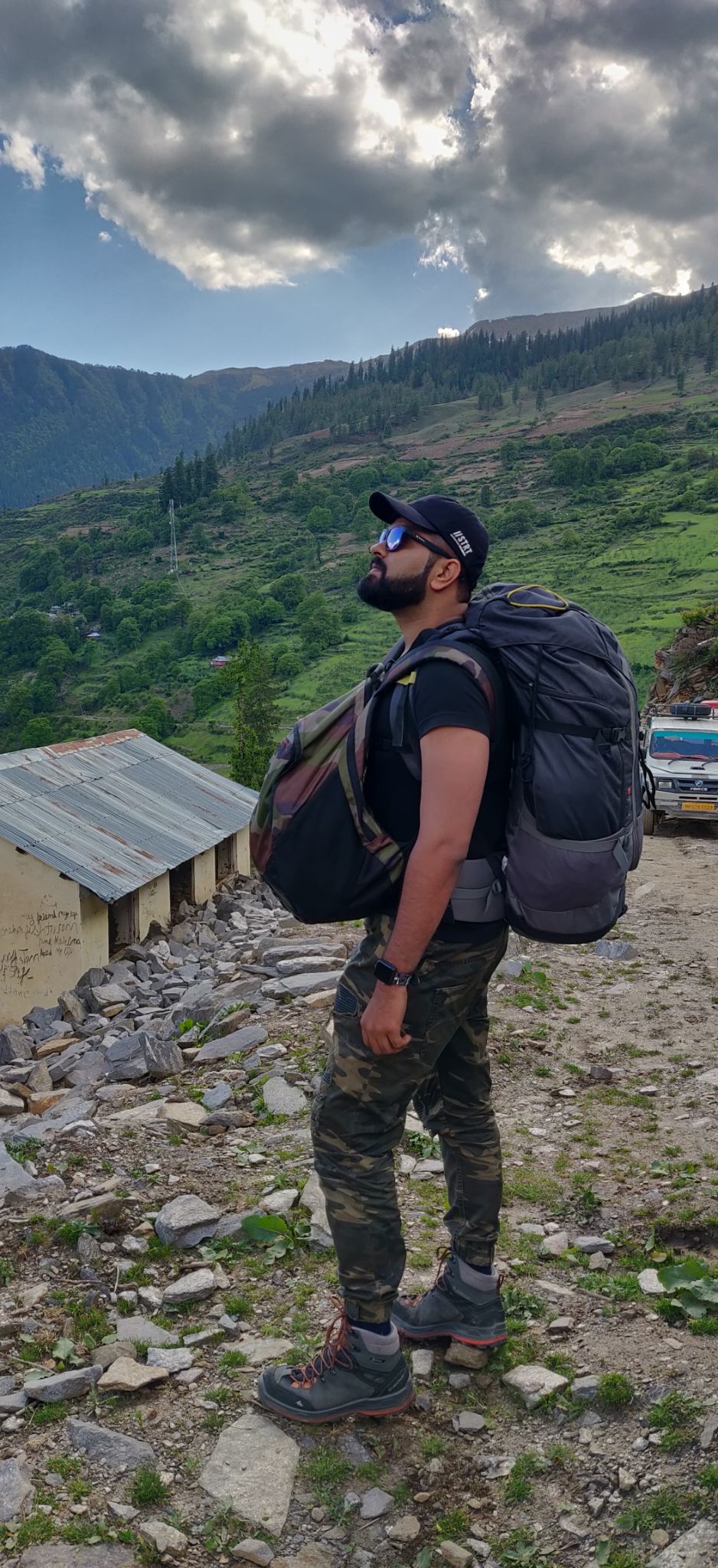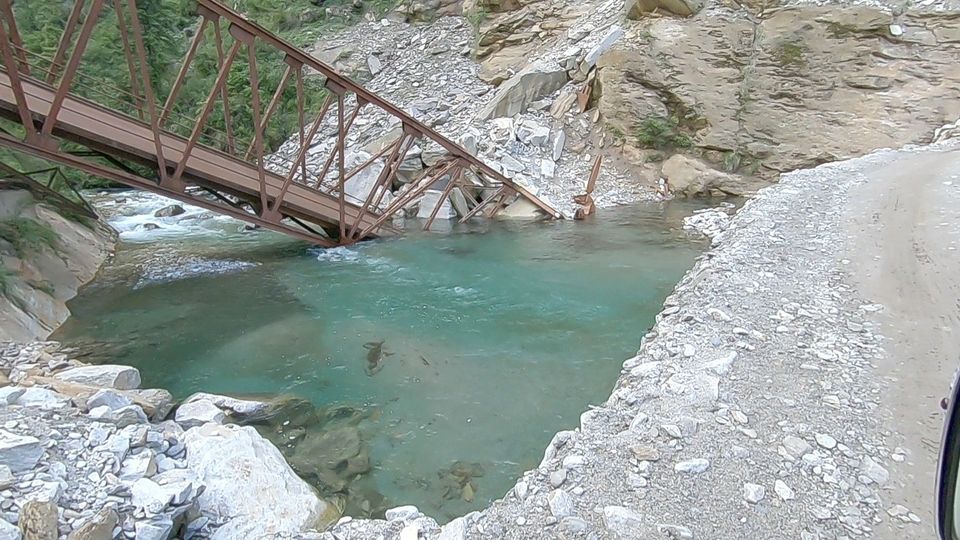 We woke up early morning our calls were 6-7-8, 6 o'clock wakeup, 7 o'clock breakfast & 8 o'clock we start the trek. We started our trek for Dayara Bugyal. The trail started from the Janglik village with wooden farmhouses on the trails it was a gradual ascent that later kept on getting steeper. After a steep ascent, we took a break, as it was the first day of trekking our body was getting used to those ascents, our backpack weight, and that thin air. We again started our journey towards Dayara Bugyal now the trails were covered by pine and oak trees. There were few Shepherds there with their flock. After some more climb, we were leaving behind those trees and moving towards the Bugyal. In any trek, I feel that Bugyal is the most amazing part of the trek. Bugyal means meadow. After climbing for 5 hours we finally reached our campsite Dayara Bugyal 11,075ft. It was a very beautiful campsite. As soon as we reached there we did some stretching and had our lunch. After lunch, we were all free to explore the Bugyal. We went for a walk in the bugyal and by the sunset, we were back near our tents. After dinner, we tried some star photography. When at night you look at the stars, that vision, which you can never see from the cities because of pollution. Identifying Orion's belt, north star a small start for sky gazing. After that, we needed the help of an application to find the name of other stars or constellations.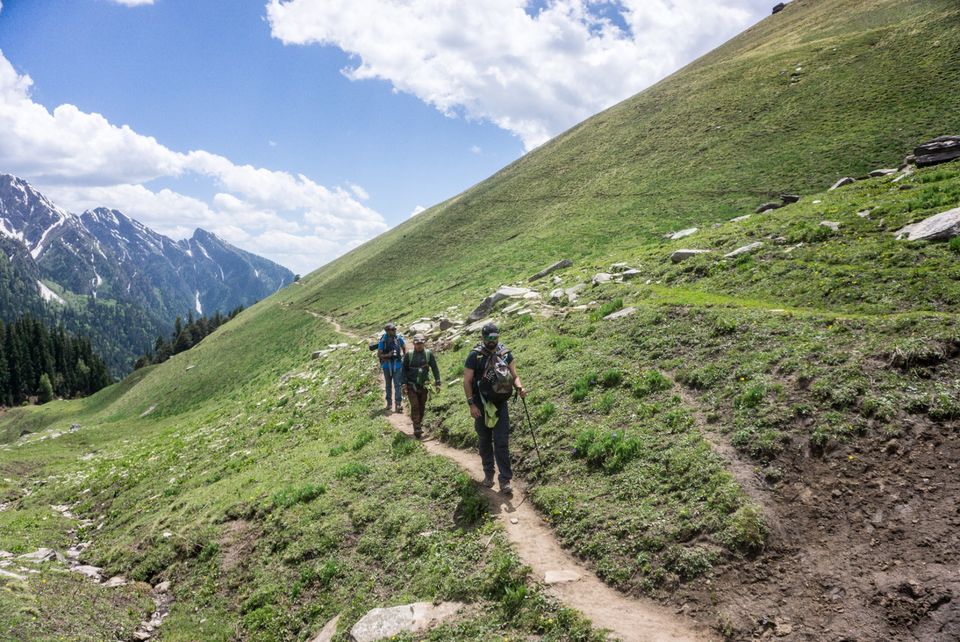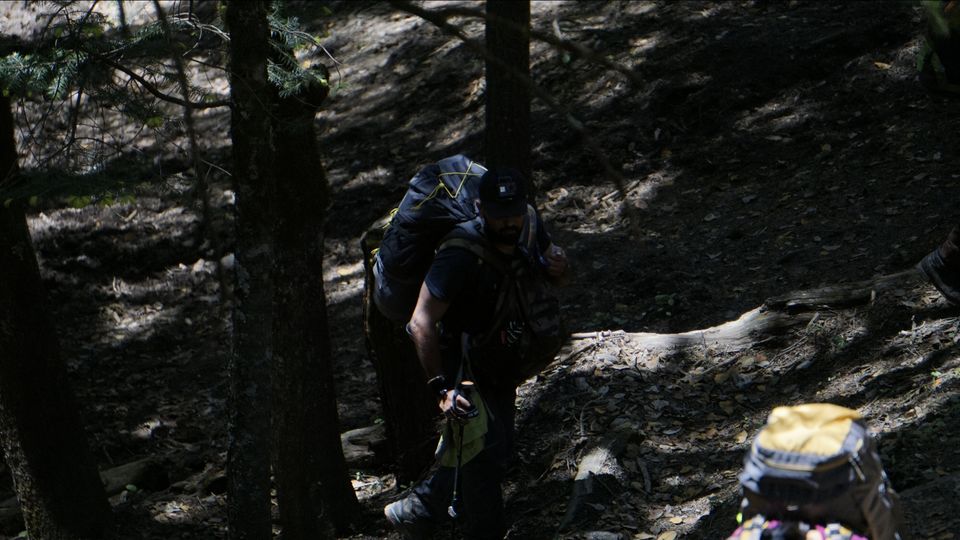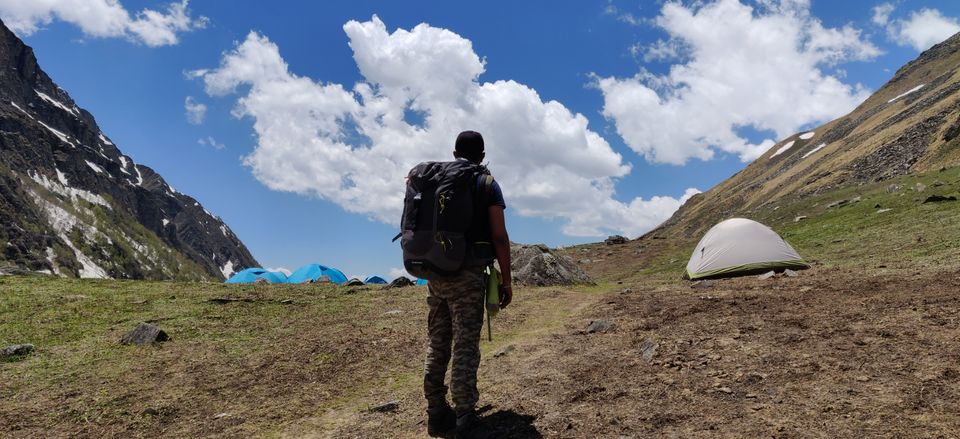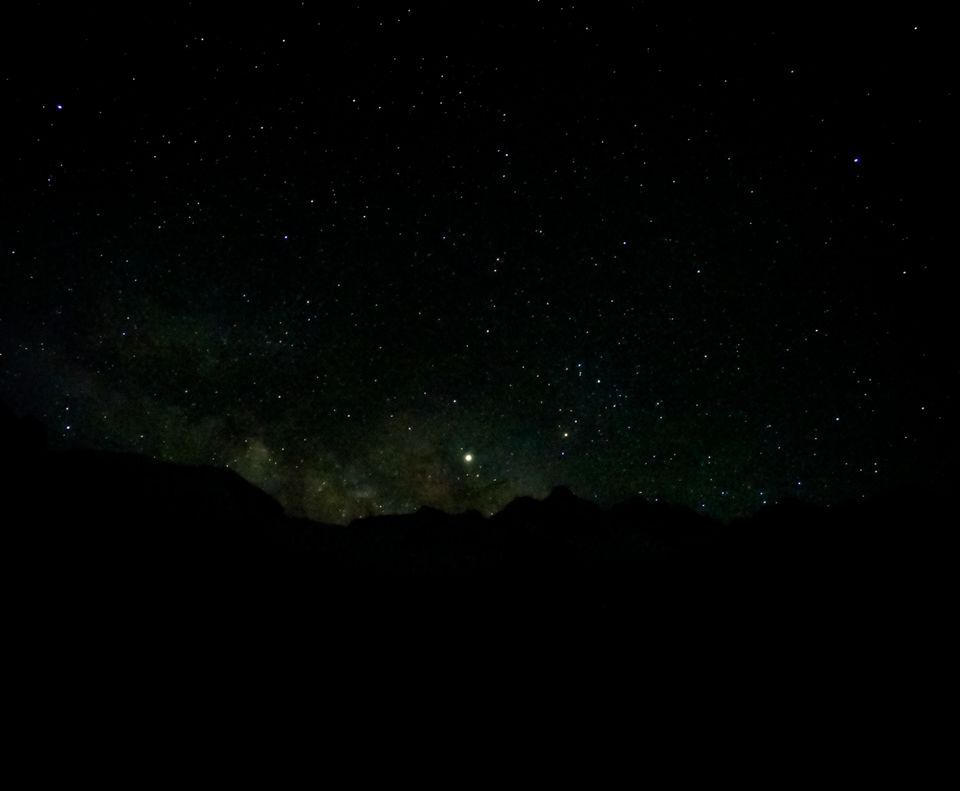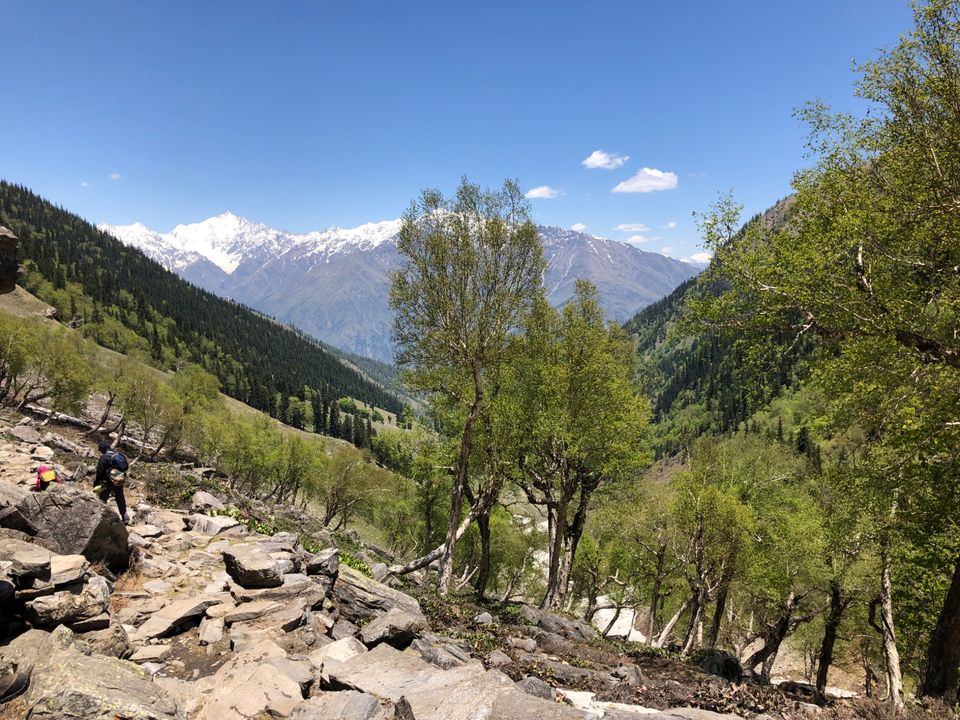 We woke up at 7, today our call was 7-8-9. We got to see a beautiful sunrise with a scrumptious breakfast. We went for a short walk after waking up. Post-warm-up we started for the trek for Litham. The trails were from the meadow later followed by the forest trail. Our today's trail was a short one, it was just 3 hours of trek. On the trail we took several breaks, there was a spot where we just laid down and we had a view of the magnificent mountain in front of us. Then we got bhoj forest ( silver birch). After that trail, we got a stream- the chandranahan stream, that we had to cross. After crossing the stream our campsite was just 10 min walk. We reached our campsite Lithium 11,737ft. We gained 737 feet today. We were going to stay at Lithum for 2 days. Litham was a very picturesque campsite with mountains on two sides, rivers flowing nearby. As we were doing a high altitude trek any height gained after 11,500 our body needs two days to acclimatize to that height, according to the Indian mountaineering foundation. The best way to acclimatize is to stay active, so in the evening we searched for a proper spot from where we had a view of the mountain and river flowing below with sunset. We played some music and waited there till it got dark. We saw the entire sunset from there, hands were freezing, the body needed a layer up but to miss that sunset was not a good idea. After that, we went to our dining tent and played some games with our team and after dinner, we again waited for some star photography. After some time we were just listening to some good music with the sky covered with stars. We saw many shooting stars that night. After some time we went to sleep, when at midnight I woke up for Wizz, it was freezing outside with heavy wind and complete darkness all around. When I came out of the tent with my head torch the first thing which I saw was a splendid view of the Milky Way, stars so dense like it was not possible for me to believe that it was real, for a second I thought I was just dreaming.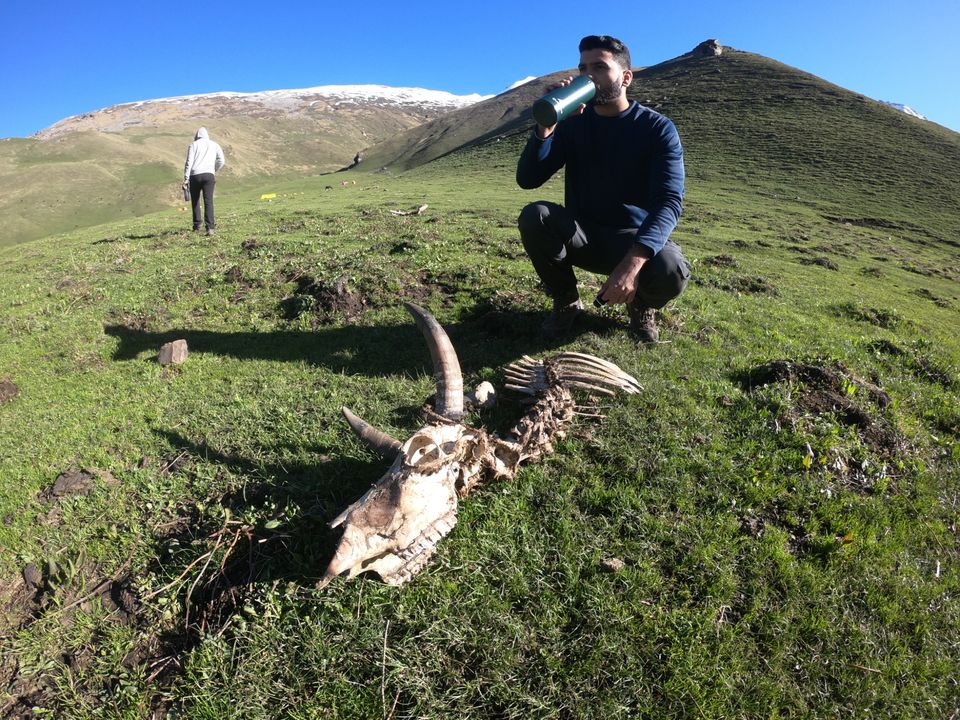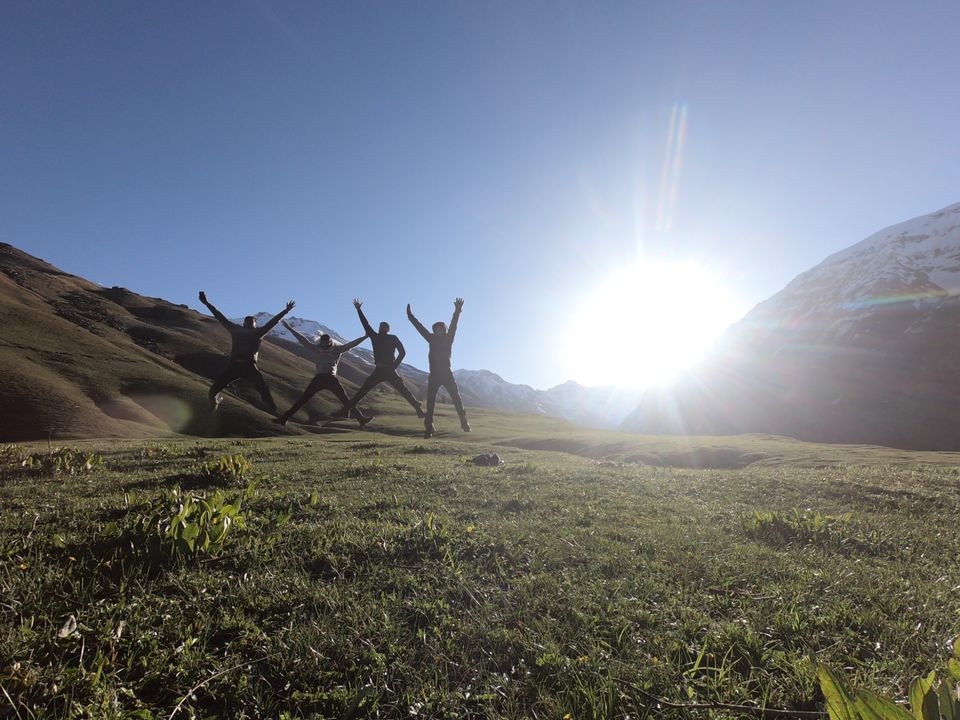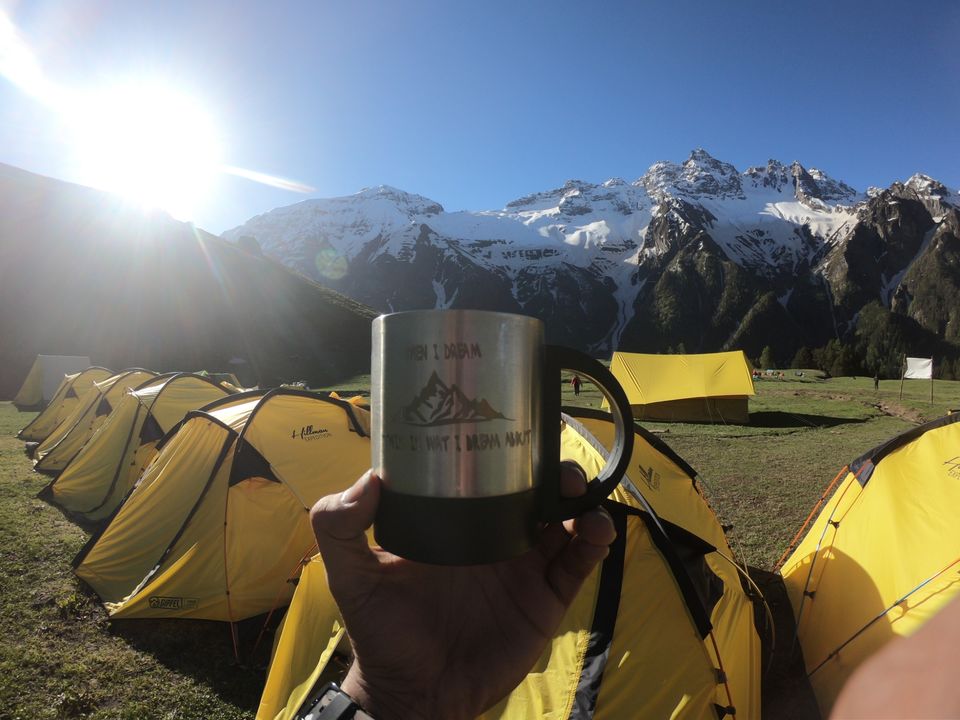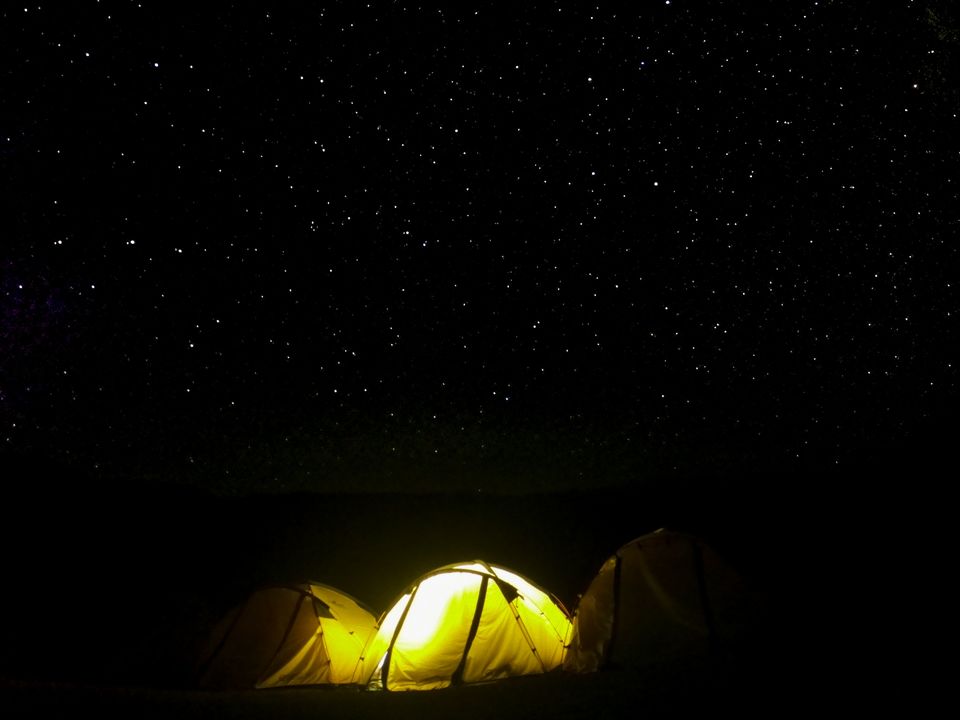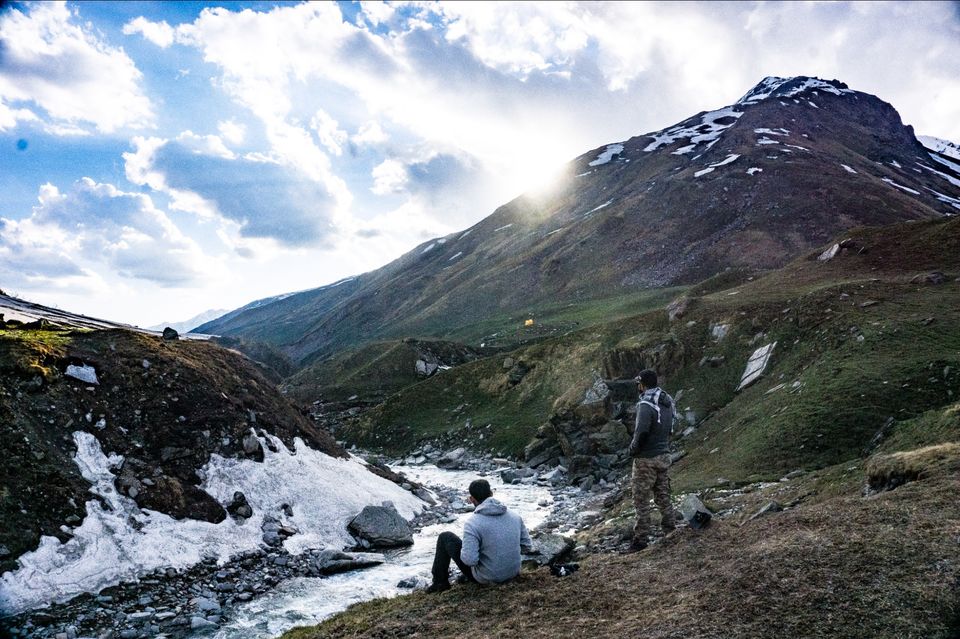 Excursion day. We woke up at 7, our calls were 7-8-9. Today we were going for an excursion to Chandranahan Lake 13,900ft. Chadranahan also know as "Moon Lake" which is considered as origin of Pabbar River, it is said that Goddess Kali stays on Chandranahan and Goddesses protect the locals of Rohru Village. Chandranahan is formed with merger of 7 small ponds. We started our hike with one small day pack and took water. It was a grueling hike, climbing 2100 ft and again descending on the same day. But excursion usually helps the body to acclimatize easily. Today my friends and I decided to share the day pack as we didn't have anything to carry except some warm layers and water. Today I realized the value of water. After our first break when I opened my bag for water I saw there was not a single bottle in my bag it was just filled with warm layers and I can see my friend around 500 ft ahead of me carrying all the water we had. When he saw me down, I waved at him and make a gesture of water and he just waved at me and started climbing again. After an hour of trek, I finally reached Chandranahan Lake, I saw my friend with water, till today in 2021 he still has to listen to my taunts for this incident. Chandranahan lake was completely frozen. The view from the top was surreal. We did some push-up there and went exploring. After some time we started our descend and reached the campsite at lunchtime. After Lunch time when we were standing near the river, we saw a huge rock and we 4 thought of climbing that rock, at that time Gautam came near us and asked us lets go and sit on the top of the rock. We went to the other side of the river and we climbed that rock. Climbing was difficult but getting down from the rock was the real task, thanks to Gautam we did it properly and came back to our campsite. Again we 4 went to the same spot where we went yesterday. Today we were just sitting no photos no conversation between anyone, we were just living the moment, no distraction as it is said To be in the moment is Miracle.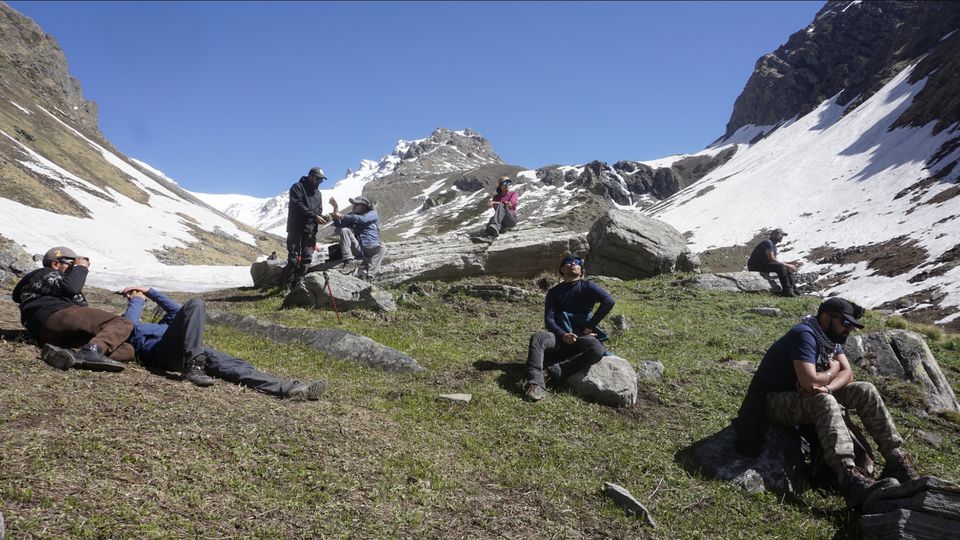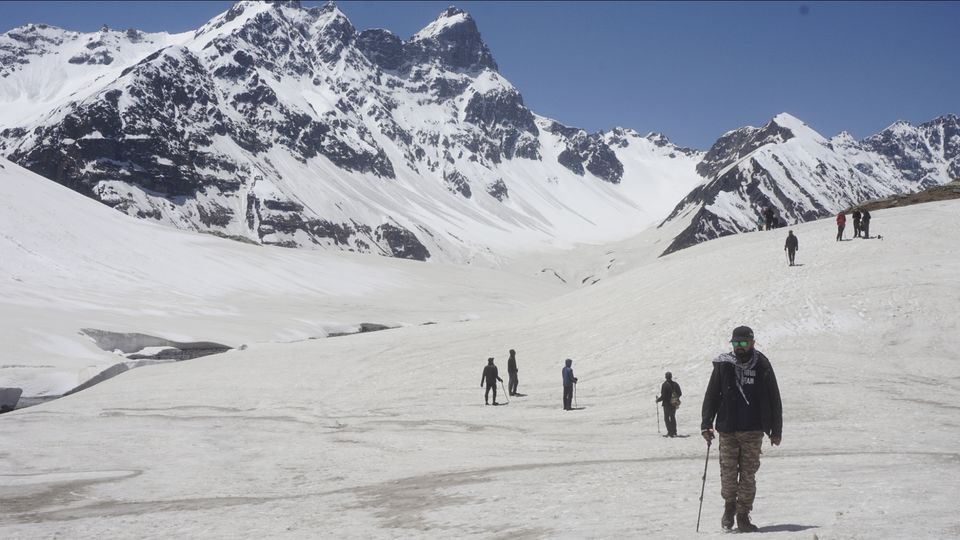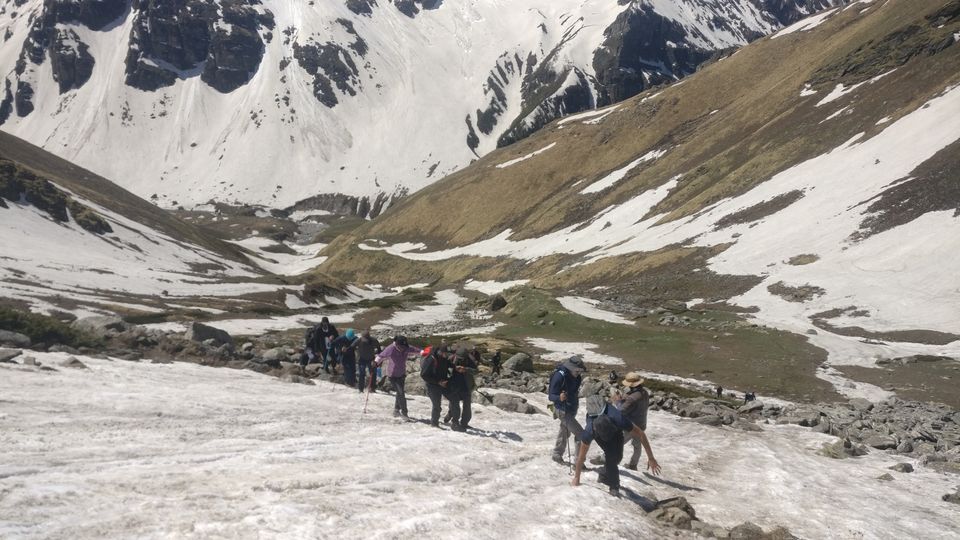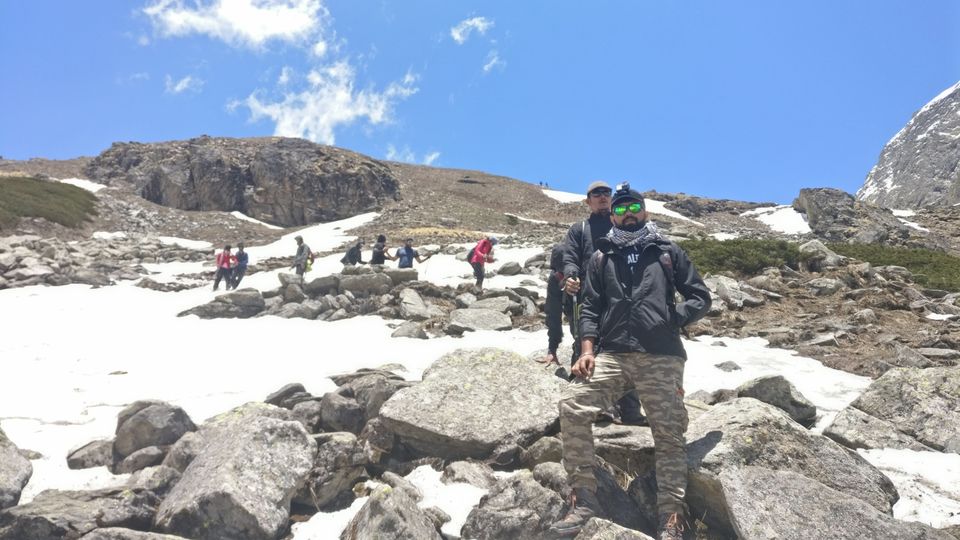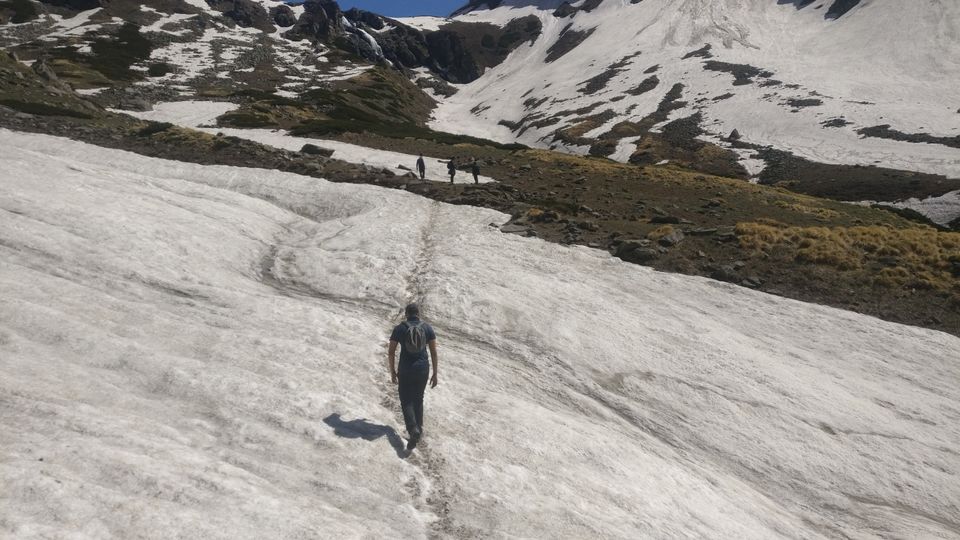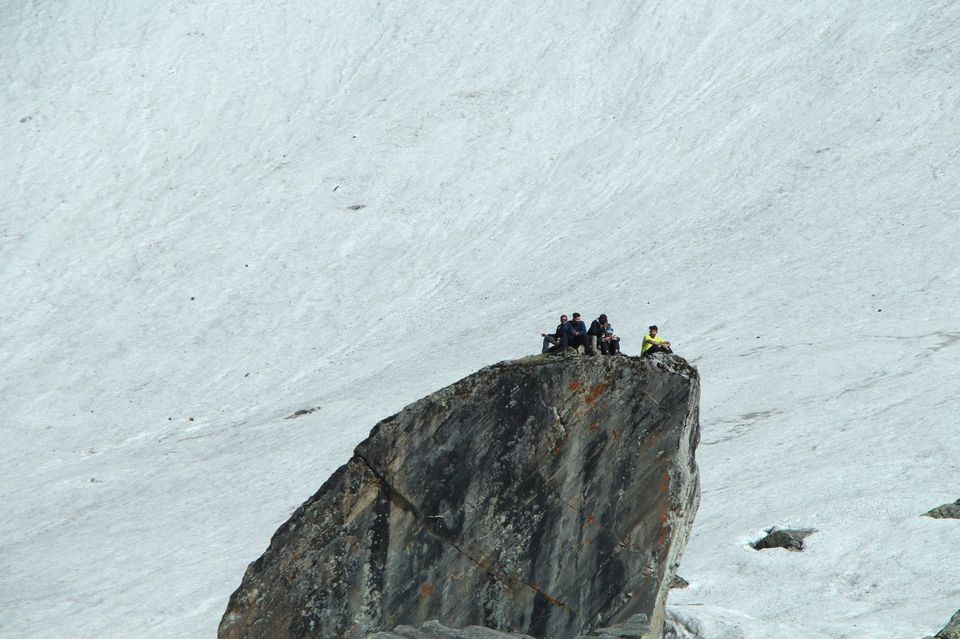 Today, when we woke up one of our friends, was not doing well so we took him to Gautam. Unfortunately, we had to descend him as his blood pressure was way too high. We started our trek for Dhunda which was our summit campsite. We were given spikes and gators as the entire trail was covered with hard snow. Our today's trail was the half-normal ascent and the other half strep ascent. Midway I was informed that the next day we will be going for the summit climb on my birthday. After 5 hours of trek, we reached Dhunda camp which was at 13,365 ft. The campsite was fully covered with snow, the view was very beautiful with covered with snow mountain on 3 sides and valley behind us. In the evening we meet our technical team who gave us a briefing for the next day's summit climb. We could hear a small avalanche sound from that mountain nearby. Getting slight dizzy head as we climbed 1600 ft. While dinner I was worried whether I will be able to go to the summit or not as my oxygen reading was a little low. But we went to sleep early as we had to wake up at 1. Summit climb call was 1-2. 1 o'clock wakeup and tea and 2 o'clock we had to start summit climb.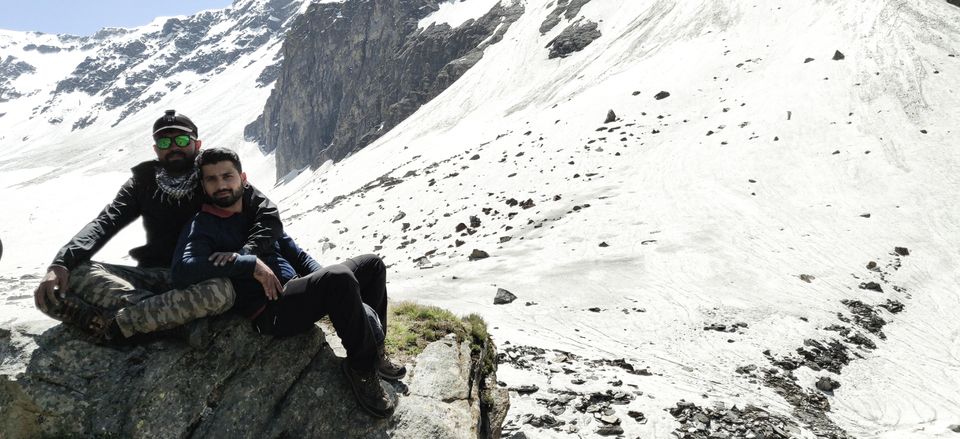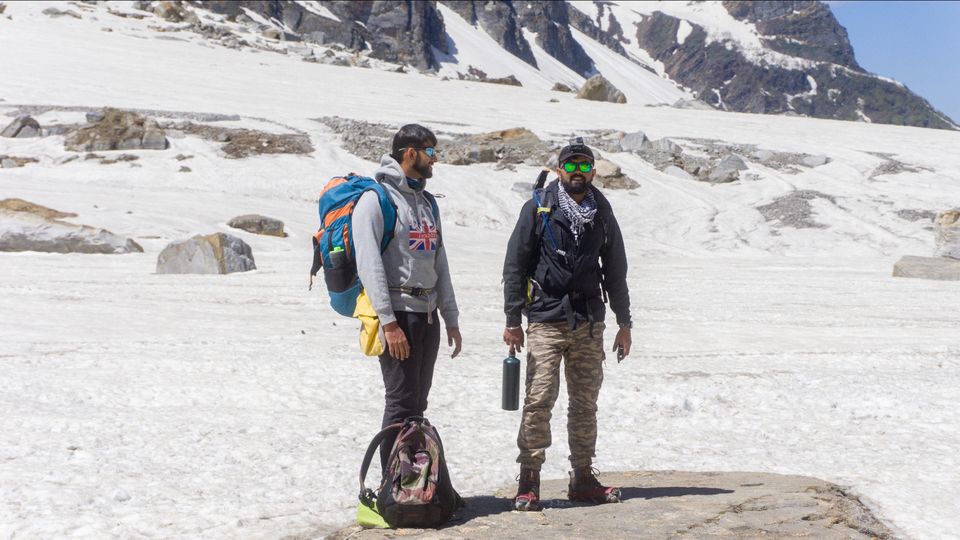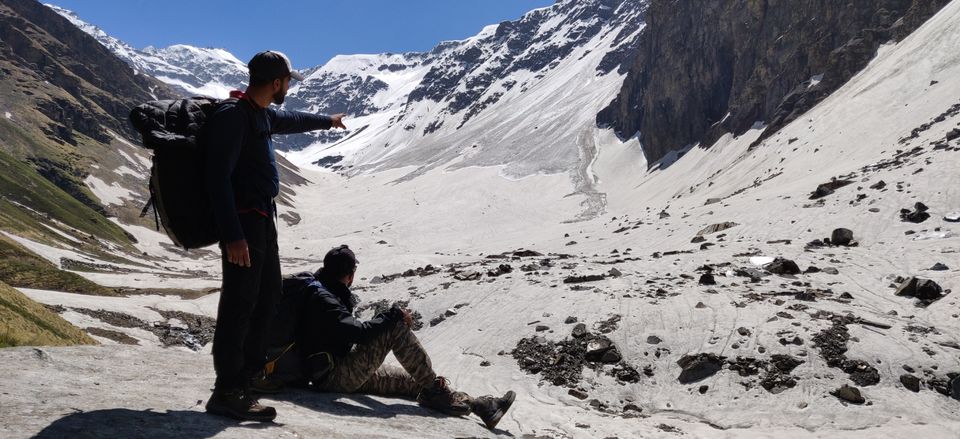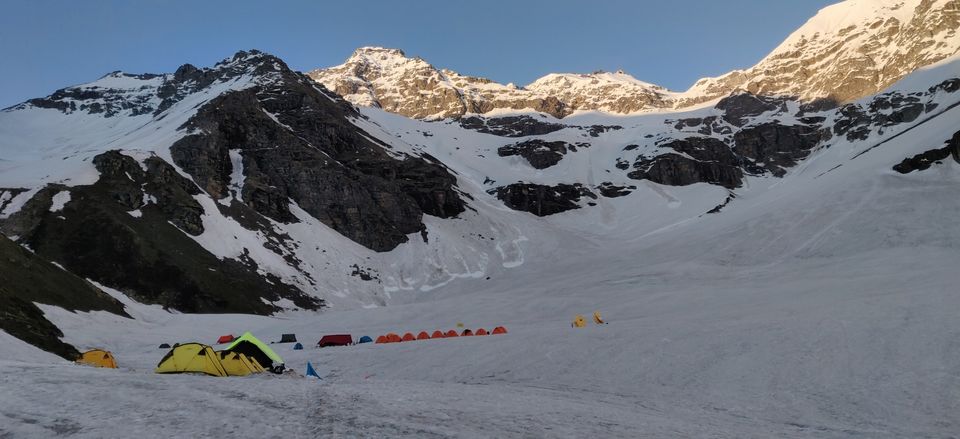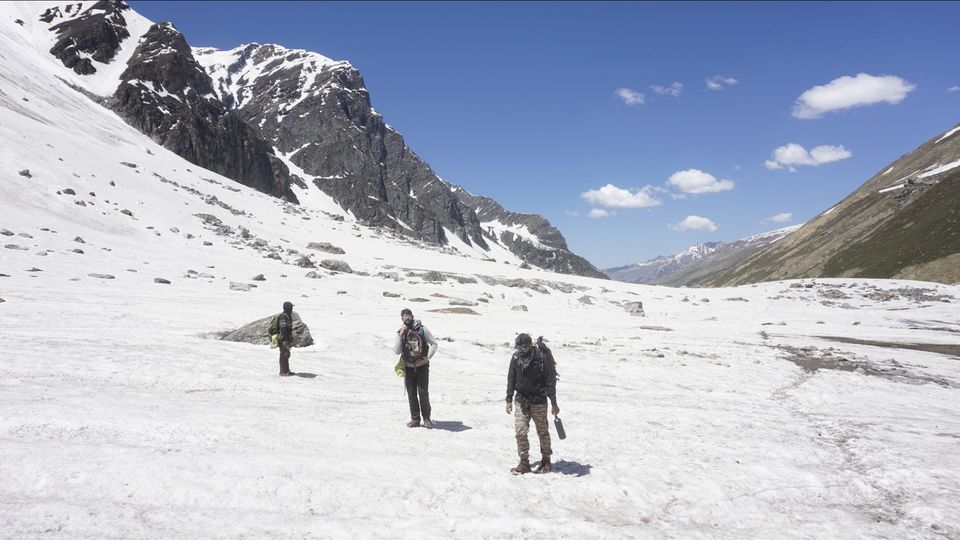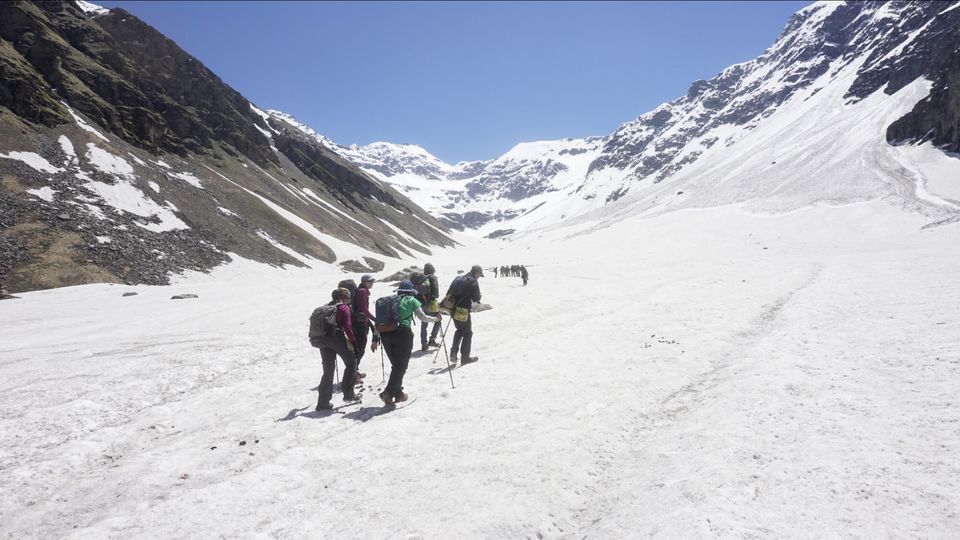 We were sleeping and my friends Rahul & Swapnil woke me up at 12 to wish me. We went for some tea and breakfast at 1 and packed our bags, as we had to carry a backpack with us, as it was a pass we had to cross the summit and go on the other side of Buran ghati. Before starting Gautam called everyone we were a total of 25 people in the group he told us to form a circle. My friends were in the tent they were packing their stuff. He called me to the center, for a second I thought I won't be going to the summit maybe because of my low oxygen but instead, when I was standing in the center everyone started to sing Happy Birthday for me. The temperature was around 0, no vision complete darkness everywhere just the head torch vision a lovely start of the day close to nature, no contact with the world outside.
We started the summit climb, it was a steep ascent, around 2 and a half feet of snow, difficult to walk on that snow but we covered maximum distance till it was dark. At around 5.30 we reached the summit. That view from the summit. We were at the highest point, 15000ft that feeling from the summit cannot be expressed in words. Yes, it was my birthday, I was at the top of the world, I had never celebrated my birthday in such a beautiful way. After some time we started rappelling down as the descend was too steep and covered with snow, like the wall in a game of thrones. After that, we had an option of either descending a few feet or just sliding in the snow, after so much effort who would walk? Mostly every trekker just slides down. Then we were just sitting there waiting for everyone, took a group photo and started walking towards our campsite.
While walking on that patch, covered with snow and mountains on all four sides, my eyes were just filled with tears, I had never imagined in my life that I will spend my birthday in such a way. We reached our Riverside campsite(11,800ft) by around 2.30-3 and the next thing which was on my mind was to go to sleep. We woke up by evening and we all gathered in the dining tent. We all were having a casual conversation with a small solar light in the tent, and suddenly the light went off. Within few minutes the lights came back and there was cake in front of me With HBD Saurabh written on it. Such a beautiful gesture by the trek leaders and the kitchen team, making such a delish cake at 12000 ft without any types of equipment, it was just the best cake I ever had in my life. After dinner, I and Swapnil were just standing outside our tent for the last time because tomorrow was our last day for the trek. At that time we just realized that in the past few days we forgot that we had a life apart from this, we had our families, we had our job and from the past few days, none of that thing came to our mind even once.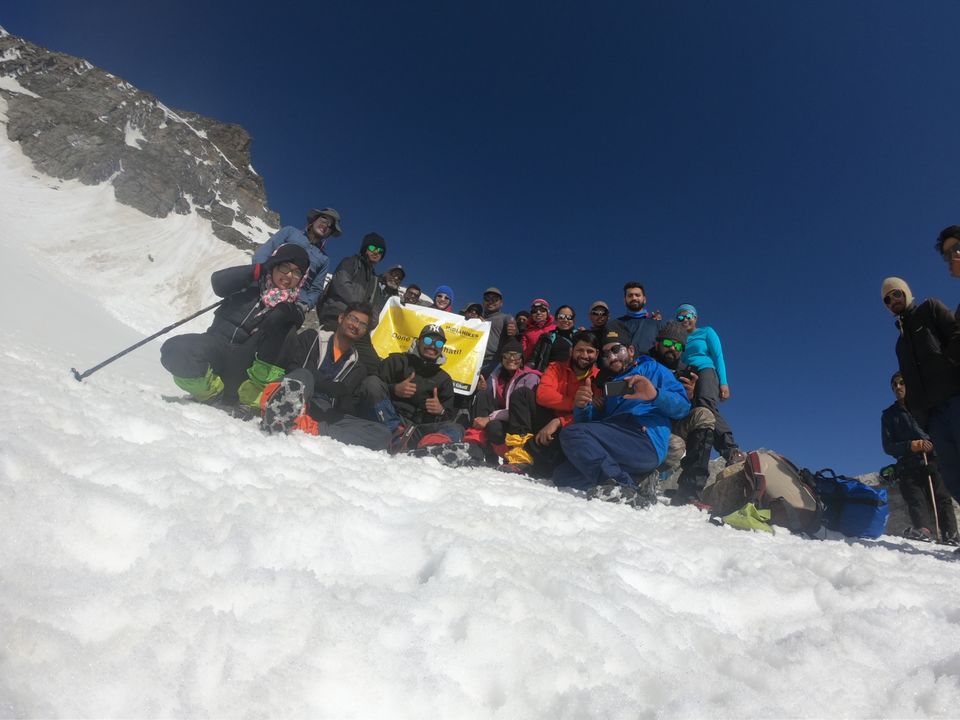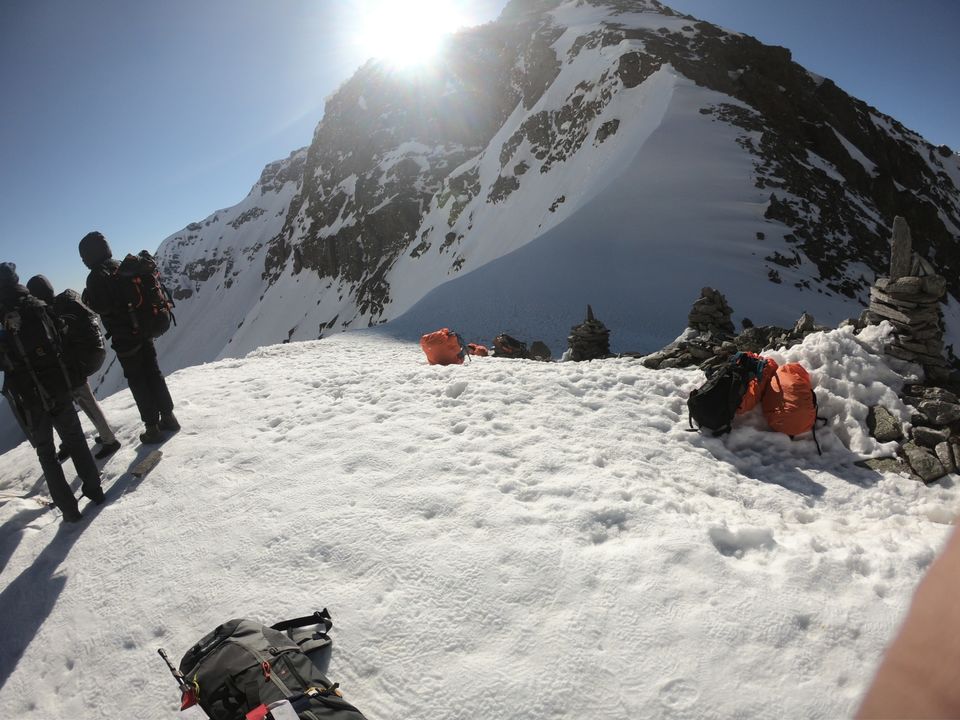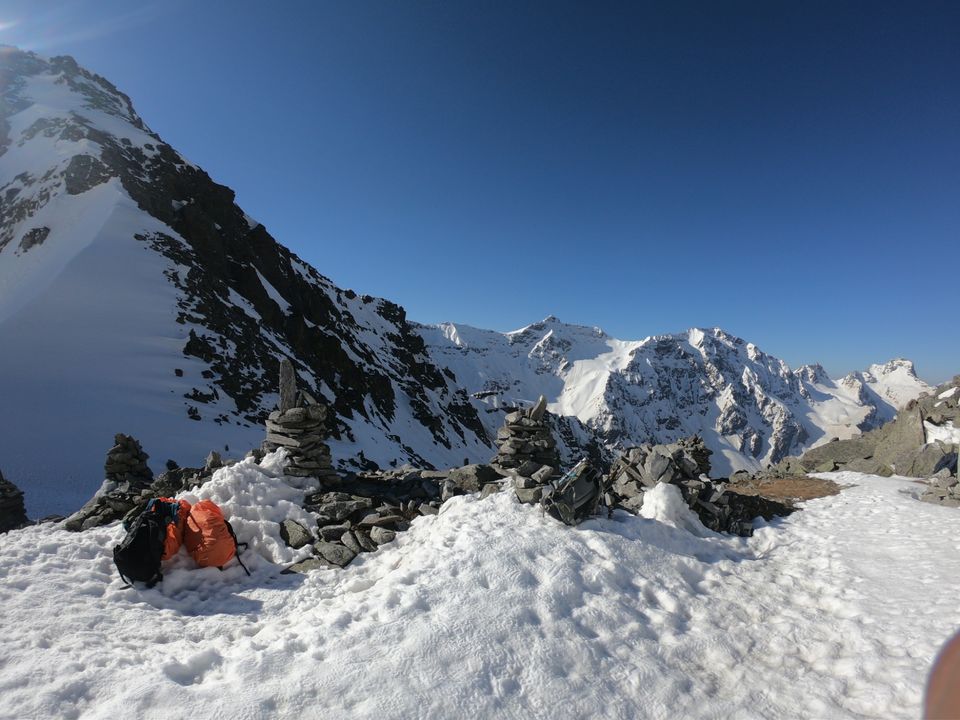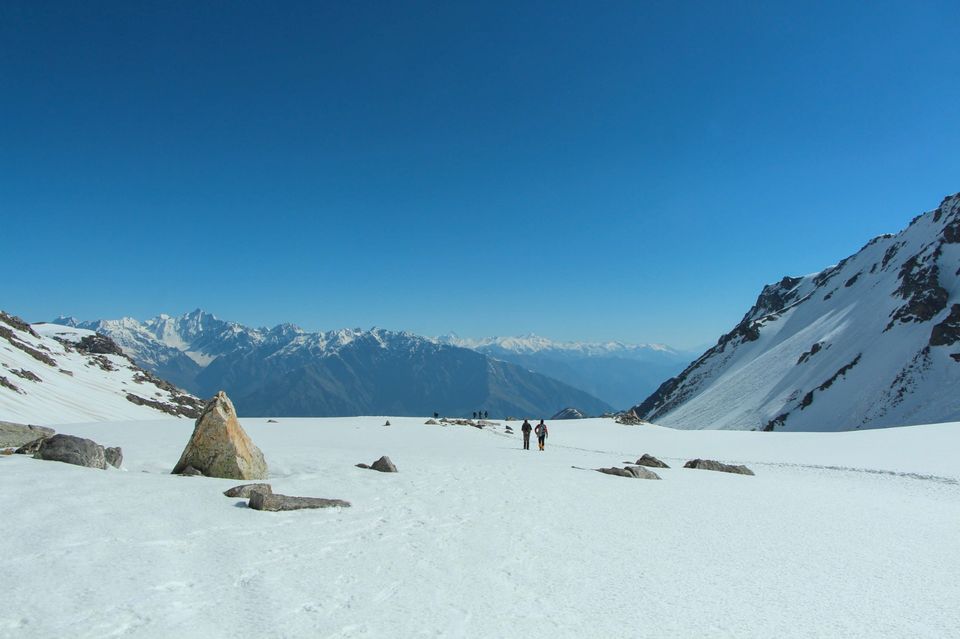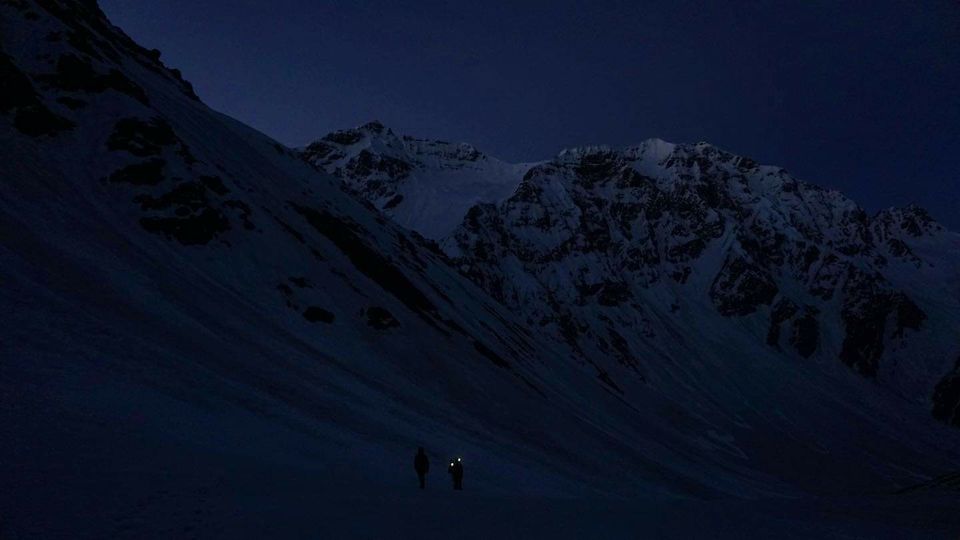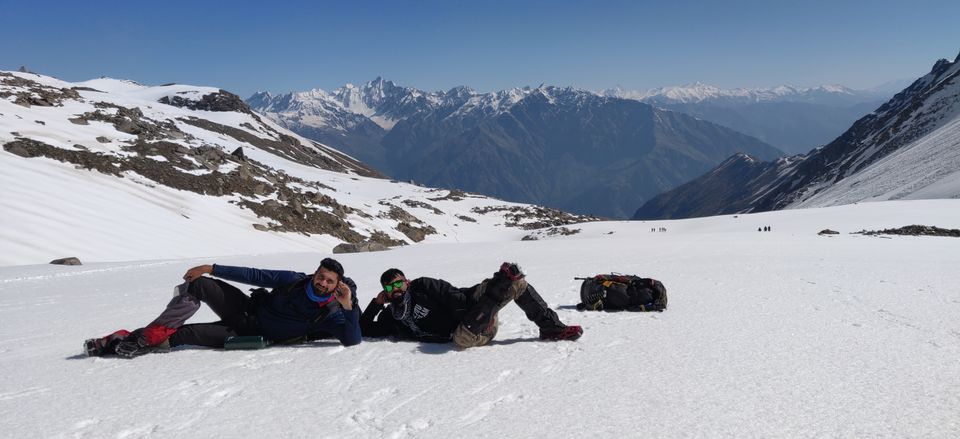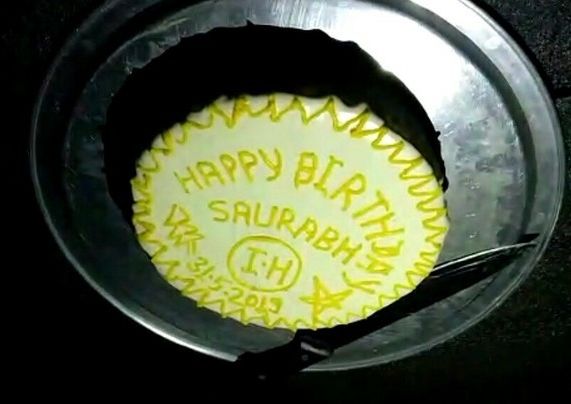 Last day of our trek. We woke up with some old retro songs. Had our breakfast and started to go toward Barua Village (6700ft). It took us approx 6 hours to descend. Today's trail was from the forest area completely. We reached Barua Village and said goodbye to everyone, everyone were going in their cabs to Shimla in this 7 day we all were very well grouped up I will never forget anyone from my this trekking group even the guides and trek leader, Vijaybhai shouting Rukna nahi Hai whenever he see anyone taking a long break, Shubhashbhai was an amazing singer. We 4 had plan to go to the last village of India, Chitkul so we had booked our private cab (500₹ per person) again in no network zone for more 2 days and that Friend had directly reached Sangla from where we picked him. I had learnt quite a few things on this trek. Value of water, not to over pack, my backpack was much heavier than it should be, live in the moment time once passed will never come back, spending money on trekking or any other adventure instead of spending on material things to celebrate birthday next time but 2020 was in lockdown and 2021 again will be in lockdown.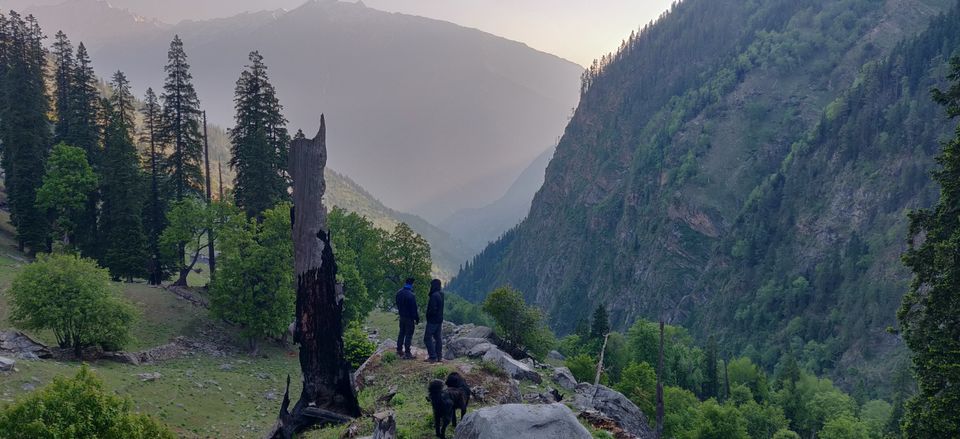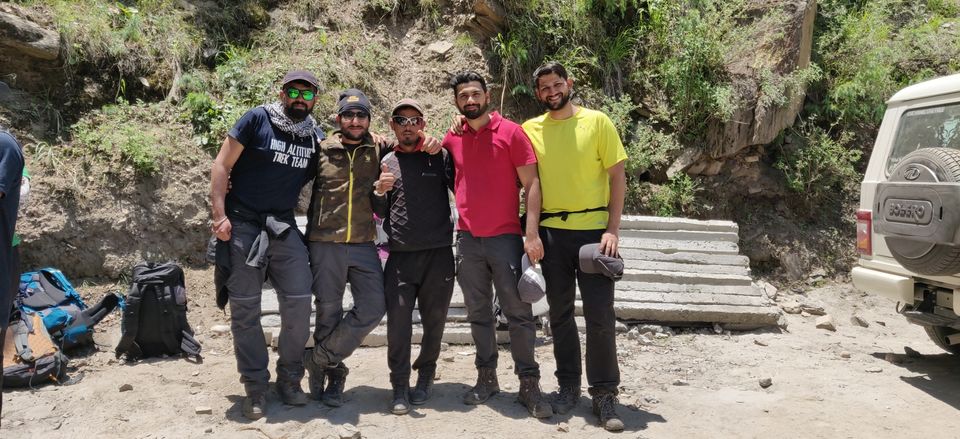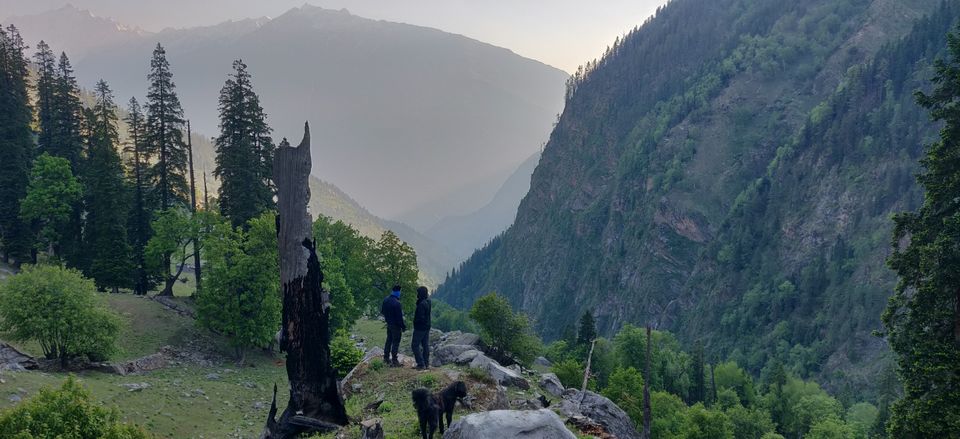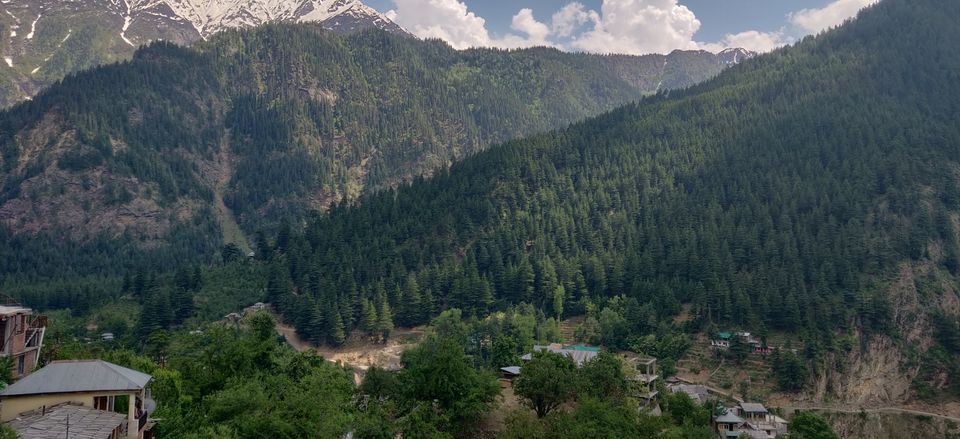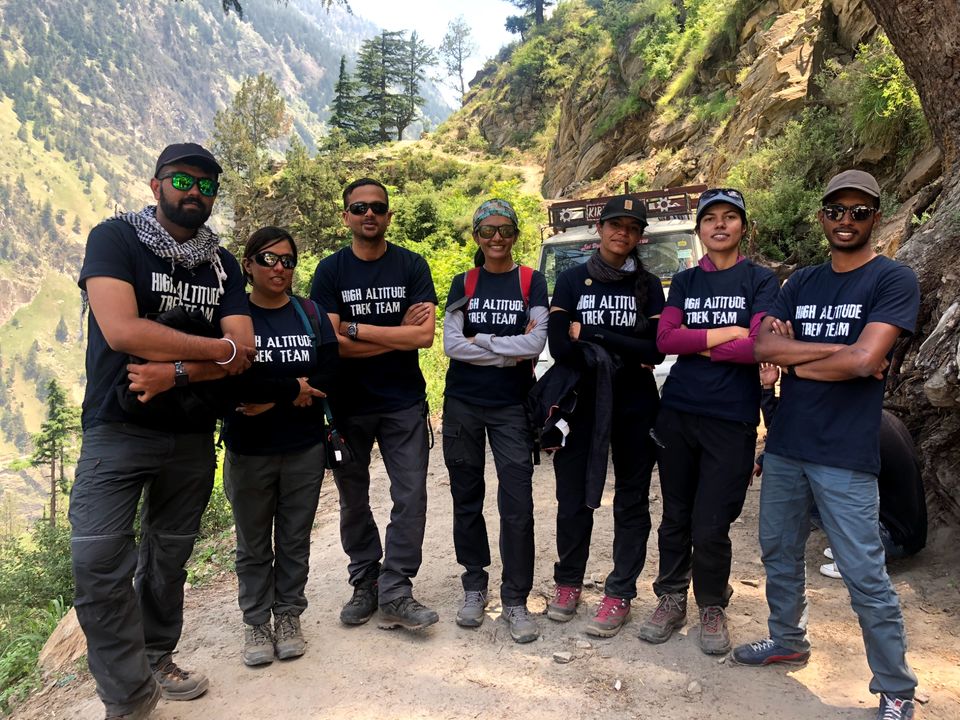 https://www.instagram.com/tv/CBs-NAxnQ7o/?utm_medium=copy_link