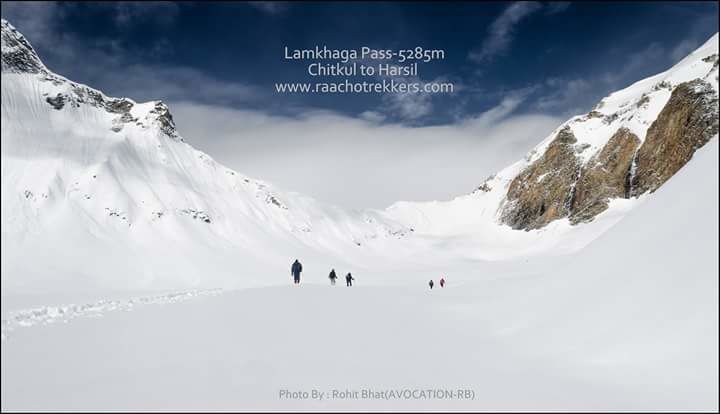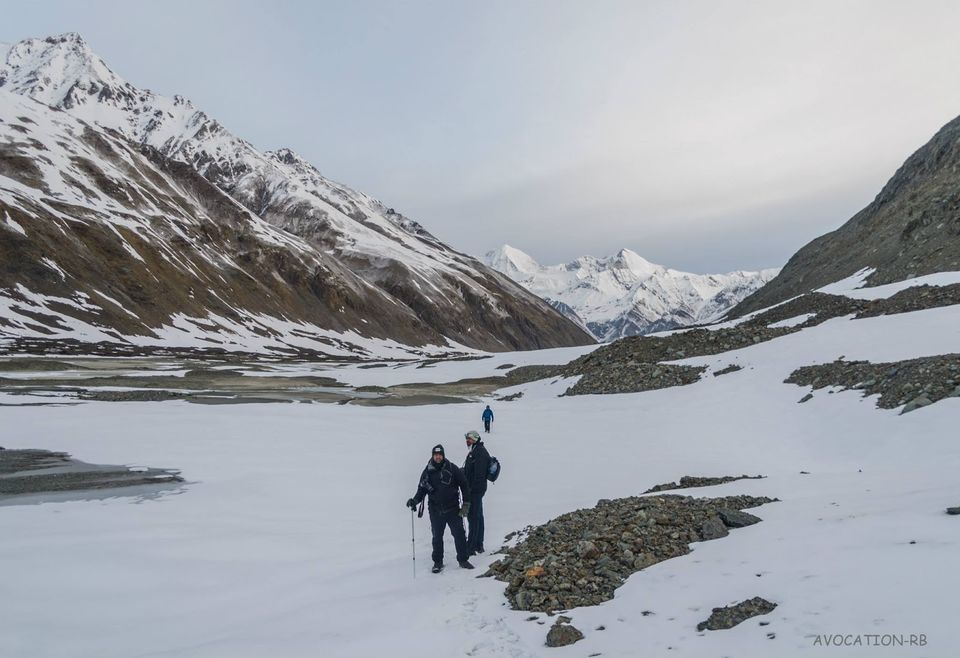 Lamkhaga Pass Trek
The Lamkhaga is 5300m high pass & its route is a passes through remotest of the Himalayan valleys. It is hailed as one of the most challenging trek, surrounded by snow capped mountains, glaciers and streams of Kinnaur-Garhwal Himalayas. This beautiful trek takes you through some of the most remote areas of Himachal Pradesh and Uttarakhand.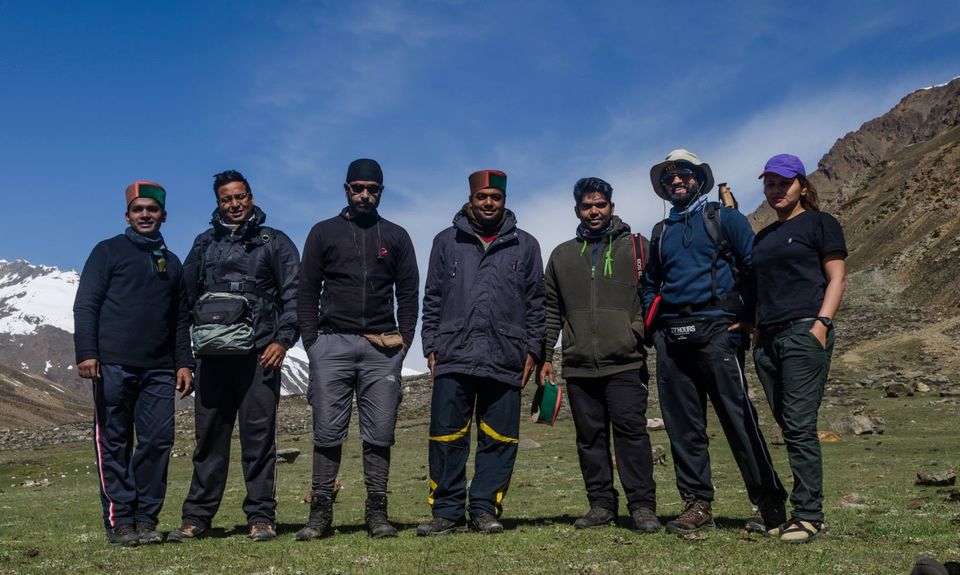 We, the Mumbaikars, this time decided to have something tricky achievement in our pockets by crossing Lamkhaga Pass. The Pass having approx elevation of 5300 meters is a strenuous trekking expedition, believed to be more difficult from Kinnaur side. The Lamkhaga Pass trekking expedition starts from Chitkul village of Kinnaur in Himachal Pradesh and ends in Harshil, Uttarakhand. The period was around Dec'14 when our group of 5 peoples from Mumbai decided to accept the challenge. Then it came to search other participants. The challenge was to create a team that's strongly aligned to the common purpose and it was not a tedious job as Facebook and other blog websites helped to get the job done sooner.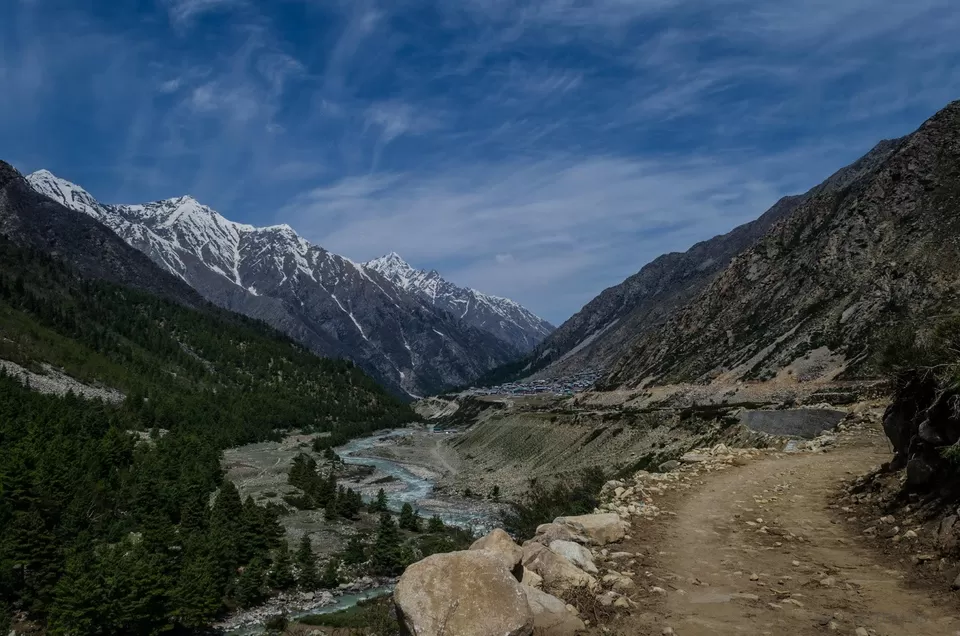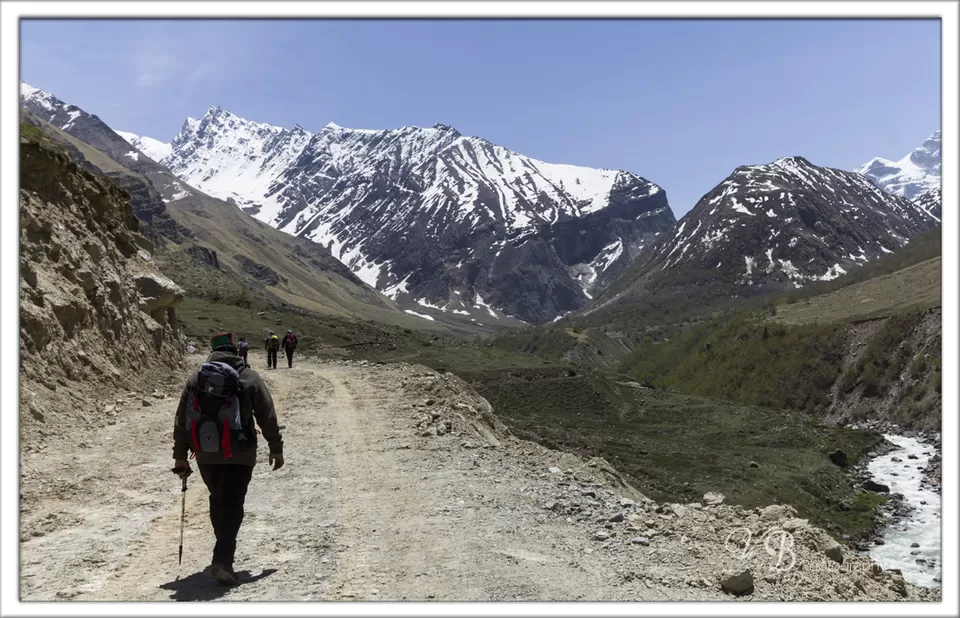 The team was set. I referred as Vikas, Rohit, Vishnu, Aaditya, Durgesh all from Mumbai, Karan from Chandigarh, 2nd Aaditya from Chennai, Smita from Hyderabad and Rashmi from Bengaluru were the team members who hailed from different fields of Job and Business. The diversity and size of the team was a challenging factor to get the team united for the purpose as some were already experienced whereas some were laymans, however it was a motive that provided sufficient courage to go for it. Apart from 9 member's team of trekkers, in total there were 21 members involving guide, cook, support staff and porters.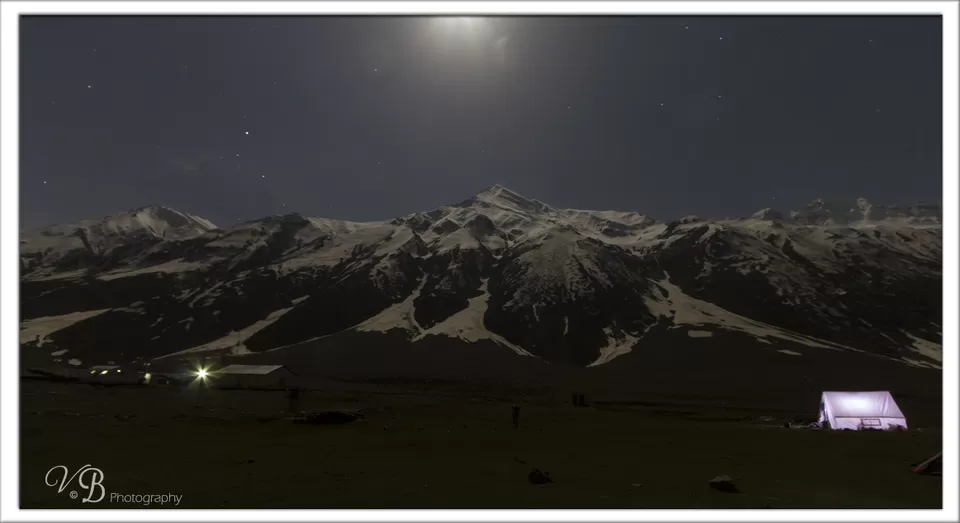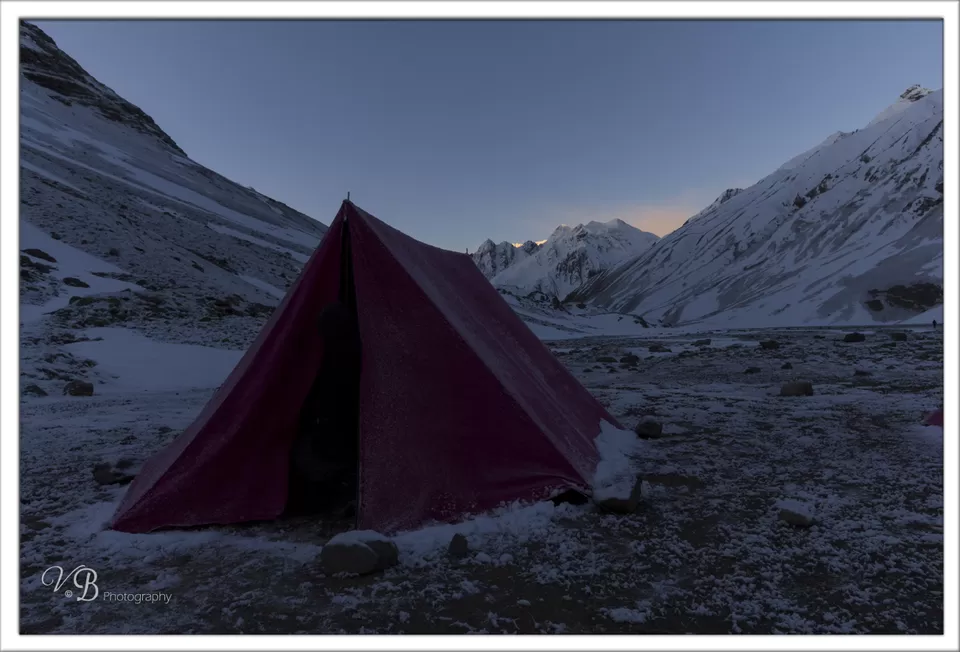 To get completely acclimatized, and as per plan, the team members one by one made their way to Kalpa and Reckong Peo via Shimla between 26th-27th May'15. Rohit, Vishnu, Aaditya, Durgesh and Smita reached Chandigarh airport on 25th May and took a cab all the way to Kalpa halting a night in Shimla where 2nd Aaditya joined them. I reached Chandigarh on 26th May and since I was alone, I took bus from Chandigarh to Kalpa. Since taxi cost would have taken a toll on me I decided to go by HRTC bus, which even proved fatal for me as it was worst country side journey I took till date. The roads condition was very bad and due to time constraint I boarded in HRTC ordinary bus not even allowing me to sleep the whole night. The driver of the bus was continuously playing Daler Mehndi's Tunak Tunak Tun and by morning I memorized each and every word of the song. Rashmi and Karan joined us directly in Chitkul.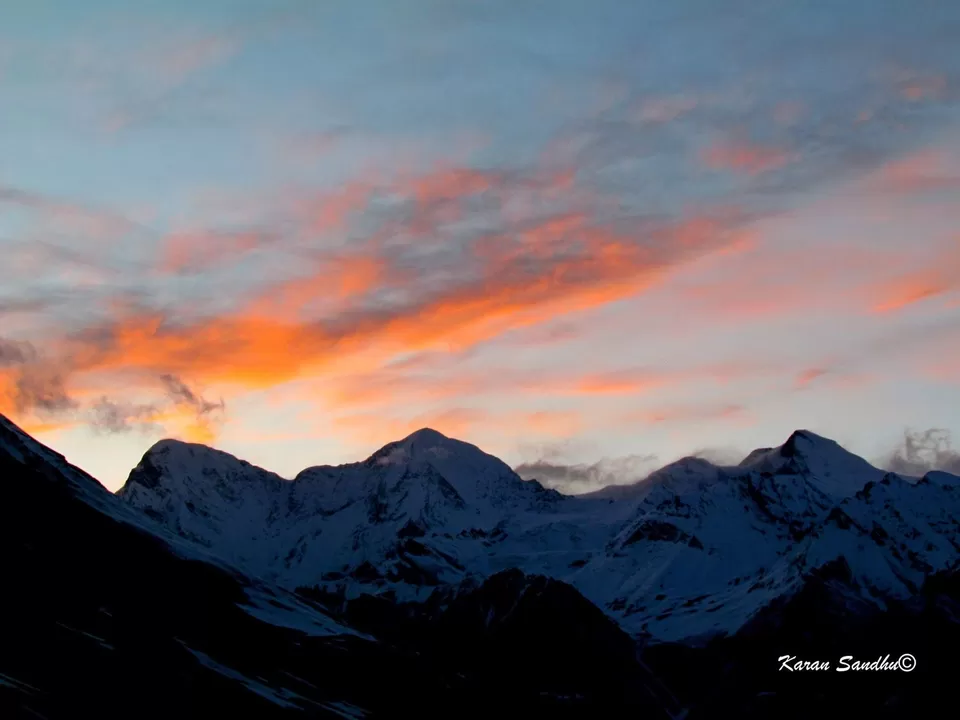 After the eventful pre-trek phase we finally set out for expedition to be remembered lifetime. By the time acclimatization process got completed in Kalpa/Reckong Peo and everyone reached Chitkul, Aaditya from Chennai already got hit by AMS; however he continued to try for the task. At last the day came when our endurance was to be put on a great test. The drive from Chandigarh airport to Chitkul via Shimla was enormously tiring due to roads bad condition and since everyone had already passed a tiring journey, the endurance, we believe, was not much left with anyone. The motive, was however clear to clear the pass, all group members started the journey of lifetime from Chitkul.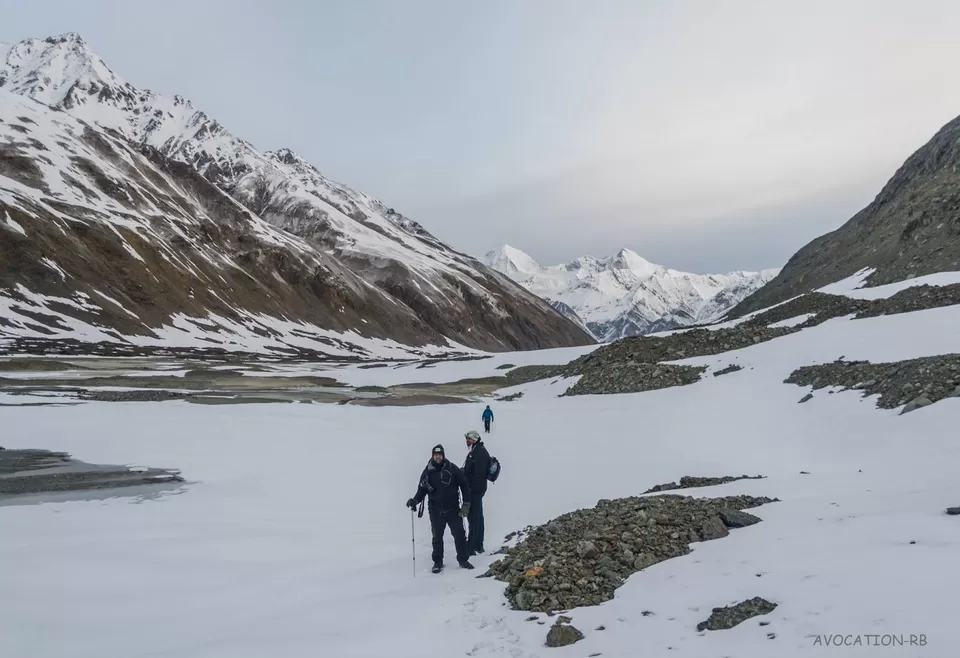 Day 1: Chitkul to Ranikanda Meadows
On 29th May'15 morning, the team started from Chitkul following a trail on banks of Baspa River to reach Nagasthi. It was not an easy start for Rashmi as en route she discovered her shoes to be torn apart from shoe sole and she decided to go further by using sandals. Soon we crossed the local ITBP post where we were glared with an enemy look by the military personnel's but since all our permits were taken in advance we didn't find it difficult to cross the section. After a walk of around 4-5 hrs we finally reached our day 1 camp site at Rani Kanda and alas, it was a sigh relief. We were having a professional hired photographer with us, Mr. Nishchay Ranta, who after reaching campsite started his camera to capture the moments. We also clicked some good pictures and ended the day with sweet notes.
Day 2: Ranikanda to Dumti campsite
we had our breakfast early morning and started our onward journey towards Dumti, our next campsite. It was a beautiful trail comprising of boulders and steep hike across banks of Baspa river. By the time half a distance was covered over risky zone of Lal Dhank, it was very much clear that Aaditya was hit by AMS and he was needed to be rescued immediately. Till this time the weather started deteriorating and soon it started to receive heavy snowfall, further worsening the progress of the team. Heavy snowfall, falling pebbles, steep hike, chilly winds, were all part of our journey, somehow everyone managed to get themselves into the campsite at Dumti at around 2:30 PM, just next to ITBP camps. Gosh, it was a wonderful campsite with a cricket ground maintained by ITBP personnel's and despite of the lost energy our team enjoyed playing cricket with ITBP personnel's at such a great height on mountains well above 4000 meters. By this time Aaditya, who was hit by AMS was escorted to ITBP camp with the help of porter where he was given emergency aid and was strictly advised to return back, leaving only 8 of us to conquer Lamkhaga pass. The hospitality extended by ITBP Jawan's was to admire, as we were served with hot tea just like home and we were allowed to even make phone calls, though, at some little cost. We didn't missed the opportunity to click pictures in night; however, the severe cold halted our ambitions to get some good clicks.
Day 3: Dumti to Nithal Thach
The 3rd day of trek was to say goodbye to Aaditya way back home. After breakfast, we decided to take blessings of Karu Devta at Dumti temple, participated in Pooja Ceremony with ITBP personnel's and started our journey towards Gundar. The trail eased up soon and it was looking like a flat farmland with little ice fields in between. The route ahead was predictably smooth, over gradually rising plateus and moraines. The route was still going on the left bank of the Baspa river. It was like a wide valley with snow capped mountains on both sides guarding us. After walking around 5-6 hrs we crossed another local ITBP post at Nithal Thach, passed a small stream ahead and reached our campsite. This was believed to be the last patch of greenery and now we were to enter into complete snow zone. After relaxing for a while, we took a small acclimatization hike on a nearby peak. By this time the weather again worsened and it started heavy snowfall which lasted the whole night. Then came the morning and we found our tents drenched in snow. The early morning sunrays were about to hit the peaks and we immediately captured the moments in our cameras. We were experiencing a new powerful force enlightening our inner souls and energy.
Day 4: Nithal Thach- Gundar
The time was now to head towards Lamkhaga Pass base camp, but after walking a couple of kilometers our team encountered heavy downpour and it looked almost impossible to walk further. Our guide decided to put our tents immediately so that we can get ourselves protected from cold and harsh weather. Our buffer day was utilized here. The downpour lasted till 6 in the evening. The weather got cleared in late evening allowing us to have our dinner comfortably. During dinner we decided to move further in night itself since the weather was predictably worsening between 10Am to 5 PM.
Day 5: Gundar t0 Lamkhaga Pass Basecamp
We started our journey towards base camp at 4 AM next day. It was getting hard to cover the distance due to severe chilly atmosphere and extreme darkness followed by boulder area. After walking a little, the sky started showering light on us as the sunrays were about to hit. Once the sunrays enlighted the sky, the Baspa valley was looking like jewel made of ice with thin snow ridges on both sides of the valley. After a little while we reached the end of the flowing Baspa, overlooking the Baspa Glacier. At extreme right we could sense an opening, the gateway to the Lamkhaga Pass. This was the place where our base camp was supposed to be fixed, but since already we had lost buffer day and there was a fear of getting the weather again worsen, we decided to skip camping in Baspa valley and headed straight towards advanced base campsite. The idea was to get to the ABC by later afternoon but oh man, it was really looking like mission impossible as our real endurance test was to begin now. The walk along the gateway to Lamkhaga Pass was steep hike of approx 800 meters in snow almost covered up to knee height at many places. Crossing ridges after ridges, the Chhotkhaga Pass and Lamkhaga Pass became clearly visible and appeared to be in touchable distance. Chhotkhaga Pass shortens the journey to Kyarkoti but the Pass is extreme steep and very much difficult to cross. After hiking approx 400 meters I angrily asked our guide how much time it will take more to reach the campsite as we had already covered a long distance since morning and now our energies were almost frozen up like ice. The worst part, it started snowfall again but for a little while but the harsh winds continued. The vertical slopes seemed unending. Every now and then one of us would slip into some unseen hole in the snow. I was tempted to be ahead of all, but found myself walking behind everybody taking a breather almost every minute. We were closing to the 5000 meter mark and now it was realizing that the altitude had begun taking its toll. Our prayers answered and negotiating the final snowfield for about 6-7 hrs we reached the advanced base camp site. The view overlooking the Lamkhaga Pass Ridge was just like a National Geographic documentary. We were feeling like in Antarctica as the surroundings were completely covered with white snow. The wind's speed at ABC was such extreme that it was getting very hard for our team to set up the tents. It was completely looking like white-out due to hard chilly winds and snowfall. Somehow our team managed to get the tents ready, putting our worries to a little rest. It was really a bad day for us as we haven't taken lunch and even walked a long way without proper arrangement of water. We were feeling like when this trauma will end. It was kind enough of our support staff who served dinner in our tents itself so that we can avoid the harsh weather outside. The night was pleasant as snowfall stopped and sky got cleared, however chilly winds didn't stopped.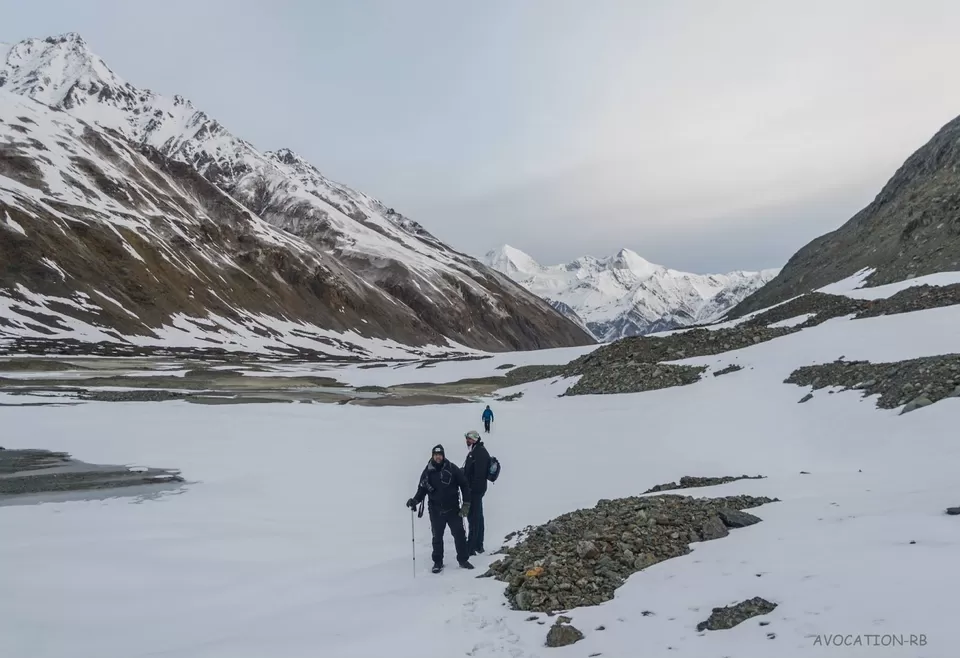 Day 6: Lamkhaga Base camp - Lamkhaga Pass - Upper Kyarkoti
Day 6, the day of summit, we woke up early morning to hear bad news. It was heavy snowfall outside, the weather started deteriorating. We were still inside our tents as no one had the courage to go outside and brace the weather. Since the weather was not clear at all, it looked dangerous to cross the pass and we were given option to return back. The first thing came in our mind that even if we return, we have to descend up to Baspa valley with knee height snowfield and also had to face the heavy snowfall. That way it had taken almost 4 hrs up to Baspa valley with 4 days to return Chitkul and if we opt for crossing the pass it will take approx 2 hrs to get on other side and 2 days to Harshil. The decision was really hard to take, but my mind was clear at that point, as an adventurer I will go for it because "Yeh Dil always maange MORE". After long discussions, we decided to face the situation and made our minds to cross the pass. We dressed up in layers wearing spikes and gaiters and headed towards the pass. After walking for an hour our guide showed us the Pass. OMG, looking at the pass I got reminded of the movie "The Vertical Limit". Our guide used the ice axe and paved path for easier climb, however it was still difficult due to soft & fluffy snow and every now and then one of us was slipping into an unknown ice hole. Aaditya was the man who slipped thrice on the path and we almost thought he will stop only after going at the bottom. We all negotiated the climb well and made our way to the top of Lamkhaga Pass. It was a feeling of joy as we reached the top, everybody congratulated each other. It is difficult to remember how each one of us fought our way through that final patch of slippery snow, but we will always remember the happiness on each one's face on top of the Lamkhaga Pass. After passing a little time on top, we started to descend. Ropes were fixed to negotiate sharp descent on the other side. It was fun descending as we used to slide at some patches of snow. Thankfully all ended well without any mishaps and after walking a long distance for over 12 hrs we reached our campsite at upper Kyarkoti. Since the weather was very bad with continuous snowfall and the air becoming dense, we decided to skip camping at Lamkhaga Pass base campsite on Harshil side and made it straight to upper Kyarkoti. By 6 in the evening we reached our campsite at Kyarkoti, leaving behind the chilly winds and harsh snowfall. All of us got relaxed with joy as the Pass was surpassed by us even in harsh conditions.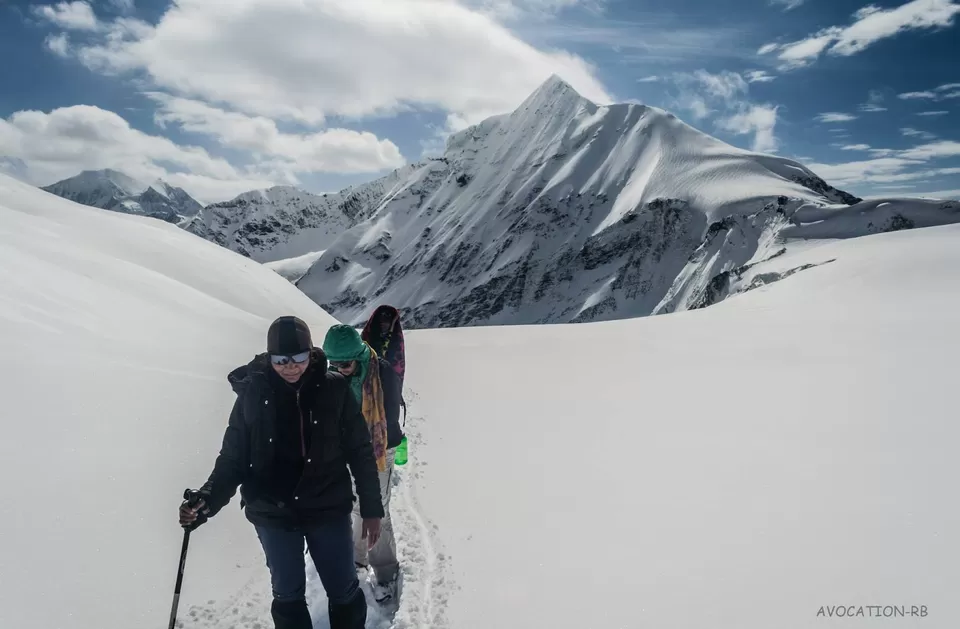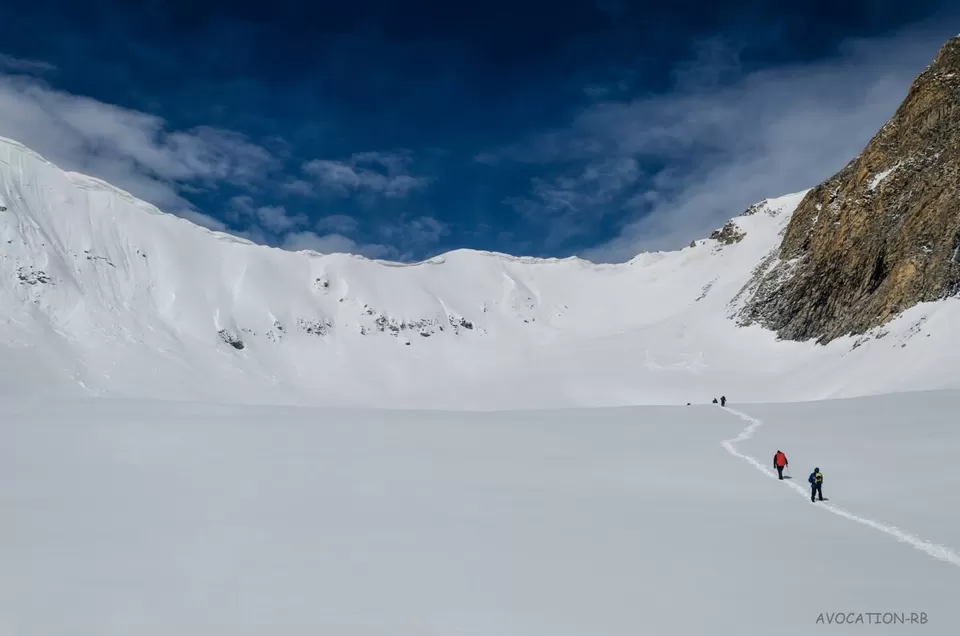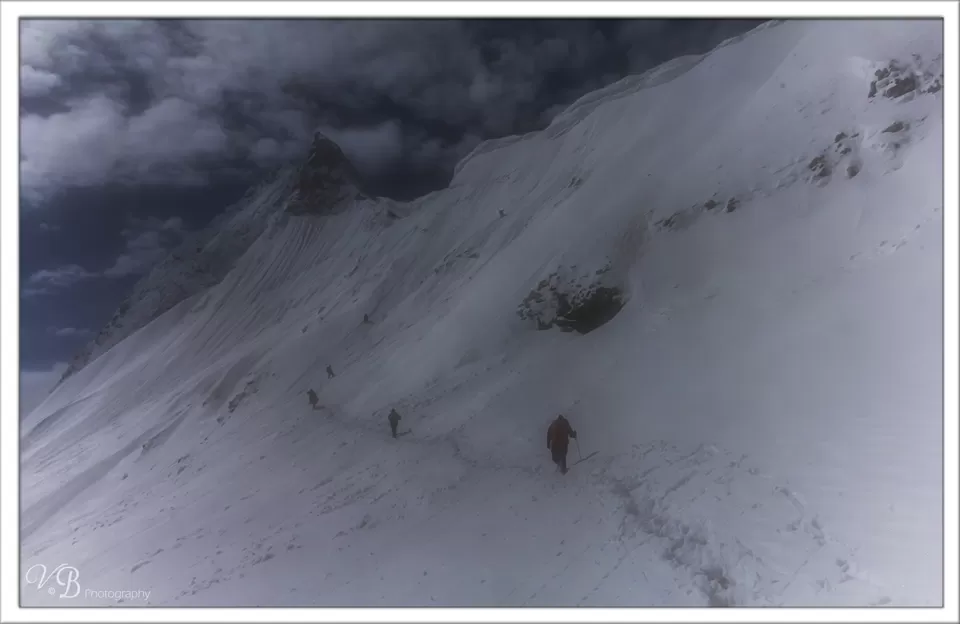 The next morning we took group pictures, had our breakfast and went ahead for onward journey to Harshil. Just about a few kms ahead, we have to cross a small stream over Jalandhari on left leading way to upper side in to dense forests of Kyarkoti. As we walked into the long trail of the forests area, the place was getting etched deeper into the memory for its spectacular views and mind freshening wide meadows. Amidst such beauty, we forgot that we were deeply tired and just enjoyed the mesmerizing views. Passing the distance for about 5-6 hrs we reached to a brief ascent across a tree temple, commonly referred as Lal Devta by the locals. The temple tree was adorned with numerous buddhisht prayer flags, pieces of red cloth and Bharal horns. From Lal Devta, there started a steep downhill trail which guided us straight to Harshil. Crossing the dense forests of Kyarkoti and witnessing the Himalayan mountains beauty we reached Harshil by around 5 in the evening. Almost a distance of 25 kms was covered on this route. This was the end of our remarkable trekking expedition from where all of us went to New Delhi via Uttarkashi and Rishikesh for catching our onward flights.
The trek we will remember for many things. The team united as one. The harsh weather couldn't stop us from crossing the pass. We completed the trek ahead of schedule. Rashmi happily ending the whole trek with broken shoes. Walking in the night. Skipping lunch for 3-4 times. Playing cricket at above 4000 meters height on mountains. Eating snow for lack of water arrangement. By the last day hating paratha's a lot. Above all, the friends we got.
And in the end, hats off to the porters and support staff who did a great job.
Pic Courtesy : Vikas Bengani, Rohit Bhat, Vishnu Purohit, Aaditya Loya, Durgesh Ubare, Smita Chatterjee, Rashmi Sachin, Karan Sandhu.
Blog by
Vikas Bengani
http://vikasbengani.blogspot.in/2015/06/lamkhaga-pass-trek-himalayan-adventure.html